There are few places in the world as stunning in summer as Stockholm, Sweden's capital city. Aesthetics beautiful people beautiful design make it a feast for the eyes. You may even recognize a few names like Sodermalm where have I seen that? Oh! IKEA. Thankfully the dining options in Stockholm are better than the $2 meatballs. Here are our essential top things to do Stockholm style for a well-rounded taste of this beautiful, watery center.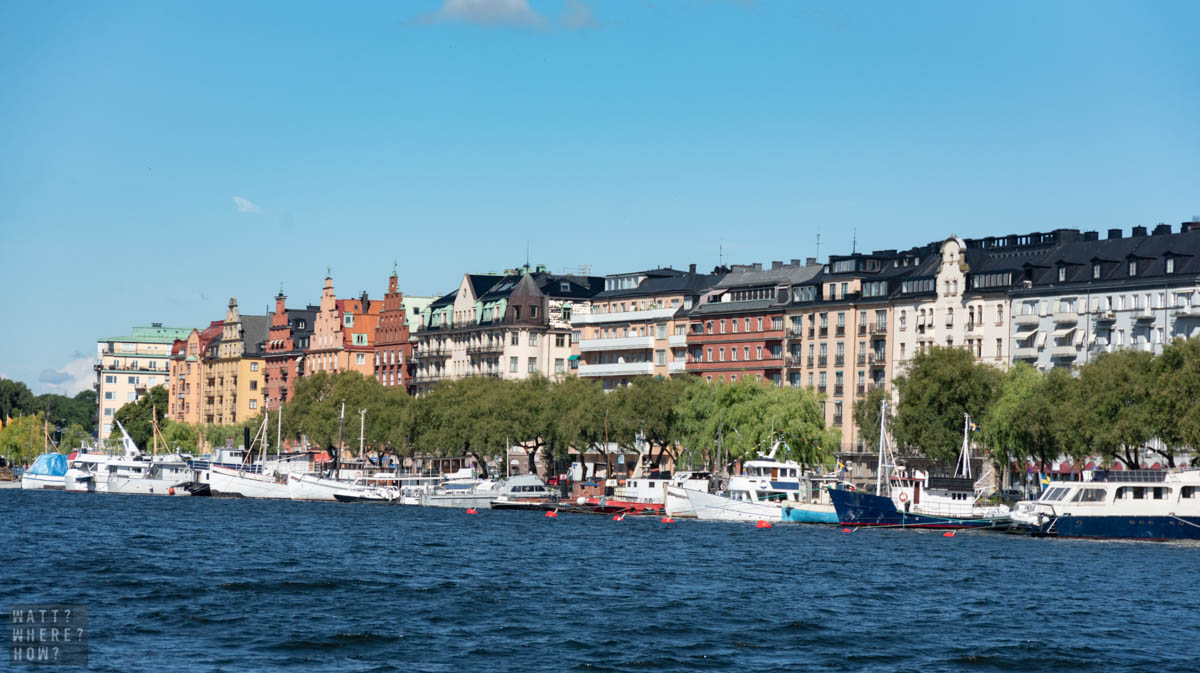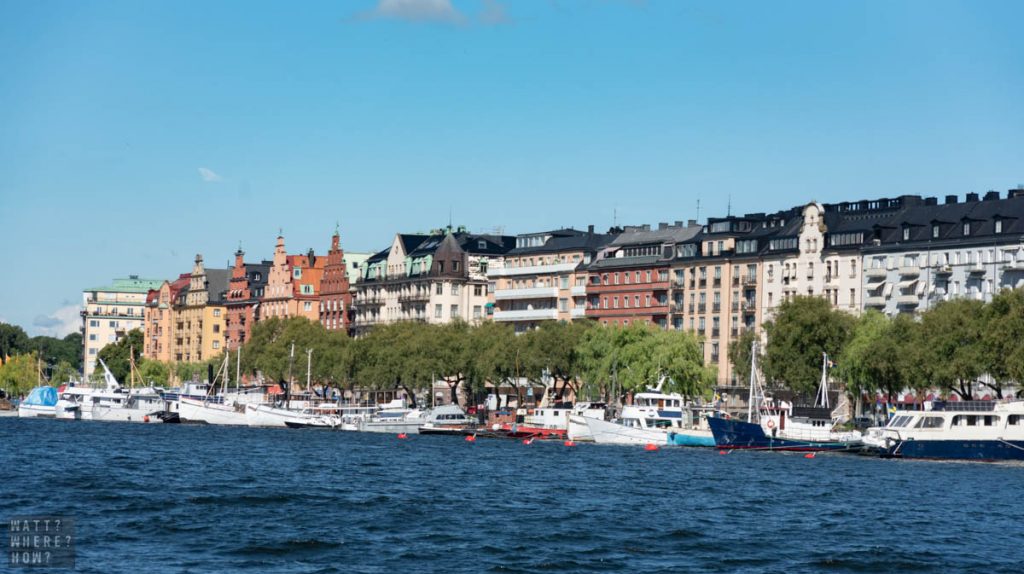 Founded in 1252, Stockholm wasn't just the capital of Sweden, it was once the capital of Finland too. Set on 14 islands between Lake Mälaren and the Baltic Sea, it's a city founded as a port and trading center and it's that past that has shaped the city of today. You will find that the city sprawls over the different islands, creating unique precincts and vibes to explore and enjoy.
Welcome to the Watt? Where? How? Stockholm City Guide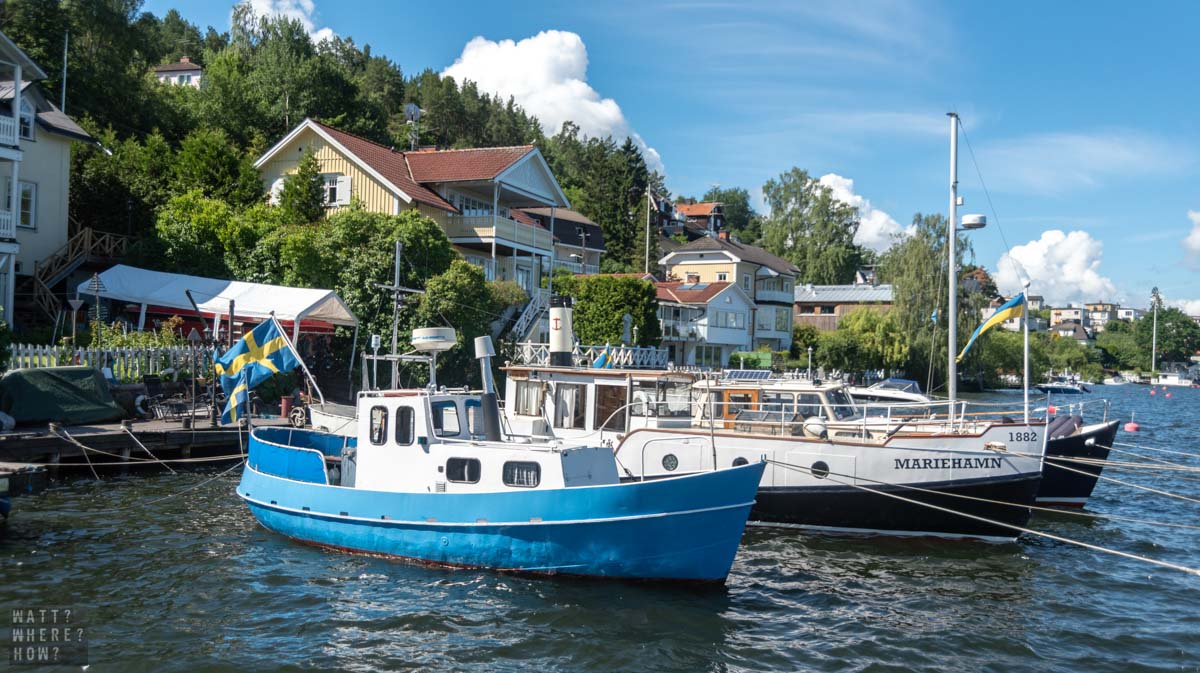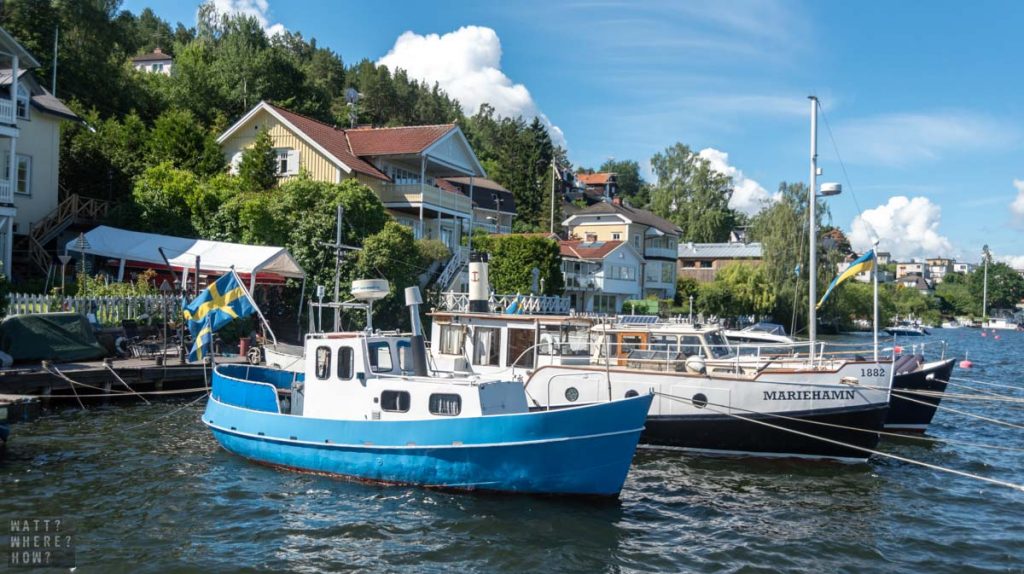 What is Stockholm like in Summer?
Stockholm, for all its Scandinavian chill, vibe, and weather is really turning on the charm for our midsummer escapades – not a cloud in the sky and a warm glow permeating from the city and its people. With a daily average of 17.2 °C (63 °F), with a minimum of 12.3 °C (54.2 °F), you may want to have a light sweater in your bag just in case but most of the time, you're more likely to catch a little sunburn so pack some sunscreen and a hat/cap.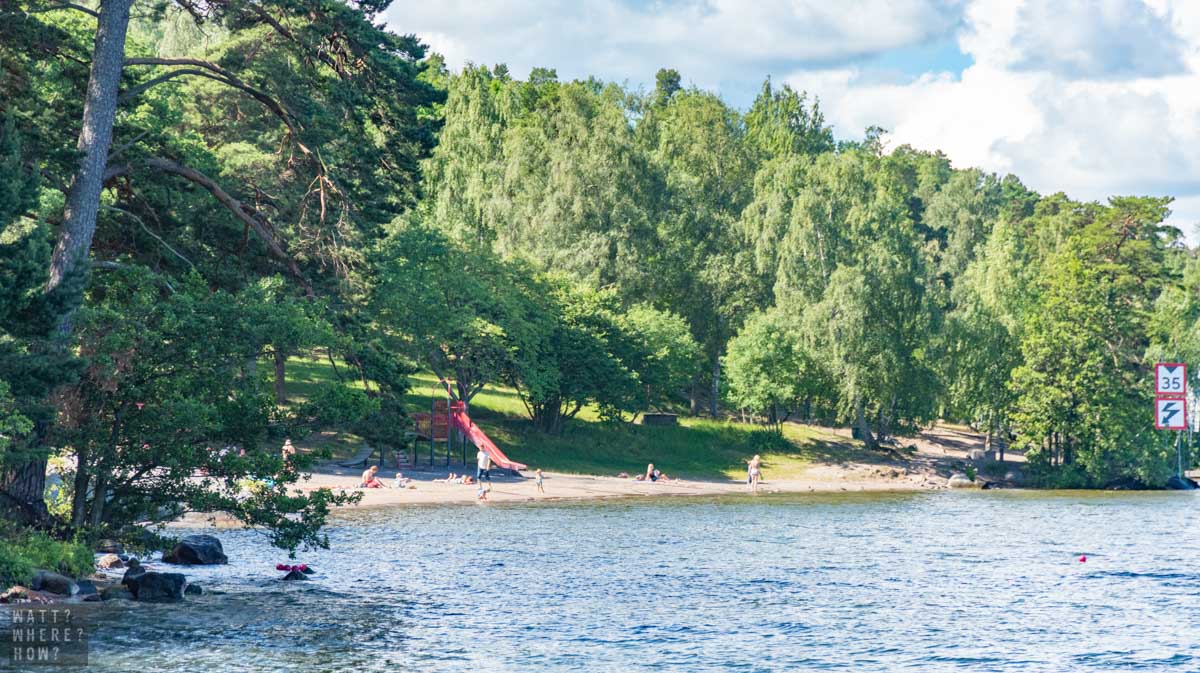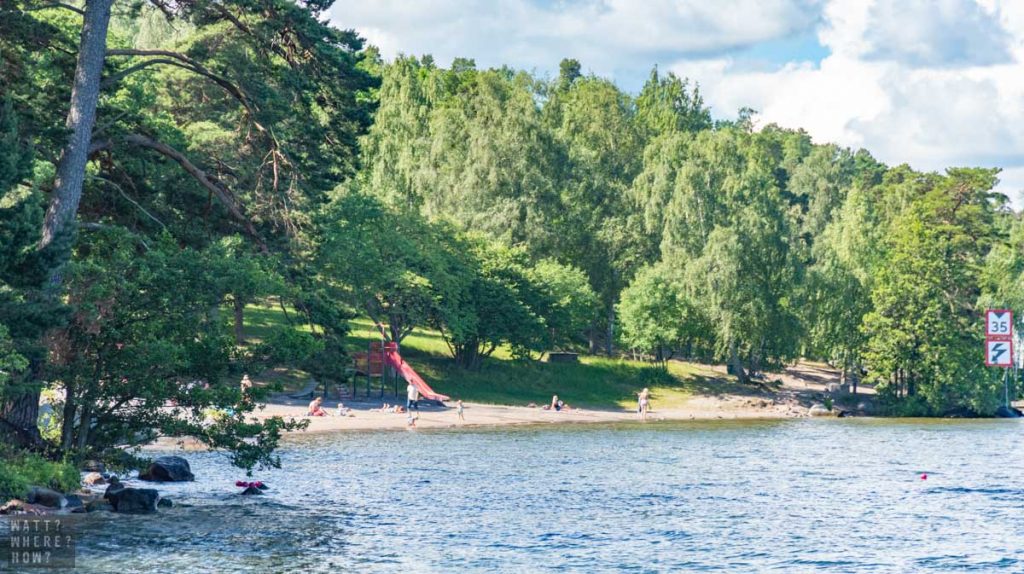 Where to Stay in Stockholm?
Stockholm is a major capital but it's also quite condensed, meaning most attractions are walkable from the central districts. We recommend staying around Norrmalm or Ostermalm which both offer modern chain and boutique hotels with plenty of character. In particular, we liked the vibe of Scandic hotels.
Things to do in Norrmalm
Right in the heart of modern Stockholm, Norrmalm is a popular shopping and fashion district that balances tech and design shops with classic old money retail experiences.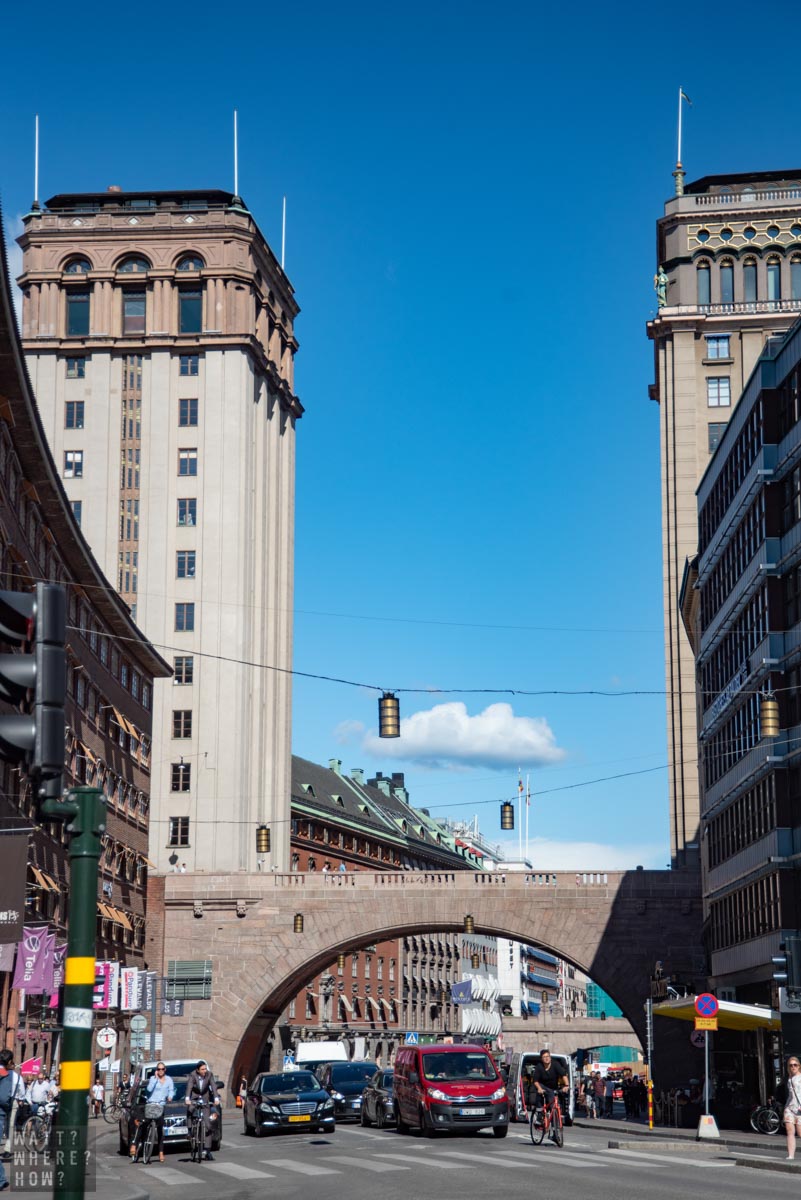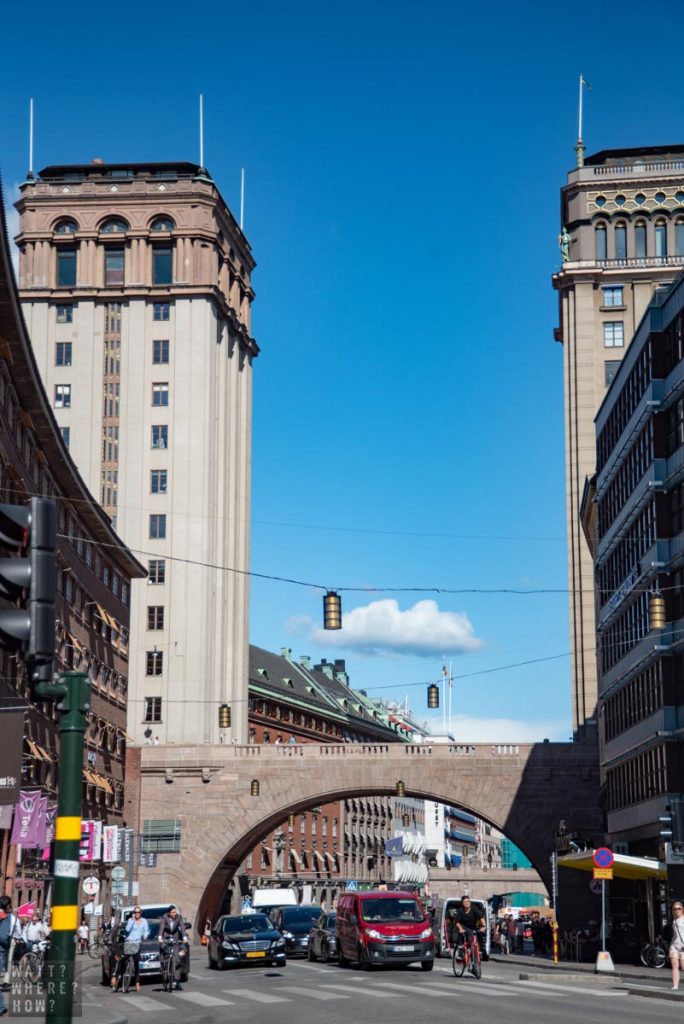 Kungsgatan (King Street)
Kungsgatan is one of the most popular streets in Norrmalm, though it was once a red-light district. It is packed with creative and innovative boutiques selling sustainable products – wooden bikes, solar-powered bike helmets, arty design pieces, and the kinds of things that would thrill a Williamsburg hipster.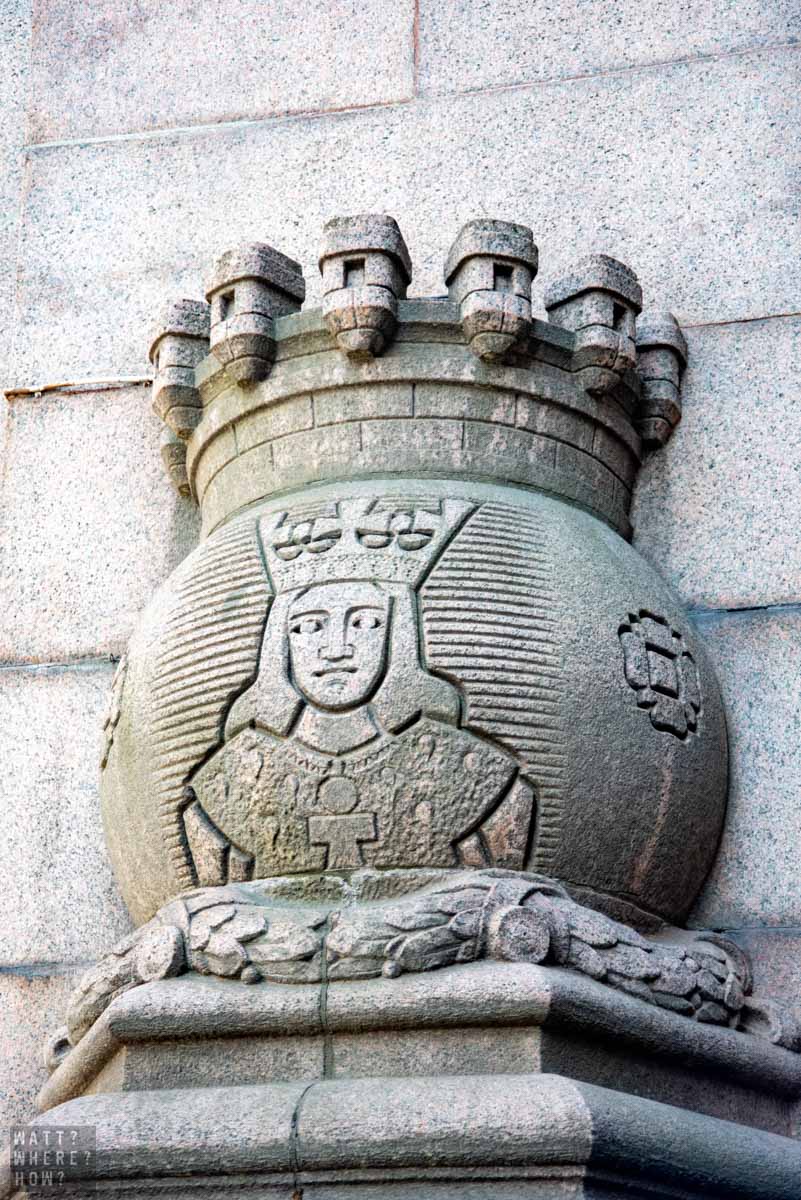 Shop for fresh produce at Haymarket (Hötorget)
The stallholders at the Haymarket (Hötorget) are getting set up for the day as we enter Gretas at the Haymarket, a homely yet chic brunch destination with the most endearing peach palette and mid-century Swedish decor. Situated just off the lobby of the Haymarket by Scandic hotel (Hötorget 13-15, 111 57 Stockholm, Sweden), it's super cute and its menu is equally appealing in taste and aesthetics. We choose the avocado toast with poached egg, and it wouldn't be out of place in the pages of a high-end gourmet magazine. The accompanying latte offers the kick we need to start perusing the stalls of farm-fresh produce and just cut flowers.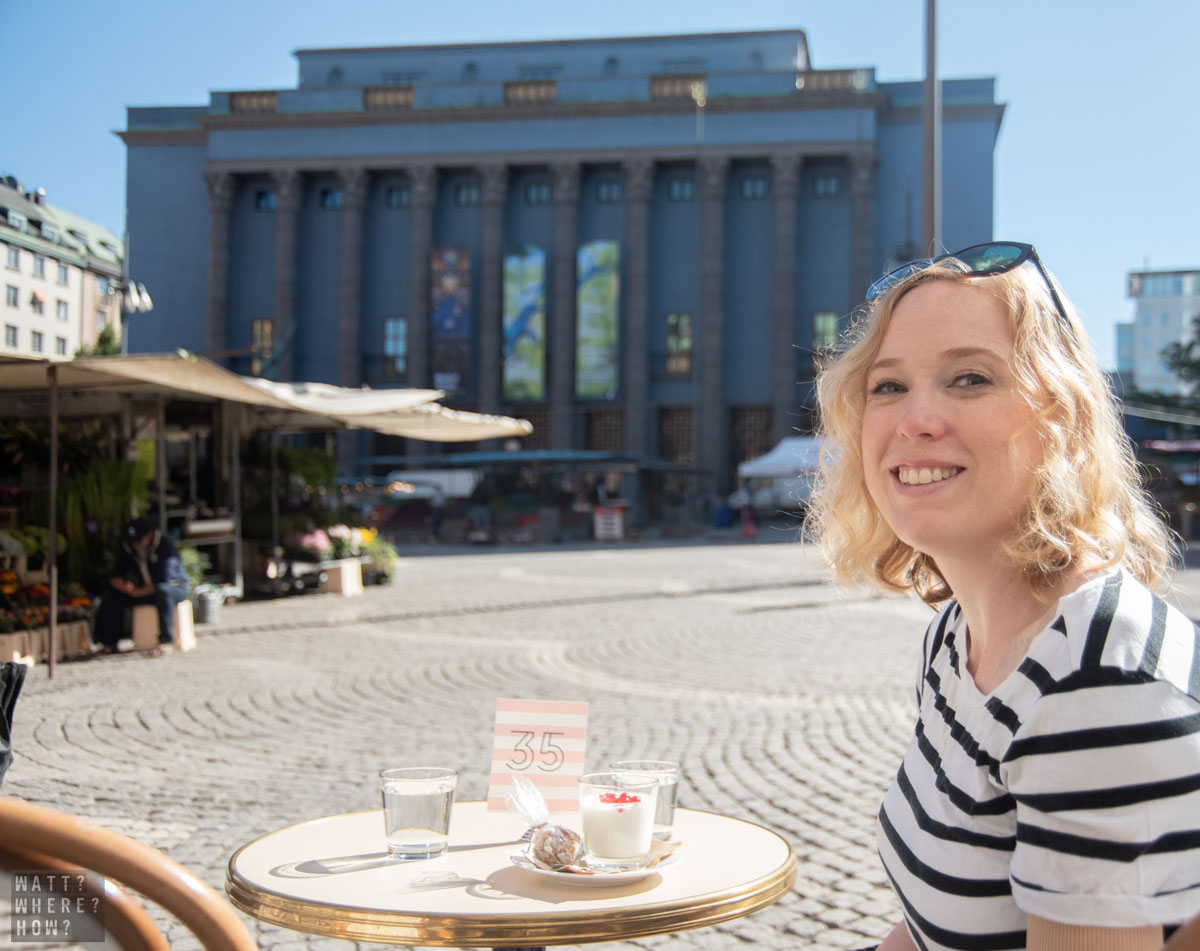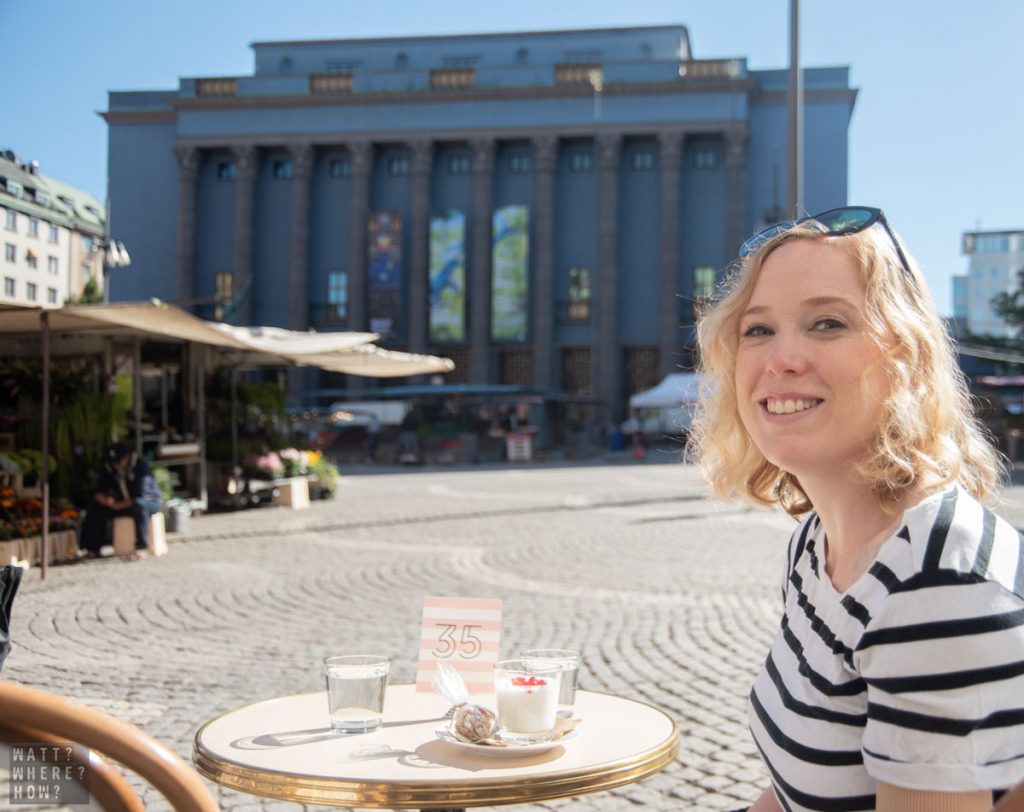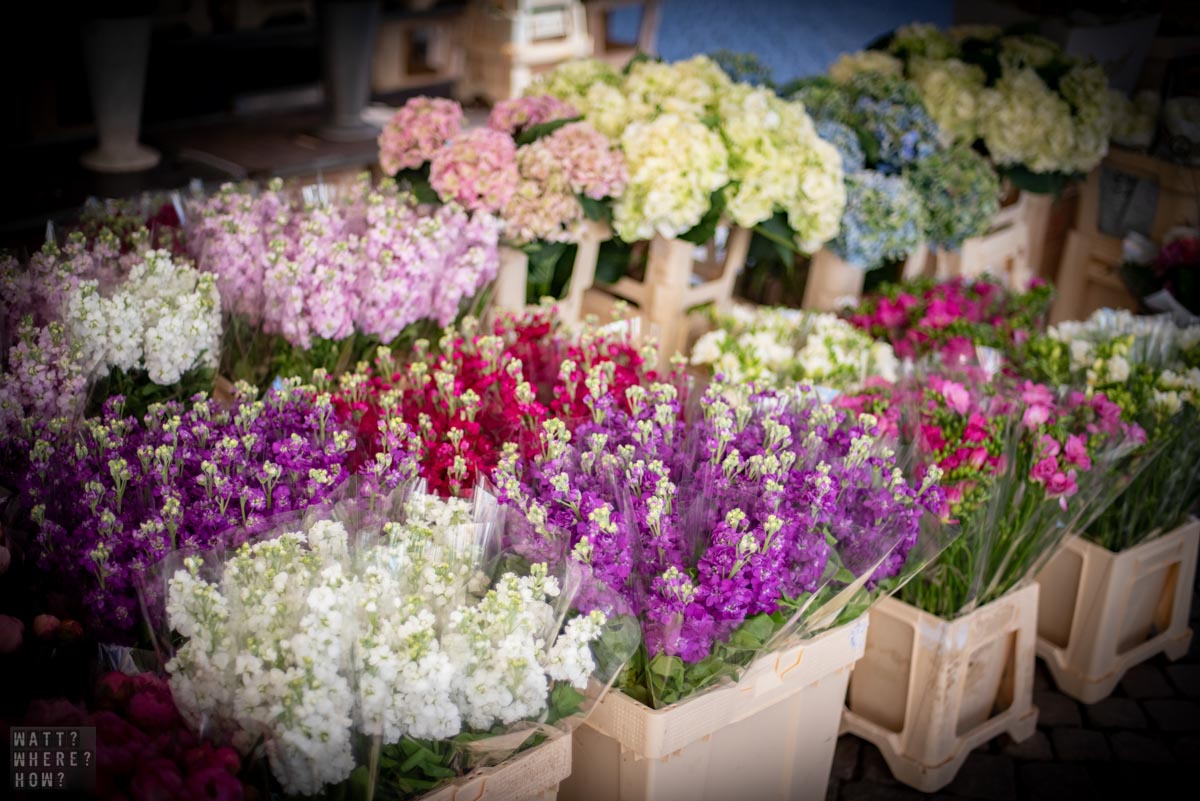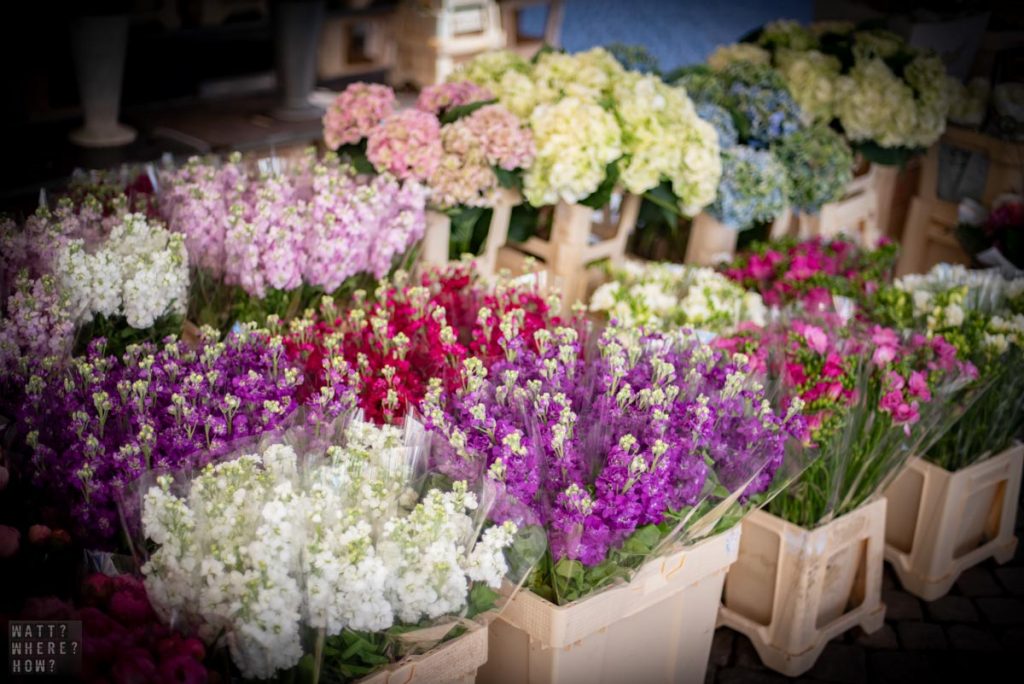 The Haymarket has been a fixture in Stockholm culture since the Middle Ages, though the modern manifestation is a paved square in front of the Stockholm Concert Hall. Like many street markets, the focus is on farm-fresh ingredients, and you will pay a premium for the experience. If you're looking to pick up fresh berries to enjoy by the water, this is worth the extra as they are incredibly sweet and delicious.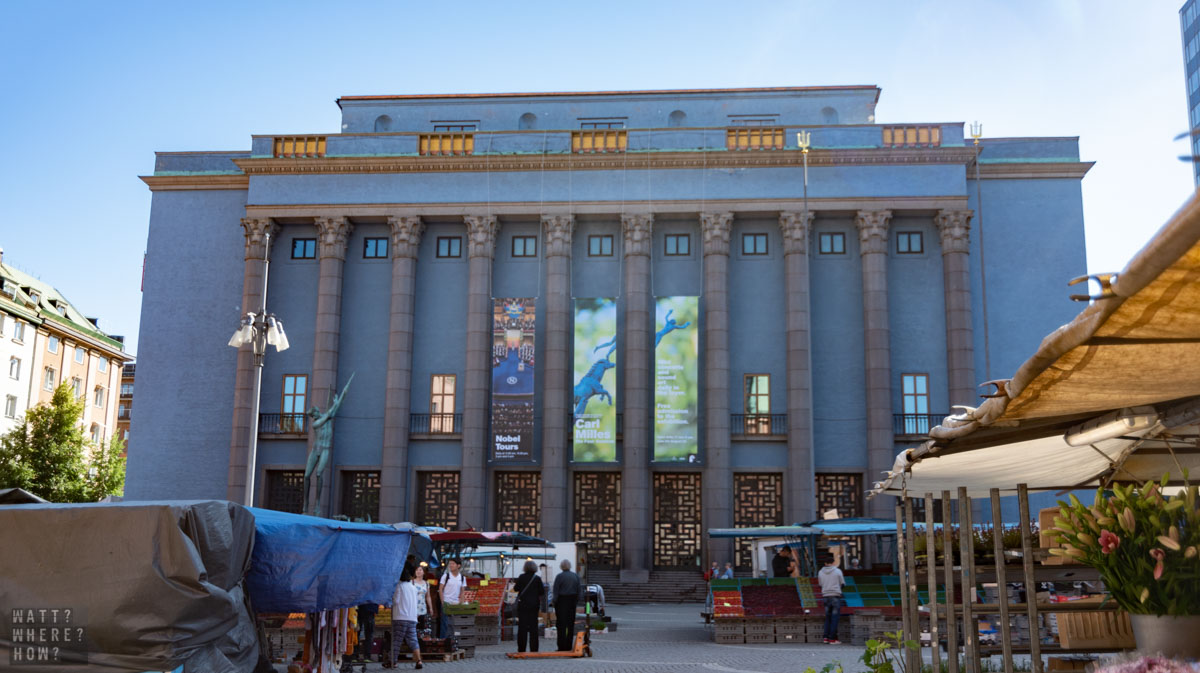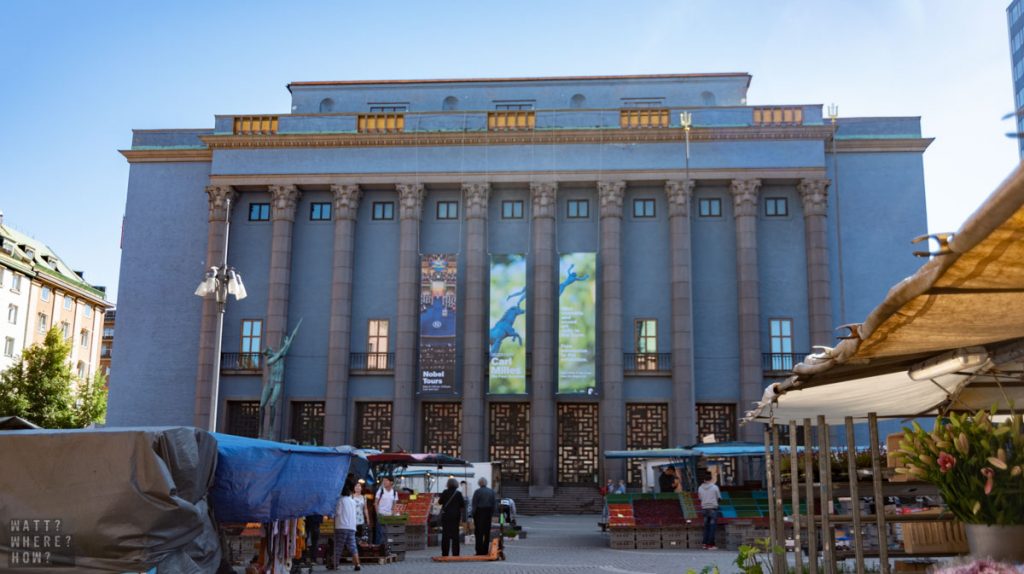 Konserthuset – The Stockholm Concert Hall
The Stockholm Konserthuset is a 20th-century venue that is best known for its main annual event, the Nobel prize, each December. Beyond operatic, orchestral, choral, and jazz performances, it's also where the Polar Music Prize, the August Laureate, and the Alma Laureate ceremonies are held.
Go Shopping on Drottninggatan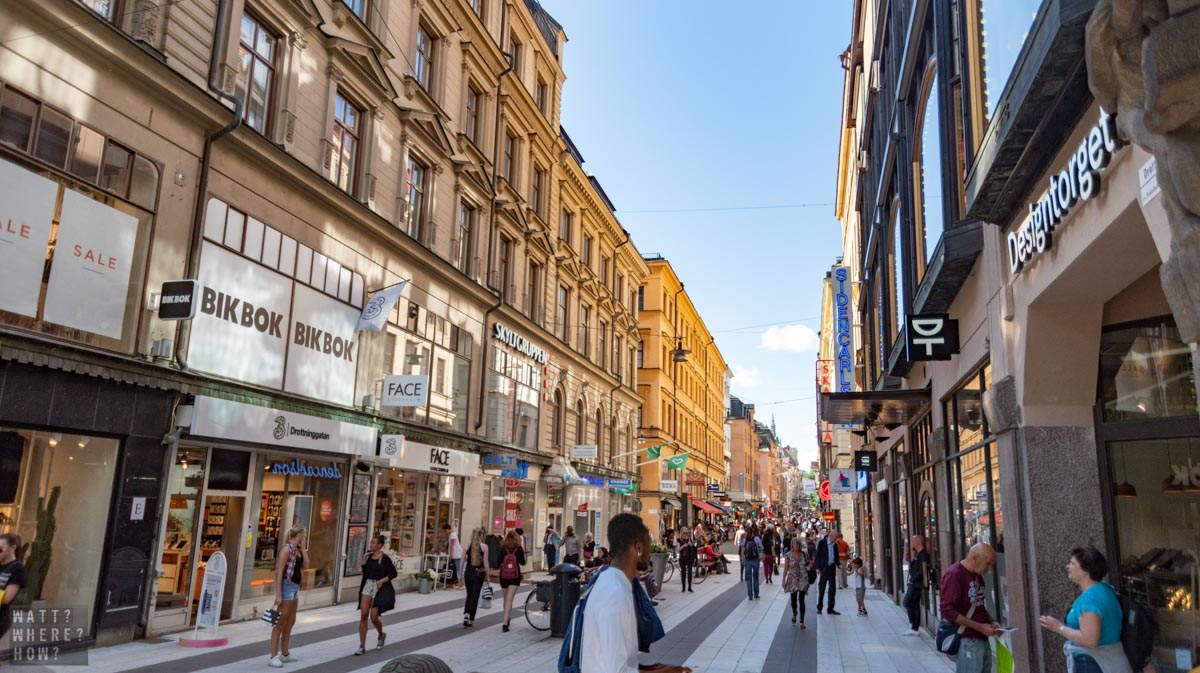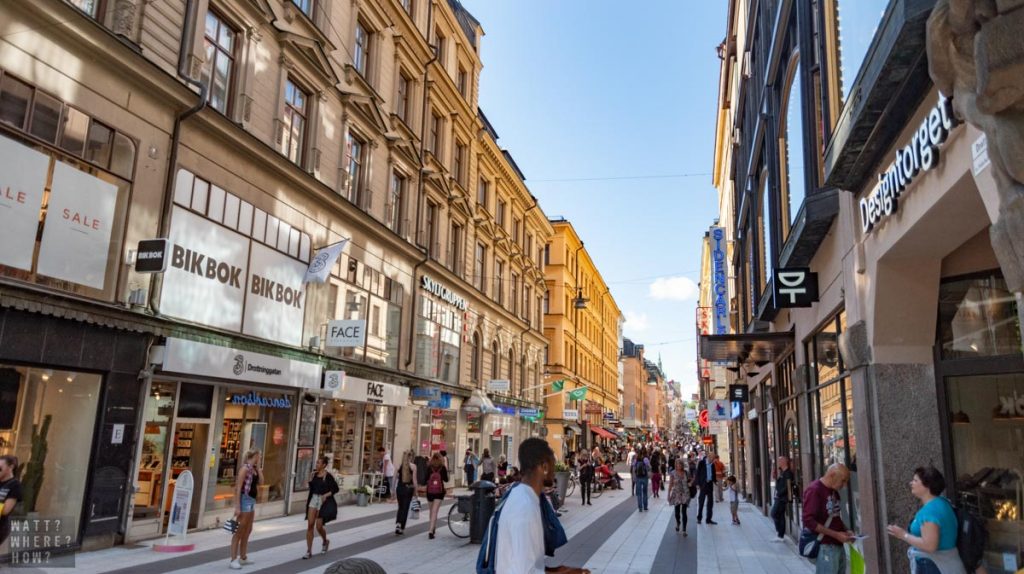 For its advanced age, Stockholm is a bustling modern city and instead of quaint cobblestone streets, the new town's central shopping high street, Drottninggatan, wouldn't be out of place in the US or Australia. Filled with on-trend American youth fashion, streetwear, and electrical brands. Concentrating these sorts of retailers in the one location it's preserved the atmosphere of Gamla Stan – the picturesque old town which is packed with tourists and kitschy souvenir shops.
---
Things to do Stockholm Style: Visit Östermalm
Östermalm is easily Stockholm's wealthiest precinct, home to theaters, timeless food market halls, Michelin-starred restaurants, and upscale apartments.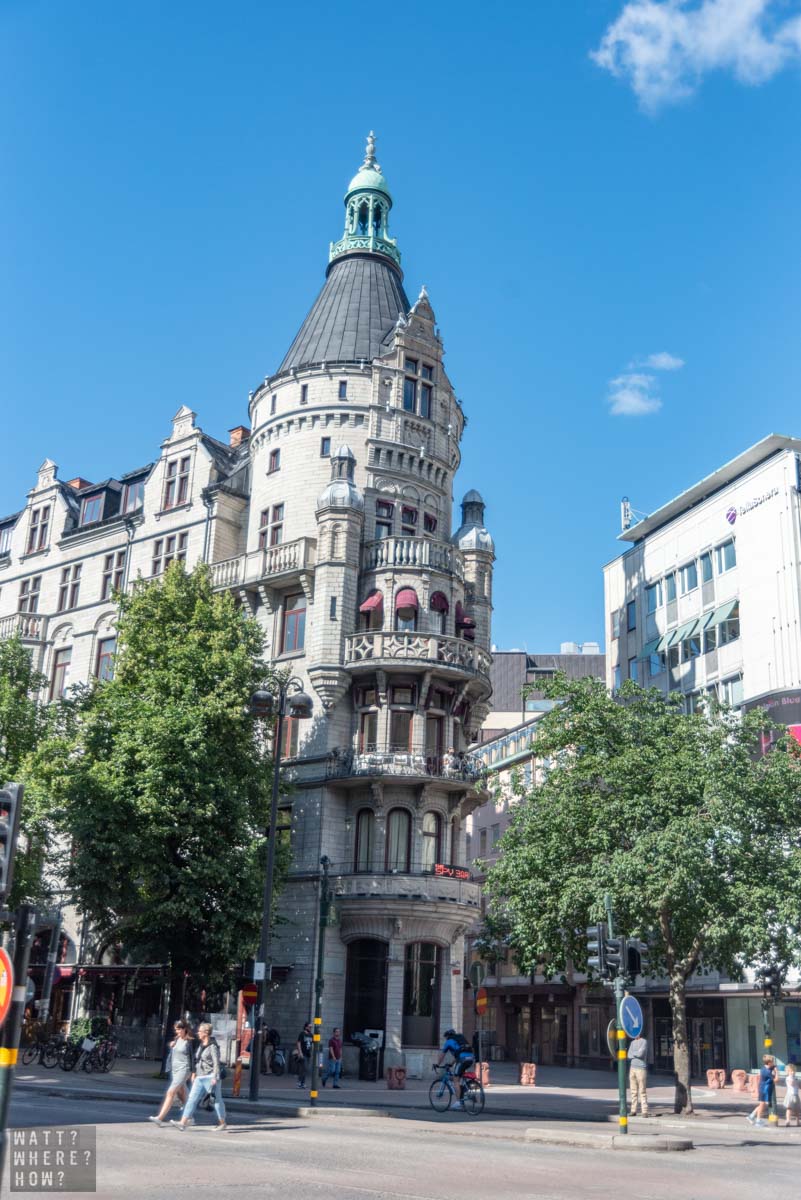 Get a taste of the finer things at Östermalm Saluhall
Dating back to 1888, the red brick facade of this indoor market has offered weatherproof shopping for Stockholm's well-heeled. This is a must-visit for foodies, with its rich array of Cheeses, reindeer, bison and moose meat, and delicatessen items across its 16 vendors, though know that the prices are as opulent as the indulgent offerings on hand. If you appreciate a fine wine, pull up a stool and sample the best platters Scandinavia has to offer. Opens 9:30 AM – 6:00 PM and closed Sundays.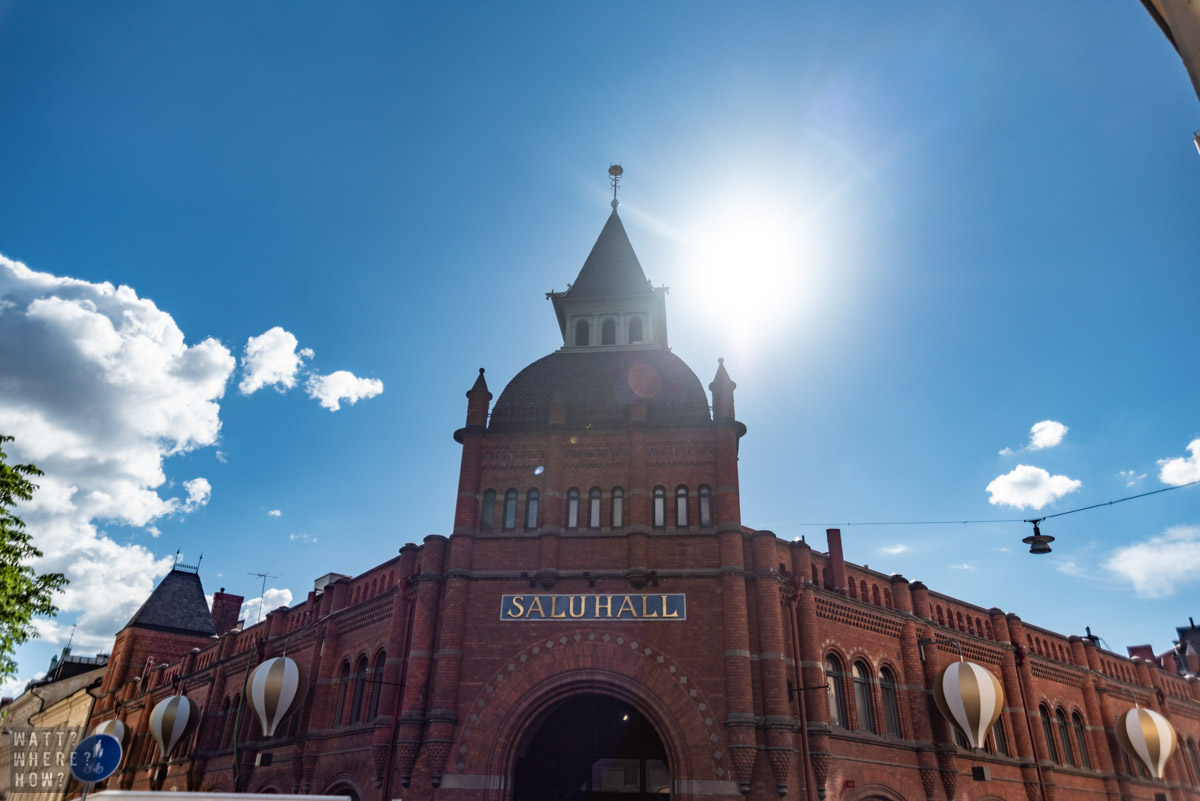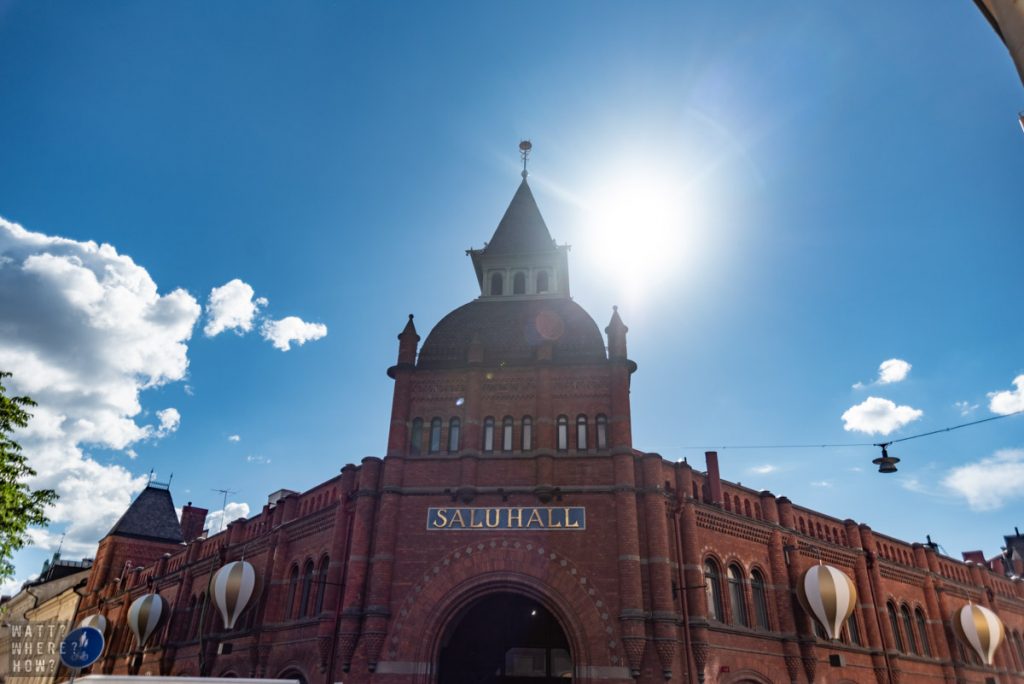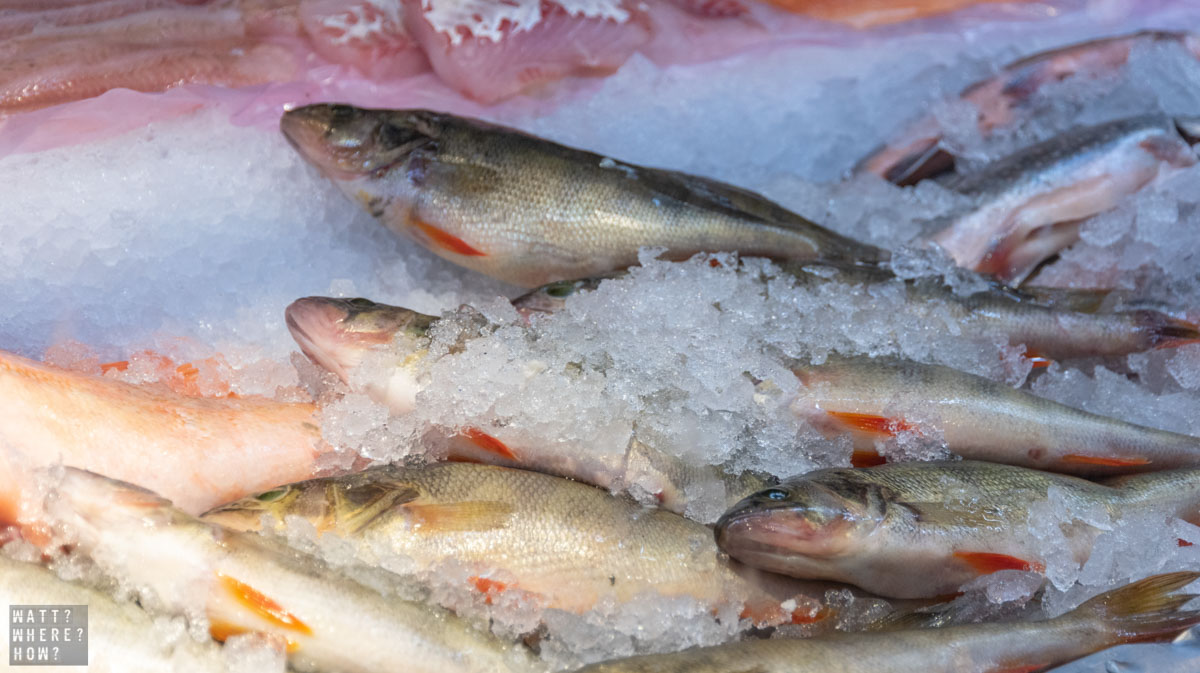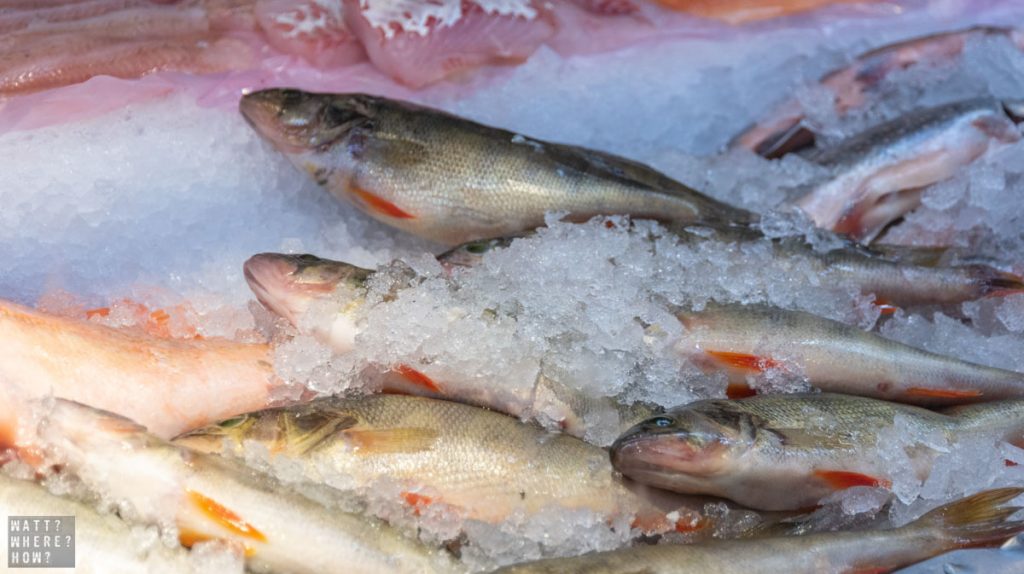 ---
Things to do Stockholm Style: Kungliga Djurgarden
Separated by an old stone bridge lies the island of Kungliga Djurgarden, a beautiful area of parklands, riverside walkways, museums, and the acclaimed Skansen open-air zoo and museum. Just a short walk from the center of town or a quick tram ride on the city's distinct trolleys, in summer it's packed with locals and tourists alike, attracted by the city's amusement park and core attractions like the Vasa Museum.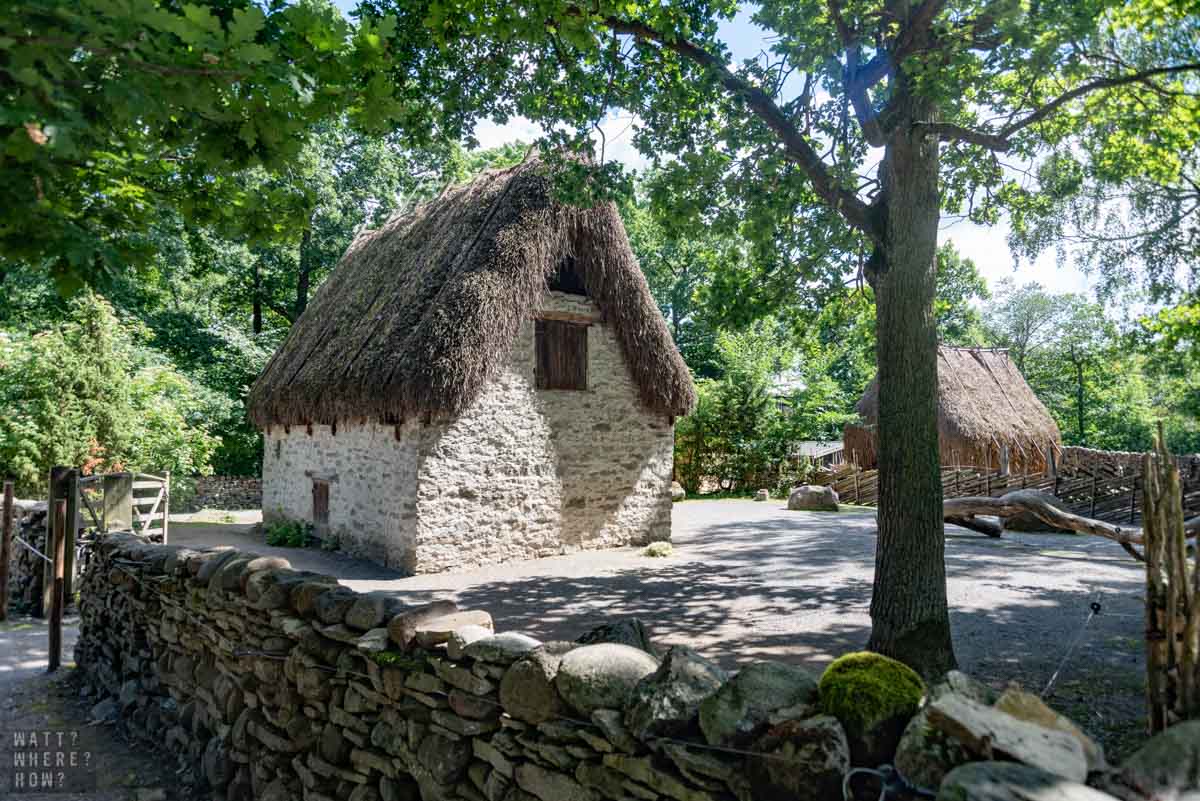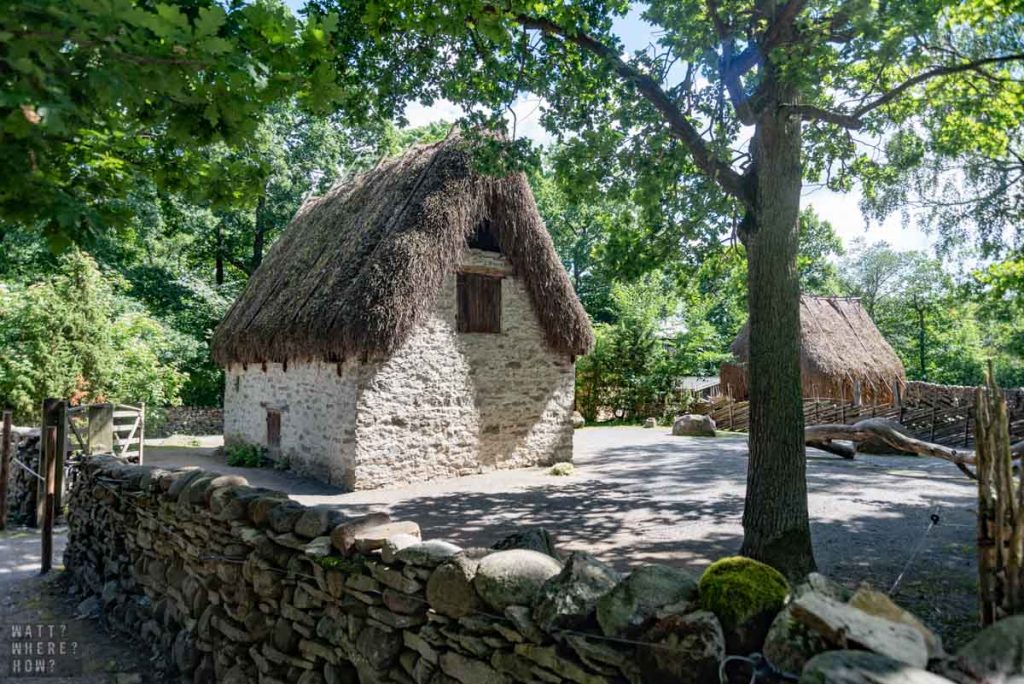 Go back in time at Skansen Open-Air Museum, Stockholm
There are outdoor museums and then there's Skansen. Here the Swedes take the idea of living history to the next level by incorporating costumed staff and farm animals with this collection of heritage properties rebuilt to match different eras and regions of Sweden. Around the parks are zoo enclosures of wolves, reindeer, and birds of prey where you can get up close to these stunning animals. Sample traditional foods and buy folk art. There's even an early funicular railway. In summer, there are nightly performances down at the amphitheater.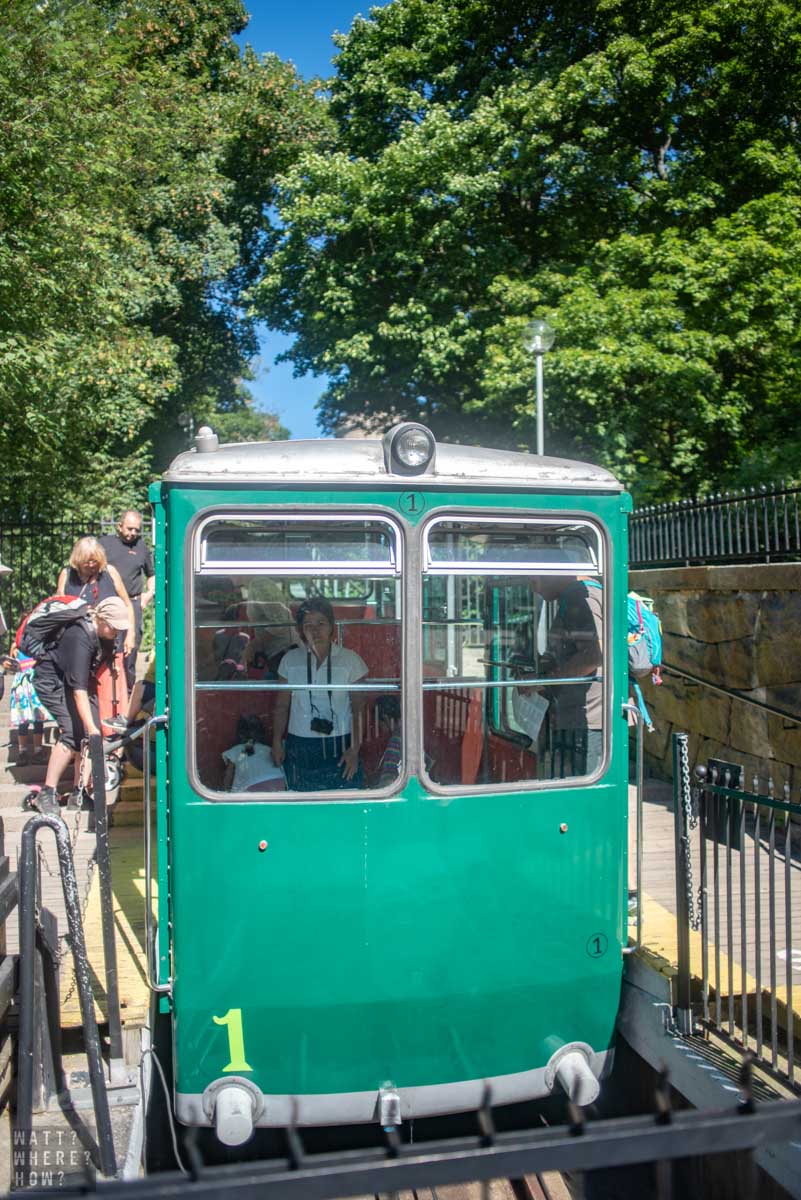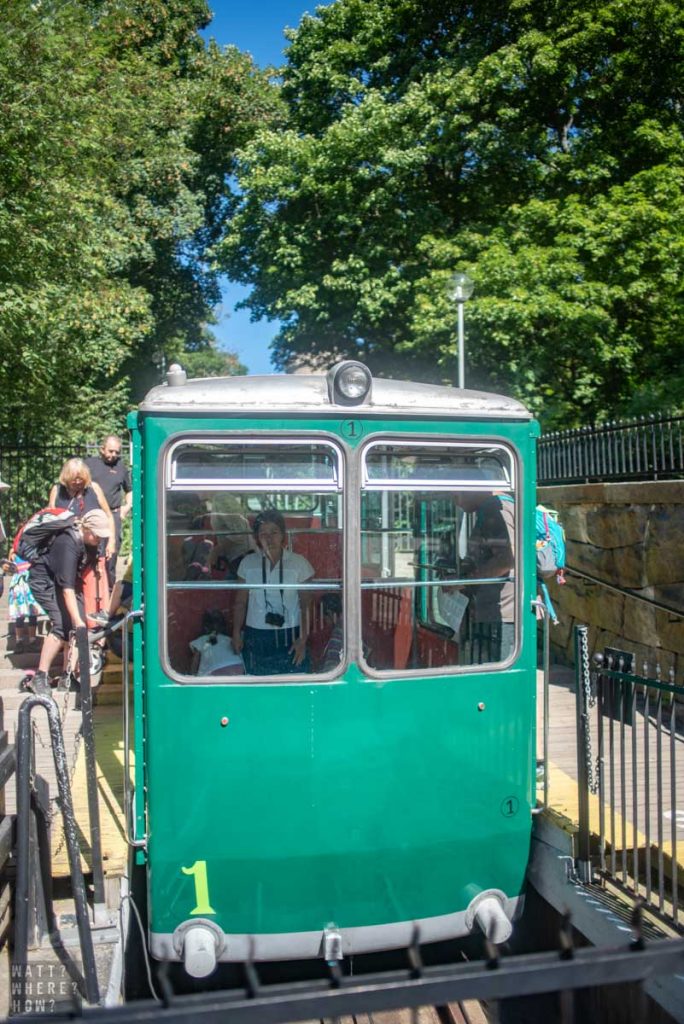 Close by Skansen are other jewels from Sweden's past – the nearest is the ABBA museum and further down the Nordiska Museet and Vasamuseet – a dual complex of some of the country's greatest antiquities. The Nordiska Museum is guarded by the fearsome wood carving of xxx but it's the wooden bulk inside of the Vasamuseet that brings many to Stockholm.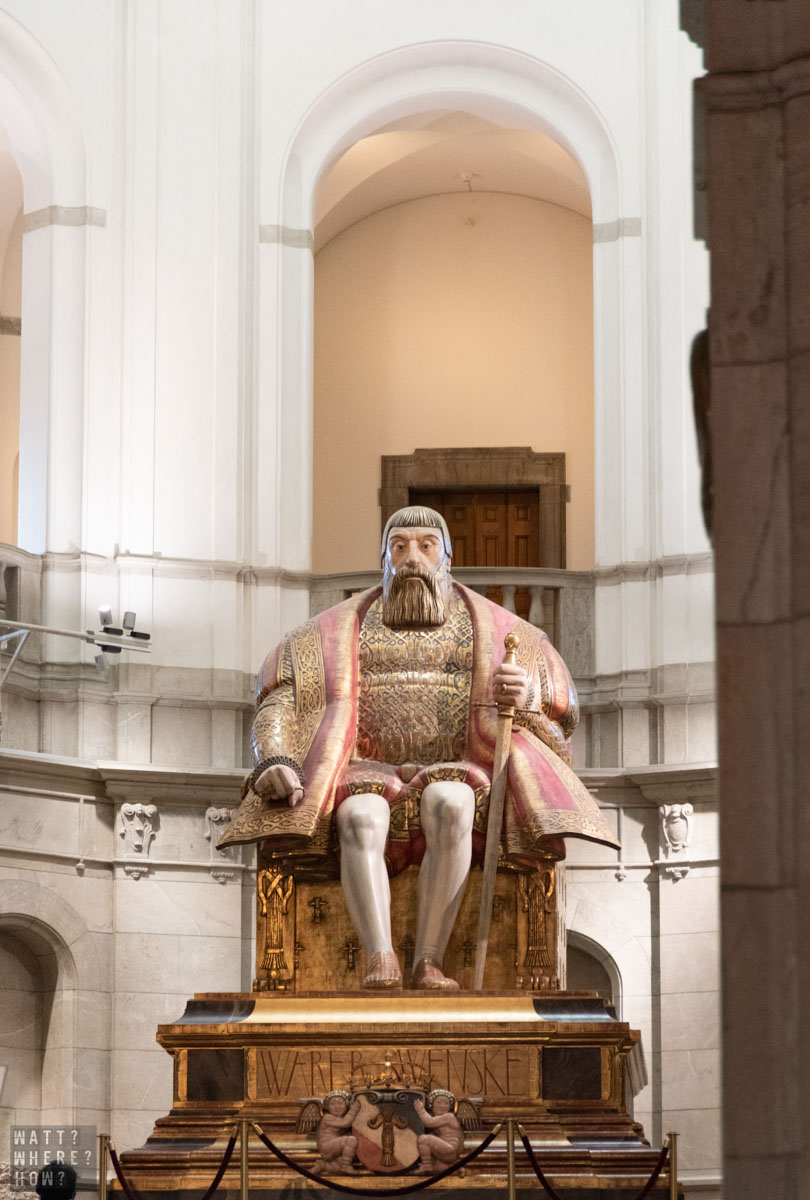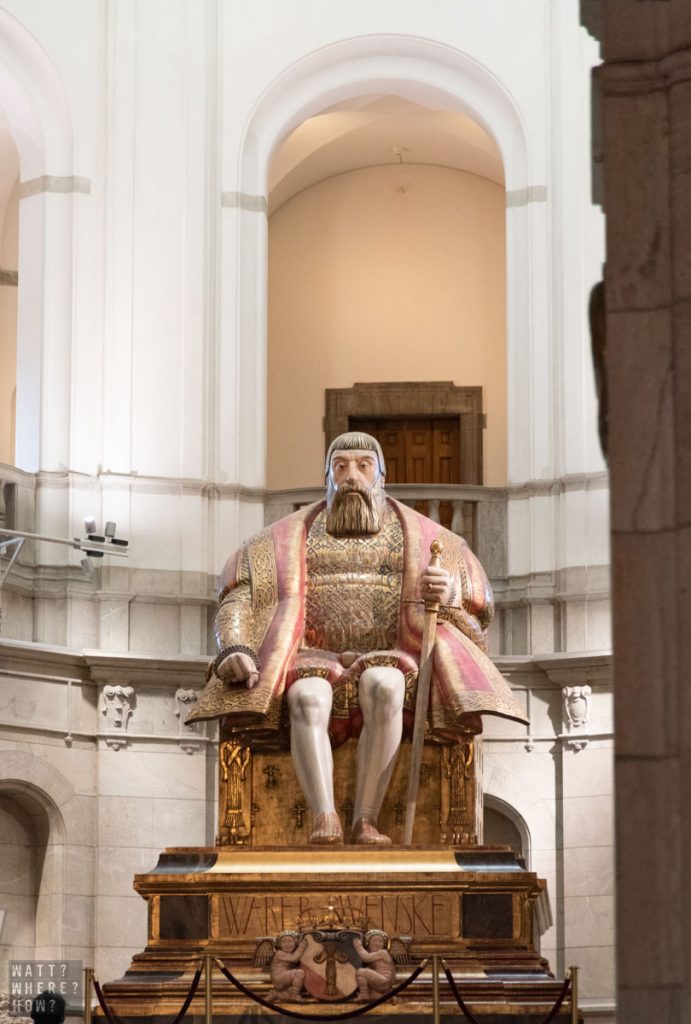 See a treasure rise from underwater at the Vasamuseet
One of the biggest maritime fails in Sweden's history has become one of its biggest tourism success stories. Built between 1626 and 1628, the opulent Swedish warship sunk just a mile into its launch celebrations on 10 August 1628. 333 years later, it was found and on Monday, 24 April 1961, after four years of preparations, a salvage crew freed the giant ship from the silt and mud of the harbour and brought it back to the living. The almost perfectly preserved ship has been renovated and now is one of the city's major attractions.
Galärvarvsvägen 14, 115 21 Stockholm, Sweden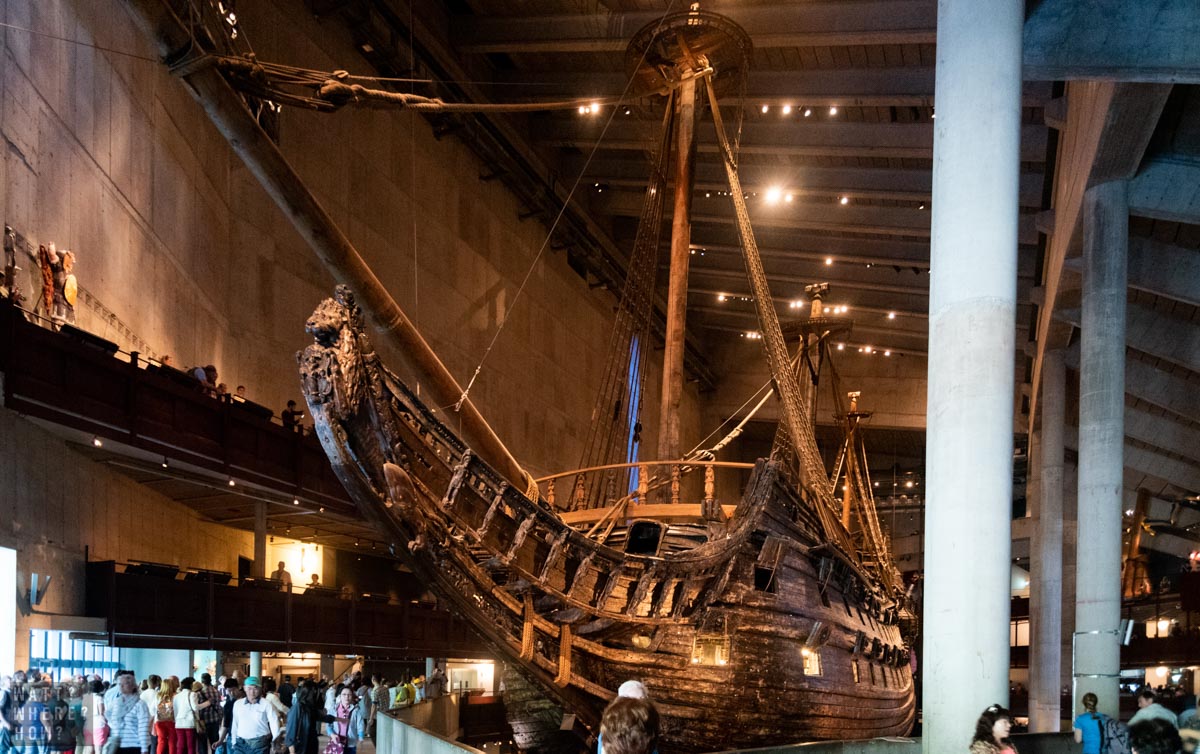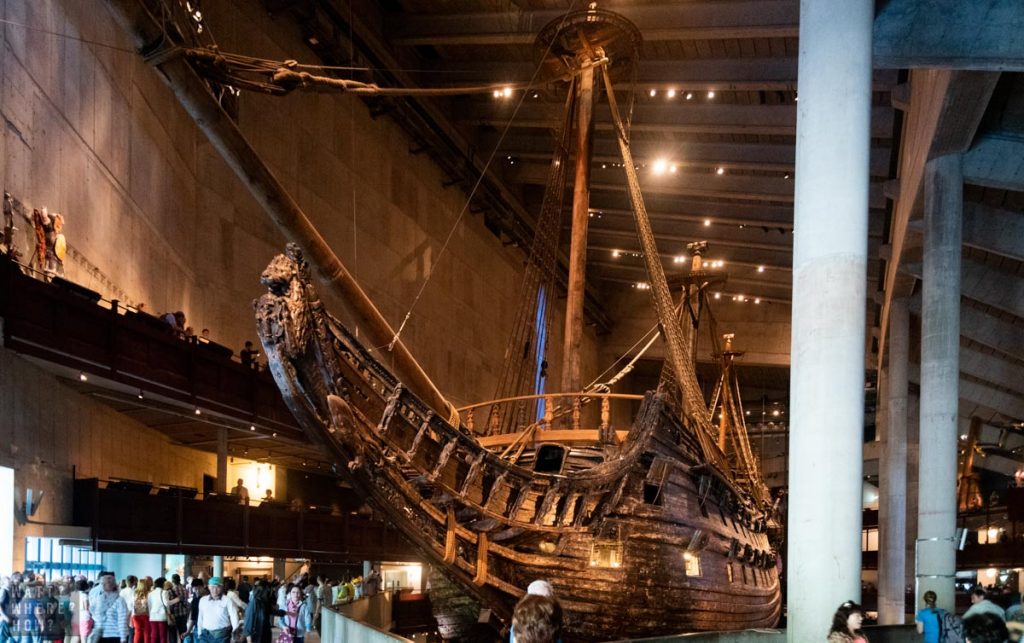 Admission
Adults: (including senior citizens)
SEK 170 September – May
SEK 190 June – August
18 years and under: Free of charge
Children 12 years and under must be accompanied by an adult at all times during their visit.
| | |
| --- | --- |
| Friday | 10AM–5PM |
| Saturday | 10AM–5PM |
| Sunday | 10AM–5PM |
| Monday | 10AM–5PM |
| Tuesday | 10AM–5PM |
| Wednesday | 10AM–8PM |
| Thursday(Ascension Day) | 10AM–5PM |
Soak up the sun and sculptures at Galärparken
Adjacent to the Vasa Museum is the Galärparken, a lush green parkland with sculptures and art installations adding even more color. In addition to the parklands, the precinct also offers a range of museums like the Dyktankhuset Old Dive Tank House (a museum dedicated to diving) and the Museum of Spirits, if you like your history with a touch of booze.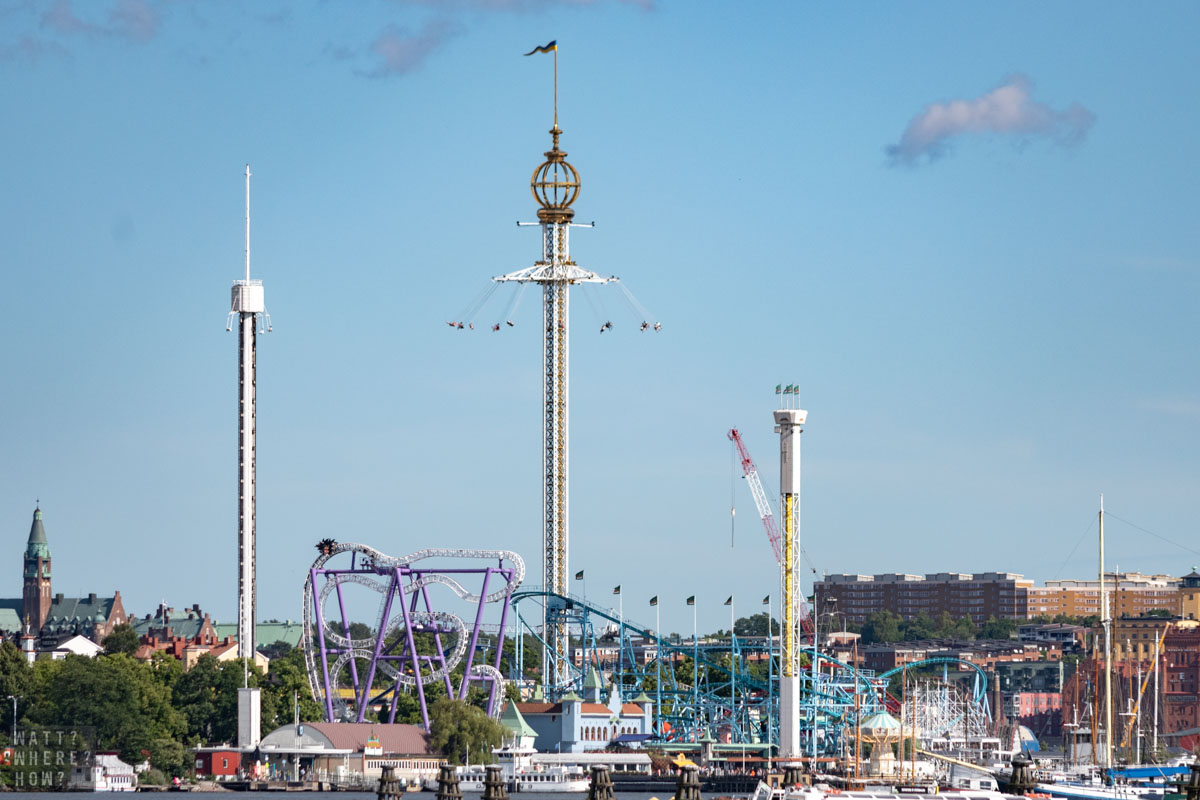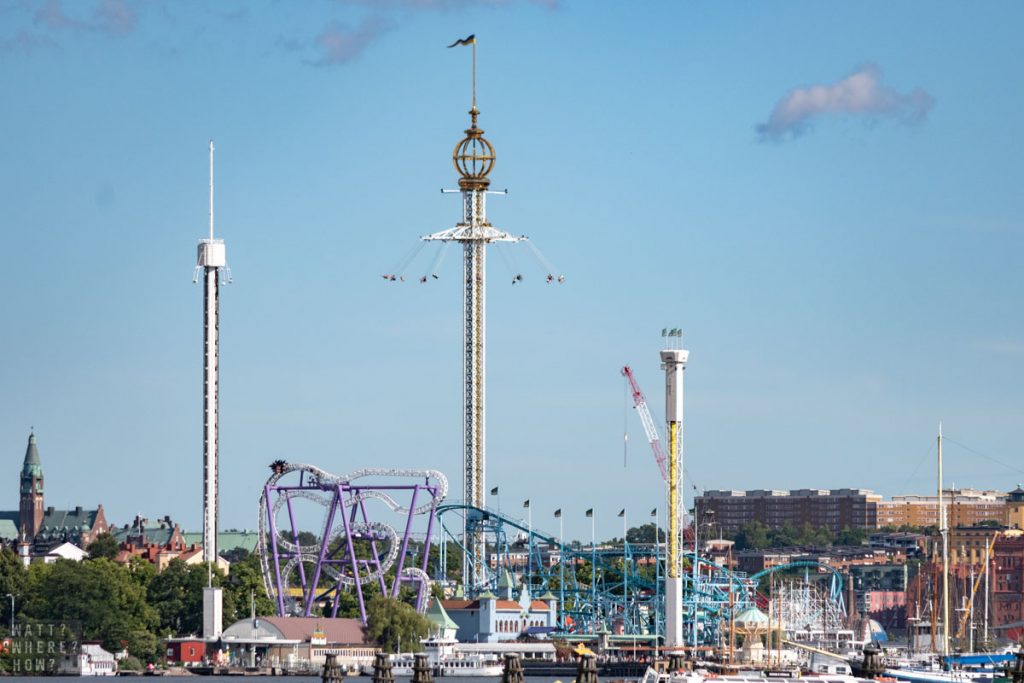 Enjoy family Fun and Thrills at Gröna Lund Amusement Park
Gröna Lund is an amusement park on Djurgården full of traditional fun park rides and more intense thrill rides. If you're into live music, its summer stage attracts the world's biggest acts from John Legend to the Deftones.
Lilla Allmänna Gränd 9, 115 21 Stockholm, Sweden
---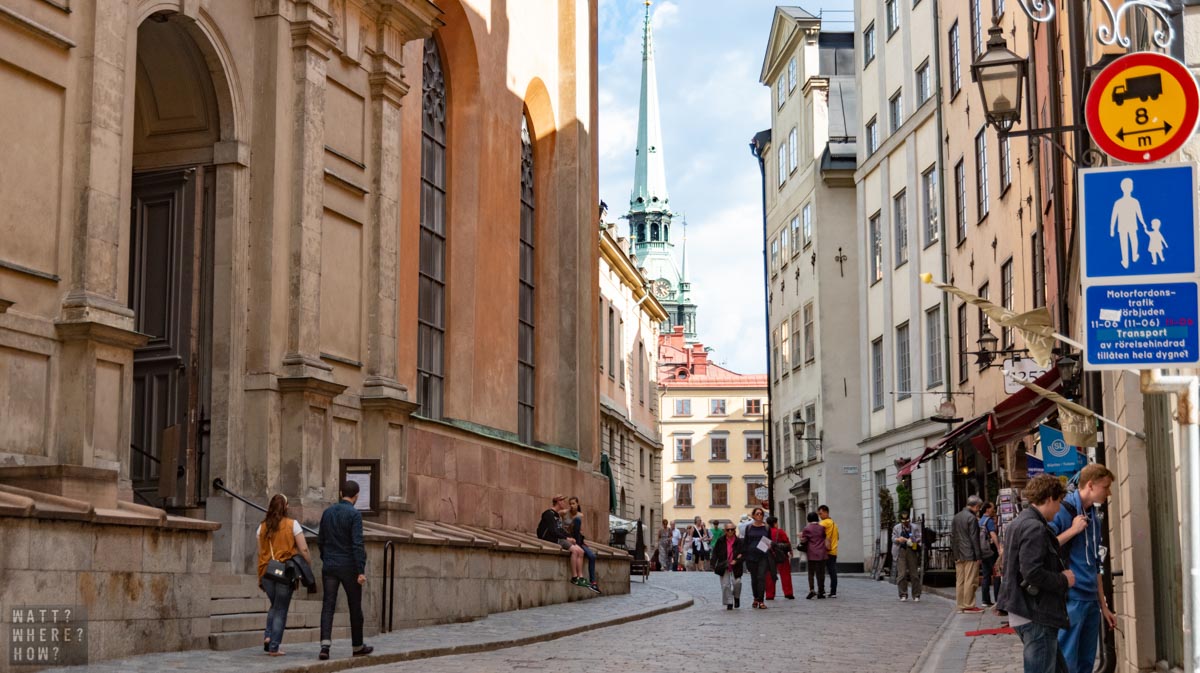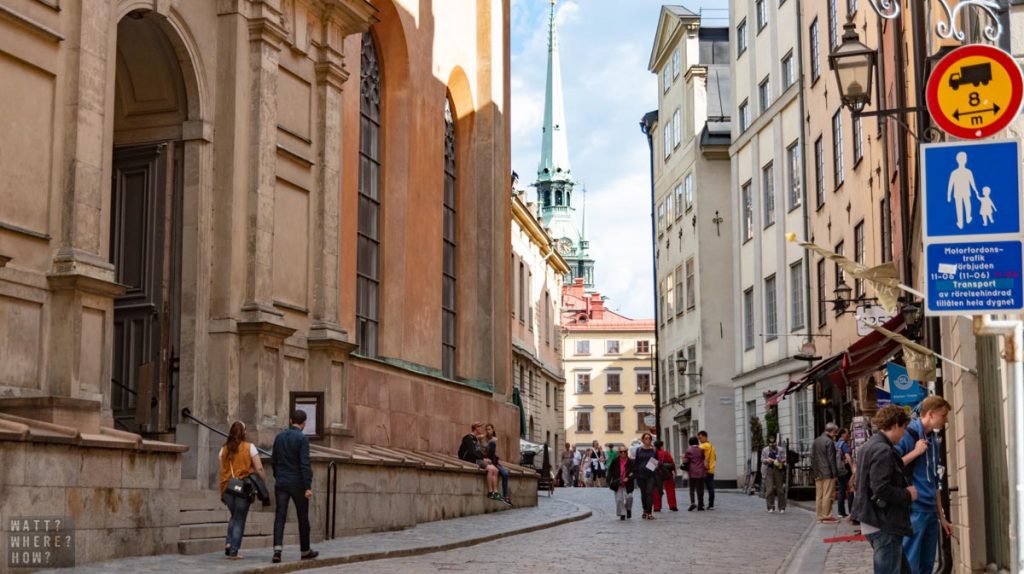 Things to do Stockholm Style: Wander Gamla Stan
Gamla Stan or the Stockholm old town is a network of ancient cobblestone streets, renovated 13th Century merchant houses, and cute shops. It was originally founded around 1100 by the Vikings, who didn't always plunder and pillage everywhere they landed then it evolved into a thriving port where trading partners from the Hanseatic League sailed ornate tall ships between Lubeck, Tallinn, Mecklenberg, (Königsberg- now- Kalingrad), and Hamburg.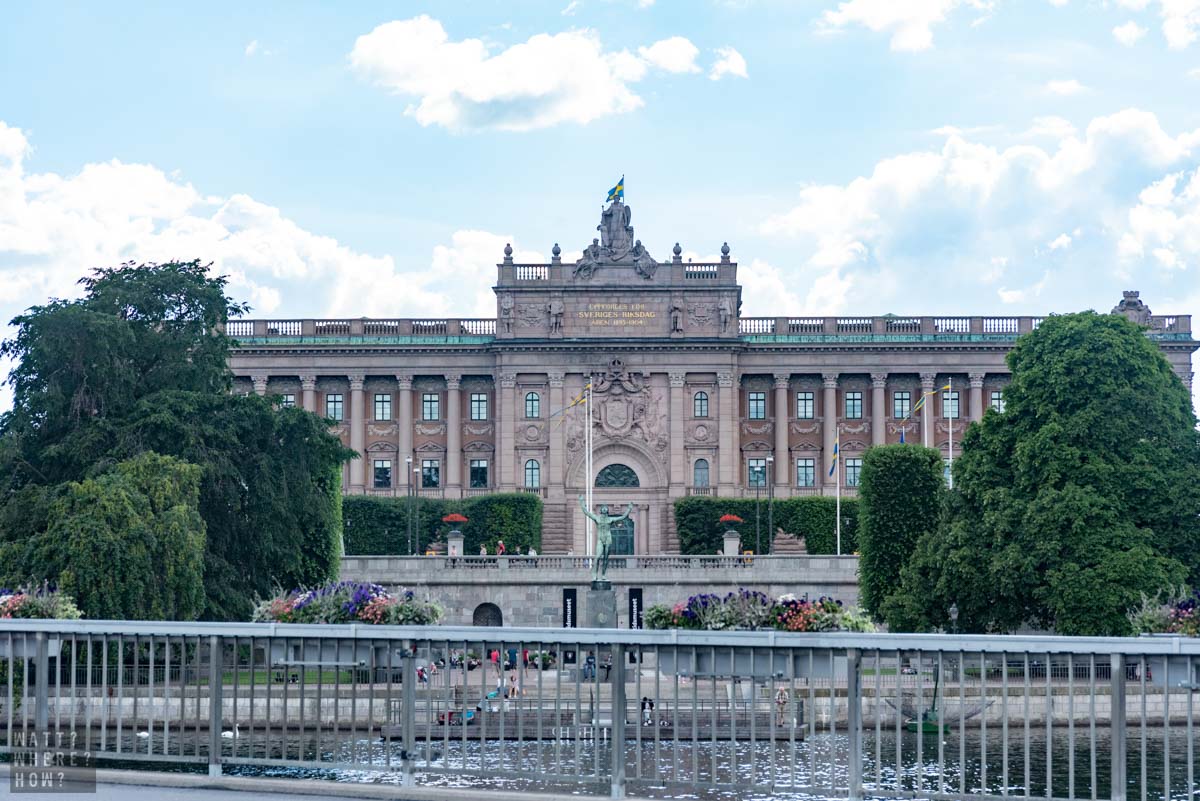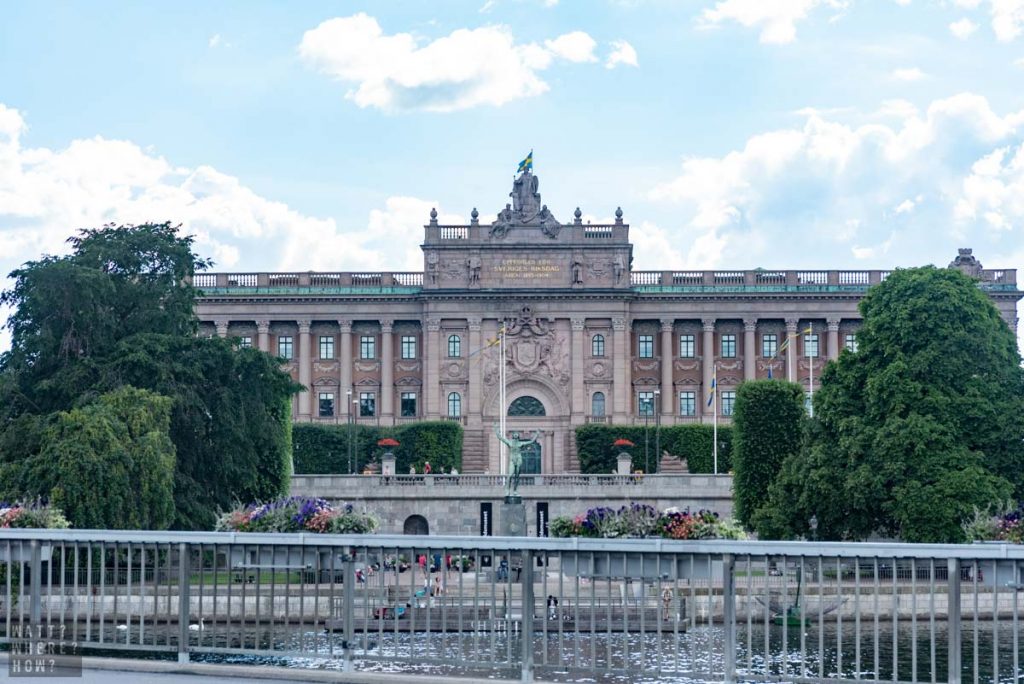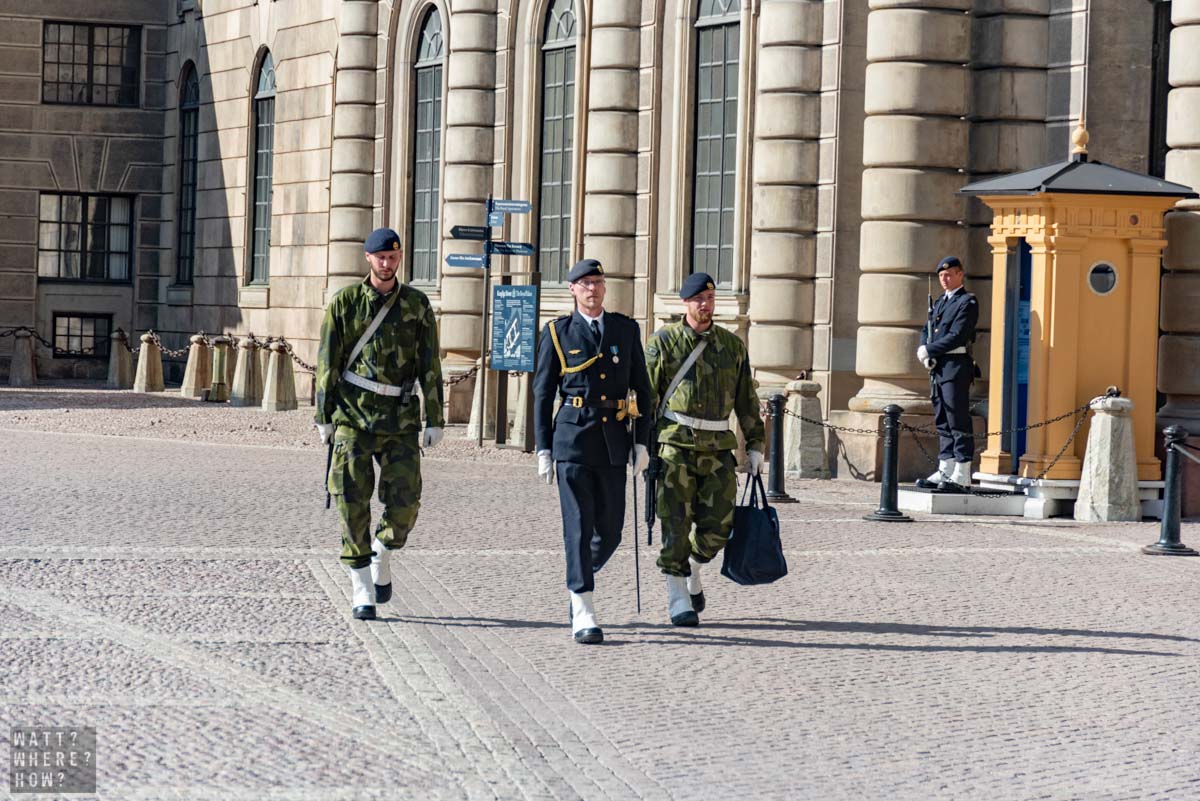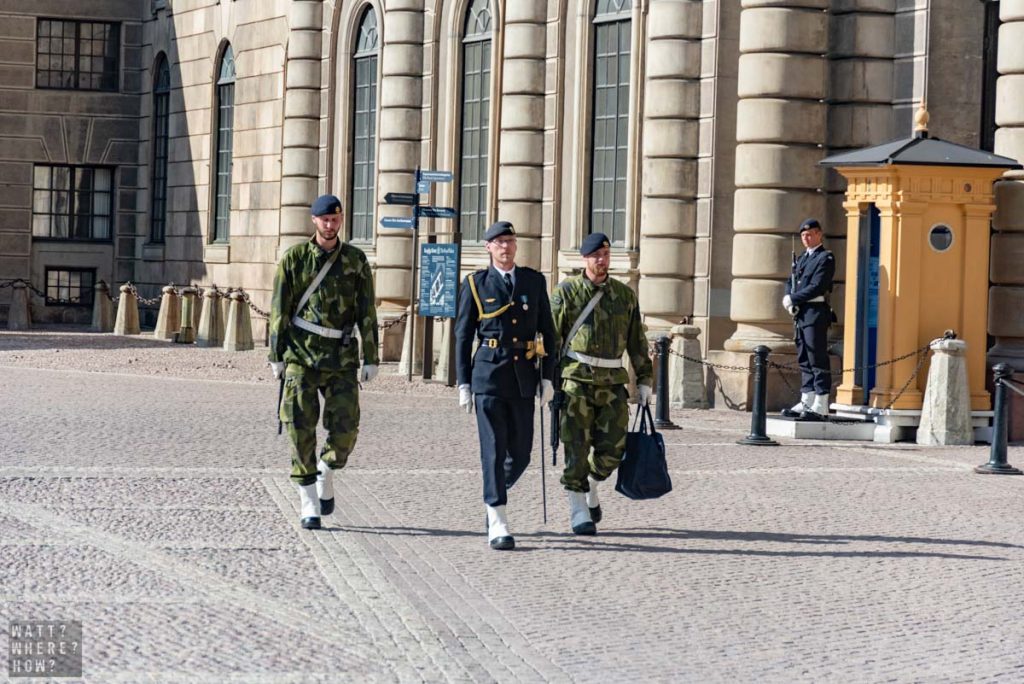 Watch the Changing of the Guards at the Stockholm Royal Palace
Like many medieval cities, Stockholm still retains a royal family and palace, though most of the time they live out at the much more stylish summer palace of Drottningholm. The Stockholm changing of the guard starts at 12:15pm in the palace outer courtyard on weekdays, and at 1:15pm on Sundays. It lasts about 40 minutes except for special occasions.
Meet St George and the Dragon at Stockholm Cathedral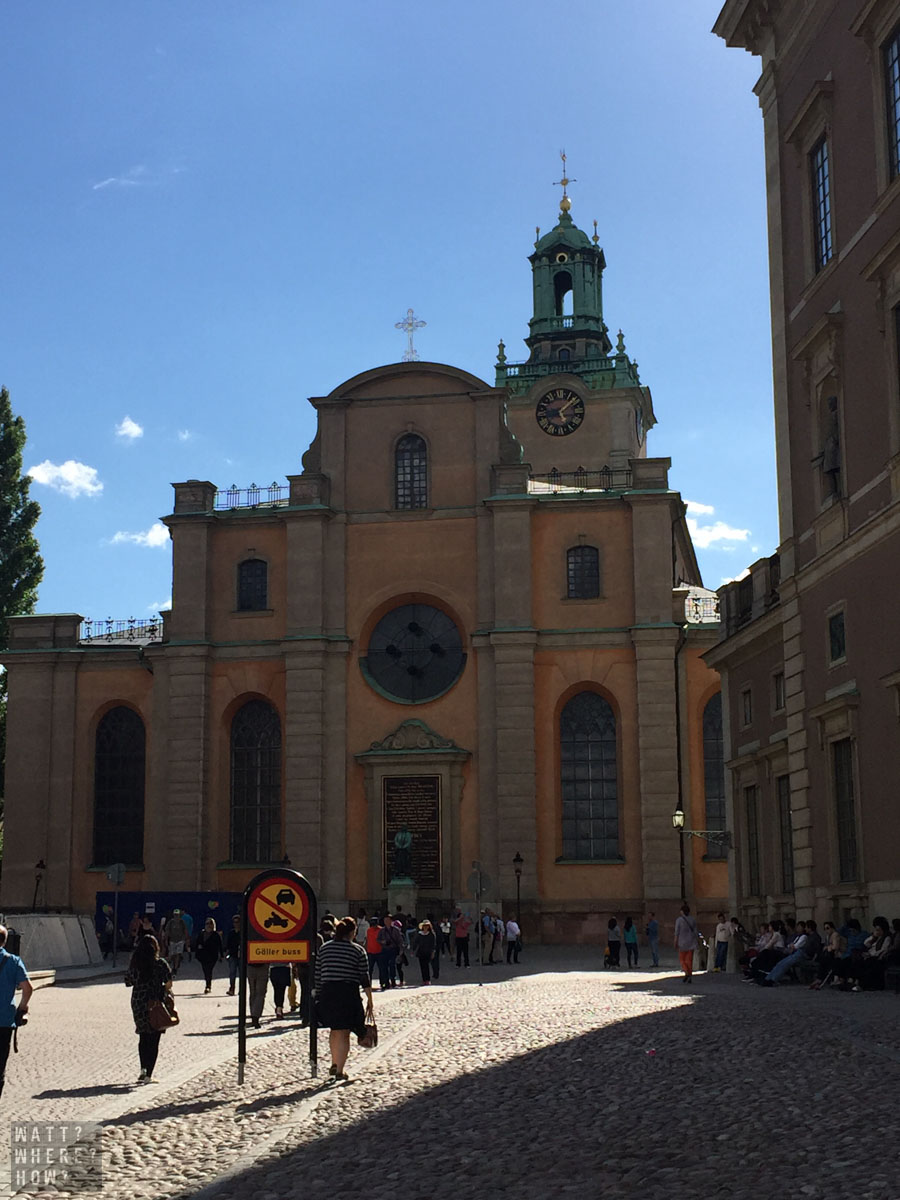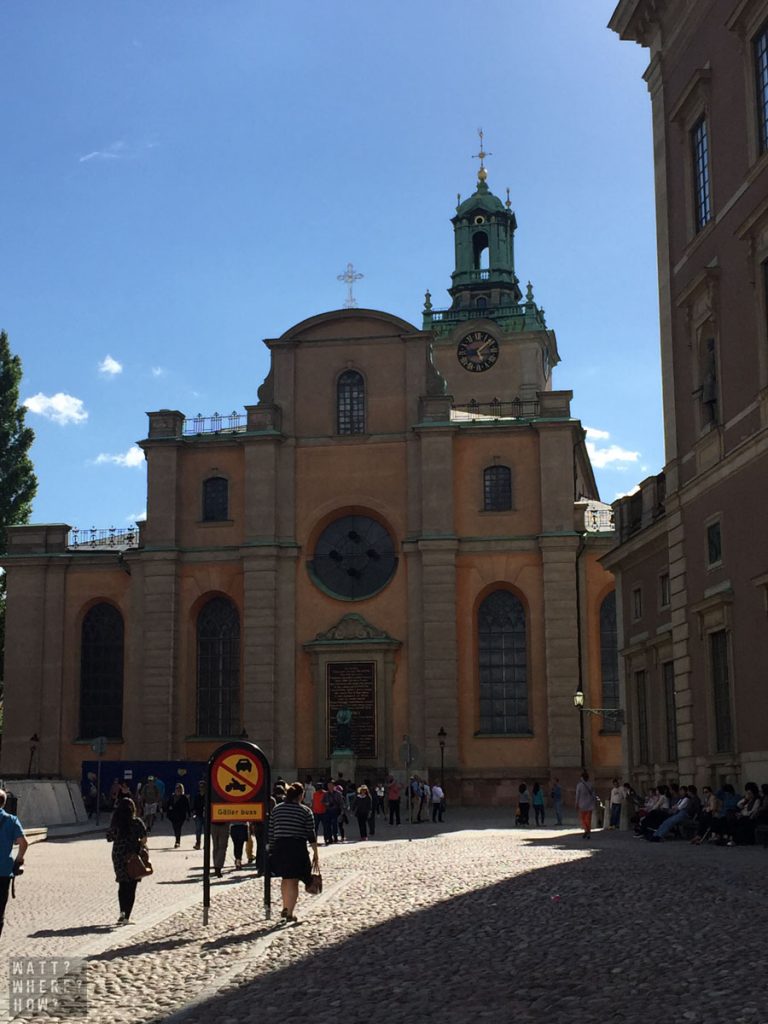 Set directly adjacent to the royal palace is the Stockholm Cathedral (Storkyrkan, or Stockholms domkyrka). Built in 1279, it has been a Lutheran church since the Reformation in 1527. It's best known for its historic St George and the Dragon sculpture from 1489.
Stockholms Domkyrkoförsamling, Trångsund 1, 111 29 Stockholm, Sweden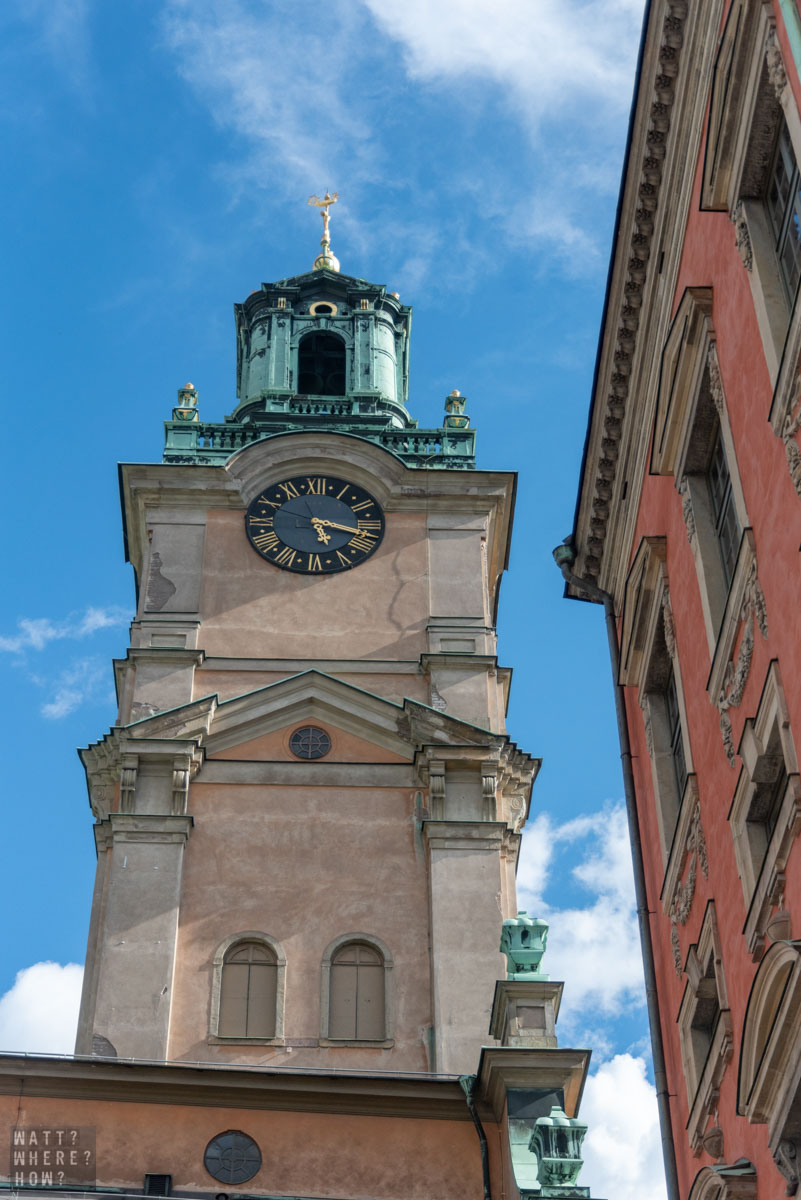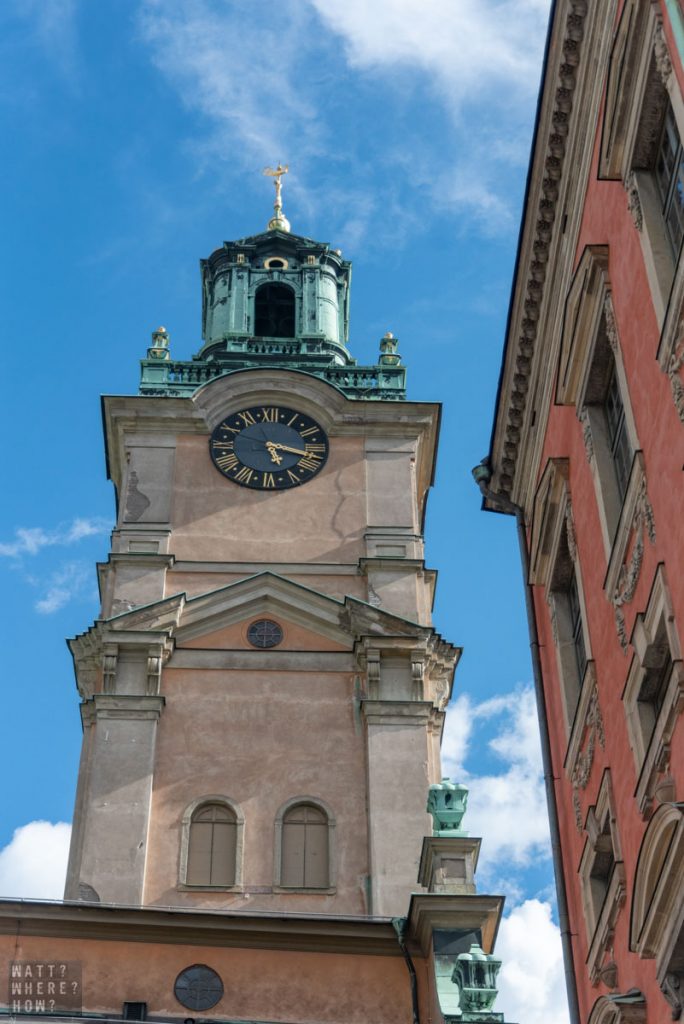 Up your Insta-game
One of the most gorgeous places for photos is Prästgatan, an alley that leads to the main shopping area, though you'll be entranced by the web of alleys, the narrowest, Mårten Trotzigs Gränd, is less than a meter wide.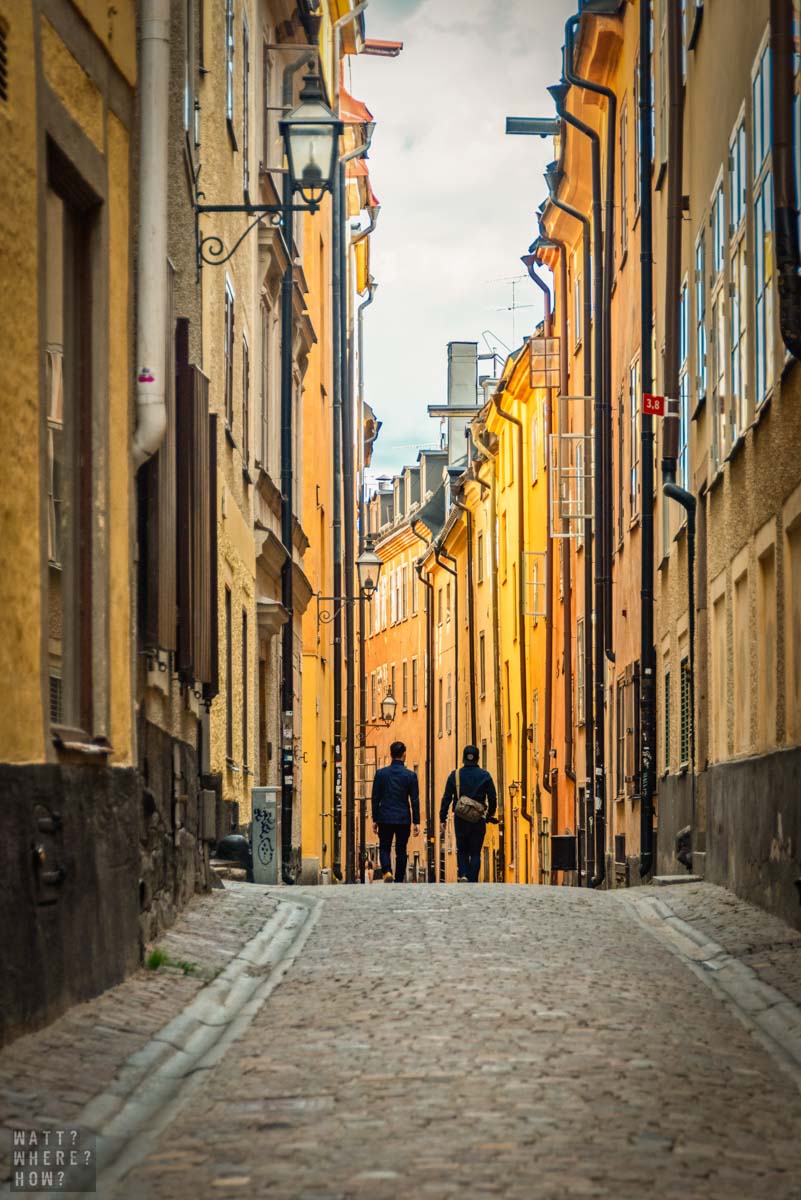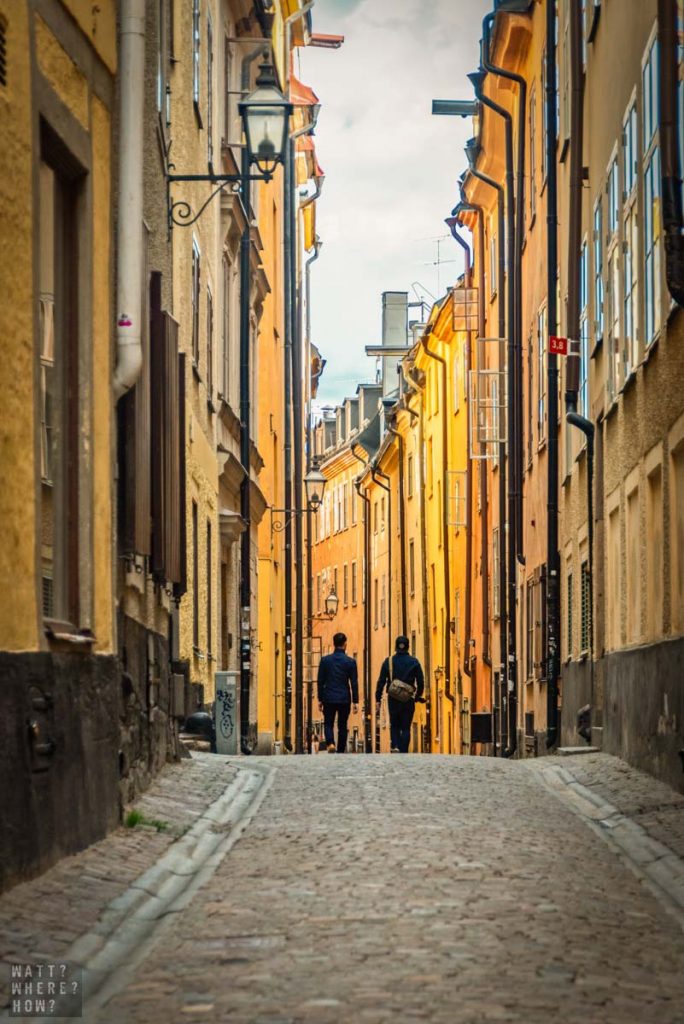 The main square, Stortorget, is a bustling center surrounded by old warehouses and merchant manors that were slum like until the latter part of last century. Prior to that, it was a vibrant port with pubs, customs houses, banks, and traders servicing the ocean-going fleets of naval and commercial vessels.
Dine at centuries old Slingerbulten
Slingerbulten offers affordable, traditional Swedish dishes in a building dating back to the 1700s. We tried the Kajsas Fisksoppa (fish soup based on a recipe from 1930s restaurant, Kajsas),
Stora Nygatan 24, 111 27 Stockholm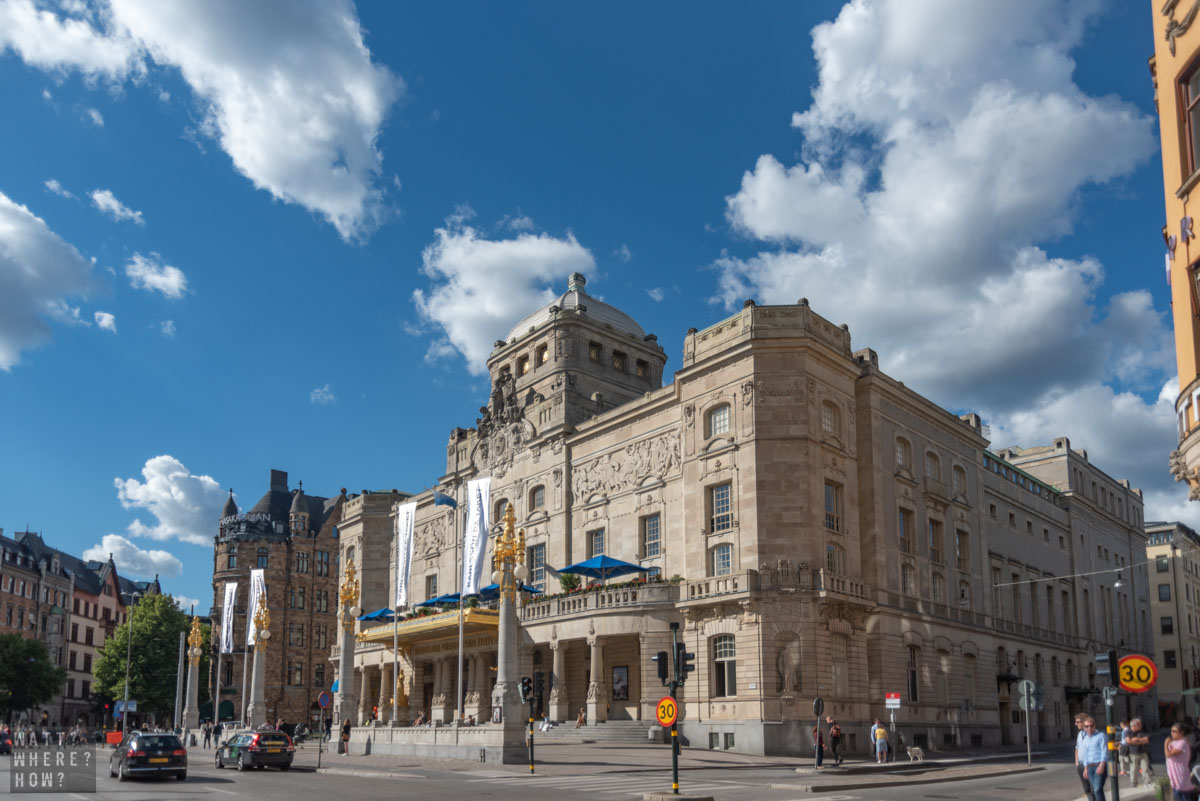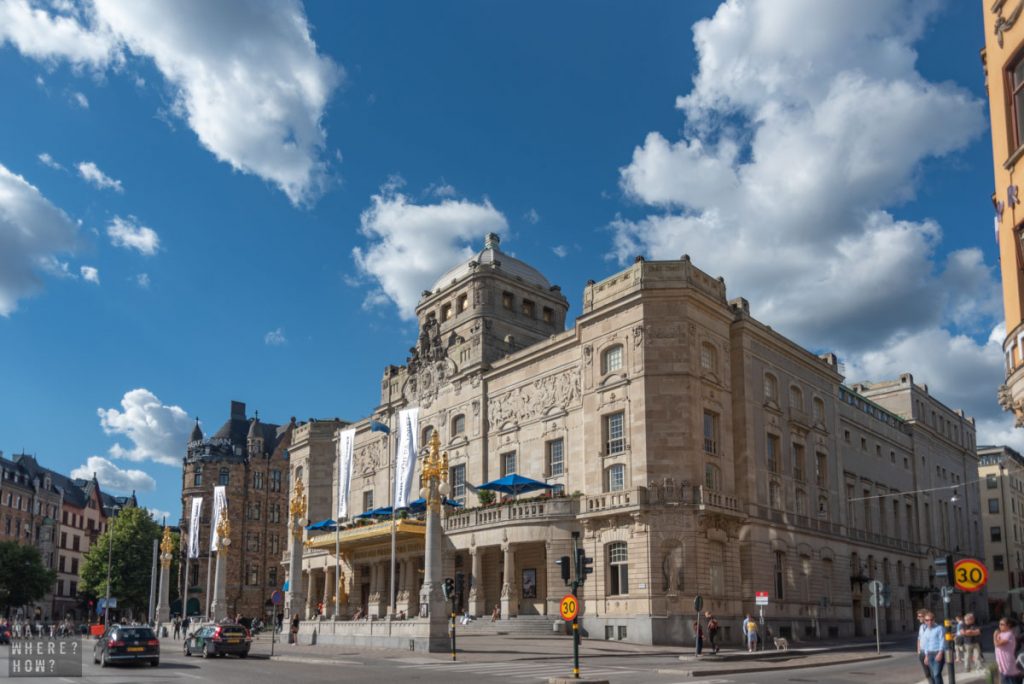 The Royal Dramatic Theatre
While you may not understand the dialogue of the performances, theater lovers will appreciate the tours of the Stockholm Royal Dramatic Theatre that reveal amazingly ornate halls and ostentatious costumes.
Nybroplan, 111 47 Stockholm, Sweden
Raul Wallenberg Memorial
Most people know the story of Oscar Schindler due to their exposure through the Spielberg movie, Schindler's List or the book that sparked the screenplay, Schindler's Ark by Thomas Kennelly, but for all his efforts saving 1,100 Jews, an equally industrious (and far less exploitative) Raul Wallenberg is little more than a footnote, yet he saved tens of thousands of Jews.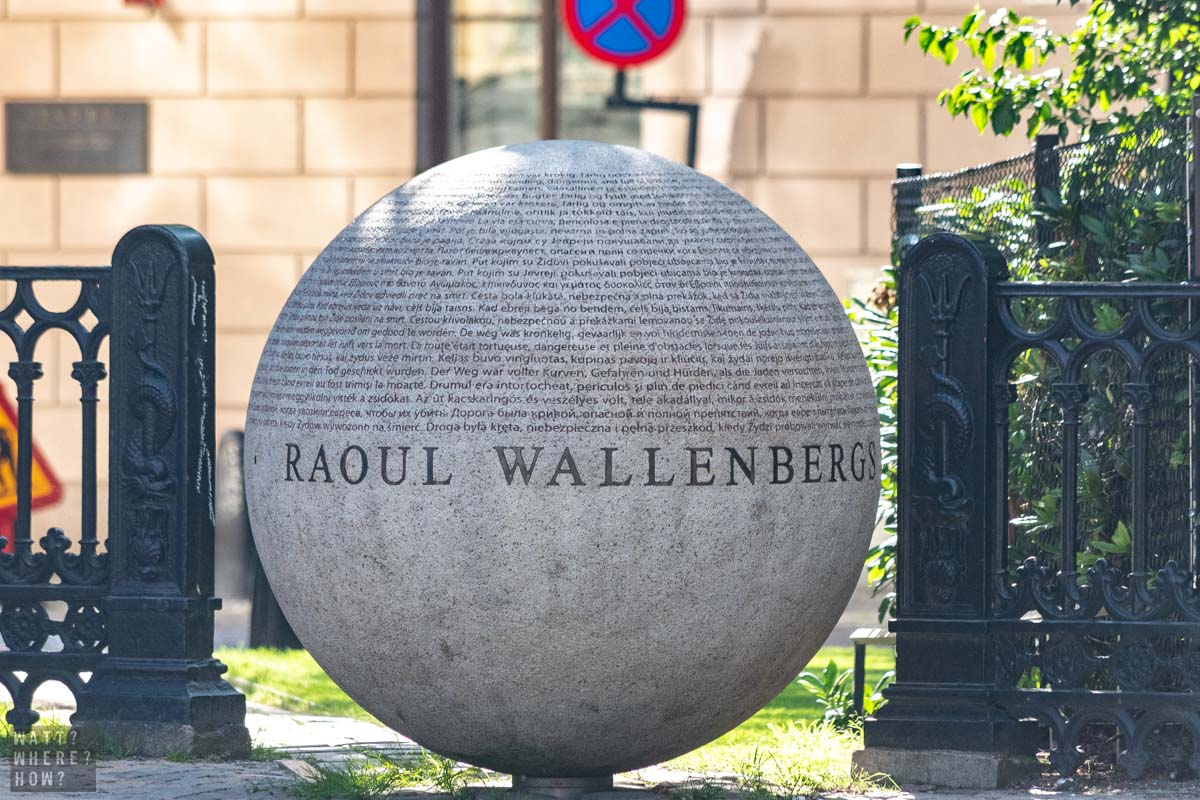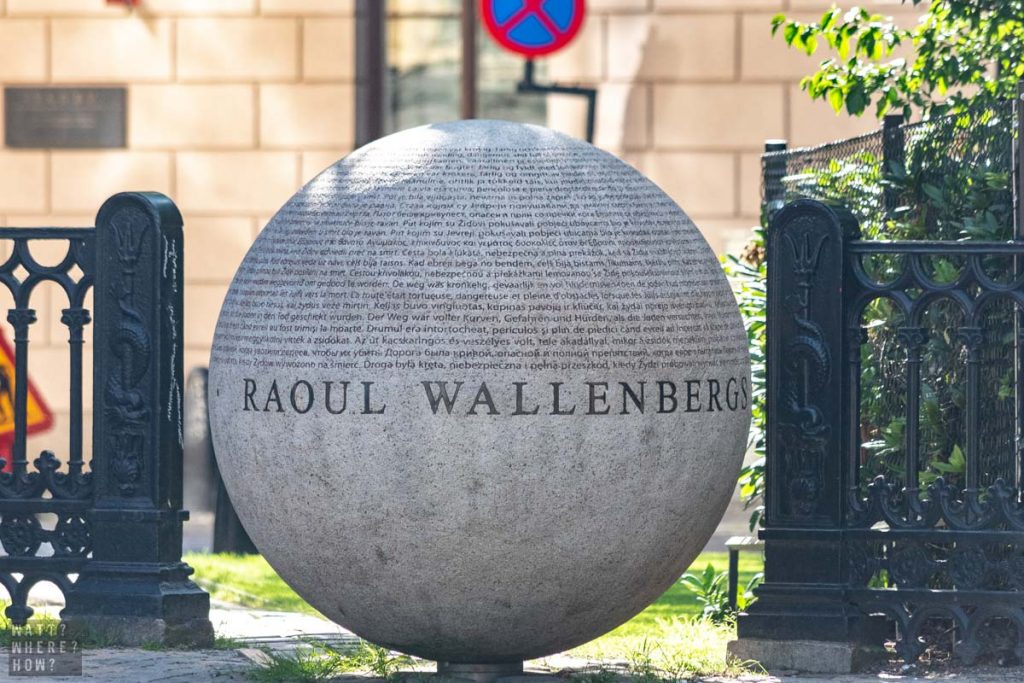 Recognized as one of the Righteous Among Nations by Yad Vashem, Wallenberg actively worked to secure protective passports for Hungarian Jews through his role as Sweden's special envoy in Budapest. He also housed them in Swedish buildings in Budapest to protect them from deportation and certain death, as the Nazis launched a concerted effort to annihilate the Hungarian Jews in just six months as the Russians were entering German territory. During the siege of Budapest, he was detained by the KGB and never seen again. Today he's been posthumously awarded the world's highest humanitarian honors. Raoul Wallenbergs torg, 111 47 Stockholm, Sweden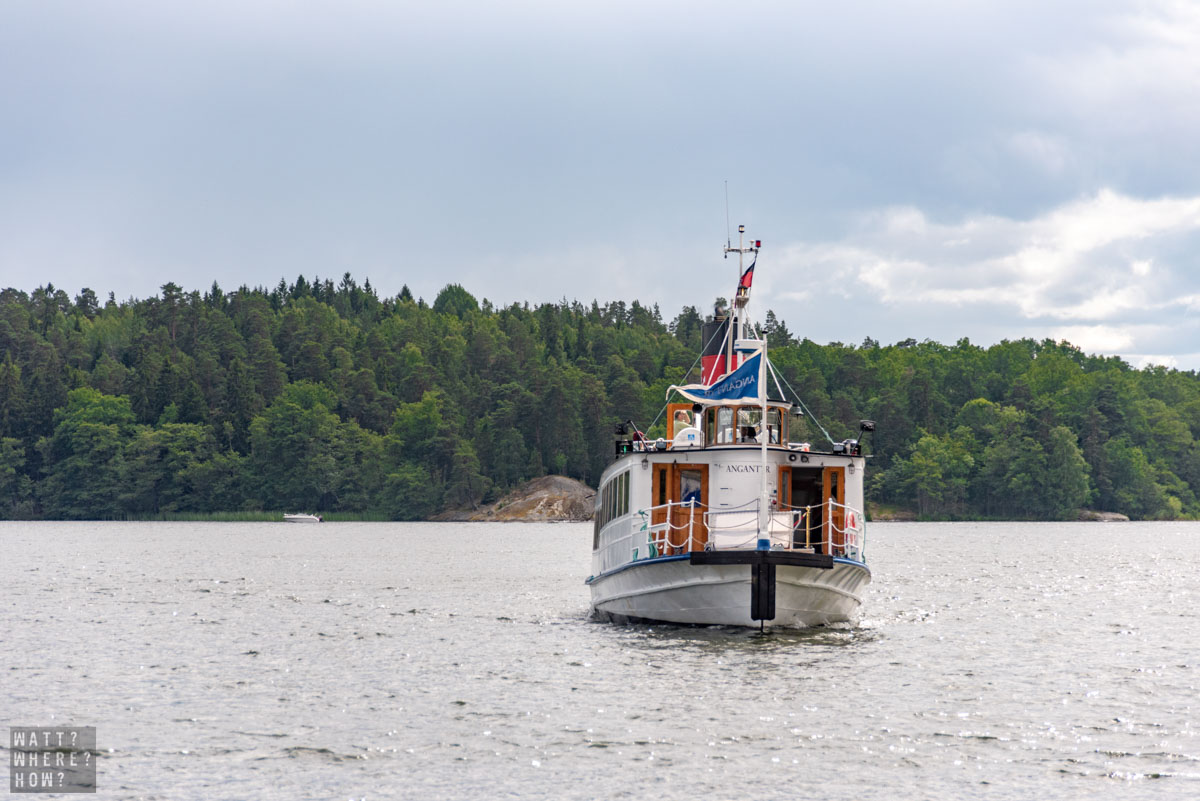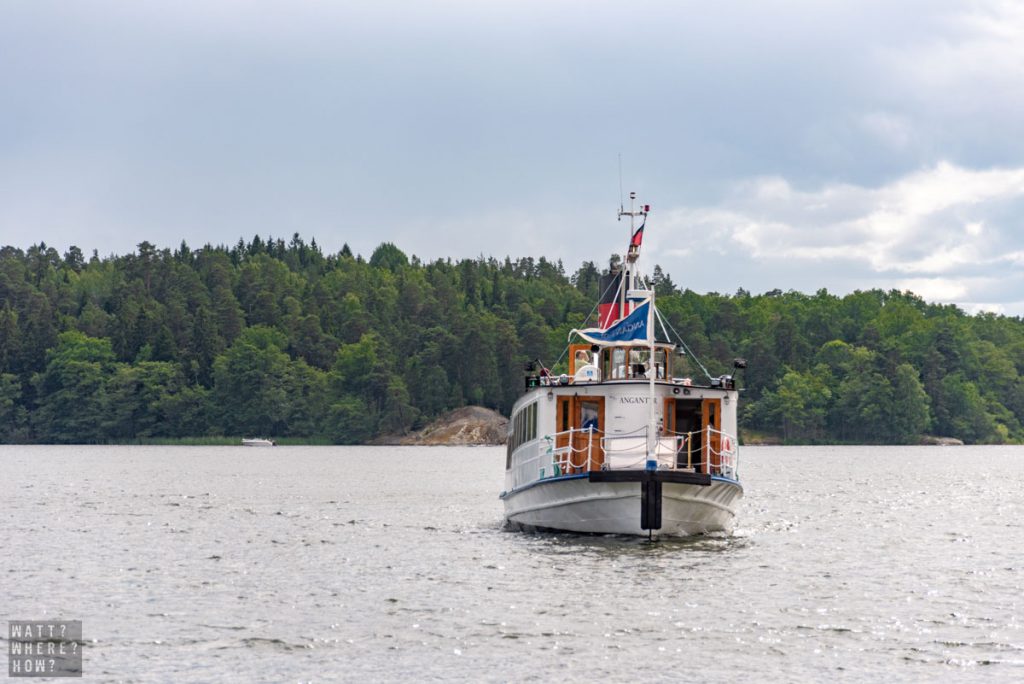 Things to do Stockholm Style: Take a ferry to Drottningholm Palace
The Klara Mälarstrand is an open area of ferry stops, parks, and conveniences heading towards the Stadshuset. Regular ferries transport locals and tourists alike to the many coves, beaches, forests, and islands of the archipelago. The most popular day trip is to the Swedish royal family's home, the impressive baroque Drottningholm. Known as the Versailles of the north, Drottningholm is a stately baroque palace and gardens set on the shores of Lake Mälaren.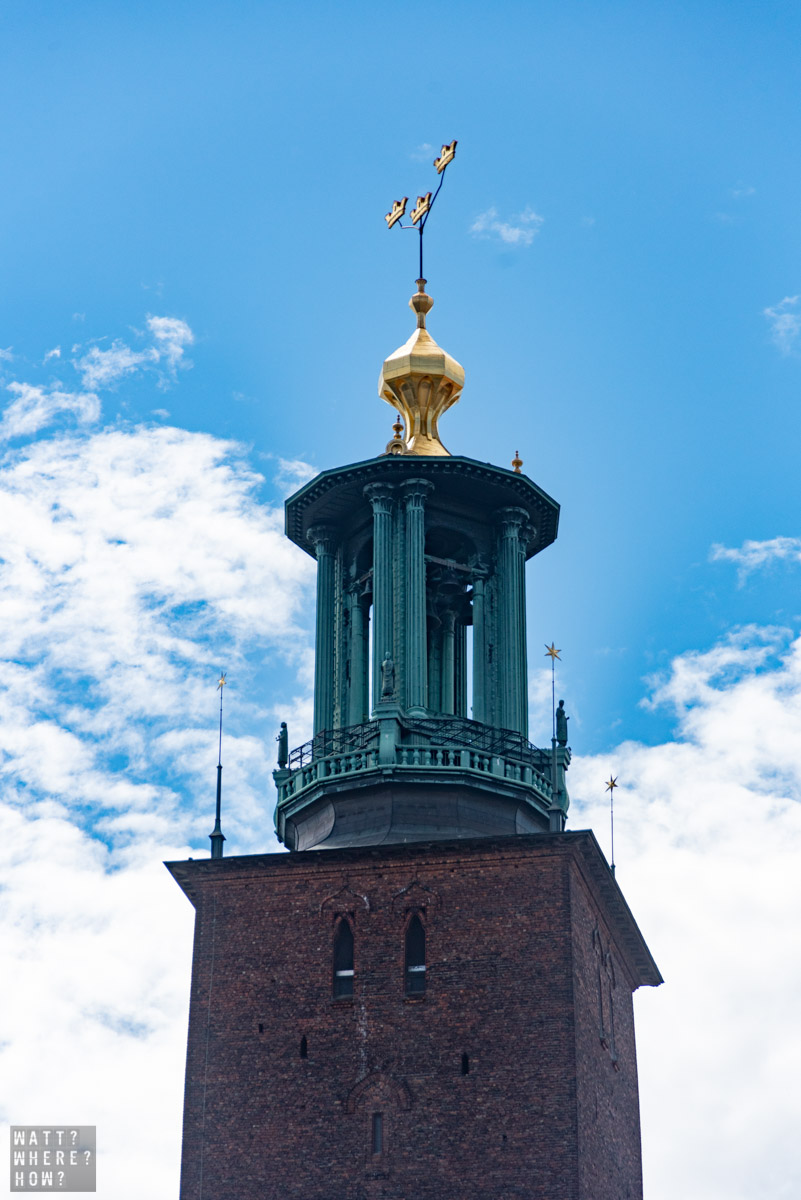 Stockholm City Hall (Stadshuset)
One of the picture-postcard icons of The Swedish capital is the Stadshuset or Stockholm City Hall on Kungsholmen island. It's been the civic center of the town since its inauguration in 1923 and plays a major part in the Nobel prize award ceremonies, hosting the annual Nobel Prize Banquet. Rendered in red "monk brick", a material normally used in Swedish monasteries, the building is dominated by a 106-meter tower adorned with three golden crowns, the Swedish national emblem.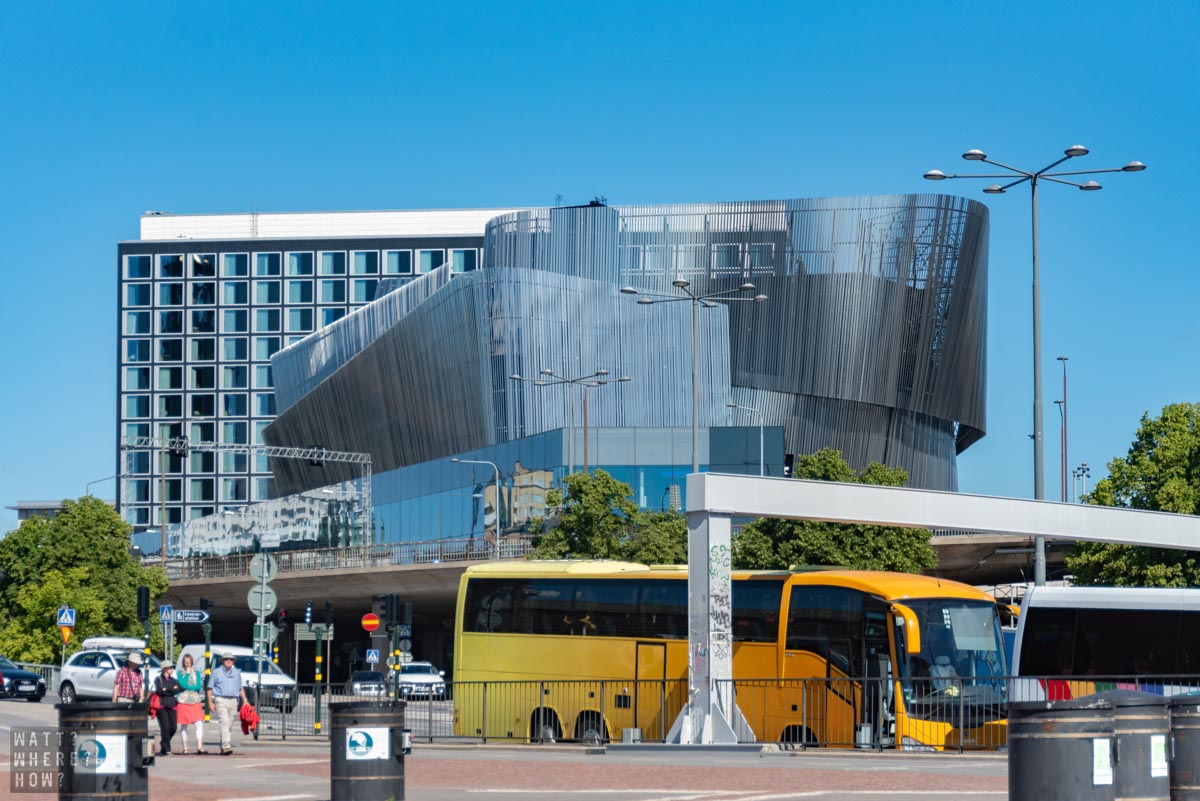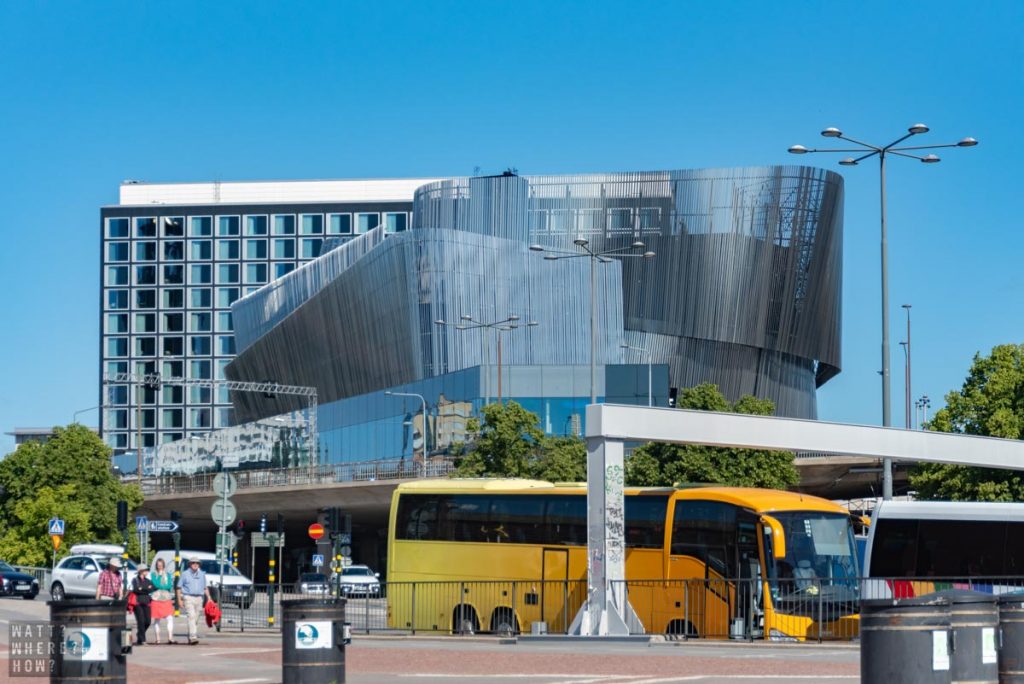 Stockholm Waterfront Congress Center
The ultramodern Stockholm Waterfront Congress Center is a futuristic counterpoint to the city's historic skyline, particularly with its proximity to the Stadhuset. A relative newcomer to the city, the Stockholm Waterfront in Klara was opened in 2011. It houses convention halls, function spaces, and a Radisson Blu hotel.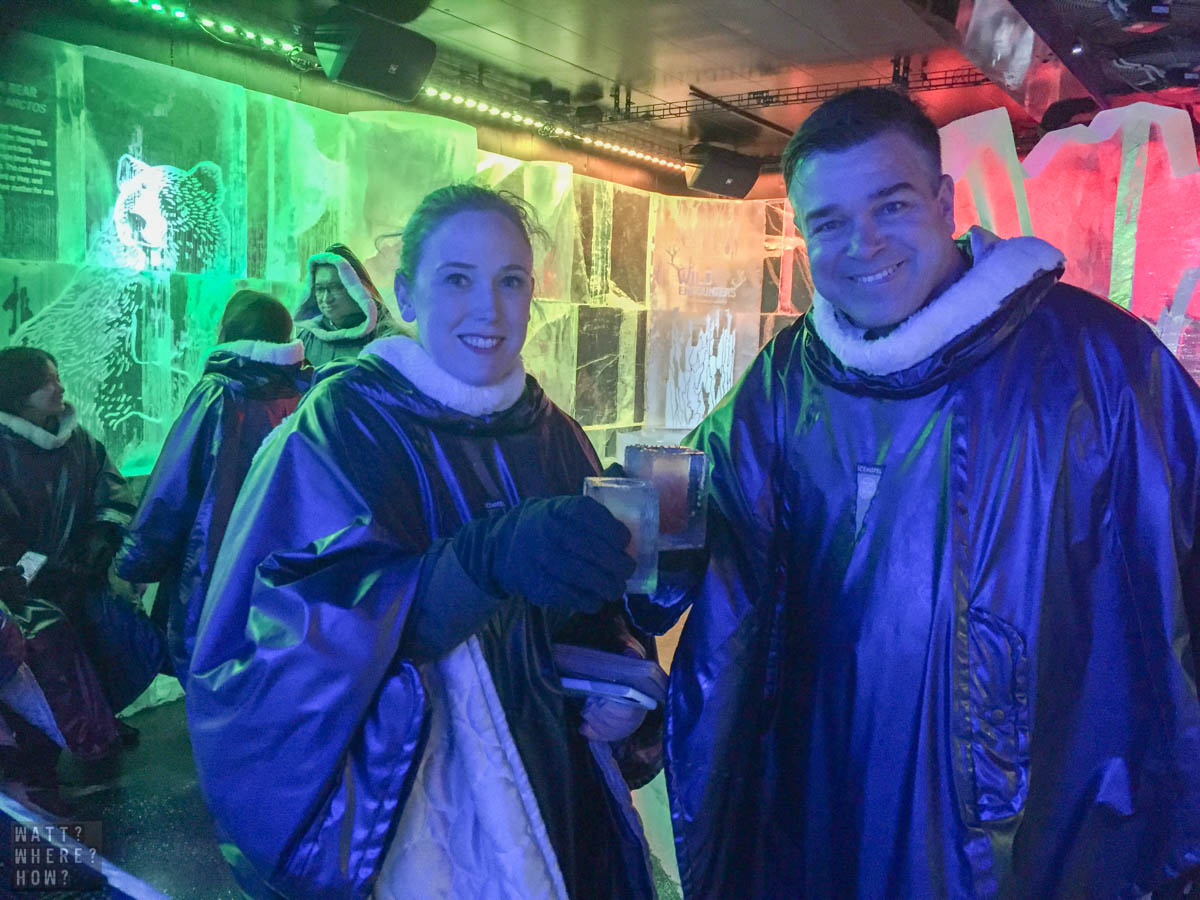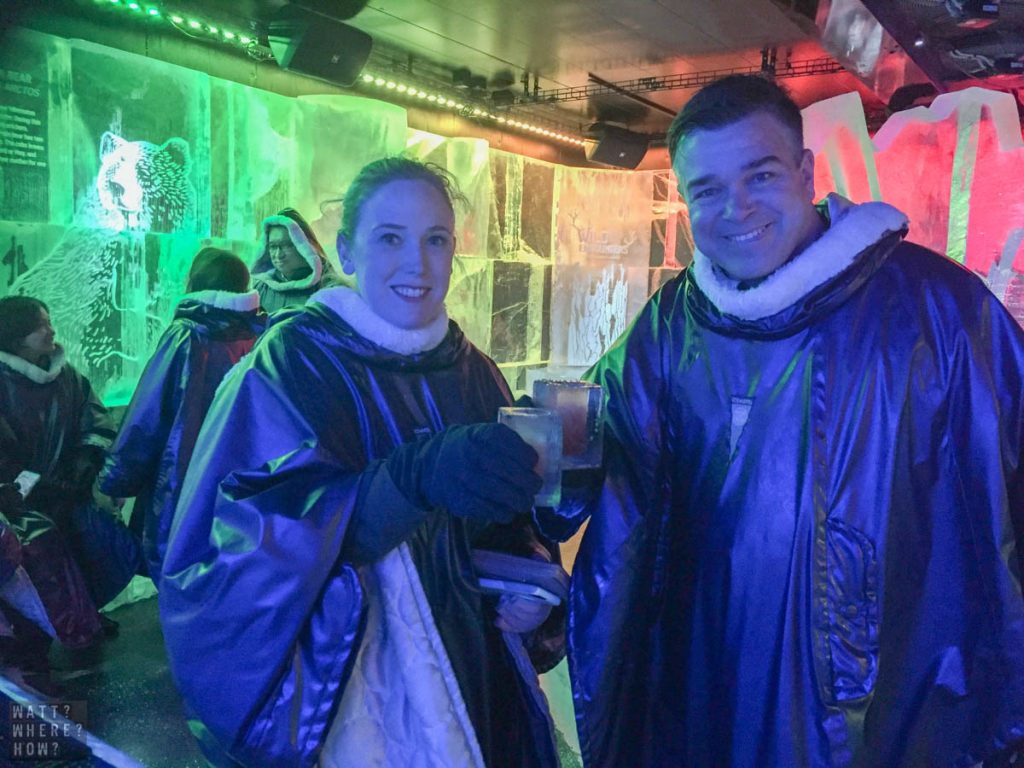 Drink icy cocktails in subzero temperatures at Sweden's Ice Bar
There was a time when this was one of the coolest (pun intended) destinations for drinks globally, with the Ice Bar feature on trend spotting blogs internationally. Now the phenomenon has been replicated in many major world cities, but that doesn't stop it from being worth the visit.
Vasaplan 4, 111 20 Stockholm, Sweden
Find desirable fashion and décor at Åhléns Stockholm
London has Harrods and Marks and Spencer's, New York has Macy's and Bloomingdales, and Stockholm has Åhléns City store. This classic multi-level department store has the city's best overall selection of fashion, furniture, electronics, and cosmetics. Browse floor after floor of beautiful merchandising as you wind through a tasteful selection of things you'd love to fill your suitcase with but would never have the room.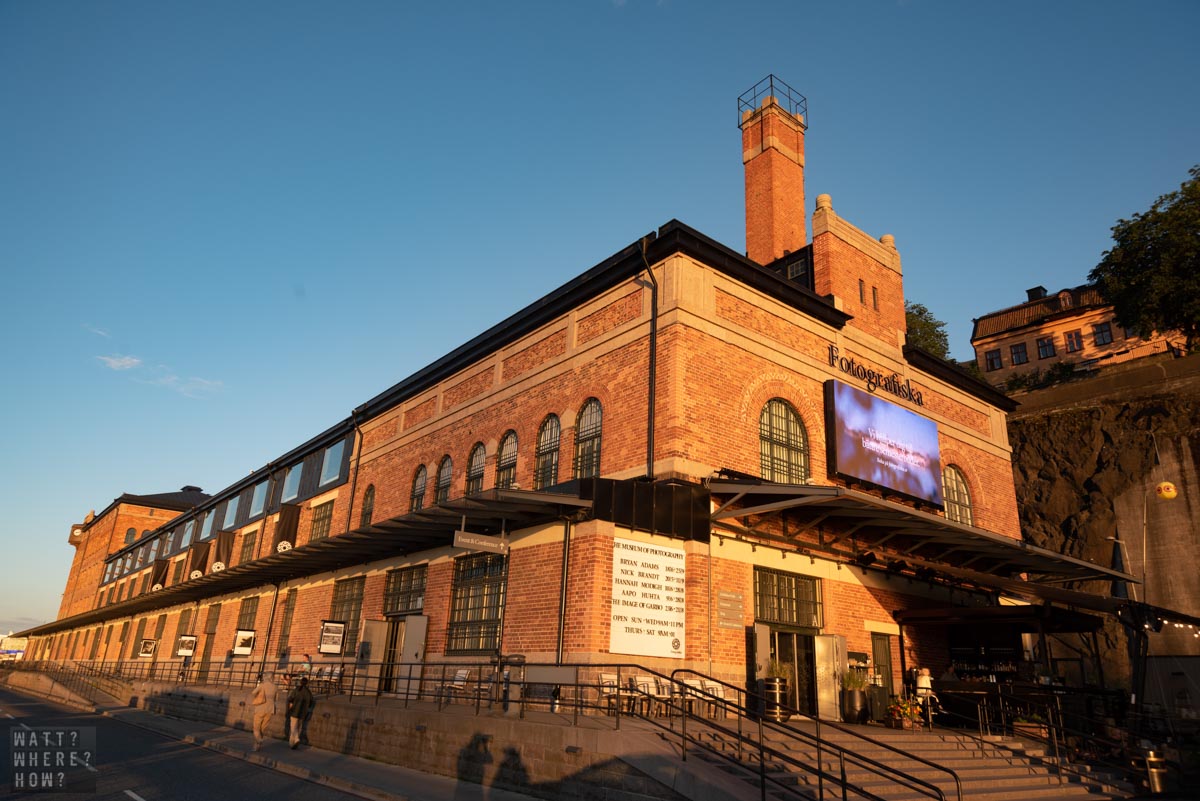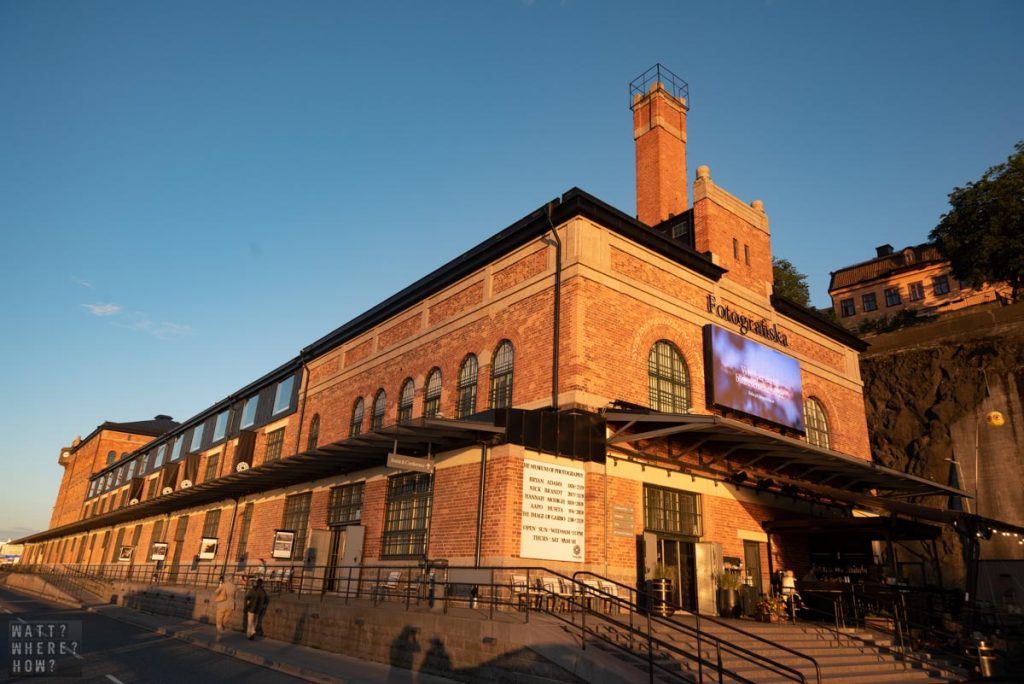 Come face to face with the world's best photography at Photographiska Stockholm
It's not just an impeccable design sensibility that is synonymous with Sweden. Photography is elevated to the fine art it deserves to be at Photographiska. The gallery and its equally acclaimed restaurant, The Restaurant (very imaginatively named), are situated on the waterfront in a former warehouse. A rotating series of collections celebrate modern masters and up-and-coming talent along with classic series. When we visited there was an exhibition on Sweden's early Hollywood star, Greta Garbo, and an impressive showing of photos by rock musician, Bryan Adams.
How to get to Stockholm Sweden
Stockholm by Air
Stockholm has four international airports: Arlanda, Bromma, Skavsta and Vasteras, with the main one being Arlanda. It's where most of the traditional name brand airlines fly in and out of, while the others service some of the newer no-frills budget carriers. The Arlanda Express train can get you to and from Stockholm Central in just 18 minutes.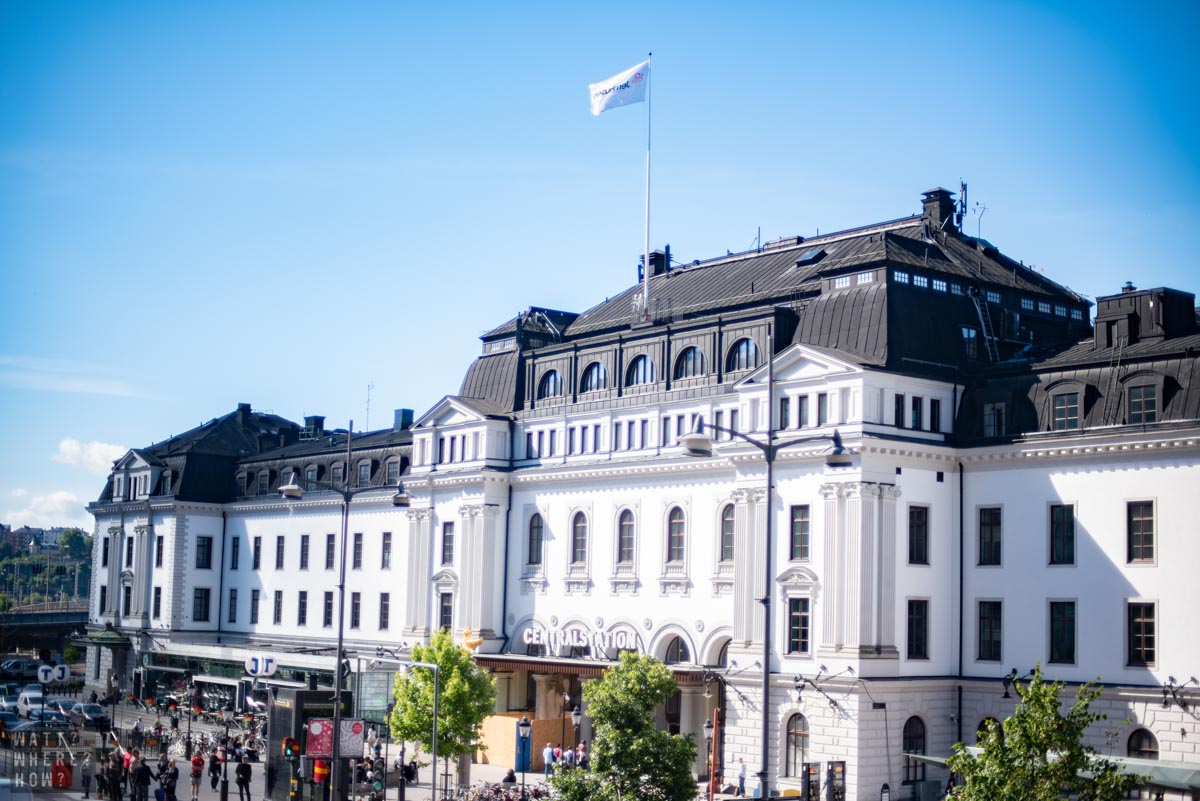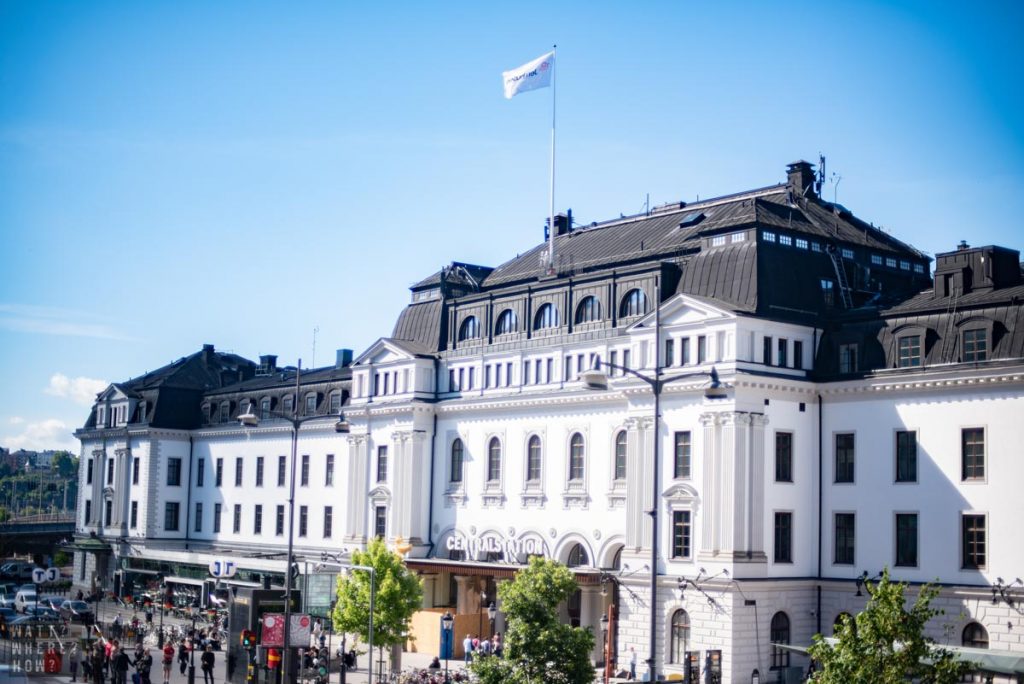 Stockholm by Rail
Like all major European capitals, Stockholm is well serviced by trains with a sophisticated railway system. You can find regular service to and from Copenhagen, Oslo, Malmo, and other European cities via Denmark, arriving at Stockholms Centralstation. The high speed X2000 trains run by SJ reach speeds of around 200km/hour and make it an easy 5 hour commute to Copenhagen with modern comfort and WiFi access.
Stockholm by Sea
Known as the Venice of the north, not just for its many connected islands and canals, but also its role as a sea power, Stockholm still attracts major cruise lines with ships arriving daily at three main port areas: Stadsgården, Frihamnen Dock, (where most of the big cruise ships berth) and Skeppsbron Dock. Cruises run between Sweden, Finland, Germany, Latvia, Estonia, and even Russia.
How to get around Stockholm, Sweden
Streetcars
Like many European capitals, Stockholm wisely maintained its streetcars and today you can ride these efficient and kitschy blue and white time capsules around the inner suburbs. For 38 SEK, you can get a single ticket that's valid for 75 minutes, or for you can buy a day pass, 3-day pass, or 30-day ticket which also works on the buses and trains. You can buy them from SL's ticket machines, at the turnstiles with a credit card, or via their app.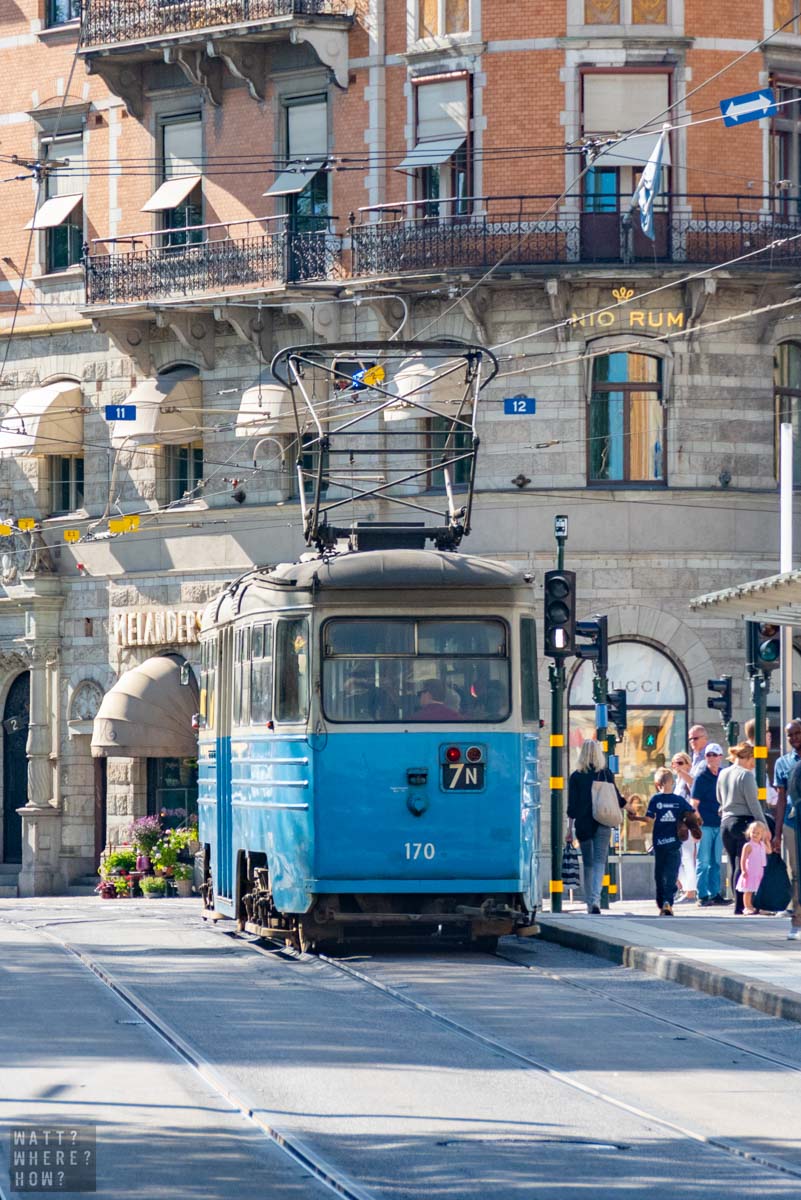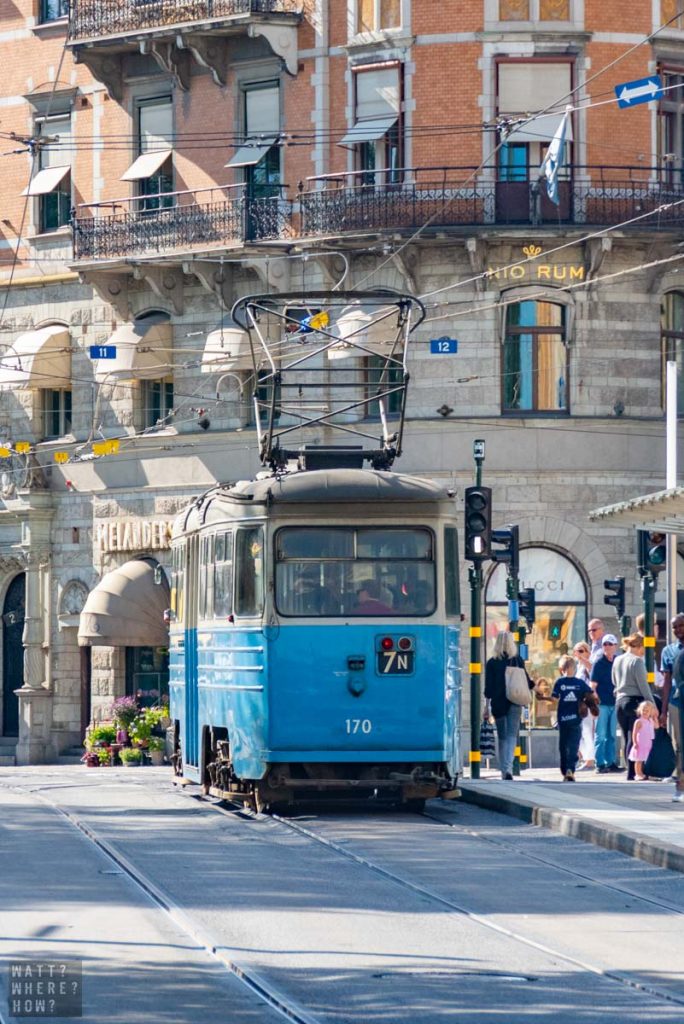 Subway
The Stockholm rail network and its stylish subways are a world apart from the grit of the New York metro system or the polite chaos of Tokyo's systems. It's clean and efficient. There are over 100 stations serving the city, with just under half of them below the ground. A single ticket is valid for 75 minutes, costs 38 SEK, and can be purchased at SL's ticket machines, through their app, or directly at the turnstiles using a credit card.
Cabs and Ubers
Like all major world cities, ride share apps have upset the traditional taxi cab monopolies, making it more competitive and more affordable. Uber has been in Stockholm for the last five years and is still a little cheaper than cabs – plus you can use the app you already own to order cars.
Canal Tours and Ferries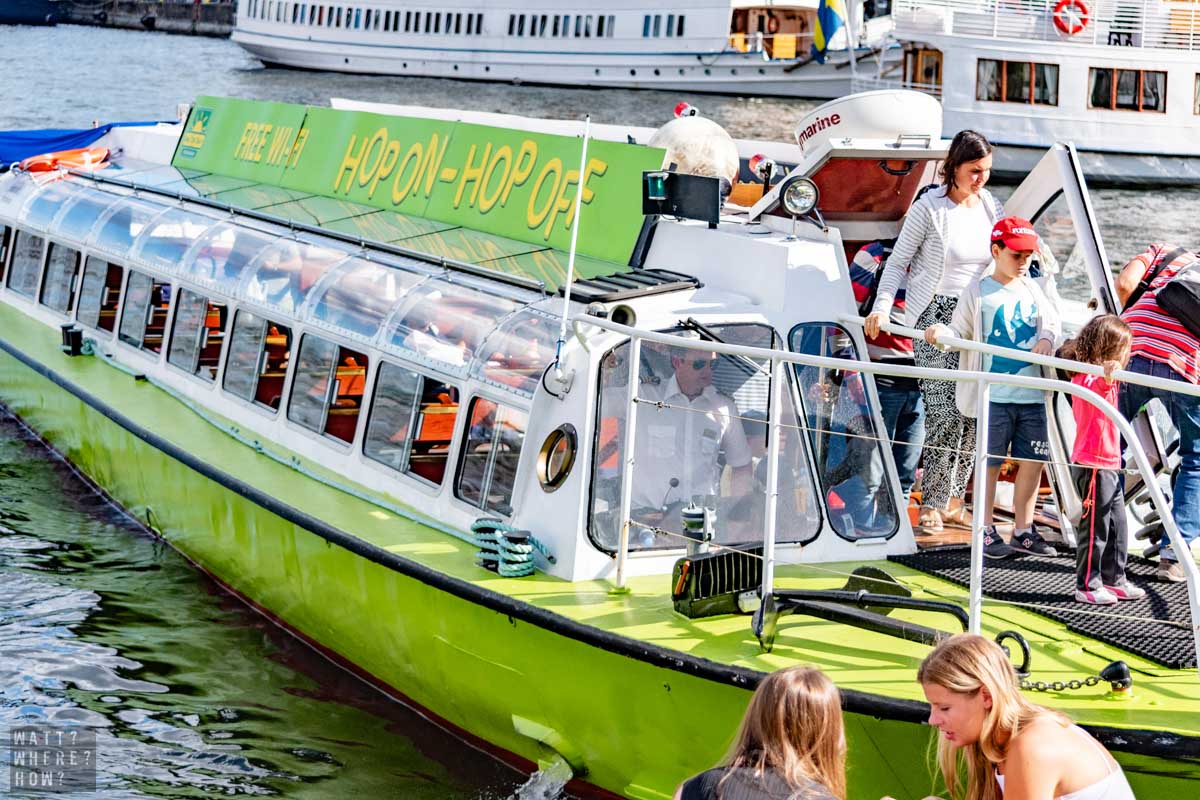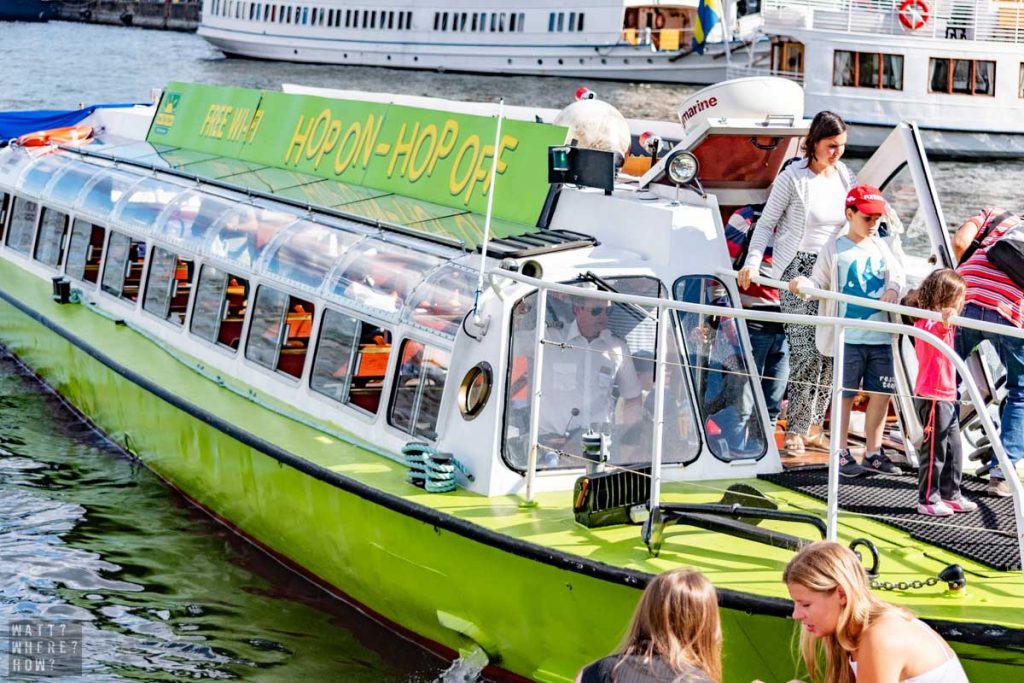 A popular way for tourists and families to get around the city is on these colorful hop on, hop off ferries. They service the major islands of the city and offer one day or 72 hour passes.
What currency is used in Sweden?
Although a European capital, Sweden doesn't use the Euro. Instead, they have their own currency, the Swedish Krona or SEK. It comes in denominations of Bills: 20 kr, 50 kr, 100 kr, 500 kr, 1,000 kr and Coins: 1 kr, 5 kr, 10 kr. It equates to about 10 cents in US dollars and 0.095 Euro. All modern ATMs offer conversion options or exchange money at the airport – though it usually has the meanest rates.
Follow & Connect with us