Parisian Christmas Markets bring France's regional flavors and traditions to the streets of Paris. When planning a holiday in France, a visit to the city's many Marché de Noël will leave you full of Christmas spirit.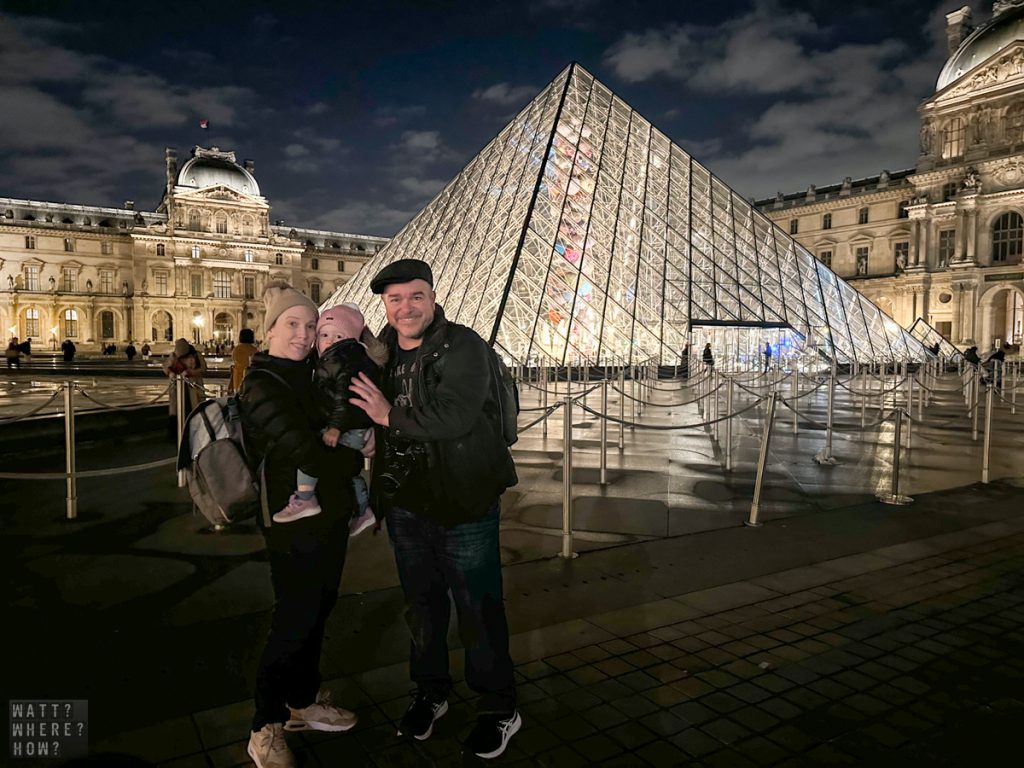 La Magie de Noël, Tuileries Gardens – the Ultimate Parisian Christmas Markets
The largest of the Parisian Christmas Markets, also known as Marché de Noël, is the carnival-style experience of La Magie de Noël (the Magic of Christmas) at the Tuileries Gardens. Situated just across from the palatial museum, The Louvre, La Magie de Noël, the northern edge of the gardens between Rue des Pyramides and Place de la Concord is transformed into a buzzing village.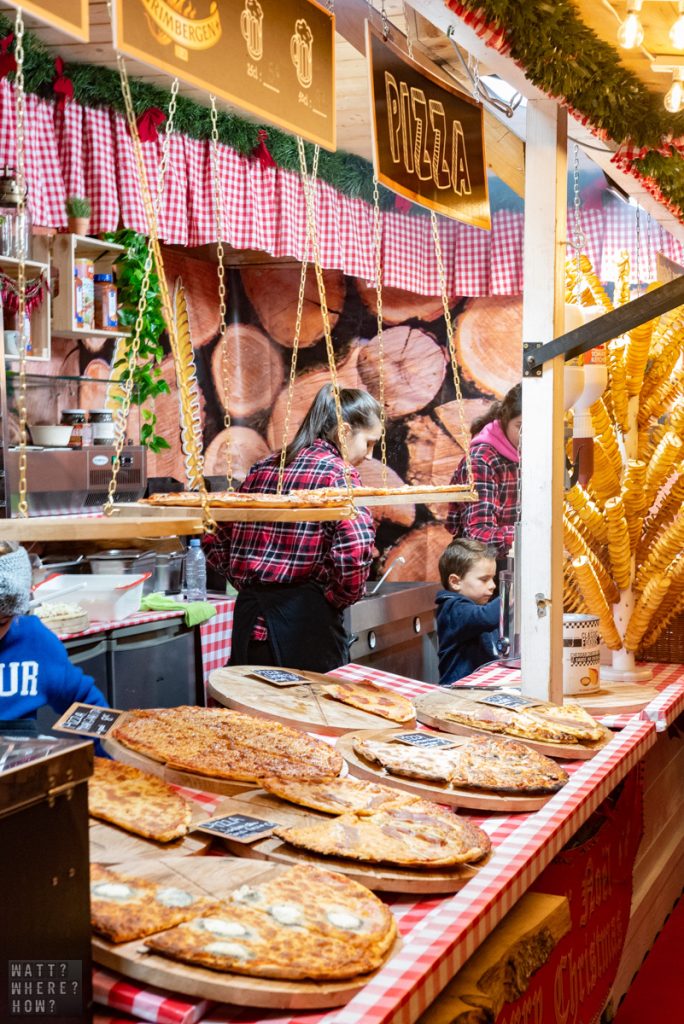 Entering from the Rue des Pyramides, you're immediately drawn into the rich aromas of melted cheeses, herbed sausages, and sweet spiced wines. Serving as a food court of sorts, you'll find chalet-inspired stalls offering buttery escargot (snails), oozing semicircles of raclette baked under their elements, and vendors performing theatrics with creamy mashed potato. Order a Christmas ale or a glass of mulled wine and wander.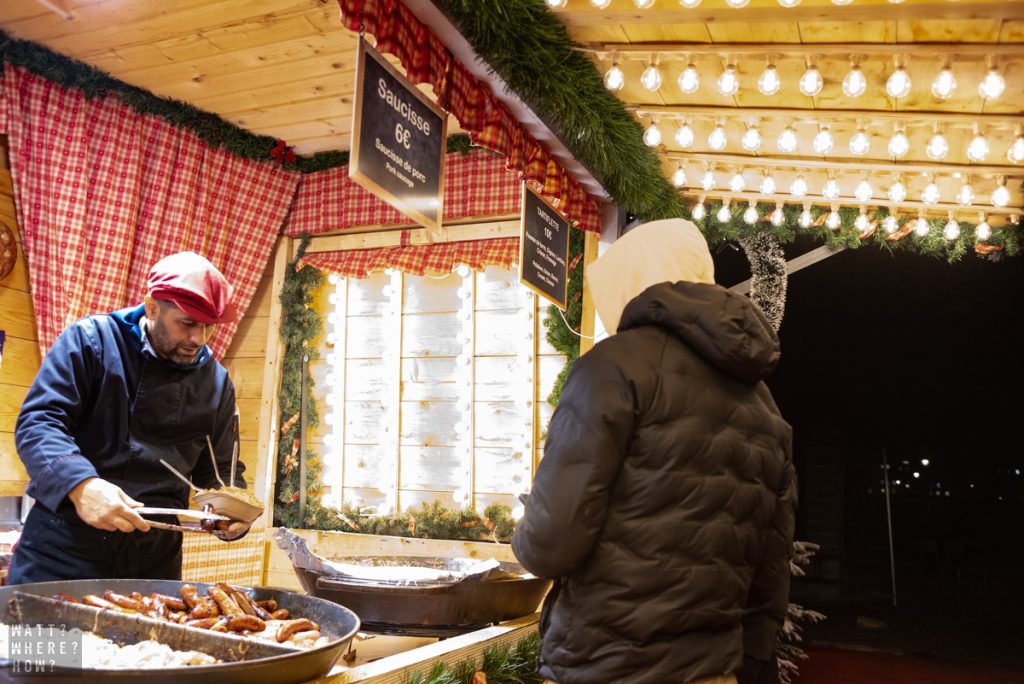 These Christmas markets are the largest we've seen on our travels. The food selection is the best in the world, and it's easy to be tempted by fresh oysters, pizza, panini, and hearty stews. As you venture closer to the big Ferris wheel, you'll find bars and beer halls, stands of rich chocolates, and large creamy bricks of handmade nougat.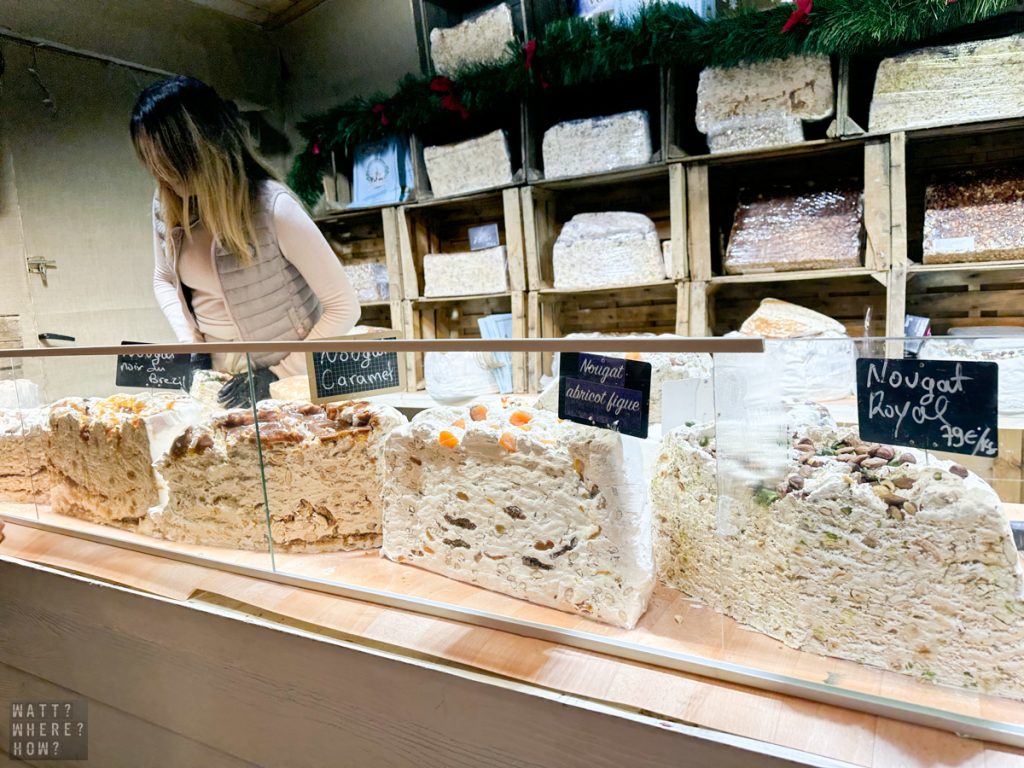 Local tip: The public restrooms are located in demountable units below the Ferris wheel.

Bring change as they cost 1 Euro to spend a penny.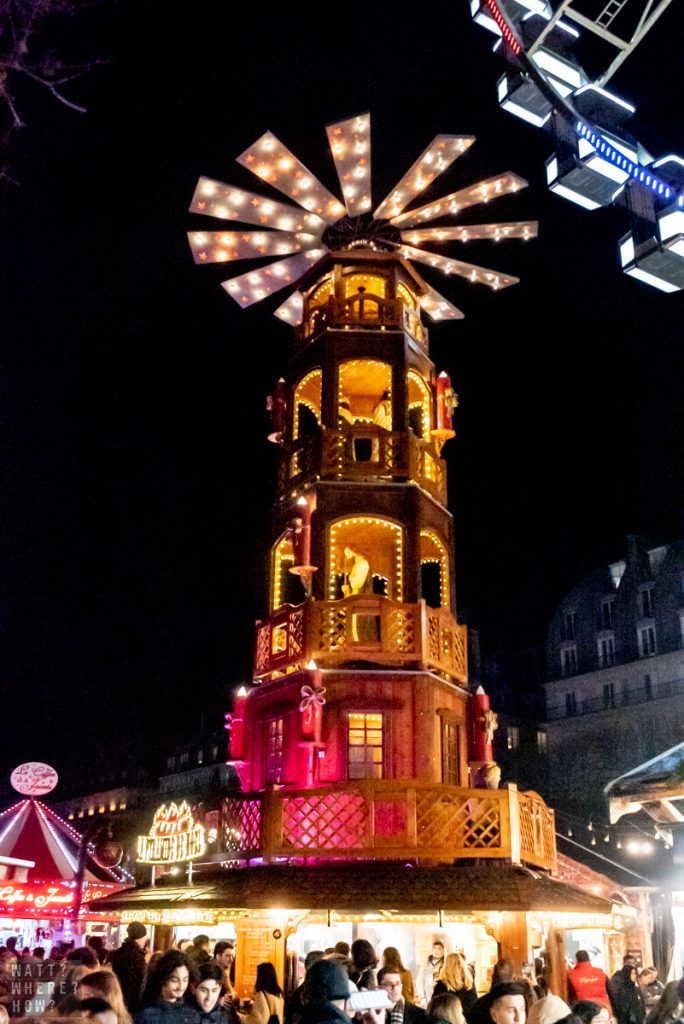 If you're looking for souvenirs, the stall style changes to artisan products, knick-knacks, and handicrafts. The products are more expensive than you'd find elsewhere, but there may be something there that catches your eye.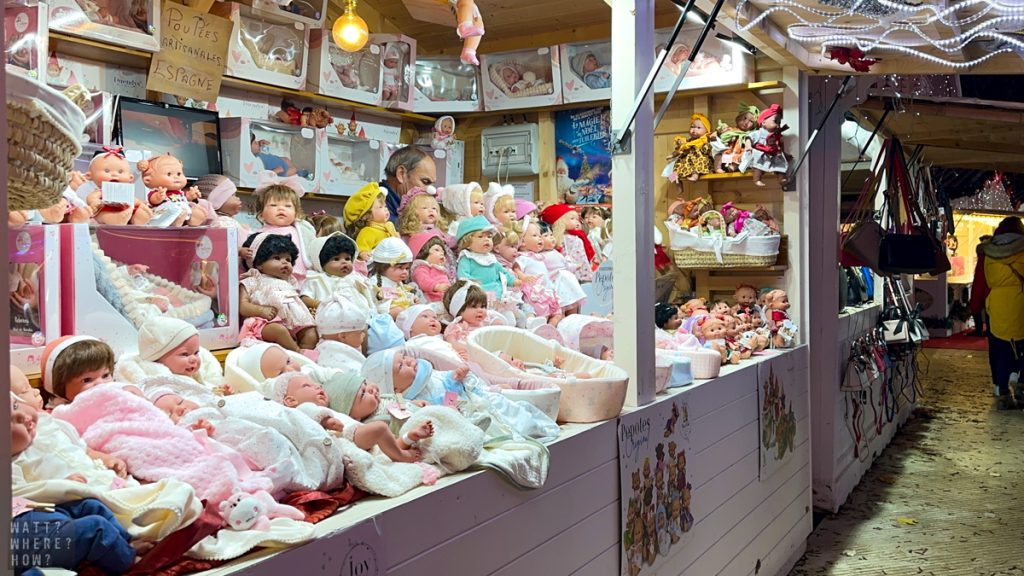 Towards the Place de Concord, where public amusements used to be executions on the guillotine, you'll find a sideshow of Christmas-themed rides and fun. There are racing slippery slides, a Christmas train for little kids, a gorgeous carousel, bumper cars, a fun house (which looks like a haunted fun house reskinned for the season), and a trampoline center with bungee harnesses is a favorite for kids as they can jump much higher than normal with relative safety. Then there's always the big Ferris wheel if you want to check out the markets from above.
And it wouldn't be a Parisian Christmas market without a visit from the fat man in red and white. Santa is available for toy requests and photos for between 20 and 30 Euros including photos. After three visits to Paris, we'd have to say that these have been one of the most memorable highlights we've had.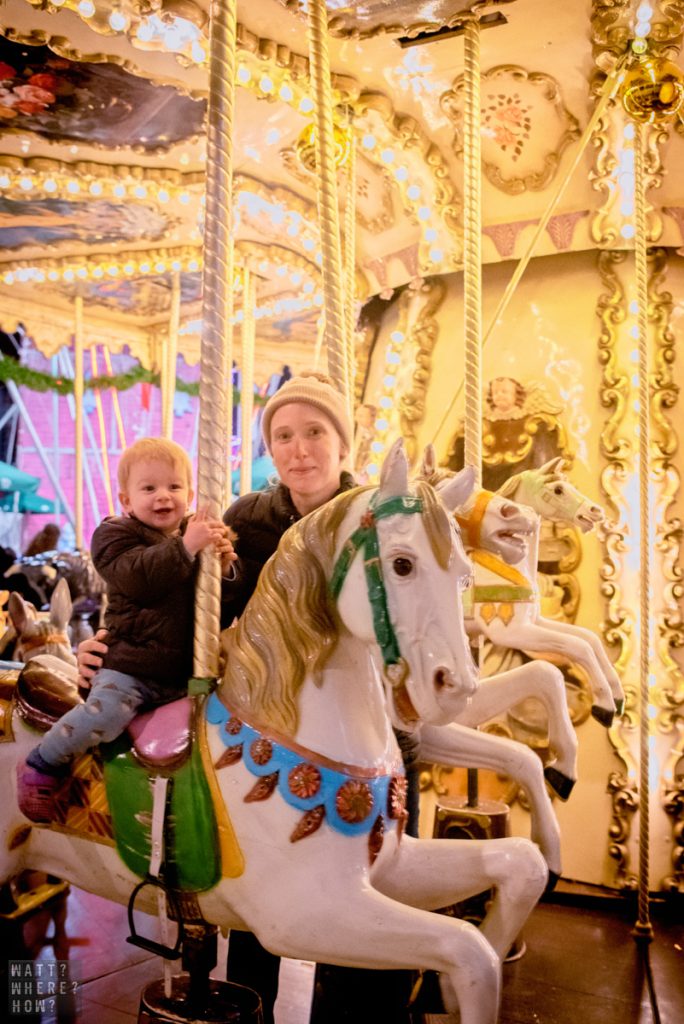 WHAT?
La Magie de Noël, Tuileries Gardens are the premier Parisian Christmas Markets. They run from late November until early January annually.
WHERE?
The markets are on the northern side of the Tuileries Gardens between the Louvre and Place de Concord.
HOW?
Entry to La Magie de Noël, Tuileries Gardens, is free, but you'll have to pay for any food, rides, or Santa photos.
As an alternative, you may also want to try: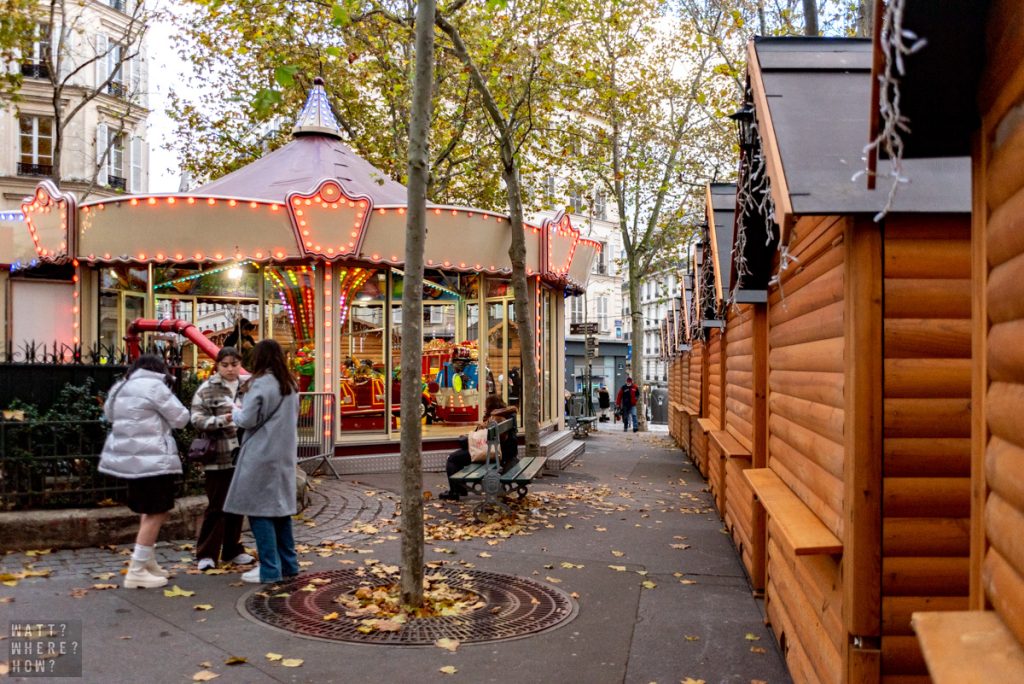 Marché de Noël à Montmartre
Just by the Le mur des je t'aime (Wall of Love) and the Jehan Rictus Garden Square in Montmartre is the Marché de Noël à Montmartre, a small 30-chalet Christmas market nestled around a modern carousel. Opening December 1 each year, it's a more localized affair than the main Christmas markets at the Tuileries Gardens. Stop by for hot chocolates and steaming mulled wines to stave off the winter chills.
Marché de Noël à Montmartre: Paroisse Saint-Pierre de Montmartre, 75018 Paris (nearest Metro station: Abbesses.
Bernie, Jess and Siena Watt are Australian-American travel bloggers sharing ideas for vacations and holidays around the world. Get inspired here.
Follow & Connect with us