Our honest fly Play Airlines review
You may have seen flight deals to Europe one-way from $149. Is it too good to be true? Is Play Airlines real or a scam? What's the catch? These are all thoughts that went through our heads when looking at cheap escapes from New York.
16 flights into our little one's life adventures, and at 16 months old, we chose to fly Play Airlines to Europe for a decently priced Thanksgiving escape. Equipped with a car seat, rather than opting for a lap child rate, this is how the experience Played out. And even if you are looking for an idea of what it's like to fly Play Airlines without kids, we have plenty of thoughts in this in-depth airline review.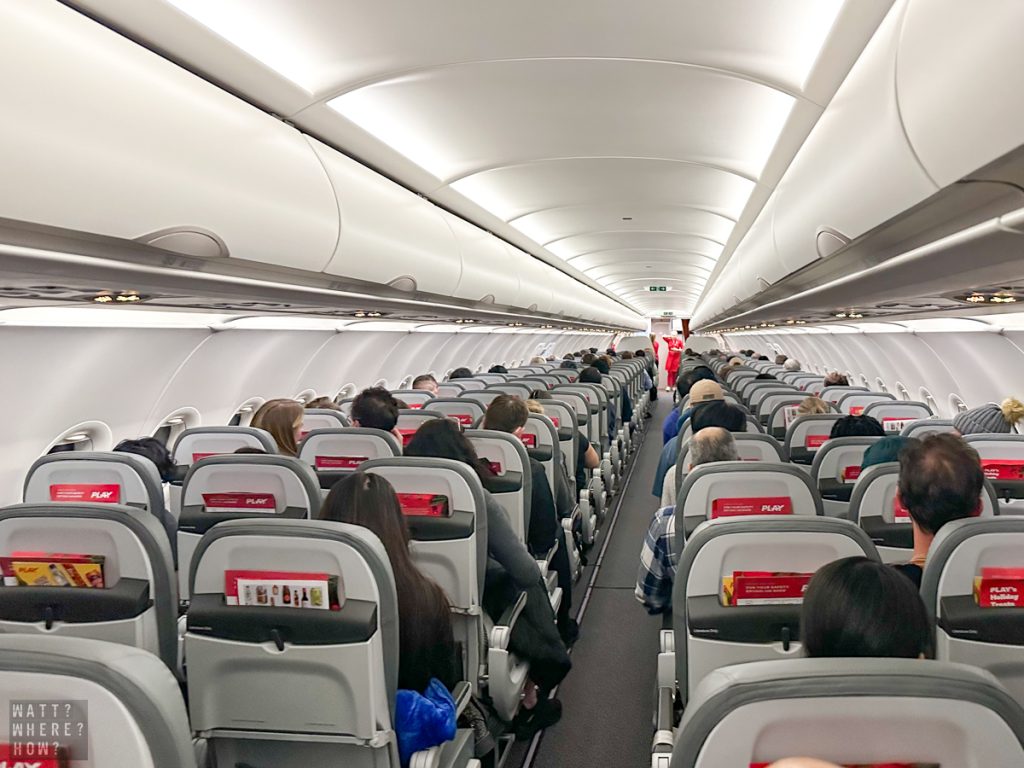 What is Play Airlines?
Play Air is a budget Icelandic airline that offers cheap flights from the USA East Coast to European cities like London, Paris, and Reykjavik.
Is Play Airlines legit/real?
Play Airlines is a real company, but they save costs by running solely in the digital space. That may make you wary about booking with them, and reviews are inconsistent due to different expectations and past experiences flyers are comparing them to. Fly Play Air advertises almost too-good-to-be-true ticket prices that will have you looking for a catch. The truth is, there are plenty of catches that can be as frustrating as they can be money-saving.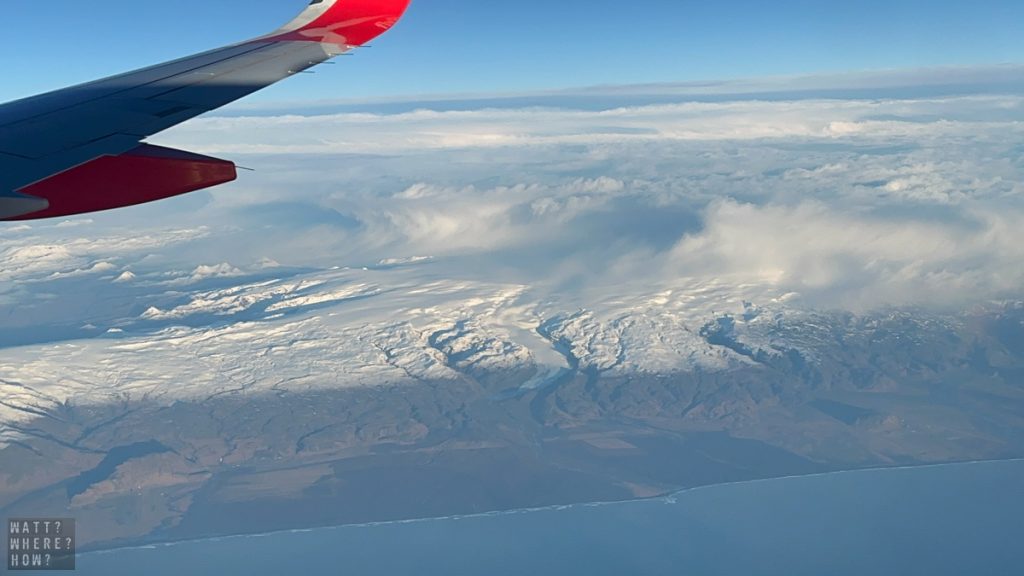 Play Airlines Review – User-Pays For Everything
The cost-cutting that gets you those amazing $150 one-way flights to Europe comes at a cost. It's also hidden behind a frustrating pre-sign up process, where you have to enter personal details before getting a true indication of the add-ons. Like the European budget carriers (Ryan Air and Easy Jet) and the American equivalent (Spirit, Frontier, Jet Blue), every aspect of customization and flex comes at a cost. 
To buy a fare that is transferable is more expensive. Want to check your bag? Pay up. Want to book a seat? That will cost you even if it's a $7 one at the back of the plane. Want priority boarding? That will cost you too. Even a carry-on larger than one that fits under the seat in front of you will add to the total.
Play AirlinesReview – You Save Money by Flying From Regional Airports 
Another way Play Air saves you money is by flying out from regional airports. Thankfully, most of their destinations are at major airports. In our case, we flew out from Newburgh Stewart Airport. Choosing to do this may be a no-brainer, but flying from Stewart Airport can be a pain in the backside if you're traveling with family.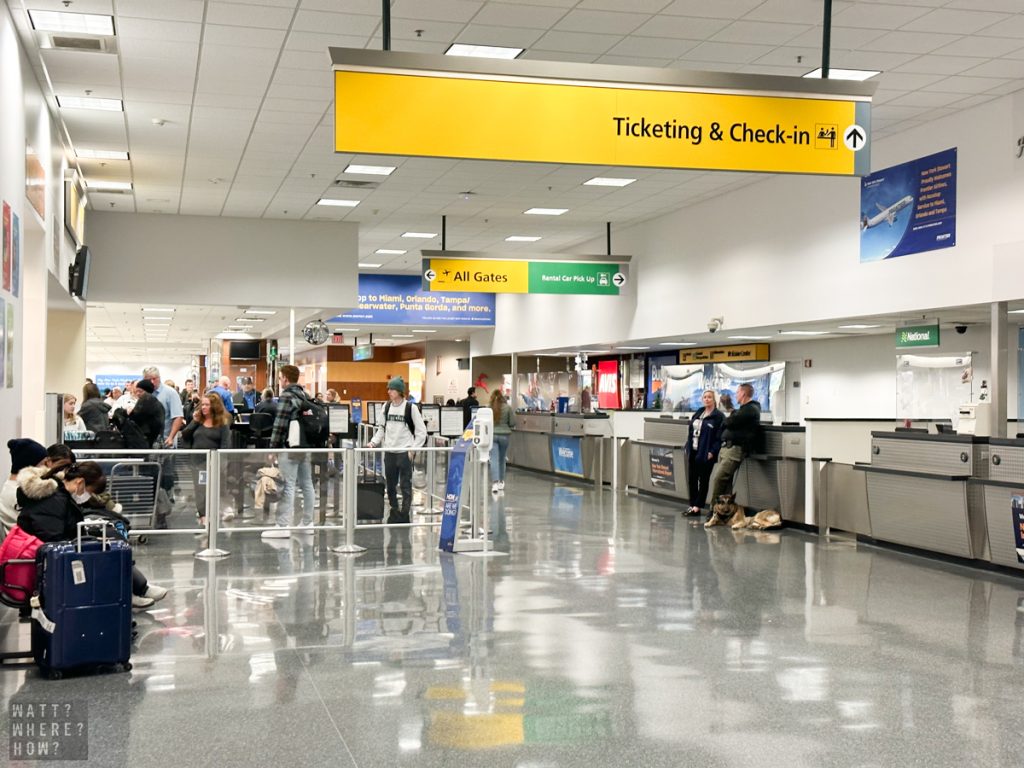 There's a $25 bus one-way from the Port Authority Bus Terminal, or you can catch a Metro-North Hudson Train to Beacon from the Grand Central Terminal and spend $25 on an Uber or cab across to Newburgh. While this may not seem much, it can make the trip stressful from the word go. Then if you want an Uber home, they are almost impossible to find, and car services back to Manhattan will cost between $150 and $200 pre-tip. 
Play Airlines Has No In-flight Entertainment
Don't expect inflight magazines, radio stations, wifi, or the latest movies. The seats are thin line and there are no TV screens. This means you will need to come prepared. Load your phone, computer, or iPad with movies, songs, and shows. Some streaming services let you download content but beware of watching them when you get to the destination, as they will fail and become region locked if you try to view them while online in another country. 
TIP: A car seat for your baby on a flight can be invaluable if they are entering the tantrum age, but even they can't contain all that rage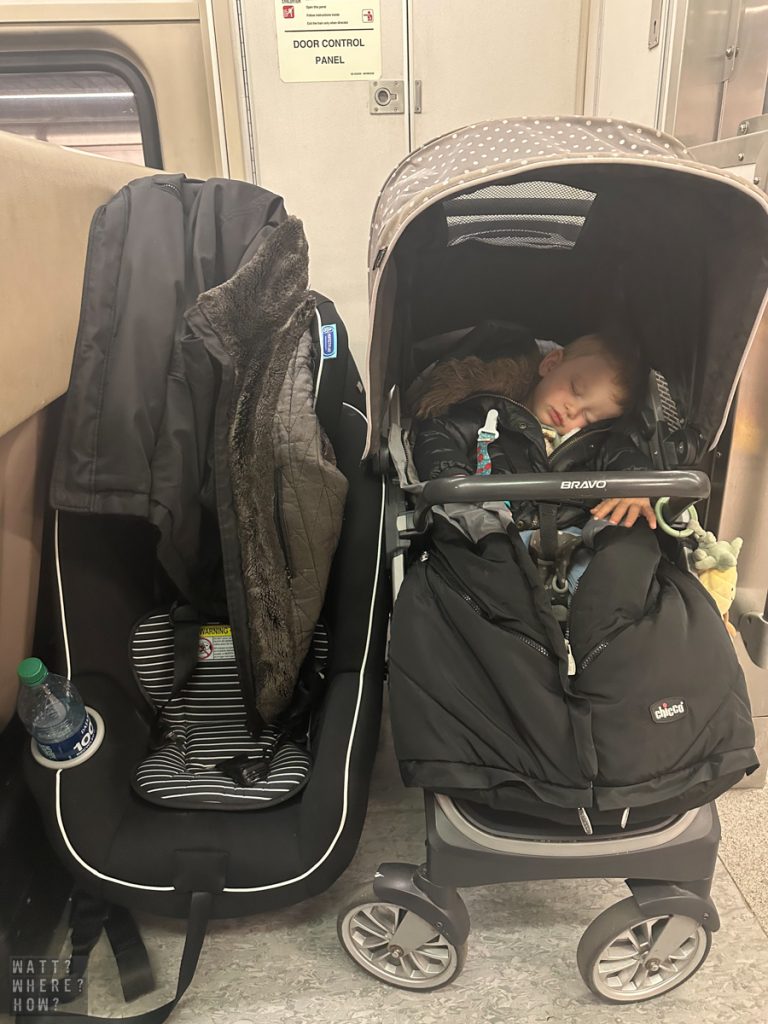 Play Airlines Has No Bassinet Seats For Babies 
There's a recent annoying trend of airlines charging extra for row 14 bulkhead seats with bassinets for parents. That's because they generally have larger leg space. It's a dick move, especially when the baby has to be nursed whenever there's any turbulence. You don't need to worry about paying more for a bassinet as there are no bassinets.
Can You Book a Baby Car Seat on Fly Play Airlines? 
Yes, you can book a seat to house a baby car seat on a Play Air flight. A baby seat has to be airline approved (they can't be too bulky as the seats on some flights are very constrictive), and it has to be the window seat. It will cost you for the seat purchase and allocation, but it's at a discount compared with a full adult fare – which was a pleasant surprise.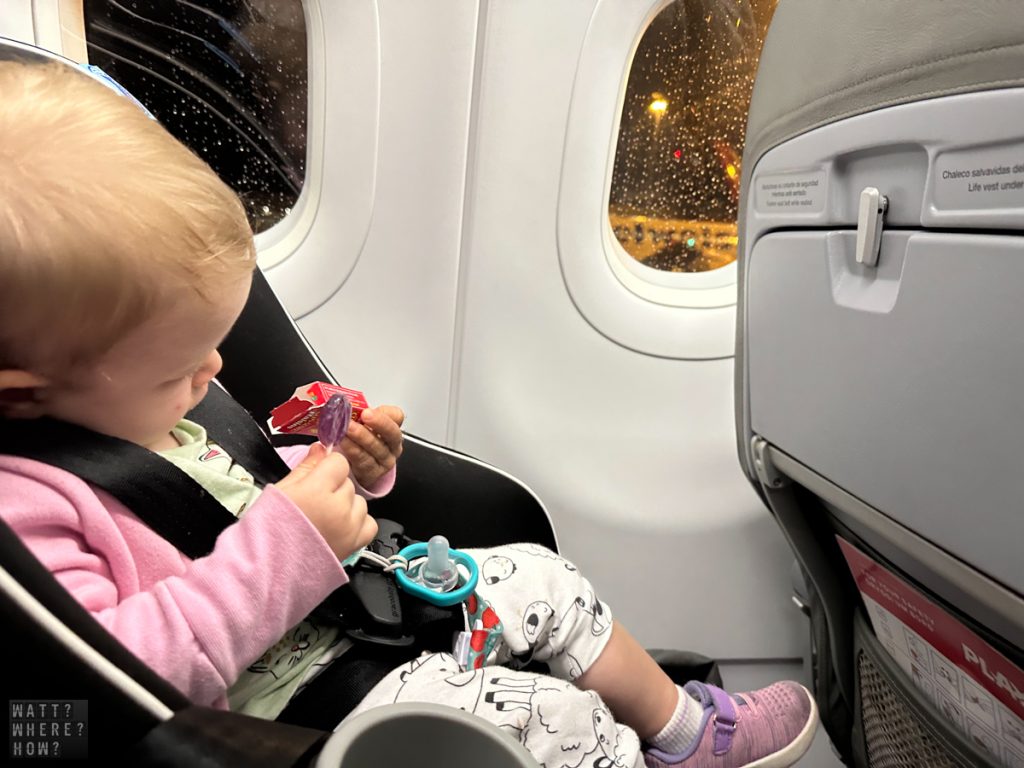 How to Book a Baby Car Seat on Play Airlines
Without a formal customer service hotline, you will need to manage your booking and requests through the Play Air Facebook chat. We were skeptical that this was going to be a bot, but it's a very live person on the other end handling the process and updating your booking as you go. We booked the three initial fares – two adults and a child, then had to chat through the seat allocation requests. It was a little messy but manageable.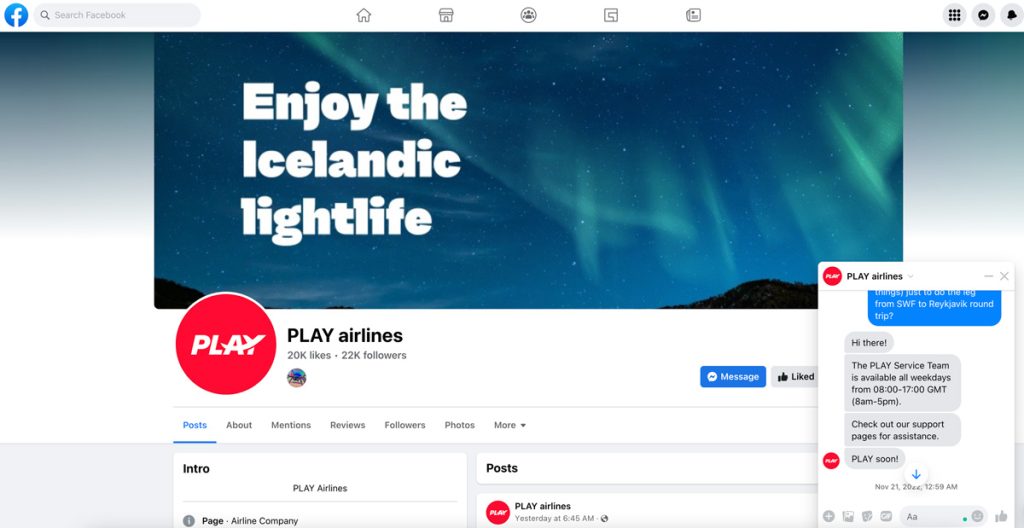 What is the Food Like on Play Airlines?
We give a 3 star Play Airlines review for the food. Yes, you have to pay for it, but it's tasty and cheaper than buying at an airport terminal. There are simple guilty pleasures and wraps and crusty toasted bread melts. If you want something more elaborate, bring it from home; especially if you are flying from NY Newburgh Stewart Airport. It has the worst food options we've ever seen. On the plus side, Keflavik Airport in Iceland has one of the cleanest, newest terminals with amazing fresh food and gourmet choices.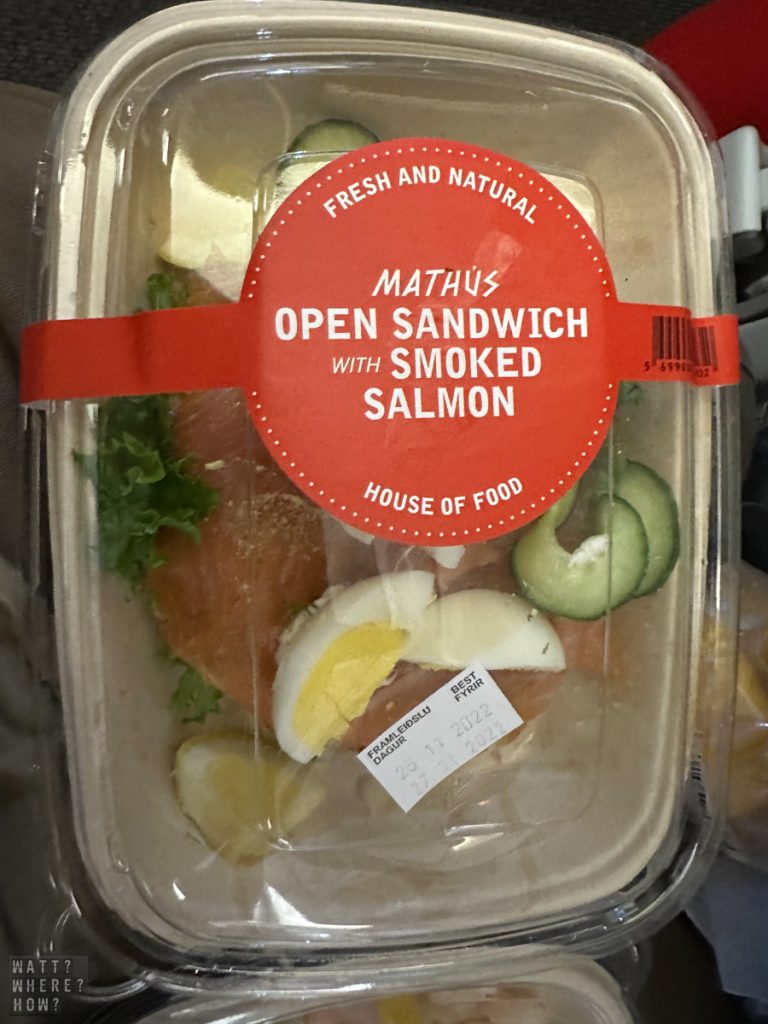 Play Airlines Review: The Good
Play Air is a dirt-cheap way to get to Europe – especially if you need to book a seat for your baby when he or she gets too active to sit quietly in your lap. 
The onboard food options are actually cheaper than at most airports. 
There's a beer special, 2 for 18 Euros – again, cheaper than most airport bars. 
They keep it interesting with seasonal menus. 
The personal item can be up to 10 kg, which is on par for an actual carry-on with most airlines. 
The Play Airlines cabin crew is generally good, but we had a horrible experience with one (see the ugly section below) that was rectified by the good ones, who were invaluable in trying to placate our very upset toddler.
Keflavik Airport has some of the best food options we've seen on our travels.  
Play Airlines Review: The Bad
There's no entertainment – even to the point of no piped-in music during boarding.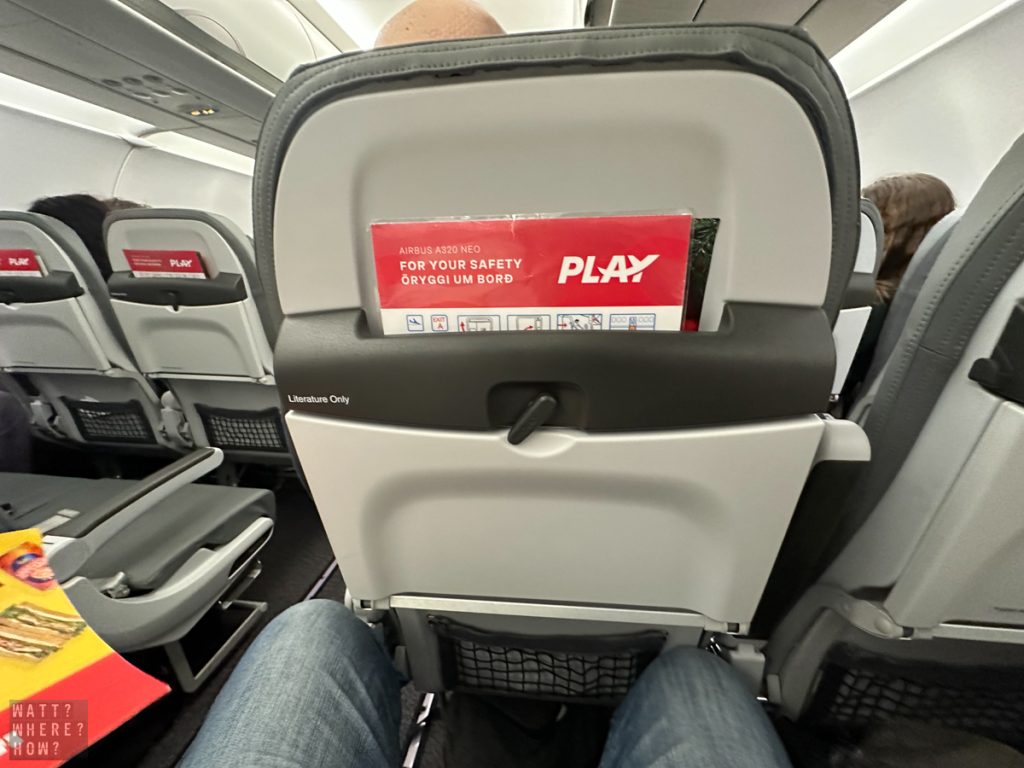 The legroom on some of the fleet's planes is ridiculously uncomfortable. 
You have to get to regional airports at your own expense – which can counter the value and money you're saving, so do your math. Also, Stewart Airport is almost third-world, with the most basic kiosk/bar offering unhealthy options like wings, burgers, and wraps. 
There's no milk onboard or at Reykjavik airport. It's all creamer or UHT milk – even at the terminal cafes. Bring baby formula in case of emergency 
Flying with a baby and the person in front reclining is hell at 37,000 FT. It gives you no room to maneuver or manage your child when they drop snacks, bottles, and pacifiers.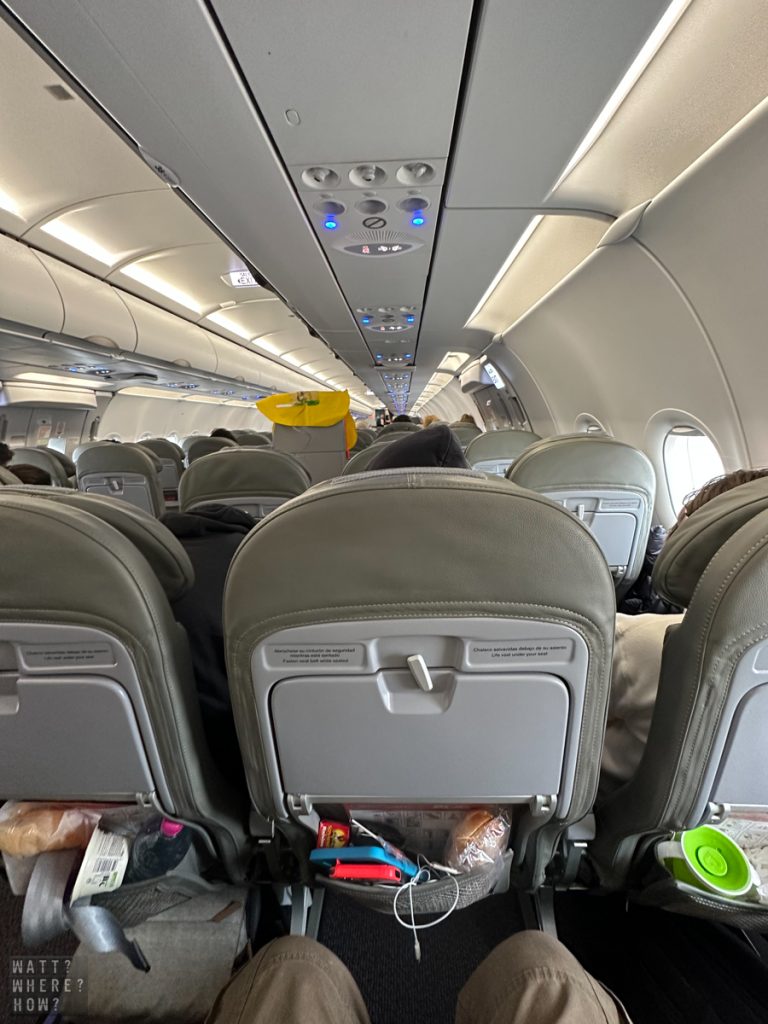 Play Airlines Review: The Ugly
Early checkin offered no time for parents to set up car seats and baby needs before pushy regular passengers with no empathy were huffing behind in the aisle. 
Flying from Paris CDG Airport, the seat allocation systems were incompatible with Play Air Iceland. This meant having to queue at a service desk in Reykjavik for 25 minutes when the transfer window was only 80 minutes. It also meant having to then clear customs and border control, get to the gate late and miss the early boarding for parents with babies and car seats. 
We had a particularly unpleasant experience flying the last leg from KEF to Stewart/Newburgh, with a stewardess interrupting our struggles with a visibly upset toddler and telling us we couldn't use the car seat we'd used on all other legs with no problems. The fussing baby knocked a cup of milk out of my hands over another passenger and his winter coat, and still, the stewardess insisted we carry the baby on our lap. We were tired, and upset, and after that, our baby didn't calm down the entire 5.5-hour flight back to NYC.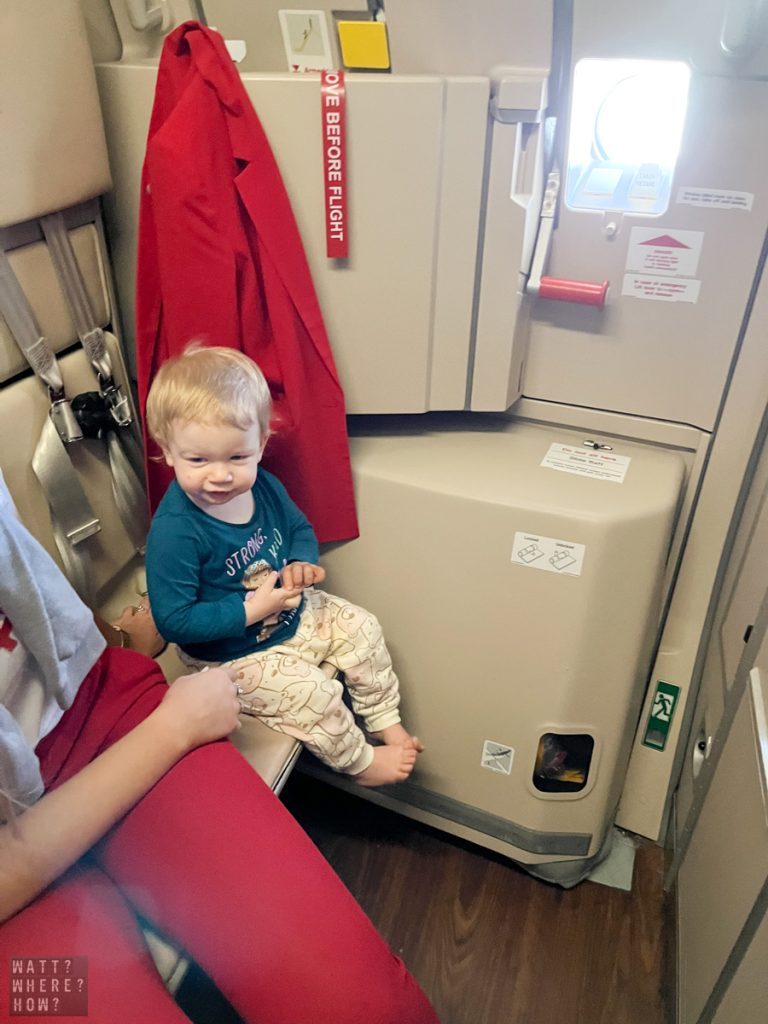 Play Airlines Review: Final Verdict?
We have to give a mixed Play Airlines review. If we were younger and child-free, Fly Play is a fly-by-the-seat-of-your-pants adventure that is perfect for budget European vacations. It goes to the places we want to go and offers customizations that let you cut corners.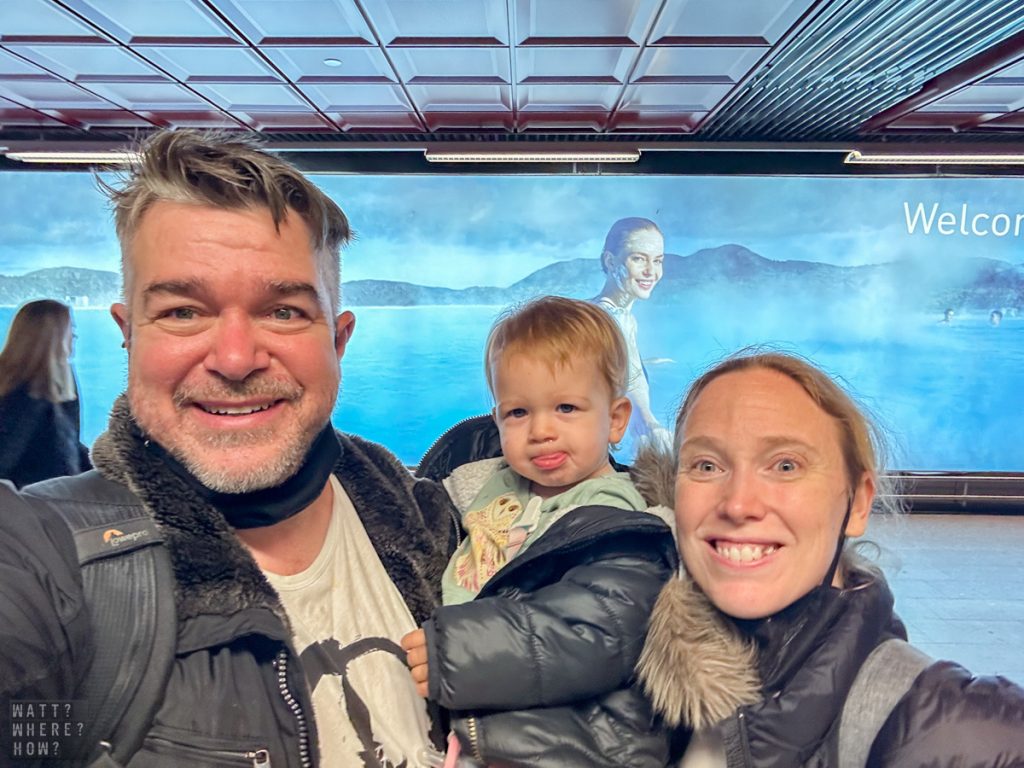 The online help was surprisingly good and the ground crew was great at Charles De Gaulle. With the addition of a toddler in the mix, the experience becomes a little more cumbersome. If we didn't have the messy transfer in Iceland, I can imagine it would be a lot less stressful, but for now, it's a little too sloppy to be an enjoyable experience. 
Bernie, Jess and Siena Watt are Australian-American travel bloggers sharing ideas for vacations and holidays around the world. Get inspired here.
Follow & Connect with us