So you've landed. Welcome to New York. If you've flown in, made it through customs and your bag hasn't gone missing, getting from the airport will be your next achievement to unlock. So what next?
The main ports of entry into New York are La Guardia Airport, JFK (formerly Idlewild). If you've flown in on an international carrier, you're most likely to land at JFK, but with all of the code sharing that happens, you may find yourself at La Guardia. The two most common ways into Manhattan (what guidebooks and major tour companies call New York, but you'd be doing yourself a disservice if you only stay on the island) are by cab or train. There are also shuttle services and limos and town cars, or even the odd bus, but the most popular options are cabs and the train.
Gypsy Cab Drivers Prey on Disoriented New Arrivals
Avoid Unscrupulous Operators
If you are planning to catch a cab, the first thing you will have to do is run the gauntlet of gypsy cab drivers. This perhaps a little racially insensitive name, is the term locals use to describe these illegitimate operators who pounce on the bleary eyed and jetlagged – those most susceptible to fall for the offer of an easy ride rather than having to navigate between a maze of ropes to get to the cab queue. Gypsy cabs are actually illegal, unregulated cars and offer no guarantee of peace of mind. There is a risk of being scammed or charged over the normal price. In fact one of Australian friends just arrived with a horror story about being fleeced out of $175 and getting held hostage in the cab by the driver until she paid up, so beware.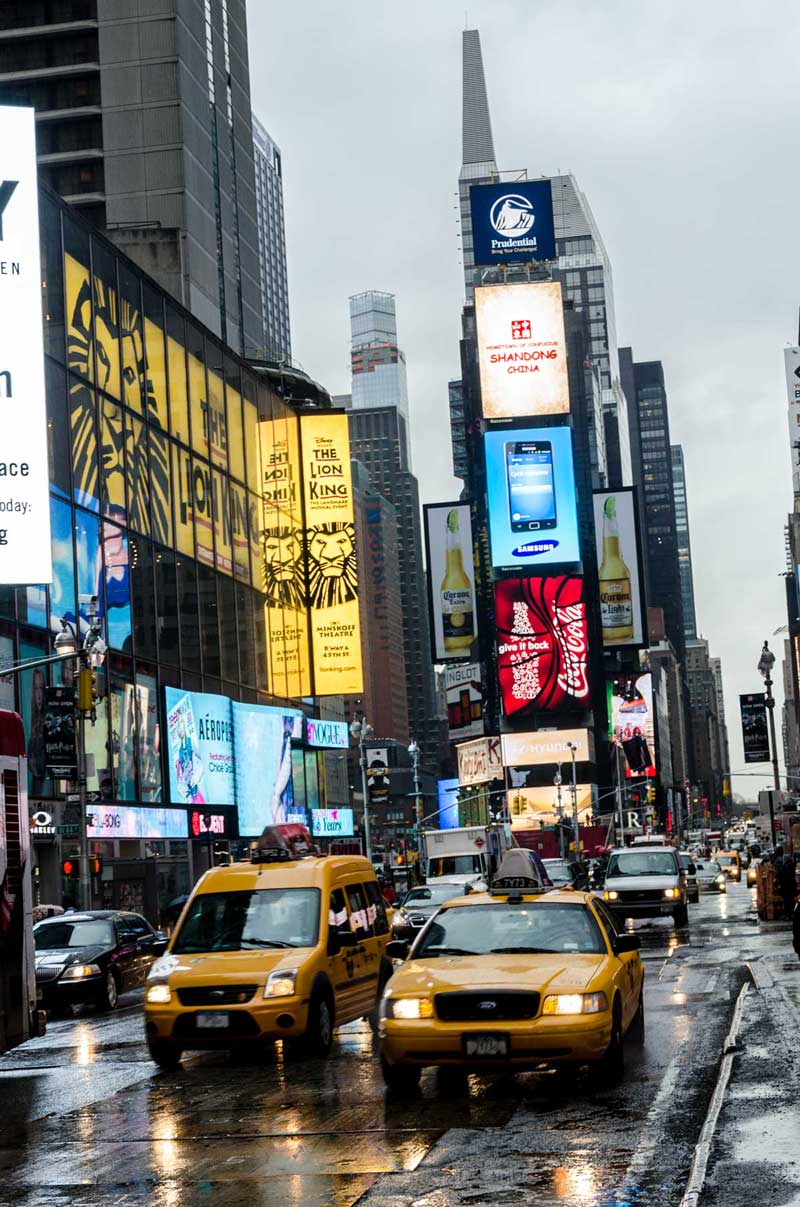 Yellow Cabs are the easiest way to get into town
Just Take a Cab
The legitimate yellow cabs are the real deal. They offer peace of mind and a flat rate into Manhattan. At time of writing, it was $52 plus tolls (tunnels and bridges often have tolls) and local tax, but as they are legal vendors, the rate is disclosed clearly on posters and the digital TV screens in the back. If you fly in to La Guardia or Newark, you're on your own, but speak to the driver and ask for what it normally comes to. You may also see green cabs at the rank. These are called Borough cabs, green for their eco-friendly engines and to differentiate them from city cabs. Green cabs are supposed to primarily serve the boroughs (Brooklyn, Bronx, Queens and Staten) and can take fares from the boroughs into Manhattan but are not supposed to pick up in the centre of the city, lest they steal business from the iconic yellow cabs.
Uber
We believe the Uber app is universal. It's worked for us in Australia and New York. When you drop your pin, it will tell you pick up zone outside the airport. Watch out for surge pricing in peak periods or look to one of their competitor's, Lyft to see what rate they're offering.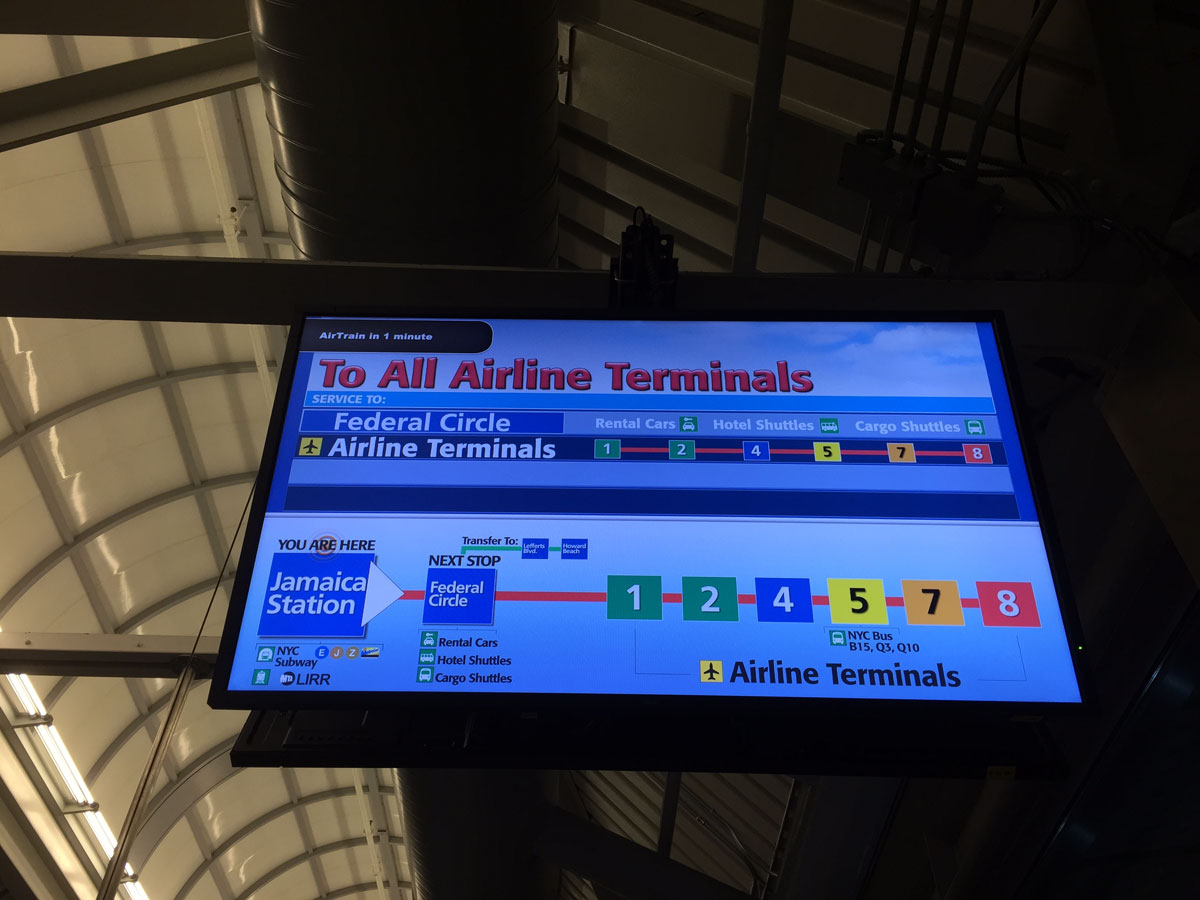 The Air Train
The train is the other affordable and surprisingly convenient way to get inner city. At JFK, there are two main routes. The Air Train takes you to both options, which leave from Jamaica station in Queens: The E line and the Long Island Railway (LIRR). In terms of time, the LIRR is an express service and is modern and comfortable, taking you straight into Penn Station. This comes at a price, but it is still cheaper than a cab for a couple. The subway option is cheaper, but takes longer. It stops at all stations and that can be beneficial, not having to stop at Penn if you don't need to. It all depends on where you are staying or trying to get to. The J and Z lines also run from Jamaica.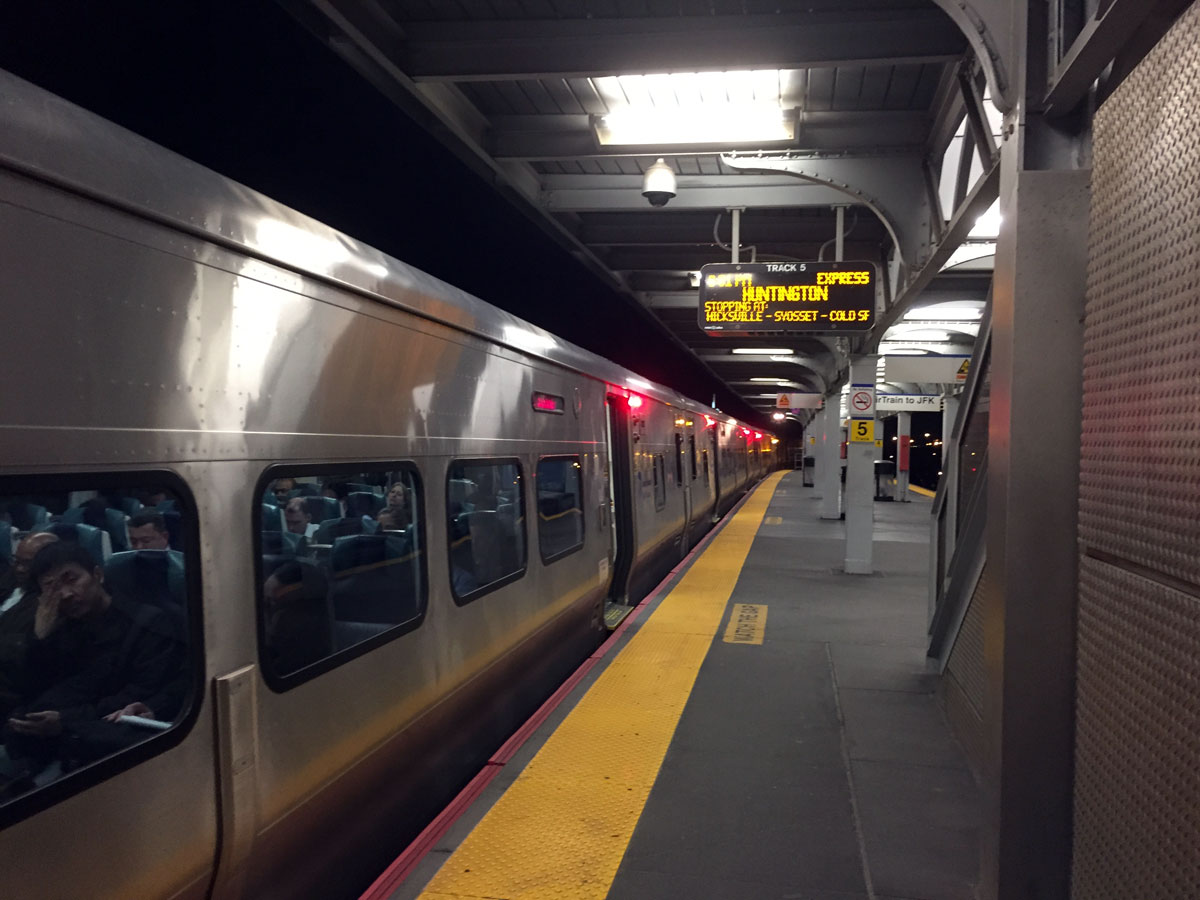 The LIRR is the quickest way to get in by train

If you're coming in from La Guardia, the bus is the best option. Or cab. I only have ever caught a cab from there. Being in Brooklyn as opposed to Queens, it's much cheaper to get into Manhattan's mid or downtown areas. There are also plenty of other options for the more seasoned traveler, like hiring a town car or limo to drive you or even Uber.
Once you've found your lodgings, take some time to sleep. You'll need it.
Follow & Connect with us