The first time you go grocery shopping here can be confusing. The supermarkets are tiny (unless you live in the outer boroughs, Long Island or New Jersey). The brands are different, all units of measurement are different and many vegetables have different names. So here is a basic introduction.
Where to go grocery shopping
Cost of living in New York City is on the higher end of the scale when compared to other global capitals. With the epicenter of expense situated in midtown, groceries slowly get cheaper, the further you go. The outer boroughs are almost affordable and the adjoining states are more in line with the rest of the country. For the privilege of living in the Big Apple, you pay big dollars and you know groceries are expensive when most of the city opts to eat out or order in with Seamless rather than pay the exorbitant prices and lug heavy bags on the subway.

Online grocers
The tech savvy types have plenty of options. Freshdirect is an online grocery delivery service. It's there for convenience, but you pay for it. It is also only convenient if you can time your delivery for a window when you're actually home. They also expect a generous tip, just to add insult to the injury of the invoice total. Maxdelivery.com and Blue Apron are other services that deliver as does Amazon Fresh.
Supermarket chains
In terms of supermarket chains, you won't find a Walmart in the middle of New York City. There is a large K-Mart at Astor Place, with a supermarket in  the basement (non-perishable items only) and there are zillions of Walgreen's  Duane Reade stores, a massive pharmacy chain that also sells the basics like milk and canned goods. Gristedes is a chain of markets dotted around town. Morton Williams is another option. They can be found in Greenwich Village, Grammercy and six other places and are an OK lunch option, with a hot buffet and fresh sushi during lunch hours. If you live in Brooklyn, there is a sprawling supermarket, more in the style of Australia's Coles or Woolworths across from the Atlantic Avenue Barclays Center. The range is huge, but it isn't cheap.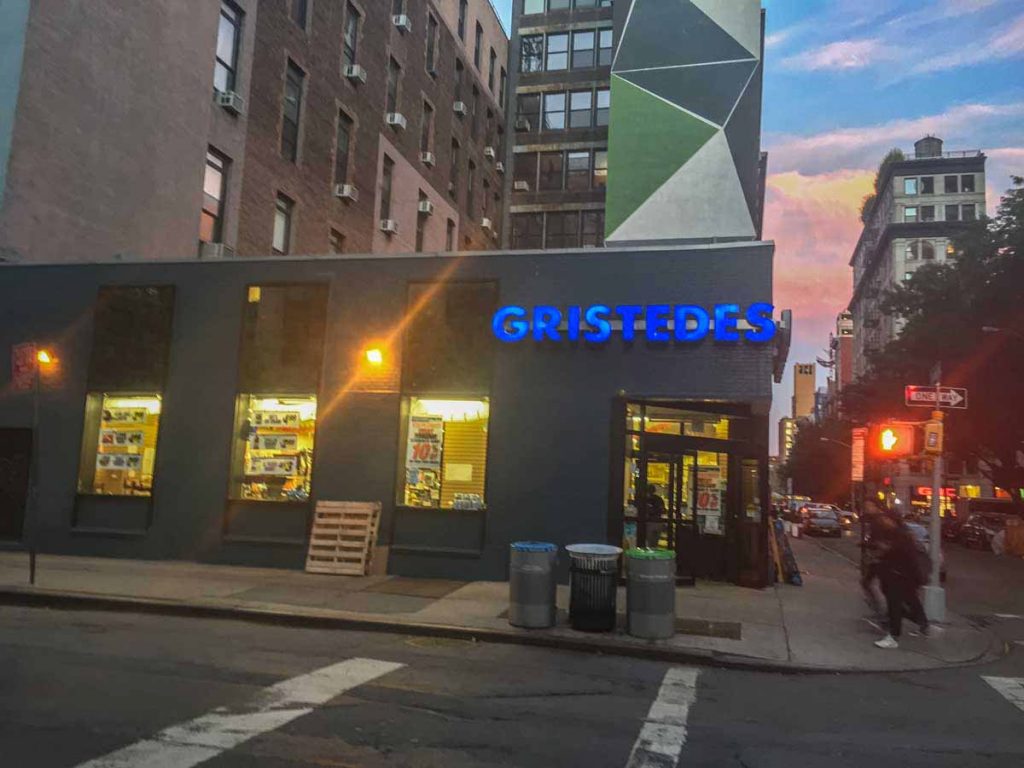 Bodegas
Bodegas or delis are the New York name for corner convenience stores. They sell essentials and some have sandwich bars and beers too.
Whole Foods
Whole Foods is an amazing place, especially if you love cooking. Sadly, it comes at a price that's so much higher than anywhere else. If you like your food gourmet and free of gluten, fat, dairy and calories, this is the place where you shop. It has a great range of fresh produce and the equivalent of a food court's worth of pre-made and 'to go' options.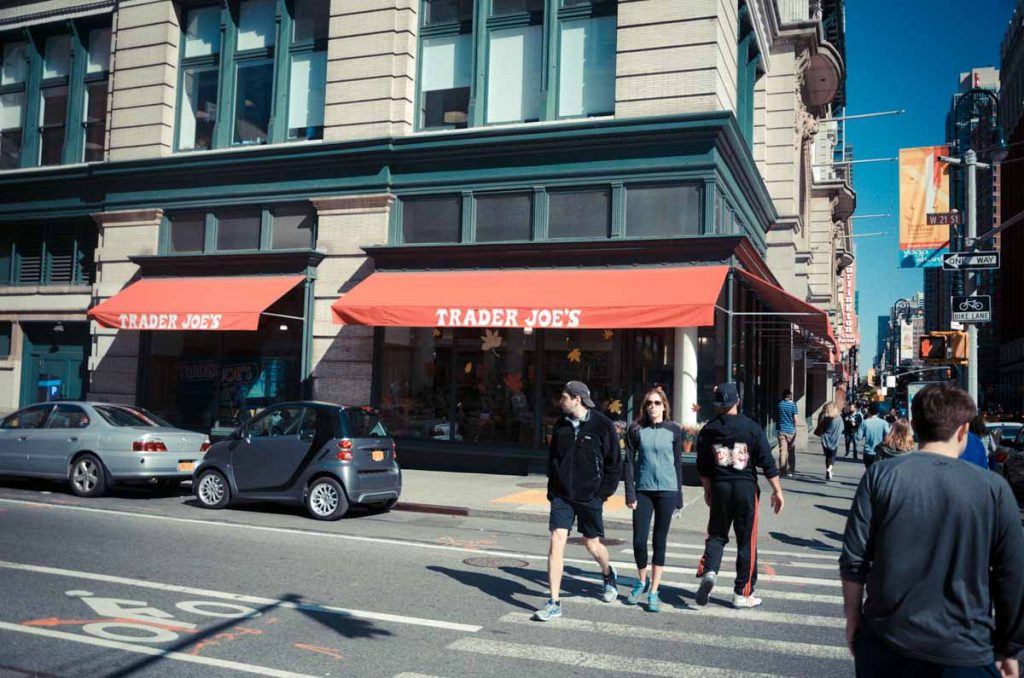 Trader Joes
Like all things New York, if there's a queue, you know it's for something worthwhile. On the scale of queues, grocery shopping at Trader Joe's is like buying groceries and vodka with ration stamps in communist Russia. Crowds are orderly, but the lines from the registers will generally snake right around the supermarket, diligently controlled by the genuinely happy, dynamic team.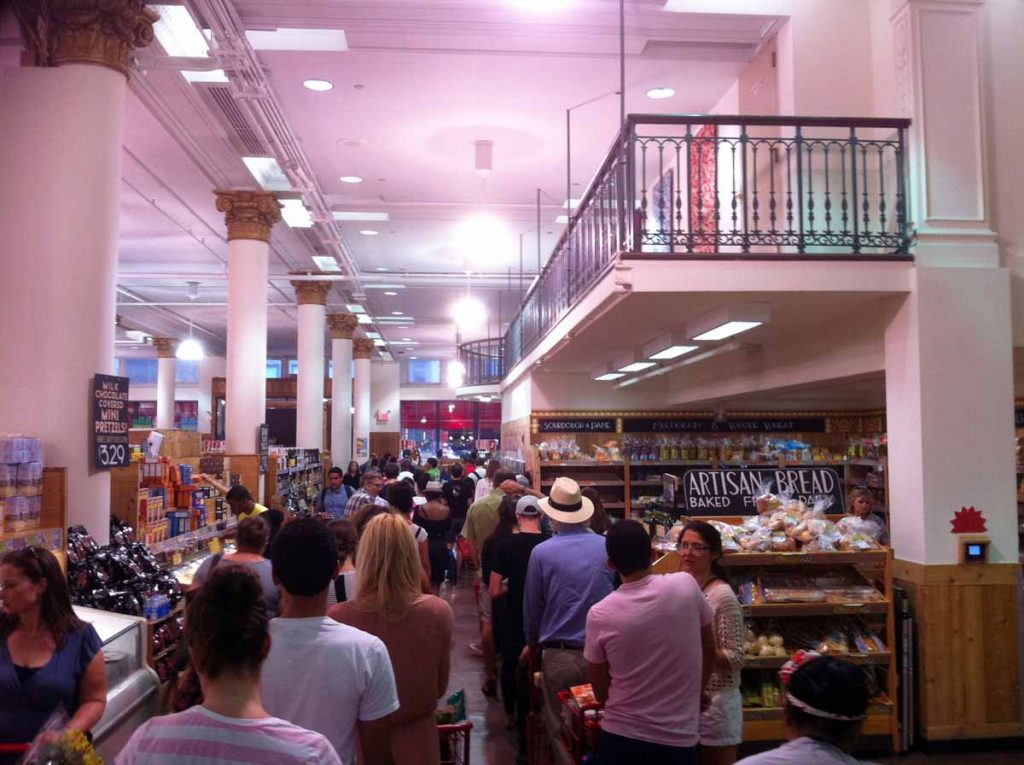 Trader Joe's prices are reputedly the best in New York City, though meat and fish are nowhere near as good as the Whole Foods range. Surprisingly, there are some tasty frozen meals for cheap that aren't bad as take-to-work lunches. The real hidden gem though is their range of mango and cream and raspberry and cream ice-creams, which are basically reverse engineered Weis Bars (an Australian summer favorite).
Here's a hot tip for the beer drinker. Shop at Trader Joe's or K-mart. The savings are considerable. Or eat out during happy hour!
Follow & Connect with us