When looking for a unique place to stay in Venice, Venissa on the island of Mazzorbo, right by Burano offered a five-star wine resort with a hidden vineyard and Michelin-starred restaurant.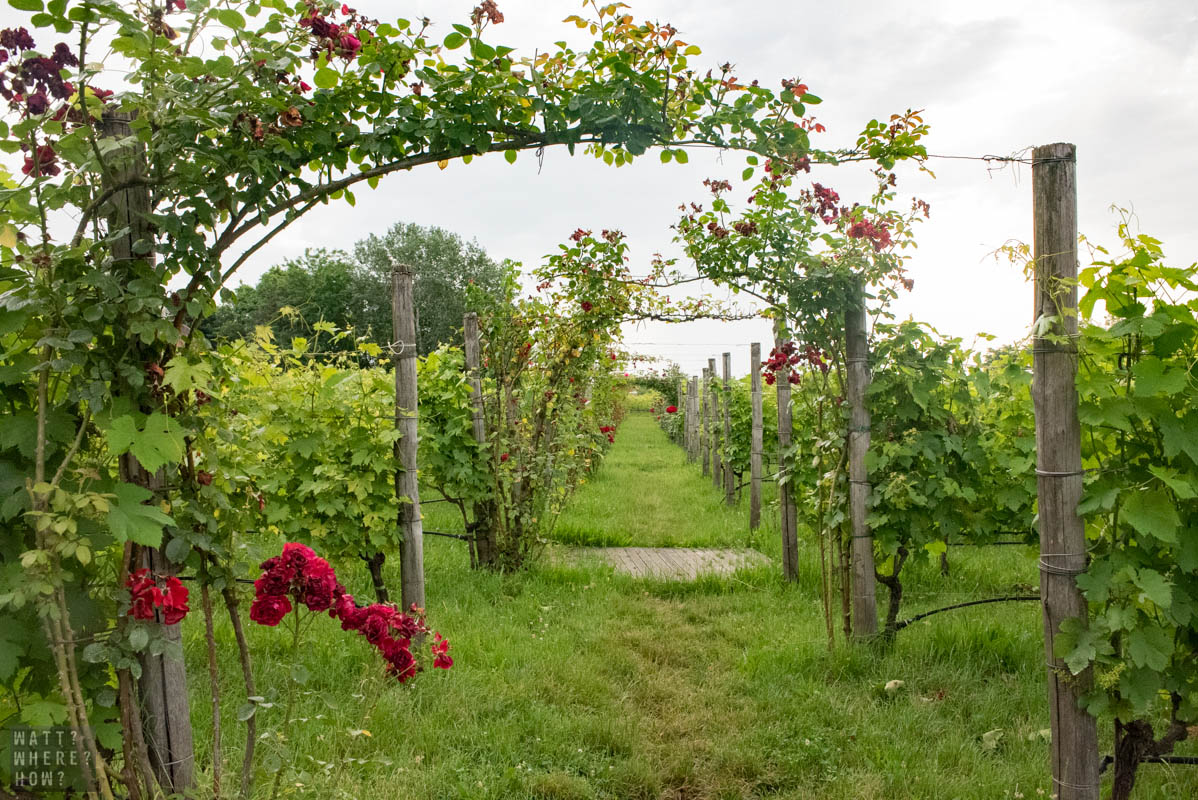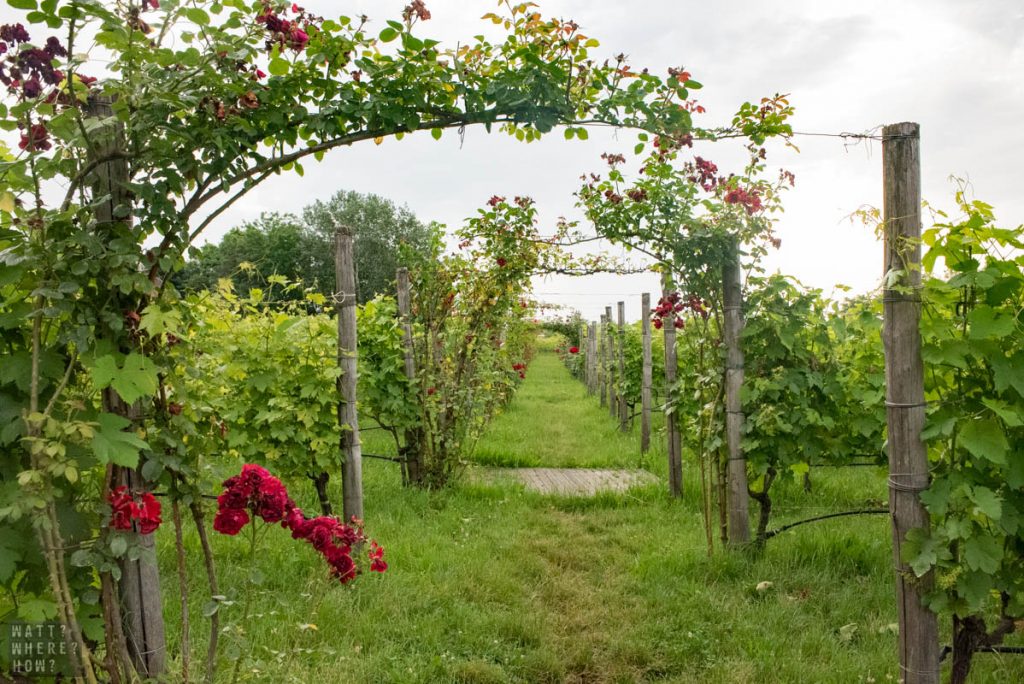 Venice has a reputation for being expensive when it comes to accommodation. As we clicked book on our first night's accommodation in a homely, kitschy room, conveniently situated three minutes from the Rialto Bridge, our worst fears were confirmed. It took a little lateral thinking and searching, but for our second night, we spent the same amount to stay out on the Venice islands at a gorgeous wine resort complete with its own Michelin Star restaurant. This is our little secret.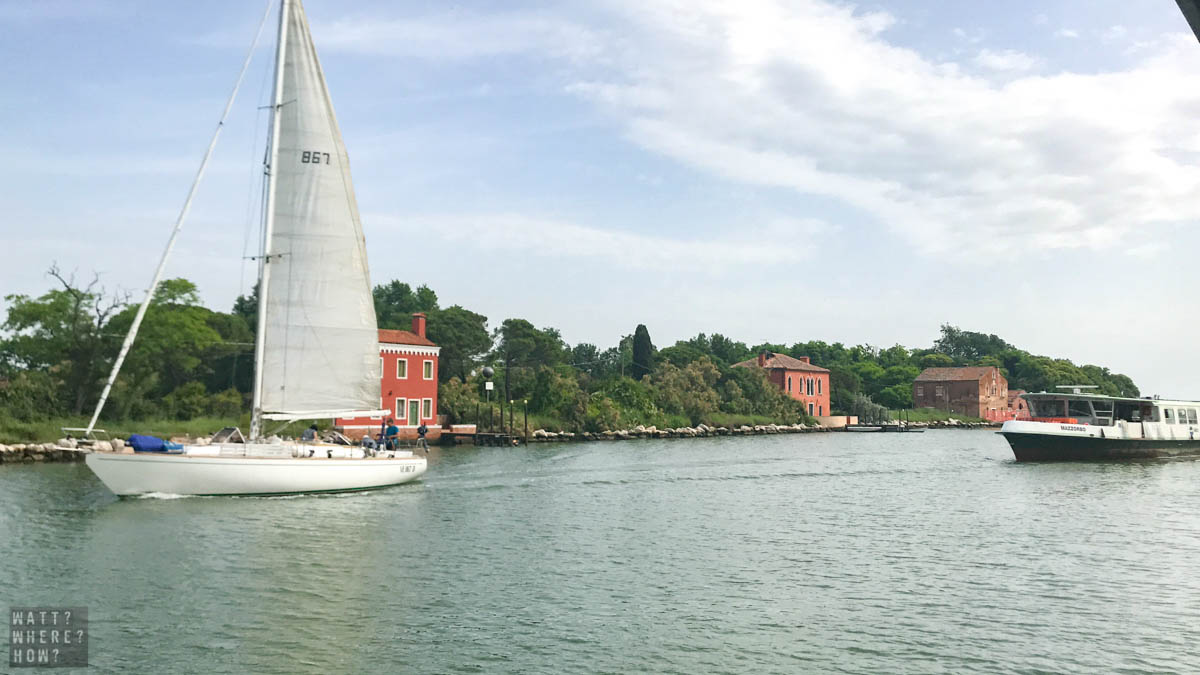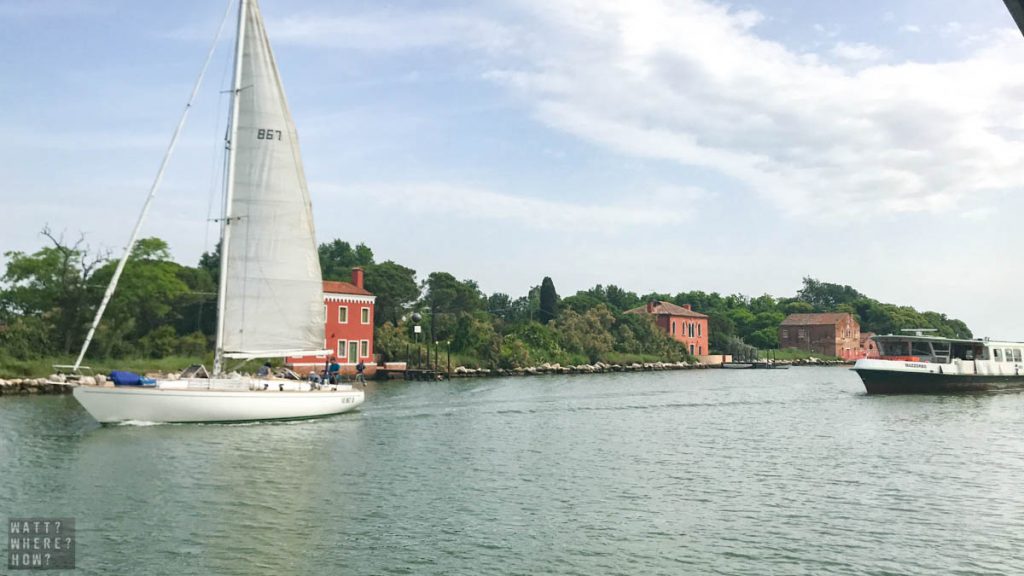 With a total of two nights and three days, we wanted to make the most of our time in this gorgeous Renaissance port. It's a city at the center of intense debates about over-tourism and the impact of cruise ships, so we wanted to make sure our contributions to the city focused on experiences that stepped beyond the overburdened tourist trail. That meant yes, finding a central base without using AirBNB (we usually do, but in a city with a shrinking population and rental costs rising due to profiteers choosing to gain off overnight and short term travel rentals instead of letting to locals, we didn't want to add to the problems,) it also gave us every reason to expand our search across the lagoon.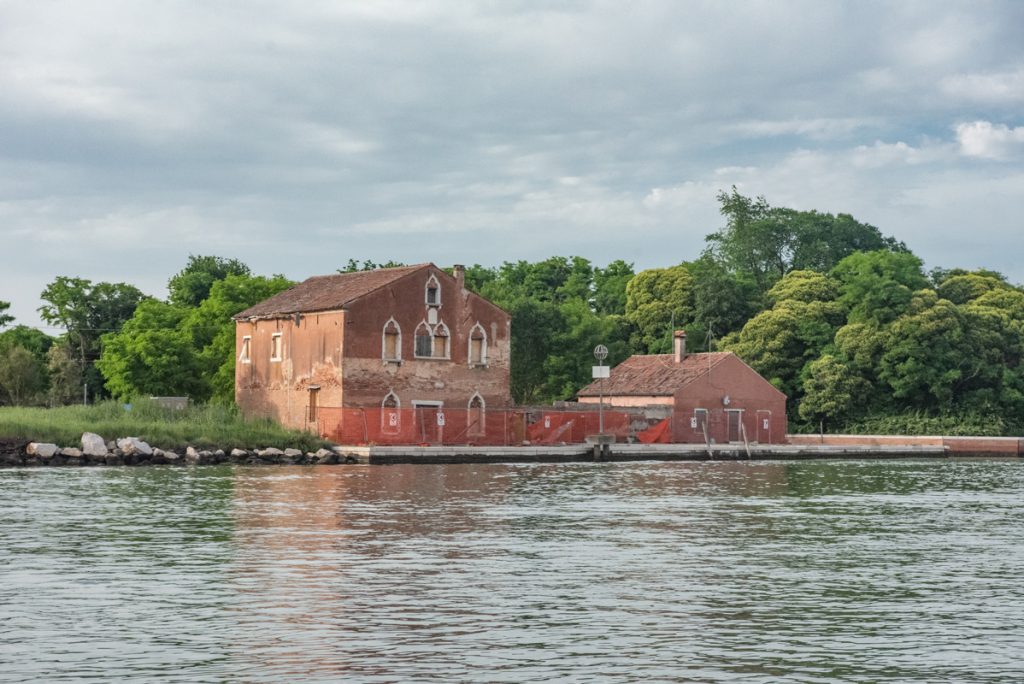 Explore the islands of the Venetian lagoon
These days, most travelers are at least aware of the small islands of Murano (famed for its glass) and Burano, a colorful fishing village also renowned for its intricate Venetian lace. We started our search on these two islands but soon found there's little to no hotel options. Digging a little deeper, we discovered a boutique hotel on Burano, but even more appealing; there was one on an island adjacent, a place most never knew existed.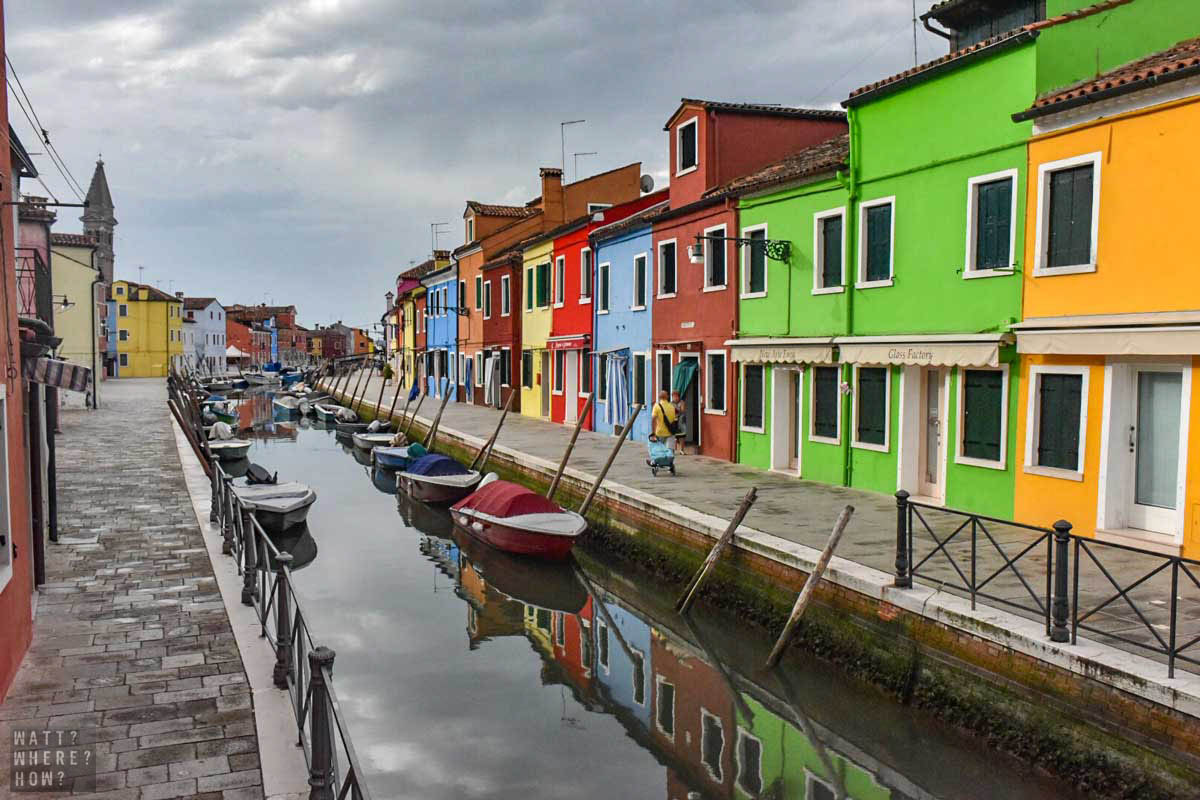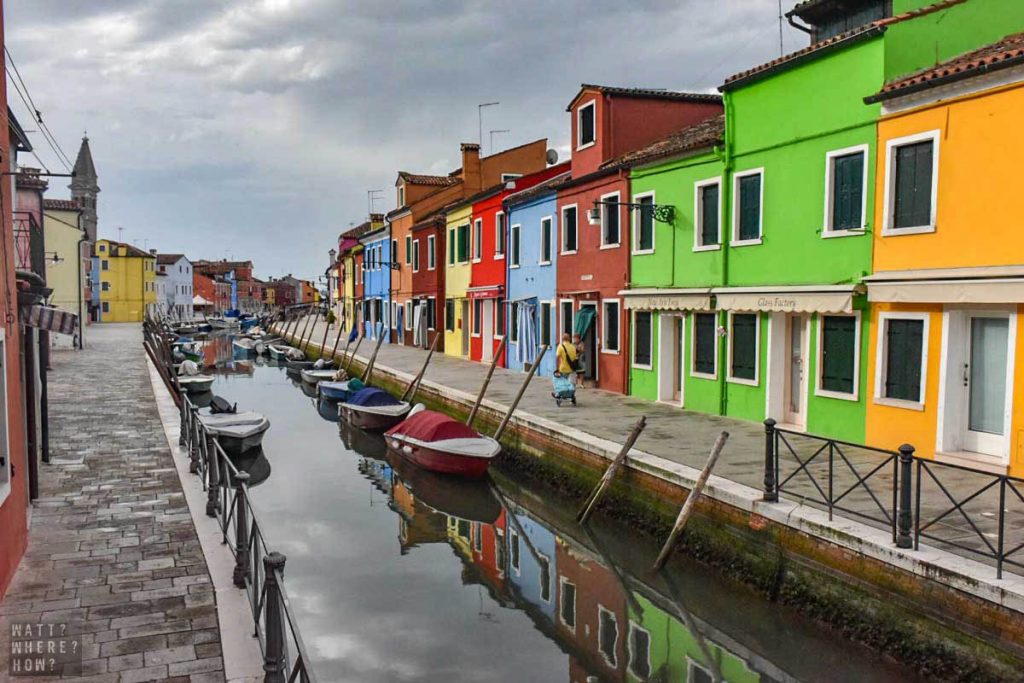 Mazzorbo, a haven far from prying eyes
Mazzorbo wouldn't register a blip on most traveler's radars. It's a tiny island the Vaporetto stop before Burano, with little more than a few brightly painted cottages and an old clock tower secreted behind an ancient stone wall. If they were to step off the boat at this stop, they'd find a haven as appealing as the bright-hued streets of the neighboring island.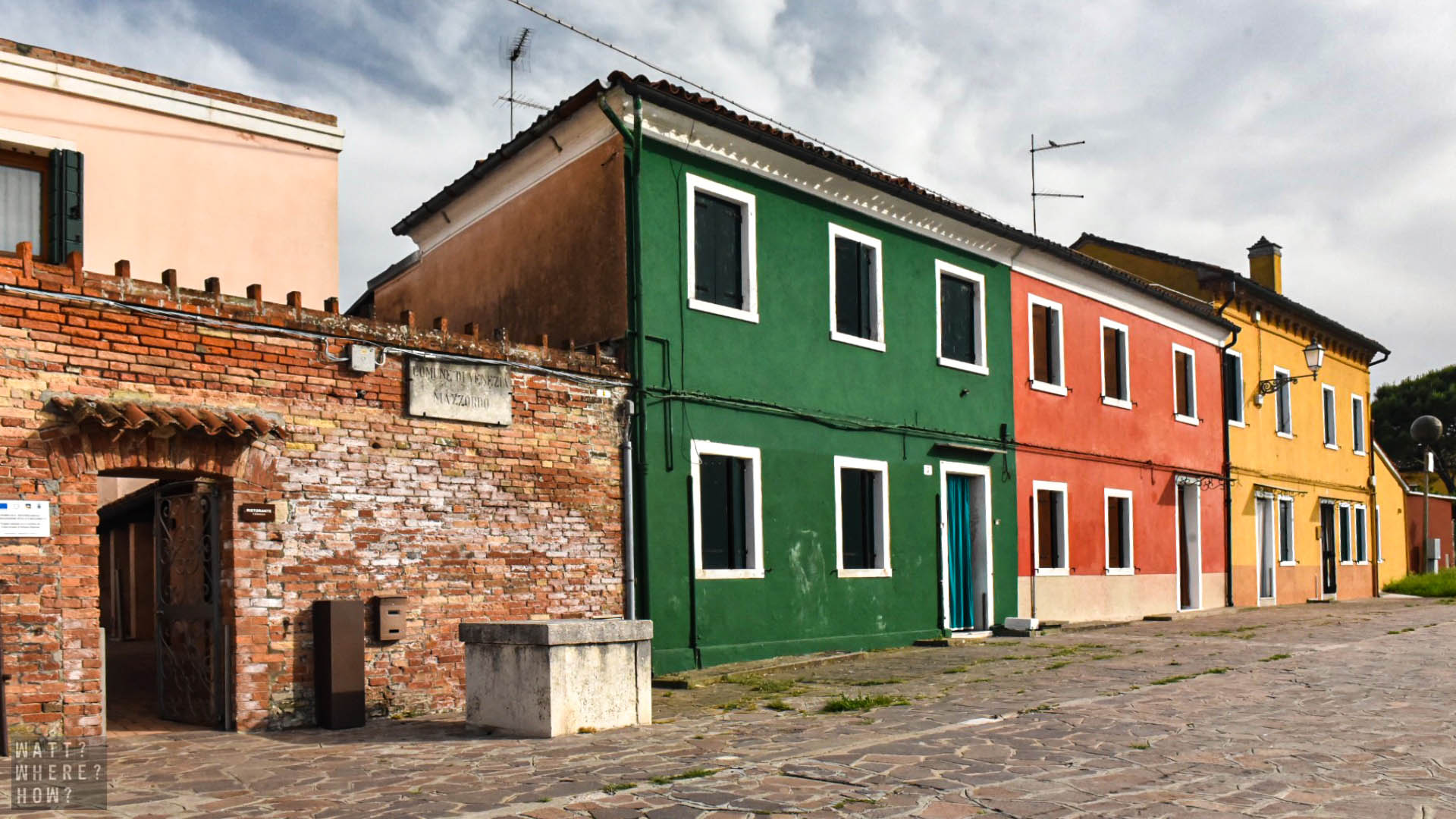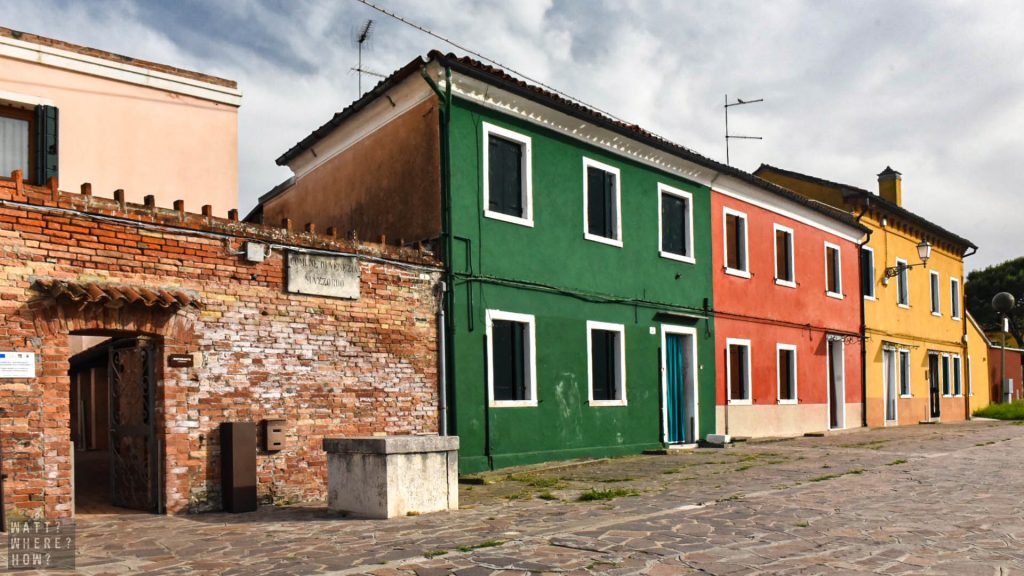 Venissa is the kind of place you'd completely miss is you didn't know it was there. It's built into an old salmon-colored farmstead that has been gut renovated to create a stylish three-story, six room boutique hotel. From the paved lagoon front, only humble signage provides any indication of what lies within, while the neighboring restaurant, a casual osteria, has a few tables and chairs ready for the curious visitor.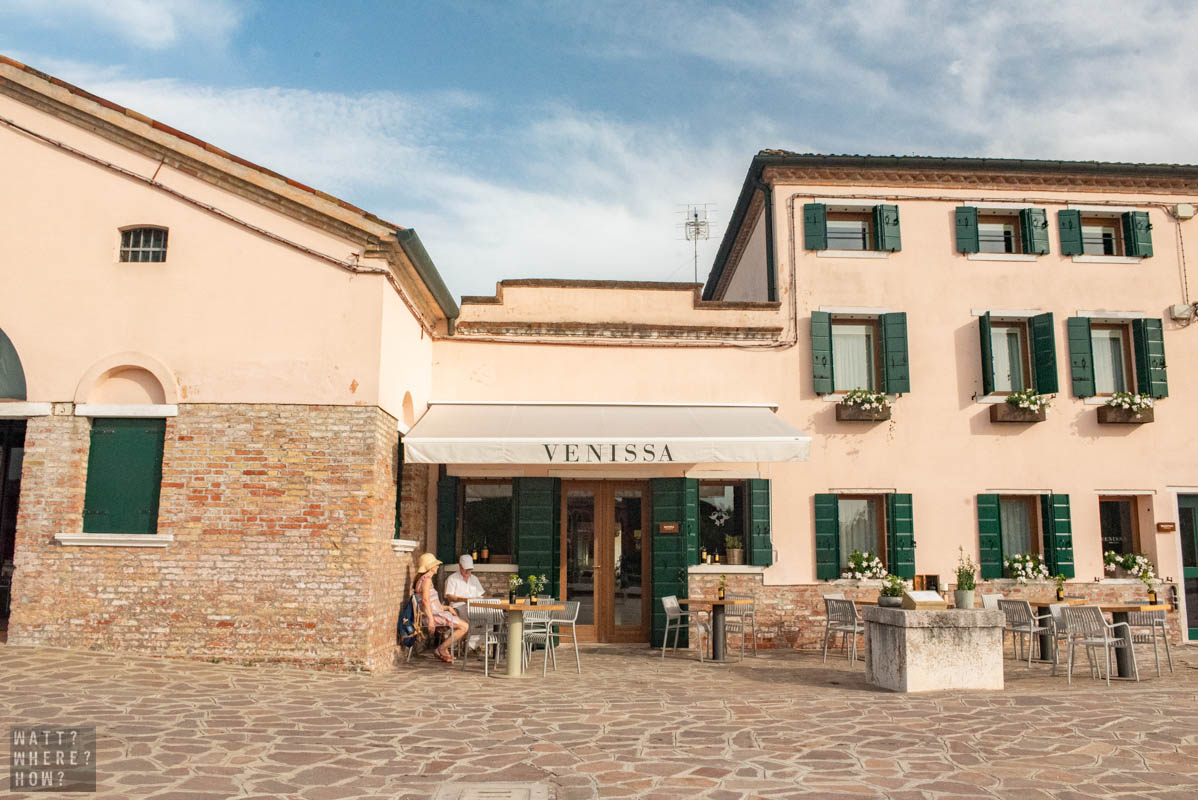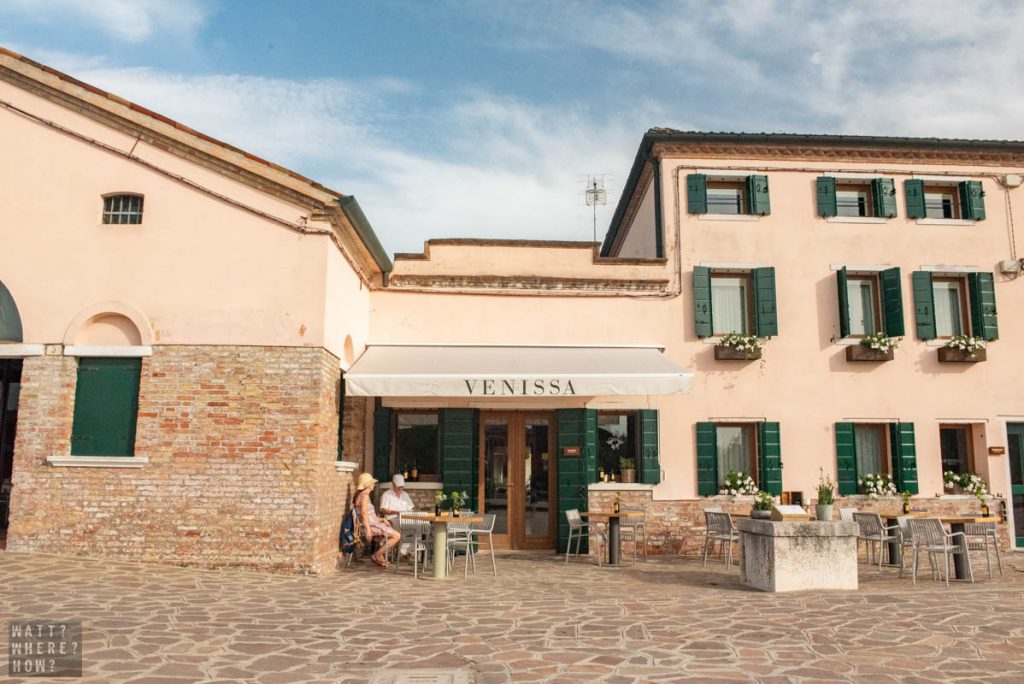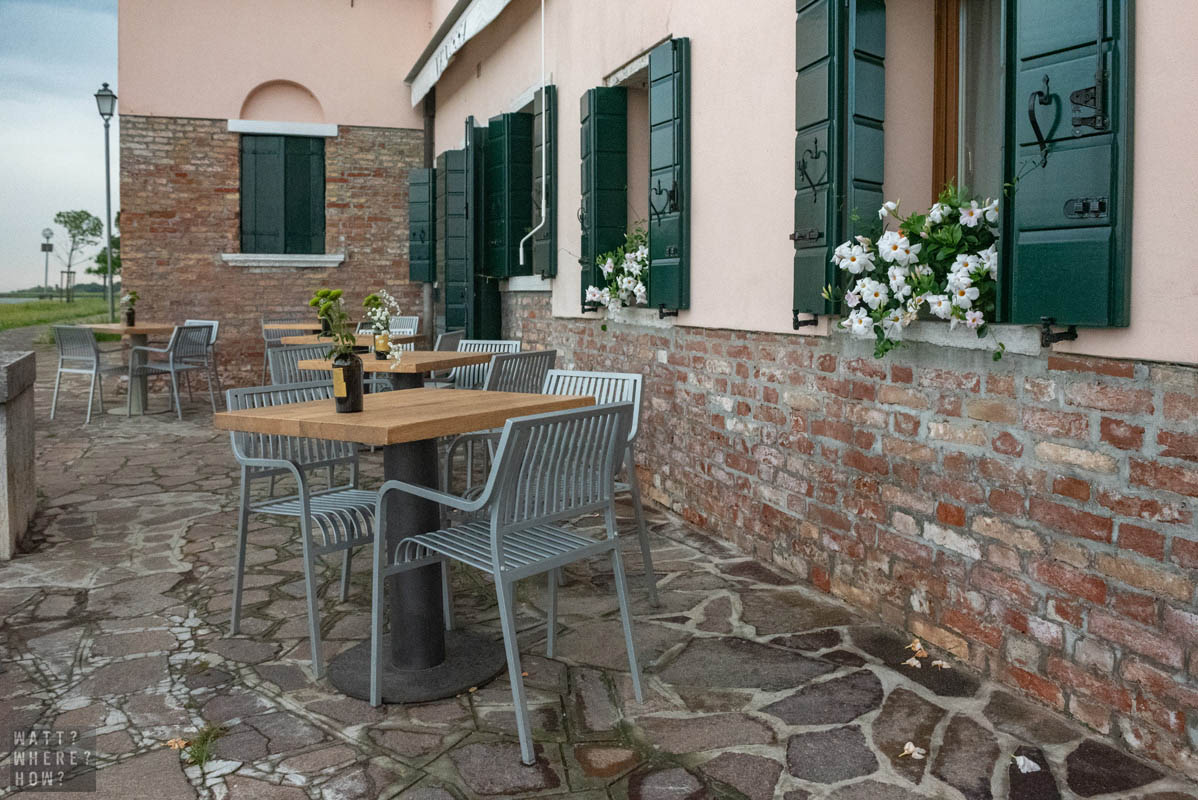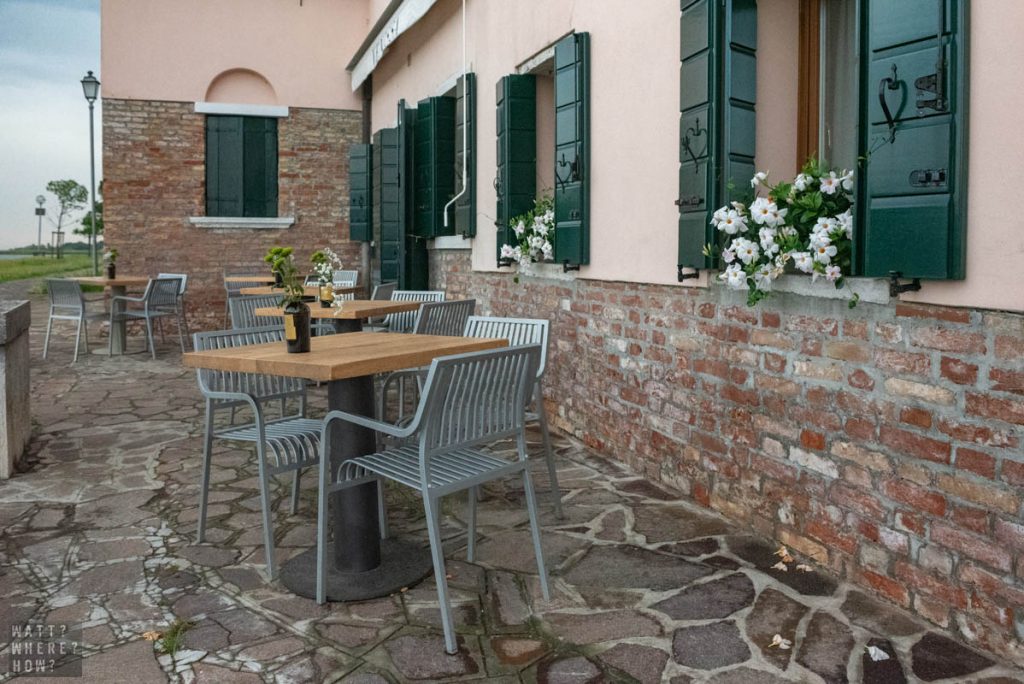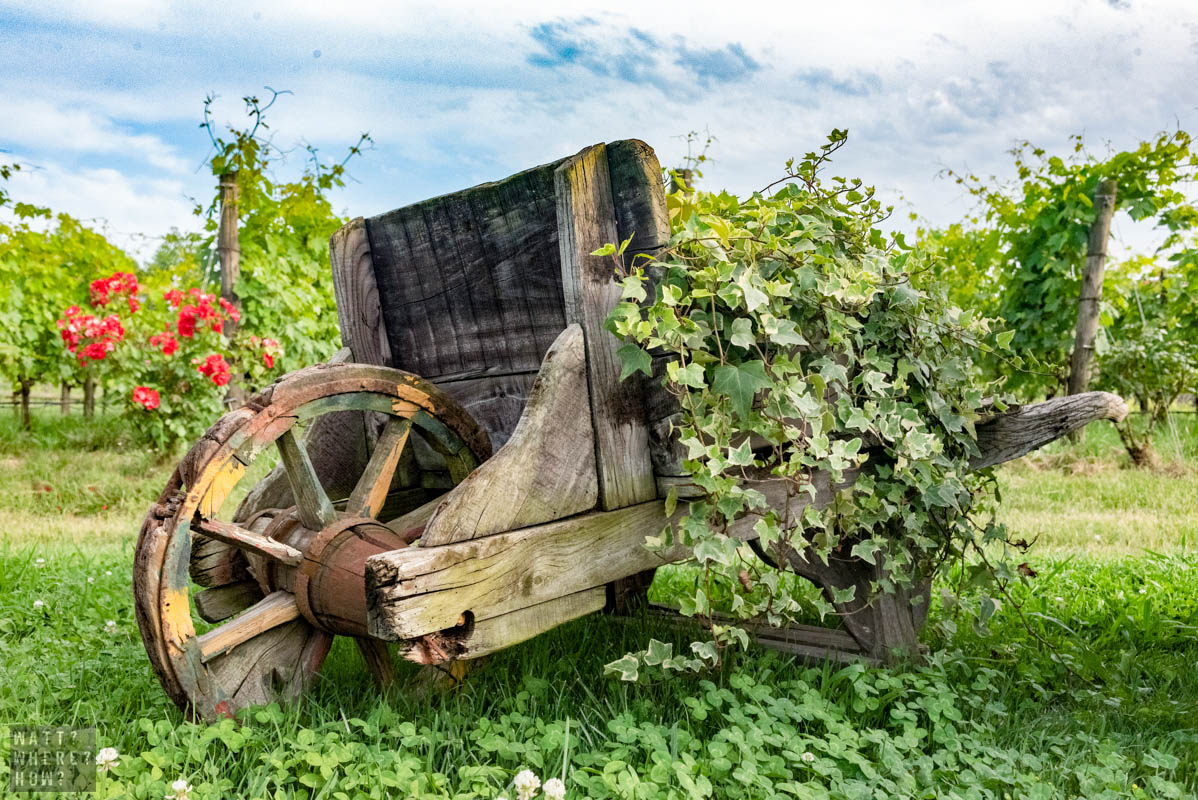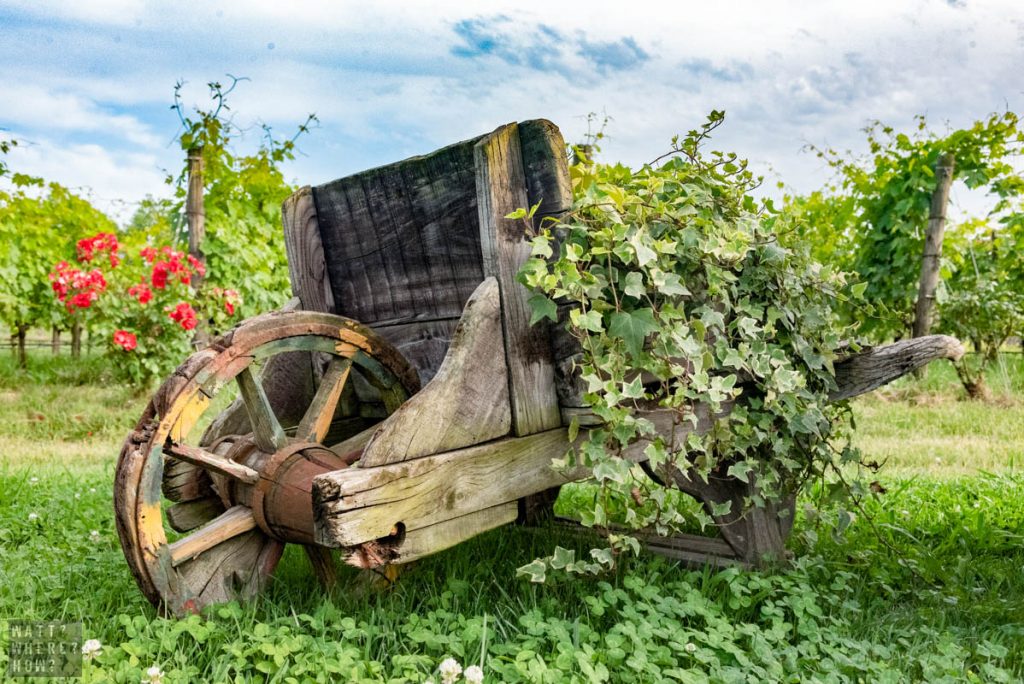 Venissa, a wine resort
A wine resort is a curious proposition. Will we be treated to the curative massage of squelching grapes under foot? Prosecco baths? It's none of these, yet it's a haven in its own right, situated on one of the region's only wineries.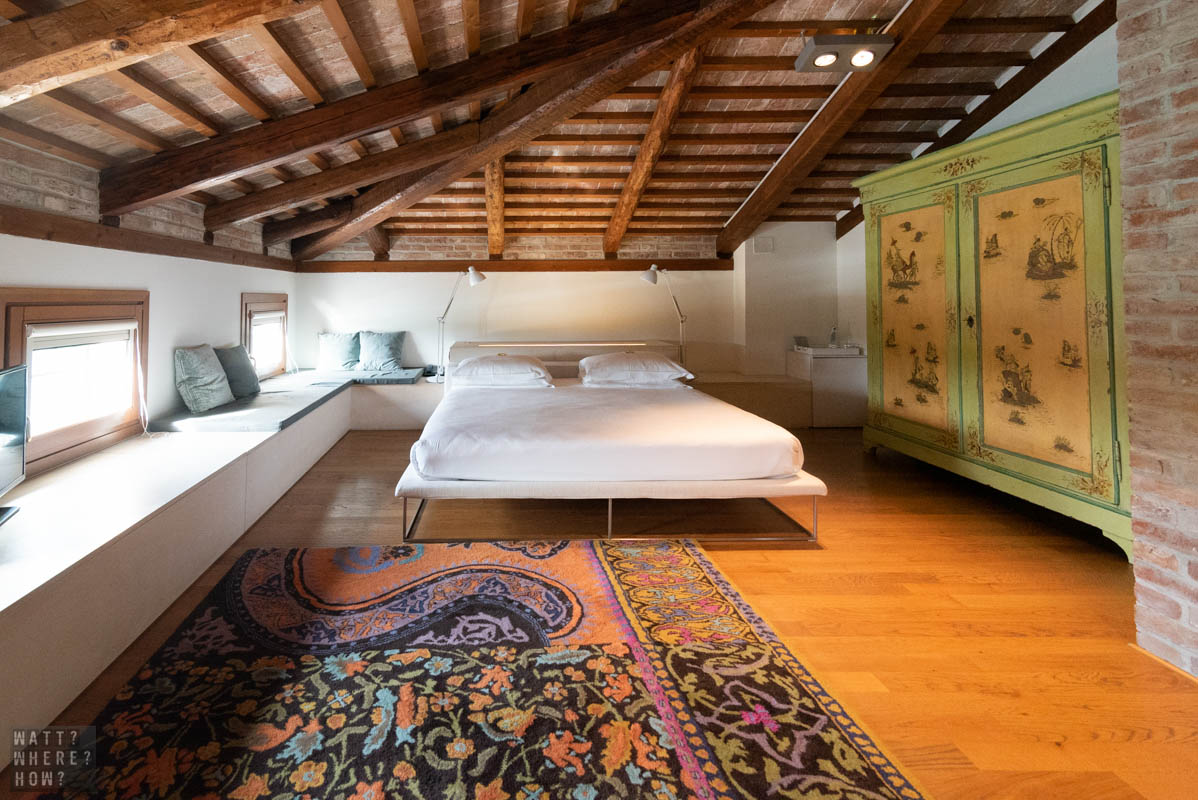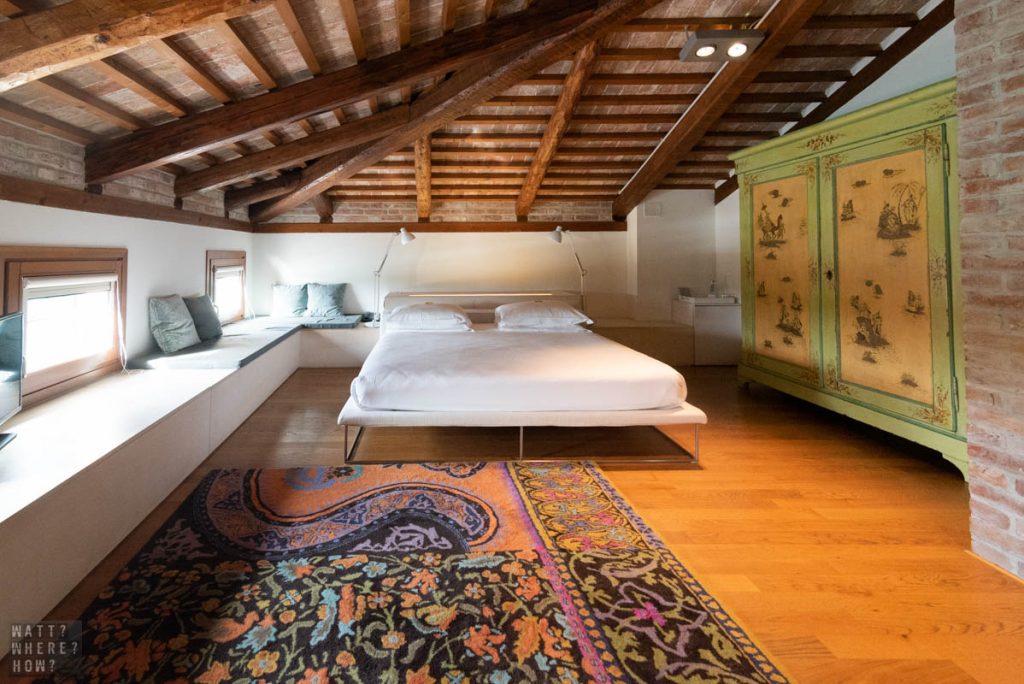 Our room is a spacious loft suite, artfully appointed with a super cozy queen bed, middle eastern carpets, and an ancient baroque wardrobe you'd imagine housing a gateway that could lead to just about anywhere. Exposed beam roof and red brick walls lend a rustic charm to the room, while a stylish bathroom offers the comforts and amenities we've been missing staying in traditional bed and breakfasts and agritourism places across Italy. You forget how genuinely refreshing it is to be provided with these simple luxuries that make you feel more human after a long day.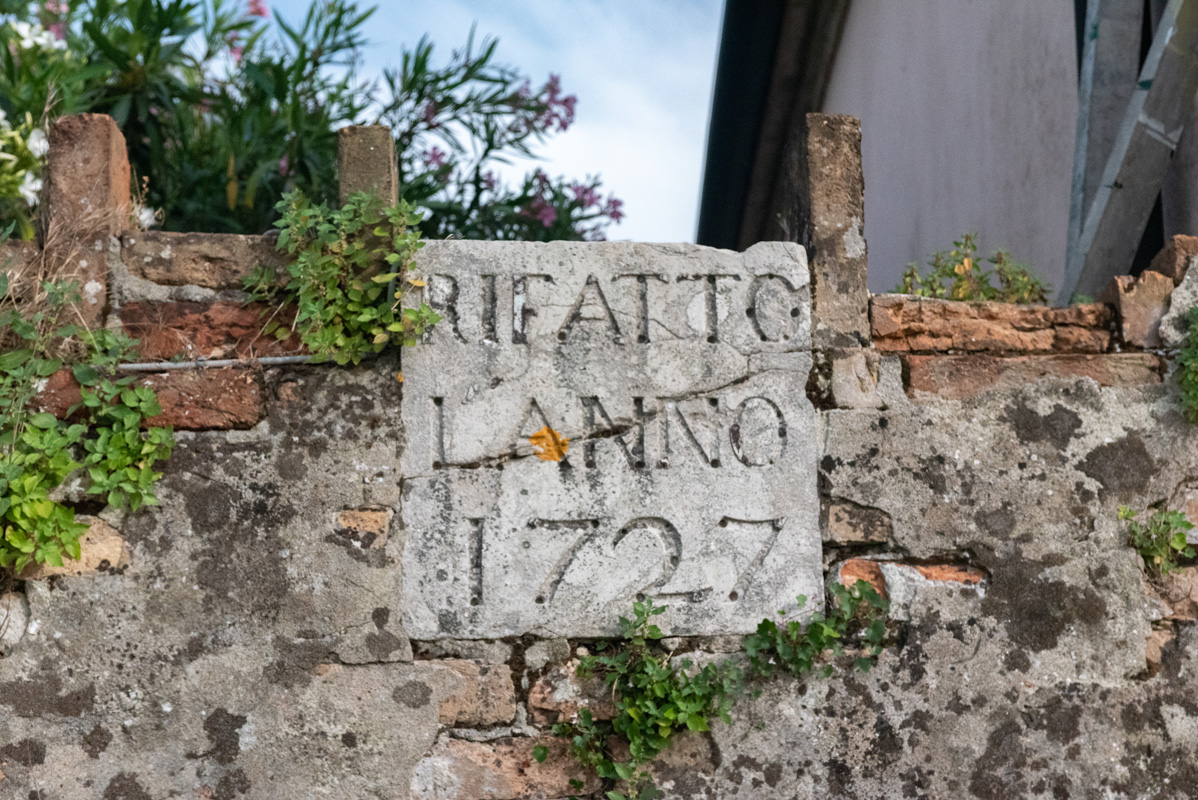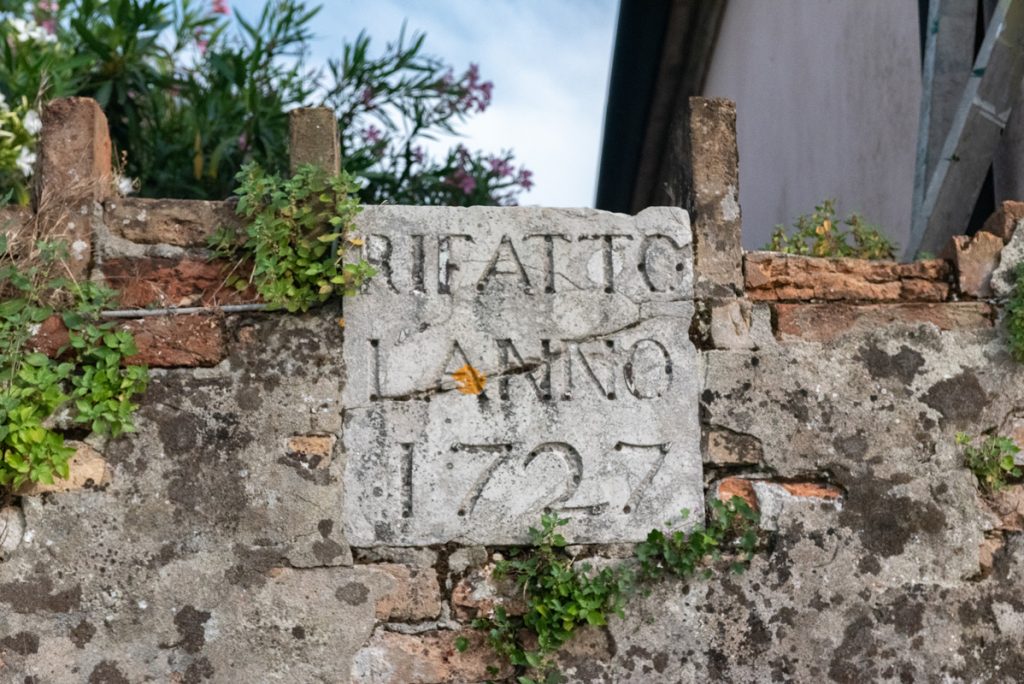 An ancient abbey vineyard
Although we resist the urge to find new lands through the back of the closet, there's a truly hidden garden to explore just outside. Open the gate in the wall beside the hotel, and you enter an allotment of gnarled grape vines, market gardens, and for the season, a whimsical, yet powerful display of sculptures by Stefano Bombardieri.
The walls are part of the original 14th-century monastery and they were restored in 1727. Rising above the vineyard is the key landmark of the island, the campanile of the Chiesa di San Michele Arcangelo, one of the oldest clocktowers in Venice. Santa Caterina Monastery, with the bell dating back to 1318, making it one of the oldest bells in Europe.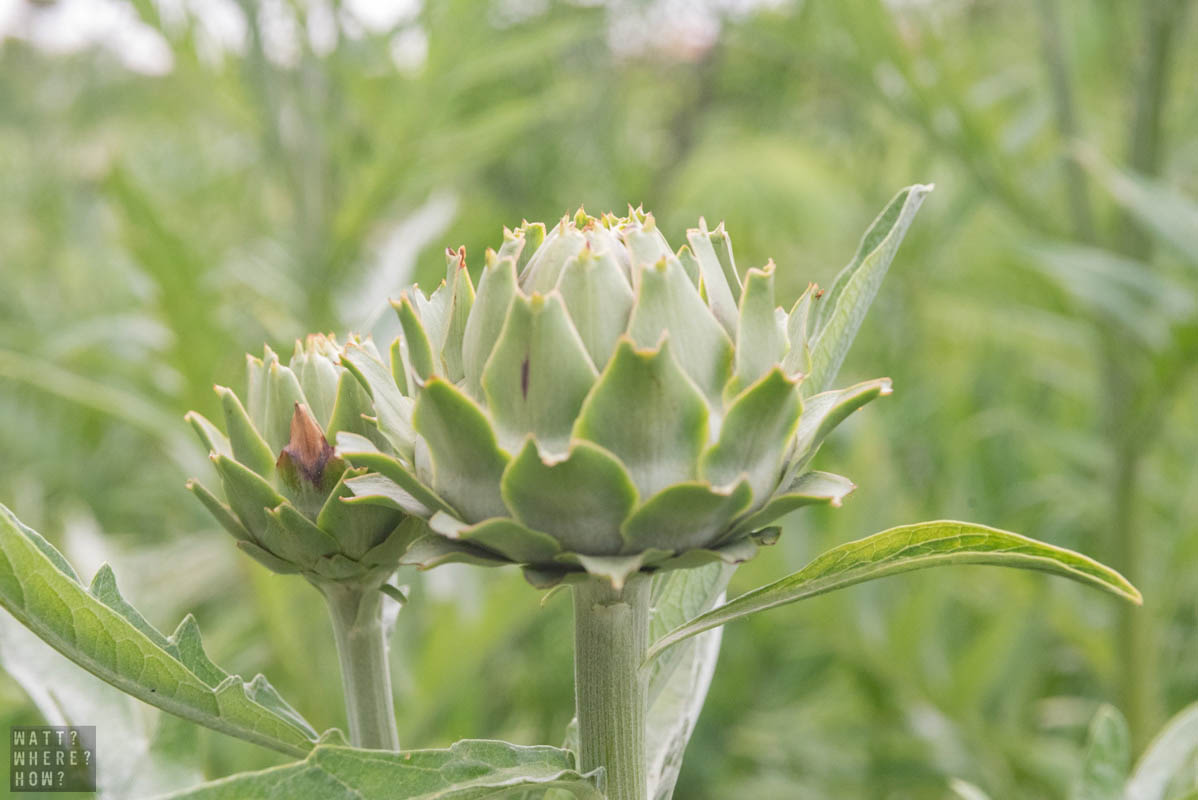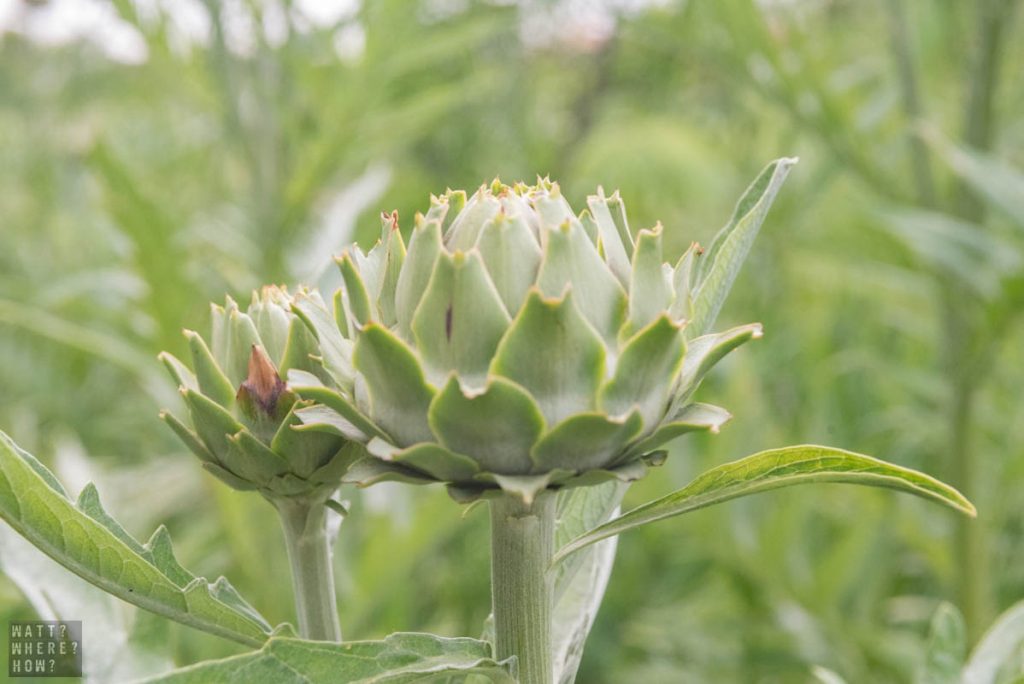 A delightful market garden
Today, nine retirees from Burano tend to the vines and farm, where artichokes, herbs, tomatoes, and other fresh organic produce is grown for locals or used in Venissa's exceptional culinary creations. Sadly, any aromas of basil or rosemary are overwhelmed by the gaseous, fetid swampy waters that flood the gardens periodically. It's these very waters that have made Venissa what it is today, but it almost destroyed it too.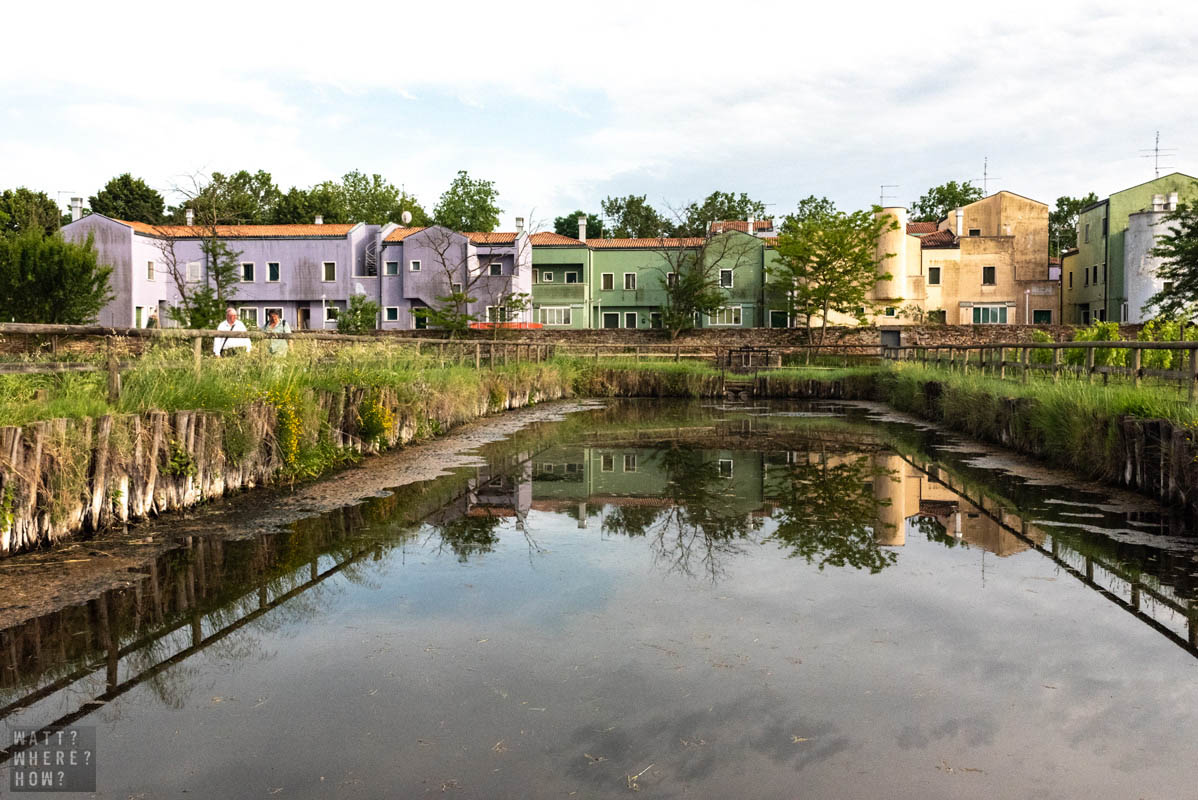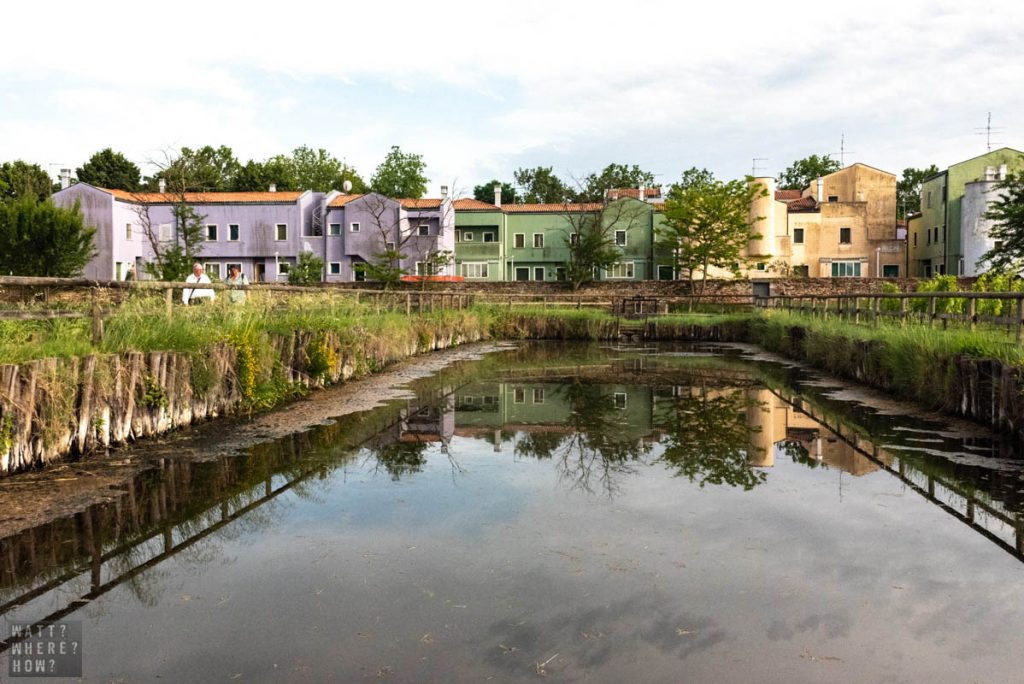 One of the world's rarest grapes
The great flood of 1966 engulfed the streets of Venice, but also covered Mazzorbo, damaging the farmlands. For many years, it was thought that the floods wiped out the region's distinctive Dorona di Venezia grapes, a breed dating back a thousand years, when it grew in the Piazza San Marco. It was Gianluca Bisol of the famous prosecco producer family who rediscovered the grapes on the island of Torcello, just across from Mazzorbo. Gianluca replanted 88 of the vines in the private garden on the Scarpa Volo estate in 2002, and in 2010 harvested his first vintage. The deep gold of the wine is reflected in the gold splash of its bottles, handmade on Burano. Today, it is one of the world's rarest wines, with only 4,000 bottles produced each year.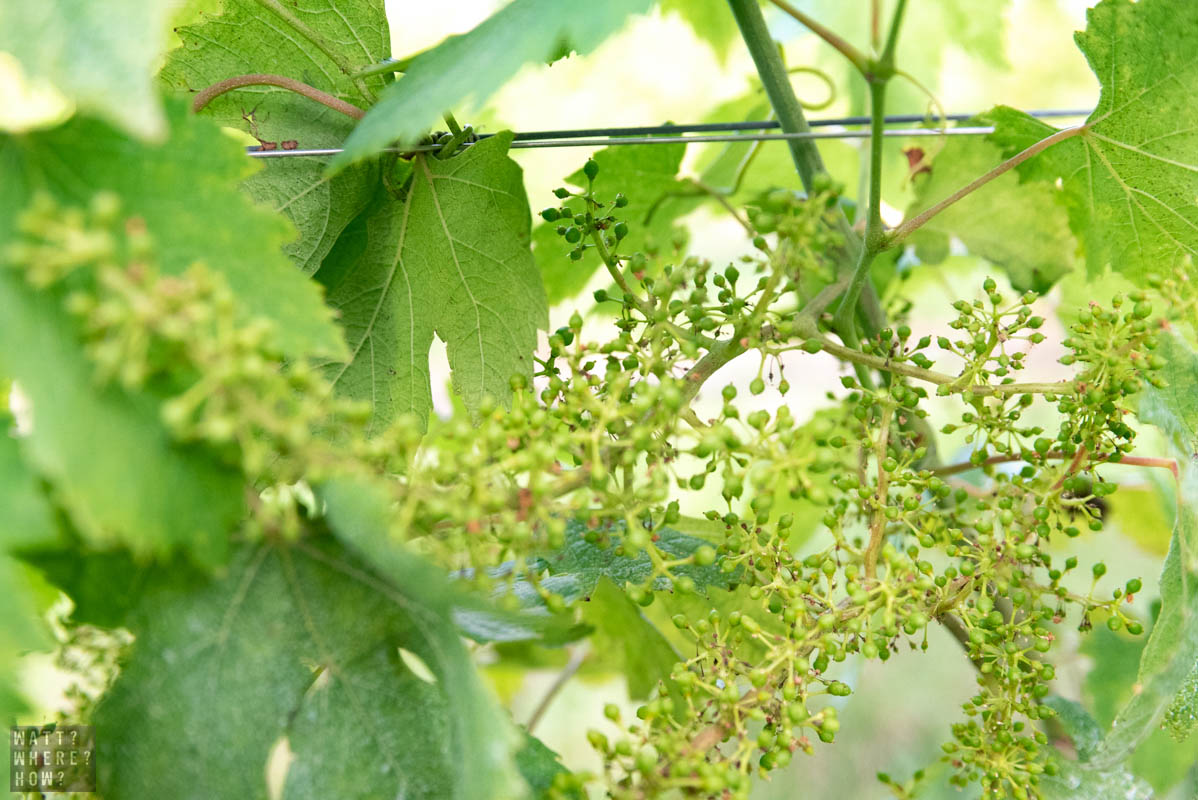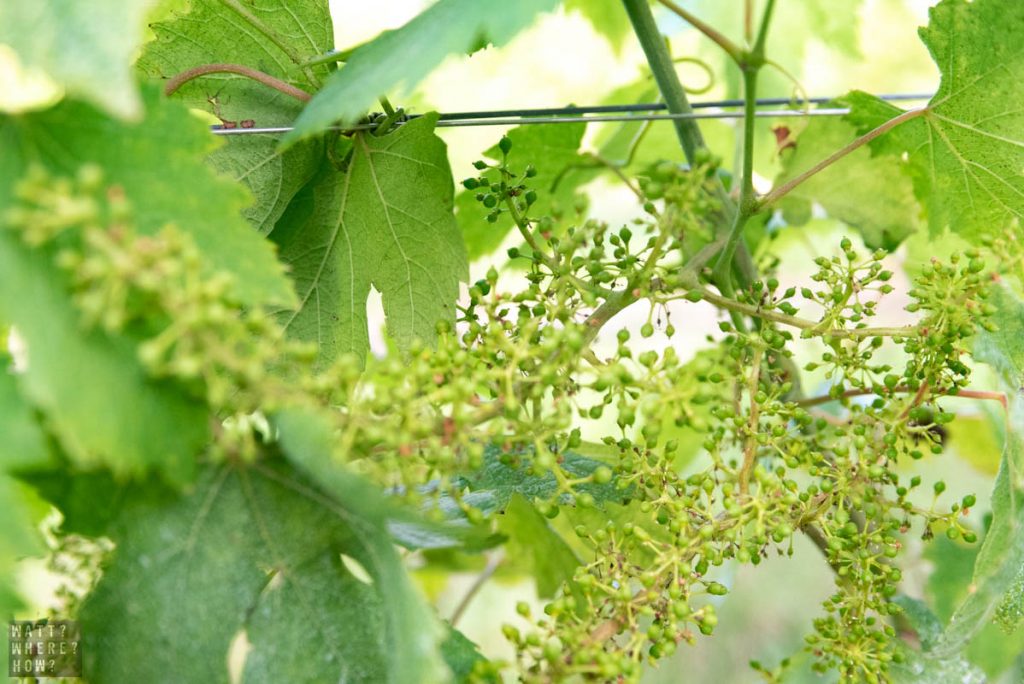 Michelin Star Dining at Ristorante Venissa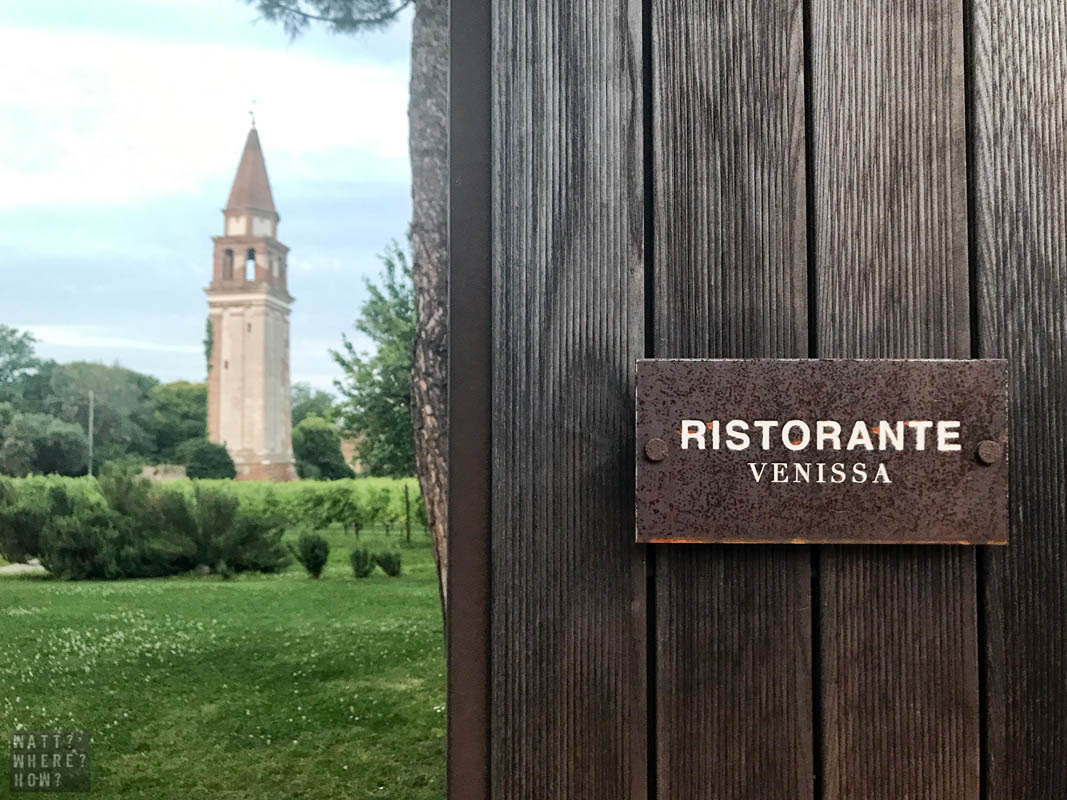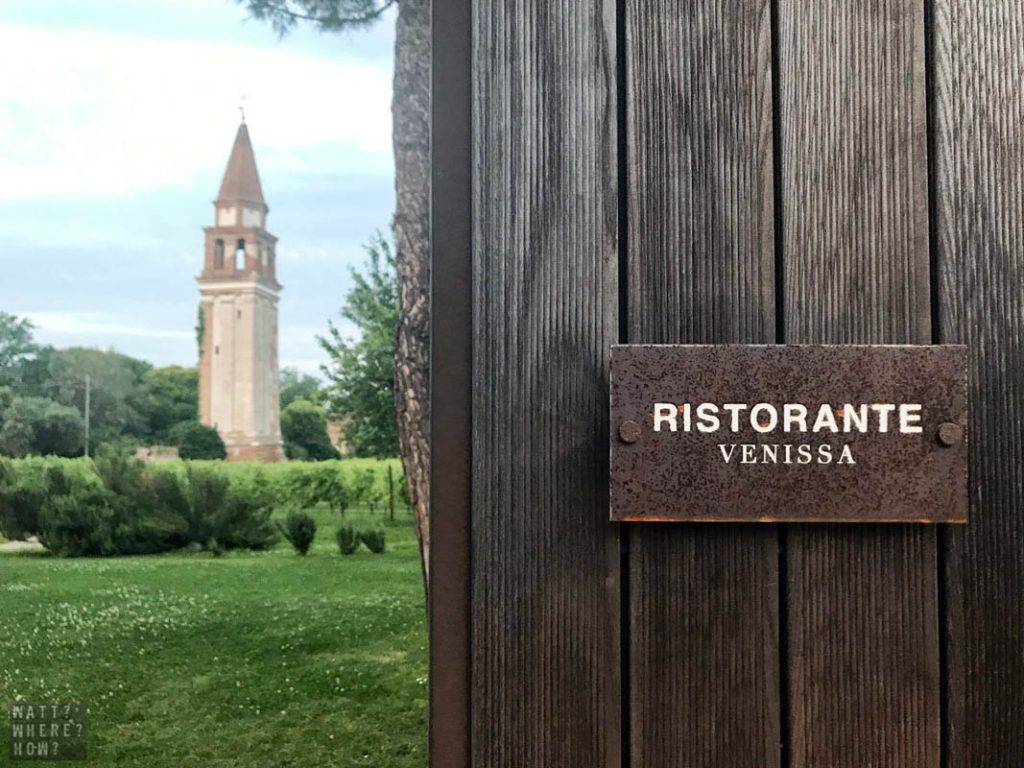 Dining is an exclusive experience, with the 18 seat-restaurant tended to with a dedicated waiter to each table. The restaurant is set on a patio allowing for it to be enjoyed as an extension of the gardens and grapevines, or as a self-contained eatery. While taking in the scene, the Venissa house beer, made on-site is poured as we savor the last rays dancing on the ancient clock tower in the distance.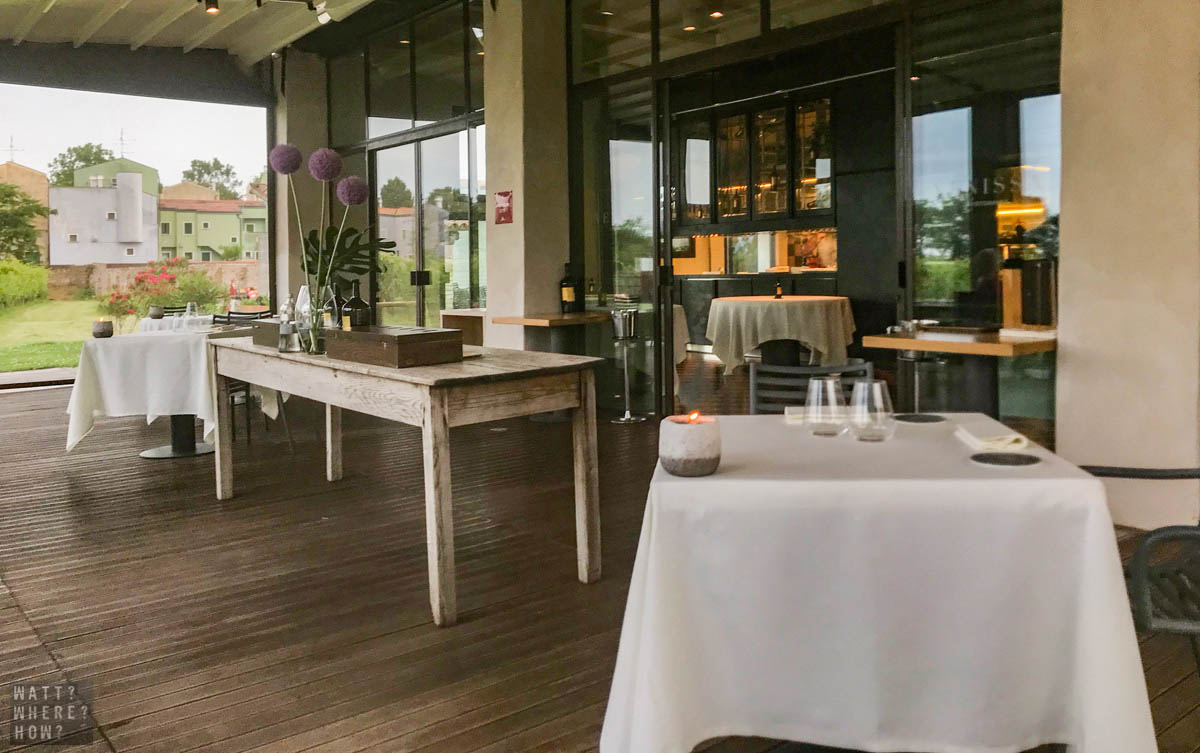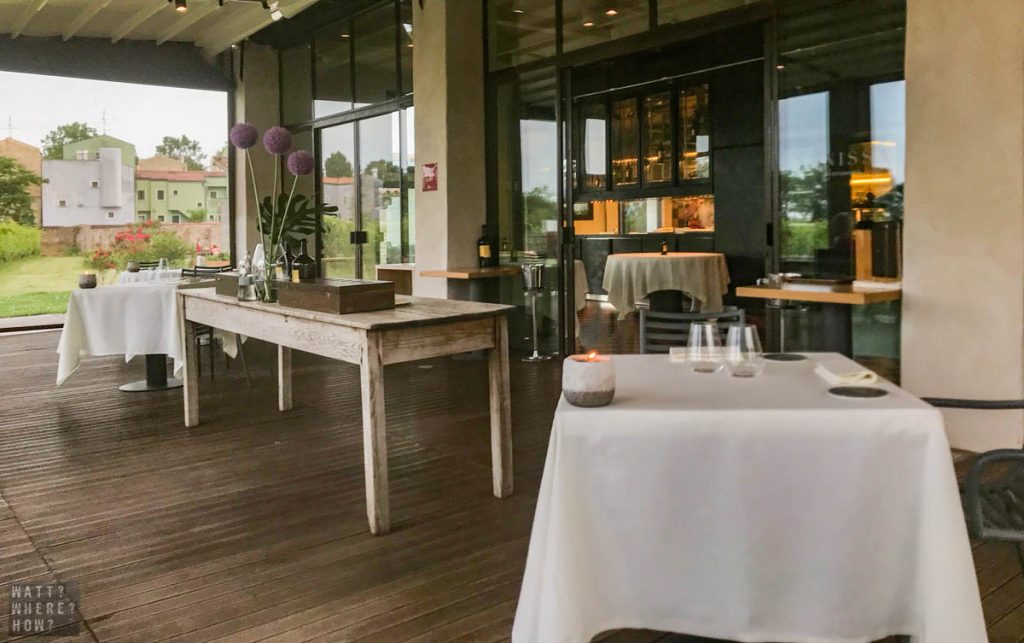 We're treated to an exceptional dinner, prepared by Franceso Brutto and Chiara Pavan, the winner of Italy's best female chef (though why that's even needed in this millennium we don't know). Both are Michelin-starred and it's soon easy to see why. We are treated to a tasting selection to usher in the evening, though we have opted for a la carte as it's close to the end of our trip and the coffers are a little empty.
Authentic Venetian Cuisine
It becomes apparent that there is a different palate to satisfy in this region. The foods we try are an explosion of bitter and sour elements, with a strong emphasis on citrus and the intense flavor profiles of its artisanal style olive oil and balsamic vinegar. It's zesty, bold, and refreshing, just like the Venetians. Then, by design we assume, the chef brings us a contrasting flavor board, showcasing Venetian (and Mazzorbo) produce. We select flavors not heavily featured in our mains—salty cremas, sweet local shellfish, fried foliage and the addition of locally grown nuts for that crunchy texture. Honestly, the food here is truly world-class.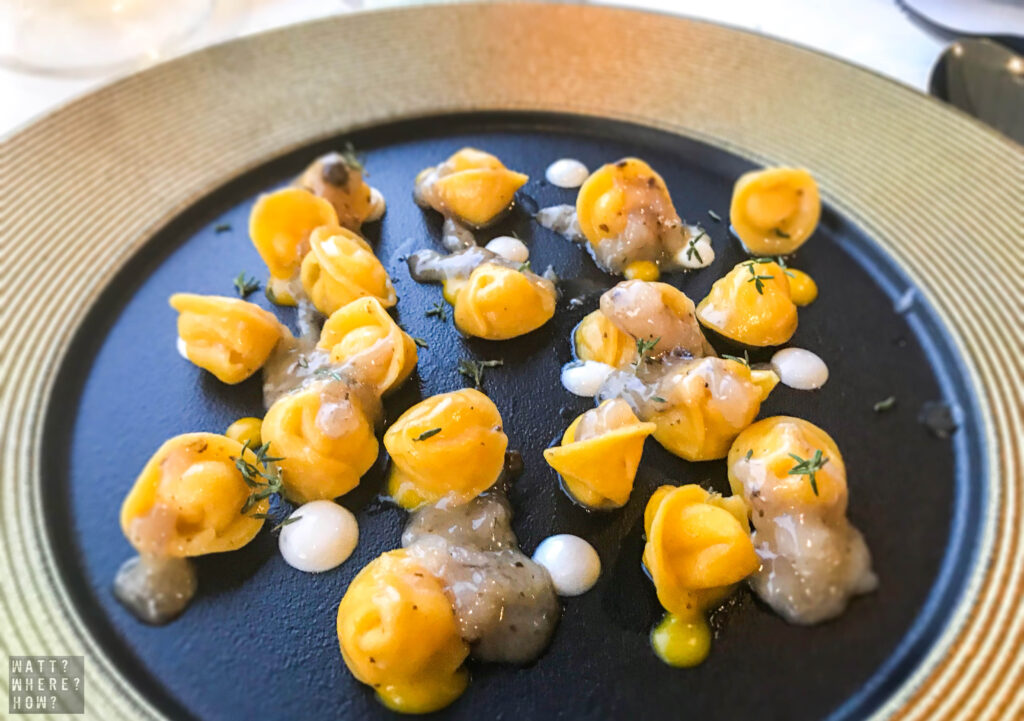 You also get 24-hour access to Burano
One of the bonuses of staying the night on Mazzorbo is that we have unrestricted access to the equally picturesque island of Burano after dark. Stepping across the Ponte Longo (long bridge), local fisherman patiently flick lures into the shallows of the lagoon, hoping for a sharp bite on the line. If it wasn't for the gently splash of the lure hitting the water and the distant rumble of a water taxi engine, it would be totally serene.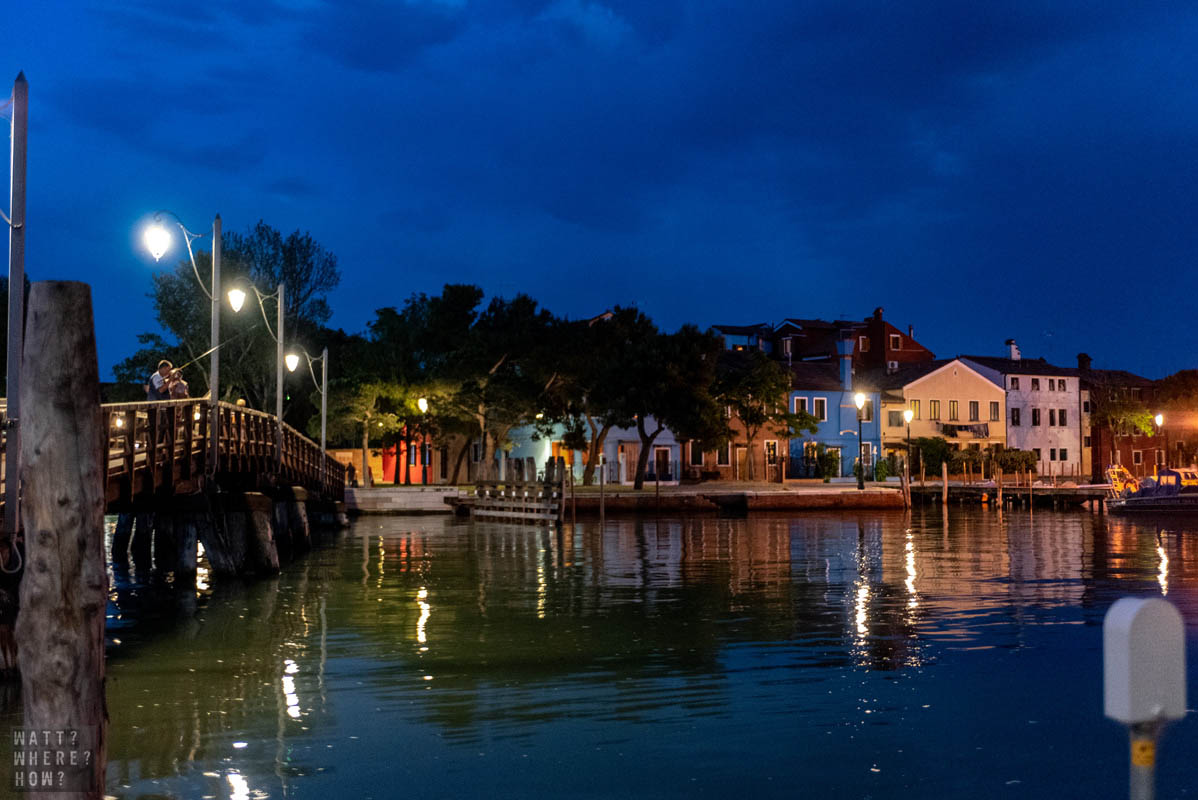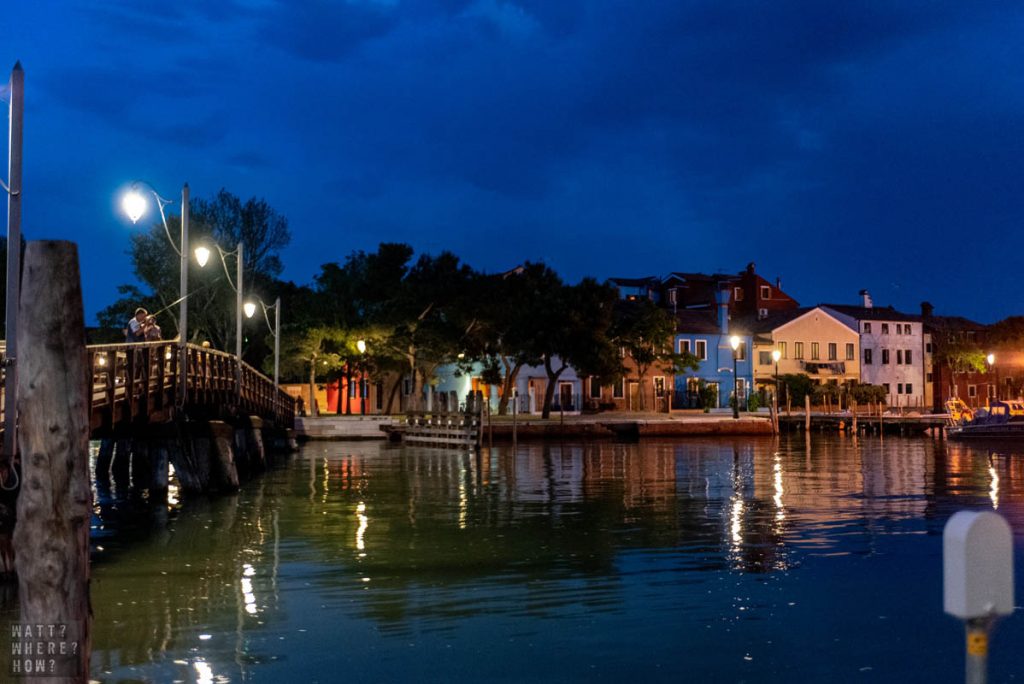 In fact, Burano is a ghost town at night. As we stroll the canals, it's like being transported back a couple of hundred years – if not for the chugga chug of a fishing boat pulling in to the narrow main canal, congested with other bright colored boats. It's a scene we will return to in the morning, but for now, we have a wine resort to enjoy.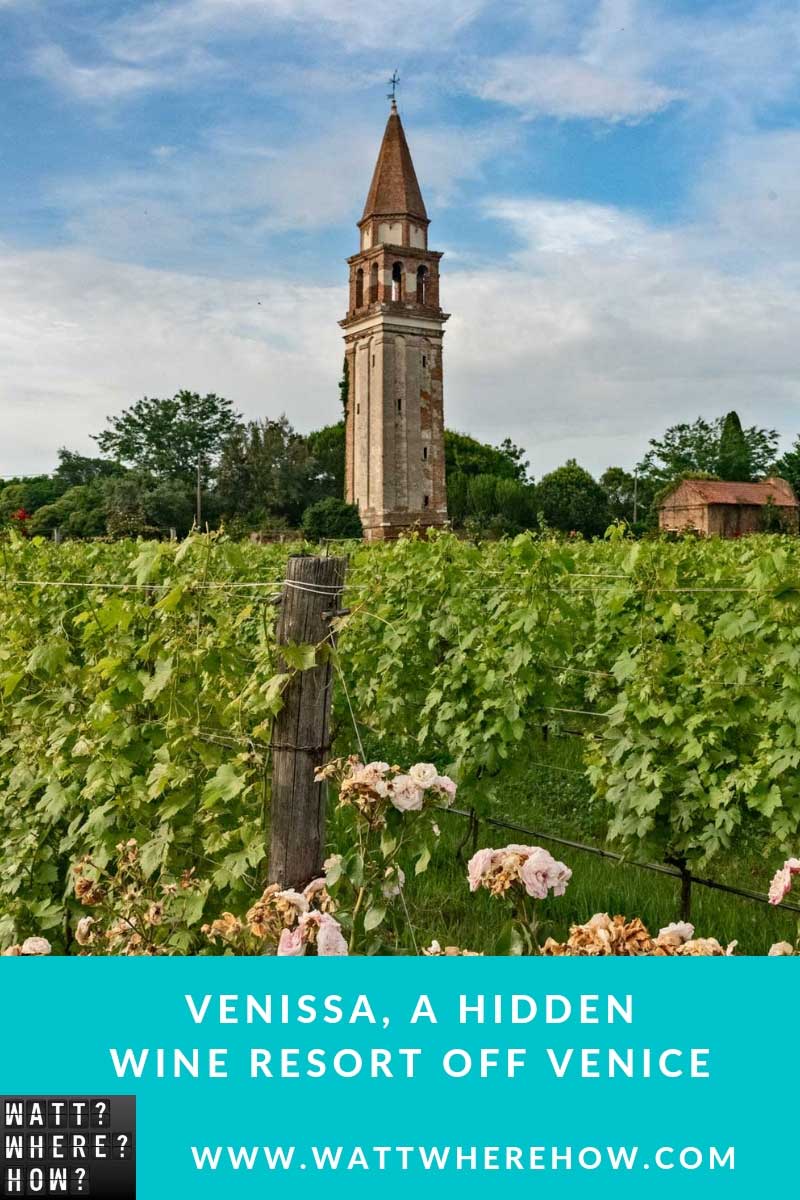 ---
WHAT YOU SHOULD KNOW
Being away from the rest of Venice, you will be surprised to find that dining, drinks, and entertainment options to be scant. The community sacrifices its privacy by day for the hoards of day trippers looking for that perfect Instagram shot, but at night, the shutters go up and the lights go out early. You won't find restaurants and bars open beyond 8pm, or even a convenience store.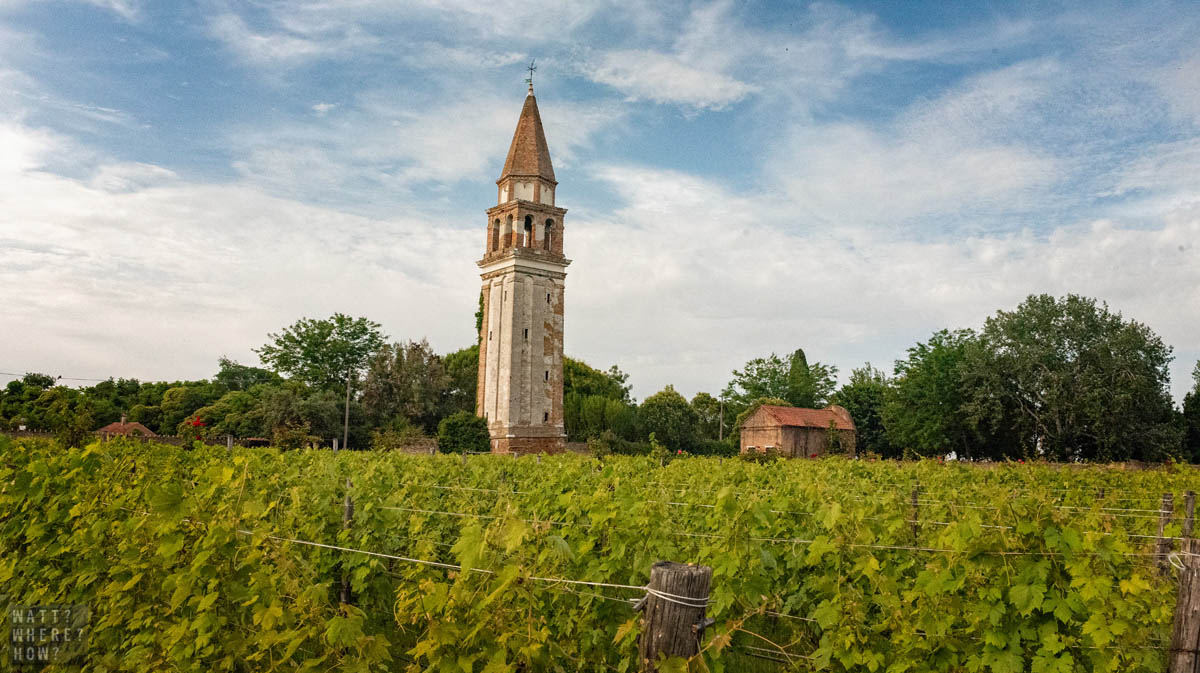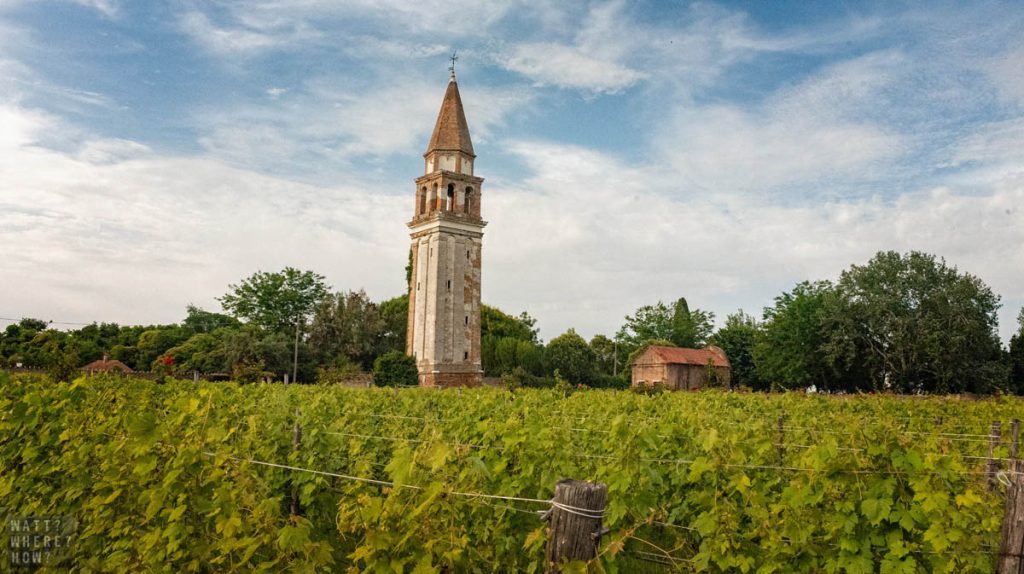 ---
WHAT?
Venissa Wine Resort is a luxury resort with Michelin Star restaurant on the island of Mazzorbo, linked directly to Burano by a bridge – making it an unforgettable place to stay that most visitors to Venice will never hear about.
WHERE?
Mazzorbo is just 40 minutes from the heart of Venice, close enough to be an easy commute, and far enough to feel like a world away from the chaos of tour groups.
HOW?
Venissa is both a hotel and a restaurant. You can make bookings for both here.
To get to Venissa Wine Resort at Mazzorbo, take the:
Watertaxi from Venice: 20 min
Watertaxi from Venice Marco Polo Airport: 30 min
Vaporetto from Venice: 35 min (line 12 from Venezia Fondamente Nove stop)
Vaporetto from Marco Polo Airport: 1h 15min(Alilaguna + line 12 from Venezia Fondamente Nove stop
Follow & Connect with us