If you're dreaming of a white Christmas in Montreal, make it a Joyeux Noel in Montreal.
If seven years of living in NYC has taught us anything, it's that a white Christmas is merely a dream perpetuated by Hollywood and the Hallmark cable channel. Vermont? Yes. The mid-west? Most likely but New York is never a sure thing for snow in late December. So, when family came over to Australia, we all flew a little closer to the North Pole where we were rewarded with a sub-zero white Christmas in Montreal with all the trimmings.
What you need to know before you go
Climate
Montreal in winter can be beyond brutally cold. The average minimum temperature is 16F/-9C and the maximum rarely rises above. Thick snow and water-resistant coats are a must as are thermal undergarments. Pack snow boots with a strong grip as even when the ground is not heavily packed with snow, paths can coat with black ice and there is so much of it, many city blocks fail to properly treat it with ice-melting chemicals or salt to make it less slippery.
The winds coming off the river can be brutal not just for the temperature but for the sheer power, which can knock you off your feet.
Money
The Canadians have a separate currency, the Canadian dollar. It is not as strong as the US$ and usually performs about at the same rate as the Australian dollar (we only say that as being Aussies, it's what we compare everything to). Against the US$, prices were similar and definitely cheaper than New York and the comparative exchange rate had us up about 25%.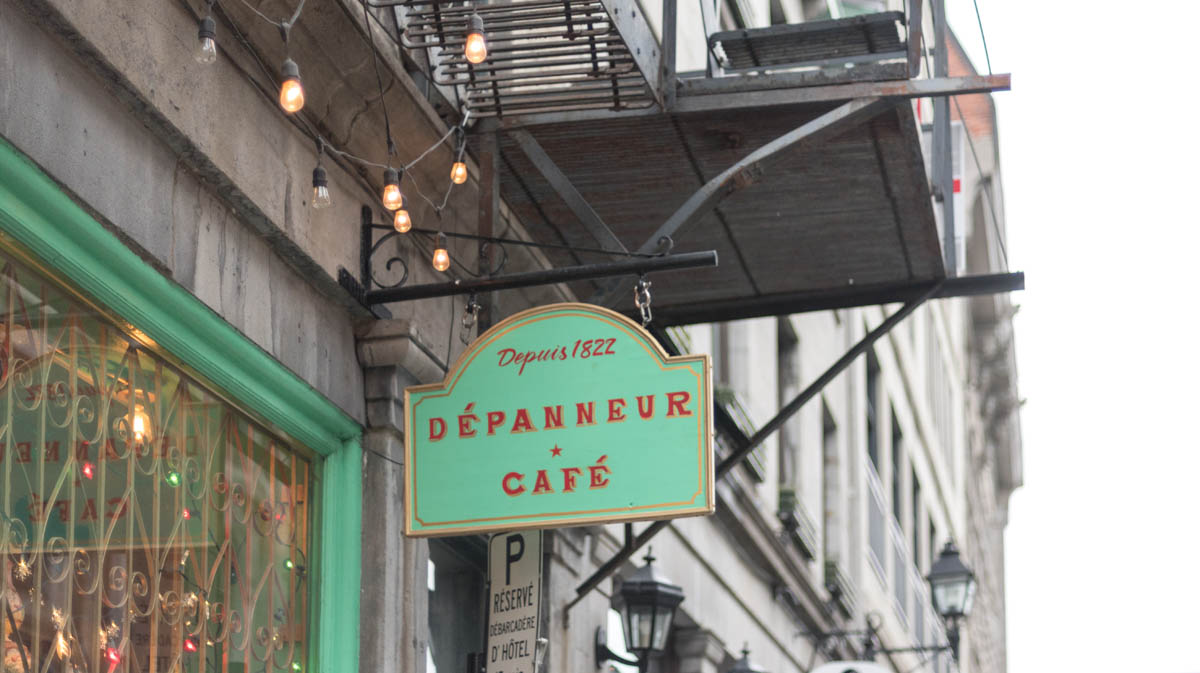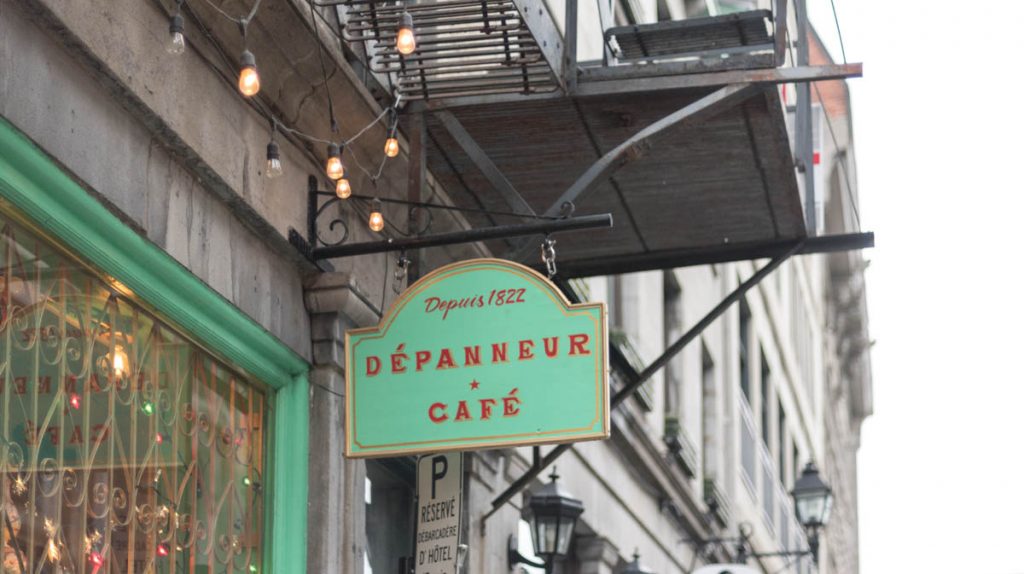 French VS English
This side of Canada is French-Canadian, having been colonized by the French in 1535. Like Quebec, you'll see the French influence in the architecture and locally it's the go-to language. Don't worry, everyone speaks English though the actual French dialect spoken is quite old and doesn't quite match the modern French lexicon. The other curious anomaly is that being a member of the British Commonwealth, there are many English traits exhibited. Yes, Canadians say "sorry" a lot – it's not just a stereotype; the Queen's head is on every coin and they sell British chocolates and candy, which means real Cadbury and chocolate Smarties, not the icky chalky sugar ones found in America.
Safety
We found Montreal to be fairly safe. Where we stayed was a little edgy for our liking with many homeless and late-night venues. We never felt directly threatened but the panhandling and dodgy characters around the entrances to main subway stations was enough to remind you to hide your valuables and exhibit a high level of caution. The biggest immediate danger is injuring yourself on the ice or when skiing.
Getting Around
Despite the thick snow, buses run locally. The city is also well served by a modern subway system. Uber is available and works with the global app.
WHAT TO DO
Montreal has no shortage of places to experience – even in winter. Here are some of our favorites.
Wonder at the beauty of the Notre-Dame Basilica
The stunning Gothic revival-style church with its iconic twin towers has been a fixture in the Montreal skyline since 1822. It's one of the most ornate cathedrals you'll ever see.
Then chill at the Place d'Armes
This central square in Old Montreal Place d'Armes is one of the city's main outdoor spaces, bordered by the Notre-Dame Basilica, New York Life Building, and the Bank of Montreal. In the center is a monument to Montreal's founder, Paul de Chomedey, recognizing his battles with the Iroquois. A less serious pair of statues is The English Pug and The French Poodle, a public art installation by Marc Andre J. Fortier that was added to the square in 2013.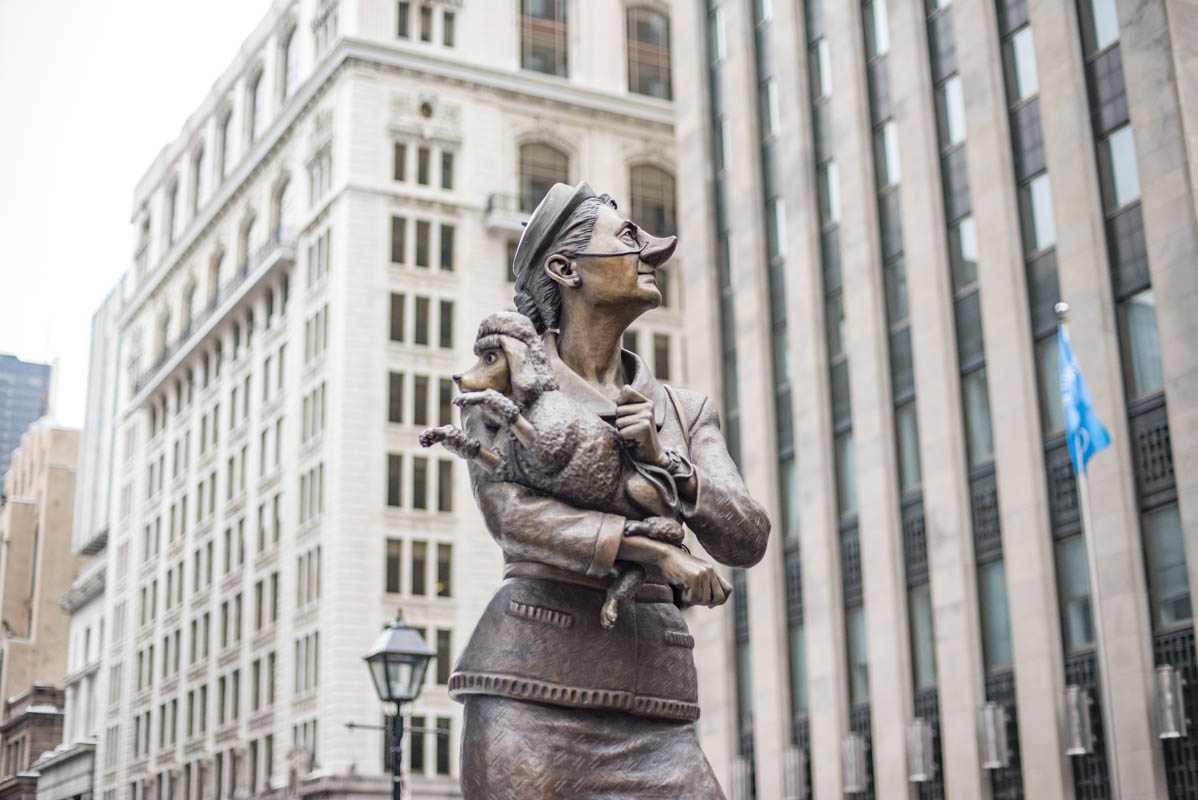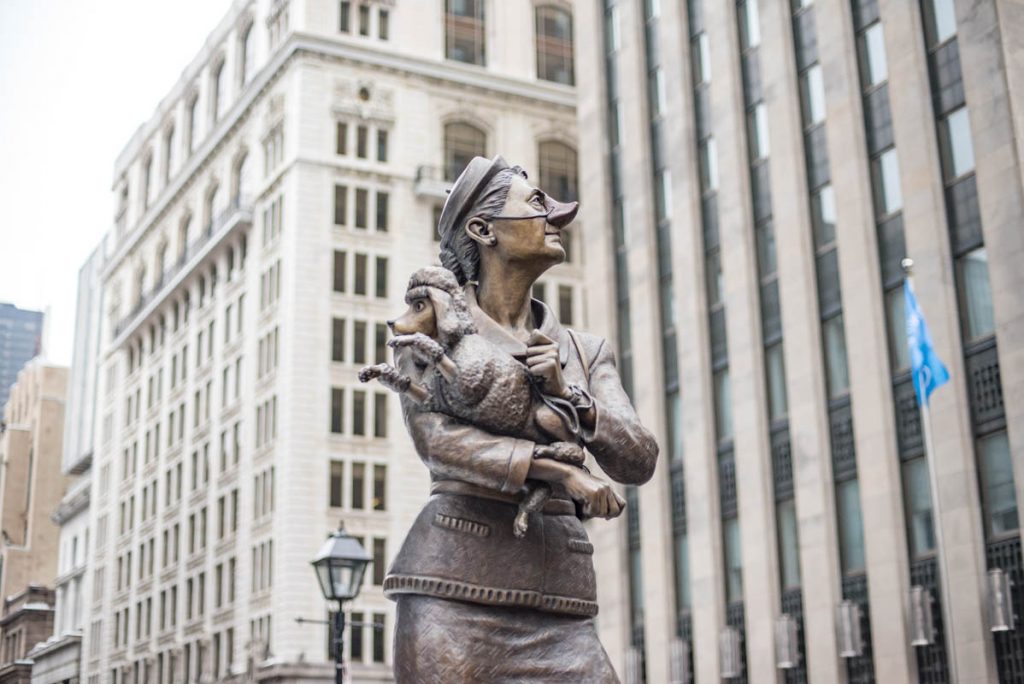 Step back in time in Old Montreal
Close your eyes and pause for a second as you enter Old Montreal. Woah, not in the middle of the road. Now open them. You're suddenly transported to a regional French provincial town where weathered bricks bear Gallic slogans and the aged street signs are all in the mother tongue. Old Montreal captures the essence of 19th-century architecture and history. Cute cafes and bars abound, and quality restaurants are as plentiful as the souvenir shops.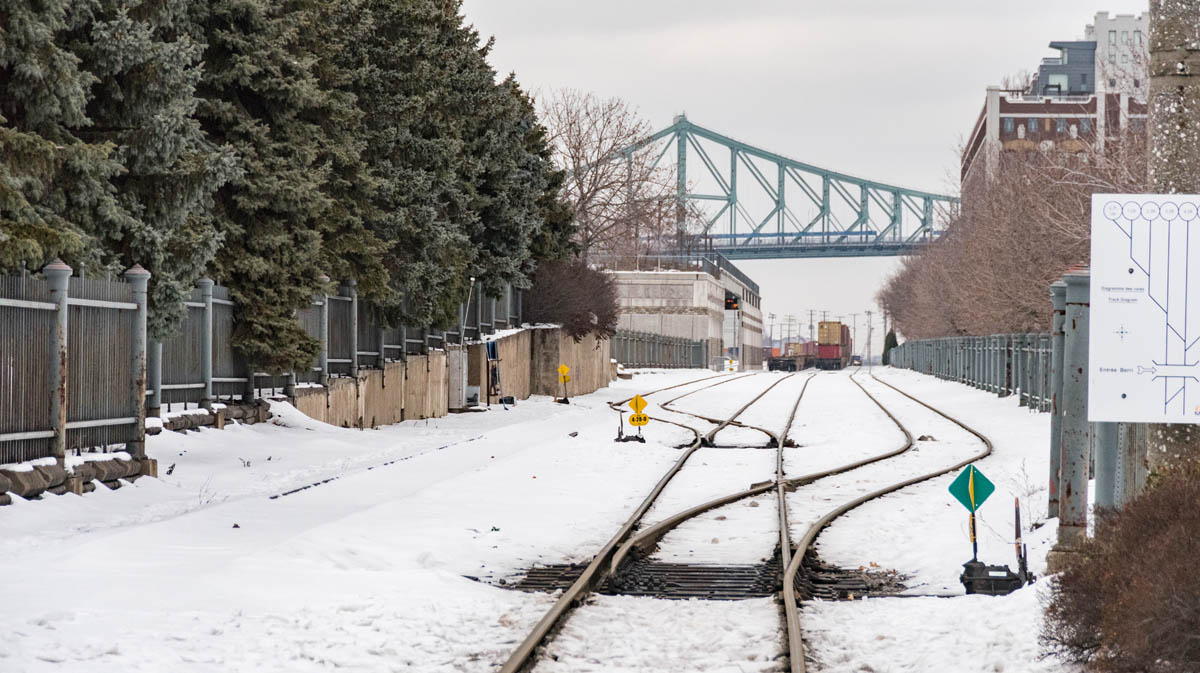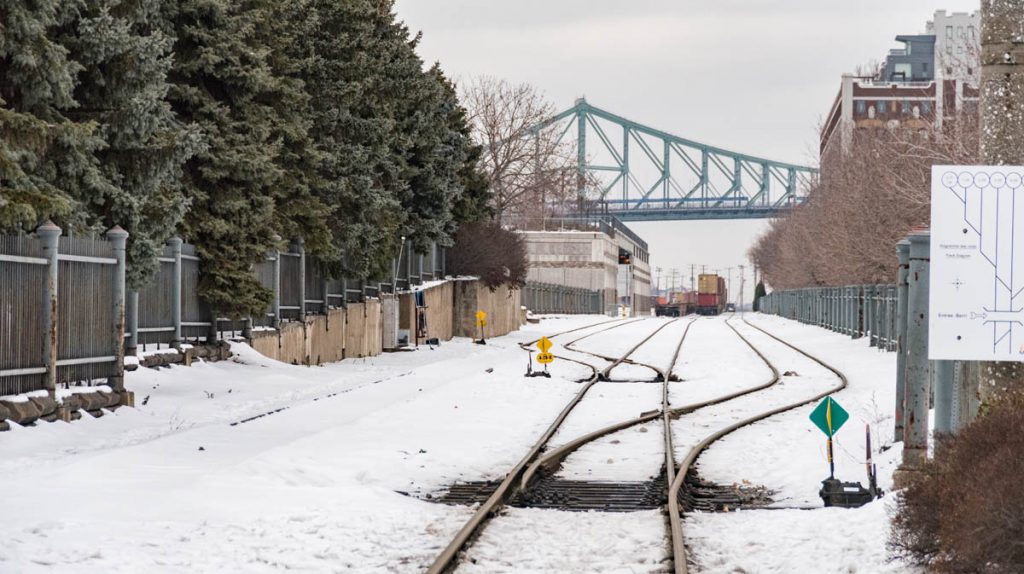 Go ice skating at Old Montreal port
The St Lawrence River is partially frozen and there are no ships to be found at the old Montreal port. We cross a pair of icy steel rails and venture forth towards between deep snow and frozen ponds, passing Voiles en Voiles, a high ropes and zip line course with a tall ship theme that would be loved by kids and families in summer. For now, it lies submerged under two feet of snow.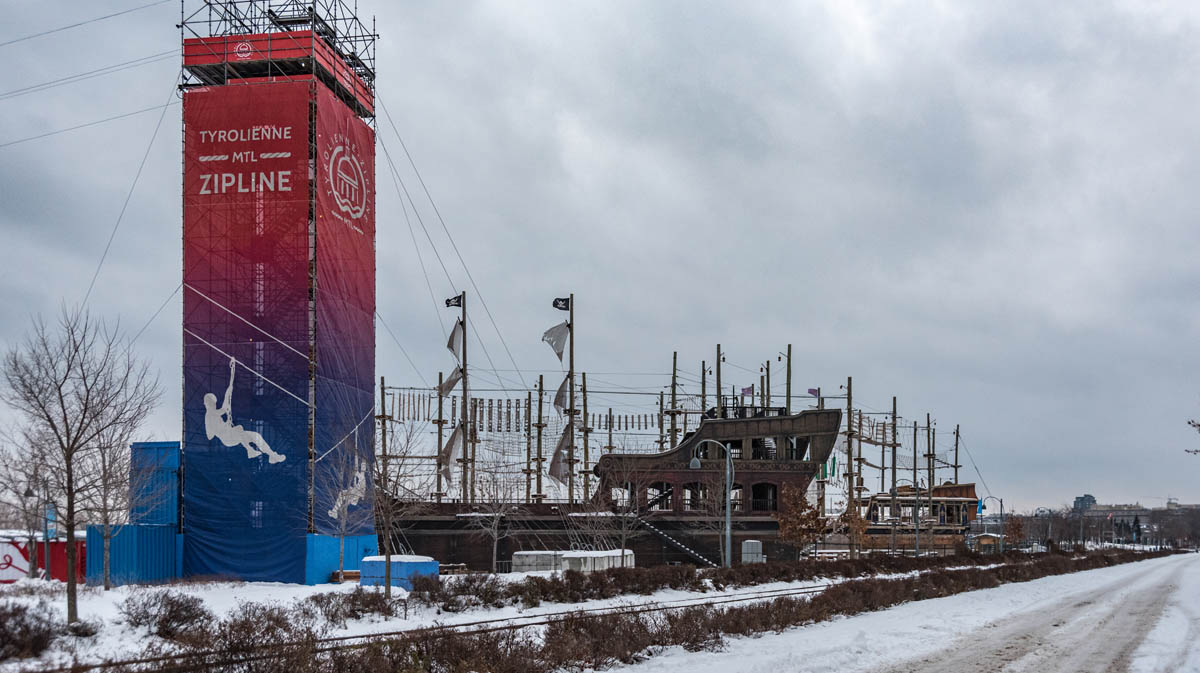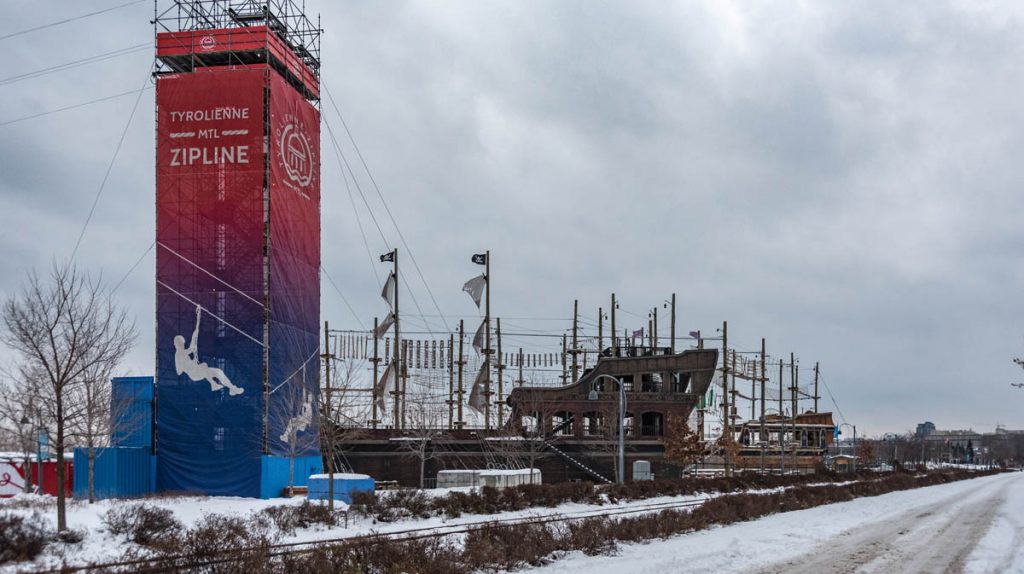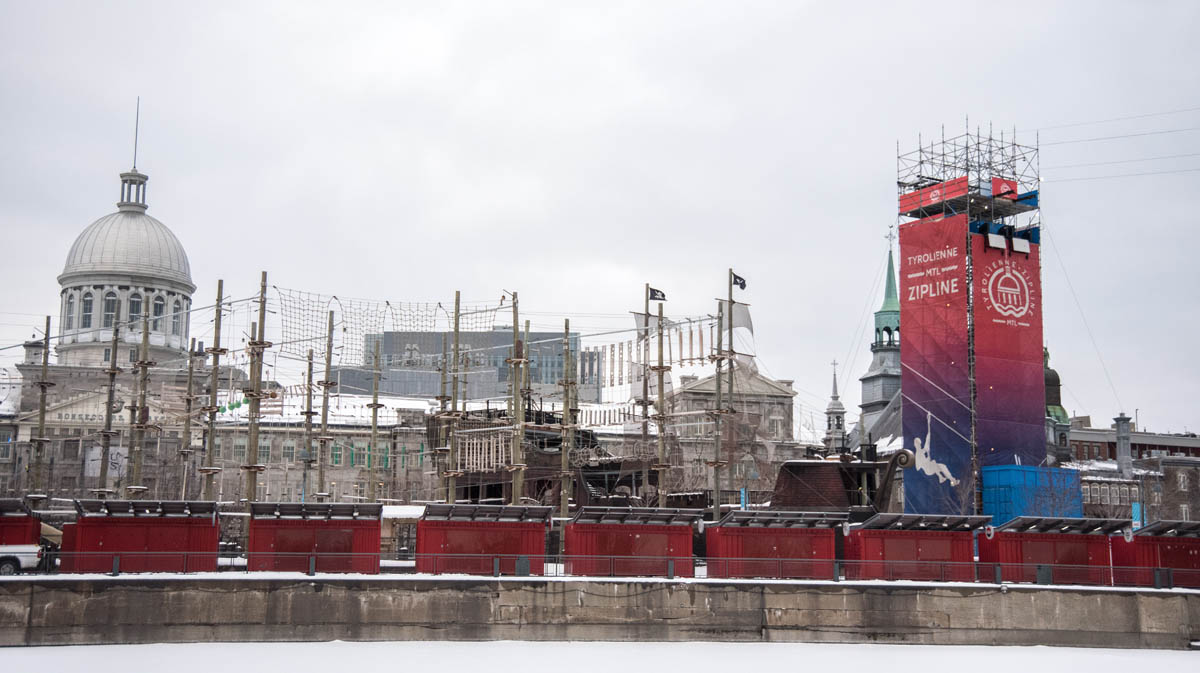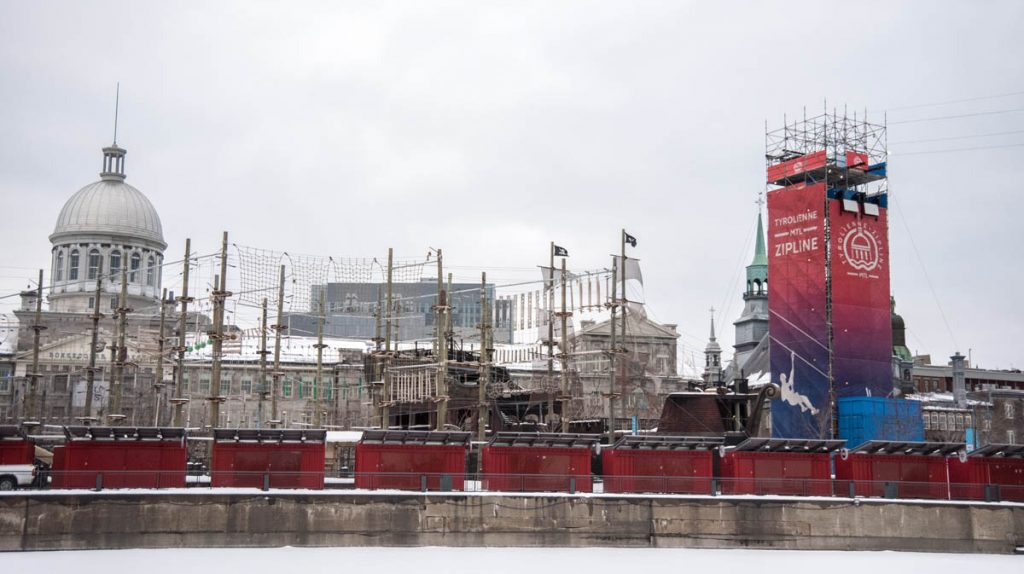 The Parc du Bassin Bonsecours is a popular spot with locals in the middle of winter. The Terrasses Bonsecours pavilion serves up toasty hot chocolates while the tidal basin in front of it becomes a large ice-skating rink.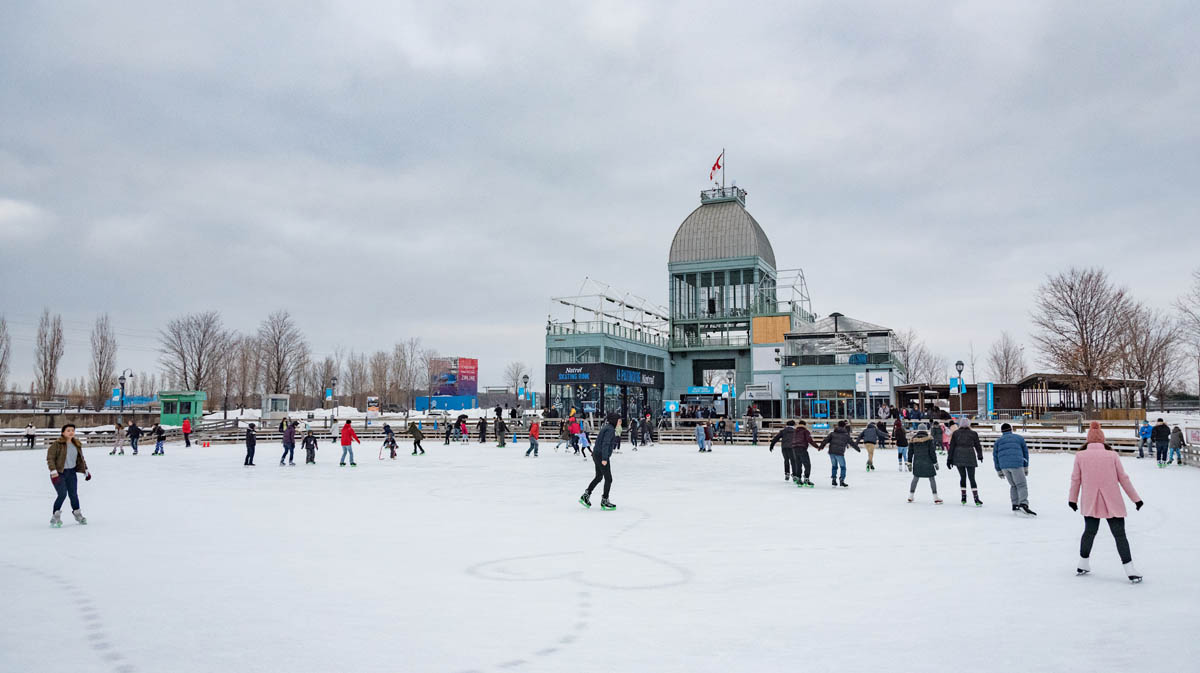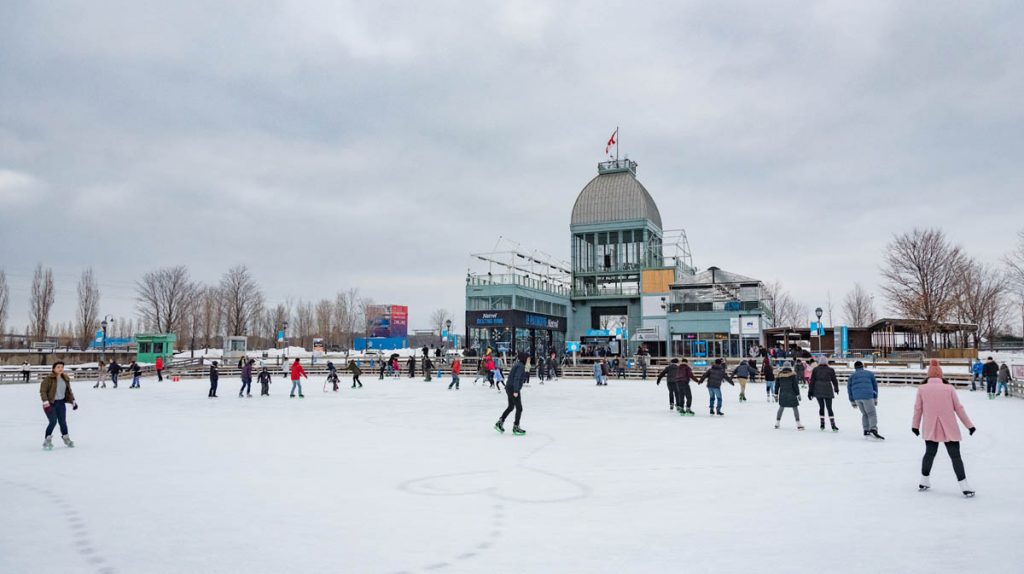 In summer this is apparently where cruise ships dock, making it fairly busy and heavy on the tourist quotient.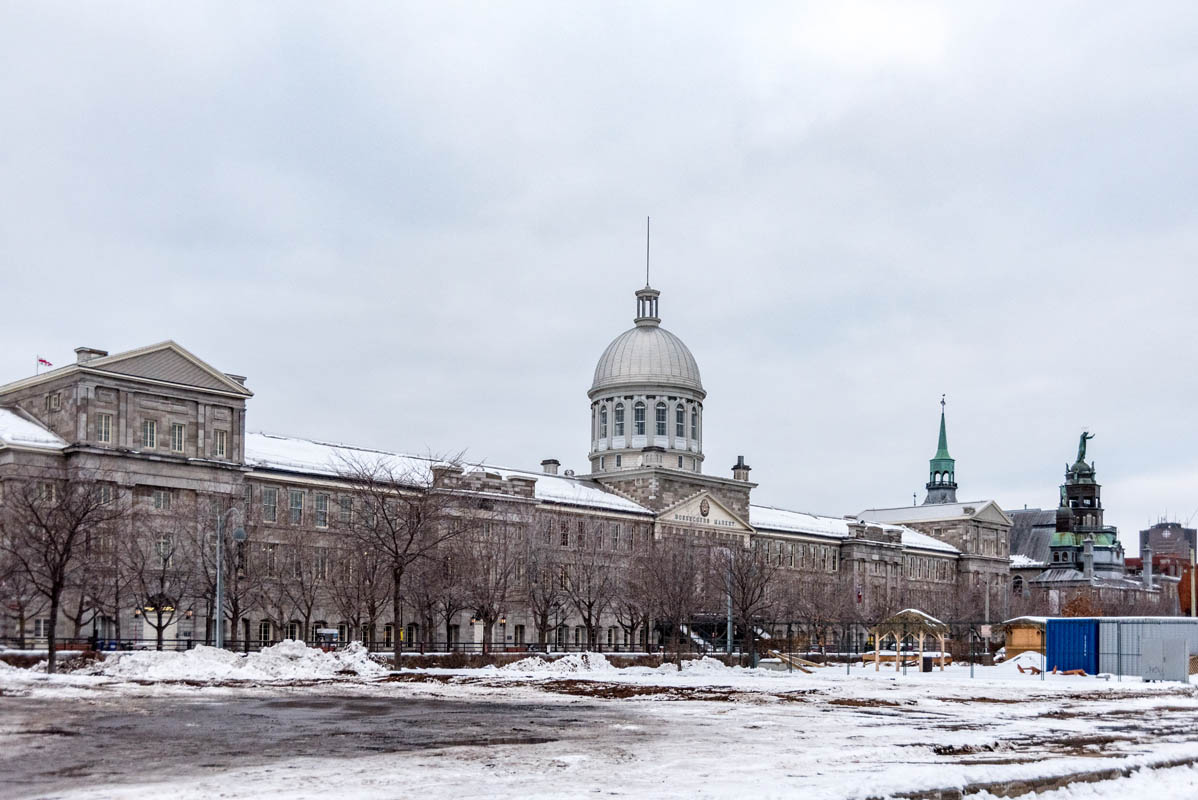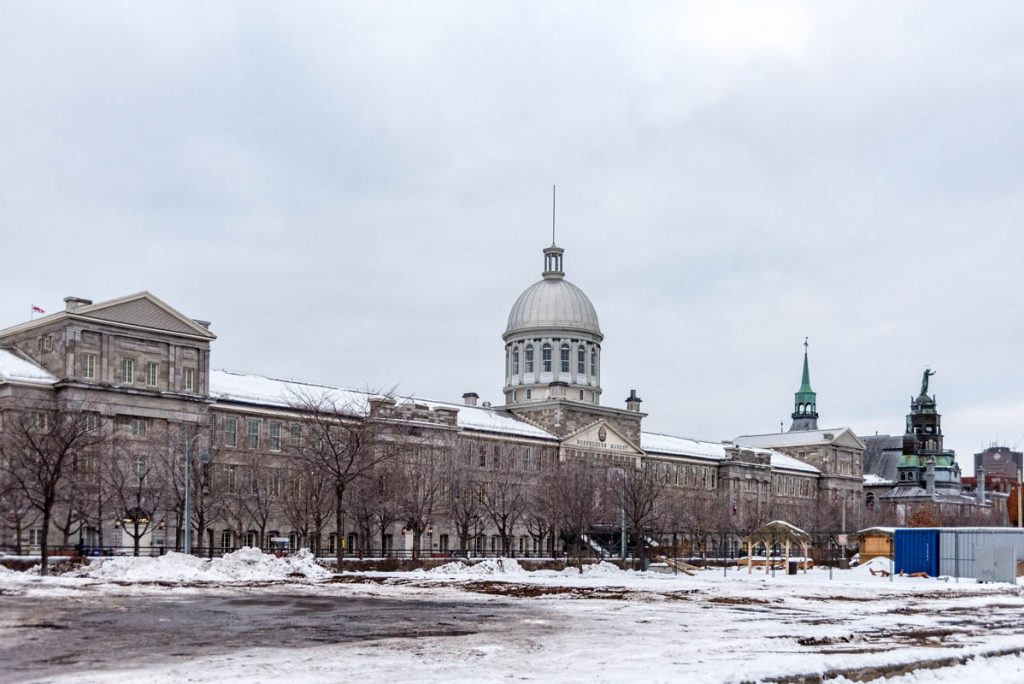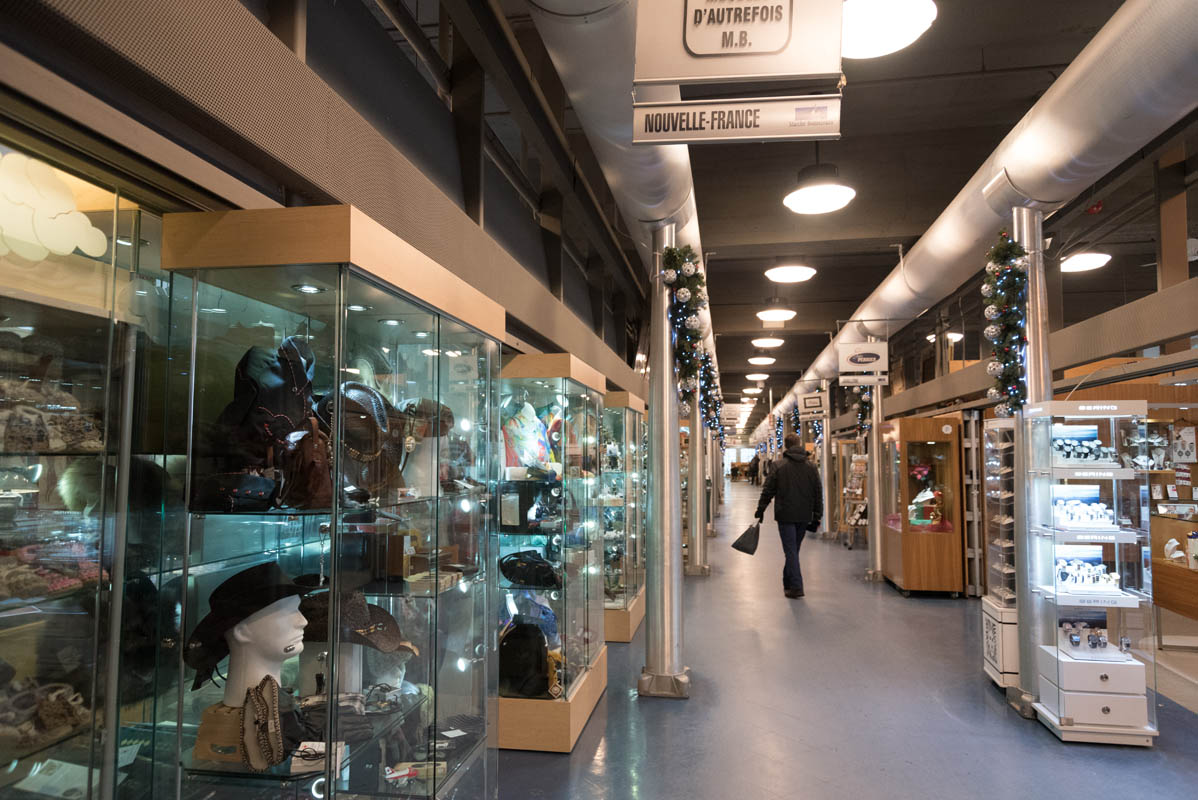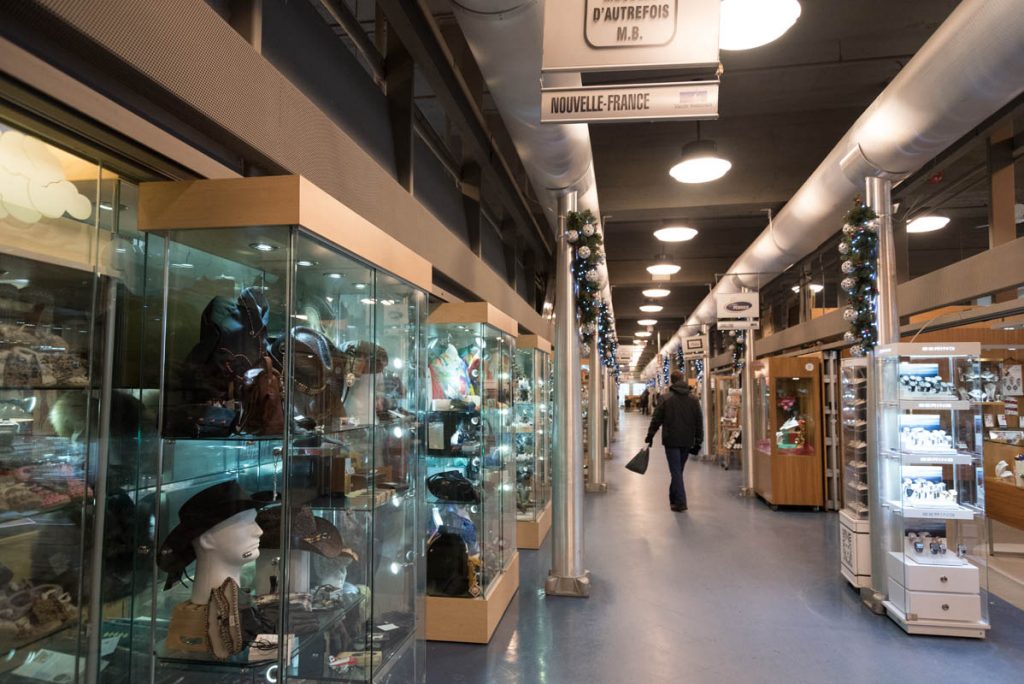 The Bonsecours Market is rather disappointing especially as it's housed in such a grandiose building. It's full of expensive decor, a little fashion and plenty of costly yet cheap-looking souvenirs. Not really worth more than a passing glance. What is worth a visit is the neighboring Notre-Dame-de-Bon-Secours Chapel, a quaint catholic chapel built in 1771.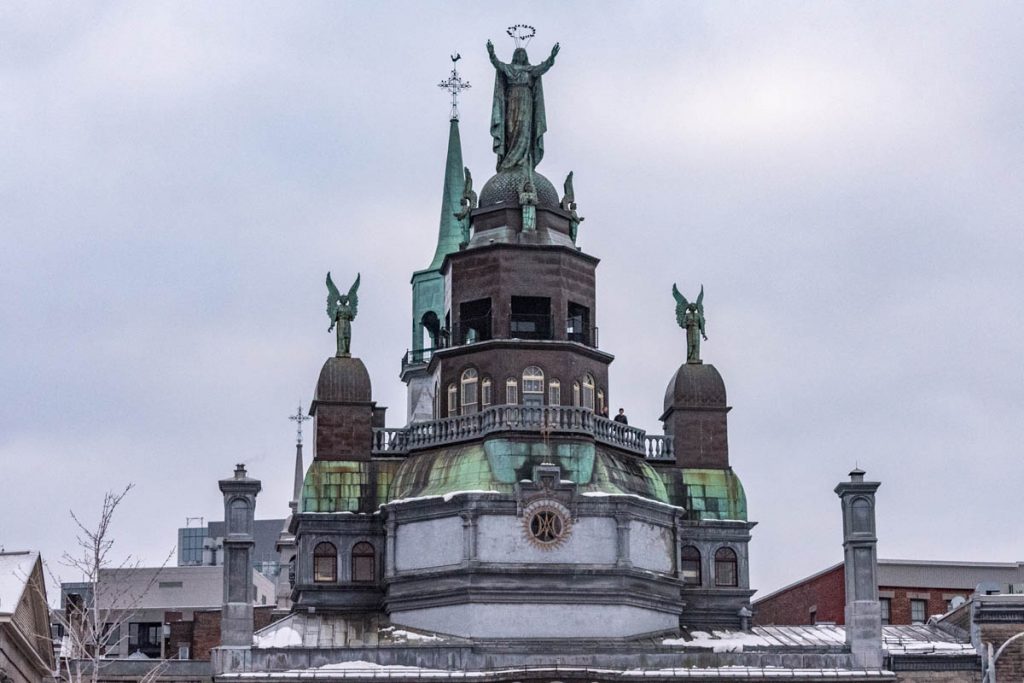 Climb Mont Royale for cross country skiing
Dominating the city is its namesake, Mont Royale. The large, rather than high, the landmass is home to a university, a stadium, a hospital, a cemetery, a suburb, and plenty of parklands to explore. Apparently, in summer there are stairs to scale that take you up to a church or to the chalet.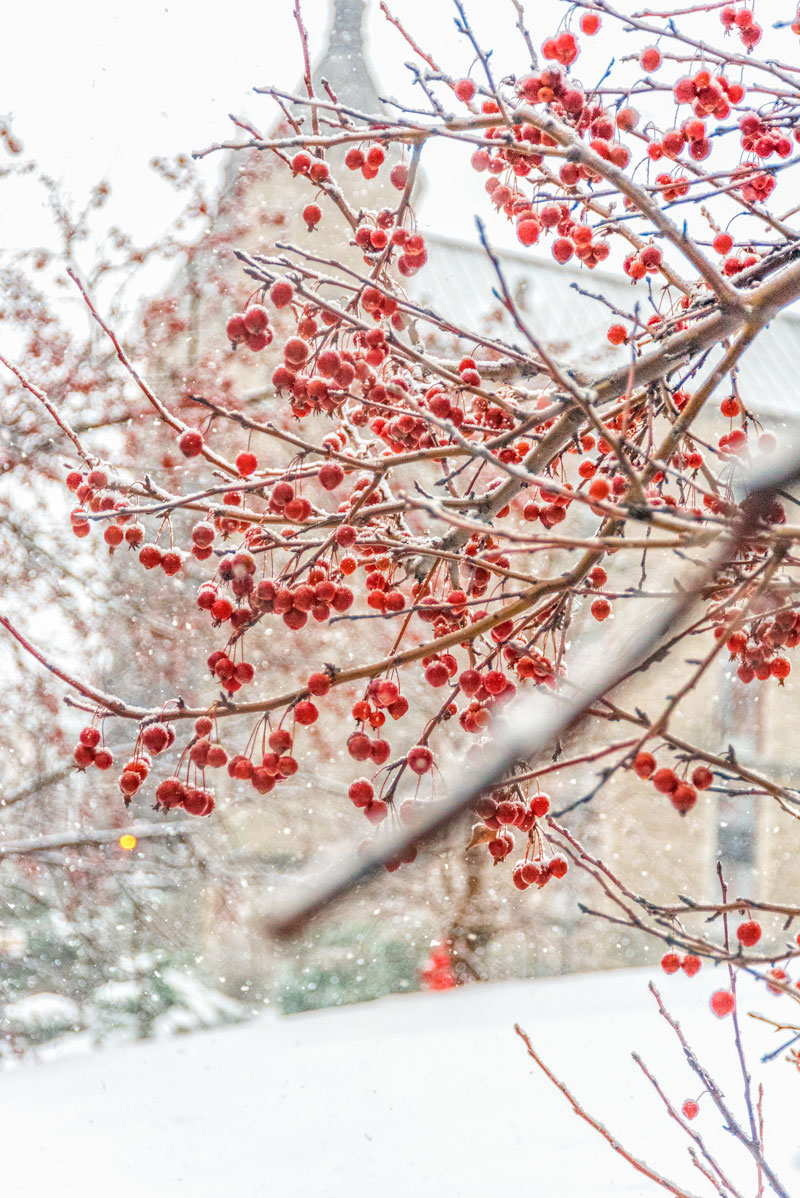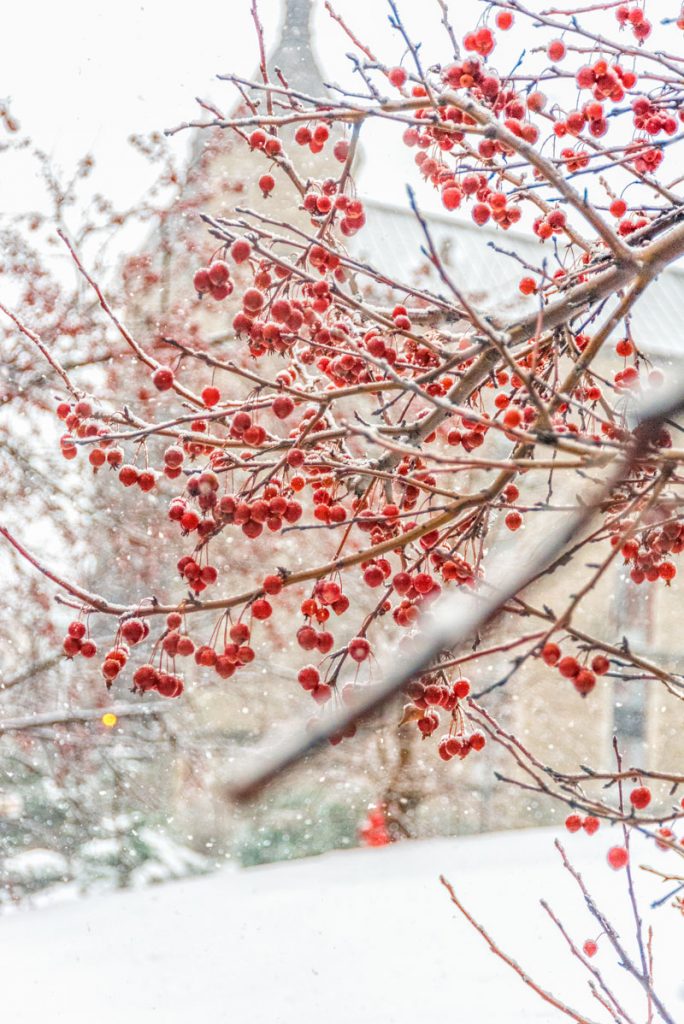 We opt to try to walk through heavy snow up to our knees but give up and catch the local bus to Beaver Lake. This lake is a haven for winter sports lovers with dirt-cheap cross-country ski hire and trails, tubing and the frozen lake which is ideal for ice skating. The ski lodge is a cozy escape après ski and does a delicious hot chocolate complete with melting marshmallows.
Get in the mood at the Christmas markets
A giant colorful marionette greets us as we enter the Village de Noel de Montreal at Place Du Marche. There's an enticing aroma of wood smoke, sizzling meats and a sugary sweetness. Try some of the local favorites like maple candy rolled from hot, sticky syrup onto a stick to form a semi-chewy confection or the go-to at any international market, a bratwurst with sauerkraut- something I swear we've had in about 14 countries so far.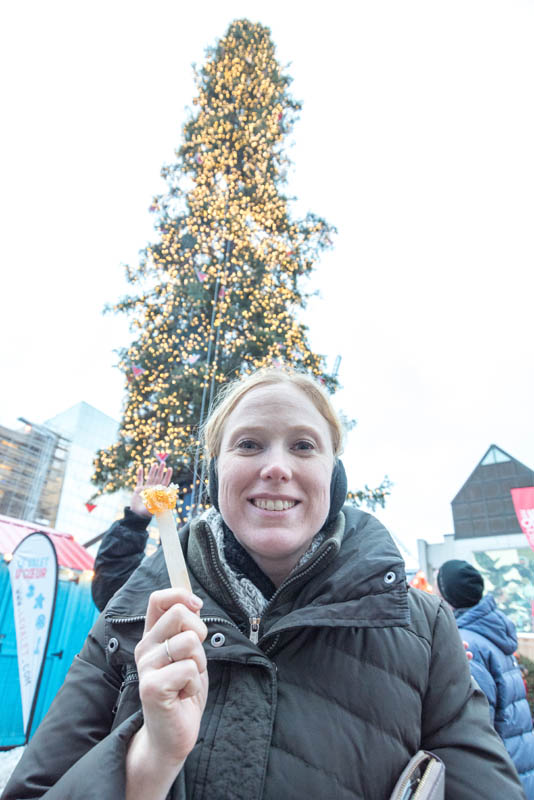 The market is situated outside the Complexe Desjardins mall which is alive with Christmas decorations and an intense projection-mapped light show that Dances to an energetic seasonal soundtrack.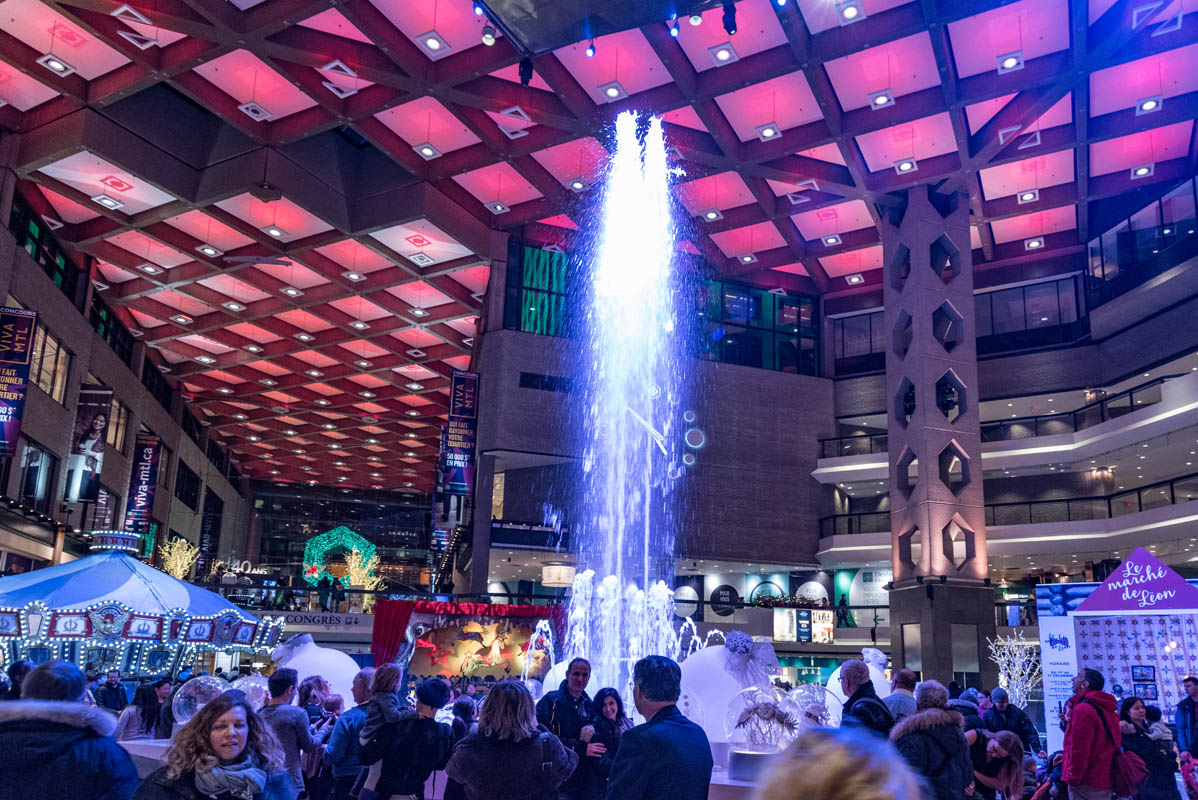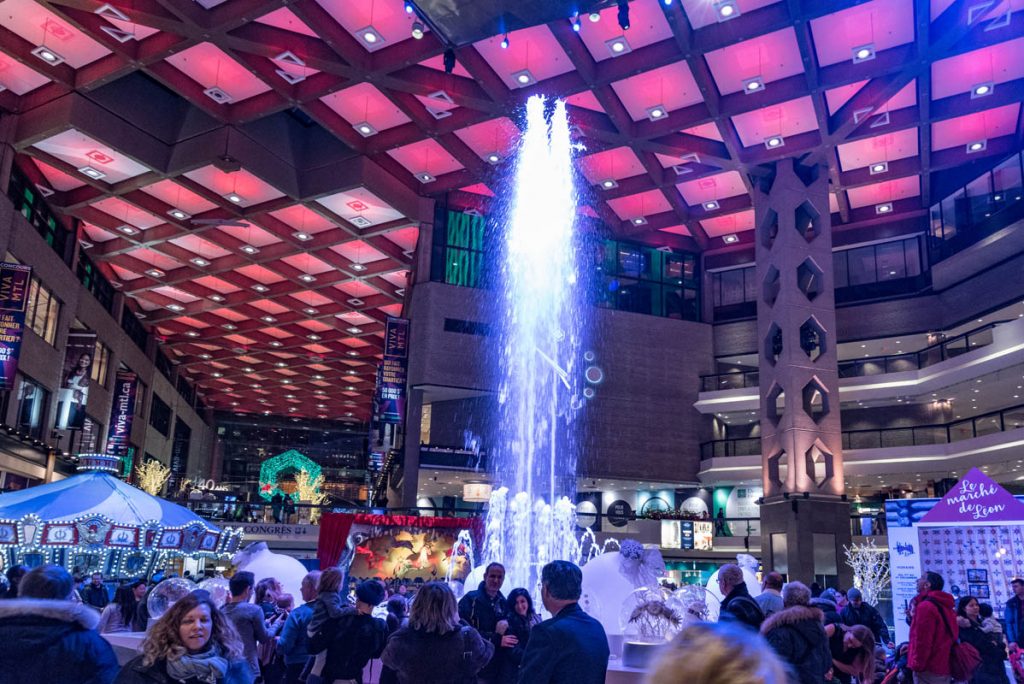 Escape the cold in The Underground City
Like moles or worker bees, the locals commute through winter down tubes and tunnels. The RÉSO, the Underground City (La Ville Souterraine) was created in 1962 as a way to get around town without being exposed to the brutal elements – and we can assure you they are extremely brutal.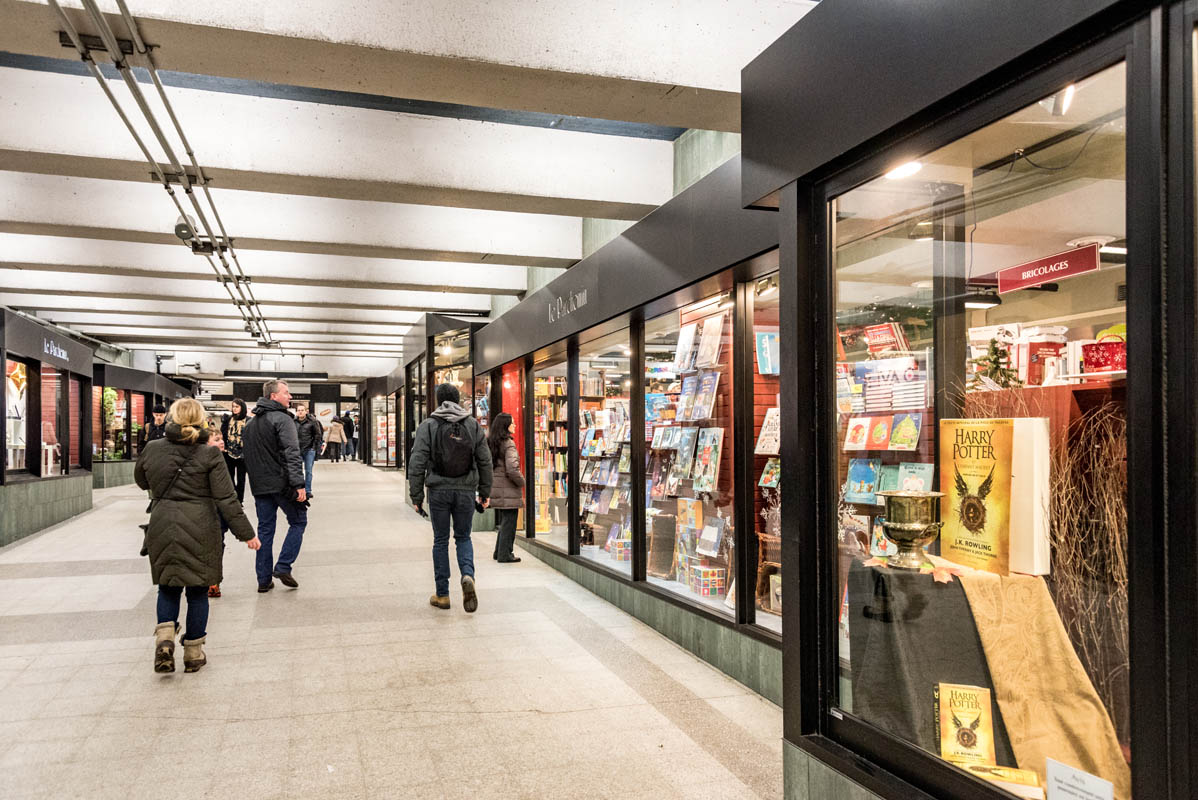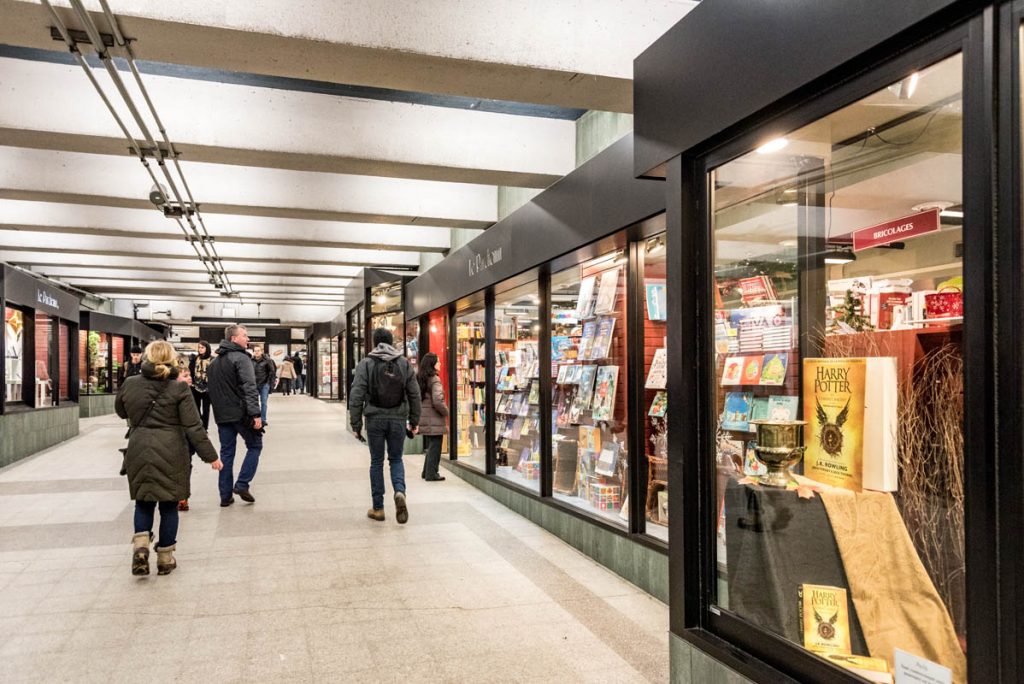 There are two major wings and two cross sections, making it like an elongated letter H. The tunnels have been designed to incorporate access to five major hotels and corporate buildings, subway stations and shopping malls. In between there are hundreds of retailers that range from fashionable boutiques to the typical news and gum stand. While not a foodie haven, there are two large food courts to placate the hangries if you're finding yourself lost.
Like many major commuter tunnels (and given we are here in the middle of winter), there are a large number of homeless people and vagrants and entrances to stations stink of stale urine. Be aware of your surroundings and don't have your valuables easily accessible or on display as there are pickpockets and petty thieves in the area. Also expect panhandlers/beggars approaching proactively.
Warm up with some Hot Chocolate
When the temperature is so ridiculously low, you want a good hot drink and for us, we're as happy with coffee as chocolate. But when you have a chocolatier making your hot chocolate you know you're in for a treat. Juliette & Chocolat on St Laurent Boulevard delivers real melted chocolate folded into warm frothy milk to create a sweet syrup that warms the cockles of the soul and seriously adds to your calorie count. Double down and try one of the pastries too. These French Canadians know how to bake.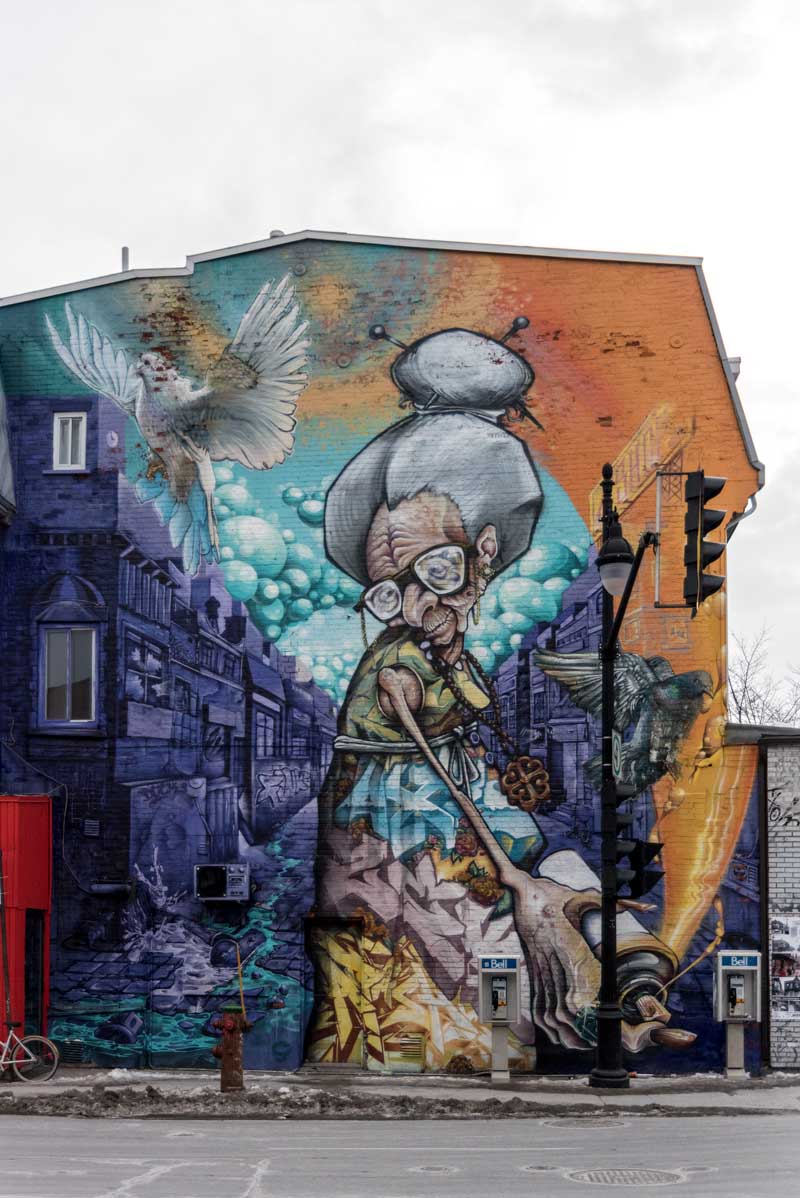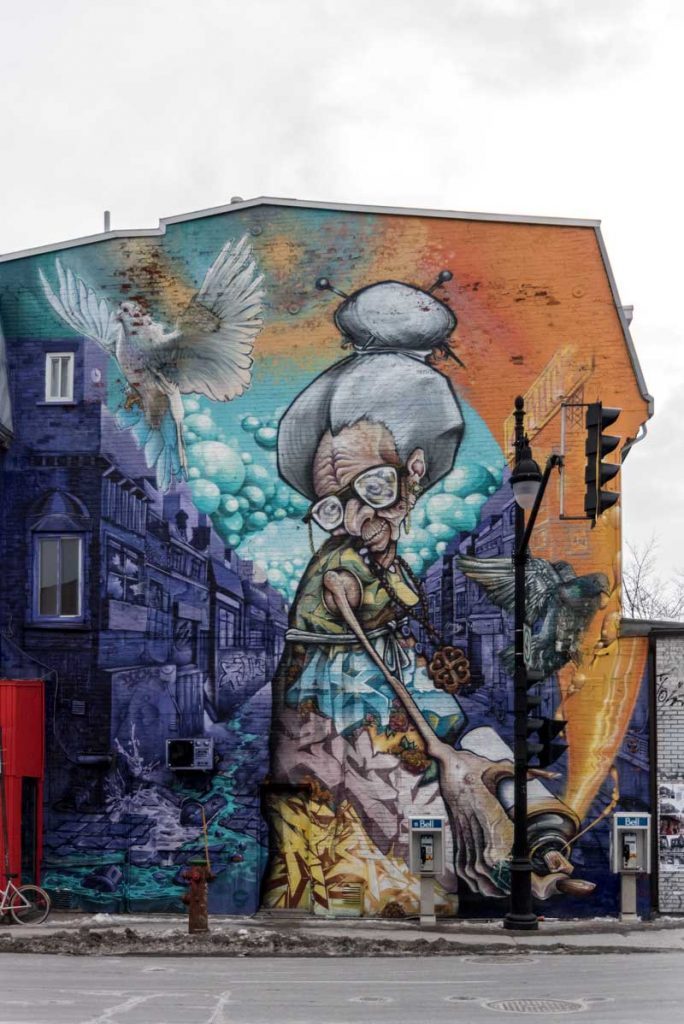 Explore the Street Art
If you like street art, this city will blow you away. Montreal is home to the Mural Festival, which encourages local artists to fill up blank canvasses each year, in the hopes of "democratizing" art. Oddly enough, knowing nothing about the city, we happened to stay right on the boulevard that was the heart and soul of the festival.
Get your groove on at the Moog Shop
The Moog Shop, named after the inventor of the famed synthesizer is a haven for electronic musicians and those who like their sound creation tools. One half of the shop has a small number of traditional rock instruments like guitars and basses but crossing the threshold into the second half if like entering Aladdin's cave. The place is alive with bright lights and blippy -bloppy-squelchy synths, controller keyboards, drum machines and studio racks. As lapsed musicians, we found the Moog Shop to be a treasure trove of things we'd love to own but could never afford.
Stroll The French Quarter
After the charm of Old Montreal, we were expecting big things from an area called the French Quarter. Blame it on New Orleans perhaps, but what we found was an area of Montreal suburbia with a high street full of shops and like the rest of the city, some impressive street art. One standout if you're traveling on a budget was a skate and extreme sports themed bar that was literally decked out in broken skateboard decks and playing skate and mountain bike videos on all the screens – that's our kind of sports bar. Their lunchtime happy hour had $5 meals too, so we went home full and happy.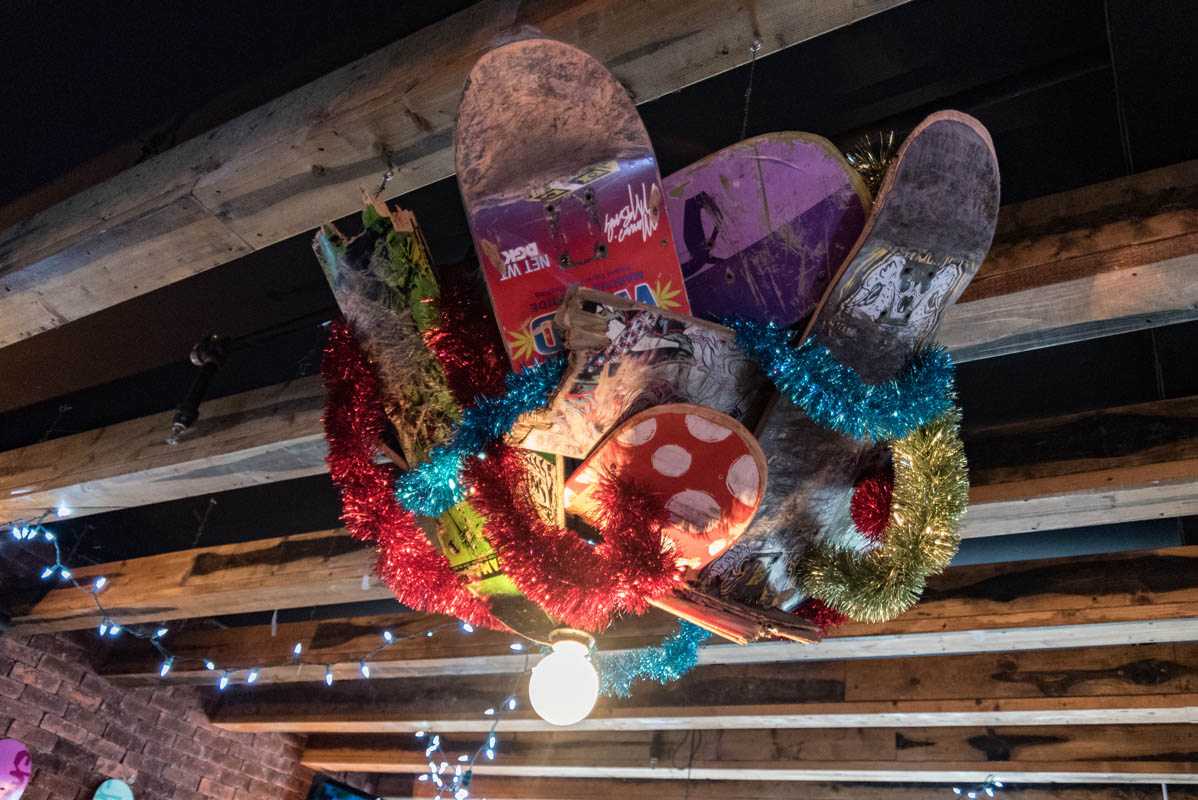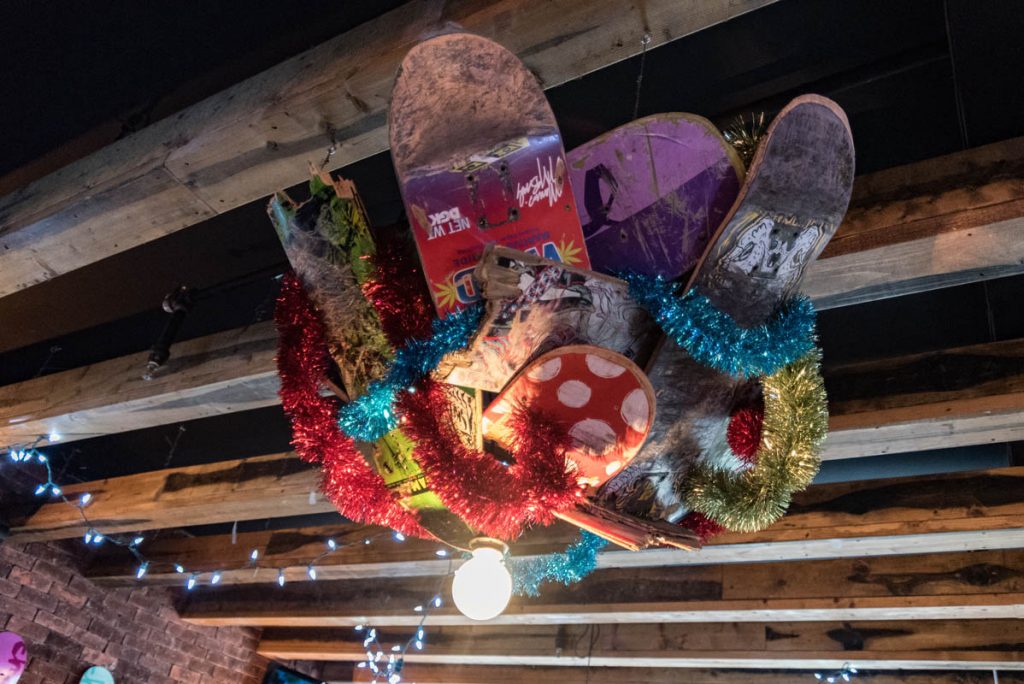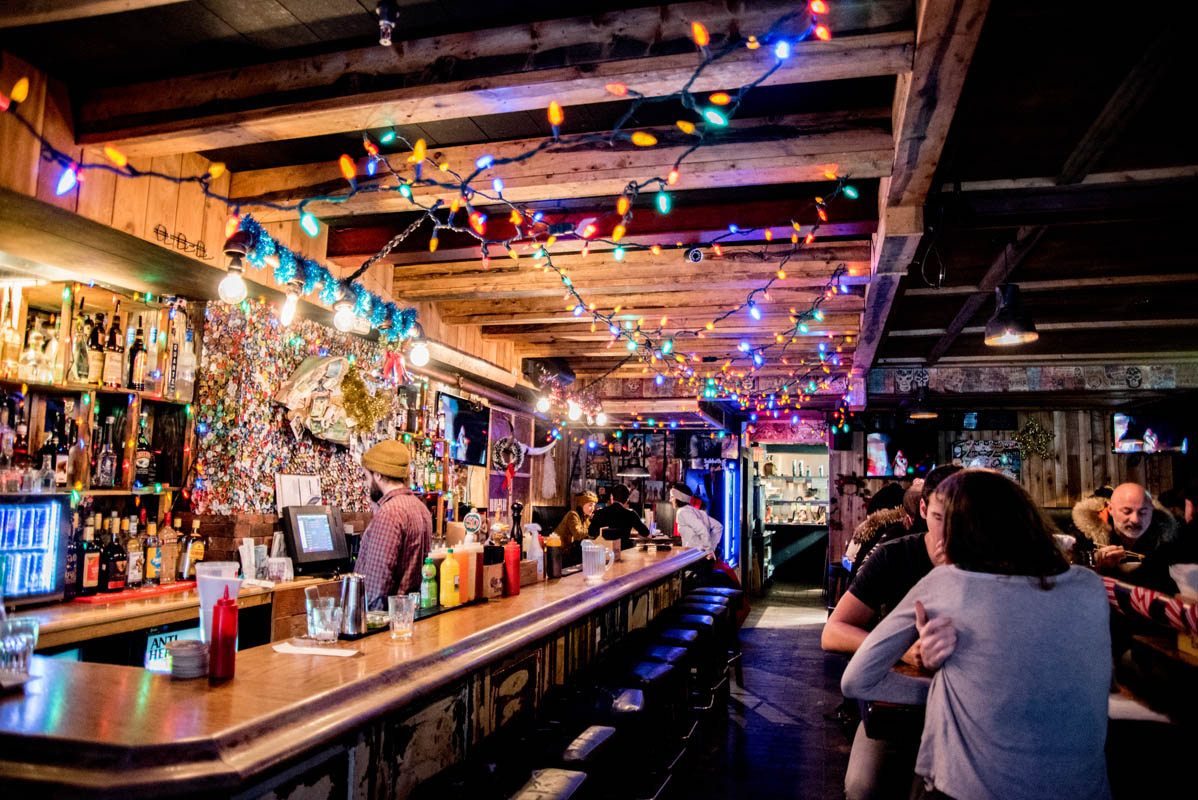 Celebrate Christmas Day in the Snow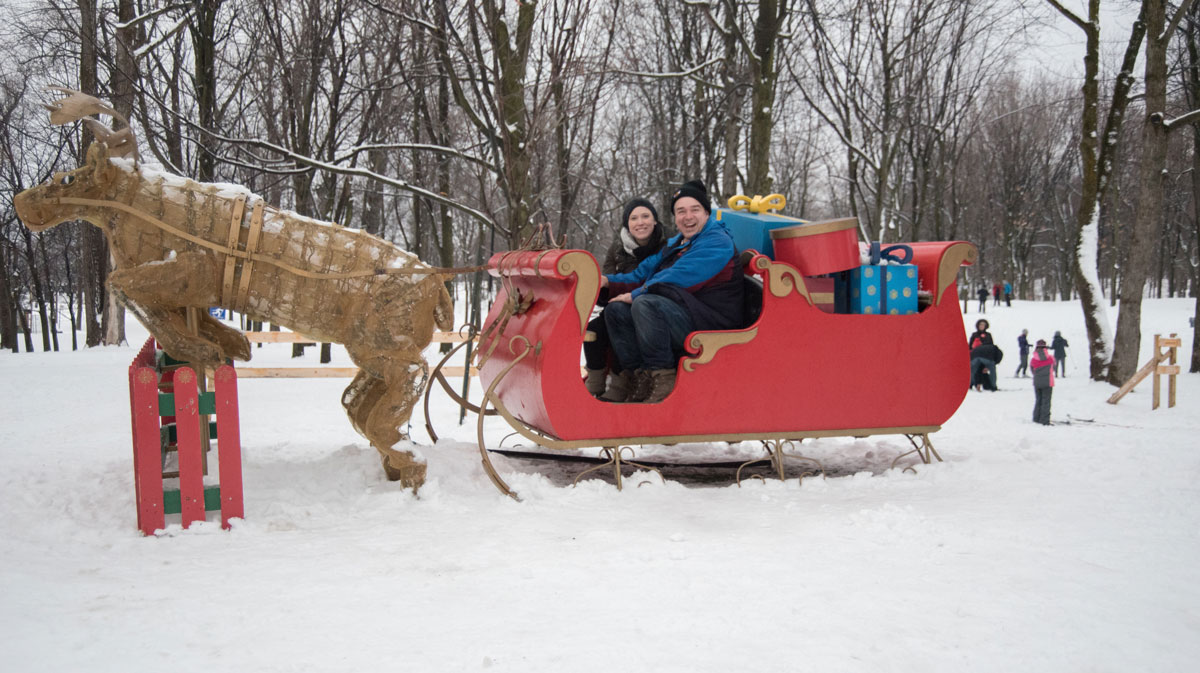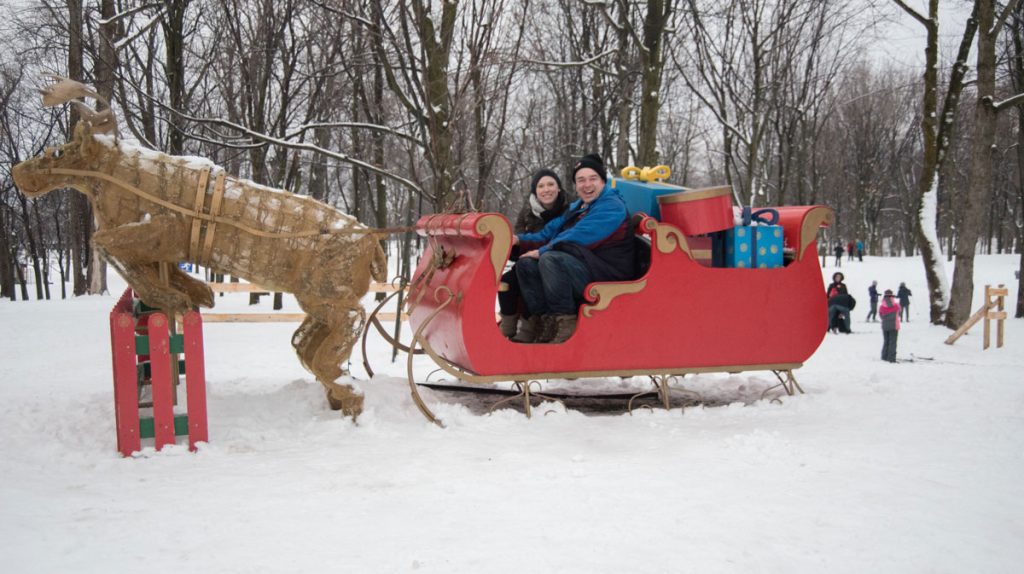 It certainly is magical waking up to a world of snow. Initially, it's not snowing but there's more than enough on the ground to ensure adequate ammunition for snowball fights and construction materials for snowmen. The biggest challenge is staying upright on driveways where the tire treads and have churned the snow to ice.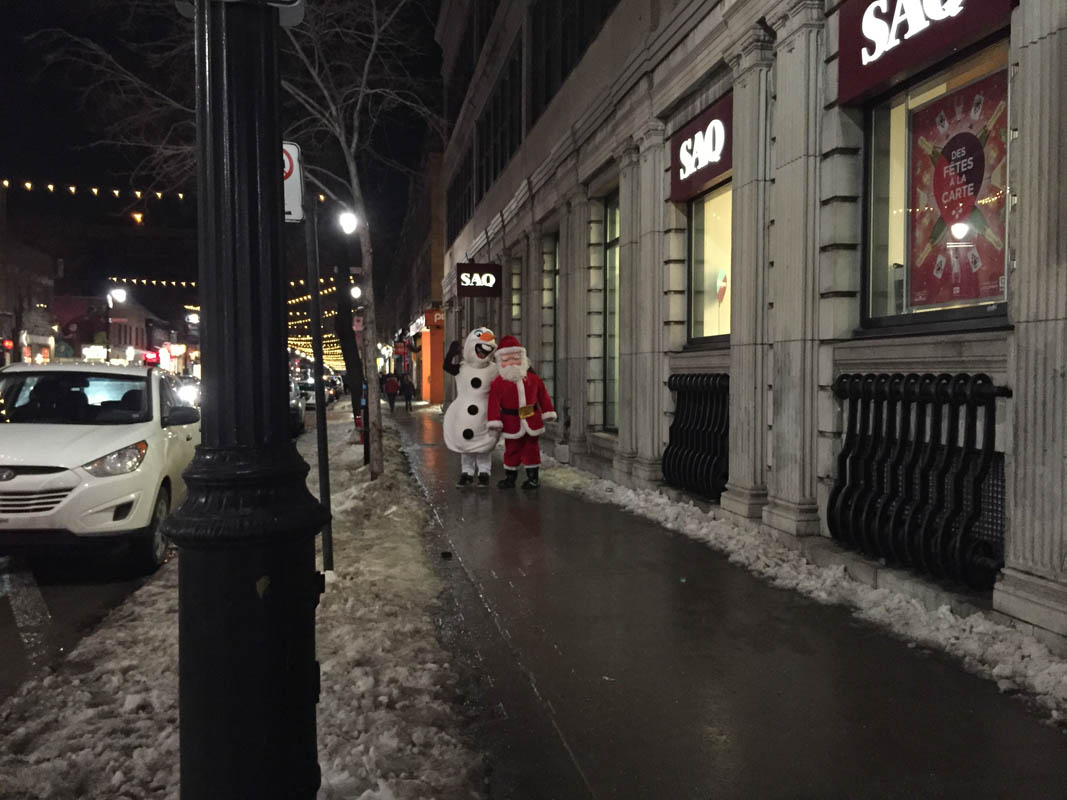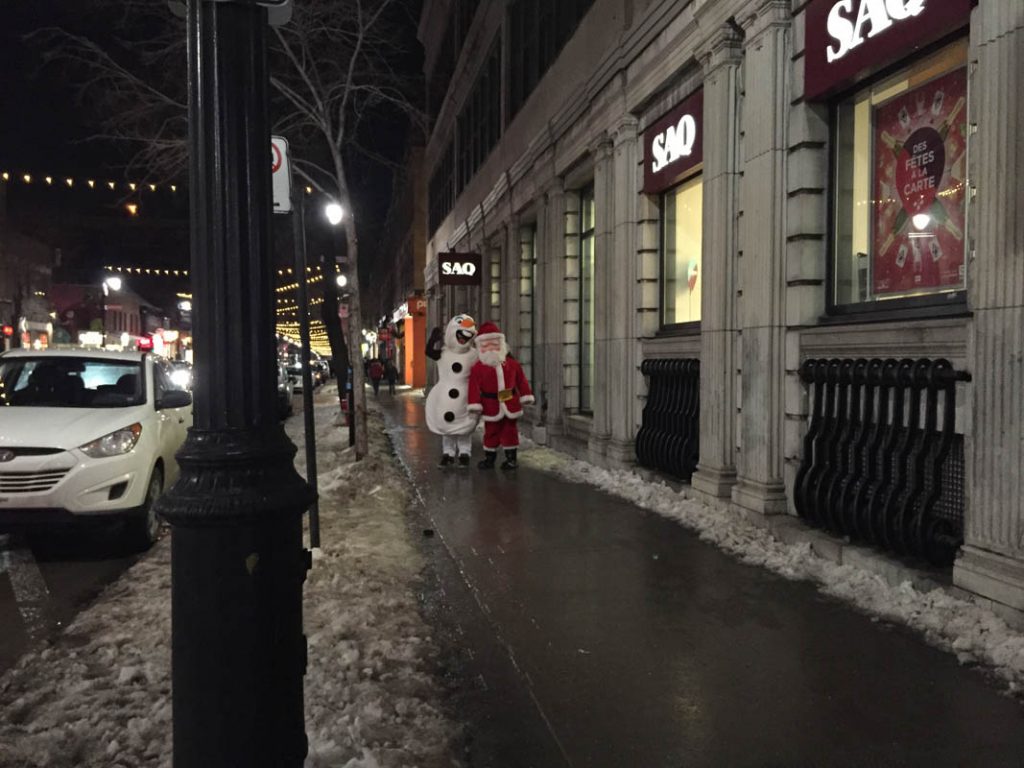 Giving gifts under a real tree is a novelty for the kids who have always dealt with plastic trees. Back in Australia, there are only pines for Christmas trees and they tend to dry and lose their leaves within two days due to the heat. The central heating offers plenty of warmth but there's no fireplace where they are staying.
Share a traditional Christmas Dinner
Americans celebrate Thanksgiving as their biggest feast of the year, but as Australians, our traditions are rooted in the old country – England. Gladly Canada's are too, albeit with a French twist. We shared a full Christmas dinner with Bernie's sister and her family at La Coupole, which has sadly closed recently.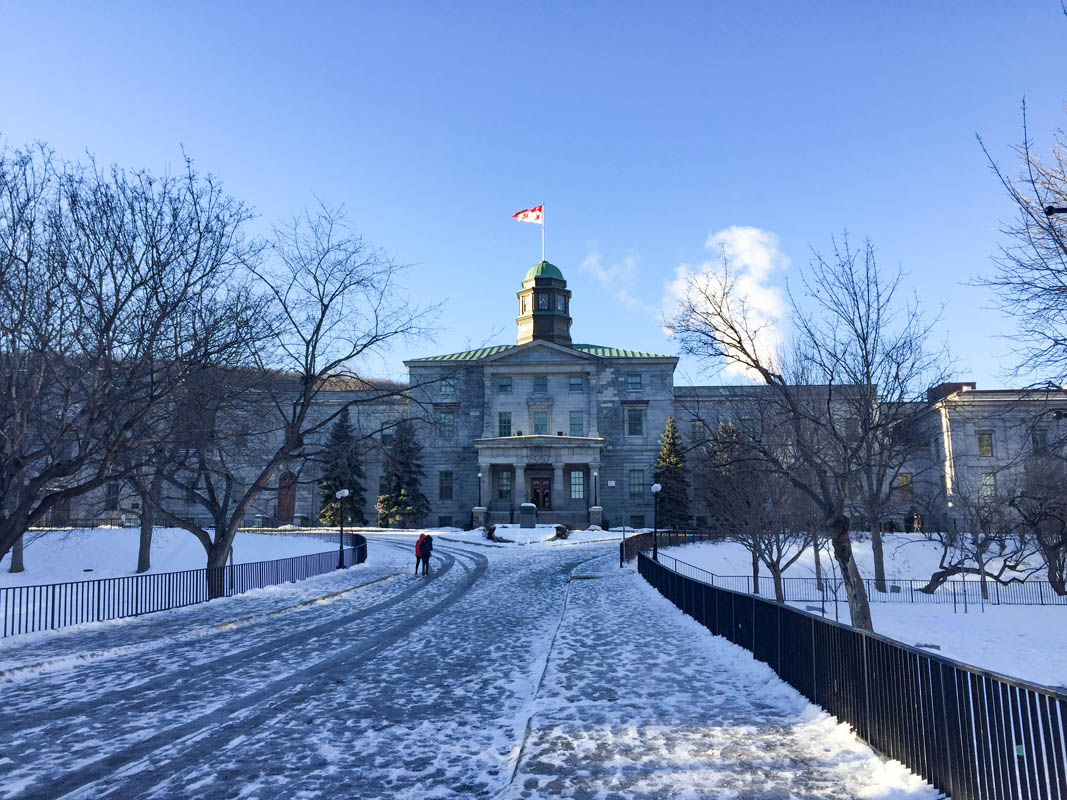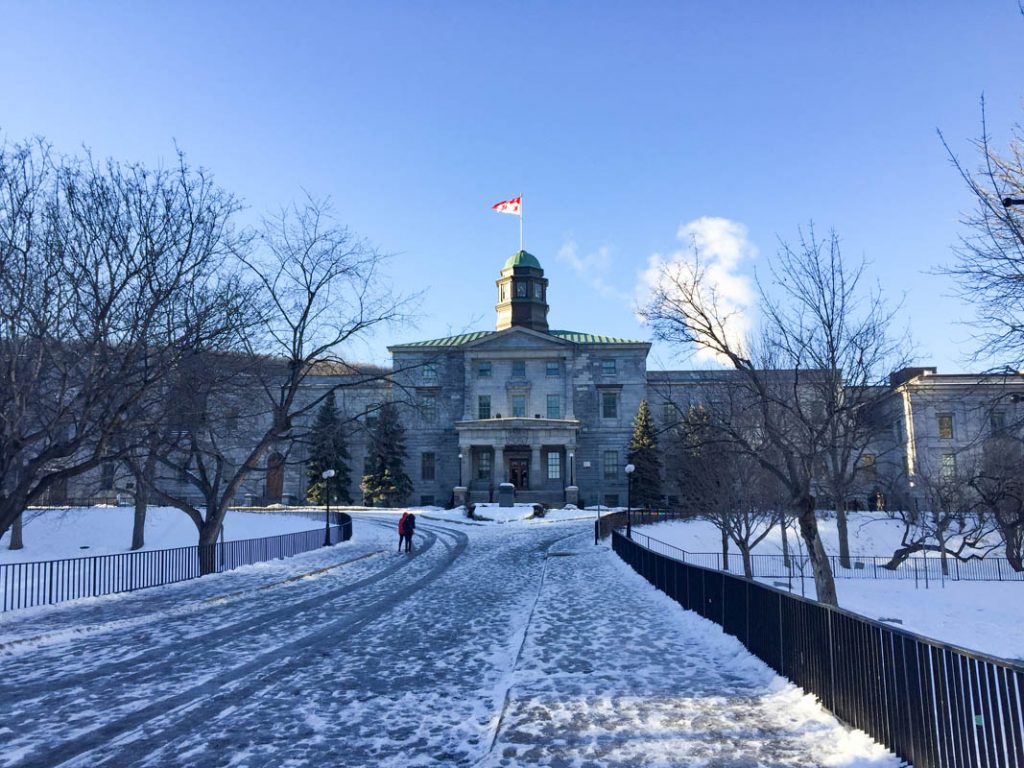 Wander the McGill university campus
Dwarfed by Mont Royal is Montreal's premier university, McGill. While lacking the architectural splendor of an Ivy League college, it made for a pleasant wander through the snow.
WHERE WE STAYED
It's not often we choose a dud Air BNB and while this wasn't horrible, we just were the right demographic at this age. The Rainforest, as it was dubbed on the site, offered a central location in a converted loft with plenty of indoor plants and a chill vibe. In reality, it was in a building that was once a warehouse but now is basically a commune with individual apartments in what feels like an art college. The basement houses a beatnik club where marijuana smoke wafts out in a purple haze.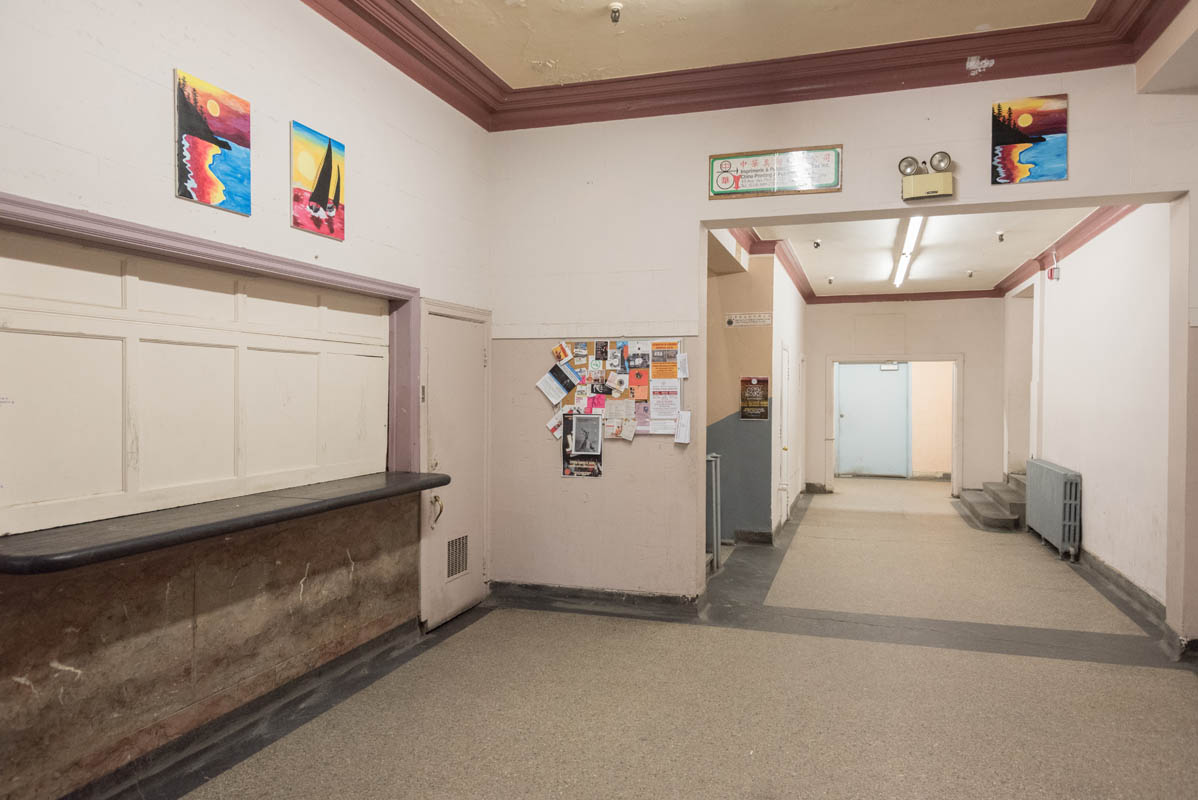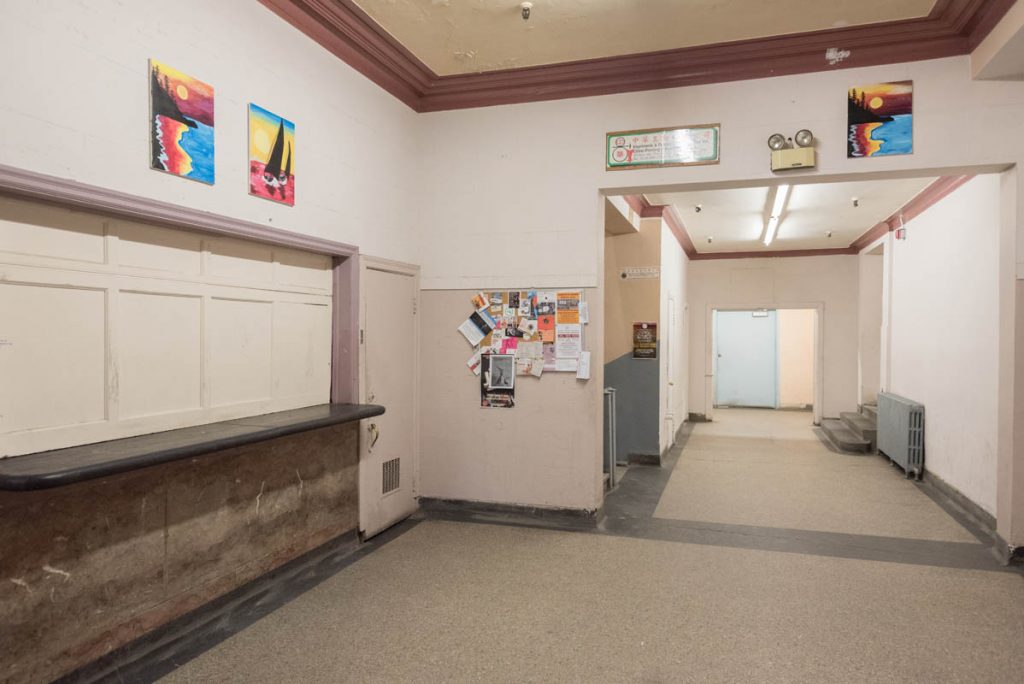 There are Arts, culture, and gig posters all over the wall and despite the card entry, there's a homeless person lying in their own piss. Access up-to the apartment is either via a decrepit fire escape or a freight elevator, the latter offering no actual door, so you ride up seeing years of grime and gunk between floors.
Getting up to our floor it's apparent that we share the floor and the bathroom with hippies. Incense mixes with weed to create an intoxicating atmosphere. The apartment is spacious and indeed full of plants. Wicker floor tiles and the occasional threadbare Persian rug cover polished but worn floorboards. A colorful hammock hangs overlooking the wintery urban vista with a few comfy but sunken sofas offering a place to sit and struggle to later extricate from. There's a well-equipped kitchen with lentils and green tea in the cupboard and well-read shelves of music and art books. Oh look, a djembe and it reeks of ganja. Yep, this is definitely owned by hippies.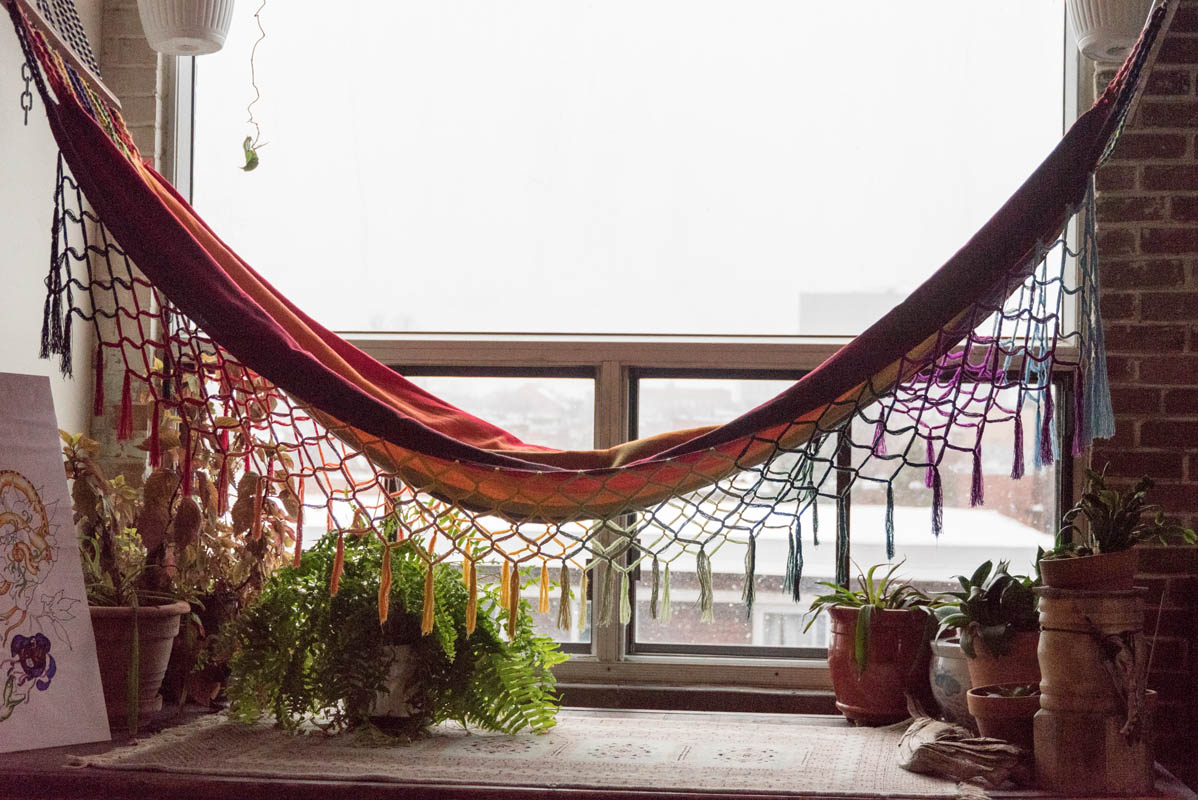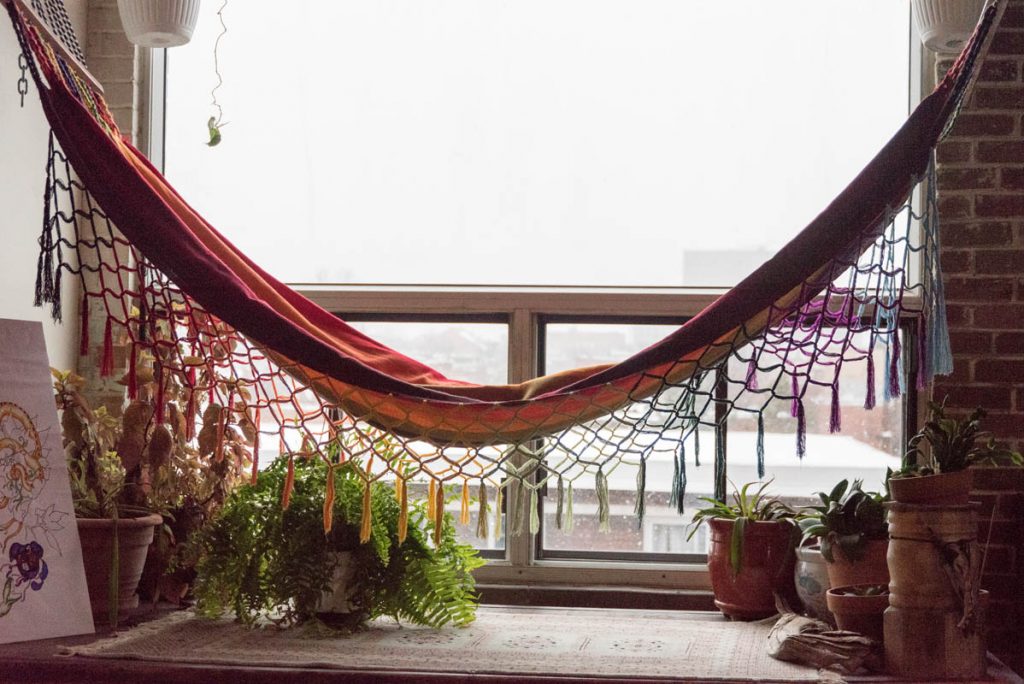 A large second room houses a sleeper sofa and a handmade loft bed, built out of old pallets where we opt to sleep. It's spartan and our noses almost touch the roof but it's all part of the experience. For what we paid for and the space, this is a palace for travelers, but for our current life phase, this is more where we would have loved in our twenties.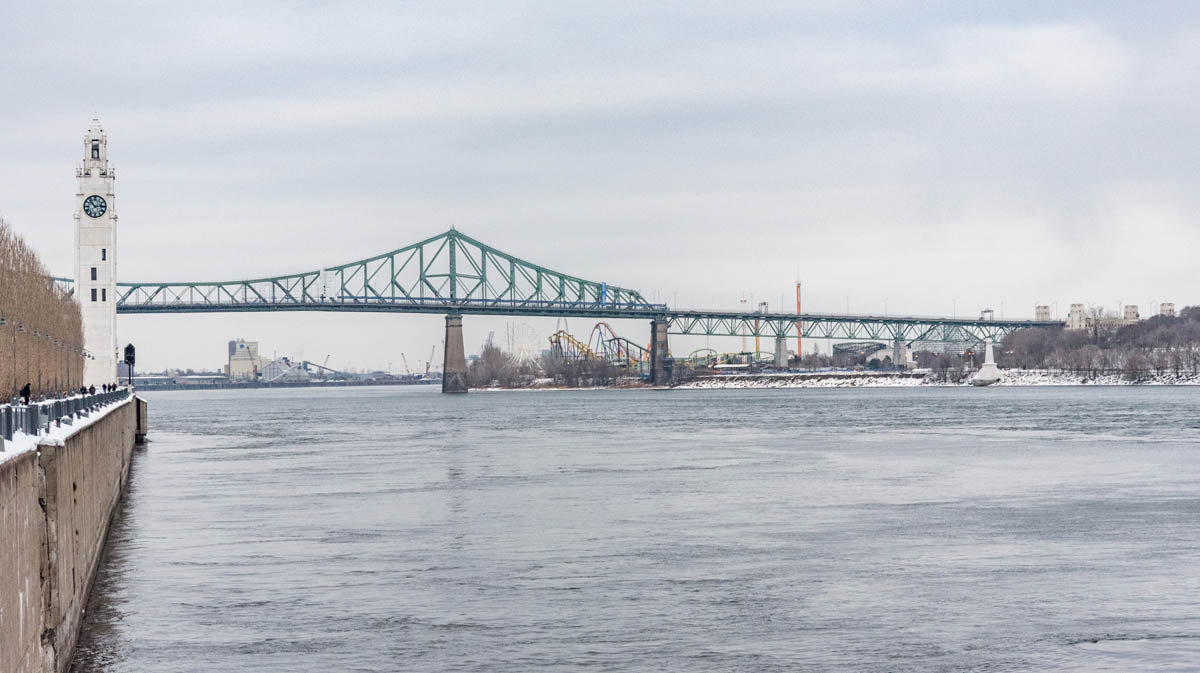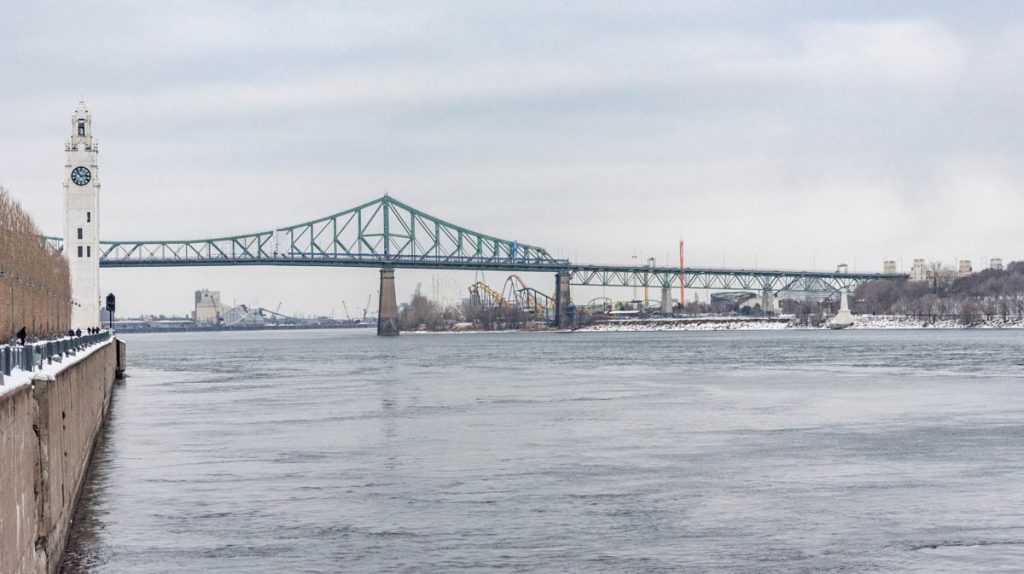 WHAT WE MISSED
If we had another day we would have checked out the Biosphere for no real reason other than to amuse ourselves with quotations from Biodome, the crap Pauly Shore movie.
In summer the city is much more active and there are plenty of free gigs and outdoor movies. We missed all of that.
Mount Tremblant
With a little extra time and budget, we would have loved to go skiing on Mount Tremblant or possibly even dog sledding.
Follow & Connect with us