Disney Rise of the Resistance and Star Wars Galaxy's Edge at Walt Disneyworld Hollywood Studios in Orlando Florida bring the galactic movies to life in an amazing interactive amusement park experience.
Disney's Star Wars acquisition through its purchase of Lucasfilm has spawned new movies, merchandise, and now a theme park – Star Wars Galaxy's Edge at Disney World Hollywood Studios in Orlando, Florida.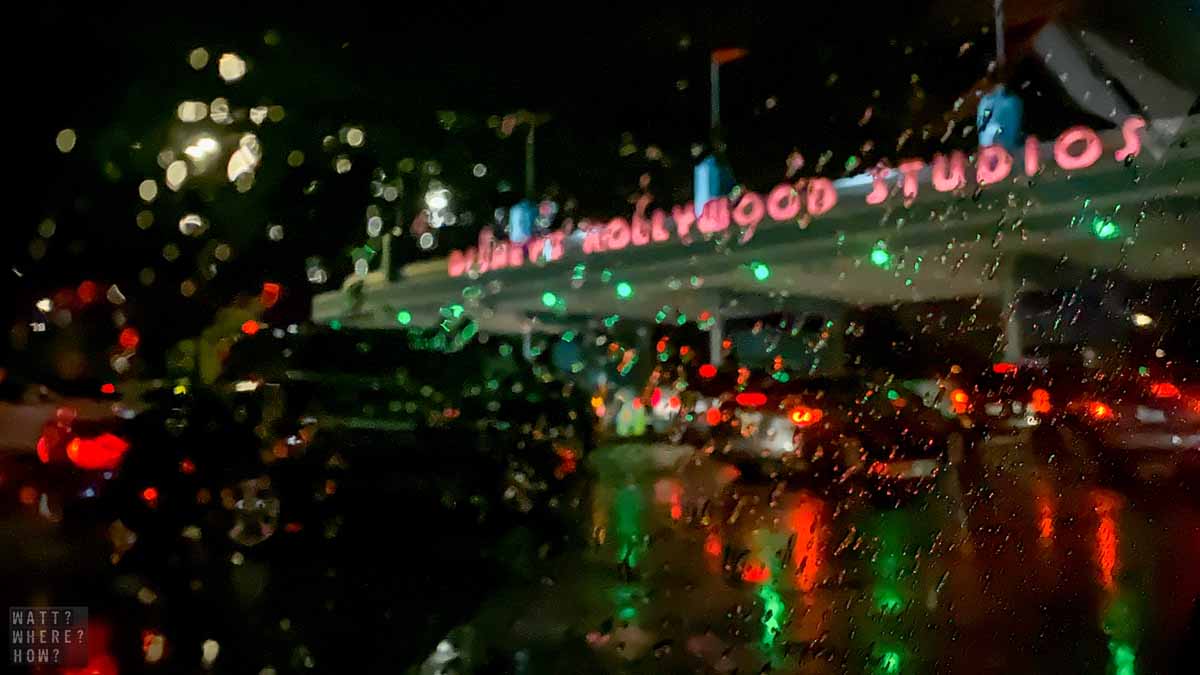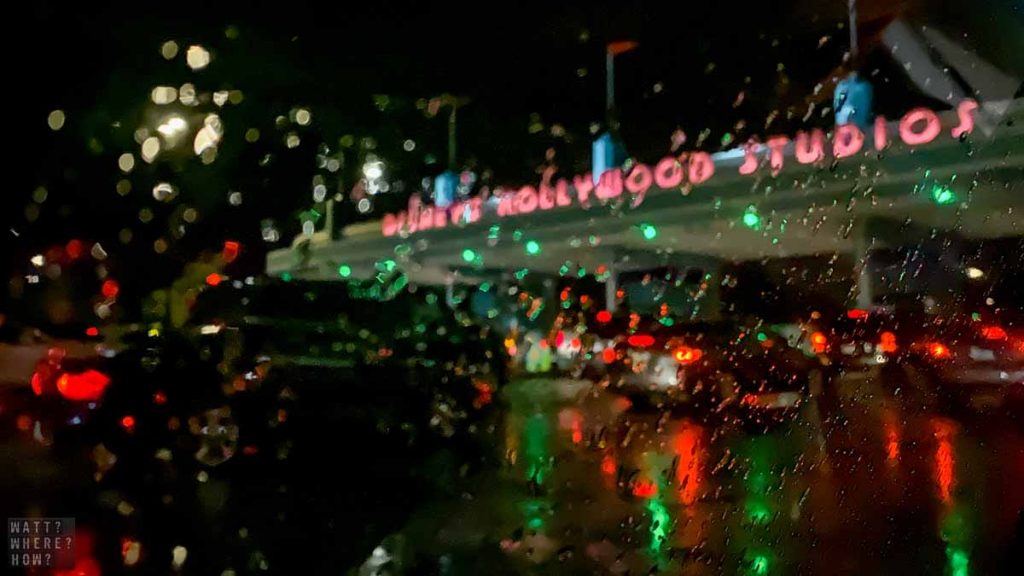 Hollywood Studios is one of the newest of the Disney theme parks and its 2019 opening of Star Wars Galaxy's Edge and now the launch of Rise of the Resistance has ensured that Disney Hollywood Studios Orlando is the hottest theme park ticket in America. With this popularity it also means that the crowd numbers are going to be up there and you will spend a good portion of the day in queues. Before you go there are a few things you should know and do to make your Disney Star Wars Galaxy Edge experience as seamless as possible.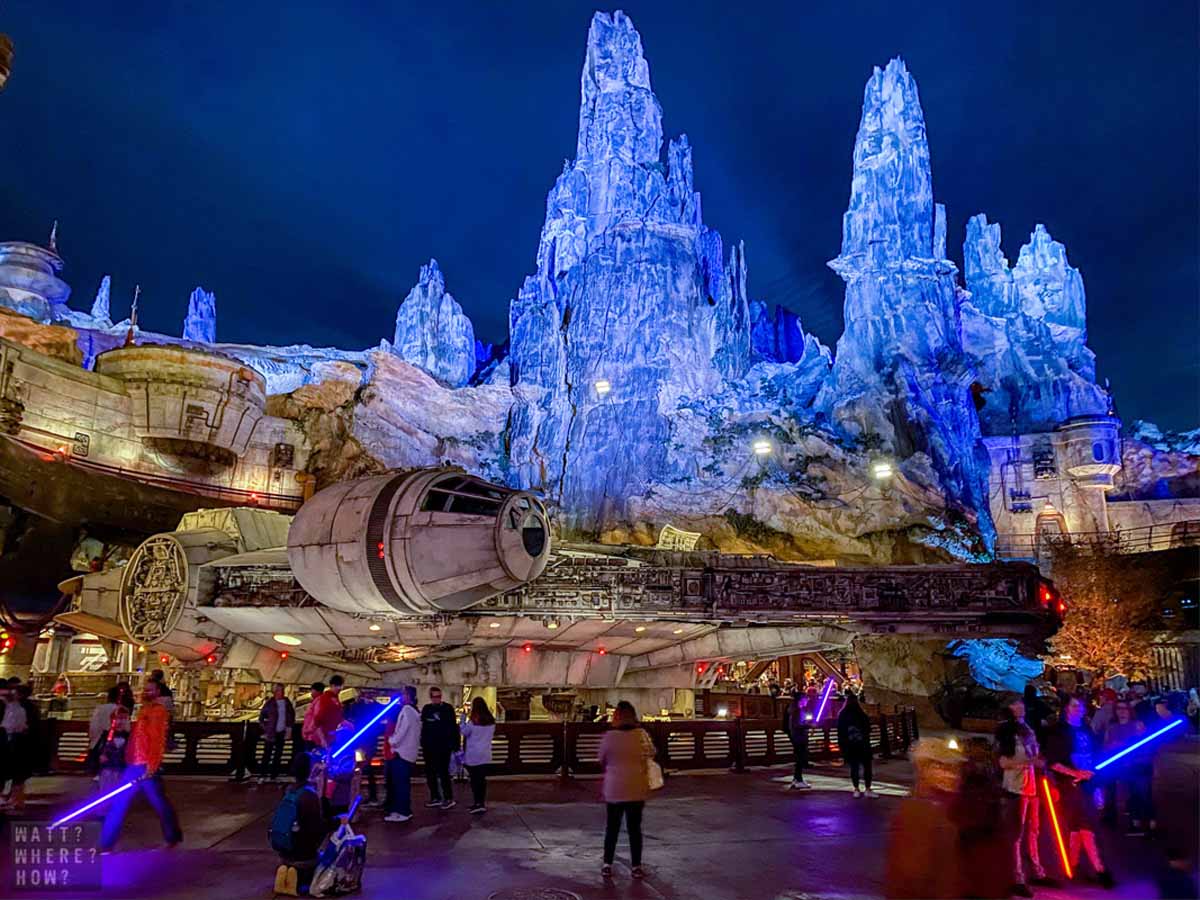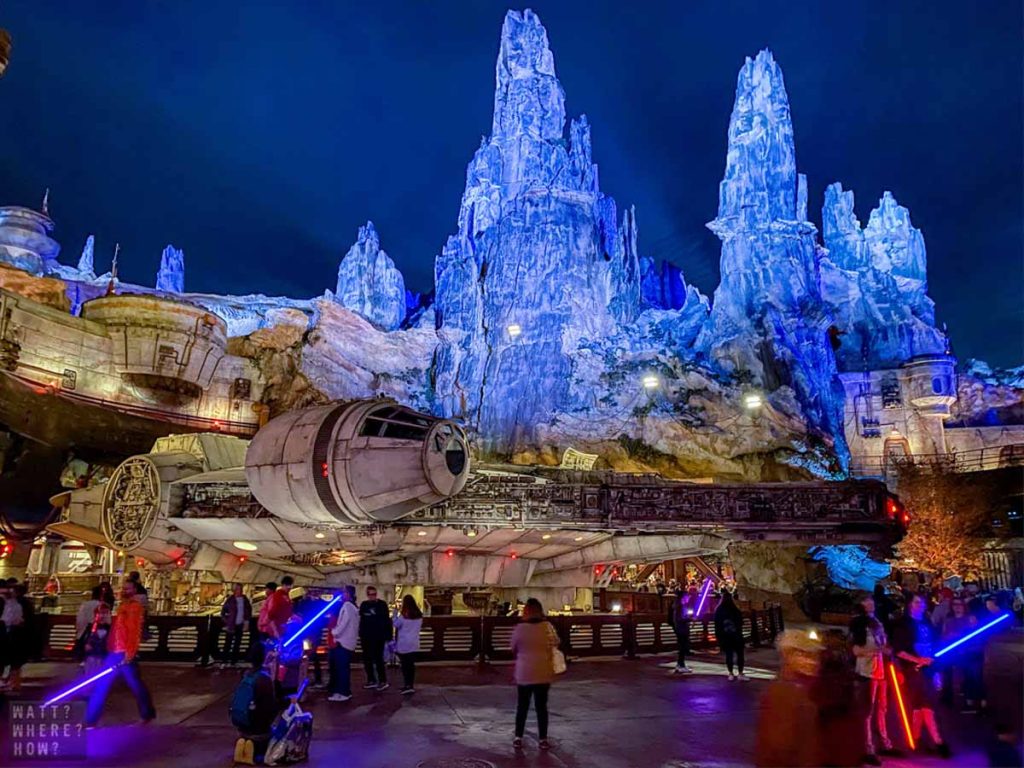 What to do before you go to Star Wars Galaxy's Edge and the Disney Rise of the Resistance
Download the Disney Parks app
The Disney Parks app is your ticket to an amazing day at Disney's Hollywood Studios. It really is. Inside the app you can purchase and activate your park tickets, book a time to visit the Cantina – we recommend doing this well in advance of your visit, lock in a time to make a droid, or build a lightsaber as well as browse maps and showtimes around the park. What it won't let you do is to book a time for Rise of the Resistance.
Link your party in the app
As the Disney Parks app is your ticket, you'll need to link all the ticket parties together if you're going with partner, family, or friends. This is easily done, but if you have difficulties, you can send them an invite that goes to their email and they can activate from there.
Download Disney Play
The Disney Play app is also an essential to have downloaded before you get inside. It utilizes location based tech, VR and optical character recognition (OCR) to great effect inside the Star Wars Galaxy Edge.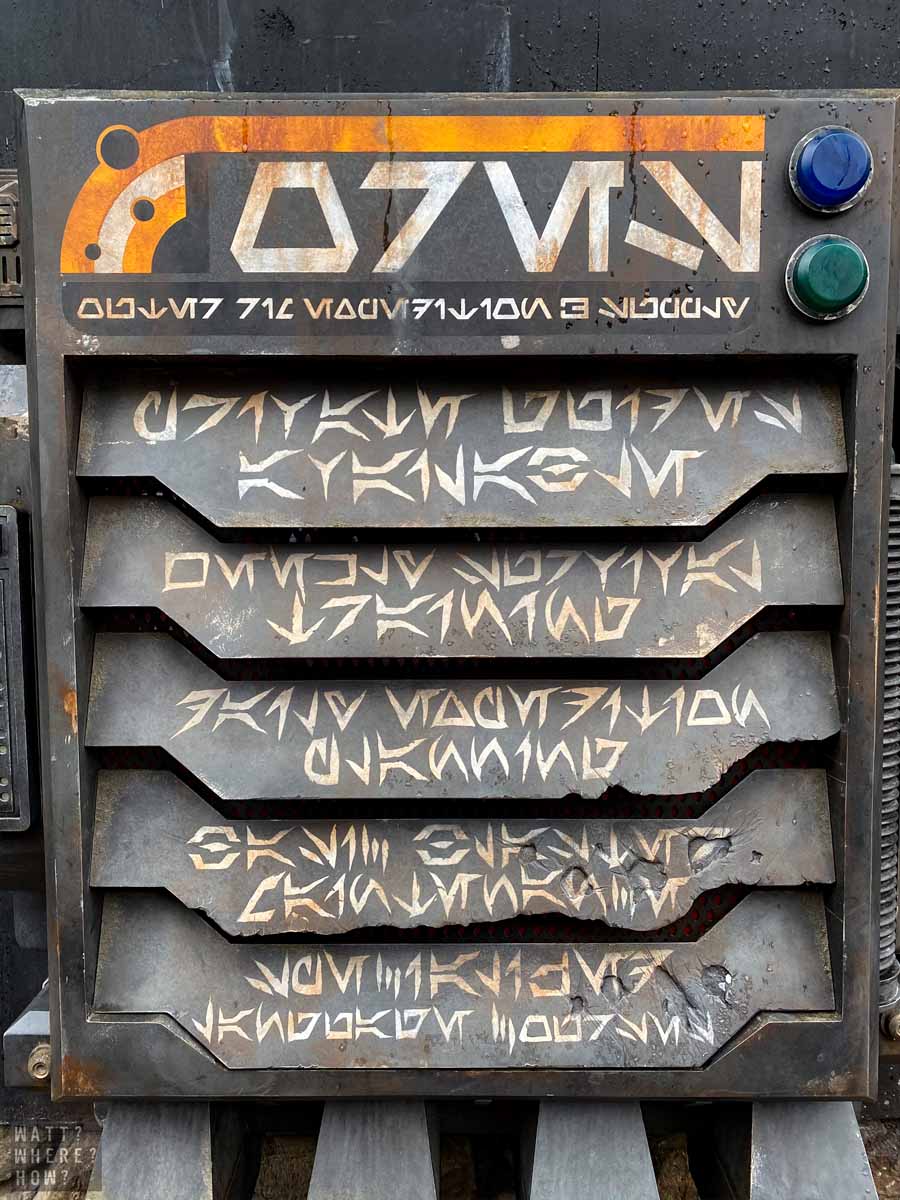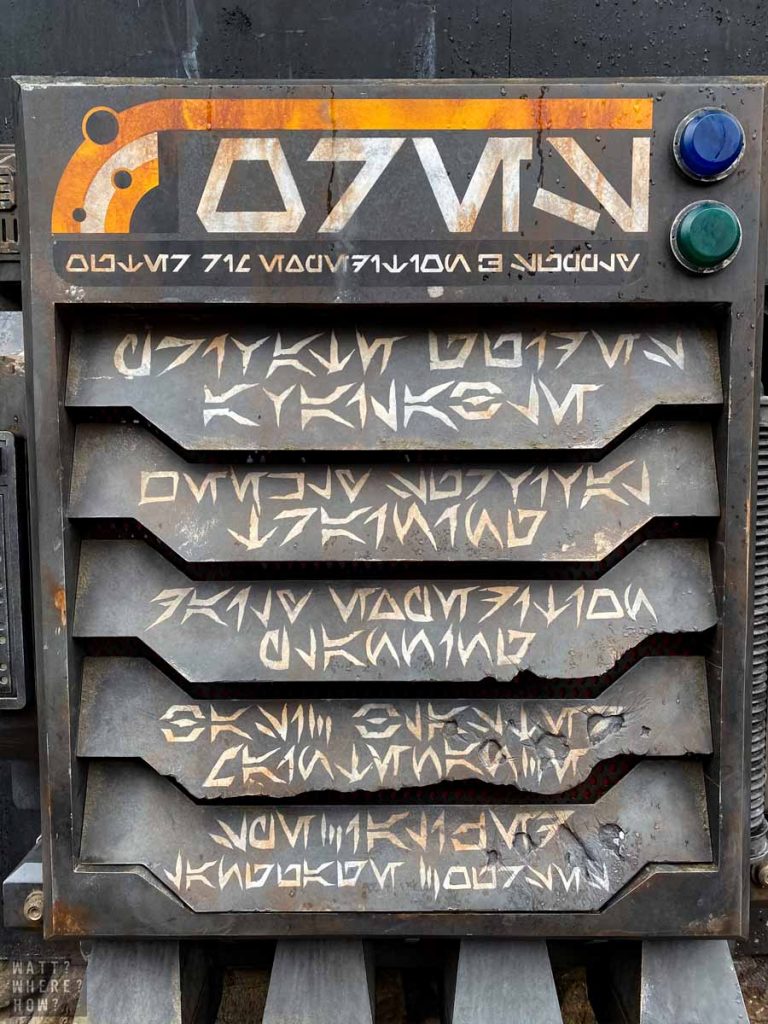 Getting into character
Star Wars attracts the fanatical and the creative and the cosplay game is strong here, not just from the staff, but from the guests, with parents and kids alike adorned in Star Wars-themed costumes (or the expected Disney mouse ears). There are rules though. Younglings under 13 can wear costumes but no parts can drag on the ground (they don't want kids falling over), masks can't fully obscure faces and eyes must always be visible.
For adults, you can't come in dressed in robes, but if what you wear on the streets captures the look, like black pants and a vest for Han Solo, that's fine. What you will find when you arrive is some amazing merchandise to buy, with authentic robes and attire that is straight out of the movie in appearance (but expect to pay a top rate for it). Be sure to check out Walt Disney World's terms and conditions of entry so you're not turned away at the gates.
Set your alarm for early
Regardless of fast passes, the only way to really guarantee that you will get to see everything you want in one day at Disney World Hollywood Studios is to be there before the large groups and tours. Check the Disney Parks app to discover the day's opening time and plan to be through the gates at least half an hour earlier.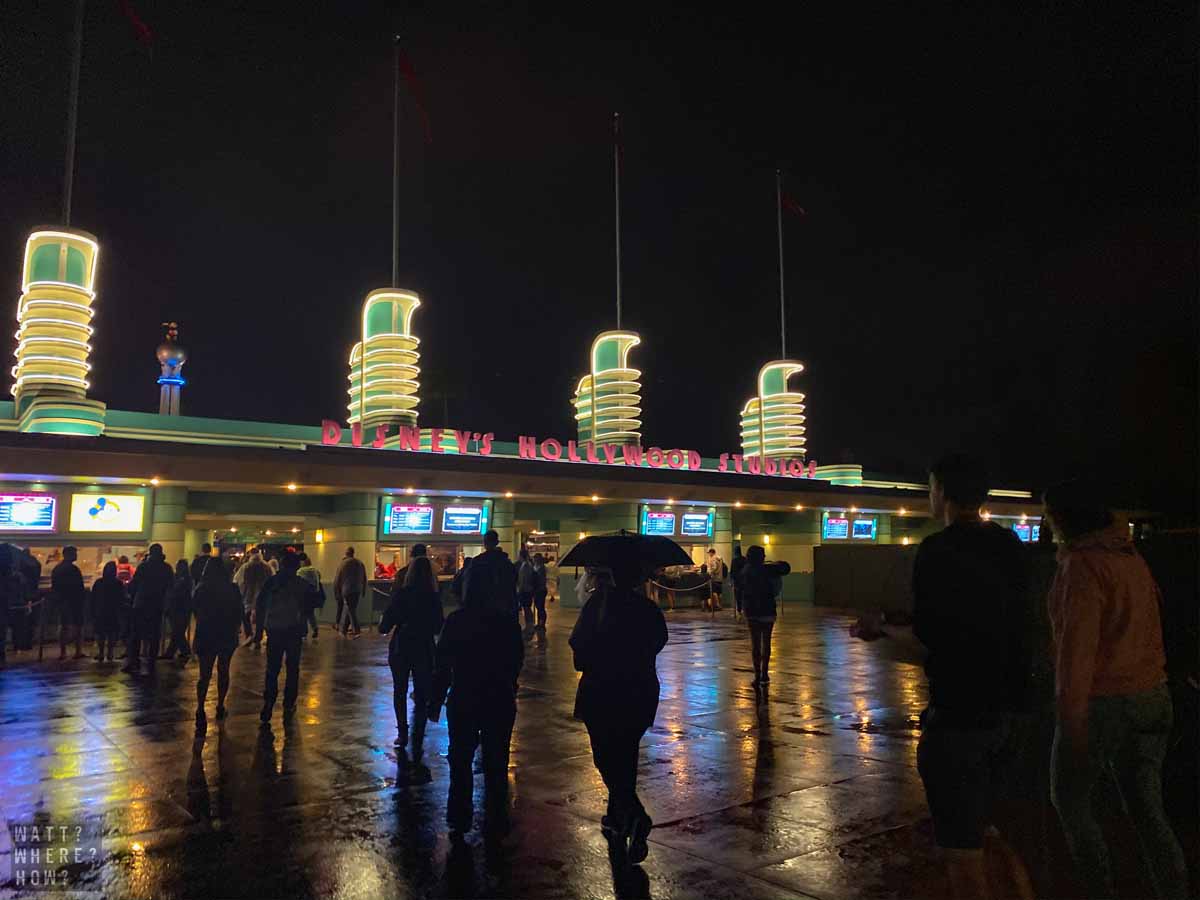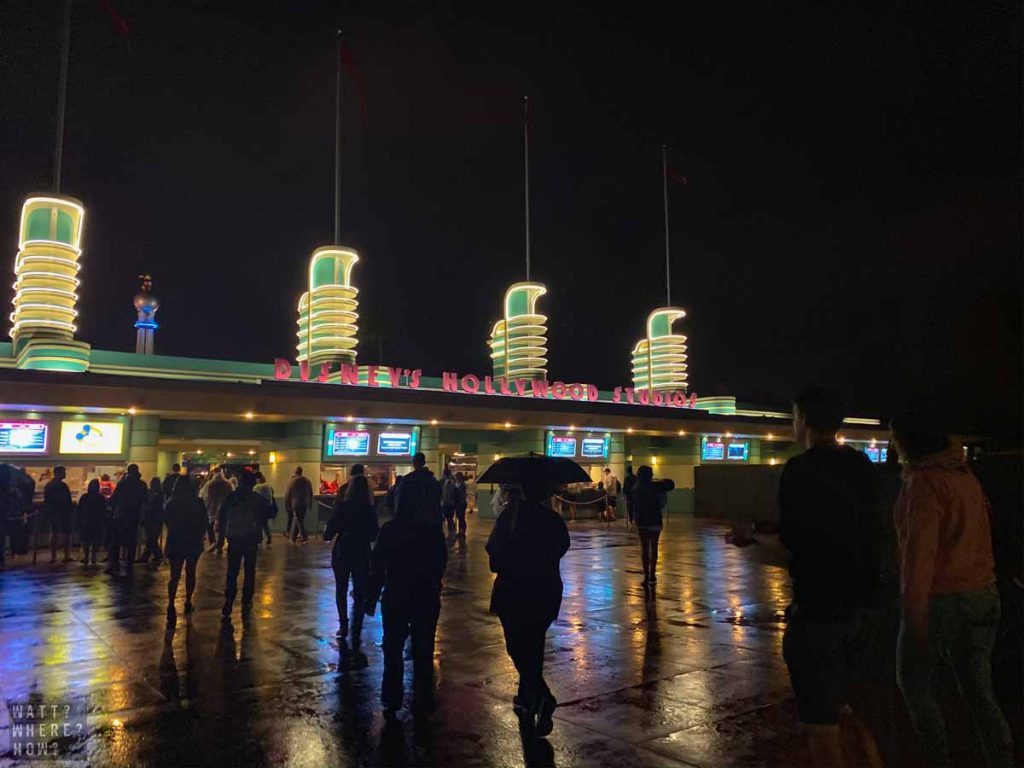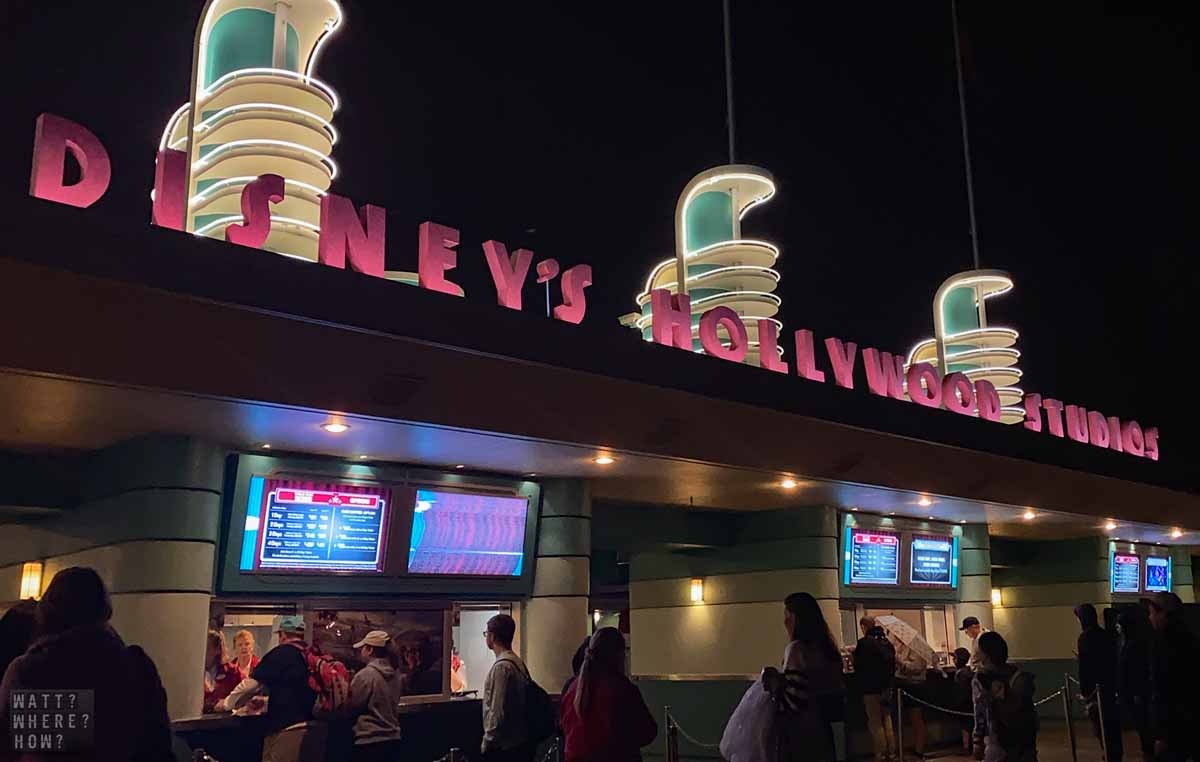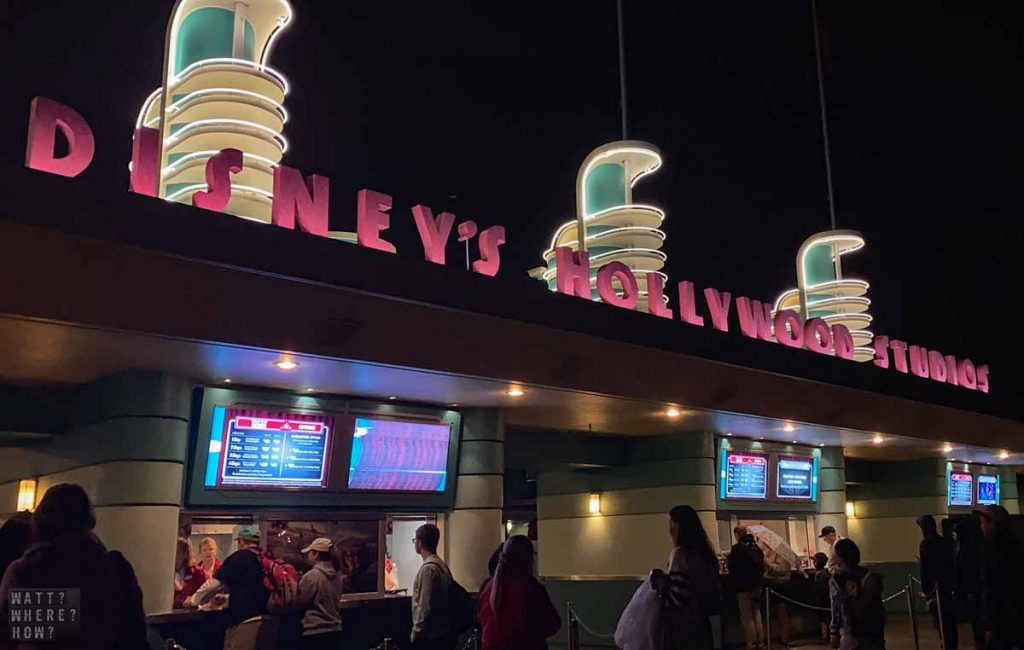 Arriving at Disney's Hollywood Studios and Star Wars Galaxy's Edge
The day we're heading to Disney's Hollywood Studios and the Star Wars Galaxy Edge there's a persistent drizzle of rain. It's 6:25 when our Lyft drives through the already well-filled car park to the main gate. There's a heap of people queuing at the security checkpoint where you will have your bags and backpacks searched before you step through a metal detector. Pass your ticket confirmation email to the attendant at the main gate and they'll exchange it for a plastic swipe card, like a visa card. This is your fast pass, should you opt to pay for it.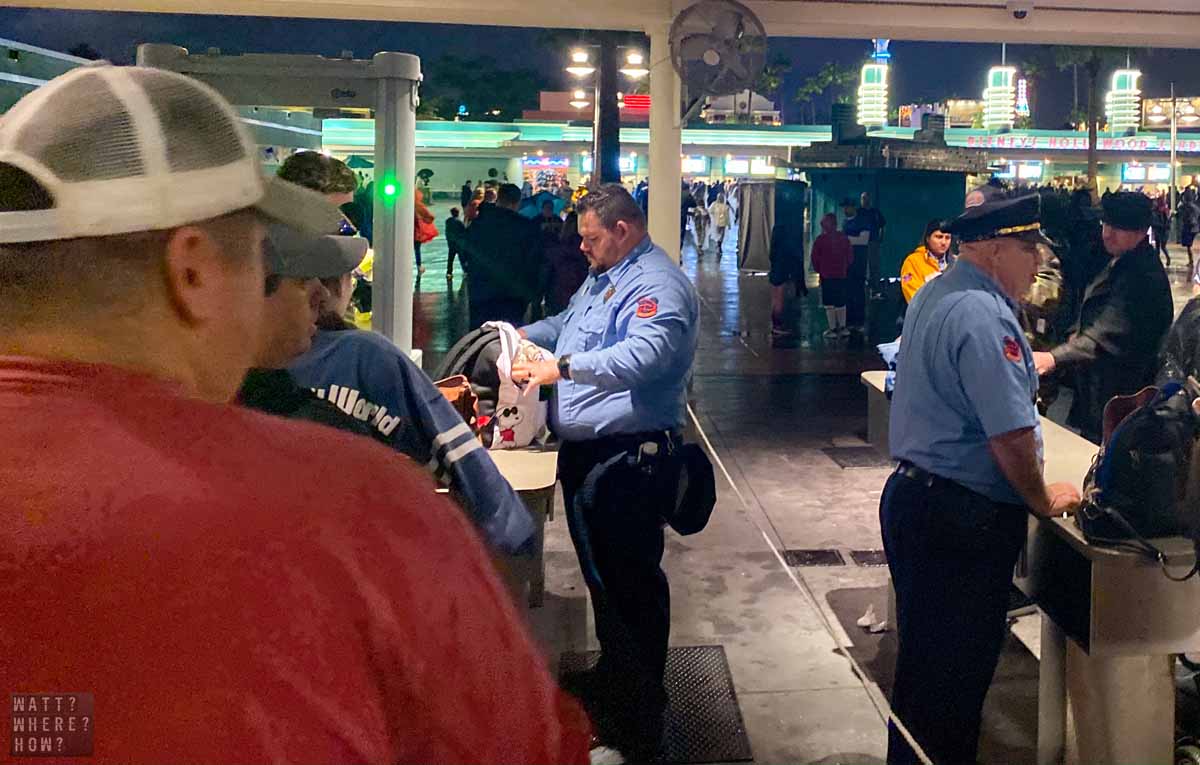 Although the parks don't officially open until 7am, you're straight through the gates at this point and can head towards the crowd that is assembled outside the main path of entry to Star Wars Galaxy Edge.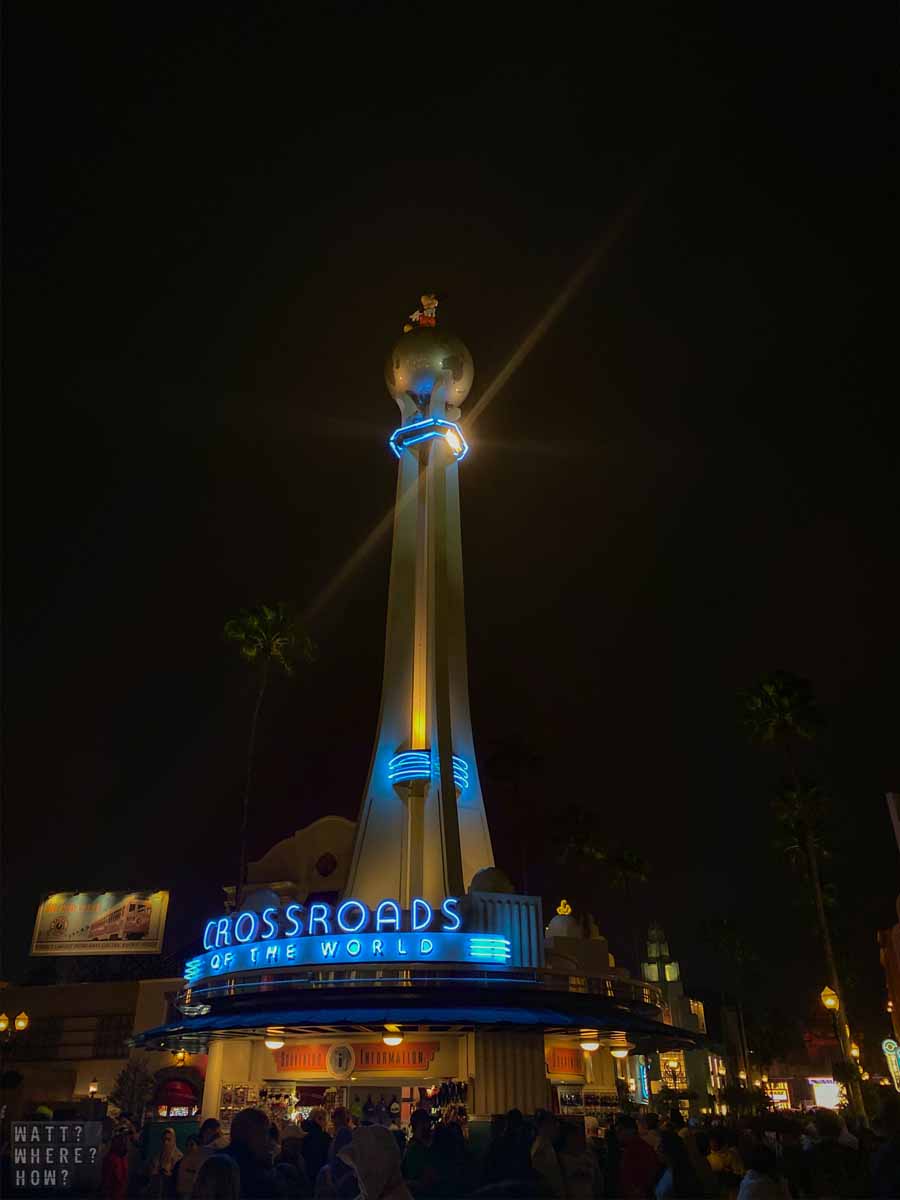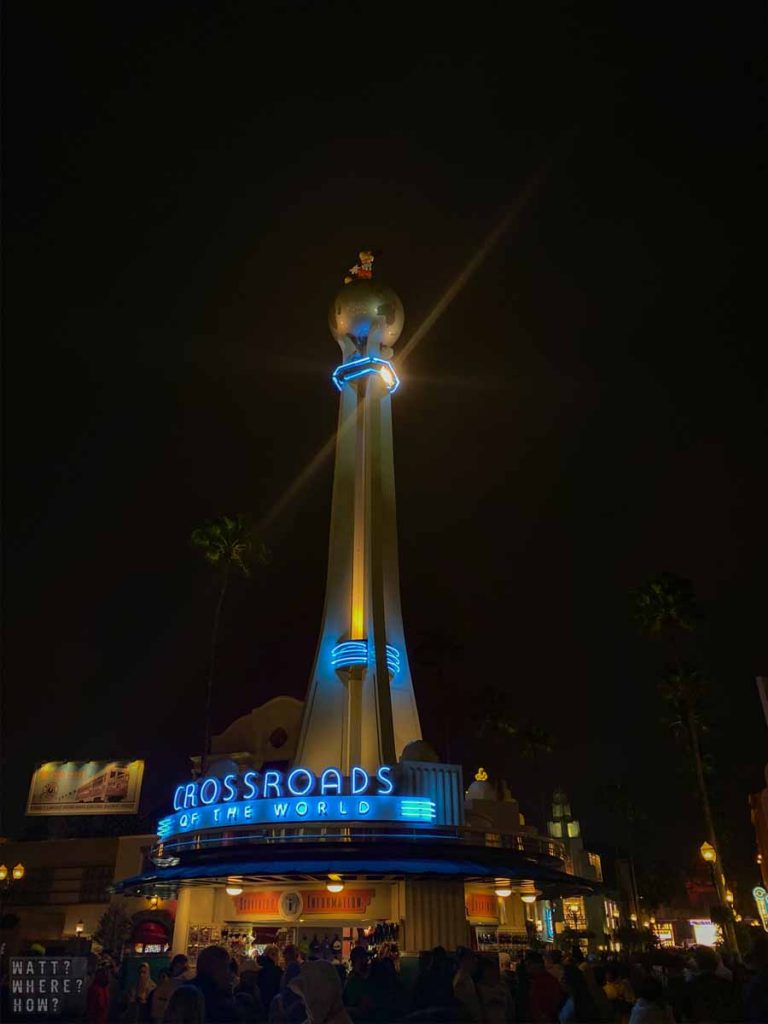 To get there, head up Sunset Boulevard, the Disney Hollywood Studios equivalent of Main Street USA. But first, you may want a coffee. Get it at the Starbucks which is on the right at the first main intersection, disguised as a restaurant from an earlier era of Hollywood. Should you miss this one as we did, the only coffee option inside Galaxy Edge is the foul black drip substance that is sometimes accepted as being coffee.
You'll find the park centerpiece isn't a castle, but a recreation of the iconic Grauman's Chinese Theatre, the annual venue for the Academy Awards. The crowd is gathered around an LED sign that displays opening and wait times. As we're here at a time before they've implemented the fast passes, pretty much everyone has their phone out and app open, frequently refreshing it to see if the Rise of the Resistance is taking boarding reservations.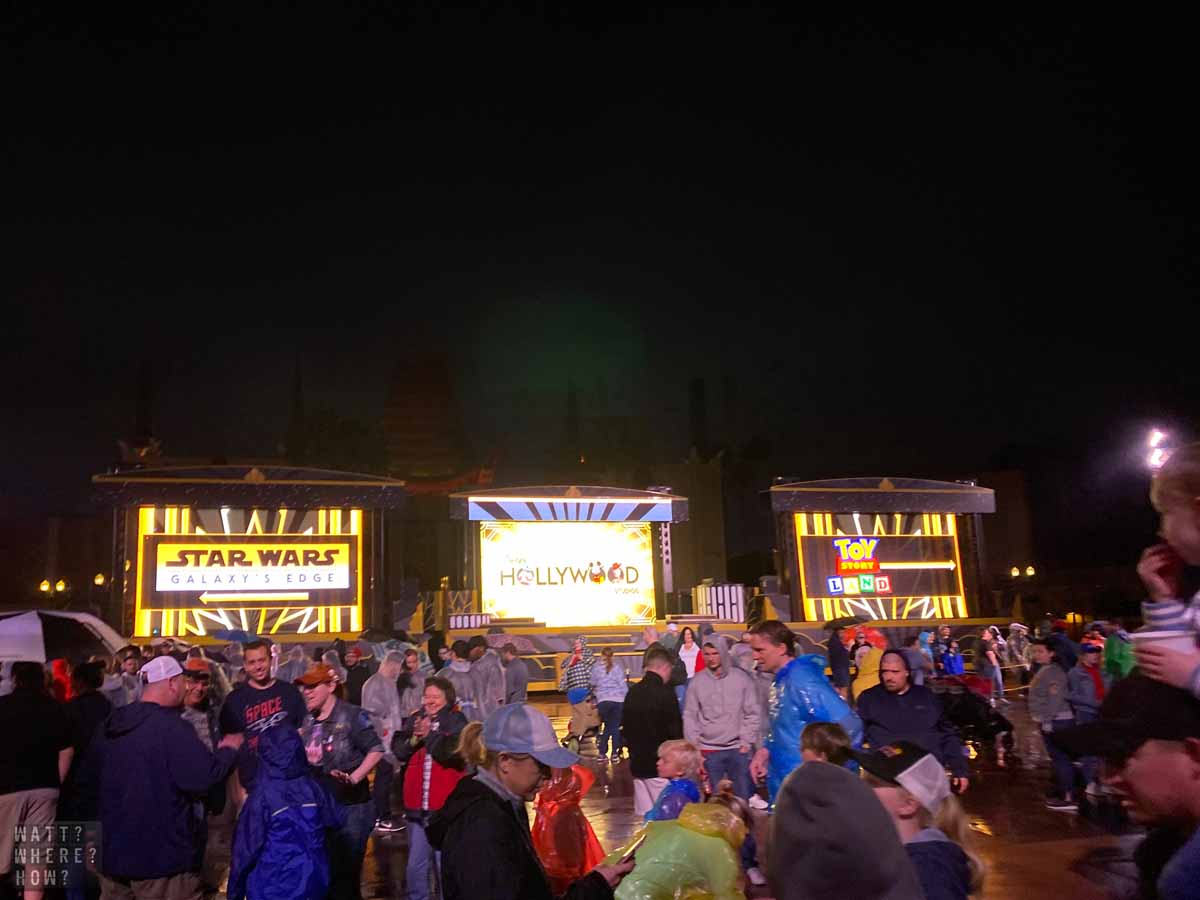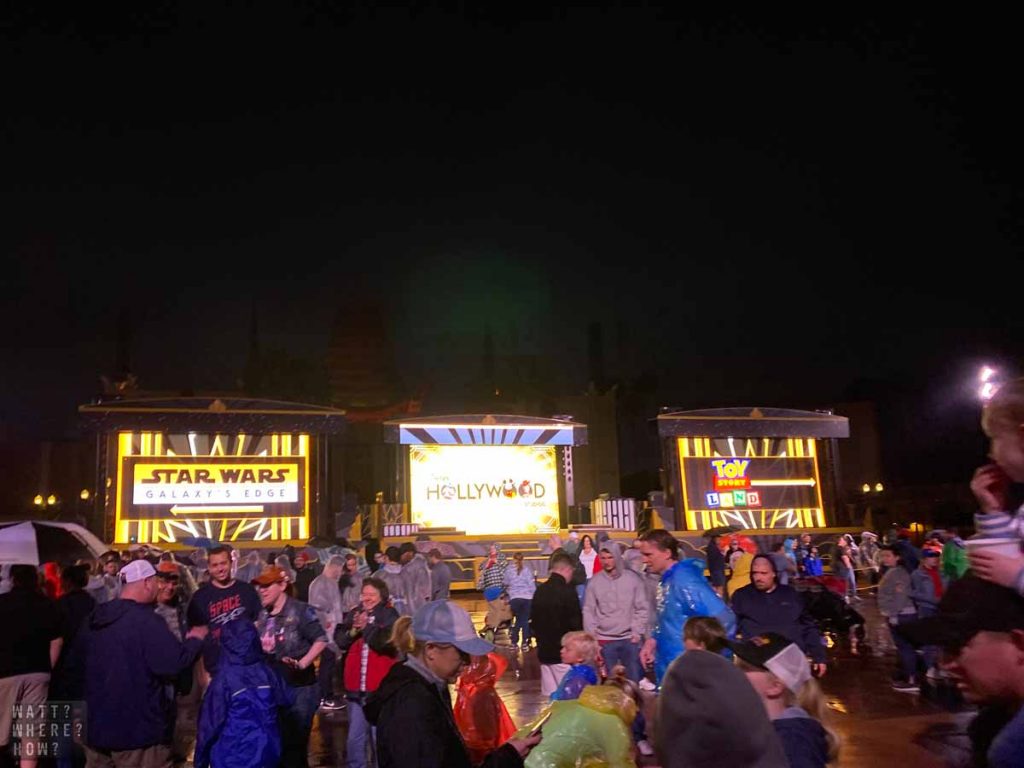 The clock strikes 7
As the clock ticks over to 7am there's a flurry of activity with people either jostling for positions in person or on the app. We are somewhat amazed to secure a place in boarding group 9, which gives us a window of around an hour to get there and a boarding time of around 8:30, giving us plenty of time to line up for Smuggler's Run first.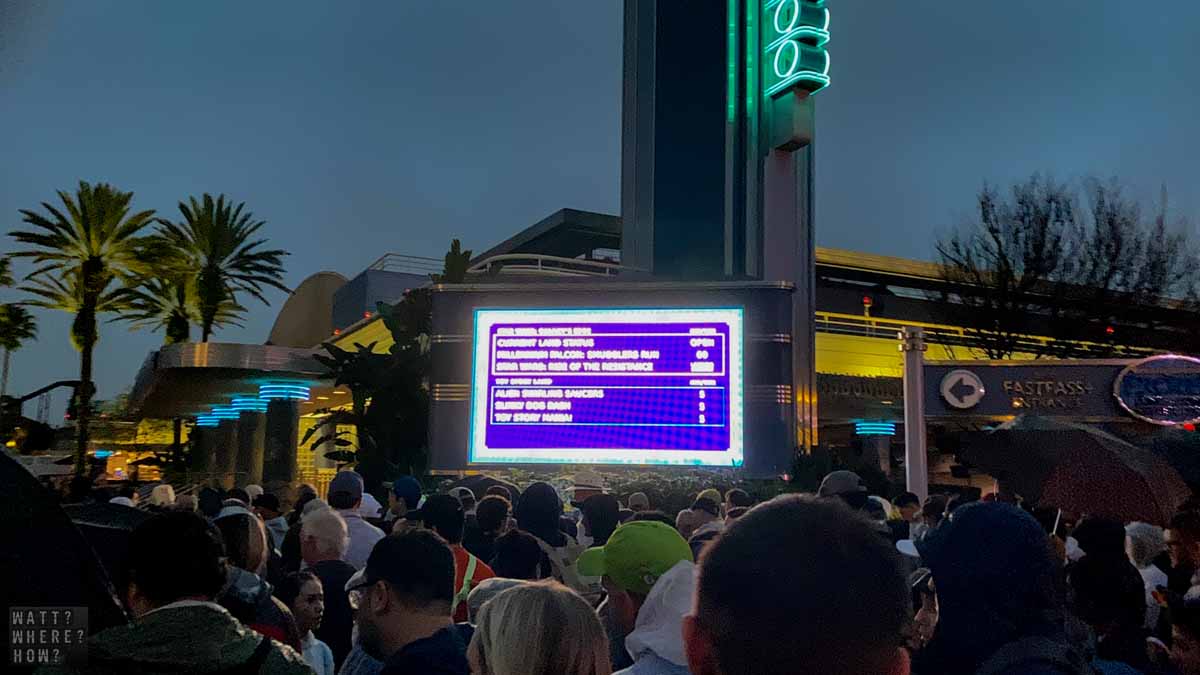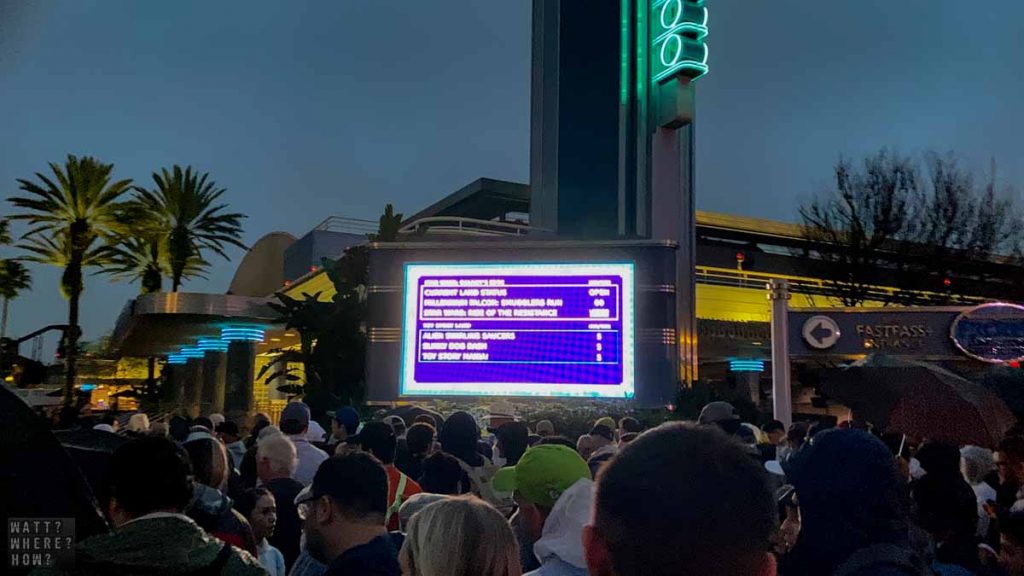 The boarding party system allows up to 170 boarding groups over the course of the day, depending on whether the Rise of the Resistance is running smoothly. It's only the first month and there are issues with its reliability. Apparently, the day before we visited it was offline for several hours, with disgruntled guests offered fast passes and even complimentary tickets to come back the next day – well-played Disney!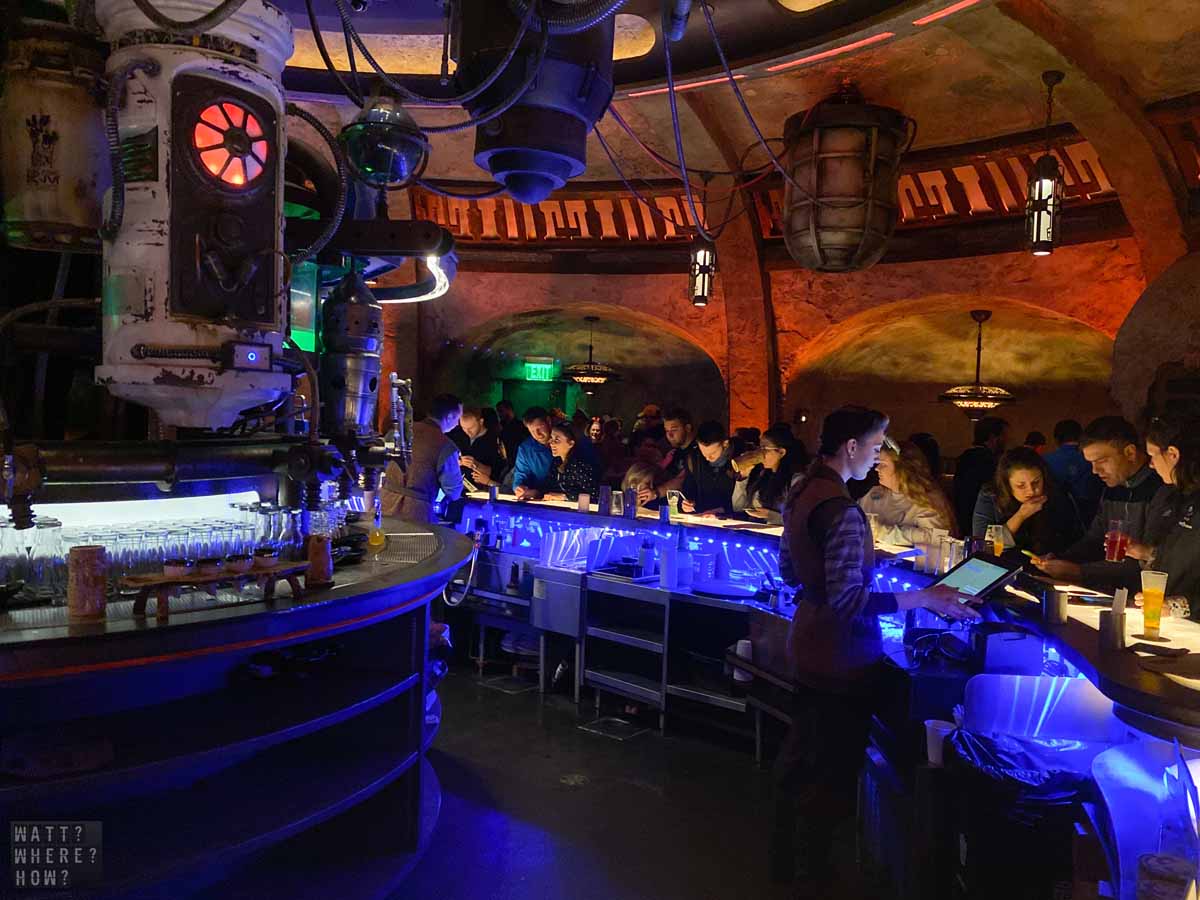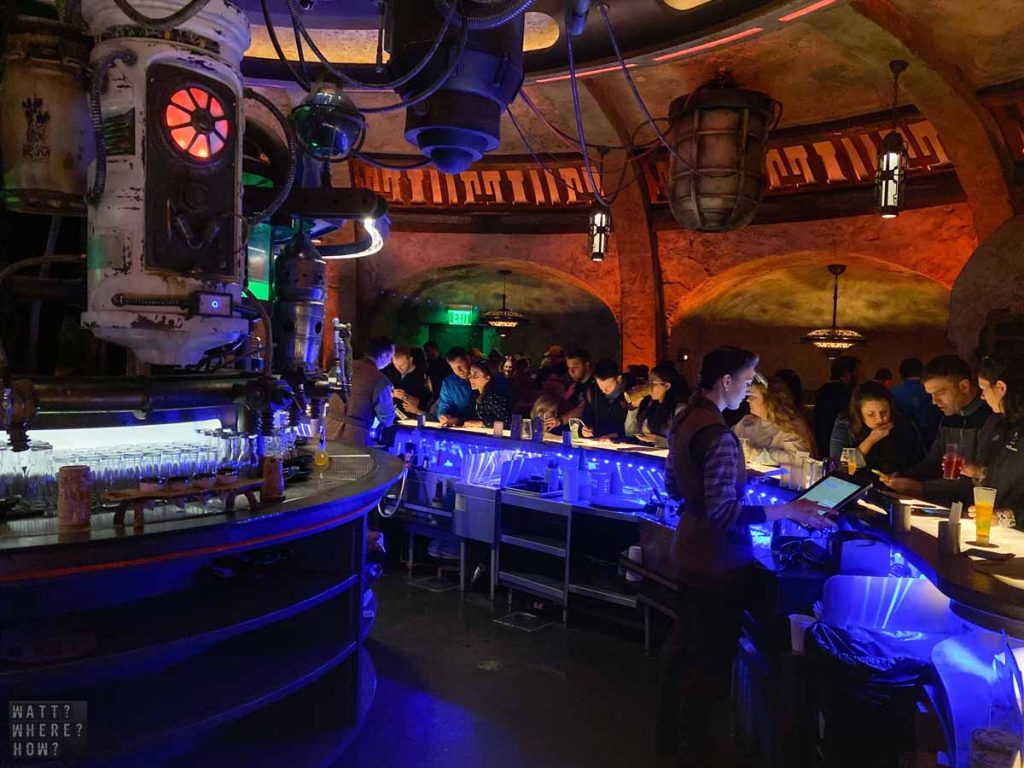 ---
An Introduction to the Star Wars Galaxy's Edge
If space is the final frontier, Batuu takes you to a place in a galaxy far, far away (and a long time ago) from the Frontierland of Disneyland and Disney World. Found between the Unknown Regions and Wild Space, its largest village, Black Spire Outpost is the setting for our Star Wars experience, a trading outpost where smugglers run and bounty hunters lurk – a hiding place for rebels, that's under surveillance from the First Order. Black Spire Outpost is the backdrop for high drama and thrill rides, a chance to live in the Star Wars universe for a day. Its dark cliffs, creating the scene, with a cargo freighter landing on one of the spires to offload its load, while the iconic Millenium Falcon is clearly the focal point at the ground level.
Rope Drop
Rope Drop is a weird term that we read about on other blogs when researching the Star Wars Galaxy Edge experience. It basically means to be there as the ride opens, but in theory, that's next to impossible given the size of the crowd. As the sea of people surges forward, we're driven by the sheer momentum and strength of will to get on Smuggler's Run.
Disney Star Wars Star Tours Ride
Passing the Muppets area, we're prematurely greeted with an AT-AT walker, the entrance to the recently renovated Star Tours – it's not part of Galaxy's Edge but is worthy of riding if the queues are short, later in the day. Star Tours was long overdue for an upgrade and this incorporates 3D glasses (the proper ones, not the old red and blue cello ones) and footage from the last trilogy.

Entering the world of Star Wars Galaxy's Edge
Heading through an underpass, you are transported from the Disneyworld ecosystem to a galaxy far, far away. Immediately, the landscape has changed. It's semi-arid, but not desert, more like Colorado than Tatooine. A blue X-wing is parked ready for takeoff and there's an outpost for supplies (like rebel shirts). Everywhere through the park, English is replaced with a hieroglyphic language called Aurebesh. If you open your Disney Play app, you can use it to translate the glyphs on your phone. It adds an experiential element your kids will love.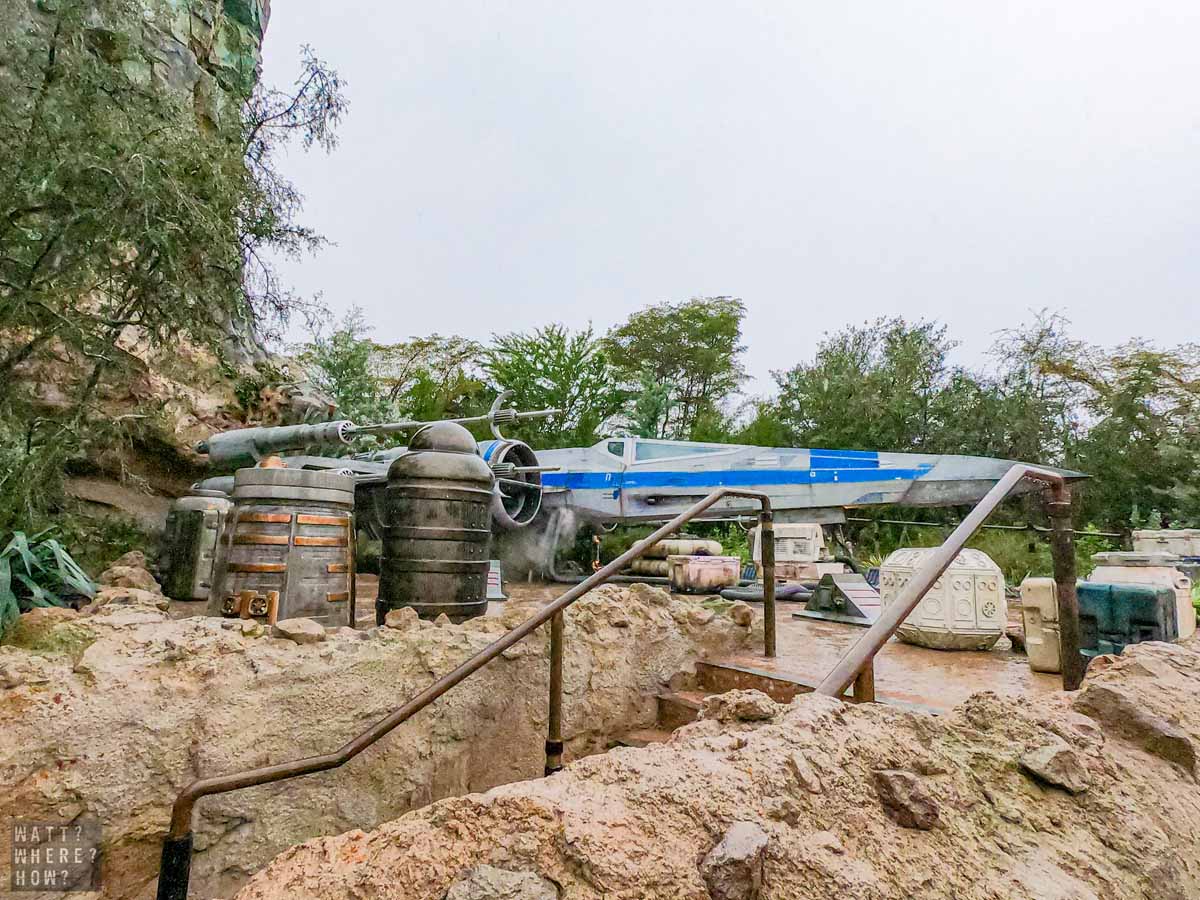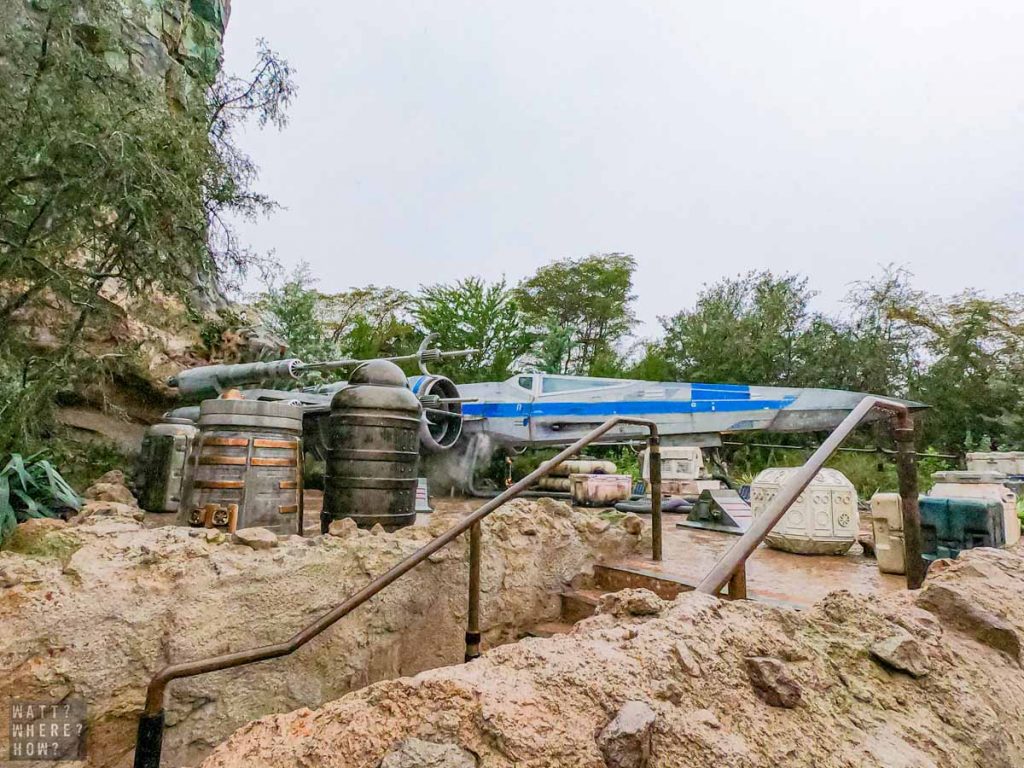 You'll pass pod racers, A-wings, droids, and eateries that are already filled with families, but don't get caught out longing to experience it all – you can come back once you've had your big-ticket rides. The rope drop queue doesn't give you a chance to stop anyway – there's only one place you're heading at this point, and it's straight to Smuggler's Run.
MAIN ATTRACTIONS AT STAR WARS GALAXY'S EDGE
The Millennium Falcon Smuggler's Run Ride
The promise of being able to take the wheel of the fastest hunk of junk in the galaxy, the Millennium Falcon is the realization of many people's childhood dreams. Parked below the Black Spire Outpost, it's the park's true centerpiece and you'll be unable to hold back your stupid grin – trust us!
The ride itself is a hybrid of a flight simulator and a sophisticated video game, where six people at a time get the chance to team together as pilots, engineers and gunners. It's an incredibly fun experience, so be sure to read our full Millennium Falcon Smuggler's Run review.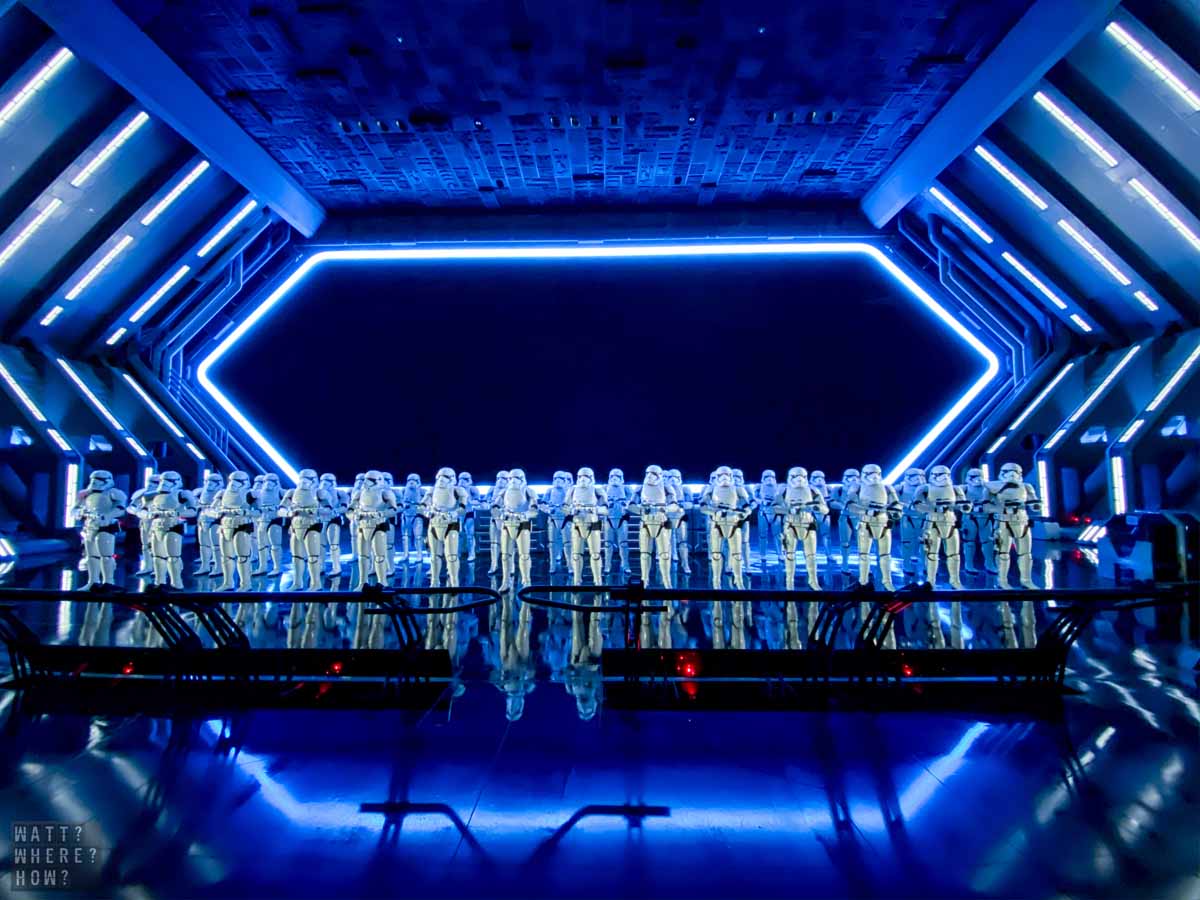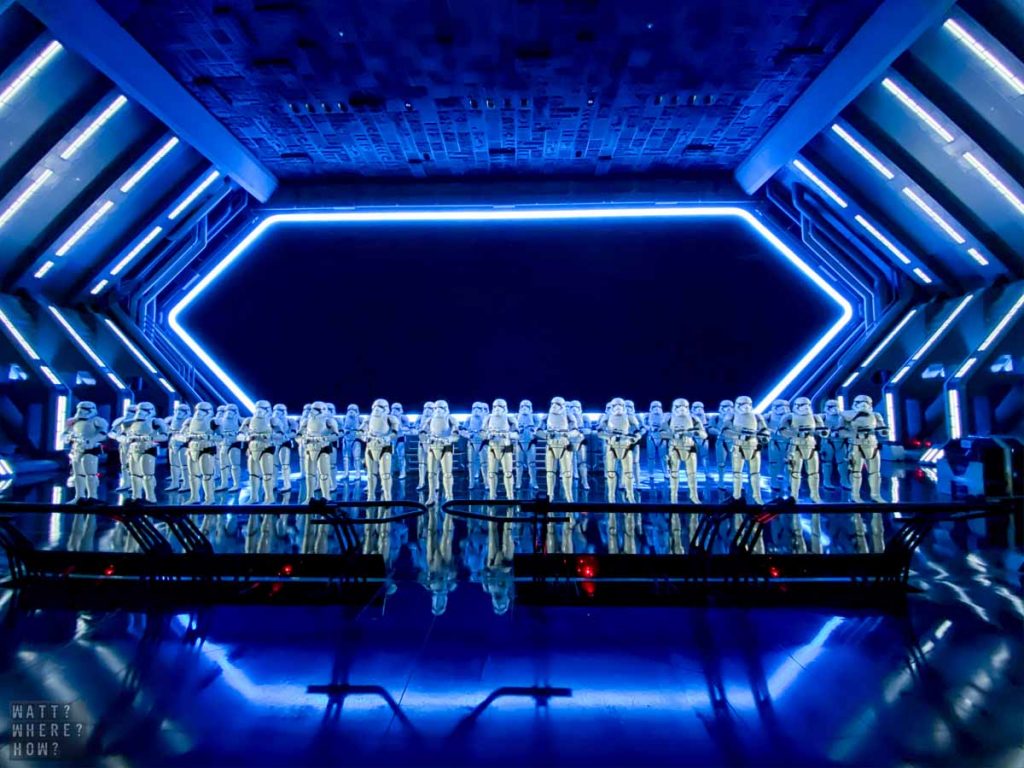 The Star Wars Disney Rise of the Resistance Ride
The newest and most exciting part of Disneyworld Hollywood Studios Star Wars Galaxy's Edge, Disney Rise of the Resistance sees you recruited as a rebel and captured by a First Order Star Destroyer. You'll come face-to-face with AT-AT walkers, probe droids, and galactic battles. It's immersive, intense, and possibly the coolest amusement park ride you'll ever take. Read our full review (including the spoilers).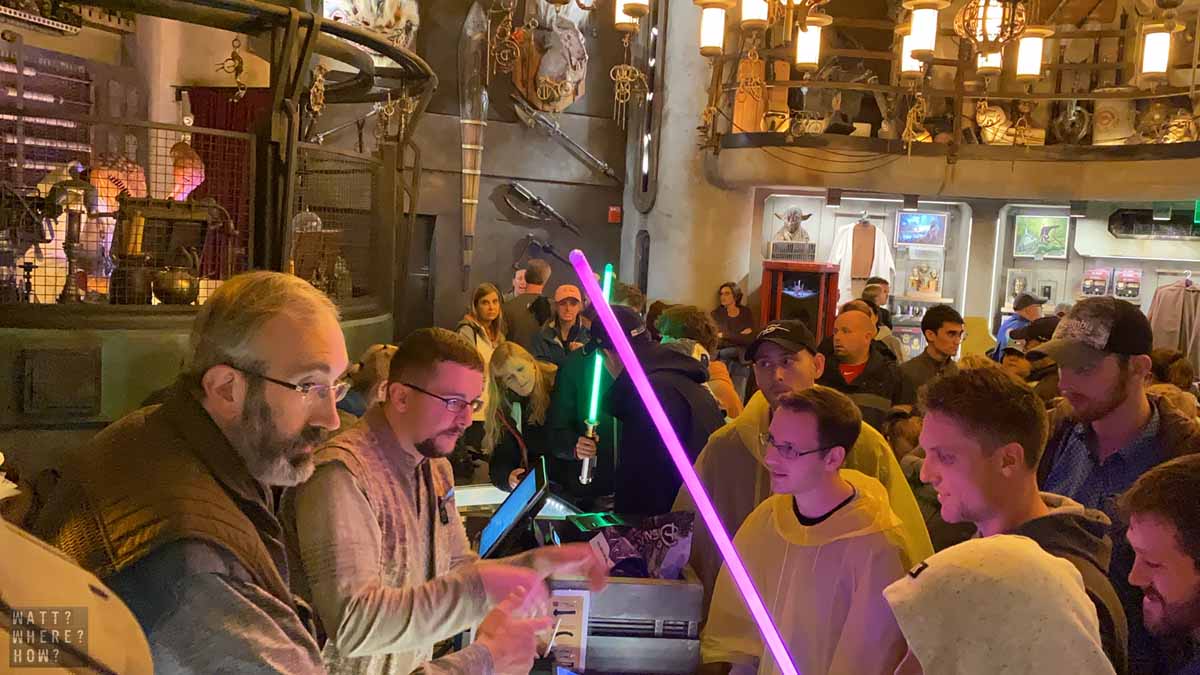 Make your own light saber at Savi's Workshop
Savi's is the place you go to build your own lightsaber. The experience is very well-conceived, with custom hilts and the choice of different Kyber crystals that mean different things like Protection and Defense, Elemental Nature, Peace and Justice, and Power and Control.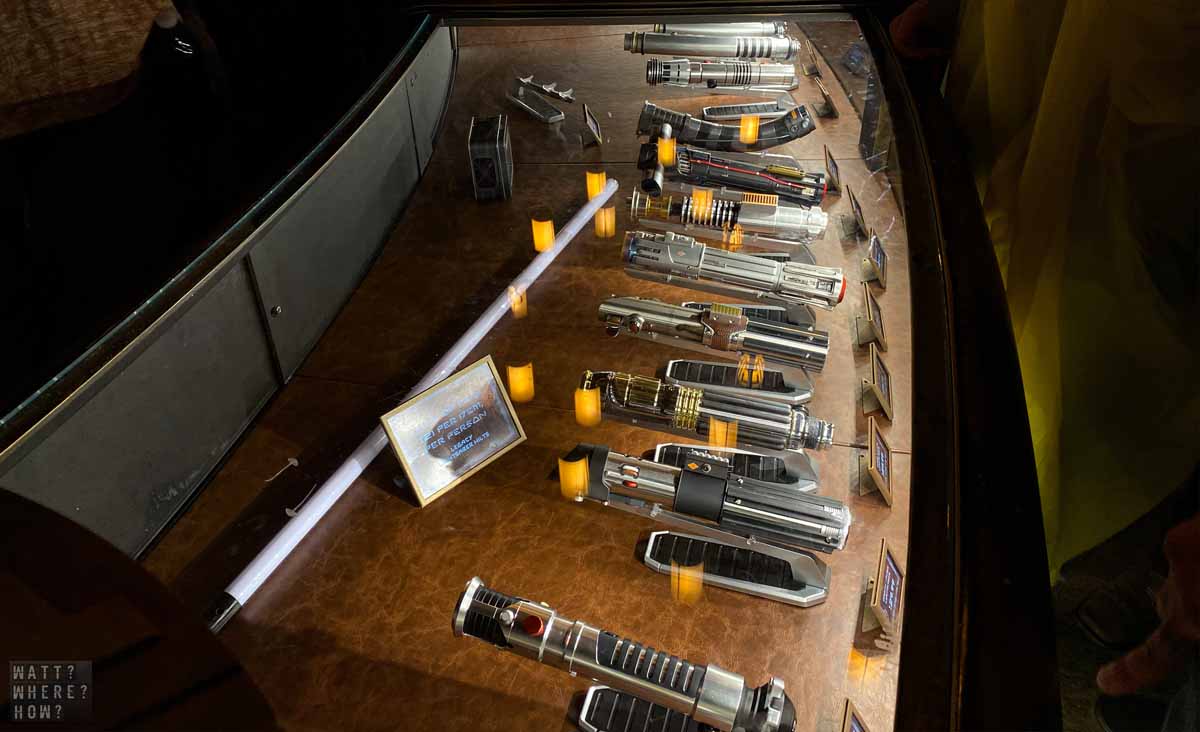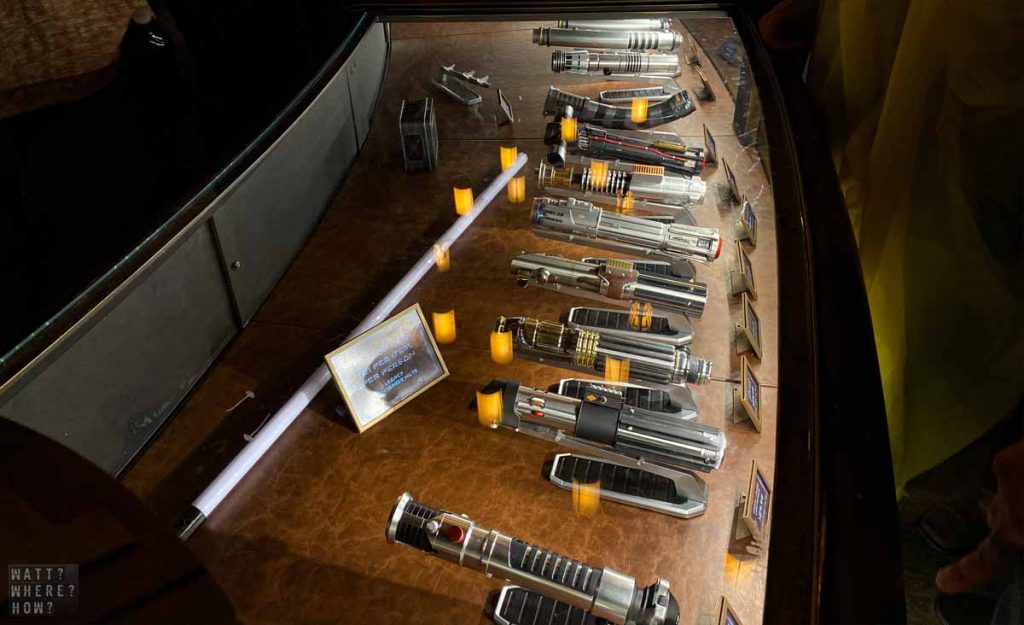 Like a hotel, you'll have to have your card pre-authorized from the moment you book. You can make reservations while you're in the park, but to lock something down and not be stressing, you can book a place up to 60 days before you arrive. The pre-authorization price for building your own lightsaber is $199.99 plus tax, but there's every chance you'll feel compelled to upgrade elements, like the Kyber crystal, or to buy the padded shoulder bag/sheath which is pretty damn stylish. It's not uncommon to come out of the experience $400 lighter, so just beware. That being said, it's 100% authentic and totally customized to your exacting desires.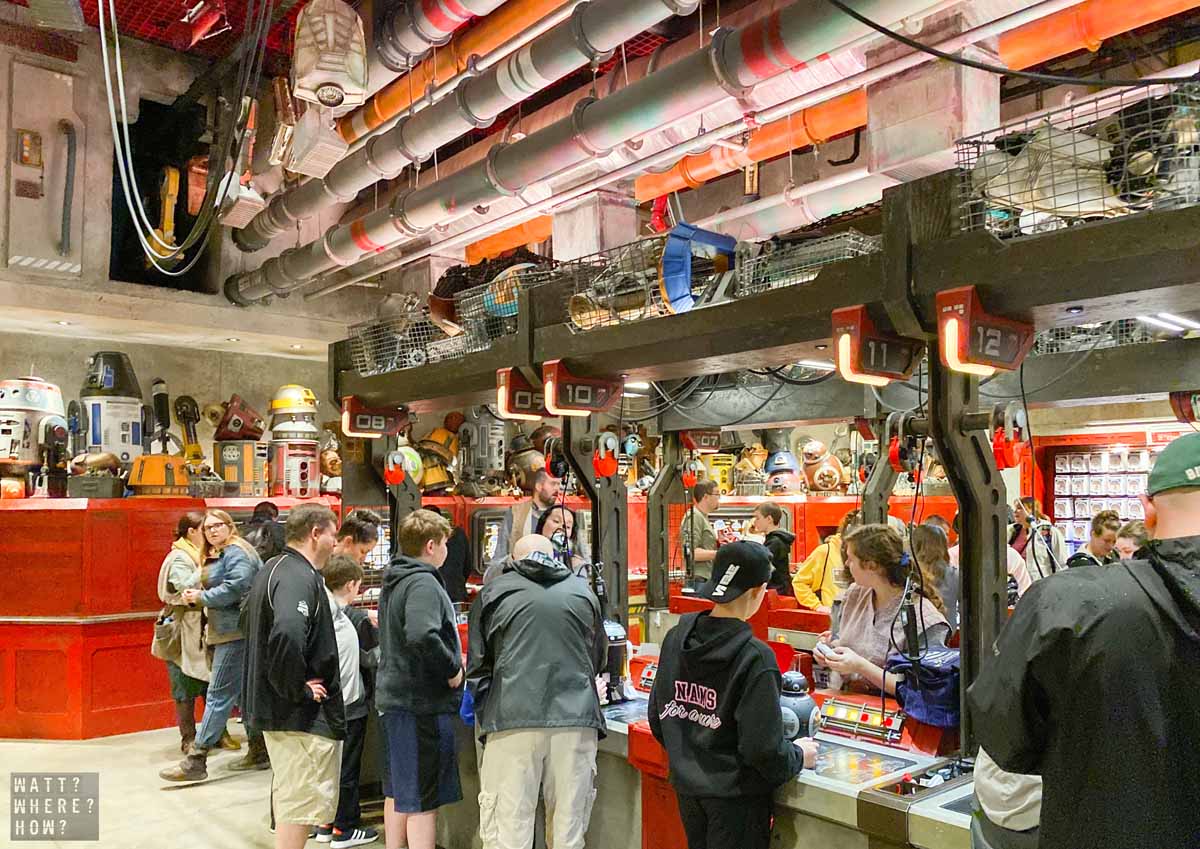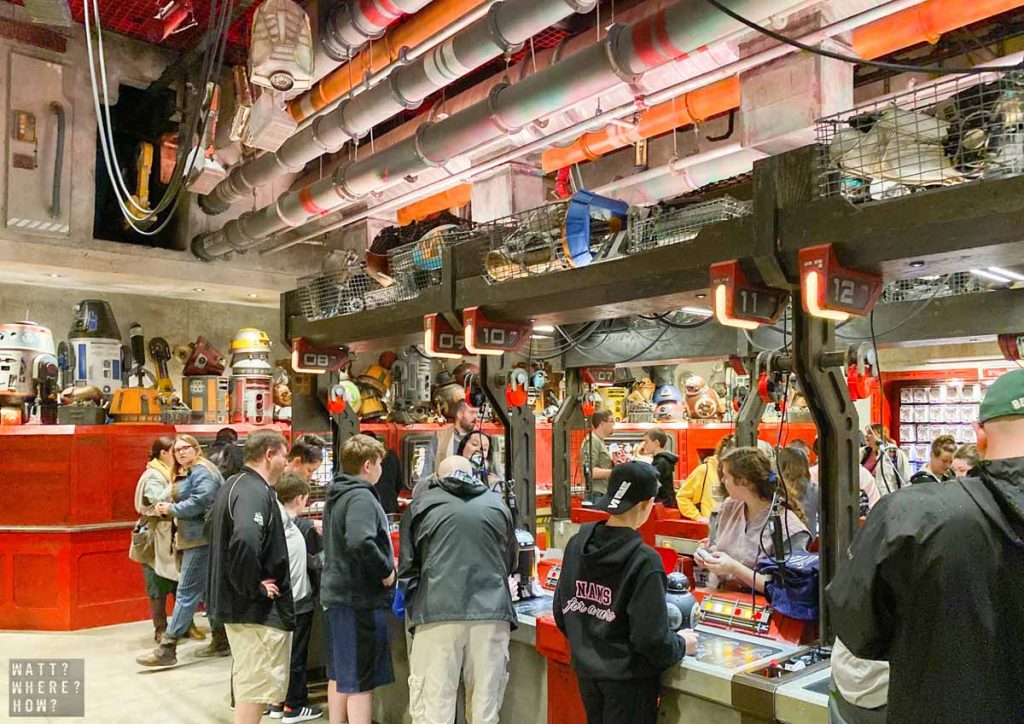 Build your own R2D2 or BB robot at the Droid Depot
Another big ticket purchase is the chance to construct your own droid at the Droid Depot at Star Wars Galaxy's Edge. It's another fully interactive experience with a range of options you can control like the colors, style, and even the personality chip within. It's easy to get carried away with customizations and what starts at $99.99 plus tax can blow out with the addition of a carry bag, decals, drink carrier, and personality chip upgrades. Instead of buyer's remorse, you'll be happy with whatever you spent as your droid begins to chirp excitedly as it passes senses hidden around the park.
The Cast of Star Wars Galaxy's Edge
What sets a Disney park apart from any other theme park is it's staff, who they refer to as the cast. This designation applies to the costumed movie characters, their minders, the Imperial generals and the rebels. From the workers in the retail outlets to the bar staff, at Galaxy Edge every cast member has their own distinct role to play and they play it with perfection.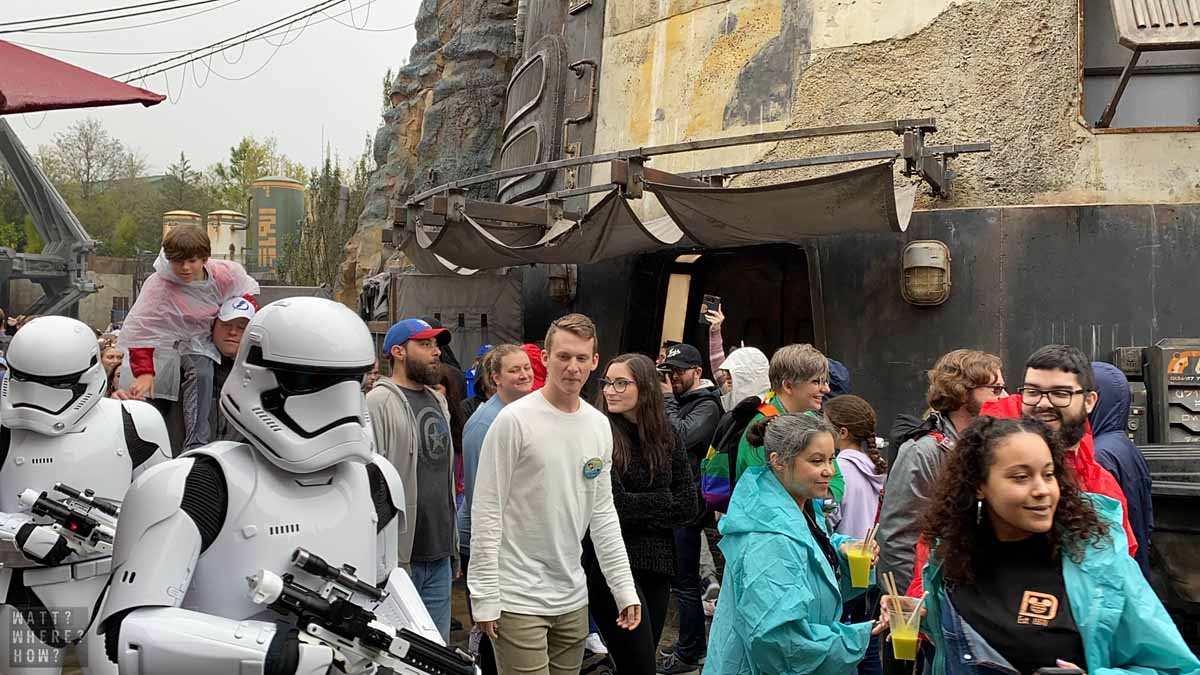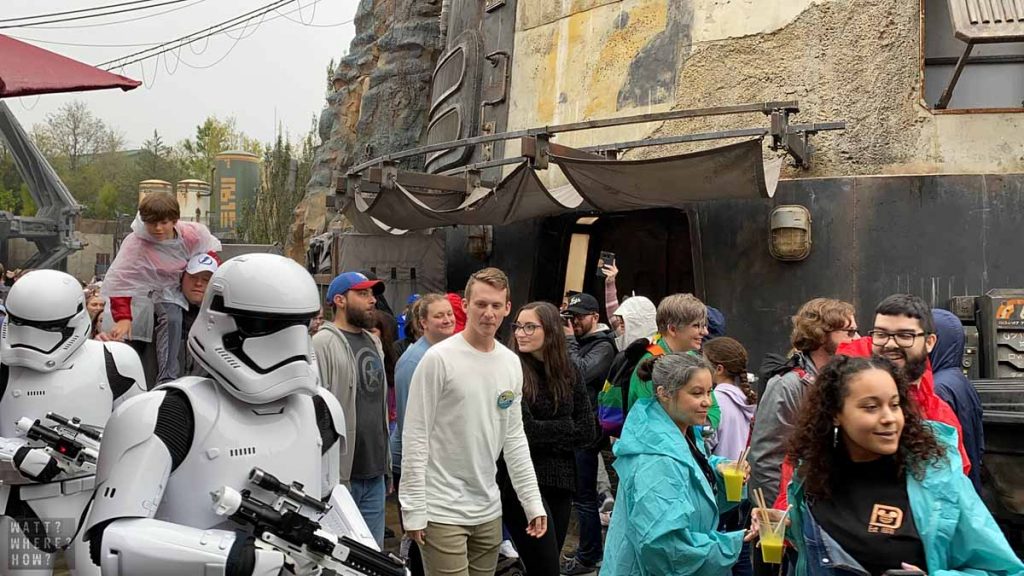 The cast at Rise of the Resistance stalk back and forth scowling and sneering, stopping in front of people to stare them out or to menacingly interrogate you as you're rebel scum. In the cantina, the server is ridiculously rude and intentionally as he's dealing with smugglers and filth. Even the guy selling the thermal detonator cokes has a backstory that he refuses to stray from.
Wherever you go you'll be greeted by cast members with "bright suns" in the morning and "rising moon" when you're strolling the park at dusk. If you see a stormtrooper there won't be such niceties. They'll quiz you about the whereabouts of the rebels or demand that you pledge allegiance to the Empire.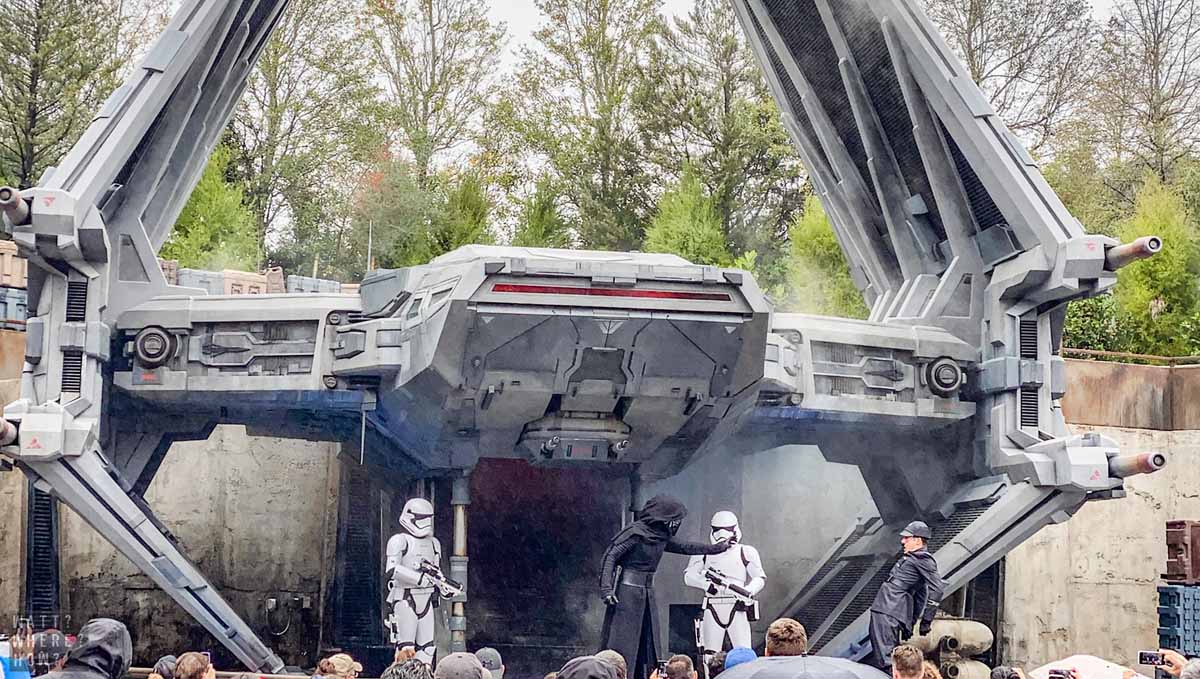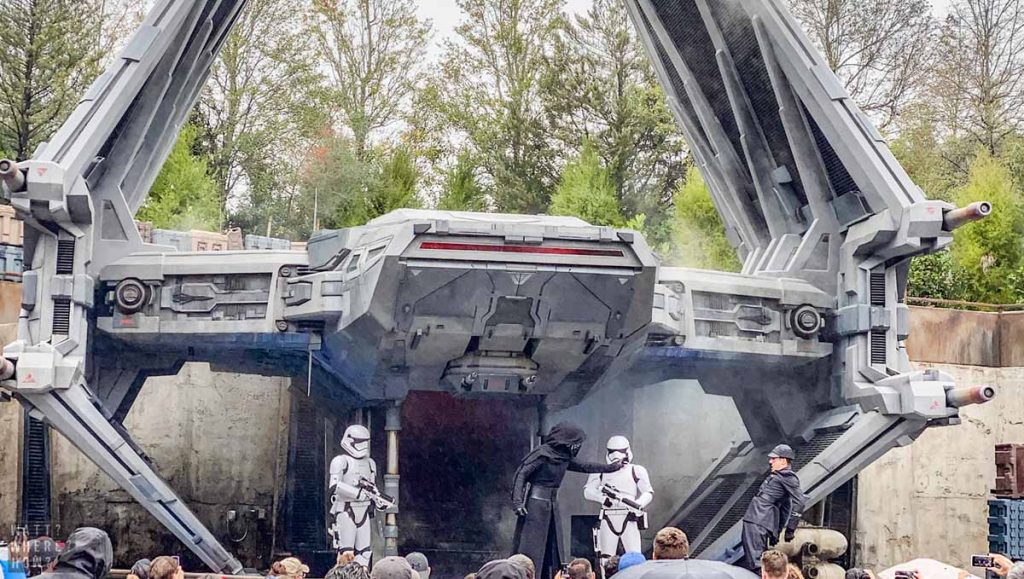 STAR WARS CHARACTER APPEARANCES & SHOWS
During the day, you may catch some performances around the park. At the TIE Echelon, Kylo Ren gets frustrated with a First Order lieutenant and proceeds to force-choke him. Chewbacca strolls through the park accompanied by Rey lookalikes. It's a nice change from the colorful Disney mascots you normally see and with that Millennium Falcon backdrop, you feel like you're part of all the action.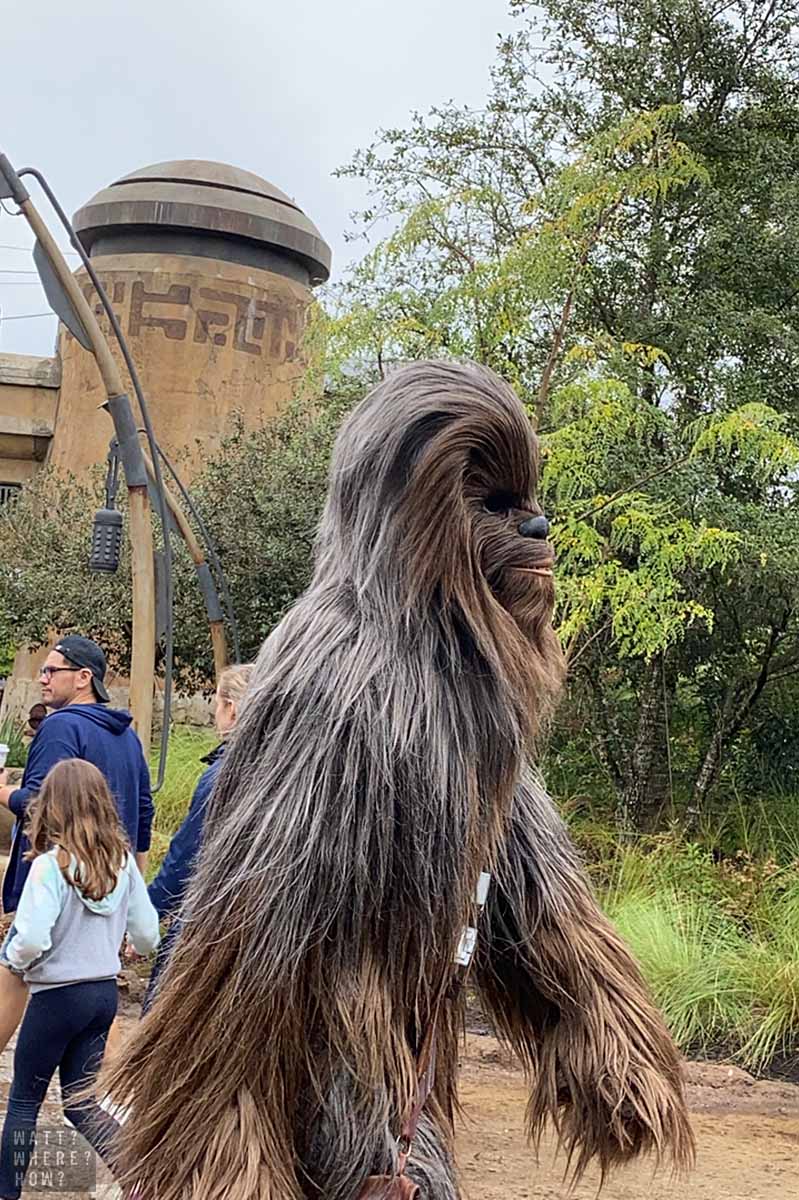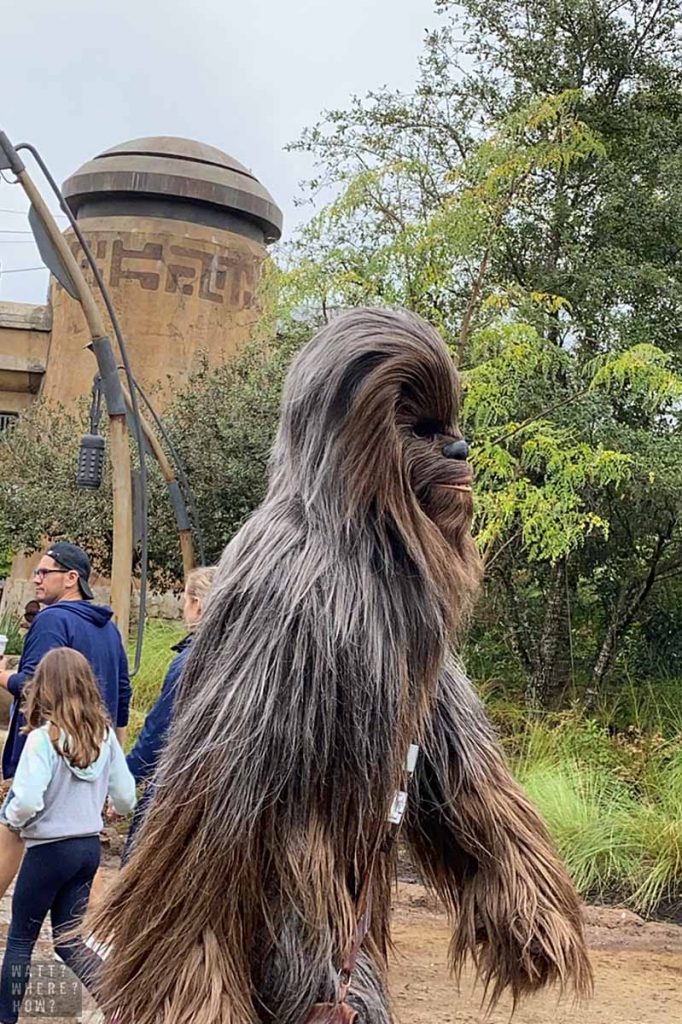 ---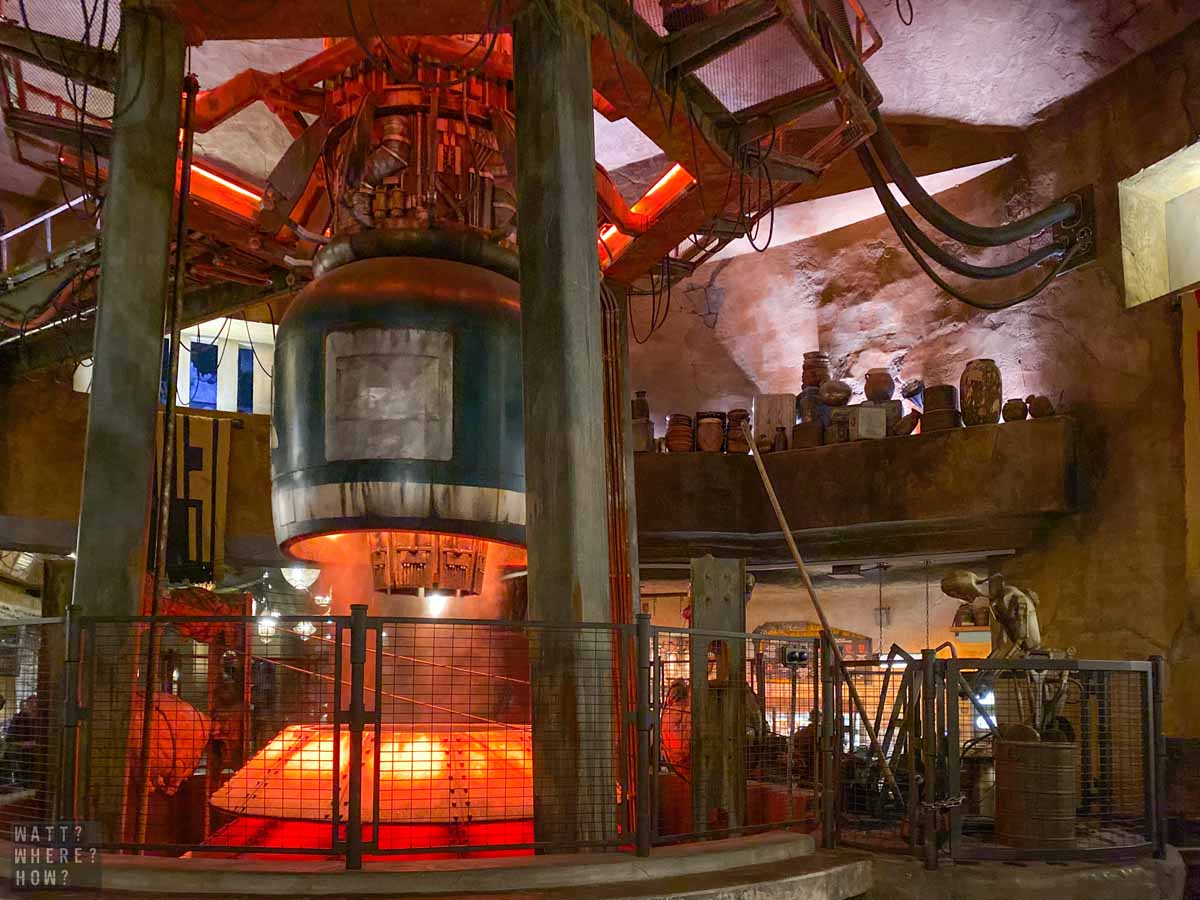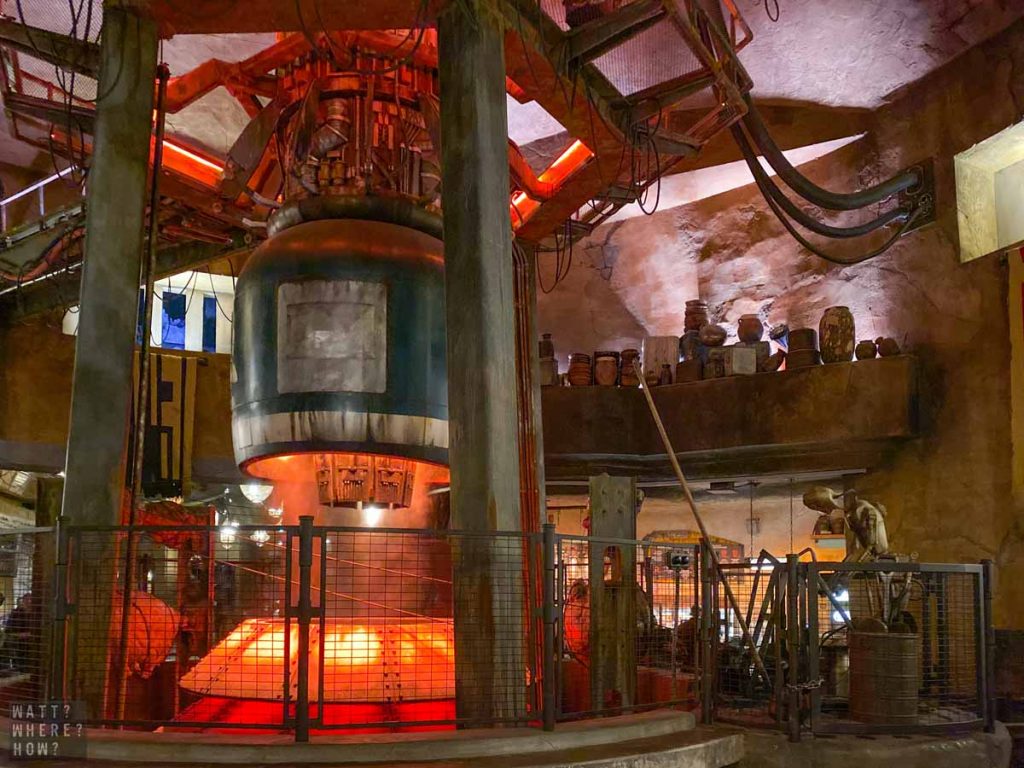 FOOD OPTIONS AT STAR WARS GALAXY'S EDGE
Disney's Imagineers have done a great job at creating a menu of believable intergalactic fare at what is really quite affordable (though we live in New York, so we're used to overpriced novelty dining). The main eateries in Galaxy's Edge are Ronto Roasters and Docking Bay 7.
Ronto Roasters
The roar of jet engines and industrial clanks and clinks sets the tone for Ronto Roaster. At the center of the area, smelter droid 8D-J8 is cooking under the jet engines from a pod racer. He slowly spins rotisserie spits of Ronto, a fat beast from Tatooine. The smart lighting effects hidden within the pod engine makes it look like it surges to life with a searing orange flame, like the pod in full flight.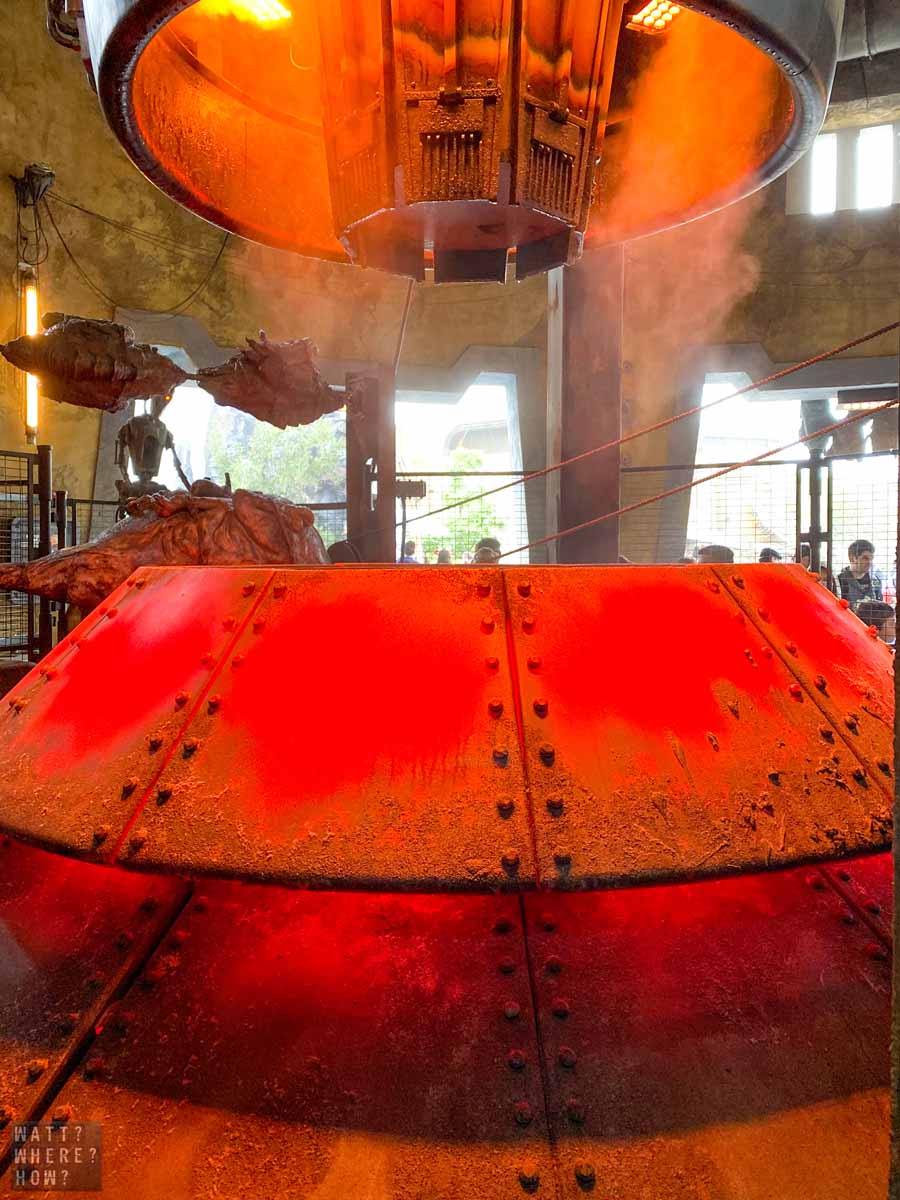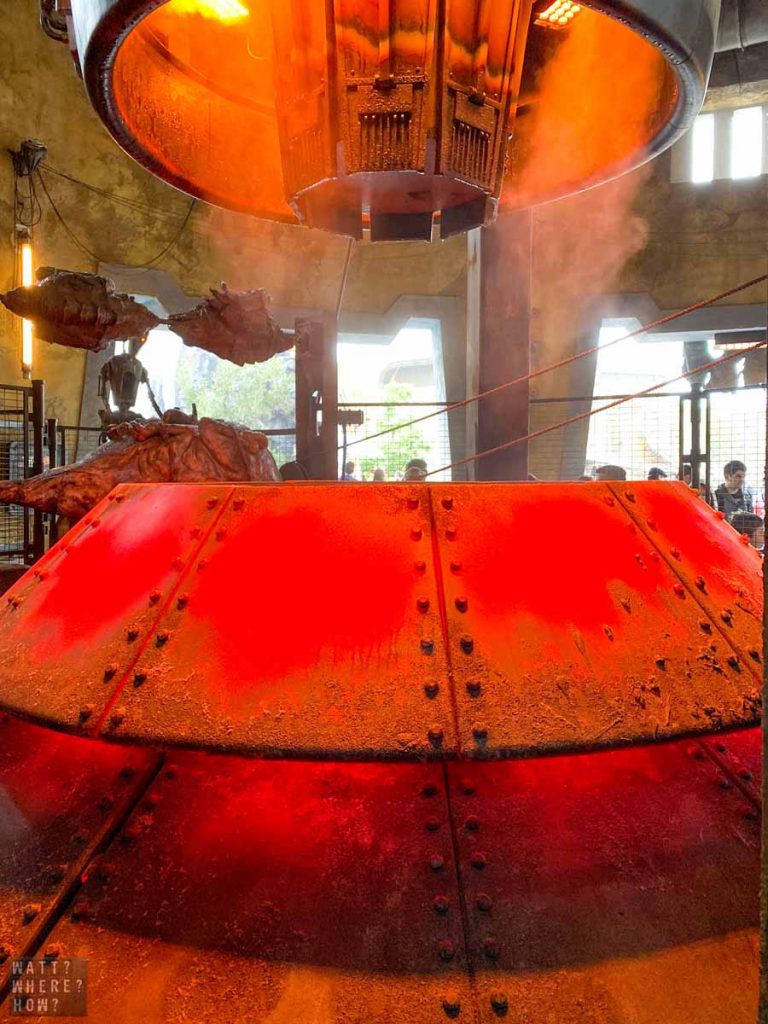 Beyond this elaborate stage, a counter serves up inventive concoctions of America-style pit food. The Endorian Chicken Wrap is more Middle Eastern than from the green moon, while the Ronto Wrap is a feast of southern pork flavors. Ronto Roasters also offers a breakfast wrap, non-alcoholic drinks, and its own cocktails, the Coruscant Cooler and the Surly Sarlac.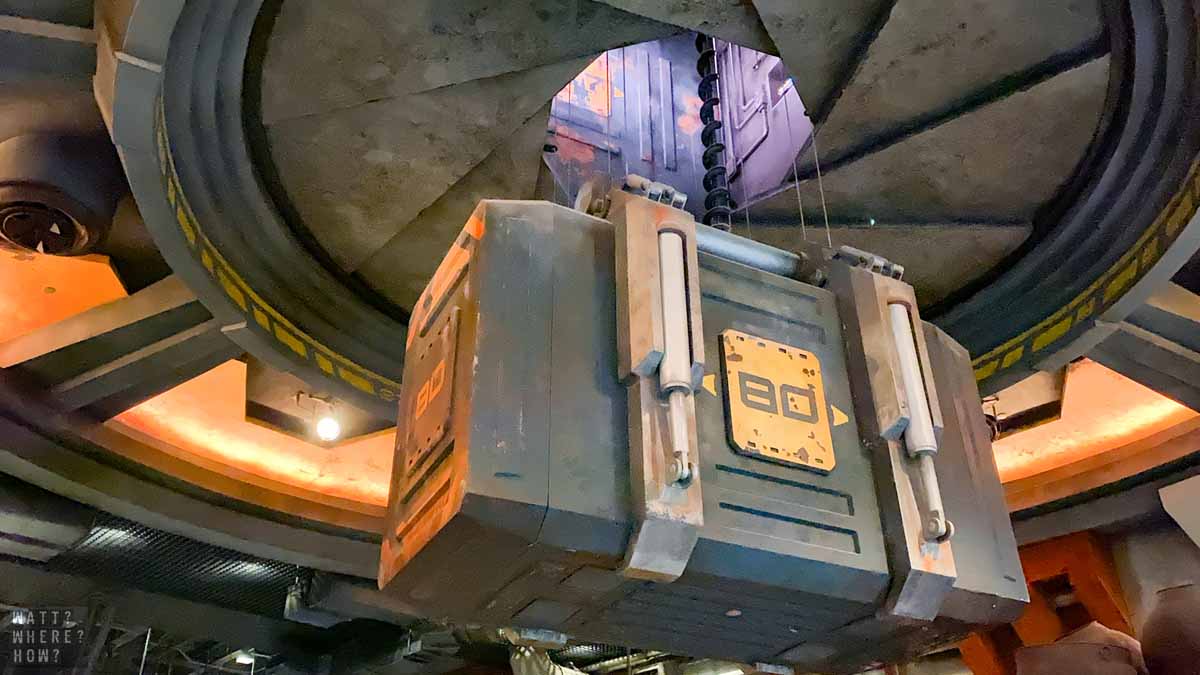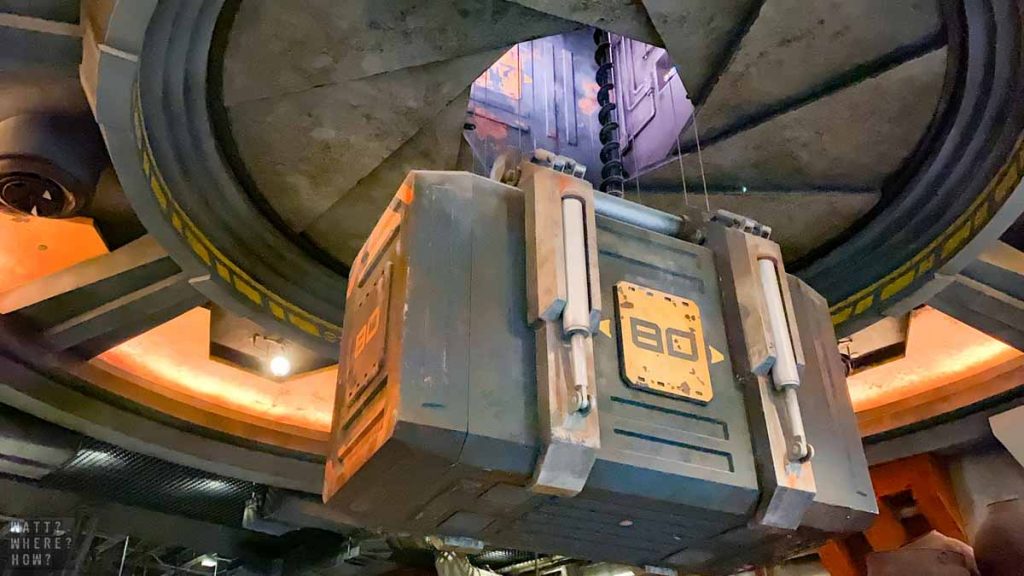 Docking Bay 7 Food and Cargo
Set inside a hanger within one of the black spires, Docking Bay 7 Food and Cargo is a casual dining establishment with creations from Chef Strono "Cookie" Tuggs. It has the most robust selection of foods for hungry rebels and their families, with hearty dishes like the Batuuan Beef Pot Roast and tasty hot breakfasts.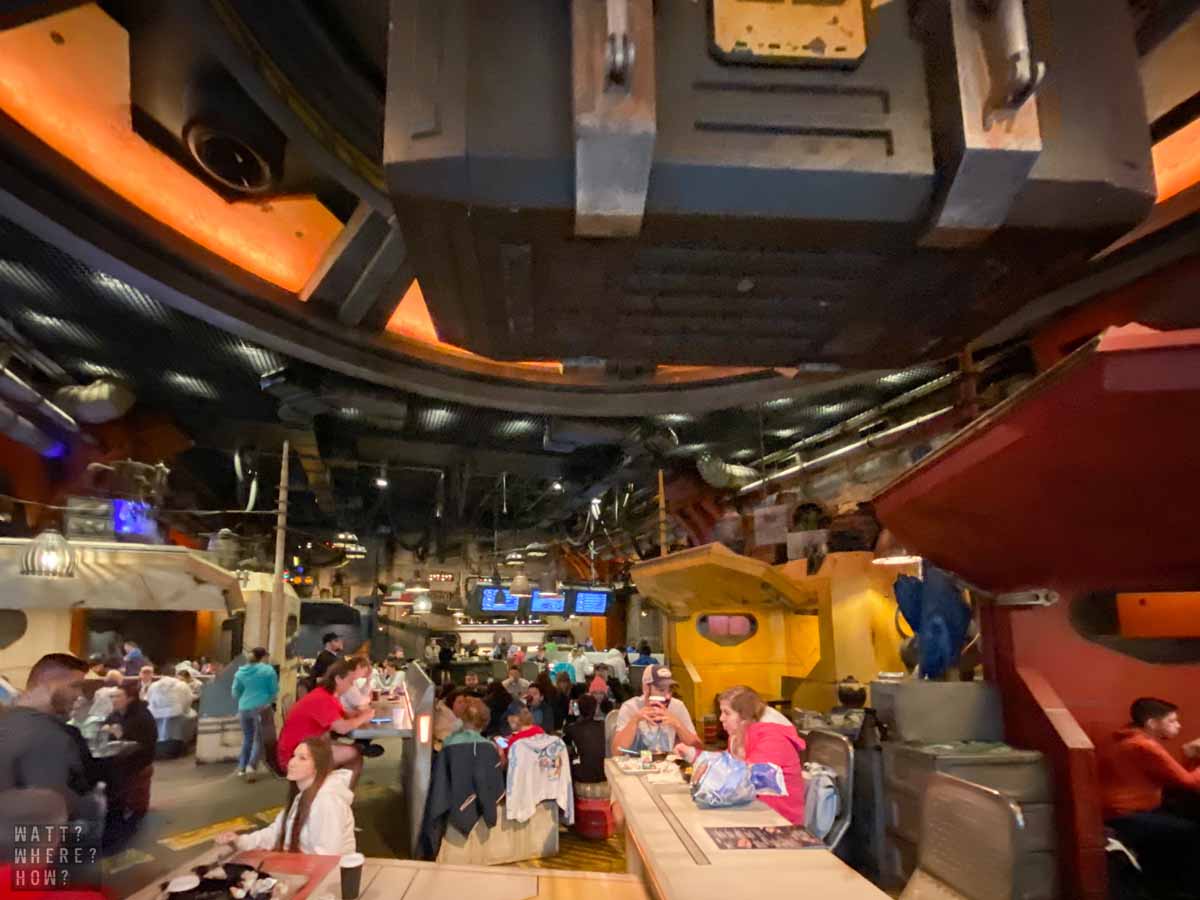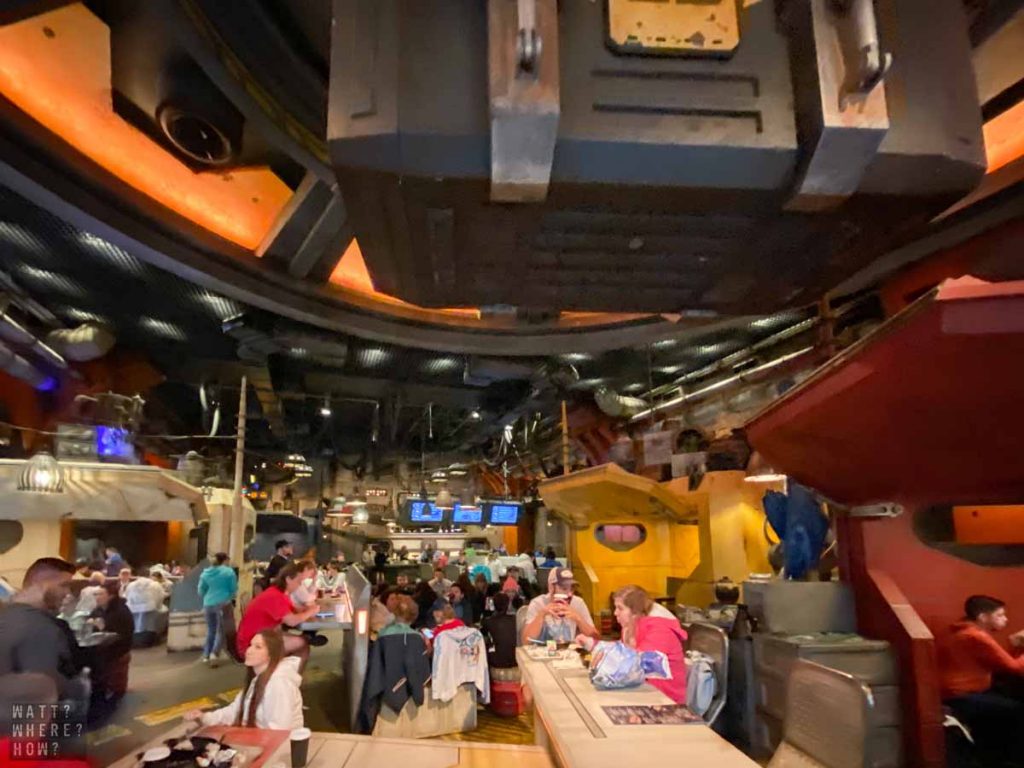 Kat Saka's Kettle
A fan and family favorite, Kat Saka's Kettle is a popcorn stand within the Merchant's Row, adjacent to Ronto Roasters. It serves one core flavor, the sweet and spicy Outpost Popcorn Mix, though they have been trialing additional flavors at Disneyland too.
Drinking in Batuu
Water
Bring your refillable bottle into the park and you can save money by drinking water all day. You'll find water stations (very stylized) through the park and in true Star Wars spirit, they're not taps, they are Hydrators.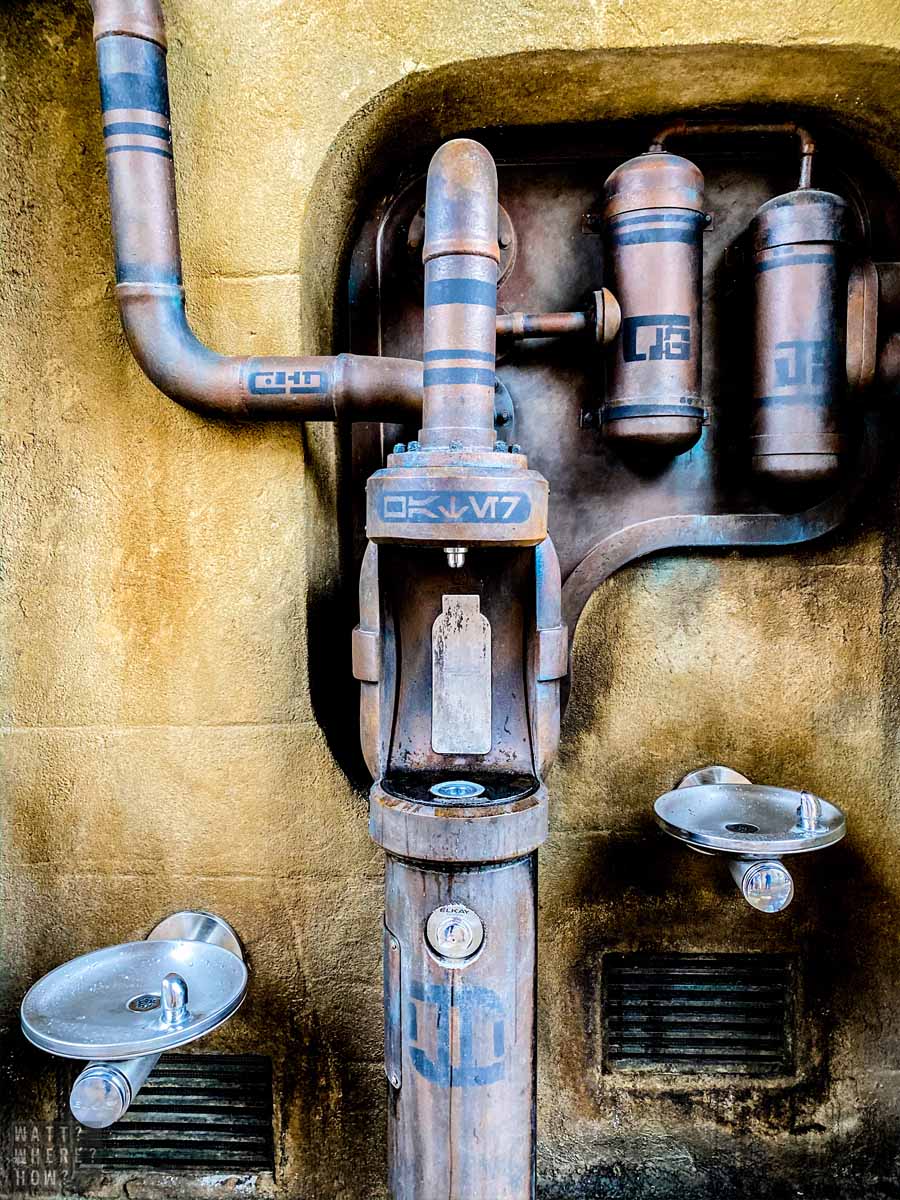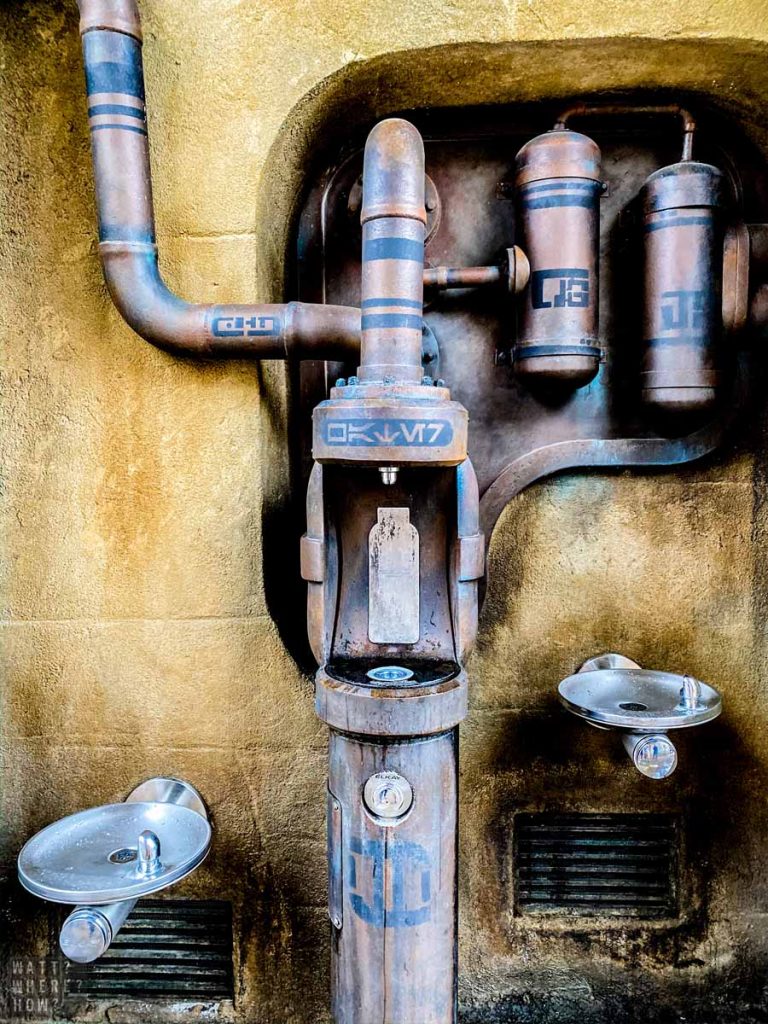 Bubo Wamba Family Farms Milk Stand
Luke Skywalker's predilection for blue milk and green milk has somehow become a "thing" for fans. The blue milk dates back to the original A New Hope and is Bantha Milk, whereas green milk first appeared in The Last Jedi. It's what Luke drinks on Anch-To, the island he's exiled himself to. This colorful secretion comes from female thala-sirens, marine mammals with large mammaries/udders. At Bubo Wamba's Milk Stand, you can sample the colorful beverages, au naturale, or spiked with alcohol.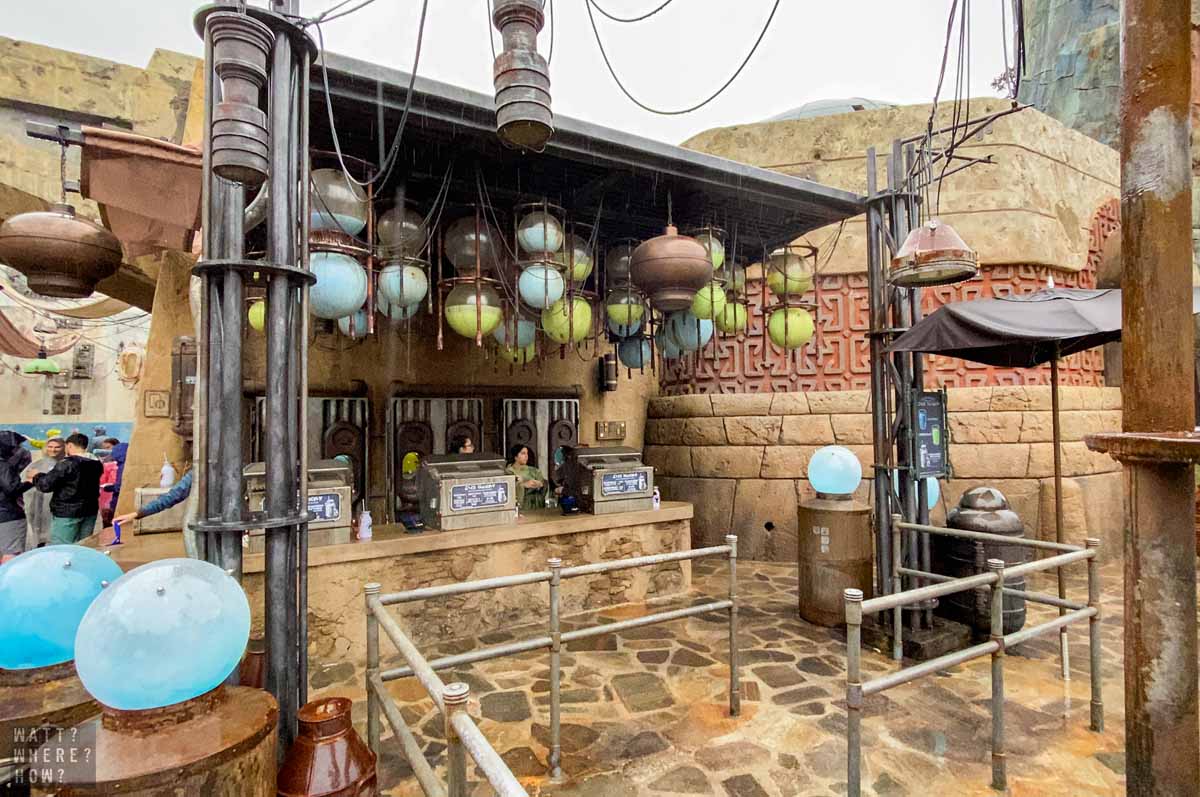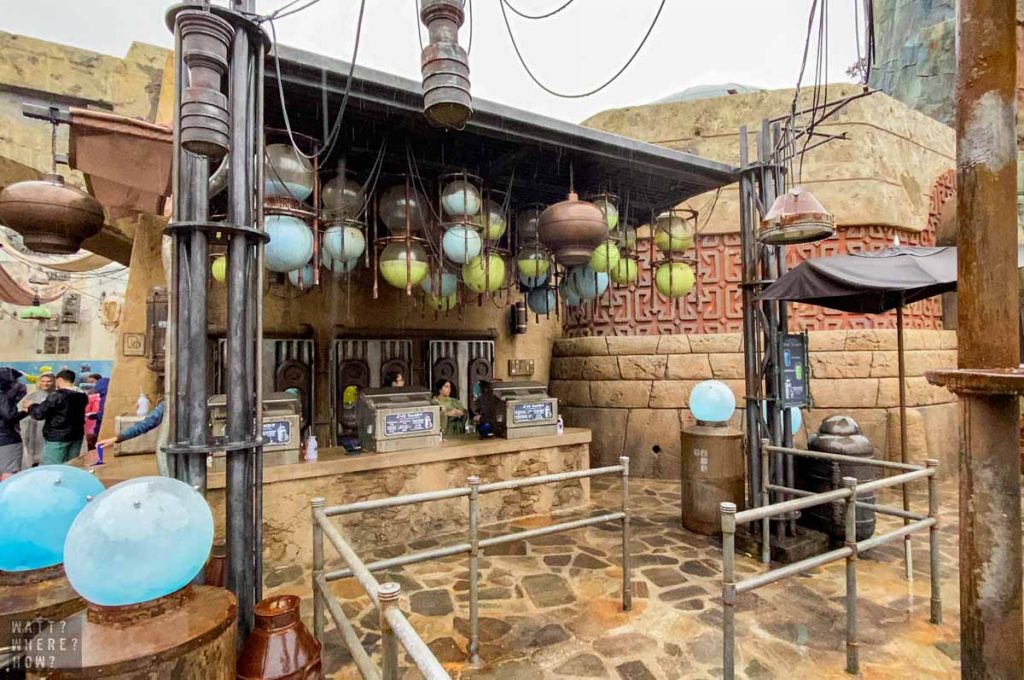 We tried the blue milk and it had a bizarre, fruity, sweet flavor, closest to bubblegum flavored ice cream. To give you an idea of what makes up the ingredients, John State, executive chef of Disneyland Resorts and Parks says it's a non-dairy creation using coconut and rice milk, dragon fruit, pineapple and a bit of watermelon. You can order yours in a standard plastic cup or a souvenir milk bottle. At the opening, the standard milk is $7.99 plus tax.
Sodas
The attention to detail in Star Wars Galaxy Edge is incredible and that focus extends to the Coca-Cola pouring rights on Batuu. Instead of post-mix soda, bottles or cans, Coke and Sprite come in specially designed thermal detonator bottles with the logos printed in Batuu's language, Aurebesh (don't forget to translate the label using the Disney Play app). They make for a great souvenir, but remember you'll need to drink the contents before going through airport security. The sodas are sold from iconic Coke-red stands, with a red R2 droid attached and you will be charged republic credits for your purchase. Credit cards and fine too.
Beers, Ciders and Wines
Unlike Disneyland, which for many years had a strict no-alcohol policy, Disneyworld's Orlando parks are quite liberal. You can freely walk around Batuu drinking a beer and most of the food outlets sell beers. The park has a partnership with leading craft breweries, bringing together a menu that includes a Ballast Point Whitte Wampa Ale (a Hefeweizen), White Wampa Ale – Ballast Point Brewing Co., the Bad Motivator IPA from Sierra Nevada (a tropical IPA), Gamorrean Ale from the New Belgium Brewing Co. and Blue Point's Gold Squadron Lager.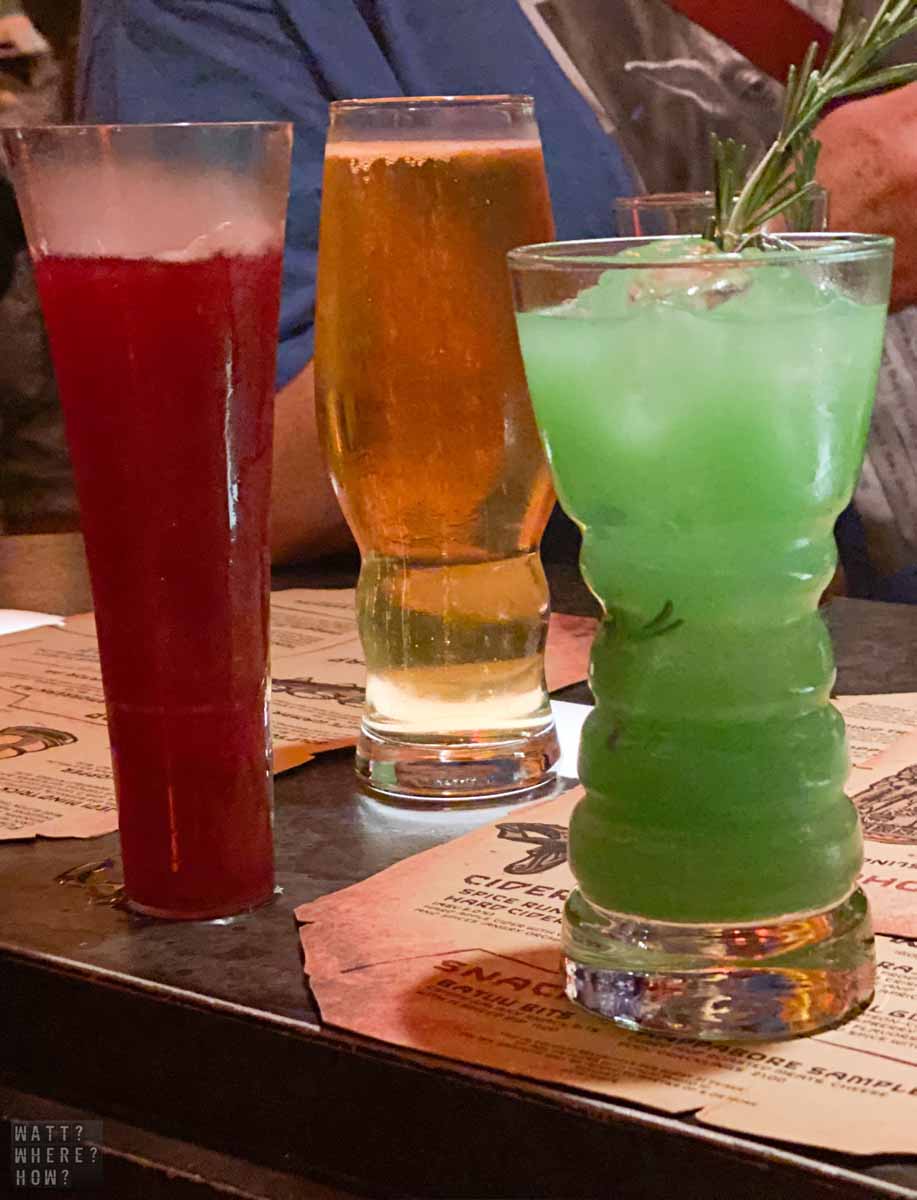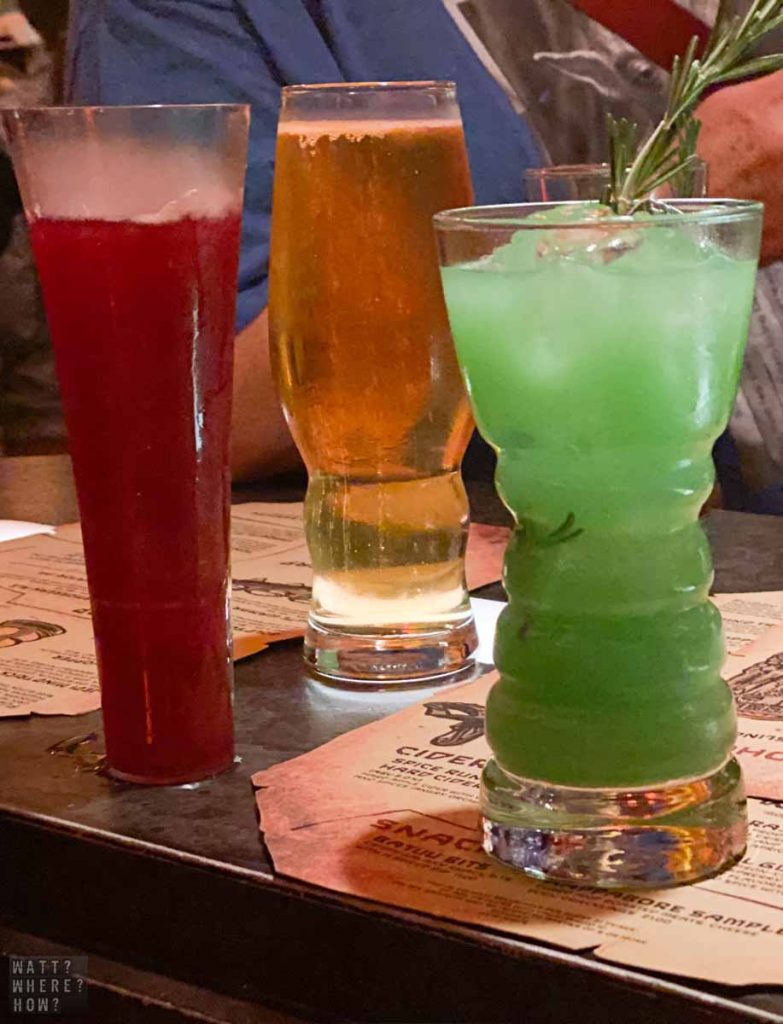 For cider lovers, you can pick up a Spice Runner Hard Cider, a spiced version of Angry Orchard Cider. For wine connoisseurs, the pickings are slimmer with the Imperial Guard, Goldschmidt Vineyards, Sonoma and Toniray, Goldschmidt Vineyards, Sonoma (formerly produced on Alderaan), both tap wines available from Oga's Cantina.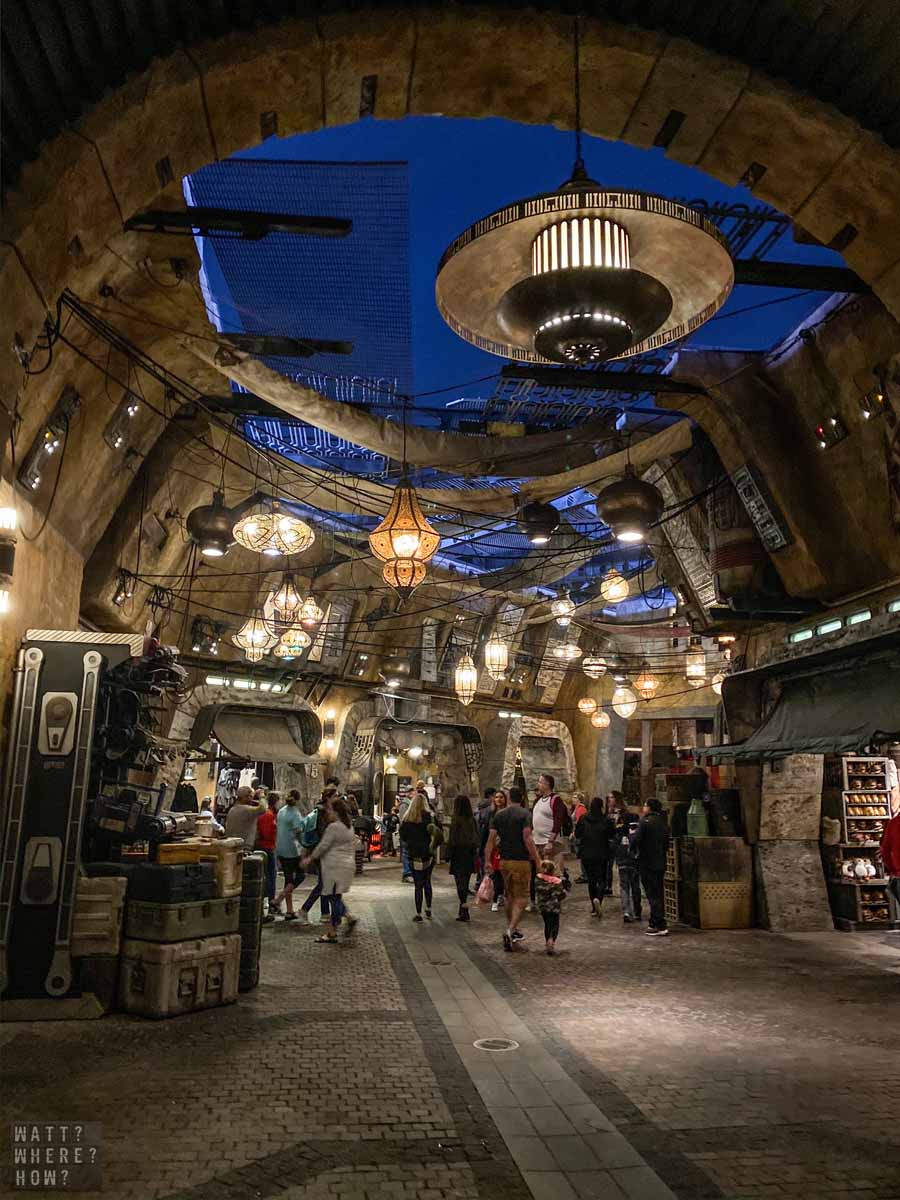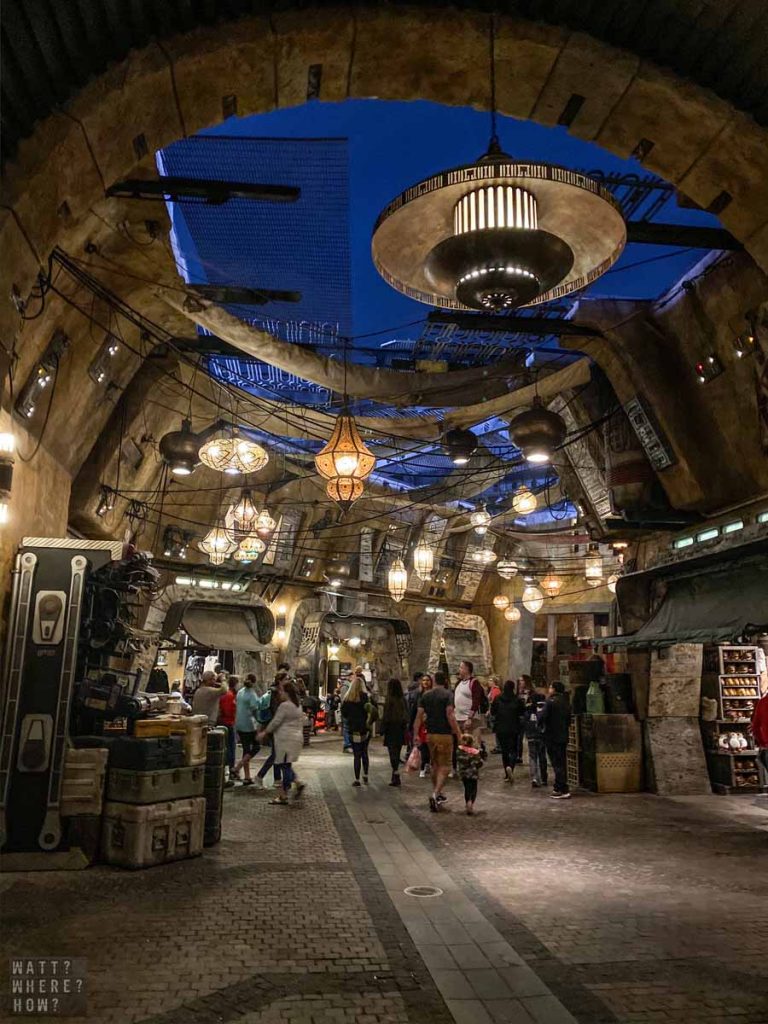 SHOPPING AT STAR WARS GALAXY'S EDGE
Dok-Ondar's Den of Antiquities
Dok–Ondar's Den of Antiquities is right by Savi's Workshop and it's the spiritual center of the park, a place of Kyber crystals and ancient runes. The souvenirs are beautiful and novel, drawing from the rich history of both Jedi and Sith, with plenty of visual cues to satisfy the most hardcore of fan. Look up high on the walls for famous true to the movies and canon helmets and even trophy heads of beasts like taunton.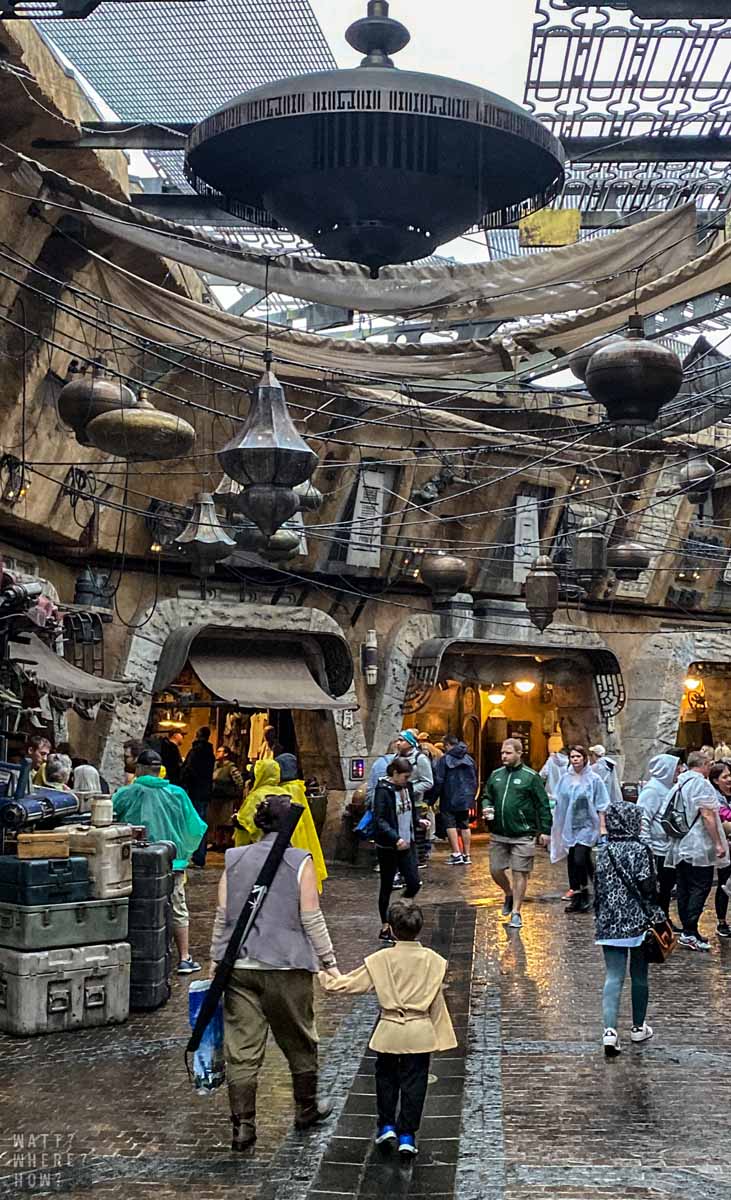 Merchant's Row
The heart of the Batuu experience is the other-worldly markets that are centered around the Merchant's Row. Inspired by Tatooine and the souks and bazaars of northern Africa, this is the main hub for souvenirs, food and restrooms. You'll find full breakfast, lunch and dinner options here, or stop at Kat Saka's Kettle for the famed popcorn. The following outlets can be found along Merchant's Row.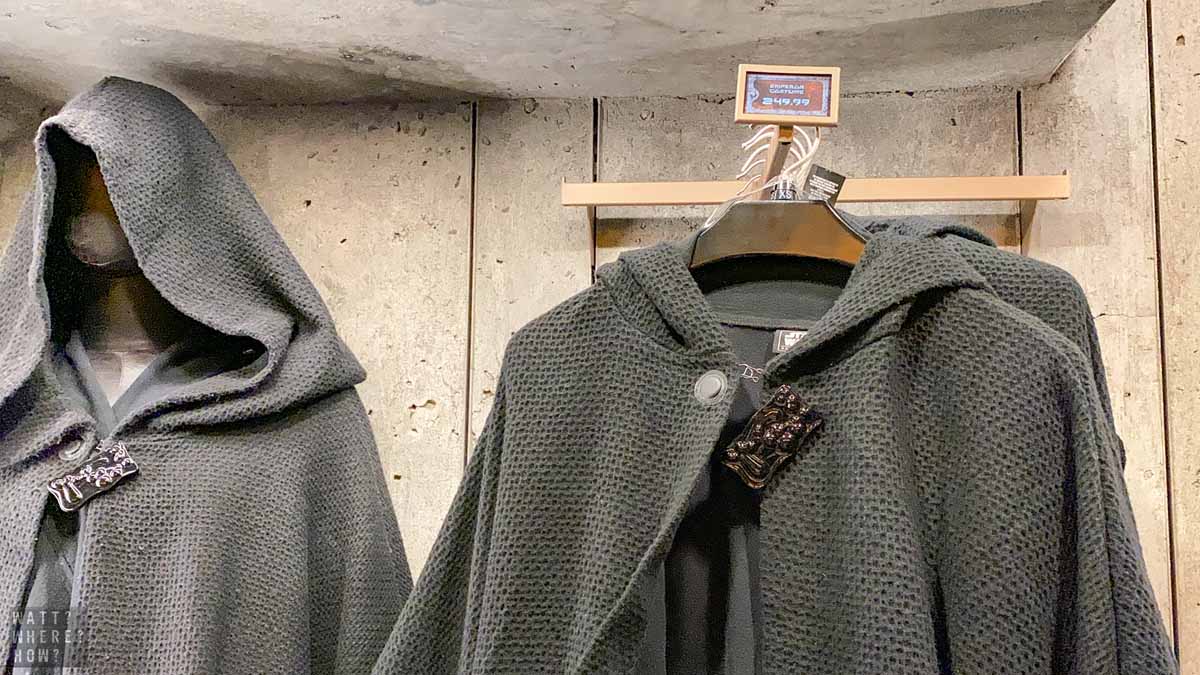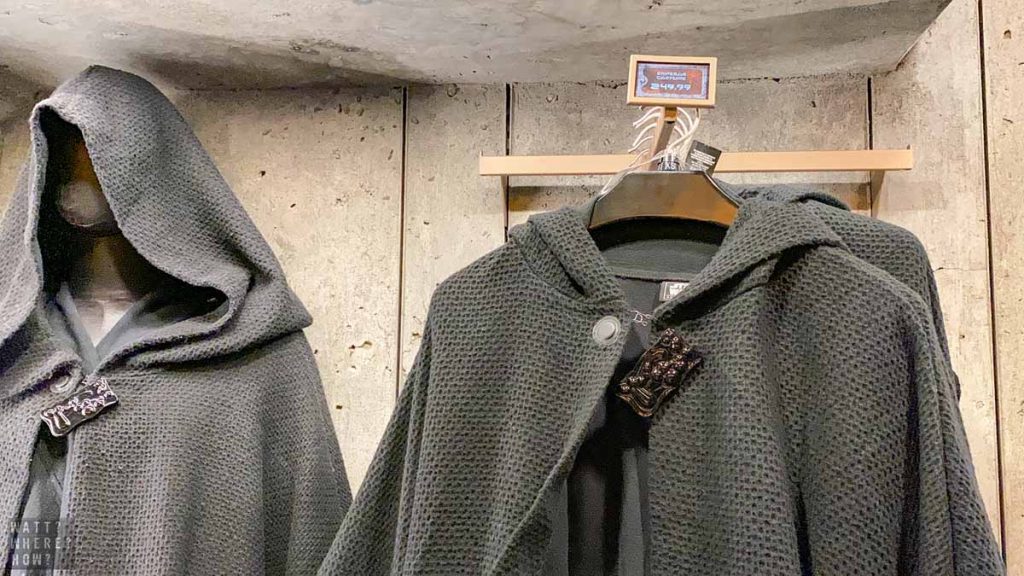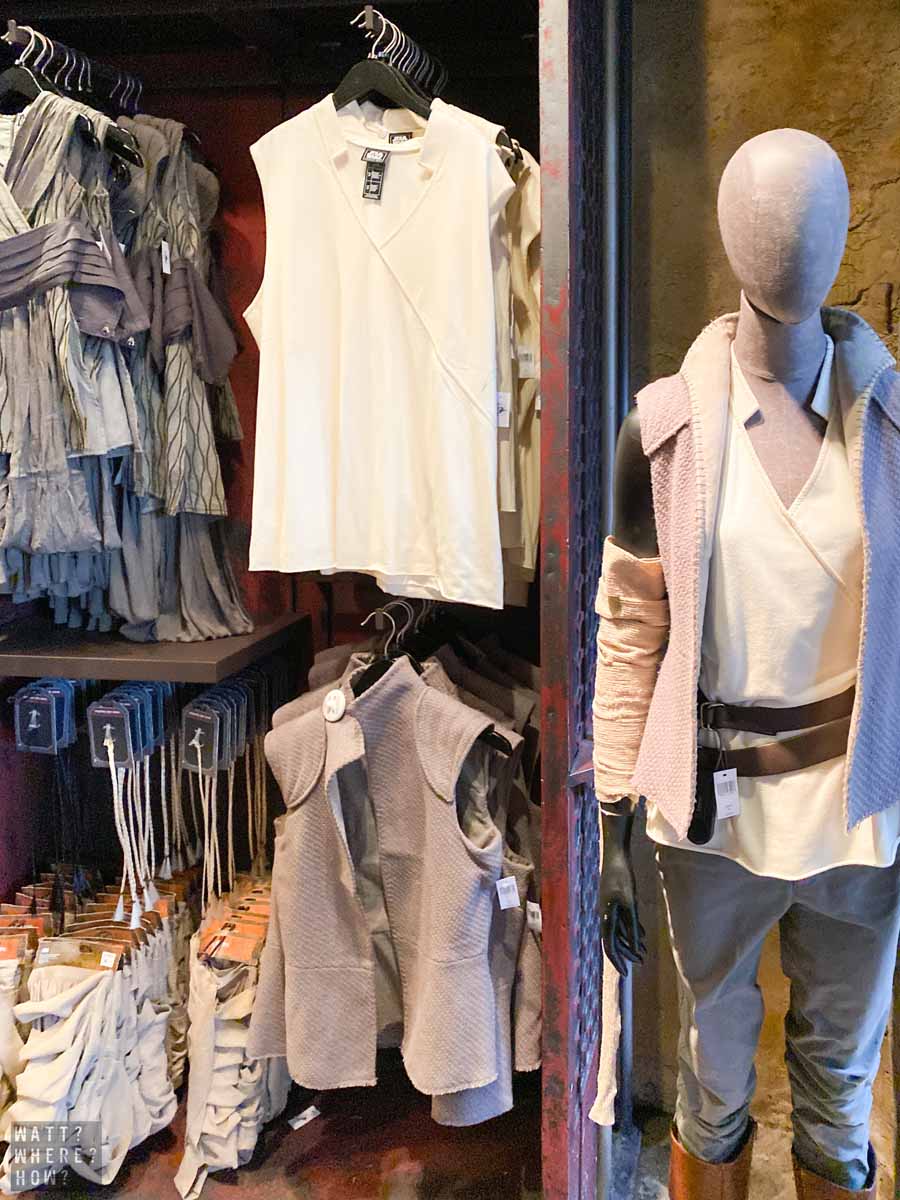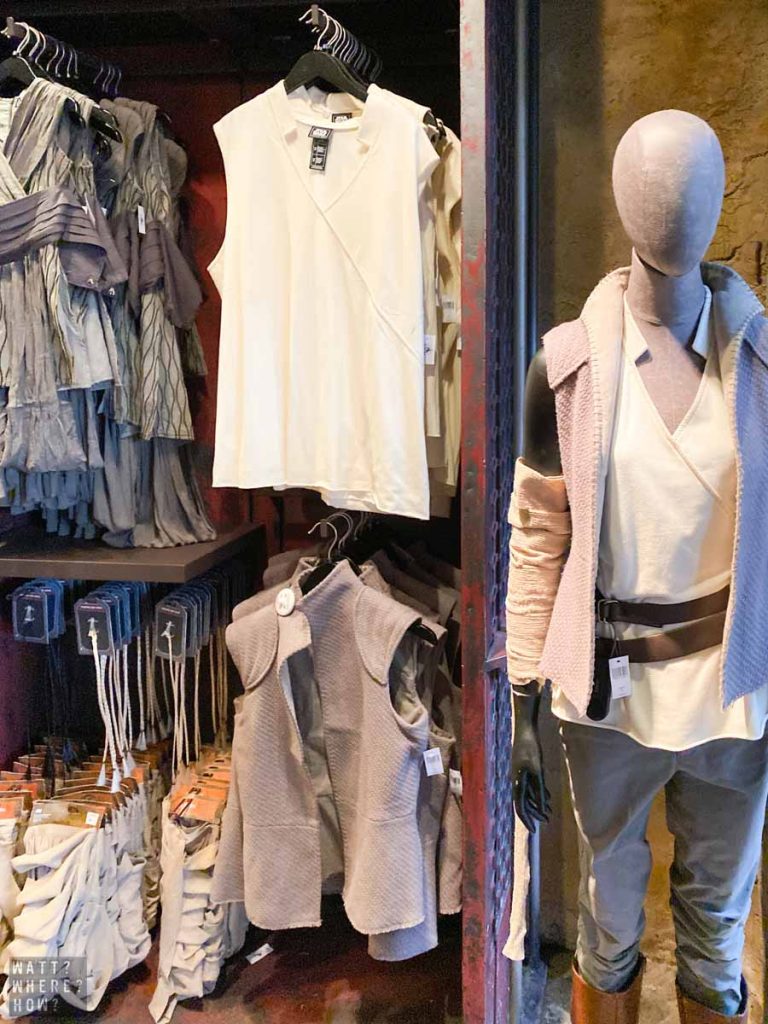 Black Spire Outfitters
If you're into cosplay, this is your mecca, but if you're not wanting to severely damage your credit card, steer well clear of Black Spire Outfitters. This is where you can get dressed from head to toe in rebel garb. If you're a woman, you can choose from the kinds of outfits Rey would wear, though you can also get Princess Leia's white jumpsuit at —– . For men, there are full jedi robes as worn by Obi-wan Kenobi and Luke and jedi wear like Skywalker wore in Return of the Jedi. They are high-quality and textured fabrics and with that comes a price tag to match, with the brown robes clocking in at over $150. For fanatics, it's going to blow your mind and your bank account.
Toydarian
The flying blue character, Watto, is a Toydarian and this breed lends its name to the toy shop. The vibe here is handmade (or at least the products are made to look that way) as the Toydarians are toymakers. You'll find plush, but rough-hewn ewoks, wookies and porgs, wooden musical instruments, music boxes, toys and even a chess set.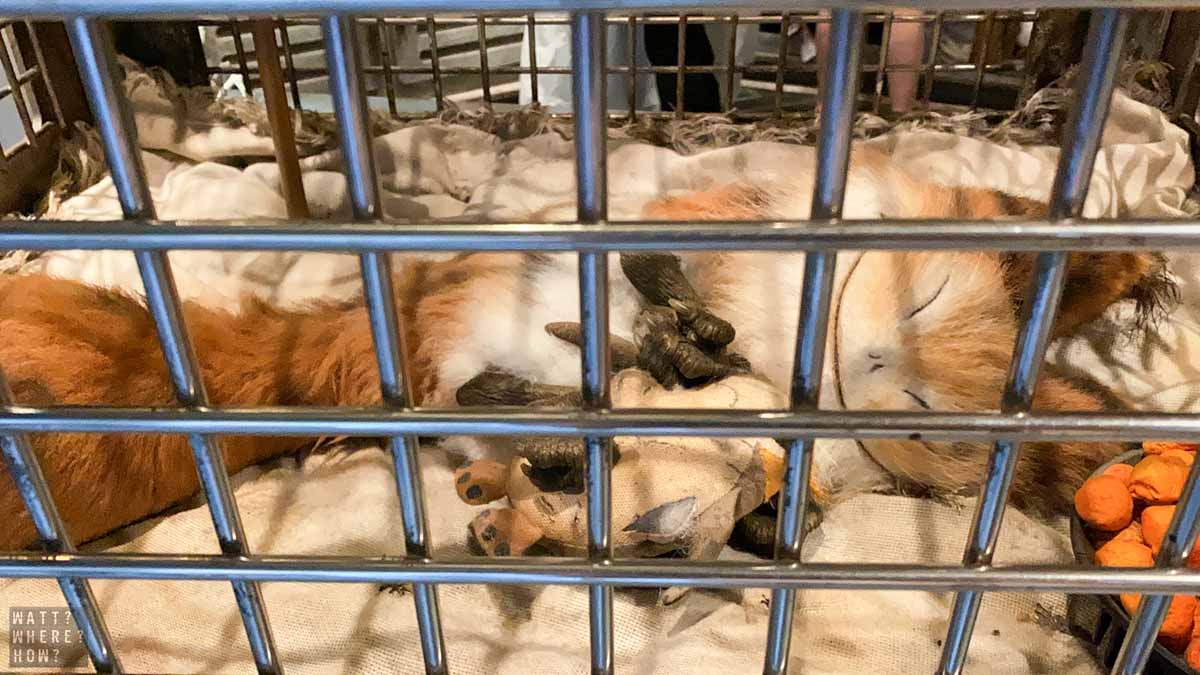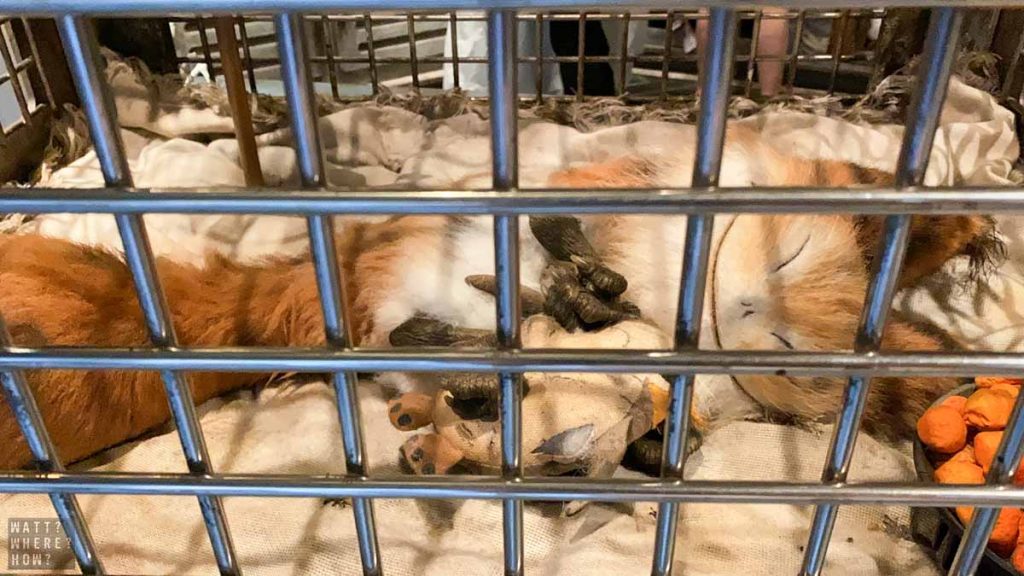 Creature Stall
The Creature Stall is full of puppets and oddities that kids will love. There's a sleeping animatronic Loth-Cat, a cat-like animal in a cage, breathing deeply – it adds character to what would otherwise be a fairly standard souvenir shop. The stand-out creature on sale for us is the Salacious B. Crumb puppet, which has a series of levers and hinges that allow you to bring him to life like he was, wisecracking beside Jabba the Hutt in his palace on Tatooine. Cast members from time to time will set off Rathtars, crazy, tentacled creatures first seen in The Force Awakens.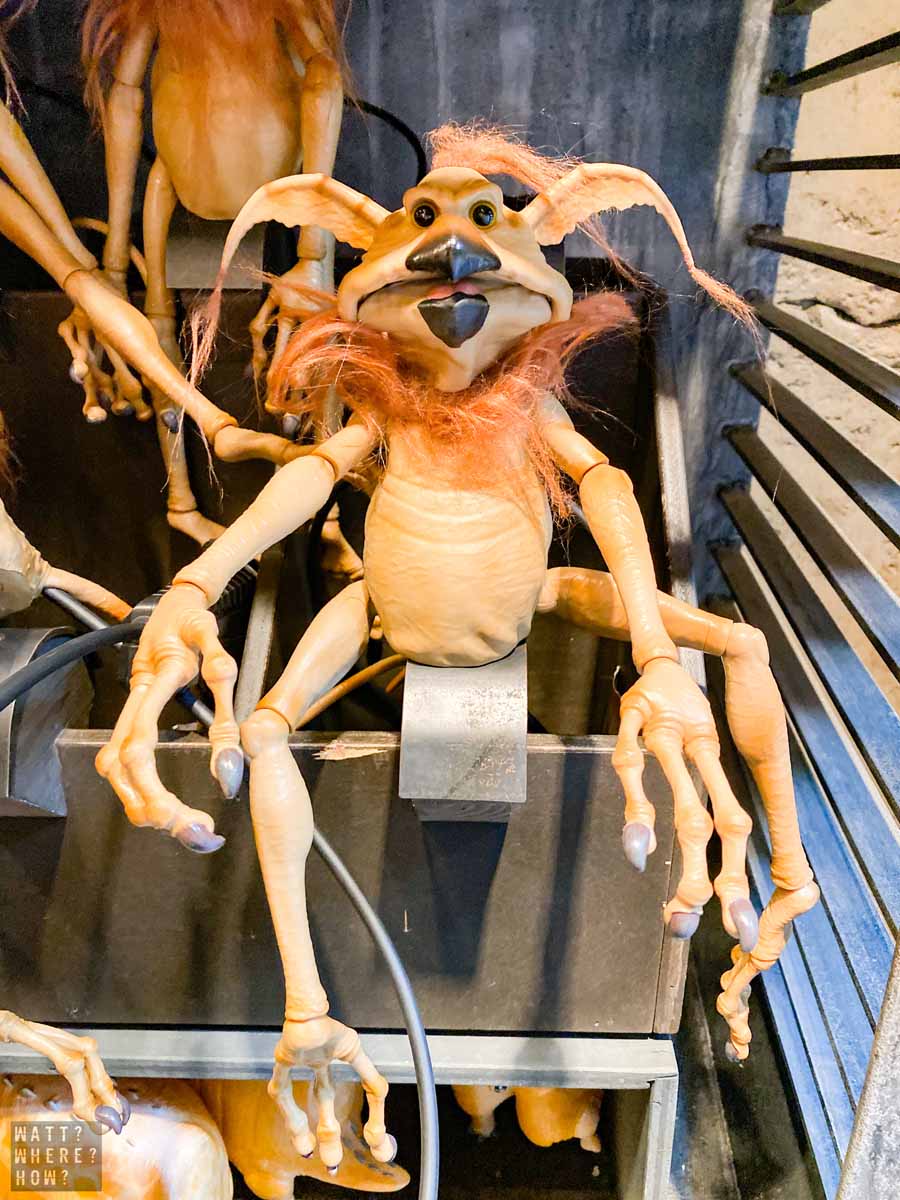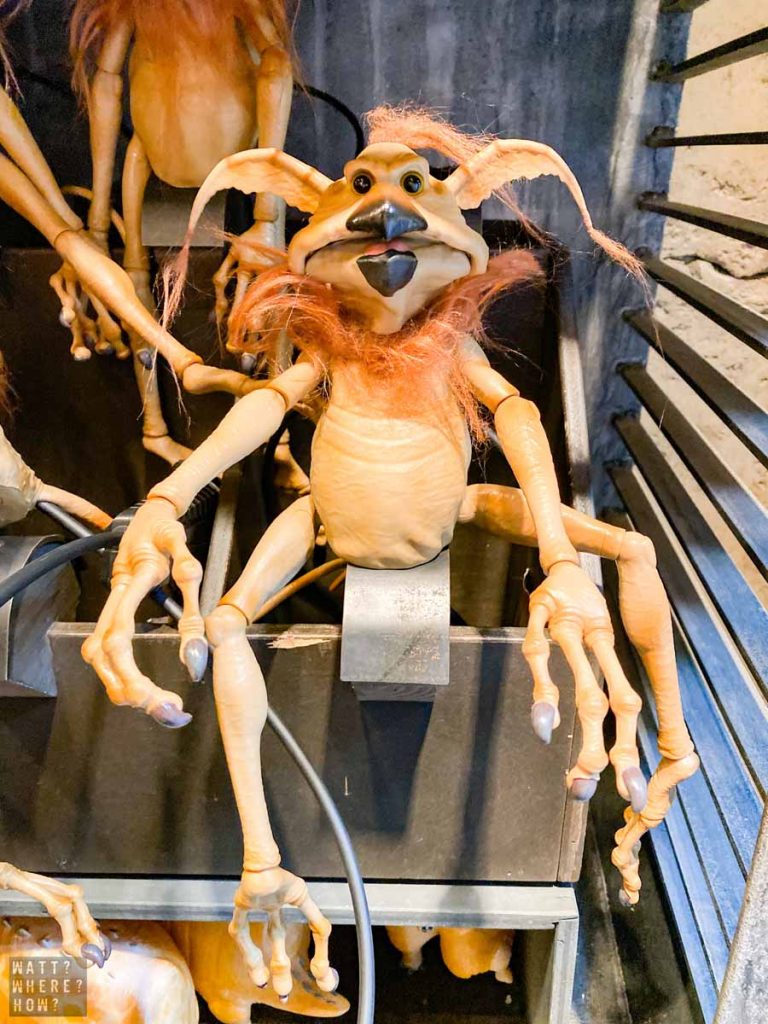 Follow & Connect with us