Oga's Cantina is a must-do for Star Wars fans, placing you in the middle of a dive bar in Batuu at the Galaxy's Edge.
If you go to the Star Wars Galaxy Edge at Disney's Hollywood Studios at Orlando and don't go into Oga's Cantina, did you even go? This is a place for good clean adult fun, though families are welcome.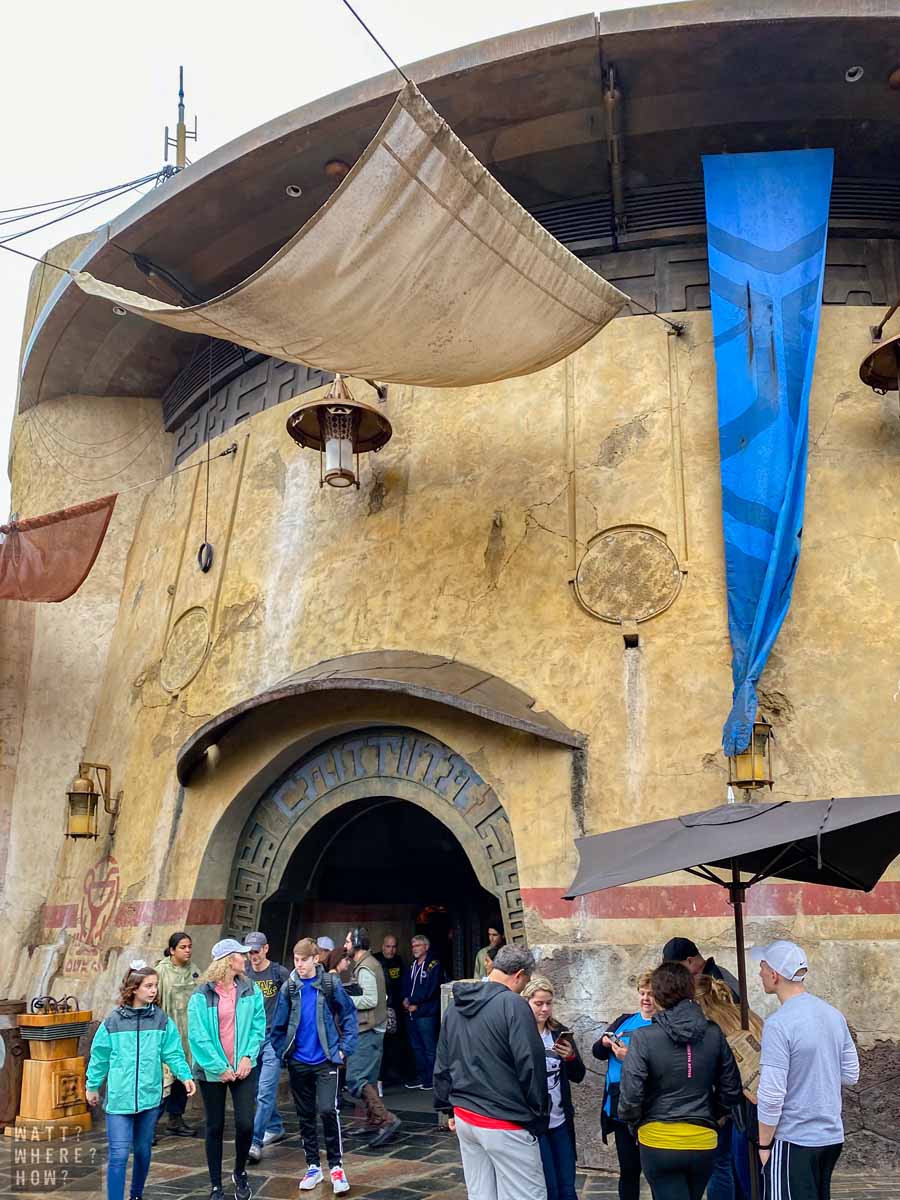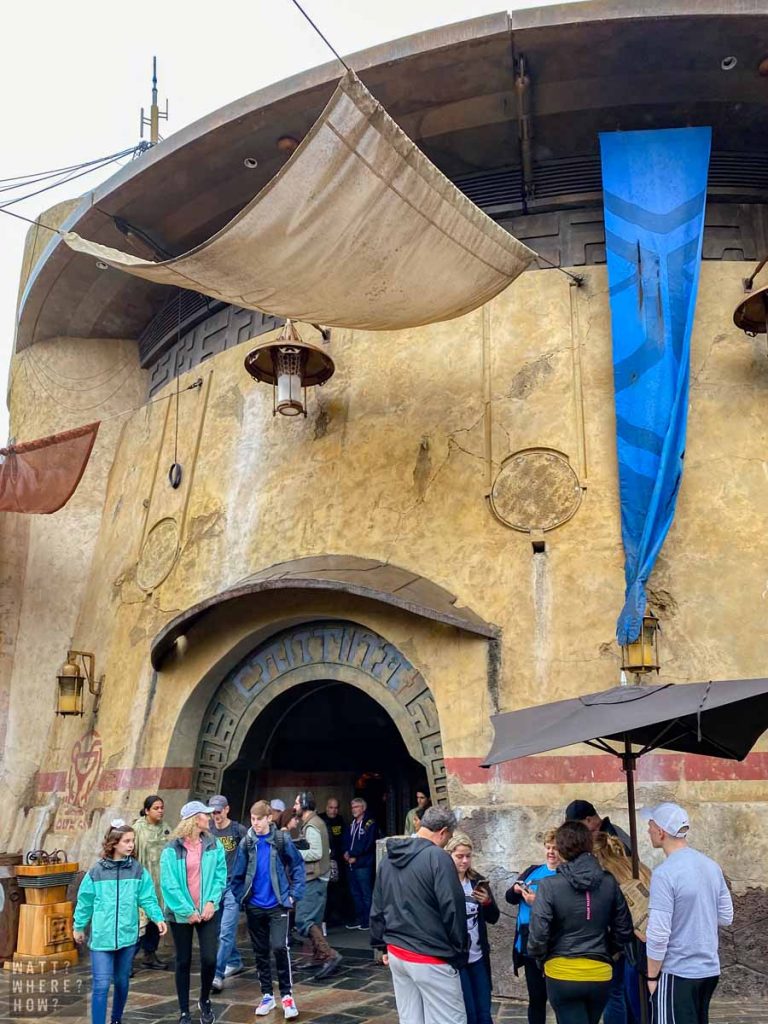 Based on a blend of the cantinas from A New Hope to the new trilogy, it's a place for spice traders, bounty hunters, and rebel scum to blow off steam and get rowdy – maybe organize some cargo transporting or smuggling even. The circular bar is the centerpiece with its bar seating, then there's an inner ring of standing tables and finally recesses with tables for up to eight, set into the wall. Dominating your attention upon entering is DJ R-3X, a cheeky droid who spins tracks and incites the crowd to dance or join in rebellious anthems.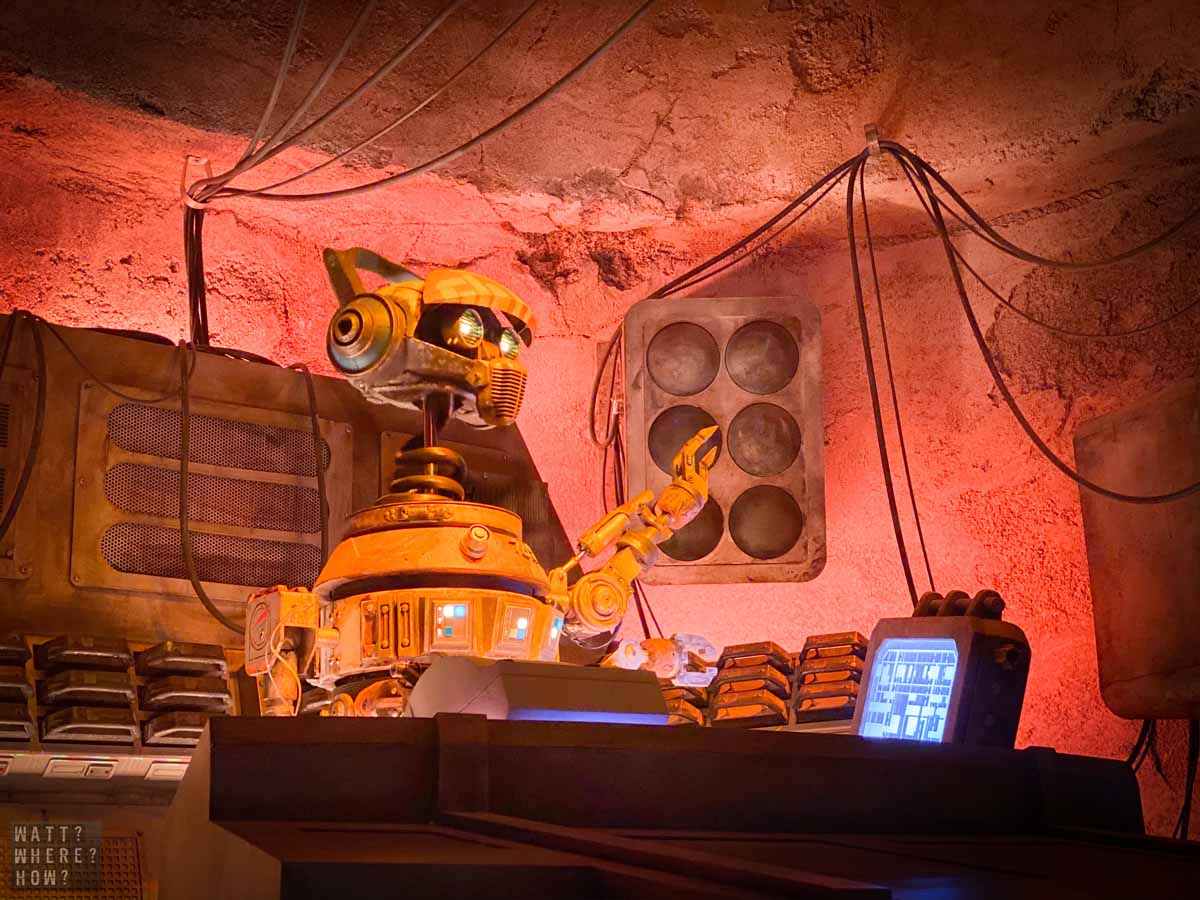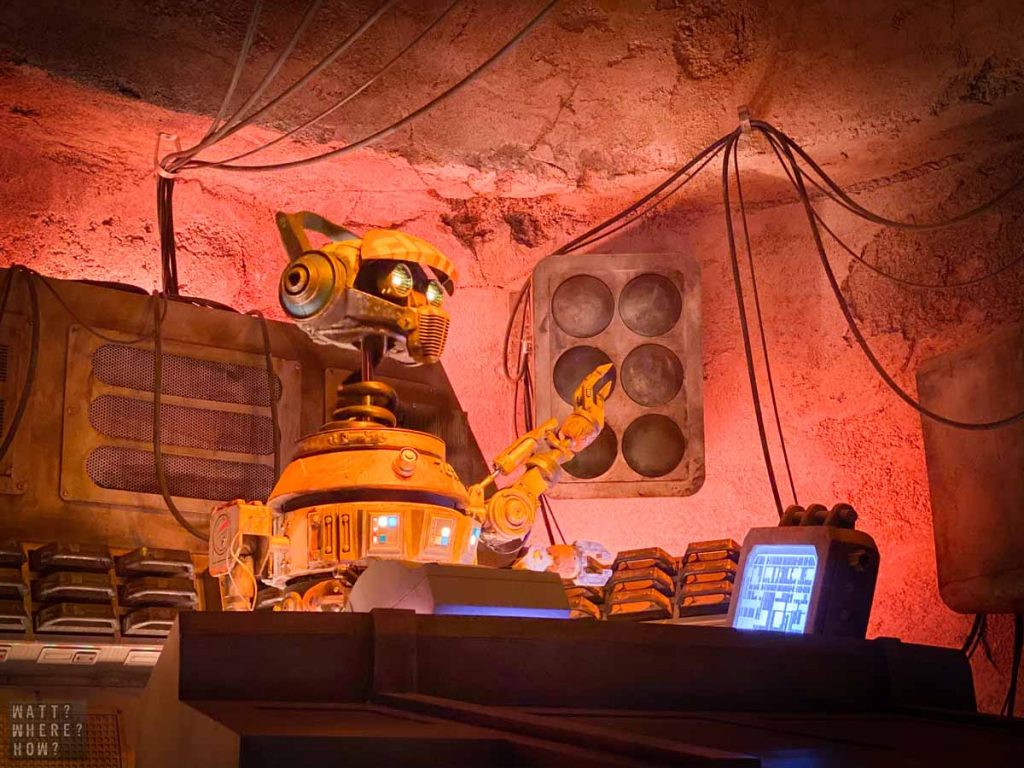 At the bar, cast members pour beer, wines, ciders, and cocktails from taps that look like a crossover of space junk and Turkish teapots. There are slug-like beings in tanks and above, hoses and pipes that look like they're ready to turn the drinks to carbonite. A hyperdrive powers the bar and it flickers on and off at times, with a cast member having to hit it to get it restarted. As a den of ill-repute, the staff are a-holes too. Played to perfection, expect rude retorts from your server if you ask a stupid question or dare to interrupt them.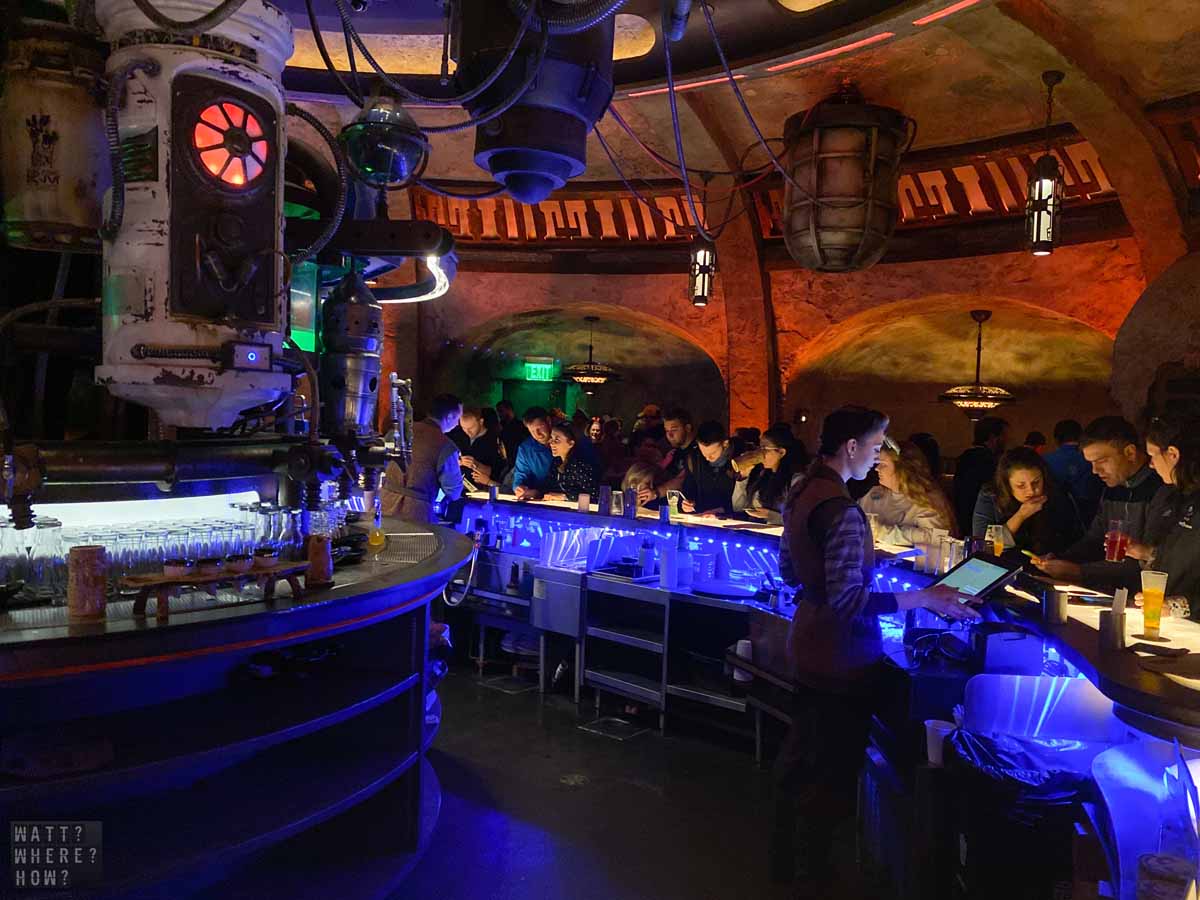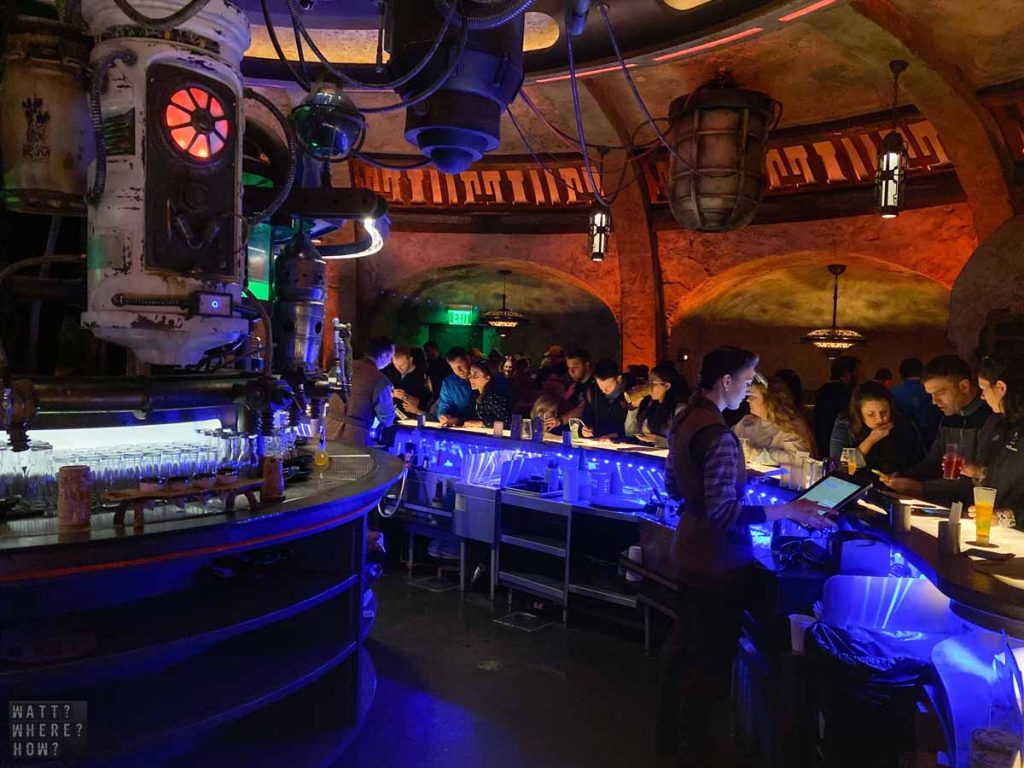 The Cocktails and Mocktails
Ok, we're unable to give an honest review of the mocktails as you're limited to only two drinks in your 45 minutes at Oga's Cantina and we as sure as hell weren't going to miss sampling the booze, but judging on the menu descriptions, there are some great family-friendly options without reaching for the devil's drinks.
The crazy thing is that the Oga's Cantina is serving alcohol from early in the day with the Batuu version of an Irish Coffee, the Spiran Caf with Peru Alto Mayo Organic Joffrey's Coffee®, orange marmalade, Gosling's 151 Rum, vanilla whipped cream, and citrus zest; and a bloody mary variation, the Bloody Rancor which is made with Tito's Handmade Vodka, Ancho Reyes Chile Liqueur, Spicy Bloody Mary Mix, and a meringue Rancor Bone. 
Brunching in Batuu
So here's some thoughts about the cocktails served from lunch time. Firstly, they are going to be expensive to some, but we're used to paying $15-20 for a cocktail. There are also some cute tiki-bar-like cups with some cocktails which will push the price up to around $35 if you want to keep your cute porg cup (for example). The Dagobah Slug Slinger (Herradura Reposado Tequila, Bols Blue Curaçao, Citrus Juices, Ginger, Herbs, and Bitters topped with a bit of Dagobah slime, which resembles a sprig of rosemary) is an interesting concoction, fruity but with a herbal undertone, enhanced by the fresh rosemary. It's refreshing and I'd go for another if it weren't for the two drink limit.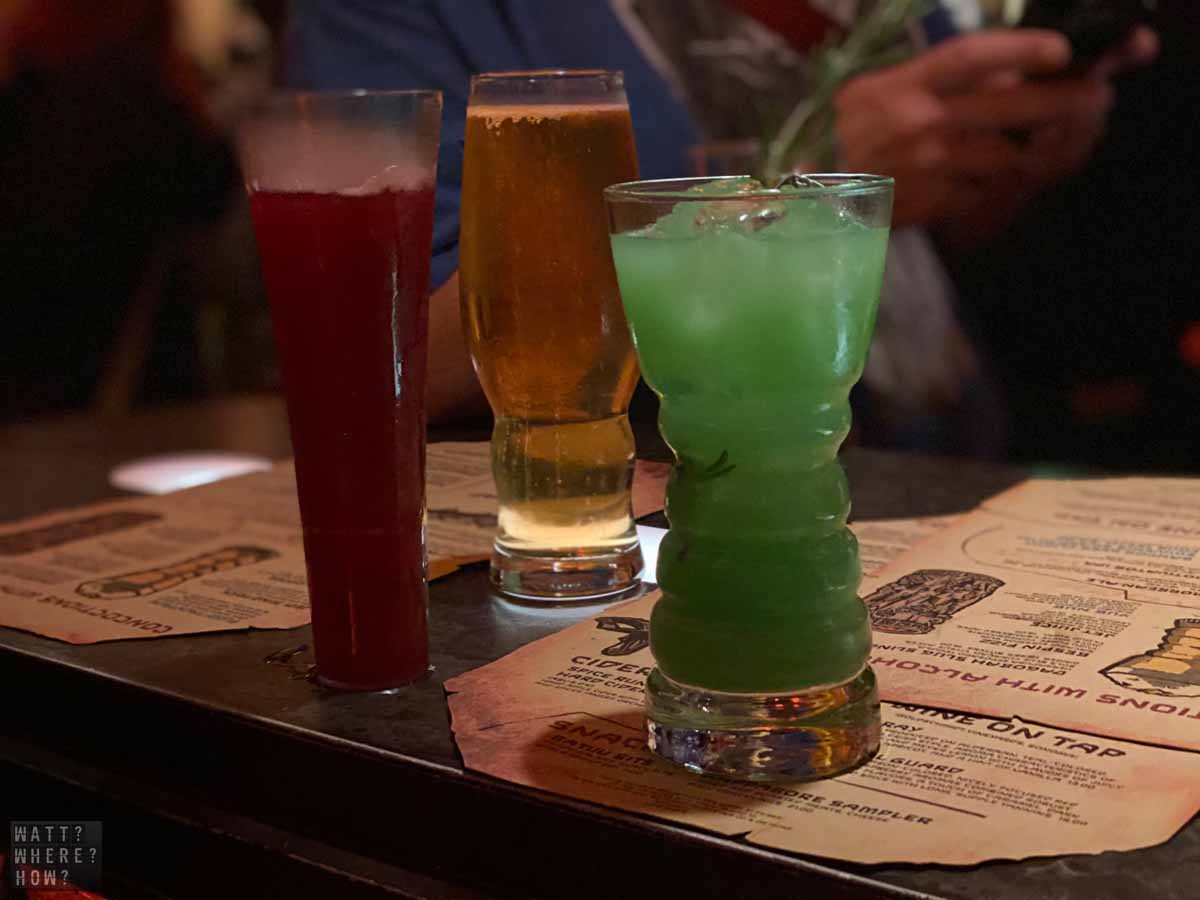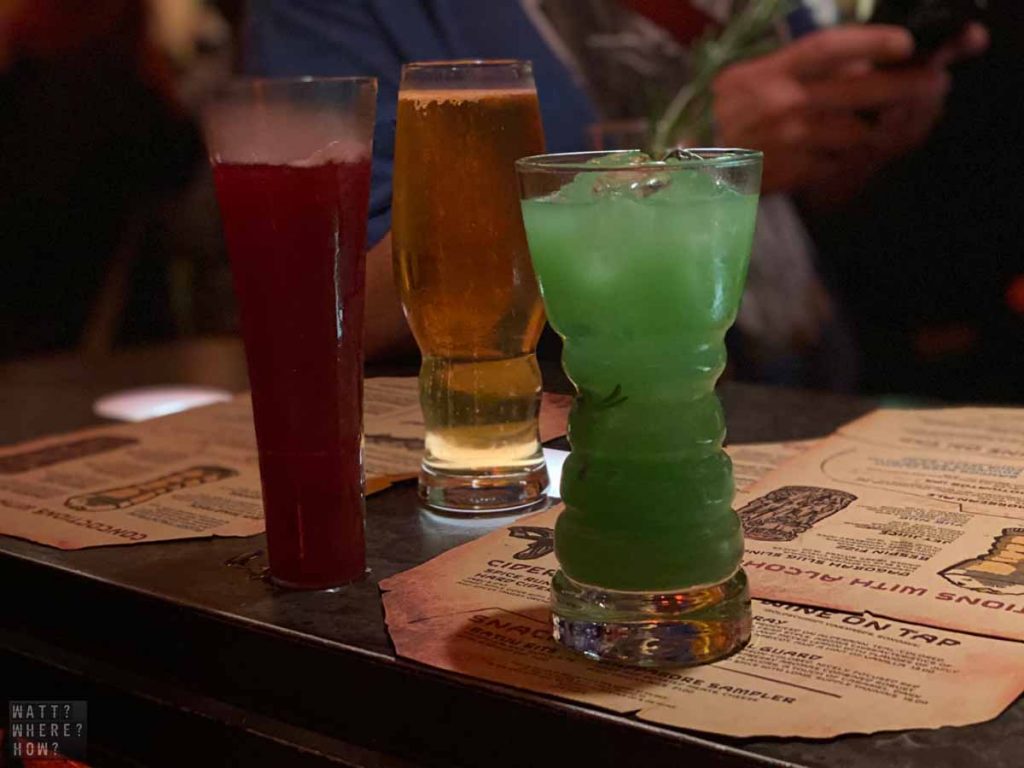 The Bespin Fizz is a theatrical number befitting of a cantina. Made with Bacardi Superior Rum, Yuzu puree, pomegranate juice, white cranberry juice and cloud swirl, it captures the gaseous atmosphere of the Bespin system, with a cloud of CO2 from the dry ice bubbling at the top of this deep red cocktail.
The piece de resistance (see what we did there>) is the Fuzzy Tauntaun, a mix of Ciroc peach vodka, Bols peach schnapps, Simply Orange with tangerine, cane sugar, and a "Buzz Button Tingling" foam, it surprises from the first sip. None of the cocktails are served with a straw and the foam partially numbs and tingles the lips and tongue as you drink it. It's like nothing we've ever tried before and it's definitely a cocktail that will get people buzzing about Oga's Cantina. The geniuses over at Diznify have reverse-engineered the recipe and it's truly ingenious  
Getting into Oga's Cantina
While you're working out how you can fit Oga's Cantina into your day, you'll need to know a few things about getting in and drinking to avoid an awkward Greedo-like confrontation.  You really should book a place on the app before you turn up. Some openings may appear on the app throughout the day, but it's the only way you'll be guaranteed a place.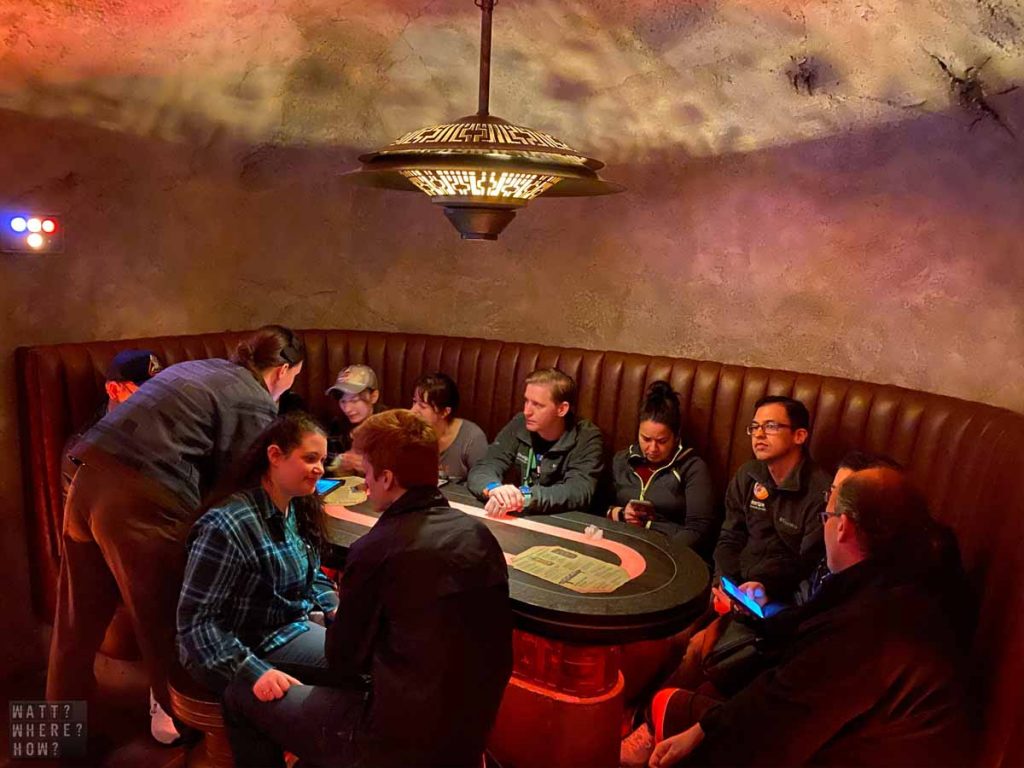 If you're more brazen or just unorganized, you can try your luck in the queue. It can take a while to be invited inside and you're given the rules politely (45 minutes, go straight to your place, take photos afterward, two drinks only, and show your ID to prove you're over 21 if you want to drink alcohol). Even with a booking, there's no guarantee of a table, but it's more likely that you will secure a place if you're part of a larger group than a couple. 
Experiencing Star Wars Galaxy's Edge at Disneyworld Hollywood Studios Orlando is a truly out-of-the-world trip. Read about some of the best rides here.
Follow & Connect with us