Atlantic City, the Vegas of the east, the Jersey Shore (with real life Jersey Shore 'celebrities', the Boardwalk Empire and yes, the promise of gambling within a couple of hours of Manhattan. A weekend at AC was always going to end in sleep deprivation and a much lighter wallet.
Situated on the New Jersey coastline in the estuarine Absecon Island, the city's earliest claims to fame were as a health resort – ah the sweet, medicinal qualities of sun, surf and saline mists. Surrounded by marshlands and tidal flats, it grew in popularity in the late 1800s when the relatively new phenomenon of rail travel saw the laying of a line linking it to Philadelphia and Manhattan.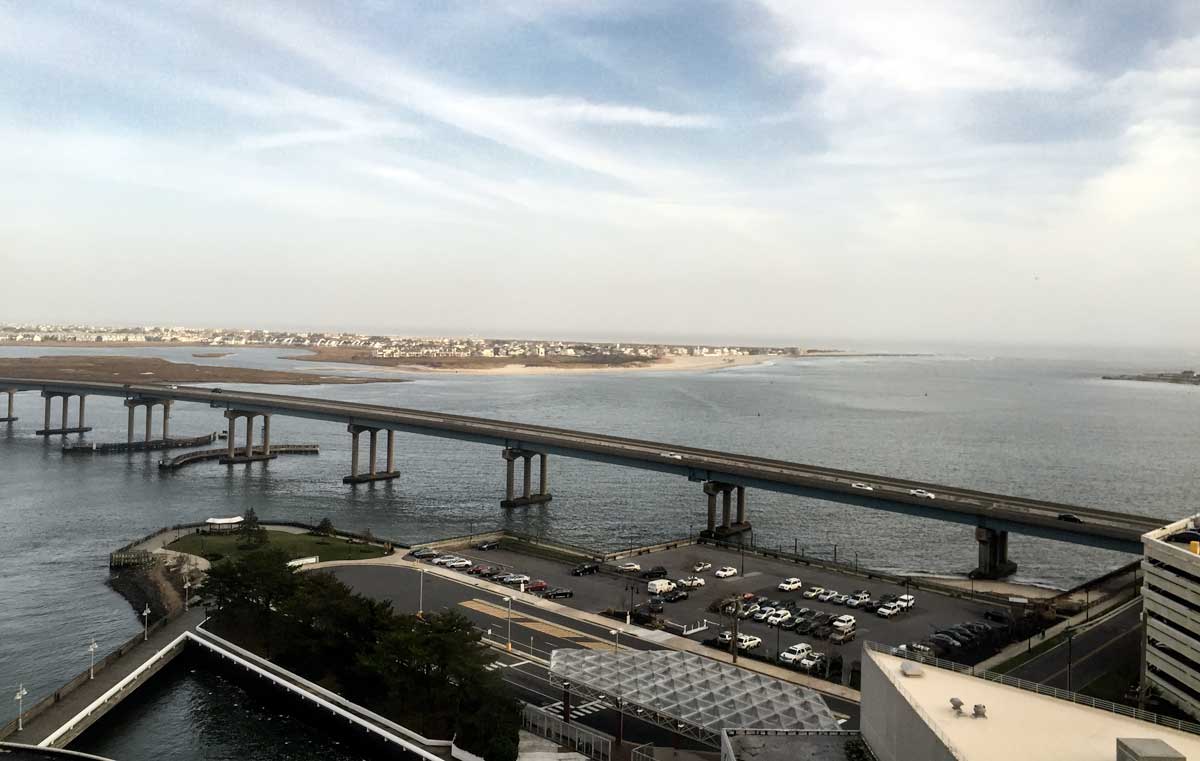 Hoteliers created the first boardwalk in the 1870s to keep sand out of their lobbies. It grew in popularity and size, extending for 11km. It has seen good times and bad. Peaking in the early 1900s, it was a haven for New Yorkers, growing in popularity the more vices were banned – so it's no surprise that it provided such rich material for HBO hit, Boardwalk Empire.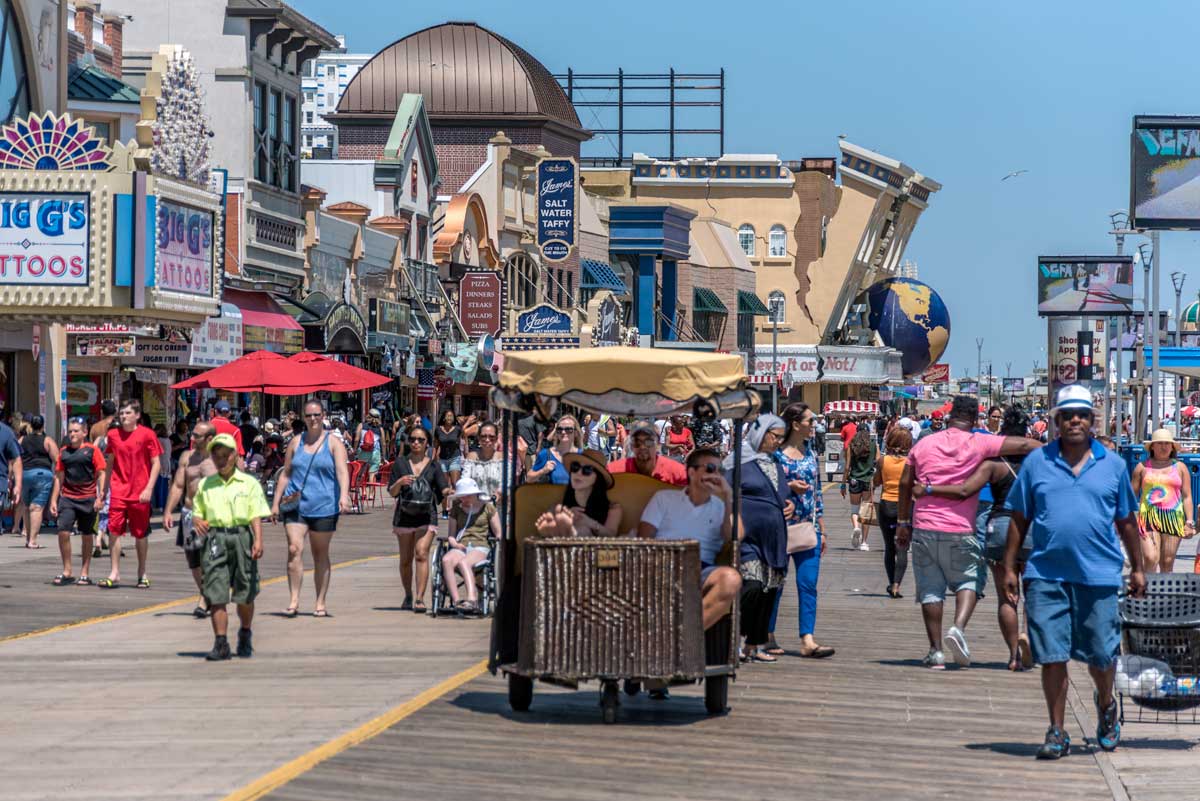 In recent years, Trump Casino went bust, the legalization of casinos in neighboring states and the hurricanes and damaging storm surges of the last few years have all contributed to a downturn in fortunes and visitor numbers. The casinos however are also to blame. Several charge top dollar to stay – considerably more than a standard room in Vegas.
Gaming
The key players in the casino these days are Harrah's, Bally's, Caesar's, The Showboat, Golden Nugget, Borgata, Tropicana and Wild, Wild West. We chose to stay at Harrah's, which is a couple of miles from the boardwalk (take a cab). It offers modern rooms, an entertainment center and an amazing pool inside a dome, which becomes a nightclub after dark.

Playing
We squandered our life savings at Caesar's and Bally's on the Boardwalk, though we spent most at the Gordon Ramsay Pub on the best wings known to humankind (see our full review here). And we took a little chill time playing mini golf too.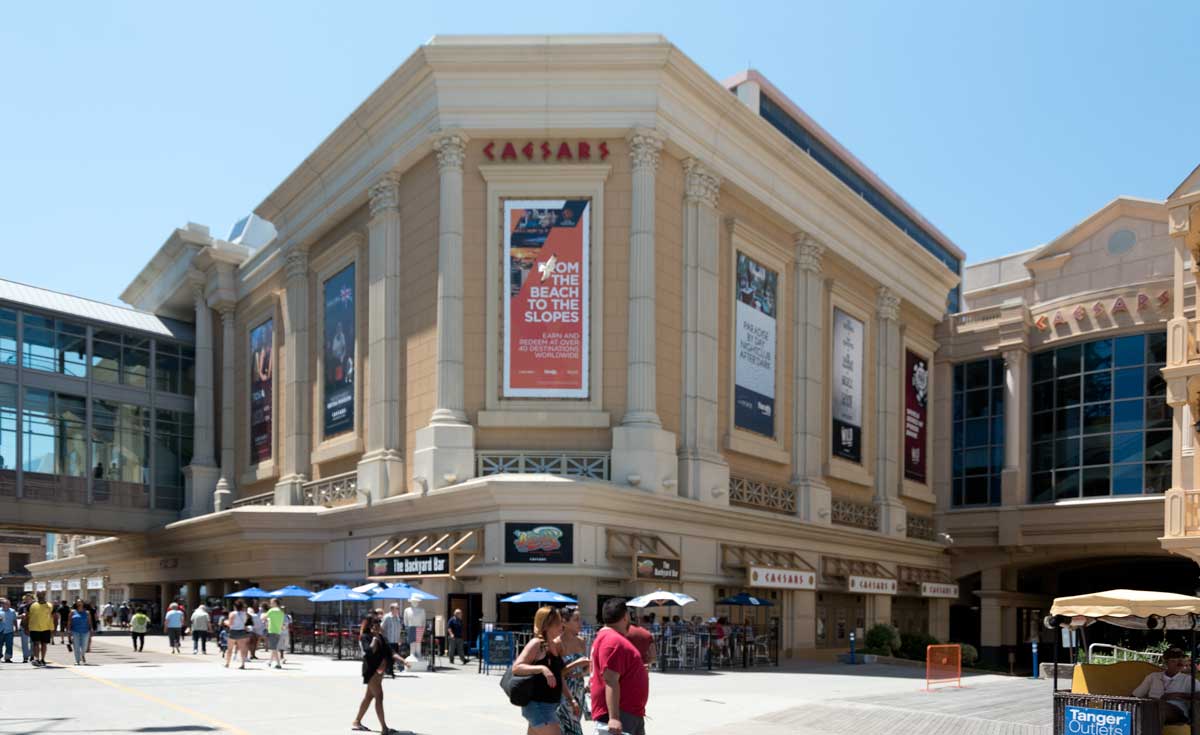 Further up the boardwalk stand two old piers, the middle pier and the Steel Pier. The Steel Pier is still a lively attraction, but it has seen better days. All along the boardwalk are kitschy shirt and souvenir shops, eateries offering carb-heavy treats like funnel cake and deep-fried oreos and churros.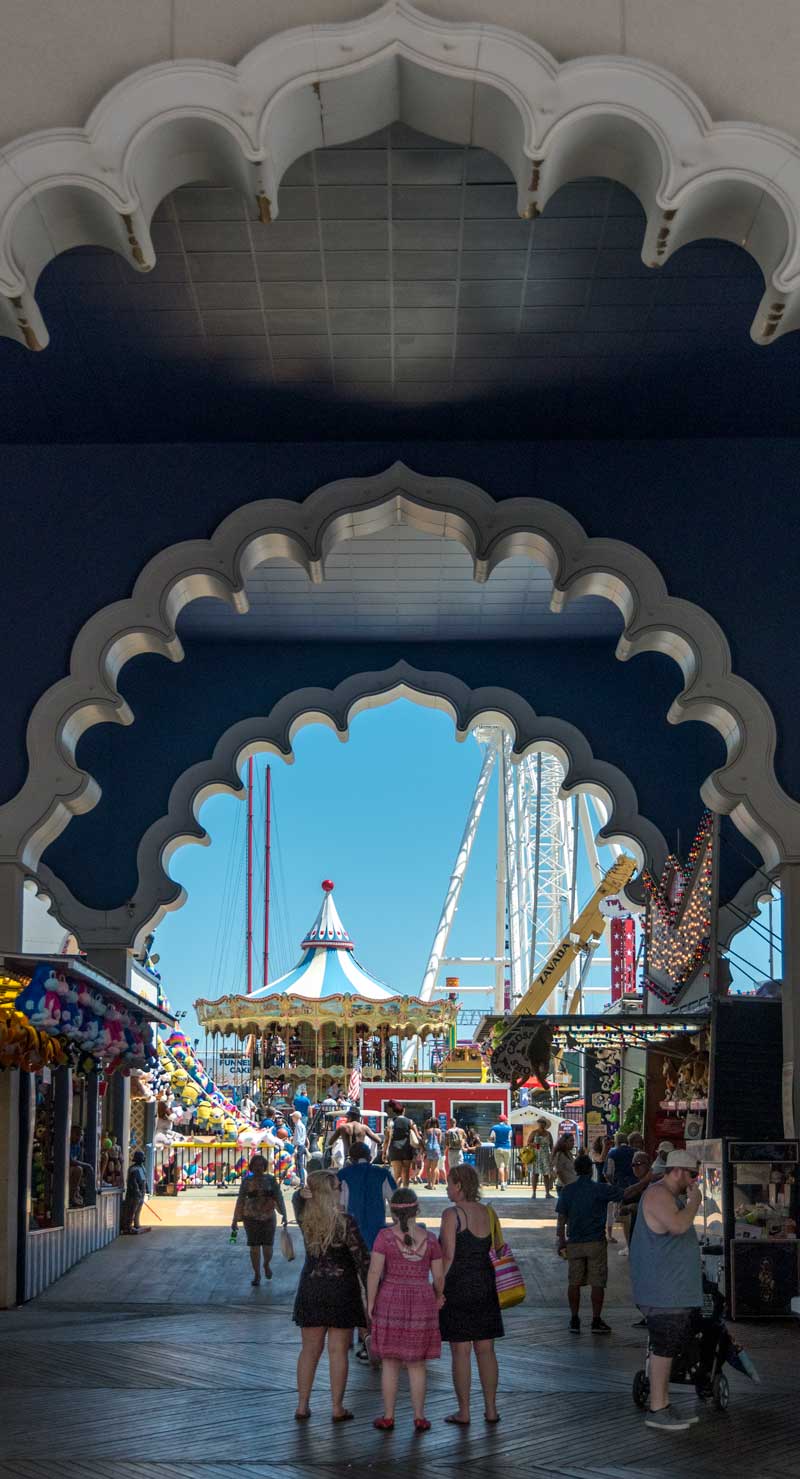 Shopping and Dining
For the non-gambler, the main draw cards are shopping and eating. For shopping, visit the Tanger Outlets, where you can get everything from Abercrombie & Fitch to Zumiez for way-below-retail prices. As for food, each casino has their marquee celebrity-chef outlet, from Guy Fieri to Gordon Ramsay.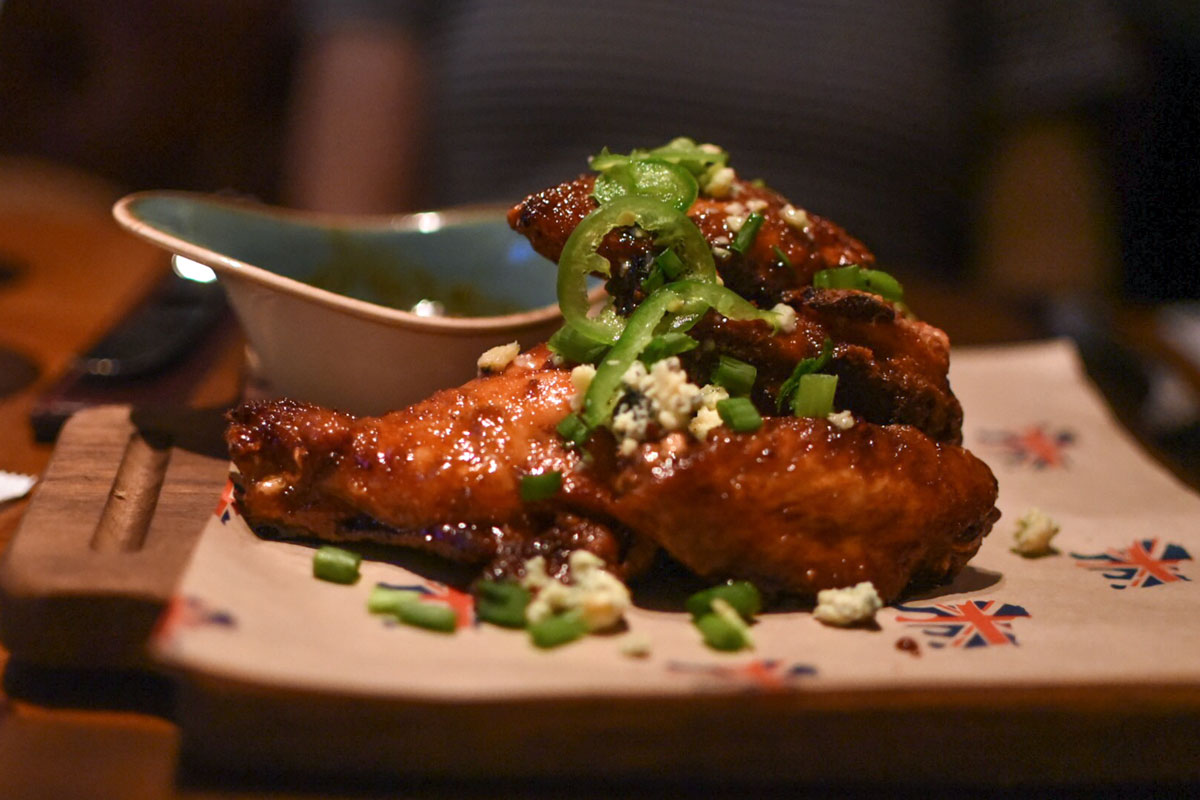 Atlantic City is no Vegas. It has seen better days, but that doesn't mean it won't give you a couple of great days or an awesome night out. Plus it's one of the closest places to New York where you can gamble legally.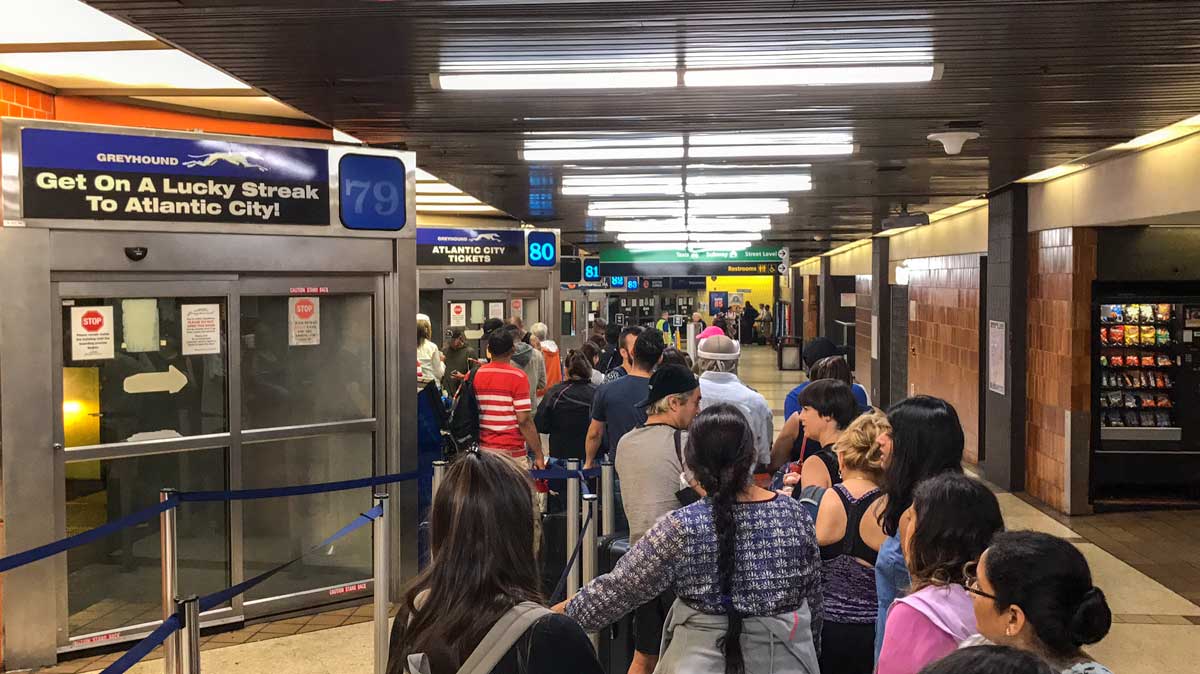 Take the Greyhound from the Port Authority Bus Terminal. It's only $30-40 return and takes about 2 hours
WHAT?
Atlantic City is home to hotels, casinos and access to the Jersey Shore.
WHERE?
Atlantic City is a couple of hours from New York and DC on New Jersey's famous shore.
HOW?
Atlantic City is served by Amtrak trains, Greyhound buses and has its own airport.
Follow & Connect with us