Pub grub, wings, beers – though it sounds inviting, we had great expectations when dining at Gordon Ramsay's Pub at Atlantic City. 


Gordon Ramsay, the sweariest, most arrogant celebrity chef this side of a Tourette's diagnosis had better impress. Fuck – see, it's catchy. Any dish that is less than exceptional will be greeted with mock cries of "shut it down" or "I wouldn't feed that to my worst enemy". Ramsay's a hard nut and even though he's on the other side of the country shooting Master Chef, he stakes his reputation on every dish and every one of his top notch chefs.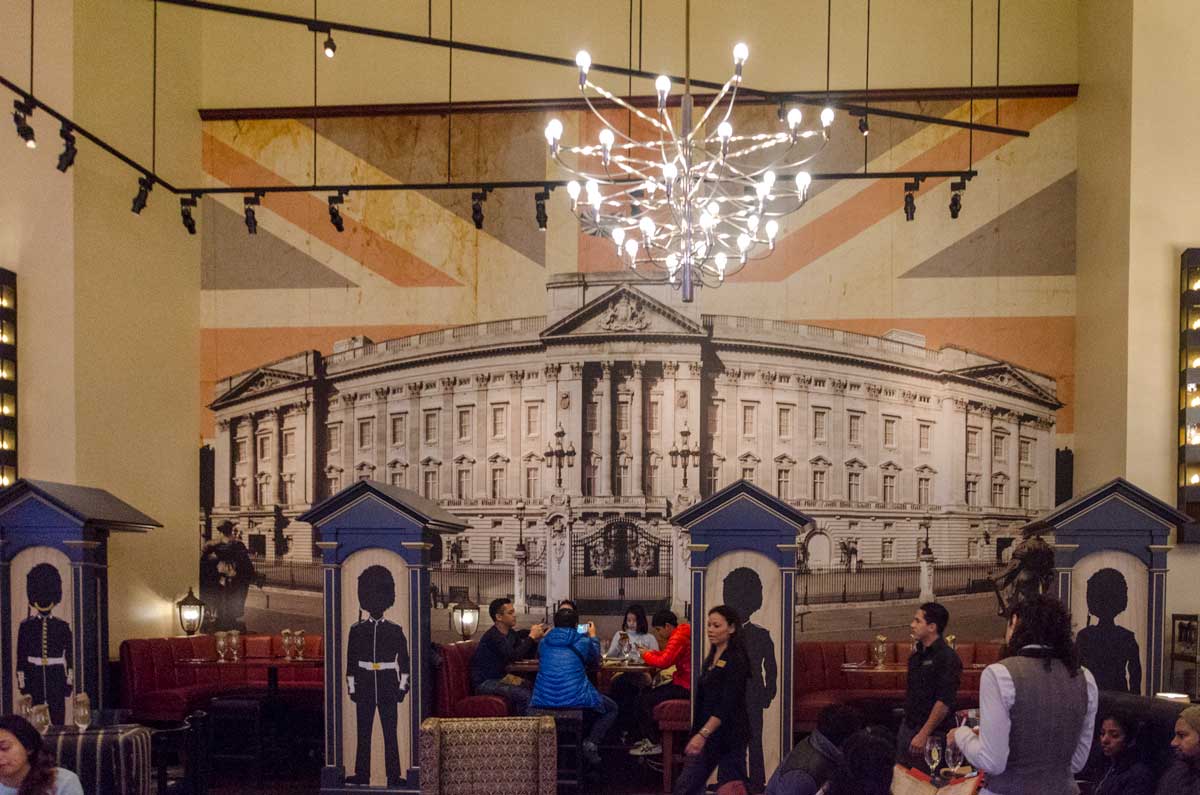 The eatery captures the essence of an English pub at one end, with cozy leather booths and mood lighting, while the main foyer (directly adjacent to Caesar's statue) is more like a modern British gastro pub. The ambience is disturbed a little by the many LCD screens displaying live baseball games. I guess that's part of Americanizing the atmosphere a little. There are other English touches like an old red phone booth and photos of Gordon's British Bulldog. 

As lunchtime diners with a taste for a beer (and a limited budget), we opt for the bar menu instead of getting to sample his signature dishes like the Beef Wellington – which tends to lead to the undoing of lesser home cooks at least once a season on Master Chef. Who wants to pay over $30 for fish and chips anyway?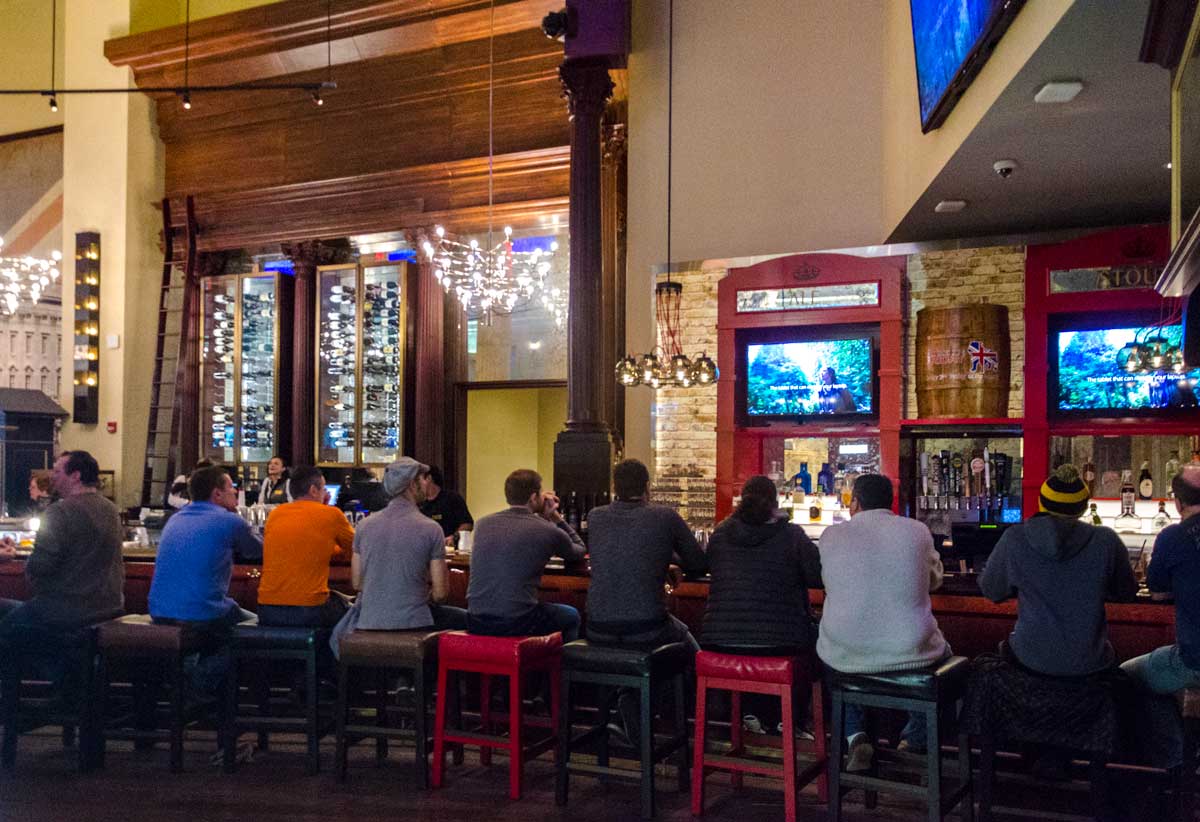 We opt for the MOLASSES & BROWN ALE GLAZED WINGS, accompanied by an INNIS AND GUNN, with ENGLISH PEA SOUP AND HOT ROAST BEEF SANDWICH.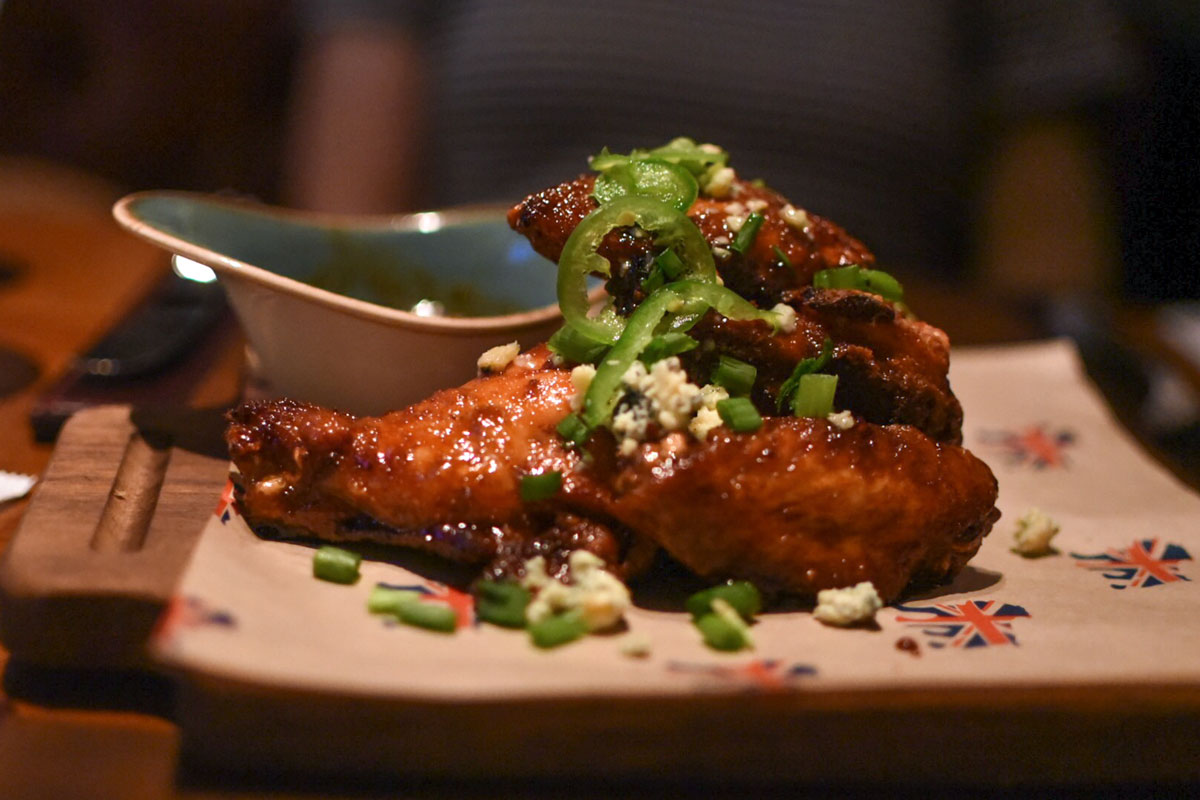 The wings are by far the best we've ever tasted and we eat wings as our measure of every US bar we visit. They're sweet and rich, dipped in treacle/molasses, then sprinkled with Stilton blue cheese, and slivers of green apples and jalapeños. They're sticky, tender and truly unforgettable. We wash them down with Innis and Gunn. It's apparently Ramsay's favorite beer. It's strong with oaky, rum barrel undertones and is definitely sweeter and more syrupy than we're used to. The flavor actually matched the wings perfectly.
The pea soup was Jess's choice. It's colorful, smooth and creamy with the right balance of salt from the ham. The addition of chives in the creme is a masterstroke that elevates it from comfort food to gourmet.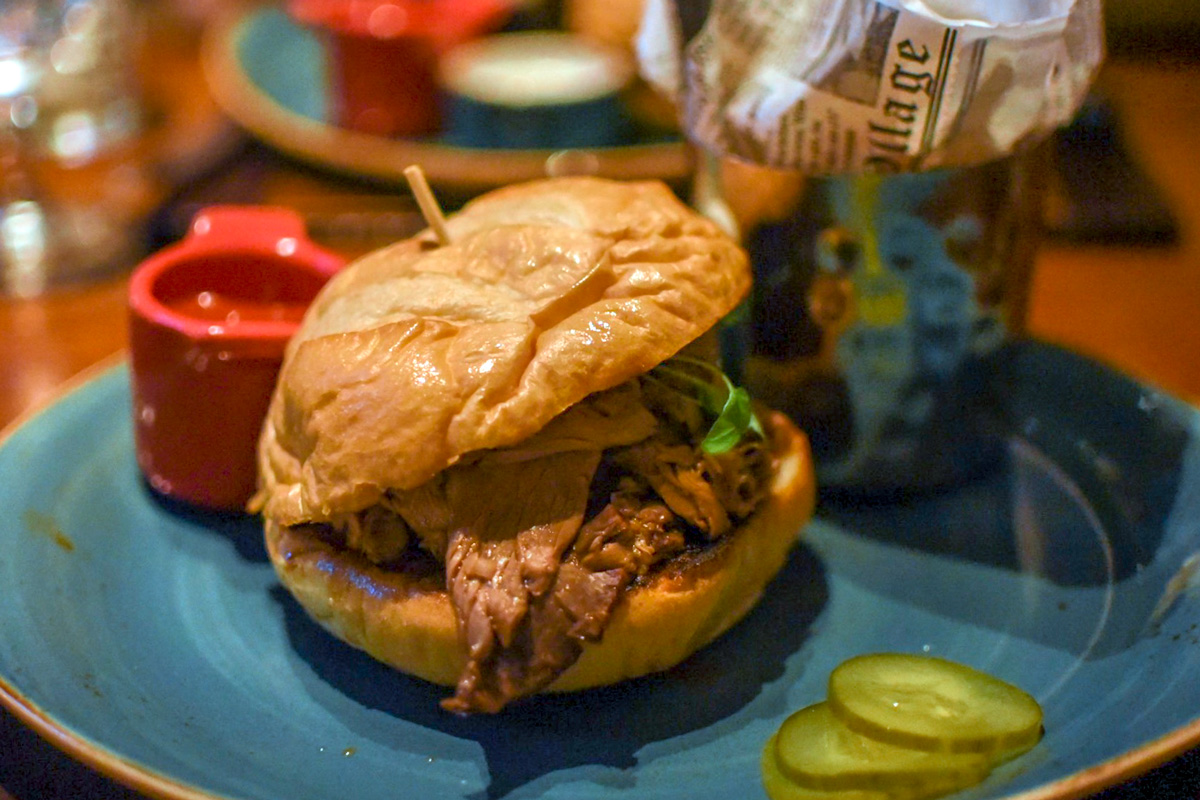 Finally, we both choose the hot roast beef sandwich. We grew up with roast meat and gravy rolls and beyond pulled pork and barbecue, have not found anything close to the flavors of back home in Australia. From my (Bernie's) perspective, this is a knock out, but for Jess, it's a misfire. It's soggy, with the roll lacking any crunch. It is overly oily due to a fatty cut of beef and it feels like holding a sponge – but who cares when you use it to soak up the red wine gravy anyway. That's what she gets for savoring it. I wolfed it down like I was on a work lunch break – it tasted so great. 

So today the only F bombs dropped have been "fuck me that's amazing". It's how Gordon would want it anyway.
WHAT?
Gordon Ramsay's Pub delivers a menu of genuine British favorites and classics from his TV series.
WHERE?
Caesar's Palace, Atlantic City. 2100 Pacific Ave, Atlantic City, NJ 08401
HOW?
To book, call (609) 343 2600.
Hours:
| | |
| --- | --- |
| Thursday | 5–10PM |
| Friday | 5PM–12AM |
| Saturday | 12PM–12AM |
| Sunday | 12–10PM |
| Monday | 5–10PM |
| Tuesday | 5–10PM |
| Wednesday | 5–10PM |
Follow & Connect with us