This September/October, go on a Vermont fall foliage road trip.
Leaf peeping in Vermont is one of the most popular autumn getaways in the northeast United States. From late September, the leaves begin to turn or change color from the healthy deep greens of summer to rich reds, lush oranges, mauves, and yellows. In alpine Vermont, tourists come to see the state's winter resort towns, cider houses, covered bridges, moonshine distilleries, sugar shacks, and natural beauty. And that's just the start. Oh, and did we mention sheep herding llamas?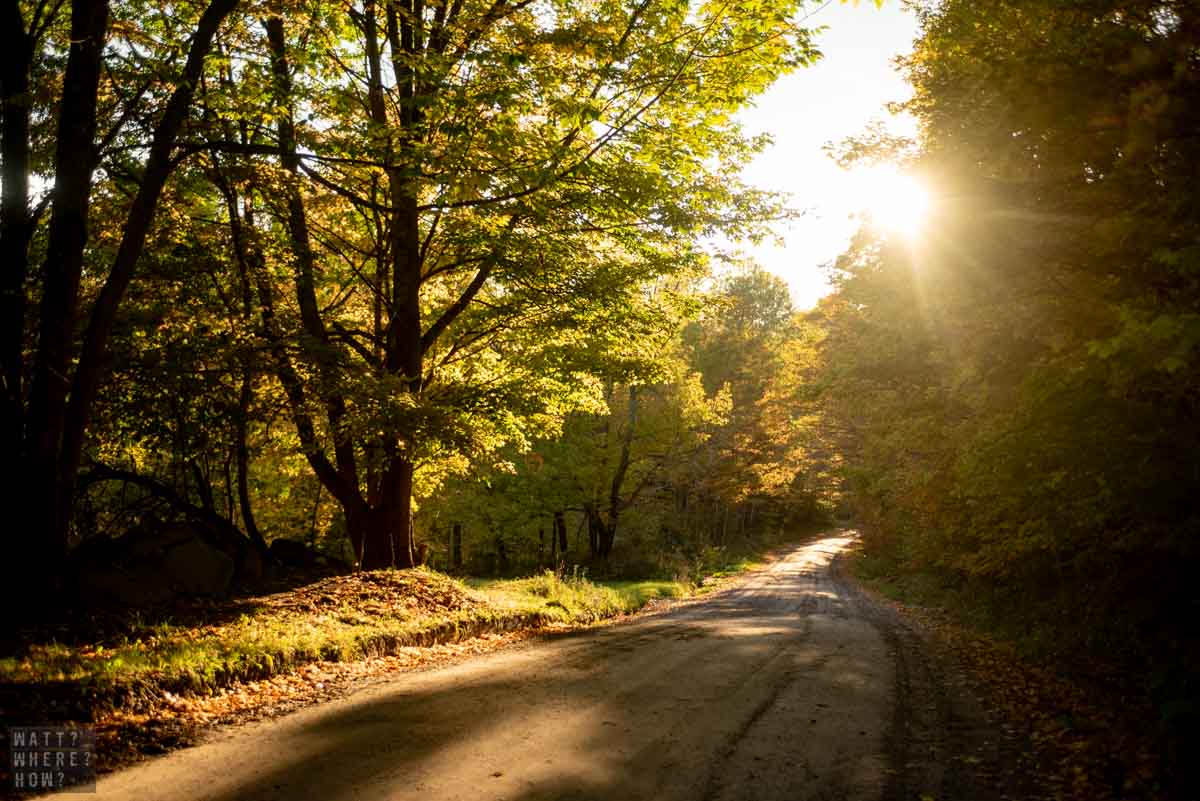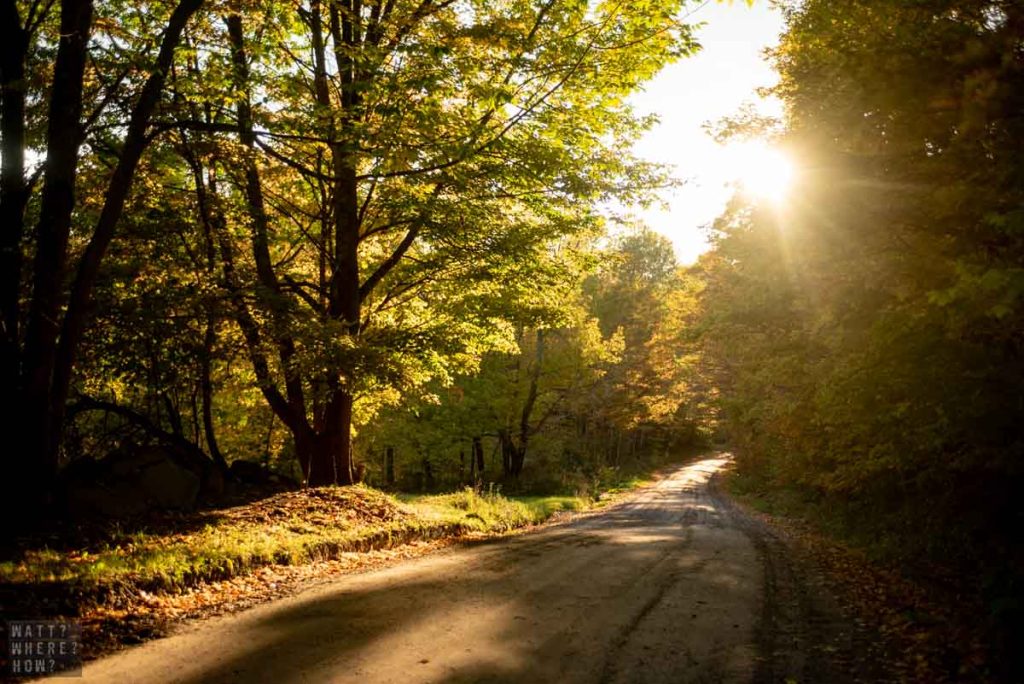 Vermont is a road-tripping hotspot with 10 designated scenic byways
Vermont was originally the land of the Abénaki and Mahicantribes before being overtaken by the French, who named it Verd Mont – green mountain. Today, Vermont's green mountains are alpine playgrounds all year round. But it's not just the mountains that draw in visitors. Vermont is the home of 10 designated scenic byways, a true Mecca for the road-tripper, the Sunday driver, the hiker, and the thrill seeker. The place that will appeal to all parties is the north of the state, where you get the first turn of color as the Vermont fall foliage says a vibrant farewell before the winter freeze.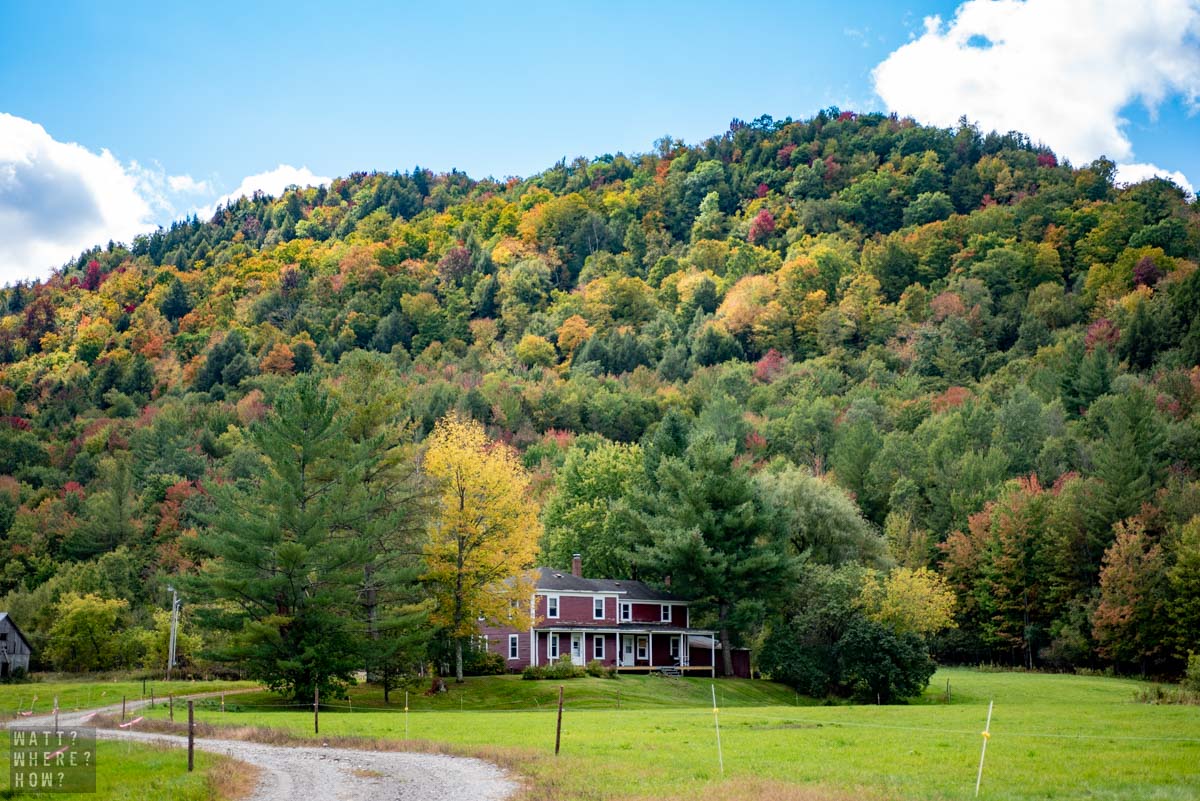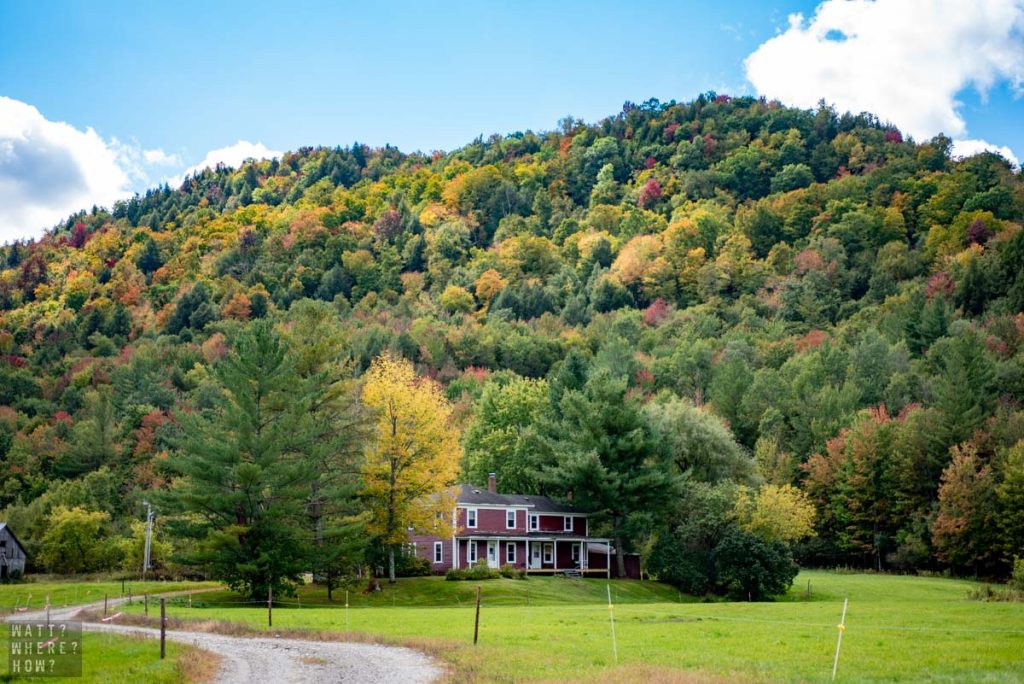 Leaf-peeping time
We begin our leaf-peeping road trip in Burlington, Vermont, a college city bordering New York State. Although miles from the nearest ski slopes, the town embraces its northern exposure with quaint hotels themed after alpine imagery. The best place to pick up a hire car is at Burlington Airport, and we chose to stay overnight at La Quinta, though it was possibly one of the worst hotels we've ever stayed at. Thankfully, our faith in the La Quinta chain was restored with their excellent Portland, Maine location.
Planning Your Road Trip
1. Vermont fall foliage peaks in the last weeks of September and the first weeks of October.
2. Accommodation sells out quickly or becomes expensive in this period, so book ahead.
3. Temperatures can also be unpredictable, so make sure you pack plenty of layers and a couple of heavy jackets, just in case.

Vermont fall foliage around Stowe and the Northern Kingdom
We have plotted a route that takes us through some beautiful villages and scenery and close to some of the historic covered bridges that we've seen in a zillion movies but never seen in person. Departing Burlington in the early morning, we take the I89, a scenic route for a busy highway.
The foliage close to Burlington is still predominantly green, and we've felt like we've made a major miscalculation. Thankfully as we head north, a variegated blend of oranges, yellows, and reds begins to color the canopy of maples, oaks, and birches. The reality is that the change in the foliage is climatic, so it moves south as the air chills. And while Vermont starts to see these chromatic changes in late September, they are not always the same each year, weather-dependent.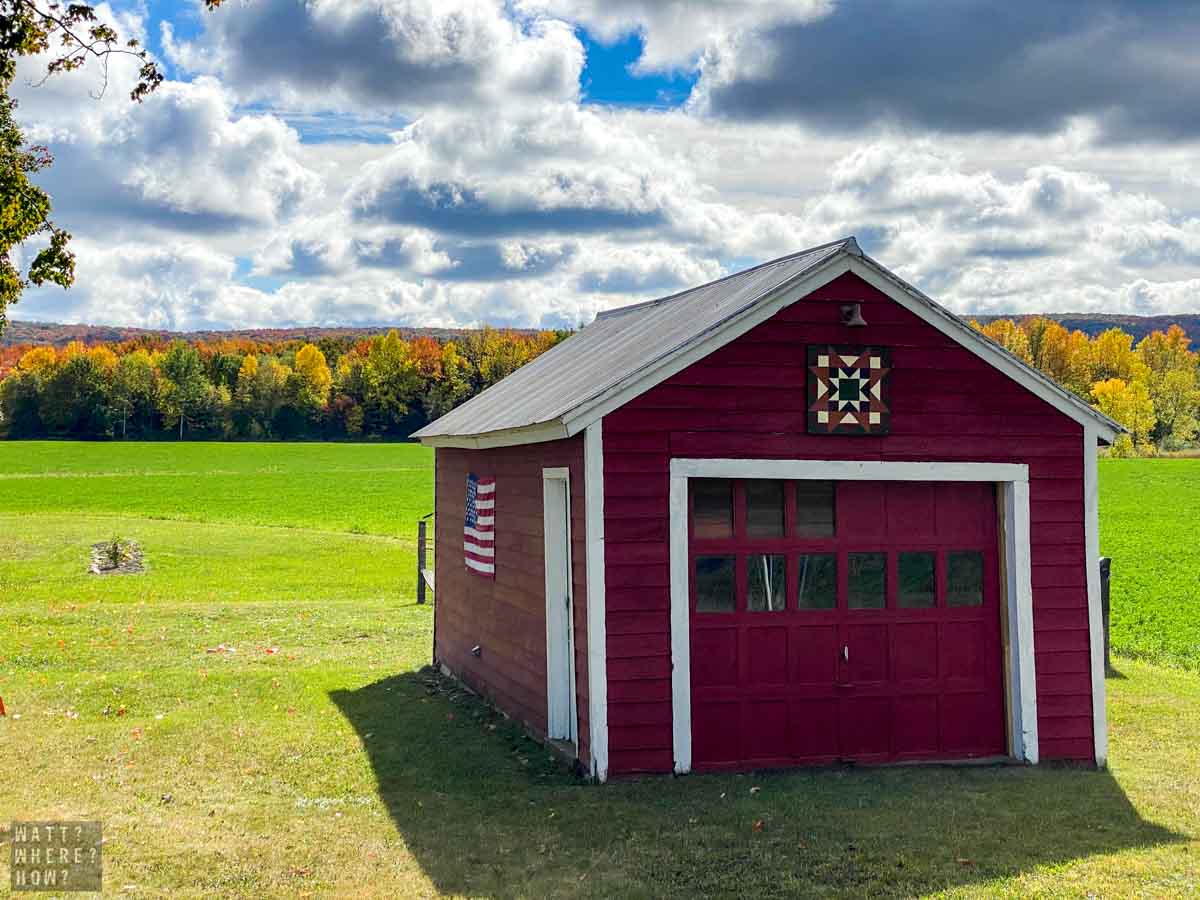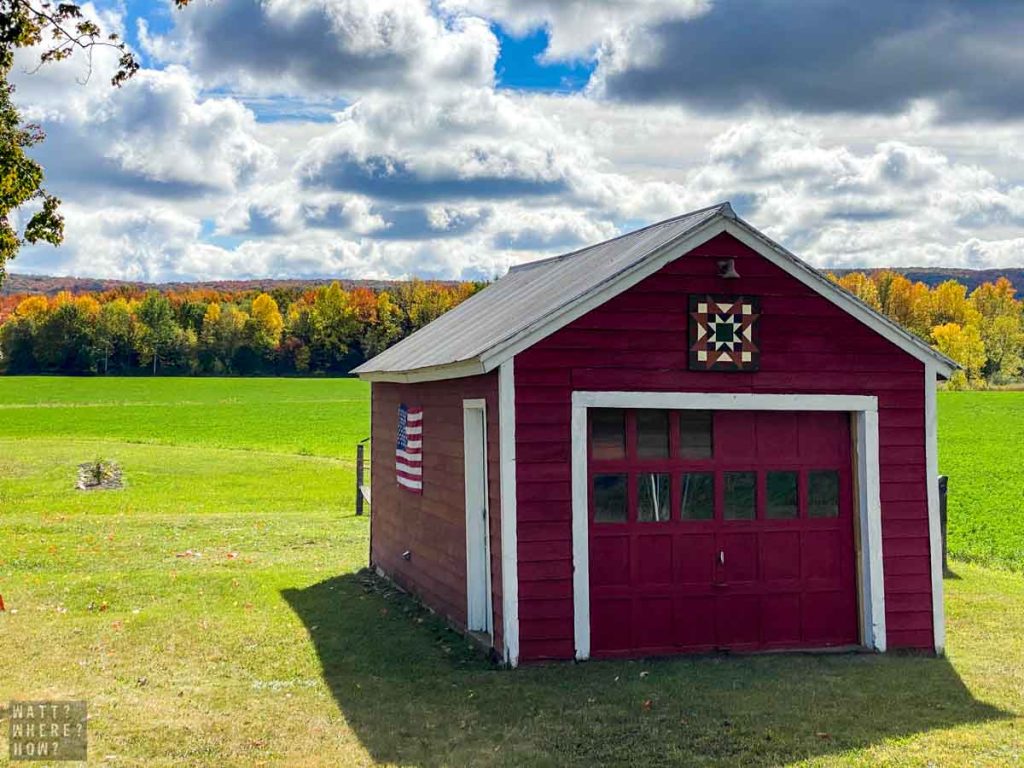 We drive northeast on Interstate 89 towards the best of the state's covered bridges, historic farms, and resort regions, turning off onto the quieter 105. At this point of the state, we're within 20 miles of the Canadian border, adjacent to the Quebec province. The signage is in French and English, and expect to see warning signs for moose, though we weren't lucky enough to see one in its natural habitat. Every now and then, we pass fields of pumpkins, just right for the picking.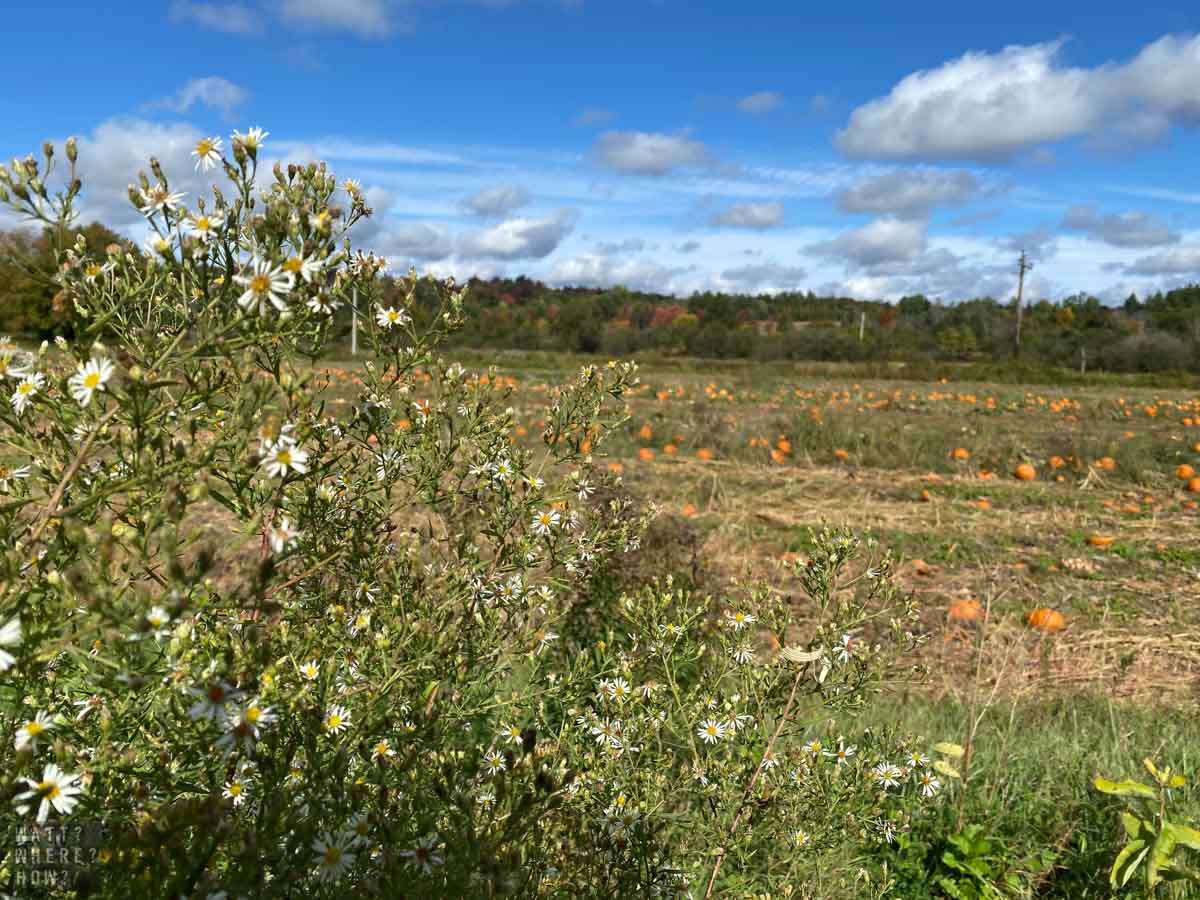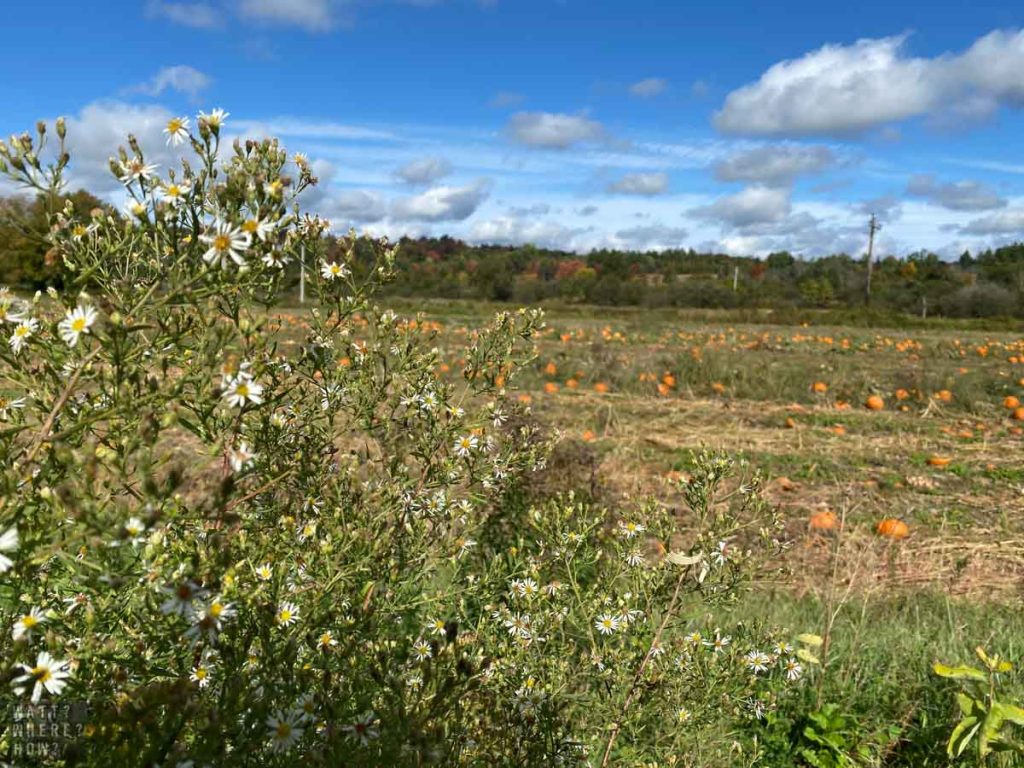 Enosburg Falls, VT
The small town of Enosburg Falls serves as an ideal pit stop en route to some of Vermont's finest covered bridges. We happened upon a delightfully eclectic shop on the main street, The Flying Disc. Owned by local musician, diver, and underwater photographer Ben Maddox, the Flying Disc sells coffees, smoothies, pastries, and an impressive collection of recorded music, mainly focused on vinyl. The vibe was chill and super welcoming, and he served up a great latte using Vermont Coffee Company coffee.
The town itself is quiet yet picturesque, with a humble war memorial park and shops serving its less than 1,500 locals. It's also surprisingly close to the Canadian border (8 miles away).
Covered bridges everywhere
Vermont is home to more than 100 covered bridges, with some of the best examples to be found around Montgomery. We mapped out a route that took in five stunning bridges, though we found an additional one on the way out to New Hampshire. These included Comstock Covered Bridge, Hutchins Covered Bridge, Gristmill Covered Bridge, Gold Creek Covered Bridge, and Longley Covered Bridge.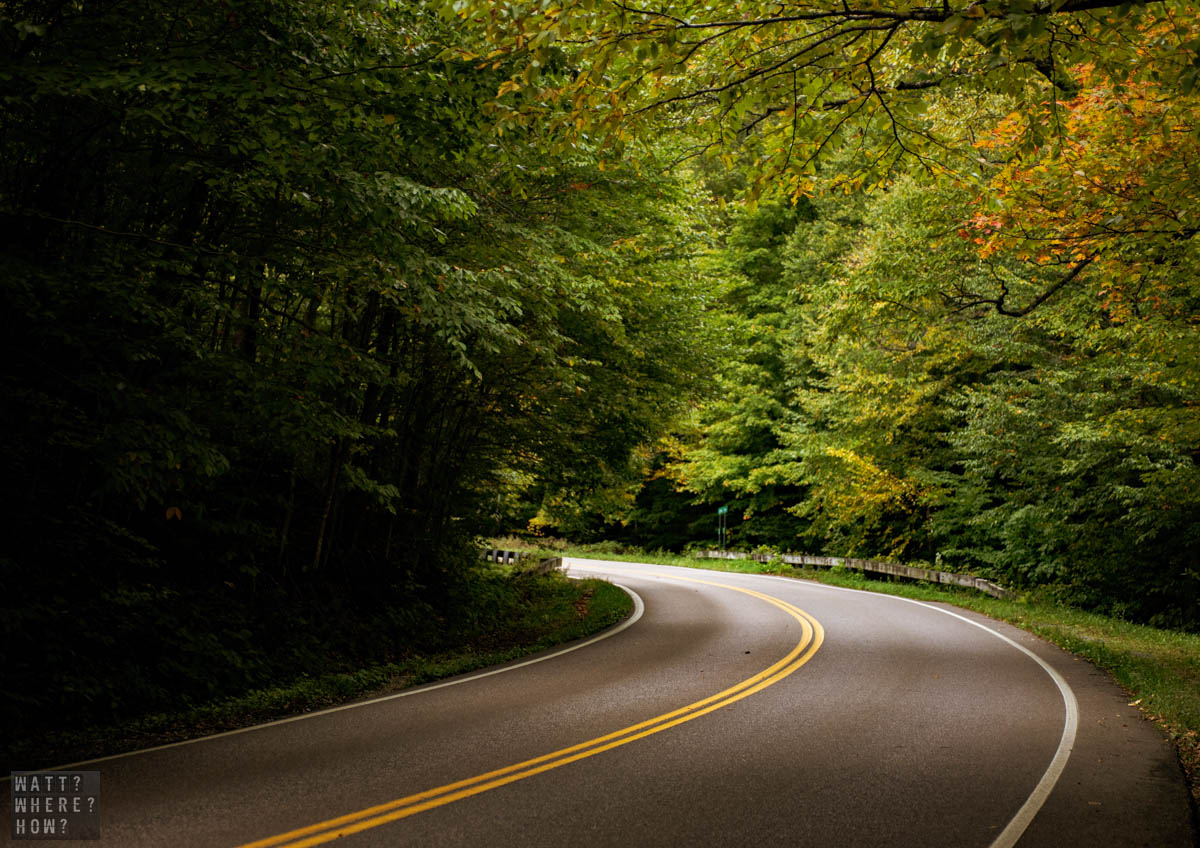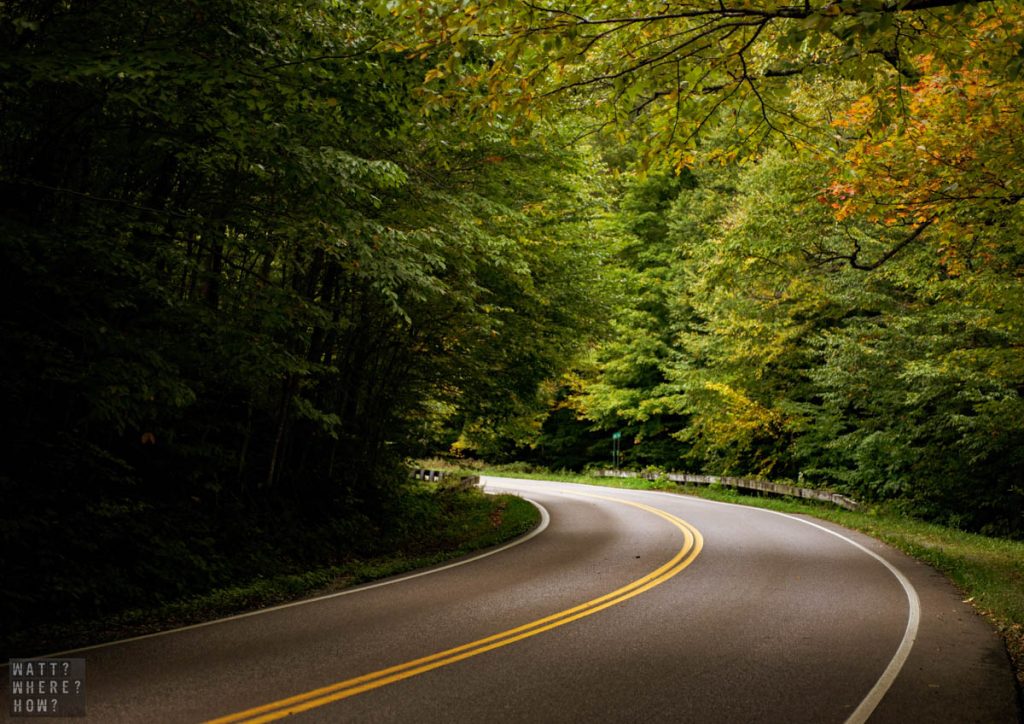 Be entranced by amazing Vermont fall foliage at Smuggler's Notch
Smuggler's Notch is one of Vermont's best hiking destinations, but its history also takes you many steps back in time. In fact, Smuggler's Notch has been involved in goods, booze, and people smuggling since the early 1800s.
It was first used as a route to transport contraband when Jefferson put in place the Embargo Act of 1807, blocking trade between the USA, Canada, and Britain to keep the country out of the Napoleonic Wars. Then during the Civil War, it became a route for the Underground Railroad, helping slaves to freedom. In the 20th Century, when Prohibition caused a ban on all alcohol sales and making its hidden nooks and caves places, bootleggers would secret their boozy bounty as they moved it from across the Canadian border down to the speakeasies of New York, Boston, Chicago, and beyond.
Today, Smuggler's Notch is also a major escape from the realities of modern life, and even on a weekday, during the peak fall foliage, there's almost no place to park by the road or in any of the many car parking spaces at the head of hiking tracks. It's peaceful, despite the empty cars, and other Smuggler's Notch hikers are great at protecting its mystique and solitude.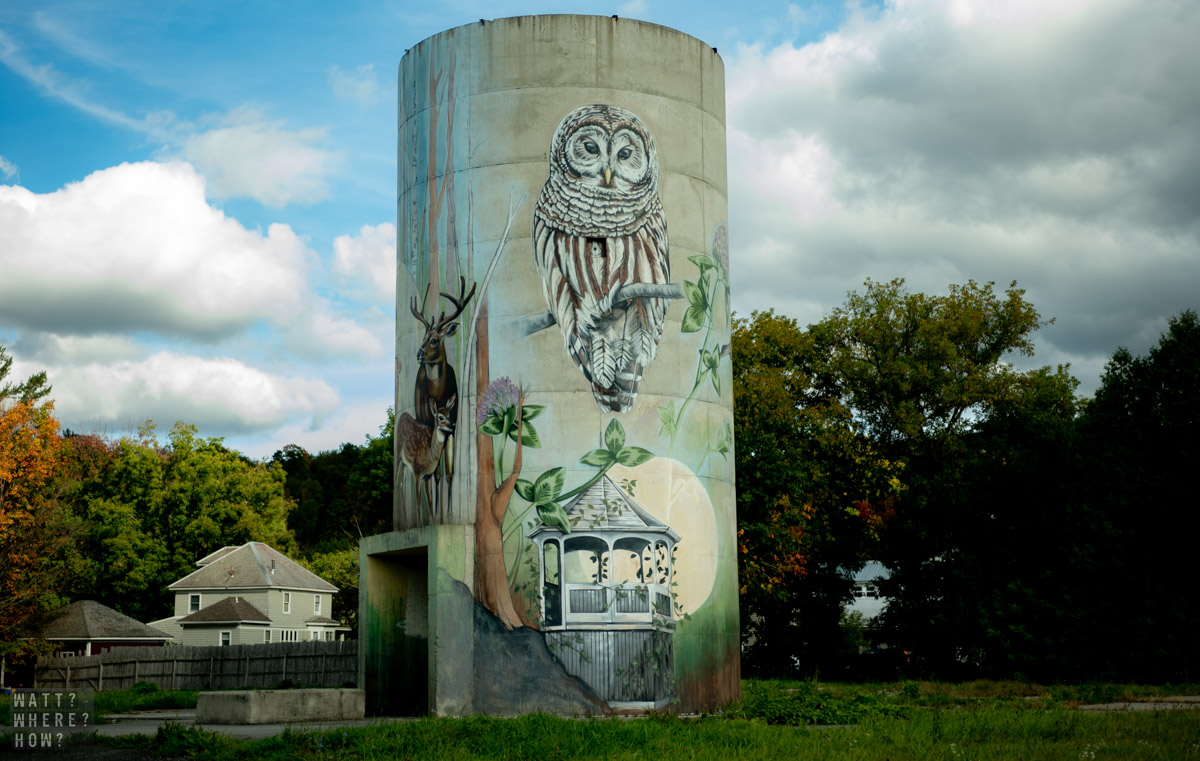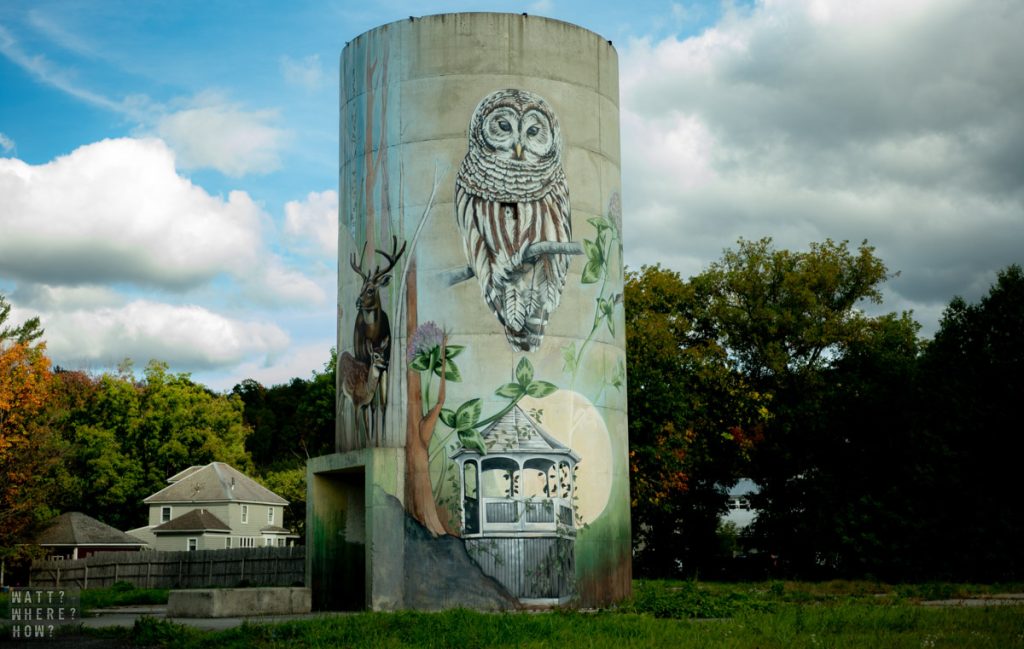 Savor the rum bootleg spirit at Smuggler's Notch Distillery
Smuggler's Notch Distillery is a clever addition to the region, once a place of prohibition smugglers and rum runners. At this small craft distillery, you can sample a range of liquors, including vodka, gin, rye, rum, and liqueurs, using local enhancements. The super pure spring waters and additional notes like local maple syrup make for the expected but palatable flavors. The tasting room at Montgomery is modern yet rustic, and the addition of outdoor tables makes it a nice stop en route to Stowe.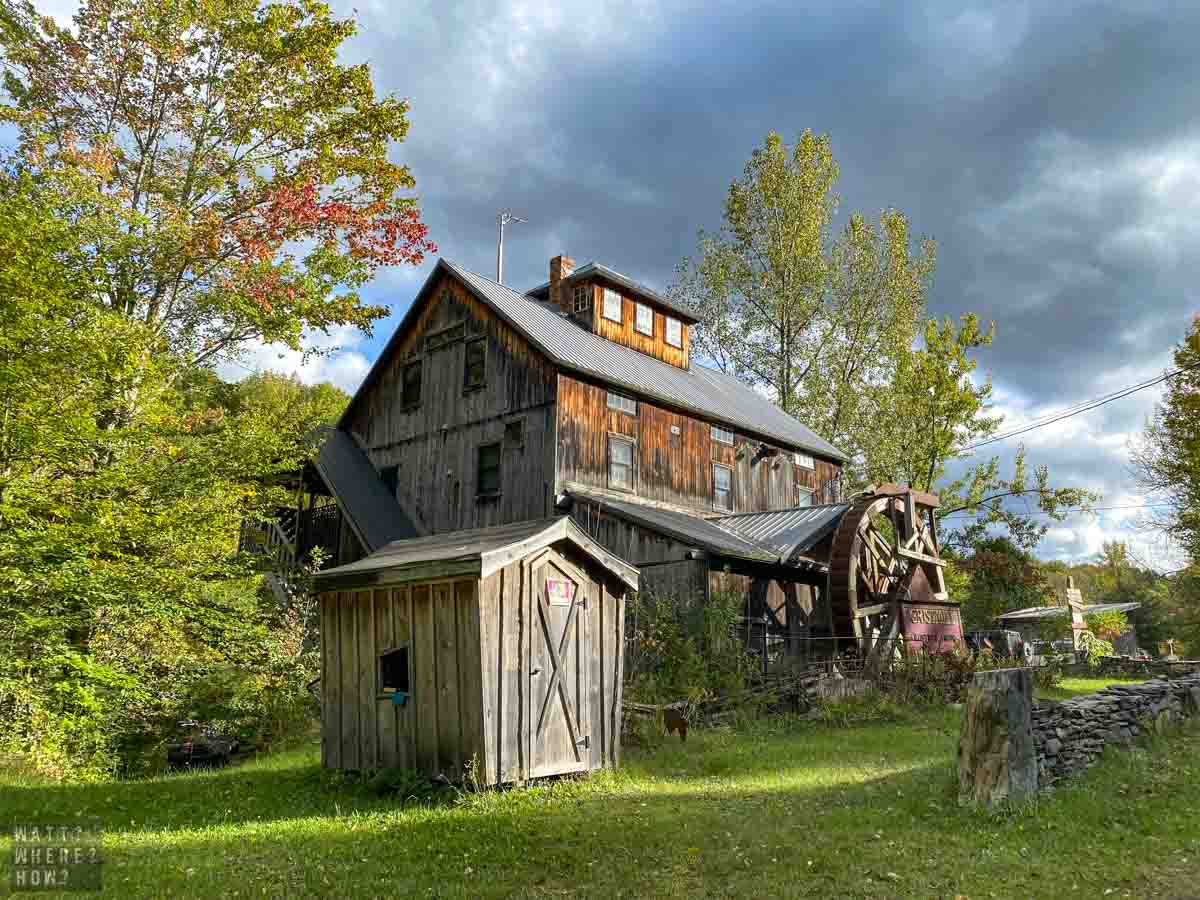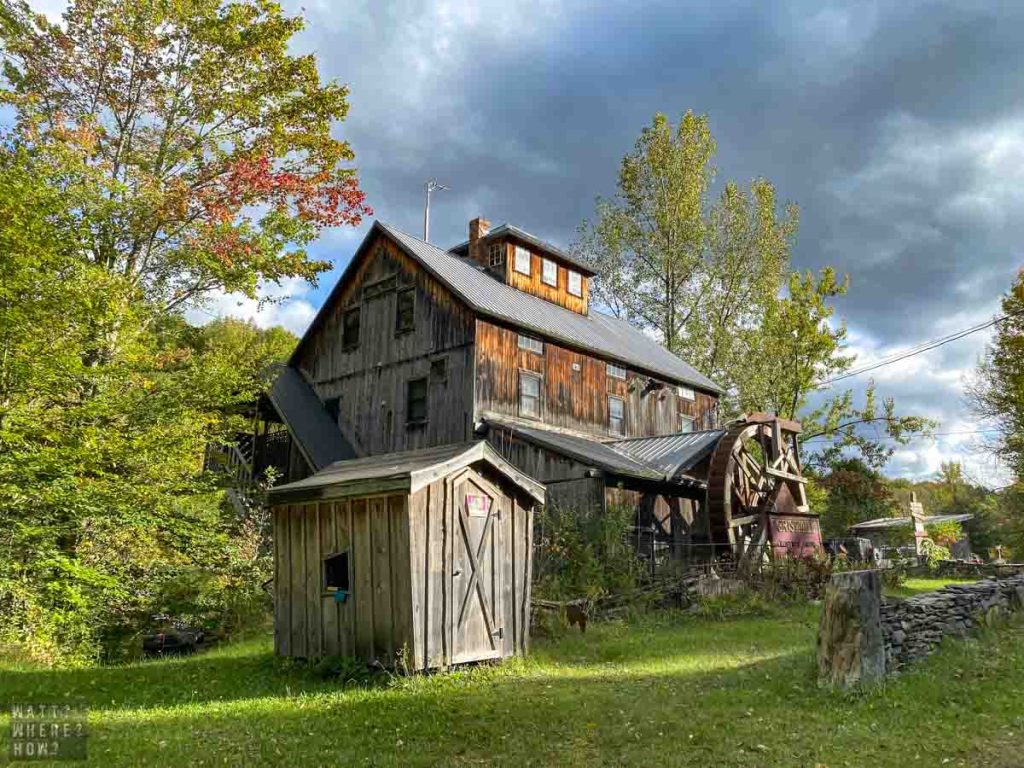 A land of golden tones and gristmills
One of the treasures we spotted on our Vermont fall foliage road trip was the old gristmill right by the Gristmill Covered Bridge. If you head down to the Canyon below, there are some equally beautiful scenes to enjoy.
79 Gristmill Drive, Jeffersonville, Vermont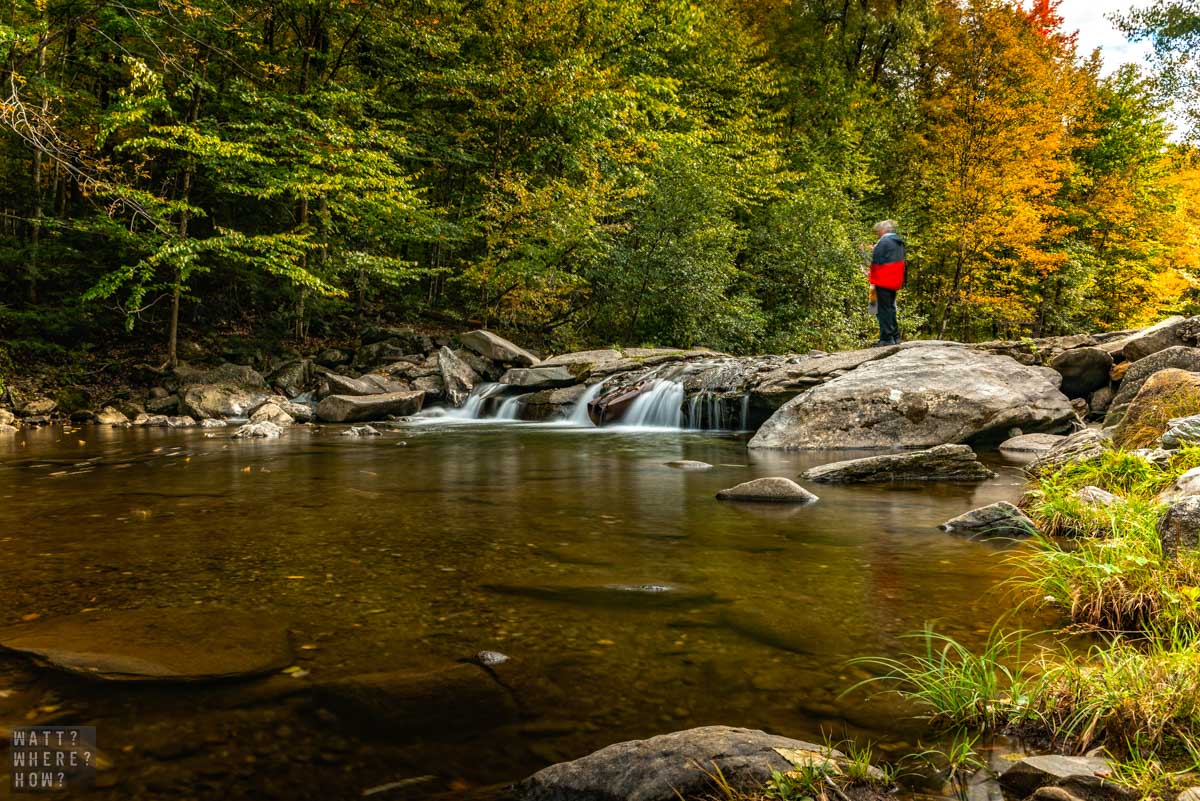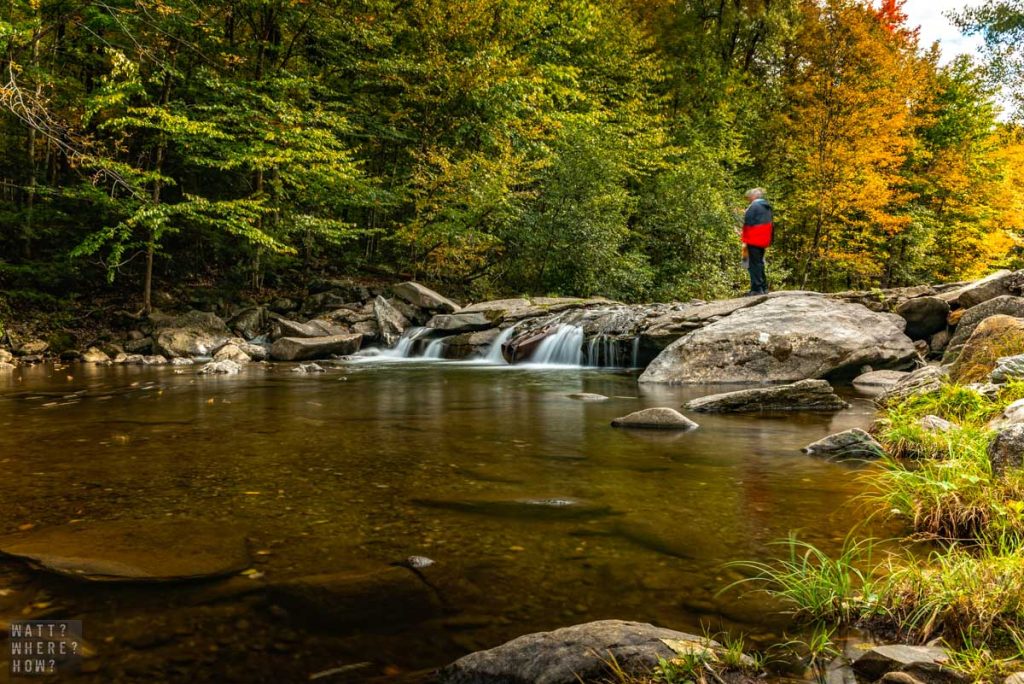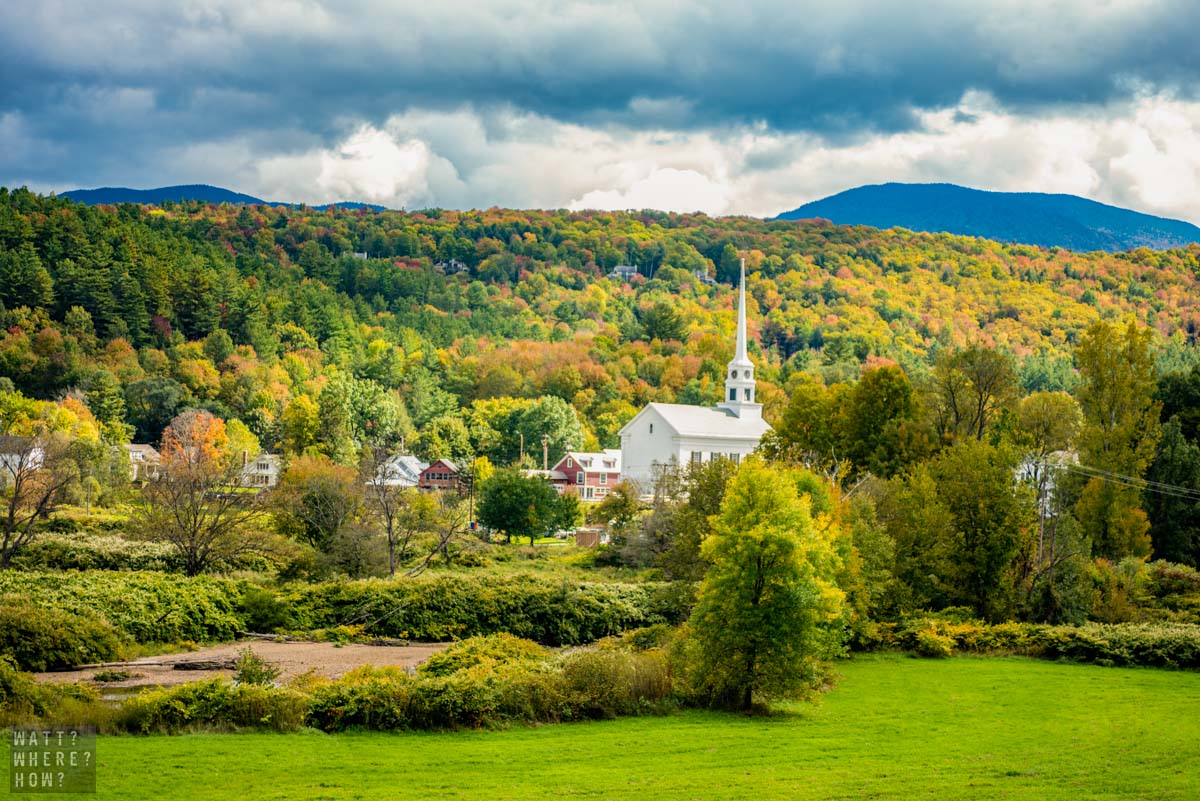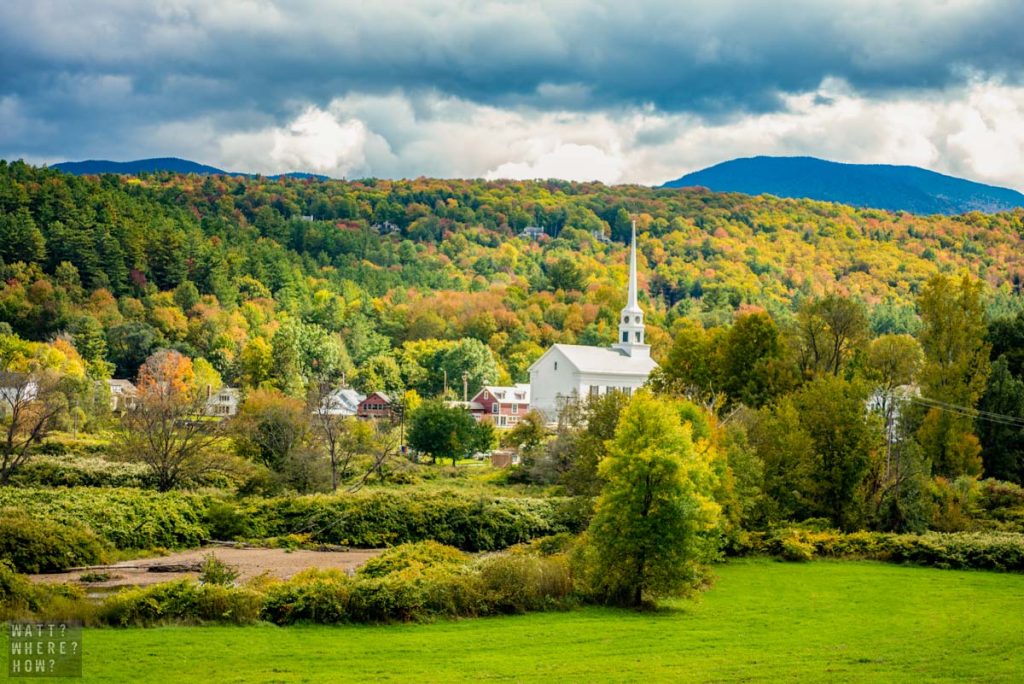 Make Stowe, Vermont your base
Stowe is a resort town that is romantic, well-to-do, and straight out of a Hallmark movie. This is a playground for the northeast's rich and famous, and budget accommodation is surprisingly hard to find in peak foliage weeks. If you're into cider houses, outdoor fun, and gorgeous architecture, it's the perfect base for your northern Vermont road trip. Read our full Stowe guide here.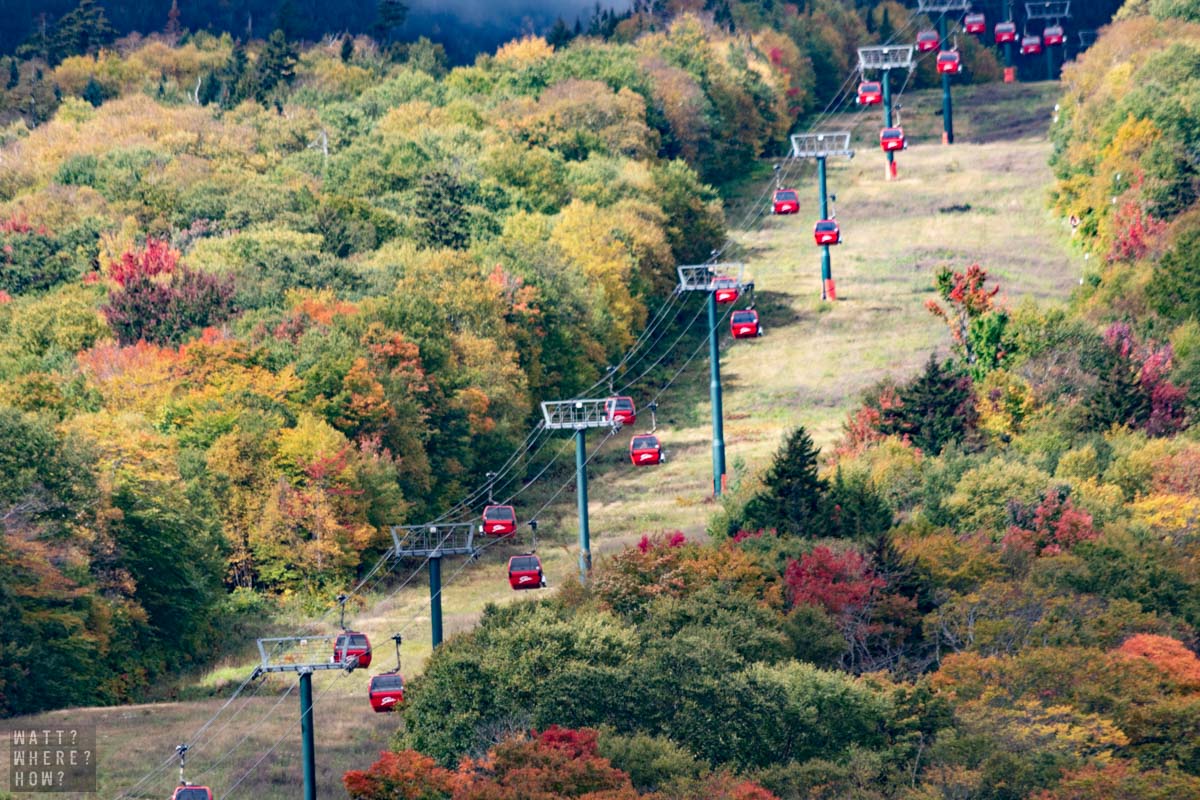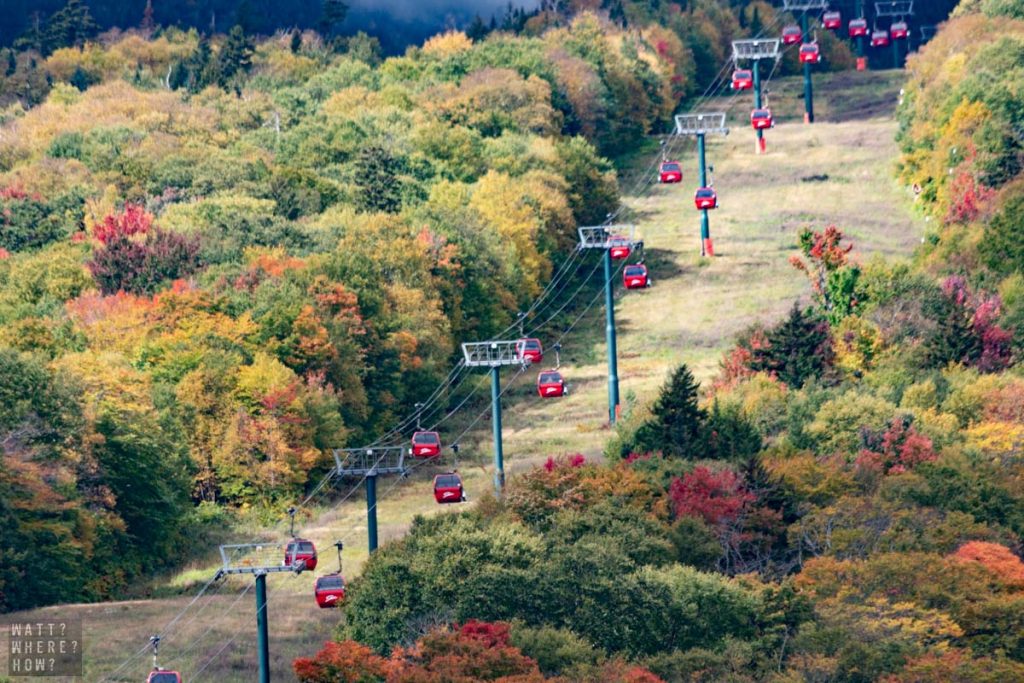 Soar over reds and oranges on the Stowe summer gondola sky ride
If you want to get an incredible view of Vermont fall foliage, take to the skies at the Stowe Resort. The Stowe gondola sky ride scales the side of Vermont's highest mountain, Mt. Mansfield. The bright red carriages of the ski gondolas will transport you up the mountain and just above the trees before disappearing into the clouds as you reach the top.
Taking about twenty minutes round trip, you can choose to get out at the top, where there's a kiosk (The Waffle), the Cliff House restaurant and lookout, or ride the return circuit. On the way back down, you get an idea of just how huge the resort is, with its multiple lodges, ski runs, and golf course.
Address and cost
Adult (ages 13+): $37
Child (ages 5-12): $25
Children ages 4 and under are free
Open Daily: Saturday, June 17th, 2023 – Sunday, October 15th, 2023
Explore around Waterbury
Waterbury is a regional town with all the charm you'd expect. There are the requisite red brick shops, bars, and restaurants, but the main attractions are really outside of it.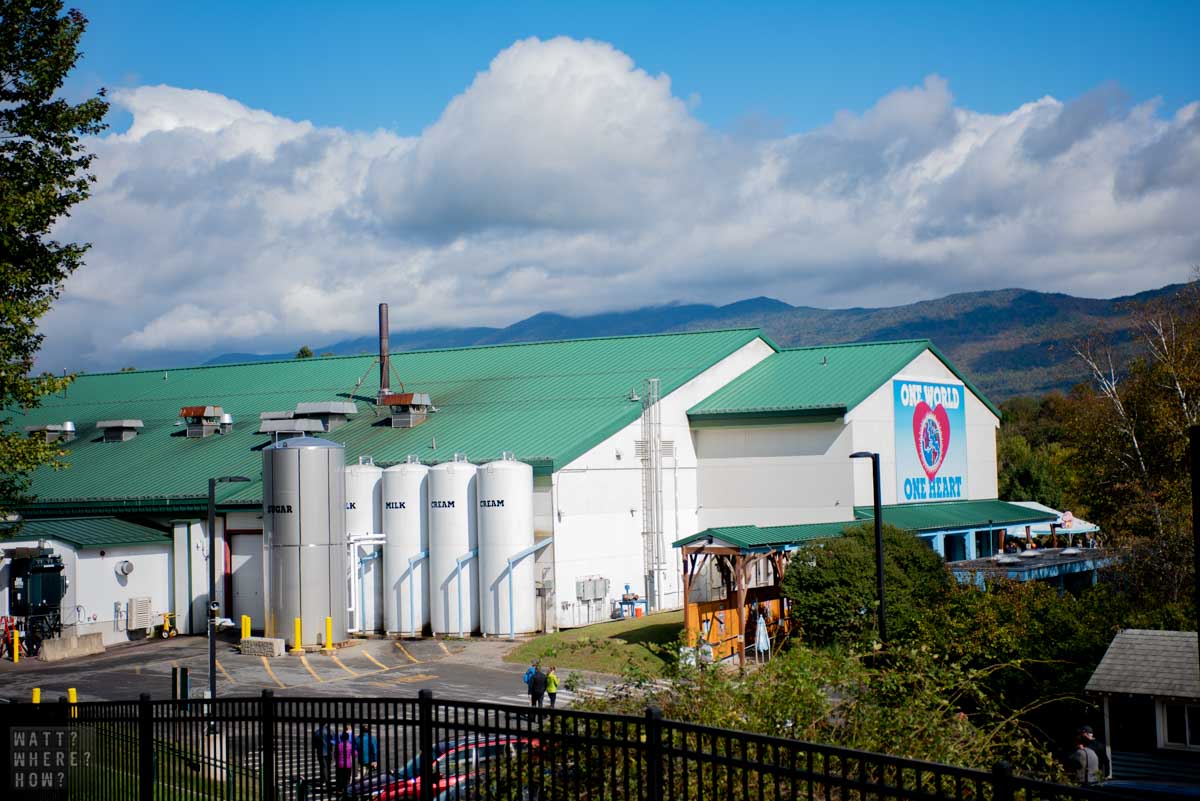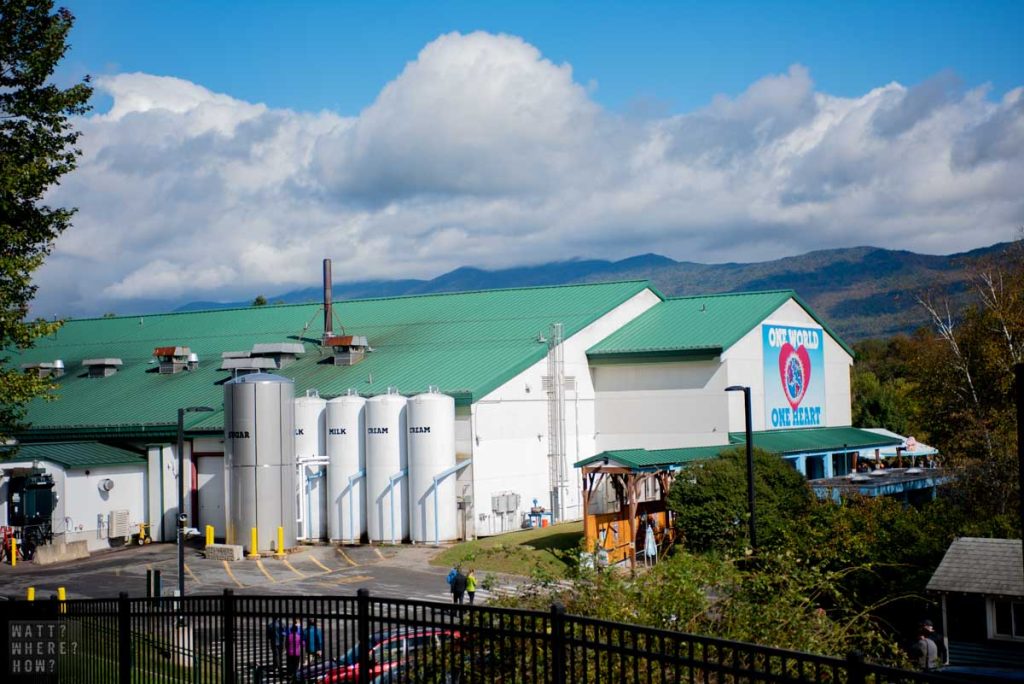 Get chilled at Ben & Jerry's Factory and Flavor Graveyard.
If you're a fan of ice cream and pop culture, don't miss out on Ben & Jerry's. The product of two Deadhead hippies, it's grown to be one of the world's favorite ice cream brands, partly due to its balance of flavors, sense of humor, and social conscience. The factory tour is open every day from 10 to 7, but bookings are essential.
Don't have time for the factory tour or want to keep things cheap? It's free to check out the Ben & Jerry's Flavor Graveyard, where they memorialize past flavors with very witty headstones. See our full review here.
Sample hot donuts and cold ciders at Cold Hollow Cider Mill.
New York State may claim to be the apple state, but Vermont still has plenty of juicy apples ripe for the picking. And even when they're not in season, the cider always will be. Cold Hollow Cider Mill in Waterbury, Vermont, is a medium-sized brewing house that has something for everyone.
In America, ciders can mean apple juice or can be denoted as hard cider – alcoholic cider. At Cold Hollow Cider Mill, the main focus is hard cider, and they have some delicious concoctions to sample. There are two main buildings, the bar/restaurant and the cider house and gift shop.
At the bar, you can dine inside in a rustic dining room or outside on a large patio. Your choices are quite extensive, with over 12 ciders on offer, six of which are rotating seasonal varieties. The food choices are mainly wraps, toasted sandwiches, soups, chilis, and paninis, and they all pair surprisingly well with apple ciders.
The gift shop is massive and encapsulates the best of northern Vermont produce.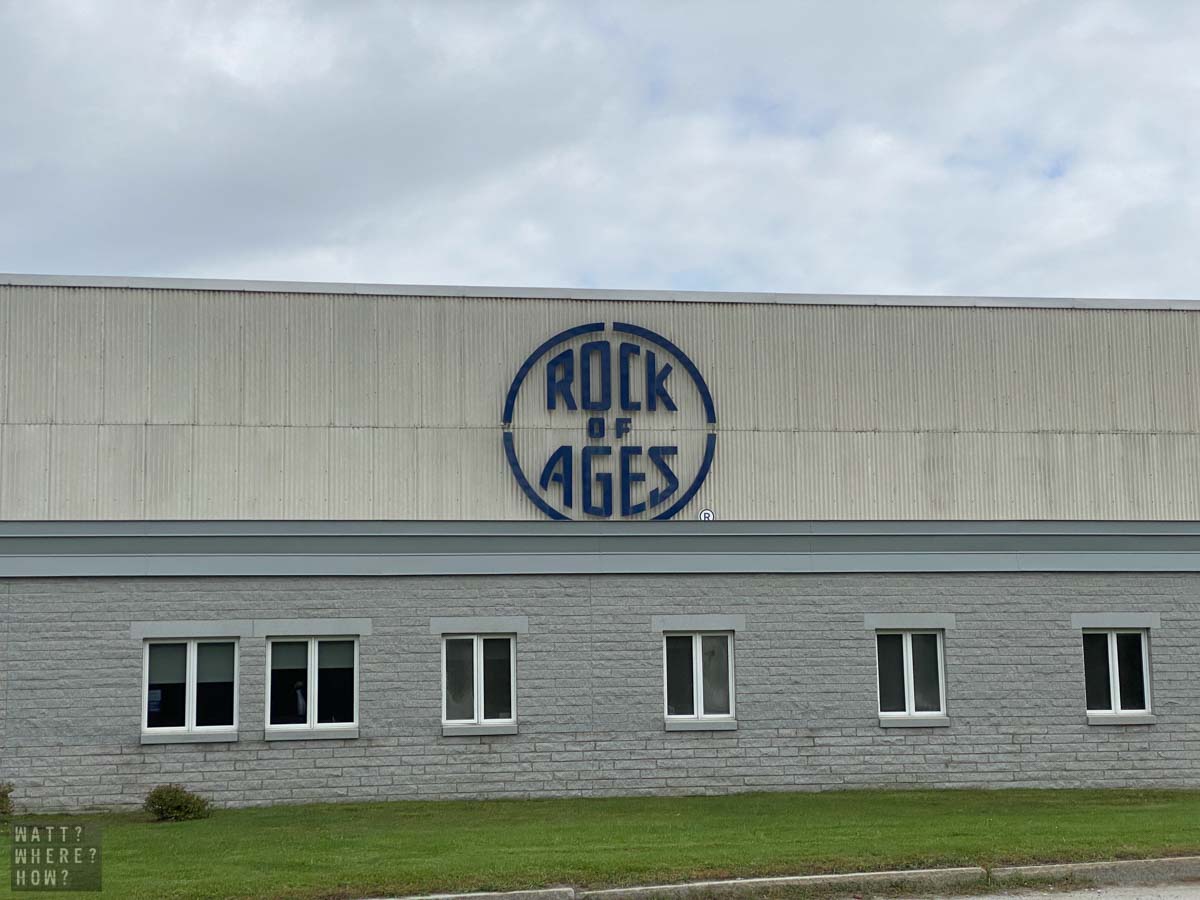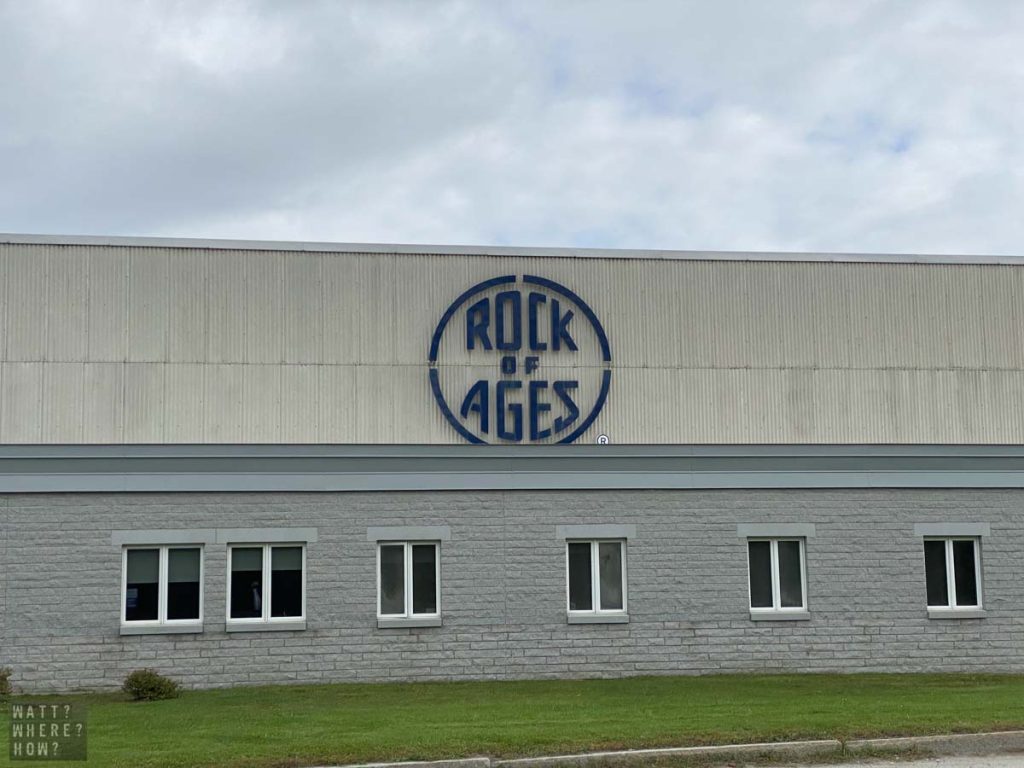 Bowl some boulders at Rock of Ages, Barre, Vermont
Visiting a quarry may not be high on your bucket list, but the idea of trying out a stone bowling alley really appeals to our Flintstone obsession.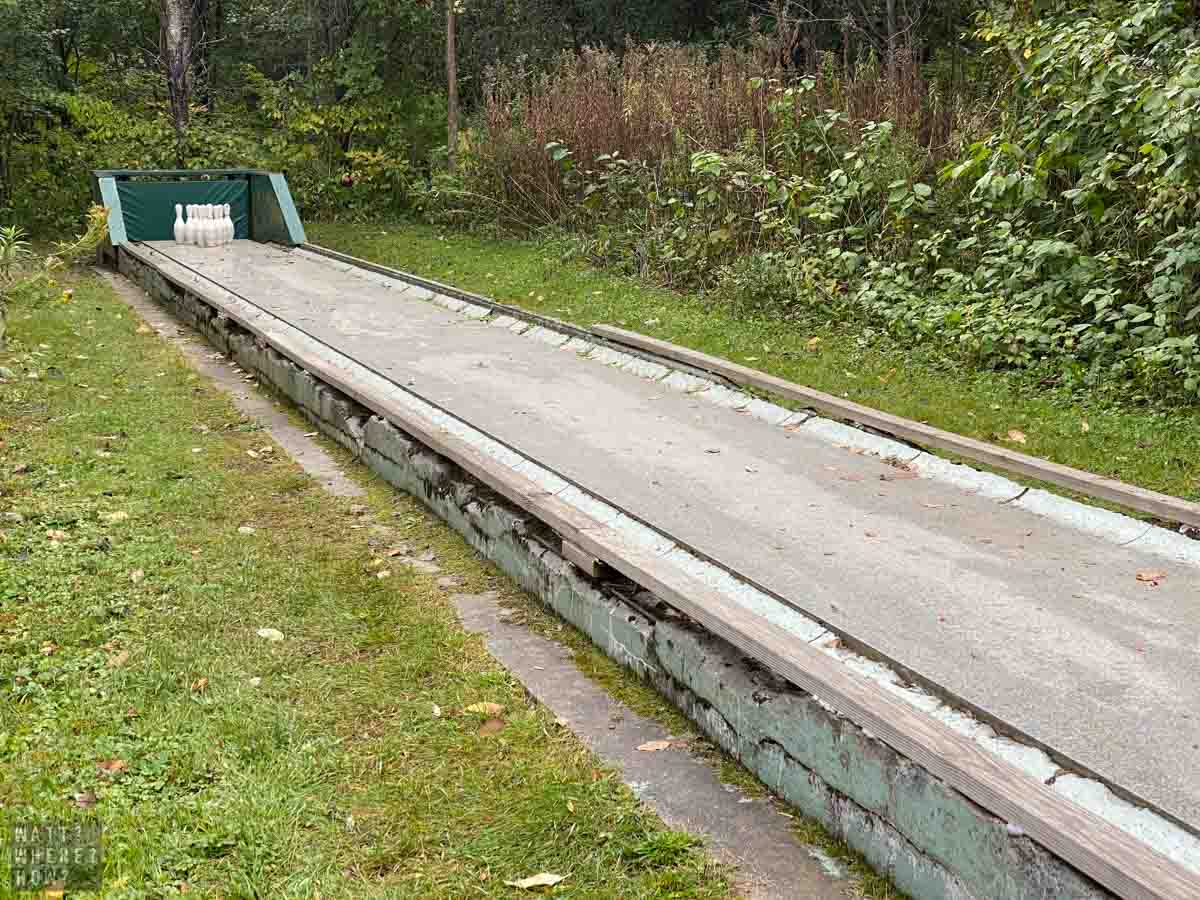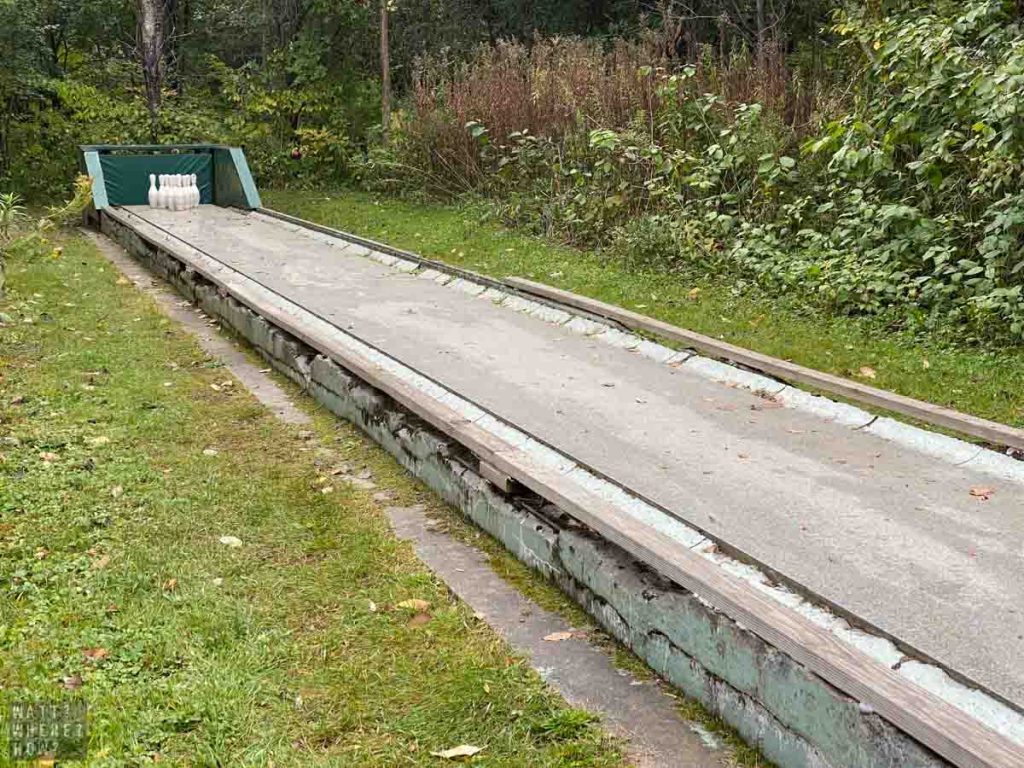 Rock of Ages is a savvy operation in that it has turned a working quarry into a tourist attraction based on the fact it's the world's largest granite quarry. And while a big hole has limited appeal, kids will love the bowling (not as cool as it sounded), and the olds can go in and shop for ornately carved gravestones. The stone bowling alley is free, but the quarry tour has a small cost. 
The tour is approximately 40 minutes in length and typically runs rain or shine.
Tour times: 10:15, 11:30, 1:15, 2:30, Monday thru Friday
$8.00 per adult | $7.00 per senior (62+) | $4.00 per child (6-13) | Children under 5 are admitted for free.
Sample the sweet stuff at Morse Farms Sugar Shack, East Montpelier, Vermont.
Coming to Vermont from another country, we didn't know until we were here that the capital of the state was Montpelier. We even drove through it but didn't have time to stop as we had to make it to our evening farm stay accommodation. Bizarrely, Morse Farms Sugar Shack in East Montpelier has a miniature replica of the Montpelier Capitol building sitting on a trailer in a shed.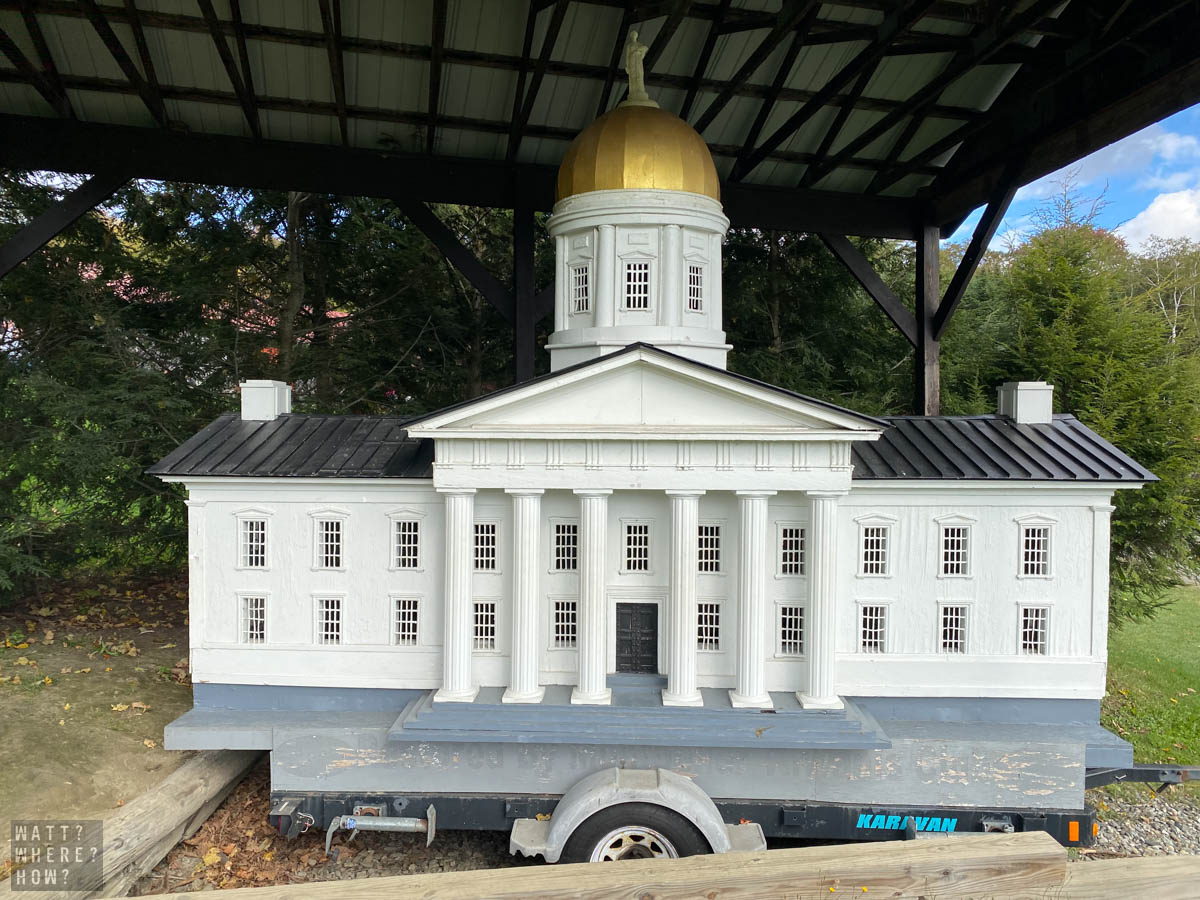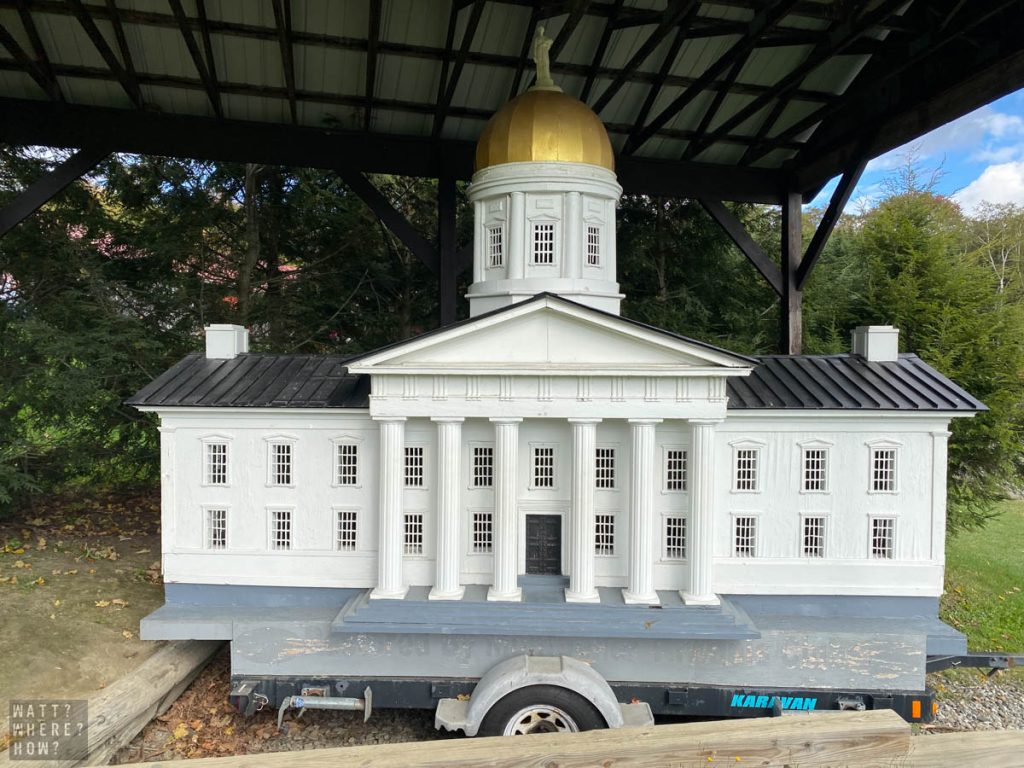 Set amidst miles of wilderness, farmlands, and some blazes of Vermont fall foliage stands Morse Farms Sugar Shack. It is a working maple syrup harvesting shack, though it's only operational for syrup making in early spring.
In the last days of winter and early weeks of spring, the thick sugary sap of the waking maple trees is drained to produce liquid gold – maple syrup. The process that transforms it into this tasty delicacy happens at sugar shacks across America and Canada.
The Morse Farms sugar shack outside of East Montpelier is a small operation that stays close to its rustic roots. Situated on the tourist route, it hosts a regular stream of tour buses through the warmer seasons and makes a bumper trade in maple syrup, handicrafts, and Vermont souvenirs. The only negative we found was that non-tour groups were left out of the presentations, having to stick outside to read info posters rather than watch the main video or see the inner workings.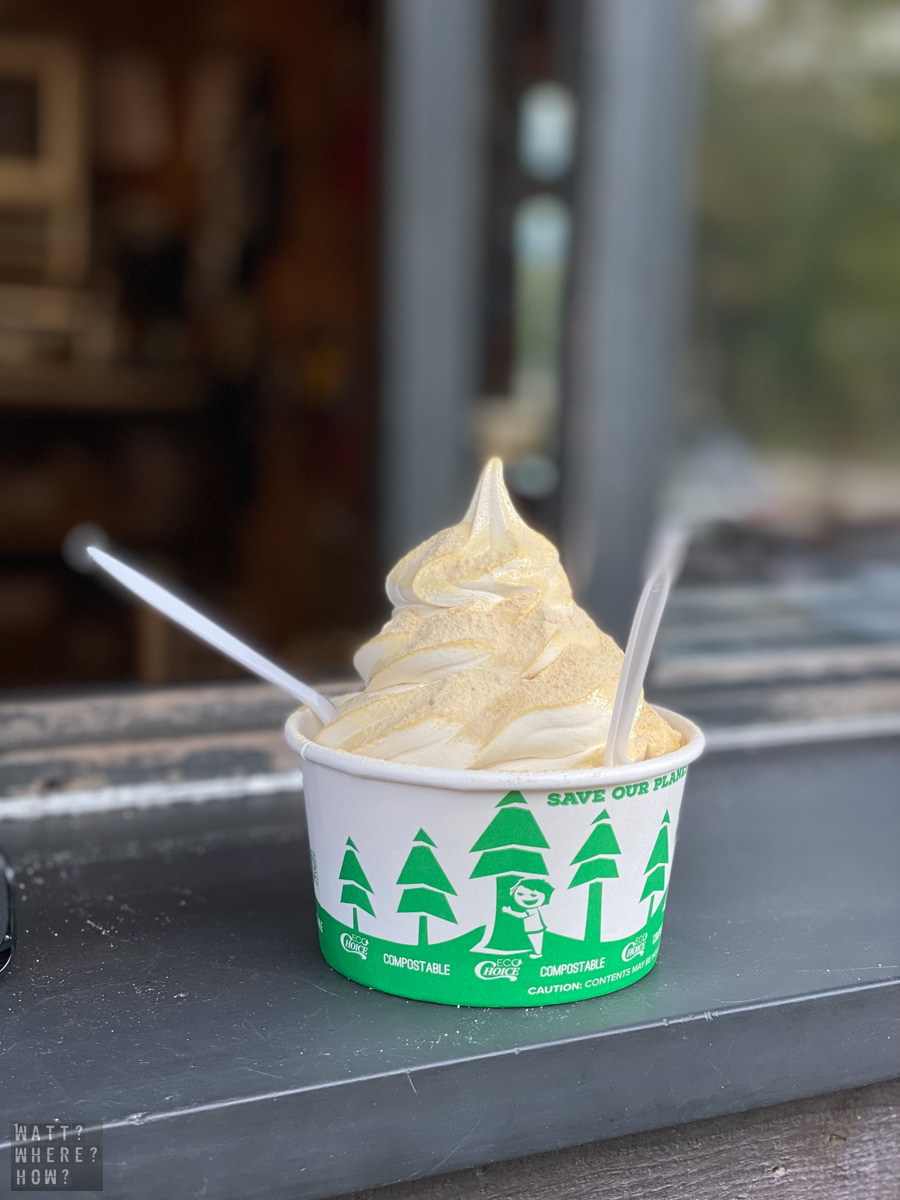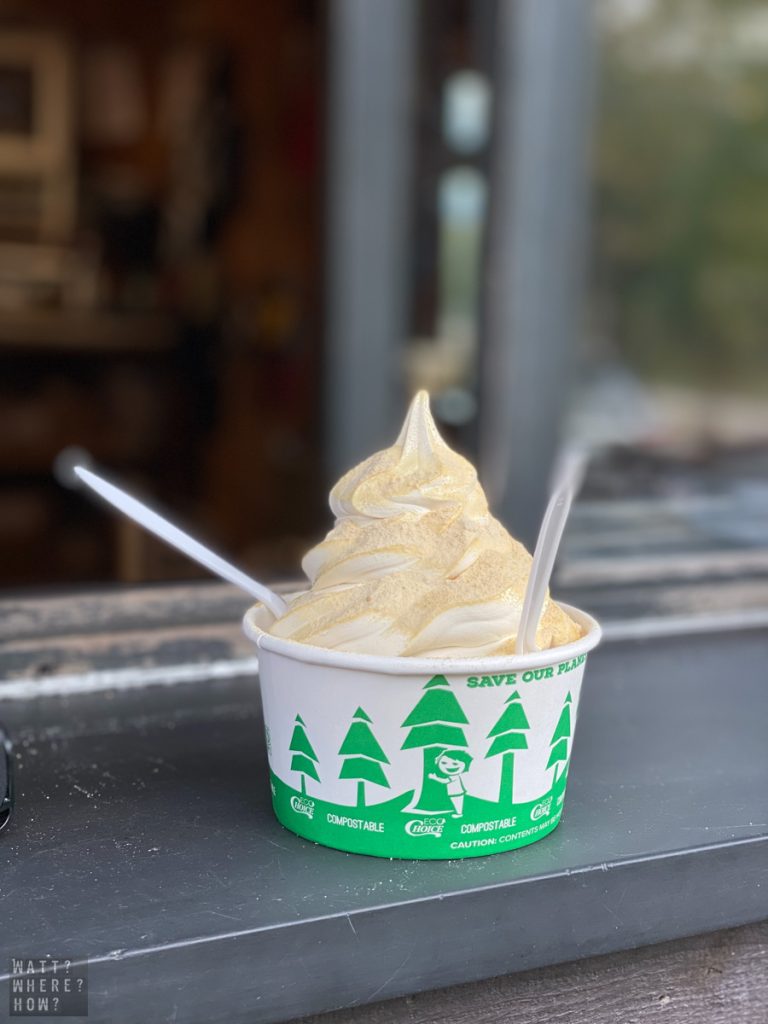 Creemees are a Vermont specialty – soft serve ice cream (Americans call them custards) with a sprinkling of maple dust. They are delicious but super sweet. Even in the autumn, they attract a queue.
Stowe Region Accommodation: Where to Stay in Northern Vermont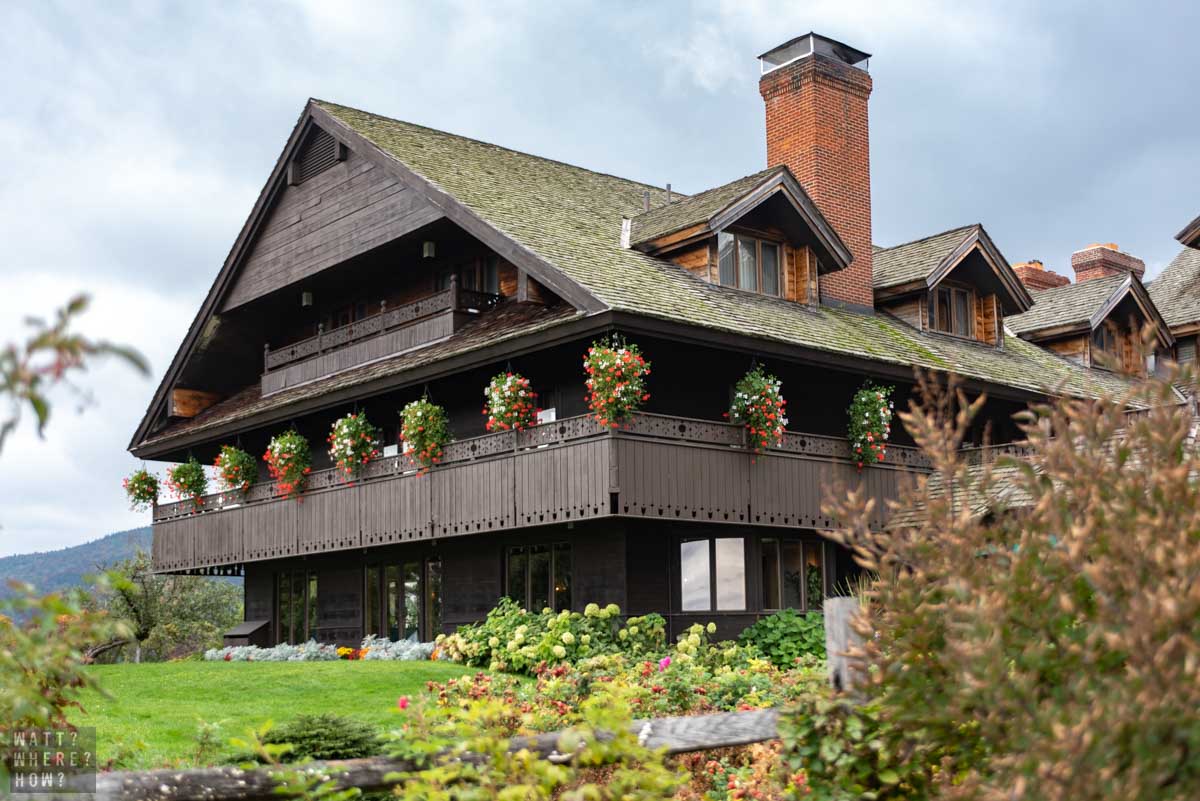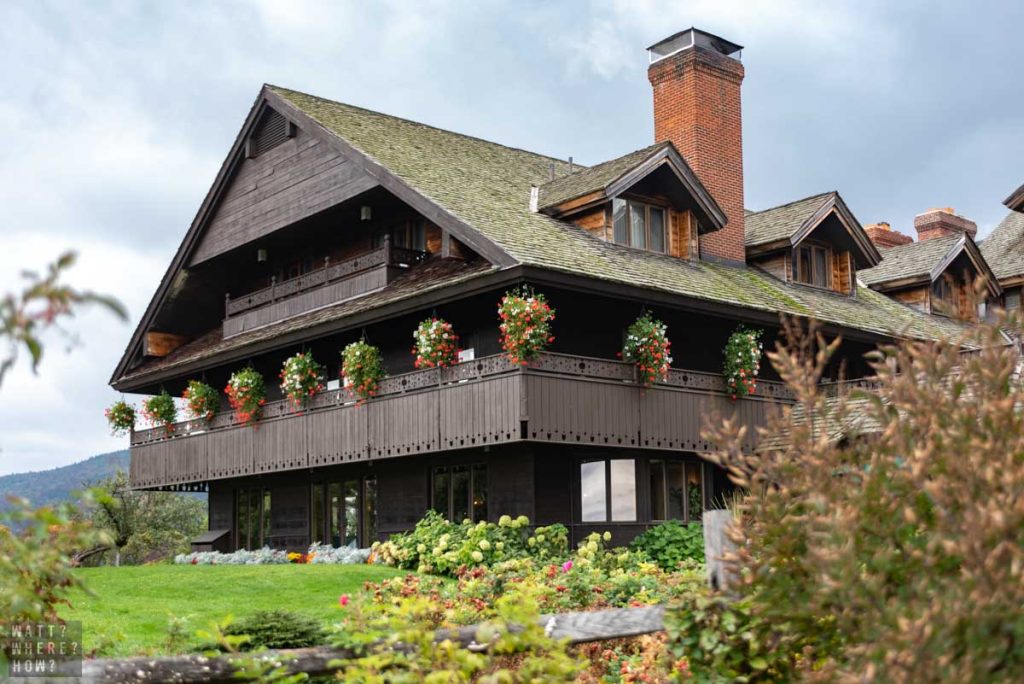 Top tier: The Von Trapp Family Lodge
If you're a fan of The Sound of Music (and who isn't?), you'd be familiar with the Von Trapp family. Maria Von Trapp and Georg fled Austria before the Second World War, taking their singing family group on a major tour before finally settling in the very alive hills of Vermont, which reminded them of their home. Today, The Von Trapp Family Lodge (rebuilt and expanded after a fire in the 80s) is a major vacation destination, with a large range of accommodation options, timeshares, hiking, yoga, historic chapels, highland cows, and a brewery.
We're not sure what was the best part, hiking up to the chapel in glorious Vermont fall foliage or feeding highland coo (that's what the Scots call them) calves.
Food is Austrian-inspired, and for Sound of Music fans, you'll love the decor with hundreds of pieces of memorabilia from around the world. You can also pay your respects to the family at their little humble graveyard. Read our full review of the Von Trapp Family Lodge here.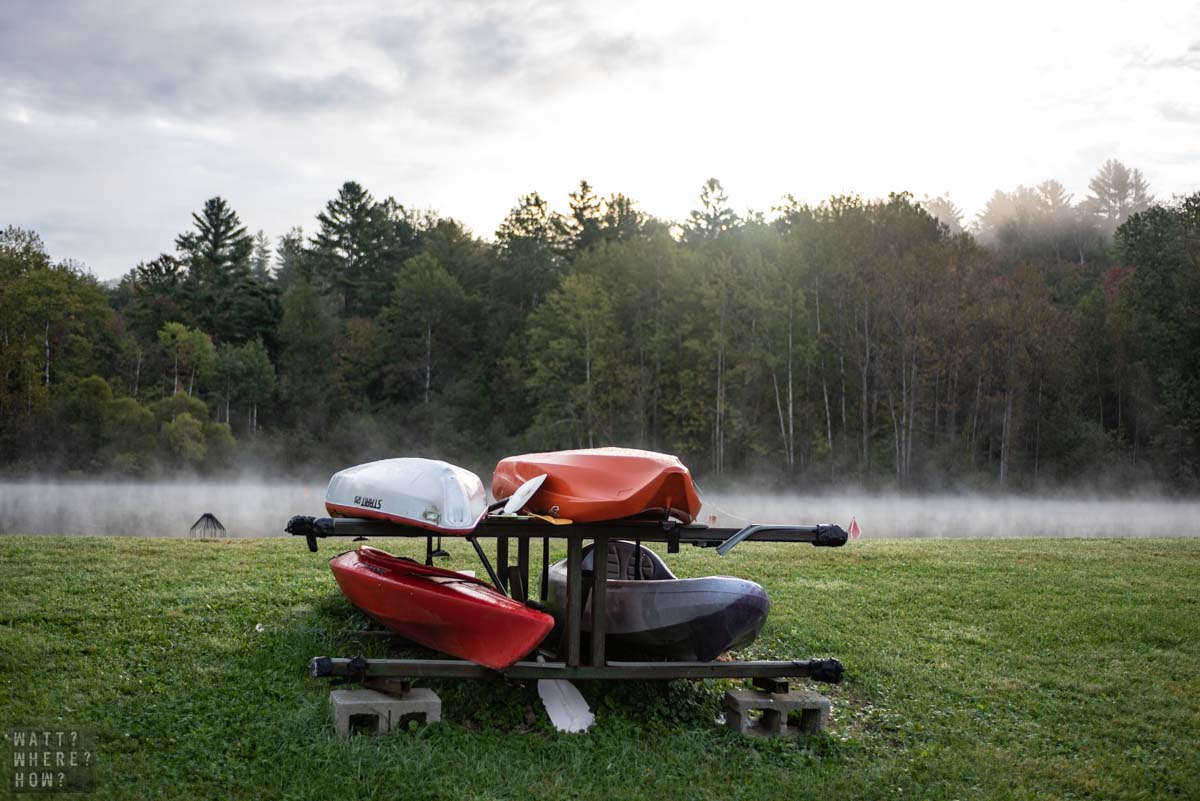 Budget: Commodores Inn, Stowe
Budget accommodation in Stowe can be hard to lock down during the peak Vermont fall foliage period. We settled on Commodores Inn for its close proximity to the town center and amenities like the indoor (and outdoor) pool and breakfast. It's dated and homely but still comfortable. Out the back is a small lake with kayaks and fishing gear for hire. Directly adjacent is an outdoor supply shop with everything you need to hit the hiking and mountain biking trails.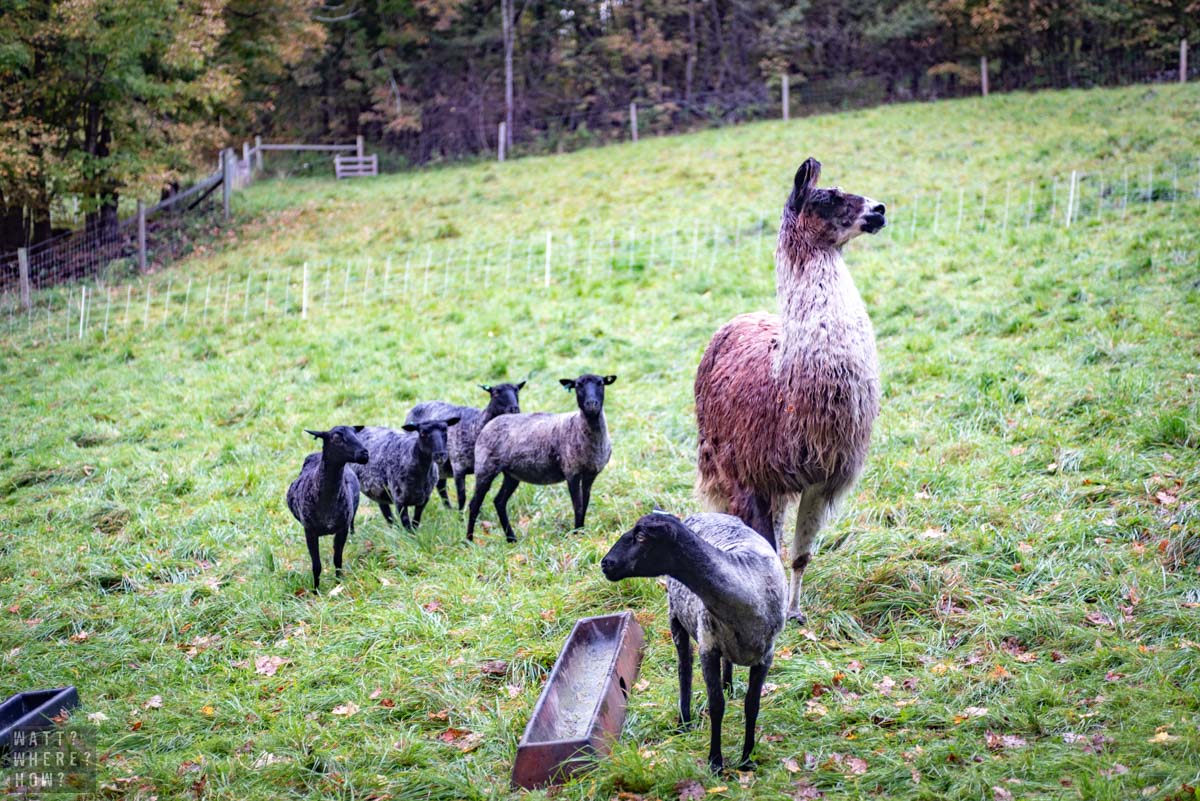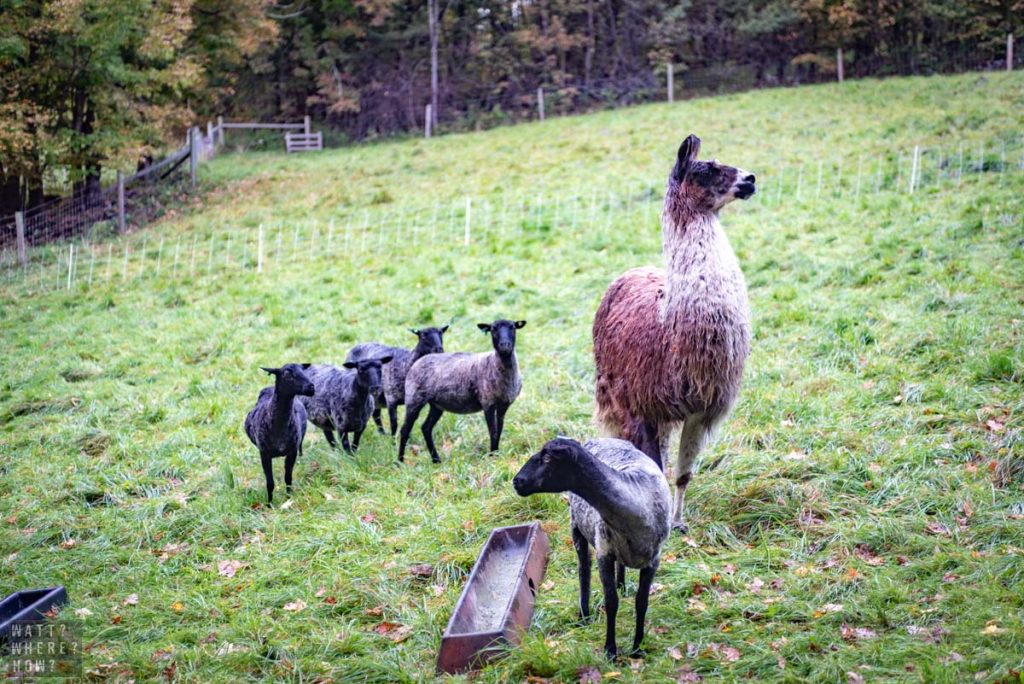 But what about the sheep herding llama?
Well, our wild card accommodation option is also the most memorable, a farm stay at Grand View Farm in Washington, VT. The farm breeds Gottland sheep, and instead of relying solely on a sheepdog, their llama, Alaska, watches over the herd. Set well off the beaten track, the 18th-century farmhouse offers a refreshing change of pace where you can drive the backroads enjoying the peak Vermont fall foliage colors or curl up on the antique bed with a good book.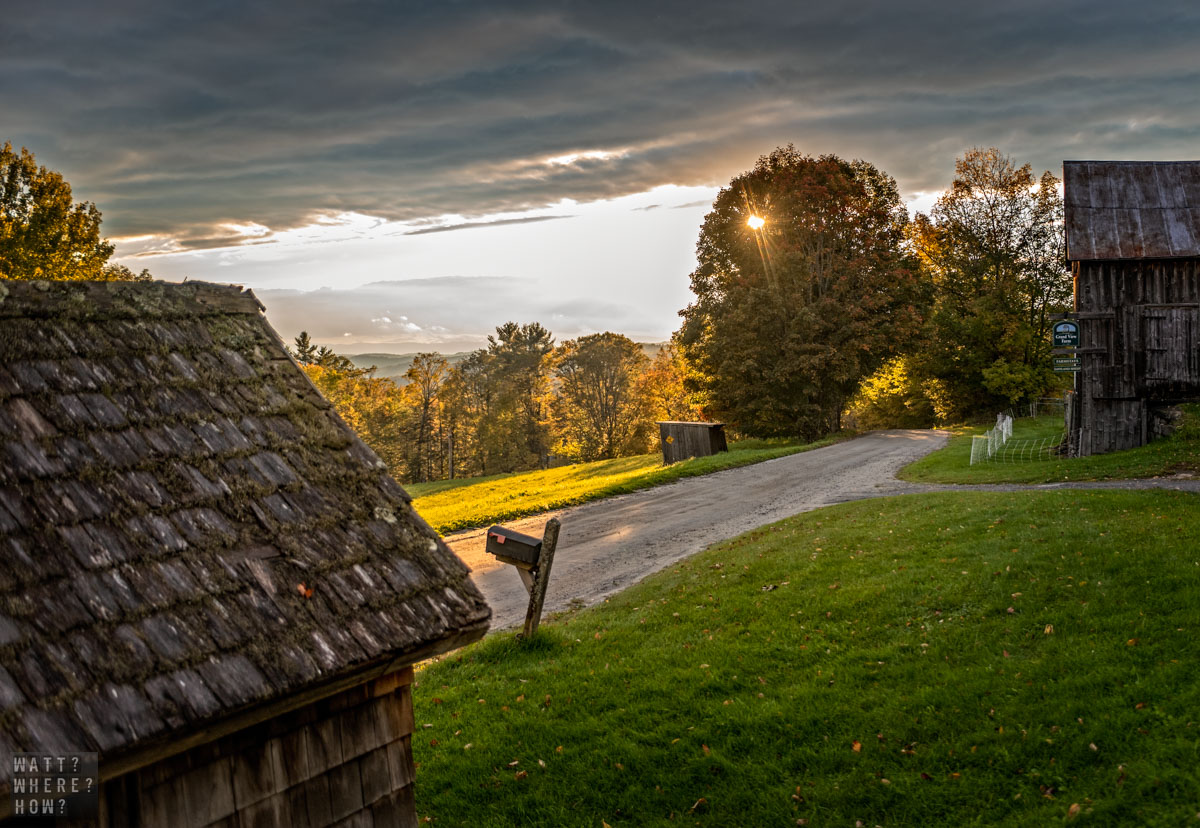 We came for the leaf-peeping, and to see Vermont fall foliage was a tick off the bucket list. We probably erred on the conservative side with our dates of travel and captured the turn of the leaves prior to their peak. But it's a fine line. If you miss the window, you'll get less of the reds and oranges and more yellows and browns. The Vermont tourism website offers a foliage tracker here. As long as you don't leave it too late when it descends into dry browns and greys, you won't be disappointed. Then again, it's a wonderful state, and any time we go to Vermont, we leave happier.
Follow & Connect with us