Ben & Jerry's Flavor Graveyard in Waterbury, Vermont is part of the ice cream factory of the much-loved green mountain brand.
Since 1978, the famed Ben & Jerry's ice creams have been leaping off the shelves due to their unique blends and humorous flavor names.
Who are Ben & Jerry?
Ben & Jerry's is named after two real people: Ben Cohen and Jerry Greenfield, two New York natives who took a correspondence course in ice cream making in 1977. Ben suffered from anosmia, a poor sense of smell, so he tended to mix flavors based on textures rather than aromas.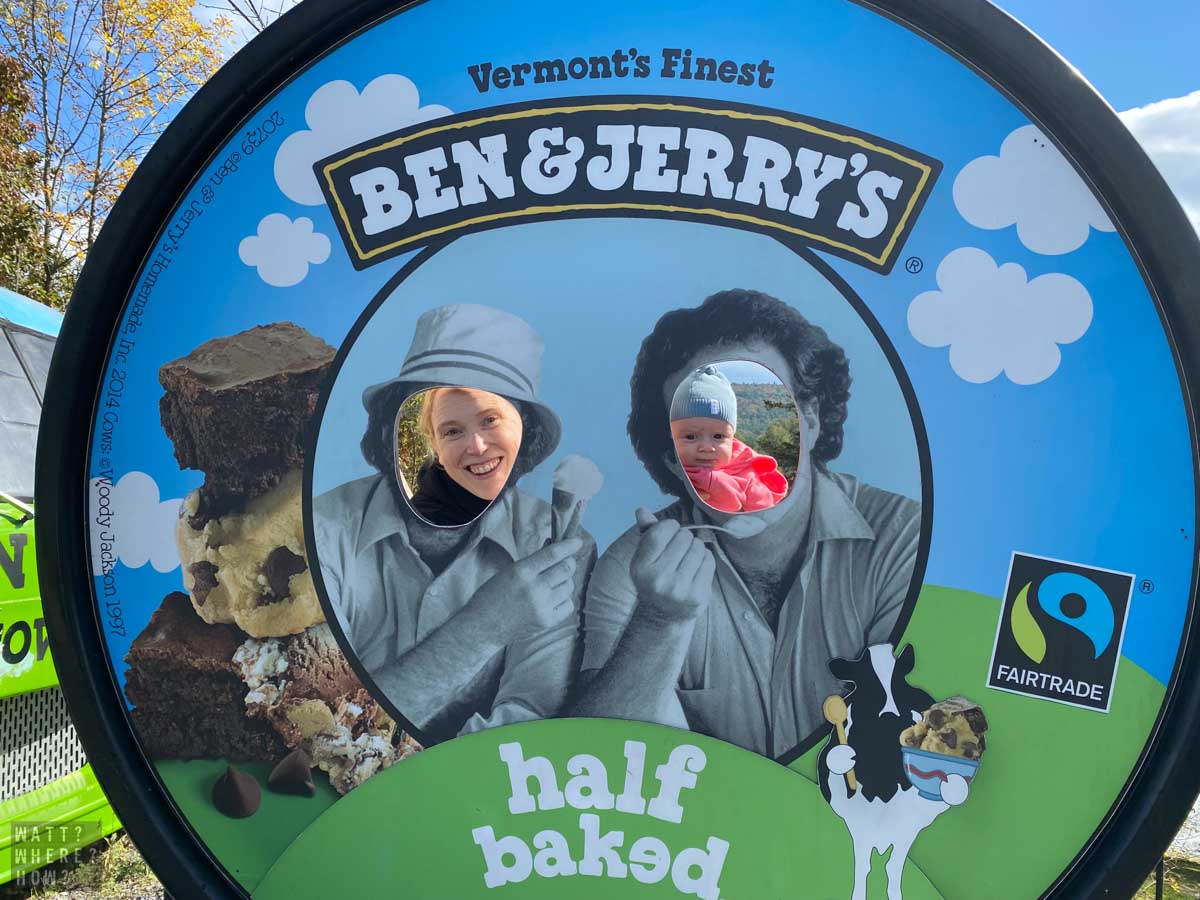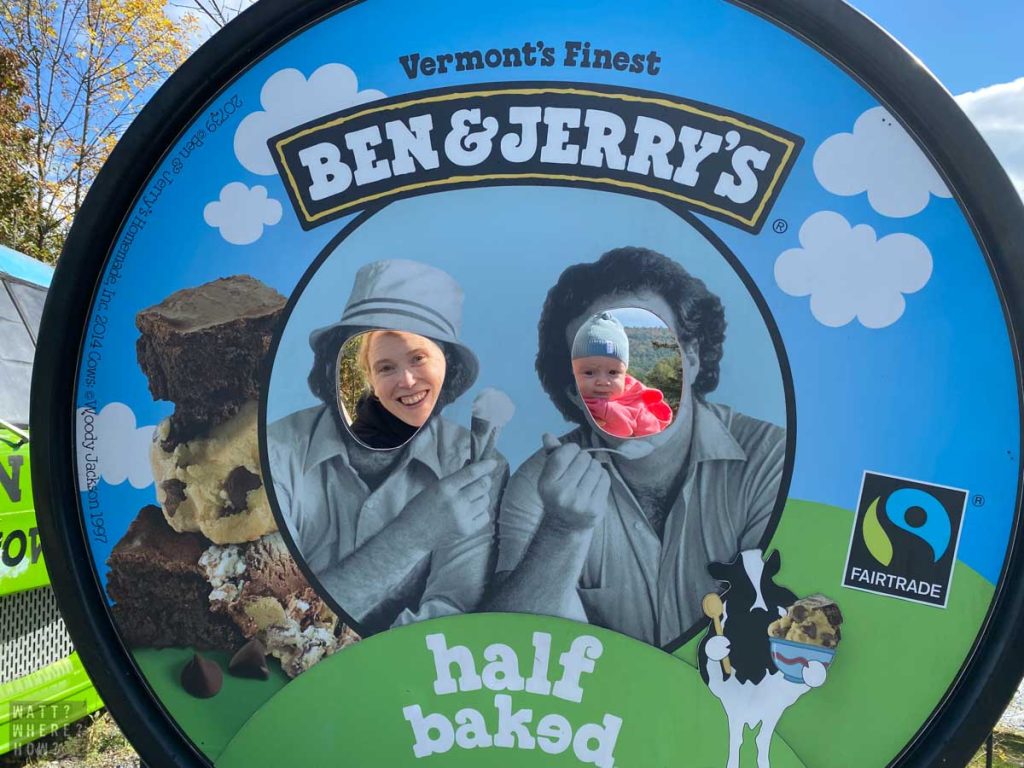 The chunky mixes used everything from marshmallows, and banana flakes to Swedish fish candy and each bore a funny wordplay name like Phish Food and Cherry Garcia, puns on famous prof rock artists of the time. This, coupled with the duo's bright tie-dyed shirts and 70s pop cultural branding, helped them grow from one parlor in an old gas station in Burlington, VT to social-conscious ice cream entrepreneurs.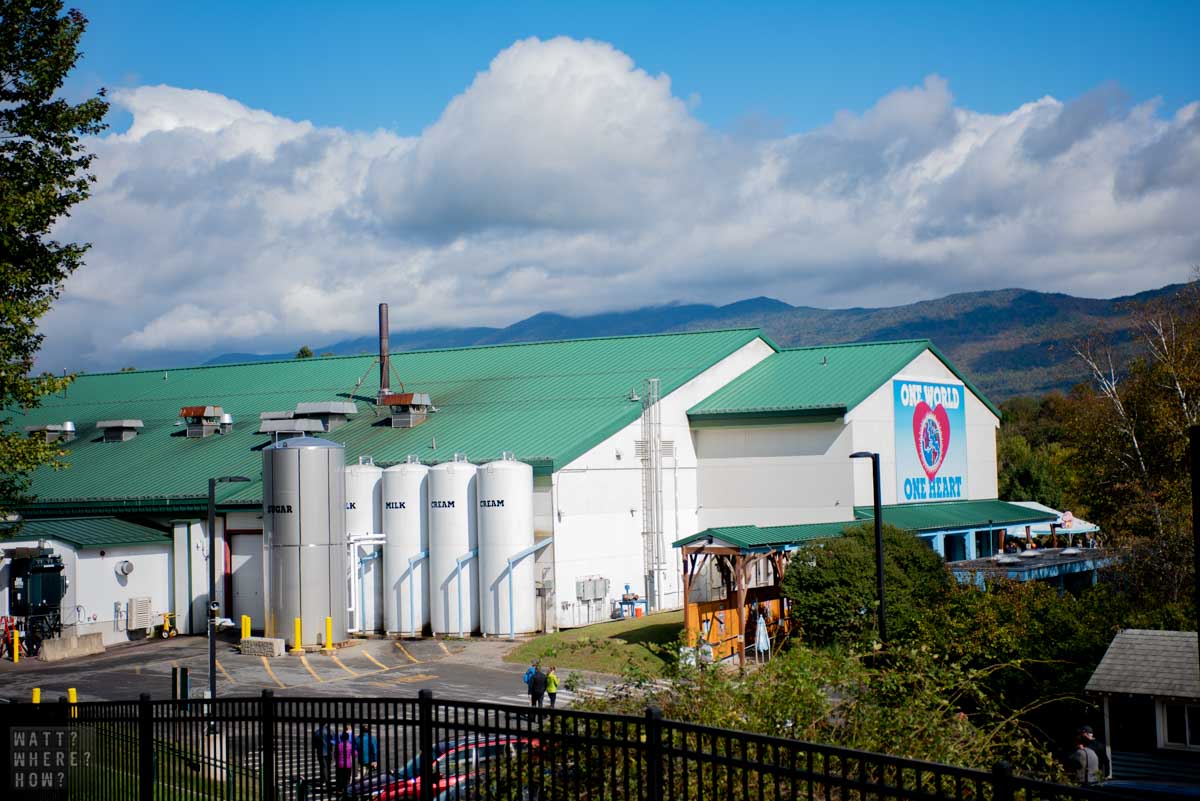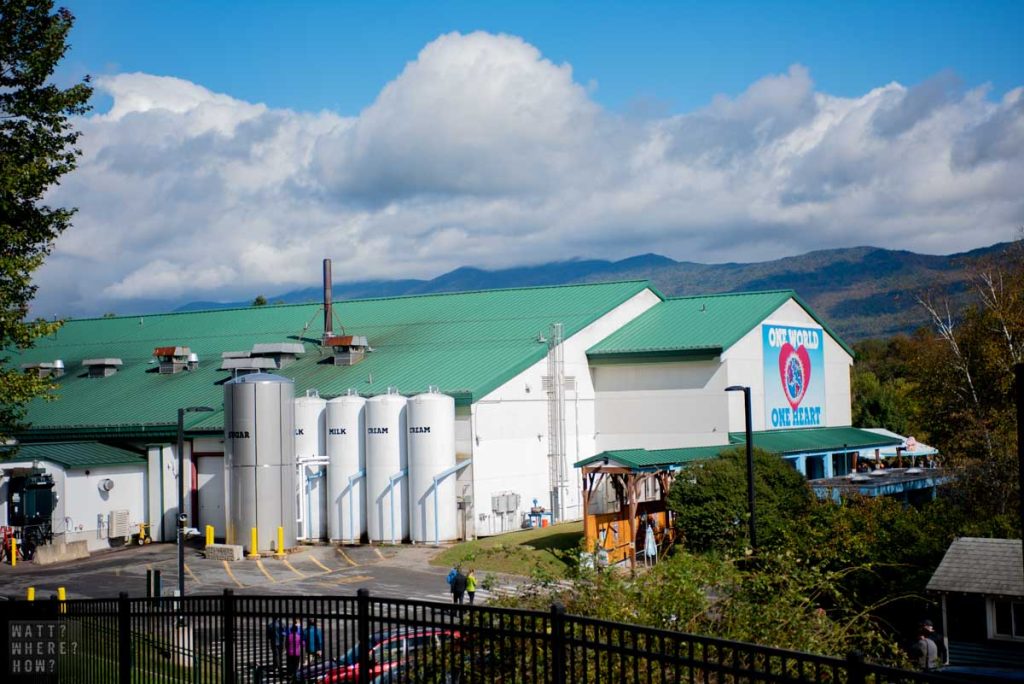 Is there a Ben & Jerry's factory tour?
The Ben and Jerry's factory tour takes place in Waterbury, Vermont. This large-scale commercial operation (the brand is now owned by Unilever) manages to balance production expertise with the brand's irreverent sense of humor, even marking its silos with the words: milk, cream, and sugar. The factory opened in 1985 and still produces over 350,000 pints of ice cream annually. Earlier in the pandemic, the factory tours stopped running, but they have returned.
Ben & Jerry's Factory tours run Tuesdays to Saturdays between 11 am and 6 pm. They do not operate on Sundays and Mondays. To avoid disappointment, book before you go. It costs $7 per person, and your ticket includes a 30-minute guided tour, a chunk and ice cream sample, and access to photo ops and retail items.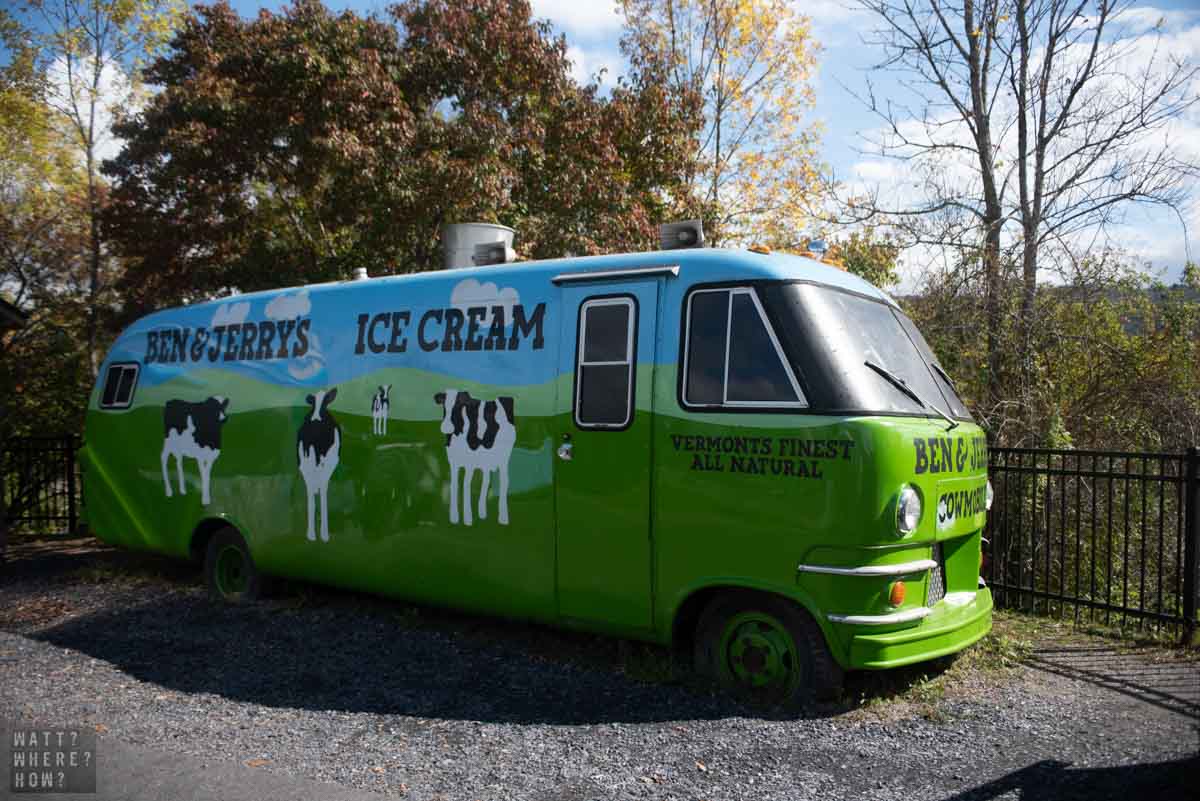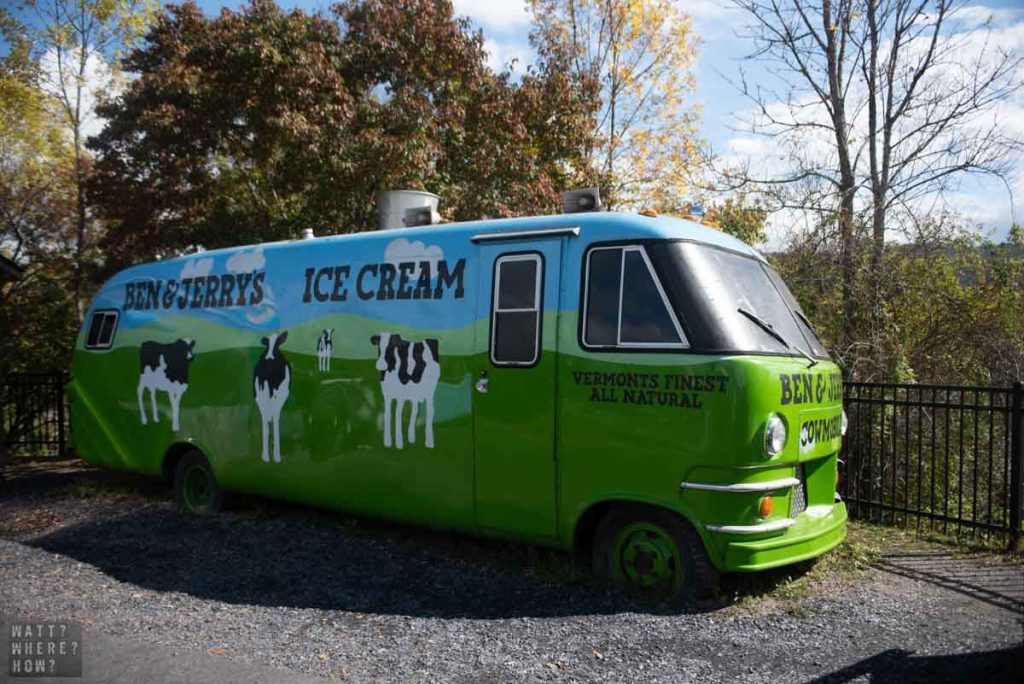 At the Ben & Jerry's Factory at Waterbury, you'll also find an ice cream parlor called the Scoop Shop, a souvenir and gift stand, and an impressive playground for the kids. But what attracts Ben & Jerry's fans is its uniquely dark resting place for its discontinued flavors.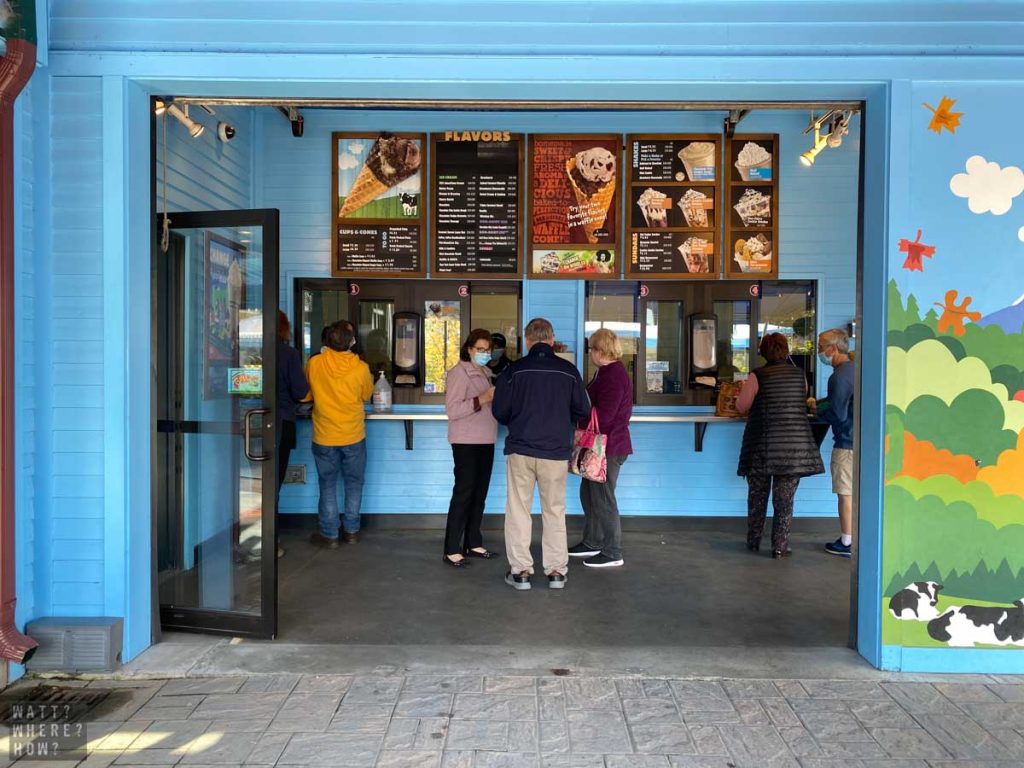 Where is the Ben & Jerry's Flavor Graveyard?
The Ben & Jerry's Flavor Graveyard is situated on the grounds of its Waterbury factory, the first major production facility of the brand that has been open since 1975. Dressed very much like a quaint country cemetery, with quirky Ben & Jerry's embellishments, each flavor taken out of circulation is given its own burial site, complete with a tombstone bearing the details of its name, flavor profile, and years on the earth.
Ben & Jerry's Flavor Resurrections
Just because a pint is interred at Ben & Jerry's Flavor Graveyard doesn't mean it's the end. The company invites fans to grieve the flavors, but also gives them the chance periodically to resurrect old favorites. So, if you're craving a taste that went to flavor heaven, there may be a hope that it will return to the freezer section some day.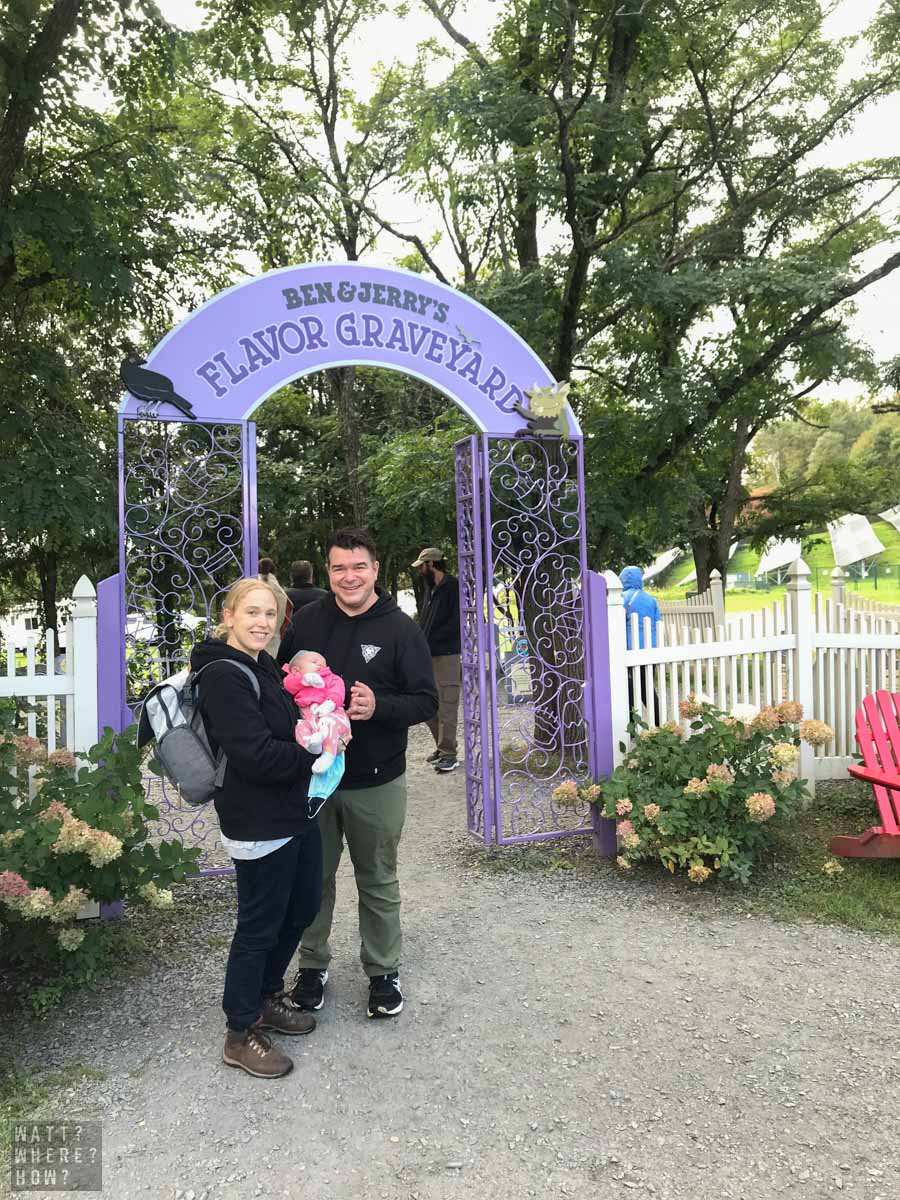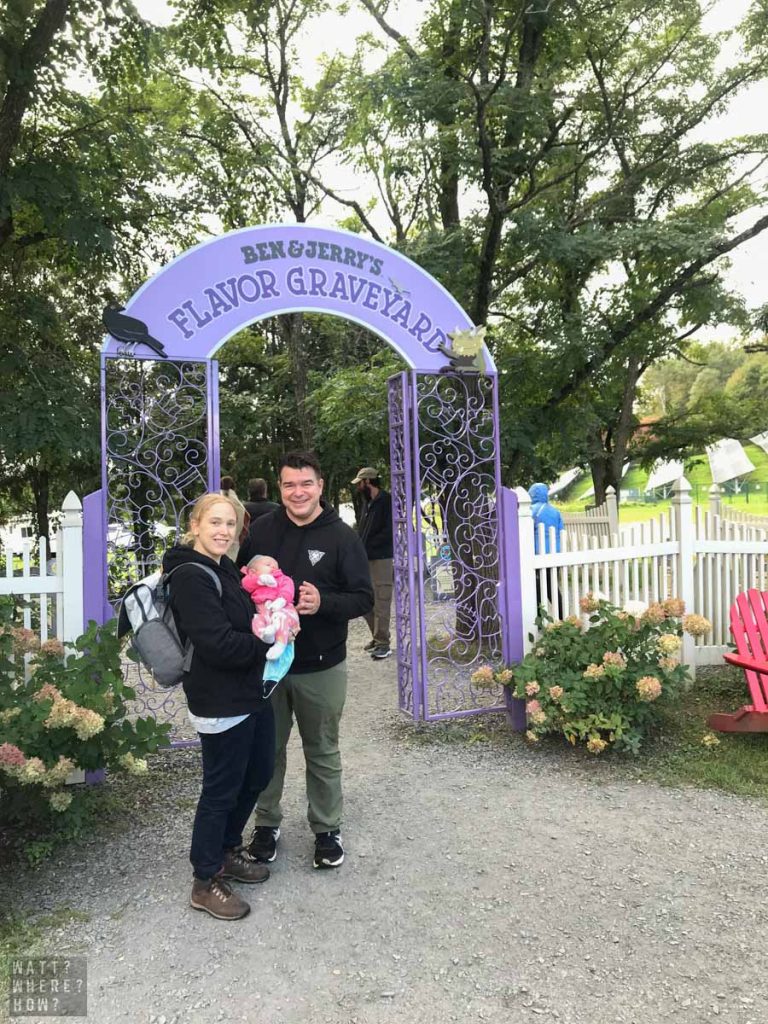 What flavors are in Ben & Jerry's Flavor Graveyard?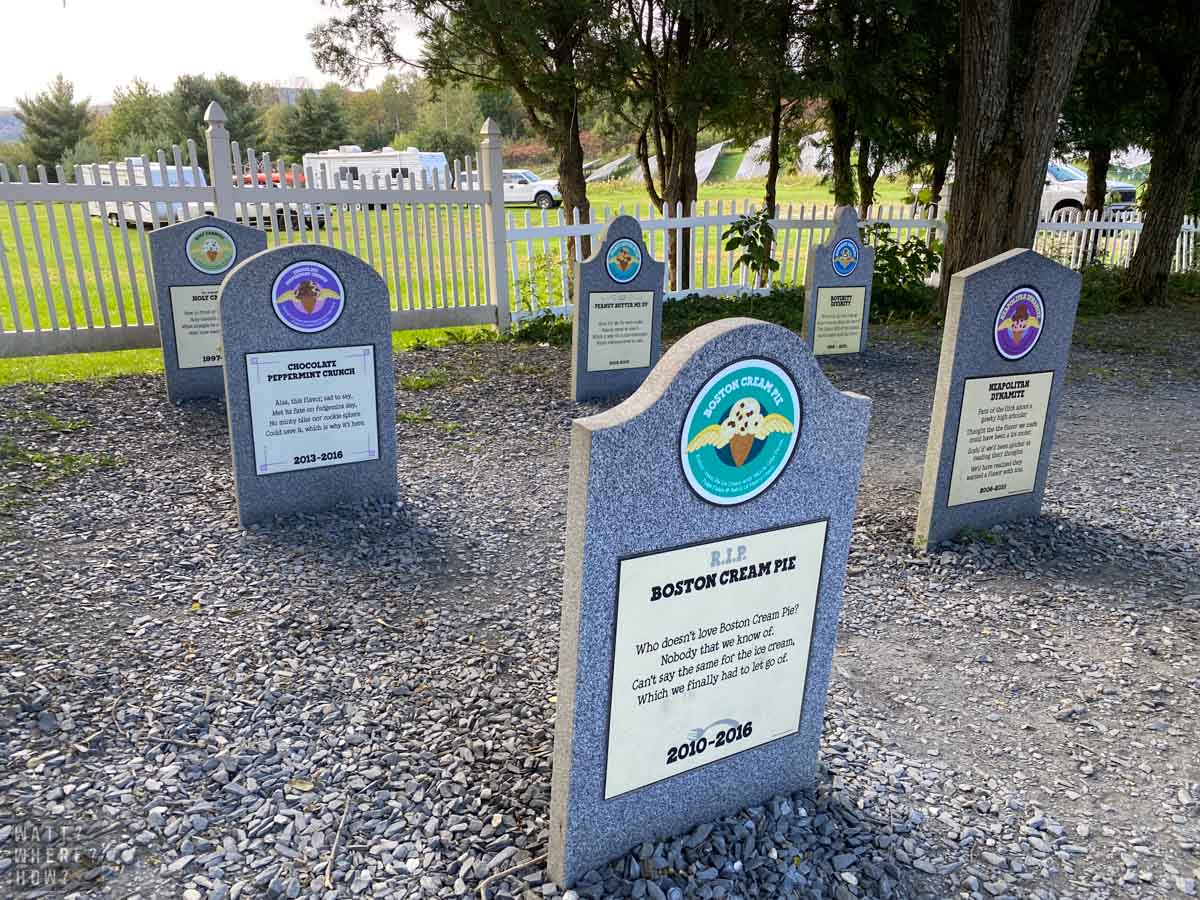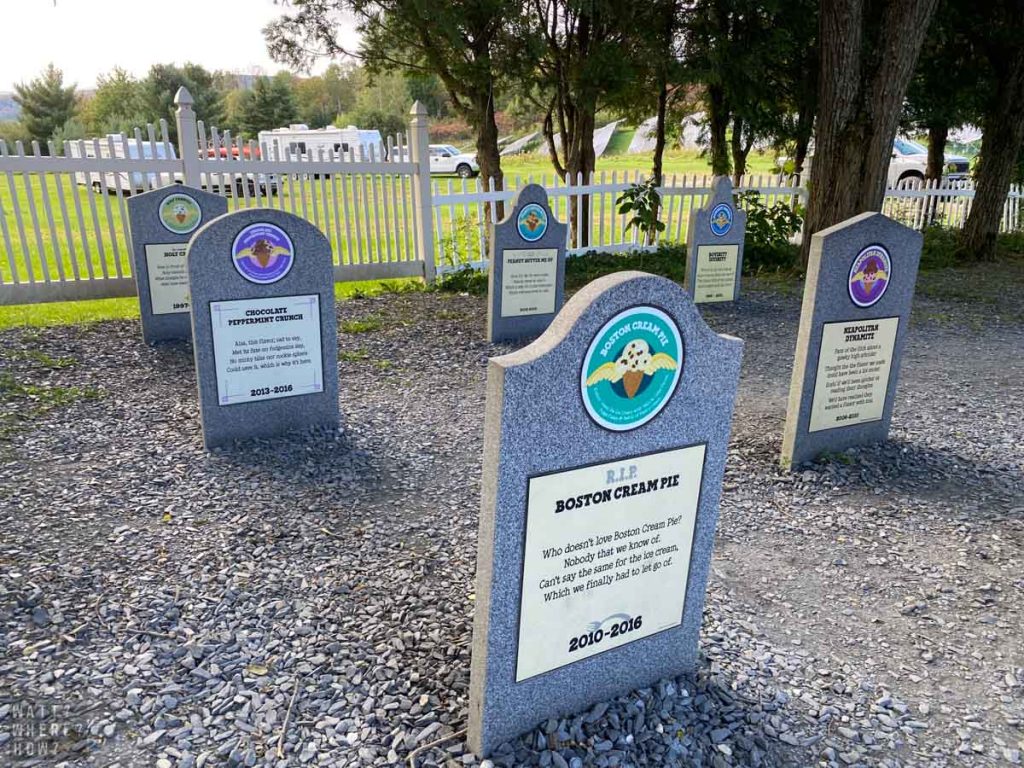 Ben & Jerry's fans take a nostalgic trip to pay homage to flavors loved and lost like Vermonty Python, Dave Matthews Band's Magic Brownies, and Economic Crush. Each tombstone's header is styled like the pint lid of the original tub. It's a fun walk back through memory lane and captures the essence of the brand – always ready to make fun of a situation.
Vanilla ice cream with a hint of rum & loaded with fudge-covered rum & malt balls 2011 Holiday Season Limited Batch. This was made from a Saturday Night Live sketch.
A caramel & cashew brazil nut ice cream with a chocolate hazelnut fudge swirl & roasted almonds.
Sweet Cream Ice Cream with Chocolate Cookie Pieces, Fudge Dinosaurs & a Fudge Swirl.
Vanilla ice cream with fudge-covered caramel cashews & a caramel swirl.
Coffee liqueur ice cream with chocolate cookie crumb swirl & fudge cows (and no traces of crunchy frog, dead parrot, or Spam.
A nutty mix of chocolate & pistachio ice creams with fudge covered almonds & lightly roasted pistachios.
Rich milk chocolate cashew Brazil-nut butter ice cream with macadamia nuts covered in white & dark fudge & milk chocolatey swirl.
Chocolate Truffle Low Fat Ice Cream swirled with White Chocolate Low Fat Ice Cream.
Vanilla frozen yogurt with gobs of chocolate chip cookie dough.
Plum Ice Cream with a Caramel Swirl.
Vanilla Ice Cream with Chocolate Covered Almonds.
Peanut Butter Ice Cream with Peanut Butter Bits and Strawberry Jelly Swirl.
Milk chocolate ice cream & white fudge cows swirled with white chocolate ice cream & dark fudge cows.
Ginger Ice Cream with a Fudge Swirl.
Coconut Almond Fudge Chip meets New York Super Fudge Chunk A Swirling Safari of Chocolate Ice Cream & Coconut Ice Cream mixed with White & Dark Chocolatey Chunks, Pecans & Roasted Almonds.
Sweet Custard Ice Cream with a Caramelized Sugar Swirl.
Ice Cream with Rainforest Crunch – a cashew and Brazil nut butter crunch.
Vanilla ice cream with strawberries and fudge covered shortbread.
Fresh Pear Ice Cream with a hint of Almond and a Light Fudge Swirl.
Vanilla Ice Cream with Fresh Georgia Peaches.
Caramel Ice Cream with White Fudge-covered Caramel Popcorn, Toffee-coated Peanuts & a Caramel Swirl.
Peanut butter ice cream with chocolate chunks.
Coffee Ice Cream with Kahlua Coffee Liqueur.
Vanilla with Chocolate Covered Almond, Pecans and Walnuts.
Swirls of Light Chocolate & Dark Chocolate Sorbet.
Blueberry ice cream with Maine blueberry puree and wild Maine blueberries.
Swirls of Raspberry-Blackberry & Passion Fruit Sorbet With Other Natural Flavors.
Chocolate Ice Cream with Pecans, Almonds, Raisins, & Chocolate Chips.
Creamy Ricotta and Pistachio Ice Cream with Chocolate Covered Cannolis and Roasted Pistachios.
Coffee Ice Cream with Amaretto, Jack Daniels Tennessee Whiskey and Roasted Slivered Almonds.
Chocolate Ice Cream with Coconut Caramel Swirls & a Chocolatey Covered Coconut Caramel Crunch.
Chocolate & Vanilla Ice Creams with Chocolatey Covered Macadamia Nuts.
Sweet Cream Ice Cream with Chocolate Cookie Pieces, Dark Chocolatey Cows & a Chocolate Fudge Swirl.
Irish Cream Liqueur Ice Cream with Chocolate Chocolate Chip Cookies & a Coffee Fudge Swirl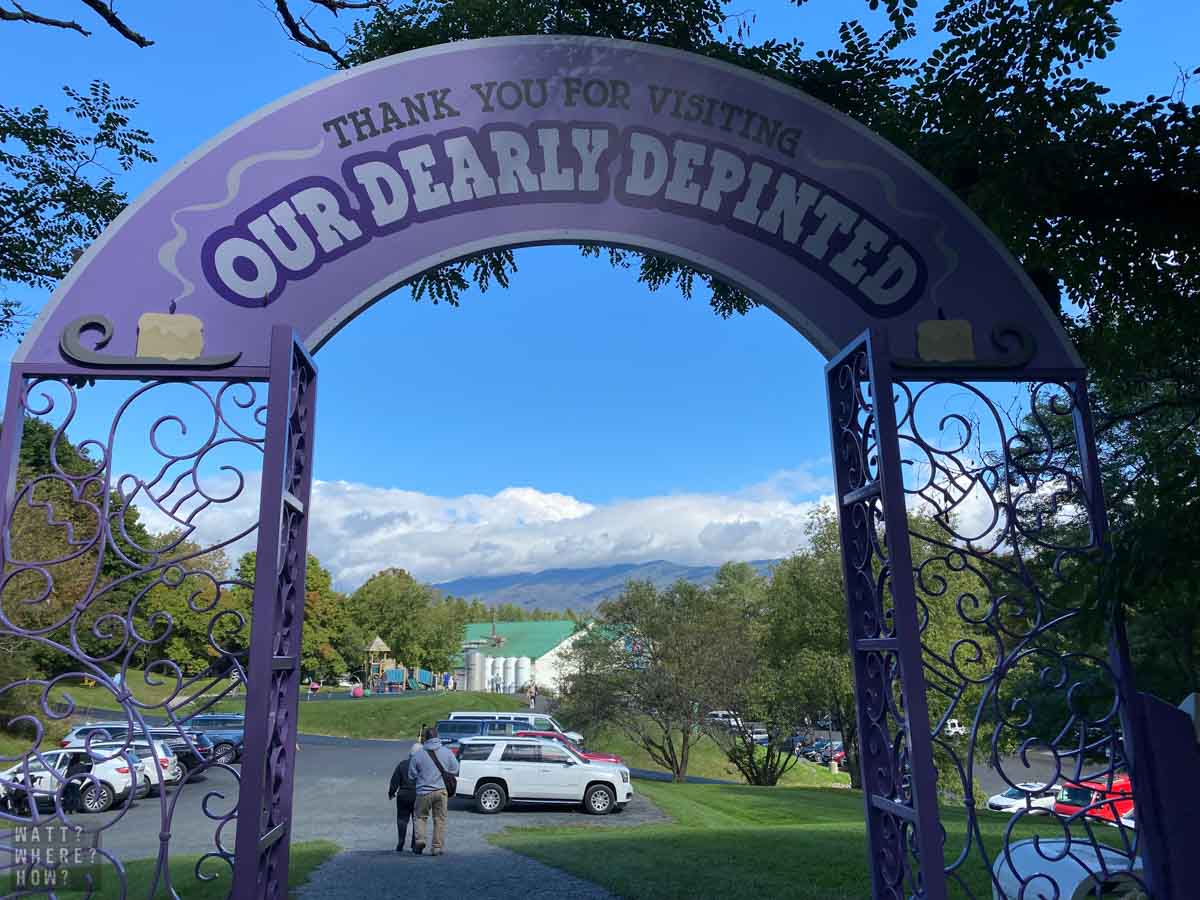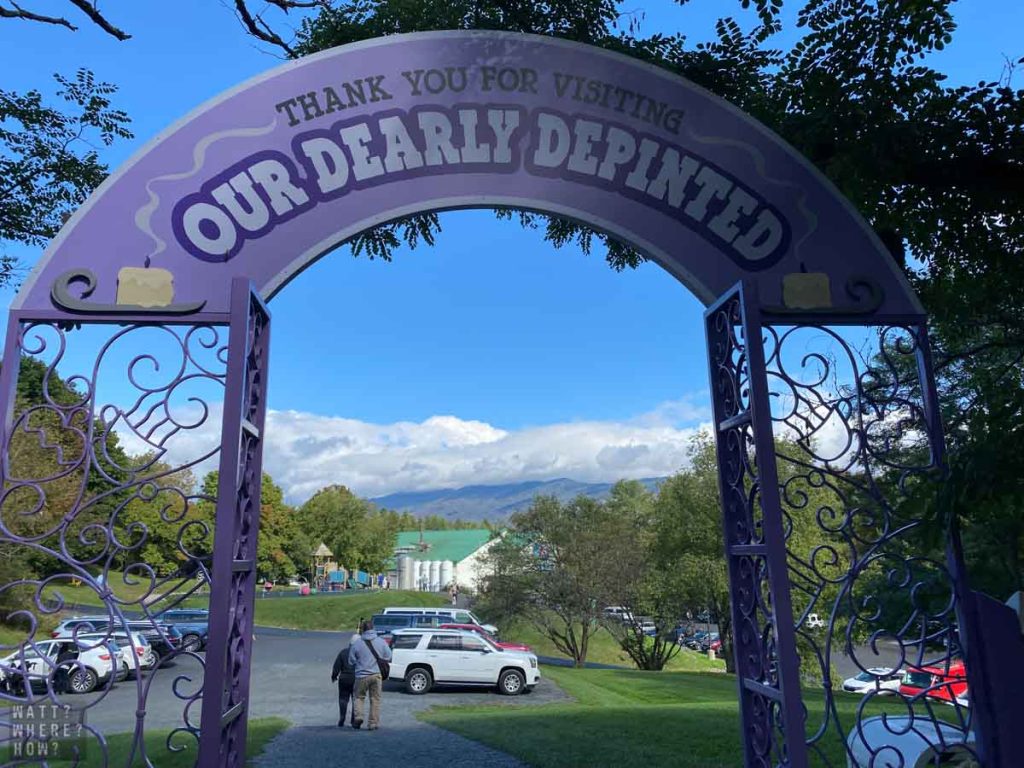 Looking for more vacation and road trip ideas across the northeast of the United States? We have great ideas across New York State, New Jersey, Connecticut, Vermont, Massachusetts, Rhode Island, New Hampshire, and Maine.
WHAT?
Ben & Jerry's Flavor Graveyard at the Ben & Jerry's Factory facilities in Waterbury is a must-do stop on any Vermont road trip.
WHERE?
1281 Waterbury-Stowe Road
Route 100
Waterbury, VT 05676
Shop #: 802-337-1201
Catering #: 802 222-1665
HOW?
Monday: Closed
Tuesday: 11:00am – 6:00pm
Wednesday: 11:00am – 6:00pm
Thursday: 11:00am – 6:00pm
Friday: 11:00am – 6:00pm
Saturday: 11:00am – 6:00pm
Sunday: Closed
Follow & Connect with us