A Lisbon layover is only a teaser of what this amazing, cultural centerpiece of the Age of Discovery offers visitors looking for great food, vibrant nightlife, and a deep, storied past.
We had always wanted a Lisbon layover. Well, ideally, not just a layover, but when we had the chance to stop overnight on the way back from Italy to New York, we jumped at the opportunity. For some, a layover is a chance to get some sleep en route. To us, it's a challenge to see how much we can experience while our minds and bodies can hold us up, and that meant (next to) no sleep 'til Brooklyn.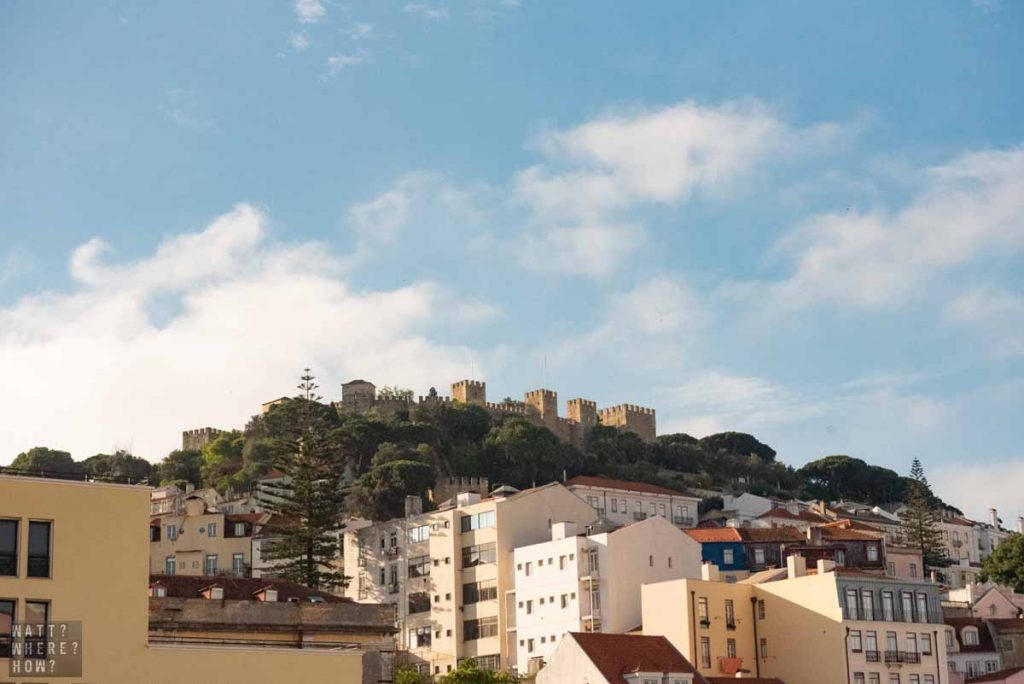 Arriving later in the evening than expected our plans of making the pharmacy-themed restaurant Pharmacia are thwarted. Luckily, our accommodations, the Chiado Arty Flats, are right in the heart of trendy Bairro Alto and in a building that was the former headquarters of the newspaper, República. There's a restaurant still open downstairs to sample the renowned local specialty port before retiring to our incredible lodgings that recycle industrial debris into ultra-hip furnishings.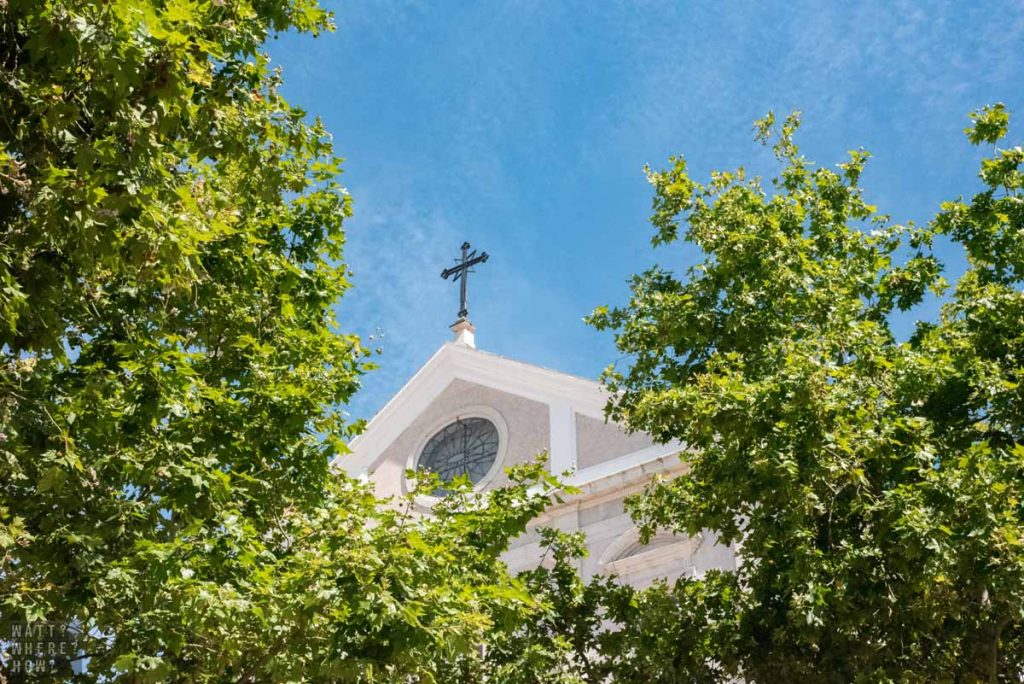 Start your Lisbon layover exploring the streets of Chiado and Bairro Alto
With four hours of sleep under the belt, we re-emerge to the streets, greeted by an open square, Largo Trindade Coelho, which sits in front of Igreja de São Roque (the church of Saint Roque) and the Museo de Sao Roque. Despite the grandeur of the church and museum, the popular focal point of this plaza is the O Cauteleiro Statue, a 1987 dedication to Lisbon lottery sellers, who frequented the square. He holds a shiny ticket, which locals rub for good luck, hopeful of picking all the winning numbers one day.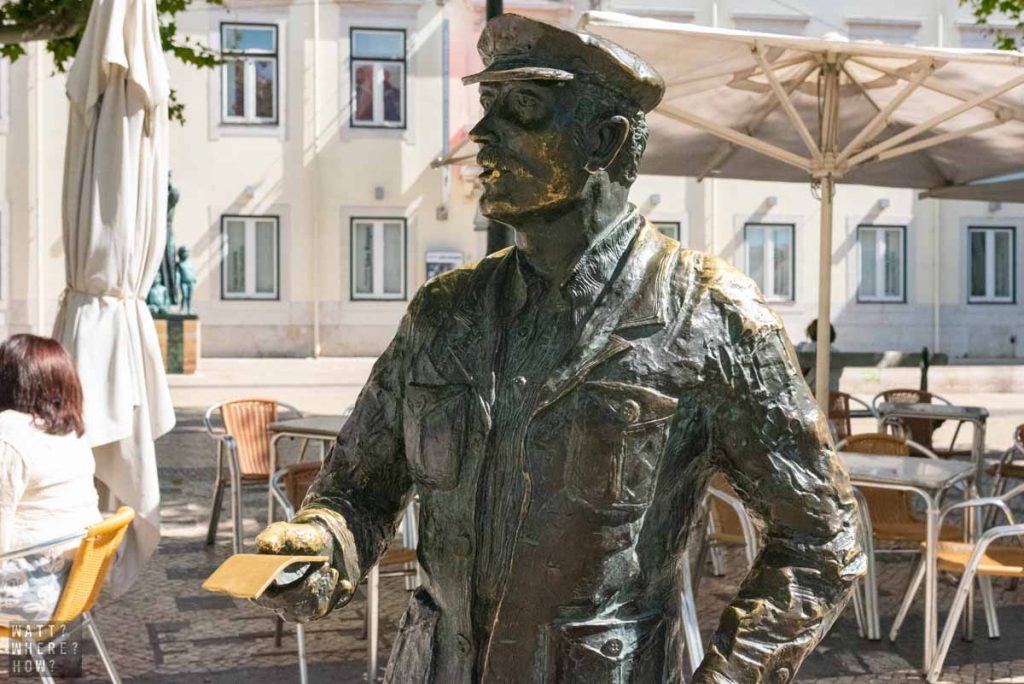 What first truly draws you into Lisbon's charms are the intricate and ornate tiled facades of its buildings. The iconic tilework is known as azulejos, from the Portuguese for blue, azul, and the Arabic az-zulayj, or polished stone. These artful tiles were introduced to Lisbon in the 1500s by the Moors, who at the time ruled the Iberian Peninsula. In the early morning sun, the glow, the tiles glimmer delightfully, broken up only by 1920s ironwork balconies. Above, powerlines weave like webs, powering the tram tracks that score the road below.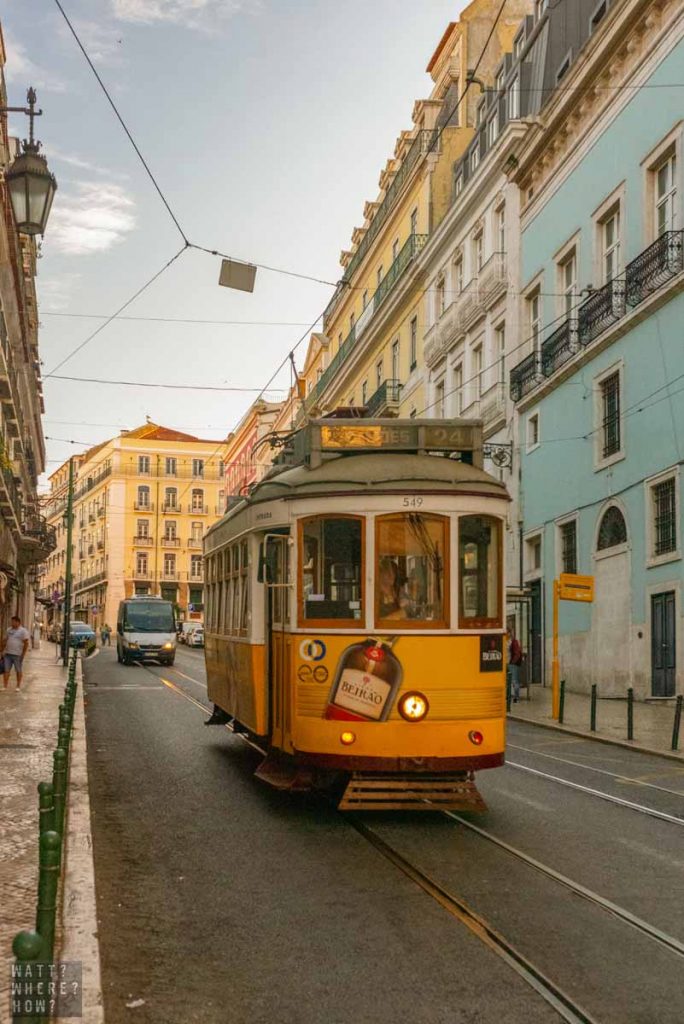 Fuel up on coffee and traditional pastries
Strolling down Rue da Misericórdia, liquor shops are as prevalent as restaurants, bars, and hotel lobbies. This is a popular destination and even more vibrant at night when crowds spill out into the streets. Occasionally, a bright ding of a bell and a deep rumble warn pedestrians of the 24 tram. The yeasty familiarity of a bakery wafts out delicious aromas of freshly baked pastry and reminds us that we've yet to find a coffee. Thankfully, Padaria do Bairro delivers a perfectly executed espresso, the perfect complement to a thick, crusty, butter pastry to officially mark the start of our day.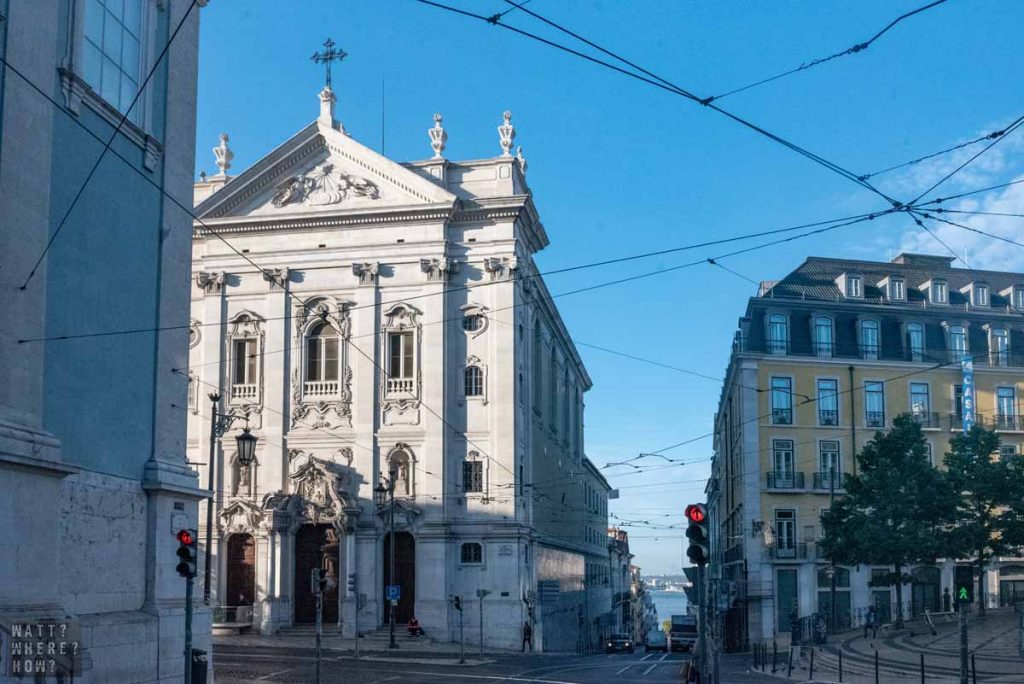 Hang out where Lisbon Meets
Where the Rue da Misericórdia intersects with Largo do Chiado is the Luis de Camões Square, known as the place where Lisbon meets. It's a central park across from two ornate churches, the Italian Church of Our Lady of the Loreto and Igreja de Nossa Senhora da Encarnação. It's a stylish area of high-end boutiques and restaurants, including A Brasileira, Portugal's most famous café, a haven for poets, artists, and dissidents.
Luis de Camões was Portugal's most acclaimed poet, living between 1524 and 1580. He has been compared to Lord Byron, Dante, and Shakespeare, and his statue in the square, erected in 1867, is surrounded by other eight literary luminaries. In summer, you'll normally find free walking tours departing the square, while in winter, it's where the city's main Christmas tree stands. It's also an ideal spot to catch the city's most popular tram, the Number 28.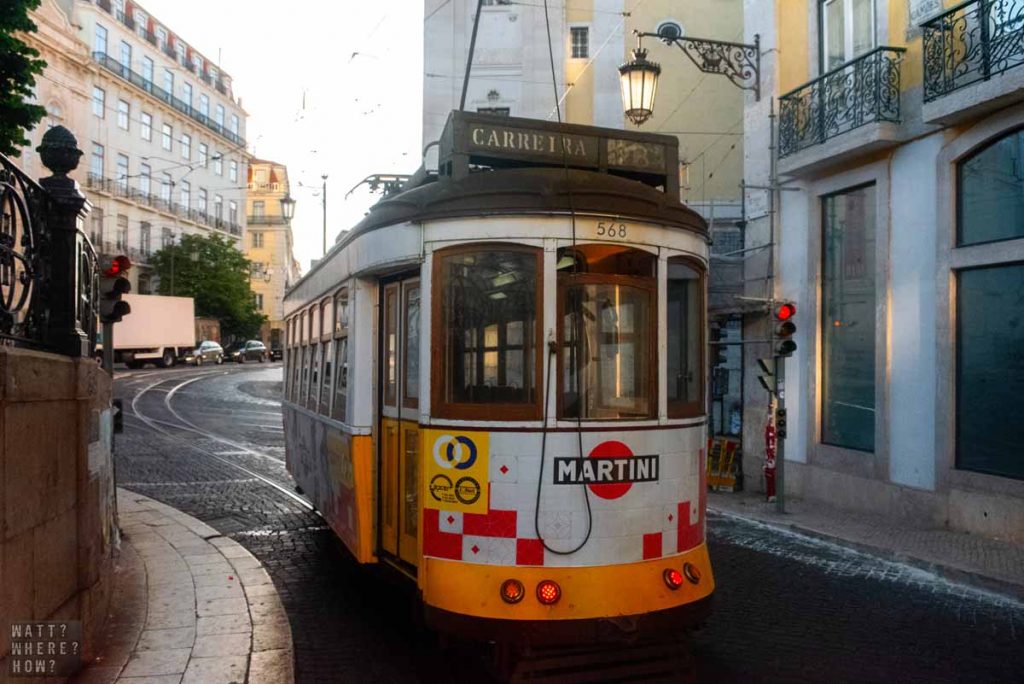 Take Lisbon's 28 Tram
The 28 Tram is easily the most touristy thing you can do on a Lisbon layover, but that doesn't mean you should exclude it from your visit, simply as it runs a circuit that takes in the most sought-after spots people want to see. It's dirt cheap and transports you through tight back streets, around steep turns, and before you know it, you're gliding past the most amazing and historic buildings, beautiful vistas, monuments, and castles.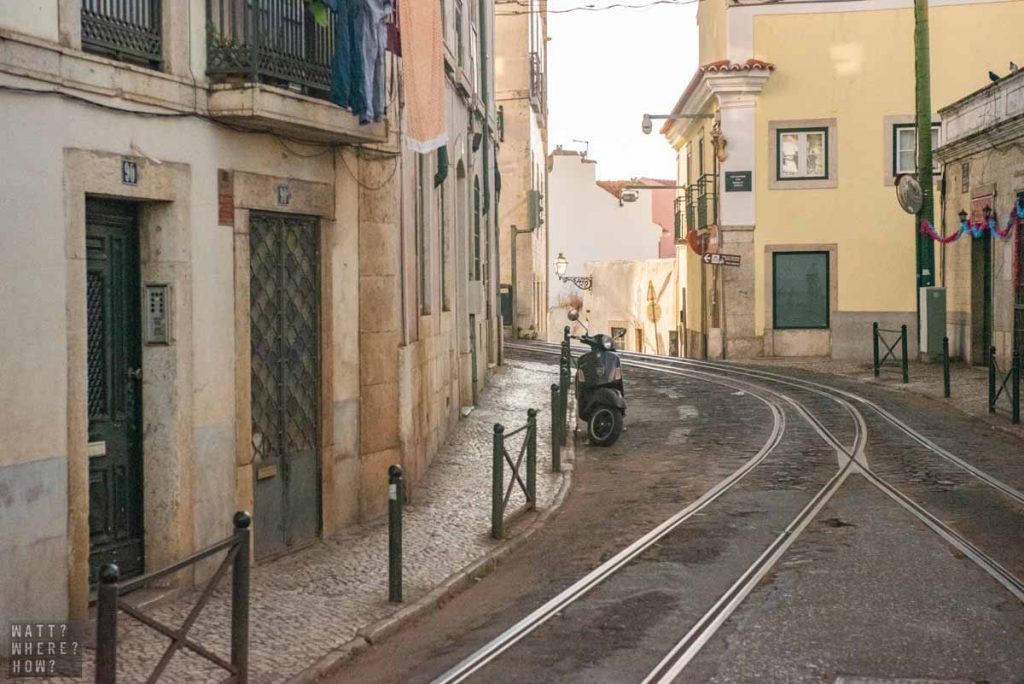 The 1930s Remodelado trams are a work of art and retain so much of the old-world charm that makes Lisbon so classic. Inside, they're all wood, the windows vibrating as they bite and surge along the rickety rails up steep inclines. It's €3 for a one-way ticket, or if you're planning on taking multiple routes over the course of your day, opt for the 24 travel pass at €6.40 (+€0.50 for the card), which also includes the Elevador de Santa Justa, the Elevador da Gloria, and all tram lines.
The E28 tram passes the Basilica da Estrela, the Assembleia da Republica, Praca Luis de Camoes (where we board), Rua Augusta, Praca do Comercio, the Church of Saint Anthony, Se de Lisboa, Portas do Sol, Mosteiro Sao Vicente, Graca, and Castelo de Sao Jorge on top of the hill. It's better to get the full day pass if you want to hop on and hop off, or just find a seat (if you're lucky) and admire the ornate tiled houses of the oldest parts of the city as they fly by just inches from your face.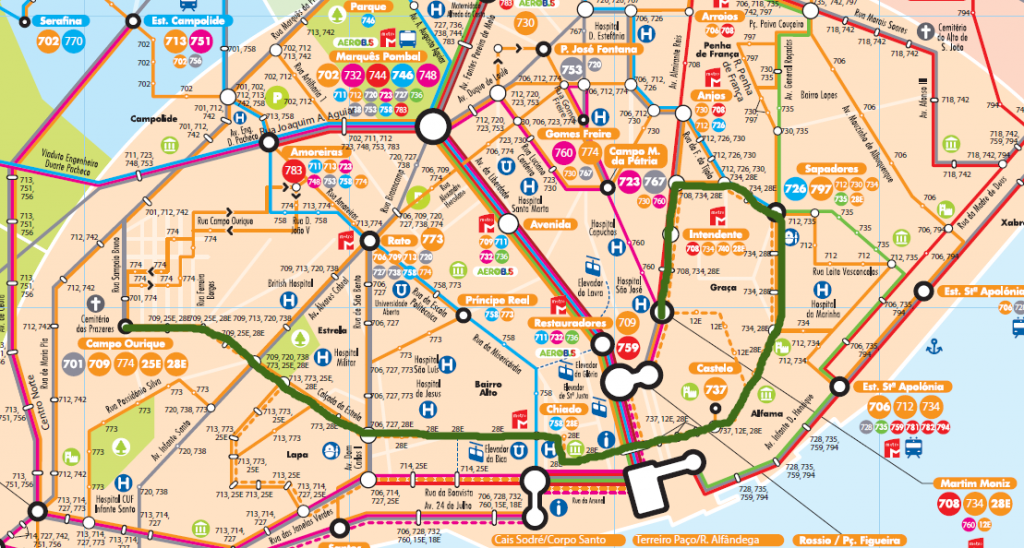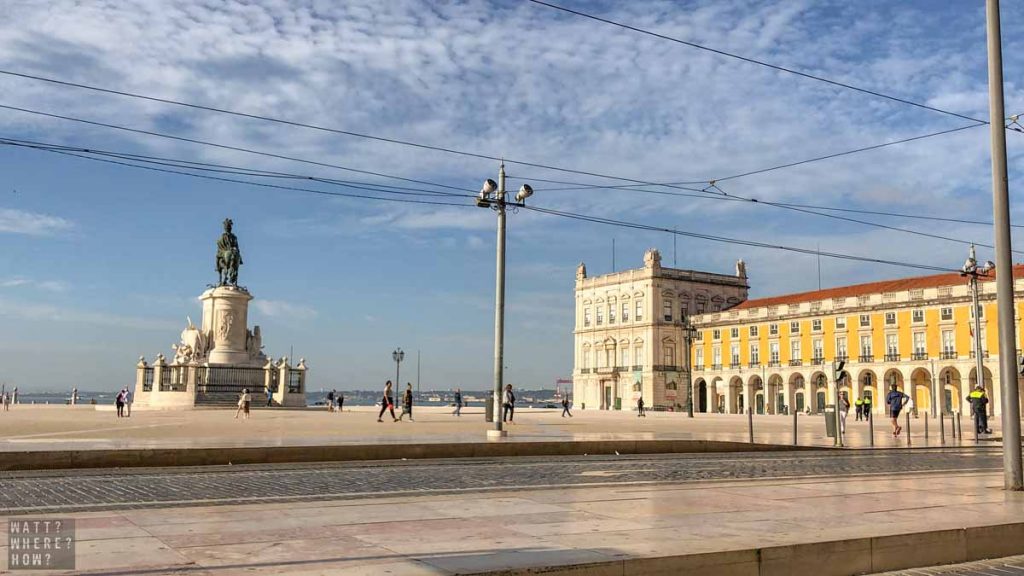 Head out to the waterfront and Belem
Terminating at the Campo de Ourique, a bustling marketplace, we're only a few minutes by taxi to Belem, and given the limited time on the ground, the fare's money for memories. The taxi skirts the waterfront, passing Ponte 25 de Abril, the city's landmark suspension bridge, which with its red paint, is reminiscent of San Francisco's Golden Gate Bridge. In the distance across the Tagus River in Almada stands the Sanctuary of Christ the King, a giant Jesus inaugurated on 17 May 1959.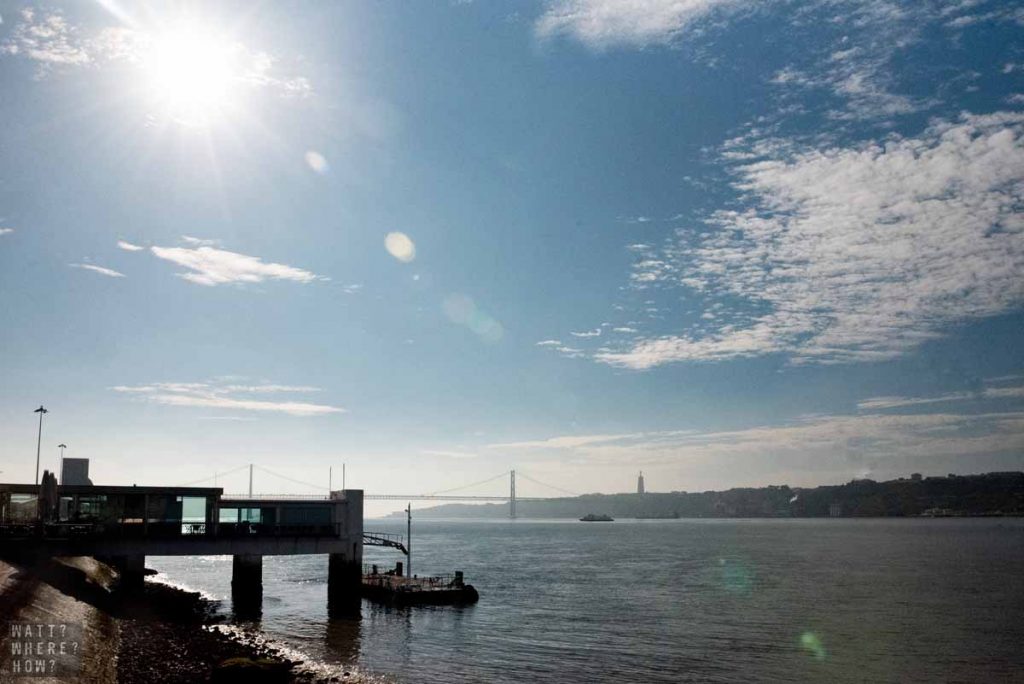 Lisbon is renowned for its maritime roots, but it's at Belem we see these immortalized. Belem translated to Bethlehem is the point of departure for the epic voyages of Ferdinand Magellan and Vasco da Gama, though even Christopher Columbus docked here on his travels. During the Age of Discovery, the Belem Tower stood guard over the harbor entrance.
Built in 1515 by Francisco de Arruda, it feels more Moroccan than European, blending Venetian elements and Spanish-style garitas with Moorish ornamentations. A statue of Our Lady of Safe Homecoming watches over the river, beckoning the explorers to return. A quirk of the area is the presence of tuk-tuks, more commonly seen in south-east Asia.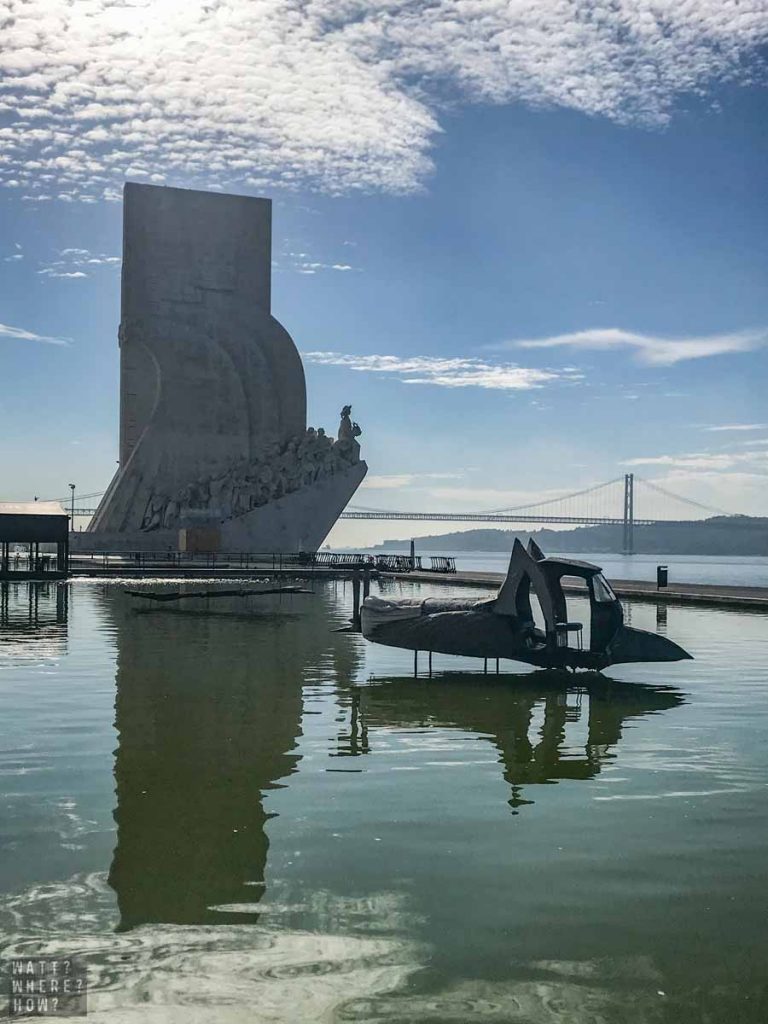 We decide to take the next part on foot and stroll back past local monuments: Sacadura Cabral and Gago Coutinho Monument and Padrão dos Descobrimentos (a towering modern tribute to maritime explorers). We walk through the imperial gardens, past its magnificent fountain, and stare in awe at the Maritime Museum. Lisbon certainly has no shortage of beauty and history.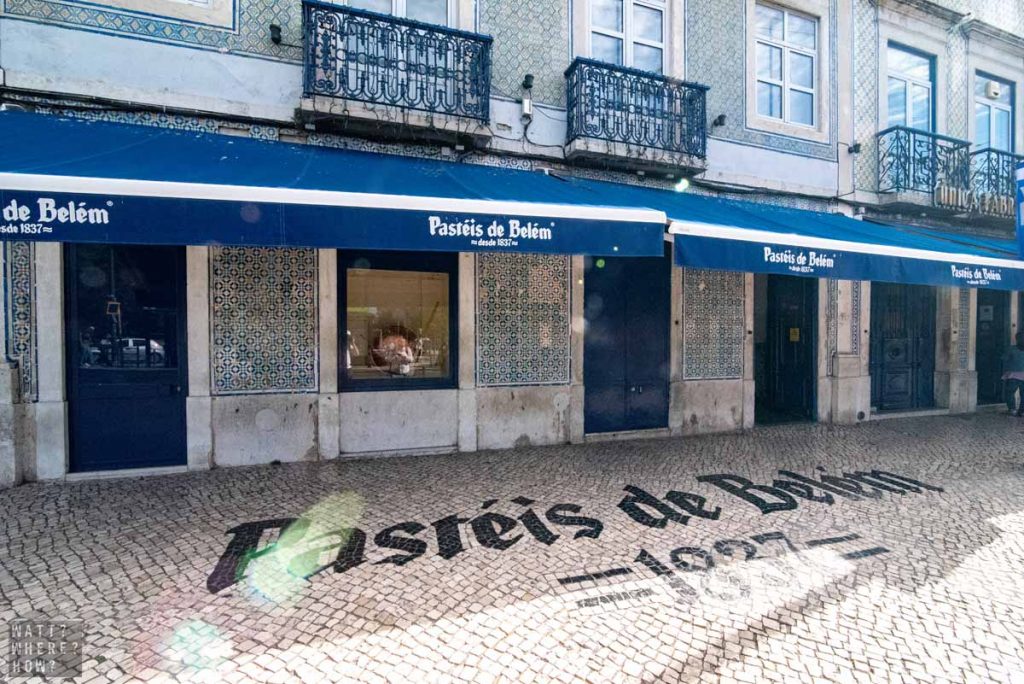 Overindulge on Pasteis de Belem
One unmissable destination on your Lisbon layover is the Pasteis de Belem, the renowned maker of the famous Portuguese custard tarts. The interior of the café seems historic, relaxed, and yet has an old-world-era beauty to it. Beautiful blue and white tiled walls, ceramics, and an overwhelming sweet smell fill the air. Due to its overwhelming popularity with tour groups, the original patisserie extends beyond into a secondary building with a modern industrial kitchen. Thankfully, we're here early enough to have the original section almost to ourselves.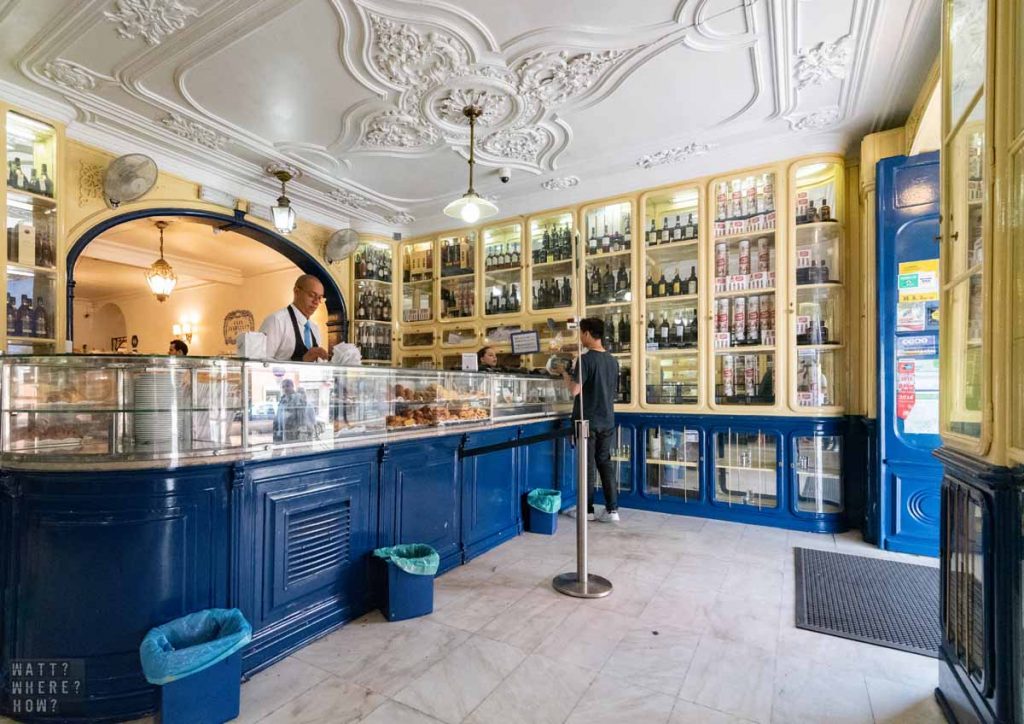 That also means no one else gets to see just how many of these tiny custard-filled morsels we sample, washing them down with strong coffee to give us a dual carb and caffeine hit that will hopefully keep us going through our Lisbon layover adventures until our departure.
Catch one of the city's 19th Century Funiculars
With one final must-see on the cards, we head back to Chiado to get immersed in this arty area. Like the E28, we've always wanted to see the funiculars edge up one of the many steep inclines that characterize this hilly port city. The Ascensor da Glória (Glória funicular) opened 24 October 1885 and was initially powered by steam pressure.
Today it runs on electricity which drives it from Restauradores up to the overlook of São Pedro de Alcântara. Both the funicular and the walls of the incline it traverses are a canvas for street artists, and the area by the upper stop is home to Lisboa-fests pop-up markets. This really is such a neat find for any traveler and a chance to sample local food and support local makers and artisans.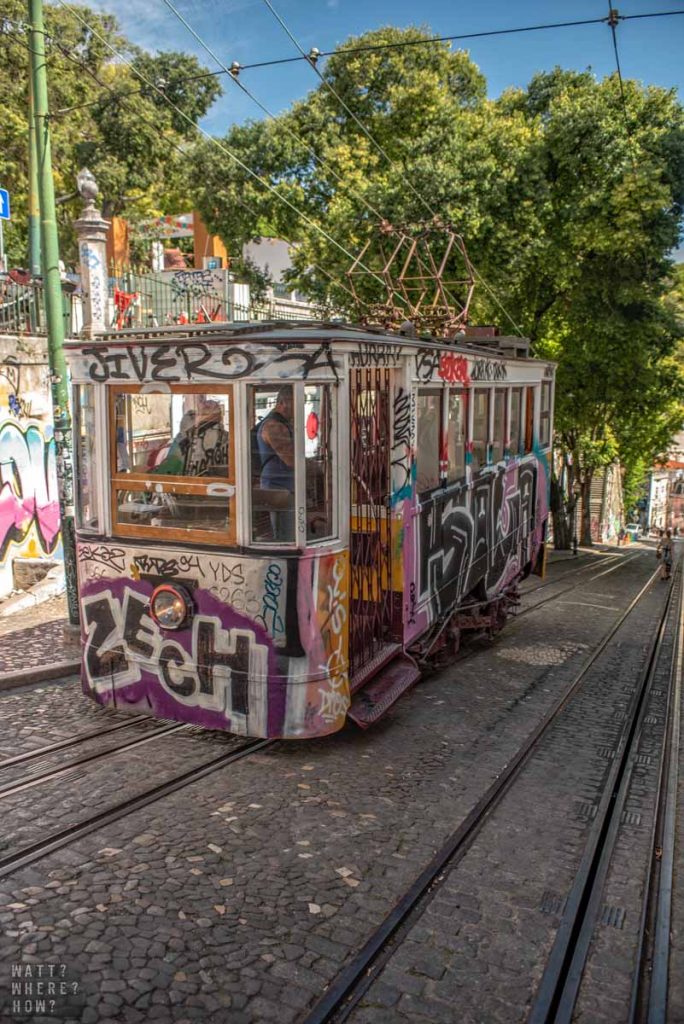 It's been less than 24 hours and if it weren't for a trans-Atlantic flight, we'd happily extend our stay. A Lisbon layover is just a taster. This is a city that is begging for you to explore it. Maybe it's the energy and inspiration that drove Vasco da Gama and Ferdinand Magellan. From the steep cobbled streets to the boisterous late-night port bars, Lisbon is an ideal destination, whether for a week or a weekender.
---
WHAT?
Lisbon is the capital of Portugal, a dynamic, historic city with thousands of tales to tell. With only 24 hours, we have highlighted some of its most popular destinations for your Lisbon layover, but we'll return to delve deeper next time, such is its appeal.
WHERE WE STAYED?
Chiado Arty Flats
We arrived very late at night and yet were still blown away by the staff's service at Chiado Arty Flats. Wow! The rooms are next-level cool and are almost a piece of art in themselves–something in the middle of Warhol and Dali. An upside-down chair as a towel rack, promotional soda freezer as a basin, welcome pasteis de nata and some port, and the list goes on!
The apartment was spacious, clean, modern, and with very comfortable bedding—we had a perfect night's sleep. There were all the usual luxury amenities in the bathroom and then some. We didn't get to try breakfast as our schedule didn't allow for it, but it is brought to your room at a designated time. Who does that? Arty Flats do, and this is such a cool feature. We only wish we had more time to enjoy the hotel.
HOW?
We spent just under 24 hours exploring Lisbon after flying TAP Portugal from Venice. TAP Air Portugal uses Terminal 1 at Lisbon Airport (LIS). Ubers and taxis service the airport. We paid around 13 Euro one way, but there's a 20% increase in fares between 9pm and 6am. You don't need to tip, but if the service is good and you think it's justified, add a Euro or two to the fare to help out someone who's obviously on a low wage. Temperatures peak at about 30C in summer and 14C in winter.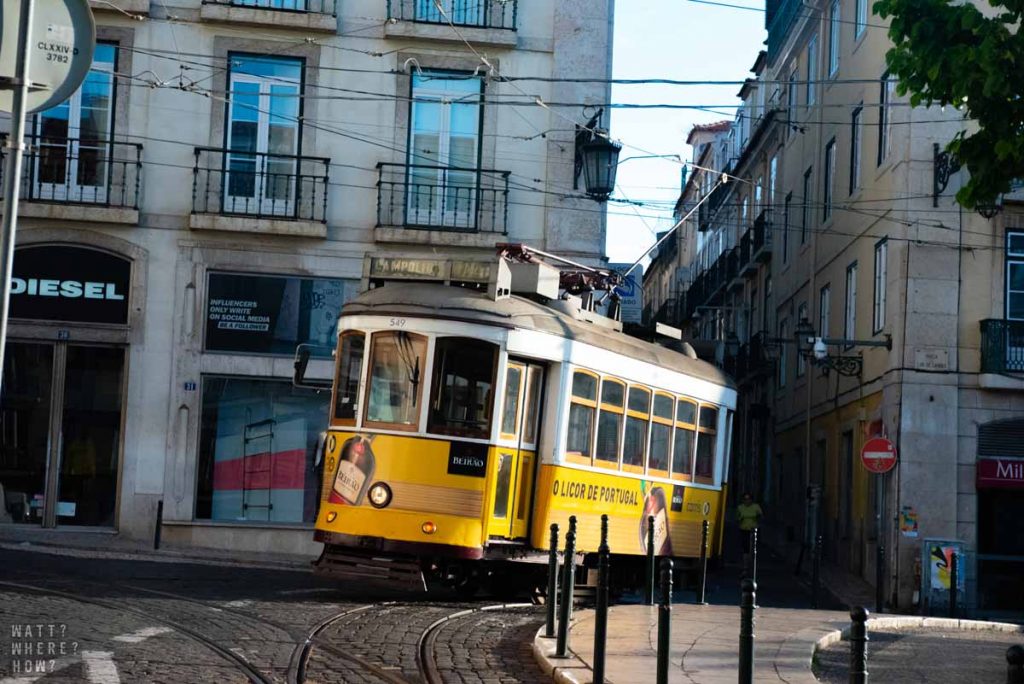 Follow & Connect with us