An ancient bridge, a former abbey and a Jewish bath are just a few of the treasures waiting to be discovered in Besalu.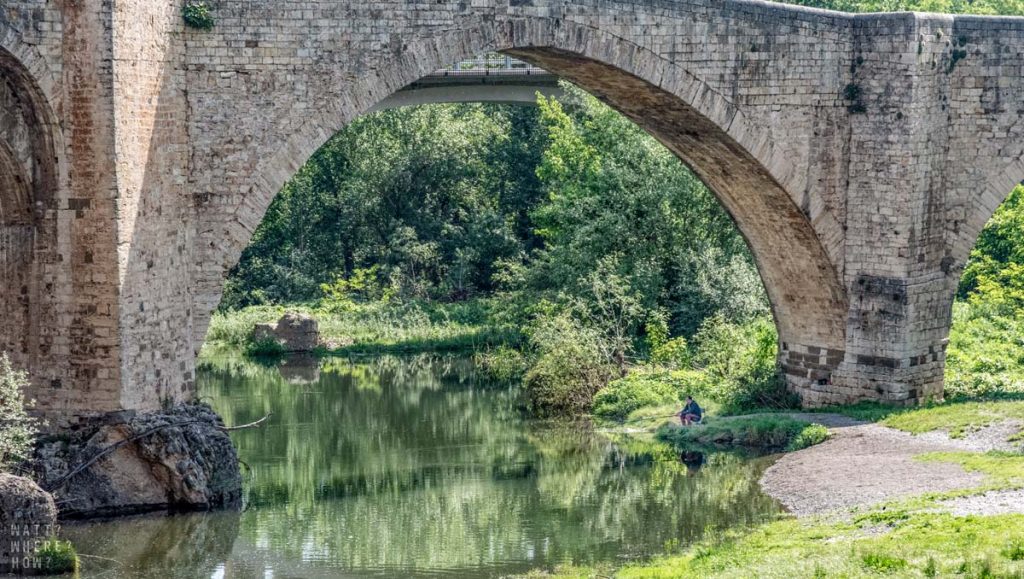 Besalu is a sleepy town of 2,400, split between this cozy scene to the left and a slightly more recent addition beyond the other side of the new bridge. Since the 10th Century, it has been home to a thriving community of artisans and until the 1400s, a large Jewish community, whose traces can still be found inside the town walls.
Sitting atop a hill beside the Riu Fluvia (Fluvia River), it is accessed by an ancient stone causeway and bridge, the Pont Vell. Built in the 11th Century and rebuilt again and again due to attacks as recently as the Spanish Civil War in 1938. Standing 30 meters tall, it doglegs at strange angles, determined by the river rocks that served as the foundation. Today its sentry tower defiantly flies the Catalonian flag.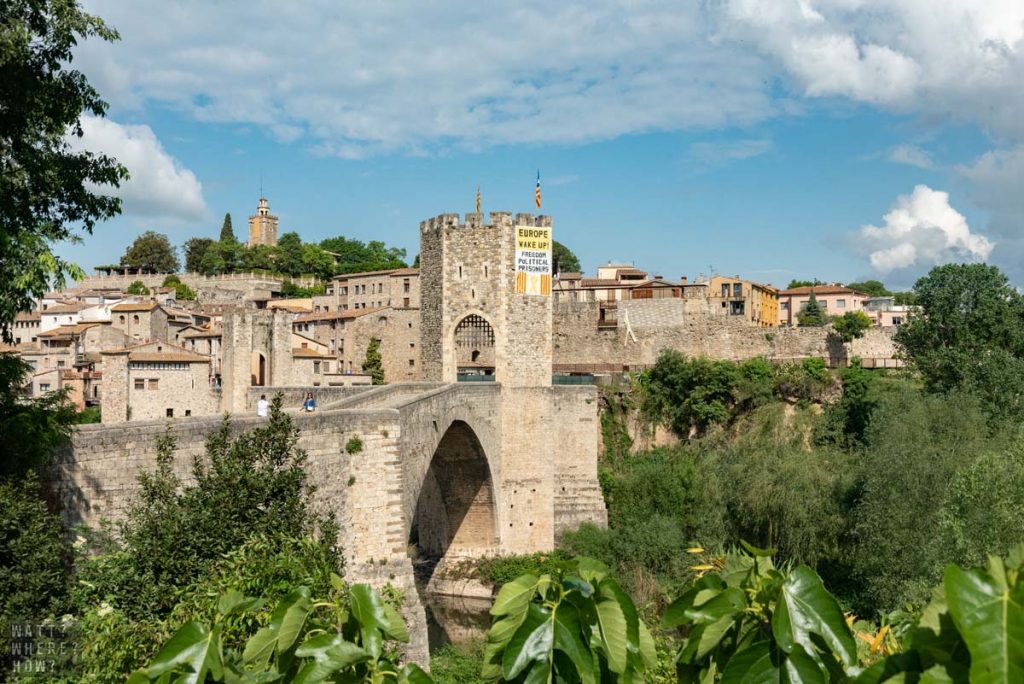 The rugged stone streets are too thin for trucks and cars are rare in the lower portion of the town. Most of the town's economy is driven by tourism with shops selling handmade products, medieval style leather journals, faux chain mail vests, wooden jousting shields and swords to copper kitchenware.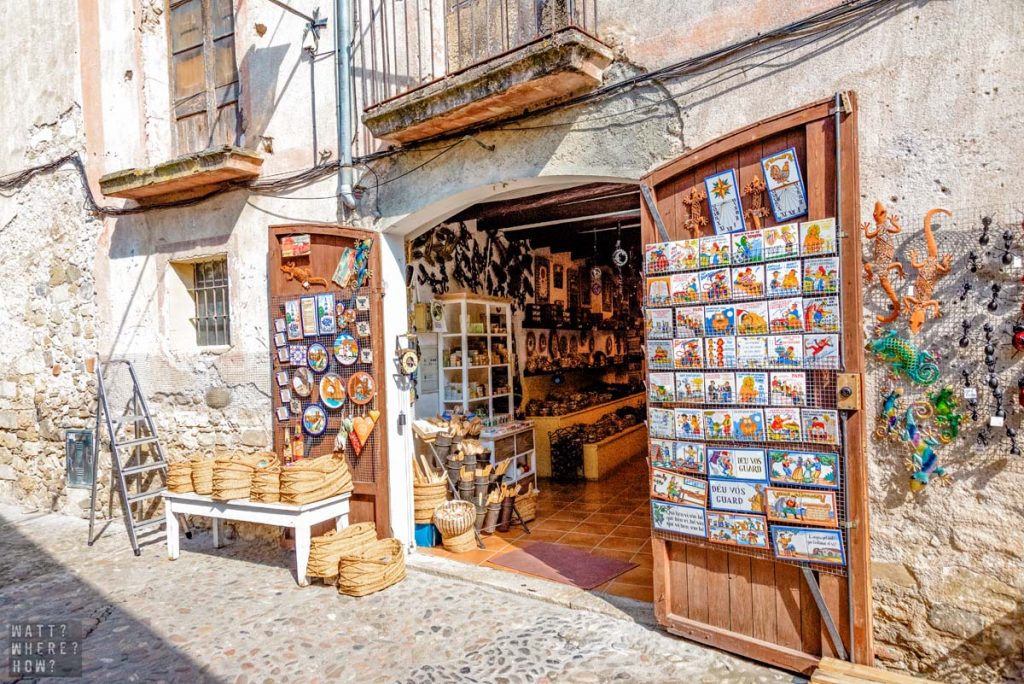 Down a side street towards the river, what looks like a balcony to a café above is actually part of the foundation of the medieval Synagogue and school, from a time when Jews fled here from North Africa and the Middle East to become traders and bankers – professions that were taboo to the Catholics. Behind a heavy gate, inaccessible to the public on the day we're here is a 1964 archeological discovery – a miqwah, an ancient cleansing bath that was part of the weekly Judaic rituals.
Walking the uneven stone streets, the sandstone walls are highlighted by window boxes of bright red geraniums and overhanging bunches of fresh oranges, threatening to drop off their struggling branches. A sleepy market serves the fresh fruit and vegetable needs of the local community and the peaches are some of the sweetest you'll ever taste.
The 11th-century Abbey of Sant Pere de Besalu was founded in 977 by Miiro Bonfill on the same site of an older monastery. By 1111, the area had come under control of the Crown of Aragon and the monastery enjoyed great influence into the 1400s. Today, its darkened interior is simple, yet stunning, with graves under flagstones and Romanesque sculptures adorning the thick stone walls.
What was once an adjoining seminary and hospice is now a museum of miniature objects. Out of Besalu's two churches, the Monastery is still operational. The other, the Church of Sant Vicenc is owned by a local and its interior is preserved behind a glass panel that allows visitors to look in and can be illuminated by donating a Euro into a coin operated mechanism that turns on the lights for two minutes.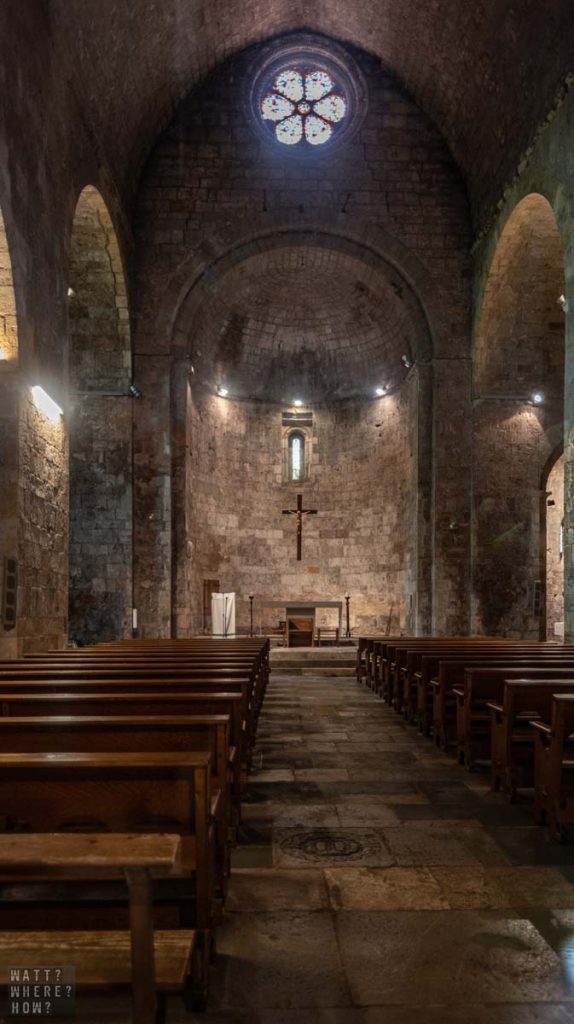 Between the souvenir shops selling ratafia, a sweet Catalan liquor made from green nuts and herbs that goes well with pastries, desserts and a block of 70% dark artisanal chocolate (which still remains mostly untouched – the ultimate test of will power), we meet two fashion and jewelry designers.
In a town so steeped in the past, here are two modern artisans, forging out a niche in a place where you'd only expect (and do) to find said souvenir shops. They take the time not only to show their wears, but to proudly show off their work space, where they make everything they sell – right through to a temporary photography studio to snap shots for their website.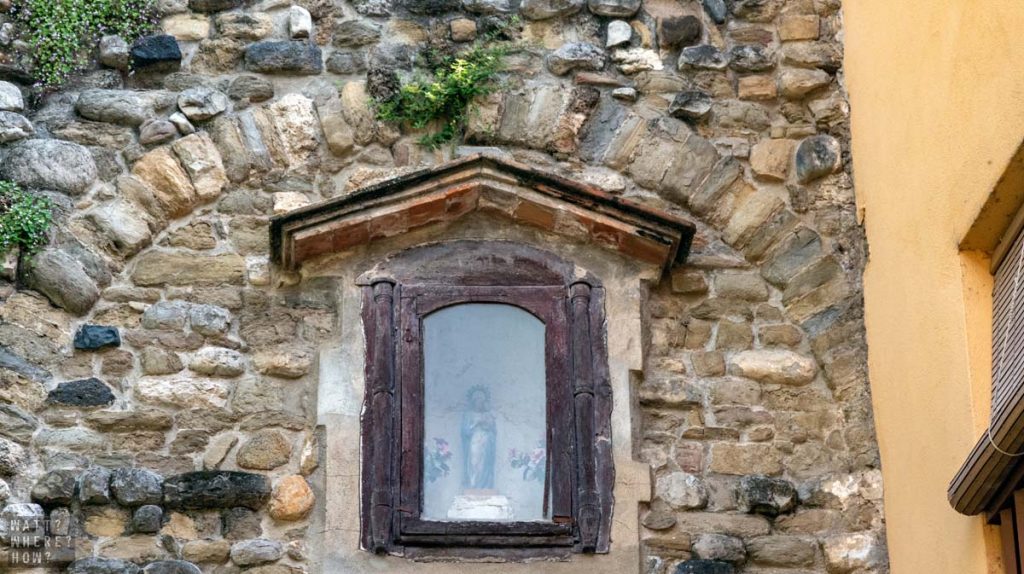 Besalu has been round for more than a millennium, it's not dying – it's attracting a new generation of thinkers and doers who are only too happy to impart their culture and generosity onto travelers from far and wide.

---
WHAT?
Besalu is a stunning Catalonian village dating back to the Middle Ages.
WHERE?
Besalú is a town in the comarca of Garrotxa, in Girona, Catalonia, Spain
HOW?
We took a local tour via Viator.
Follow & Connect with us