A café des Deaux Moulins is a rather nondescript café, made famous by one of France's most commercially successful international film.
One of Paris' newer tourist attractions is Montmartre's Café des Deux Moulins (the two windmills), a quaint café on the corner of Rue Lepic and Rue Cauchois. The rather unassuming addition to many women's Paris hotlist gained fame when it was chosen as a key location in the movie, Amelie.
The whimsical romantic comedy about a Parisian waitress who changes the lives of other for the better was written by Jean-Pierre Jeunet. Having grown up with the movies of Jeunet and Caro (like Delicatessen and the City of Lost Children) made this an obvious choice while in Paris. The café, in the movie was where the movie's namesake worked. Its 1960s décor and lived in comfort reflects the aesthetic of the film and remains largely unchanged.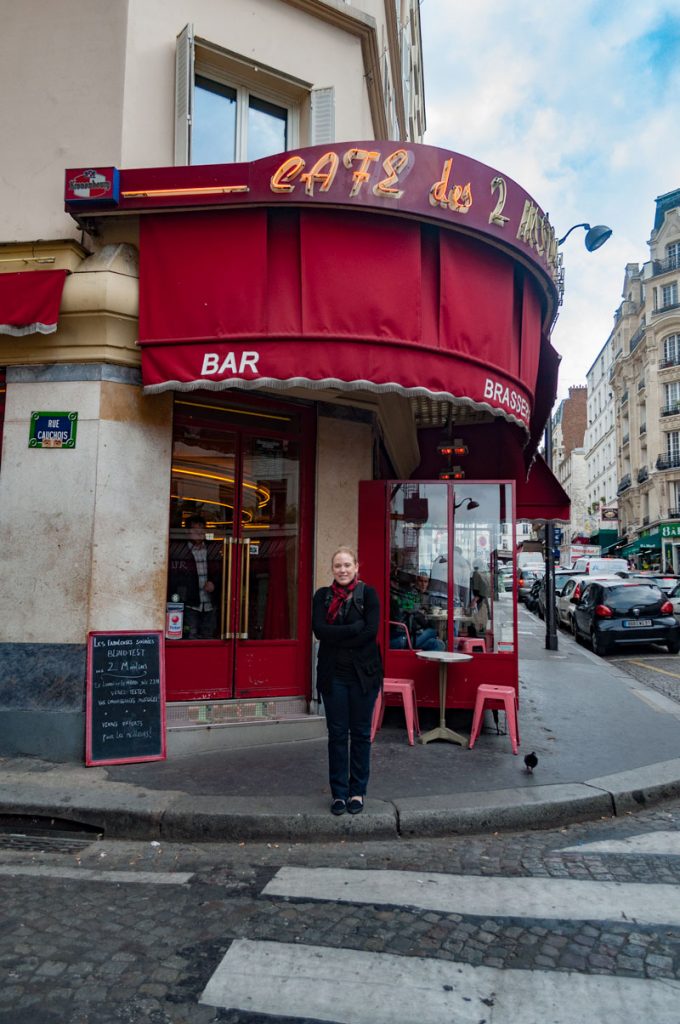 Sadly, like most things, the tourist interest has harmed the experience. A couple of locals sit around the main bar chatting about life and offering dismissive glances as obvious tourists (such as ourselves) make their way to the back area. It's a completely different experience and we can't help but guess that the menu we are offered is different to the locals' options. It's Spartan in its offerings. Basically crepes, croissants and omelets. Opting for a cheese omelet with chives, it's exactly as described – nothing more and nothing less, with the toppings anything but generous.
On the wall above us is a large framed movie poster that takes pride of place beside the door of the kitchen. In silver marker pen is the Jeunet's cursive signature. It's about the only real connection we feel with the movie, which is sad, as the movie is so beautiful. If you want to drop by, take the selfie, maybe grab a coffee to go, but avoid the food. It's bland and overpriced.
WHAT?
The café featured in the French romantic comedy, Amelie.
WHERE?
15 Rue Lepic, 75018 Paris, France
HOW?
Open:
| | |
| --- | --- |
| Sunday | 8AM–2AM |
| Monday | 7:30AM–2AM |
| Tuesday | 7:30AM–2AM |
| Wednesday | 7:30AM–2AM |
| Thursday | 7:30AM–2AM |
| Friday | 7:30AM–2AM |
| Saturday | 8AM–2AM |
Follow & Connect with us