Moreton Island is a tropical haven just off Brisbane and a Tangalooma day trip is a must-do when vacationing in Queensland, Australia.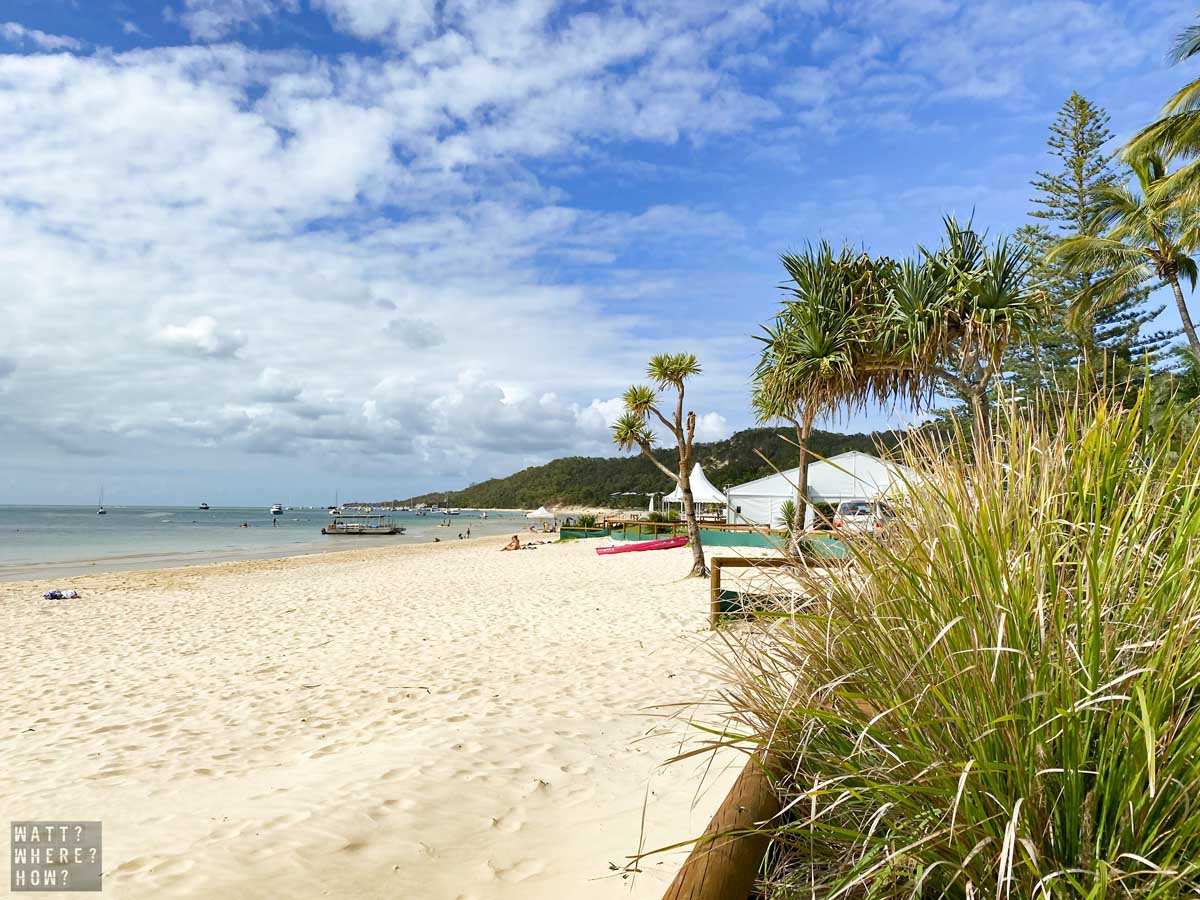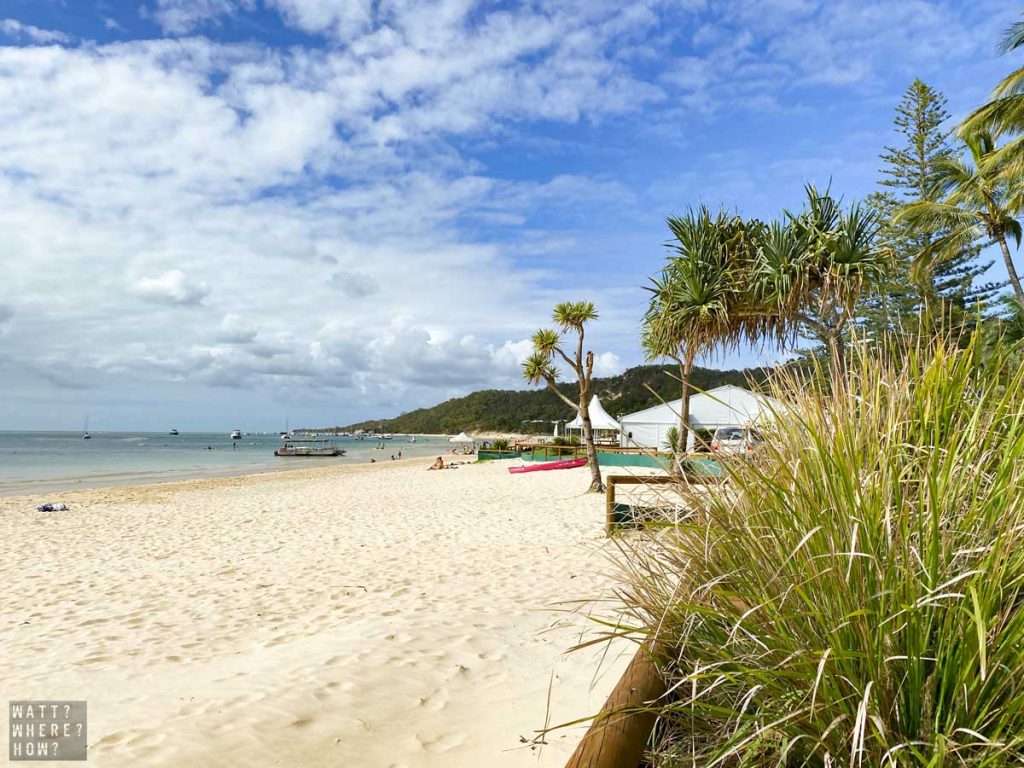 Moreton Island is arguably the best day out you can take, whether as a citizen or a tourist. A Tangalooma day trip isn't exactly a secret for locals, yet it's far off the radar for most visitors who see Brisbane as little more than a crash pad after an international flight and before they head south to the Gold Coast and Byron Bay or north to the Australia Zoo, Noosa, Fraser Island or the Great Barrier Reef.
Tangalooma is the Brisbane best day trip
Situated just over an hour's ferry ride from Brisbane, in the heart of Moreton Bay, Tangalooma is the main of five communities on Moreton Island. You'll find a gorgeous tropical haven of blue waters, sandy beaches, aquatic life, and fun activities that make this an unmissable escape.
Tangalooma is most renowned for its dolphins and a friendly pod frequent the beach by the main jetty each night, lured by resort staff who stage a dolphin feeding show in the shallows for a sizable crowd. But there's so much more to fill your day and probably enough to justify a few days stay whether at the Tangalooma Dolphin Resort, camping, or in a private bungalow.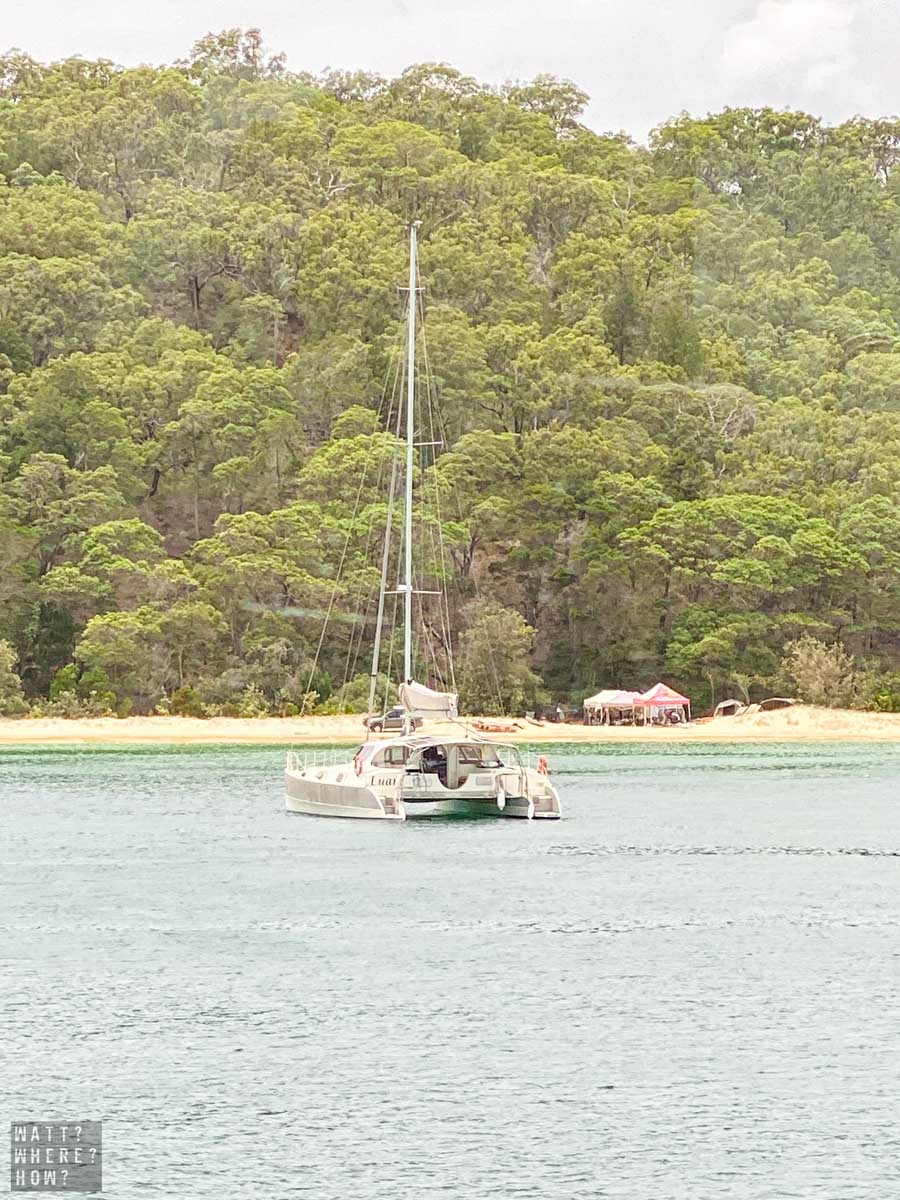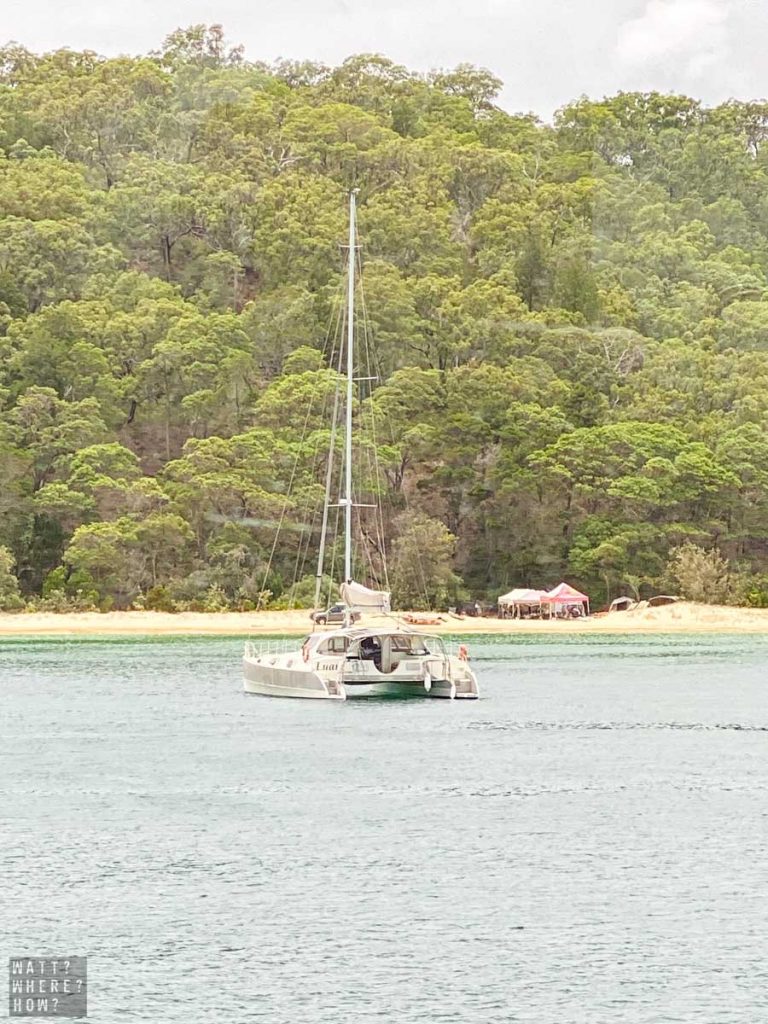 How to get there
There are two main ways to take a Tangalooma day trip – the high-speed Flyer catamaran and the vehicle ferry. Both leave from Pinkenba, a less than appealing heavy industrial area between fuel refineries and freight terminals. Thankfully this also means it's only minutes from Brisbane Airport for those flying straight in.
All clear for takeoff
The Tangalooma Flyer offers several return services throughout the day and is equipped for couples, families, and tour groups with professional luggage handlers and loading cranes. You will find two queues, one for tour groups and the other for walk-ups. There is onsite parking for a fee but it's very poorly coordinated and you have to leave the car to queue for a token before you can actually park.
Boarding is orderly and there should be enough room for all parties. Kids will love going out to the front or back in the sun and breeze or you can nap inside or watch the local tv programs on the large screen TVs.
Exploring Brisbane's early roots via the river
Cruising down the Brisbane river you pass shipwrights, tug boats, and giant tankers. The crew offers commentary about the sights along the way, the most notable being Fort Lytton, a series of concrete bunkers, gun positions, and earthworks dating back to the early days of the 20th century.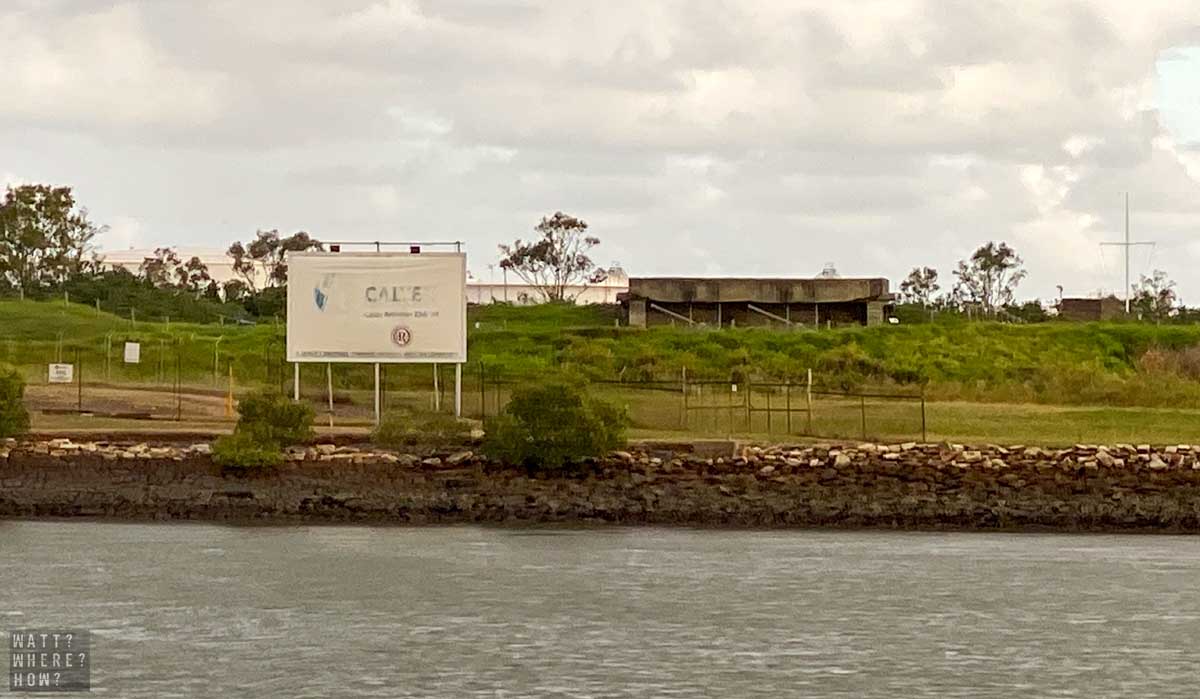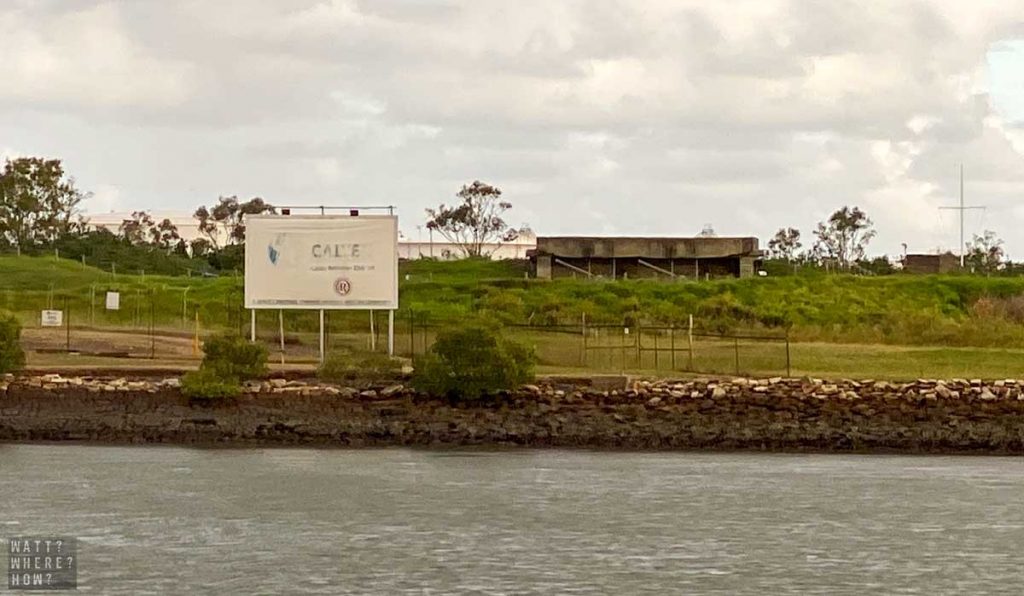 Departing the confines of the bay, the catamaran glides smoothly and swiftly through the waters of Moreton Bay. In the distance, you can make out Redcliffe and Shorncliffe, two large communities on the shores of the smaller Deception Bay.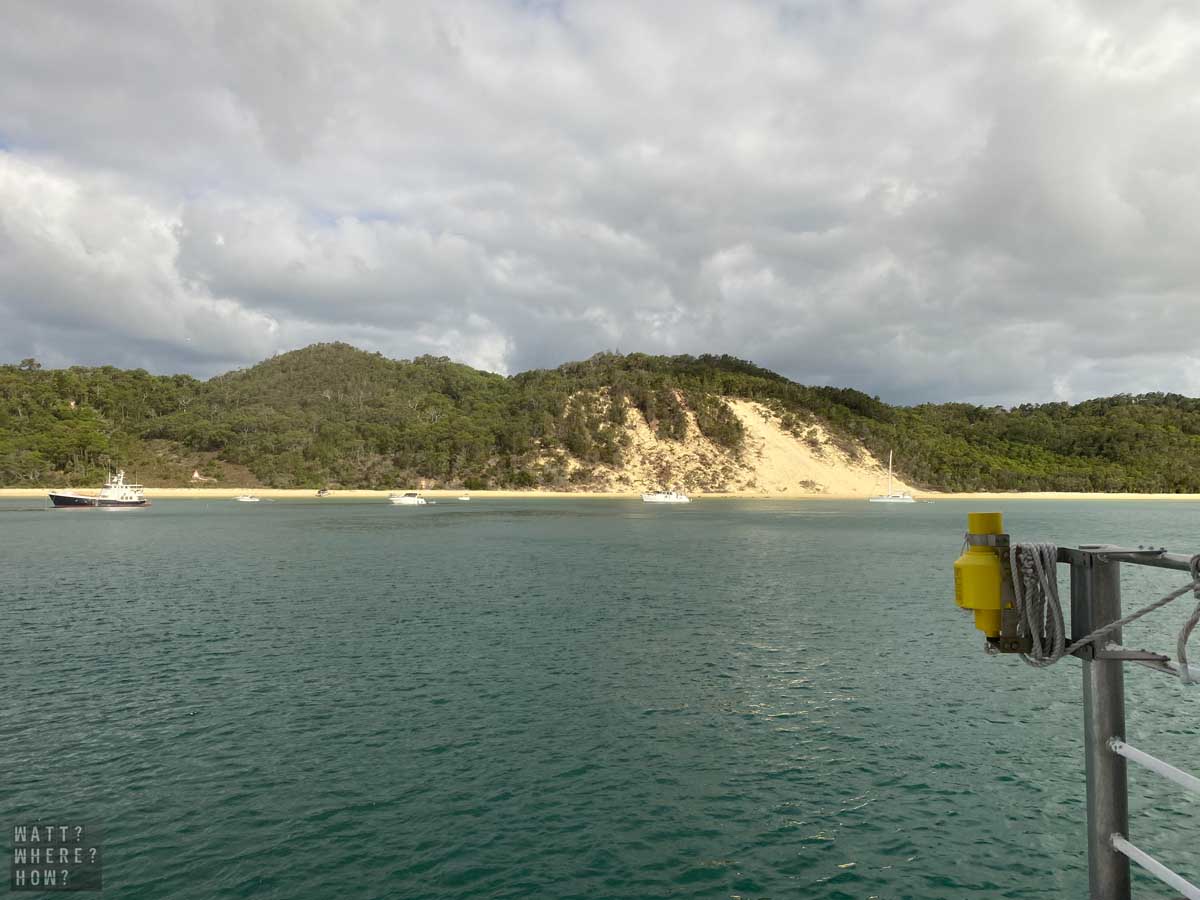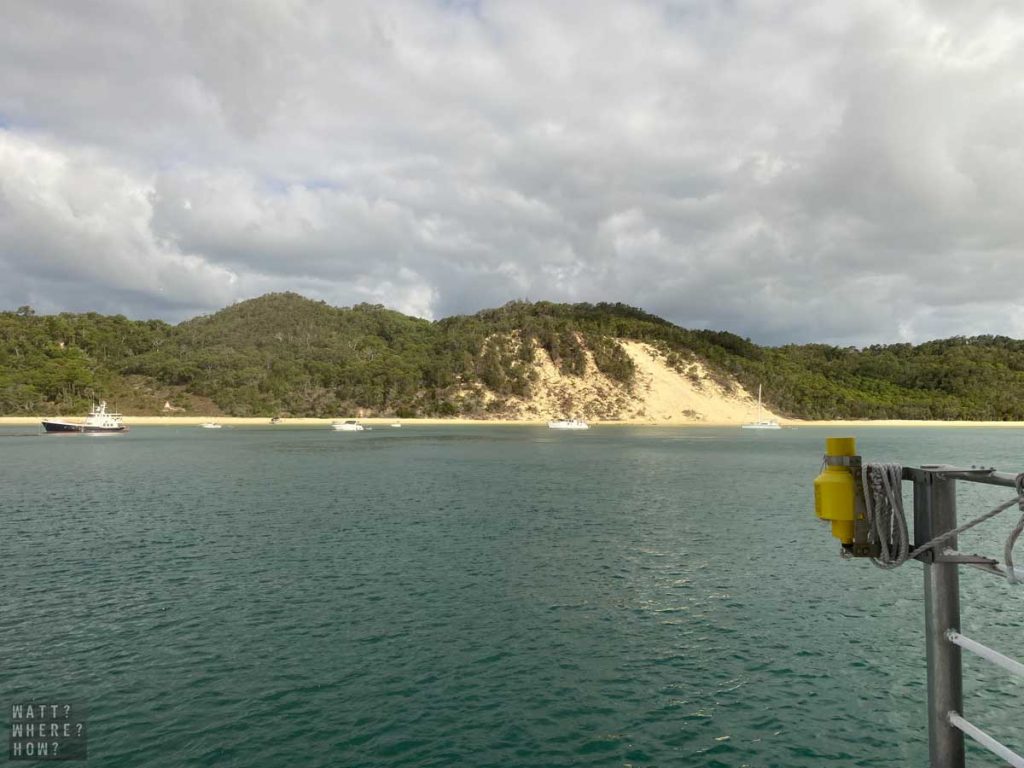 Moreton Island is one of Queensland's great sandy islands
As Moreton Island draws closer, large sandy dunes dominate the landscape. It's a sand island, like Fraser Island further north and as teenagers, we had field trips to study its ecosystems, and to go sand tobogganing, one of the island's most popular excursions. Dubbed the desert safari, a large off-road transporter takes tourists to some of the tallest dunes where they ride down them on simple waxed pieces of board. It's definitely a "must-do" on a Tangalooma day trip if you're physically capable – the dunes are like mountains.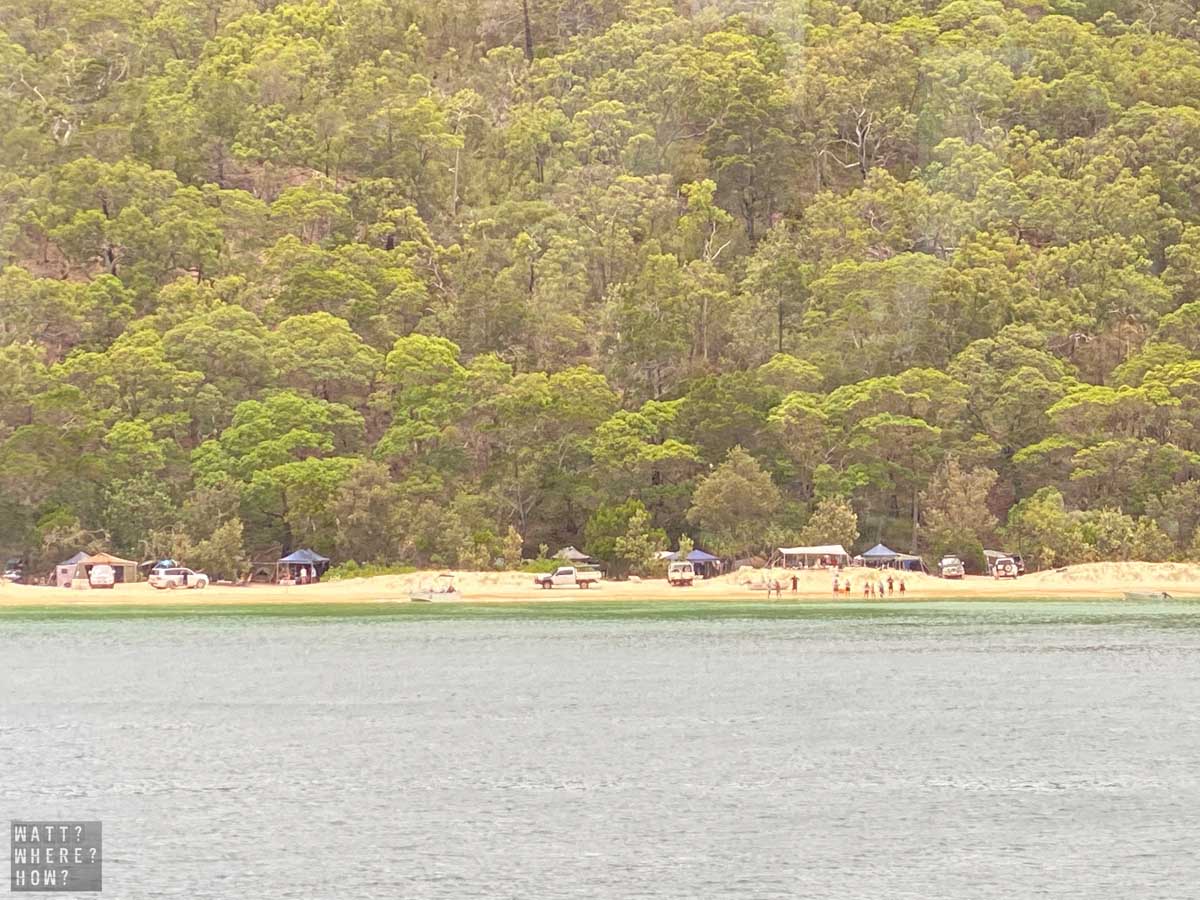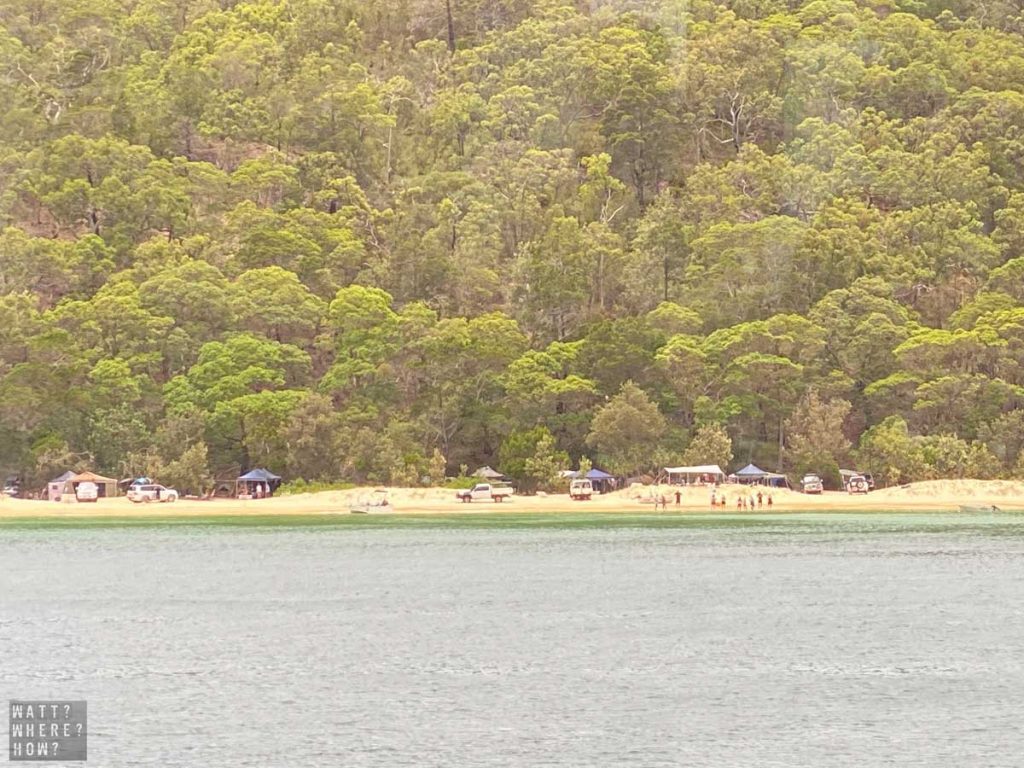 Disembarking at the main jetty, we're immediately taken back by the clarity and blueness of the waters. For a place just an hour from Brisbane it's paradise. A large welcoming party of pelicans is hanging out on the beach, occasionally taking turns at diving for tiny whiting and bream in the shallows.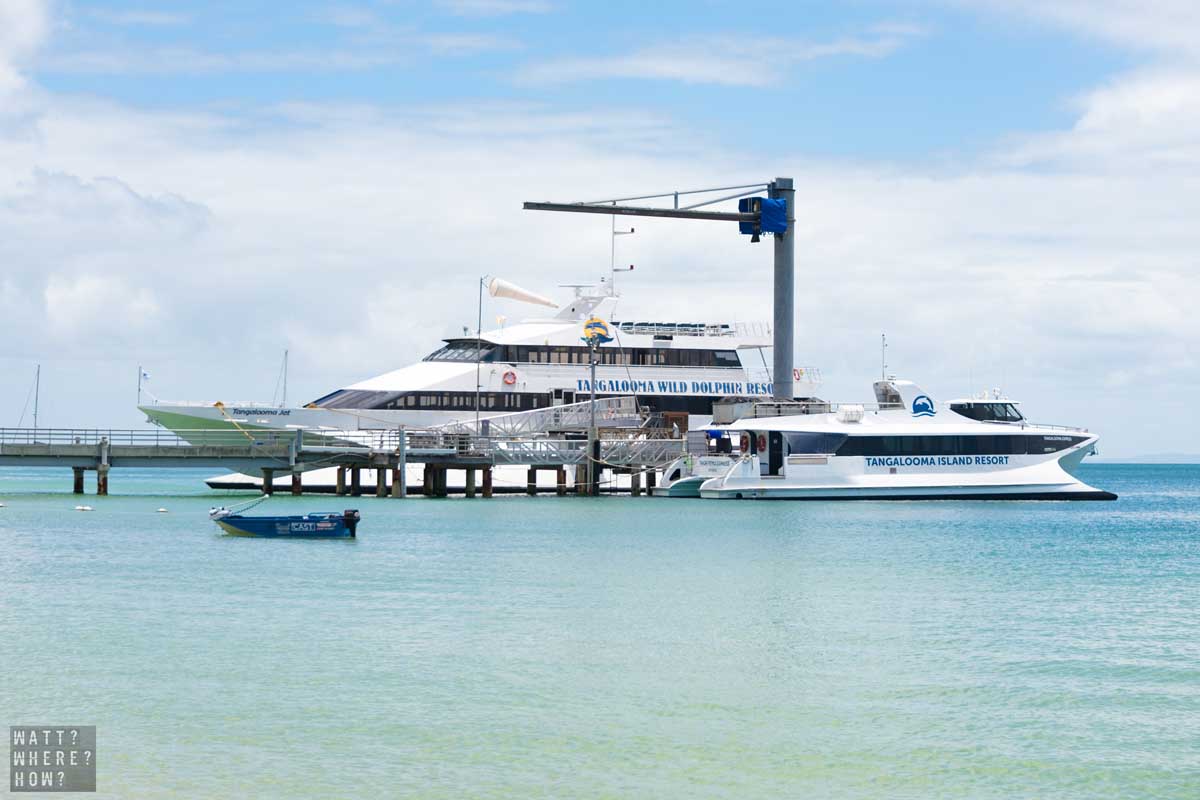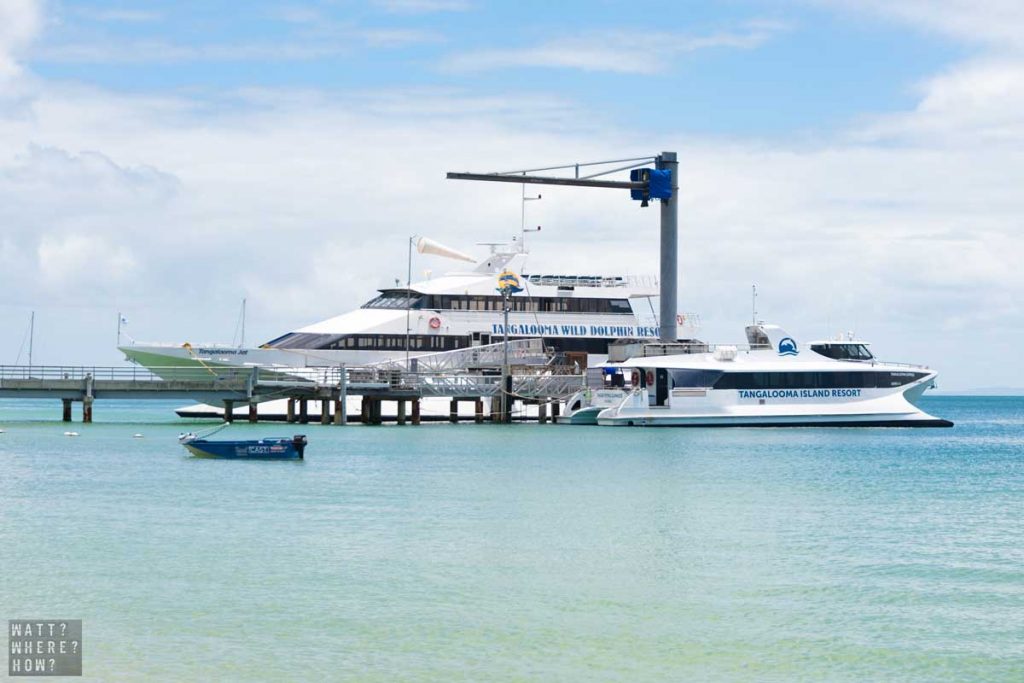 Tangalooma Island Resort
Weaving through beach huts that date back to the seventies we enter the Tangalooma Island Resort grounds. In the past, the facilities were little more than sheds but it's been 15 years since we last visited and now there's a central bistro, bar and cafe, tour booking shops, and a new pool and tennis courts. It's not like a flash American resort; it's more family-oriented with suites and bungalows.
With only a limited time frame offered for the day trip, you will have to choose your activities wisely. Do you take an excursion in a glass-bottom boat to see the fish at the wrecks? Do you go snorkeling at these wrecks (they are man-made wrecks designed to create a safe anchorage and to attract marine life)? How about a helicopter ride? Then of course there's the simple appeal of swimming or sunning yourself on the beach.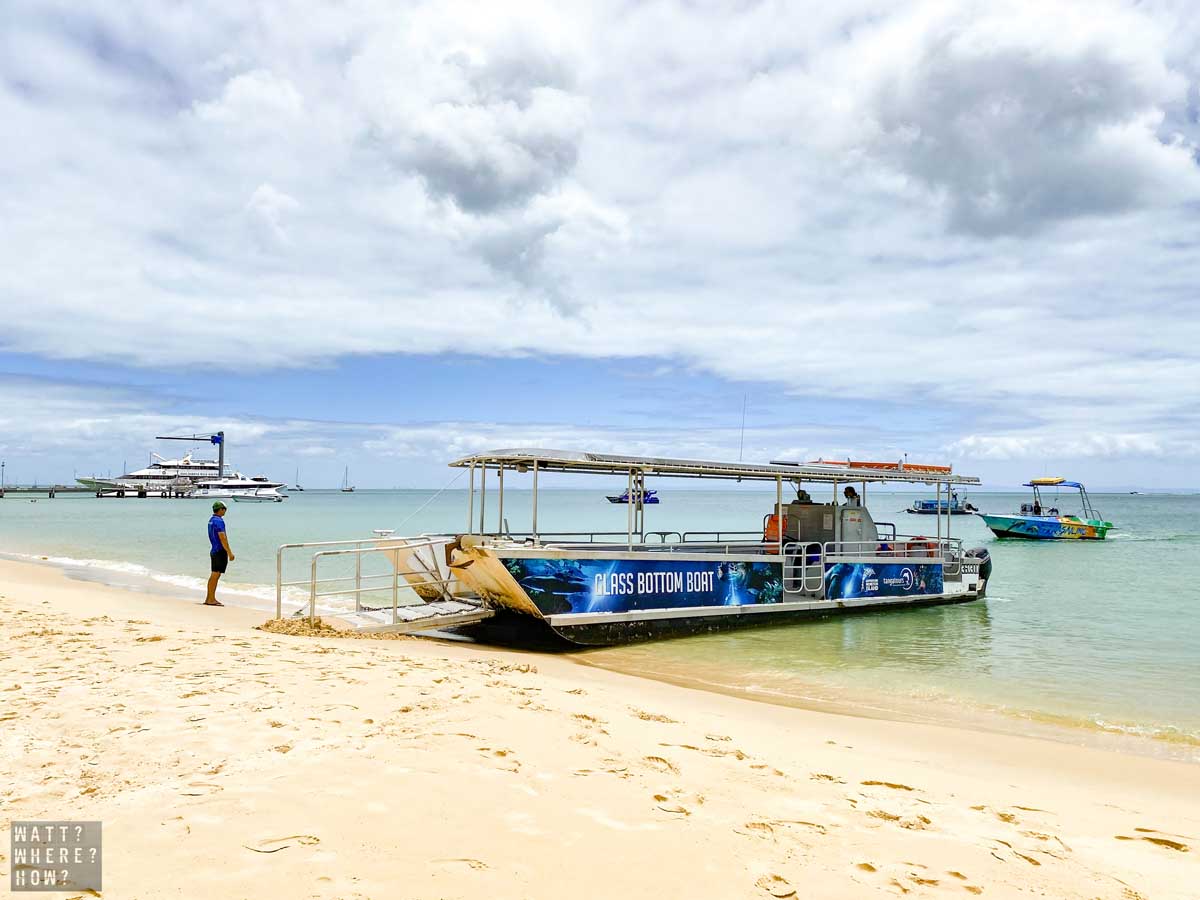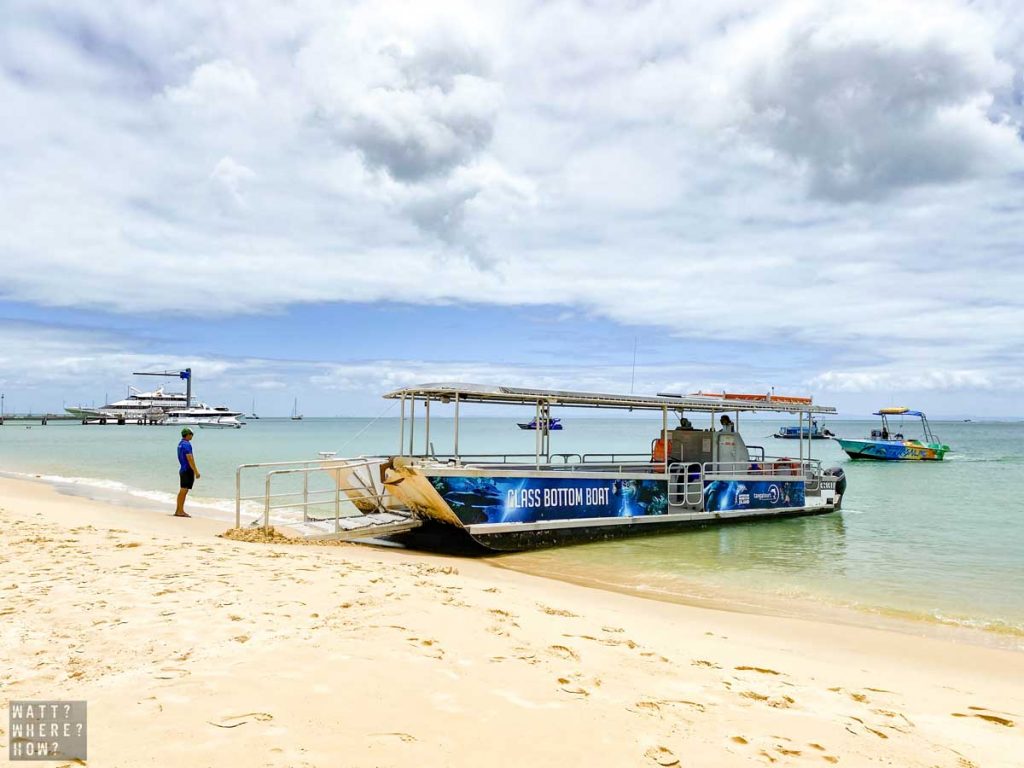 Taking a Quad Bike Tour
As we've snorkeled and sand tobogganed in the past, today we opt for an ATV experience, then a leisurely swim. Choosing a tandem quad bike immediately has its benefits. With the heavy point of gravity, the ATV is almost impossible to flip. We attend a briefing and are fitted with helmets before heading down to the beach to find our trusty steel steed awaiting.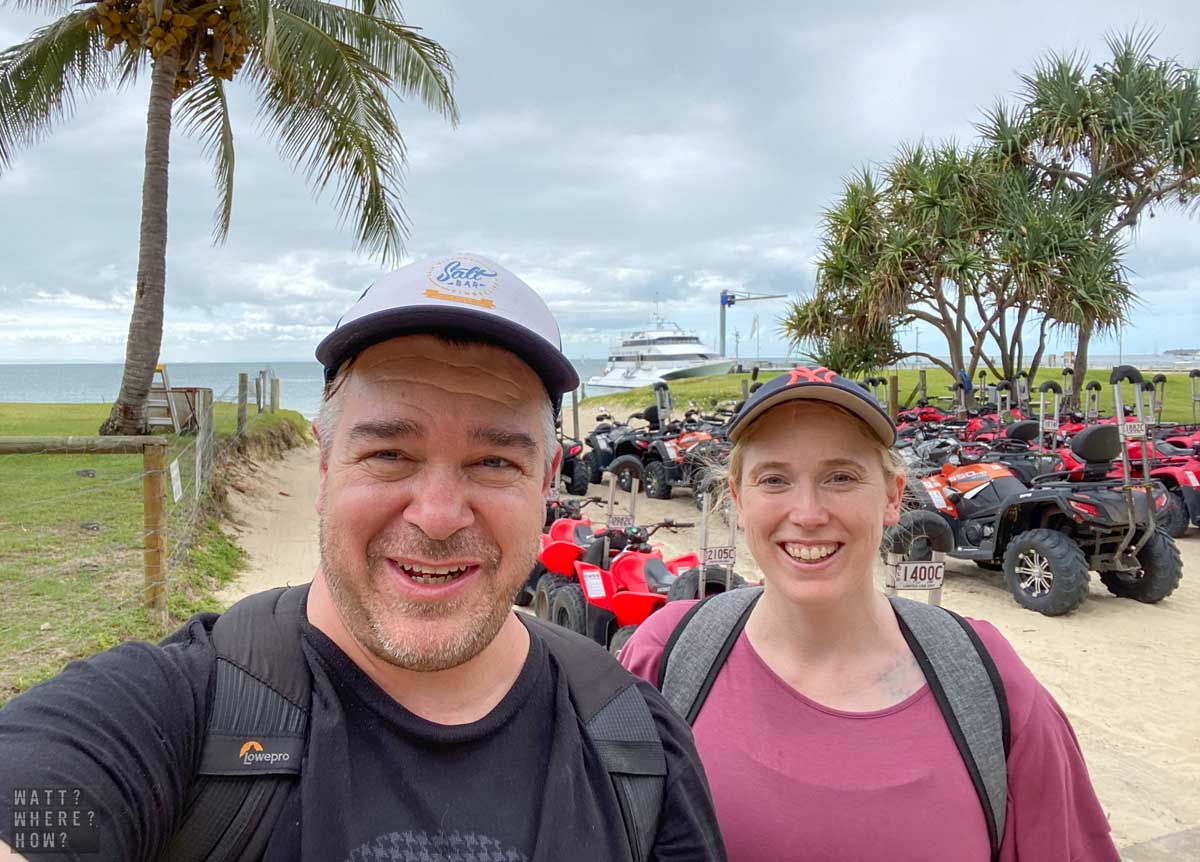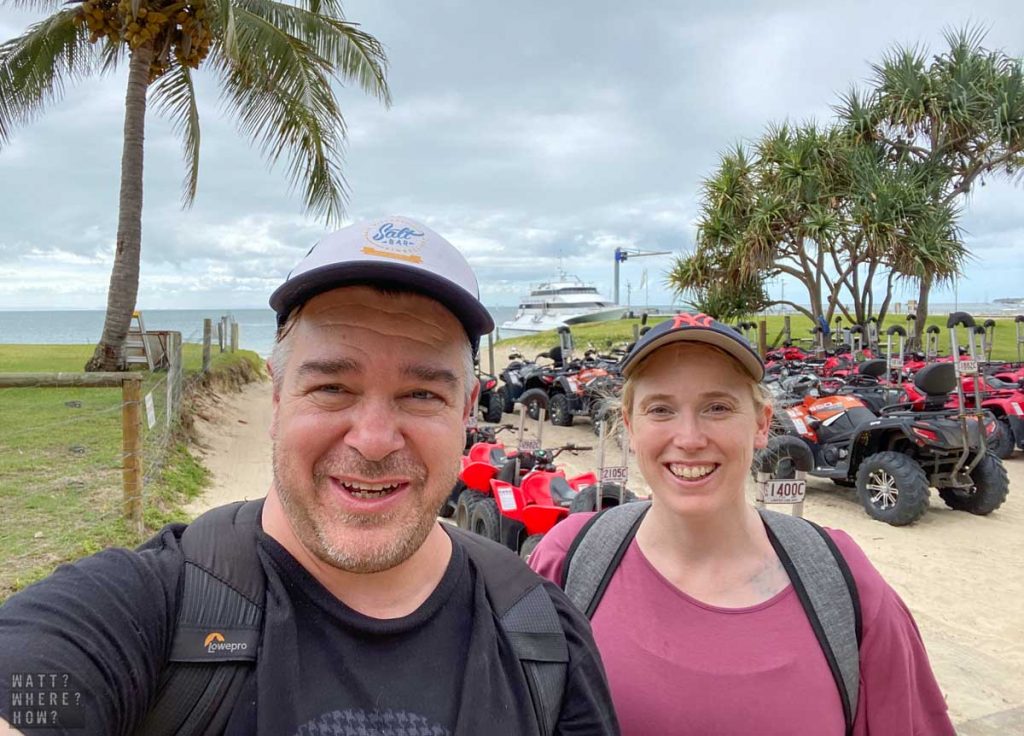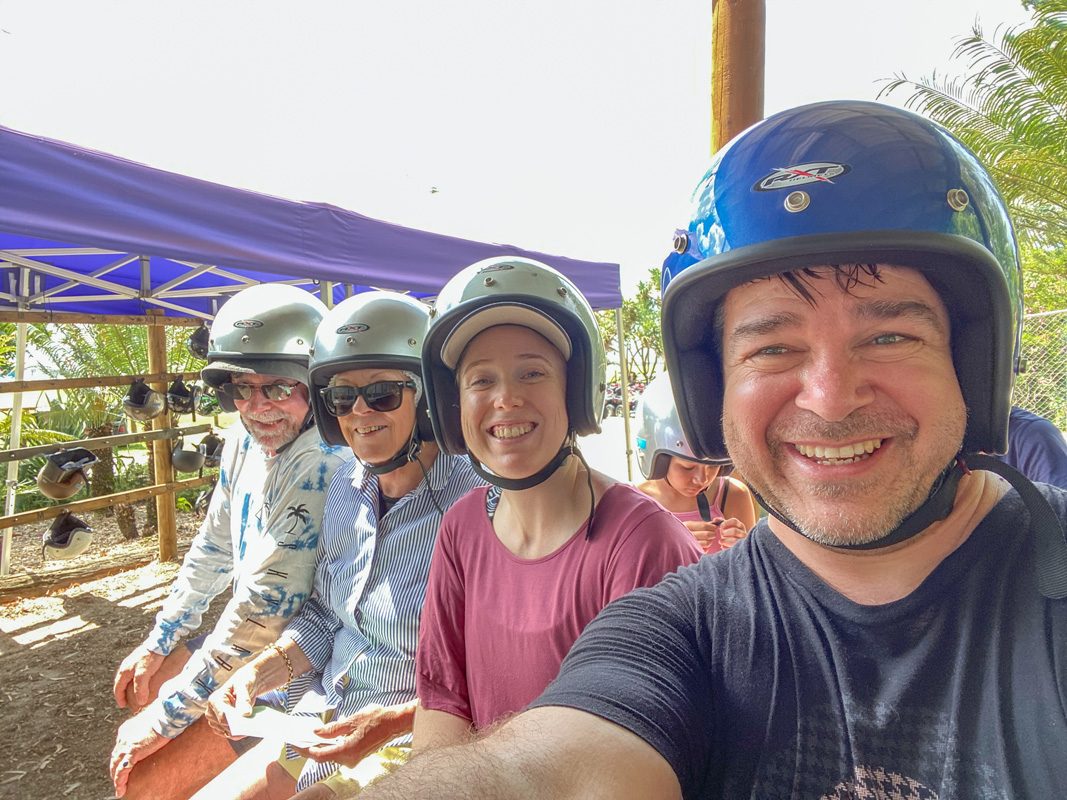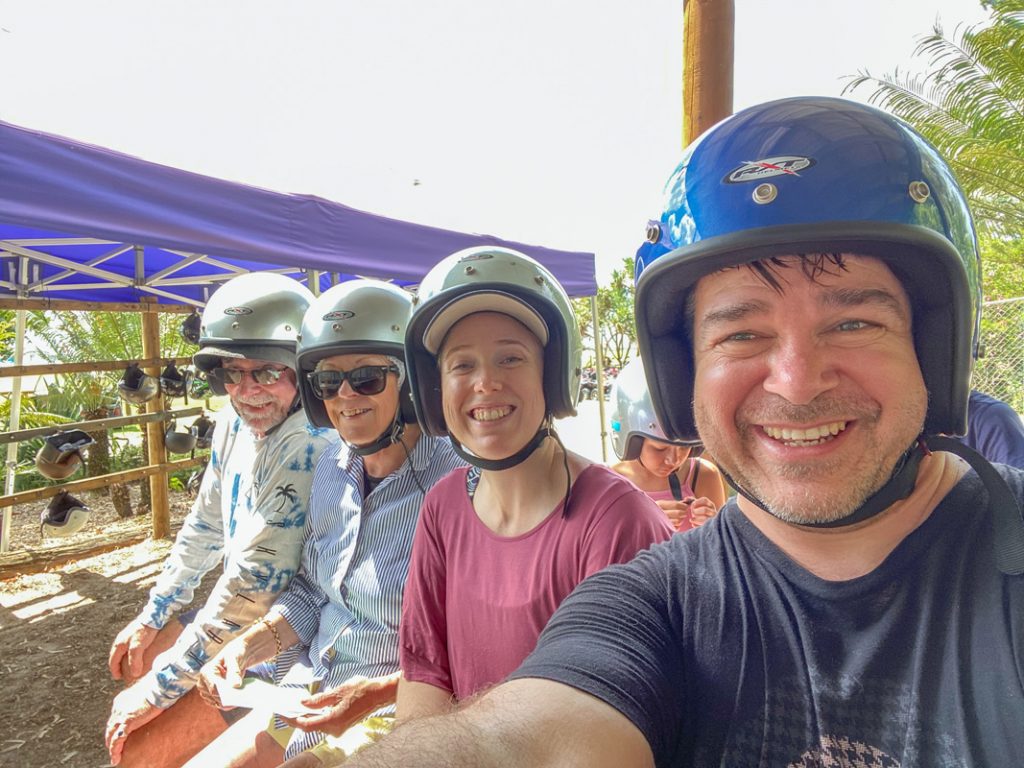 We are assigned small groups led by a member of staff and shown the basics. Our instructor takes us through a series of S-shaped turns and braking maneuvers before we hit the trails. Climbing gradually behind the resort's bungalows and apartments the road quickly switches to deep sand and the quad jumps into a lower gear as it adjusts to the situation.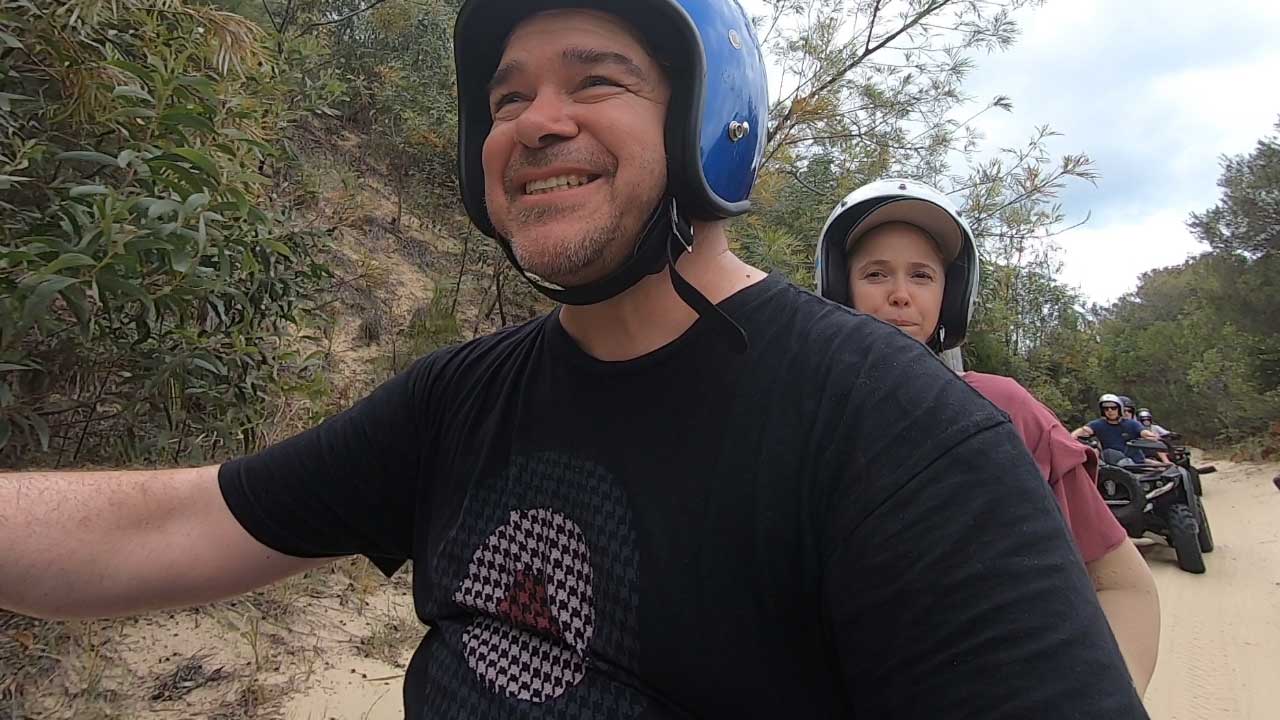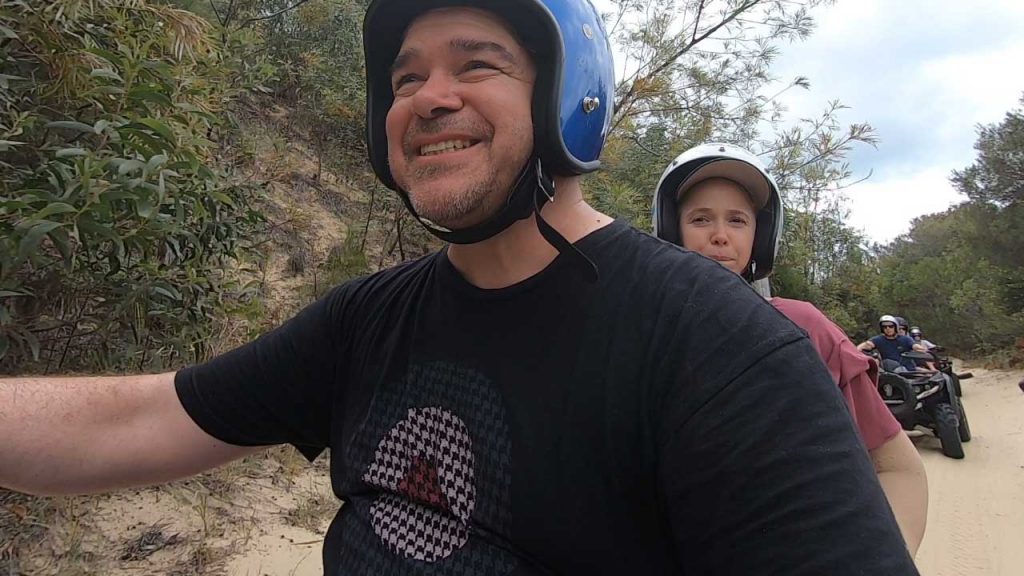 Initial trepidation is replaced by exhilaration as we tear down sandy tracks and through bushy scrub. The ATV caravan zooms along a ridge providing a stunning view of the wrecks and the myriad yachts in anchorage. Depending on the elevation and the complexity of the track, we go from gazing dreamily to throwing the quad into tight turns and slides. It's a heap of fun and returning to base you can't wipe the stupid grins off our faces.
Pristine blue waters
Ok, there is one way – dive into the crystalline salty waters of the beach. Tangalooma's bayside beaches are gorgeous white sands and blue waters. There's no surf as it's protected by the island's mass which makes it perfect for families.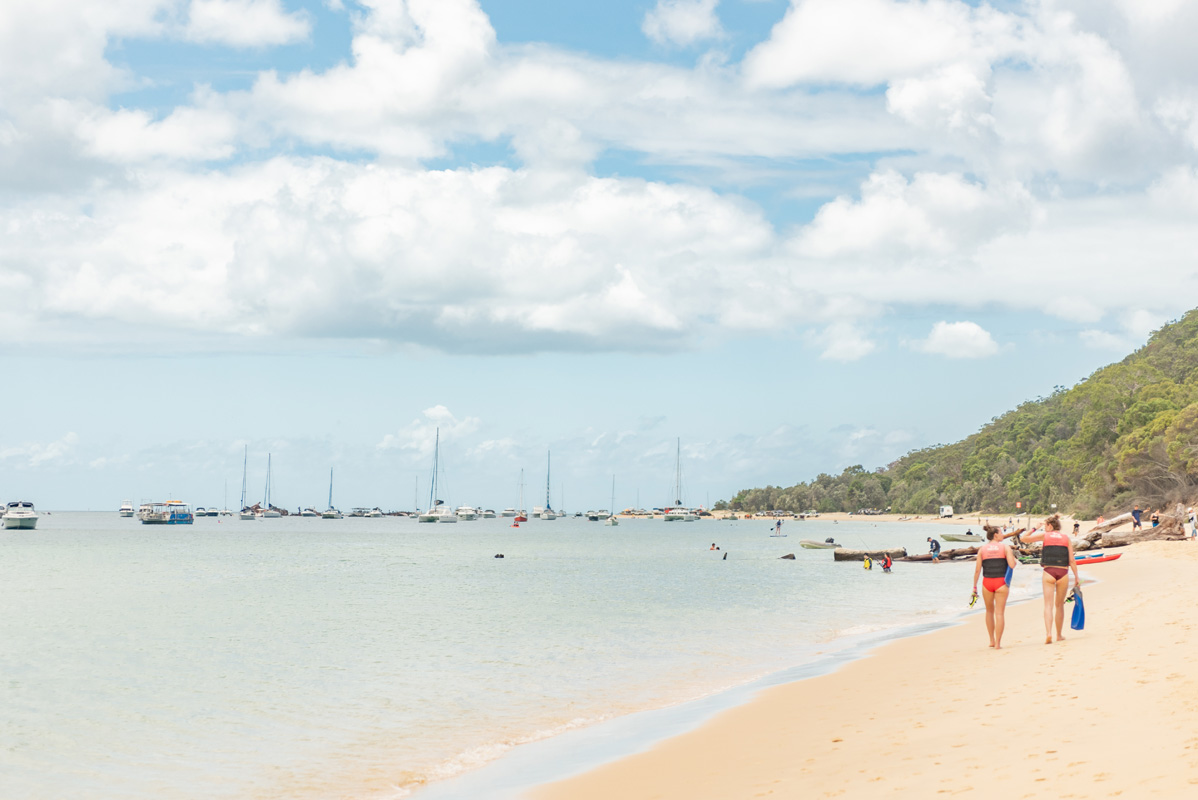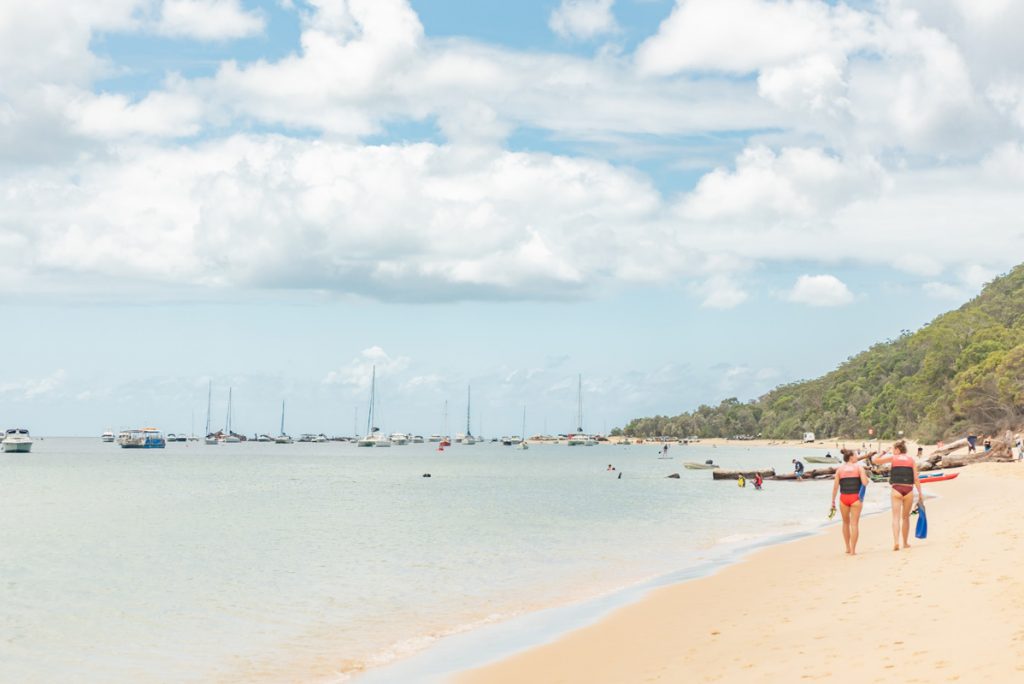 There are surf beaches on the other side of the island but they are not safe for inexperienced swimmers with riptides, sharks, and zero surf patrols if you find yourself in trouble. Instead, we wade into the shallows, with baby bream, whiting, and dart breeds swiftly dodging around ankles. If you happen to have a mask and snorkels you can watch their antics up close. But it's the big fish that draws tourists and locals to Tangalooma on a day trip.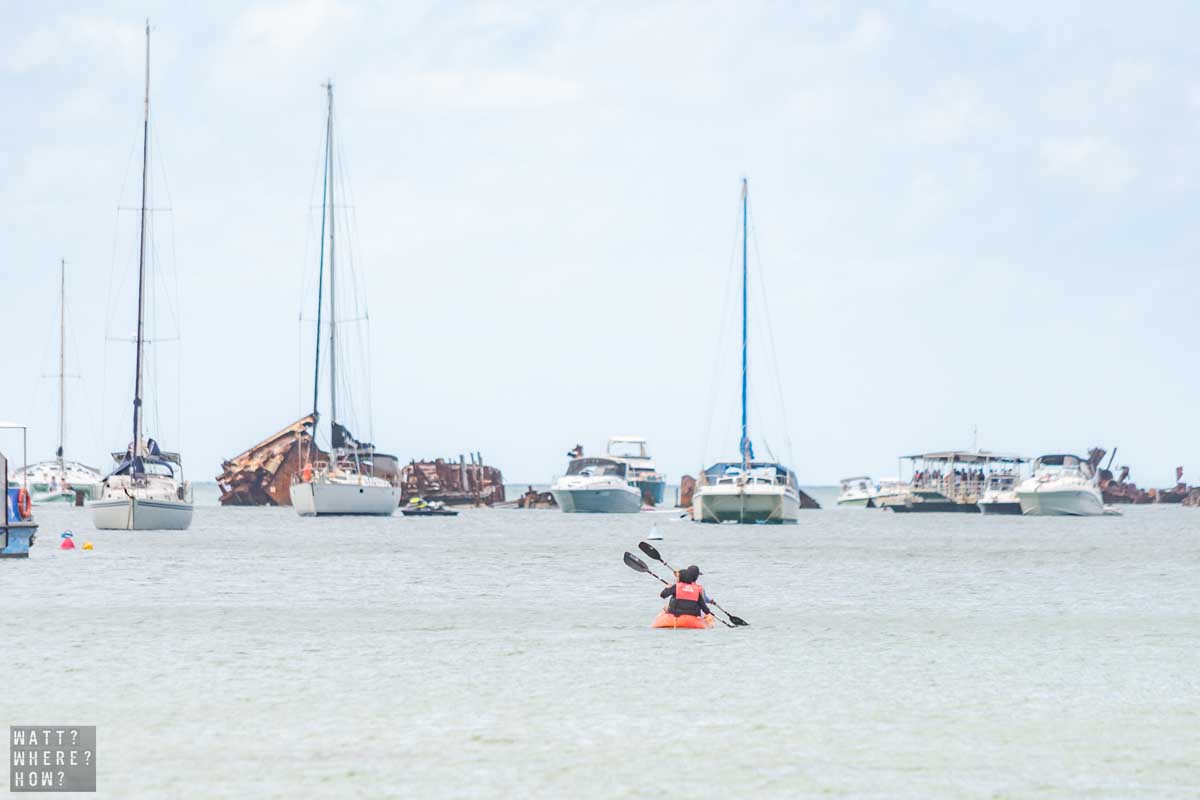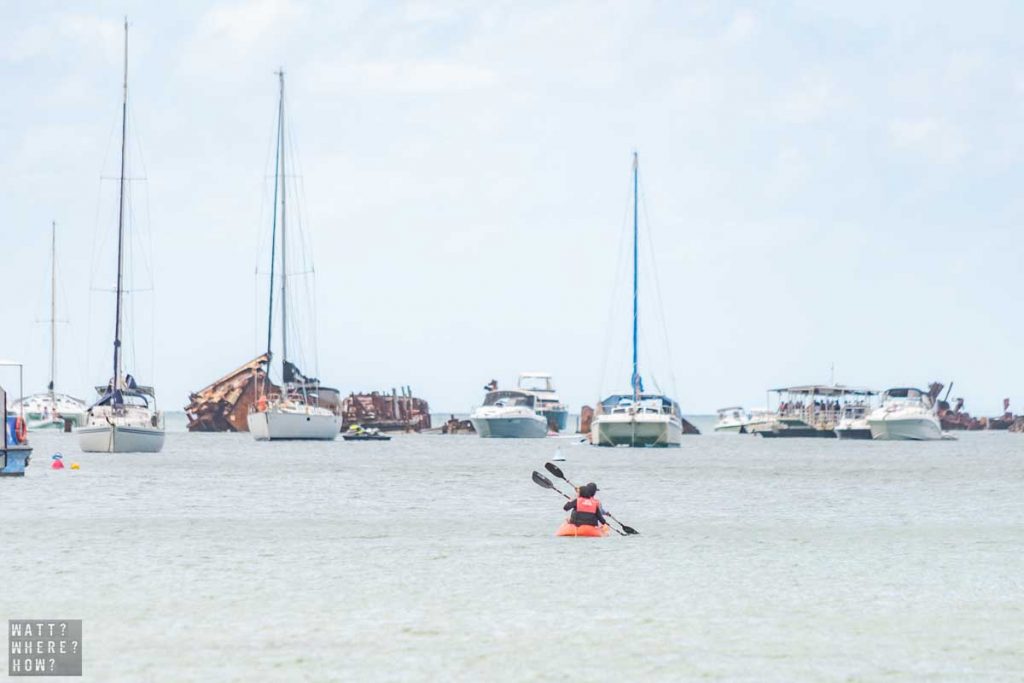 Dolphin Feeding at Tangalooma, Moreton Island
Each night, a pod of dolphins swims in the shallow waters by the jetty, ready for feeding time. They spend the day cavorting in Moreton Bay but as the sun goes down, they're there like clockwork, ready for an easy feed. There was a time on a Tangalooma day trip when everyone would get a chance to feed a dolphin but these days their popularity has meant that only a select few get a chance. This is the luck of the draw, but either way, you'll love their gleeful chatter and just seeing these beautiful animals right there in front of you.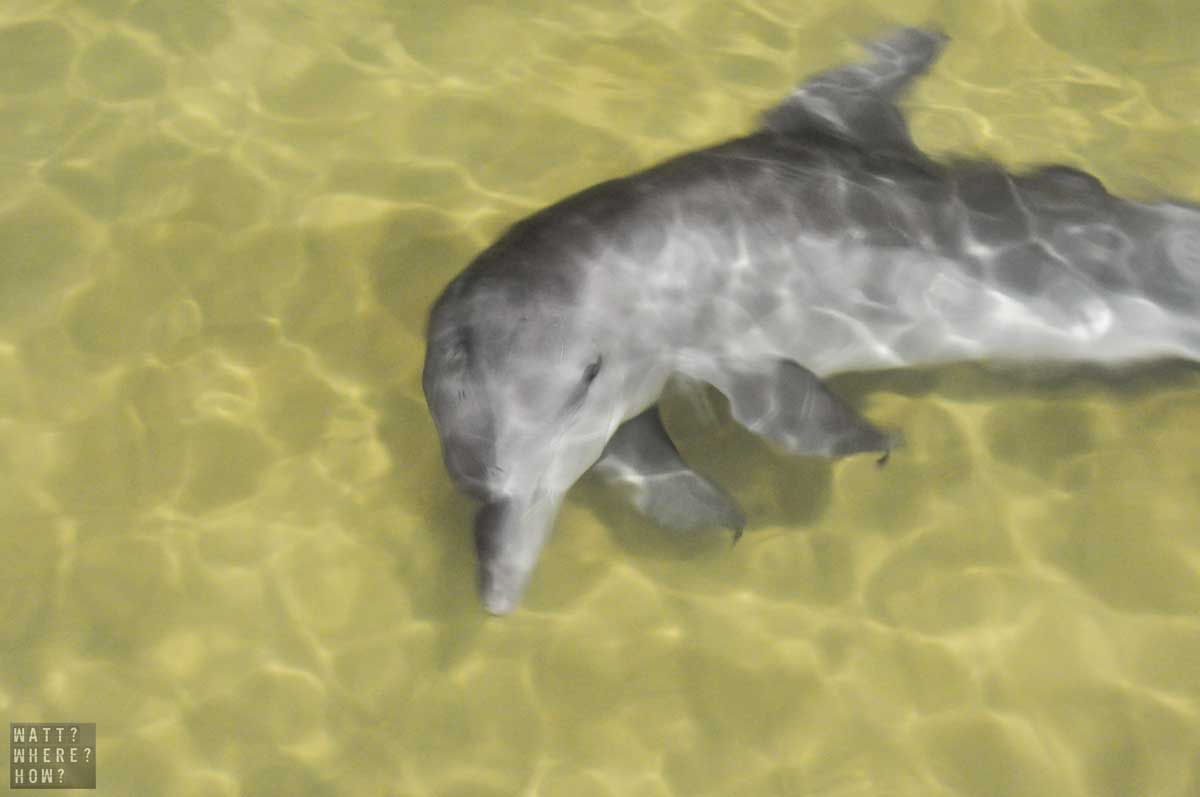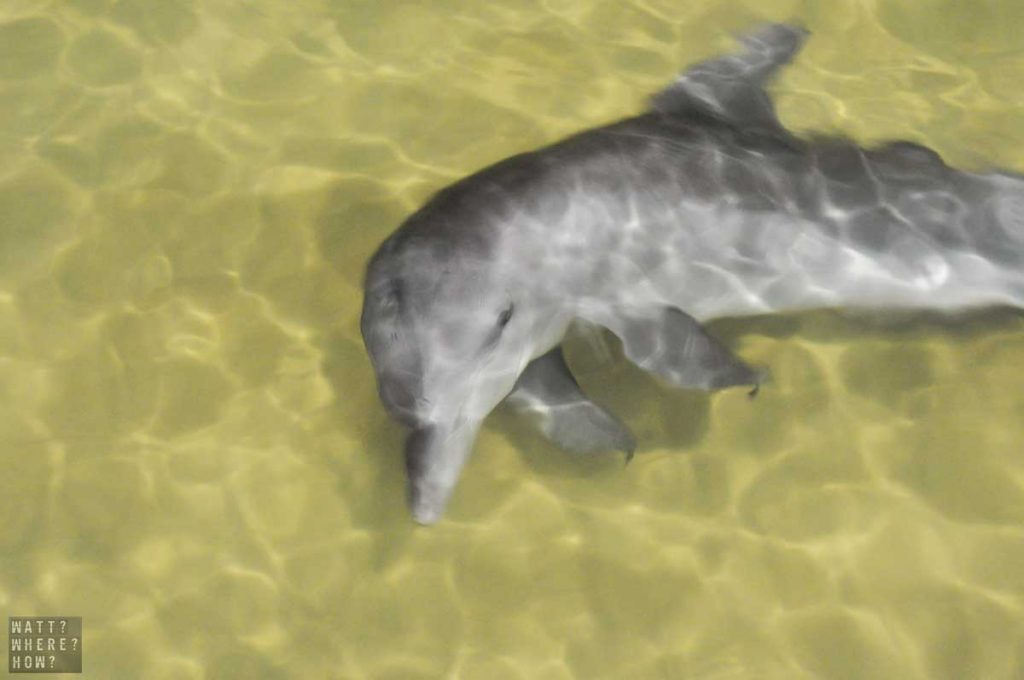 Whether you opt for a short day like we did this time, which is cheaper and leaves well before the feeding, or wants to be there after sunset to see the dolphin feeding, there are affordable packages that make a Tangalooma day trip a must-do when you're in Brisbane or traversing through Queensland.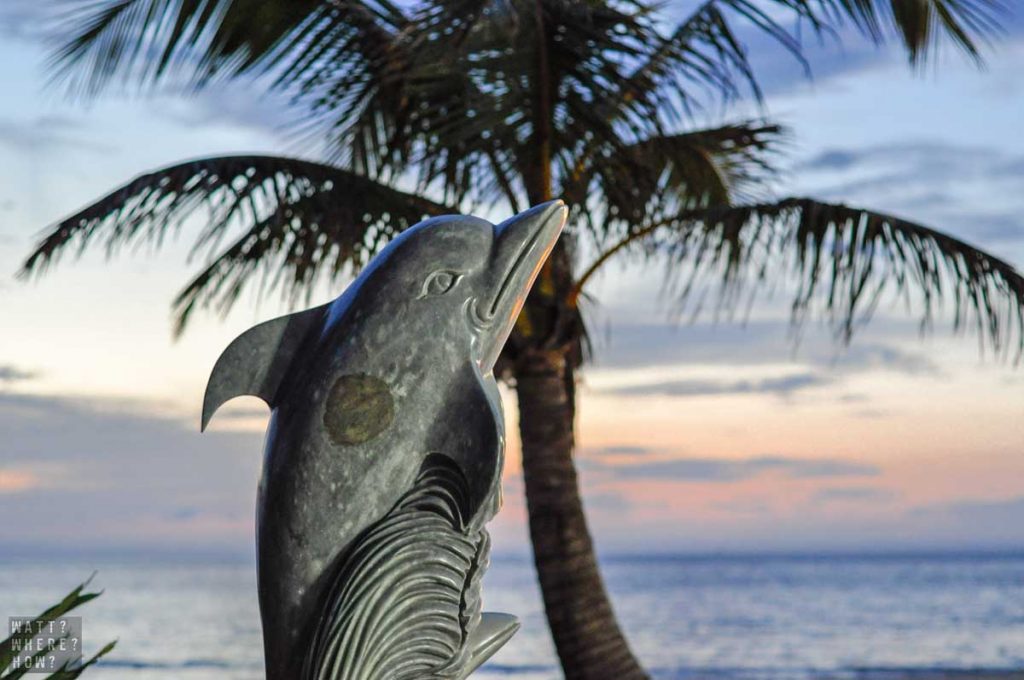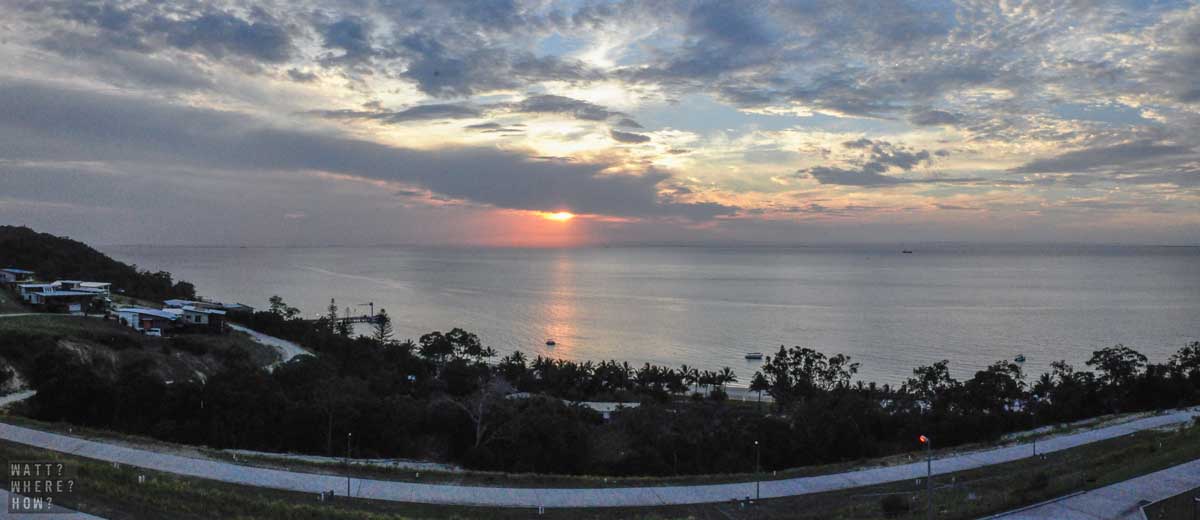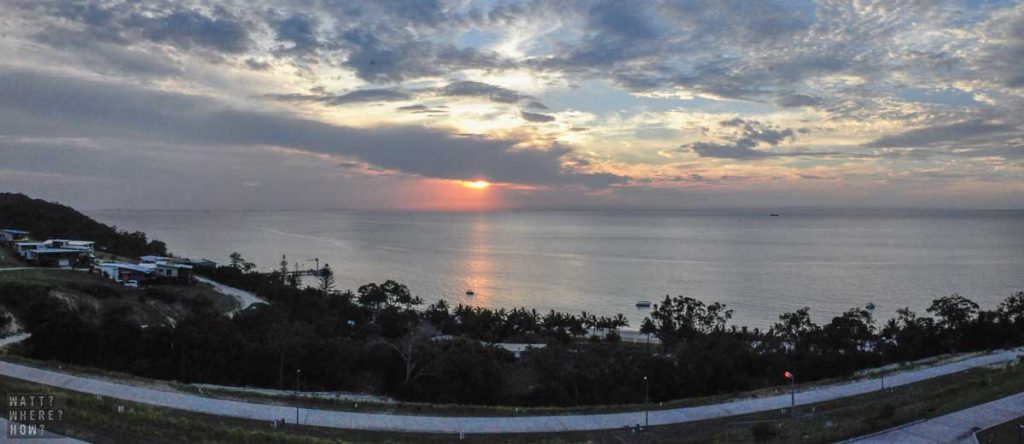 ---
What?
Tangalooma is the main town on Moreton Island, a resort community on the Moreton Bay side, with beautiful clear waters, sandy beaches, and relaxed, bungalow-style accommodation.
Where?
Moreton Island is a 1hour and 15 minutes from Pinkenba, just near Brisbane International Airport. The island sits on the edge of Moreton Bay, making a Tangalooma day trip one of the most accessible places to experience quality Queensland beaches without heading north or south.
How?
The easiest way to get to Moreton Island on a Tangalooma day trip from Brisbane City is to take one of two ferries from Pinkenba. The boats depart Brisbane daily at 7am, 10am, 12pm, and 5pm and the ferry takes an 1 hour 15 minutes. The ferries return at 8:30am, 2pm, 4pm, and 7pm. The price is $84 for an adult, $46 for a child and it's free for infants under two. Book here.
Tangalooma Resort offers a range of accommodation options and tour activities, from snorkeling to sand tobogganing. Learn more about them here.

Follow & Connect with us