Ice fishing in the Adirondacks on a frozen lake is something we'd always wanted to try.
It always seemed so foreign and exotic growing up reading about Inuit families fishing through holes in the ice in picture books and National Geographic magazines and then later seeing travel documentaries of Americans and Canadians fishing from the cozy comfort of heated tents, sipping hot cider, coffee, or a hot toddy from a thermos flask.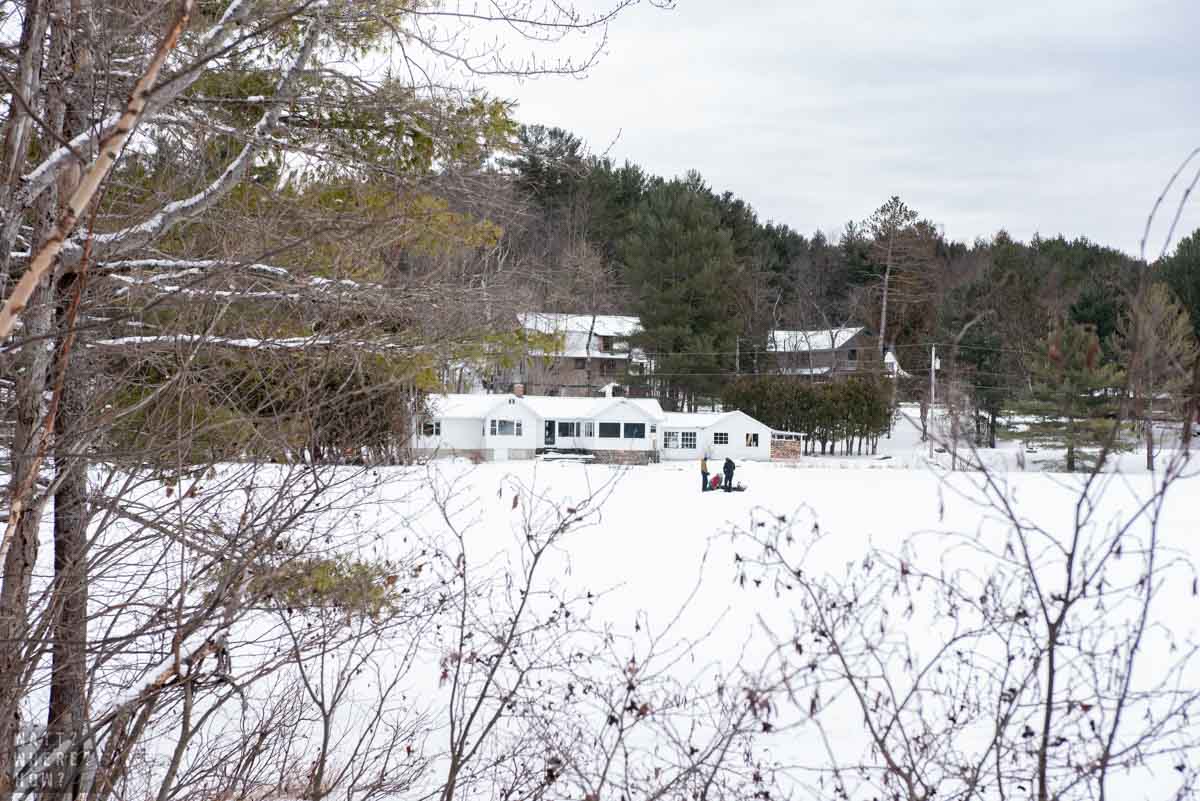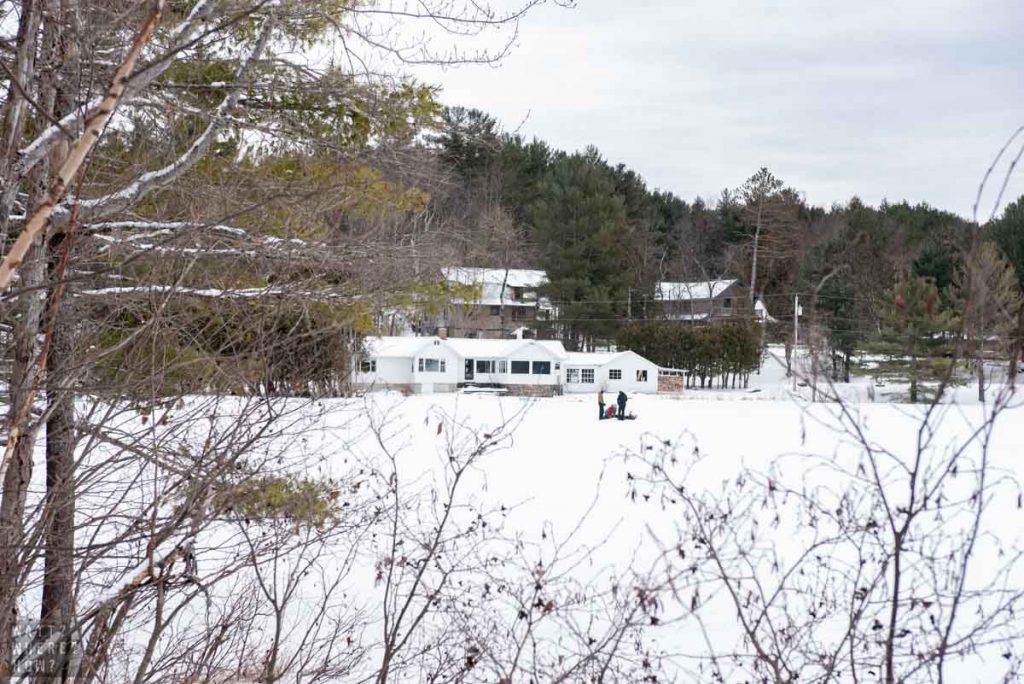 So, it was with much anticipation and trepidation that we booked a guided ice fishing experience with Adirondacks Ice Fishing Experiences run by the Hungry Trout Fly Shop Guide Service.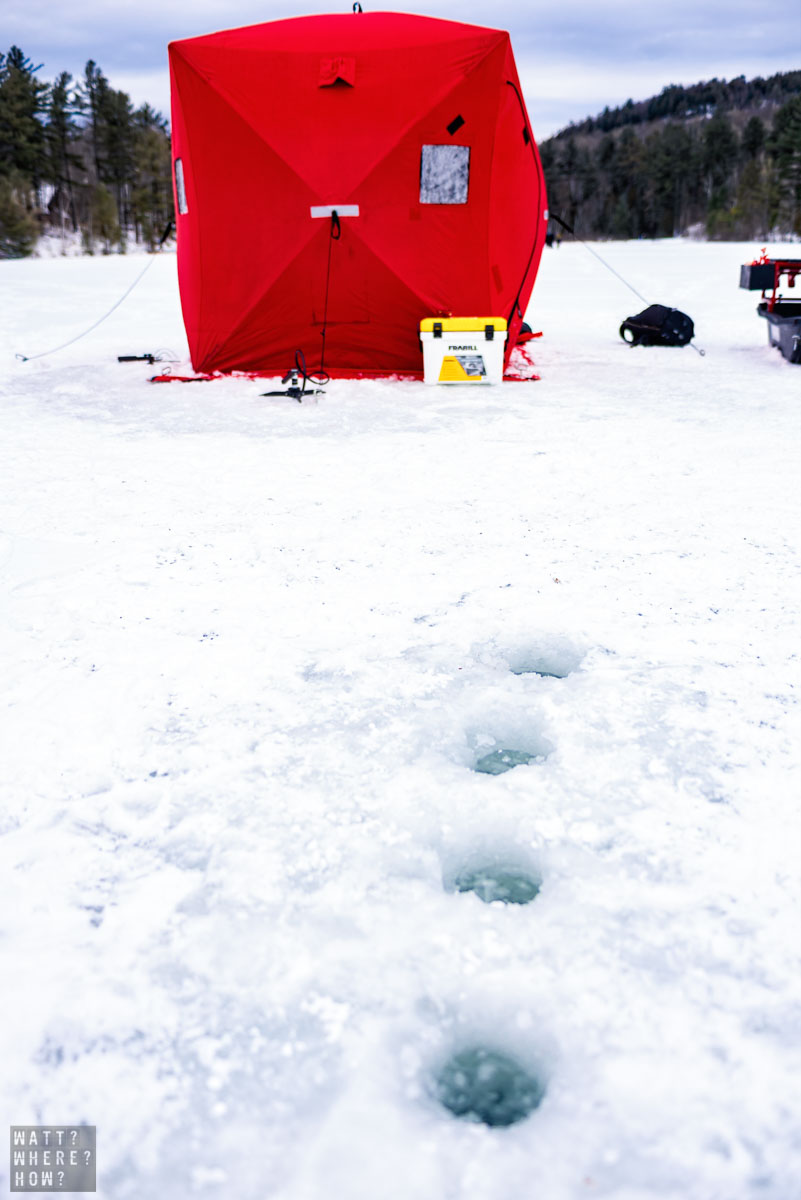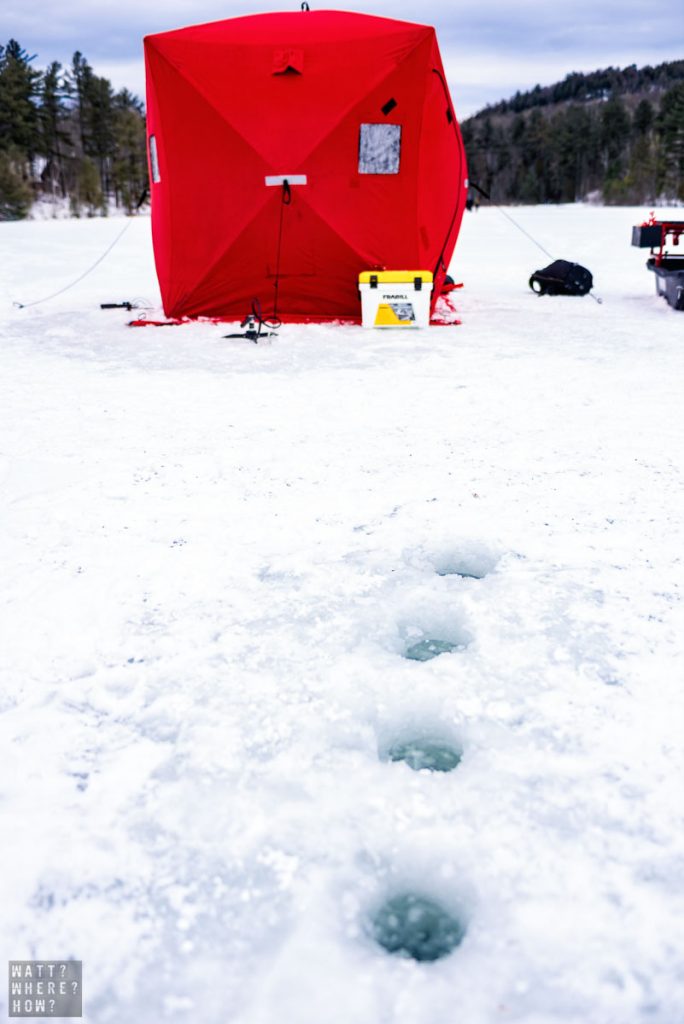 Where to go ice fishing in the Adirondacks
Based at the Hungry Trout Resort, Evan, Matt, and his team of guides fish the waterways and ponds around Lake Placid, Lake George, Saranac Lake, and Tupper Lake with fly fishing experiences year-round and ice fishing in the colder months.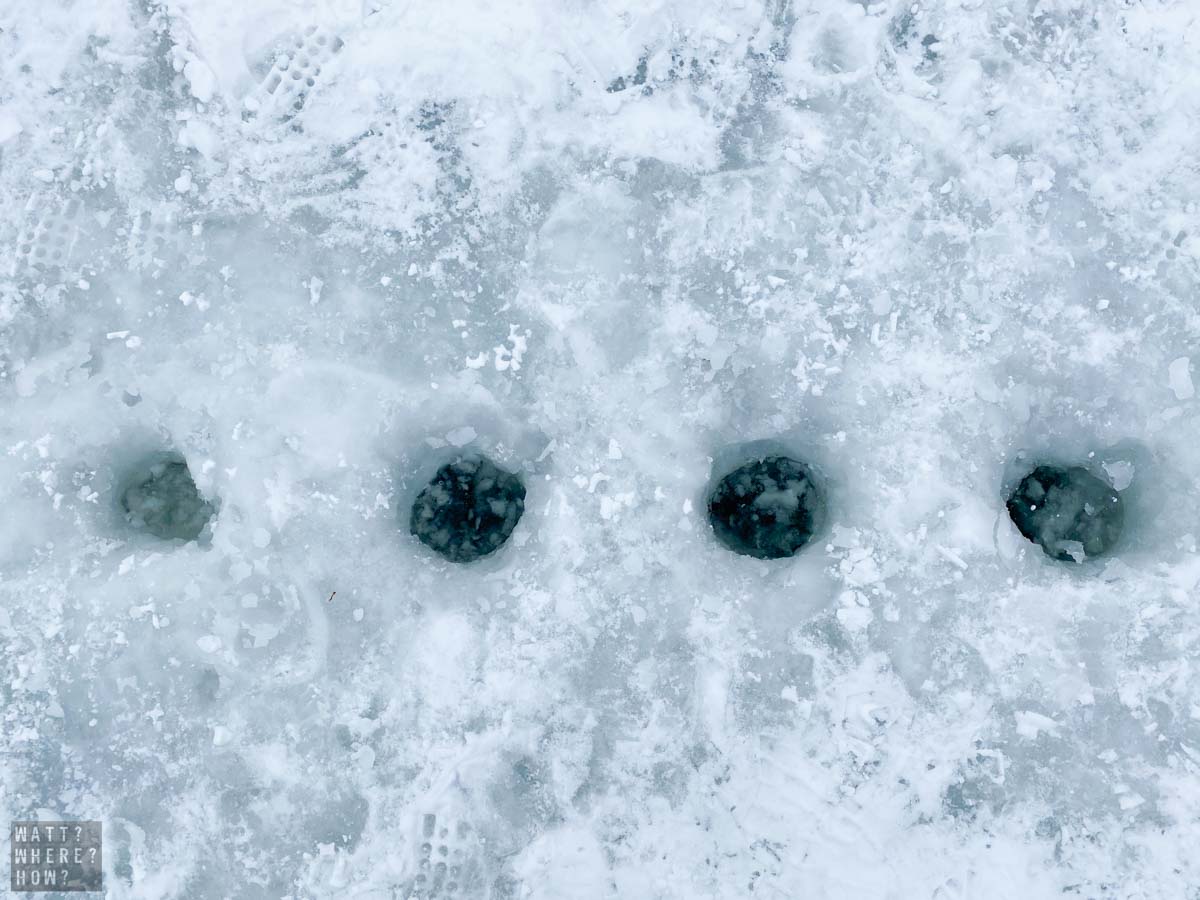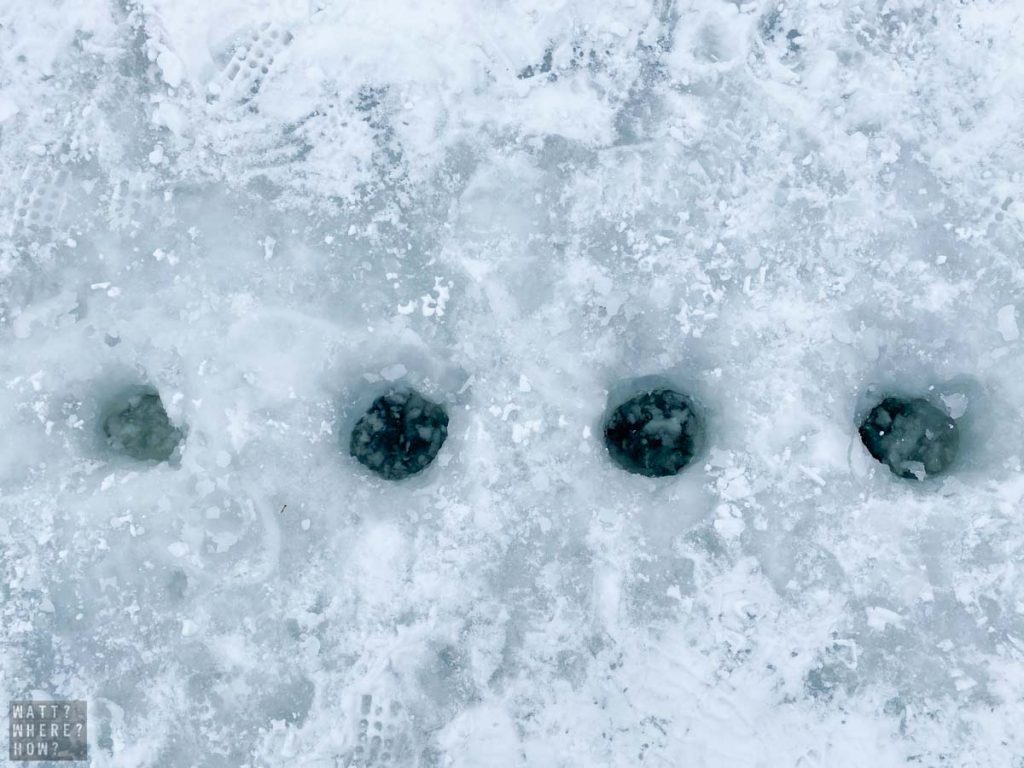 Is ice fishing in the Adirondacks dangerous?
The idea of fishing on a frozen lake seemed fraught with danger. We'd seen too many movies with people succumbing to frozen surfaces cracking open and the person drowning or at least rescued by a heroic family pet. What was that Lassie? They've fallen through the ice?
Thankfully, Evan and Matt were quick to put our minds at ease and to arrange a heated shanty on a solidly frozen pond so we could share this once-in-a-lifetime experience with our little baby girl. And while there is risk involved, going with an experienced guide who has already checked the surface will ensure you're best positioned for safe day out when ice fishing New York state.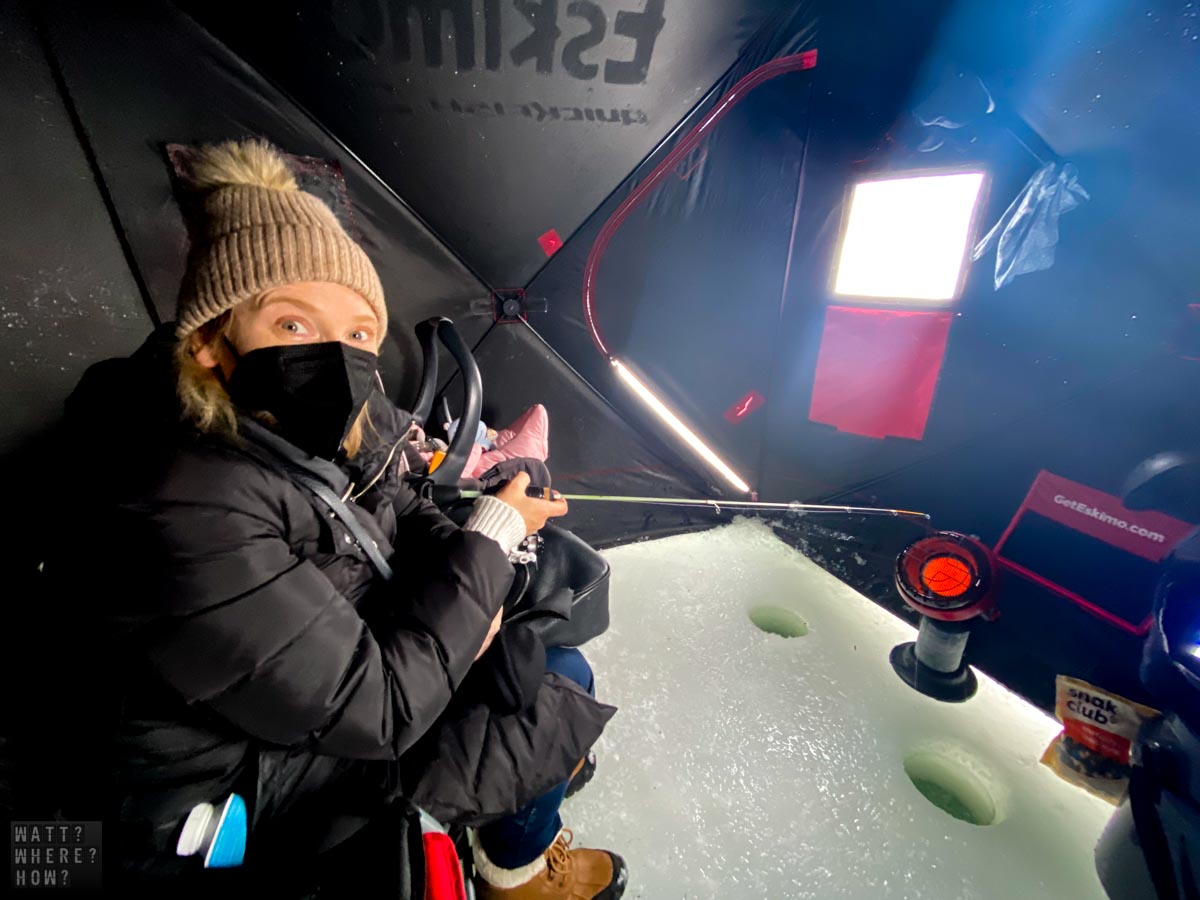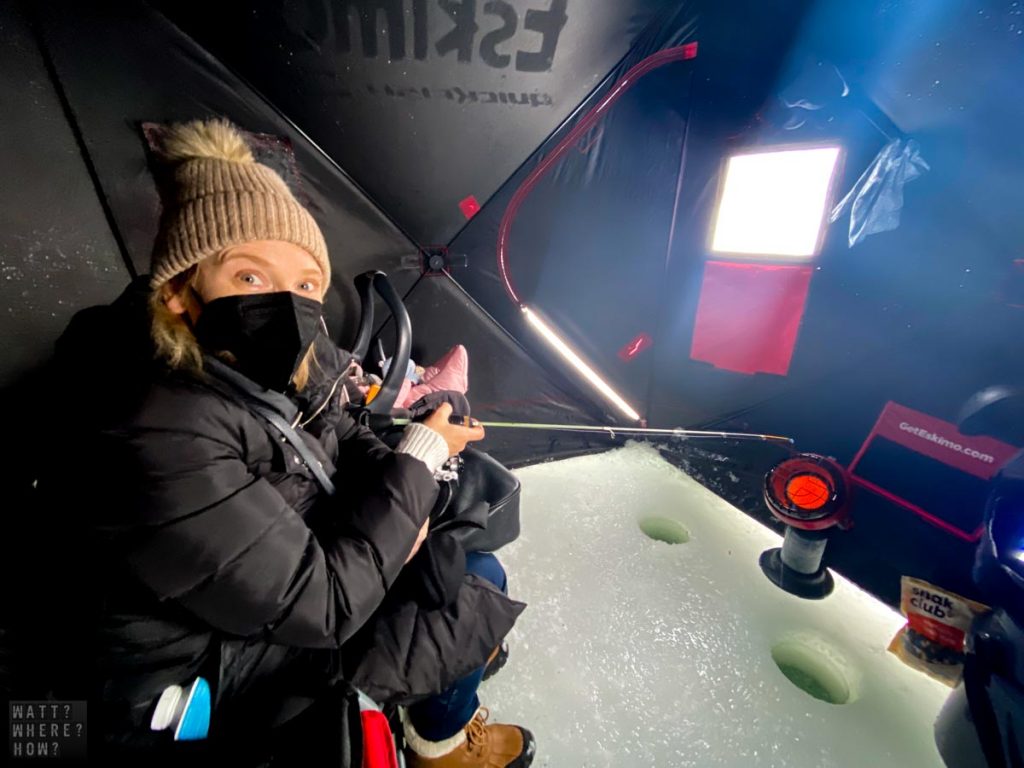 The initial pin shared for our meetup was at a pond – something that sounded rather disappointing for someone wanting to try lake fishing, but our guide, Matt, later explained that in this part of New York, the terms are interchangeable with some ponds larger than lakes and some lakes smaller than ponds.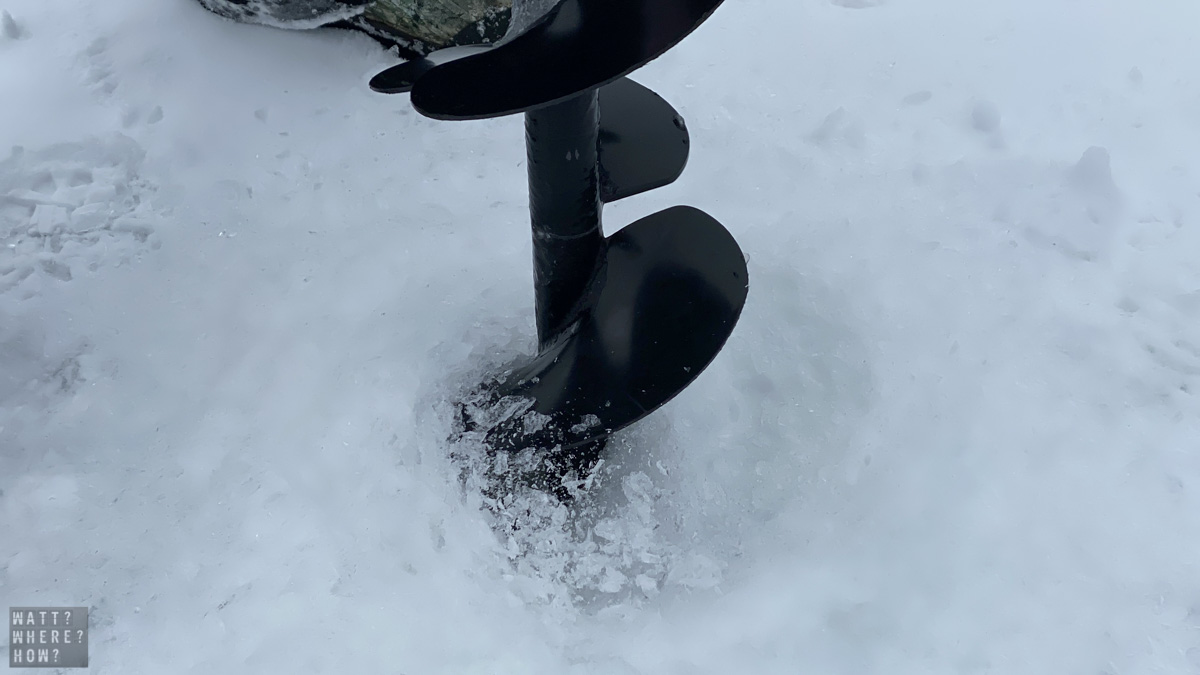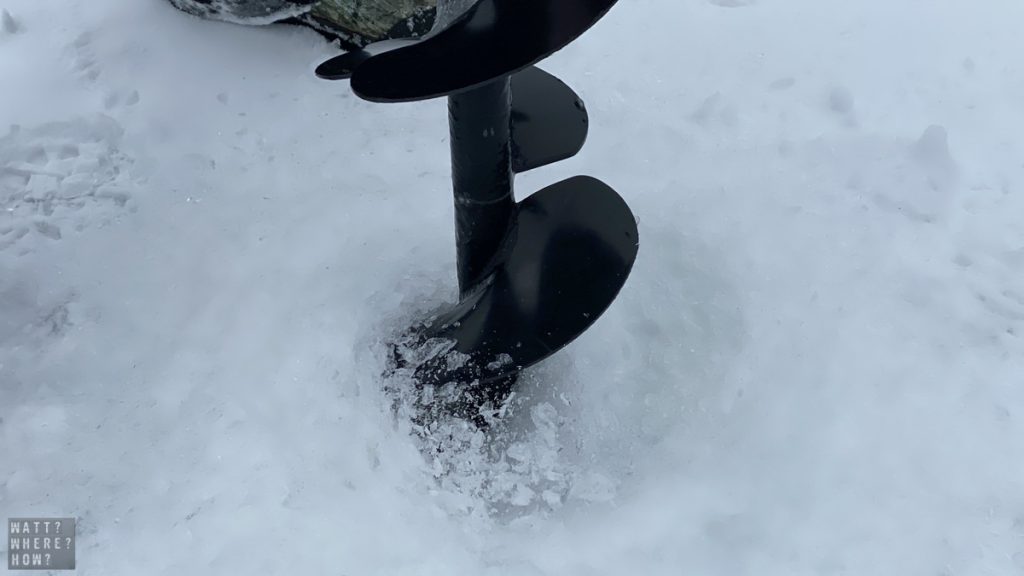 He was also able to immediately dispel our fears of falling through the ice. At this time of the season, the ice was between 14 and 16 inches thick – strong enough for a car to drive across. To prove, it he had a gas-powered drill for getting through the ice which he used to help a local kid fishing further across the pond. As part of the day, Adirondacks Ice Fishing Experiences provide a series of rods and holders positioned at holes by the shanty, along with the equipment needed to fish on!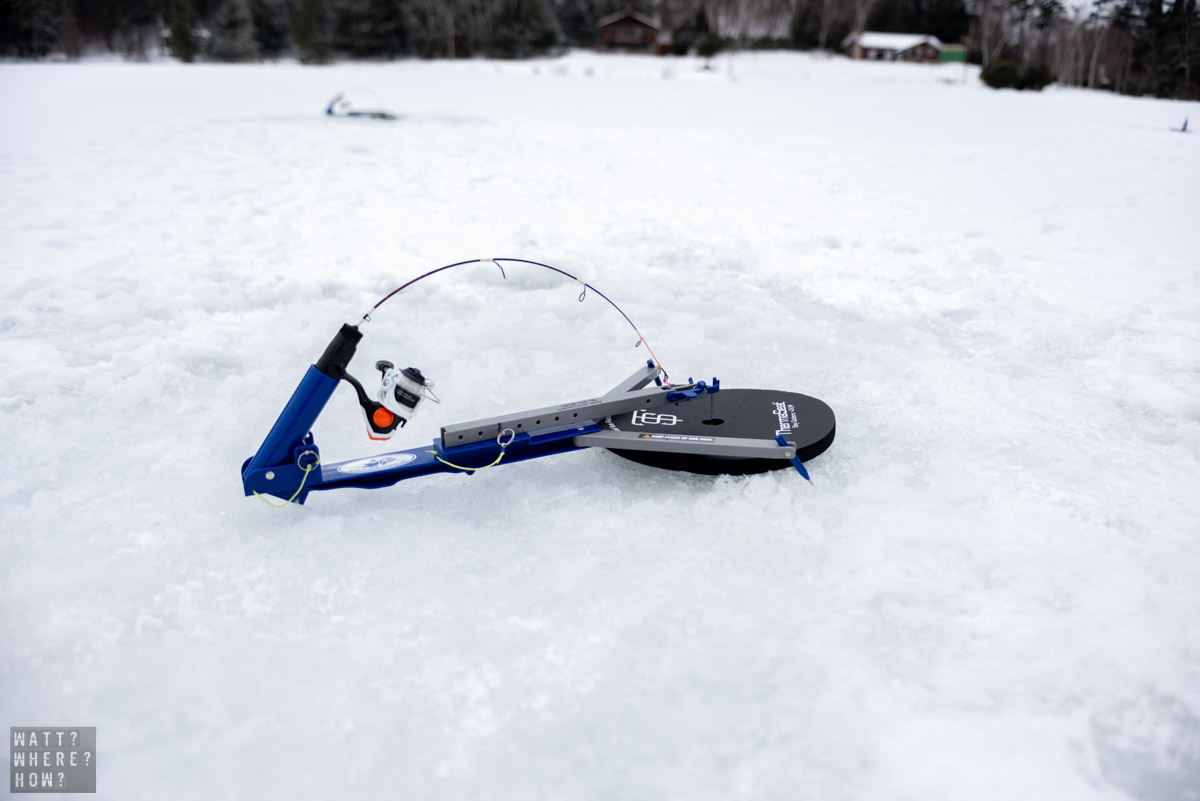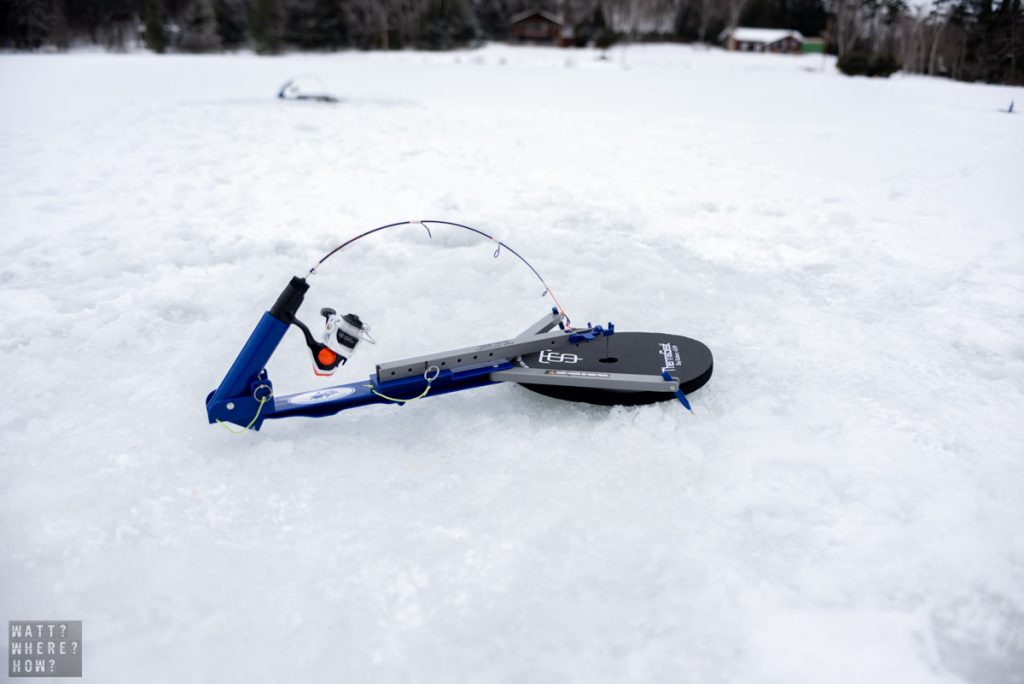 The main targets when ice fishing in the Adirondacks were the usual freshwater fish found in New York State lakes: Perch, Walleye, Trout, Crappies, Northern Pike, and Atlantic Salmon. (read about summer fishing for Walleye at Oneida Lake here.) As part of the ice fishing experience, our guide, Matt (also the general manager of the Hungry Trout Resort) had organized a heated shanty (a tent with enough room for four seats), fishing rods, tackle, and other equipment.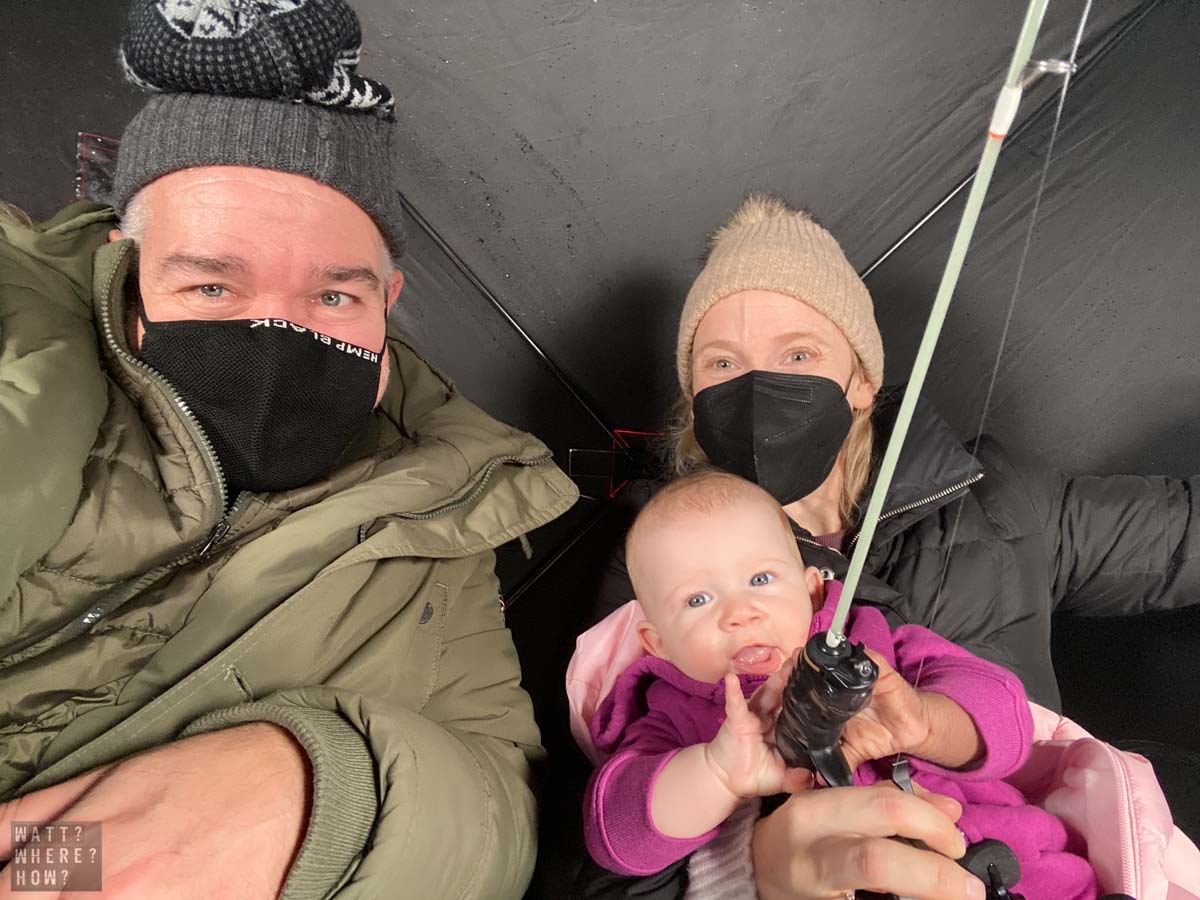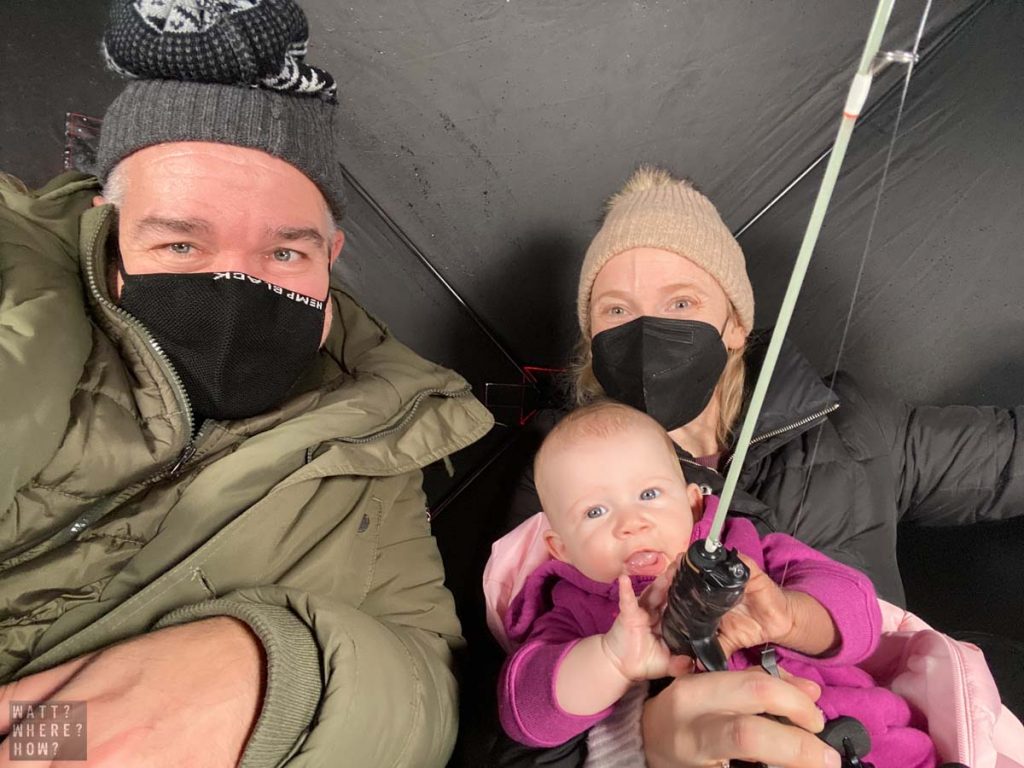 As a gamer, I'd only ever fished for perch and bass on computer games, and to my surprise, Matt's setup included not just a fish finder, but also an underwater video camera with a live feed up to the tent. You could not just see fish approaching on the finder but watch them tormenting your bait – a tiny maggot.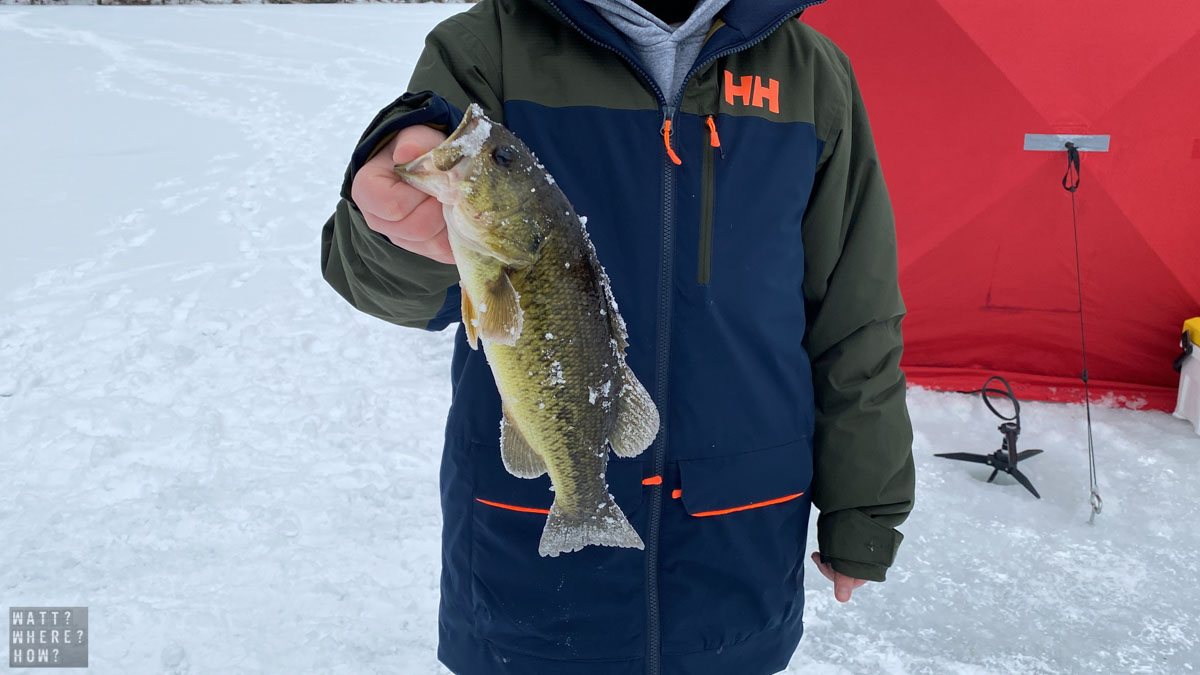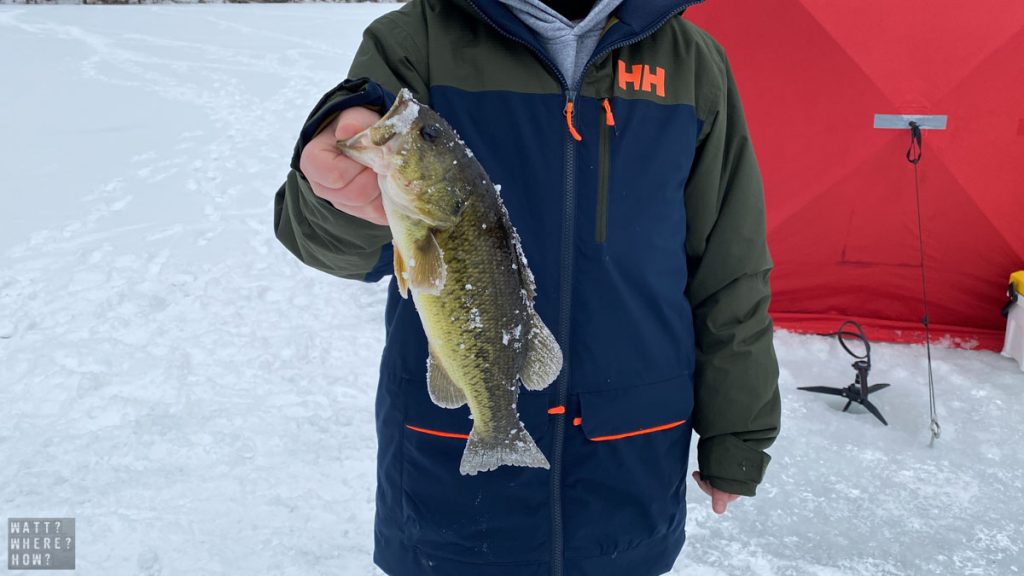 Thankfully, there were fish out there – just not at my hole. The kid across the pond landed a decent bass, but for us, the only things showing interest were tiny yellow perch about the size of a fish stick/fish finger. But fishing is more than just what you bring home.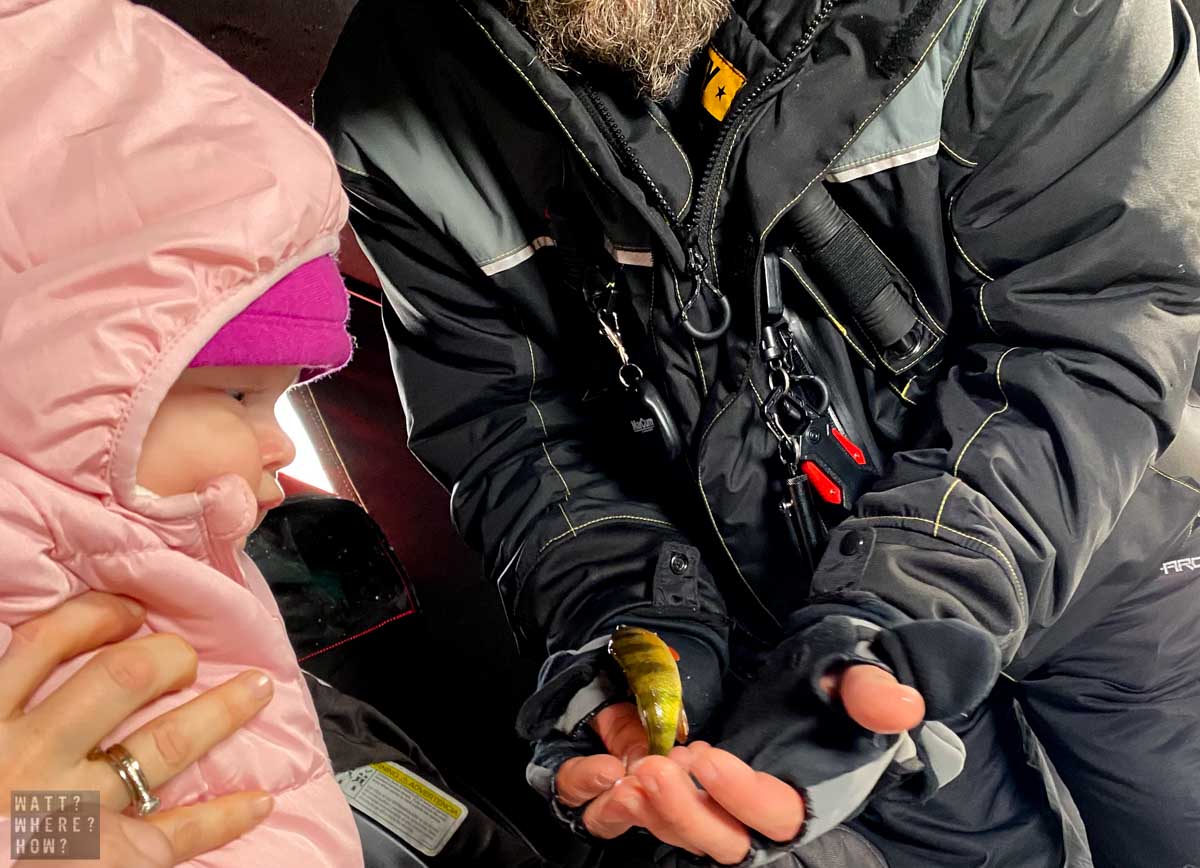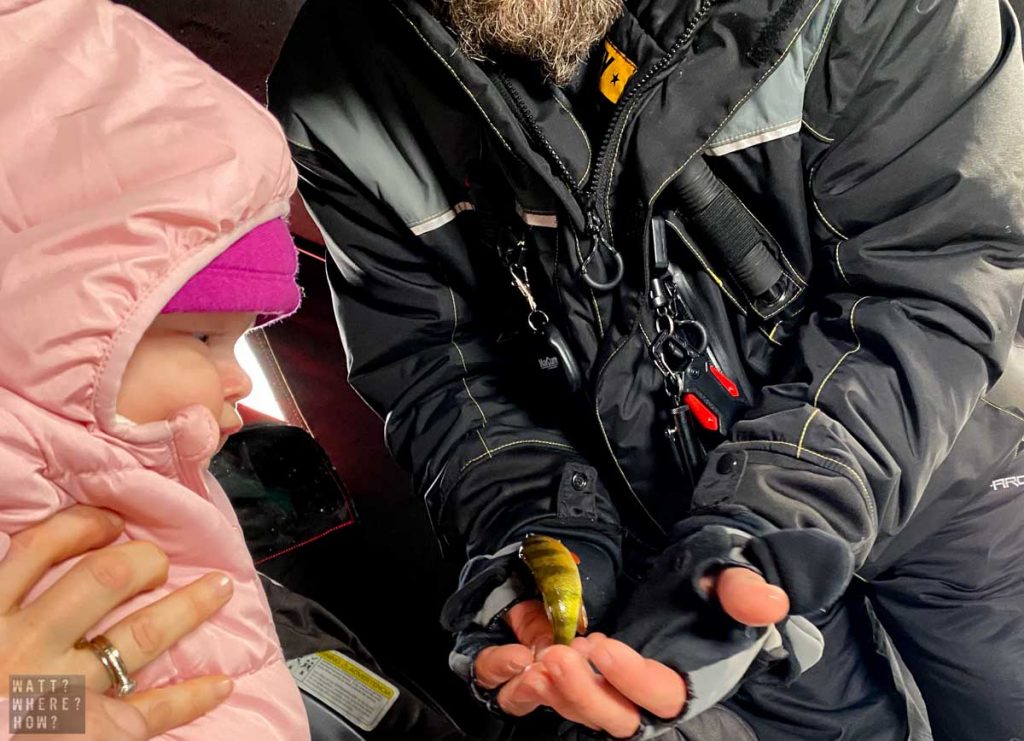 We had a great time chatting about life with our guide and hearing about his very interesting journey to a simpler life ice fishing the Adirondacks. And he was an absolute charmer with our baby girl. She was entertained, we were entertained, and it for all our fears of fishing on ice, we left warm-hearted, and sadly empty-handed.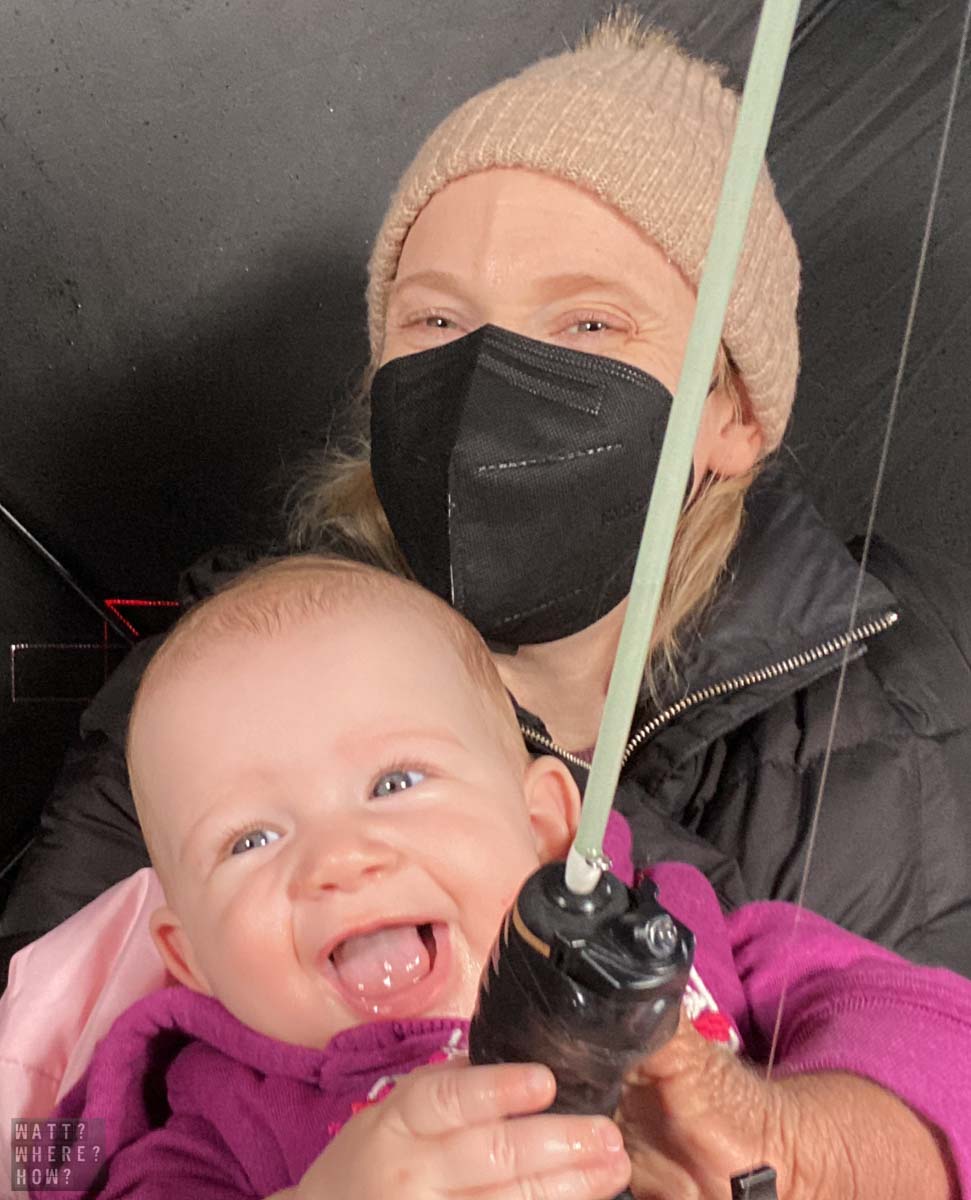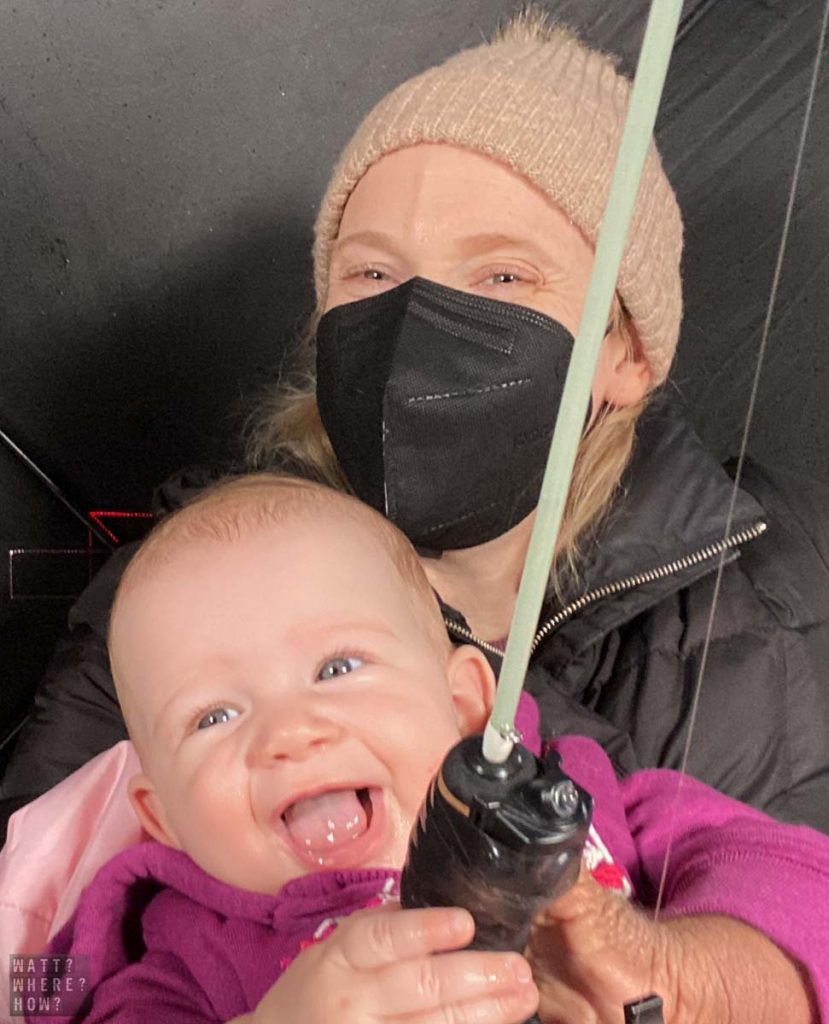 WHAT?
Ice fishing in the Adirondacks is an opportunity to catch freshwater fish under layers of lake ice.
WHERE?
Lake Placid, Saranac Lake, Lake George, New York's Adirondacks.
HOW?
We went with a guide from Adirondacks Ice Fishing Experiences. Rates start from $270 for two hours for two people. The team from Hungry Trout Resort also offers fly fishing experiences across the Adirondacks ideal for bachelor parties, workgroups, and family adventures.
Follow & Connect with us