What it's like to Cruise on the Royal Caribbean Majesty of the Seas
We had never really considered going on a boat, not to Havana and the Bahamas via a cruise on the Royal Caribbean line at least. Just the thought of taking a cruise sparked visions of marauding kids, drunken disputes, pensioners hogging the sun lounges and expensive cocktails. Cruising just had so much baggage in our minds. Luckily our cruise on the Royal Caribbean Majesty of the Seas crushed these preconceptions and we were honestly blown away with the value, convenience and overall experience.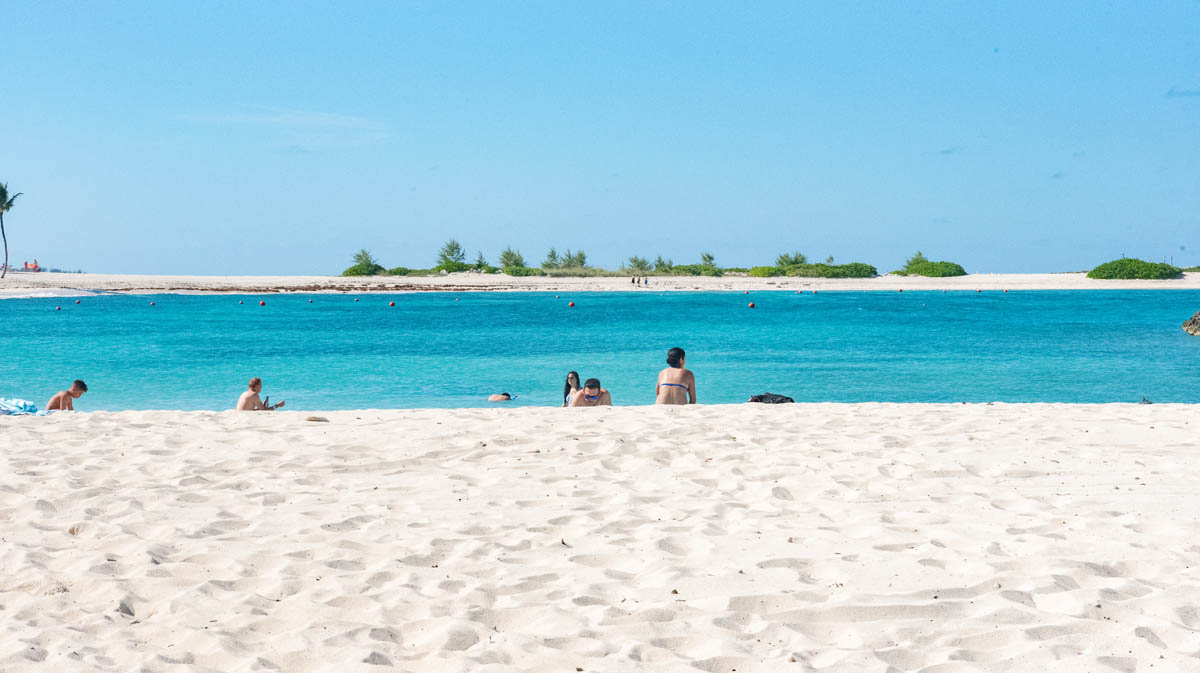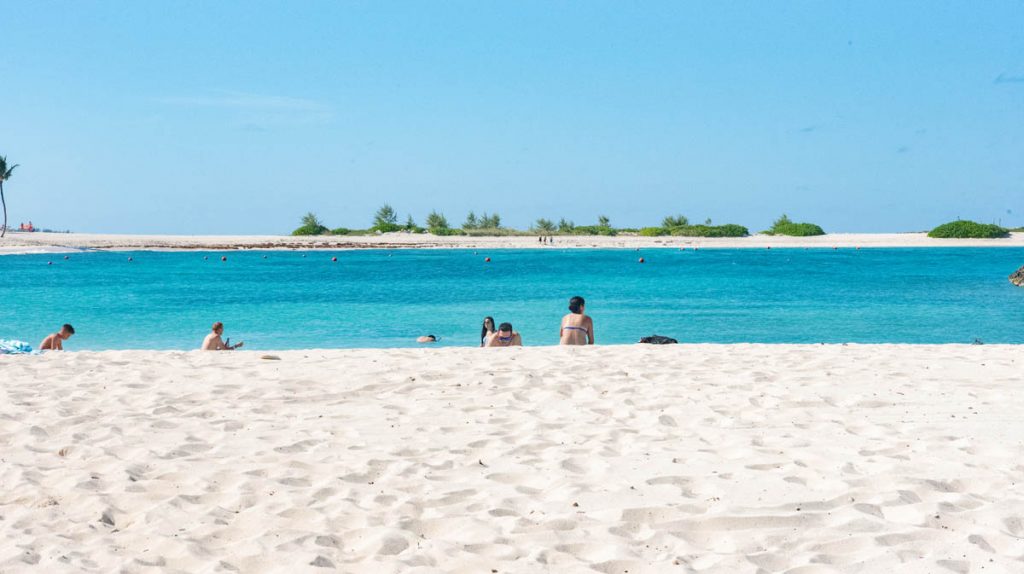 What you need to know about a cruise on the Royal Caribbean line
They are an incredibly budget-friendly vacation: Your food, transport and accommodation are all included in the price, so you pay for it all upfront and don't need to concern yourself with much more…
…but you do need to factor in compulsory daily tips and drink packages.
You can order soft drink and alcohol packages before you go or on-board (but only on the first day and it's a commitment for every day). These include up to 10+ drinks for a daily rate. The downside is that each inhabitant of your state room has to be in on the same package as they don't trust people not to leach off their roommate and get double the drinks, because, like who would do that anyway.
If you have more than three cocktails and didn't get the all-inclusive drinks package, you're losing money.
It's not hard to escape for a solo adventure when in port (just not in Havana, where the requirement was to go on a day trip to justify the visa category entered under).
You can just stay on the boat when at port, but seriously, unless you've been to Nassau a zillion times, why would you?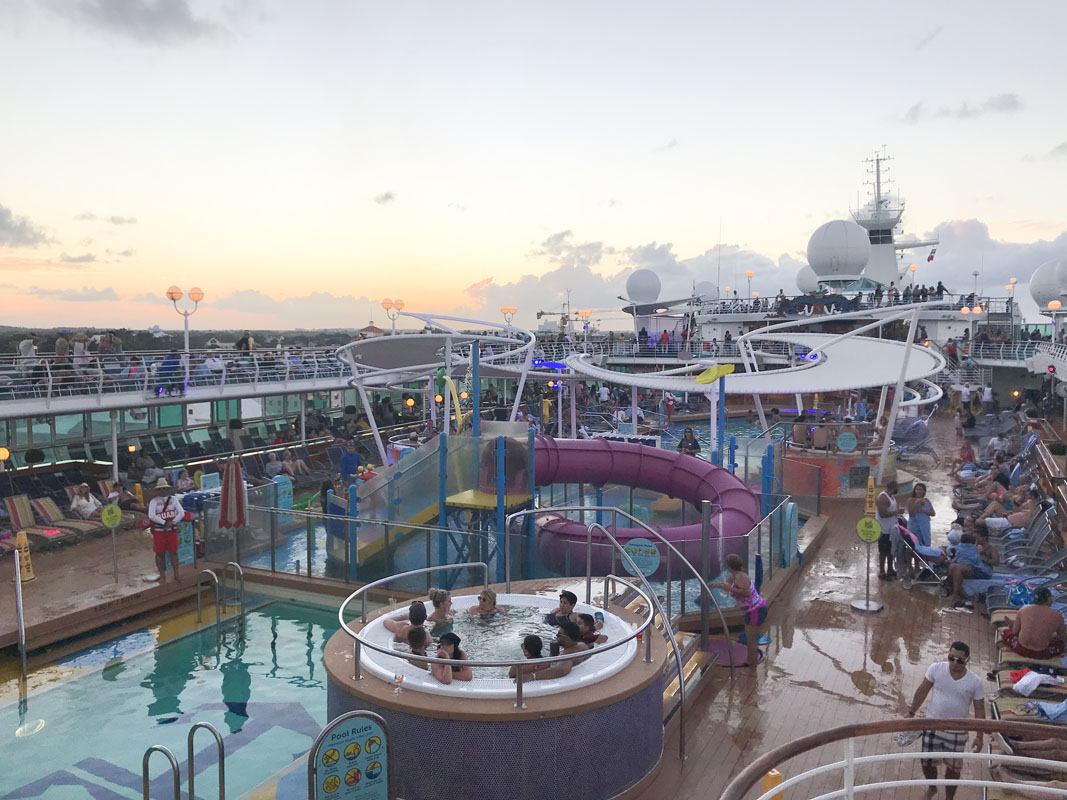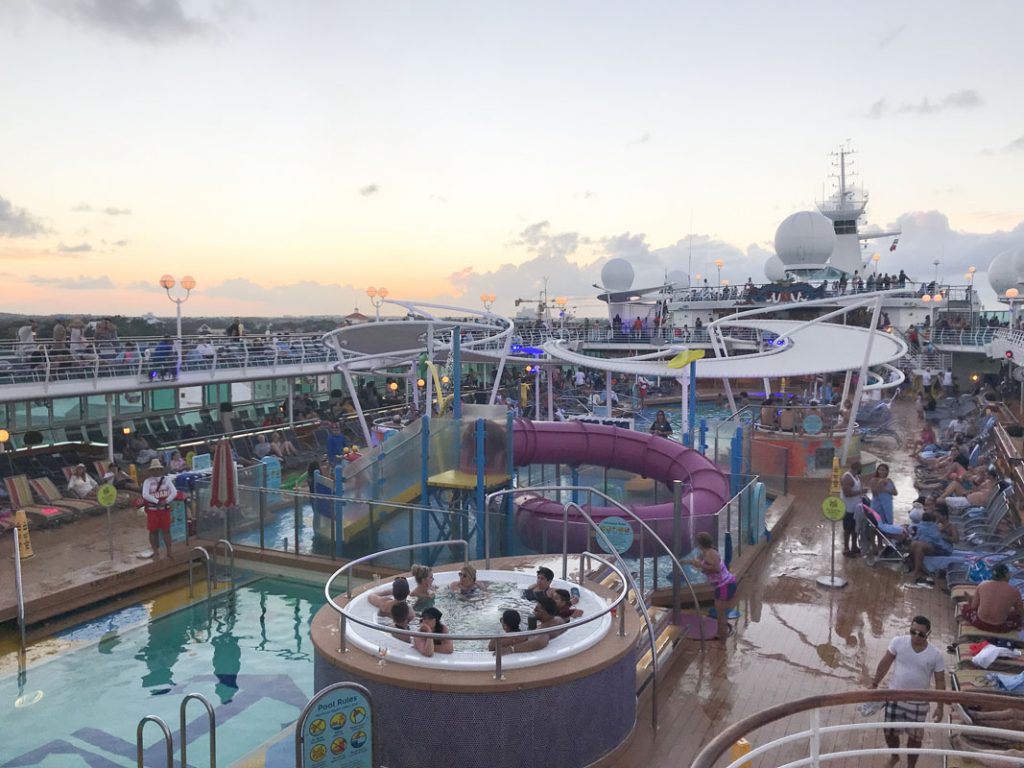 More things you need to know about Royal Caribbean Majesty of the Sea
You will disembark from a cruise on the Royal Caribbean at least 10 pounds heavier. There is soooo much food. Breakfast and lunch are a buffet, dinner is in the main dining room and then there's a 24-hour deli and pizza shop. You will not go hungry and it will probably take you months to shed your cruise kilos.
It's perfectly fine to bring a family and socially acceptable to dump the kids off with minders and activity rooms while you sun yourself and quaff cocktails.
You need to bring at least one set of formal clothes. It's a cruise ship tradition to glam it up for one night – even on a three-day cruise on the Royal Caribbean Majesty of the Seas.
You can choose to pay them off over time.
Before booking, ensure flights to the embarkation port are affordable – you don't want to end up paying top dollar for flights when you got a deal on a cruise.
Check if where you're going needs a visa. This will be in the literature from the cruise liner, but it's good to be aware of any needs ahead of time.
Please note: This cruise on the Royal Caribbean was taken when they still sailed to Havana, so it describes some elements from during that time.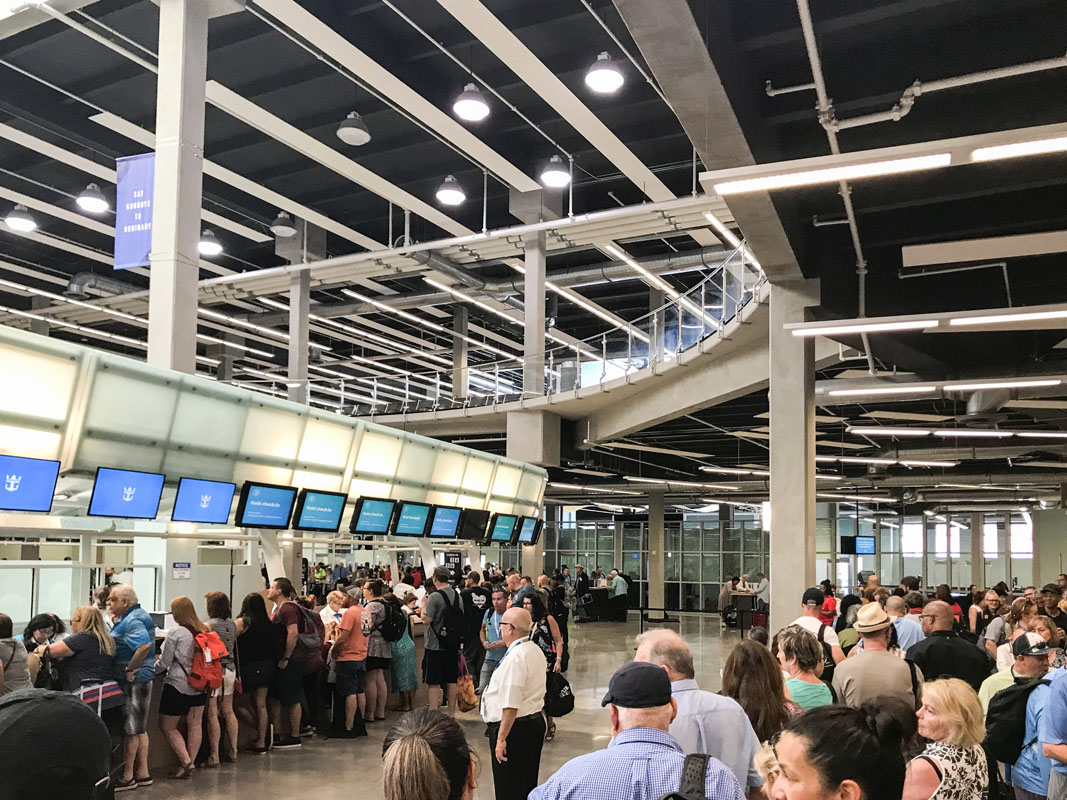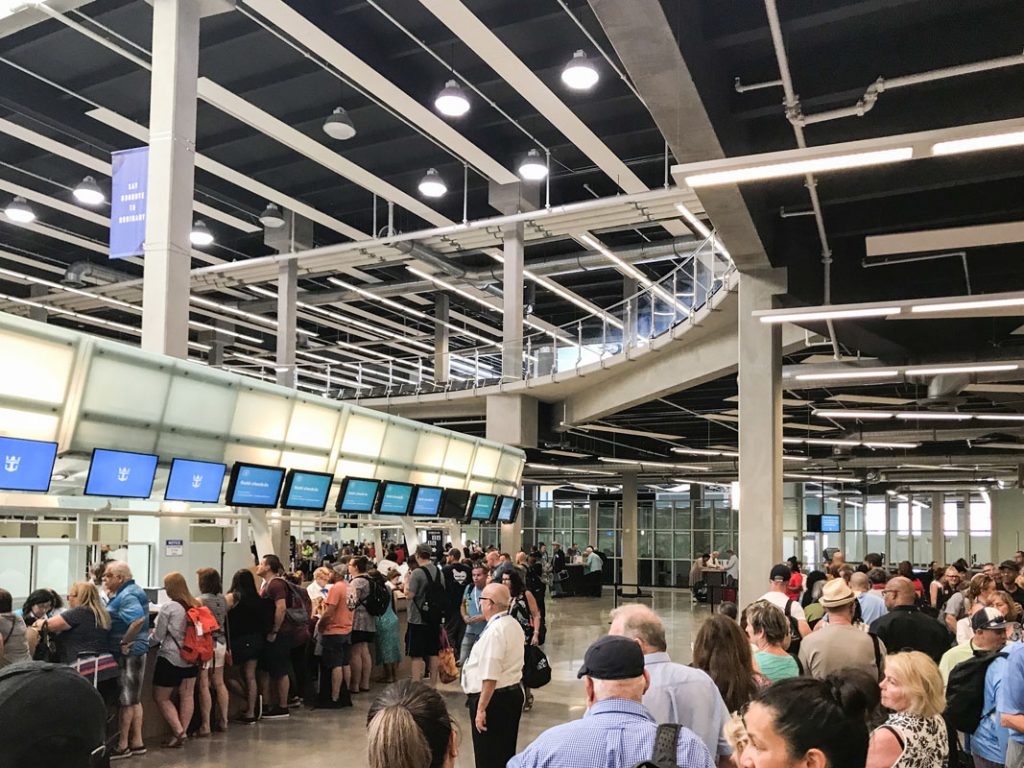 Boarding
We've booked a 4-night Caribbean cruise on the Royal Caribbean from Florida to Havana to Nassau in the Bahamas. Flying in from New York to Fort Lauderdale, we take an Uber to the port. We get out by a large warehouse terminal which is abuzz with activities. There are porters everywhere. Trolleys full of suitcases towering high. Flustered couples. Disoriented fathers. Hyperactive children. For all the glamour of cruises depicted in movies and TV shows, they basically start from within a big shed.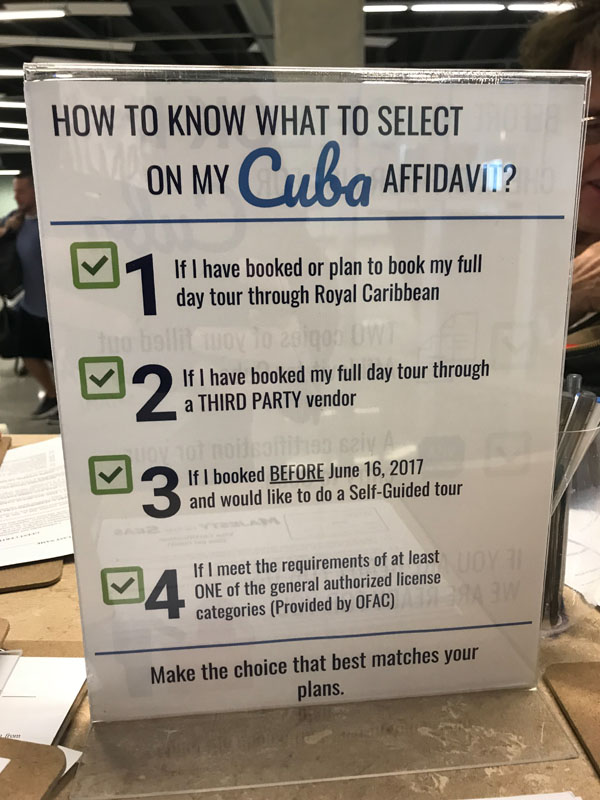 Inside, lines weave around and around. There's no hiding the fact Cuba's the main draw card for this particular cruise. It's rather blatant in the terminal where there's large photographic backdrops of Havana with roving photographers and placards with slogans about Cuba. Note: At the time of travel, the restrictive visa categories had been loosened to include people to people experiences and most of America seemed to want to see Havana while they could. Six months later, this option was removed.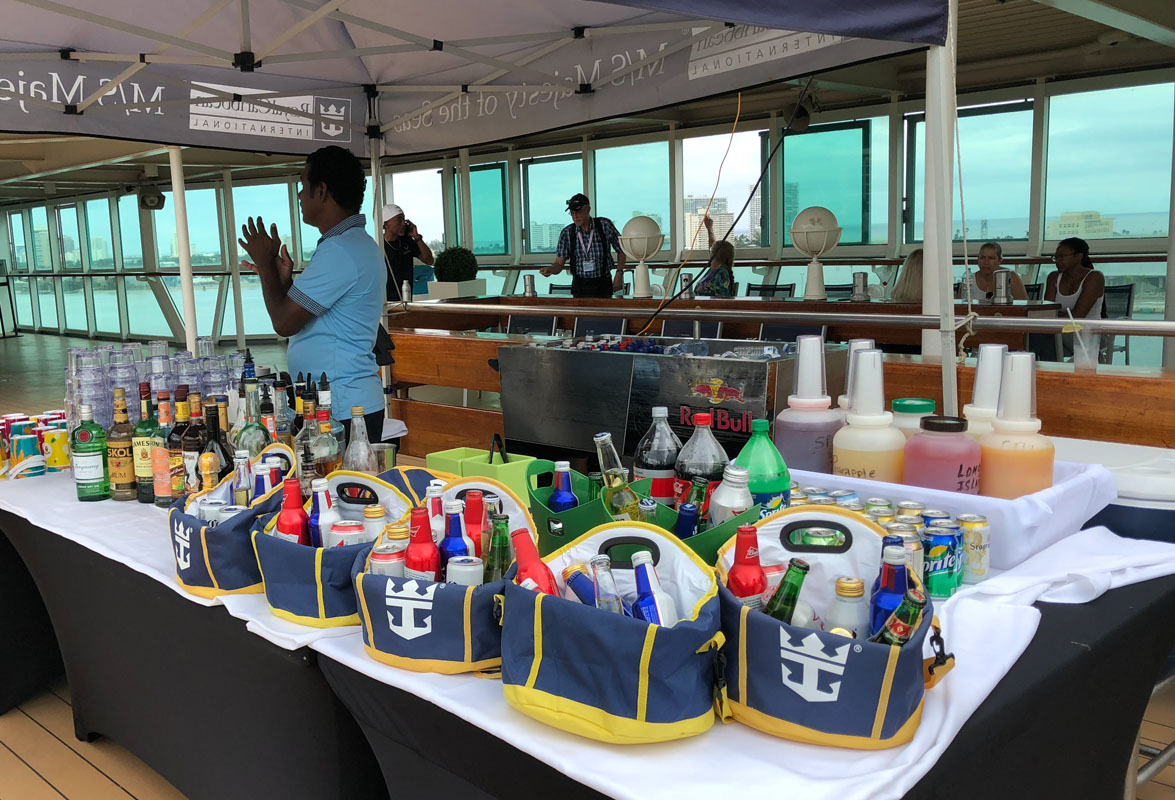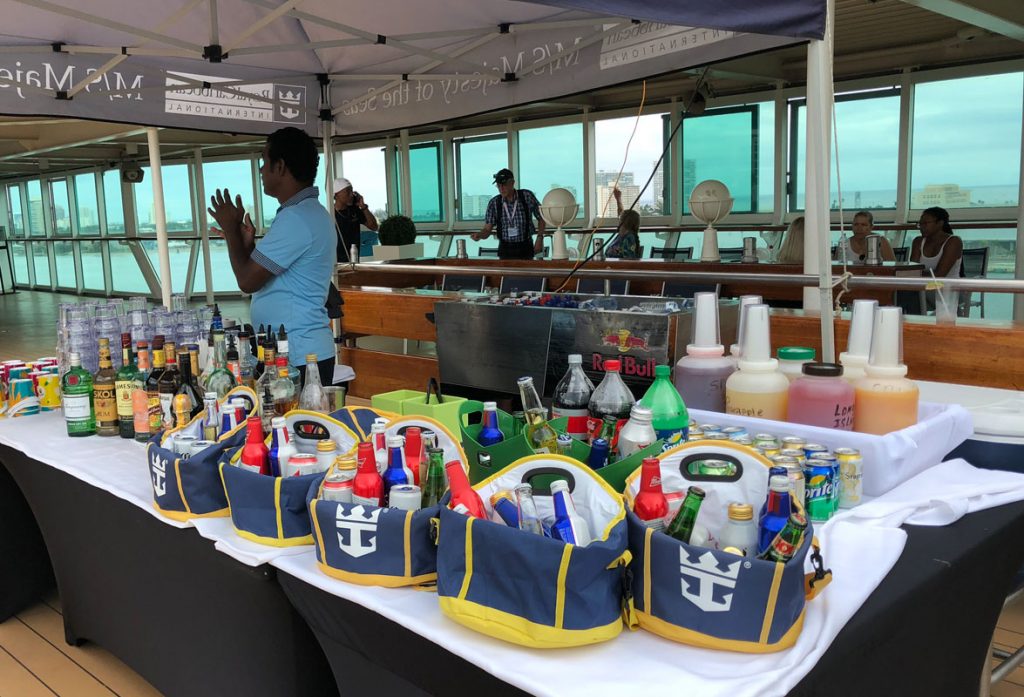 Buy before you're dry
Drink packages are heavily promoted before you board your cruise on the Royal Caribbean Majesty of the Seas. They actually do offer value if you drink more than six beers or spirits in a day or love cocktails. The downside is that all parties in the cabin have to buy in as well. It's also a waste on days when you're ashore as you still get charged for these days – then there are those who are wandering the corridors clutching a frozen pina colada at 8am. In reality, we soon discover they we both will drink the equivalent cost each day, even with happy hour specials, because, why the hell not?
We make our way up to one of the service windows after about 45 minutes of queueing. We hand over our passports and paperwork and in return receive an envelope full of pertinent information including a plastic card which is your EVERYTHING on board. It's how you charge drinks, spa treatments and the like to your room.
TIP: Bring a lanyard with you – it helps to have your card on you at all times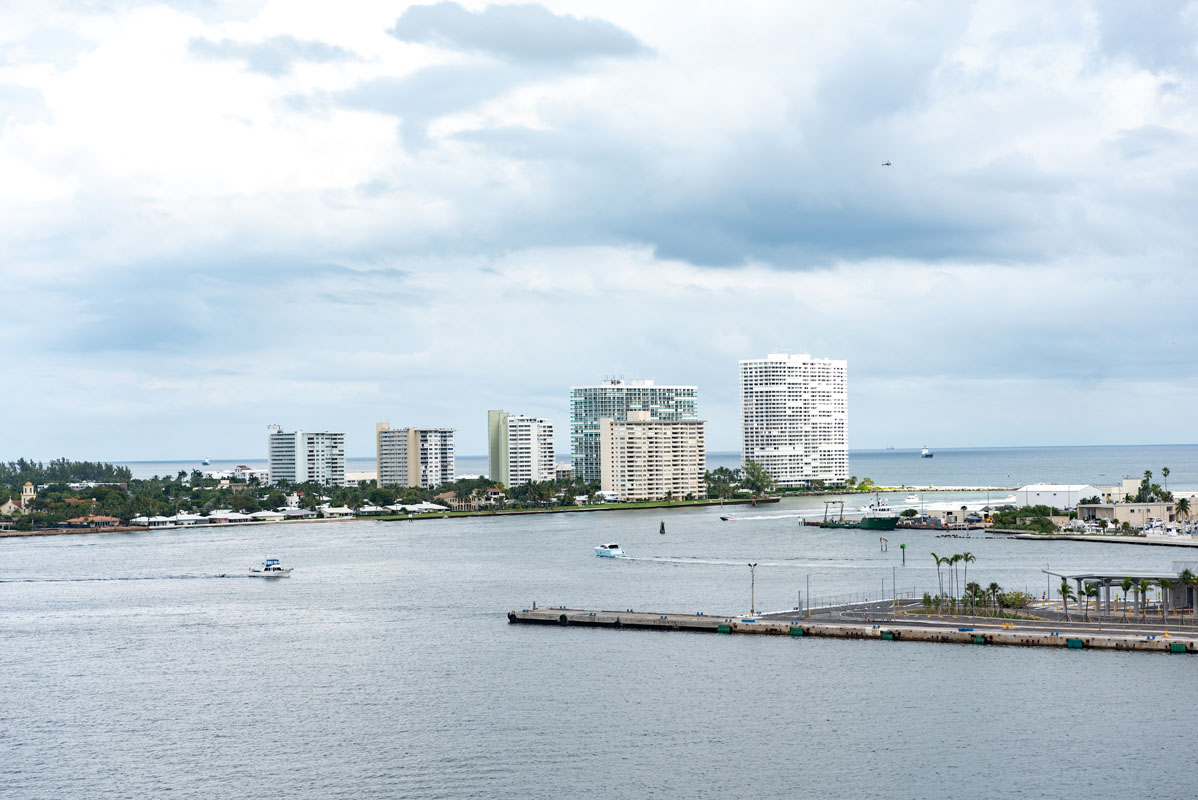 Now departing, your cruise on the Royal Caribbean Majesty of the Seas
With passports stamped, we stop for a quick cheesy photo opportunity against a Cubano backdrop before heading up the escalators and ramps to board the Majesty of the Seas. To enter the boat each time, you have to pass through a security checkpoint where your bags are X-rayed. No spirits or drugs are allowed on board and no beers. Strangely passengers can bring on two bottles of wine apiece at each port. Apparently, all bags handed to porters are also checked for contraband before being dropped outside the staterooms.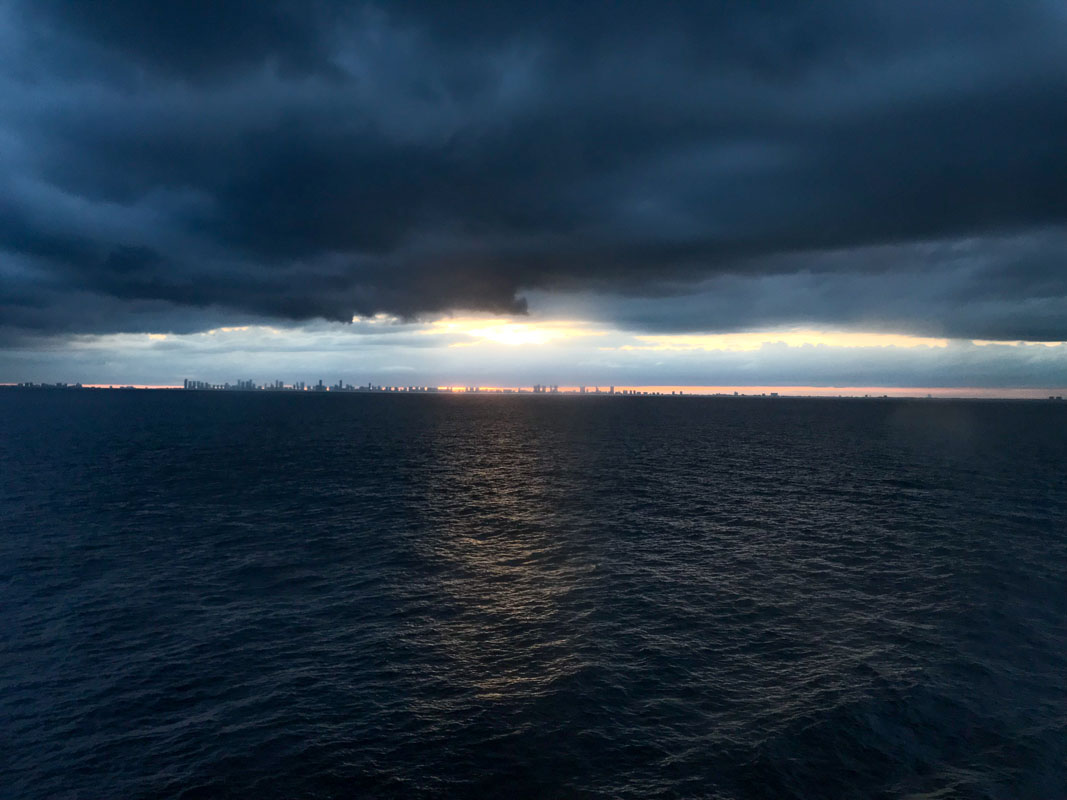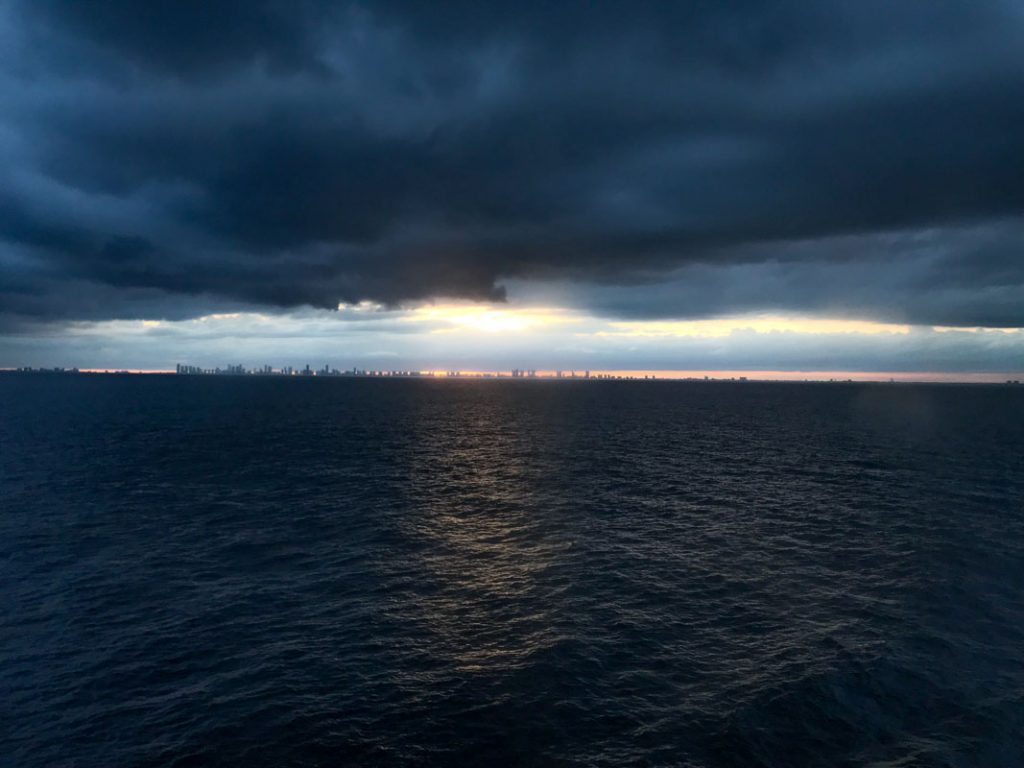 Our stateroom
To keep the costs down and to take advantage of one of Royal Caribbean's amazing reasons to go cruising the Caribbean – the buy one get one 60% off deal–we have opted for an internal stateroom. Most people would avoid these rooms, but we lived together for four years in a studio apartment in New York's Greenwich Village, so we are used to no daylight or space – possibly the one major advantage of having lived like that. The room is dated, as is the whole ship, which is apparently due to go in for a refit and refurbishment. It's 21 years old and a smaller class boat than the major liners in the fleet. This also means that there are less of the bells and whistles like go-cart tracks, waterslides and ice-skating rinks that you find in some of the bigger boats. Still, this vessel is our ticket to the exotic streets of Old Havana, so who are we to complain?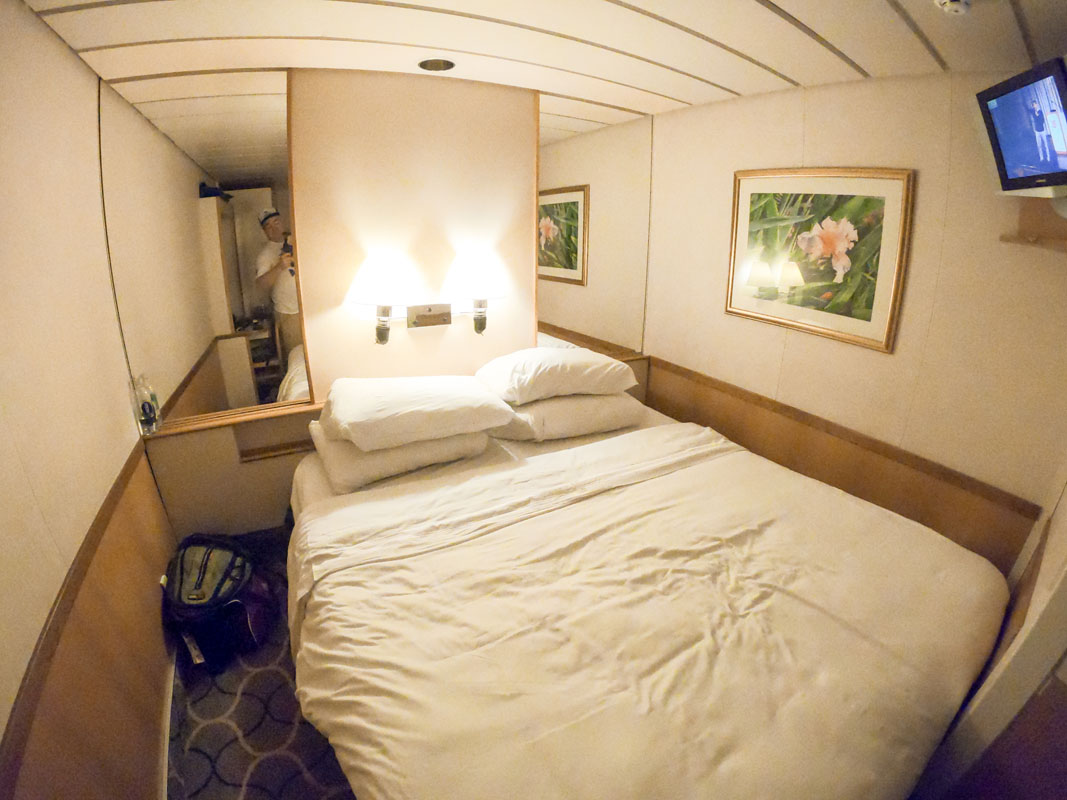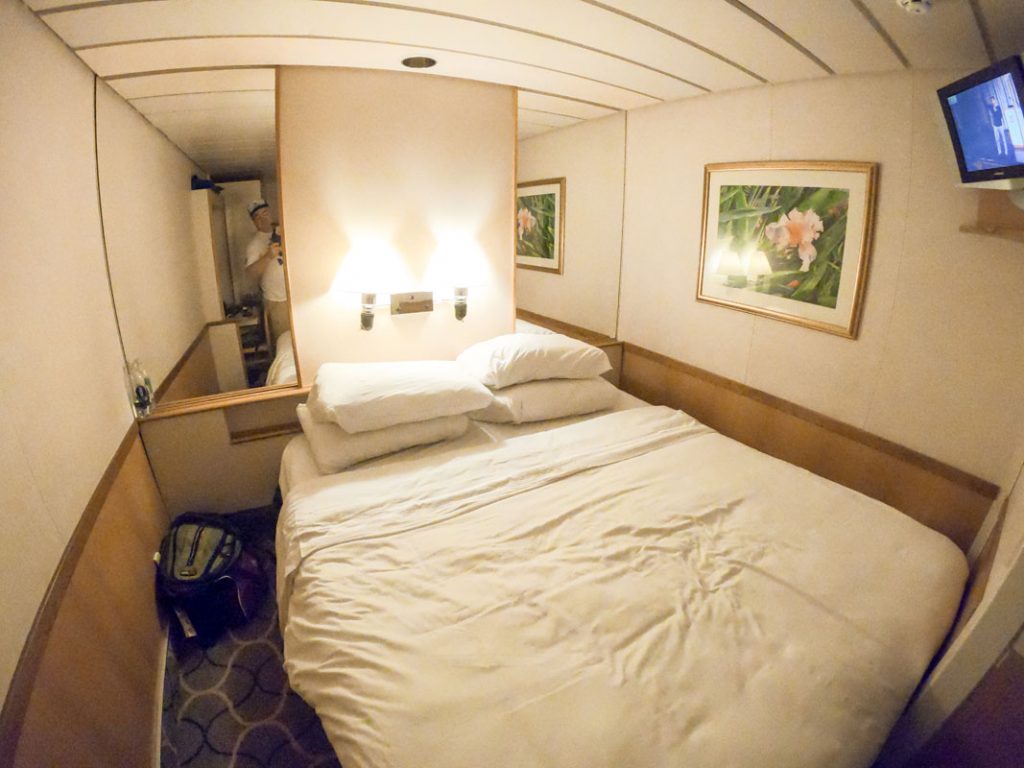 The state room doesn't really feel very stately. There's a queen-size bed, a small LCDTV, a closet and desk and a shower/toilet. An ethereal amber glow comes from the tungsten bulbs and there's a constant rumble from the engine room deep below – and just enough room for our bags. Before we have a moment to really settle, it's time for the traditional safety muster.
Safety First
Outside of the Costa Concordia and the Titanic, we can't recall major cruise disasters, yet there is a startling amount of deaths at sea on these ships. We're not talking elderly people shuffling off the mortal coil, but suicides, grandparents letting go of children playing by windows, drug overdoses – the mind boggles. So, the first thing we all have to do is to assemble by the lifeboats for a safety drill. Each stateroom is checked to ensure there are no stragglers and we're all alerted to the different horns and sirens, where the boats are and not to stand on the rails pretending to be Leonardo Di Caprio.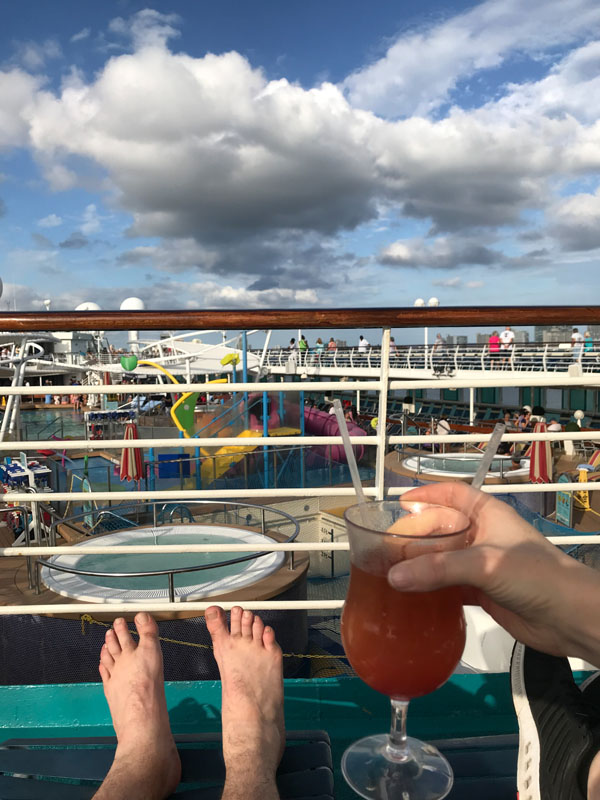 Game On!
Formalities out of the way, you can explore the many decks of the Majesty of the Seas. The boat offers 12 decks of state rooms and fun. Unlike the newer ships, there are only older amenities, but you will still find a well-appointed fitness center, a luxe spa, an art gallery and a range of bars and dining rooms inside. Out on the deck there are two pools (one is more for the kids), four hot tubs, a climbing wall and plenty of lounges and really, when you cruise on the Royal Caribbean Majesty of the Seas, you won't get bored.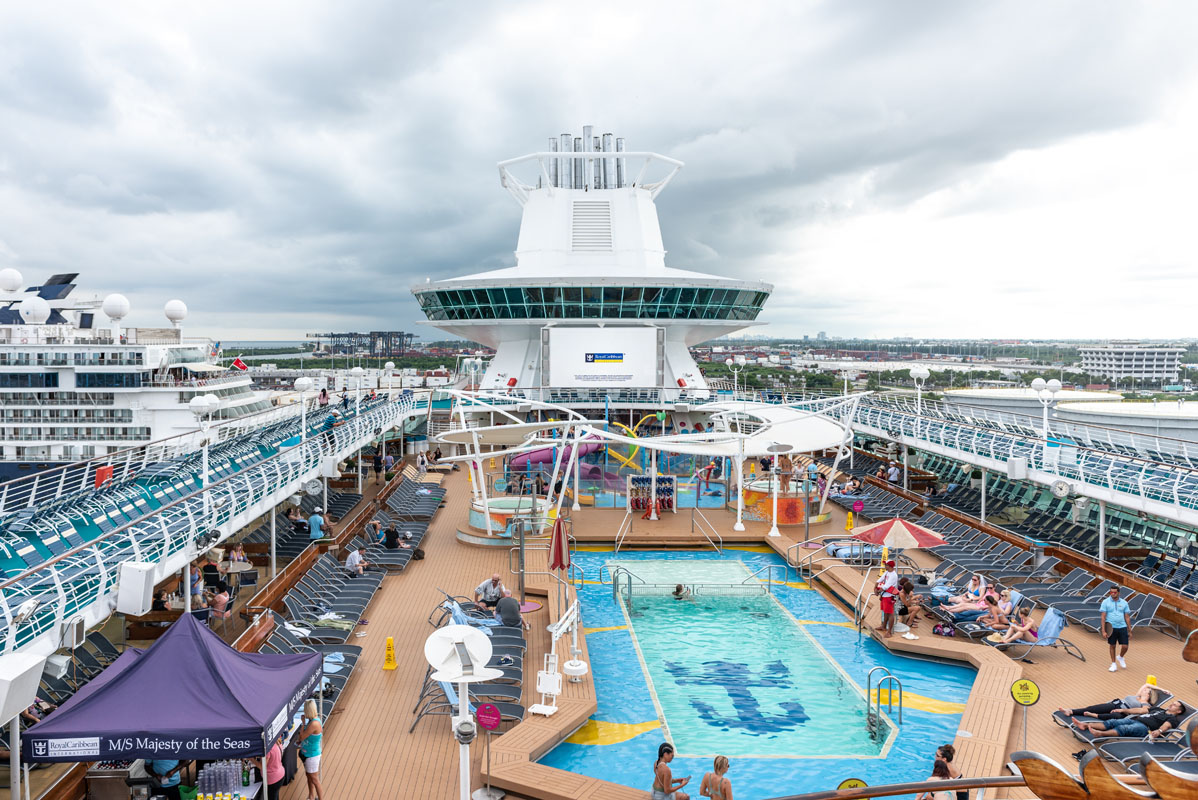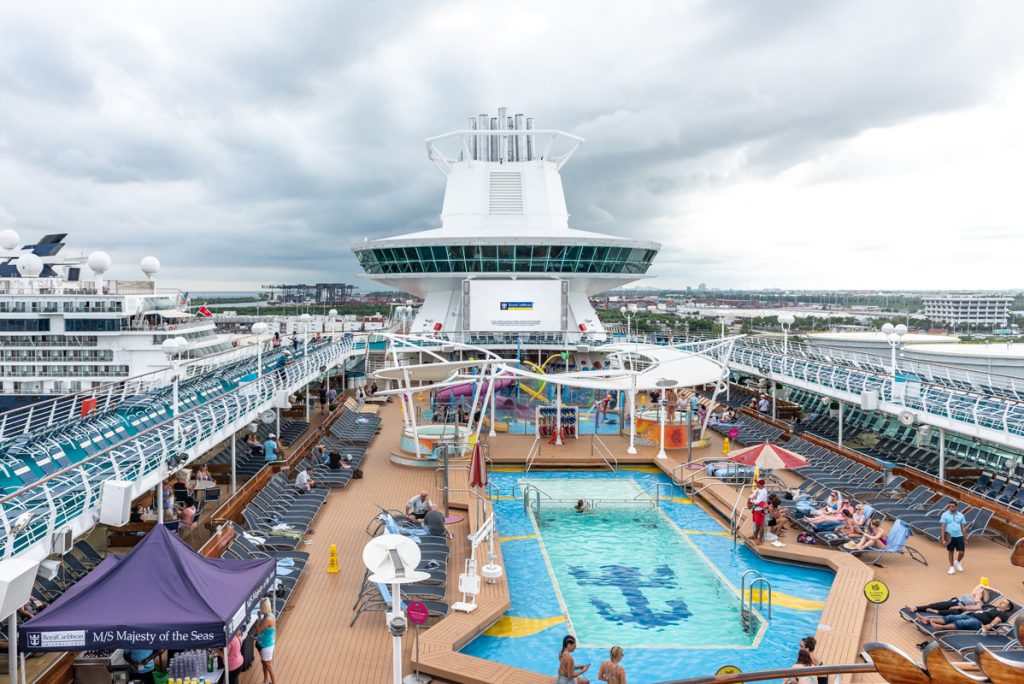 The drinks are flowing, people are clutching frozen cocktails, there's a group of bachelorettes beginning to party with the upbeat pop hits that set the mood for everyone. The pools are a little cool yet the more adventurous are already in. A live band pumps out reggae hits and it's game on in the Caribbean as we chug out of Fort Lauderdale and past its iconic beaches and well-to-do waterfront properties. So grab a Mai Tai and explore with us!
Centrum
The ship's social center is the Centrum, an opulently styled foyer with glass elevators, duty free shopping souvenir shops and cafes. Each night, live bands play at the base of the elevators while the place buzzes with foot traffic. On the last night of the cruise, it turns into an open marketplace of discount t-shirts and paraphernalia.
Fun and Games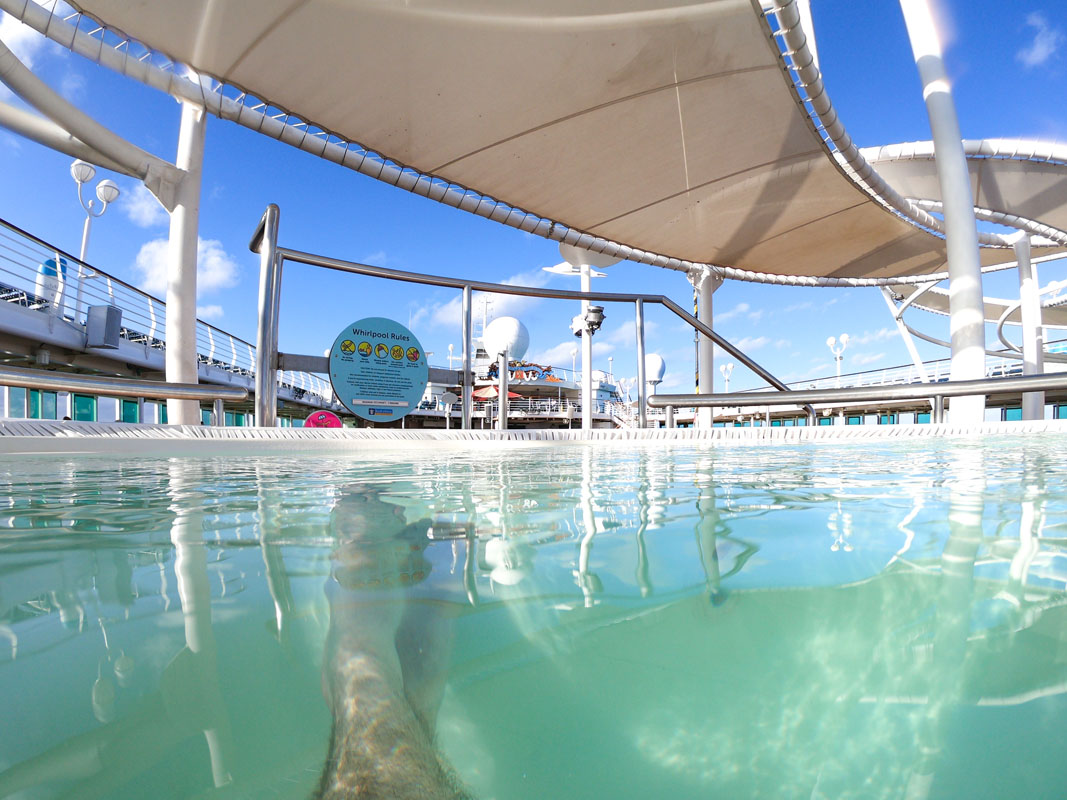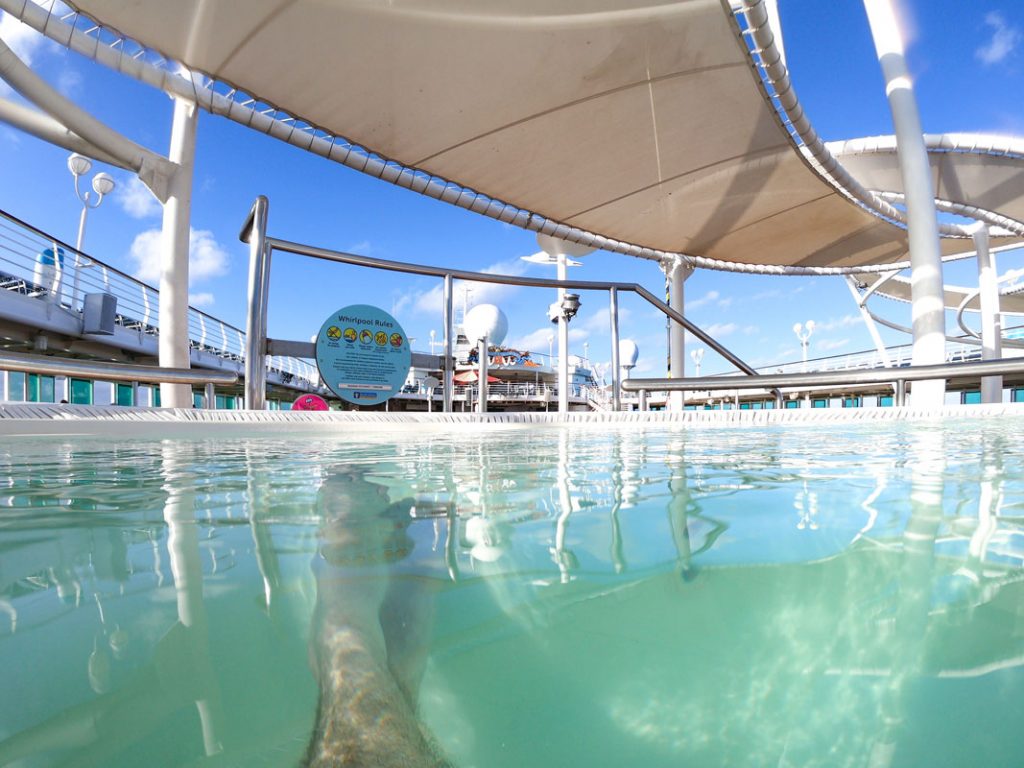 There are two main pools, one for adults and one for kids. The kids' pool has a small waterslide and water guns for the young'uns and there are four hot tubs for the adults. Additionally, there is a basketball hoop, climbing wall and a Kid's Club and gaming center inside.
Casino Royale
Coming from Australia, where you're born to gamble and brought up with lotteries, slot machines, horse racing and the like within steps of your home, we're keen to hit the casino – especially as they are few and far between in New York City. Casino Royale, given its stereotypical name, offers more than we were expecting. Situated on Deck 5, by The Schooner Bar, there are plenty of table games and machines to play including some of the latest models and major linked jackpots. We're not big on poker and blackjack but take a lesson in craps which we soon blow off as we become entranced by the colorful machines in the hope of doubling our earnings or holding our own while we sip cocktails and beers to get into the spirit of it all.
Bars
You can't walk far on one of these ships without hitting a bar. Thankfully they all feel different in vibe. Boleros is an internal bar on Deck 7 with club seating, large dance floor and live Caribbean-style band.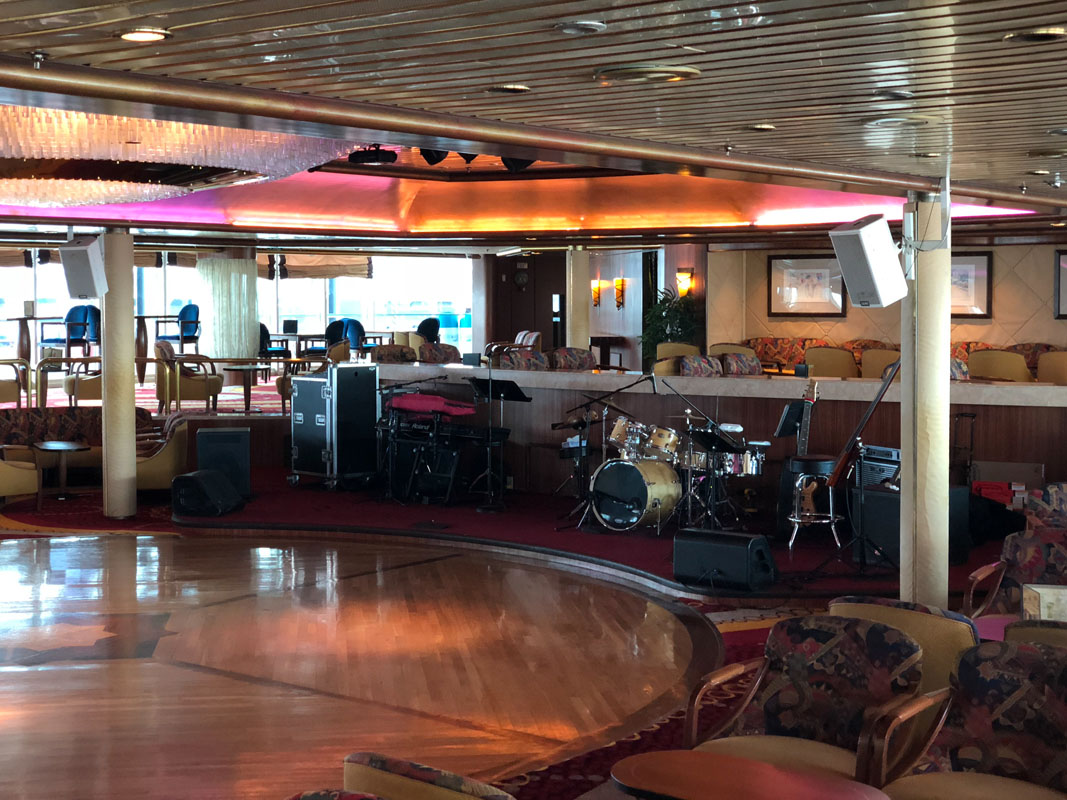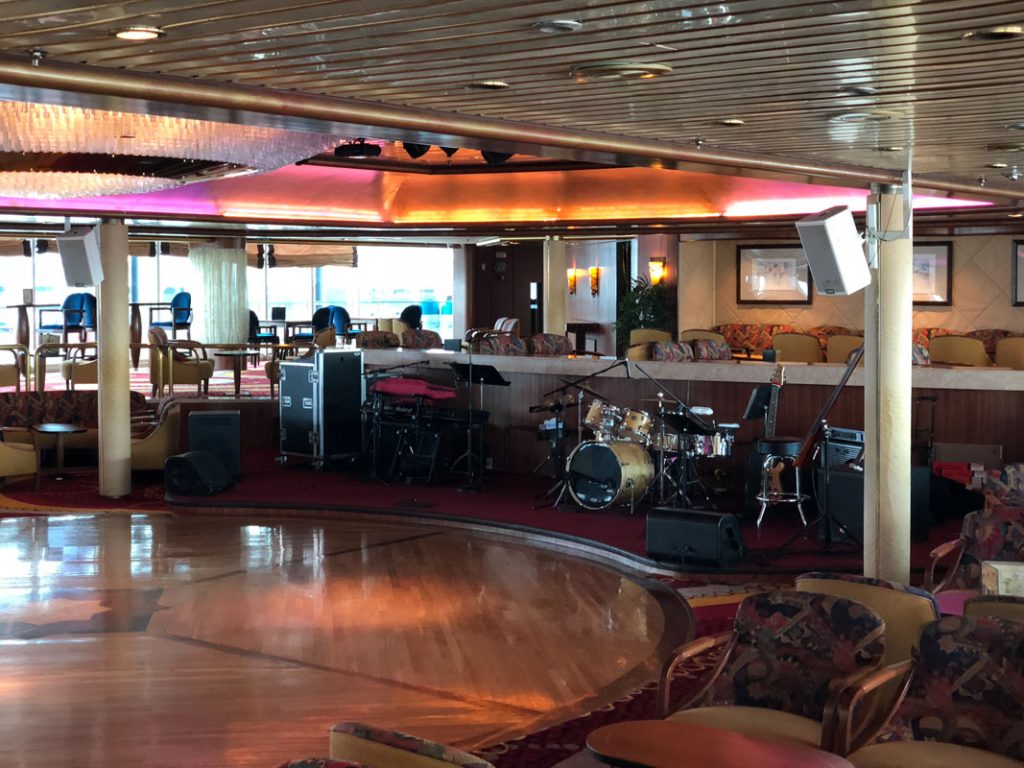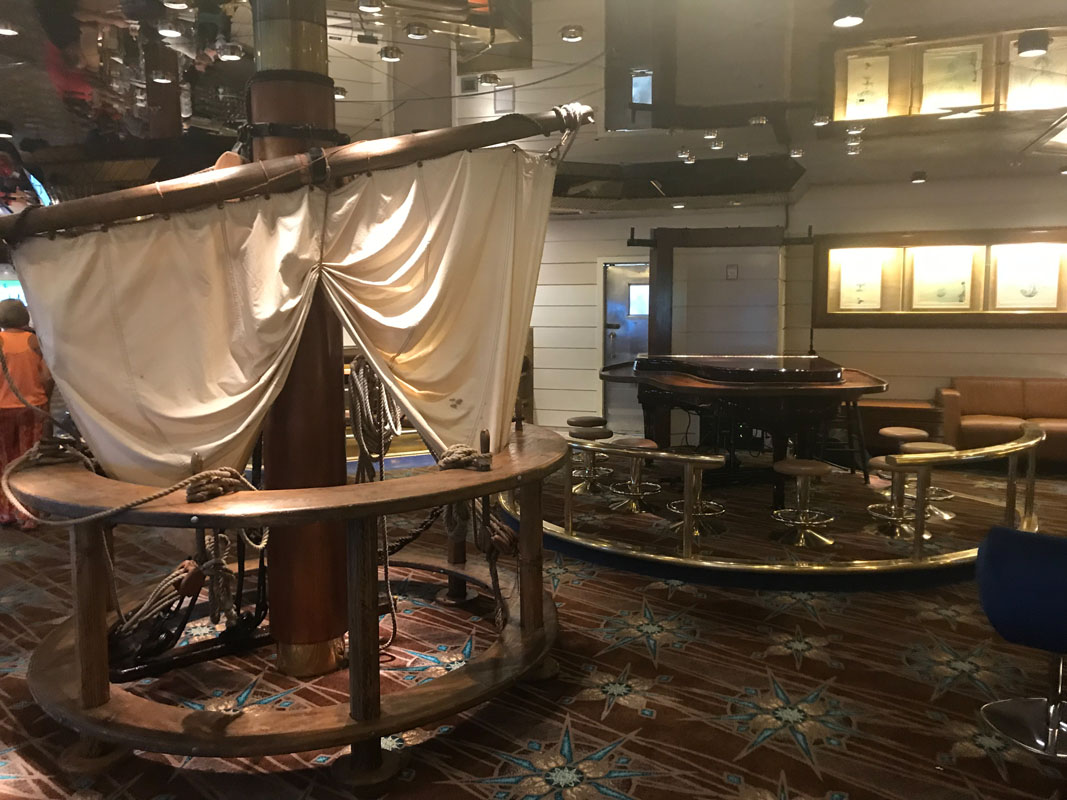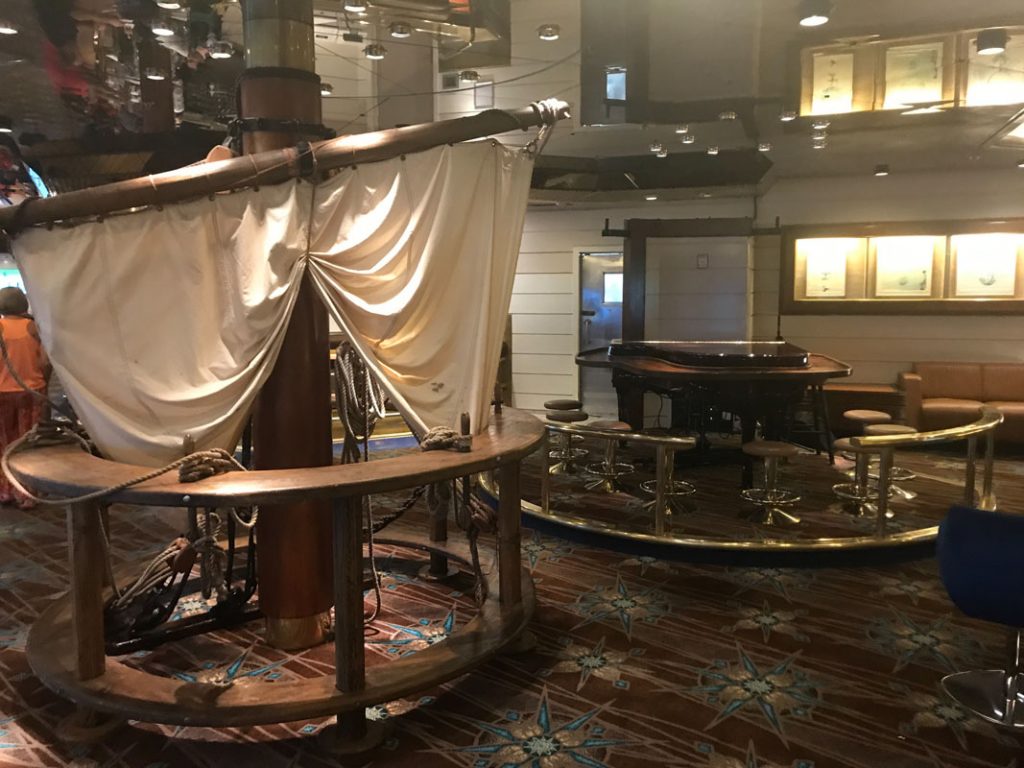 The Schooner Bar on Deck 5 is a nautically themed watering hole with trivia competitions, live jazz pianists and unruly singalongs around the piano. It's right next to the theater, so it's a good place to share a drink and sneak in for a good seat before a show. It has its own cocktail menu with drinks included in the Royal Caribbean Ultimate Beverage Package. During shows, the theater has its own bar, A Chorus Line Lounge.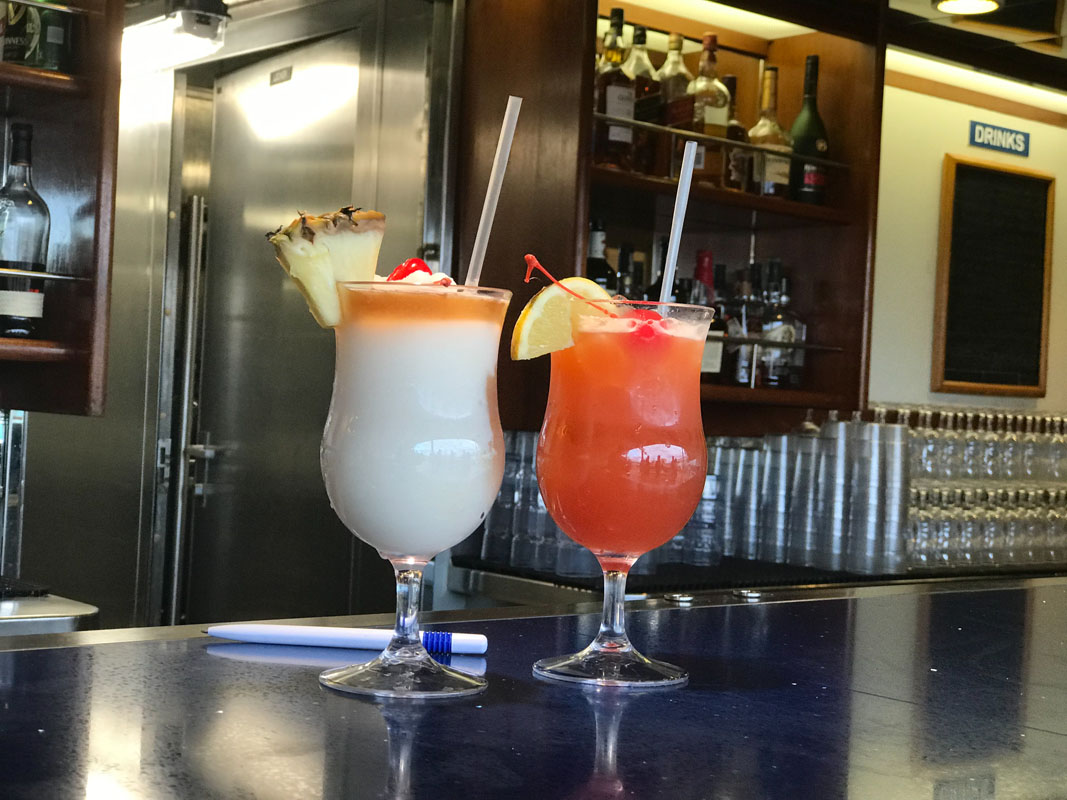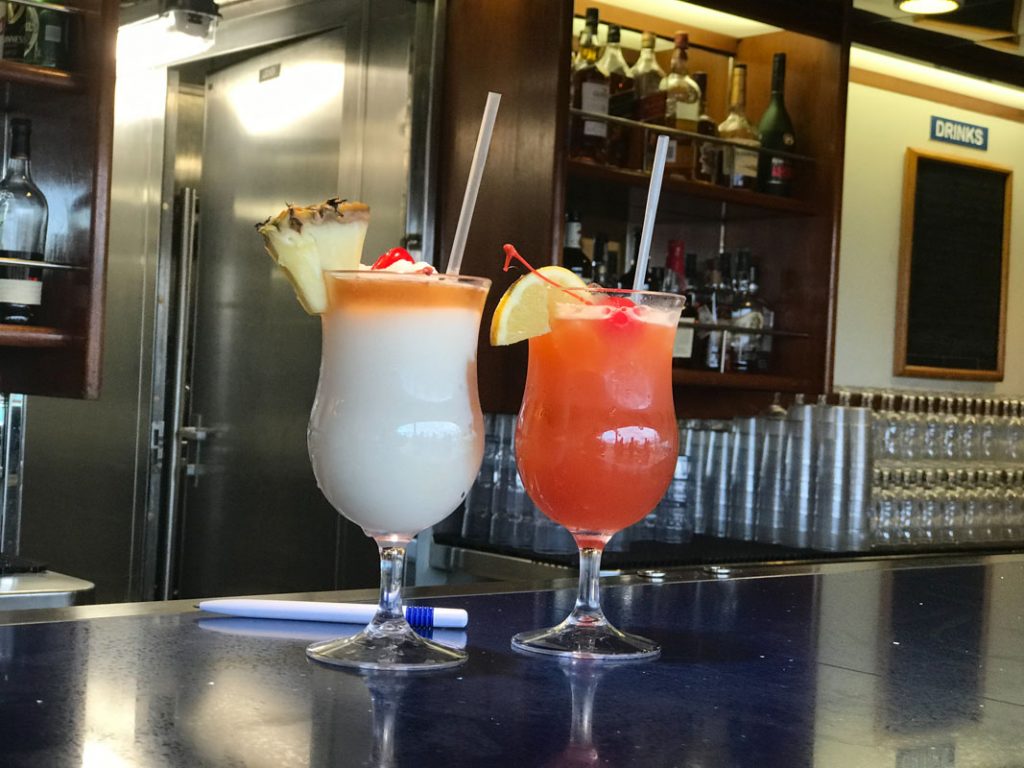 The Pool Bar on Deck 11 is one of the most popular drinks destinations as it's close to the sun lounges and pools. Grab a MaiTai or a frozen pina colada or possibly a few waters.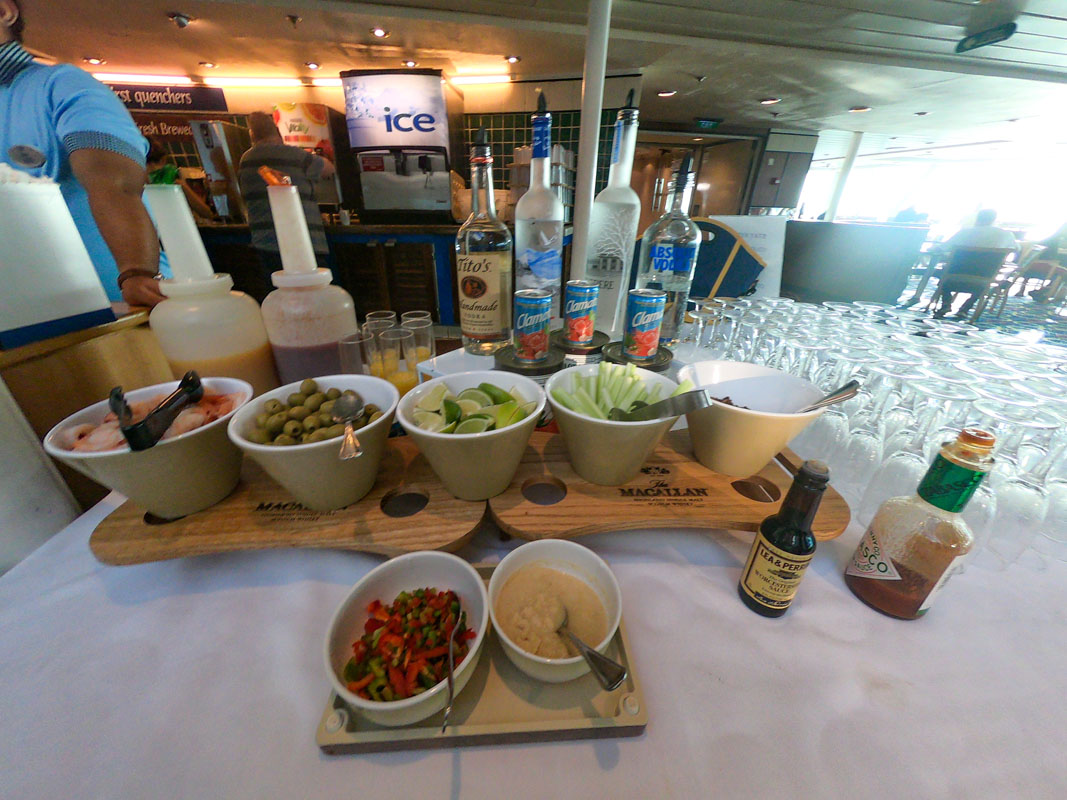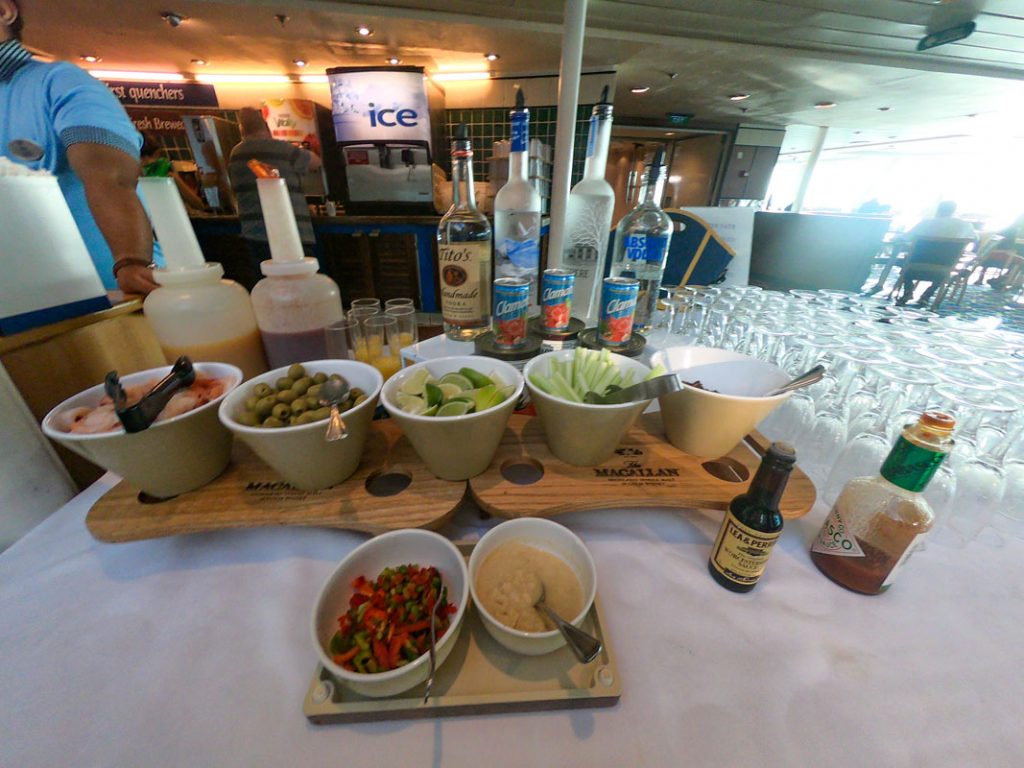 Dining
There's no risk of going hungry on a cruise ship and on Royal Caribbean's Majesty of the Seas, you will find two main dining rooms, a buffet, a deli and a pizza counter. There is also a more upscale Italian restaurant and Johnny Rockets outlet, but these are not included in the basic package.
Gelateria L'ondo is an ice creamery and gelateria at the Centrum on Deck 5, serving up yummy treats (hot tip: they have free ice cream cones daily out by the Pool Bar for kids of all ages). Its neighbor, Cafe Latte-tudes is the best place on the ship to find a decent coffee. Neither it nor the gelateria are included in the dining or drinks offerings.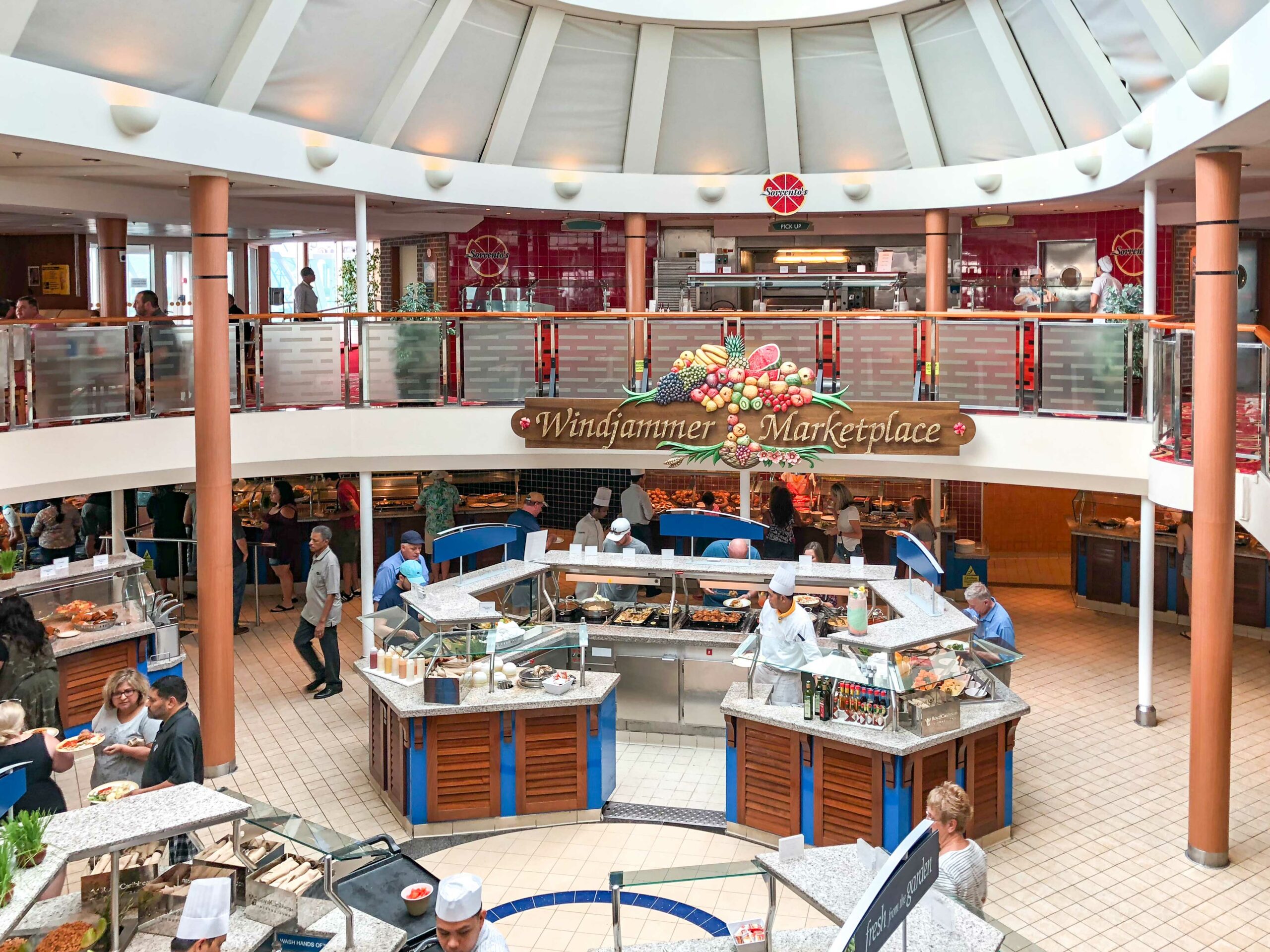 The Buffet
Windjammer is the main buffet where you will start your day with an extensive selection of fresh fruits, cereals, continental and American-style breakfasts (and a large bloody Mary station in case you overdid it the night before). The dining area extends out to the bow of the ship offering amazing panoramic views of the Caribbean waters. Lunches differ each day, with separate stations for carved meats, burgers, hotdogs, cold cuts, desserts and salads.
Starlight
Starlight, the main dining room is just OK. The food is basic, appropriate, but lacking flavor or class. The prawn cocktails are rubbery and just thawed, the steaks a poor-quality cut, the desserts, sweet yet unextraordinary. It's a beige experience, then again for the price we paid we can't complain. You have to lock in a dinner sitting time before you depart and it's expected that you are punctual for your meal.
For night owls and those seeking munchies, Sorrrento's, a pizza joint on Deck 12 and the neighboring Compass Deli are open through the night and there's always a huge queue, particularly after a show.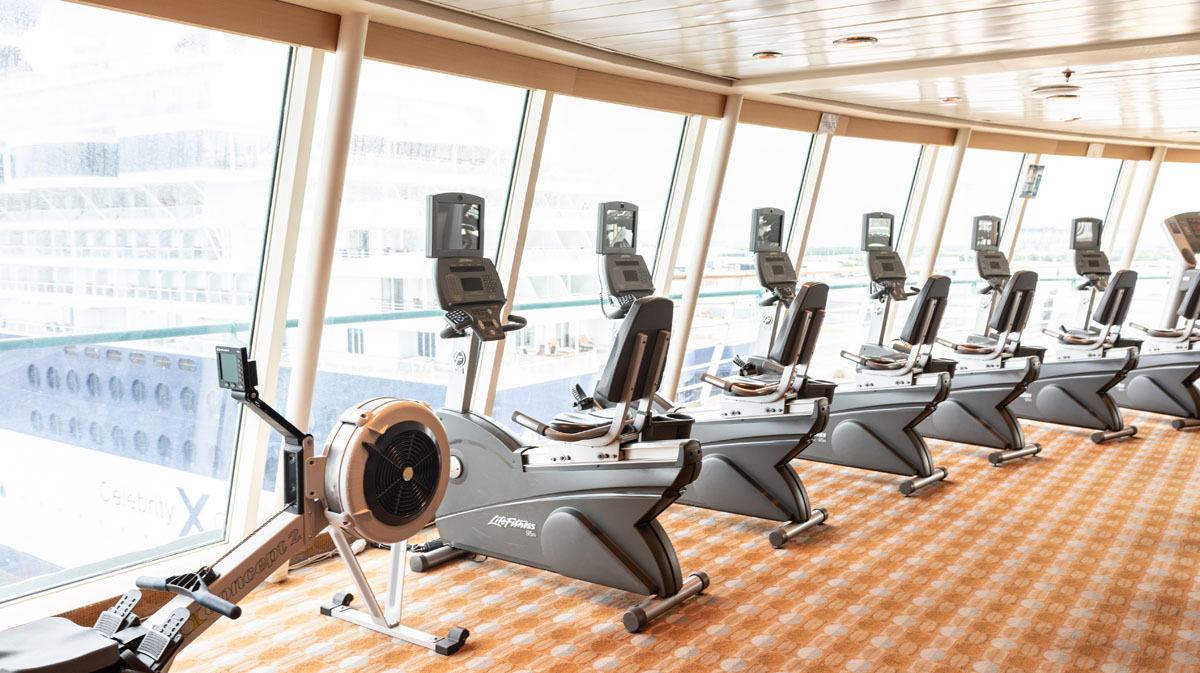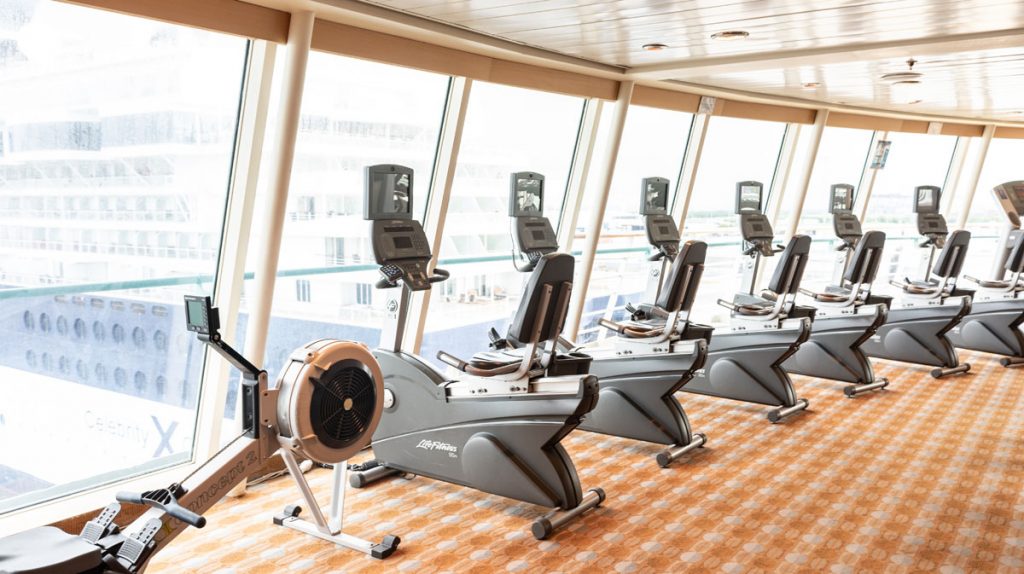 Spa and Fitness Center (Deck 9)
If there's one place in the world you'll find it easy to justify a massage or spa treatment, it's on a Royal Caribbean cruise ship. You are on there to relax right? The fitness center is truly impressive. It's equipped with current model cardio gear and weights, with floor to ceiling windows looking out over the sea. They offer optional classes for around $12 a session, which is decent for those trying to offset the unlimited food and drinks. The Vitality at Sea Spa, operated by Steiner Leisure opens from 8.00am to 10.00pm. You can choose from Swedish massages, detox treatments, wraps and aromatherapy. There is also an adjoining beauty and hair salon if you want to get a blow out before the formal dinner.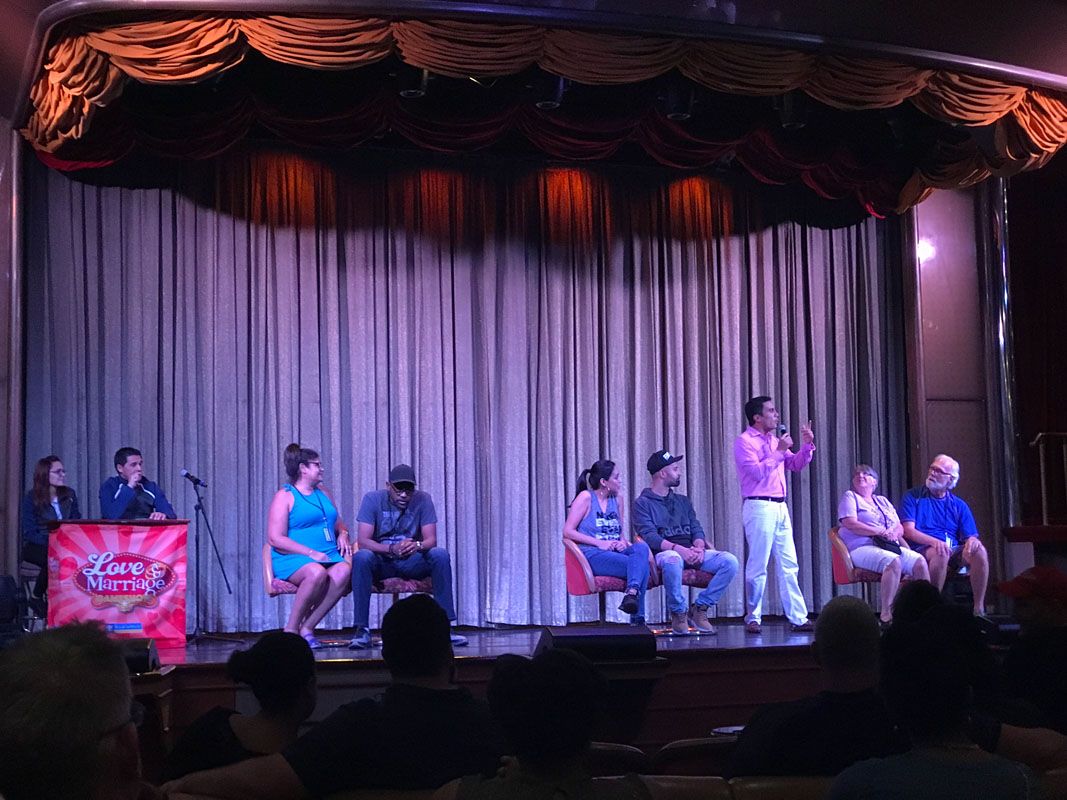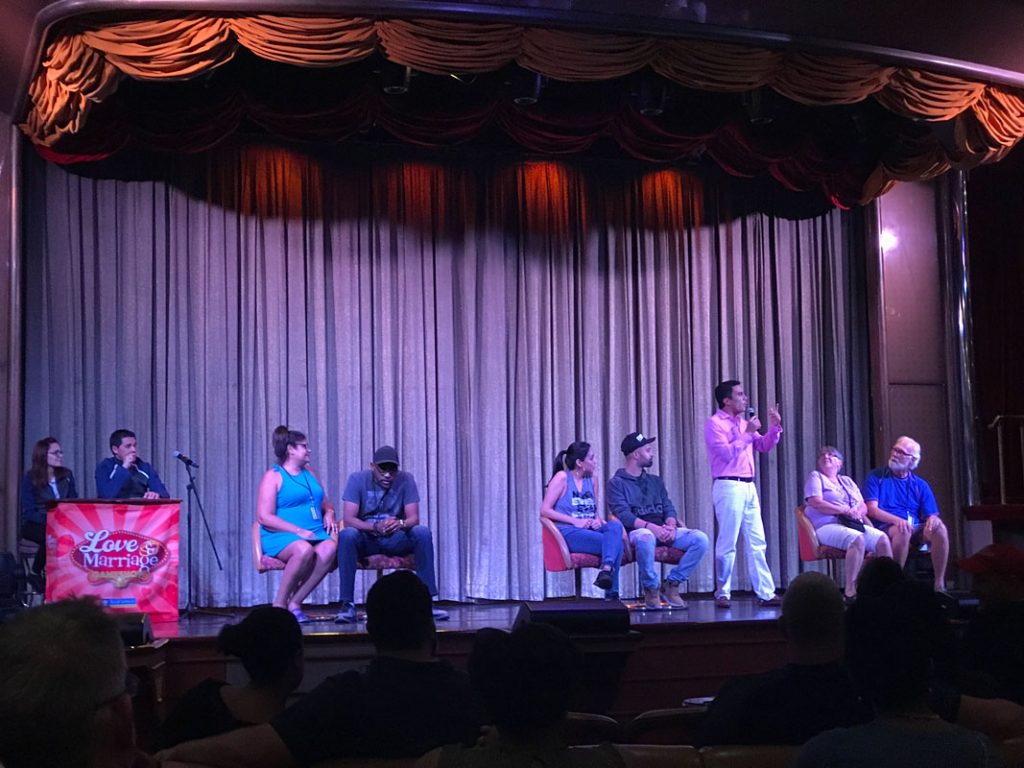 Entertainment
We came expecting a few live bands and dive in movies and left impressed. There's always something going on to keep the fun going and the cruise directors are true showmen when presenting and introducing acts. Over the course of three days we're treated to first rate stand-up comedians, game shows (the hilarious Love and Marriage, which takes couples from the audience and challenges how much they know about each other) and the finale, Boogie Wonderland, a fun musical of classic rock and pop hits with a full pit orchestra. In between there are dance lessons, movies, trivia nights, bingo, lotteries and art auctions, though we'd recommend avoiding them as the work is mediocre at best.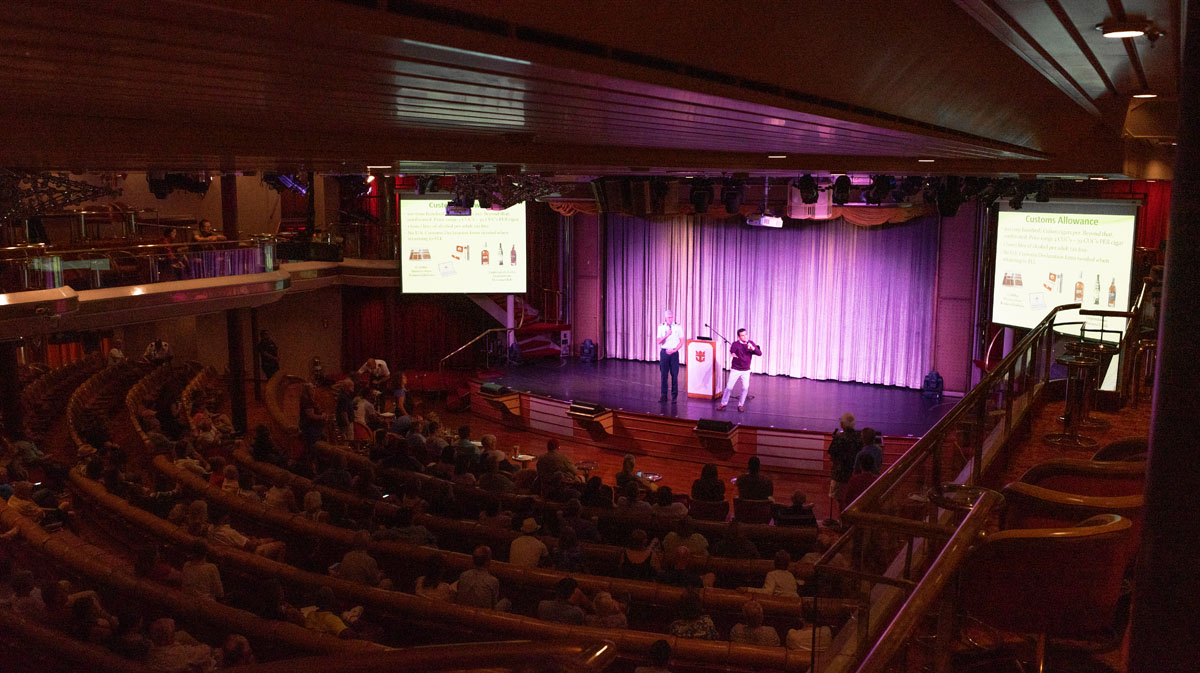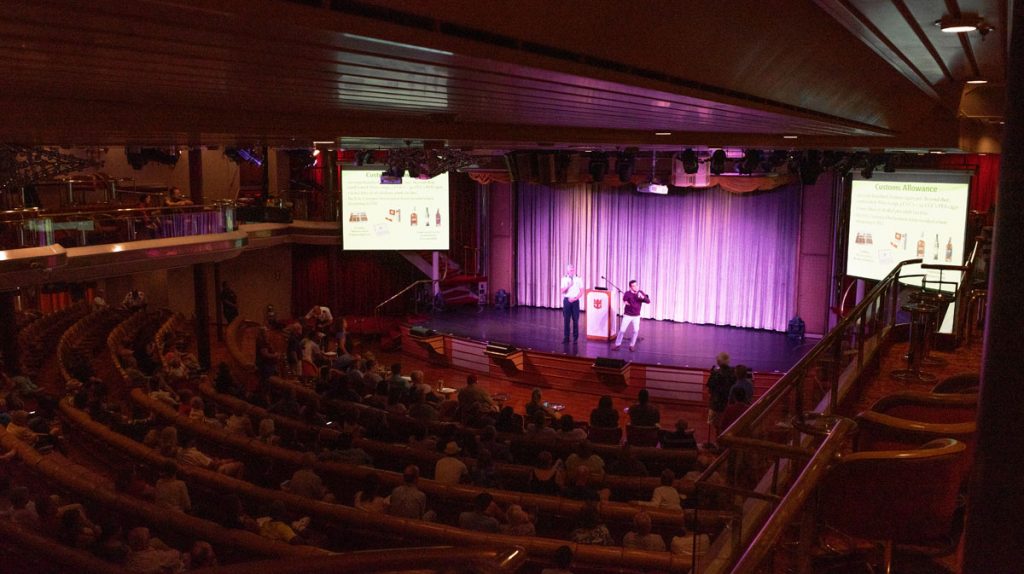 What to wear
Contrary to what we were imagining, cruising is more formal than we had perceived. By day, it's appropriate to wear shorts and swimsuits by the pool, but it's expected that you cover up when away from the pool (makes perfect sense). After sunset, men are expected to wear long pants to the dining room with sports jackets and collared shirts and ties on formal nights. Sundresses or pants and appropriate tops are fine for women most nights, but a stylish outfit should be worn on the formal nights. Tank tops, swimsuits and shorts are not deemed appropriate for the main dining room, but tank tops and caps are OK for entry into the Windjammer buffet by day.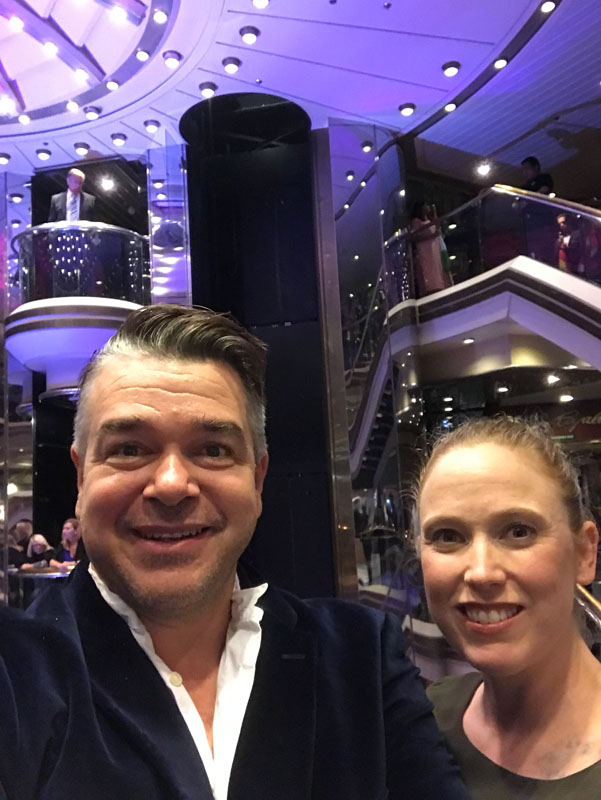 Things you don't get for free:
Gratuities (it's $14.50 per person, per day or $17.50 per person, per day for those staying in suites)
Automatic beverage and spa tips (18 percent for both)
All drinks beyond water, tea (including iced tea), coffee and select juice concentrates in the buffet
Activities including, but not limited to, bingo, the arcade and Pets at Sea
Spa treatments
Shore excursions
Wi-Fi
Photos and artwork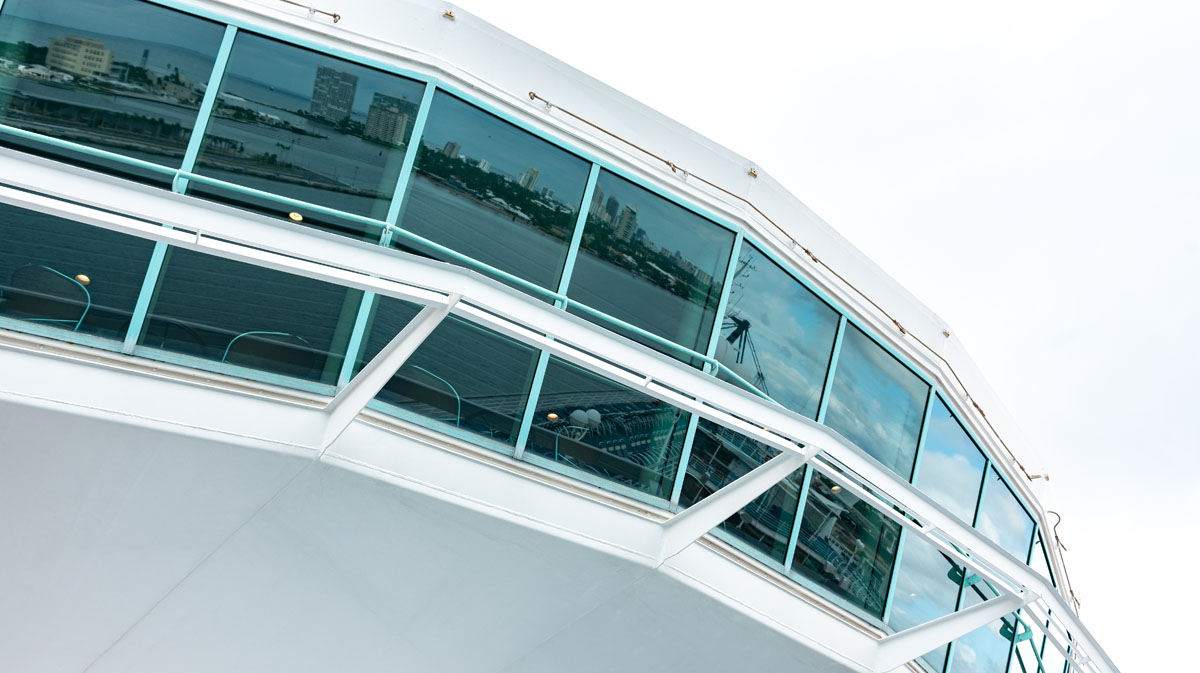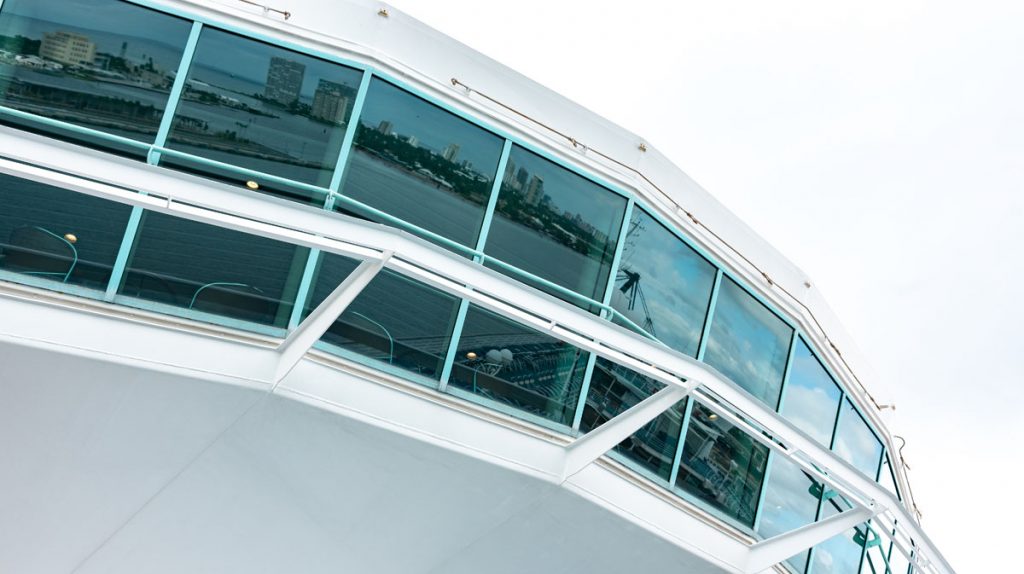 ---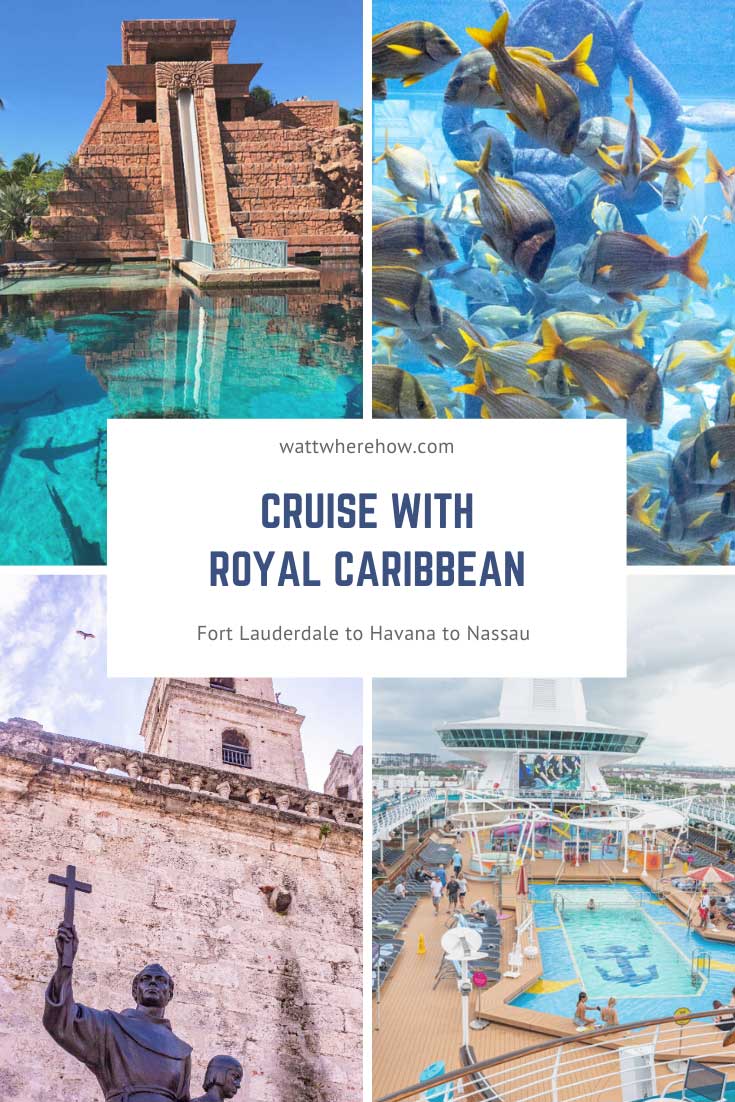 WHAT?
---
The Majesty of the Seas is a 21-year old Royal Caribbean cruise ship. It's smaller than the modern class of ships, so it tends to do 3 to 4 day cruises from New Orleans to the Bahamas (we went from Fort Lauderdale to Havana to Nassau). Expect an eclectic mix of passengers – large family reunions, milestone birthdays, anniversaries, bachelorette parties. Capacity: 2,000 plus passengers.
WHERE?
Majesty of the Seas services a range of shorter routes. Some go to Bahamas, others head to Belize via Mexico.
HOW?
Book your cruises direct at Royal Caribbean.
WHERE TO NEXT?
Get inspired for a getaway to the Caribbean with adventures in Barbados, Bahamas and Puerto Rico.
Follow & Connect with us