Christmas in New York has a magical allure to visitors. It's because New York City features so heavily in Christmas movies and pop culture.
"Yes, Virginia, there is a Santa Claus," wrote Francis Pharcellus Church, the editor of then New York publication, the New York Sun in its September 21, 1897. It was an honest, emotive reply to an eight year old girl, Virginia O'Hanlon. It's one of the moments that defined NYC as a center for yuletide celebrations and it's been going strong ever since.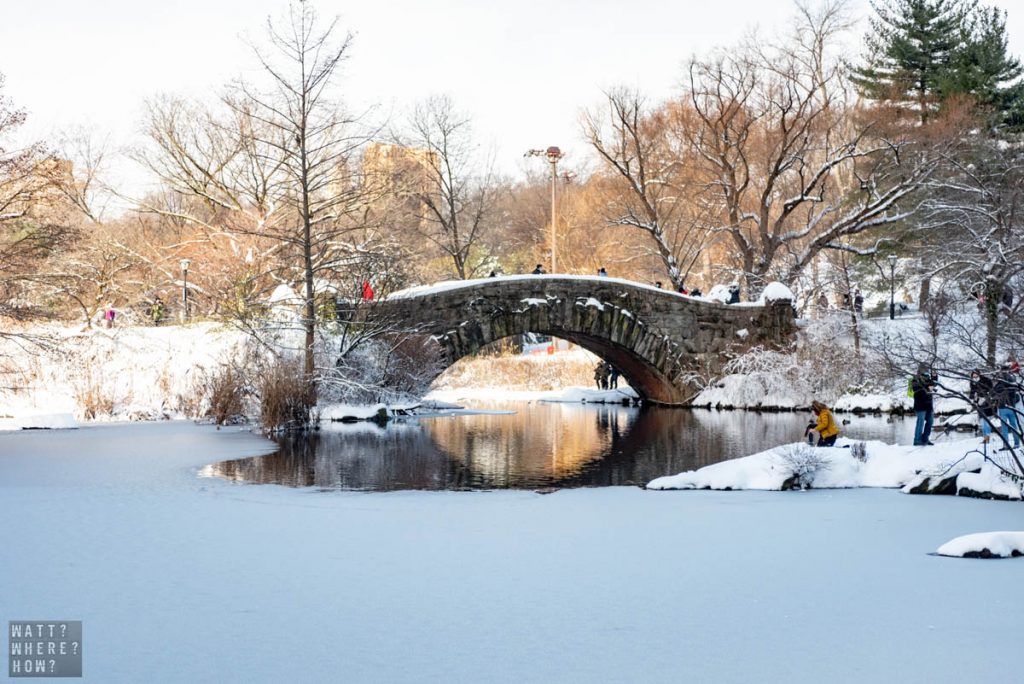 But first things first:
We all dream of a white Christmas. We've lived here for seven years now and have yet to see a white Christmas. New York City weather in December can be unpredictable. Some years there will be unseasonably warm days of sun that feel like early autumn, while other times you can get hit with a foot of snow in early December. Pack warm clothes, but bring layers.
A heavy synthetic down coat, gloves, thermals, and boots are handy, but if you don't want to carry that much or are coming from a warmer climate where those things cost a mint, remember that this is a city built on shopping and you'll find plenty of options here for a good price. If you come without, head to Burlington Coat Company, Variazioni, or TJ Maxx for affordable items, or Nordstrom or Macy's for brand name items.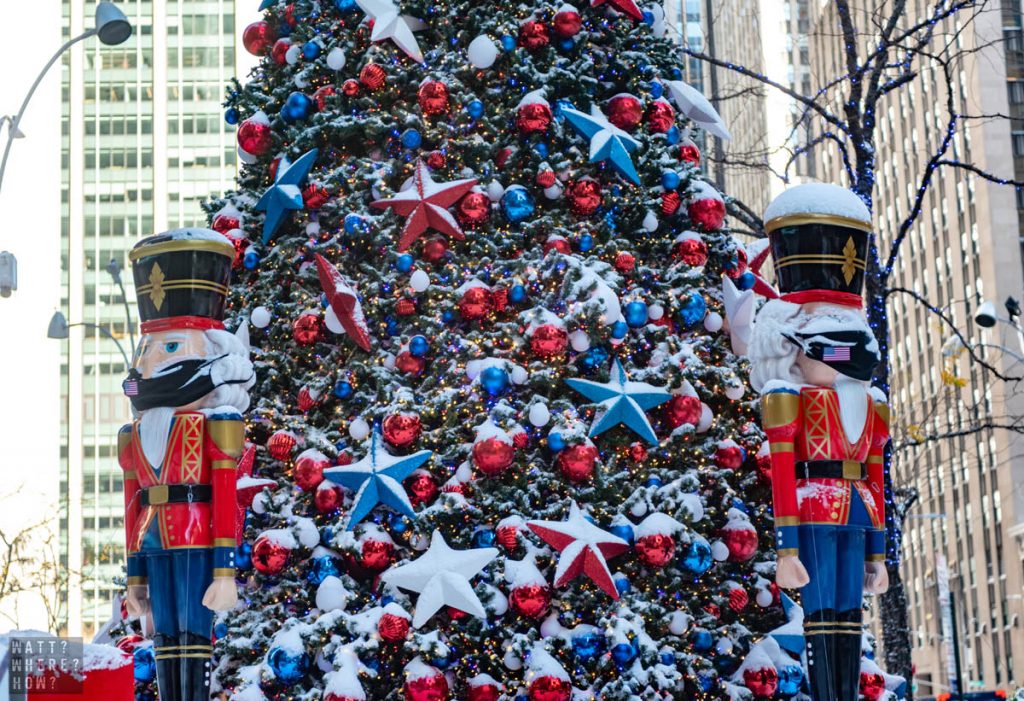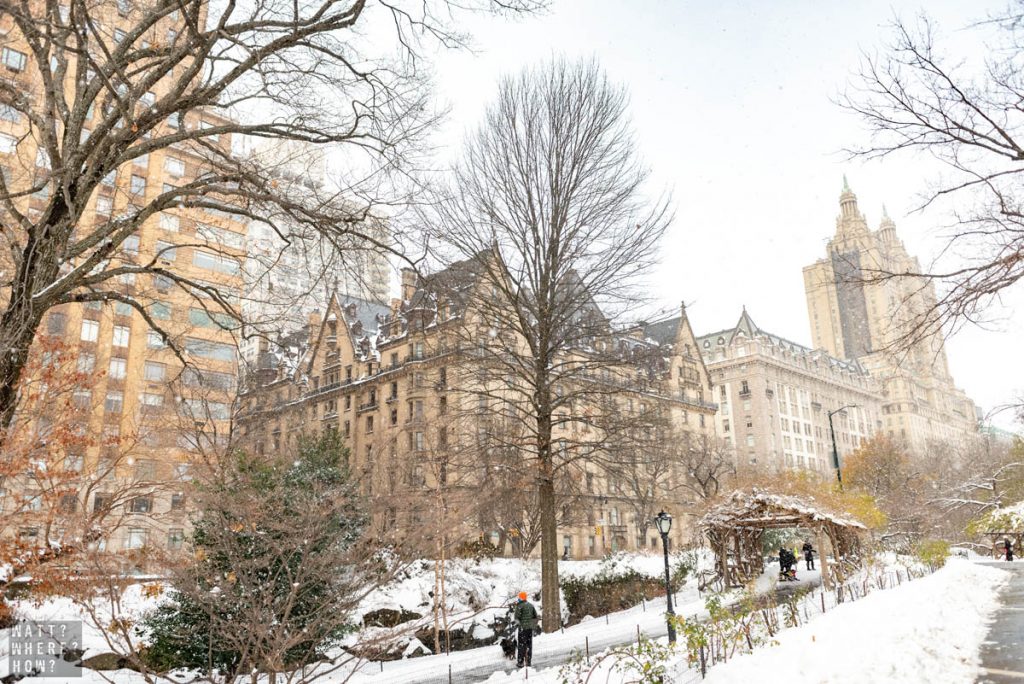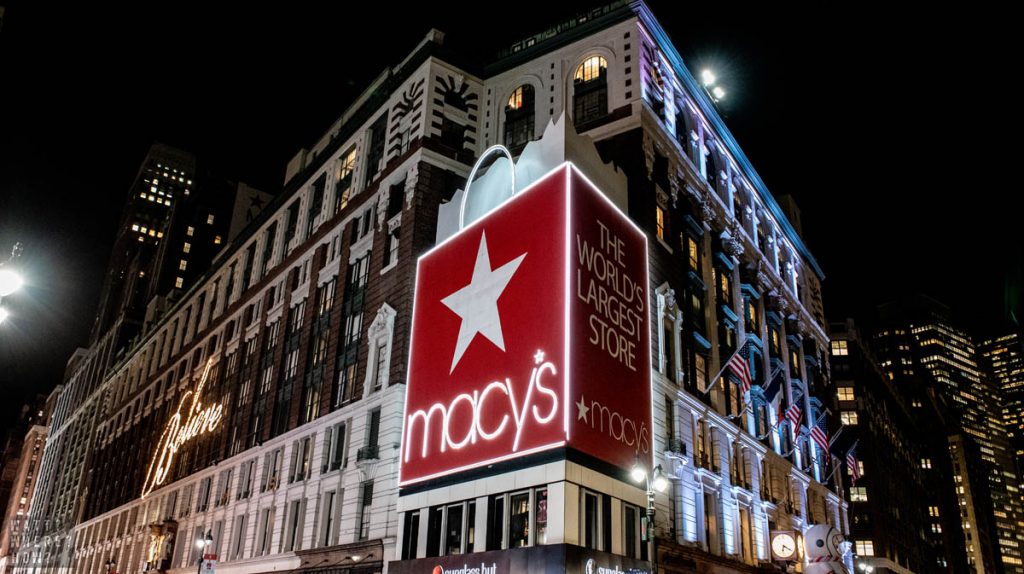 #1. Believe in Santa again at Macy's Herald Square
Christmas and holiday celebrations unofficially start from Thanksgiving, with Santa arriving at Macy's 34th Street shopfront after traversing the Upper West Side of the city as part of the Macy's Thanksgiving Parade. Macy's is one of the many touchpoints we all have with Christmas memories – it plays a starring role in Miracle on 34th Street – possibly the first truly branded content play in a movie. In the movie, Edmund Gwenn plays Kris Kringle, a warm-hearted soul who fills in for an intoxicated store Santa and who ends up being the real deal and having to go to court to prove that he is actually Santa Claus.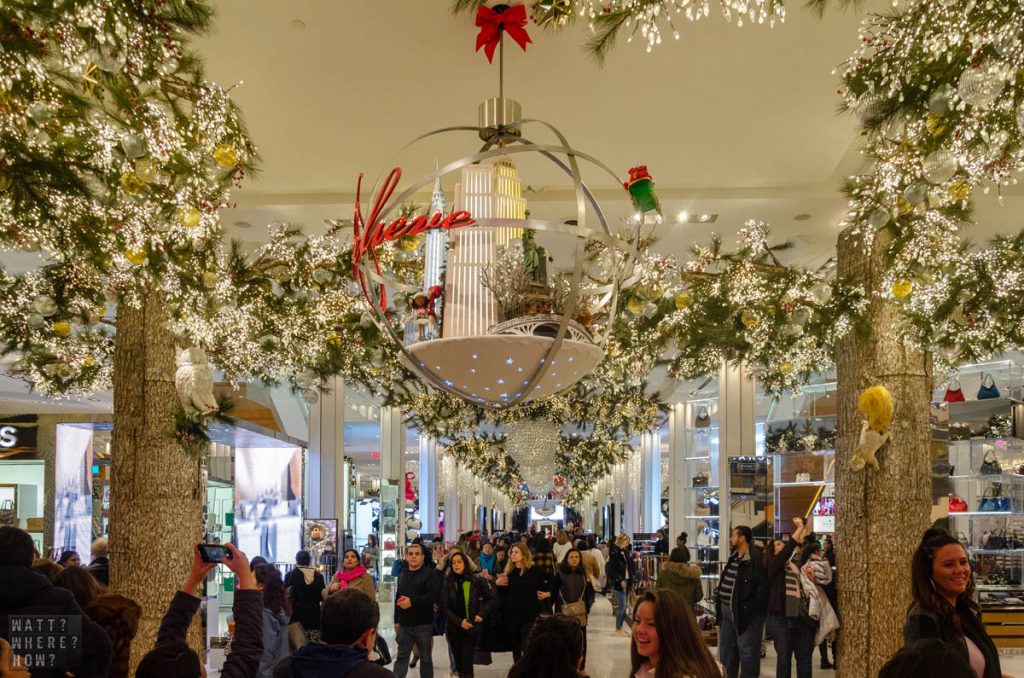 Start your Merry Christmas wanderings at Macy's Herald Square. It's still the same famous facade you've seen in movies and footage from the annual parade. Macy's Christmas windows are arguably the best in New York City and are aimed at children and the young at heart. They usually incorporate some level of technology and play that elevates the usual animatronic displays to the next level. Previous years have had interactive pinball machines and buttons to trigger activity, but 2020 is a more subdued affair.
Beyond its holiday window displays, Macy's eschews the Christmas spirit within, dressed to the nines with festive decorations on every level. Shop up a storm, but don't miss the best parts – the Christmas ornaments department – and Santa! Macy's Santa Land is completely virtual in 2020, but normally, kids and parents queue to meet the jolly, old fellow in red on level 8 of Macy's Herald Square between Broadway and Seventh Avenue. The 13,000-square-foot winter wonderland is filled with an enchanting forest, toy trains, and elf helpers. Macy's goes all in with the dressings and it's hard not to walk around with a stupid grin, swept up in the holiday spirit. Don't forget to make a reservation as it's all timed entries (and nobody wants a disappointed kid when Santa's involved).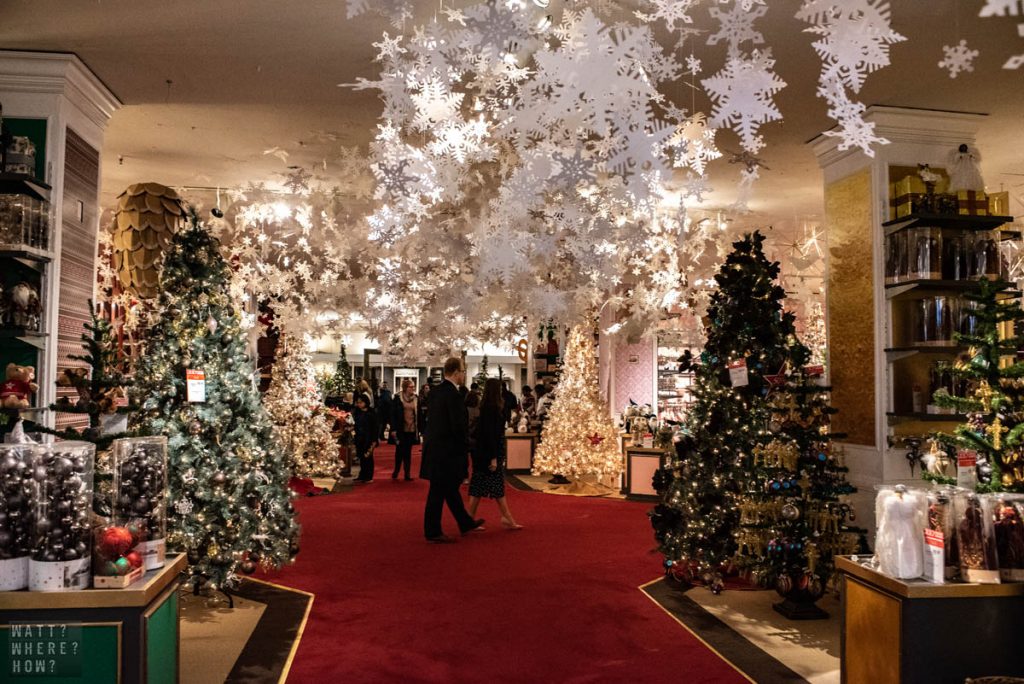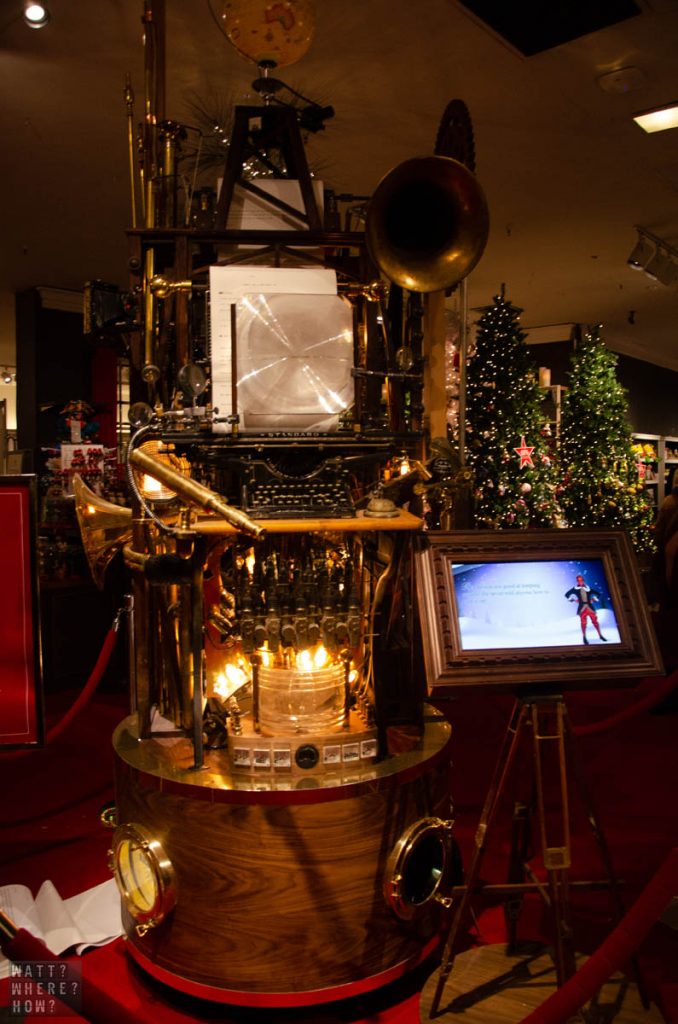 The Holiday Shop at Macy's is an essential stop to see its incredible range of faux trees, baubles, nutcrackers and nativity scenes. It glistens with lights, tinsel, and glitter – you could even say it glows.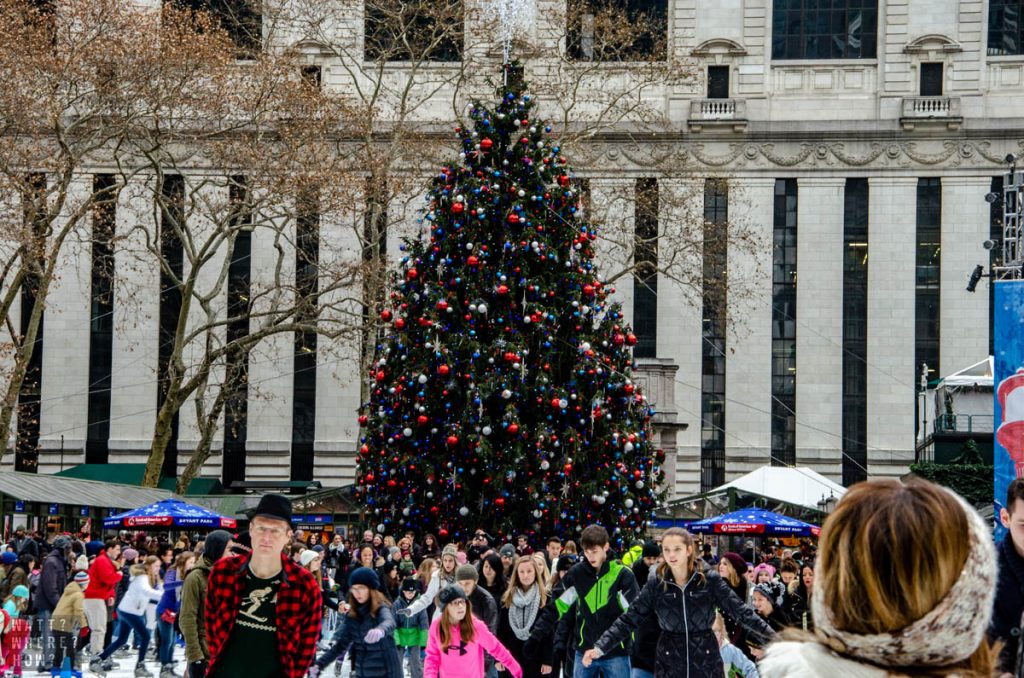 #2. Visit the Bryant Park Winter Holiday Village
So ridiculously close to Times Square but far enough away to give your brain a break from all the craziness and stress, the Bryant Park Winter Holiday Village brings together a beautiful Christmas tree, free ice skating (if you have your own skates or you can hire them for a fee), and local foods, and artisan markets. Enjoy warming spiced hot cider or hot toddy under warming lamps, get cinnamon and sugar all over yourself trying to consume a hot Czech tunnel cake before it cools, check out unique and quirky souvenirs and jewelry and try some of the great international flavors on offer at the food stands.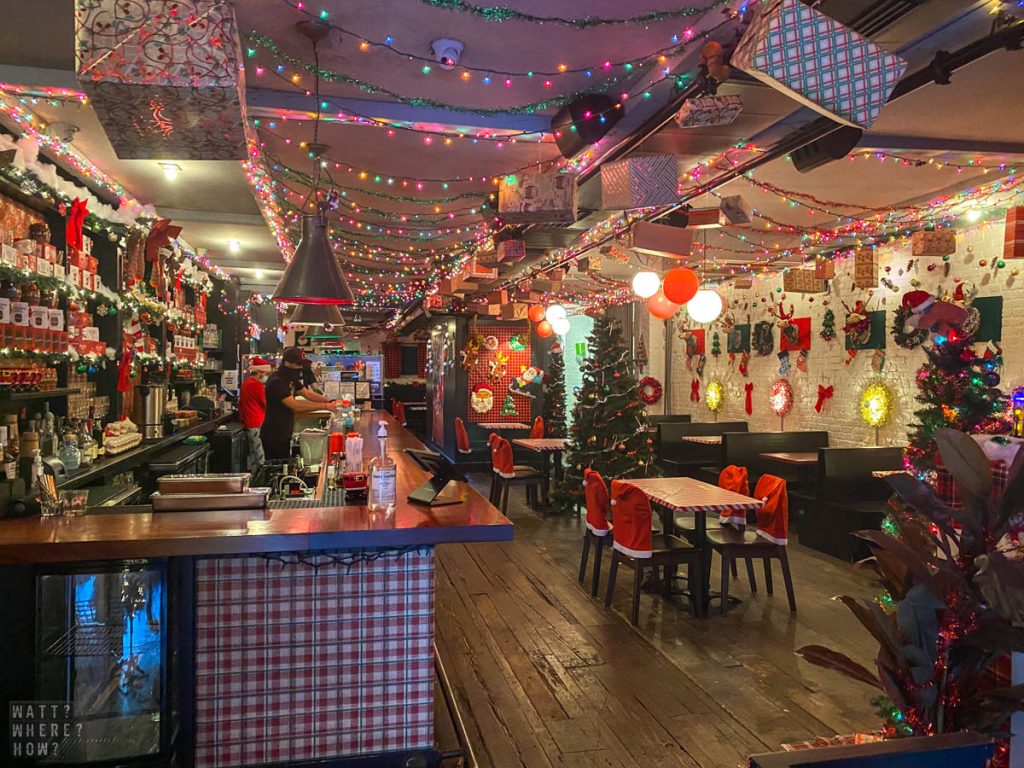 #3. Get in the spirit with Christmas cocktails
Having a holly, jolly Christmas can get a little old – especially in the cold. Our favorite local spot (or spots as there are now multiple pop-up locations) is the Miracle on___ bar. These little themed bars go all out on the decorations and theming, with powerful, hilariously named holiday cocktails like the Snowball Old-Fashioned," the "Yippie Ki Yay Mother F****r!" and the "Dreidel, Dreidel, Dreidel." You'll find ones in Alphabet City by the East Village and on W8th in Greenwich Village.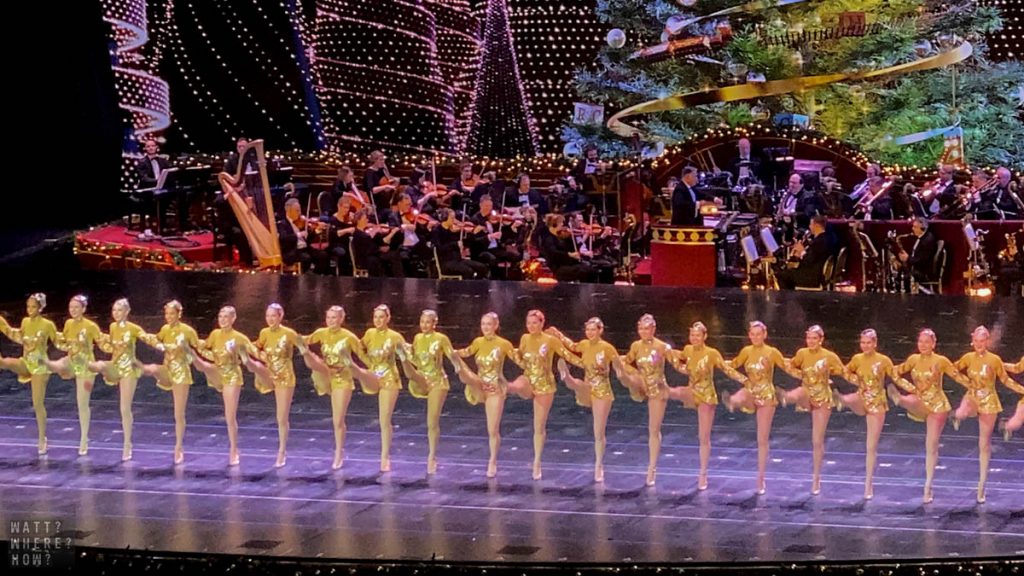 #4. Kick your legs up with the Radio City Rockettes at the Radio City Christmas Spectacular.
Possibly the thing that's most conspicuously absent from Christmas in New York City in 2020 is the Radio City Christmas Spectacular. It's over-the-top, it's cheesy, but it's so incredibly well-produced that it set the scene and energy levels for a visit to NYC during the holiday season.
The first Christmas Spectacular graced the stages of the Radio City Music Hall in 1933 and although the technology has evolved – with projection-mapped animations and 3D glasses worn at key moments, it's essentially the same attraction – 90 performers, many of whom are amazing dancers blessed with long legs bringing Christmas joy to an adoring crowd.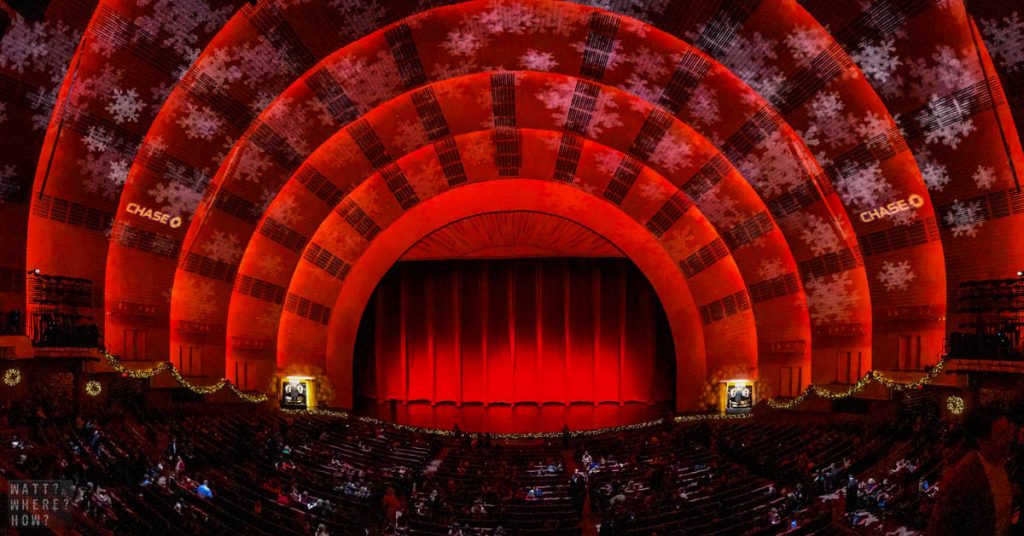 Select a wine or cocktail under the gorgeous crystal chandelier and take your seat while two organists dual over Christmas classics to warm the crowd. The two organs are lowered pneumatically out of site as a full symphony orchestra rises up into position and we're greeted with 90 minutes of big kicks, dance numbers, and a little heart with a tale of finding the meaning of Christmas in New York.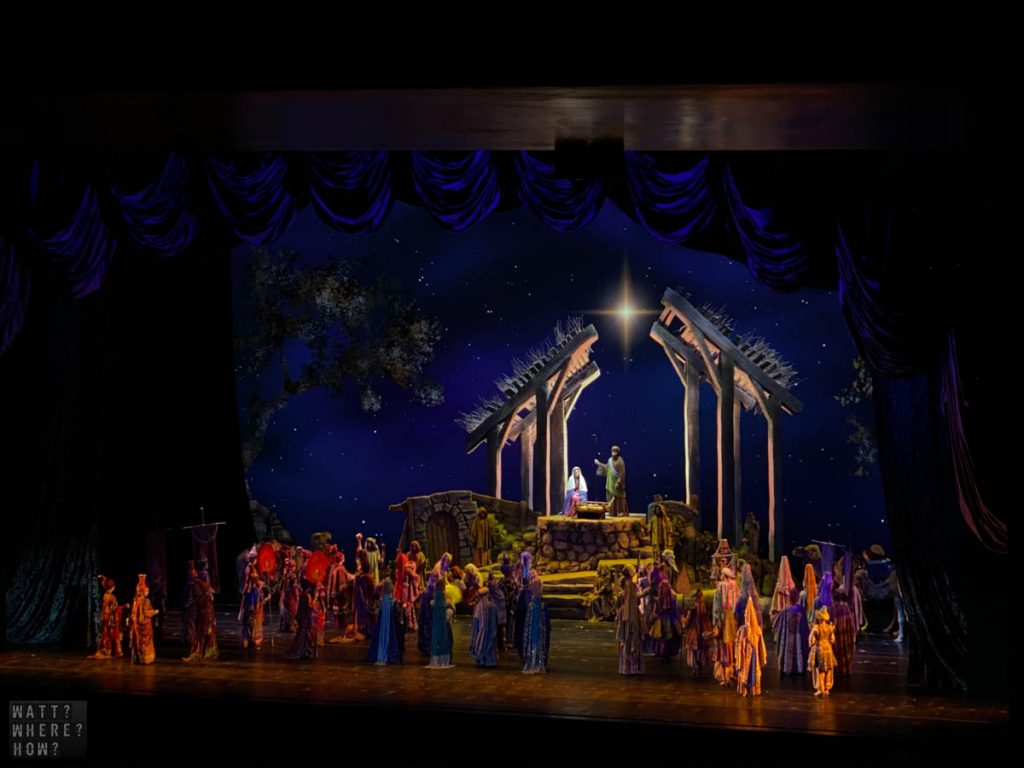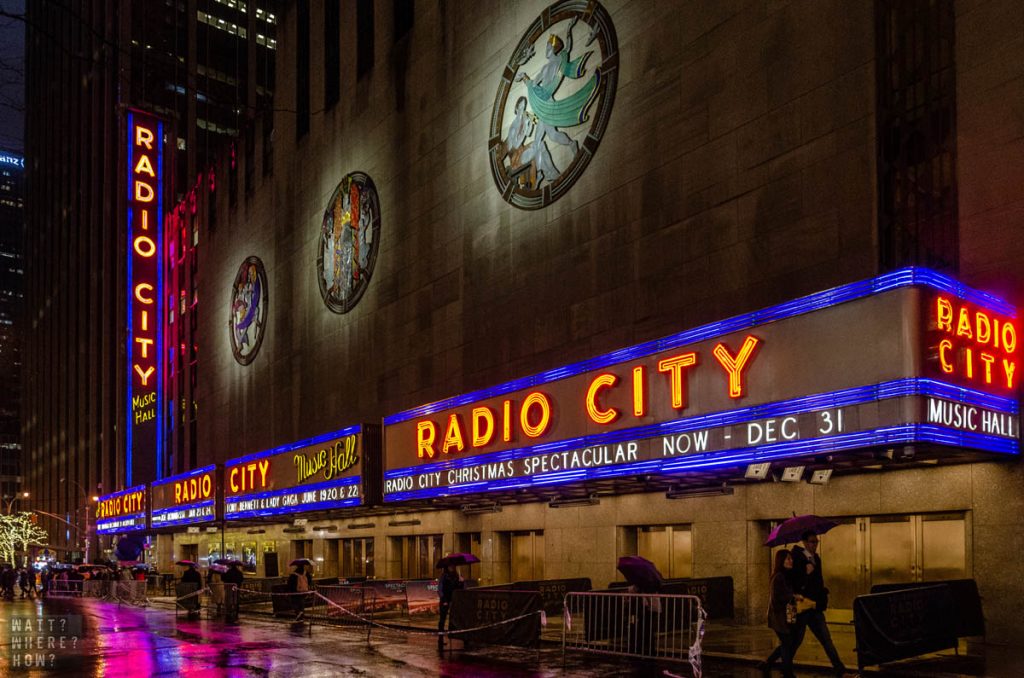 #5. Grab a hot chocolate at The Plaza Hotel
Rising above Central Park and Fifth Avenue at 59th Street, The Plaza Hotel is one of New York City's most opulent live-in hotels. Servicing the 1% or those who are prepared to shell out their hard-earned bucks on a luxury stay, it's most noteworthy for its appearance in Home Alone 2. At the time, it was owned by Donald Trump, who insisted on making a cameo in the foyer. Dating back to 1905, the hotel's been in plenty of other classic movies too: Funny Girl, North by Northwest, Arthur, Scent of a Woman, and Sleepless in Seattle.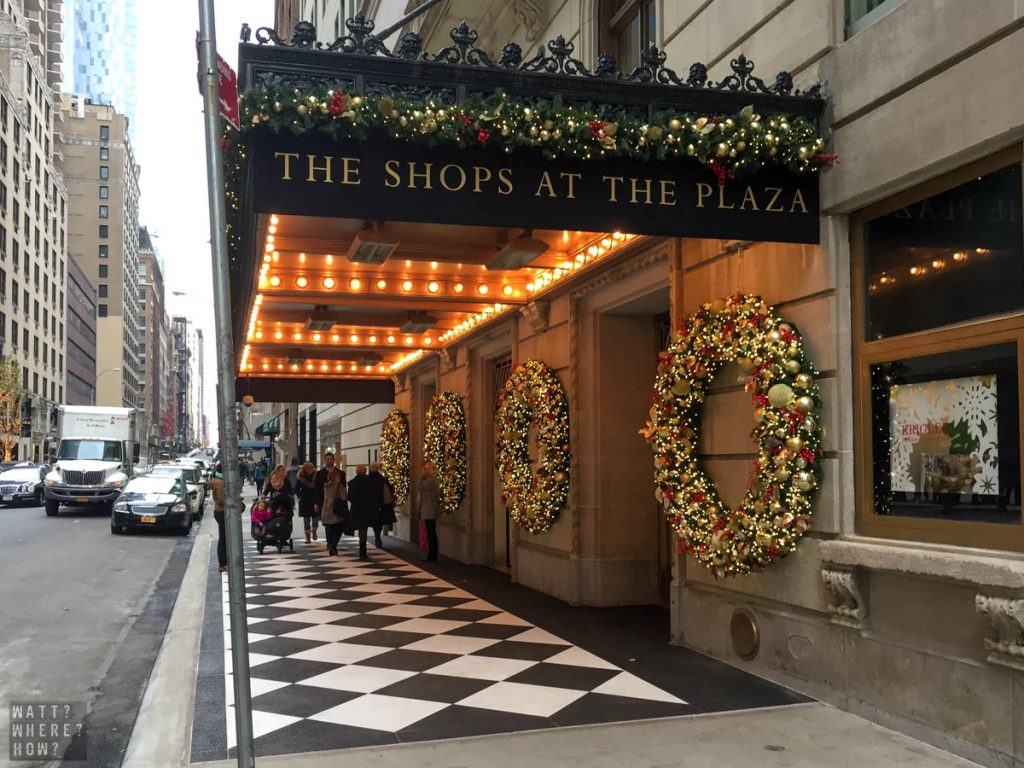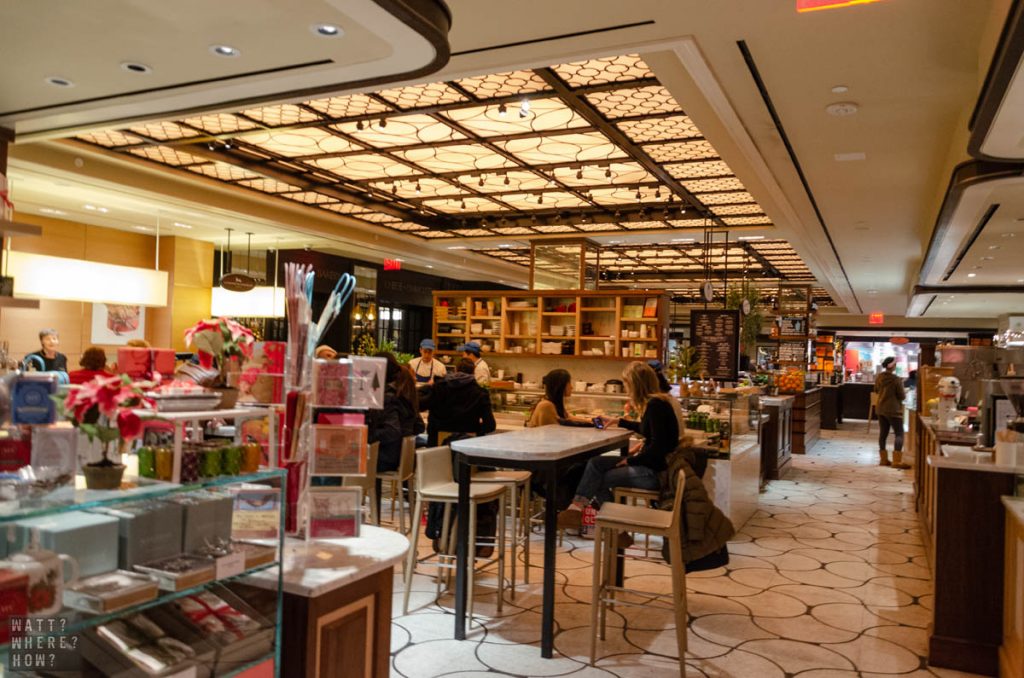 As the Plaza Hotel is home to both hotel-style accommodations and luxury condominiums, you can't enter to take a peek inside, but one of our favorite things to do at Christmas in New York is to head down to the Plaza Hotel Food Hall. Épicerie Boulud's is owned by celebrity chef and culinary icon, Daniel Boulud and is our choice for soup and bread, but don't miss out on La Maison du Chocolat for a sweet treat. Due to COVID restrictions, the Plaza Hotel Food Hall is not operating in 2020 and into early 2021.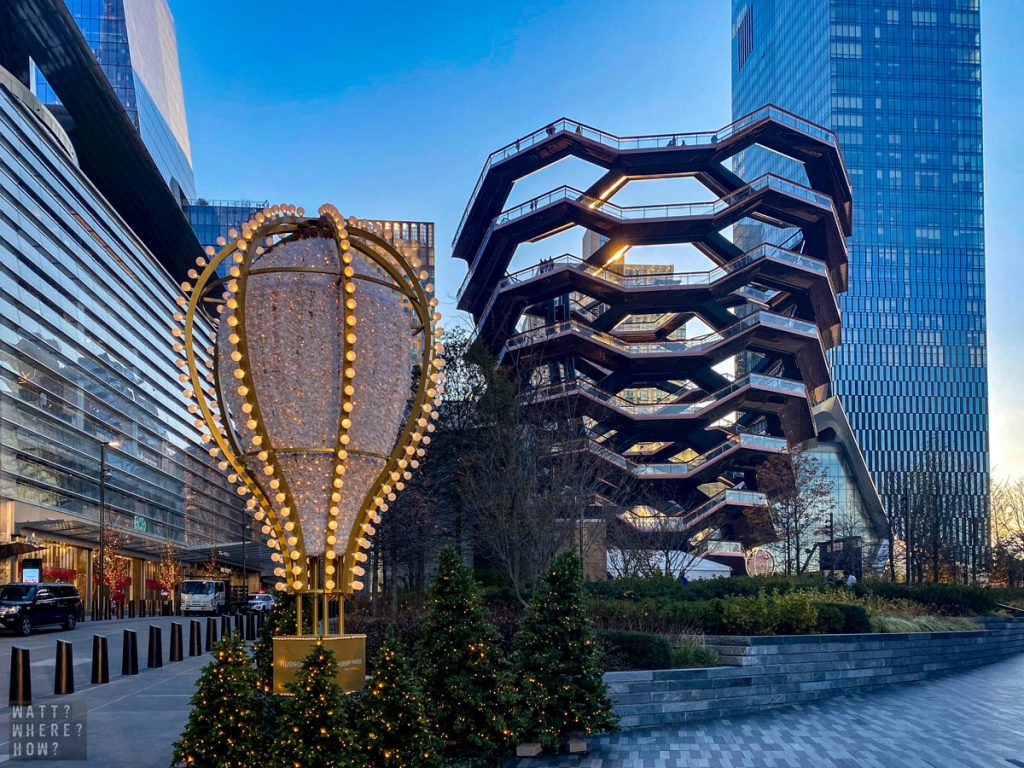 #6. Go shopping and climb The Vessel at the Hudson Yards
The newest addition to Manhattan shopping is the upscale Hudson Yards precinct. Possibly opening at the worst point in history for a new development, right before the COVID pandemic, its iconic Vessel. Consisting of 154 intricately interconnecting flights of stairs, the work by Thomas Heatherwick is free to climb but requires tickets to keep foot traffic numbers down. The adjoining luxury shopping mall prides itself on having one of the best designed Christmas displays – so be sure to step inside while you're here.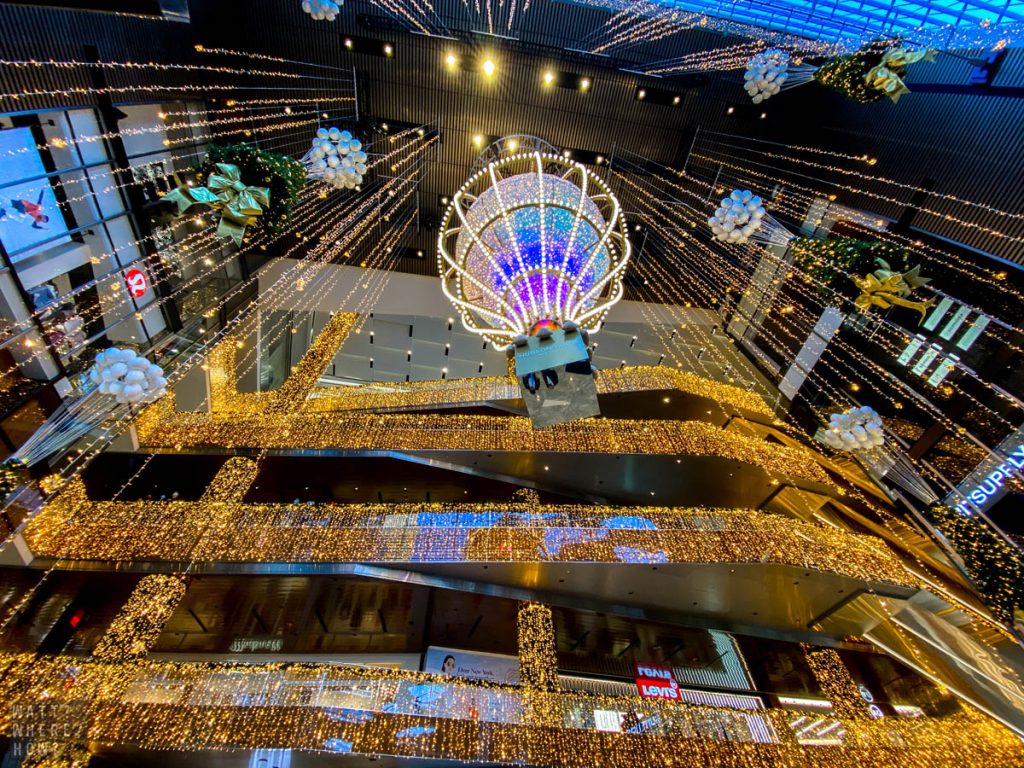 #7. Check out the Bergdorf Goodman Fifth Avenue windows
Home of New York Haute Couture, Bergdorf's is upmarket fashion retail at its finest. Each holiday, it commissions artists to dress its iconic facade just up from Tiffany's and the Trump Tower. It's the kind of place we'd never be able to afford to shop at, but they definitely make you want to.
#8. Get all the feels at Saks Fifth Avenue
Situated directly opposite the Rockefeller Center and its famous tree, Saks won't let a little greenery steal all the attention. Right through the holiday season, its Fifth Avenue frontage lights up in a glittering display set to music. It stops people in their tracks – which as a local, can bring out the bah humbugs, but who can blame them – it really is stunning. Saks also has the best kid-friendly windows apart from Macy's – and they usually capture the spirit of the city.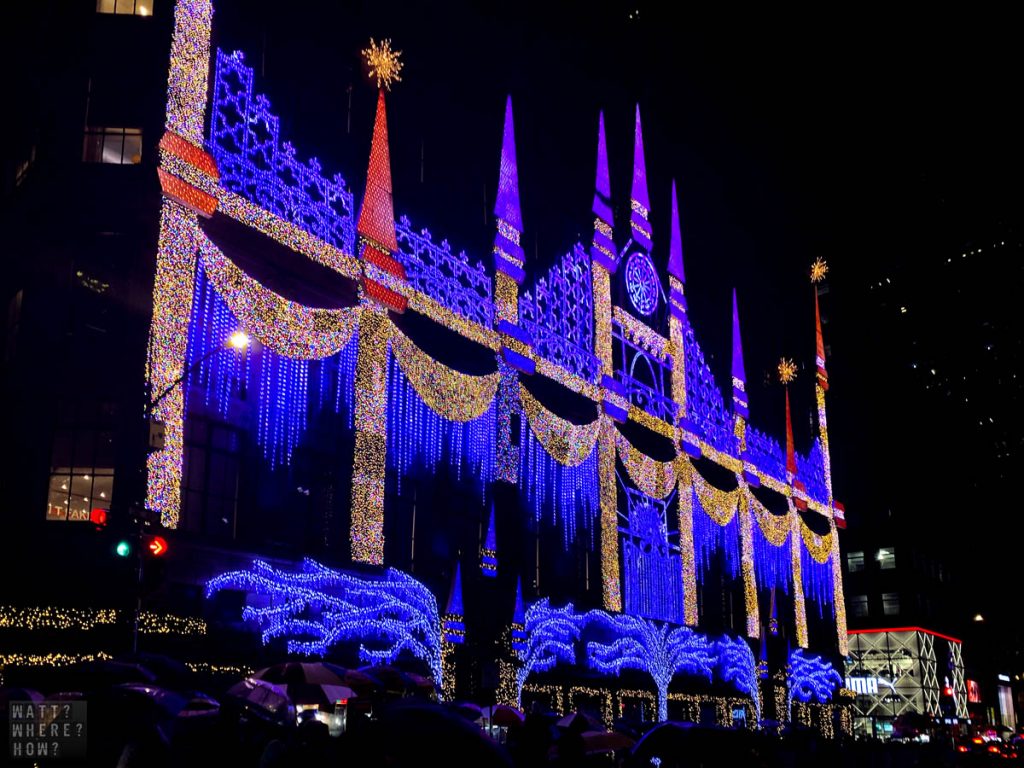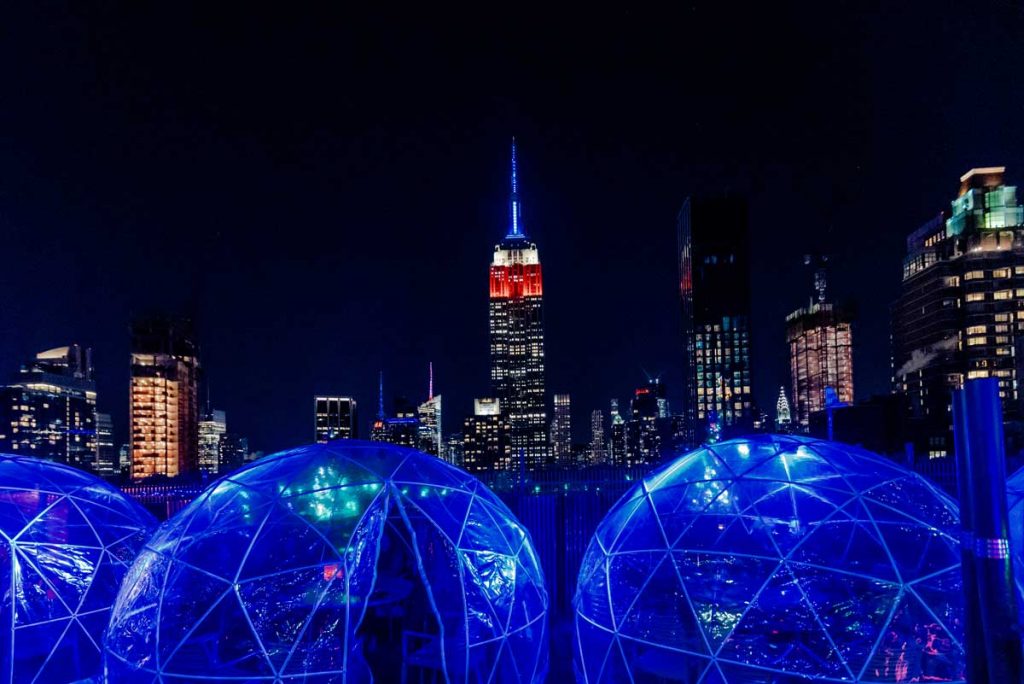 #9. Rent an igloo overlooking the city at 230 Fifth
230 Fifth is one of those bars most locals avoid. It has an amazing view, it's on a roof overlooking the Empire State, but it's one that attracts mostly tourists. But then again, you can see the appeal, with private igloos and bottle service available for hangs with old friends and new, feeling like you own the place.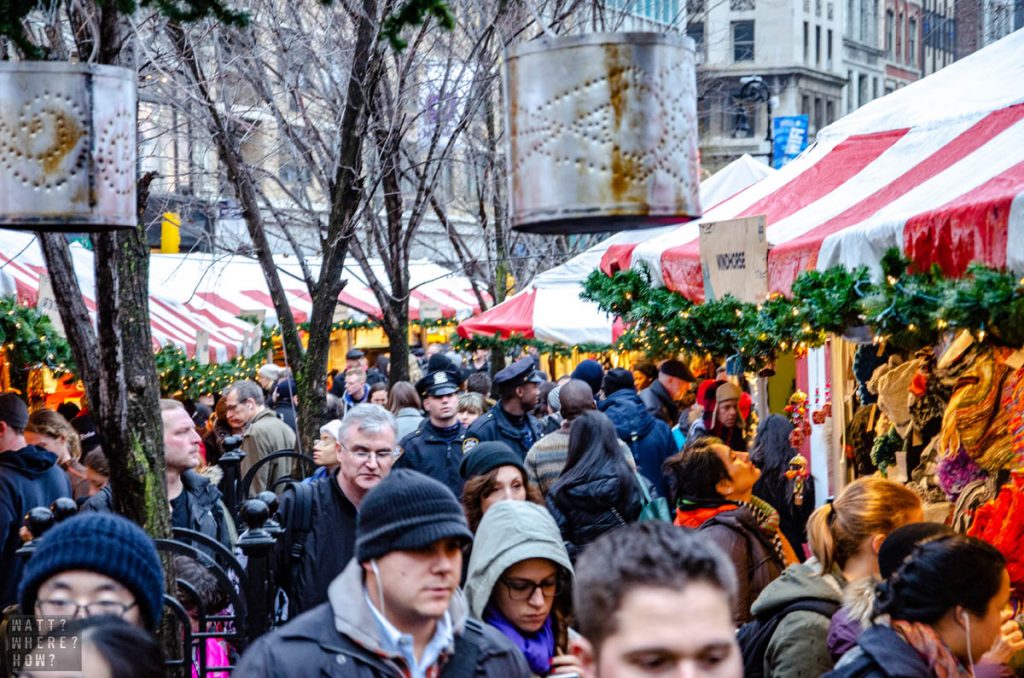 #10. Head to the Holiday Markets
Christmas in New York has plenty to offer shoppers looking for last-minute gifts for immediate family or memorable things to take back home. Every year (bar 2020, which has meant the famous Union Square Holiday Markets have been mothballed until a vaccine is rolled out globally), you can find the city's best holiday markets at Union Square on 14th Street. Dominating the 14th Street end (the usual farmer's market is up the other end most days for all your fresh fruit, vegetables, and garland needs) is a village of food, arts, fashion, and crafts.
The best part of the holiday markets is the food – with steaming hot pierogi from the East Village's Veselka and the Arancini Bros' sweet and savory arancini balls filled with delights like mac and cheese, buffalo chicken, and Nutella.
#11. Warm the cockles of your heart at Eataly, Flatiron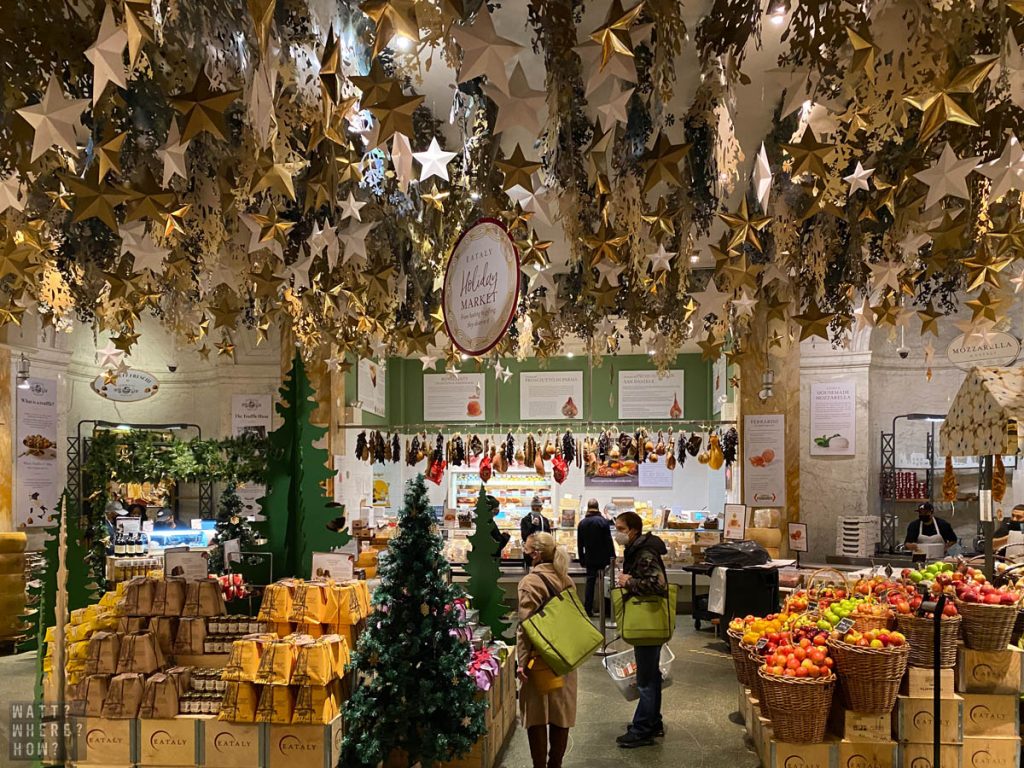 Eataly is an incredible food emporium, offering traditional Italian foods and ingredients, from aged cheeses to preserved meats, truffles to freshly made squid ink pasta. Open through the season, it's a delicatessen meets food hall, with wine bars, pizza ovens, and cafes offering a cozy place to share a drink and a bite. What many visitors miss though is their rooftop bar, Baita. Each holiday season it's decorated to a theme, usually something Alpine and Italian in style, with amazing wines, cheeses, and beers on offer. It's not to be missed. Access it by the stairs next to the fresh pasta counter.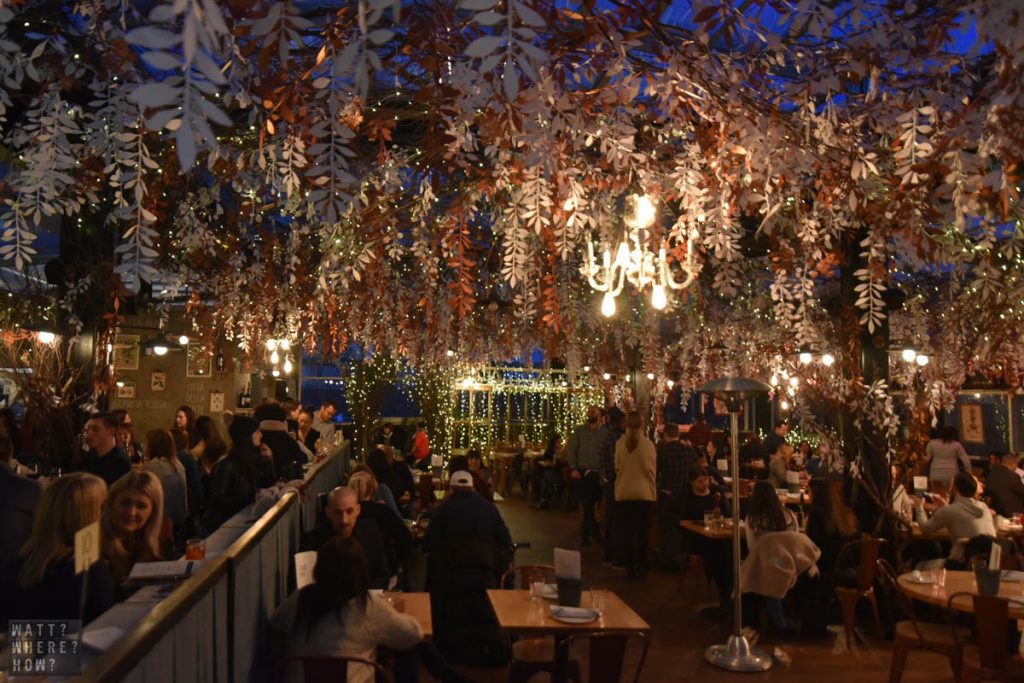 #12. Stroll the West Village
This year, the West Village has really felt the impact of the pandemic. Bleecker Street, the main shopping strip and Hudson Street both have a majority of shops with For Lease signs in their windows. But it's also one of the most beautiful parts of the city. Walk the back streets and fall in love with the classic brownstones with their old coach houses and iron fire escapes. Most of the community here is well-to-do, and many put in a fabulous effort decorating their front doors, stoop, or local green spaces.
#13. Go ice skating in Central Park
There are plenty of places to go ice skating in New York City over the holidays. The Standard in the Meatpacking District has a tiny rink, there's one at Brookfield Place, Prospect Park in Brooklyn, the Rockefeller Center, and Bryant Park. But there's not many that have the capacity for large crowds and New York's skyline as the backdrop as the Wollman Rink (also known as the Trump Rink) at Central Park.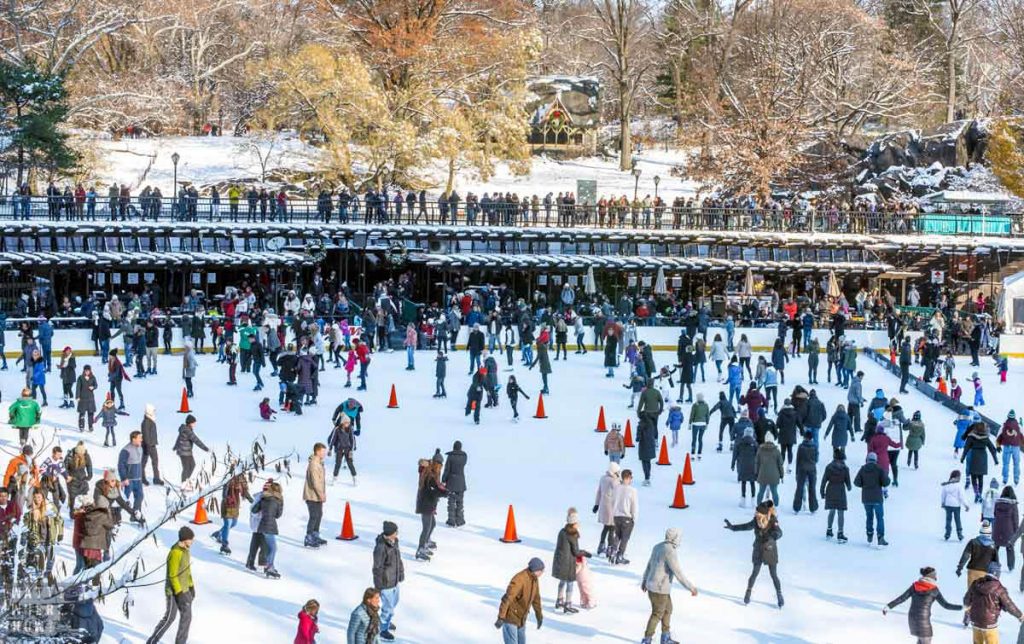 #14. Pick up some toys at FAO Schwarz
FAO Schwarz is a New York Christmas institution, so the city-folks were devastated when its iconic Fifth Avenue location closed its doors due to a rent increase. Now, two years later, it's returned in a smaller, but more popular location – in 30 Rockefeller, with its front door right by the Christmas tree. FAO Schwarz was immortalized in the 80s Tom Hanks movie, BIG, where he played Chopsticks on the oversized piano keyboard.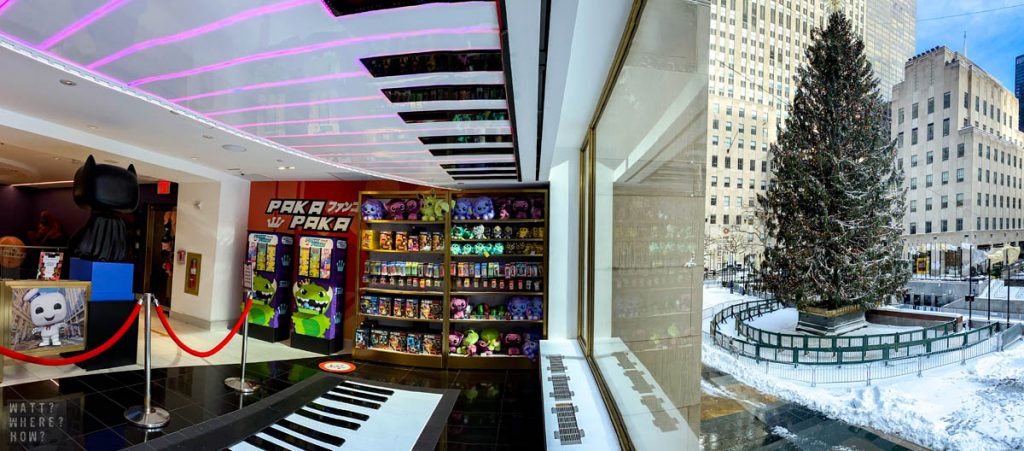 You can also jump on the light-up keys and jam out with friends and strangers, looking out over the tree. While much smaller than its last location, most of what people know and love is there. You can hot up toy cars, style your own Barbie and adopt a doll baby. The thing we miss most is the Muppets Whatnot Workshop, which sadly didn't survive the move.
#15. See the trees in the Financial District
Christmas in New York's Financial District is particularly quiet in 2020 with the closure of Century 21 department store and most big businesses having working from home arrangements in place. But that doesn't mean that it's devoid of the Christmas spirit. Out the front of the New York Stock Exchange is an impressive tree and Hanukah menorah, while the Westfield at the Oculus and the shops at Brookfield Place have colorful displays and ice skating rinks.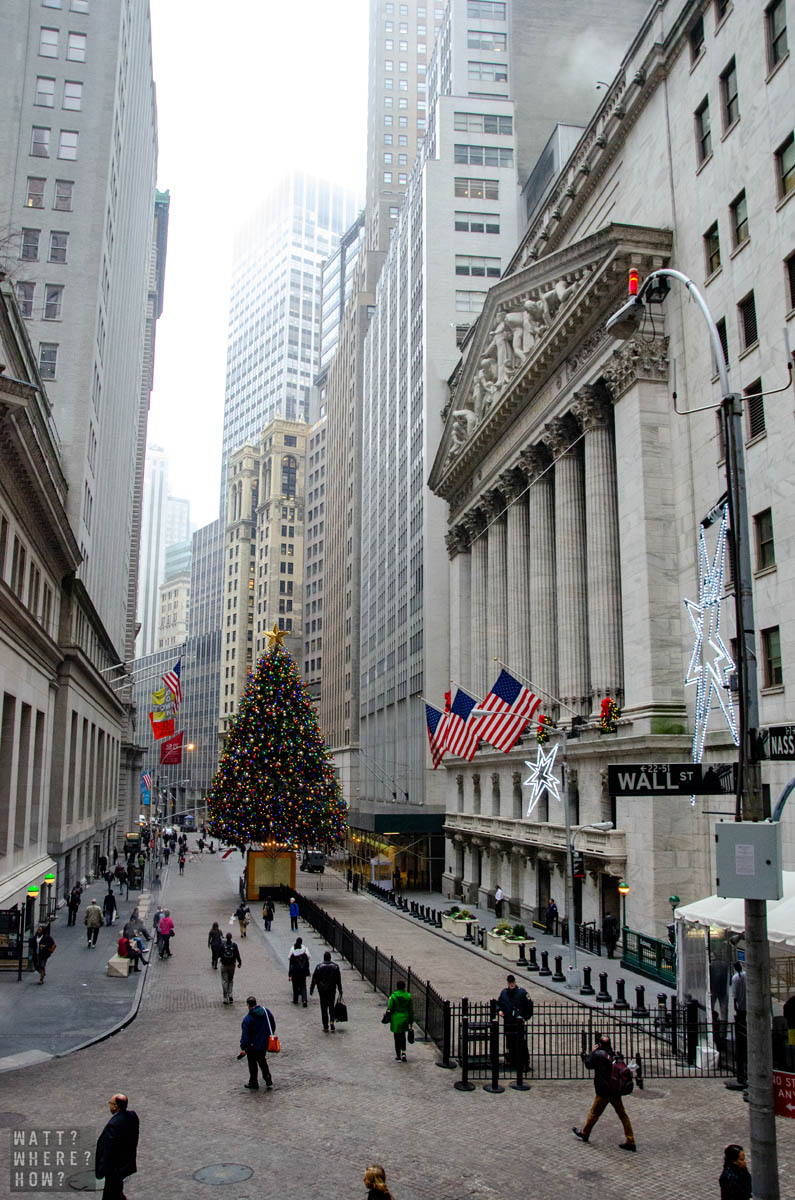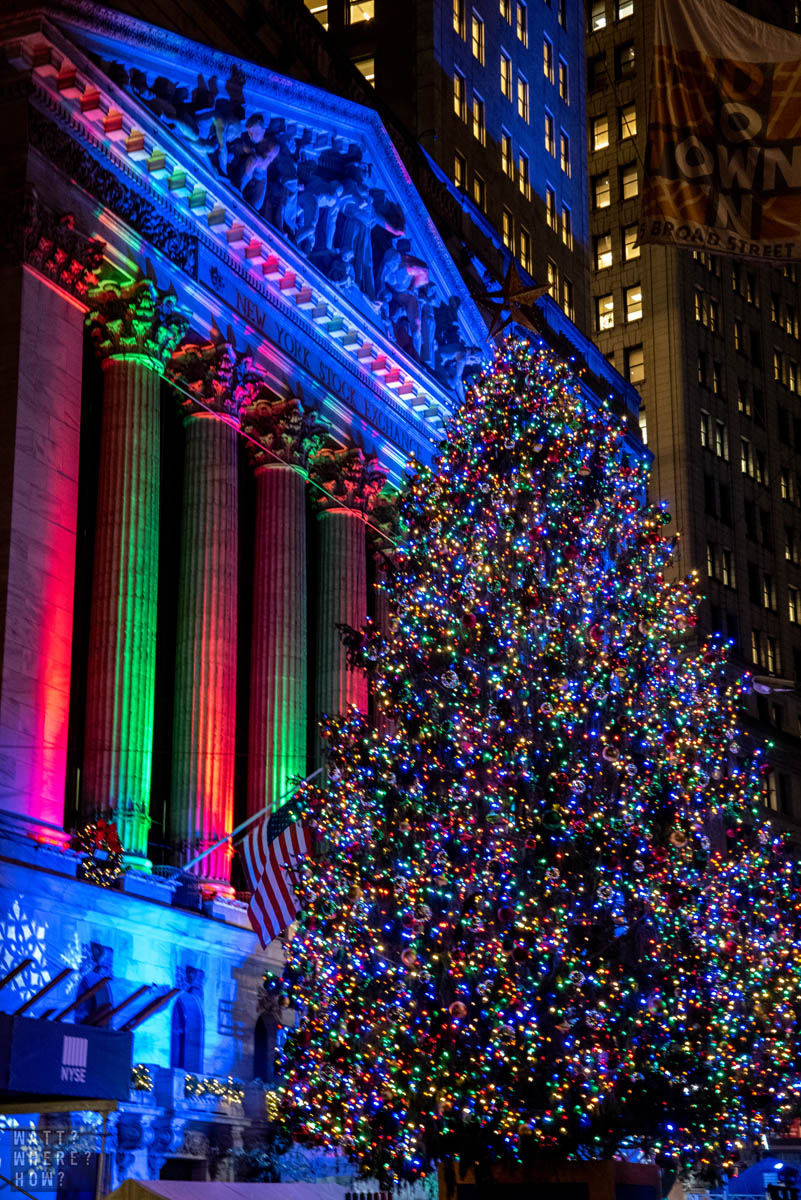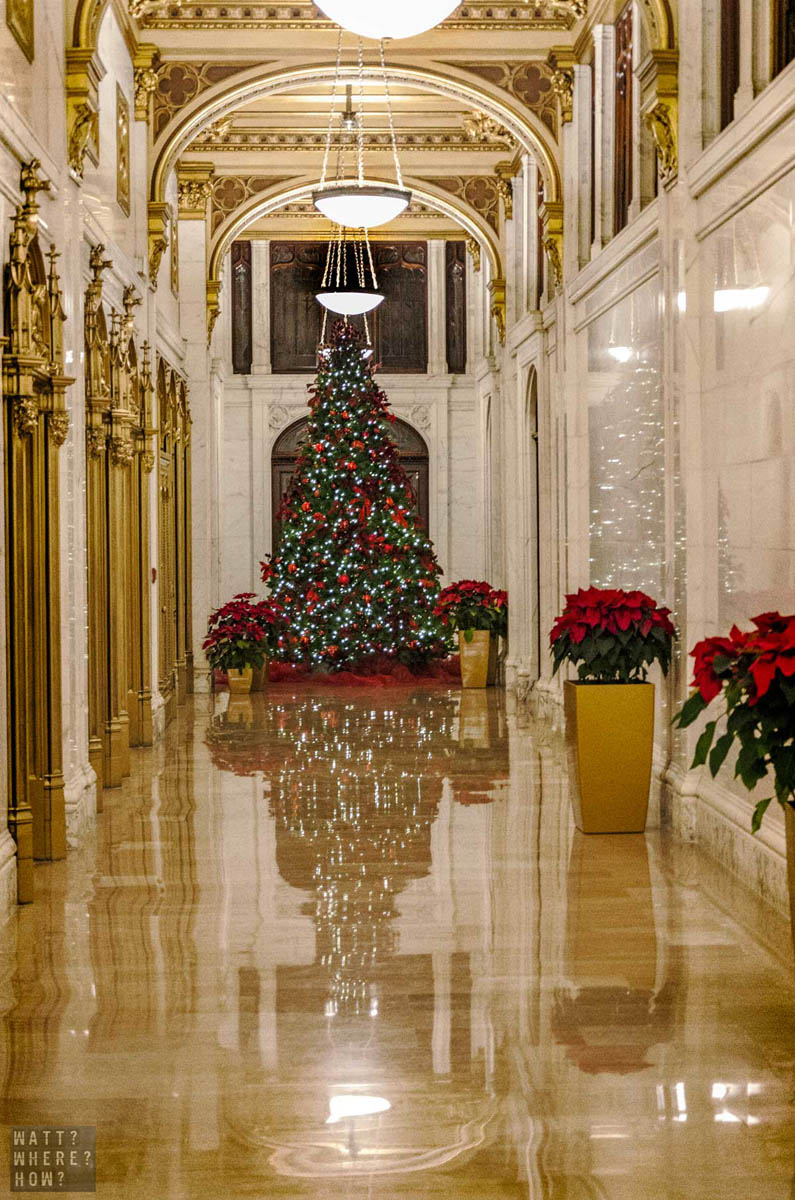 #16. Role play Kevin McCallister at Bethesda Fountain
Central Park plays a starring role in countless movies, but it's the holiday ones that really pull at the heart strings. Whether it's Buddy and Josie leading carols to power Santa's sleigh in Elf, going ice skating on the Wollman Rink or Kevin meeting the pigeon woman by the Gapstow Bridge or being chased by the Sticky Bandits, you'll recognize locations a plenty in this iconic green space.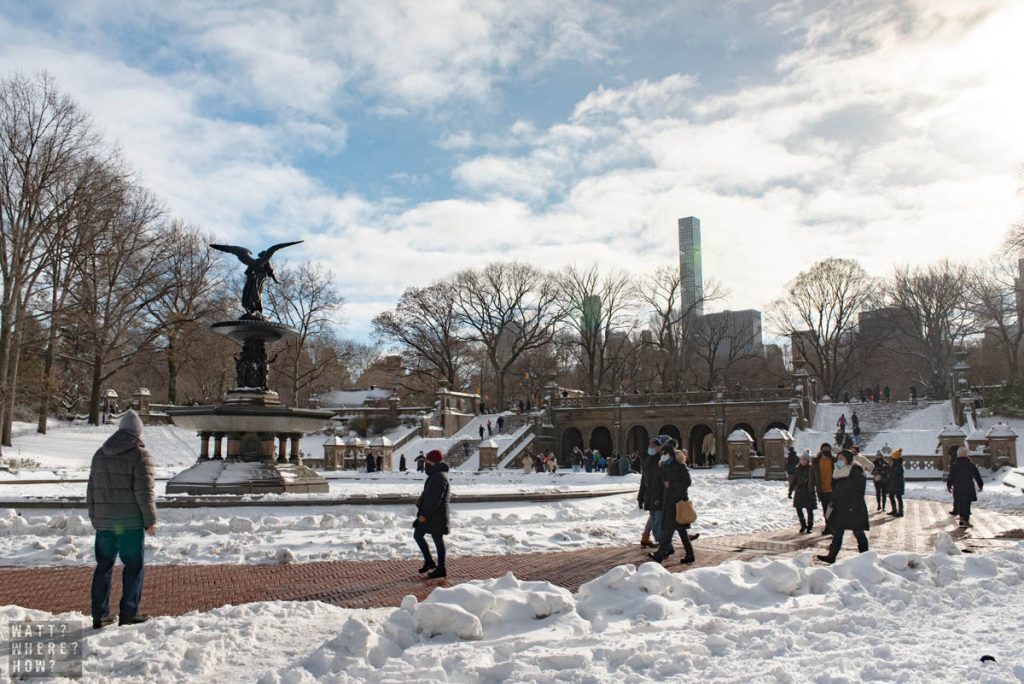 #17. Skype loved ones from the Rockefeller tree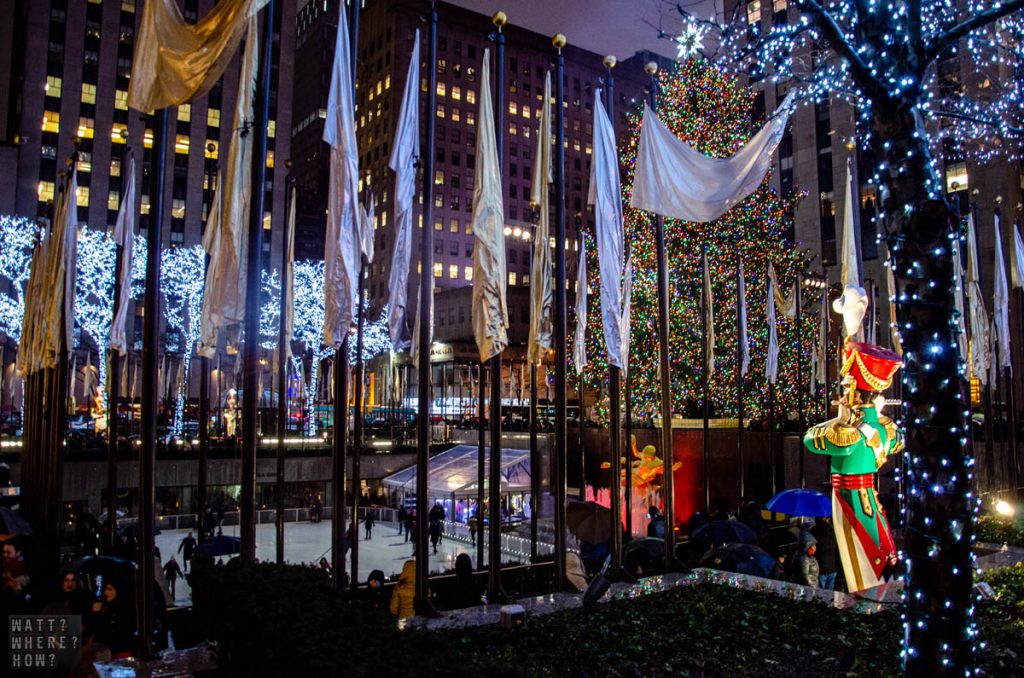 Still as impressive and beautiful as ever, the Rockefeller Christmas Tree, a Norway Spruce rises 75 feet above the plaza and ice skating rink and I challenge anyone not to feel moved in its presence. Normally, getting close to the tree involves plenty of crowding and queuing, but due to COVID, 2020 has a QR code system to name the time you can get up close. Unlike past years where you could stand directly beneath it, this year the forecourt in front of 30 Rock is closed off to pedestrian traffic. The rink remains open but with social distancing measures in place.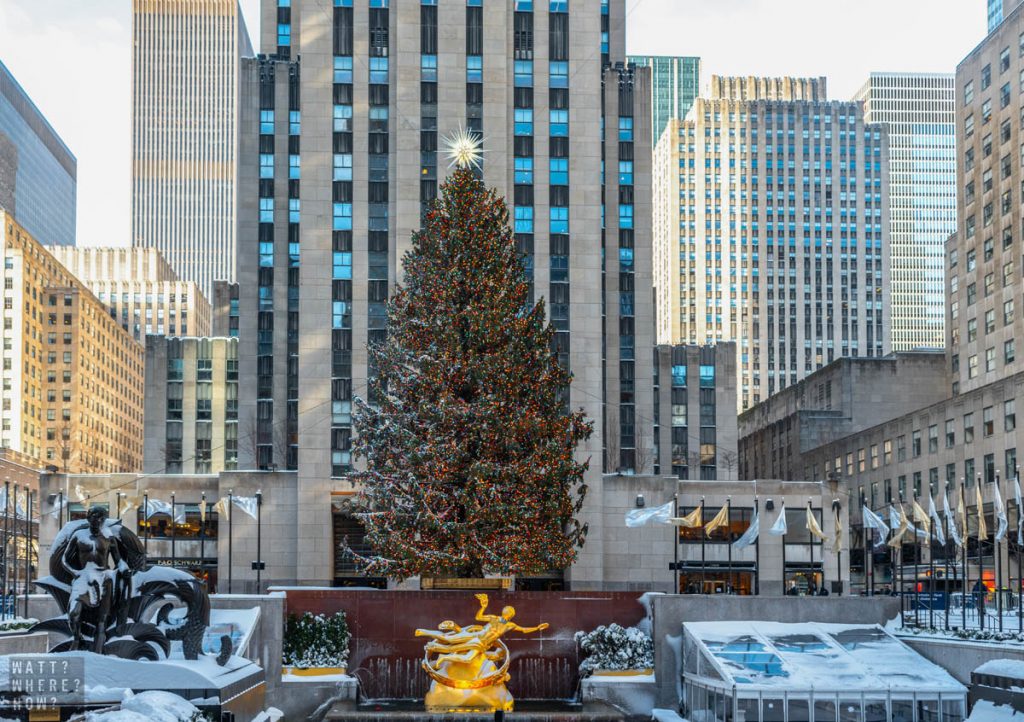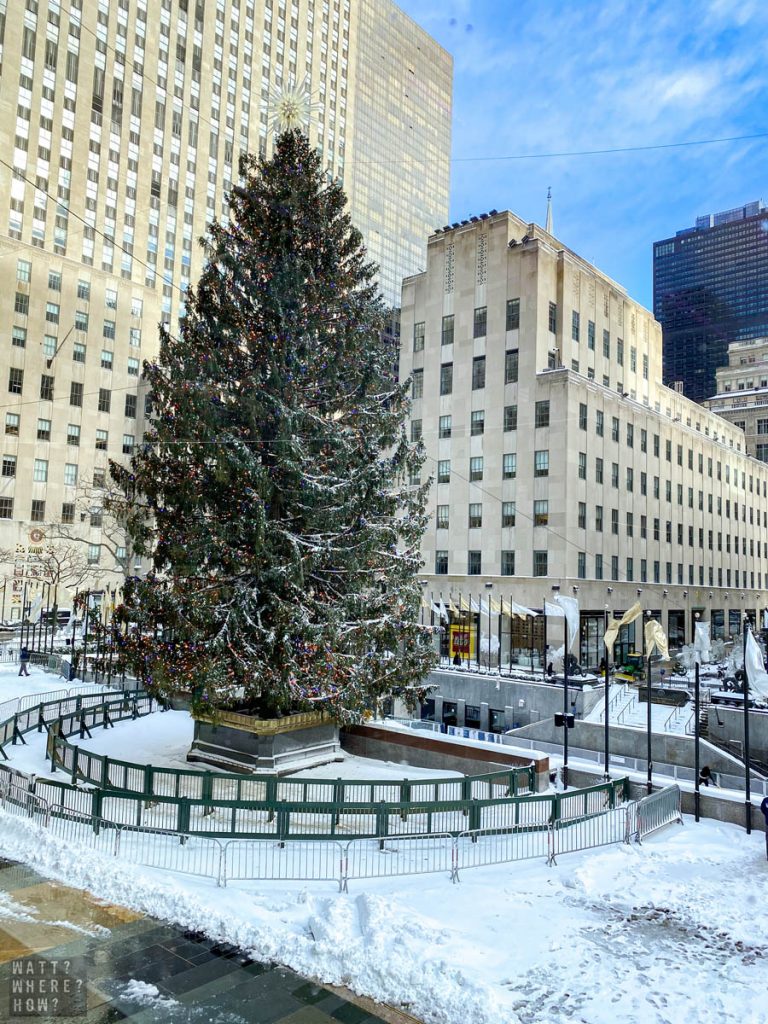 #18. Celebrate Christmas in New York like a local
You come to the Big Apple to experience its energy, but many leave without actually integrating in any way. The best way is to go away from the tourist centers and hang out at the bars and cafes beyond Times Square. In Chelsea, the Oscar Wilde puts in 110% with the Christmas decorations.
The East Village has some of the city's best dive bars and hidden speak-easies (secretive cocktail bars with hidden entrances – though none are legally running in 2020). Head along St. Mark's Place and around Thompkins Square Park for some gems or down to the city's oldest Irish pub, McSoorley's – most recently featured in Netflix's Dash and Lily.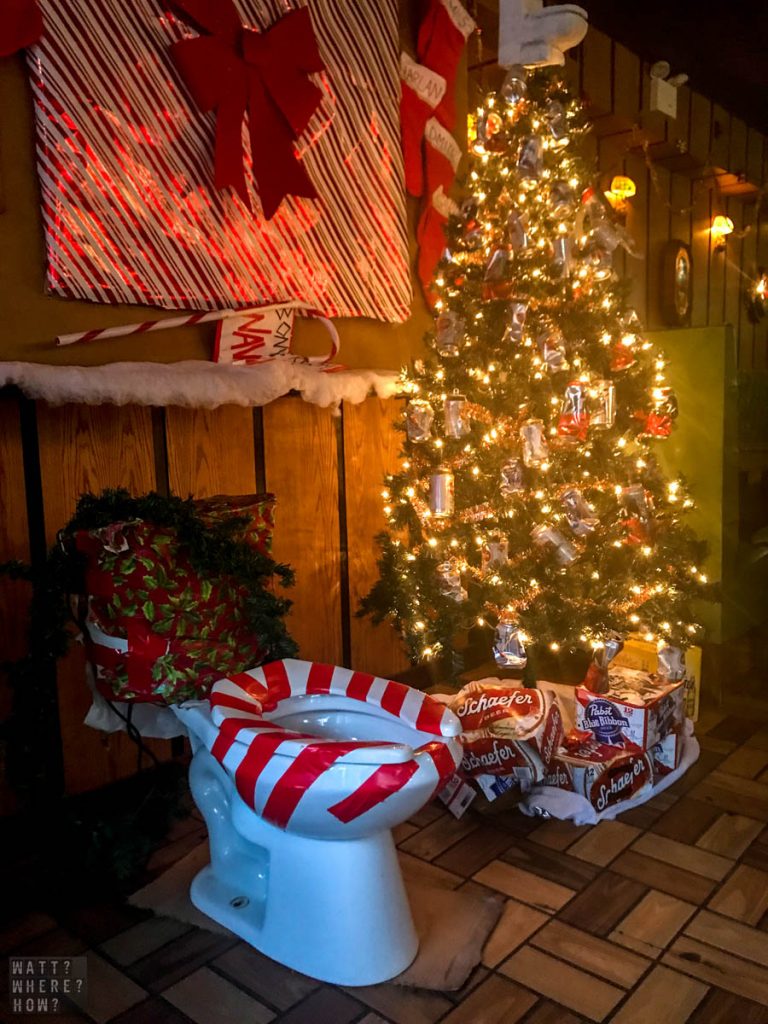 For a grittier vibe head out on the L train to Williamsburg and Bushwick. The bars in Bushwick are edgier and a heap of fun. Check out places like Evil Twin Brewery and the Bonus Room or Booby Trap for an alternate take on Christmas in New York City.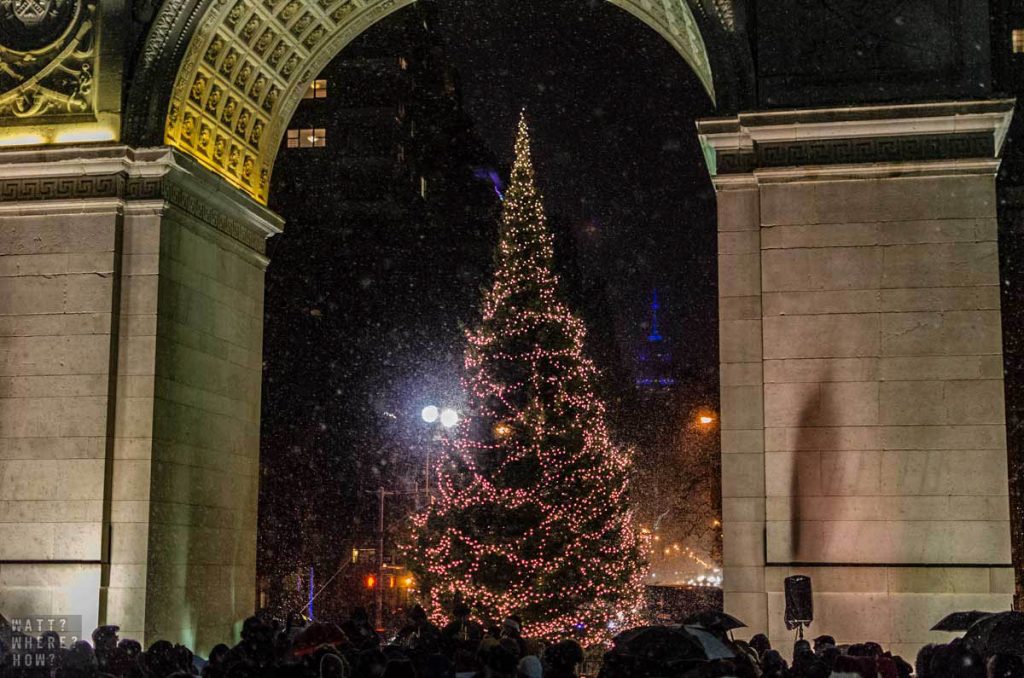 #19. Sing carols in Washington Square Park
Nestled in the middle of NYU and Greenwich Village, Washington Square Park is a worthy stop on a walk through the area, less than ten minutes by foot from Union Square. Not only is there a great bar scene around Macdougall Street and Bleecker, but it also has an impressive tree situated under the arch dedicated to George Washington. Every holidays, the local community hosts a tree lighting and carols under its branches and if it happens to snow, it is a moment you'll never forget.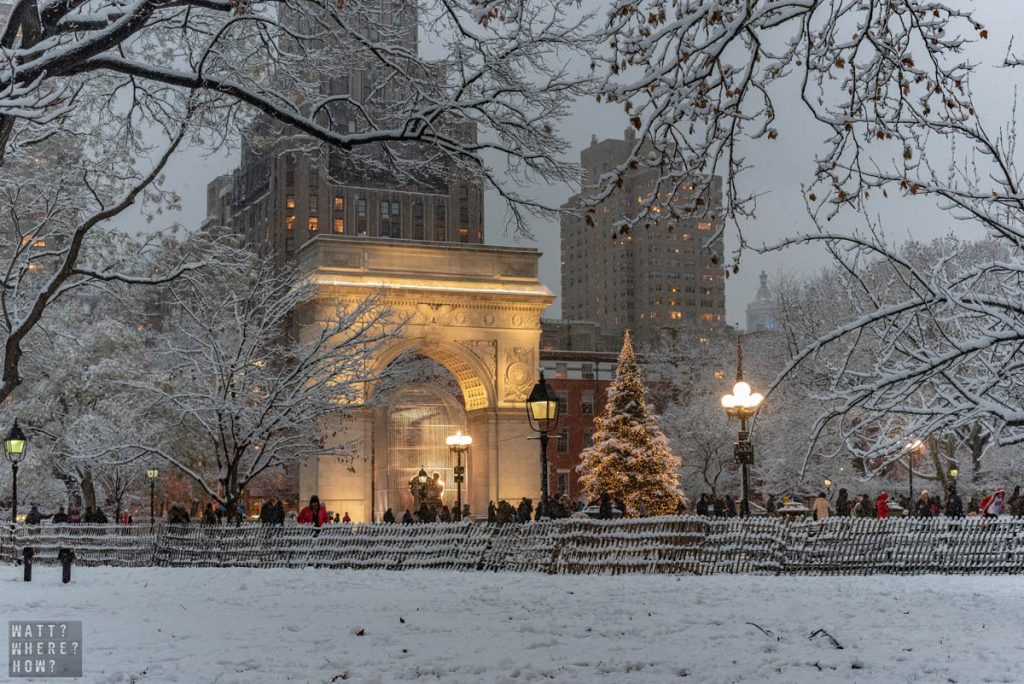 #20. Take selfies in front of giant ornaments
Let's face it, no matter how much you like living in the moment, who doesn't want to pepper their social channels with FOMO-inducing holiday shots when you're spending Christmas in New York City. Just across from Radio City Music Hall are several blocks of ornaments including gigantic baubles, toy trains, and Christmas tree lights.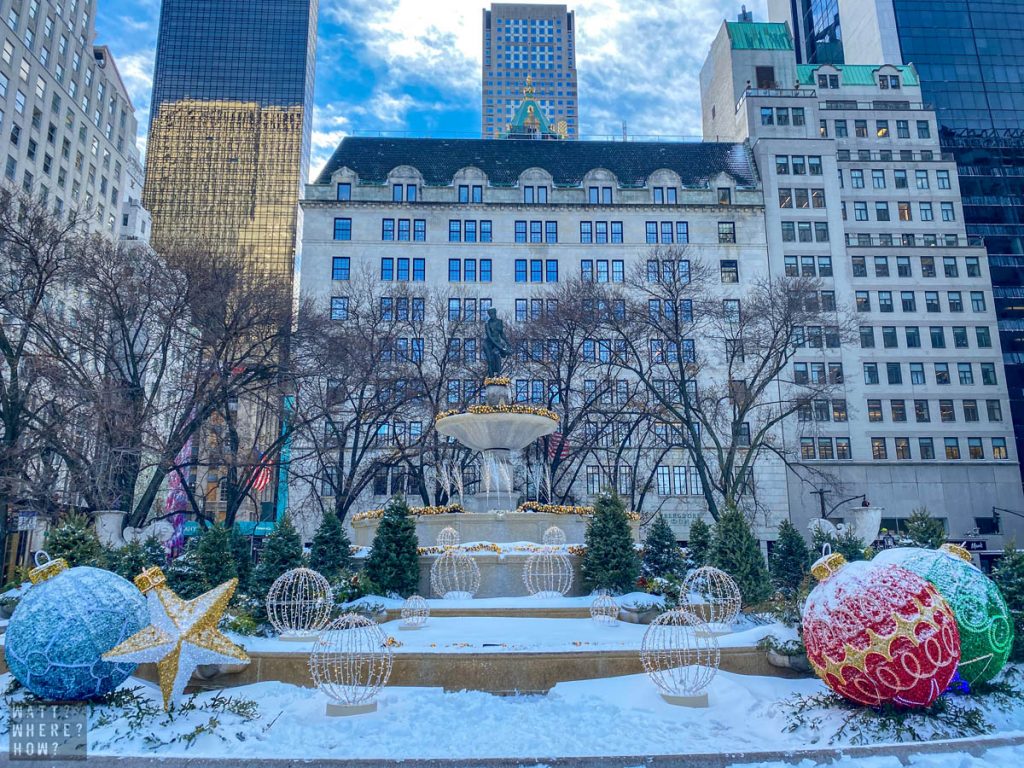 Follow & Connect with us