Pilot NYC and Grand Banks are floating bars in New York City, with the Pilot Bar commanding amazing views of Manhattan's Financial District and Grand Banks, offering a sea change for day and night drinking.
There once was a time when millions of oysters inhabited the muddy banks of New York City's East River and Hudson River. Indigenous tribes, Dutch and British colonists, and eventually Coney Island day trippers sought out these delicacies along with clams and other mollusks.
Today, you wouldn't be seen dead eating these delicacies straight from the New York harbor – but you can enjoy them on it, aboard Pilot NY and Grand Banks.
Imagine sitting back in the mid-afternoon sunshine, looking out at the Manhattan (or Jersey) skyline, and enjoying a freshly made craft cocktail with a plate full of oysters. And did we mention, on the deck of a former ship?
It's a vision brought to life by brothers and sailors Alex and Miles Pincus on their two ships, Grand Banks floating bar and Pilot NYC.
The Grand Banks NYC is situated at Pier 25 on the Hudson and has for many years been one of the places to be seen for happy hour drinks and seafood platters. Set on the historic wooden schooner, Sherman Zwicker, it brings to life the oyster barges that once trawled the city harbor in the 1800s, well before the heavy pollution made the waters highly toxic.
It's a bustling hotspot in the early evenings and for late brunches, with the decks and drinks overflowing.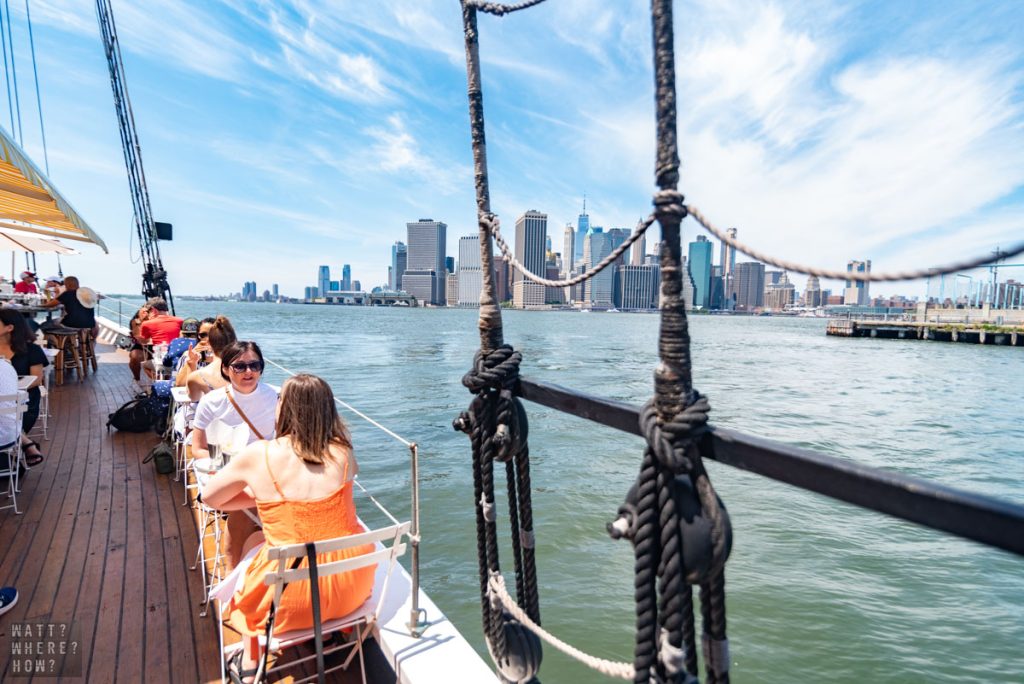 But for those who prefer the view rather than being the view, Pilot is your seasonal escape. Once the mercury hits the 60s, it opens its expansive deck to pleasure seekers who appreciate that you don't have to go anywhere to feel like you've gotten away from it all.
For a chill ship, its almost hundred-year existence has been intense. It's been a contender for the world's fastest sailing boat, a research shop, and, like its namesake suggests, a pilot vessel, helping larger ships to navigate America's seaways and harbors.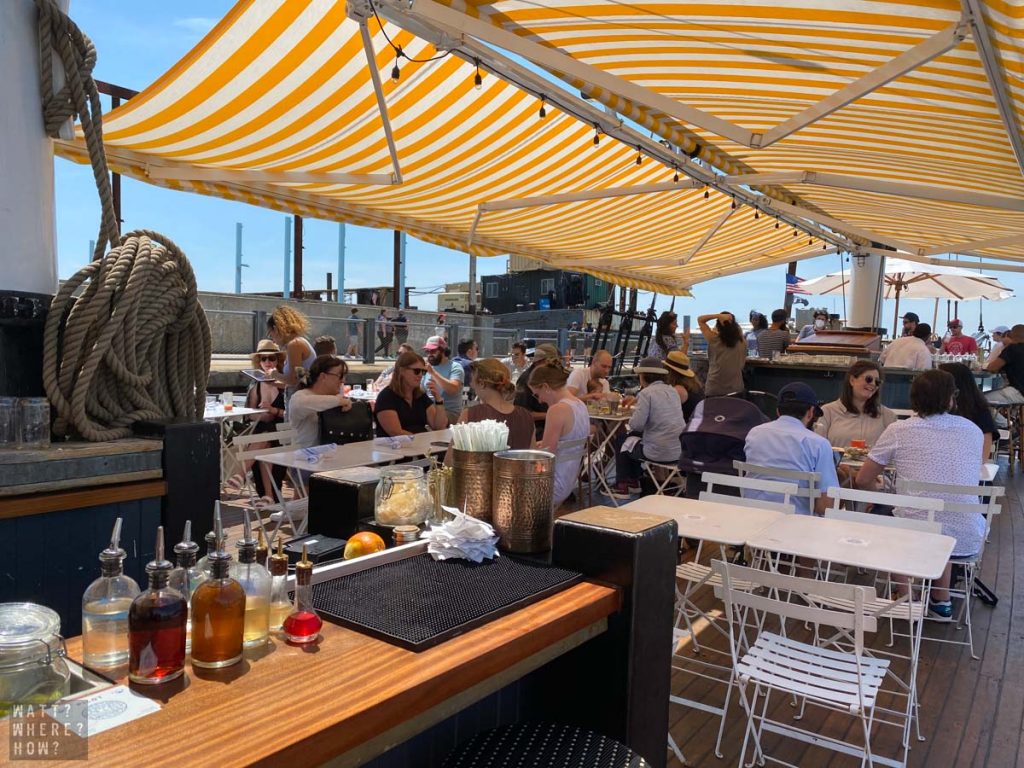 Measuring 147ft from bow to stern, there's communal seating at the bar or neatly arranged outdoor settings with perfect views of Manhattan's Financial District.
Grand Banks and Pilot NYC dining
Each floating restaurant serves fresh, wild-caught, and sustainably harvested seafood from New York to Alaska, with oysters the popular choice.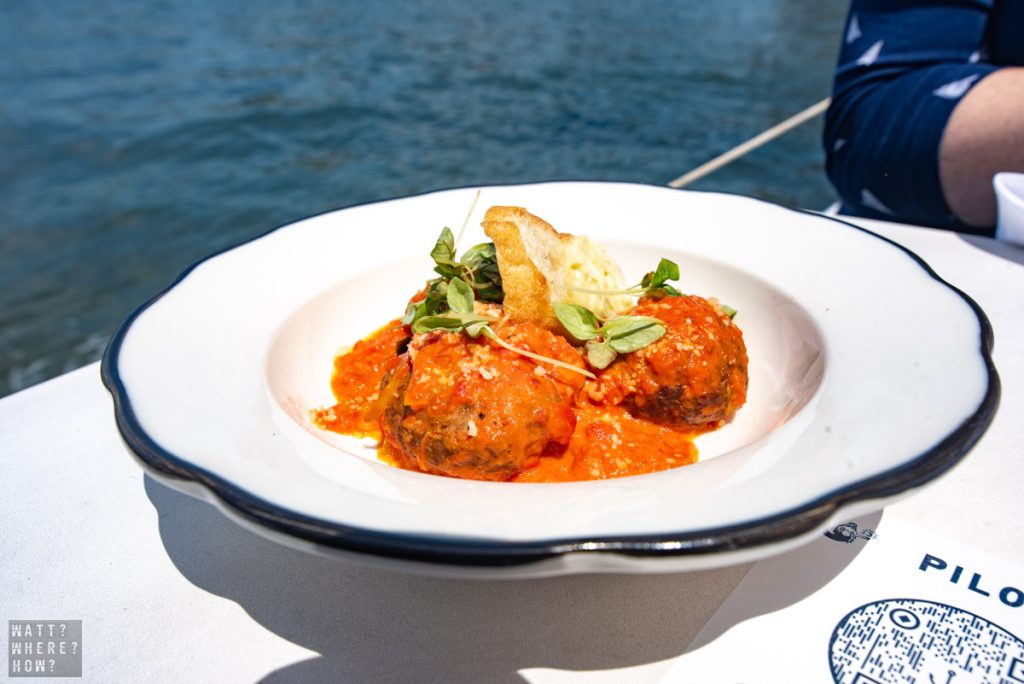 In addition, we tried a range of culinary delights. The polpette is the Pilot NYC take on meatballs, mixing sirloin and brisket in a tomato compote for a zesty yet earthy flavor.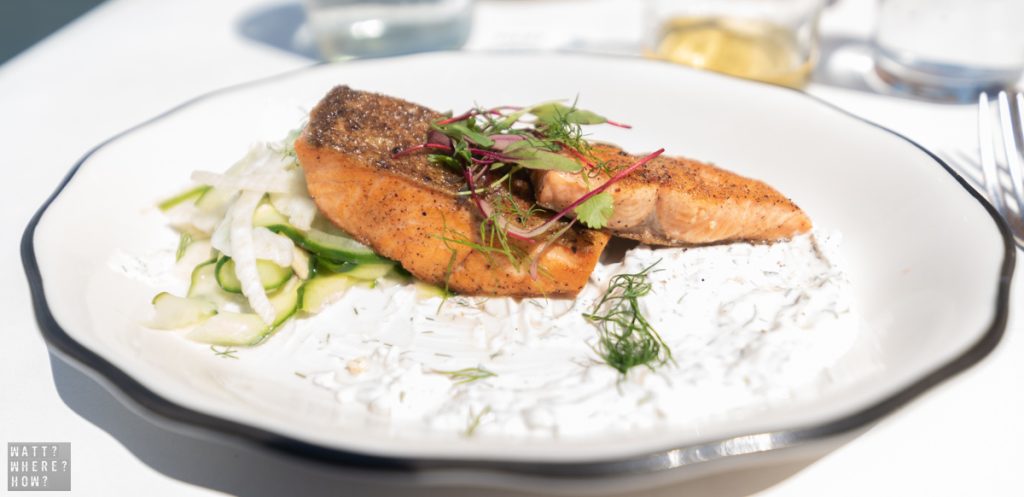 The steelhead trout, sourced from the waterways of the Hudson Valley, is a clean and lush dish with a tangy dill-orange coulis that cuts through the glistening salt crystals on the crunchy fingerling potatoes. The lobster roll was delicious but as for any roll south of Maine, expensive for its size and fullness.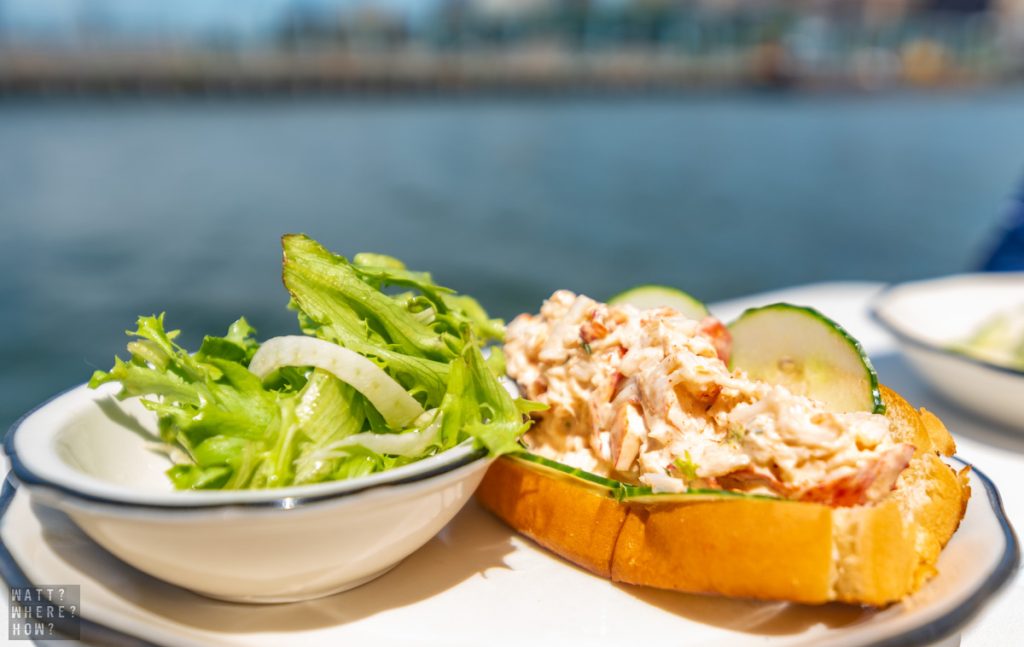 Sure, it's seafood forward, despite the salt content, you won't go thirsty. There are some great regional beers, icy whites, and just enough cocktails to ensure you spend at least 15 minutes trying to decide which one to order first.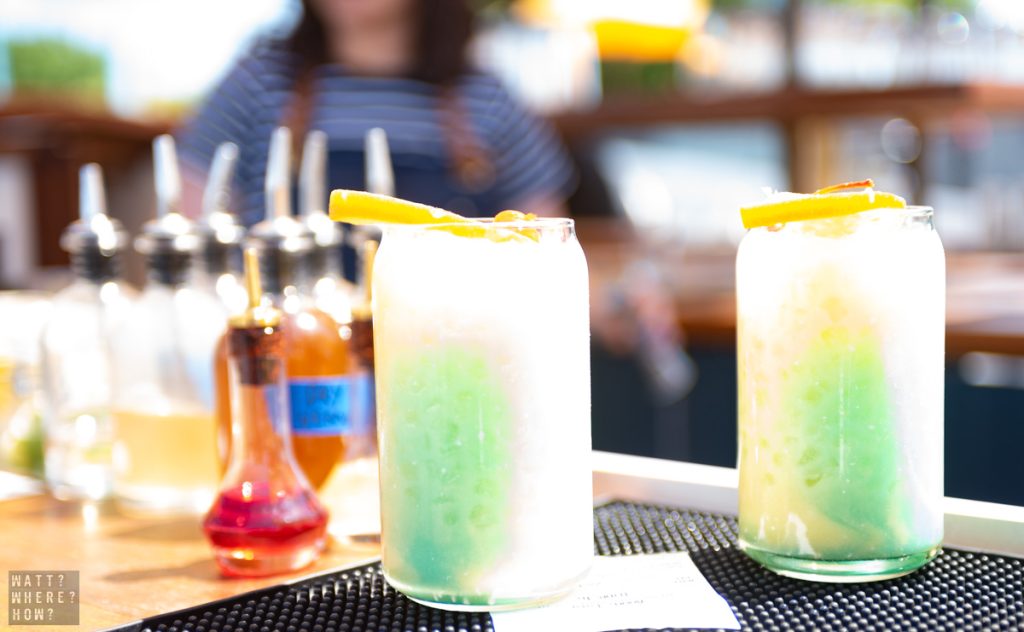 For us, it's the Permanent Vacation, a Caribbean escape full of Jamaican runs, Blue Curaçao, coconut, and pineapple juice. And while we're no closer to the Caribbean, if you close your eyes, listen to the lapping waters of the East River, and take a sip, a trip to Pilot NYC is like a little getaway without leaving New York City.
Looking for more vacation and road trip ideas across the northeast of the United States? We have great ideas across New York State, Vermont, Massachusetts, Rhode Island, New Hampshire, and Maine.
What?
Grand Banks and Pilot NY are converted ships that now serve as popular bars and restaurants with specialty seafood, wines, craft beers, and cocktails.
Where?
Pilot NY floating bar and restaurant is anchored at Pier 6 Brooklyn Bridge Park. Grand Banks is docked at Pier 25 on the Hudson River around Tribeca.
How?
Due to their popularity, it's best to book ahead. You can make reservations for Grand Banks here and Pilot NYC here.
Follow & Connect with us