Bribie Island is a 40-minute drive from Brisbane (on a good day). With a calm and a surf side of the island, it makes it the perfect holiday destination, with something for everyone.
Bribie Island has played a big part in both of our youth. It was the closest beach with waves you could body board on. It was only an hour (back then) to get to from the big smoke and it had budget friendly accommodation for large families. Over the years we have stayed with our respective families in beach flats, apartments and onsite caravans. Heck, there may even have been a tent stay once.
So what's there to entice a visitor who didn't grow up in Brisbane? Miles of unspoiled beaches, tropical sun, natural beauty and it's accessible by public transit systems.
Driving from Brisbane, you take the main highway north before turning off at the Caboolture exit. The road out to Bribie Island takes you through pine swamps, past fields of strawberries and even a rather out-of-place medieval museum, the Abbey Museum, which is also the home of the state's largest medieval festival each June.
Just before the bridge, a new tavern has recently opened. The Sandstone Point Hotel becomes the home to some major weekend events and festivals, but is also a nice place to while away a few hours over a glass of vino. Sandstone Point is now a destination for locals and travelers alike, bringing in great weekly entertainment, good food and a relaxing vibe, set right on the estuary.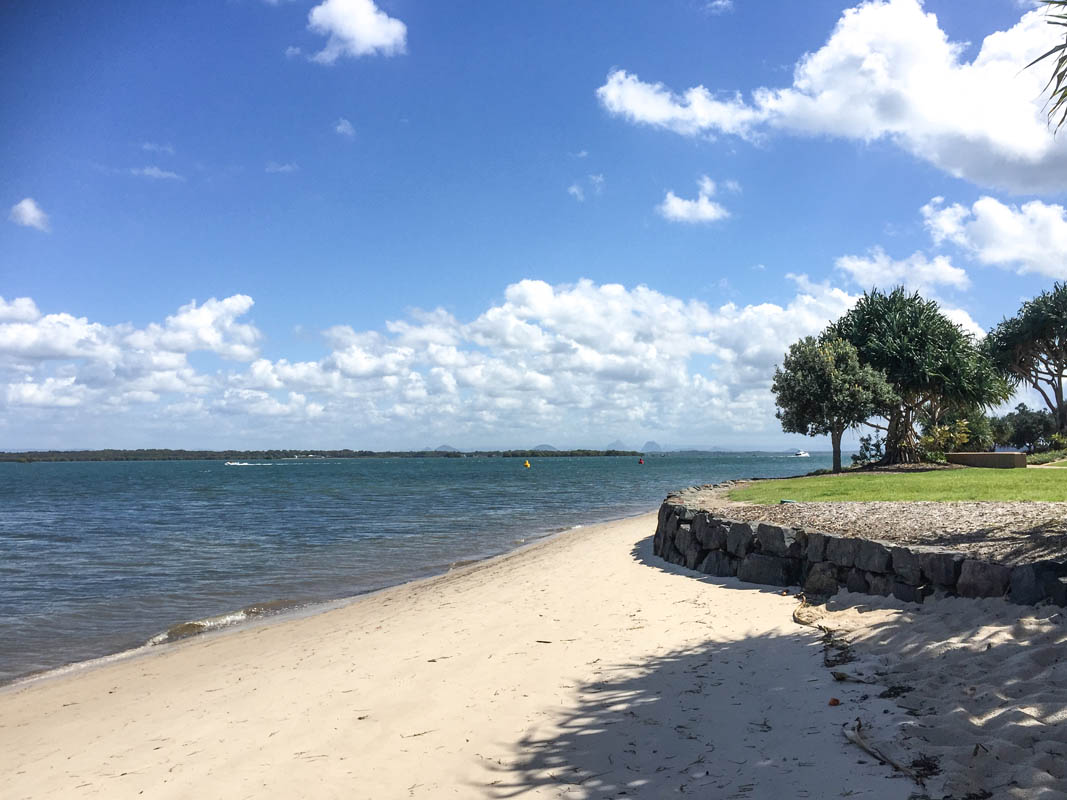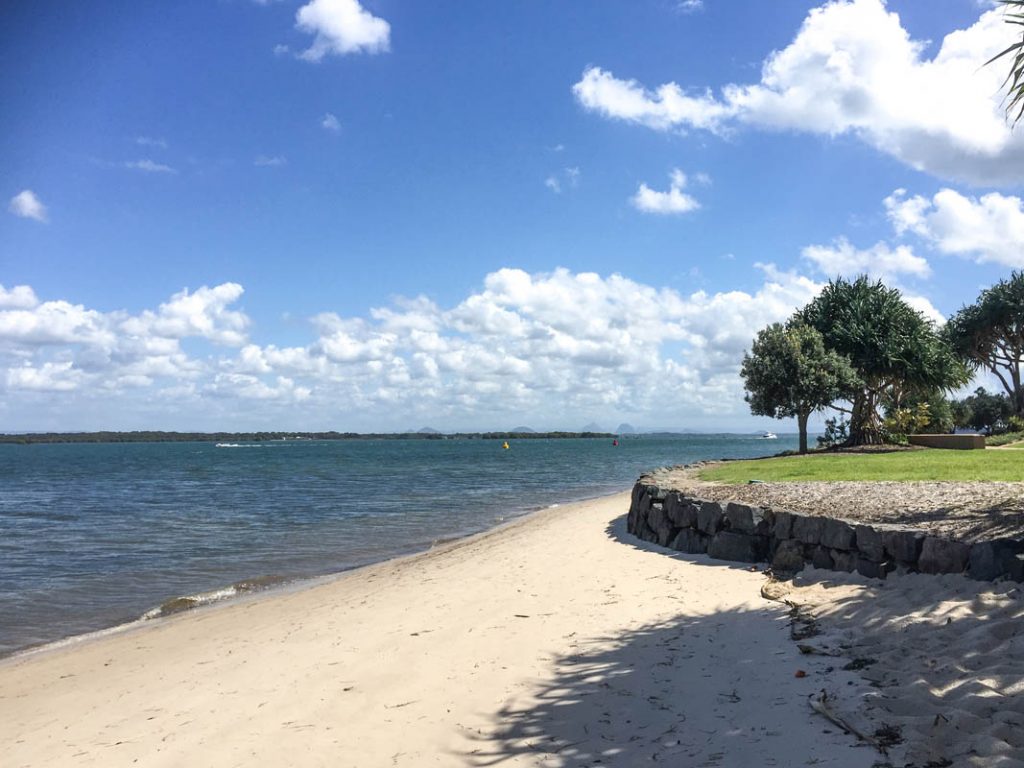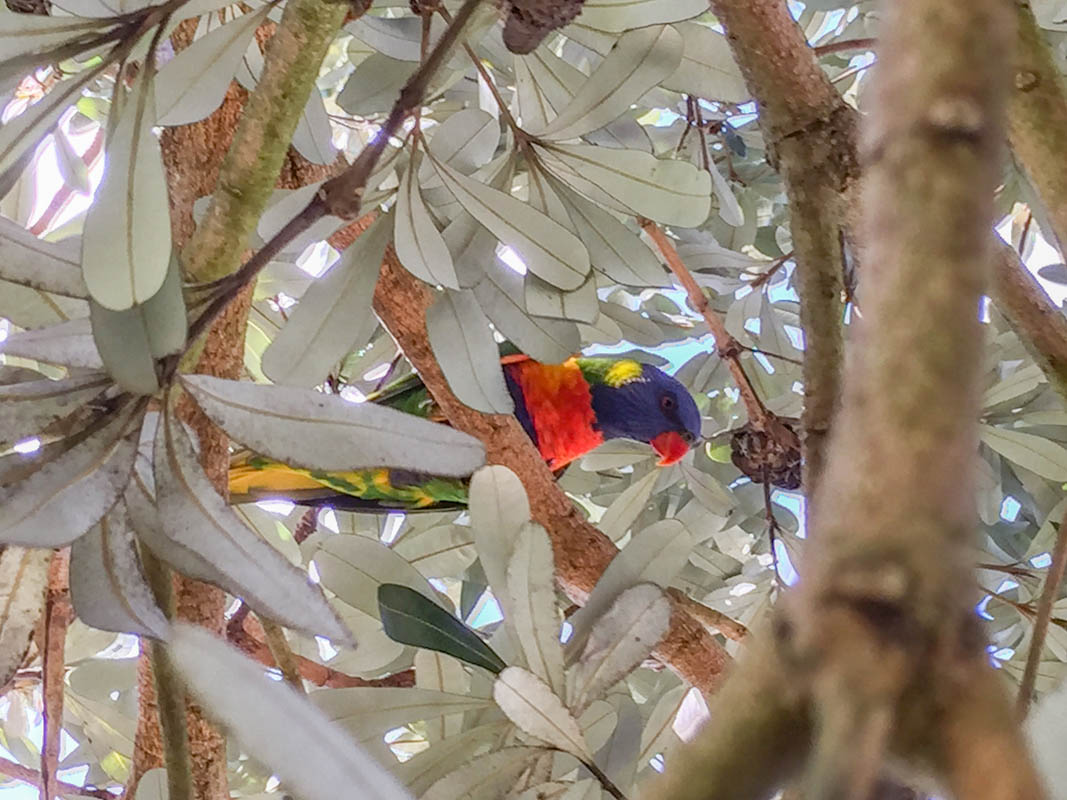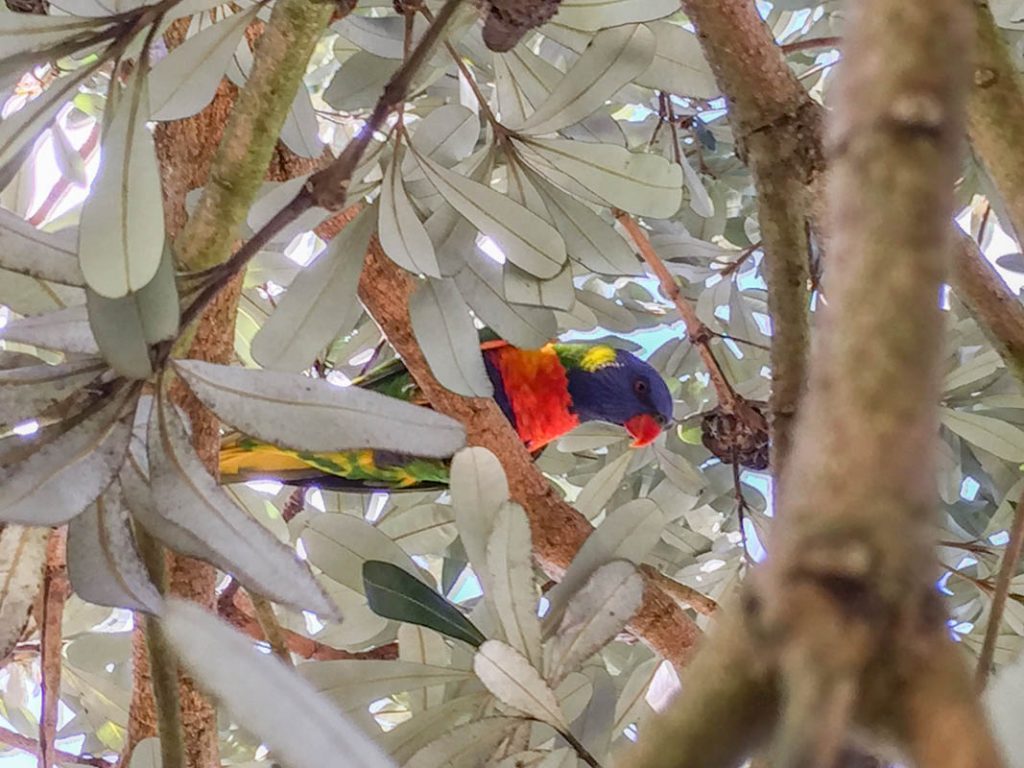 Bellara
At the end of the Bribie Bridge is the most populated part of the island. Here, seventies and eighties era unit blocks and beach houses are the norm. The waterfront has plenty of shade, shelters and picnic tables and some spots offer electric grills.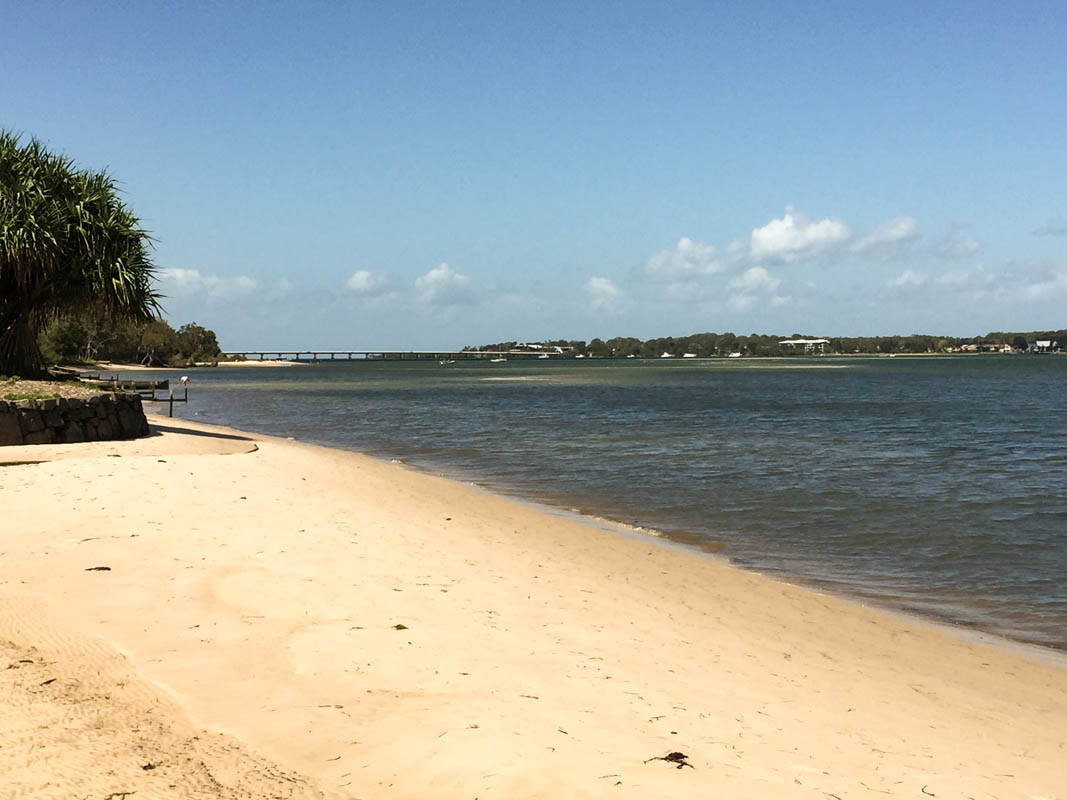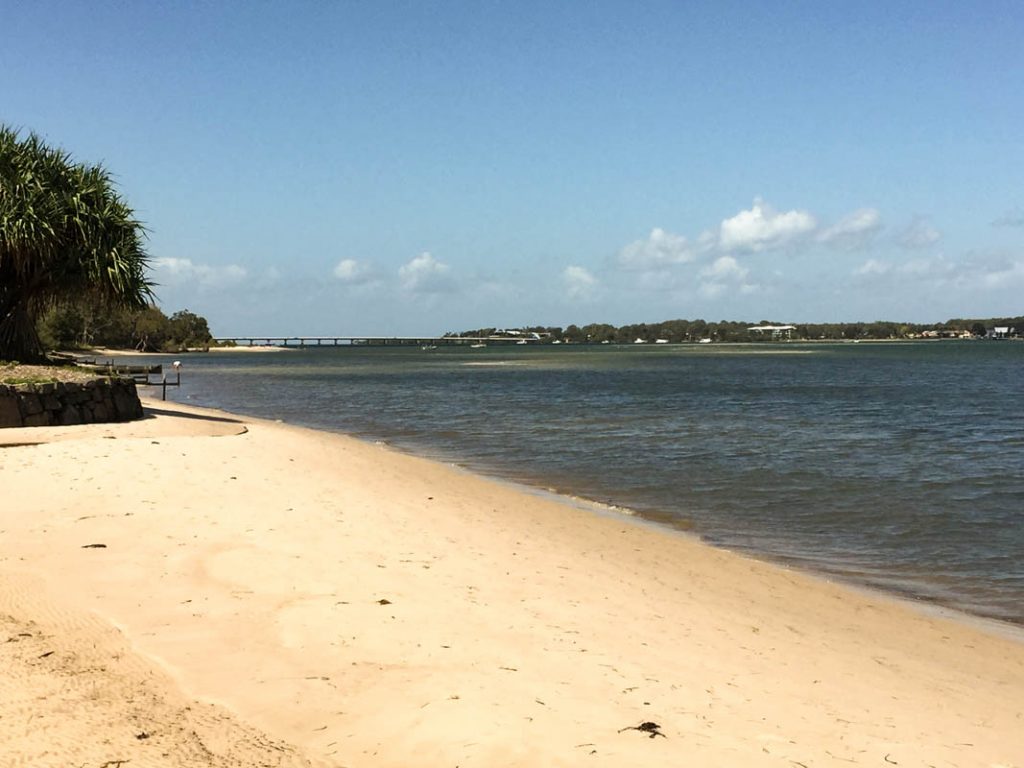 Bongaree
Towards the southern end of Bribie Island you'll find Bongaree, best known for its jetty, which used to serve day tripper steam ships back at the turn of last century. It is still a popular fishing spot for families and the adjacent Scoopy's Family Cafe has been selling ice cream cones and servings of fish and chips for generations. Whether you're a day-tripper or luxury vacationer, everyone stops here for a scoop to reminisce and cool down on the way through. This area also plays host to a weekly market, part flea, some craft, you'll always be able to find something out-of-the-ordinary here.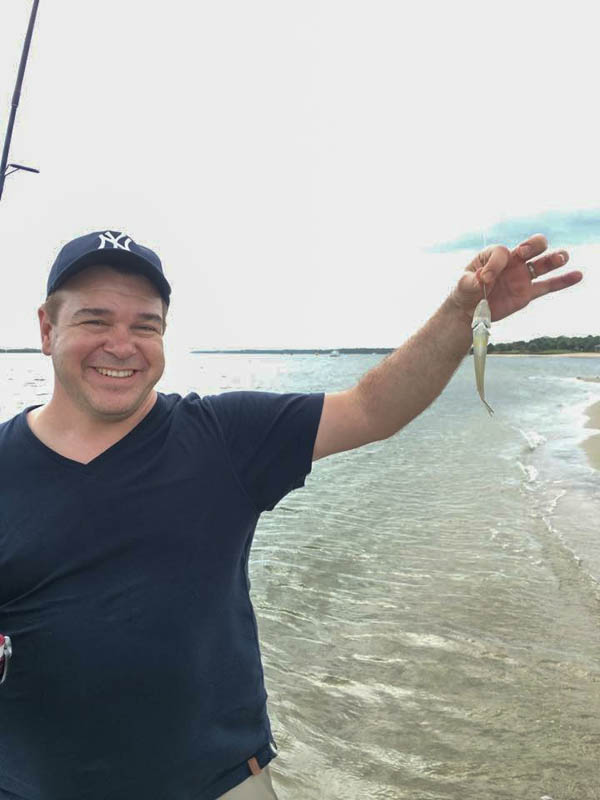 White Patch
White Patch is a little out of the way stretch of the Bribie Passage. It's a popular fishing spot where you can hand pump yabbies (little salt water crayfish) for bait. At low tide, you can walk right out, across banks of sea grass. At high tide, fish for bream, whiting and Flathead. We have had amazing moments there when giant dugongs have floated past, gently grazing on the submerged grasses.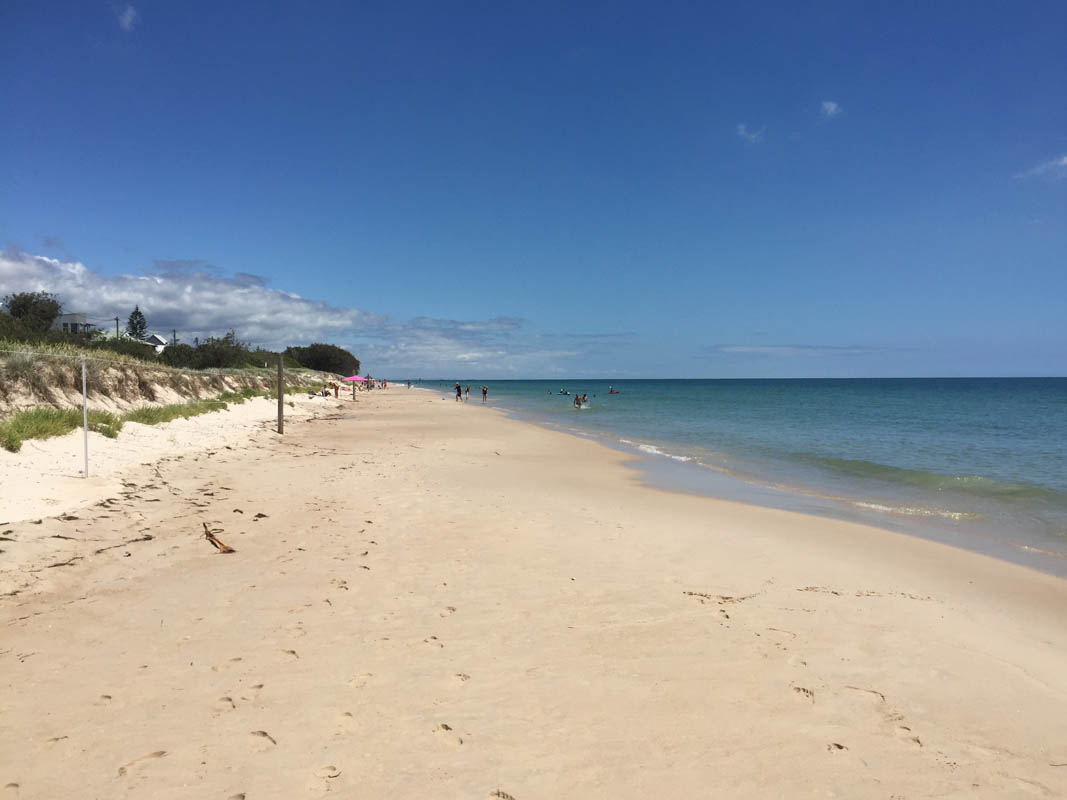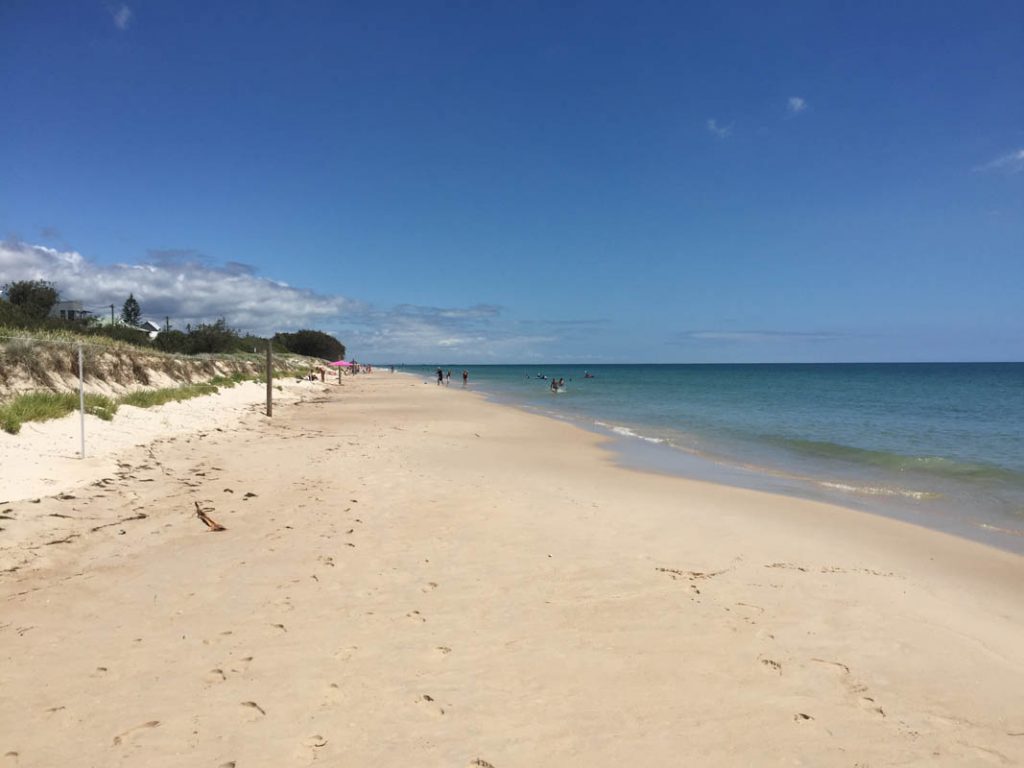 Woorim (The Surf Side)
On the surf side of the island, you'll find Woorim, a beachside community that has grown from a collection of ramshackle asbestos beach huts to multi-story beach houses and high-rise apartments. Here the buildings are almost part of the dune system, giving easy access to the white surf beaches. Protected from the Pacific by the tip of Moreton Island, the surf is minimal, making it popular with young families and locals. It's only during the January king tides when the surfers bother, but it's still a great place to cool off.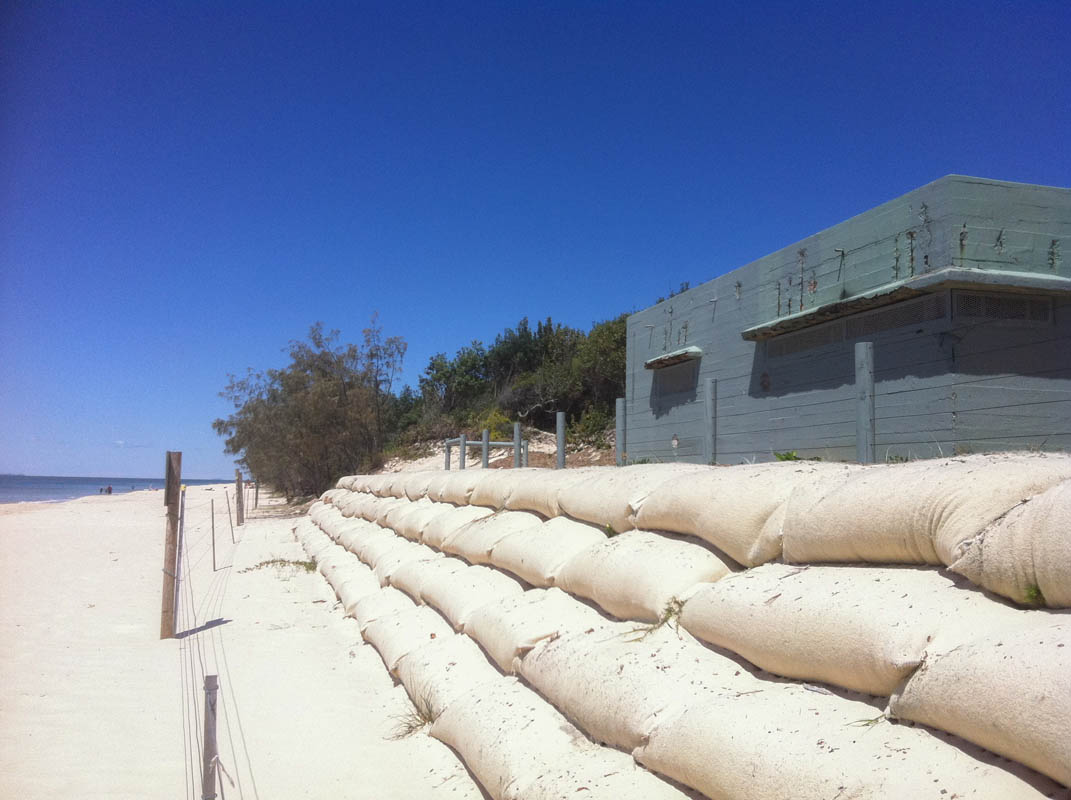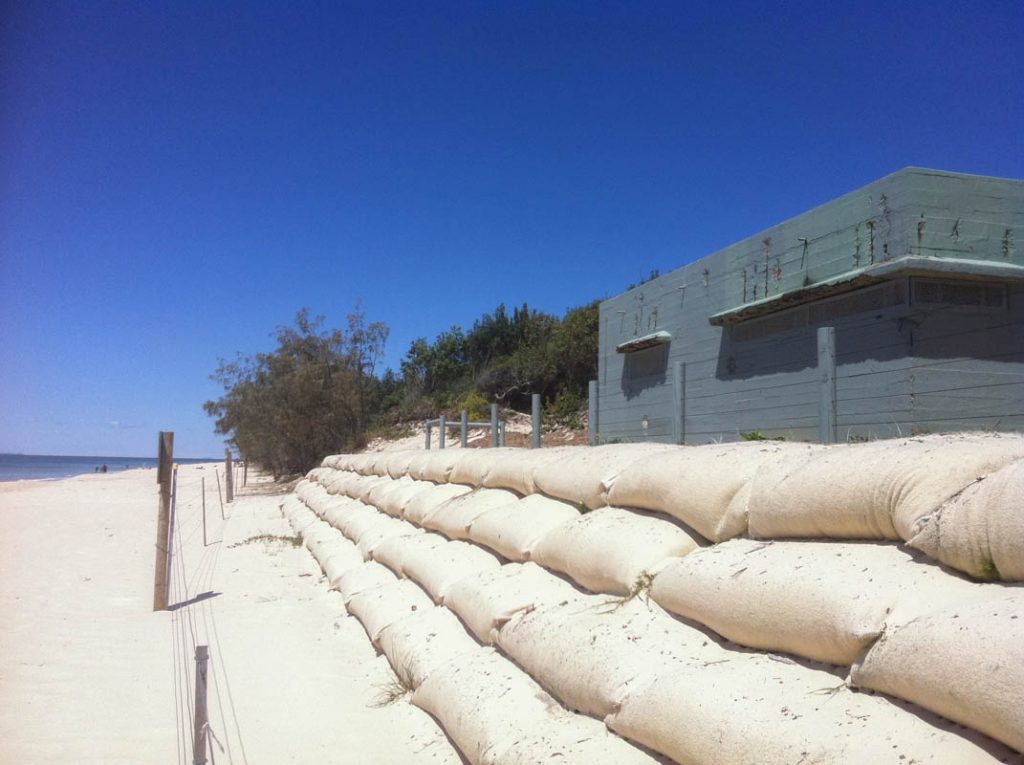 Fishermen line the beaches at dawn and dusk, catching whiting, bream, dart and flathead on prawns, worms and squid. In the winter months, tailor run along the beach, feeding in the gutters and beyond. At these moments, fishing gets super fun as this breed puts up a mighty fight as they battle surf rods and ganged hooks to feed on the pilchard bait. Head up to Skirmish Point for the best spot for tailor. The dunes here were used for the Hanks/Spielberg production, the Pacific too. North of Woorim, overlooking the beaches are two old concrete pillboxes and gun emplacements added between 1940 and 1942 to defend the northern entrance into Moreton Bay.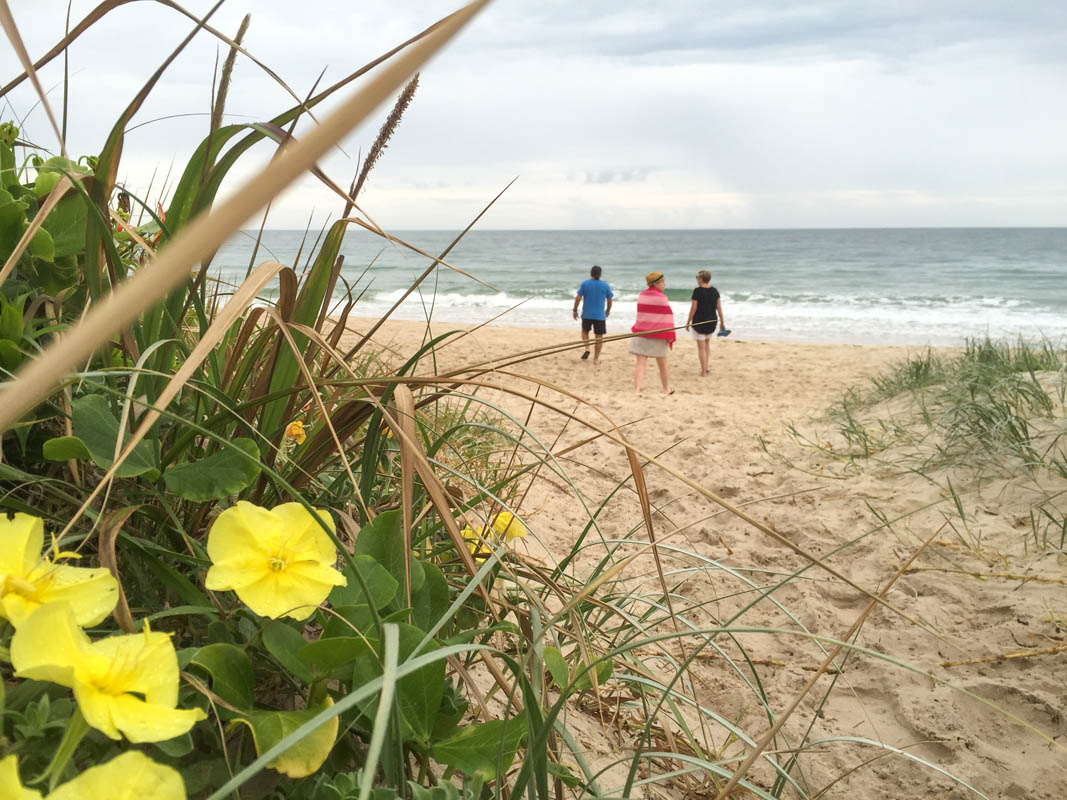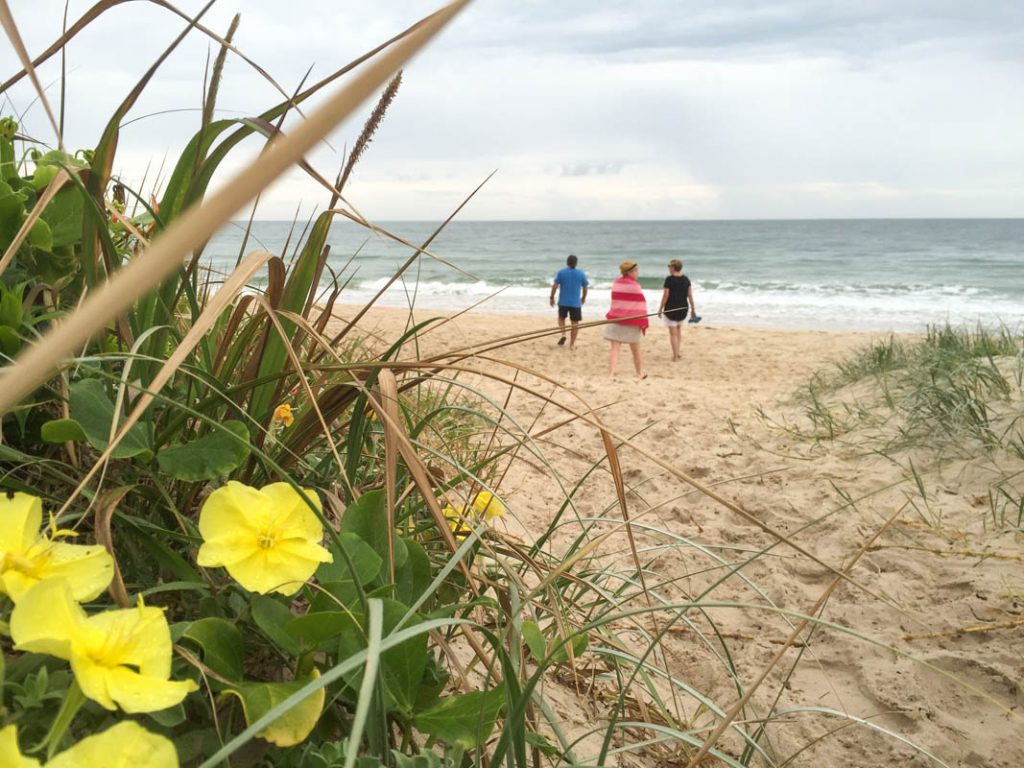 Dining: Bribie Island Surf Lifesaving Club
A popular place to eat affordable seafood and steaks, surf lifesaving clubs are a mainstay in most beach communities. They have evolved from being the place the lifesavers stored their emergency equipment and offroad vehicles to be a business that raises funds for the life saving activities through the sale of food, alcohol and gaming. It means that you're almost always guaranteed to be able to find a good meal, a cold beer and the chance to blow your money on the slots or horses. You do need to be a member, or be with a member to get in, so perhaps make some local friends during your stay!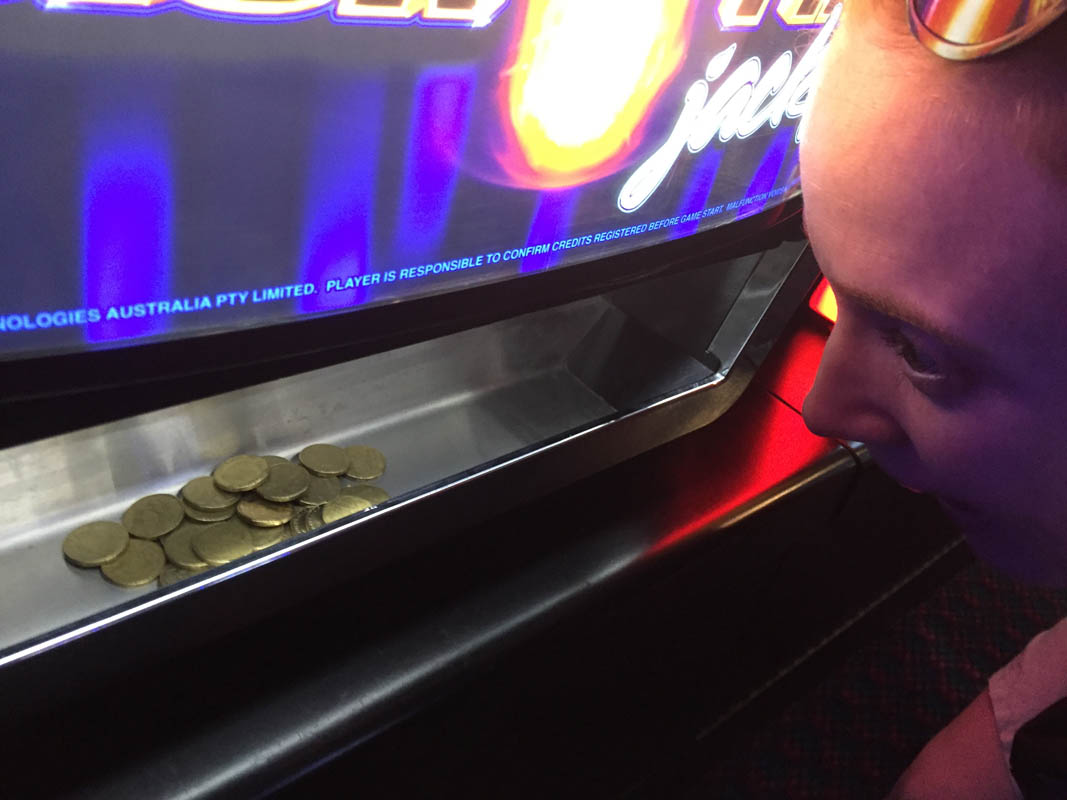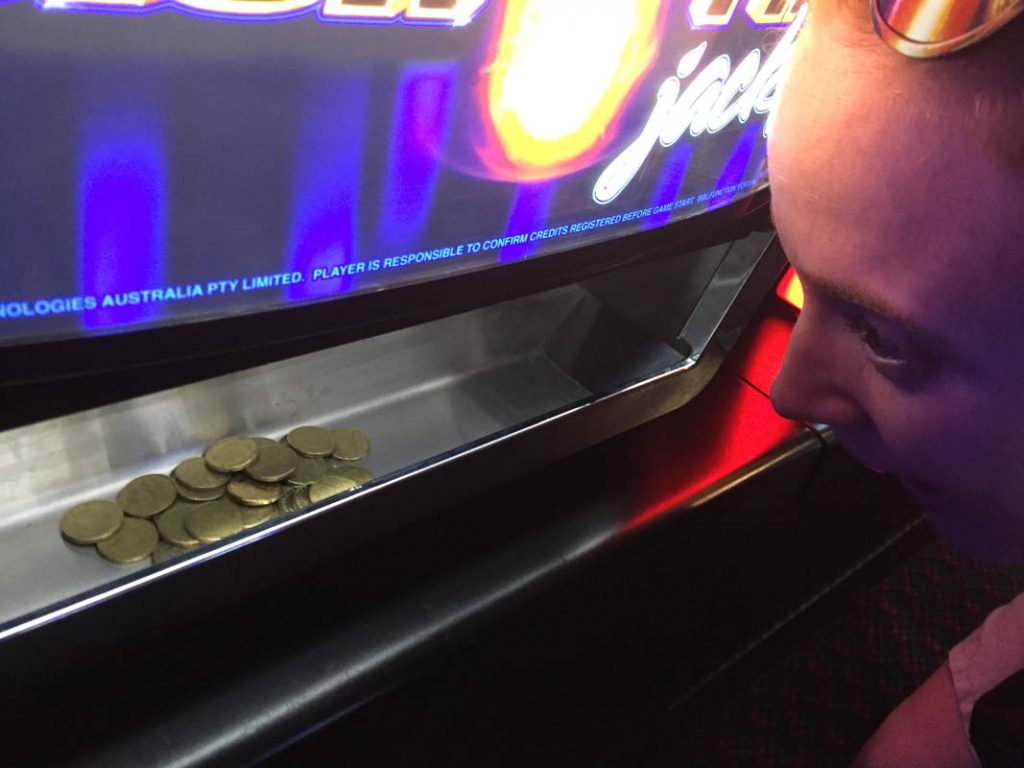 Dining: the Blue Pacific Hotel
A hop, skip and a jump from the Surf Lifesaving Club and you will arrive at the Blue Pacific Hotel. A run-of-the-mill pub owned by AGH, the menu is far from exciting, but it's the local clientele that make for an enjoyable evening here. And outdoor terrace for the smokers, indoor live music, restaurant, kids play center, sports bar and pokie lounge means you will never find a quiet spot to sit and mope, so join in the fun and strike up a conversation with those at the next table. The locals here are not shy and love to talk about the history of the island and things to do.
You can 't go to the beach without stopping for an ice cream at the local milk bar/fish n' chips shop
Finally, it wouldn't be an island without beaches. Take an early morning walk at low tide and the beachfront is almost isolated. Perfect for a bit of yoga, or just a little bit of silence and reflection.
---
WHAT?
Bribie Island is a sandy island separated from the mainland by the Pumicestone Passage.
WHERE?
Approximately an hour north of Brisbane.
HOW?
Turn off the Bruce Highway at Caboolture and follow the signs to Bribie Island or take a Citytrain to Caboolture station and swap to a bus.
Bernie and Jess Watt are Australian travel bloggers living in New York City. Explore more destinations with us.
Follow & Connect with us