Australian COVID rules change on a dime. This post isn't the full laws, more a warts-and-all experience of the journey and what you need to prepare to make it as painless as possible.
Since April 2020, Australia has enjoyed a relatively Covid-free tag, mainly due to its stringent quarantine laws. Now, as states make up lost time following a very bumbled vaccine rollout, there's the light at the end of the tunnel for ex-pats wanting to make it home – and tourists daring to dream about 2022.
For foreigners looking to come to Australia in 2022, it may not be until after mid-year when you can enter without a student or highly skilled migrant visa – not that they can yet either. But if you're a citizen or permanent resident, good news. If you're fully vaccinated, you can now make it in and out without the exemptions and excessive quarantine periods, depending on your state. If you're not vaccinated, or if you have one of the less accepted vaccines, you may still have to undergo government-mandated hotel quarantine.
The Bad Old Days
Up until November 2021, citizens and permanent residents had to jump through hoops to be let in, with the country showcasing its xenophobic side. Comments sections on Murdoch news sites were depressing reading. Expats were seen as privileged fools who had months to come home, and the flights should have been stopped a year ago.
At the hint of a minor outbreak in Australia, flight caps were cut and to get back, leaving families without ways home and useless flight credits. Airlines, being big businesses and low on empathy, would bump economy passengers for those prepared to pay business or first-class fares, sending tickets skyrocketing to at their worst, around $15,000 per person.
Armed Guards
Then on arrival, these citizens and permanent residents were marched from customs to buses by police or military, driven to a select few hotels (no choice was offered either), had their bags searched, and would be locked in with mediocre catered meals replacing the hotel's normally delicious room service options for 14 days. No exit, no pool access, no fresh air. And they were expected to pay over $3,000 for the experience.
72 hours to go
Now that New South Wales and Victoria are open with a newly instated 72 self-isolation period, flights are more frequent and no longer capped. Queensland is set to soon follow suit, but the political parties have turned an audacious zero Covid target into hell for what was previously a United country and there's always a threat that states will overreact and reinstate full hotel quarantine as the norm. That's why it's good to have not just a plan a, but a plan b, c, and a screw it, let's not go just yet.
So, who can go and who can't just now?
The requirements are still very strict but subject to change at any point. You can enter as a citizen, a permanent resident, and if Aussie TV tells us anything, a quality sporting star, or a trashy reality tv personality. There are exceptions. If you have immediate family, you may be eligible, though lawful partnerships/defacto relationships require complex applications, and a declaration before any visa is granted. There's a great community on Facebook for answers on the application process.
Accepted Vaccines
2 full doses at least 14 days apart of

Comirnaty (Pfizer)
Vaxzevria (AstraZeneca)
Covishield (AstraZeneca)
Spikevax (Moderna)
Takeda (Moderna)
Coronavac (Sinovac)
BBIBP-CorV (Sinopharm) (for 18-60 years old)
Covaxin (Bharat Biotech)

or
one dose of Janssen-Cilag (Johnson & Johnson)
Medical exemptions
If you can't be vaccinated for medical reasons, you'll be treated the same as a vaccinated person for the purposes of travel, but you'll have to provide evidence that your condition makes you unable to get the vax.
If you're in Australia, your exemption must be added to the Australian Immunisation Register (AIR) by a qualified medical professional. You can then generate an ICVC showing your exemption.
If you're overseas, you must provide a medical certificate clearly stating your medical exemption. The medical certificate must meet certain criteria.
If you've received a non-TGA-approved or recognised vaccine, you can't be certified in this category and won't be treated as vaccinated for the purposes of travel. THIS MEANS HOTEL QUARANTINE – EEK!
More information:
What you need to know before you go
Before you go
Fill in your travel declaration
You need to fill this in at the very latest, three days before departure. The declaration asks for your vaccination record, any prior cases, and to upload your proof of vaccination. If your child is under 12, they are for travel purposes, considered vaccinated.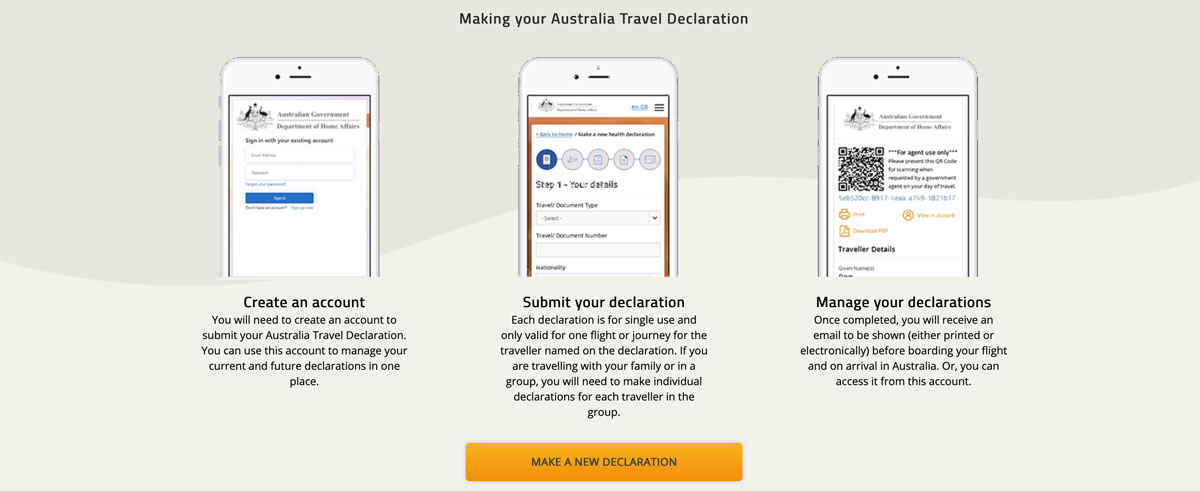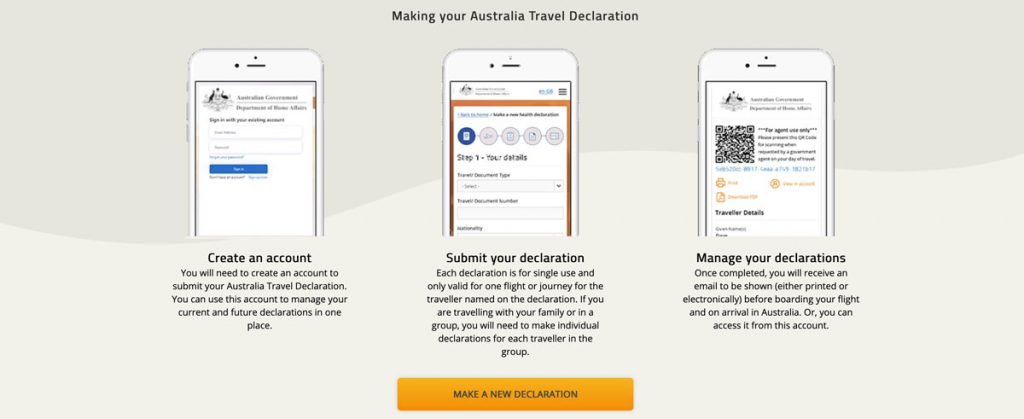 Get a PCR test 72 hours from when you depart
This is your golden ticket. Without a negative PCR test, you won't be allowed to fly to Australia. You will need to ensure your results show your full name as it appears on your passport, date of birth, passport number,
Upload your travel documents
Once you have a valid PCR test result, your airline will require you to upload this along with your vaccine records through their app. For United, they have built-in camera functionality so you can snap a photo of your passport, your PCR results, and proof of vaccine.
Reactivate your Medicare card
Even if you're no longer a permanent resident, having access to your Medicare details will allow you to register your details with the Australian Immunisation Register. This can be done through the mygov website. If you aren't eligible for Medicare, you will need an IHI (Individual Healthcare Identifier) number.
Contact your GP
The next challenge is getting your international vaccine records uploaded to the Australian Immunisation Register. That can be hard to manage from abroad. If you can't sort this before you leave, it will need to be one of the first things you do when you land. We found Bondi Doctors to be excellent at doing this for a $35 fee per person. Once your details are uploaded, you'll be able to set up the other digital tools that will enable you to check-in when you land.
Download the Medicare app
Once you have your records online, you will be able to access them through the app. You can't do much before you land, but having it preloaded will save you time and stress on the ground.
Download the Service NSW app
This app is your key to getting into any venue in New South Wales. Depending on your port of entry, download the appropriate app, but as we have to do the 72 hours hotel isolation in Sydney, it's what we'll need first. DO NOT OPEN THE APP abroad.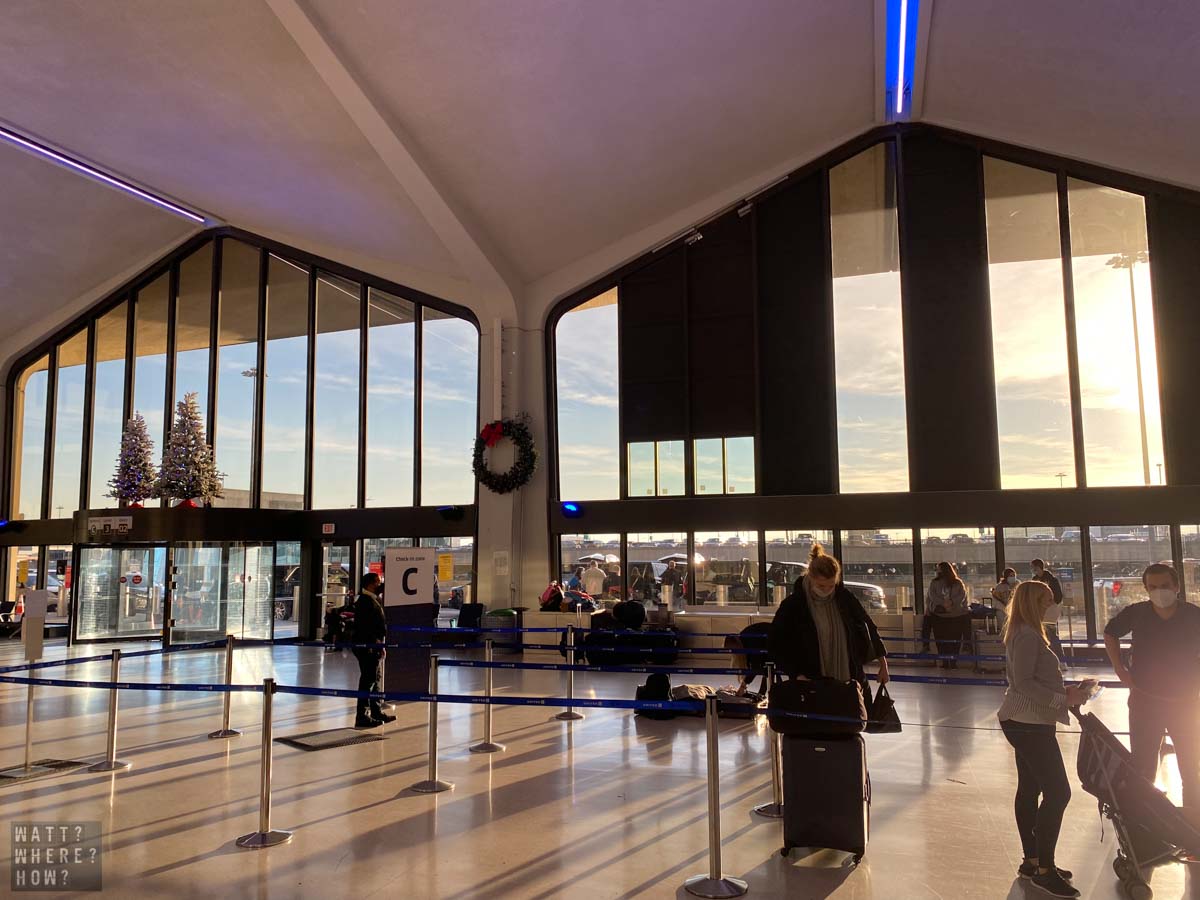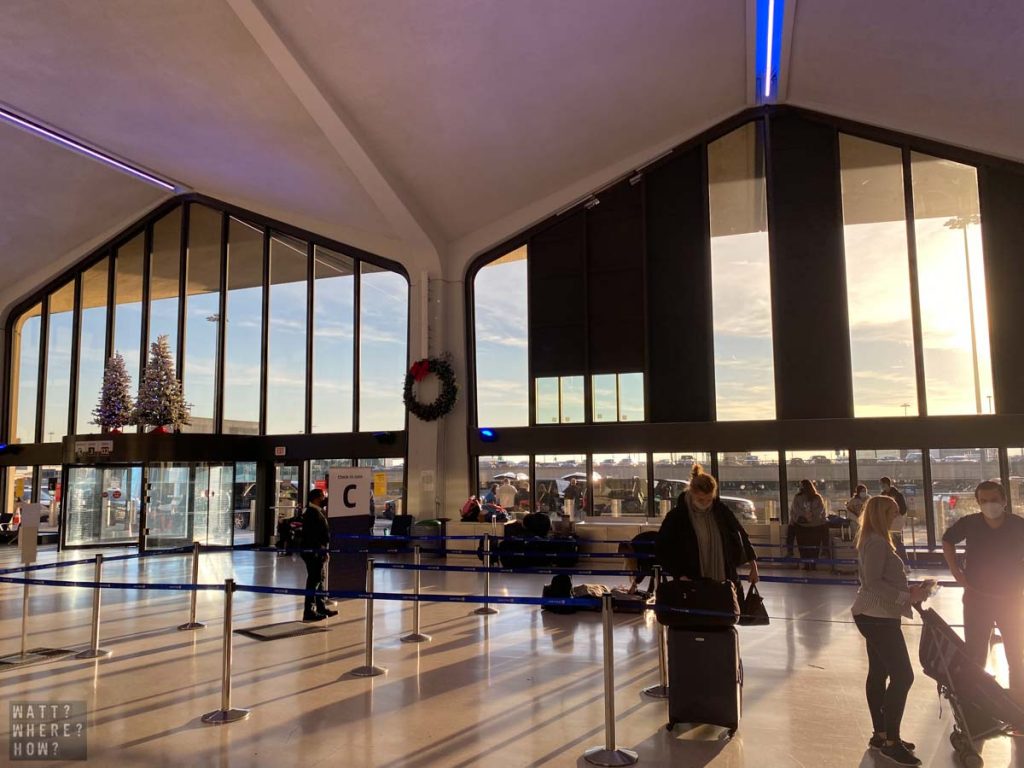 At the airport
If you've done your homework (the above list), the airport experience will be relatively stress-free. At check-in, the staff officially have to sight all documents, so don't bother attempting a self-check and bag drop. On top of sighting the documents, they must call a number to confirm that you're good to travel.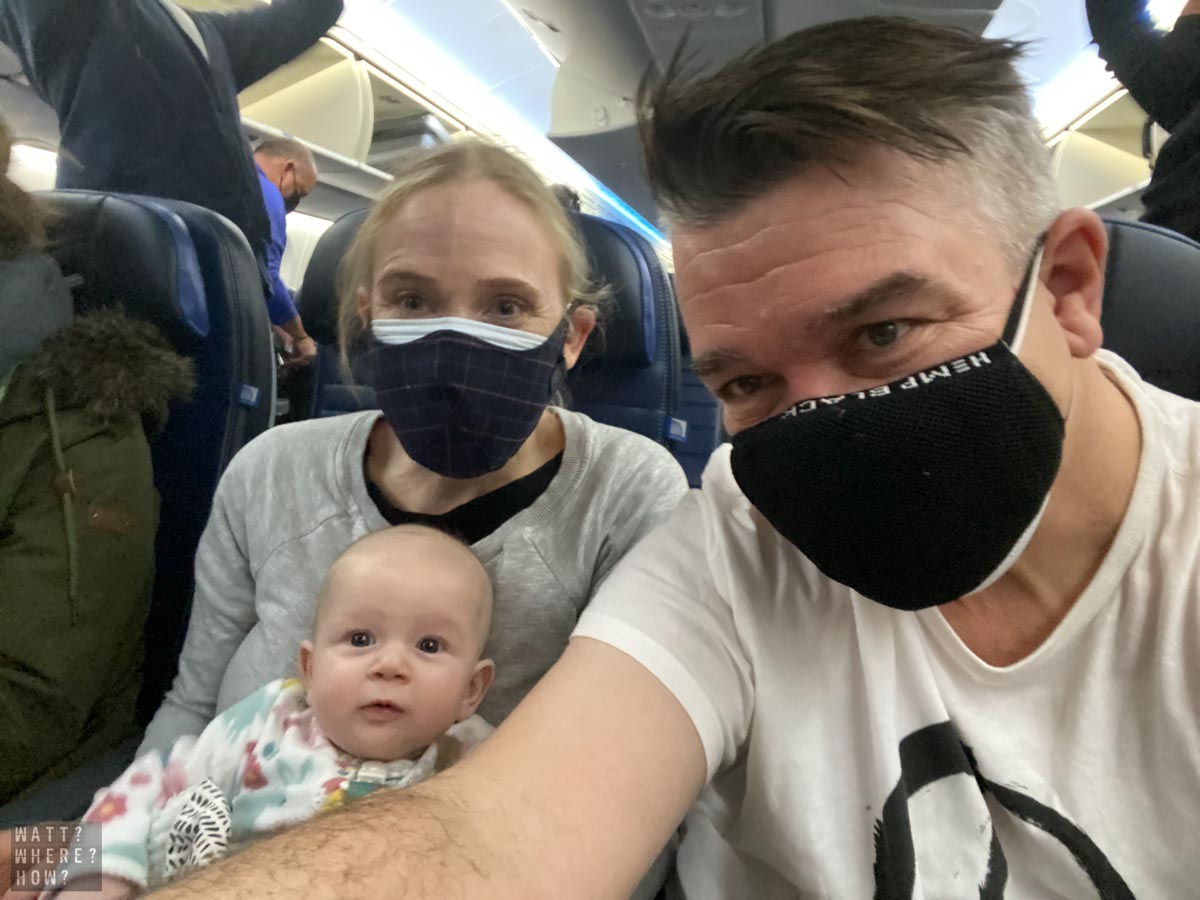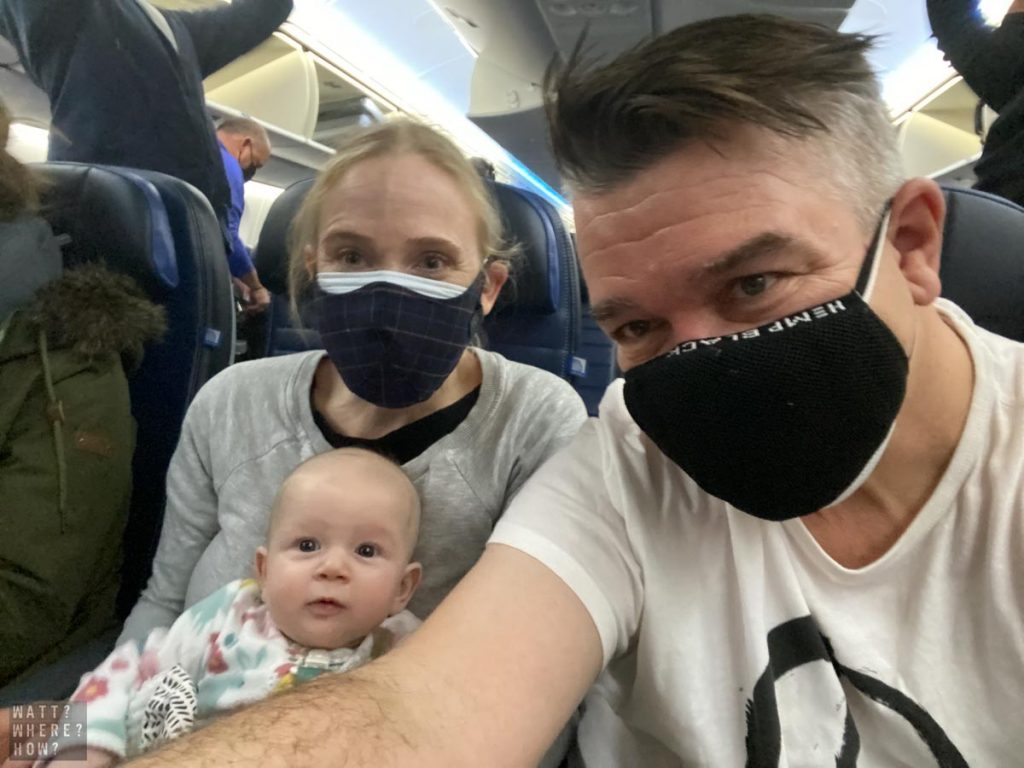 On the plane
The first leg is the one we dread the most, an almost fully sold-out flight from Newark to San Francisco. Covid is back in the headlines. Did it ever leave? There's a new strain on the block, the on-nom-nom-nicron which has beaten Delta out of the headlines for the last ten days. At least flying United we are impervious to Delta, right?
Americans have not been great with their understanding of science or basic mask operation. Plus, an internal flight doesn't have the same level of stringent checklists that are demanded on the international leg. I guess we can count our blessings that the new strain has only been recognized in a few states so far, but that doesn't stop us from feeling paranoid.
One row back and to the left is a man wearing his mask but constantly coughing. He's answered by a cough further back, like a mating call. It sends shivers down the spine and the blood boiling. Surely, he can't have been that much of an asshole to fly with flu-like symptoms? It's hard not to be fearful of a sniffle but this constant coughing is concerning, what with traveling with a baby and the risks that if we catch something we could end up in a hospital quarantine in Australia- hence the paranoia.
These days, the foodservice experience on United flights has dwindled to the level of a budget carrier like Jet Blue, Spirit, or the UK compatriot, Ryan Air. It's user pays for anything but a soda, coffee, and a biscotti, even though this is one of the longest transcontinental flights.
Kiss your food options goodbye
When we called ahead to ask about dietary restrictions, we were told there are no options – you want dairy-free, soy-free, vegan, or gluten-free, bring it yourself. For the flight between NYC and San Francisco, snack boxes were available, along with free sodas and juices. Alcohol was available for purchase with contactless payments you need to set up through the app prior to boarding.
On the long-haul international flights, there were two options for each meal. Pasta or chicken for dinner (with a dangerously high level of sodium), and a croissant or a tapas box for breakfast.
That being said, the staff are lovely. Entertainment is solid with full series of cable shows rather than those annoying single- or three-episode teasers that draw you in then leave you feeling ultimately ripped off. Movies, on the other, are great if you're taking the time as a captive in a steel tube 37,000 feet in the air. First release movies are few and far between, a testament to the shift of mainly streaming channel releases. Maybe that will improve in 2023.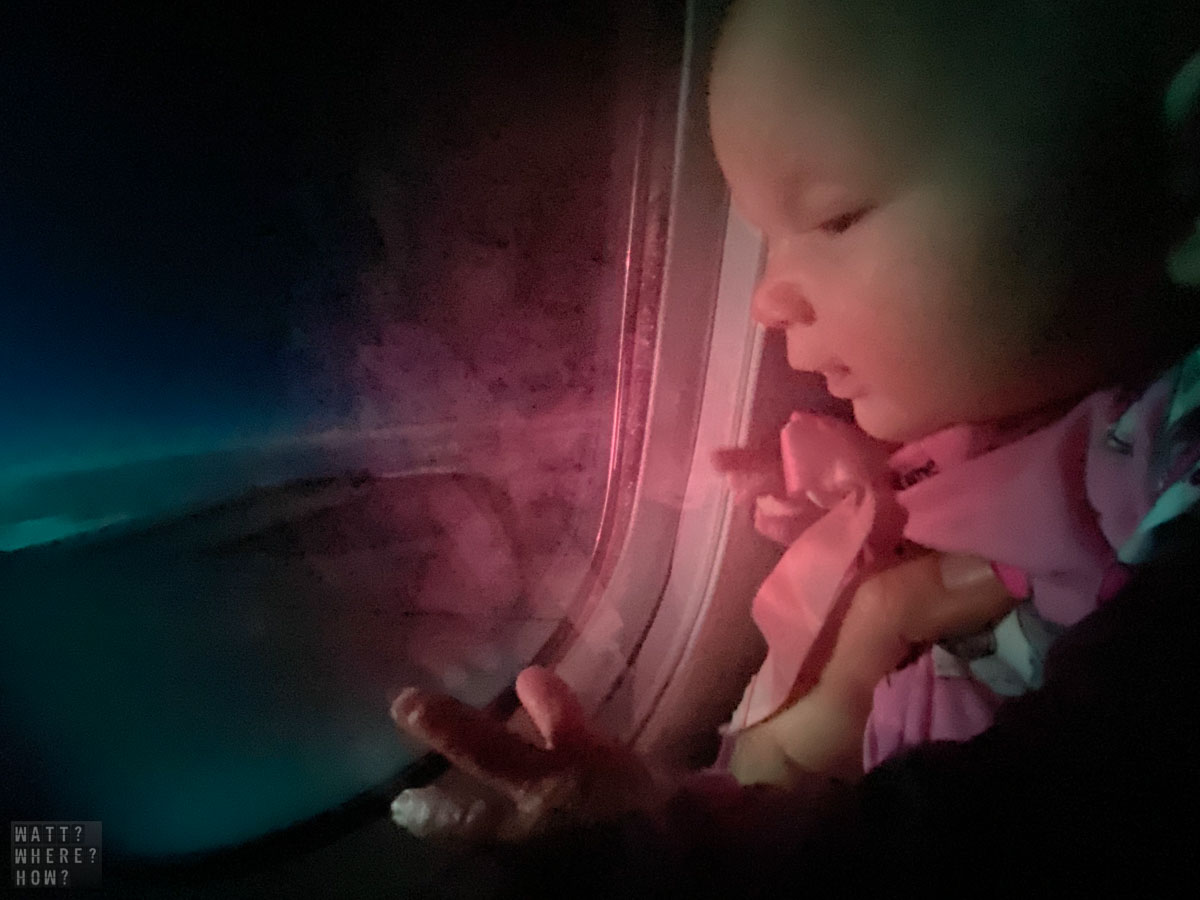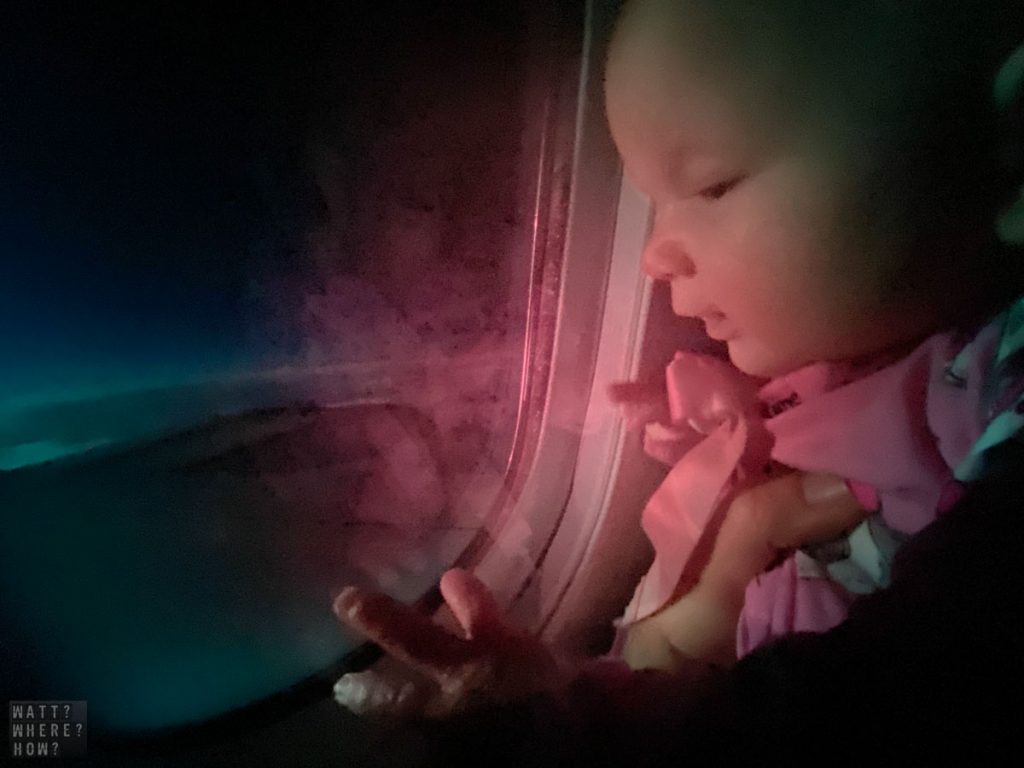 Making the connection
Landing in San Francisco, the move to the next flight was simple – it was the same plane we were just on, leaving from the same gate. Even at 11:30 pm, the airport duty-free shop was open, but aside from a basic kiosk, and a Japanese joint, the rest of the airport was a ghost town.
At the gate, staff did a check again for all the paperwork – proof of vaccine, PCR results, any exemptions, and passports.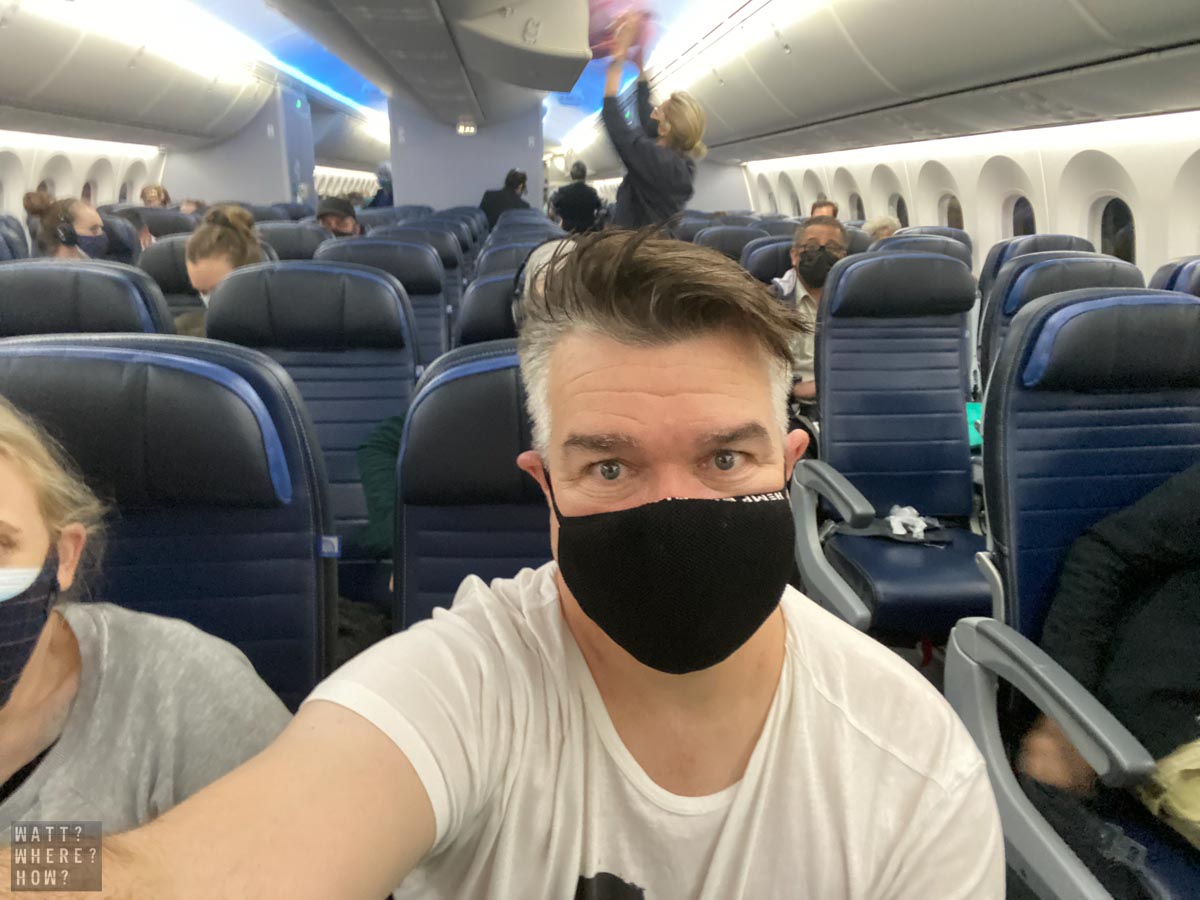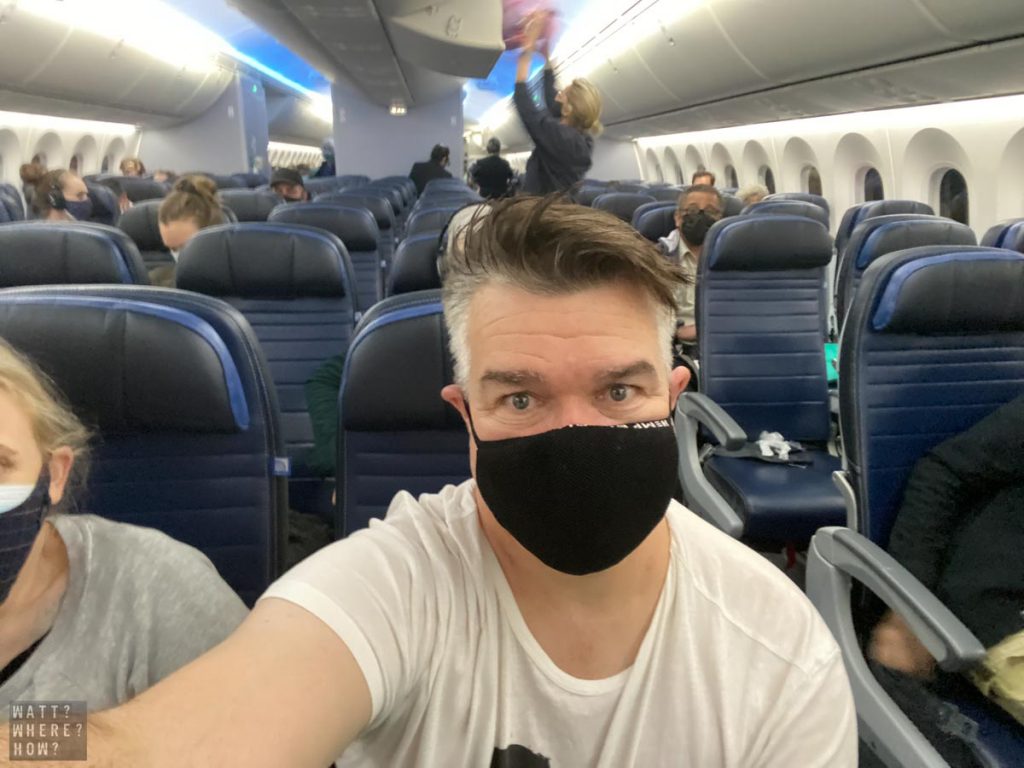 Whereas the first flight was full and felt like we were constantly under threat of catching COVID from some asshole who'd turn his whisky purchase into an excuse to have his mask below his chin for the rest of the flight, the leg to Australia was full of lovely, respectful people – Aussies. It was also only a third full, meaning most passengers had rows to themselves.
The staff on this leg were also worlds apart. We secured the bassinet for the baby that wasn't available before (on the same plane, would you believe). They were friendly and attentive, and the lack of passengers made the dining part of the flight quick and carefree.
One tip from making the 25+ hour transit, bring anti-chafe or nappy rash crème. Wearing double masks for the whole time will cut into your skin and really hurt.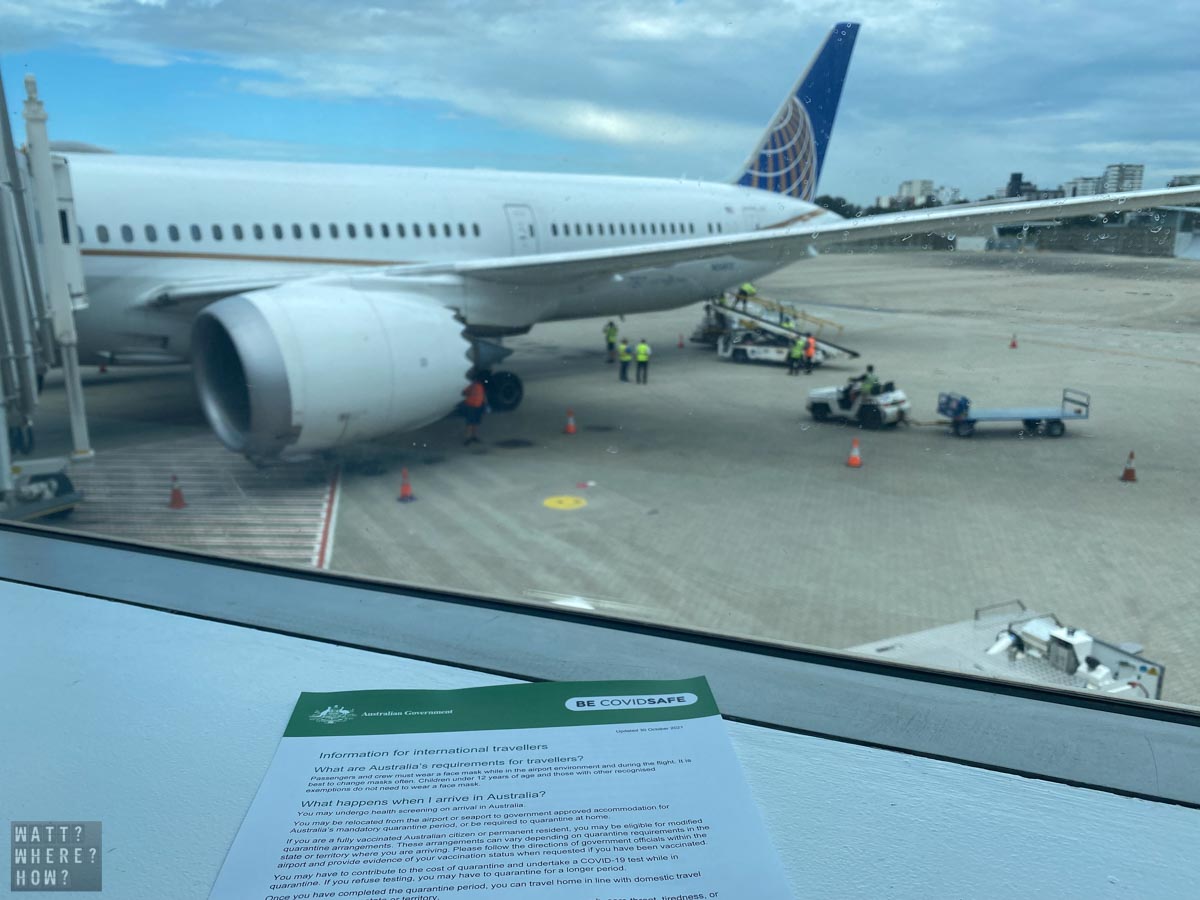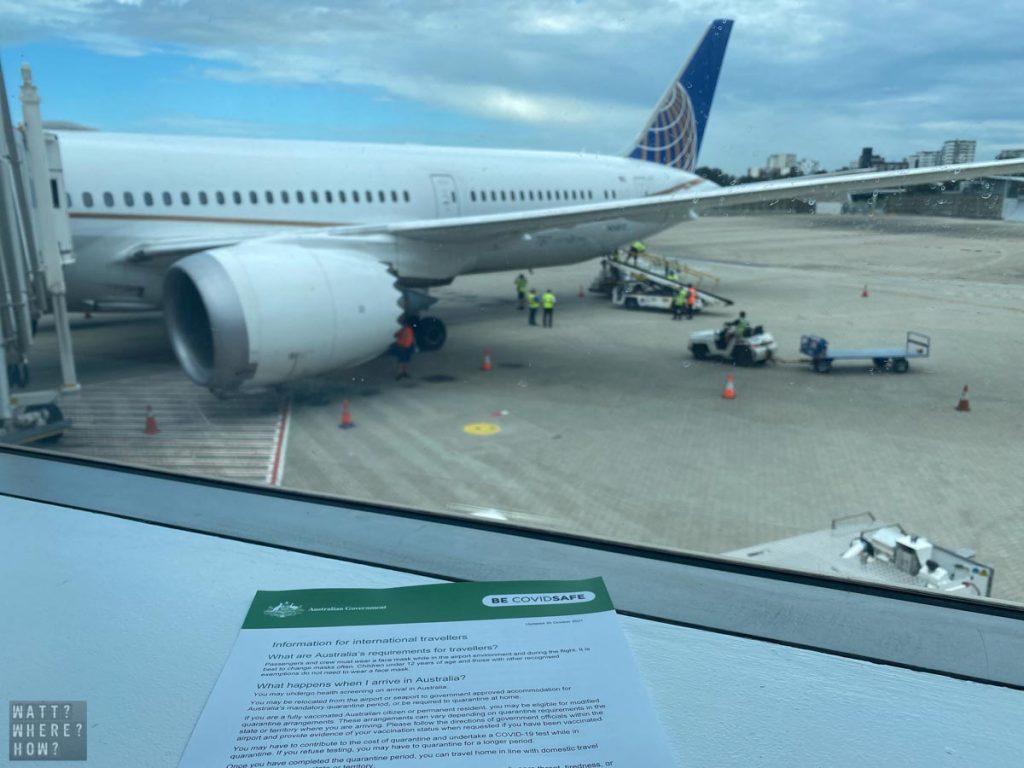 Landing in Australia
Upon arrival in Sydney, there's a pre-recorded announcement that you have to sit through before being allowed off the flight. It lays down the law about how serious Australia is taking COVID and what to do. As you disembark, you're handed a sheet with details on your first steps and commitments in terms of isolation or quarantine.
If you're a citizen, you can use the automatic kiosks to pre-scan your passport, but I honestly didn't see any benefit from this – it doesn't even take your photo.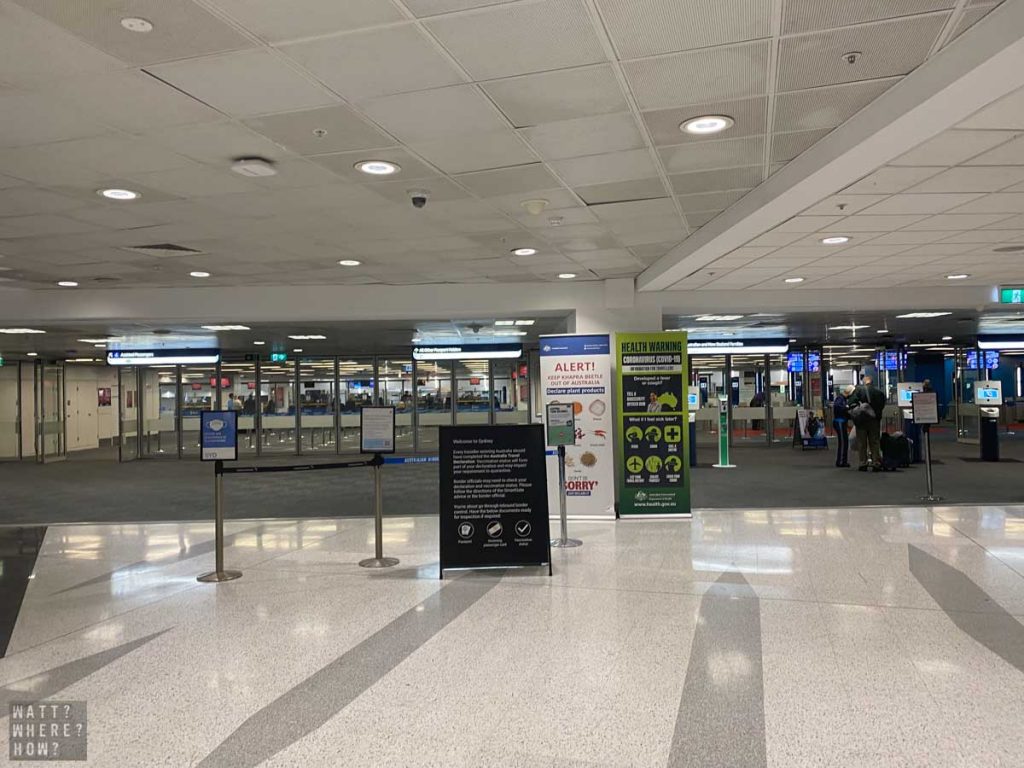 At the Customs and Border Security checkpoint, you'll have to present your passport and if you have anyone on a visa exemption (we had our baby), their foreign passport and exemption paperwork. After that, you're in the baggage claim area, where if the airline gods shone on you, all your bags will be there. If you aren't required to do the full 14-day hotel quarantine, you're through the worst of it. For those doing the full experience, you will be greeted by police/military and escorted to a bus to your hotel.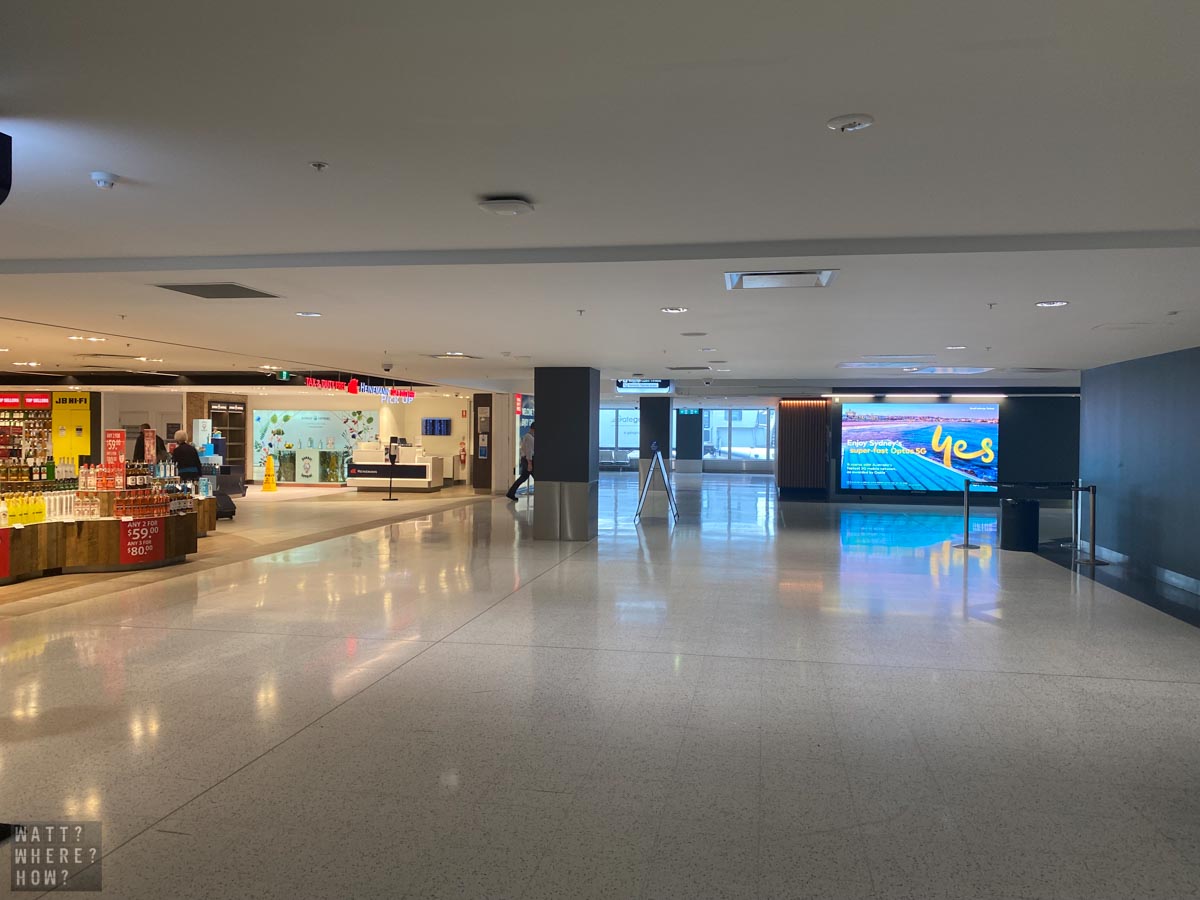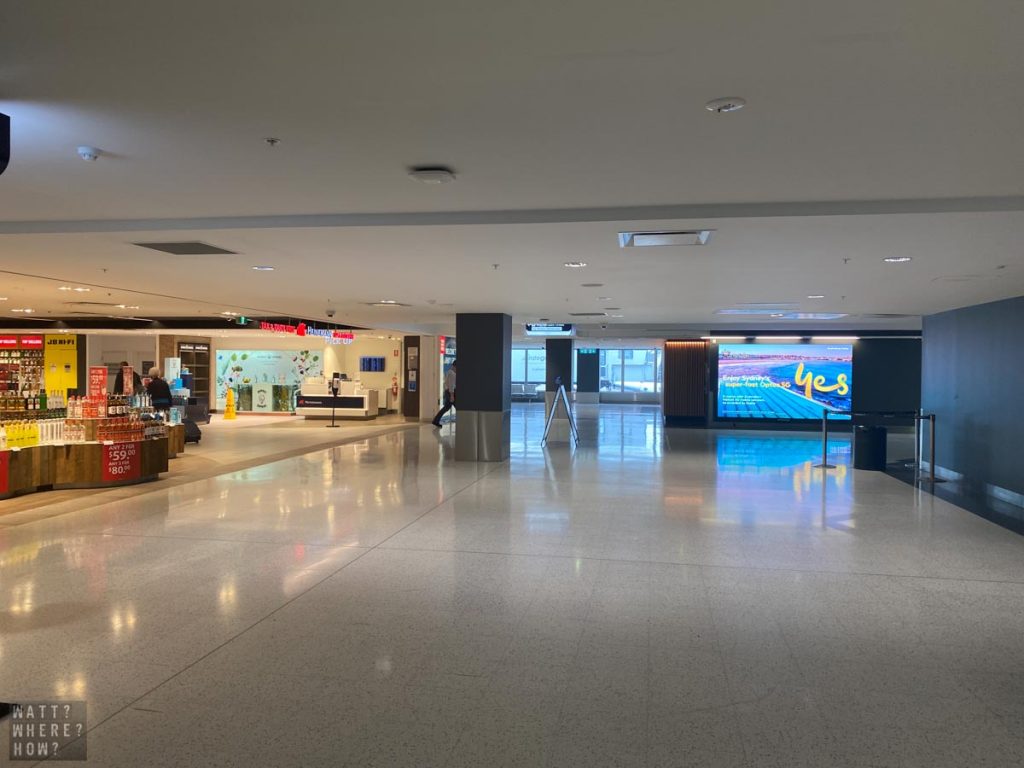 For those doing the 72 hours hotel isolation, walk through the duty-free shop to load up on any last-minute gifts or liquor to tide you over and you're free to exit out into Kingsford Smith/Mascot International Airport. Most of the airport facilities are shuttered, but all rental car outlets, telecom shops, a Lebanese eatery, a café, and McDonald's remain open. Before leaving the terminal, you should open the Service NSW app and link it to the Medicare app to access your vaccine records. Wherever you go in NSW, you'll have to check-in and out by scanning QR codes on display, whether it's a café, a bar, or a government facility.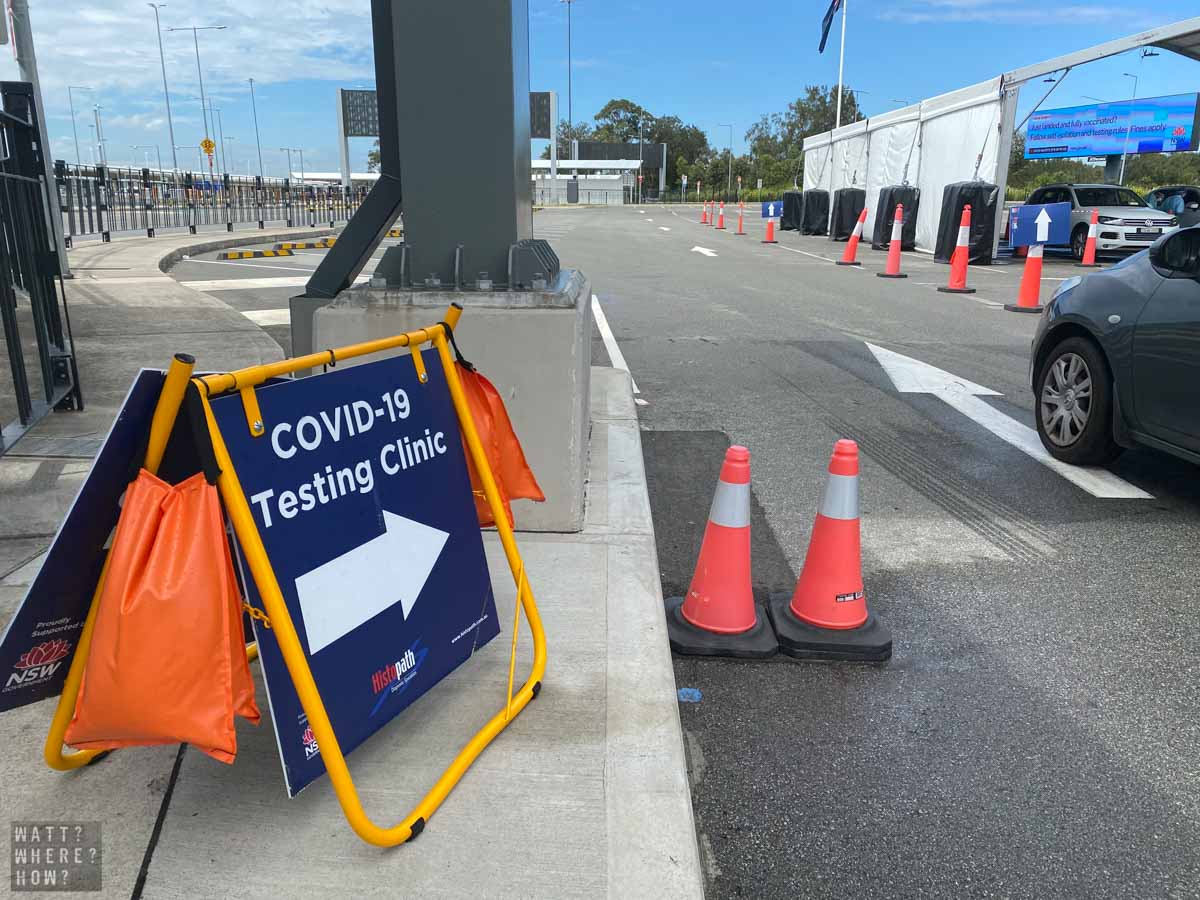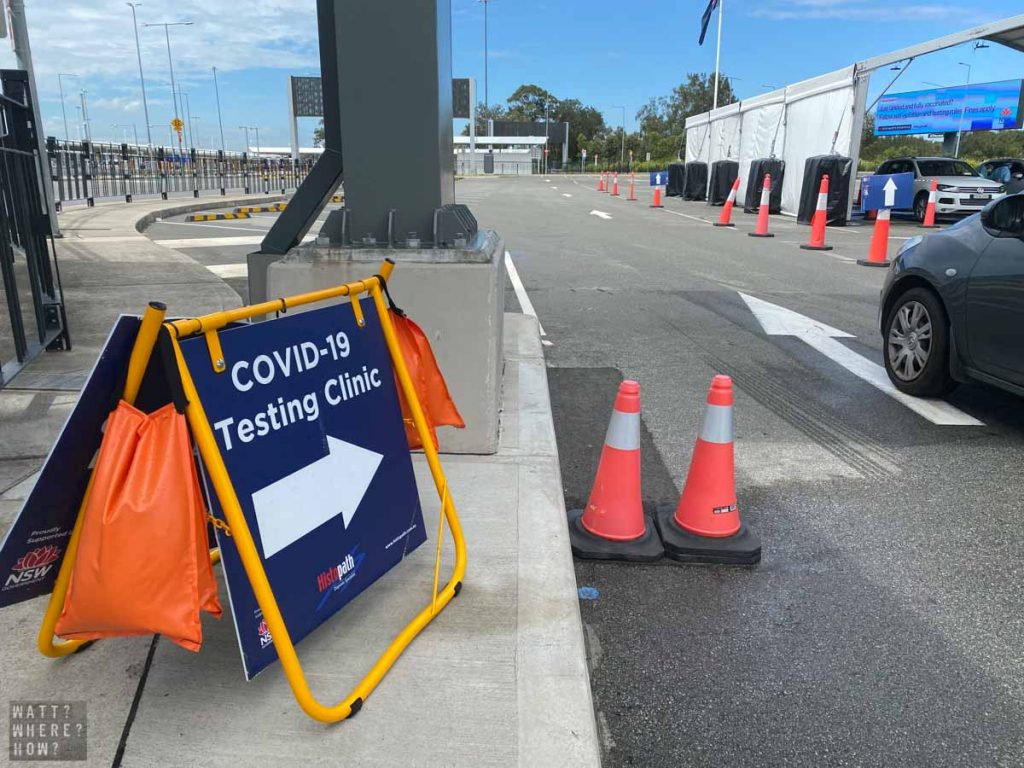 PCR Testing
One of the main requirements for entry into the country and your ability to move on is proving that you aren't positive to COVID or its variants. You can get a free PCR test before you depart the airport at the drive-through clinic run by Histopath diagnostics. It's located near the carpark exit in a large marquee tent. Scan the flyer and fill in the paperwork on your phone screen. Once completed, the attendants will record your reference number to the testing vial and collect a sample from your mouth and both nostrils. These tests are much less intrusive than the ones done last year, where you'd feel like your brain was being scraped.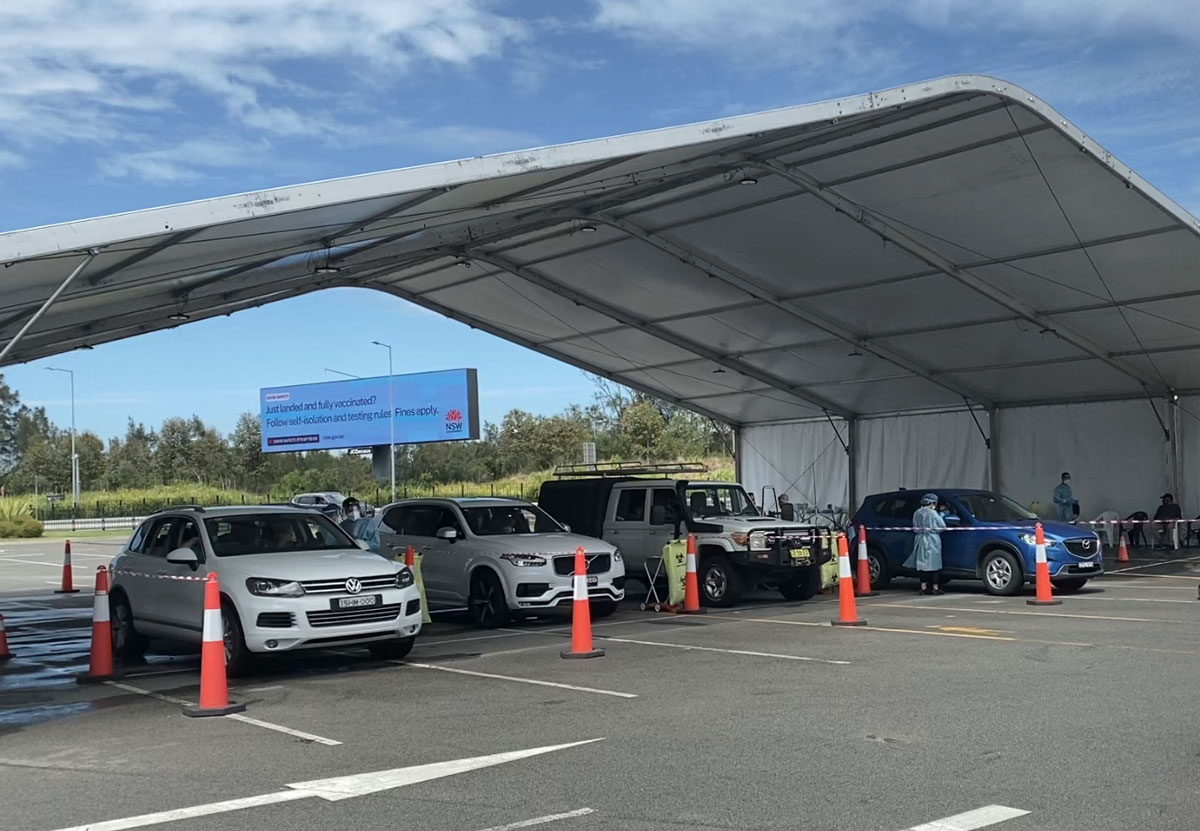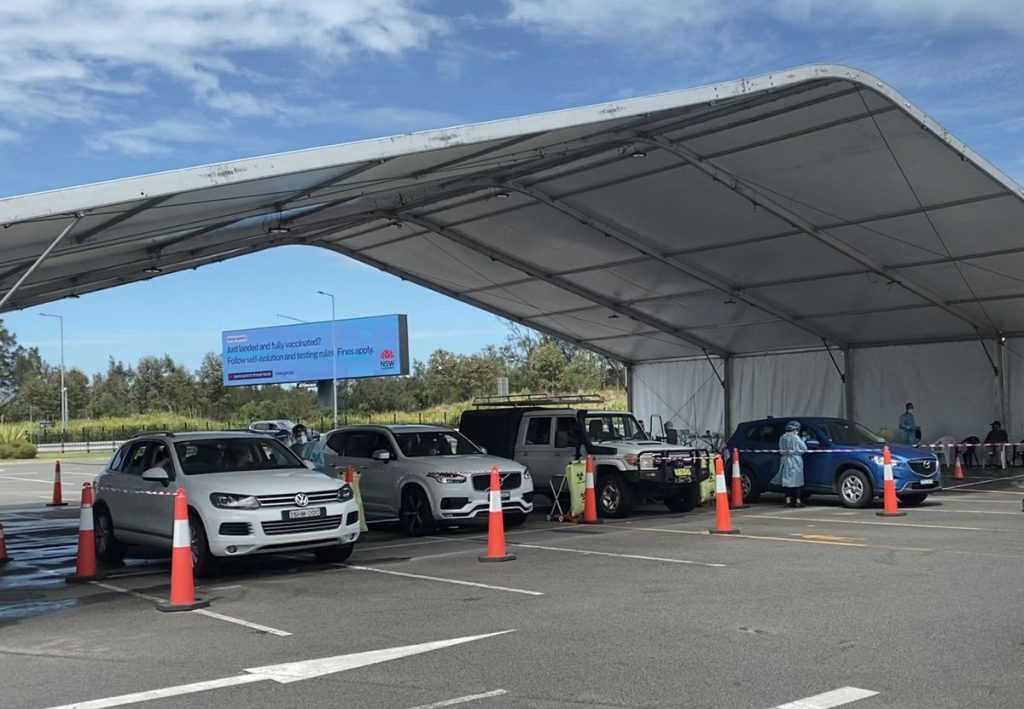 Getting to your accommodation
To reduce the risk of potential spread, you must take a private car, cab, or rideshare to get to your hotel or home, rather than public transit. The Uber app works in Australia and will use all your details from your country of origin. It's almost surreal when the driver invites me to sit upfront. That's a huge no-no in New York, where Uber riders are separated from the driver by Perspex or sloppy homemade sheet plastic barriers.
72 hours of isolation
Of all the states, New South Wales is the most liberal with its approach to welcoming Aussies home. Shunning the obligatory 14-day hotel quarantine for international arrivals, if you're vaccinated, you can "quarro" at home, in a hotel room, or at an AirBNB. The rules as to what is involved change daily, so here's what was provided when we landed.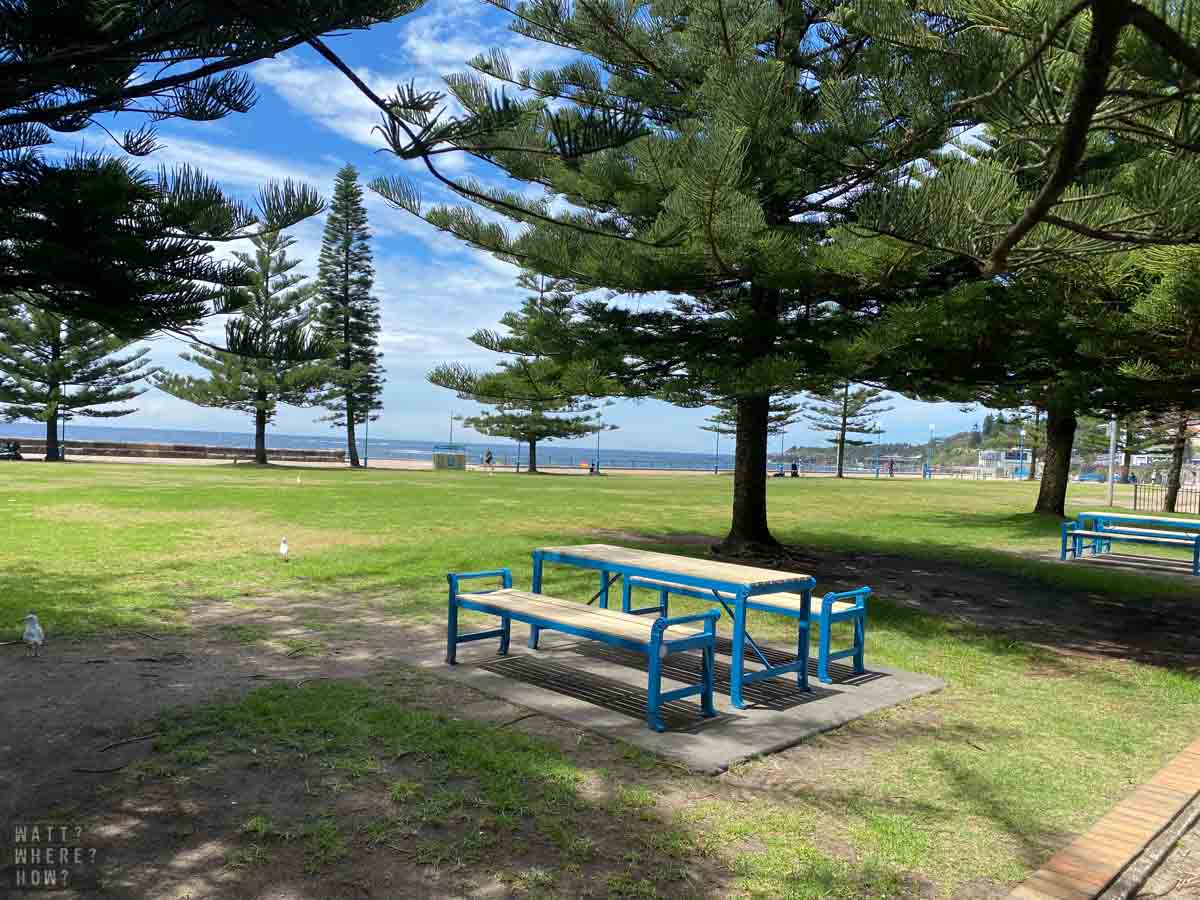 We chose the Coogee Sands Hotel and Apartments at Coogee Beach as our preferred venue. It's budget-friendly, had rooms with a courtyard for some sunlight and fresh air, and a kitchenette. Upon checking in, the staff mentioned that other returnees had chosen them for the same reason, and they were more than willing to help direct our pre-order of Woolies shopping to our room. Plus, they have a minibar to tide you over until you can get in a Deliveroo order from the local pub. Ubereats, DoorDash, and Deliveroo are your best bet for to-the-door, contactless dinner options.
Freedom
After quarantine, you're free to roam, albeit checking in everywhere with the Service NSW for easy tracking and tracing. On day 6, you are required to get another PCR test, but after that, if you're staying within the state, you can enjoy a taste of freedom.
Traveling on to Queensland
Being ex-Brisbane, our end goal is one of the states that has been strictest in terms of a zero COVID policy. We're talking Berlin Wall-level locked. Until mid-December, the sunshine state has made it mandatory to do 14 days of hotel quarantine regardless of whether you've come in from another country or the next state. Finally, after hitting the audacious 80% double vaxxed goal, the borders are now open for locals and returnees (from Monday, December 13, 2021). For vaccinated citizens or residents coming from overseas, you can complete 14 days of home quarantine. If you are unvaccinated, you'll still have to do 14 days of government-mandated hotel quarantine under guard.
Regardless of your vaccine status and state of origin, you'll need to lodge a Queensland Entry Pass and be approved to enter, but once you're inside, you can appreciate the good life the locals have been enjoying, with minimal COVID cases, and easy entry into live sport and entertainment.
Come February 2022, most states will begin to pry open their airtight borders and welcome back students, highly skilled migrants, and who knows, possibly even tourists. Demand is there, and with close to 90% vaccinations and boosters available, the "lucky country" will be ready to show the world its wonders.
Follow & Connect with us