Take a NY winter break and experience the relaxing qualities a Catskills getaway offers.
Curled up by a fireplace in a log cabin in the Catskills sounds like the perfect to wait out the brutal winter snowstorms that hit the northeast of the tri-state. Hidden away beyond a hamlet in the middle of the Catskills New York, just minutes from the ski fields of Belleayre, we found just the remedy for SAD (Seasonal Affected Disorder).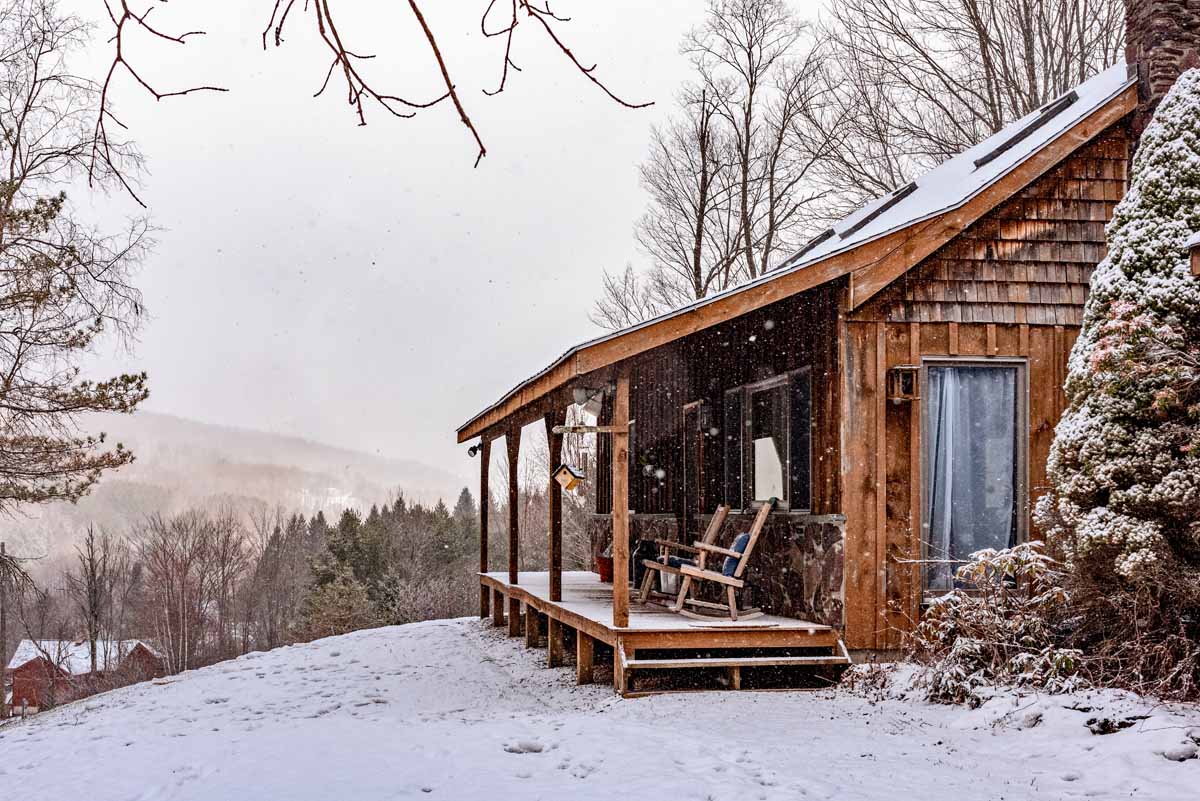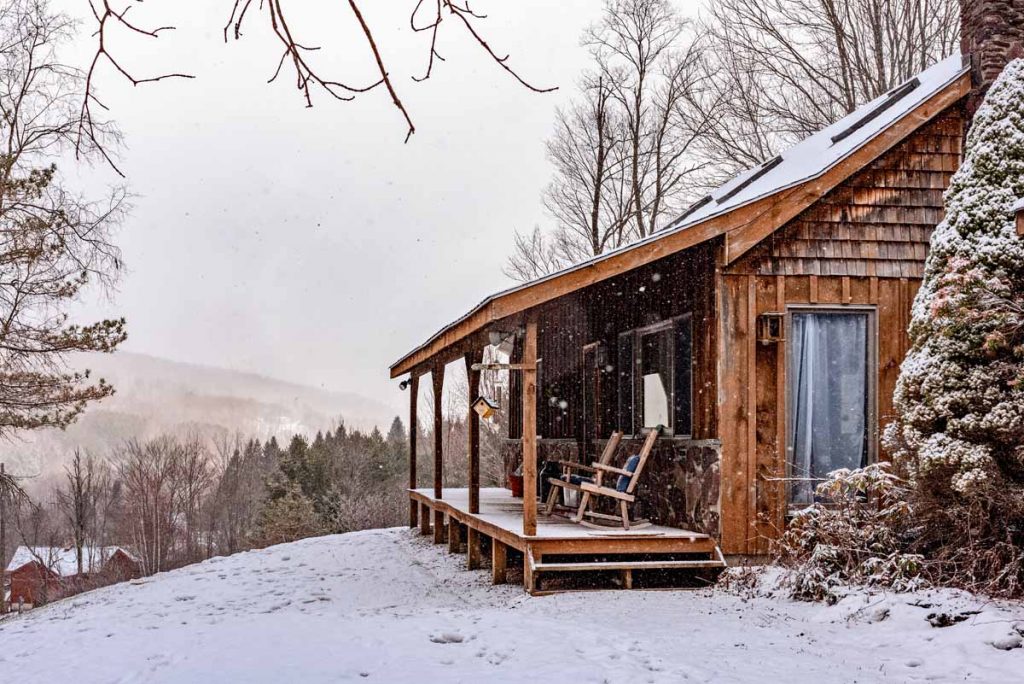 Your ultimate guide to a Catskills NY Winter Escape
New York's Catskill Mountains and the greater Catskill region has been where thousands of tri-state residents escape to for winter getaways at the ski slopes of Hunter Mountain, or to those classic lakeside resorts of what was once called the Borscht Belt – a region so named for the many Jewish hotels and family resorts (think Kellerman's from Dirty Dancing or the summer lake resort from Marvelous Mrs. Maisel) that peaked in the post-war period.
Today, many of those resorts have closed down, as cheaper overseas flights have transformed tastes in travel. Instead, real estate has been snapped up for summer homes but also those who appreciate the best parts of a NY winter.
NY Winter Getaways Family and Friends Will Love



In Summer the region offers an incredible arrange of things to do in the Catskills, like hiking, camping, ziplining, swimming in natural waterholes, white-water tubing, and even riding the rails of an old train line with three of your best friends.
But the Catskills in winter is a wholly different experience, best spent on skis, snowshoes, or sequestered by the warmth of a fireplace in a craft brewery, or that much-sought-after log cabin. And while we don't have a friend with a place to stay for free, we know just where to go if you're looking for a break be it summer or winter. Here are our tips for your ultimate Catskills New York winter weekend.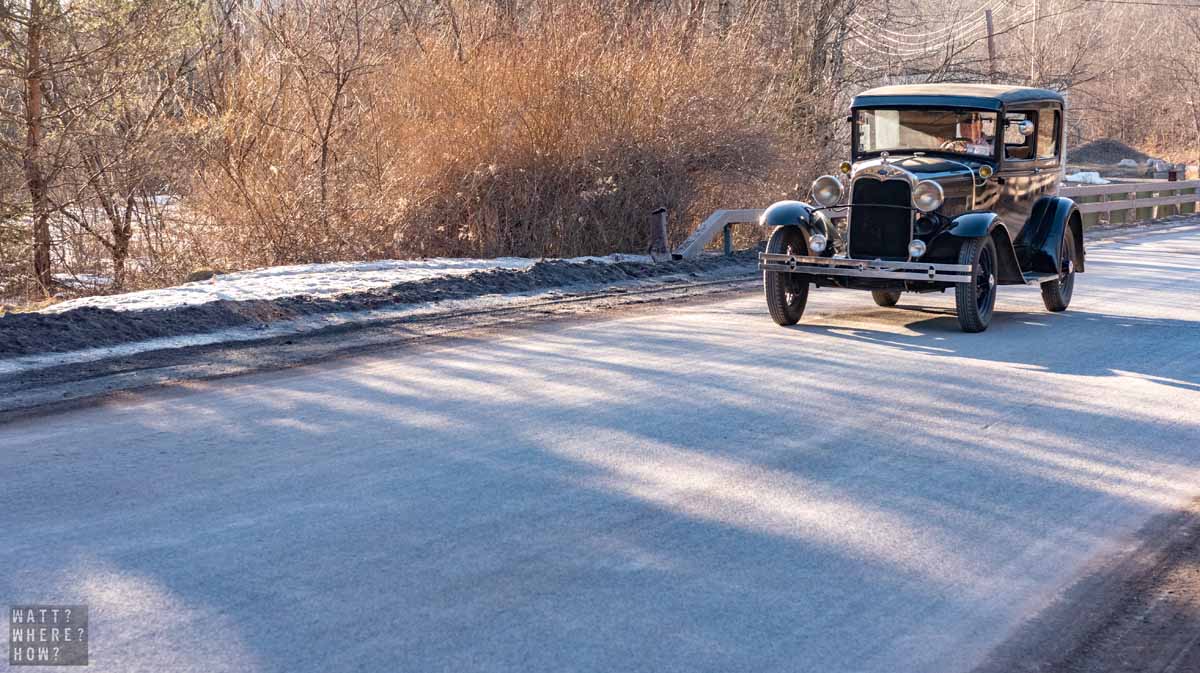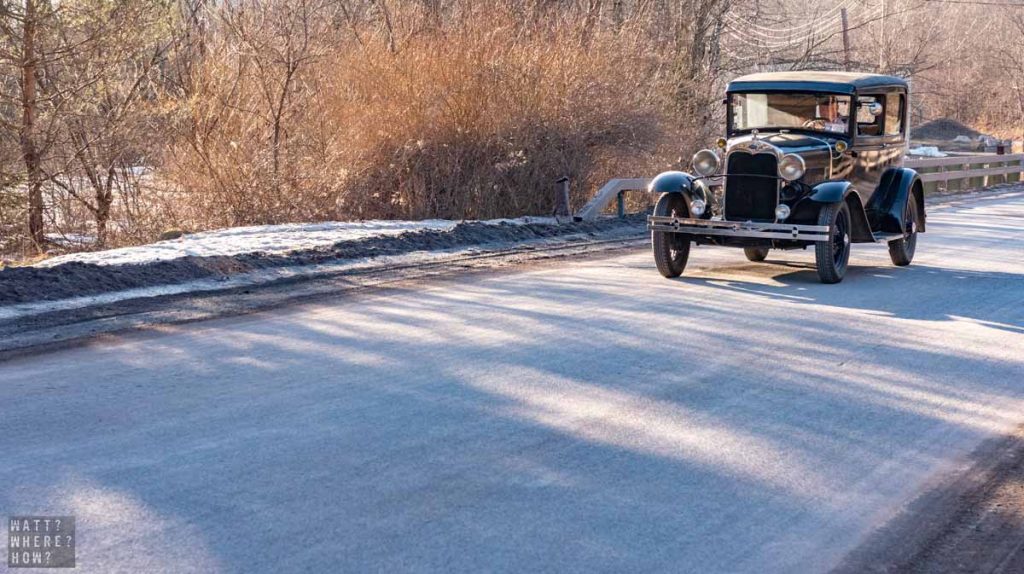 Top things to do in the Catskills in winter
1. Go skiing at Hunter Mountain, Windham, and Belleayre (these are winter day trips from NYC if you're happy to make it a long day out of town)
You don't need to head to Colorado or Vermont to find decent ski runs. In winter, Catskills resorts, Hunter Mountain, Windham, and Belleayre offer a range of runs to suit all levels and snow making for the days where mother nature doesn't deliver.
2. Visit Fleischmanns, a slice of classic Catskills
Fleischmanns is little more than a hamlet, yet it's a township with a rich history as a resort community.
The region was originally settled by the Germans, English, Irish and Dutch – and the Dutch influence can still be seen in the names of the creeks skirting Main Street, Bush Kill, and Red Kill.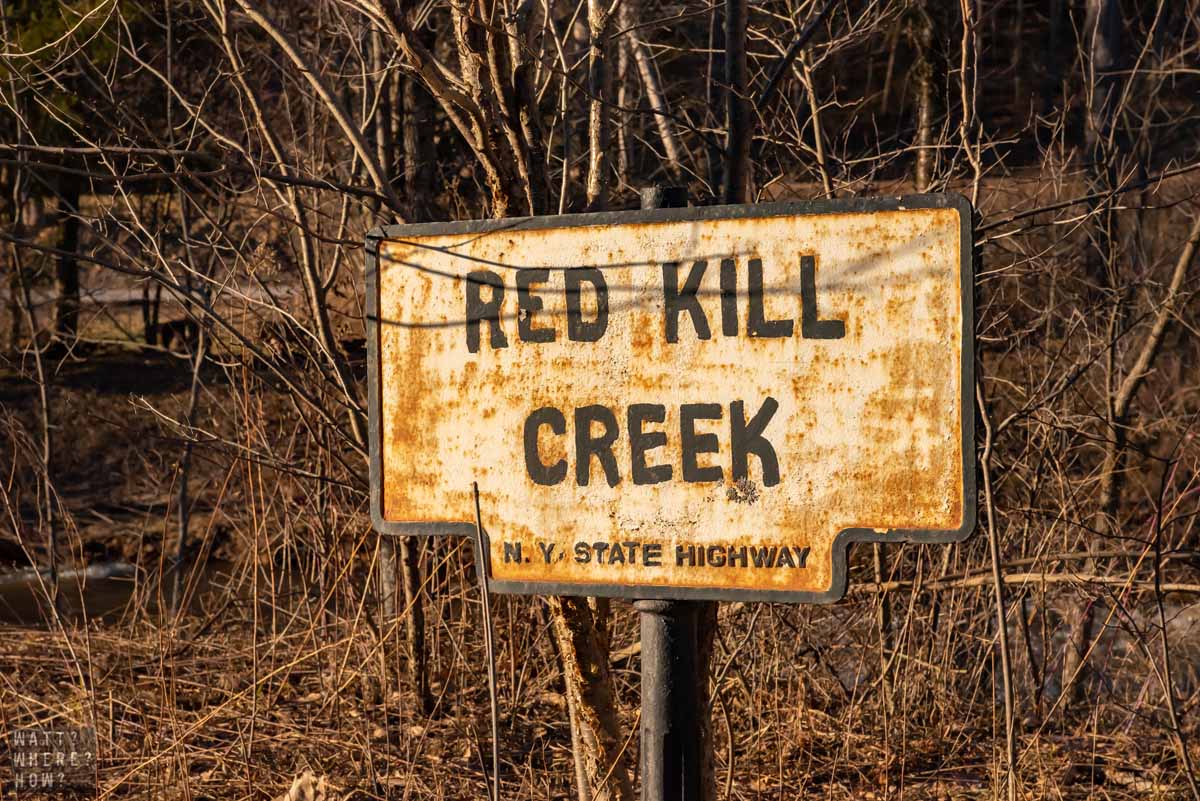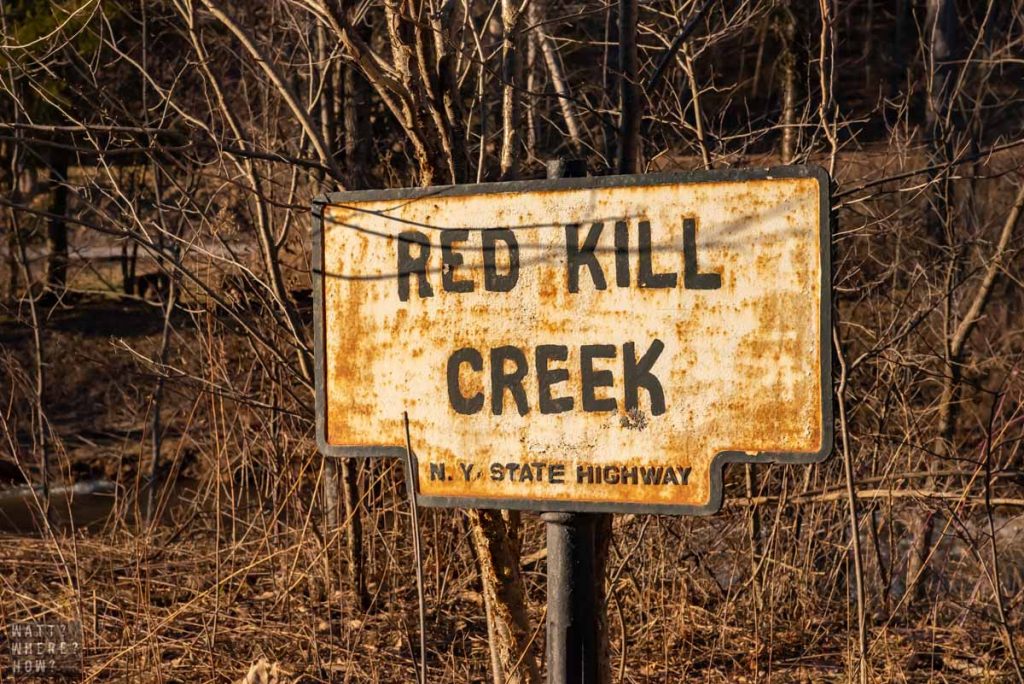 The village came into its own in the 1870s when the Ulster & Delaware Railway reached the area. Entrepreneur and Hungarian alcohol baron, Charles Louis Fleischmann purchased large tracts of land from John M Blish, realizing its potential for summer vacationers. And his vision was soon realized with opulent porched summer homes built as seasonal getaways for wealthy New Yorkers including lawyers, socialites, and even a conductor of the New York Met Opera.
Today only a few of these homes are still standing, but other noteworthy landmarks are the old 600-seat Maxbilt Theater dating back to 1929 and the Skene Memorial Library, partially funded by philanthropist, Andrew Carnegie.
3. Fall for the Kaaterskill Falls
One of the most iconic Catskill locations is the Kaaterskill Falls. There are actual two tiers of falls, the first being accessible right off the NY28, while the other is accessible from above. We planned on hiking but due to a particularly icy NY winter cold snap, the water on the trails had been turned into a slippery and dangerous black ice.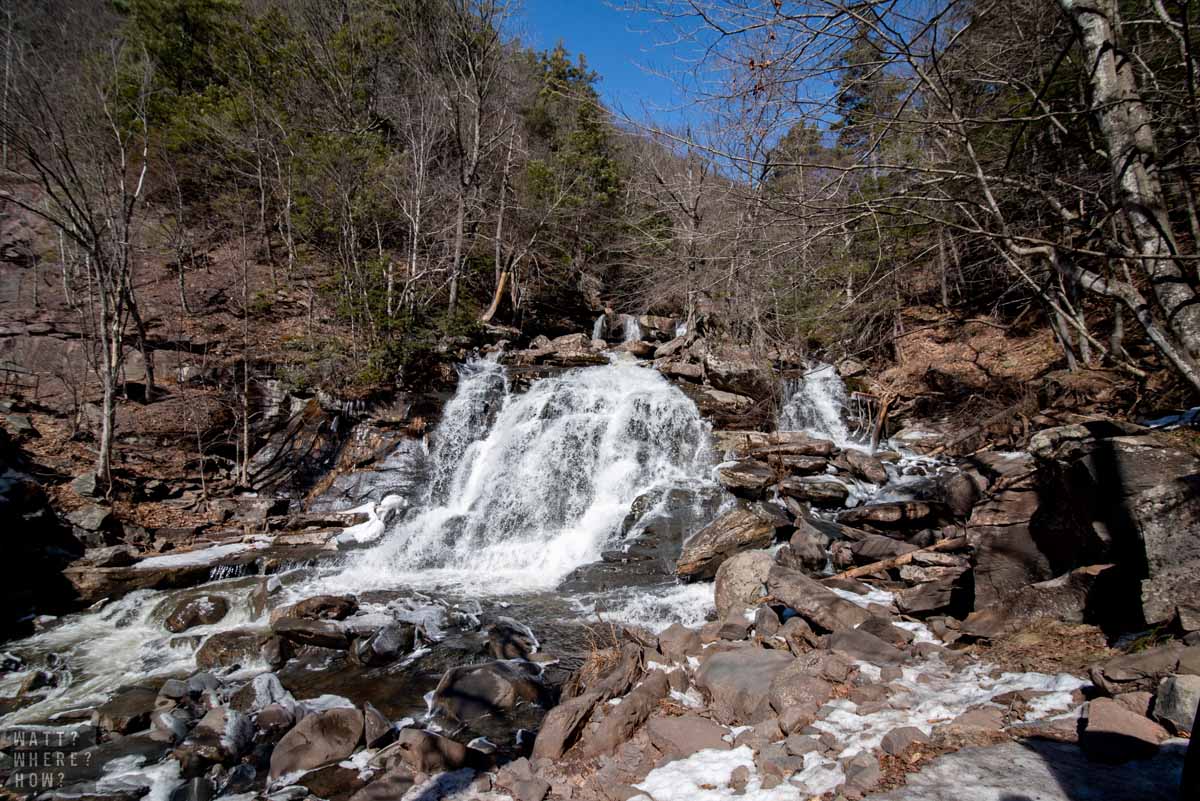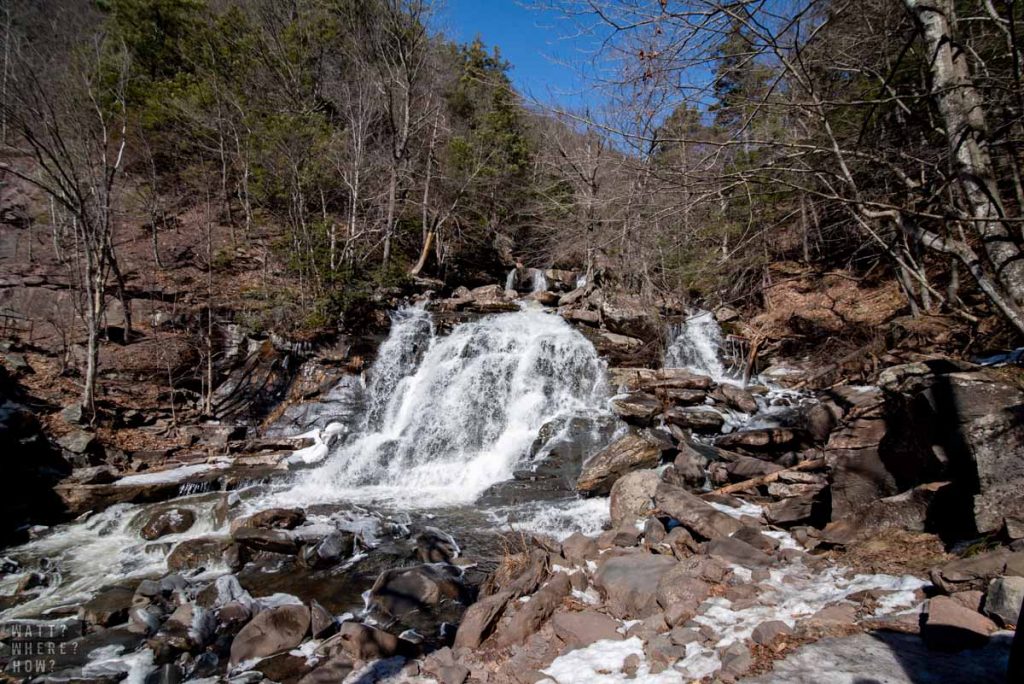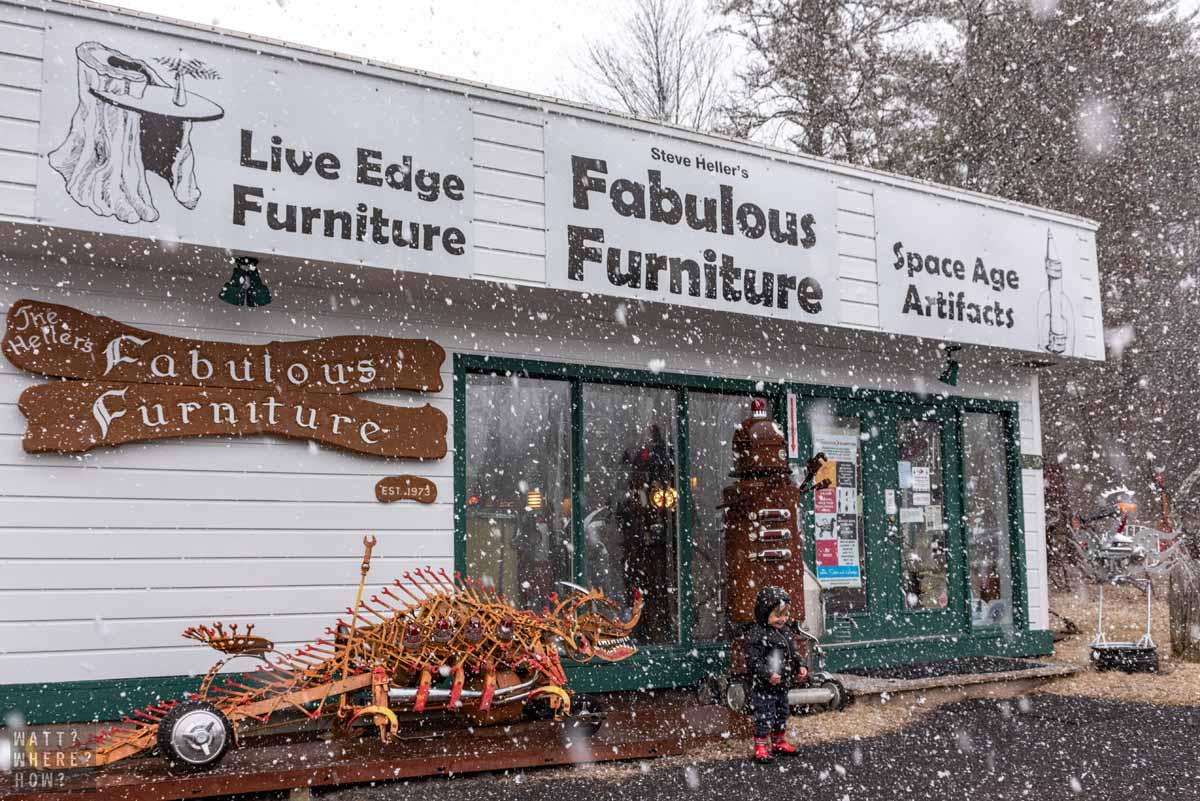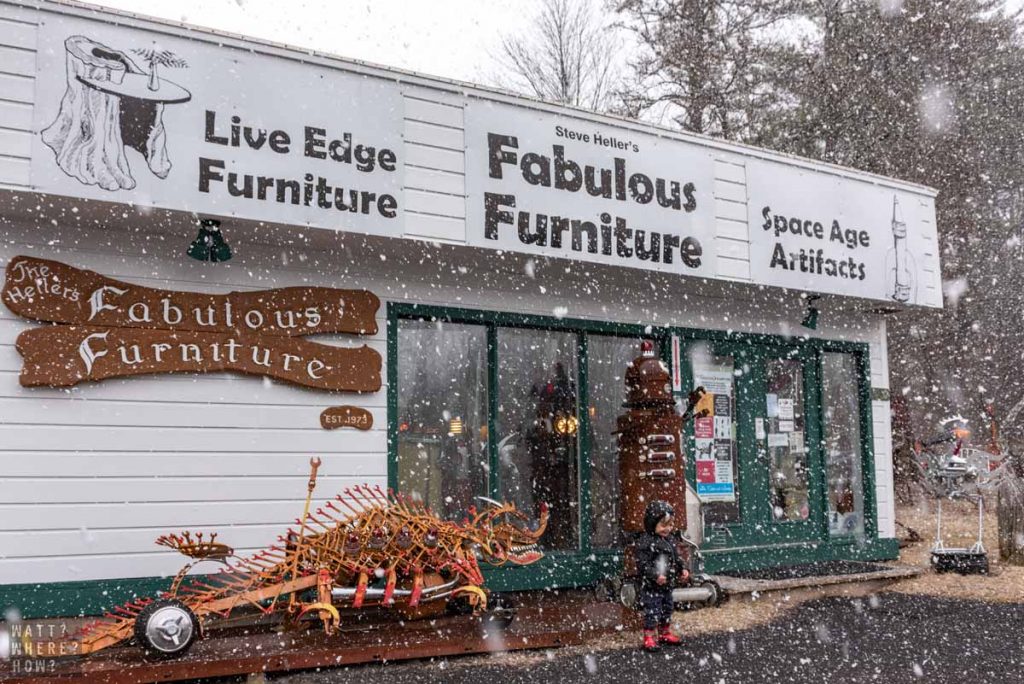 4. Have an alien encounter at Fabulous Furniture
Given its relative proximity to the hippie enclave of Woodstock, you're sure to find colorful places and characters in the Catskills, but you probably aren't expecting to see a rocket made from a Volkswagen Beetle, or a family of aliens exiting a UFO.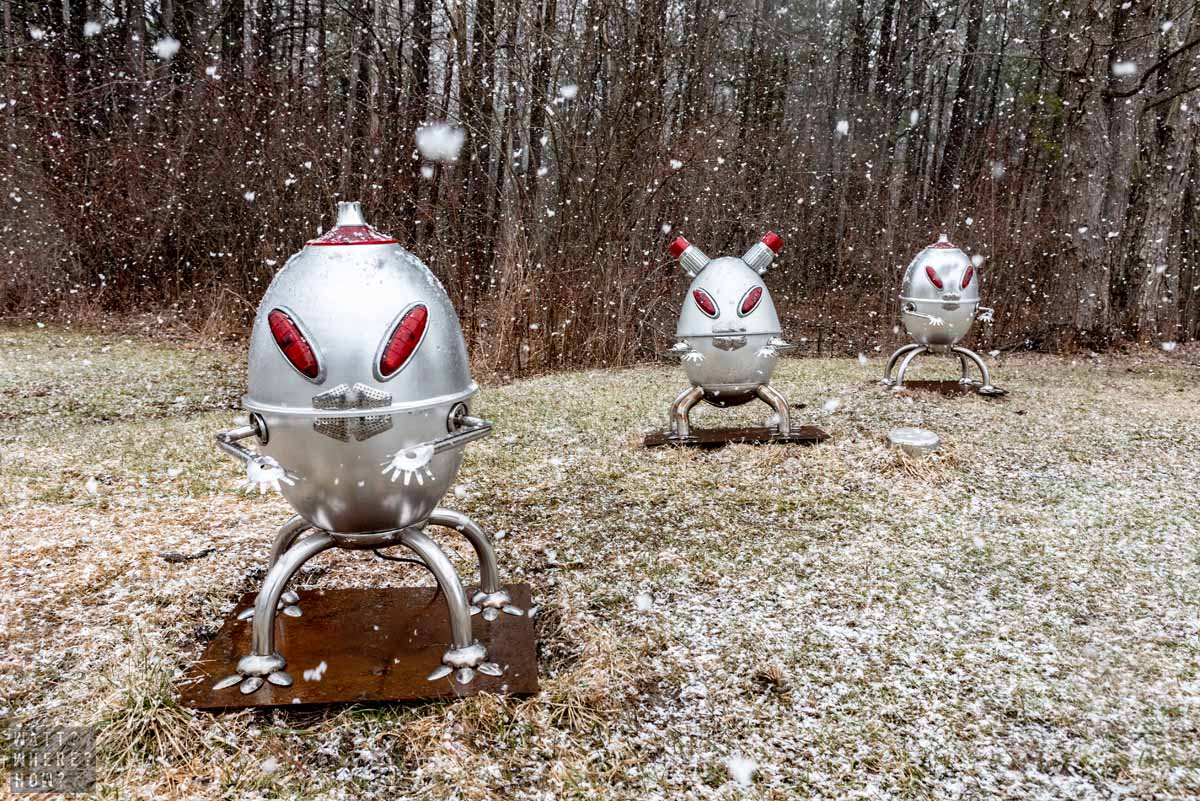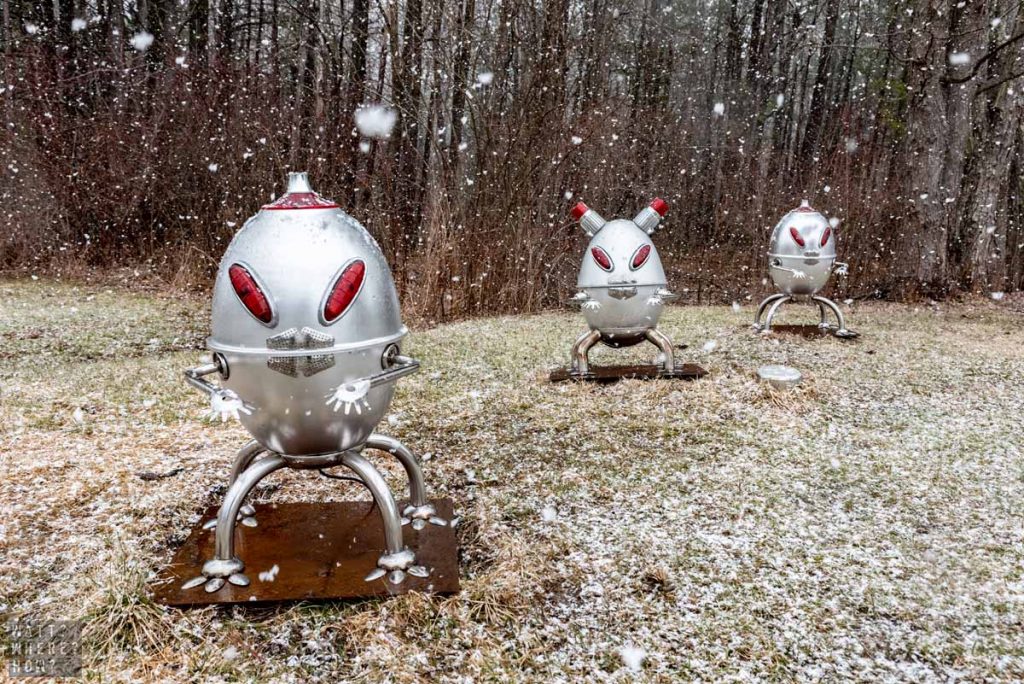 At Steve Heller's Fabulous Furniture, you'll find dragons, guitars, and even vehicles that look like they'd be ready to compete in a Star Wars Pod Race. Steve creates intricate and eminently collectible furniture from less desirable scrap timber and woods and recylced from industrial parts. Since 1973, he's been twisting metal and minds and his shopfront on NY28 at Boiceville will fascinate and intrigue adults and kids alike.
5. Chill by a frozen lake
In summer, this stretch of water is a popular camping ground (Devil's Tombstone) but in the dead of a NY winter, it becomes an icy wonderland that is truly breath-taking. The mountains descend right down to the edge of Notch Lake and the flow off into Stony Clove Creek makes for a magically tranquil stop on route 214, just minutes from Hunter Mountain.
6. Defrost by the fire at Woodstock Brewing
If your idea of apres ski is a pint of craft beer and a bowl of steaming and spicy chilli, has Woodstock Brewing got a treat for you. The clientele is mainly straight off the slopes (or from a 90s rave – the fluorescent baggy pants are hard to differentiate) and ready for a beer and so are we.
Luckily there's no shortage as Woodstock Brewing has at least 14 taps rotating their range of in-house brewed specialties like the Emotional Support Beer, which raises money for ex-service men and women. Outside, fire pits offer a toasty place to drink, smoke, and sample some of gastropub-level food. Our tip? Get a to-go pack of beers and enjoy the best of apres ski, apres brewery.
7. Visit the original Woodstock site at Bethel Woods
Woodstock is more than a festival site. It's the tipping point of a counter culture moment that forever changed music, art, and fashion. But it's not even at Woodstock. The actual site is at Bethel Woods, on what was at the time the 600 acre dairy farm of Max Yasgur, whom the festival organizers were able to convince that hosting 400,000+ stoned, loved up music fans would be a good idea in what was an amazing natural amphitheater.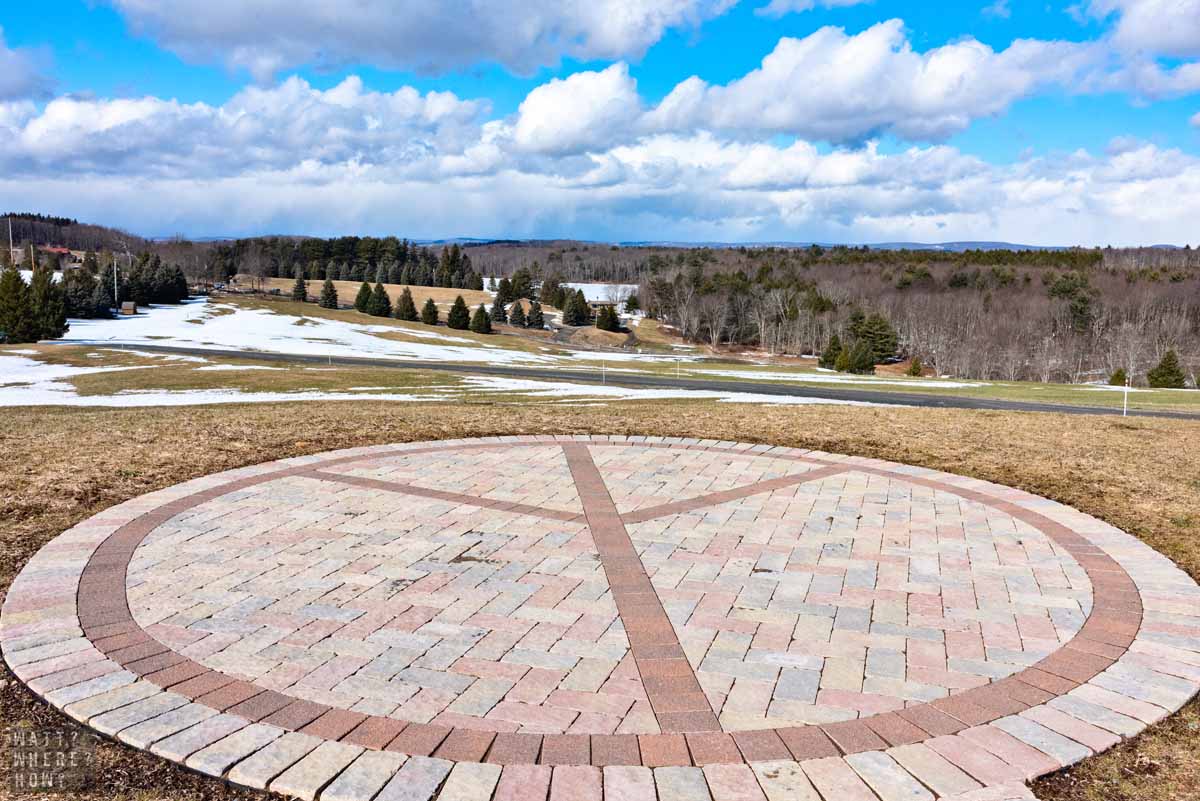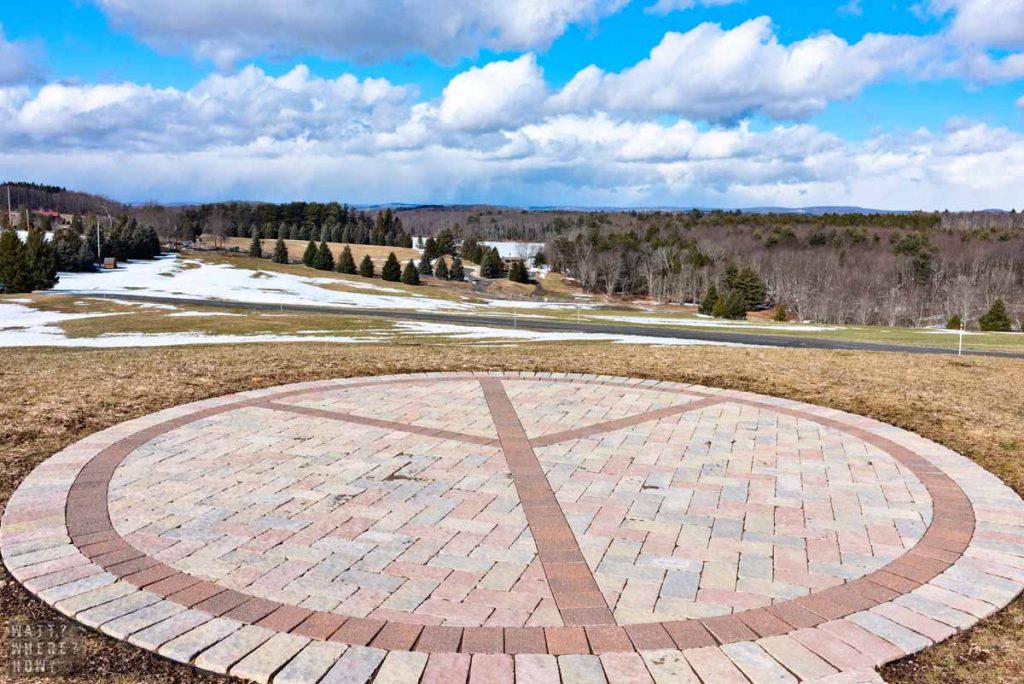 The eventual gig was a mudfest of epic proportions, oversold at first, and then when a New York DJ announced it was a free-for-all, it attracted closer to 600,000 people – causing gridlock for miles around and meaning the artists had to be airlifted in to get to the stage. There's so much more to the story and a great documentary about it all on Netflix. Visiting, you get an appreciation not for the size of the main staging area, but the sprawling woods and farmland which became a temporary home for those lucky enough to say they were actually there.
Today, Bethel Woods is an arts center and music venue, along with housing the Woodstock Museum, which is sadly closed due to COVID restrictions at the time. Still, markers and signs show you where key things happened and it's always satisfying to be able to put into context where these historic performances from Carlos Santana, The Who, Jimi Hendrix, Crosby, Stills, Nash, and Young, among other legends played.
8. Explore cute hamlets like Phoenicia
There is no shortage of cute, crafty towns and communities across the Catskills, but Phoenicia is one that has garnered the attention of tastemakers, frequently making the top 10 of cute small towns in America. In winter, it's not quite the drawcard as summer, when it's a hotbed of activity for hikers, drinkers, campers, fisherfolk, and those who appreciate the simple joys of floating down a river on an inflatable tire tube. That being said, it's still a great place to visit in winter if you're hunting for art, antiques, or outdoor supplies. Here's our full roundup of the best things to do in Phoenicia NY.
9. Spend your days cuddled up in a cozy log cabin
If you'd prefer to avoid the cold altogether, find a cozy cabin with everything you need to while away the winter days with a good book, some soup or a hearty stew and a hot toddy. We found the perfect place on AirBNB, a restored cabin in rural Denver, just ten minutes from the slopes of Belleayre.
Designed for 6 to 8 people, it has three main bedrooms, a hot tub, a roaring fire, and rocking chairs on the verandah/porch from where you can watch the day wash by. You do need an AWD to access the property in the snow – believe us when we say it was quite the adventure getting a hire van through over a foot of snow and mud. For that ultimate NY winter getaway, this cabin not only fits the bill for a romantic weekend out of town, it's a perfect base for ski trips during a long, cold Catskills winter.
WHAT?
The Catskills is a haven for winter activities in New York State, an easy drive from Manhattan.
WHERE?
The Catskills start from approximately 130 miles north of Manhattan and extend up to just south of New York State's capital, Albany. Main towns include New Paltz, Hunter, Woodstock, Catskill, Denver, Phoenicia, and Coxsackie.
HOW?
By car, take the i87 north for approximately 130 miles. By bus, Greyhound and Trailways coaches depart Port Authority Bus Terminal in Midtown Manhattan.
Follow & Connect with us