New Paltz is an upstate college town in Ulster County, first settled by French Huguenots in 1678.
A group escaping religious persecution, the Huguenots had escaped Germany (hence the Germanic name) and sought refuge in the new nation. For us, we're seeking refuge from the big city, and being only an hour and a half from Manhattan and easily accessible via a Trailways coach, it makes the perfect option for a day trip.
First Impressions
If you're looking for a quaint North East American township, New Paltz delivers in spades. Most houses date back to the early 20th century, with weatherboard, chimneys, and wide balconies. The trees are alive with fresh spring growth and the buildings are colorful. The bus pulls in at its station, where there are plenty of taxis waiting. Most offer a fixed fare rather than meter, so negotiate before getting in. In reality, it's only a ten-minute walk to get to the end of the town, so unless you are planning on heading straight out to the Mountain House or winery, it's better to stroll.
Like many small country towns close to Woodstock, there's a bit of a hippy vibe and whole shops devoted to wicken and dragons. First thoughts spin around our heads as to how a small town can support a shop selling the tools of witchcraft. We even pass a handbill stuck to a light post promoting witchcraft as a solution to the current political situation of the country. It's a little bizarre.
WHAT we did
Arriving around 10 am, it's time for brunch. We hit up the xxx but there's a sizeable queue waiting for the Main Street Bistro, so it may be worth a look. Instead, we head to The Village TeaRoom, a historic landmark.
Brunching at the Village TeaRoom Restaurant & Bake Shop
The Village TeaRoom is a quaint, almost old-English tearoom on Plattekill Avenue. Built-in 1833 by Alderd Schoonmaker, it was originally a tailor's workshop and is still maintained by the rough, hand-hewn beams that give it so much character.
We start our day with Cheddar Cheese & Herb Frittatas with a slab of hand-cut bacon, a Potato Pancake with Sour Cream and Chives, spoon bread with maple syrup, and a serve of English-style scones with whipped cream and strawberry jam. The food is tasty and it offers a quaint, cozy haven from the rain outside.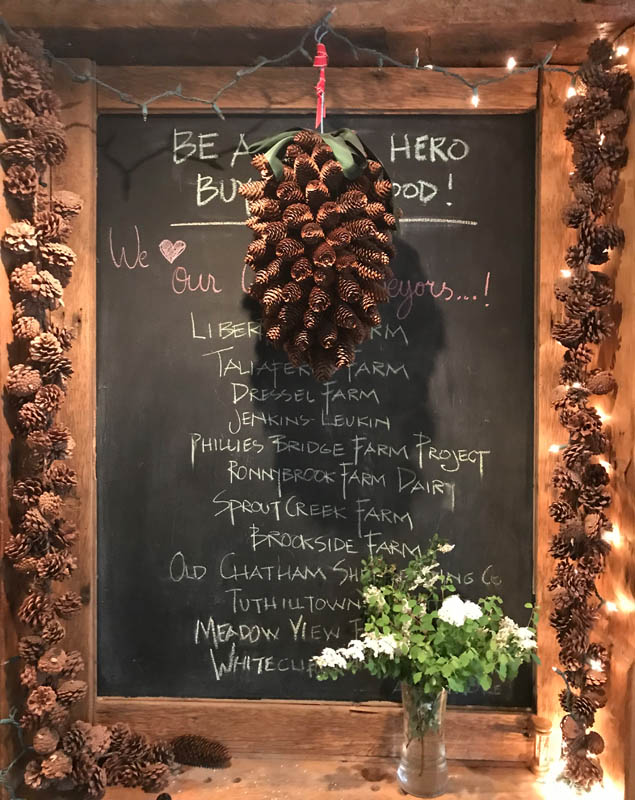 Shopping and Exploring
Main Street is a treasure trove of shopping finds – particularly if you like the old, the ethereal, or unusual. For fashion finds, check out Rock Candy Vintage. Quirky toys, gifts, and kitchenware can be found at Cocoon. Skate culture is well covered at Likwid and Sacred Shred and if you're on the hunt for vinyl, Rhino Records and Jack's Rhythms are both worth a look. We also found a few interesting bookstores (Barner Books and Inquiring Minds) on Church Street.
[foogallery id="5534″]
Water Street Market
Heading down towards Wallkill River, a modern complex of shops is clustered along a narrow pathway. The Water Street Market is a blend of different retailers and eateries. Grab a dog from Kosiner Brother's Organic Hot Dog cart and immerse yourself in old-world treasures at Antiques on Main.
Eden Boutique offers stylish, hip fashion as opposed to Groovy Blueberry across the road, where everything comes in every tone of multi color tie-died fabric.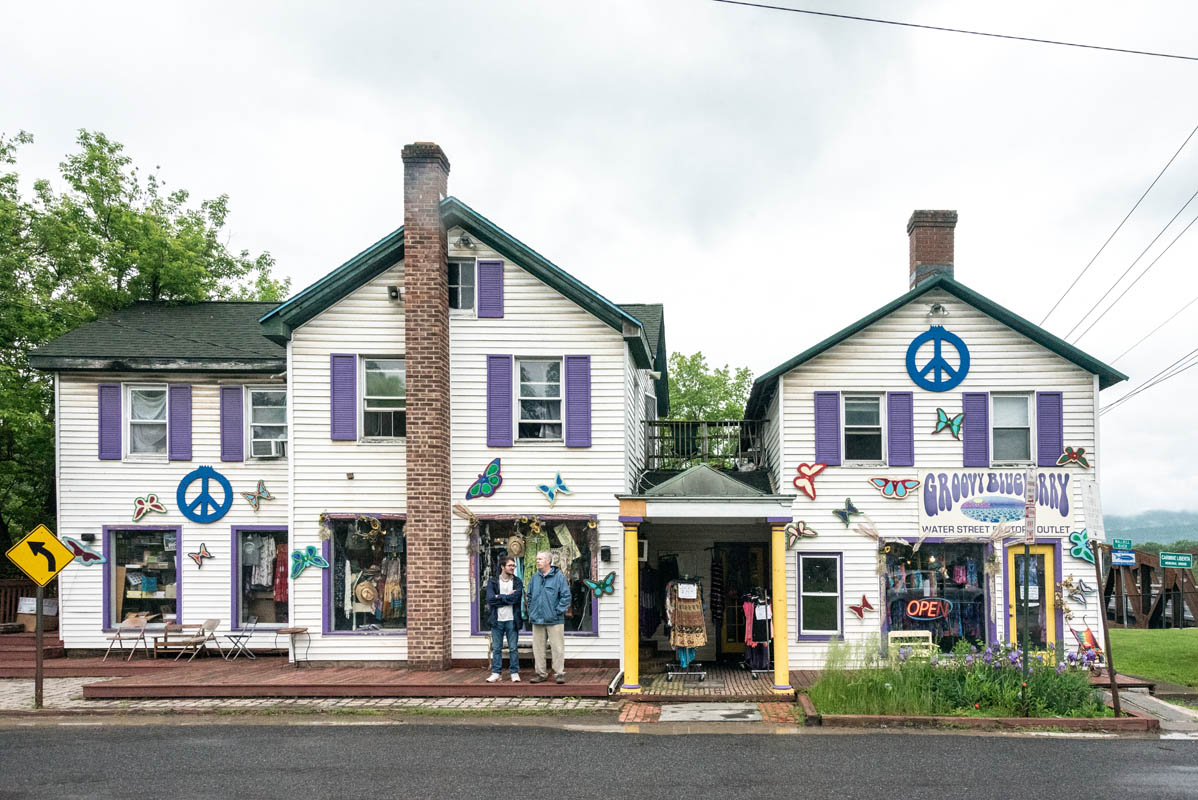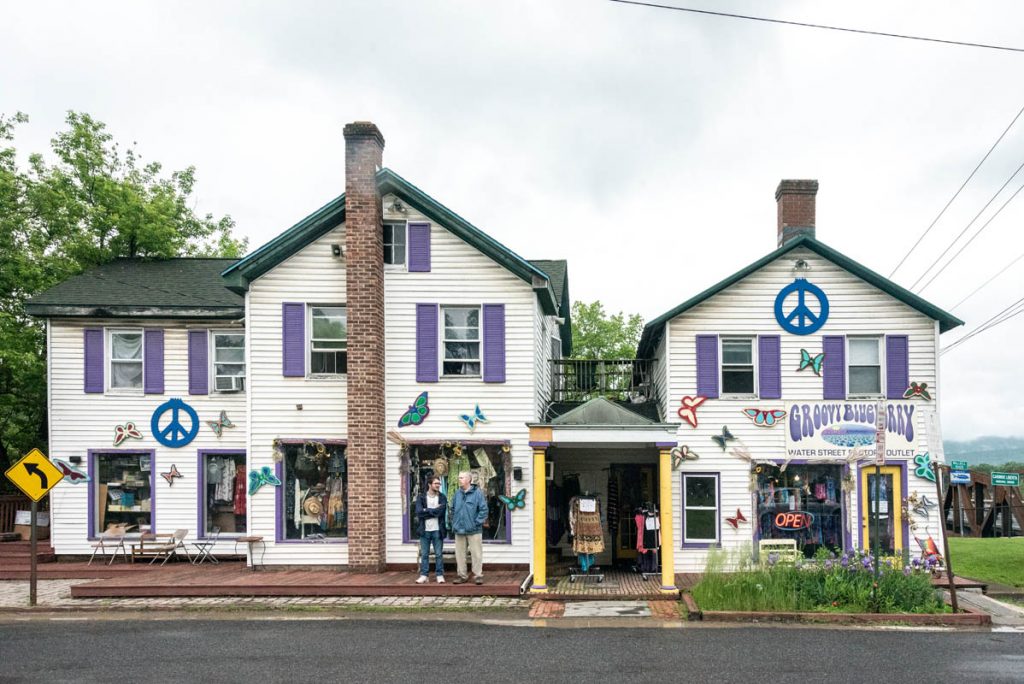 Digging for vintage Americana at the Antiques Barn
A classic red barn is synonymous with rural life in America and something we were introduced to by Looney Tune cartoons and movies like Charlotte's Web.
This is our first time seeing one up close and although there are no smelly animals or rusted tractors, there's easily 200 years of Americana on display. As the town's largest antique shop, the barn has two very full floors of ephemera to explore. They also offer bike hire if you want to get out and explore a little further.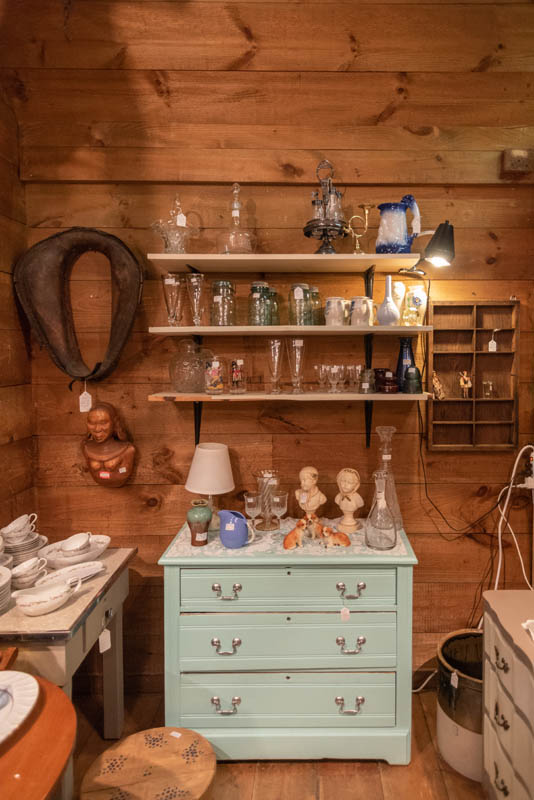 Wine Tasting at Robibero Family Vineyard
It's hard to top a lazy Sunday in a country winery – even if it's raining. Fifteen minutes from New Paltz, Robibero Wines is a small-scale operation set amongst forests and acres of farmland. In finer weather, we may have opted to stay on-site, where you can camp next to alleys of vines or opt for an off-the-grid experience in tiny couple-only cabins that can be booked on Airbnb.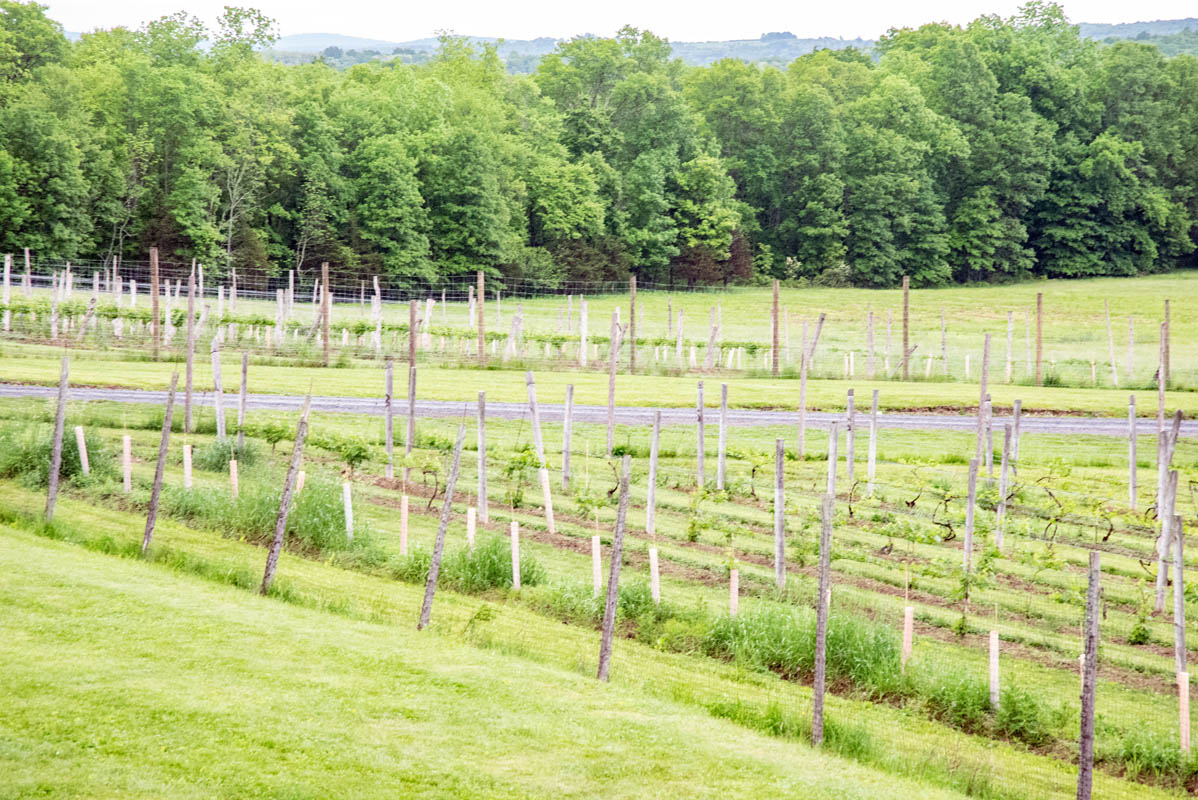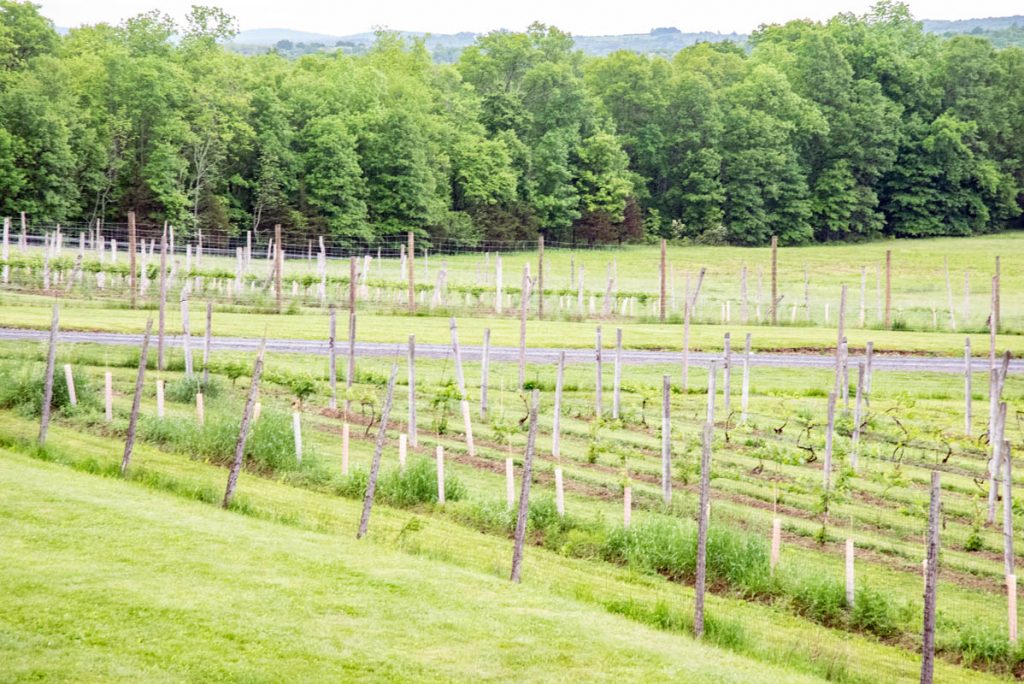 Embracing their Italian roots, the family has an outdoor pizza oven from which the enticing aromas of wood-fired crust are wafting. A sizable fire pit is rendered inoperable by the earlier downpour but thankfully it's warm enough not to need to seek solace with a glass of red by its flames.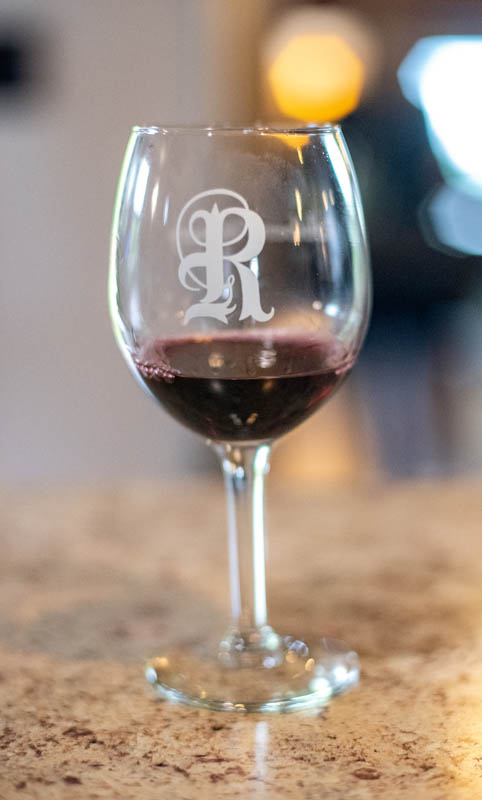 The main visitors center is modern, open and airy with sweeping views of the surrounding area from its inviting verandah. A jazz guitarist competently walks his fingers across the fretboard as he executes jazz standards on a beautiful old archtop. Old barrels serve as tables and the walls stand floor to ceiling with bottles of Robibero's finest.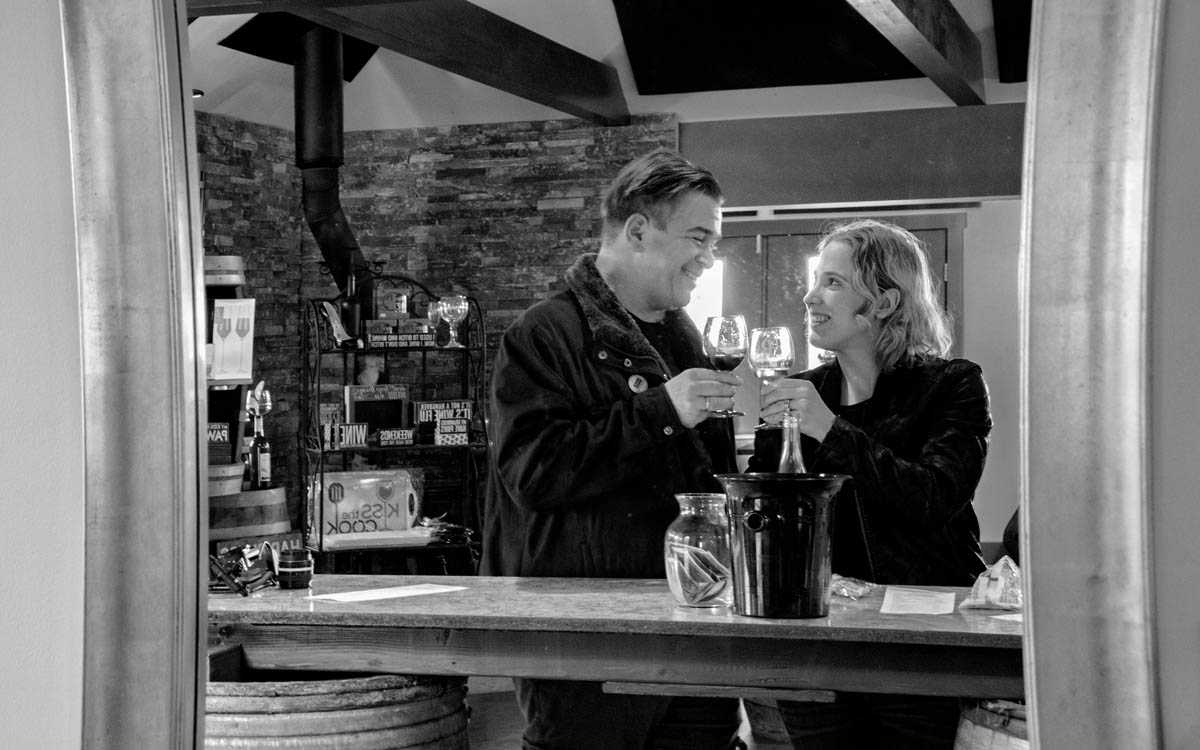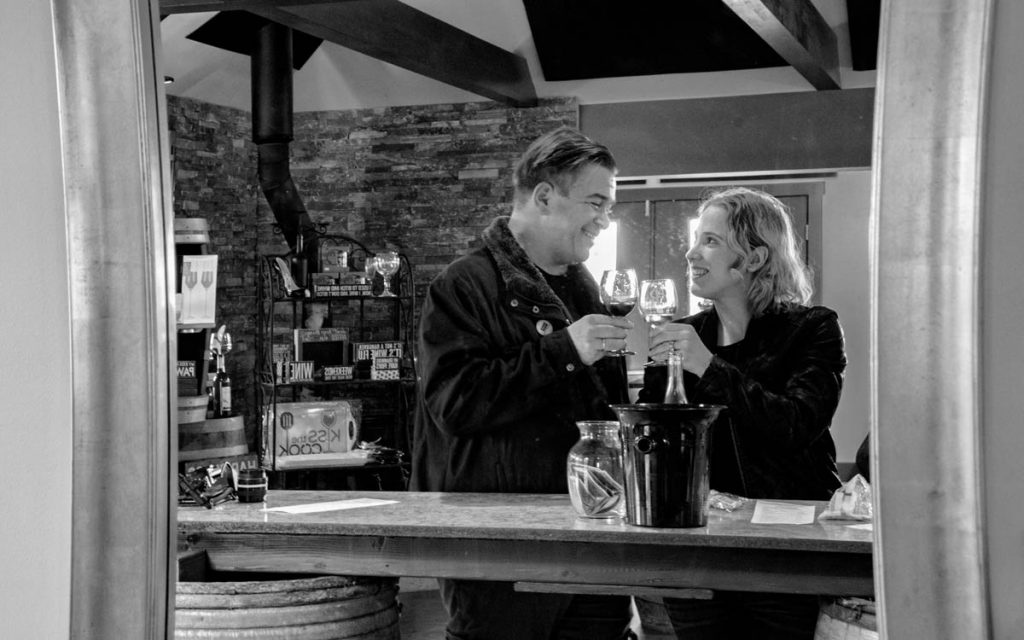 For $10 you get to sample five different wines from a list of about twelve. The range is surprisingly broad and the sample pours are generous. Enhancing the experience is a tasting table of cheeses, which we quickly find an ideal pairing to savor from the comfort of the balcony. The atmosphere is chill and there's a collective positivity that sees most tables engaging in banter with complete strangers like they're old friends.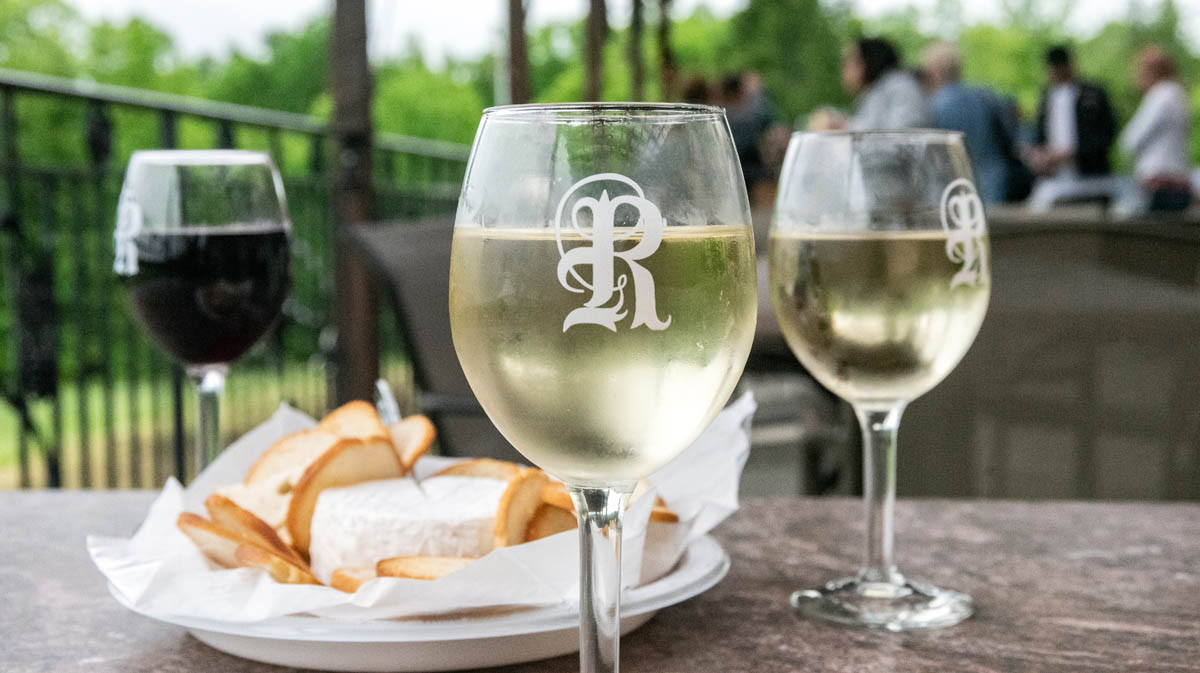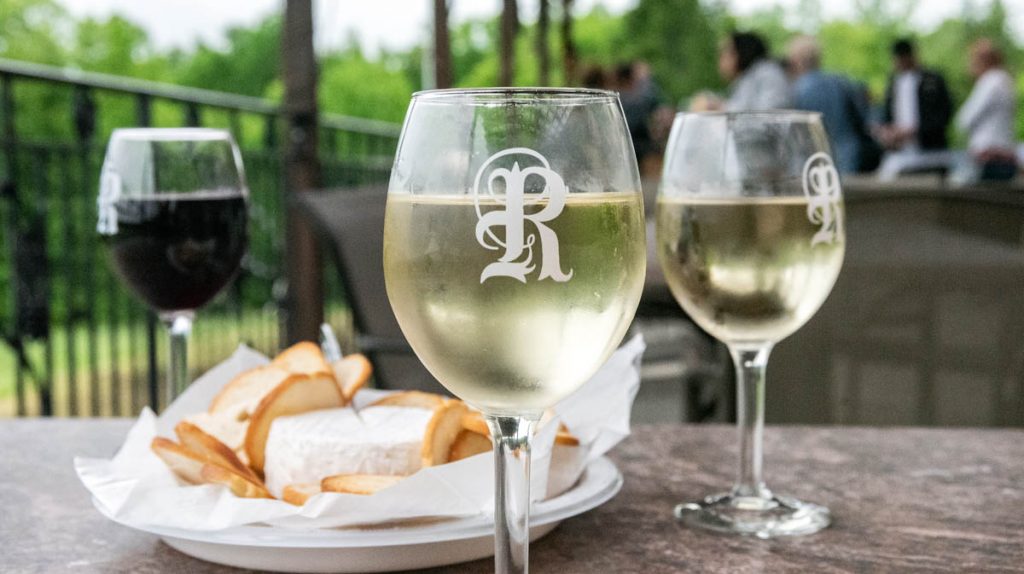 Sampling Blueberry Craft Beer at the Gilded Otter
Named after a brass otter that stands proudly across from the bar, you'll find the Gilded Otter just across the road from the river between the bridge and the rail trail. A popular spot for day trippers and locals alike, it's a restaurant (some may say Gastropub) and a decent craft brewery. The Gilded Otter has regular happy hours and live entertainment which equals happy us.
Walking the Rail trail
Cheap flights and Greyhound buses have killed off many of this country's rural rail routes but thankfully, community groups have seized upon this unfortunate loss and made it a gain for the town. The New Paltz rail trail runs along the former Wallkill Valley railroad, which once went from Kingston to Campbell Hall. The train line was laid in 1870 and was eventually torn up in the 1980s after years of neglect.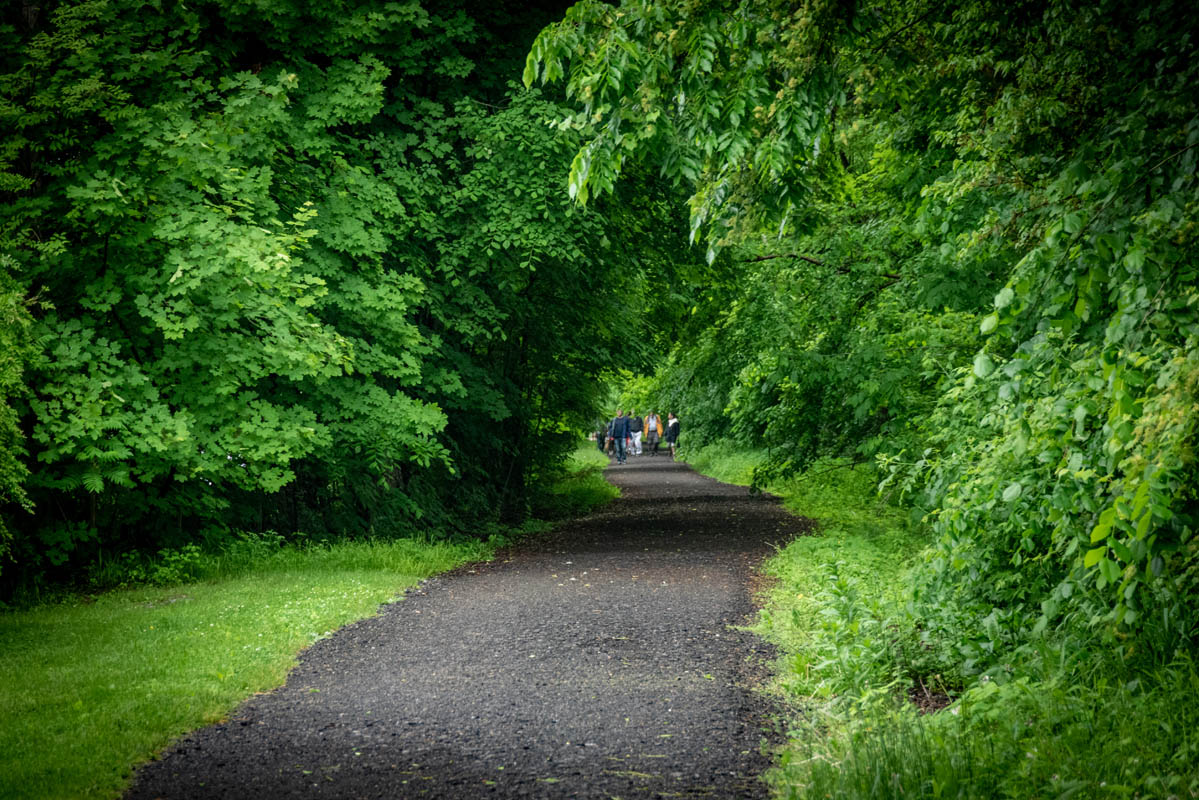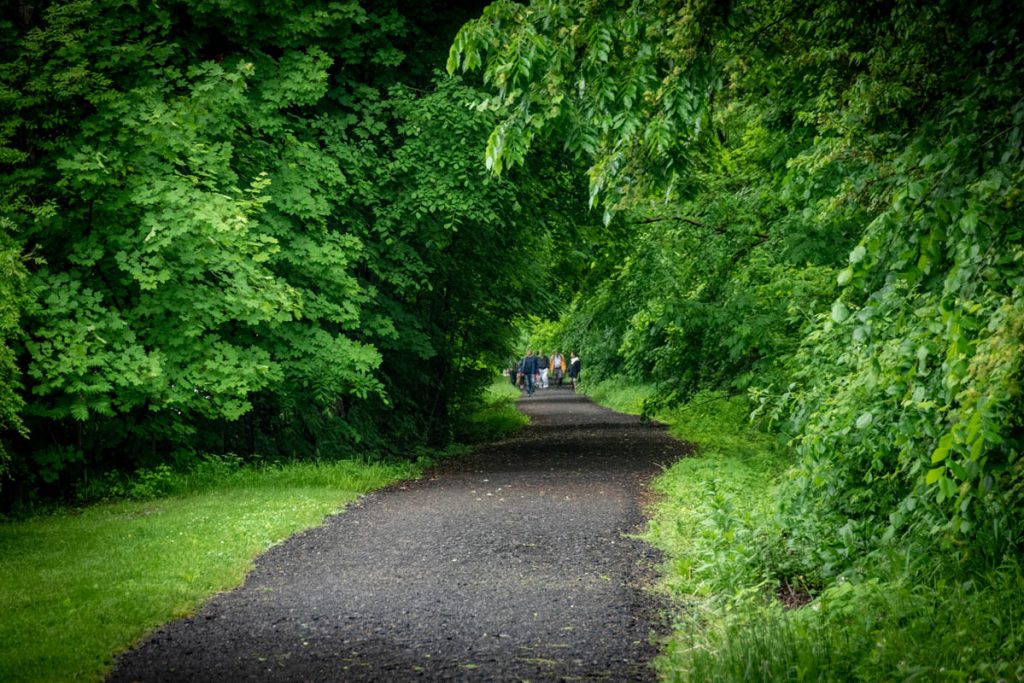 Now serving as a hiking path. It's popular with joggers, cyclists and wedding photographers with its lush greenery in summer and orange, earthy hues in autumn. The Rail Trail runs 12.2 miles (19.6 km) from Gardiner through New Paltz to Rosendale.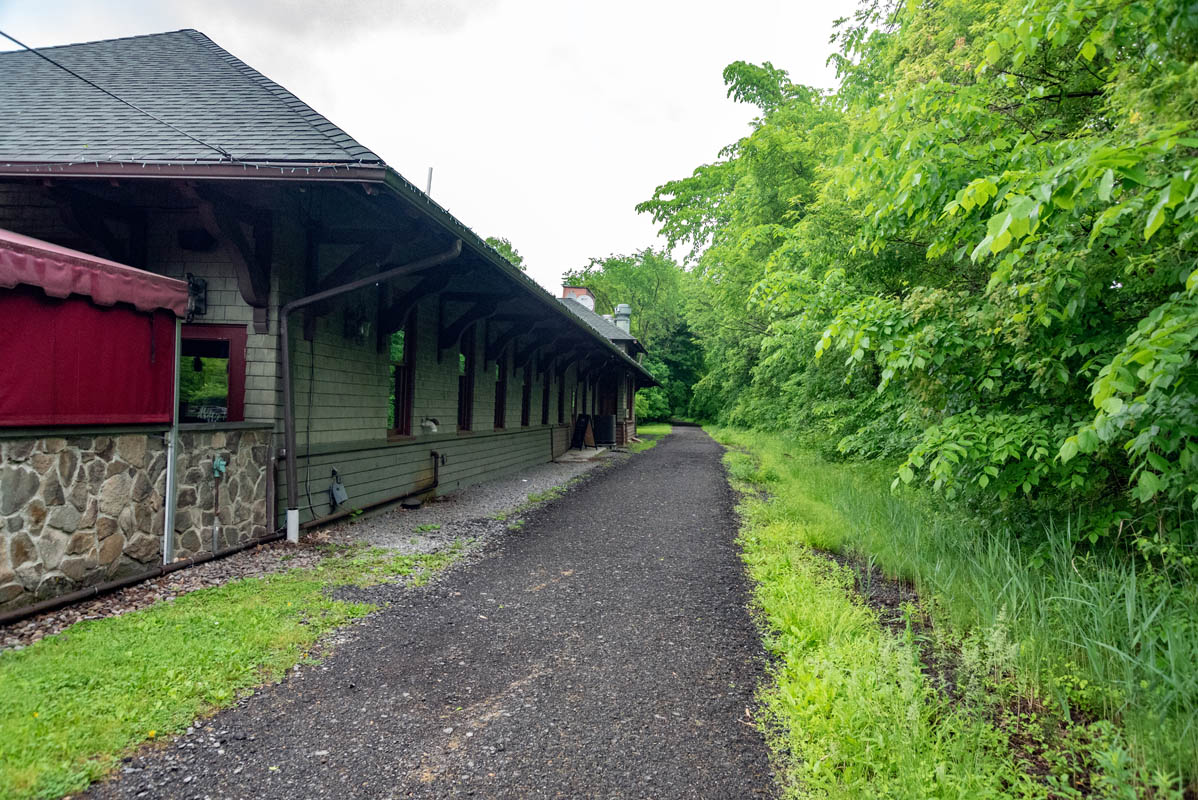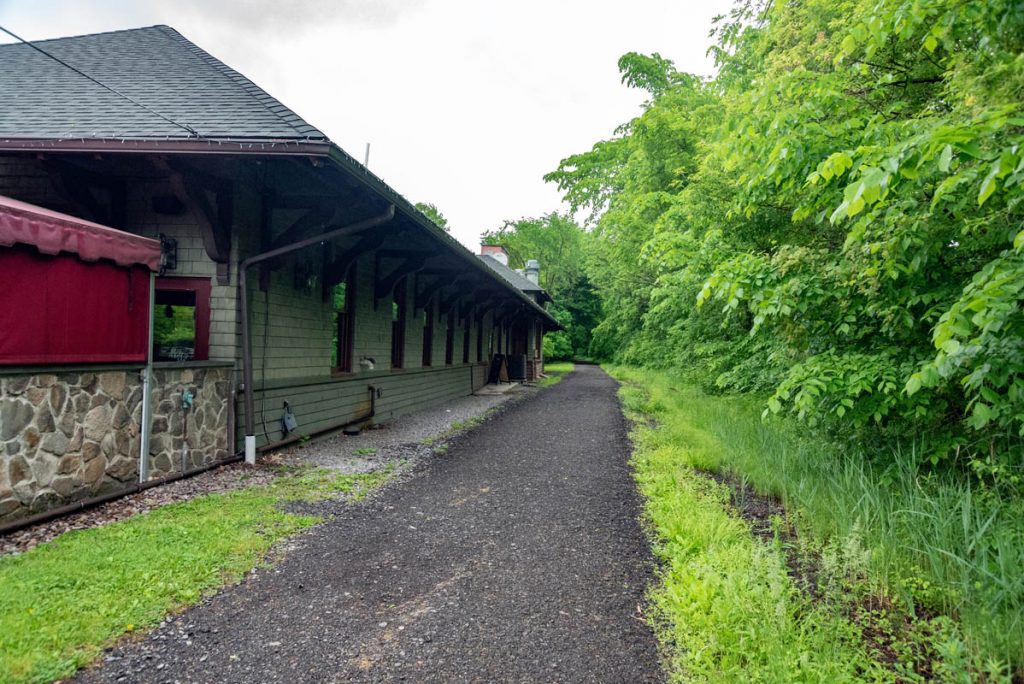 The former New Paltz station has been re-purposed as La Stazione, an Italian restaurant offering the quality of food commuters of yesteryear would've dreamed of.
Tasting America's 13th best burger at Schatzi's
Dark woods, gothic fonts, German Flags and a deer head guarding the room means we're in the most Germanic part of New Paltz. Schatzies is a beer hall/restaurant offering traditional fare like Schnitzels and wurst. They also relish the press they have been getting from making it to number 13 on Buzzfeed's best burgers in America for the Schatzi Burger, a half-pound of beef, a potato cake and bright pink Schatzi sauce served on a pretzel roll. It's delicious but drowned in sauce.
Getting down with the New Paltz punk scene
It's the end of the day and based on our cab driver's recommendation, we check out the adjoining bar, Snug Harbor, where a local punk 'festival' is taking place. The crowd is alternate and quite old for a college town. Two older women dressed in black look decidedly witch-like – our suspicions have been confirmed – there are witches here!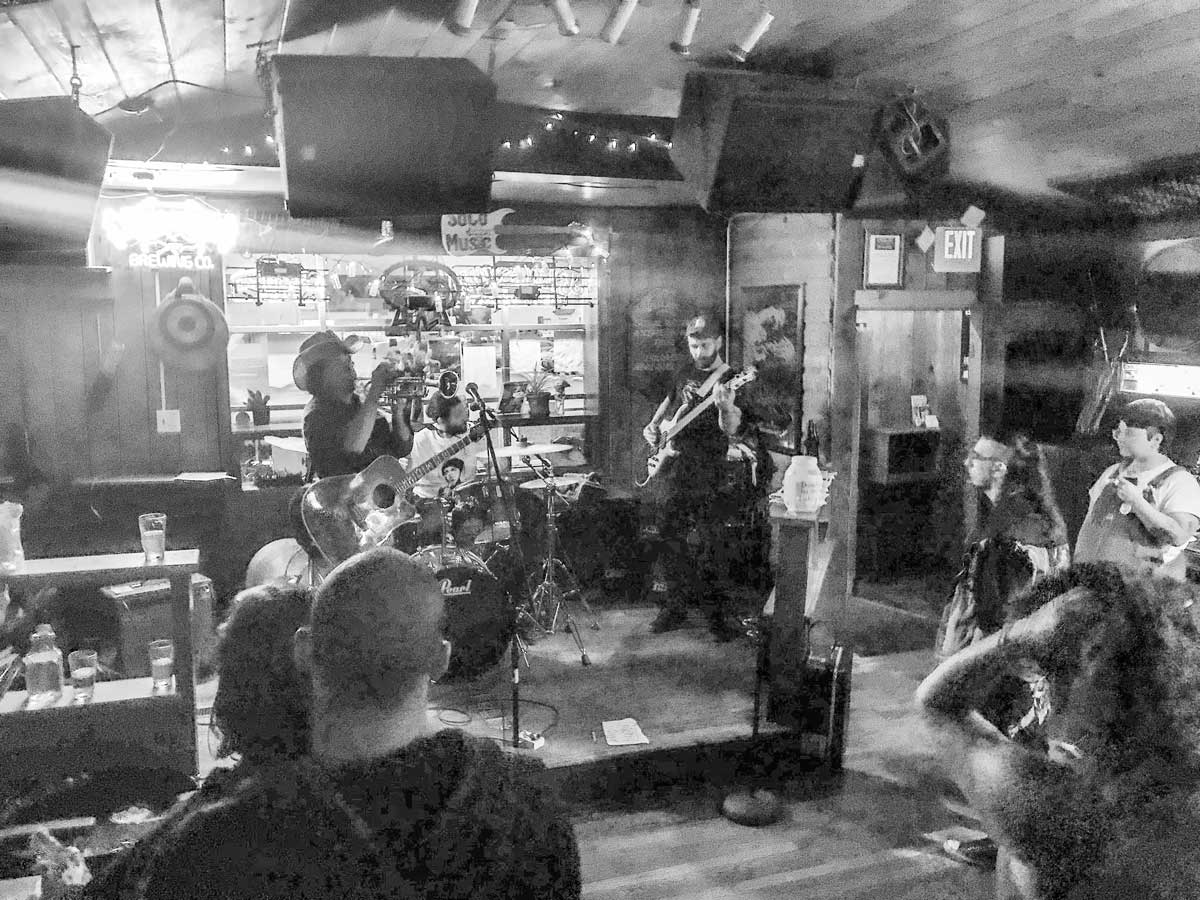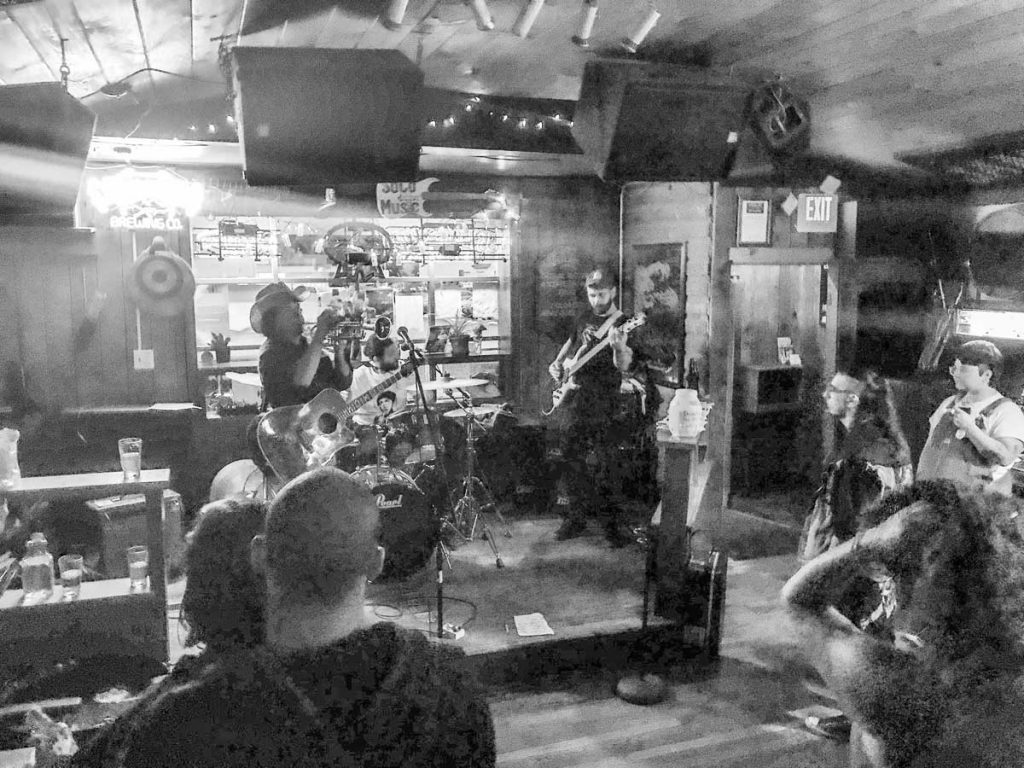 WHAT we missed and would go back for
Mohonk Mountain House
This elite, luxury hotel overlooking a lake is a relic of old money and still commands a pretty penny to stay. It has been compared visually to an East Coast version of the hotel from The Shining.
Historic Huguenot Street
We fully intended to visit this historic district with houses dating back to the 1700s. Unfortunately, the rain and the draw of the winery got in the way. We will be back.
HOW we got there
We took a Trailways coach from the Port Authority Bus Depot. It was $44 round trip and the bus was comfortable, with power outlets for charging.
Follow & Connect with us