Palenville NY is a tiny upstate hamlet in the Catskills that has a legitimate literary claim to fame – the place where Rip Van Winkle lived.
Many of the townships of the Catskills like to lay claim to being the setting for Rip Van Winkle – especially the town of Catskill and its nearby road bridge over the Hudson River – Rip Van Winkle Bridge. But it's really a low-key hamlet, Palenville NY, that is the setting for Washington Irving's short story, written in 1819.
Rip Van Winkle is the take of an early Dutch settler who was notoriously lazy and his hen-pecking wife. At the time, the whole of New York City and Catskills were the property of the early Dutch and many of the town names, creeks and landmarks have roots in the Dutch language.
In Irving's tale, Rip goes squirrel hunting to avoid his wife's repeated nagging. As night falls, he hears his name being called and is greeted by a man in historical clothing carrying a keg. He invites Rip to join him and his crew for drinks and 9-pin bowling. It is thought that the men were sailors on Henry Hudson's boat.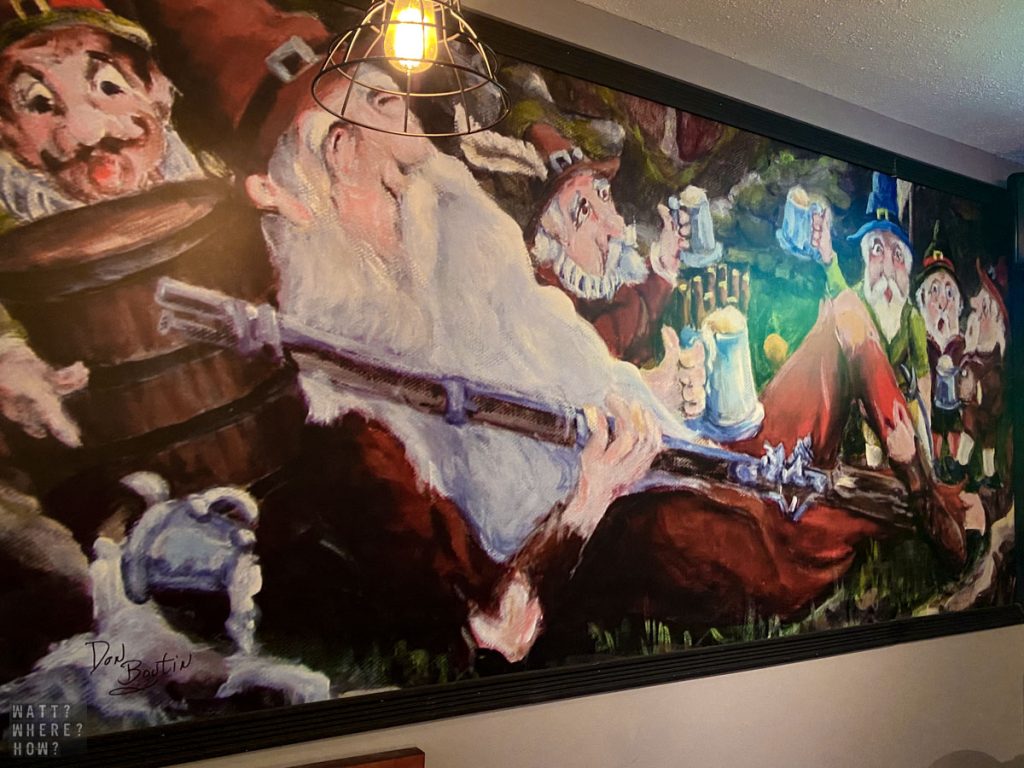 After a few too many, Rip passes out and wakes to a different version of where he fell asleep. He's now much older, with a long graying beard. His village, Palenville NY, has also grown, and fashions have changed – he's been asleep for 20 years and has missed the Revolutionary War. Eventually, he is taken in by his descendants and spends the rest of his life telling his story to anyone prepared to listen.
Palenville NY today is little more than a hamlet near Saugerties. There's a Circle K convenience store, a few motels and lodges, and a brewery. But it's also ideally situated as a base when you're visiting the Catskills. There are plenty of hikes, waterfalls, lakes, fishing, and Adrenalin sports in the region or idyllic country villages and orchards for road trippers.
Things to do at Palenville NY
Palenville places you at the center of the Catskills. The Hudson River towns of Saugerties, Catskill, Athens, and Coxsackie are an easy drive, while inland you're close to Woodstock, Tannersville, Hunter Mountain, and Phoenicia.
The main draw card in Palenville is the Rip Van Winkle Brewery, a craft brewery, and casual Italian restaurant. In summer, the brewery offers outdoor dining along with a large dining room and bar within. We found the food to be quite average, but the service and the quality of the beers more than made up for it. And unlike the legend of Rip Van Winkle, we woke up clear-headed the next day, not twenty years later.
Where to stay in Palenville NY
The accommodation options around Palenville NY are mainly old motor inns and motels, but we found a gem in the Catskills Mountain Lodge. This is a budget option with great facilities, but understand that it IS dated and a labor of love, and a work in progress from its new owners.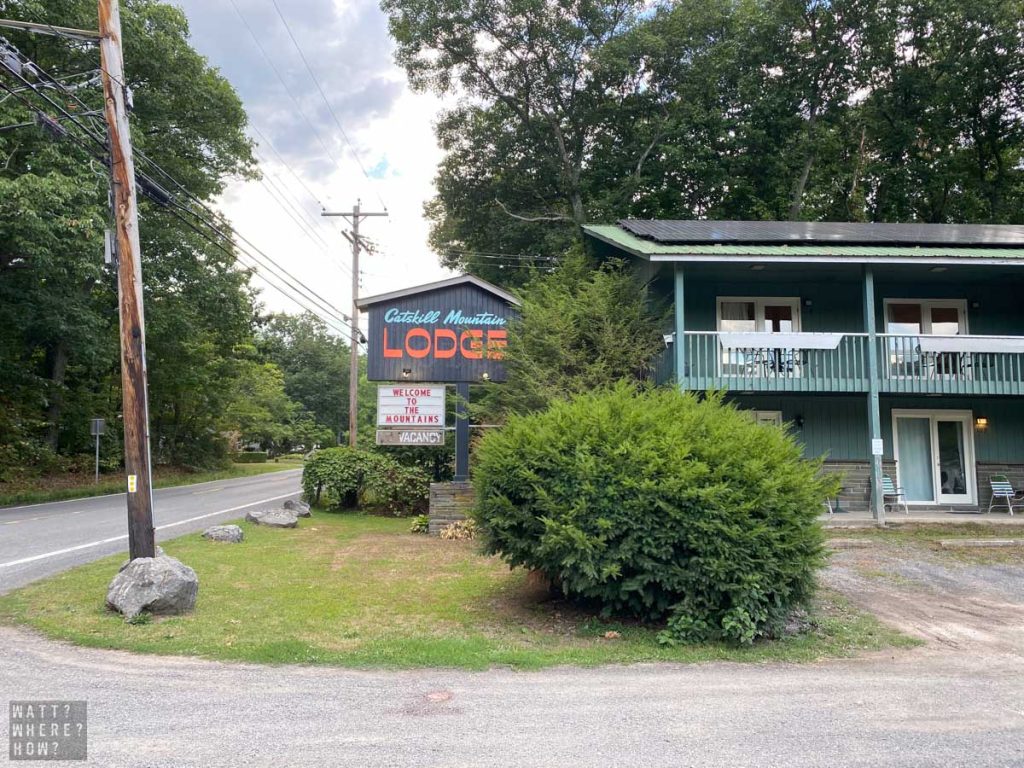 Catskill Mountain Lodge has pet-friendly lodge guest rooms, a separate motel section, and tiny self-contained cabins all set in a leafy locale by Kaaterskill Creek. At the front is a former bar that is waiting to be rejuvenated and for a liquor license, with ample outdoor seating for future festivities. A large fire pit, Adirondack chairs, lawn games, and a homely projector and white sheet setup provide plenty of entertainment, with bonfires, s'mores, and outdoor movies on Friday and Saturday nights.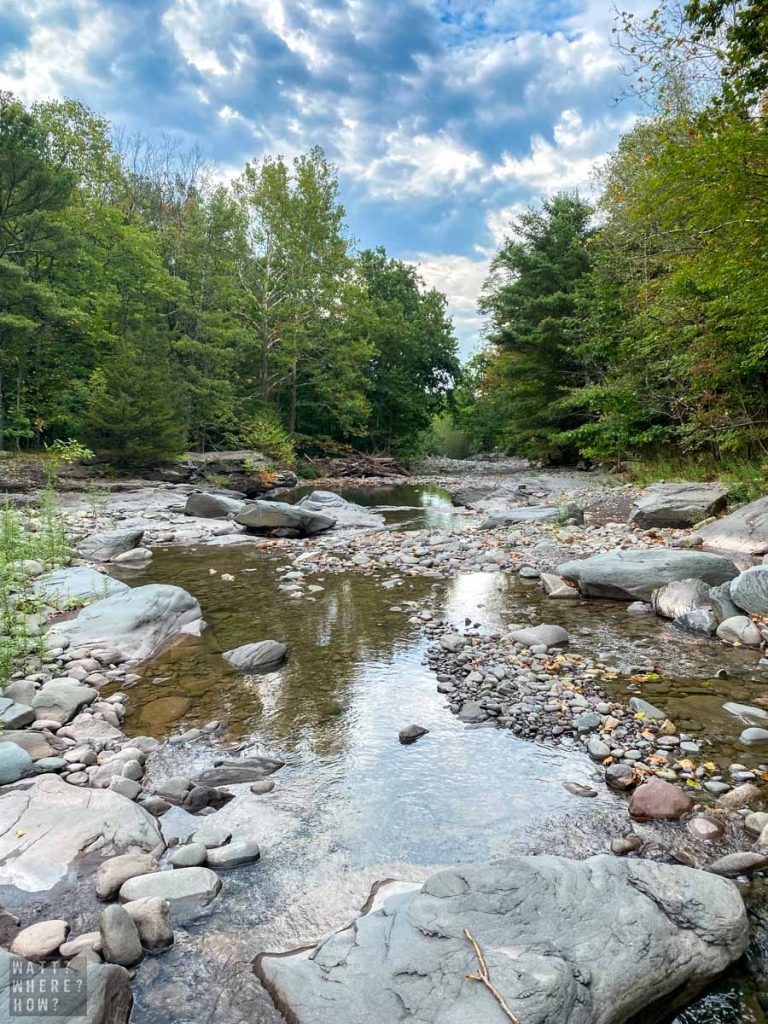 Inside, the retro boho entryway greets guests with free bagels and coffee – even catering to people with gluten intolerance or looking for milk alternatives like oat. There's also a handy honor bar for emergency purchases like beers, given that the nearest store is a drive away.
We stayed in a double Queen lodge room. It was one of the most spacious we've ever been in, with a fridge, coffee maker, dining table, couch, double vanities, and digital HDTV. And being on the ground floor, the room had a sliding door opening out to the woodlands.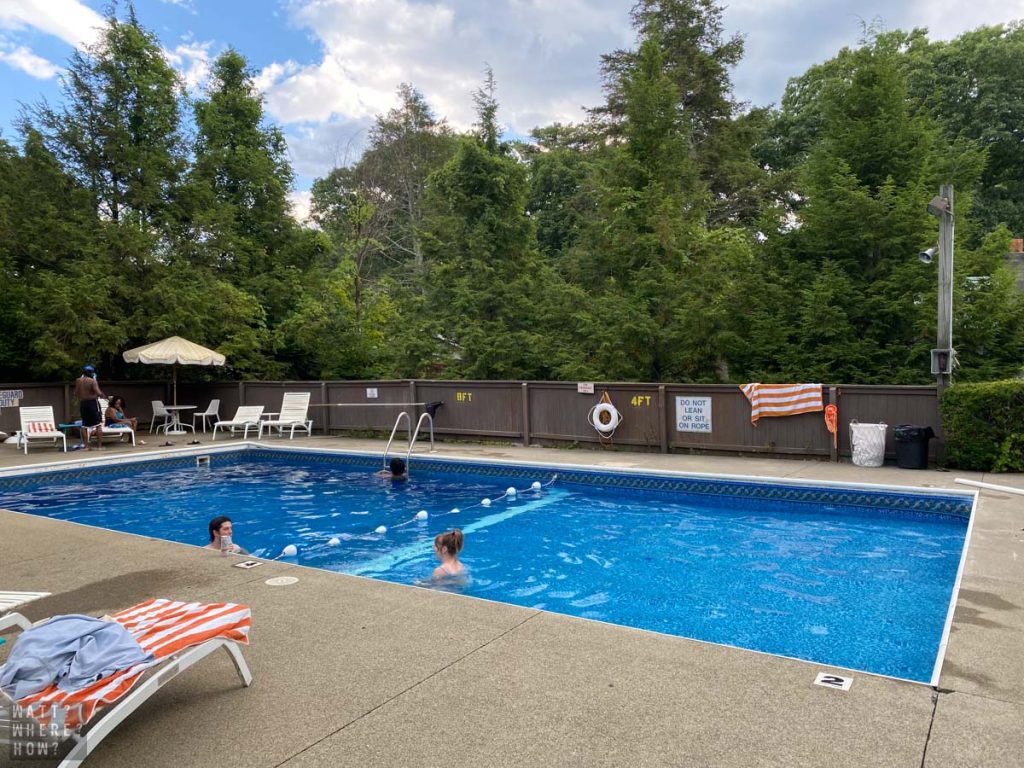 If you're visiting in summer, the other major selling point is the pool. It's large, warm, and super deep. There's also a kid's pool next to it that maxes out at two feet deep. Plus there are sun lounges and picnic tables galore. Out the back, you'll find additional fire pits, a Weber grill, and a swing for the kids.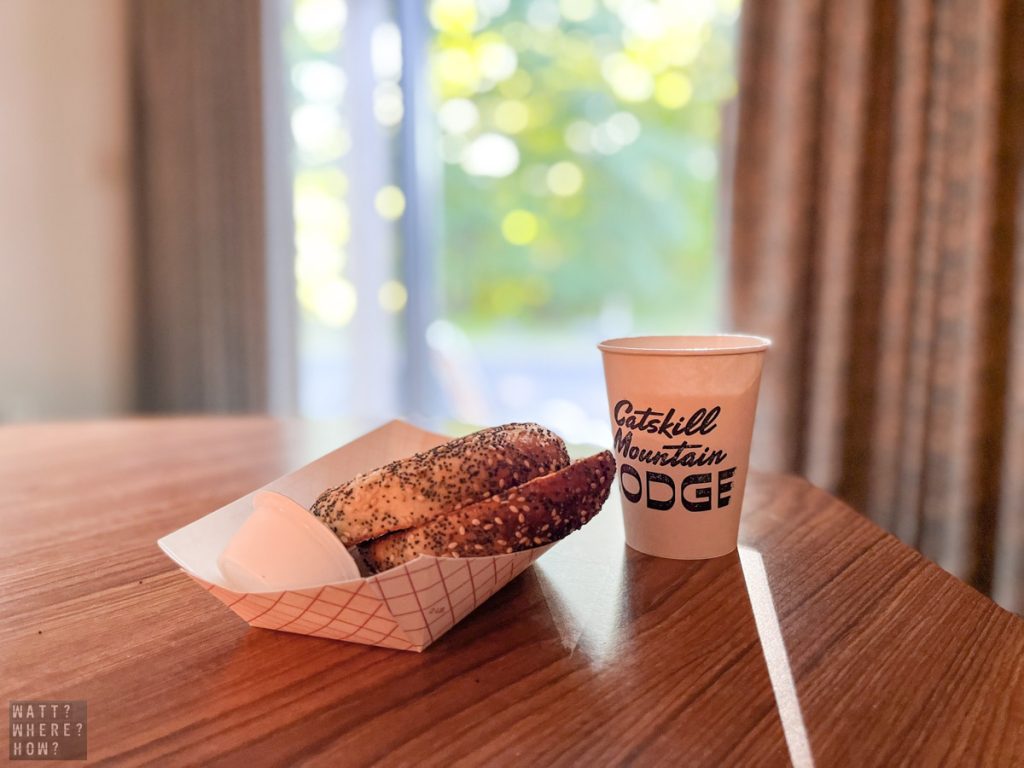 Admittedly, it's a budget establishment, but the Catskill Mountain Lodge more than deserves the mainly 8-plus ratings on booking.com and our recommendation as a cheap base for your Catskill adventures.
Looking for more vacation and road trip ideas across the northeast of the United States? We have great ideas across New York State, Vermont, Massachusetts, Rhode Island, New Hampshire, and Maine.
Follow & Connect with us