Each February, the Lake George Winter Carnival transforms the icy Adirondacks township into a mecca of wintry fun and food.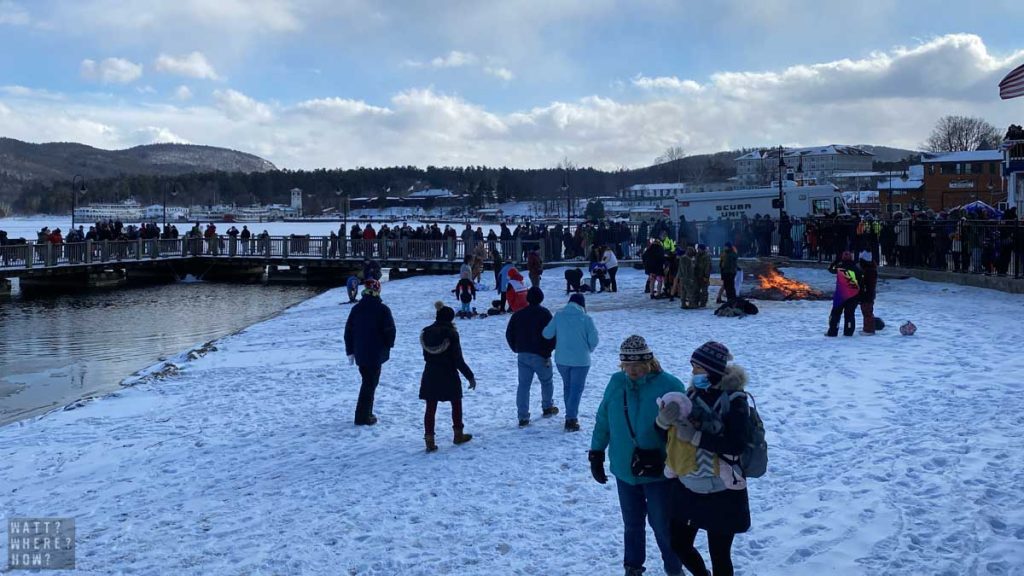 In summer, Lake George and the Adirondacks attract vacationers to the pristine wilderness, blue waters, and great outdoors. In winter, Lake George comes into its own. The beaches and waters freeze into a thick ice expanse that can hold thousands of revelers (most struggling to remain upright on the slippery surface). You'll find people shooting off fireworks, carving up the ice in race cars, racing outhouse toilets, parading their pets, and throwing kegs and skillets. It's all a little crazy, but the best therapy for seasonal affective disorder in the darkest months of the year.
Where is the Lake George Winter Carnival?
The main celebrations center around the lakefront and beach between the Lake George Steamboat Company on Beach Road and the Carnival Headquarters on Canada Street. The district's hotels come to the party, with some creating ice igloo bars serving up hot toddies and ciders.
Things to do at the Lake George Winter Carnival
The Lake George Winter Carnival Outhouse Races
On the first Saturday of February, revelers take their homemade outhouses onto the ice for a race. The outhouses have to be built to fairly specific dimensions and from solid materials like wood, aluminum, steel and fiberglass. Each toilet sleigh has one rider in their royal throne with two pushers and two pullers. The winners can score up to $2,000 in cash.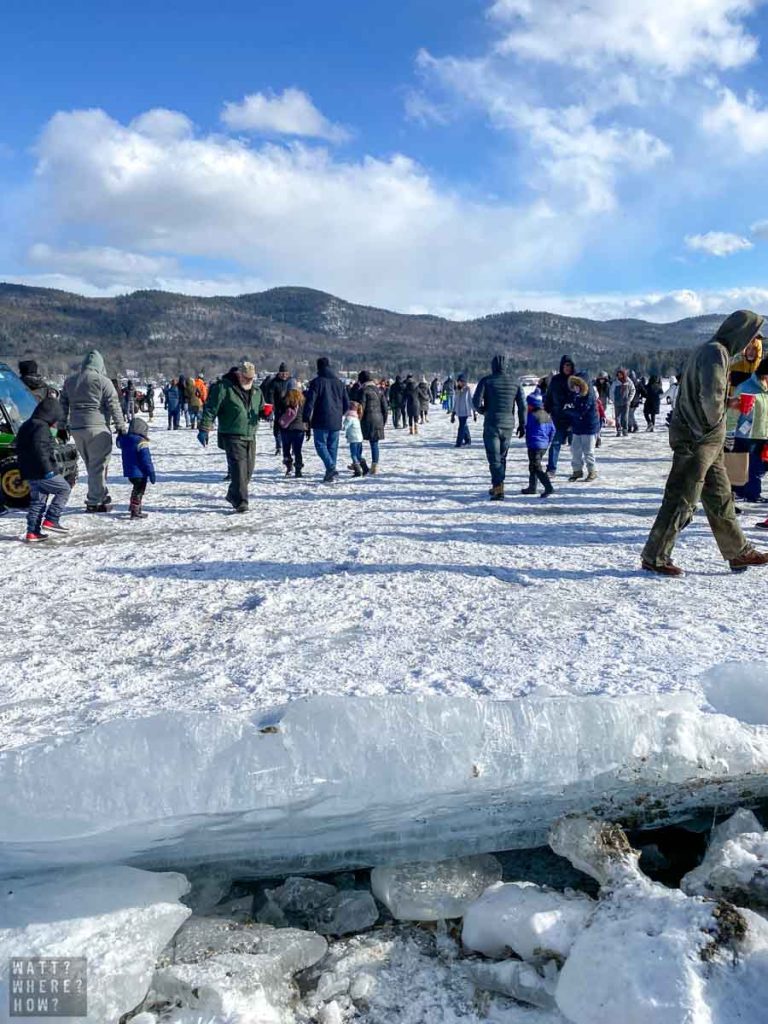 The ATV Poker Run
Take to the snowy trails in a freezing but fun game of poker. You ride ATVs and visit various checkpoints, where you pick up a card each time. The more checkpoints, the more cards you get and you can build a hand of cards while enjoying the lake and the snow.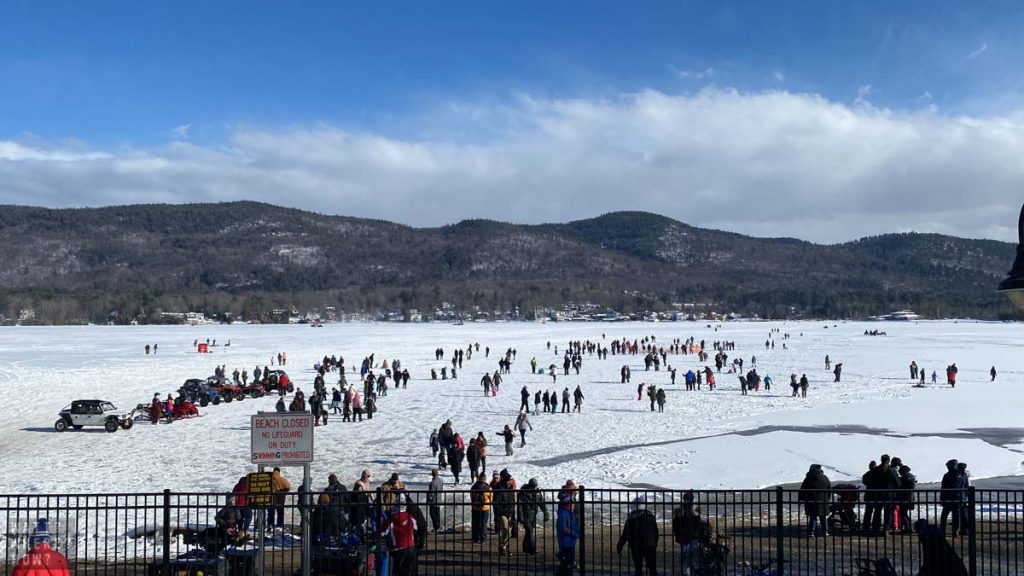 The Cook Off
We can't begin to tell you just how cold it gets at Lake George in winter. The days we were there, we were greeted by an unexpected blizzard, so the presence of a competitive chowder cook off was just what we needed. Each weekend of the Winter Carnival, 12 restaurants cook off either chili, BBQ, chowder, or mac and cheese – depending on the date.
Car and Motorcycle Races
When we first arrived at Lake George, the idea of walking out on a frozen lake was quite terrifying. Contrary to our alarmist fears, the ice is super thick – thick enough to house thrilling races from both modified and street legal cars to American Motorcycle Association sanctioned bike races.
Keg and Skillet Toss Competitions
It all gets a little crazy on the ice, when feats of masculine and feminine strength happen, with the aggressive throwing of beer kegs and cast iron skillets for small prizes and bragging rights.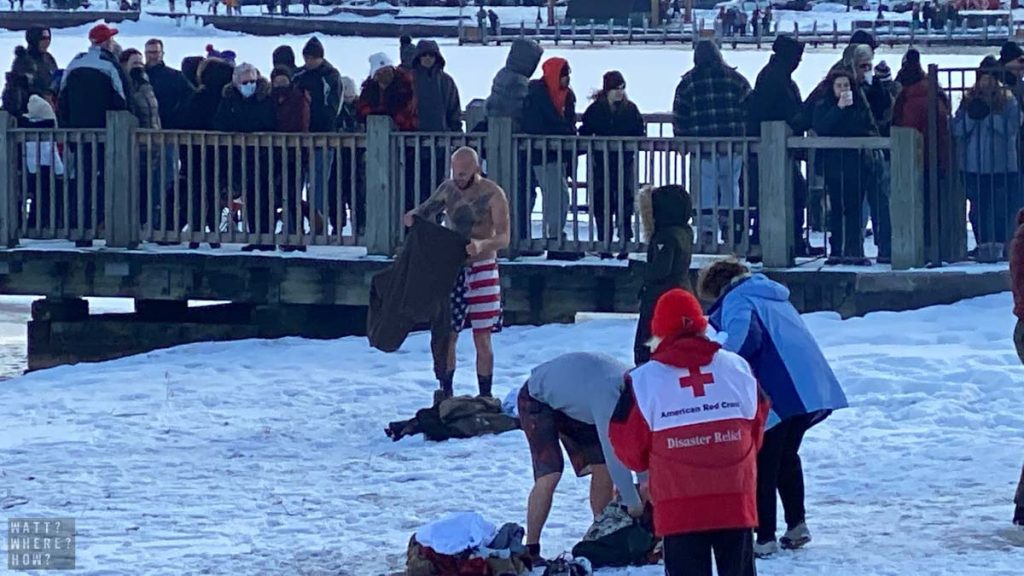 The Polar Plunge
If you're up for a little chaos, humiliation, and numbness, dive into the depths of Lake George through a hole in the ice. It's insane. We didn't do it, but we're tropical kids.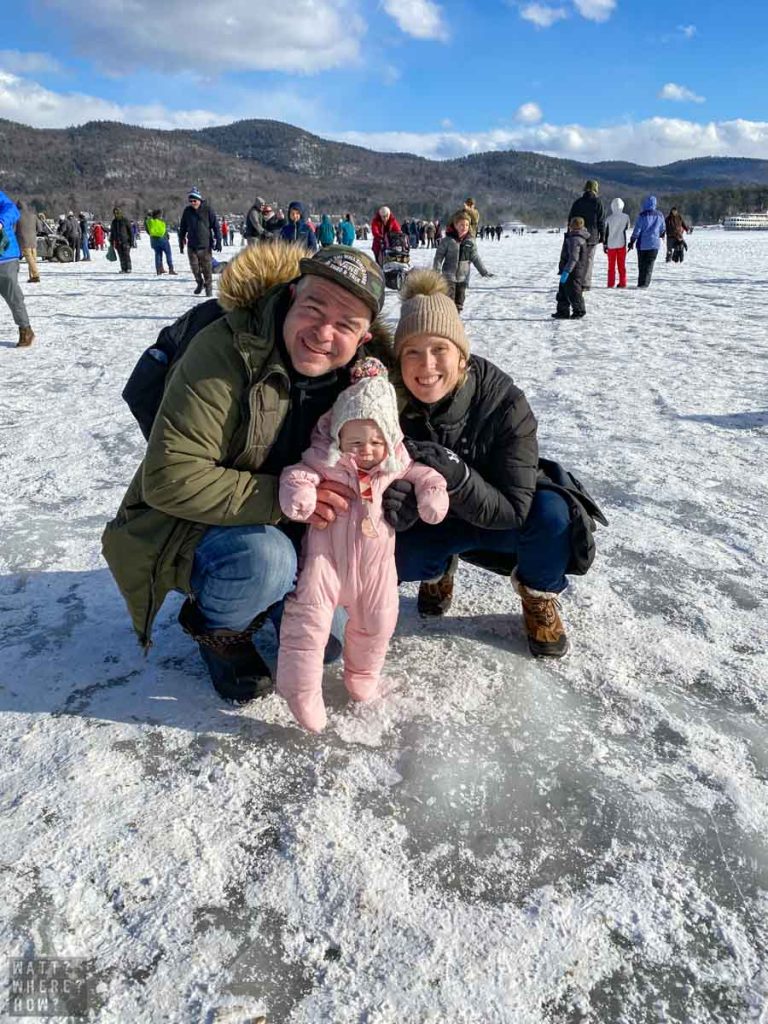 Activities for kids at the Lake George Winter Carnival
The Lake George Winter Carnival is made for all ages and there's plenty to appeal to families up here for winter. There are horse and sleigh rides around the center of town, a petting zoo, indoor golf, snow sculptures and tie dying.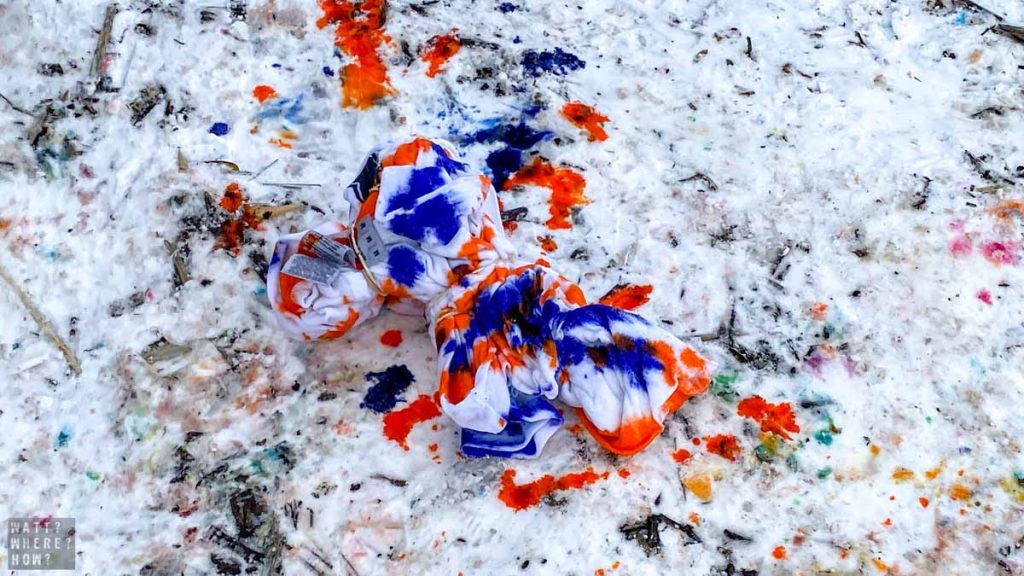 Free Fireworks Displays
On each night of the festival, the early darkness is awakened with explosions of color that light up the wintry sky.
Free Hot Chocolate Bar
It's close to or below zero most of the time, so free hot chocolate is a welcome surprise. Members of the armed services are on hand at stands offering free hot chocolate and answering questions about life in the services.
Snowmobile and Dog Sledding Experiences
In addition to the central events, you can sign up for other fun outside of town. These can include paid snowmobile excursions and dog sledding.
Where to dine and drink at Lake George in Winter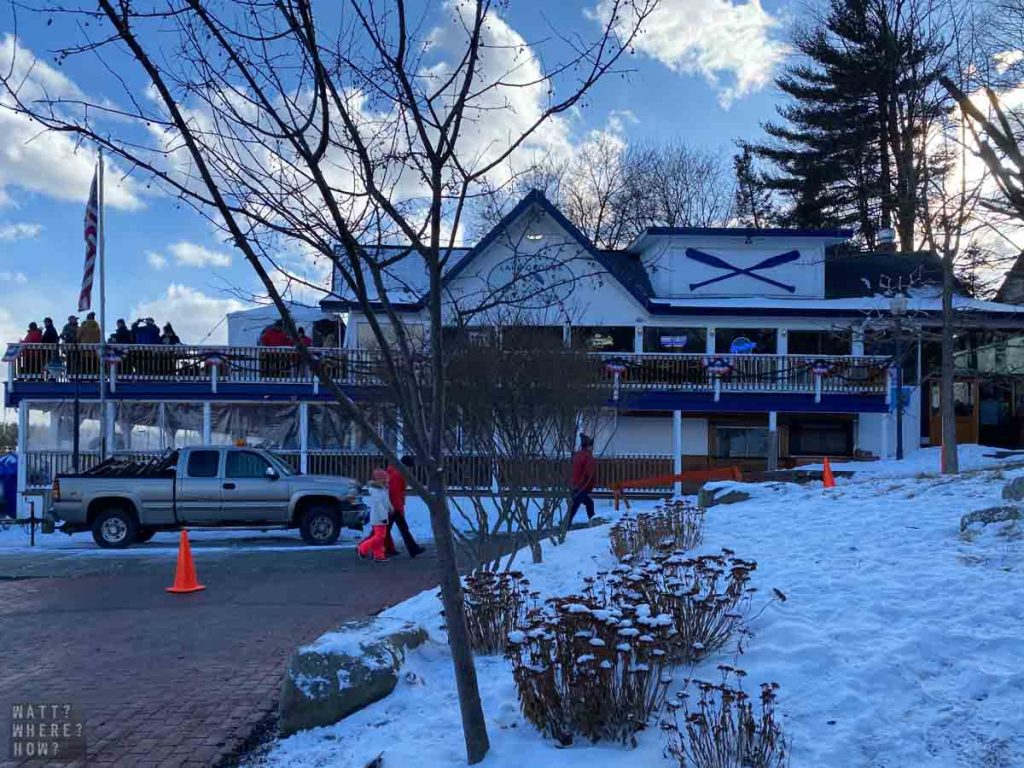 Where to Stay at Lake George
Hampton Inn and Suites Lake George
Country Inn & Suites by Radisson, Lake George (Queensbury), NY
Six Flags Great Escape Lodge & Indoor Waterpark
Looking for more vacation and road trip ideas across the northeast of the United States? We have great ideas across New York State, Vermont, Massachusetts, Rhode Island, New Hampshire, and Maine.
Follow & Connect with us