Directions to Rockaway Beach are pretty vague in the Ramones classic: "It's not hard, not far to reach, we can hitch a ride to Rockaway Beach."
Before ever visiting New York, Rockaway Beach was just another Ramones lyric. We never imagined it was a real destination, possibly due to the Ramones' reliance on the word "rock" in many of its song titles and lyrics. See: Rock n Roll High School, Do You Remember Rock n Roll Radio, Sheena is a Punk Rocker and many of that ilk. So when we finally got through our first winter living in Manhattan, we soon learned that Rockaway Beach was both very real and really one of the best (of an average lot) options for waves anywhere NYC. So what's the best way to get to Rockaway Beach?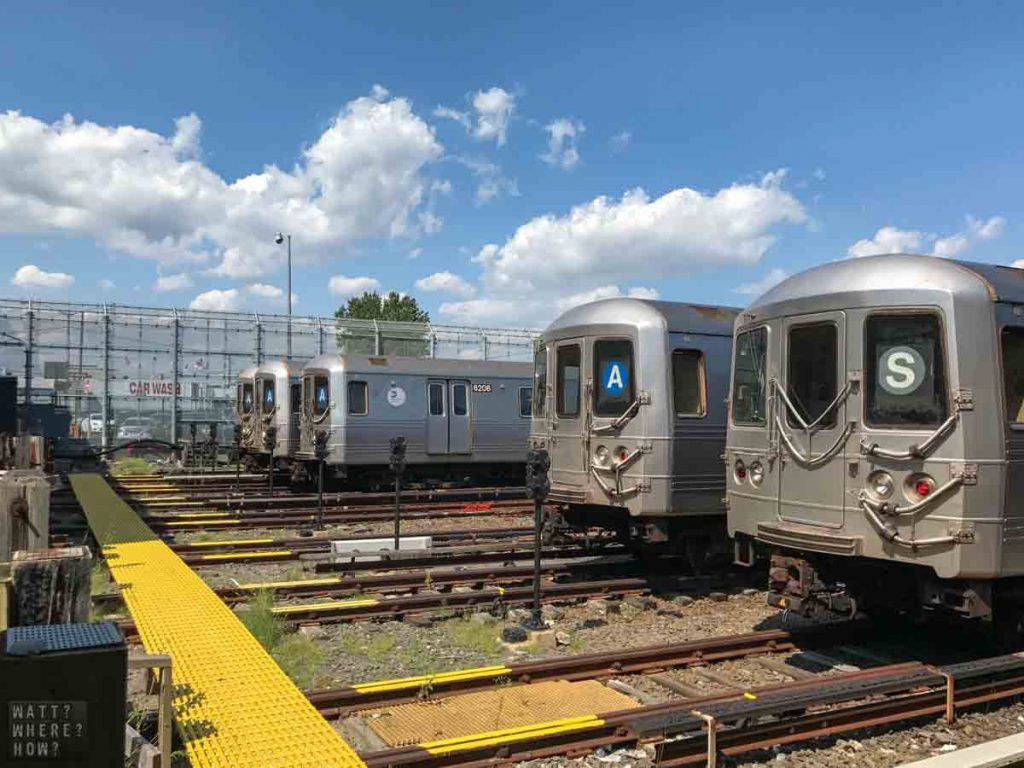 Directions to Rockaway Beach
SUBWAY TO ROCKAWAY BEACH: Take the A train to Broad Channel and transfer to the local shuttle train (it's on an elevated track) to Beach 90.
SUBWAY AND BUS TO JACOB RIIS PARK: Take the 4 Train to Flatbush Avenue, cross to outside Target and catch the Q35 to Jacob Riis Park. The stop before it gives you access to Fort Tilden.
BEACH BUS: The easiest way to get out there is to take the Beach Bus. It does pickups in the Lower East Side, Williamsburg and Bushwick and they allow drinks for those pre and post-gaming.
FERRY TO ROCKAWAY BEACH: Take the RW ferry from Wall Street/ Pier 11 (Gouverneur Lane at South Street, F.D.R. Drive), or from Brooklyn Army Terminal/Sunset Park (140 58th street), docking at Beach 108th Street and Beach Channel Drive. It takes just under an hour from downtown.
UBER/LYFT/ZIP CAR/HITCH: One of the costliest ways to get to Rockaway Beach and the Far Rockaways is by ride sharing. In summer, the surge pricing can be incredibly high and there's always the risk of not being able to find a car when you really need it.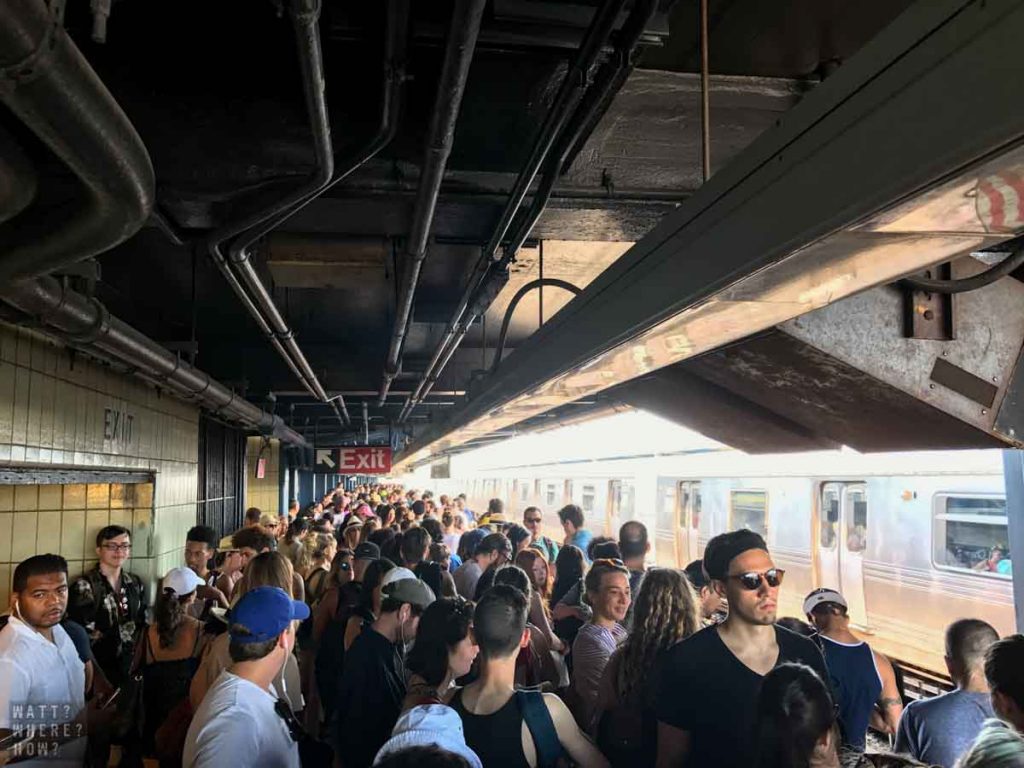 Things to do at Rockaway Beach
Rockaway Beach is actually a long peninsula of beaches close to JFK airport. It's home to wetland wildlife reserves on one side and small suburban weatherboard beach houses, boardwalks, and even a former military base, Fort Tilden that defended the entrance to Manhattan's harbor – one of the biggest and most vulnerable in the world.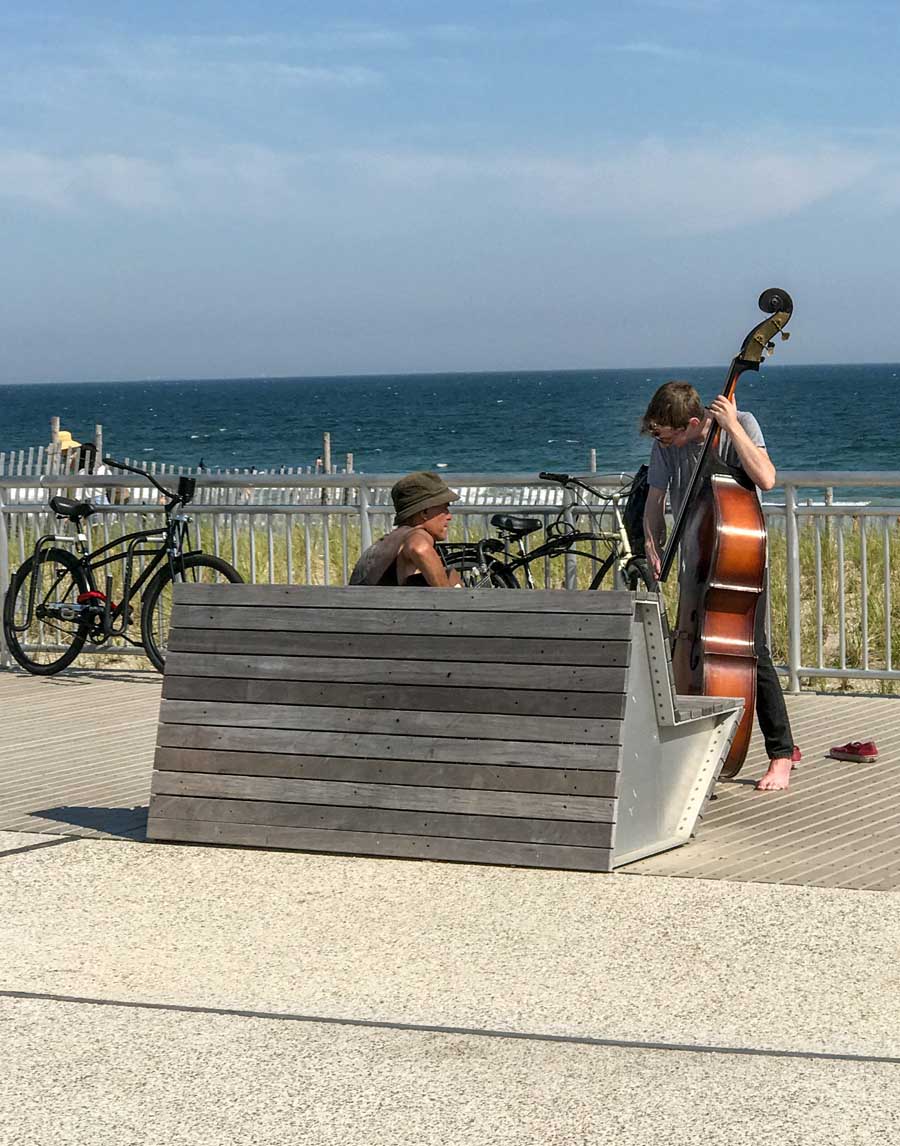 To the eastern end, is an area known as the Far Rockaways, the central section is the most populated and popular to visit and to the west is Fort Tilden and Jacob Riis Park. And while it's not far or hard to reach, it can be a bit of an effort. For the new comer living in Brooklyn, there are beach party buses that you can drink on and that take you right to Jacob Riis Park.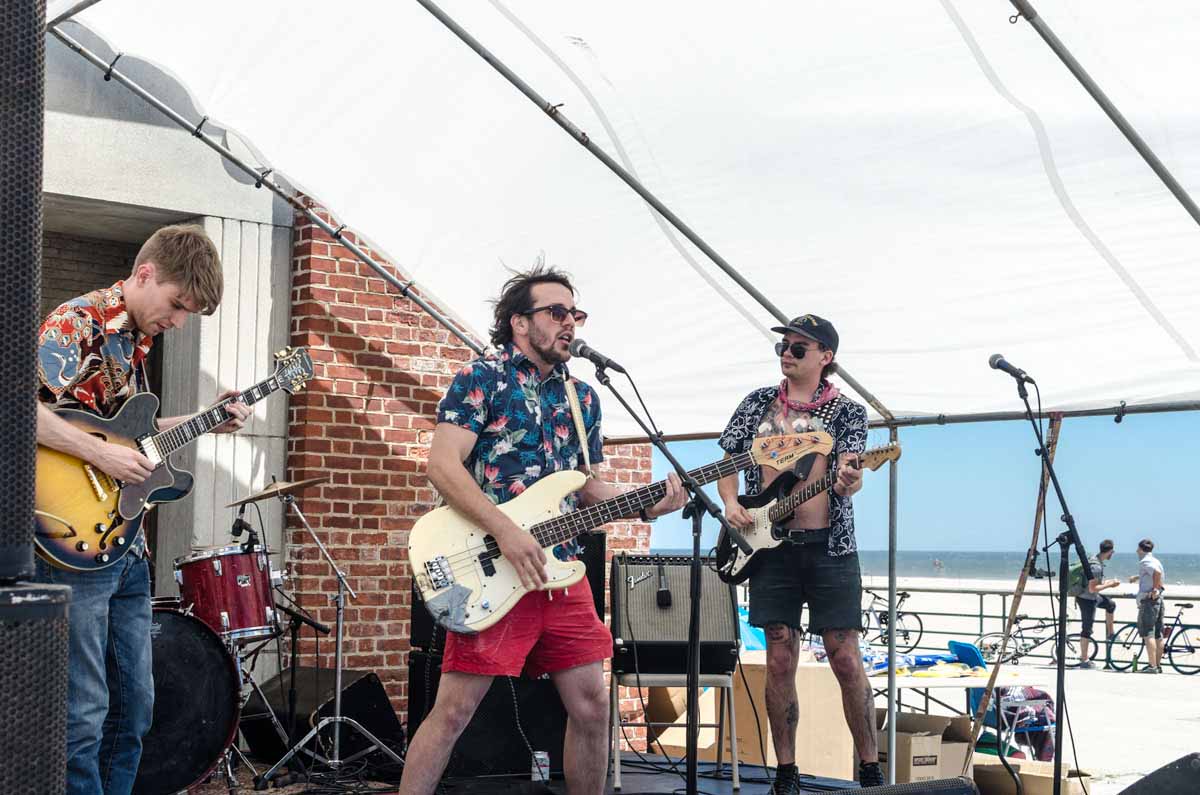 Live bands and cold drinks add to the fun of Jacob Riis Park
The most popular stretches of Rockaway Beach are near the subway station, between 114St and around 90th. A recently rebuilt boardwalk is a haven for day-trippers, with new pavilions offering gourmet ice creams, hot dogs, cocktails, and American beach favorites. Clean bathroom facilities are available and better still, entry to the beaches is free as opposed to many Long Island beaches. Just a few streets from the boardwalk you'll find the Rockaway Beach Surf Club, home of icy cold $5 beers and Tacoway Beach – one of the most popular and hard-to-get-into Mexican joints in New York, but the wait is worth it.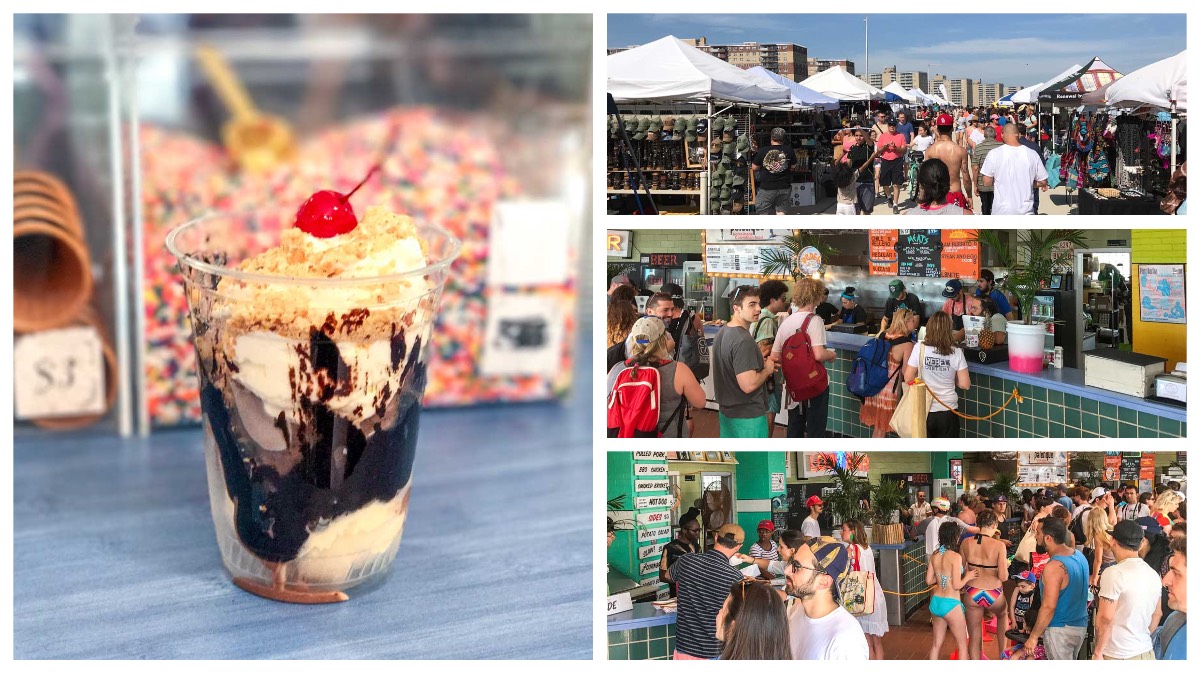 New Yorkers beach like no one else.
They love the sun. There's no sense of understanding about the effects of skin cancer with more skin than most cultures would expose – and for many hours at a time. As we've grown up under the ozone hole, we know the dangers and only usually stay out on the beach for an hour or two at the max. The locals come for the day and bring everything but the kitchen sink with them. There are ghetto blasters, barbecues, beach volleyball nets, Frisbees, chairs, PA systems, congas, and bongos. And completely against local laws, most drink on the beach too. Anything to get the most out of the summer months.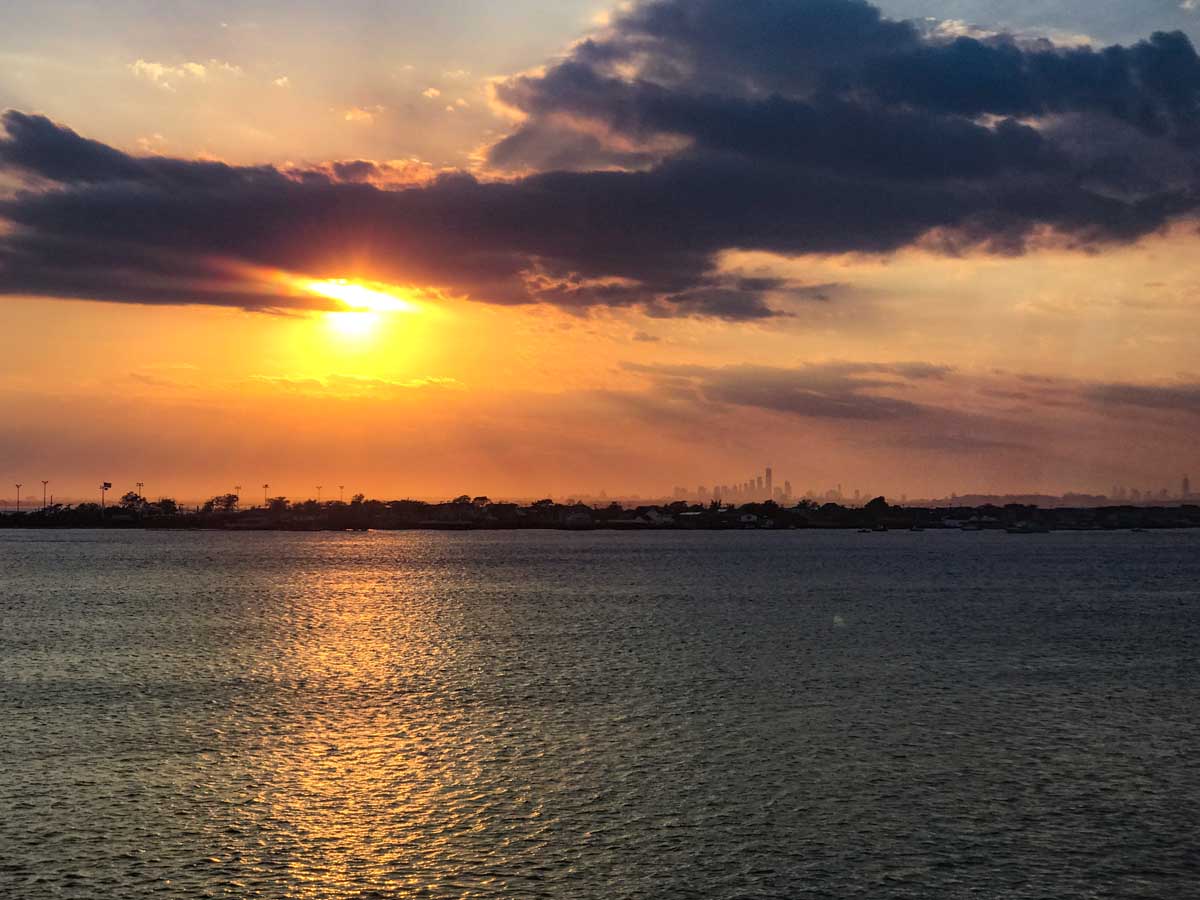 Ending a day at the beach with this view is fantastic
WHAT?
Rockaway Beach is the closest swimmable beach in the New York area. And unlike Long Island beaches, it doesn't cost anything for the same standard of waves, sand and cleanliness.
WHERE?
Rockaway Beach is on the south shore of Long Island, but still in Queens.
Follow & Connect with us