In the heart of midtown's high stress and high traffic stands Bryant Park NY, a much-needed escape and an oasis to take a moment to refresh and watch the world go by but in the cooler months it's home to the Bryant Park Winter Village.
Bryant Park NY is as close to the middle of Manhattan as you can get. Bordered by Fifth and Sixth Avenues and 40th and 42nd Streets, it's one block from Times Square. The New York Public Library adjoins it. Grand Central Station and the Chrysler Building are on the same street. It's the epicenter of chaos, yet Bryant Park NY is a place that offers much-needed respite.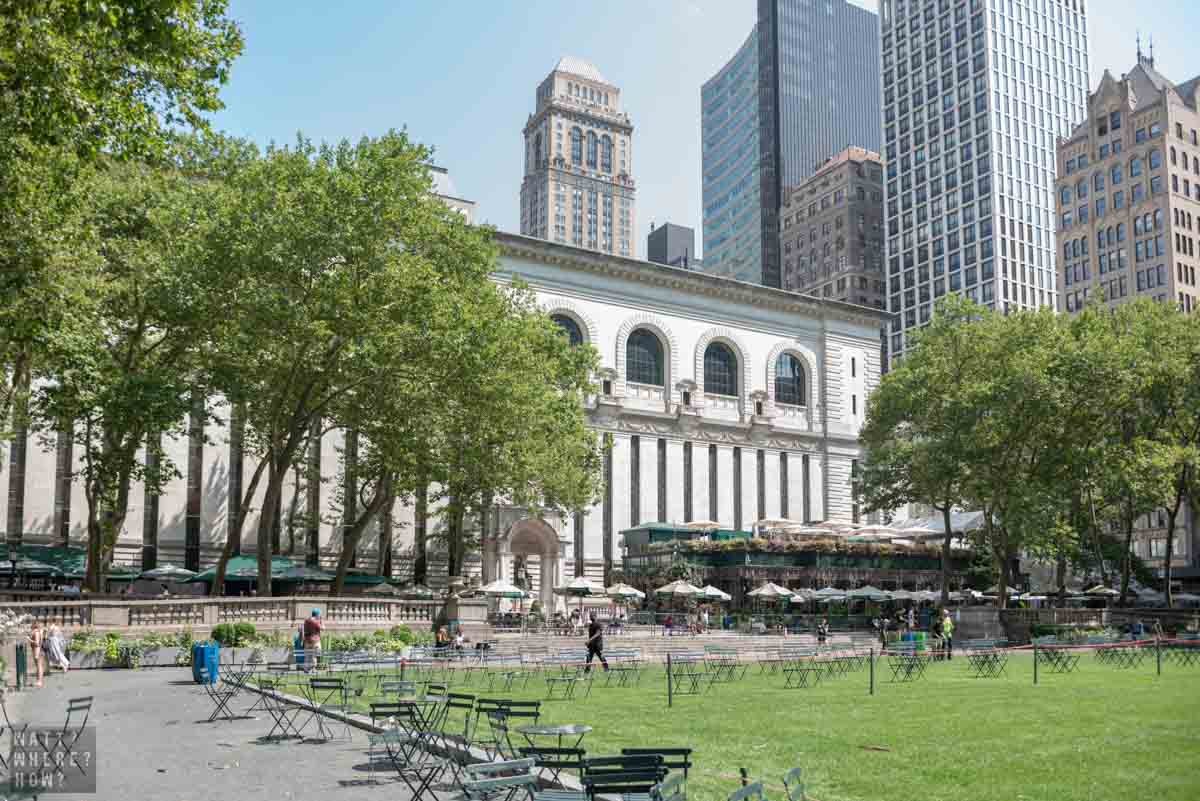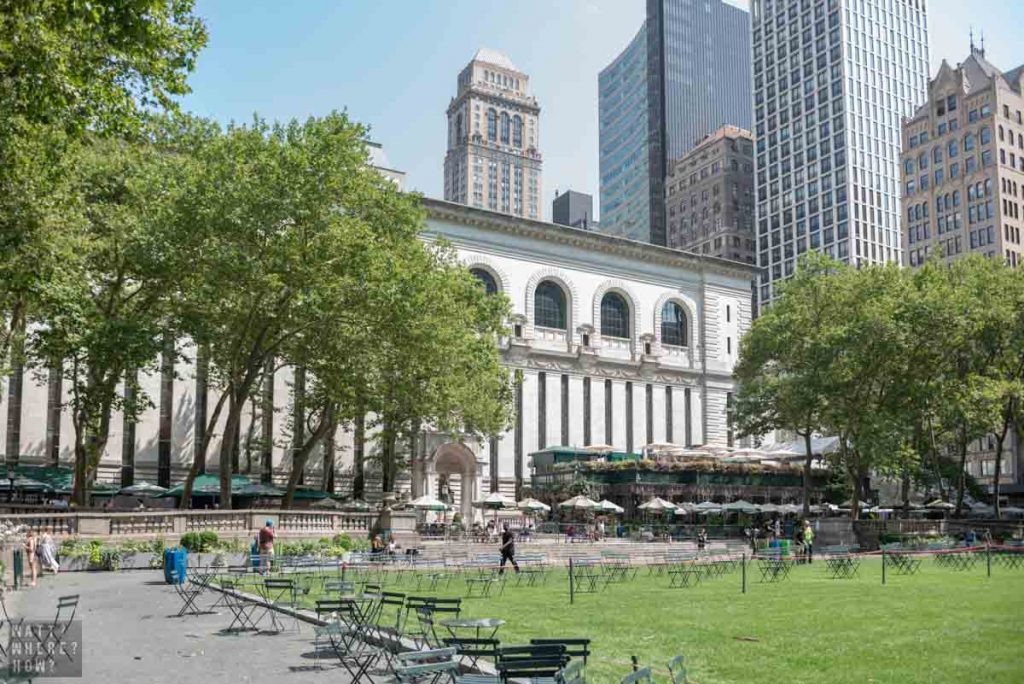 Bryant Park History
First designated as a public space in 1686, Bryant Park's checkered past includes being used as a potter's field (cemetery) from 1823 to 1840, when the bodies were exhumed and moved to Wards Island, near Randalls Island. In the 1870s, it fell into neglect and was beautified in the 1930s as a public works project during the Great Depression. In the 1970s, it was a no-go zone for most tourists and the general public, a haven for pimps, prostitutes, and drug dealers. In the 1980s, community groups fought to reclaim the park and between 1988 and 1992, it was renovated, reducing visible cover that previously harbored bad elements.
Bryant Park NY is a modern oasis in Midtown Manhattan
Today Bryant Park is a haven for midtown workers and tourists alike. The combination of ample tables and chairs, free activities, an open grassy lawn, and shade makes it the perfect place to while away the hours, or just chill for a few minutes.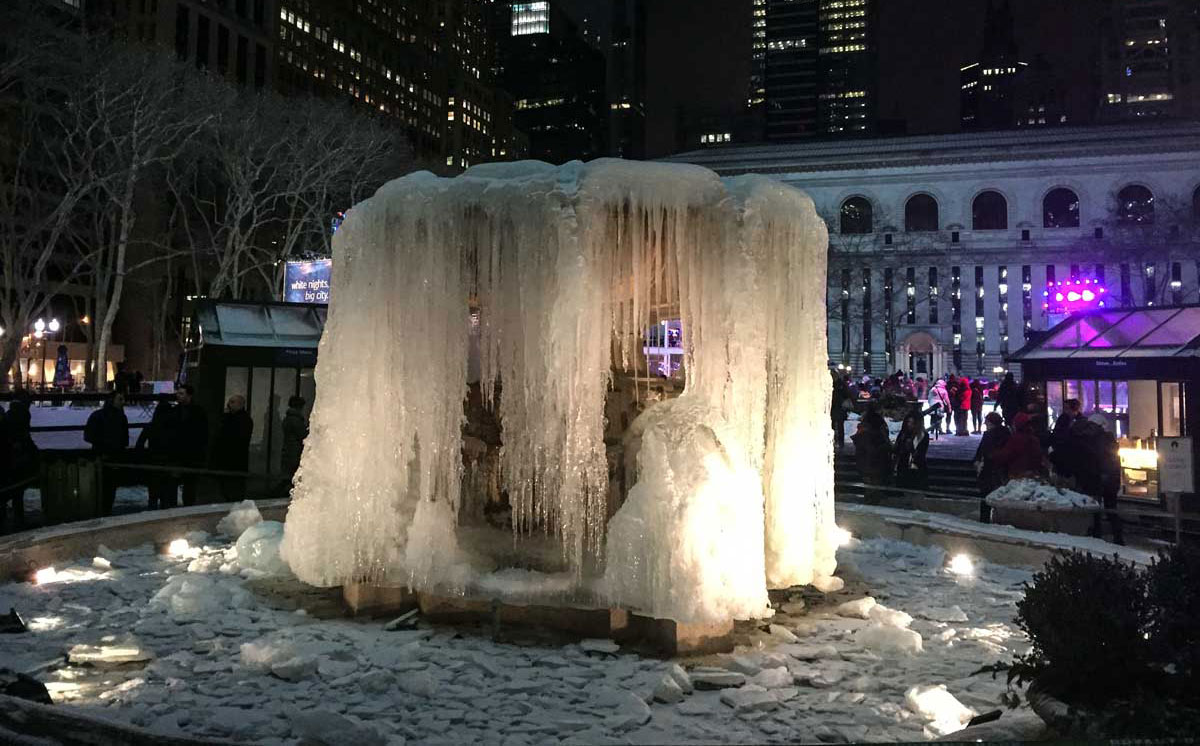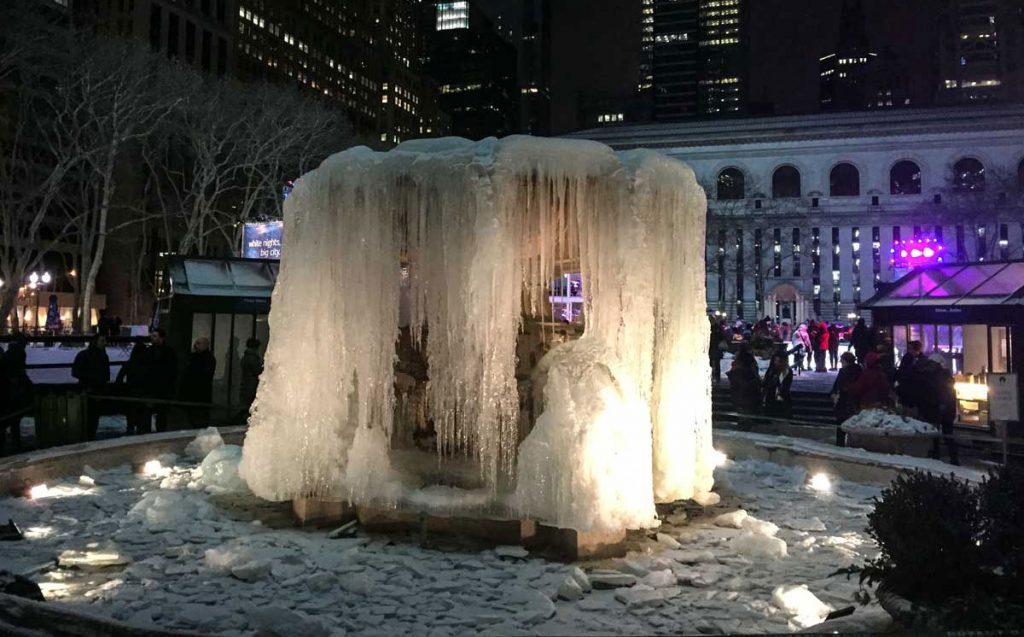 Bryant Park Statues
Among the park's main statues are ones of literary greats, Gertrude Stein and Goethe, while the most dominating feature is one of William Cullen Bryant, who the park is named in honor of.
Bryant Park Fountain
The Josephine Shaw Lowell Memorial Fountain is the ornate fountain that dominates the forecourt of Bryant Park NY. Designed by Charles A. Platt (1861–1933), the black granite fountain is dedicated to Shaw, a social worker, reformer, and the first female member of the New York State Board of Charities. In winter, the city leaves the water running, even on the coldest days, leading to the fountain freezing for a unique natural addition to its form.
Activities in Bryant Park NY
People Watching
Business people flirting, delivery guys sunning themselves, tourists jostling, the queue for the ladies' toilets – you see all types at Bryant Park. It's a great place to plant yourself with a coffee and watch the world go by in this midtown microcosm.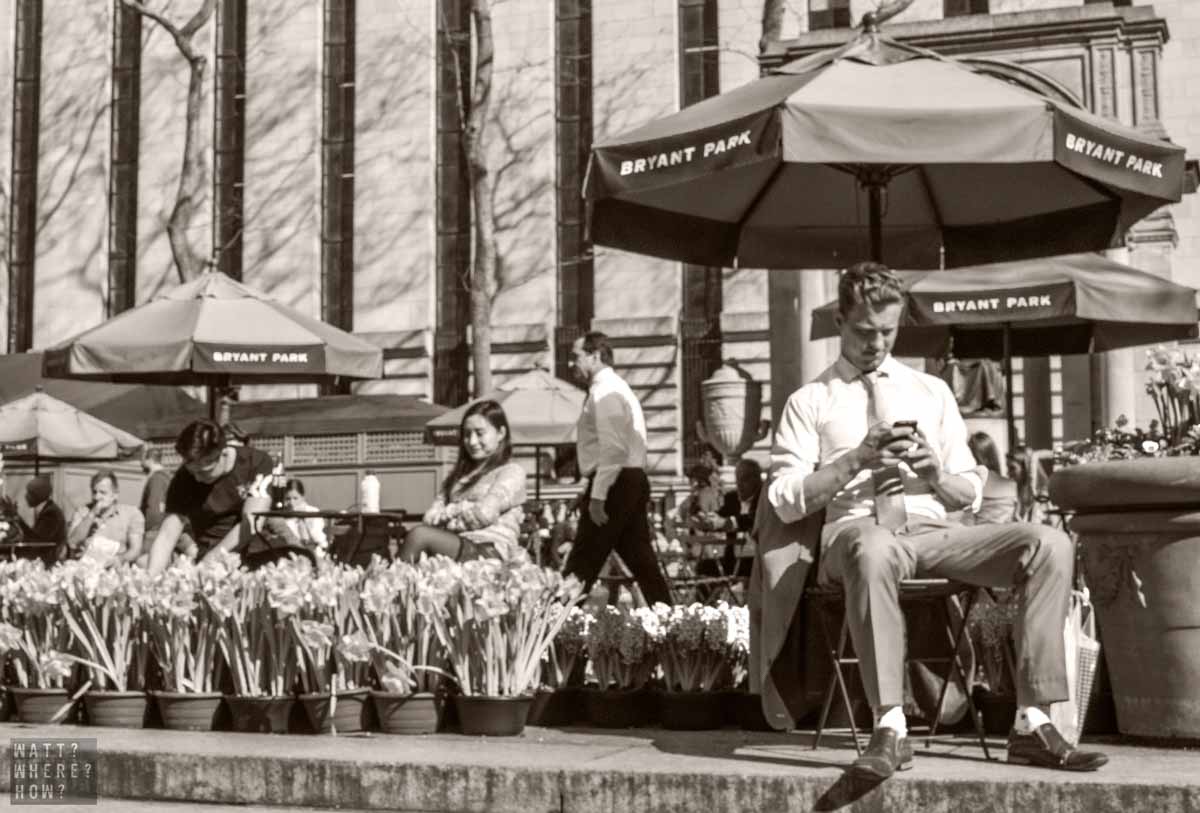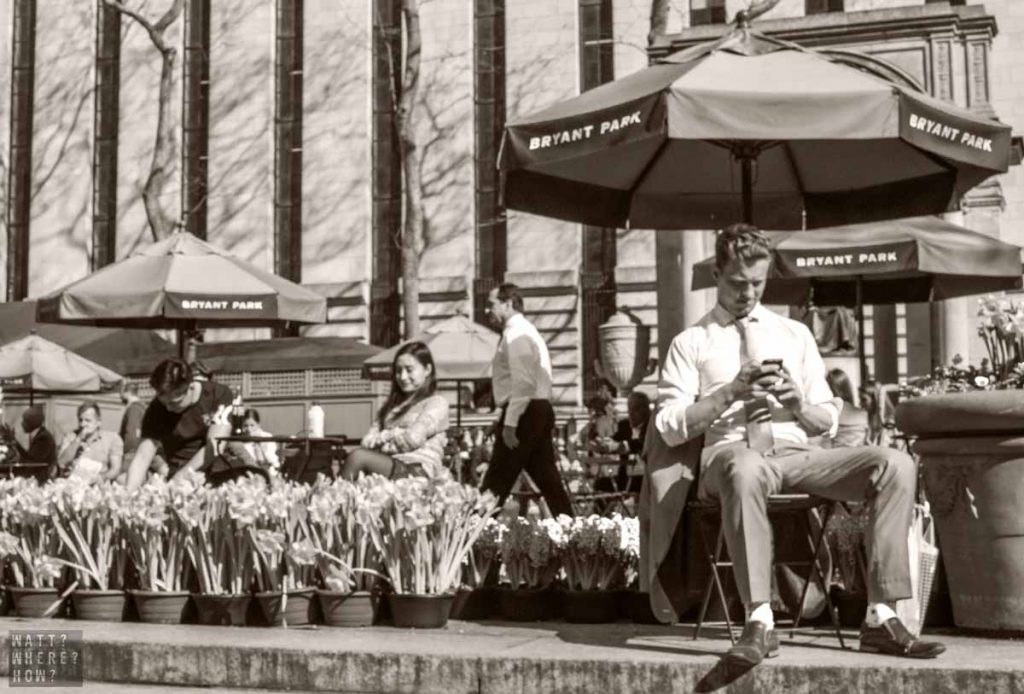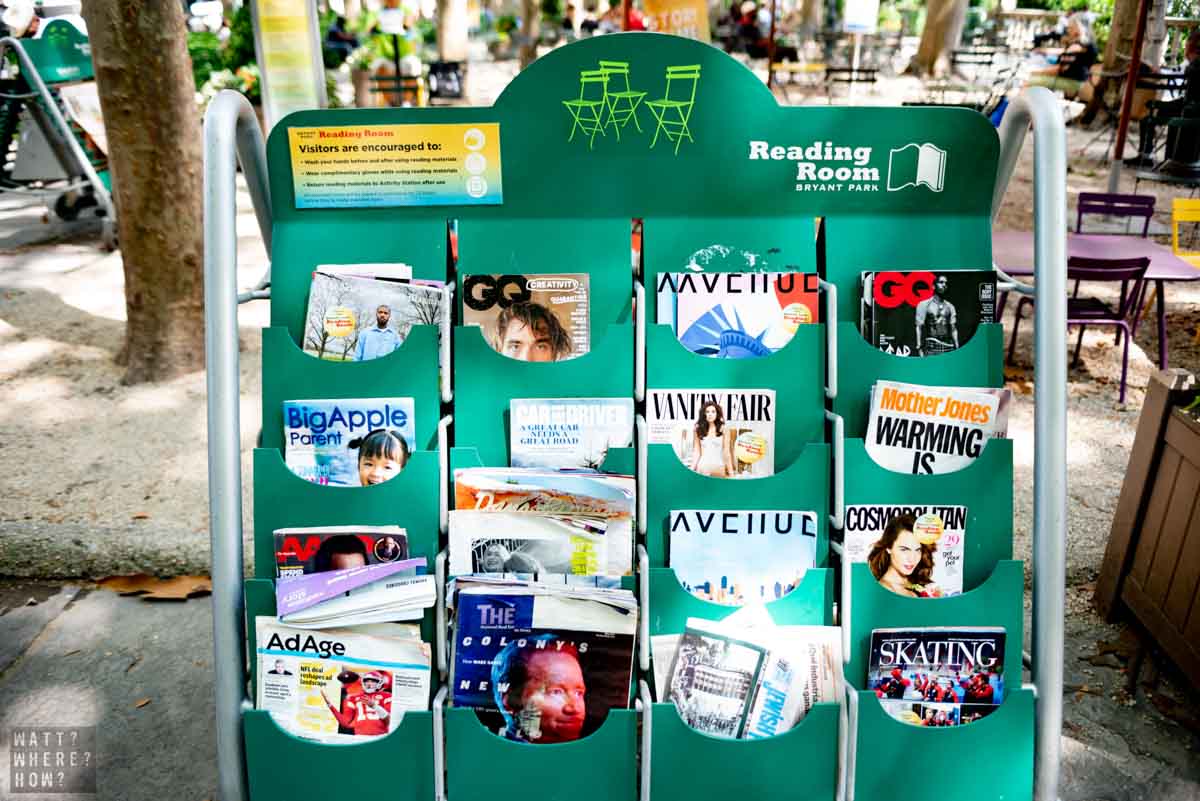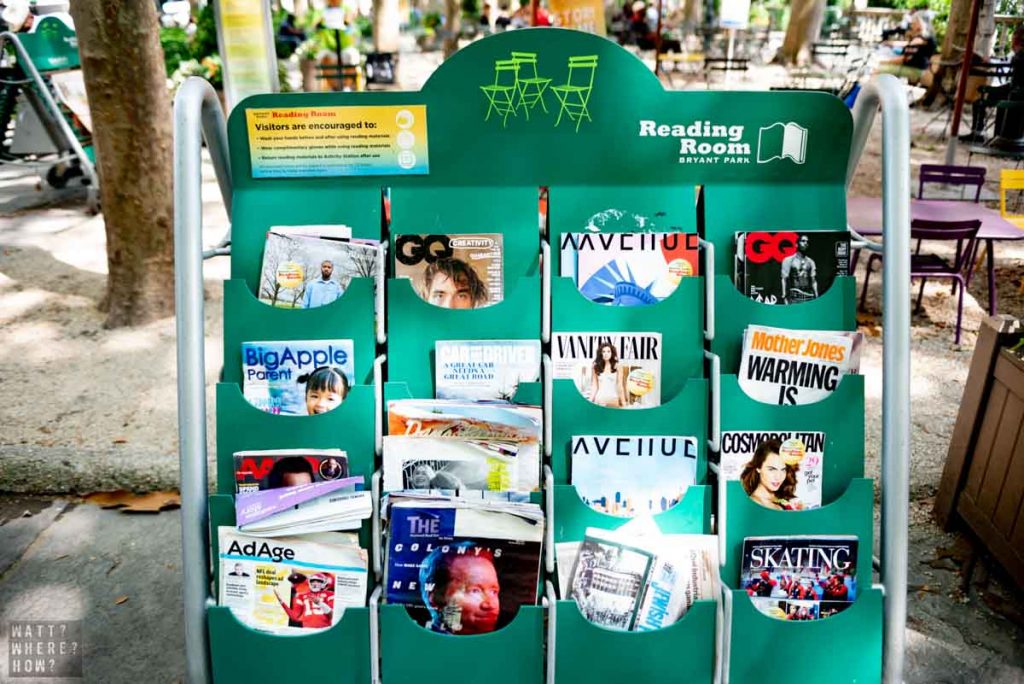 Lose yourself in a book
With its close proximity to the New York Public Library, grab a good book and a seat in the shade. If you're not a New Yorker, never fear. On the Northern Promenade, you'll find a few bookshelves and stands known as the Reading Room. They contain an array of current fiction and non-fiction titles along with magazines and newspapers.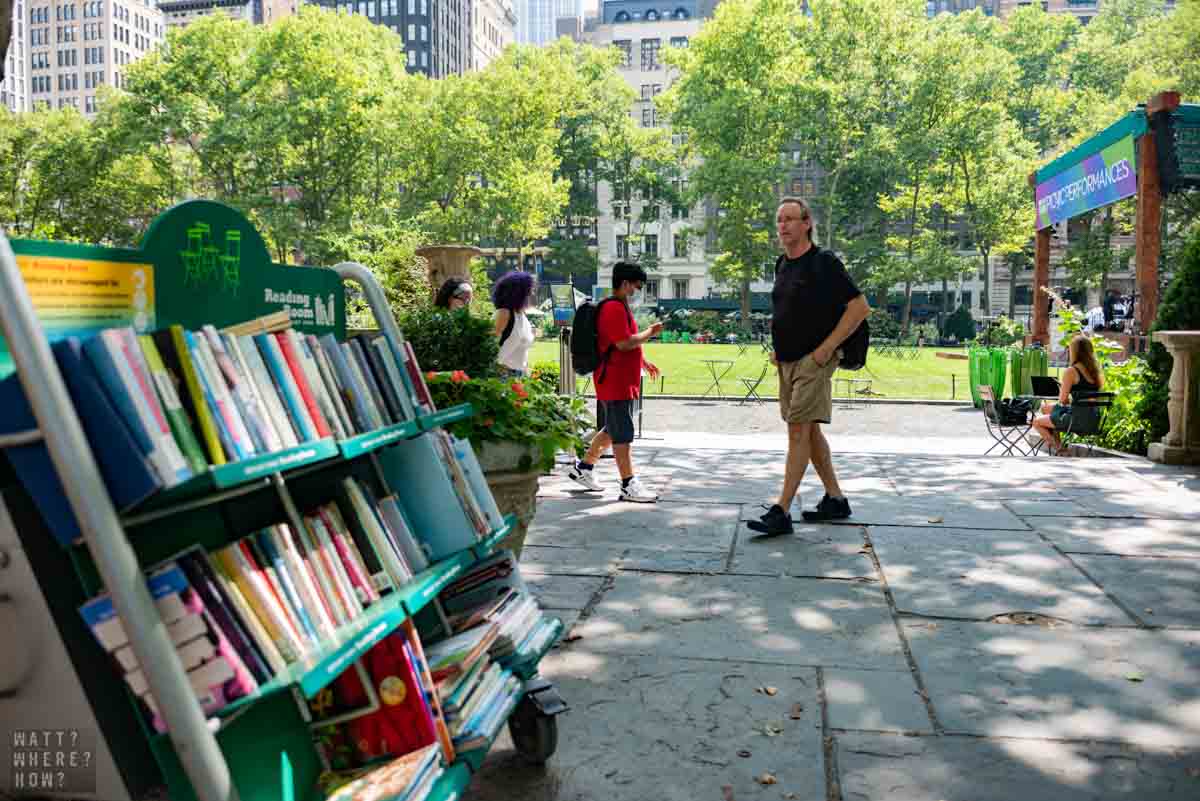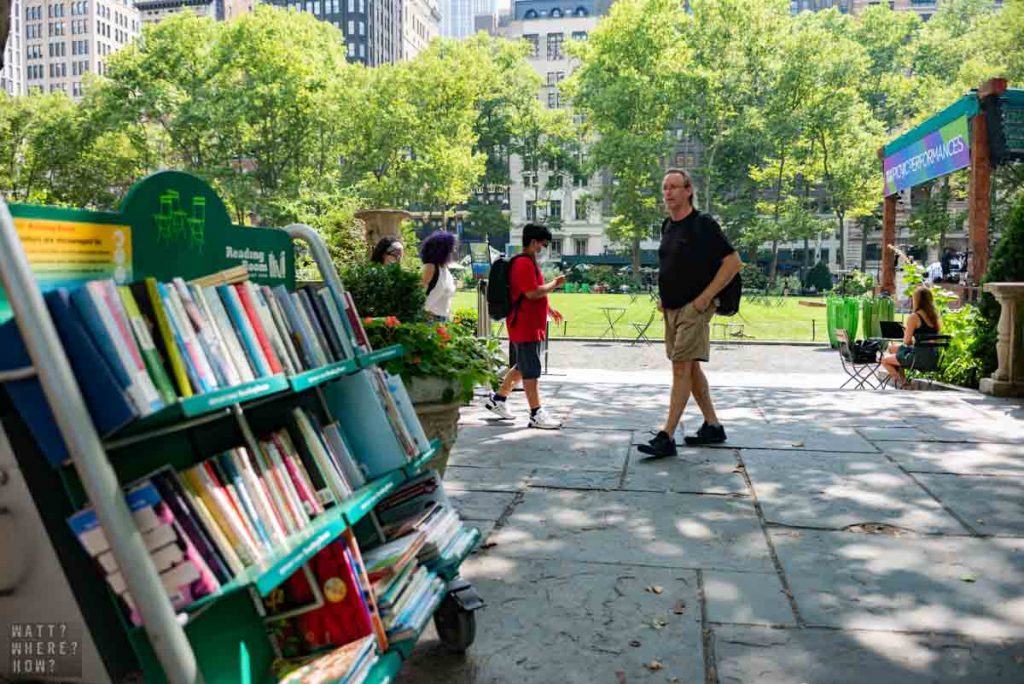 Play a board game
On the southern promenade, take advantage of the free board games you can borrow and enjoy as you while away the hours in the sun. Completely free, the collection includes Catan, Chess, Jenga, Boggle, Yahtzee, Scrabble, Shoots and Ladders, Connect 4, and Sorry!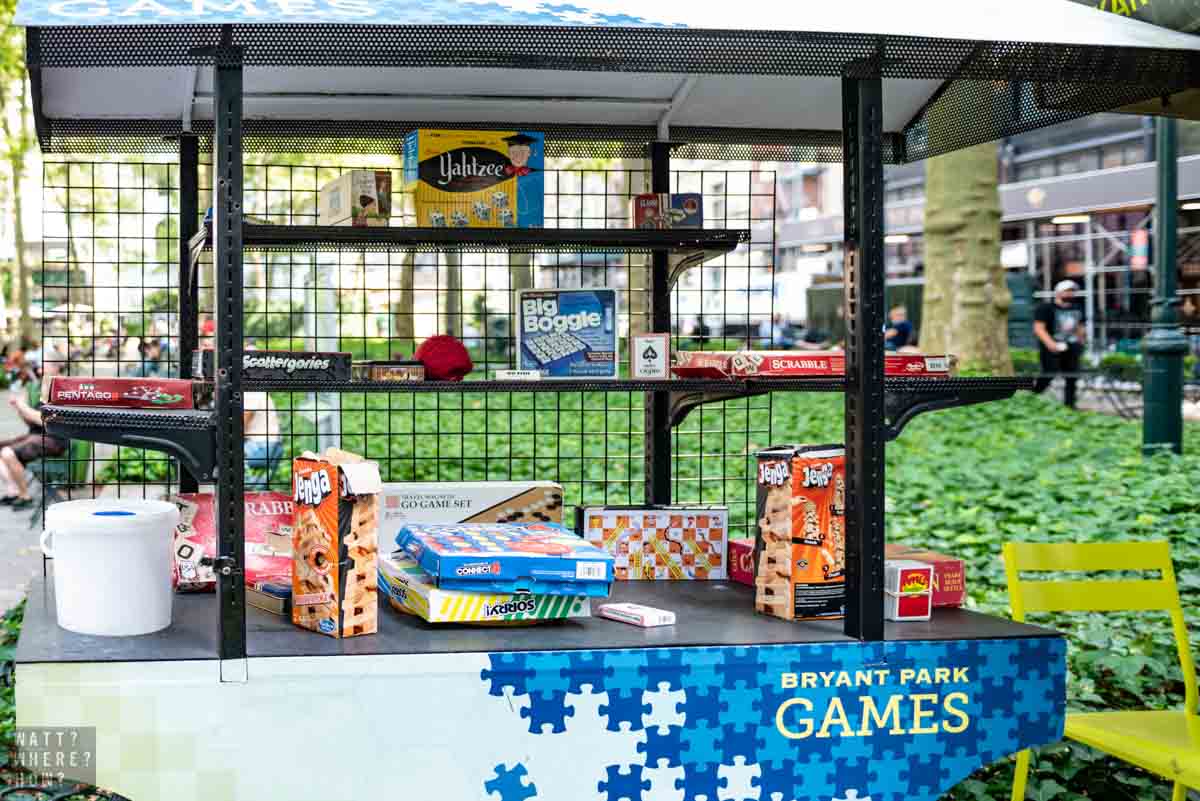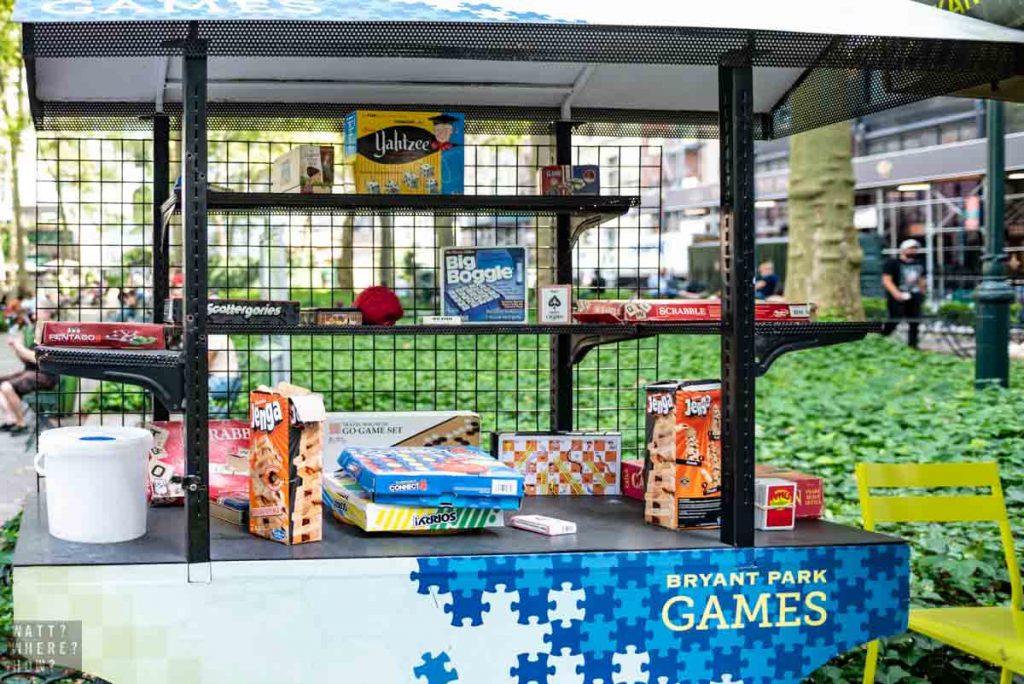 Play Ping-Pong in the shade at Bryant Park NY
On the north side of the park, you'll find a couple of free ping pong tables. There's no cost, just the luck of one being available and you're all good to get out some of that pent-up nervous energy.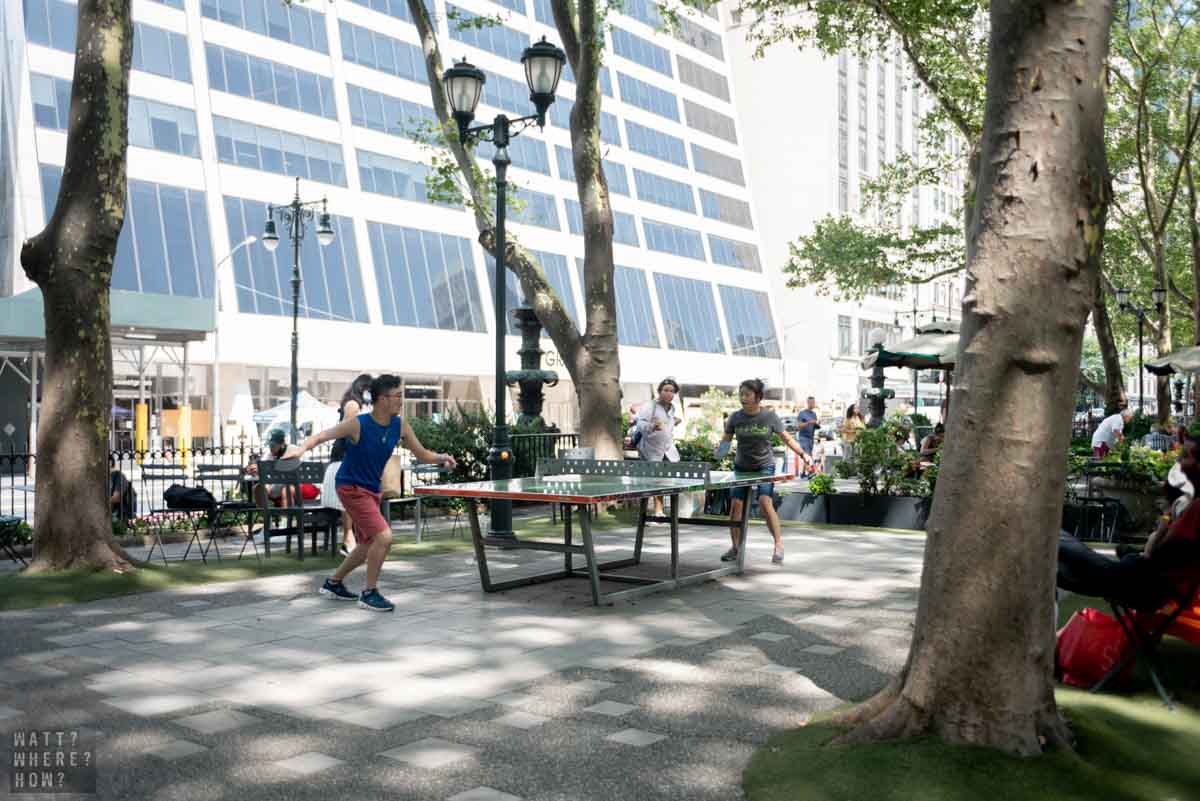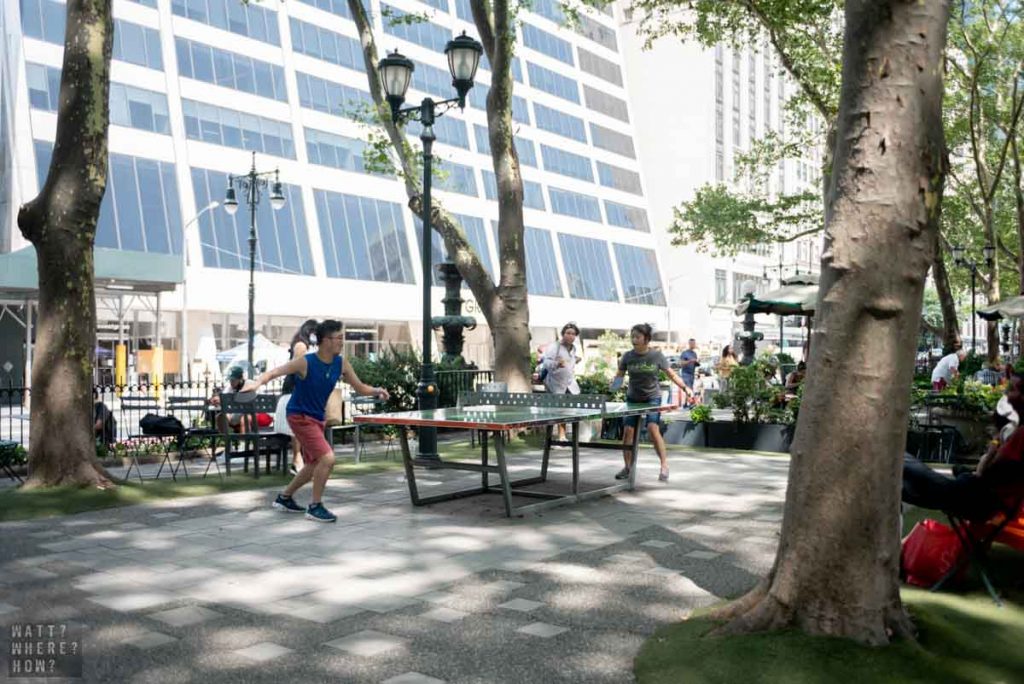 Bryant Park dining and food options
Fever-Tree Porch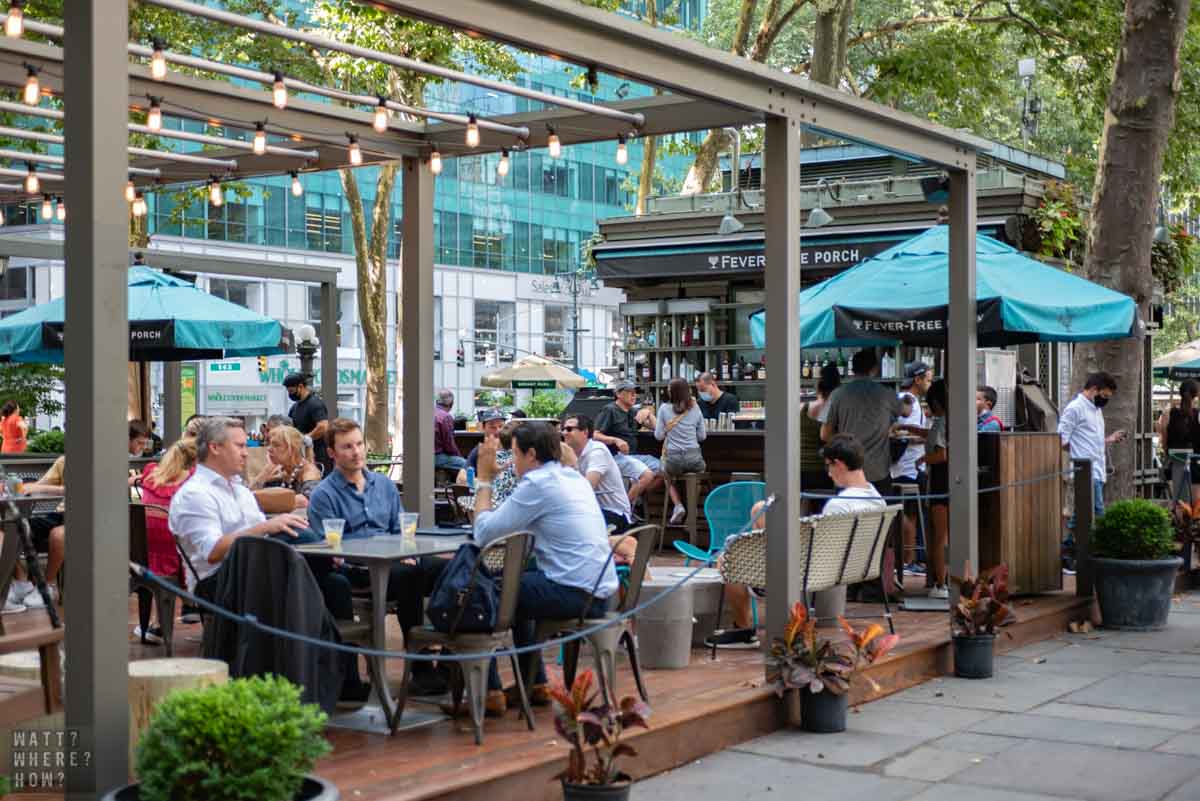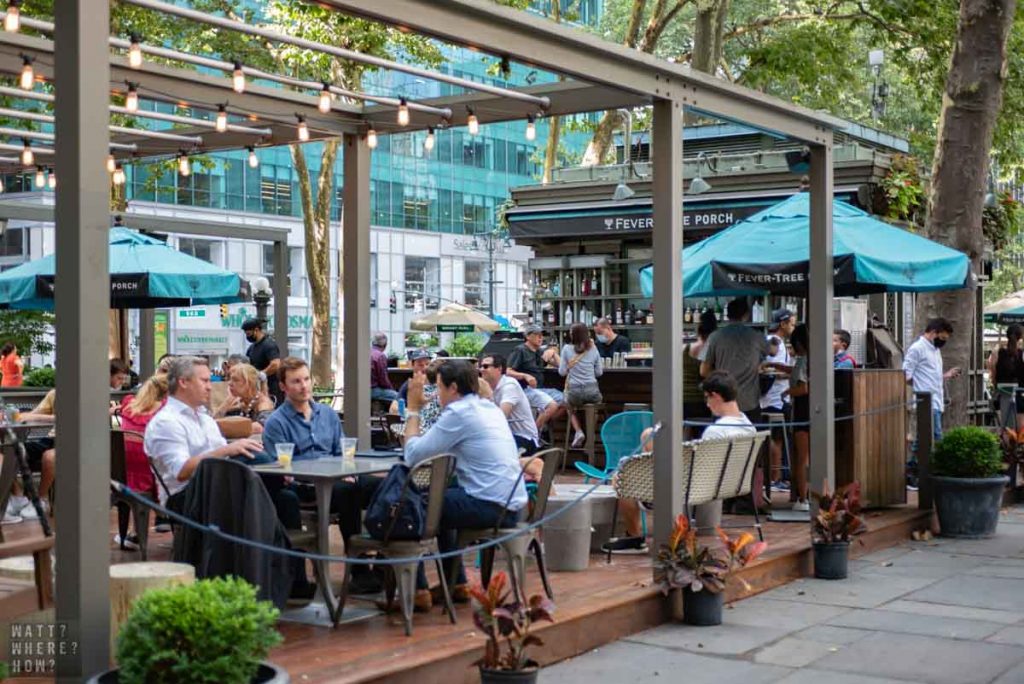 For casual drinks and finger food, Fever-Tree Porch on the west end of the park is a popular choice for locals and tourists alike. The elevated wooden porch/pergola features two swings, love seats, and dining tables – and an array of alcoholic and non-alcoholic beverages including Fever-Tree carbonated drinks (their ginger beer is amazing).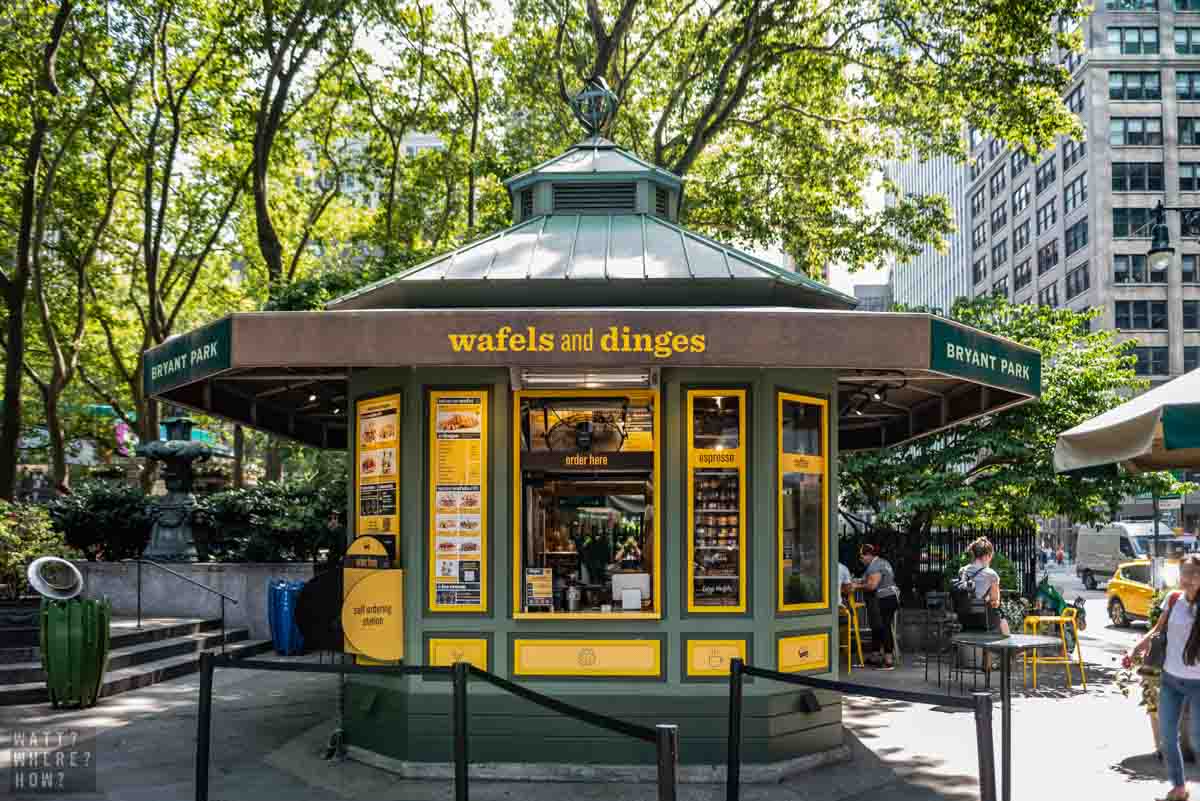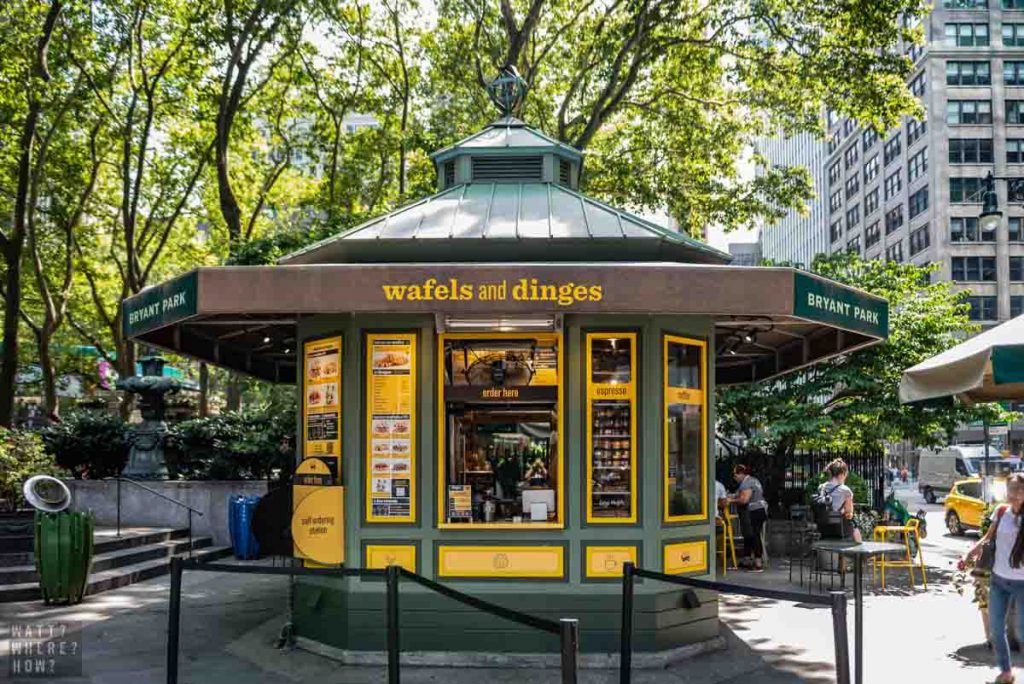 Wafels & Dinges
At the corner of 42nd and Avenue of the Americas, you'll find a Wafels & Dinges stand. The Belgian-styled waffles (and what basically translates to things as in whatchamacallits) started out in a '68 Chevy food truck and has grown into a New York success story. There are now locations across the city as well as the bright yellow food trucks. They're definitely worth a taste.
Bryant Park Grill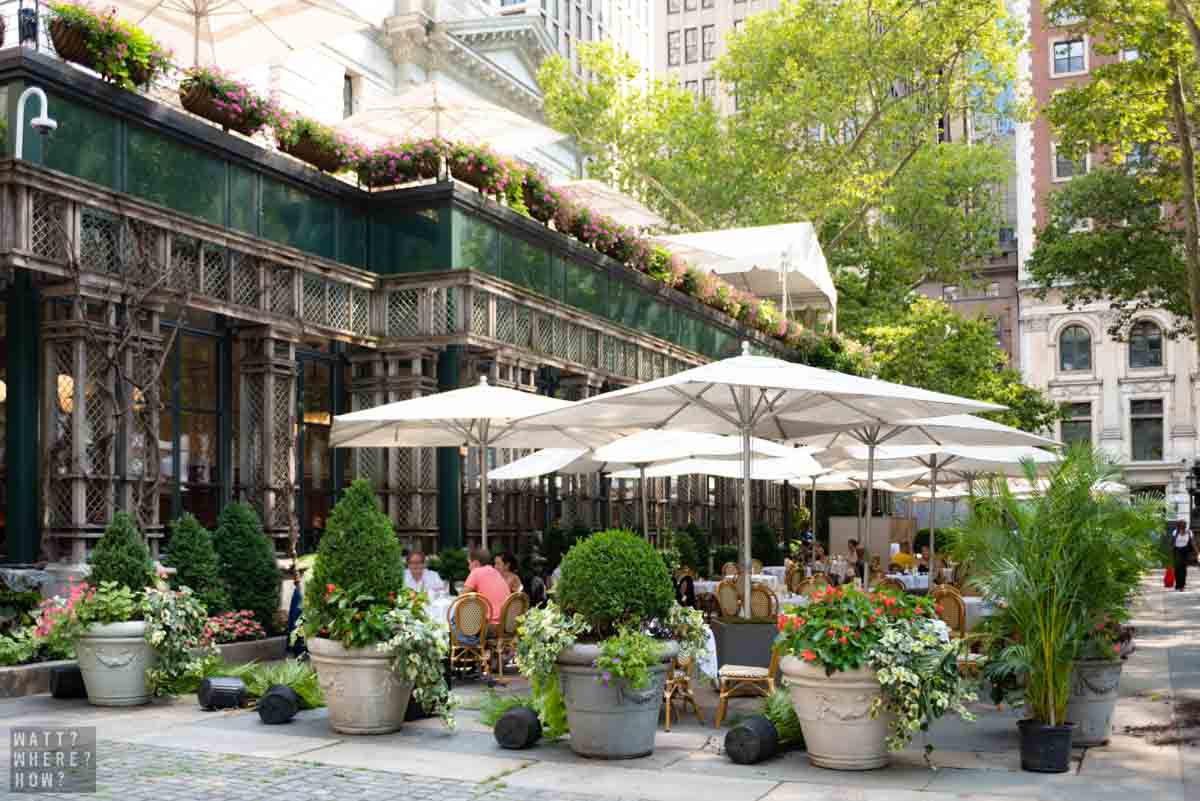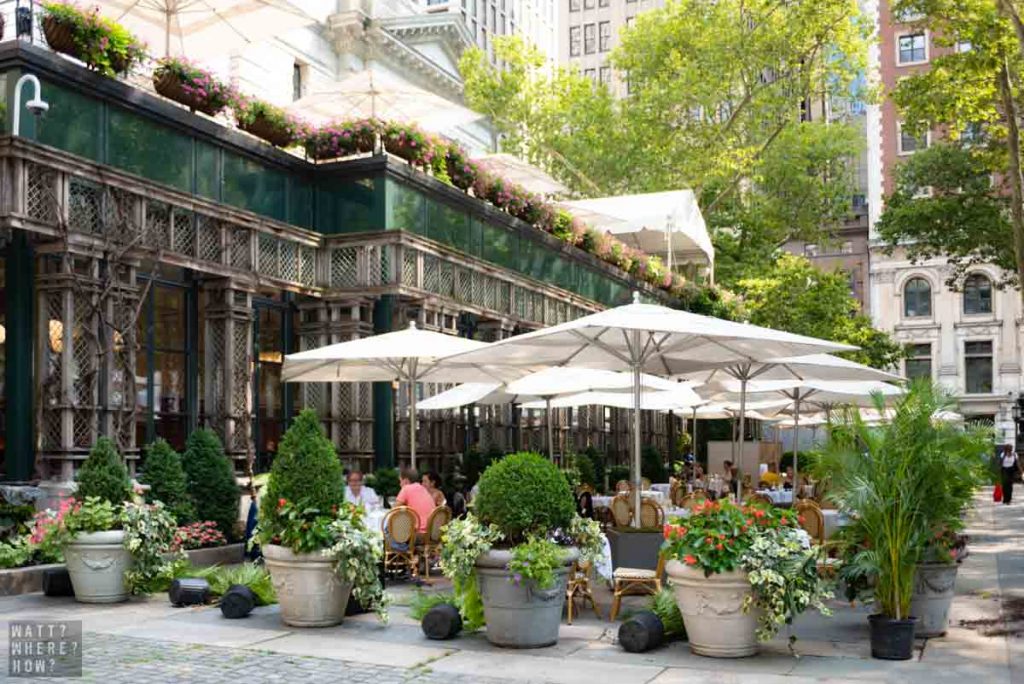 Looking more like an oppulent green house than a restuarant, the Bryant Park Grill offers indoor and outdoor dining options with lunch and dinner sittings. On Saturdays and Sundays between 11:30 and 3:30, you can brunch in the midday sun. Directly adjacent to the Grill is the adjoining cafe.
Summer in Bryant Park NY
In summer, Bryant Park is home to music festivals, fashion parades, opera performances, and the HBO Summer Cinema, with free showings of classic and recent movies. Until 2020, The Roots Picnic was an awesome one day celebration of live music curated by The Roots, Jimmy Fallon's house band and notable funk act.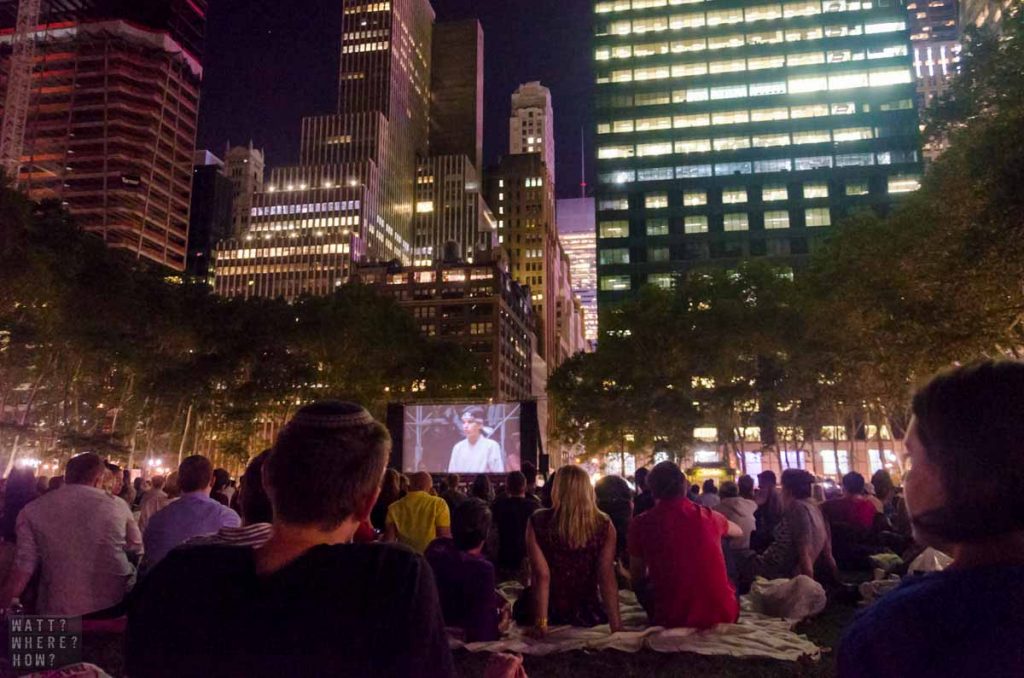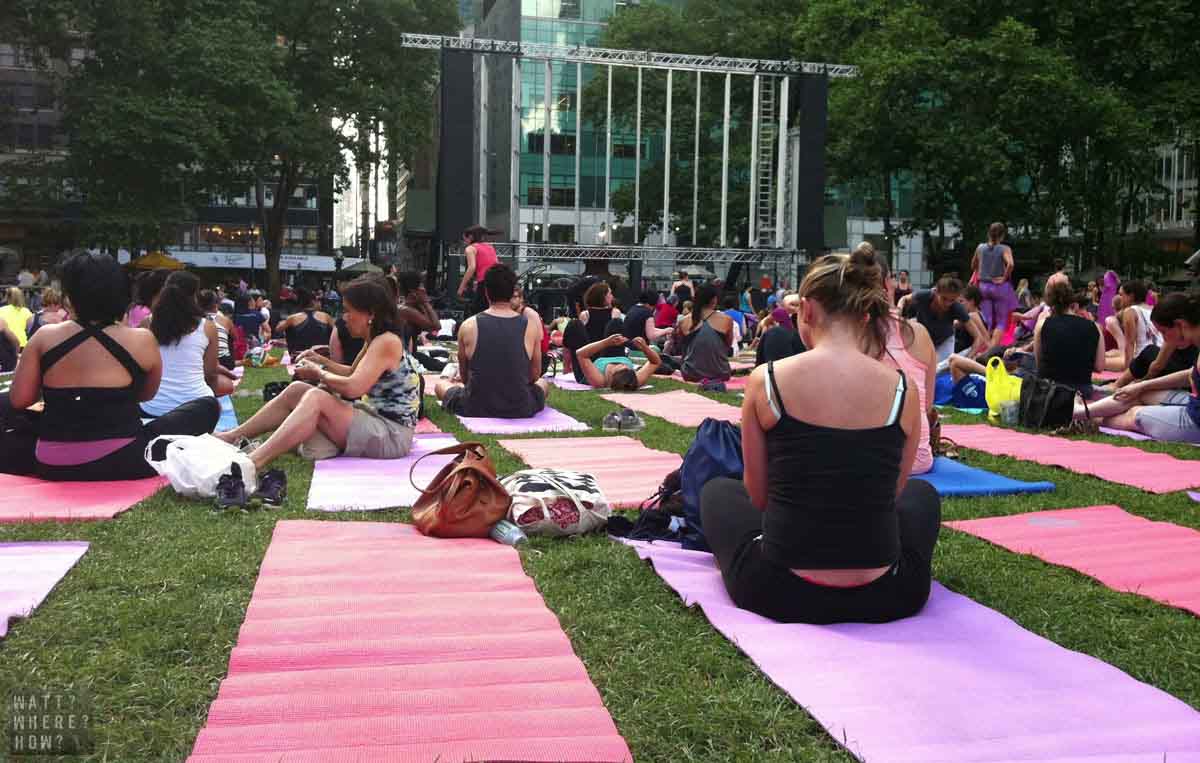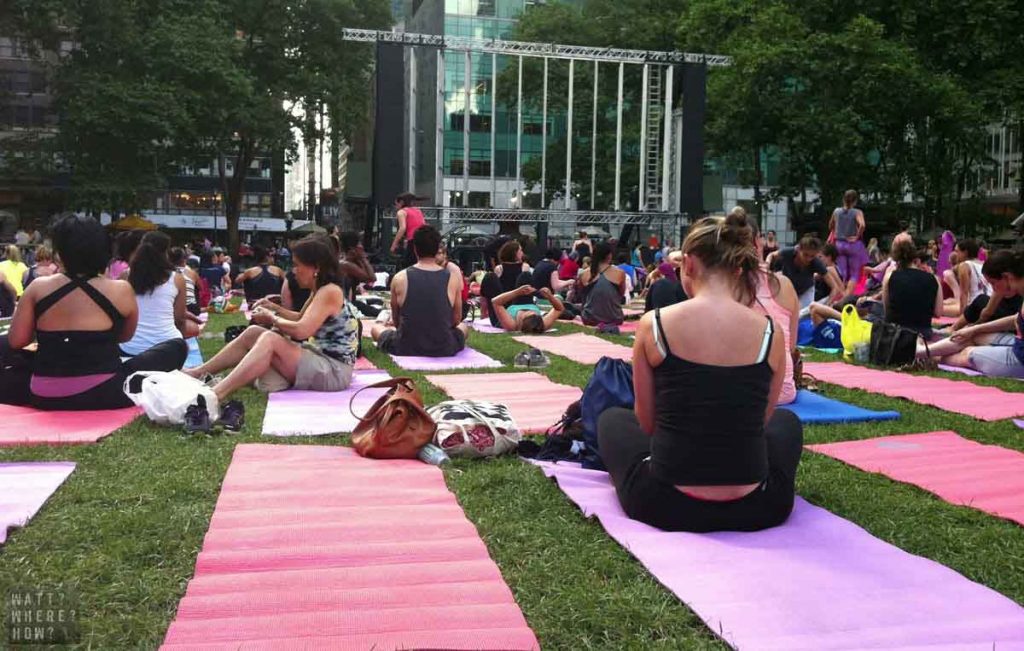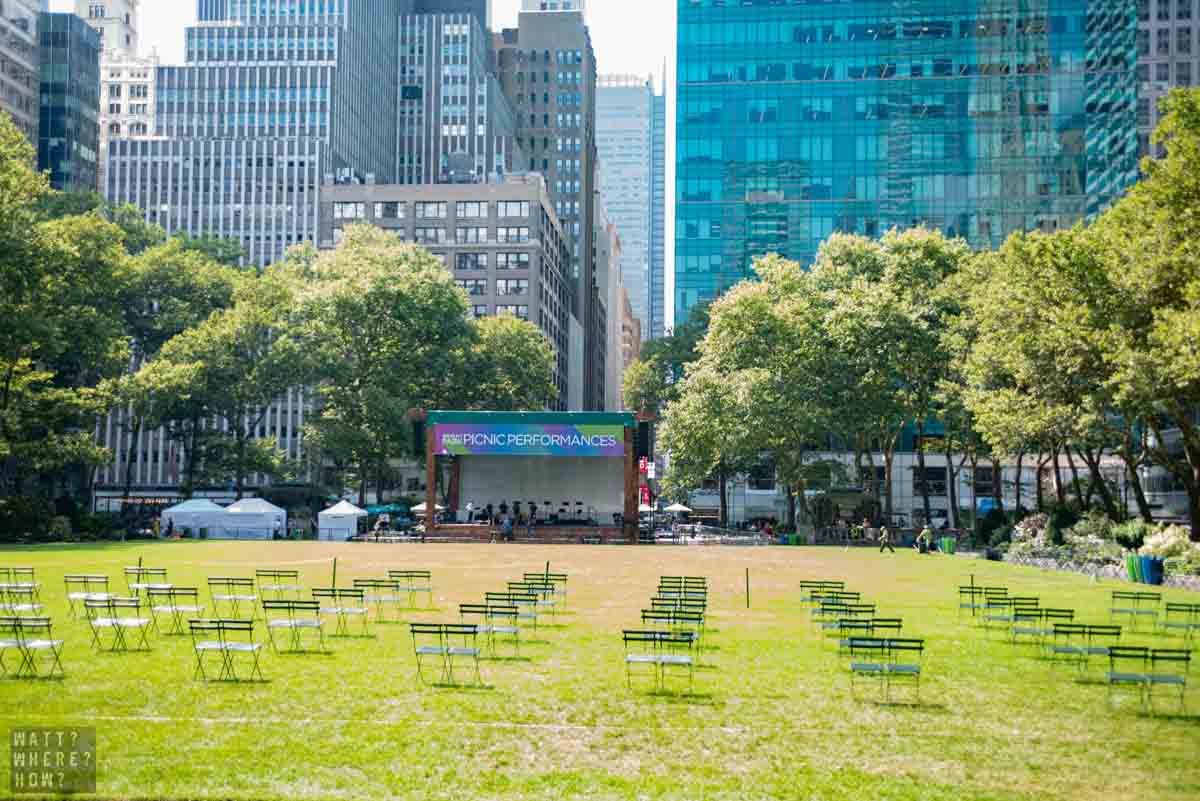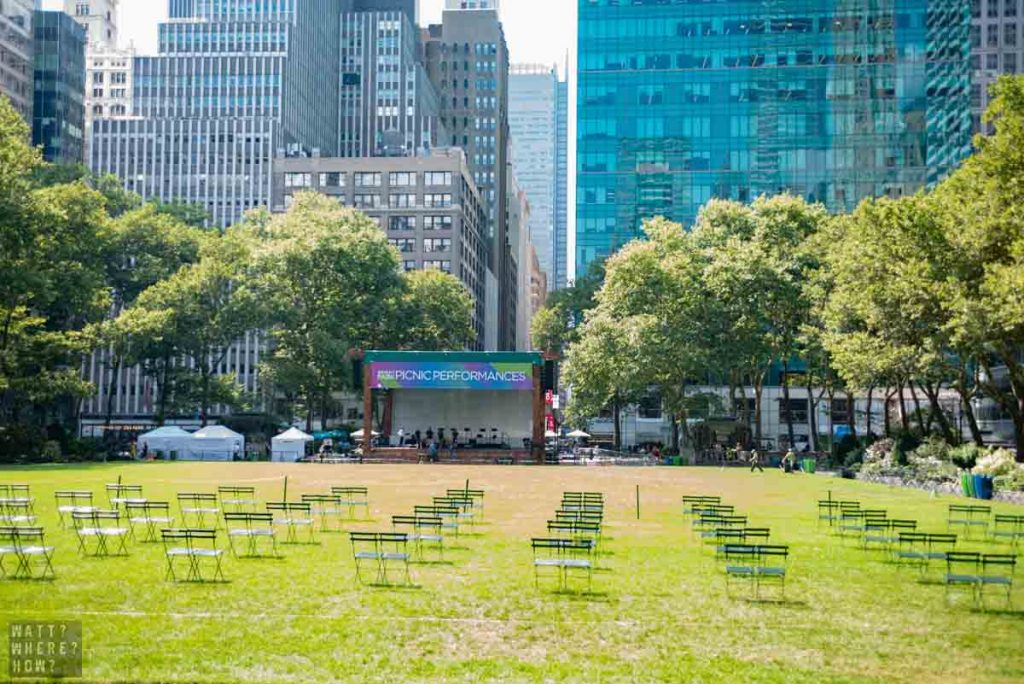 The Bryant Park Winter Village
From early-November into March, the park block is transformed into the Bryant Park Winter Village, complete with a 17,000 square foot ice skating rink. Sponsored by Bank of America, the lawn becomes an icy playground for kids, with hot toddys and ciders (and other libations) available for the adults up on The Lodge Deck by Urbanspace, a two-story heated indoor pop-up bar.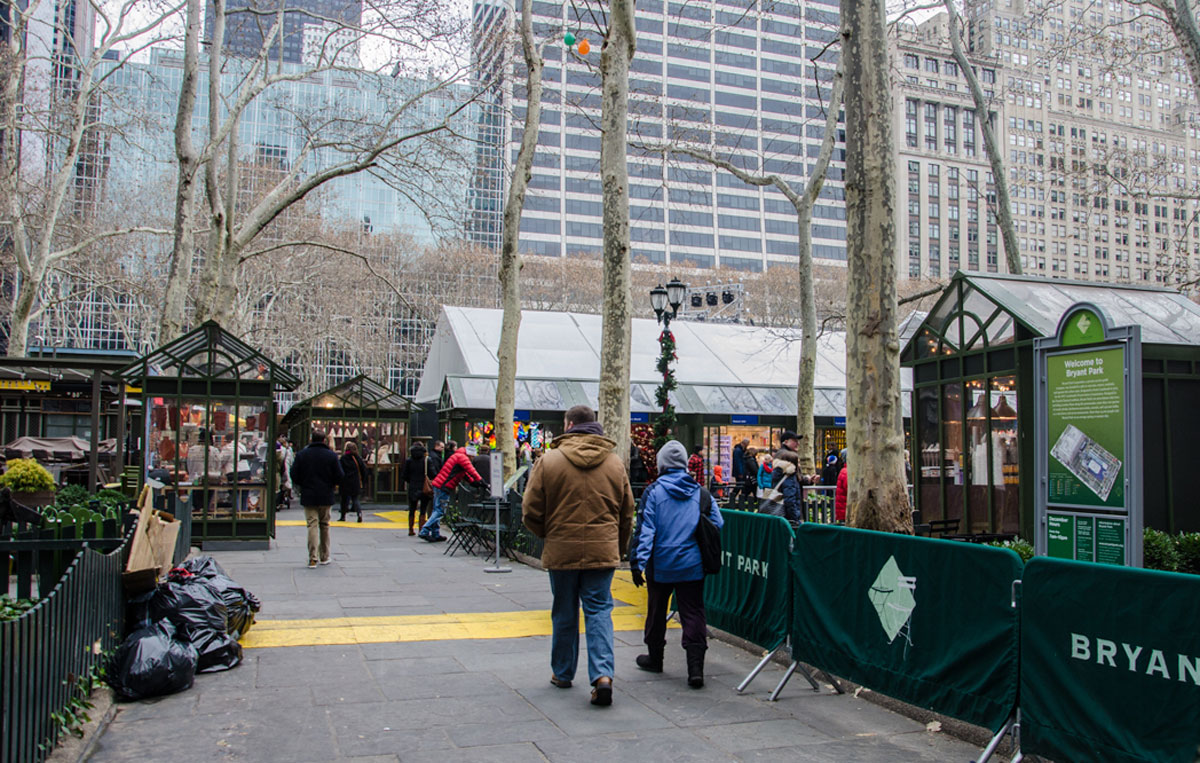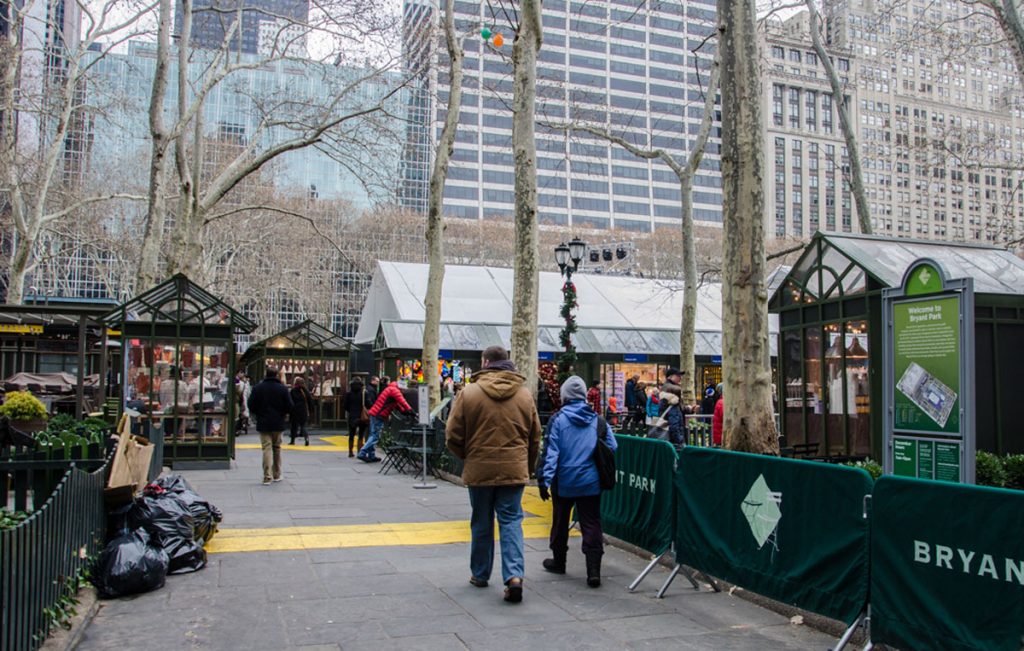 The Christmas tree at Bryant Park adds a warm holiday spirit to the area. It's not as large as the one up at Rockefeller Plaza, but no less beautiful. Imagine eating a hot cylindrical cinnamon Trdelnik by the fountain, or keeping the icy Hudson winds away from a hot chocolate from No Chewing Allowed!
You'll find over 60 retailers spanning the four sides of the park. The shops at the Bryant Park Winter Village include popular New York restuarant pop-ups, souvenir stands, jewelry, handicrafts, marionette puppets, and folk art. The holiday shops are open Mondays through Fridays, 11am-8pm, and Saturdays and Sundays, 10am-8pm.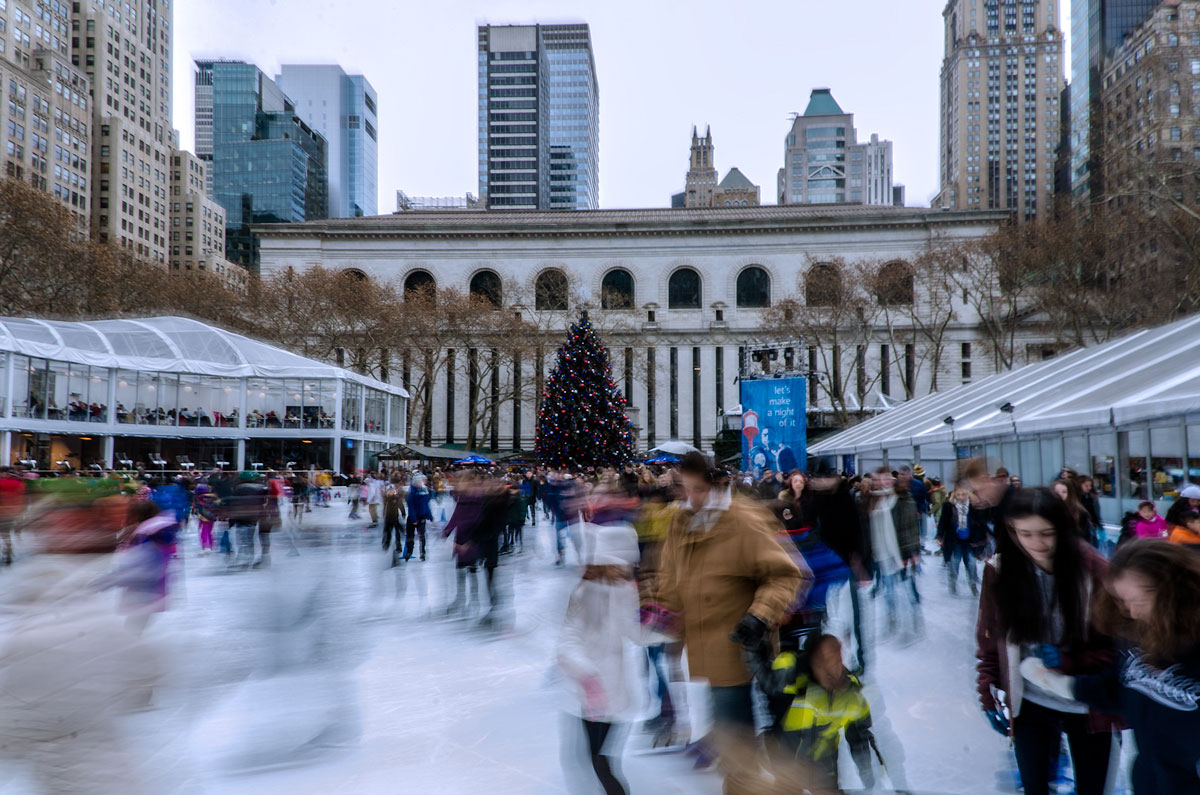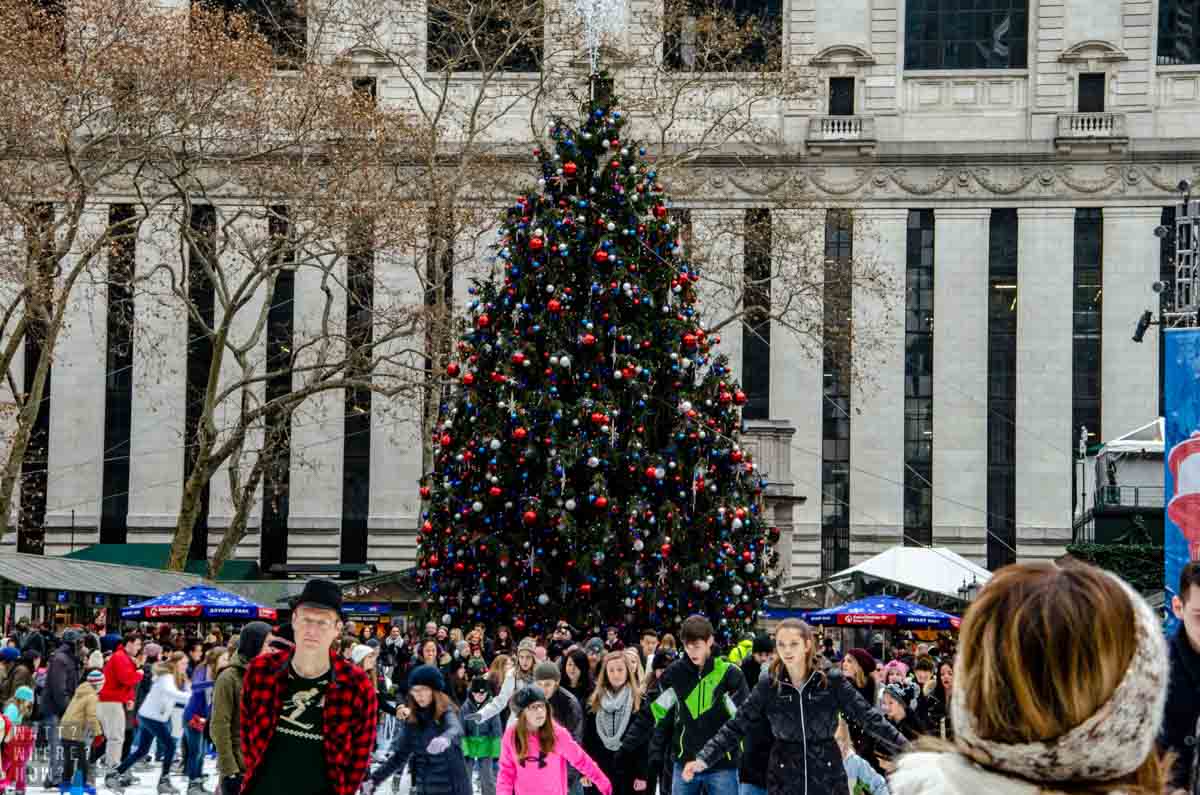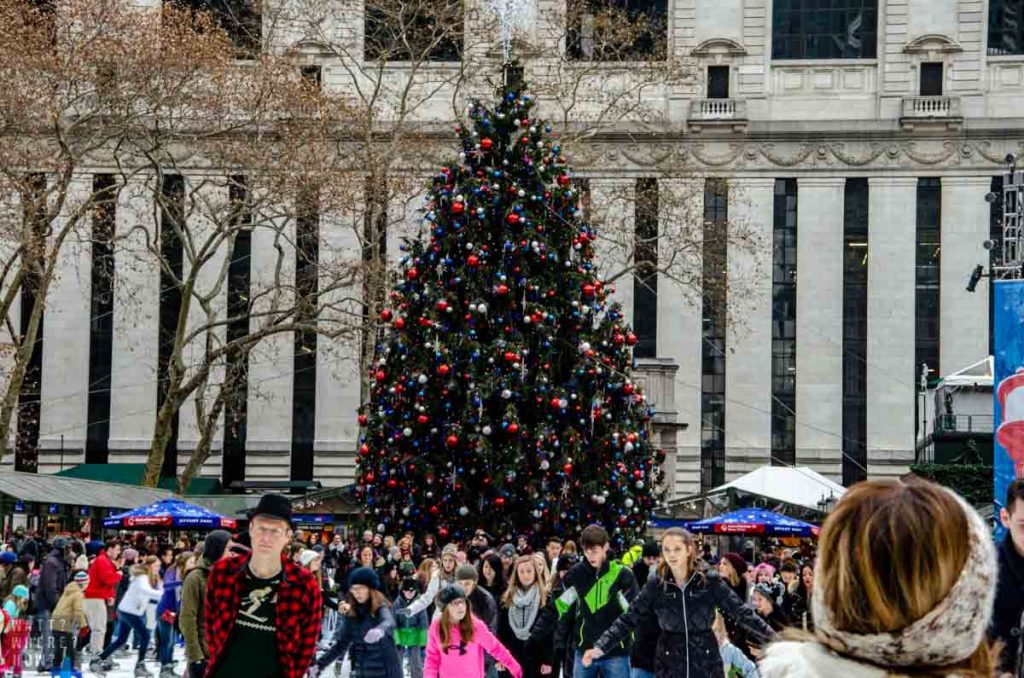 Ice skating at Bryant Park NY
Traditionally, the ice skating was free to New Yorkers with their own skates, though COVID protocols have now meant adding a fee to the experience for everyone involved. Sessions go for about 75 minutes across four groups. For beginner kids skating, you can hire a Skate Mate for $22/hour.
The Bryant Park Rink and Lodge Deck is open 8am-10pm.
How much to ice skate at Bryant Park NY?
Skate Rental: $21/$26/$36
(see pricing calendar on ticket site linked above for off peak and peak dates)
Skate Mate Rental: $22/hour
(available to purchase onsite only; skate mates are for kids 10 years old and under only; skates are not included)
Skate Sharpening: $20
(24 hour turn around; drop off and pick up at Bag Check during rink hours)
Bag Check: $15
(reserve in advance or purchase onsite)
Shoe Bag: $5
(free with skate rental purchase)
The ice skating rink remains in operation until the end of March.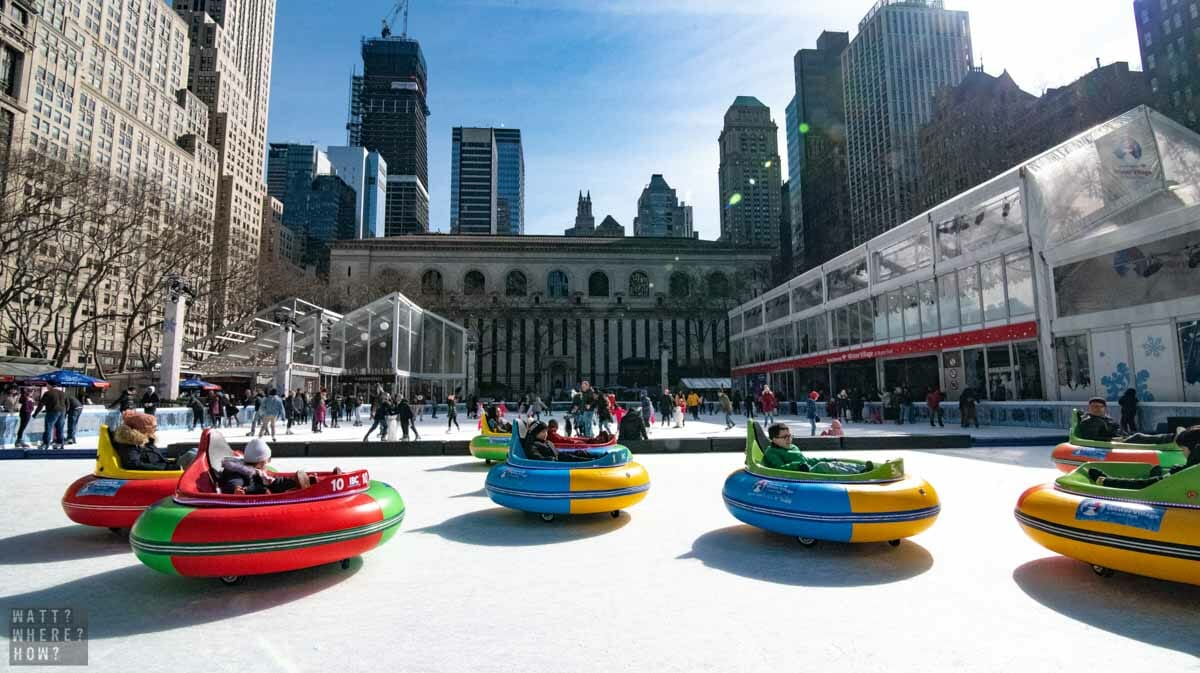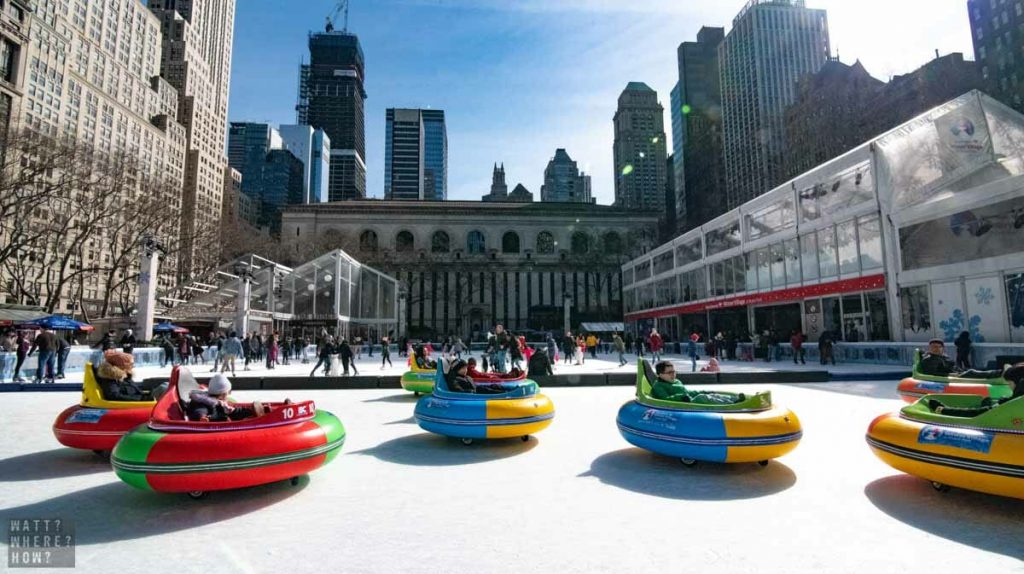 WHAT? 


Bryant Park NY is midtown's favorite place to escape the traffic and crowds. Bryant Park Christmas markets, the Christmas tree, and Bryant Park Winter Village in December and January make it a must-see when the temperature drops below 40F.
WHERE? 

Bryant Park NY is situated behind the New York Public Library in midtown Manhattan, between 40th and 42nd Streets & Fifth and Sixth Avenues.
HOW?
Getting to Bryant Park by Subway
Take the B, D, F, or M train to 42nd Street/Bryant Park or the 7 train to 5th Avenue station.
Car Parking Garages
Global Parking, LLC
143-145 West 40th Street
Entrance on 40th between 7th Ave and Broadway
1114 Sixth Parking, LLC
1114 Avenue of the Americas
Entrance on 43rd Street between 5th Ave and 6th Ave
1010 6th Avenue Garage Corp.
66 West 38th Street
Entrance on 38th Street between 5th Ave and 6th Ave
59-61 West 36th Street Parking Corp.
59 West 36th Street
Entrance on 36th Street between 5th Ave and 6th Ave
Follow & Connect with us