There's more to this northern center than wings, so join us in discovering the top things to do in Buffalo, New York State.
Buffalo, New York is an upstate town known for its famed chicken wings and sporting teams but when you get here, you'll discover that frontier "town" is actually a much larger city with much more than tangy wings to attract visitors.
As the second largest city in New York, Buffalo is sprawling and well-serviced. Things are much further apart than you may expect, and the airport is possibly on par with our home city, Brisbane, Australia. It's home to colleges, a thriving health and medical industry, a population of over 250,000 and the birthplace of some poignant pieces of Americana – the Kazoo and Jello.
A local we met described Buffalo as a sporting town with a drinking problem though it could be argued that it's a drinking town with a sporting problem as its teams aren't likely to make the finals for another year. NFL team, the Buffalo Bills made the playoffs in 2017, but NHL team, the Sabres haven't made the finals since 1999 and they have never lifted the Stanley Cup. Their relatively close proximity to the border means that they attract plenty of Cannucks for the ice hockey.
We arrive on game day and there are plenty of Canadians wandering the streets saying "sorry" and "eh" (don't blame us, the stereotypes are true). There are easily as many Canadian jerseys worn as Sabres' in each bar we visit as the Sabres are playing Winnipeg. When sporting events like the football or ice hockey are happening, definitely add them to your top things to do in Buffalo.
But first, coffee!
We start our explorations in the center of town and first stop to abate the freezing breezes is coffee. Public Espresso at the Lafayette Hotel is a modern airy eatery on the corner of Washington and Clinton streets. It has healthy, wholesome breakfast bowls and plates and they brew their own small batch roast on site. We choose a breakfast bowl and plate with perfectly cooked pork belly.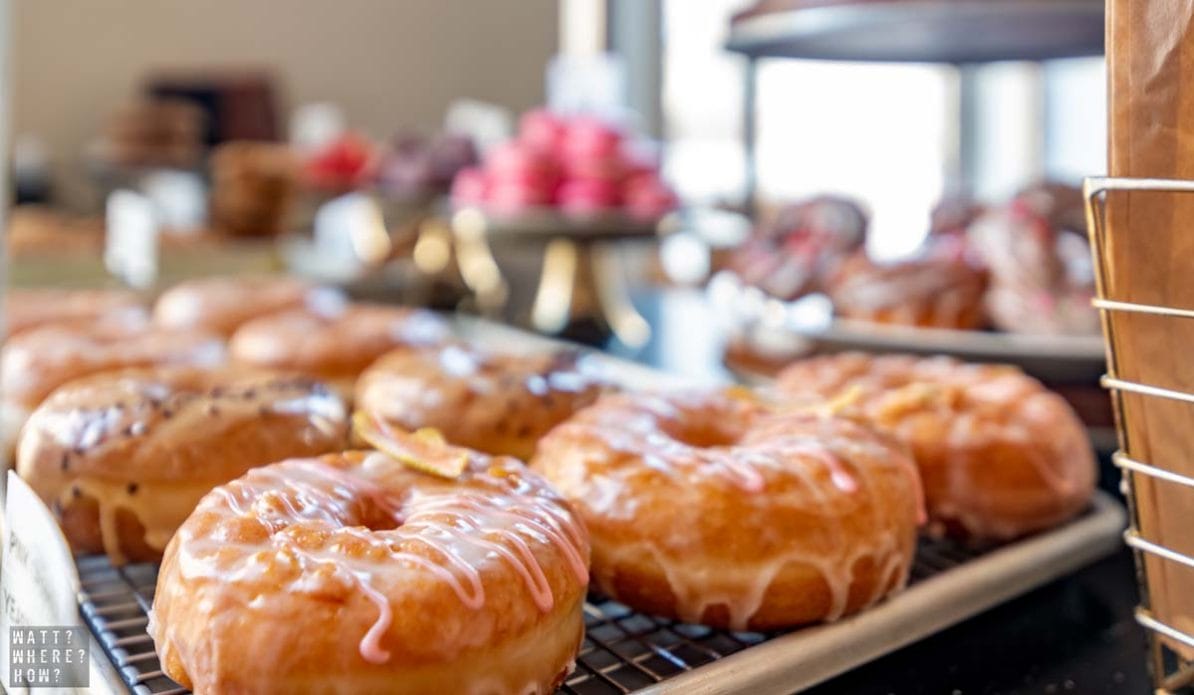 Step through the interior doors to get a glimpse of this classic hotel. The lobby is undergoing renovation, but it's features like the elevator doors and the bank of old phone booths that have to date back to at least the 1940s that catch the eye.
Later in the day, when it's socially acceptable to drink, we return to the hotel's main bar, the Lafayette Brewing Company. This large craft brew-focused venue has beers based on Theodore Roosevelt (with awesome draft handles), a roaring fireplace, shuffleboard, current model pinball machines and the essential Big Buck Hunter that has been an American bar must-have since the 1990s.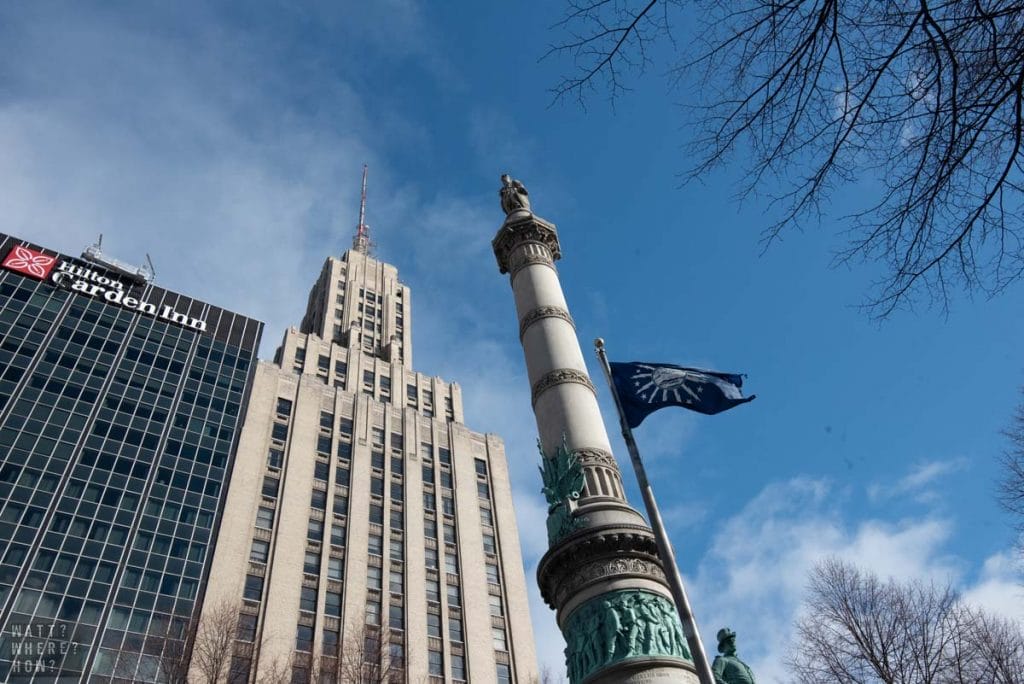 Across from the Lafayette is the Erie Library, and looking over it is the Liberty Building, once the Liberty National Bank, which has two Statues of Liberty's atop its twin towers. Libraries are the storehouse of a wealth of knowledge, but Buffalo's main libraries contain priceless pieces of American history too. And although you probably wouldn't think about adding a library to your things to do in Buffalo list, this one has its own secrets.
See an original Mark Twain treasure at Buffalo & Erie County Public Library
Buffalo & Erie County Public Library is a modern library with a very current selection of books on display, a gentle reminder to get ourselves a New York library card post-trip. But there's also plenty of treasures hidden within. There are two main antique manuscript rooms and a display of Works War 1 prints, propaganda posters and military ephemera.
The Mark Twain Room is a treasury of early prints of Mark Twain's classics. The walls and display cabinets are full of first print copies and random mementos from Twain's time in Buffalo. Without a doubt, the library's finest piece is the original manuscripts of Huckleberry Finn kept in a glass case.
For 105 years it lay forgotten in a chest in an attic. Given to original library curator James Fraser Gluck at his request by Twain, it was stored away and forgotten until one of his granddaughters rediscovered it in a shipping chest in her Hollywood attic in 1990 . The other treat for book and art nerds alike are the autographed Norman Rockwell prints of his paintings he crafted for Huckleberry Finn's 1940 Heritage Press edition.
Downtown Buffalo is also the place to see colorful street art and public murals. As a college town, culture is celebrated here and you can see great live music at divey rock venues like Mohawk Place, or more traditional classical and jazz performances.
Discover Frank Lloyd Wright's Buffalo legacy
There are seven Frank Lloyd Wright properties in Buffalo, though The Darwin D. Martin House Complex, the Fontana Boathouse and the Filling Station at the transport museum are the most popular and easy to access. The Darwin D. Martin House Complex, built between 1903 and 1905 looks beautiful but is out of the way and $20 to get in, the boathouse, to commoners like us seems rather insignificant and also out of the way. Thankfully one of his finest gems is hidden inside the Pierce Arrow Transport Museum.
See living automotive history at the Buffalo Transportation Pierce- Arrow Museum
The Buffalo Transportation Pierce-Arrow Museum is a surprise package – a treasury not just of transportation, but design and architectural relics.
It could be the population, the access to the range or just being the place where most things happened in the world of transport, but from our humble home land, we've never seen the number of museums full of quality collections like you get in America. From the moment you arrive on the block, you know you're in for a treat.
The Pierce Arrow company started as a manufacturer of bicycles, before diversifying into automotives. Entering the museum, you'll be impressed by the scope of the exhibits, from early wooden bikes and racing bicycles to high performance cars of the 1980s.
Follow the company's timeline and connect to the people through original baseball team and marching band uniforms. Early advertising and ephemera reveals much about the time and the role of the company in American life from the 1860s to its demise in 1939, eventually being absorbed by Studebaker.
Stepping away from the early bikes, we're treated to a gorgeous collection of opulent limousines from the 1920s, some with toilet, fold down bed and running hot and cold water. The central portion of the room is like a larger-than-life Hot Wheels collection, with hot rods and performance vehicles from the 50s to the 80s.
From penny-farthing bikes to Harley Davidsons, this museum will attract collectors to Buffalo, New York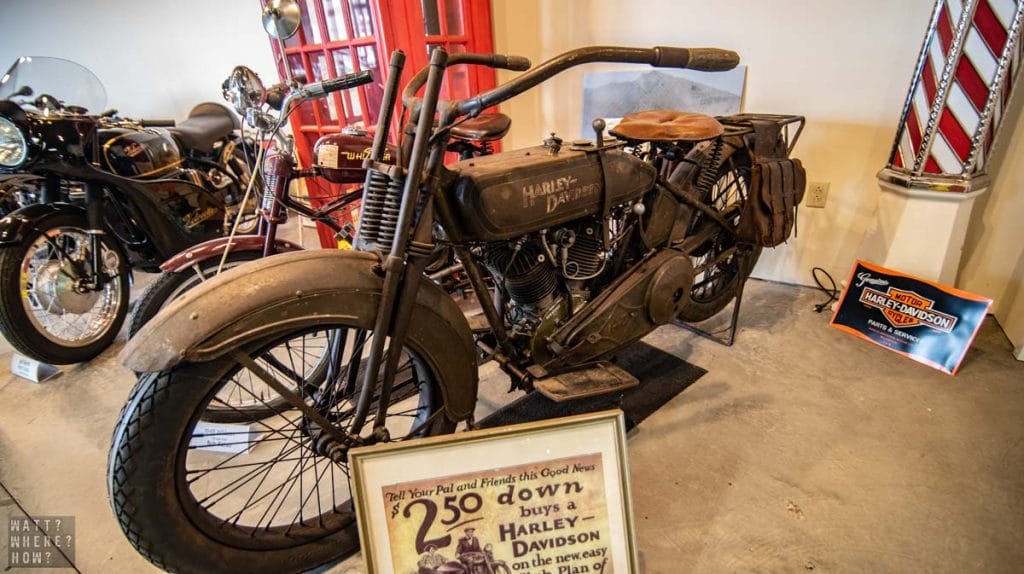 A secondary gallery is accessed through a narrow hallway of early Harley Davidson, Triumph and Indian motorcycles, while an ultra-rare 1948 Playboy convertible (also made in New York) is displayed beside a Playboy pinball machine. Opening up into a full showroom, there's no end to the drool-worthy vehicles on display. This is hot rod central, with the more sedate sedan like Elizabeth Montgomery's (Samantha from Bewitched) Packard to the iconic Thunderbird.

The centerpiece of the car showroom is without doubt the Frank Lloyd Wright filling station. Designed for the Buffalo Oil Company in 1927, it was finally built as the R. W. Lindholm Service Station in Cloquest, Minnesota and stands as the only service station constructed to his design in his lifetime. The poured concrete structure has a copper roof and copper embellishments, with two totems from which filling hoses are attached. Suspended from the gallery roof is a Tydol (gas company) sign, designed by Lloyd Wright and one of his actual cars is parked in the drive – a nice addition to the scene.
Sample THE original Buffalo Wings at Anchor Bar
You can't go to Buffalo without trying Buffalo wings. Our uber driver recommended lanova as the local's favorite but it would be remiss to not pay homage at the actual birthplace, anchor wings.
Originating as an Italian restaurant in 1935, it rose to prominence in 1964 when Teressa Bellissimo, owner of the Anchor Bar made them as a late night snack for her son Dominic and his friends. The deep fried, cayenne coated chicken wings became a hit and they are without a doubt, America's favorite bar snack. Served with a tangy hot sauce, bleu cheese and usually sliced carrots and celery, they are the perfect accompaniment for a beer.
If you love wings, you'll love Buffalo, New York
With the now international fame around the bar, which produces its own hot and barbecue sauces and merchandise, there's a queue from well before opening time. The bar and restaurant is homely and quite dated. There is definitely an automotive theme to the entrance with license plates from all over the country papering the wall and motorcycles parked above each wall in the main foyer.
Like all the classic American restaurants we've visited, the main decor is framed and autographed PR photos of VIPs who have passed through, though our section of the wall is dedicated to the choking victim sign which does nothing for the confidence as we set about devouring 20 pieces of boney chicken.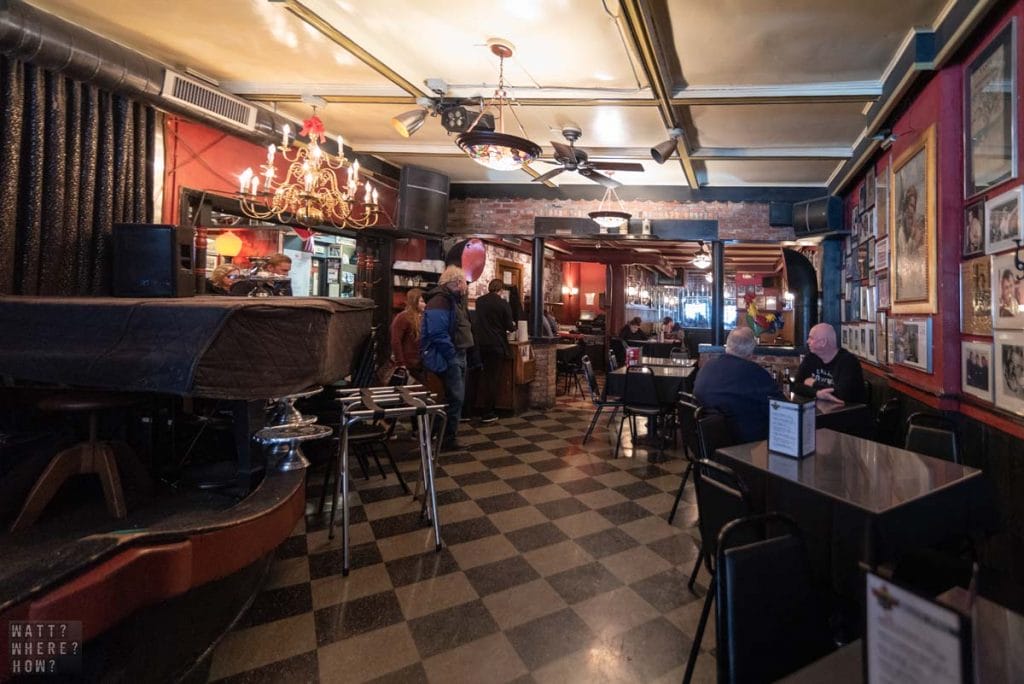 While the originals are all about the tangy red-hot sauce, we opt for the spicy BBQ. Instead of being served with carrots and celery which is the norm in NYC, celery is the only accompaniment to the dish beside the tangy blue cheese sauce. Today the bar is out of service, so we don't get to sample the local craft beers advertised on the menu, instead opting for Canadian Labatt Blues. They are a necessary accessory as the spicy wings' heat grows the more you consume.
Check out hip Allentown
For a change of pace, escape the downtown and head to Allentown. There's a very basic metro that will transport you most of the way for free and $2 for the last mile – or you can walk it. Allentown is a hip shopping strip with bars, cafes, antiques and arty shops – they sold us a cat tie – so yeah that happened.
The Main Street is fairly deserted as it's a Sunday in the dead of winter, but we can imagine it being much more appealing in the warmer seasons. Worth a quick look is the National heritage site where Theodore Roosevelt was inaugurated in 1901 after the assassination of President McKinley. The other piece of presidential history in Buffalo is the birthplace of President Woodrow Wilson, who led America through the last part of World War 1 and into the League of Nations era.
There's more to New York than just NYC. Explore more of the state here.
---
---
WHAT?
There's plenty of things to do in Buffalo. Once an industrial center, it is now a center of medicine, sports and education, home to the famous chicken wings and architecture by all-time great, Frank Lloyd Wright.

WHERE?
Buffalo, New York is situated in upstate New York, close to the Canadian border and the Niagara Falls.

HOW?
Fly into Buffalo airport or take a Greyhound. We caught the local bus from the airport for $2 paid using bills or exact coins. Uber is also available and can be somewhat unique – we caught a pickup truck Uber.
Follow & Connect with us