It was the timeless charm of Hitchcock's 1958 thriller, Vertigo that first led us to the Top of the Mark.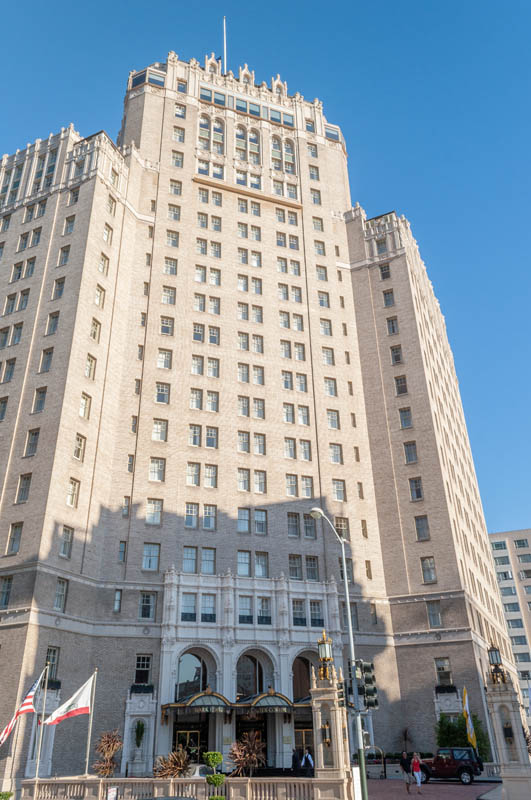 Normally selecting hotels for a stay comes down to budget and then location. If we can find a place that is comfortable, without taking out a mortgage that's a good start and one that isn't in the middle of a sketchy area is usually our second parameter. But sometimes you just throw caution to the wind to stay in a place with a worthy place in pop culture history.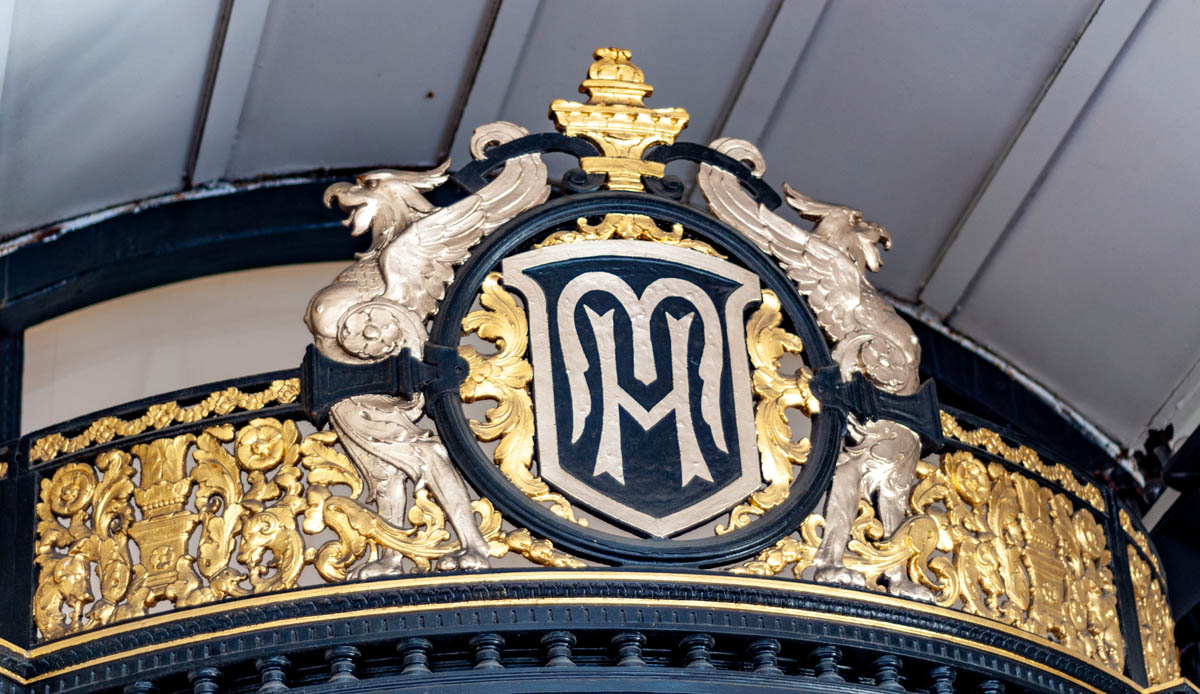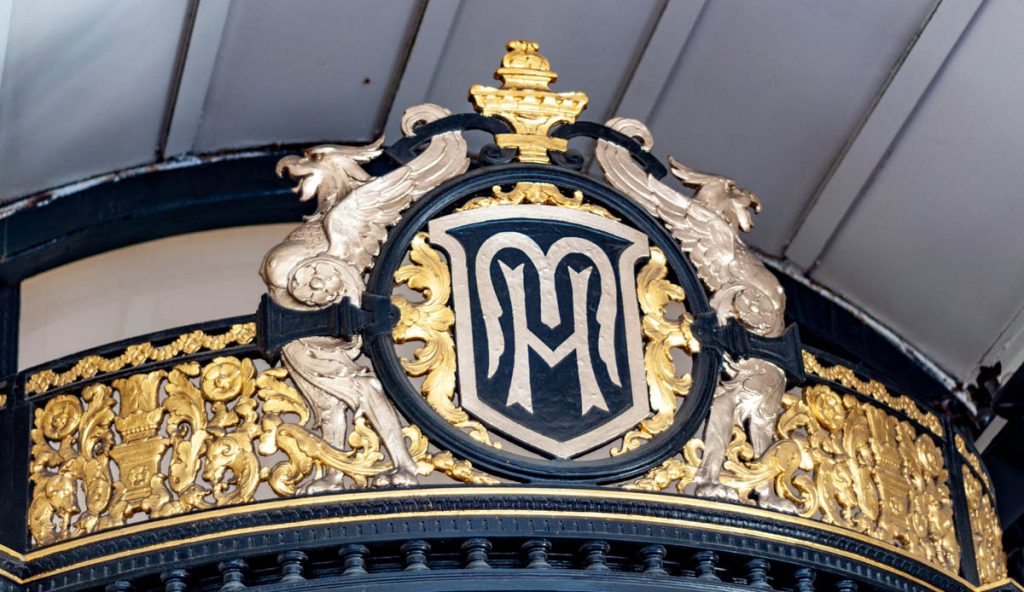 The Intercontinental Mark Hopkins is a hotel from another era. It's classic, not dated; stylish but not overly embellished. In comparison, the iconic Fairmont across the square looks more on par with The Ritz-Carlton. But don't worry, there's plenty of marble, wood and brass in this old dame that ensures its decor is as timeless and charming as its staff.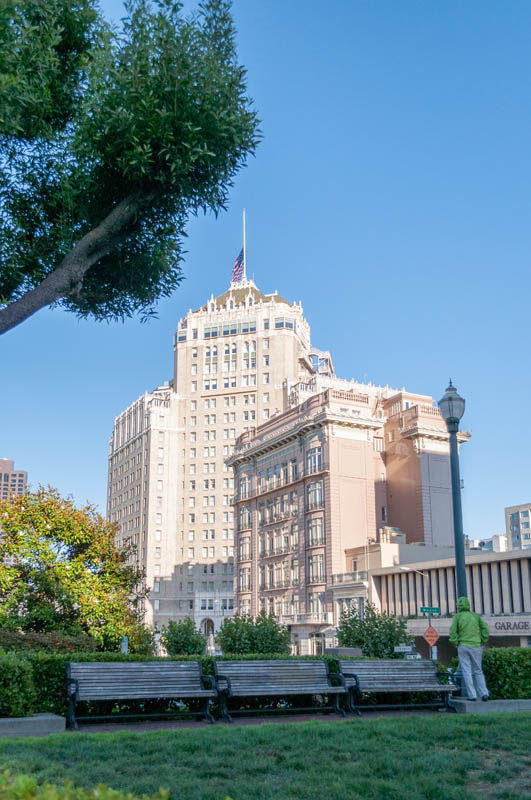 Sitting atop Nob Hill, this jewel from 1926 is serviced by three streetcar lines making it an easy commute to Chinatown, Fisherman's Wharf and the Financial District. The neighborhood was once full of stately mansions, the product of the boom during the Californian gold rush. The whole of 'Frisco was flattened by the Great Quake of 1906. Nob Hill was rebuilt, with even finer homes, honed from stone, rather than timber. It's a picturesque neighborhood, but it can be challenging to walk for the young and old, with some extremely steep gradients.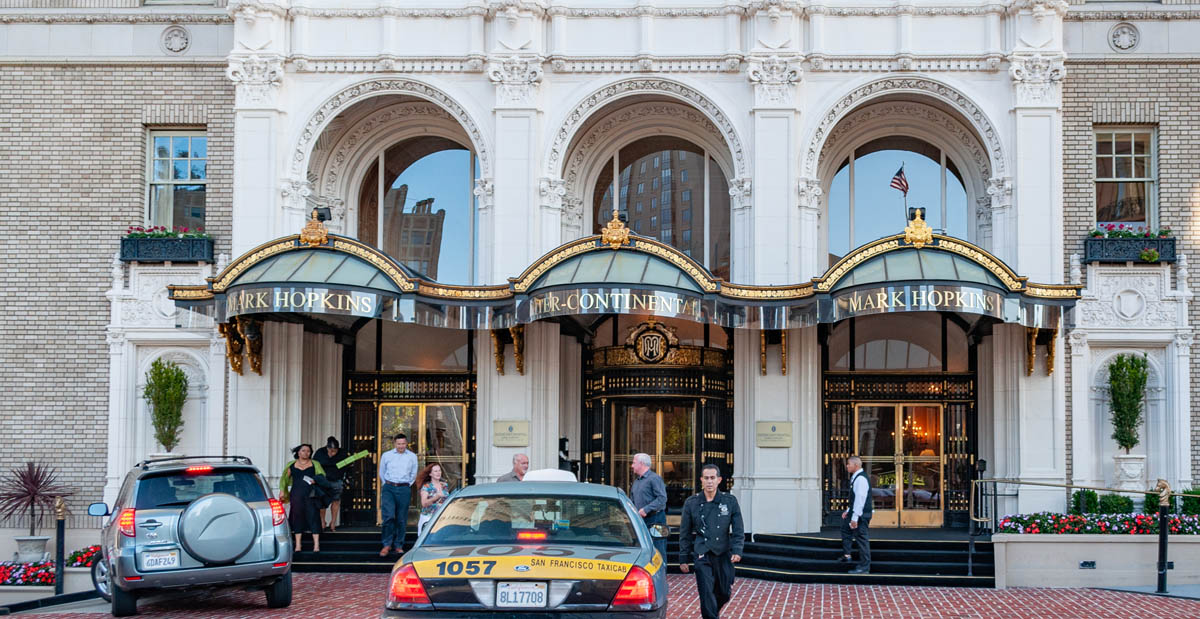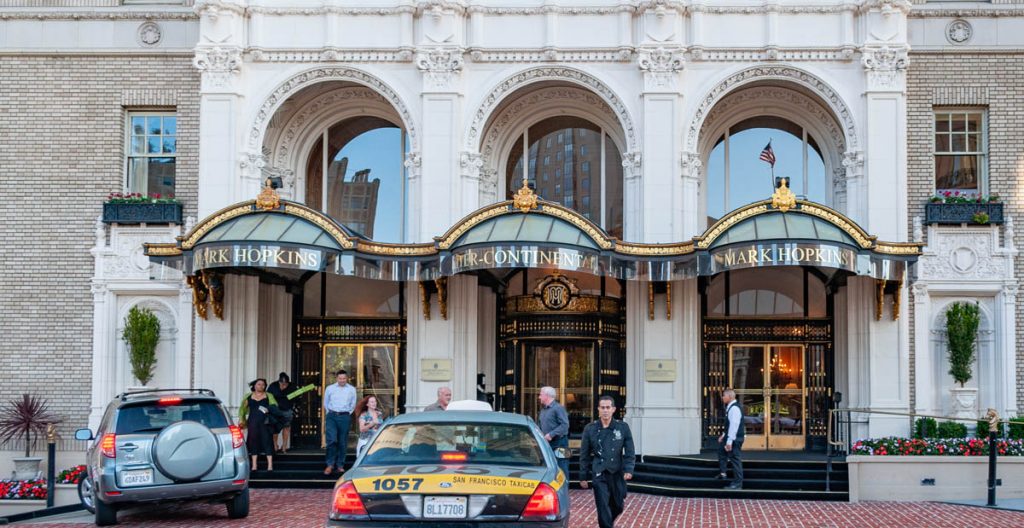 The lobby
Enter through the grand triple arches and red carpets of a bygone era and you'll be greeted by a cavernous lobby with three oversized chandeliers lighting a lounge with comfy arm chairs and sofas.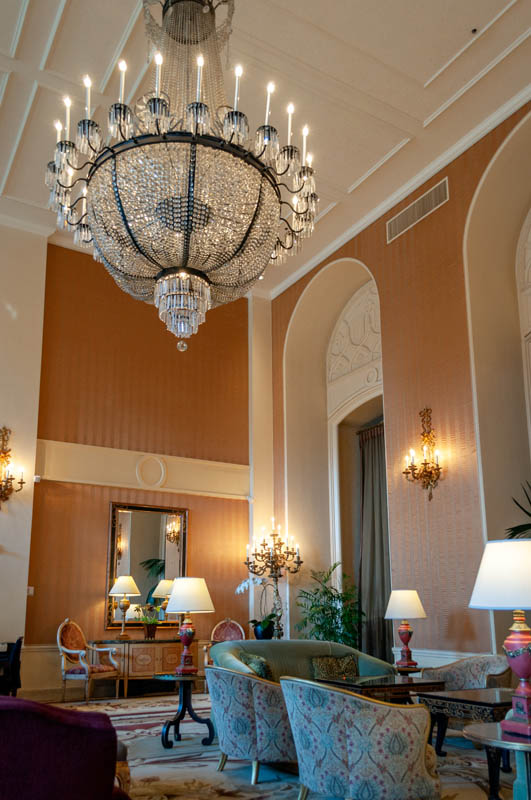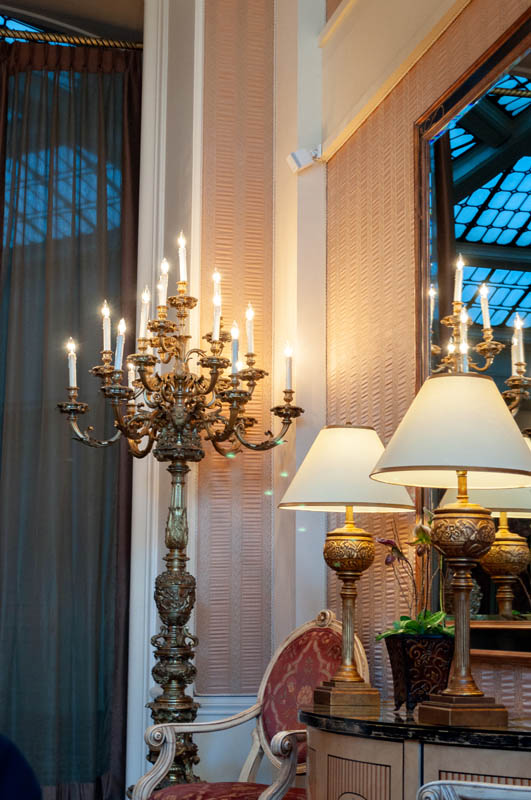 The Rooms
The rooms, by modern hotel standards are small, and to some could be deemed dated. We are here for the heritage so we'd rather that than a Super contemporary fit out. Think more bathtub than spa. The walls also tend to be thinner than recent builds, so you may overhear the action from adjoining rooms or the ding of the streetcars bells. The room service menu is expected and on the more expensive side but if you're lucky enough to be traveling for business, go all in!
Cocktails with a 360 view
In Vertigo, Jimmy Stewart's tortured acrophobic character, Scottie banters with Kim Novak's Madeleine, "I can't go to the bar at the Top of the Mark, but there are plenty of street level bars in this town." Back then its prominent position atop Nob Hill and as the city's then tallest building would be a place to avoid for someone with a fear of heights.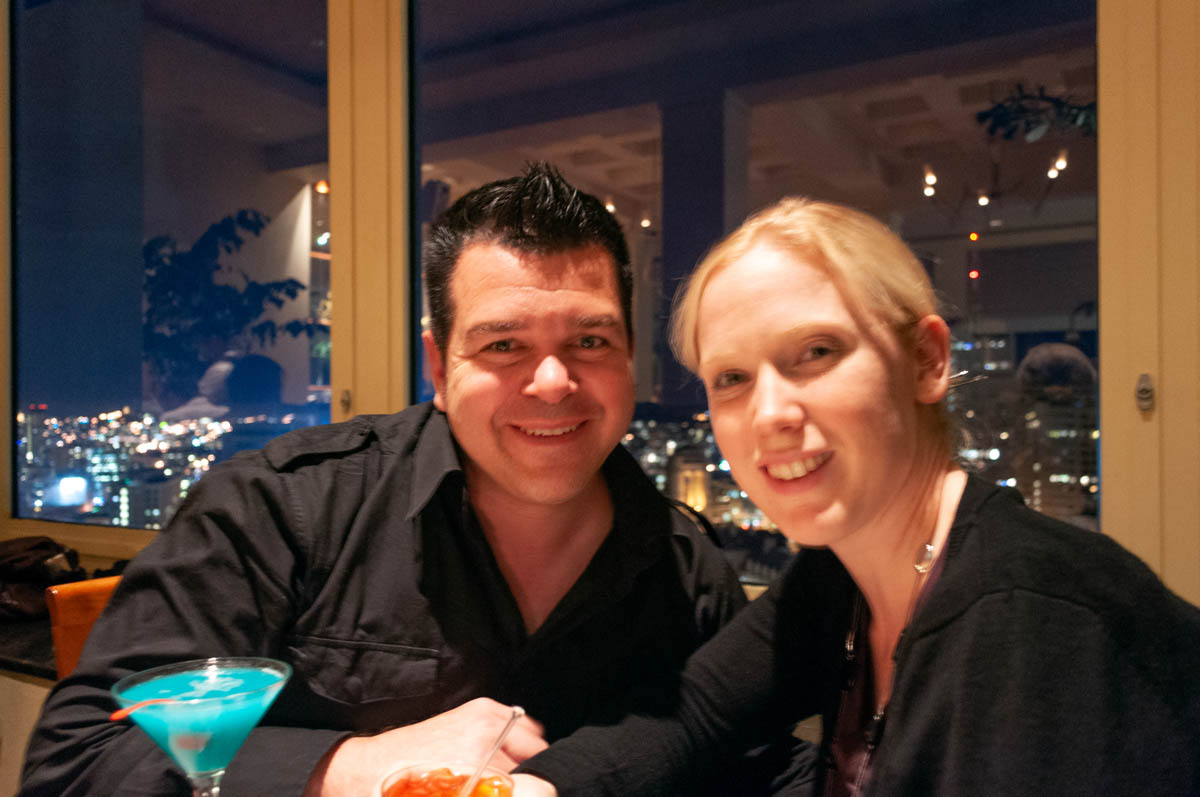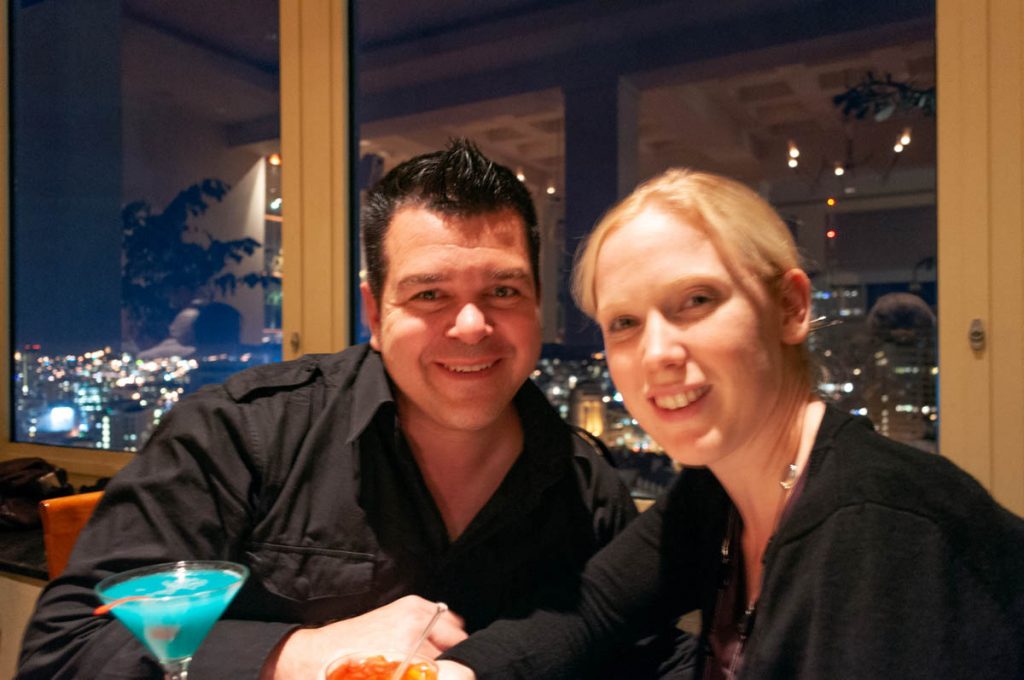 As a couple who don't adore heights, we had our misgivings as we stepped into the tiny elevator that thrust us skywards. Thankfully it wasn't like one of the see-through glass variety and the doors open to a chilly climate control system and super cool live big band.
Top of the Mark serves as both a restaurant and a cocktail bar. Nightly live swing bands or big bands raise the roof with boisterous renditions of the standards from the thirties to the sixties. The dance floor is packed with people who jump and jive, though the only wailing to be heard is coming from the lead guitarist who knows some serious licks. Navigating the cocktail list, the range and prices are on par with New York. To visitors from other cities, they may find $16 expensive, but we're used to that going rate.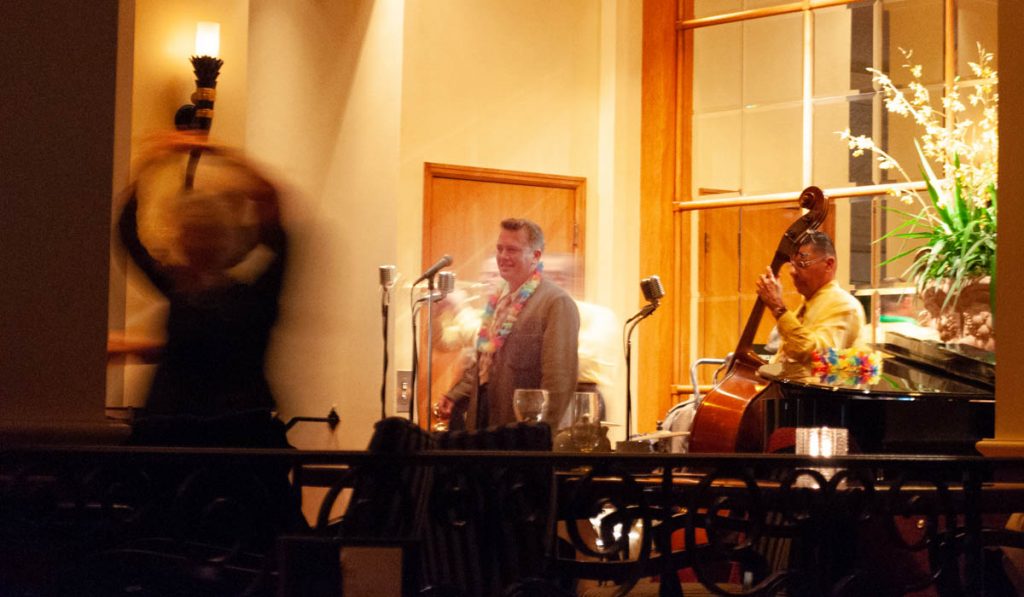 We sample one classic and something new each, sipping gently on the sweet, yet strong mixes whilst looking out towards the Golden Gate and Bay Bridges, both glowing orange in the distance. Confidence boosted by the cocktails, we hit the dance floor. Our down-home style, which is more chicken dance than swing dance raises a few bemused eyebrows, but who cares? How often do you get to dance and romance where you feel the world revolves around you?
WHAT?
The Intercontinental Mark Hopkins is a stylish old world hotel with a rooftop bar you'll never forget.
WHERE?
Nob Hill, at 999 California St, San Francisco, CA 94108
HOW?
Book here for accommodation and bookings for Top of the Mark here.
Follow & Connect with us