After experiencing a truly relaxing getaway to the Finger Lakes, we've assembled the best things to do in Skaneateles New York, nestled on a crystal-clear glacial lake.
For one of New York's State's most picturesque escapes, head to Central New York's Finger Lakes and its picture postcard-perfect Skaneateles. The "eastern gateway to the Finger Lakes", Skaneateles is a beautiful historic village that is a refreshing haven of watersports, spas, wineries, and galleries.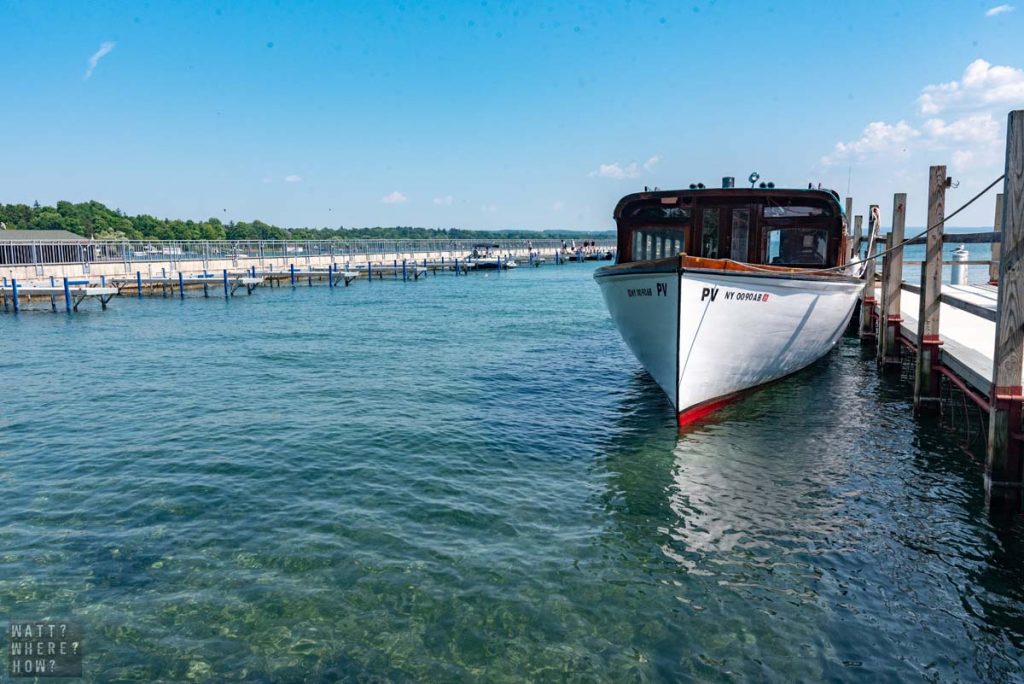 But firstly, how do you pronounce Skaneateles?
It is pronounced Skinny At-Alas and is Iroquois for long lake. Boasting 16 miles of one of America's cleanest lakes with deep, clear blue glacial waters, its history dates back to the late 1700s.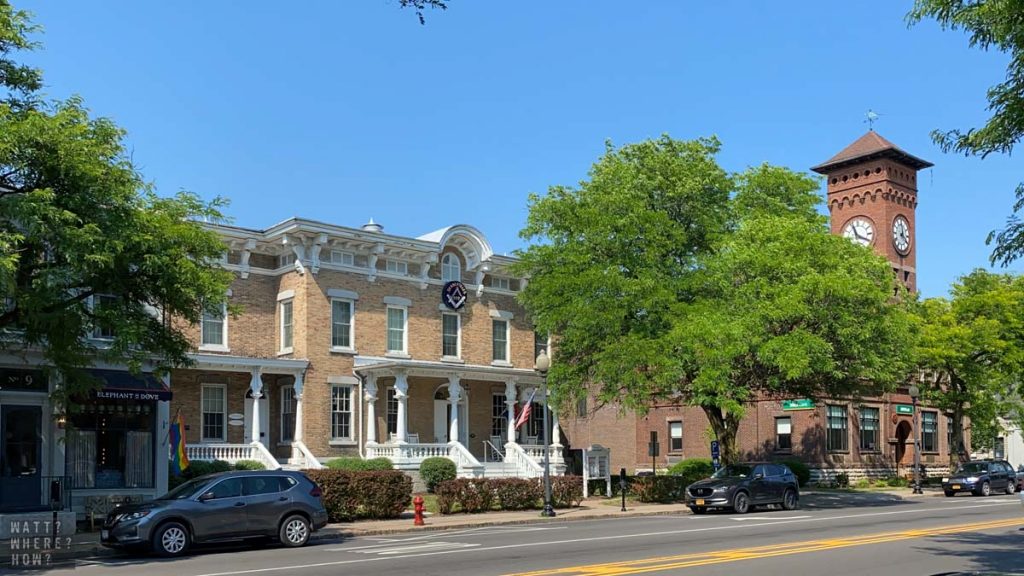 Escape to Skaneateles, New York State
Most summers, well-to-do New Yorkers escape the sweltering Manhattan heat for the clean air and chilled atmosphere of this picturesque upstate town. They're greeted with a range of stylish B and Bs to choose from and the lure of lake-based activities and events like the annual Skaneateles Antique and Classic Boat Show and the Columbia Cup sailing race. Or for the extremely well-to-do, they head to their private lake house.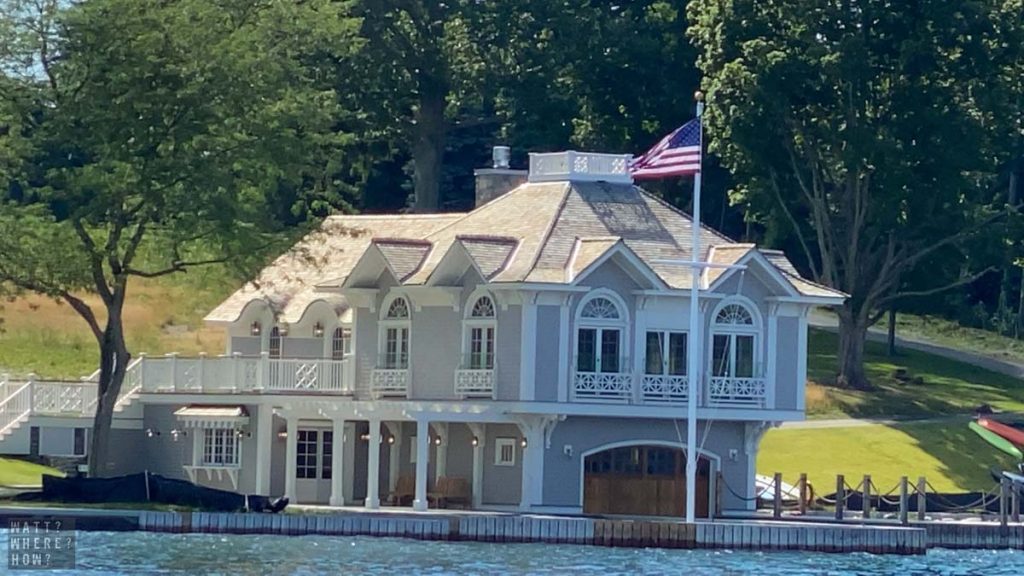 Skaneateles is where the well-heeled play
Skaneateles is a millionaire's playground of exclusive country clubs, spas, upscale dining and boutique shopping. Here, a lake front property is an indication of wealth and success – or old money, of which there is plenty. This is a town with its own JP Morgan stock broking office, A-list celebrity sightings and plenty of old money.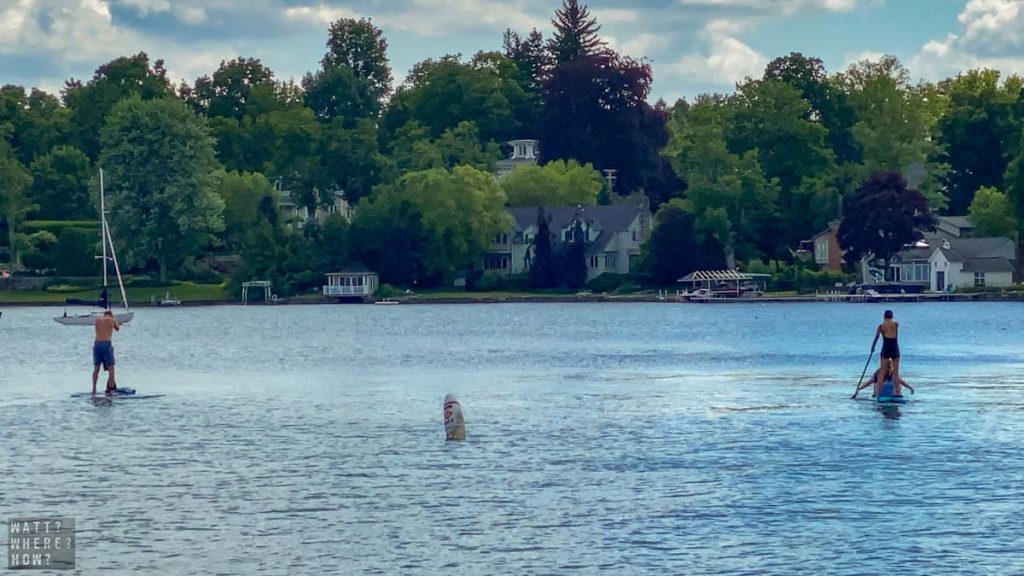 Besides walking the main thoroughfare, East Genesee Street, the best way to see it is from on the glassy blue waters via a lake cruise, a fishing charter, a stand up paddleboard or a sailing boat. You can even take the local mail boat for a unique experience as it stops to deliver letters and parcels to the private docks of some of the state's most impressive mansions.
WHAT TO SEE IN SKANEATELES, NEW YORK
Mid Lakes Navigation Skaneateles Lake Cruise on the Judge Ben Wiles
Board the Judge Ben Wiles, a family-owned vessel named after the Wiles family's grandfather, who was a bankruptcy referee during the Great Depression. A smaller boat, docked alongside the flagship, The Barbara, has been delivering mail along the lake for just as long, and these days, you can choose to cruise on it and be a part of the daily mail run. You can book tickets ahead of time here or buy them on the boat.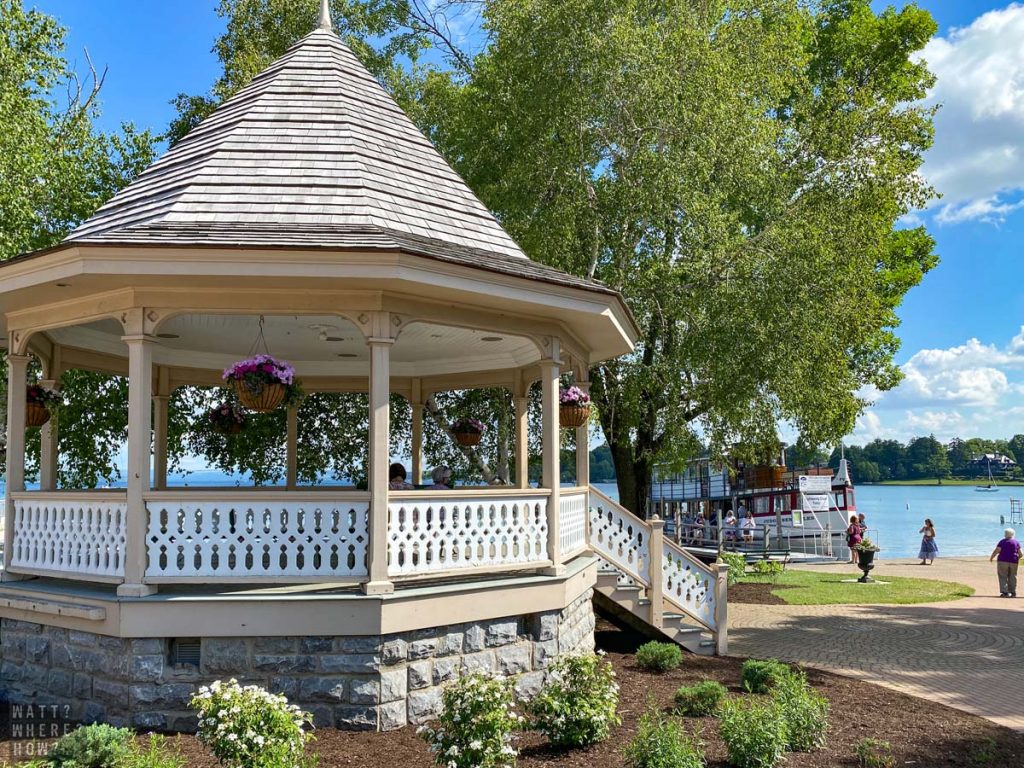 Through the day, the boat, which departs from beside the gazebo at Clift Park, ferries up to 50 passengers per time on an hour-long cruise down the east side to the mid lake, before returning along the west coast. The water is sparkling and clear, literally shimmering as we coast along peacefully. Our captain and tour guide gives a mix of background history and a narrative that is more Lifestyles of the Rich and Famous.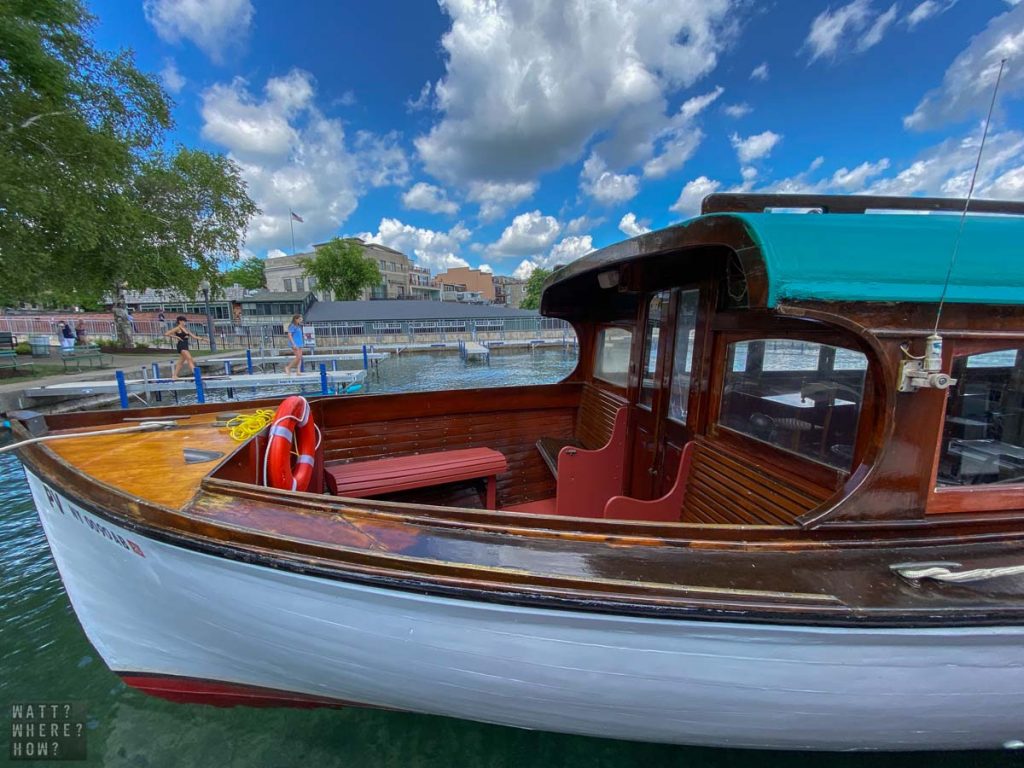 All the properties along the lake are prestige and owned by a who's who of Fortune 500 CEOs and celebrities. There are Kennedy clan mansions, ornate boathouses that are larger and more opulent than most people's homes, an ostentatious display of wealth, like families lounging on the waterfront, their motorized golf carts adjacent – when you're this rich, who needs to walk? From the country club and marina, back to dock, it's an eye opening opportunity for a voyeuristic view of how the other half live.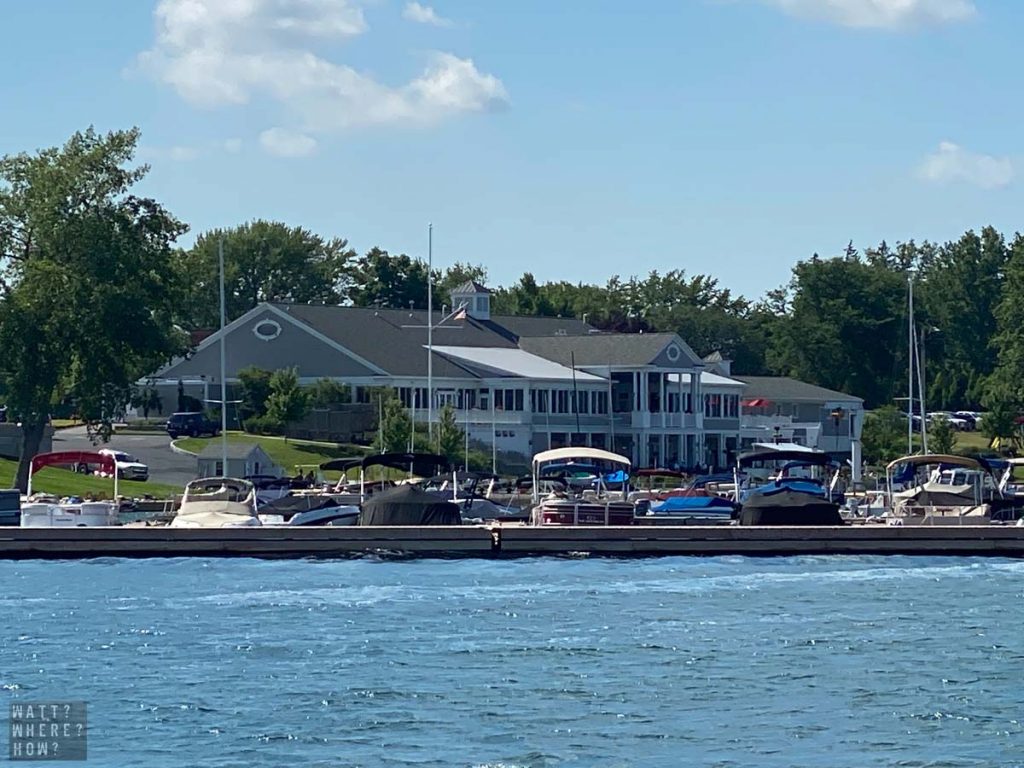 Lavender, Wines, and Waterfalls
While the village of Skaneateles is buzzing with visitors, the west side of the lake is a refreshing breath of fresh air and farmlands. Once past the rolling fairways of Skaneateles Country Club, the undulating hills reveal hobby farms and vineyards, wedding venues, and country homes.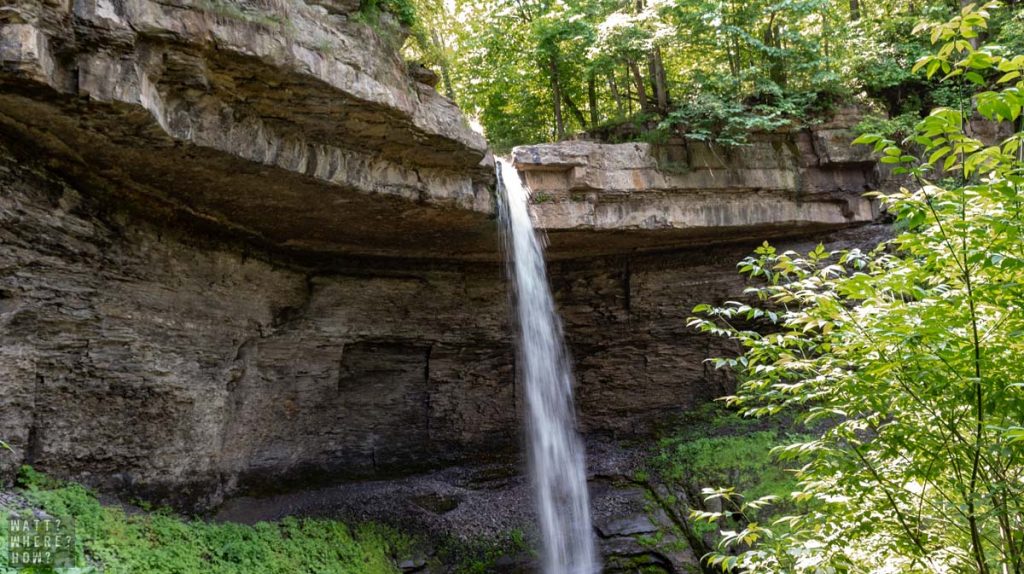 We pass both Anyela's Vineyards and Lockwood Lavender Farm, which is in full bloom, but given the time we're here (mid-2020), both are temporarily closed. Instead, we keep head to the Bahar Nature Preserve and the Carpenter Falls (accessible via route 41A, then turn off by the maple syrup farm.)

The trails here are beautiful, but challenging. After rain, they become very slippery and if you want to get close to Carpenter Falls, they can be very dangerous. Read a more detailed account here.
Walk Genesee Street
You would be hard pressed to find a street with as many eye-catching mansions and heritage properties as Skaneateles' East Genesee Street. The town's main thoroughfare rolls down a steep hill, passing manicured lawns and stunningly kept homes. This is old money at its finest and it's as lovely as it is jealousy-inducing.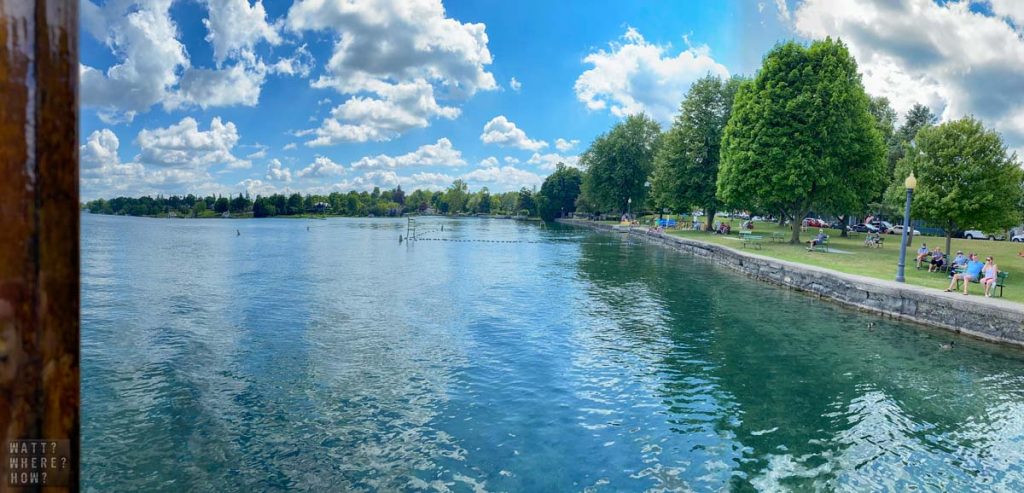 Explore the Skaneateles lakefront
Over the past two hundred years, Skaneateles has evolved into a lakeside resort, with its icy but sparkling waters becoming a playground for boating enthusiasts and fisher folk. The lakefront is accessible at points along Genesee Street like Thayer Park, where the St. James Episcopal Church looks out over the glistening surface, but the main focal point is the pier, Clift Park, and Shotwell Memorial Park. If you want to try your hand at fishing, Thayer Park is a public access point where you can fish with a New York State Fishing License.
The iconic gazebo at Clift Park is a popular place for photo shoots – particularly for weddings at Skaneateles Lake. The regular mid-lake boat cruises depart from Clift Park, while the adjacent pier, which replaced the original wooden pier in 1986 used to be where steamers would dock.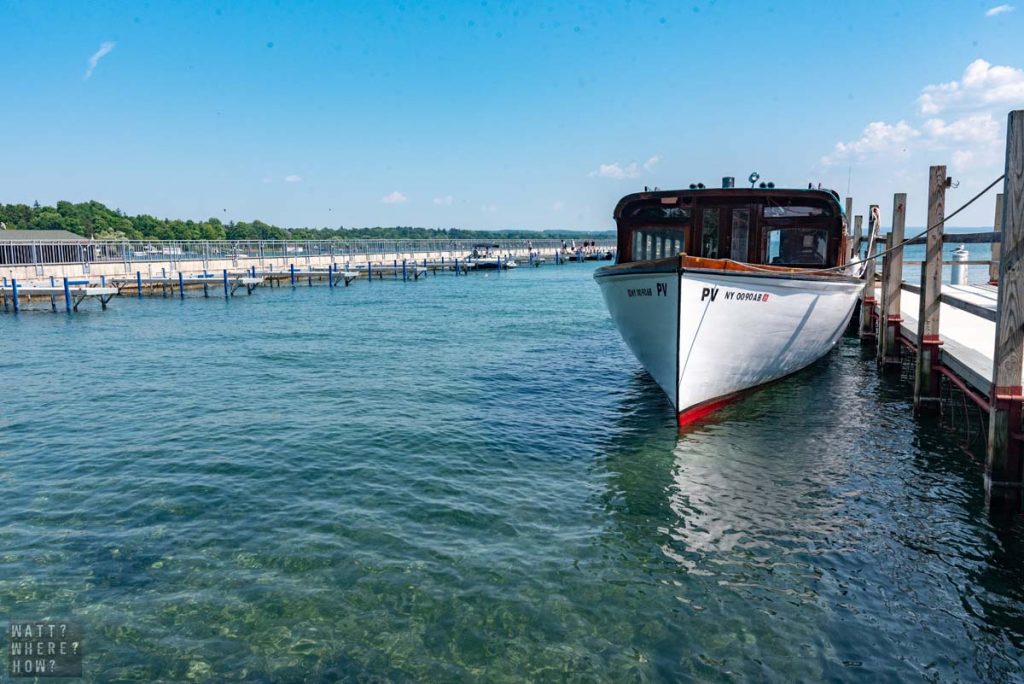 Go swimming at Clift Park
Commanding absolute waterfront position onto Skaneateles Lake, Clift Park just across from the Sherwood Inn. It offers the only public swimming area in Skaneateles, a tiny, netted zone watched over by a lifeguard. Local residents can swim for free by showing a season swim pass from the Town Hall or Skaneateles Community Center, while visitors pay the lifeguards on duty. The swimming area is only open in July and August between 11 am and 7pm.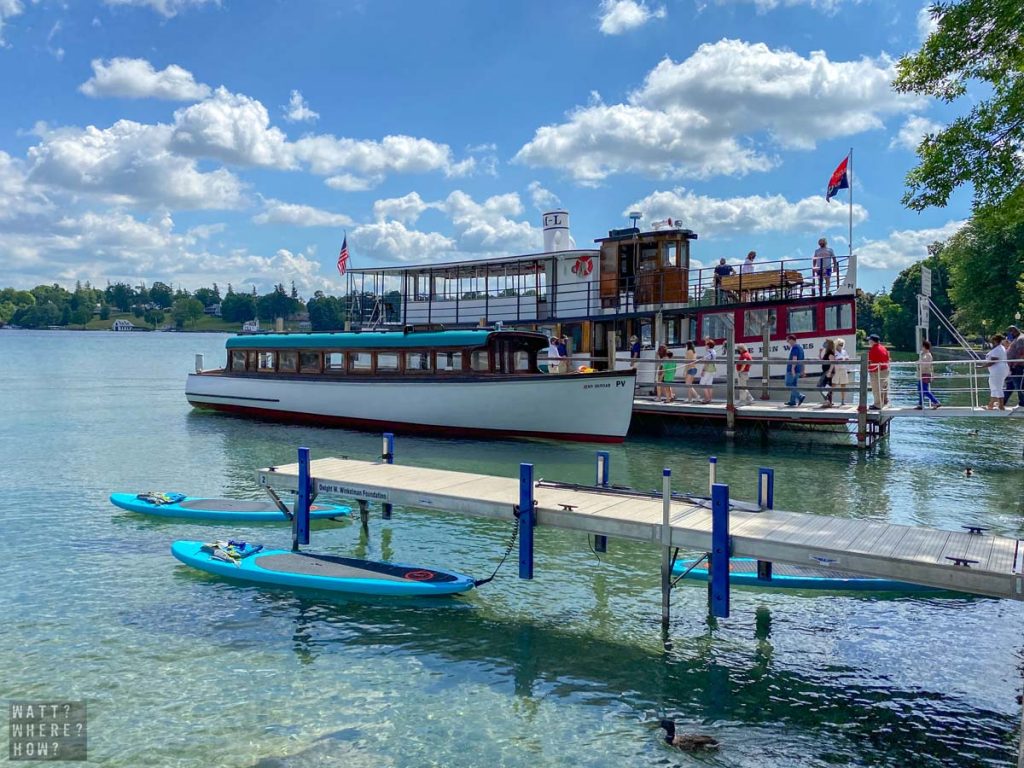 Shotwell Memorial Park
Adjoining Clift Park, Shotwell Memorial Park on Skaneateles Lake is home to the town's war memorial. It is a simple, but thoughtful memorial, with a statue, fountain, and wall recording the name of fallen soldiers lost in battles pre-dating World War 1.
WHERE TO SHOP IN SKANEATELES LAKE
The Local Branch Co.
Most vacation destinations will have upscale boutiques of women's fashion, but rarely are there options for men – particularly not ones as hip and fashion-forward as The Local Branch Co. This menswear retailer channels vintage vibes with a generous dose of Americana. Explore a range of leather jackets, casual coats, and distressed prints, where the visual merchandising is truly first class. It's very Williamsburg meets the Adirondacks and well worth a visit.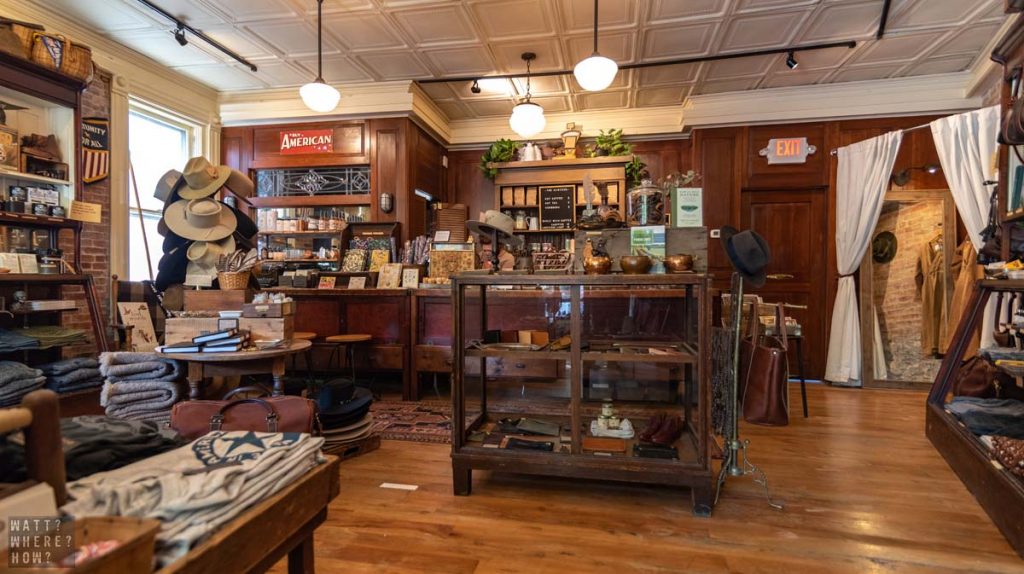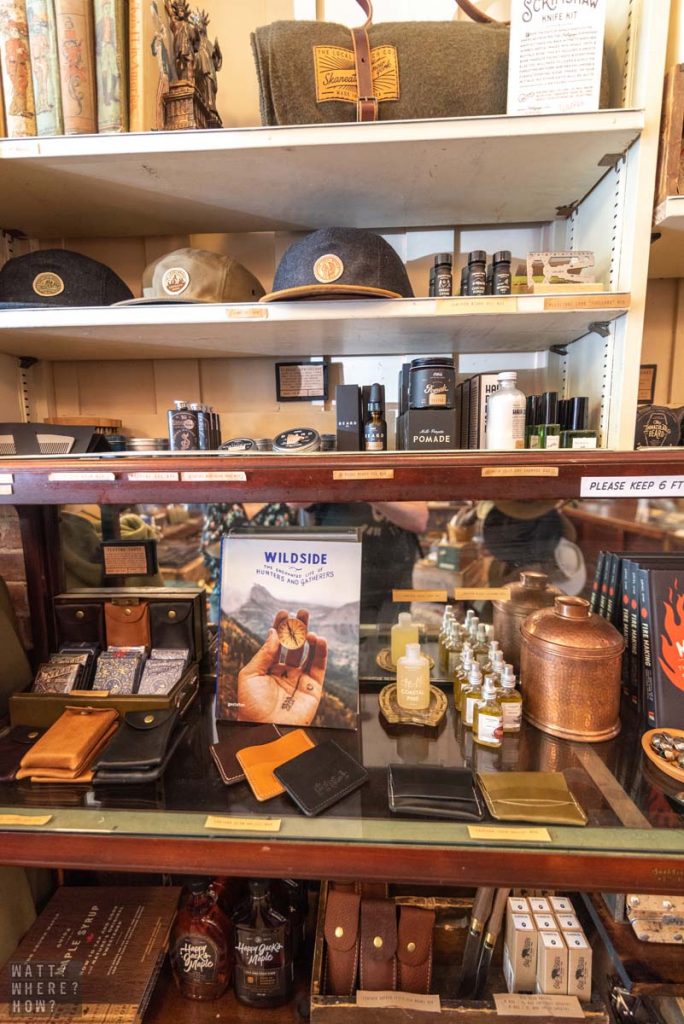 First National Gifts
Many of America's classic banks have made way for ATMs and Venmo, but that doesn't mean they're forgotten. First National Gifts on Genesee Street was originally The National Bank and Trust Company of Skaneateles. It first opened in 1928 – the year before the Great Depression, but managed to trade through it and thrive until it was taken over by Key Bank, which eventually opted relocate its services to a new location with drive-through banking on Fennell Street.
The current tenants, First National Gifts, have lovingly preserved key elements of this grand old building with its 30-foot high ceilings and original vault, which houses a mini-museum. The mezzanine floor is actually a private home with one of the town's best views of Skaneateles Lake.

For those seeking presents and collectibles, First National Gifts offers brands like John Medeiros™ jewelry, Dansko, and BrightonTM. You can also find some beautiful vintage-style toys and candles.
Nest 58
If you're looking for unique additions to your home décor, Nest 58 offers a selection of artsy to practical pieces that you'll regret not buying (trust us!)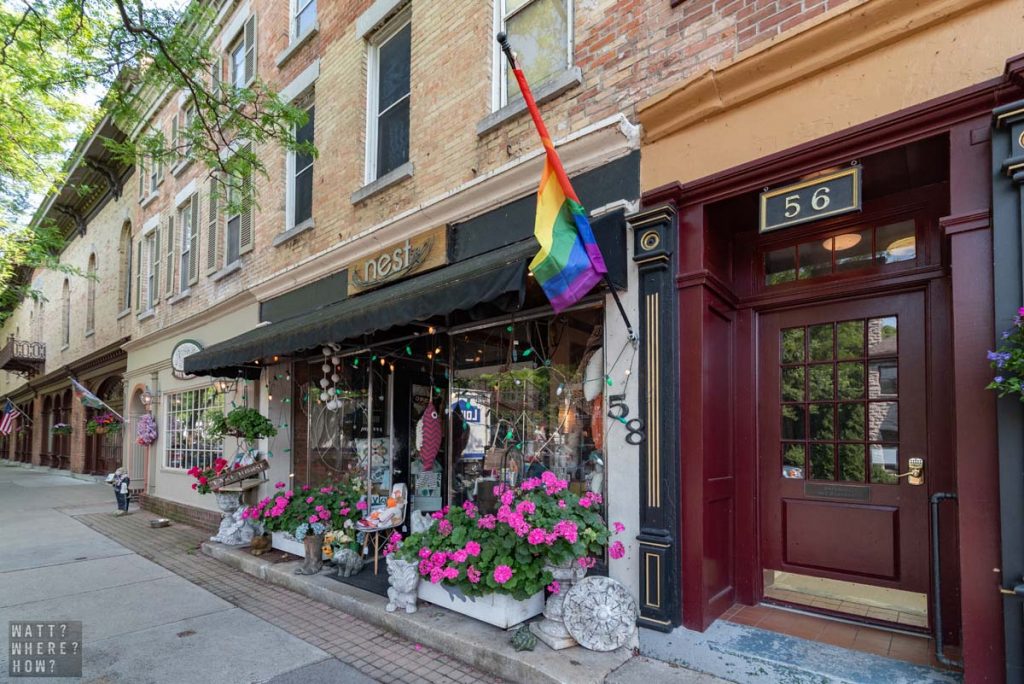 Tops Market
If you're staying for more than a couple of days, or just want to stock up on picnic foods, Tops Market has an excellent selection of high quality groceries and prepared meals, alongside fishing equipment, sunscreen, towels, and other vacation essentials.
WHERE TO DINE IN SKANEATELES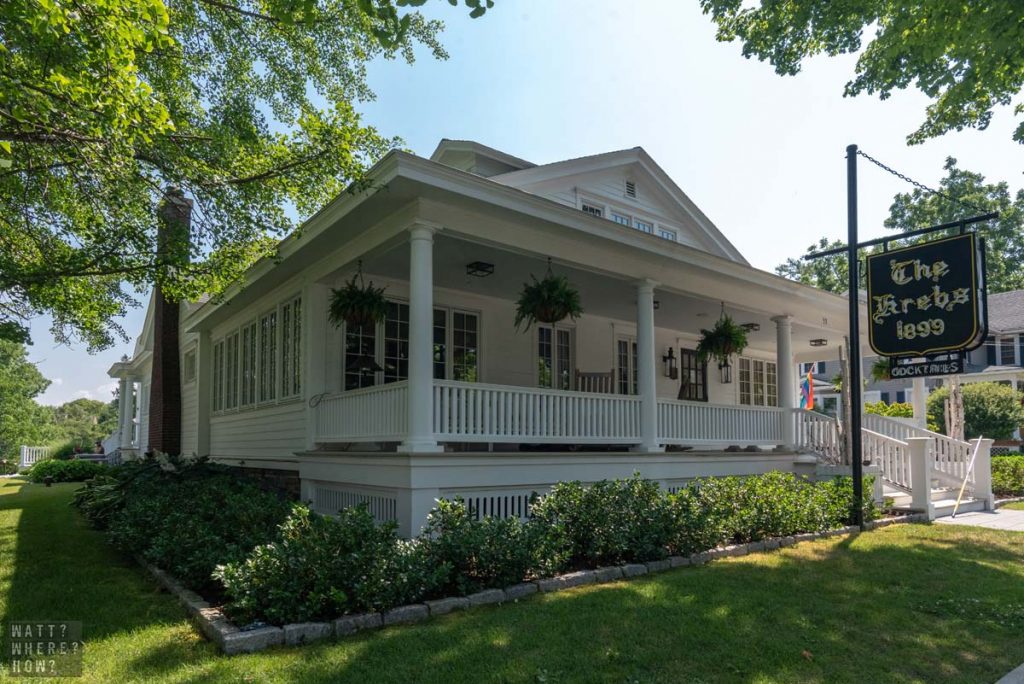 Sherwood Inn
As we experienced Skaneateles during 2020, we were unable to try some of the town's more renowned restaurants, which had closed, but we were able to dine on the lawns outside the Sherwood Inn and Hannum House (the former home of President of Skaneateles Spencer Hannum and now a popular wedding venue).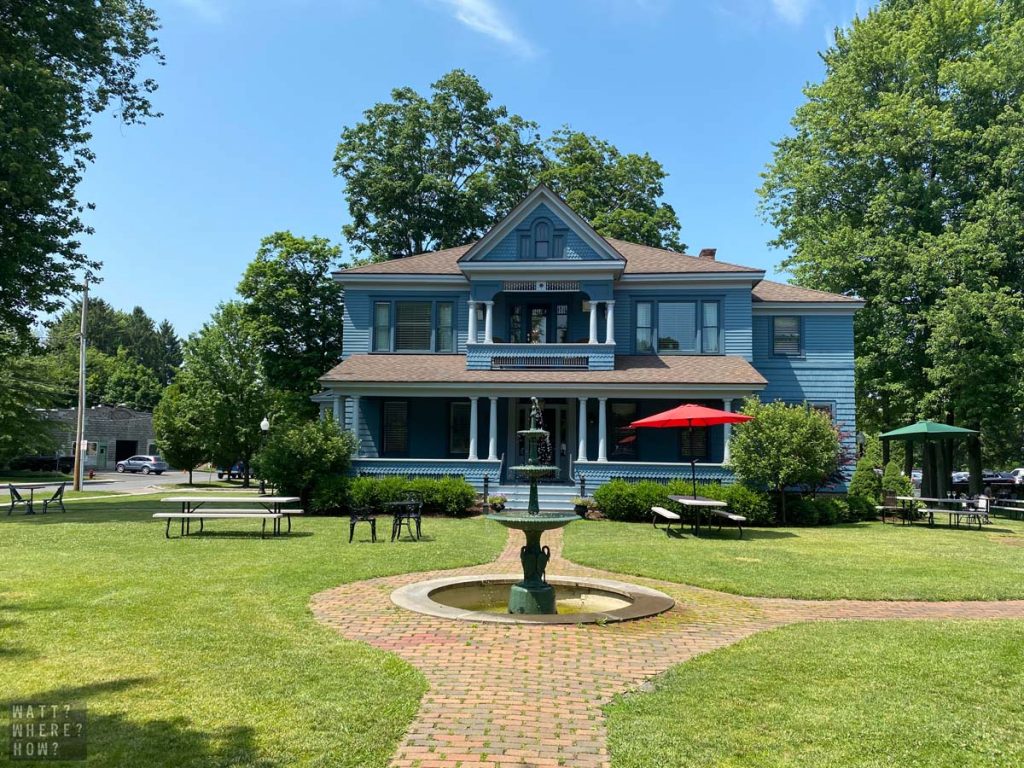 Established in 1807 by Isaac Sherwood to service his stagecoach business. Over the years it has evolved, but it still retains the old-time style that ensures it's the top choice for celebrations and weddings in Skaneateles. Soaking up the mid-summer vibes with an Aperol Spritz, we enjoy a refreshing gazpacho before overindulging on the Yankee Pot Roast to get the full taste of the Sherwood Inn's glorious past.
Patisserie
Set in the Carriage House behind the Sherwood Inn, the simply named, Patisserie, is one of local go-tos for fresh bread and ornate celebration cakes, which given the proximity to both the Inn and neighboring Hannum House.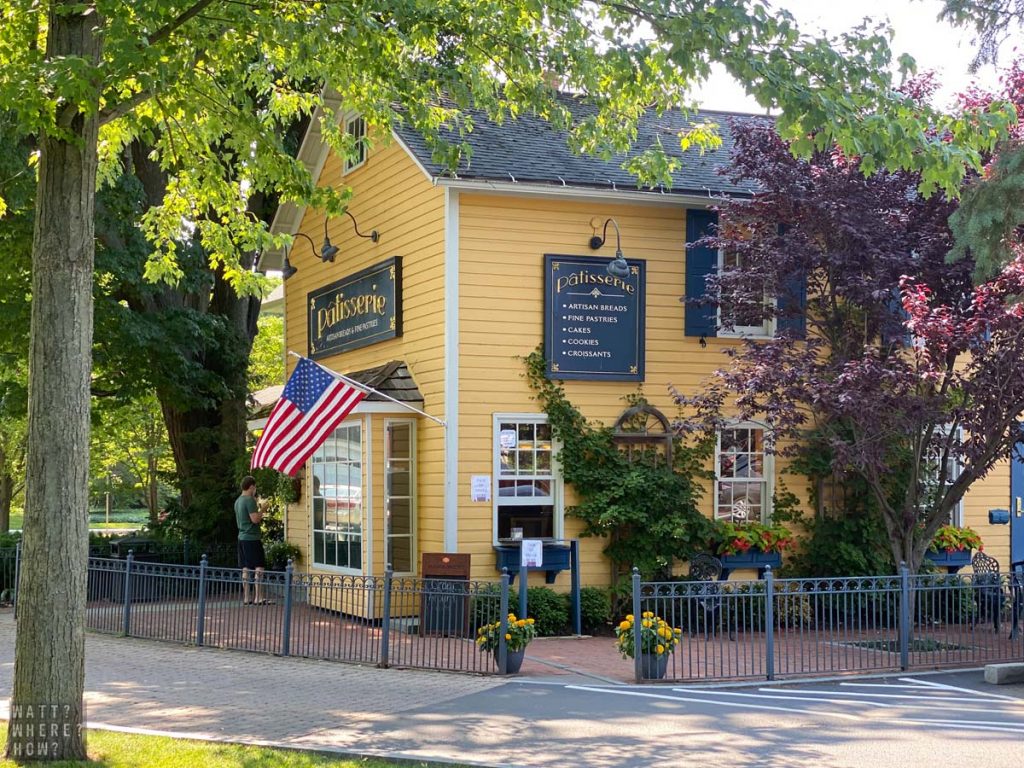 Doug's Fish Fry
Unpretentious, deep-fried fish and chips, Doug's is a regional favorite and a family tradition for many people visiting Skaneateles. There's always a queue from late afternoon and it's almost a rite of passage to go to Doug's Fish Fry at least once.
Blue Water Grill, Skaneateles
Set right on the water, overlooking the jetty and gazebo, Blue Water Grill is a popular steak and seafood restaurant with a menu of sushi, lobster and crab rolls, steak and shrimp, and vegetarian flavors.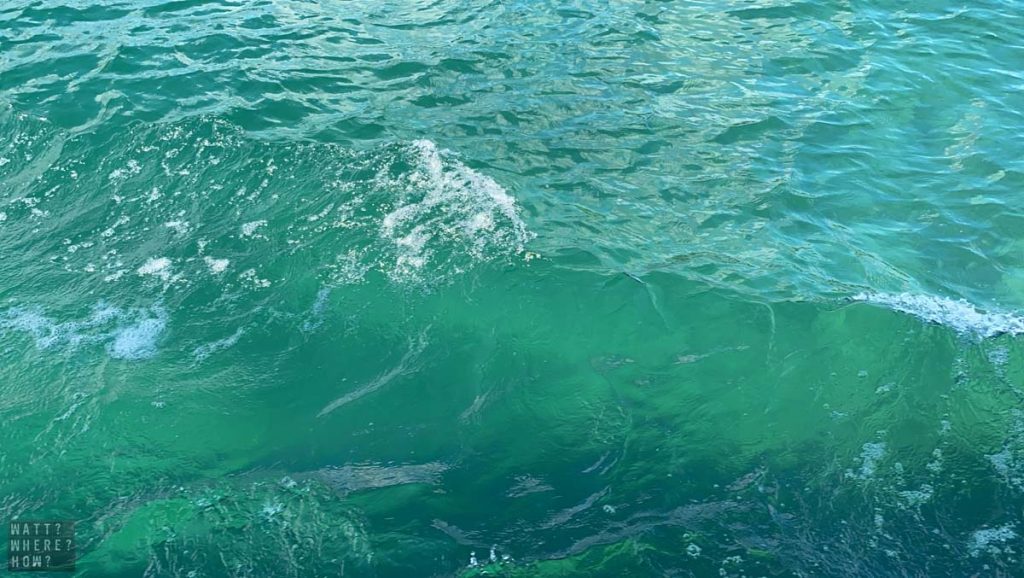 WHERE TO DRINK IN SKANEATELES
Finger Lakes On Tap
If it's craft beers that you crave, Finger Lakes On Tap, Skaneateles' newest beer bar will impress. About a ten minute walk from the main street, its set back from the road in a quaint weatherboard building. Finger Lakes On Tap shares its space with The Cake Shop CNY, accessed through a central entrance. Embracing the flawless summer day, we order at the bar, before choosing a seat out in the garden, by the stream.
The menu is impressive, featuring many locally brewed selections. Up here, it seems that every town has its own craft brewery and there is actually a brewery trail to explore, with a free map available at the bar.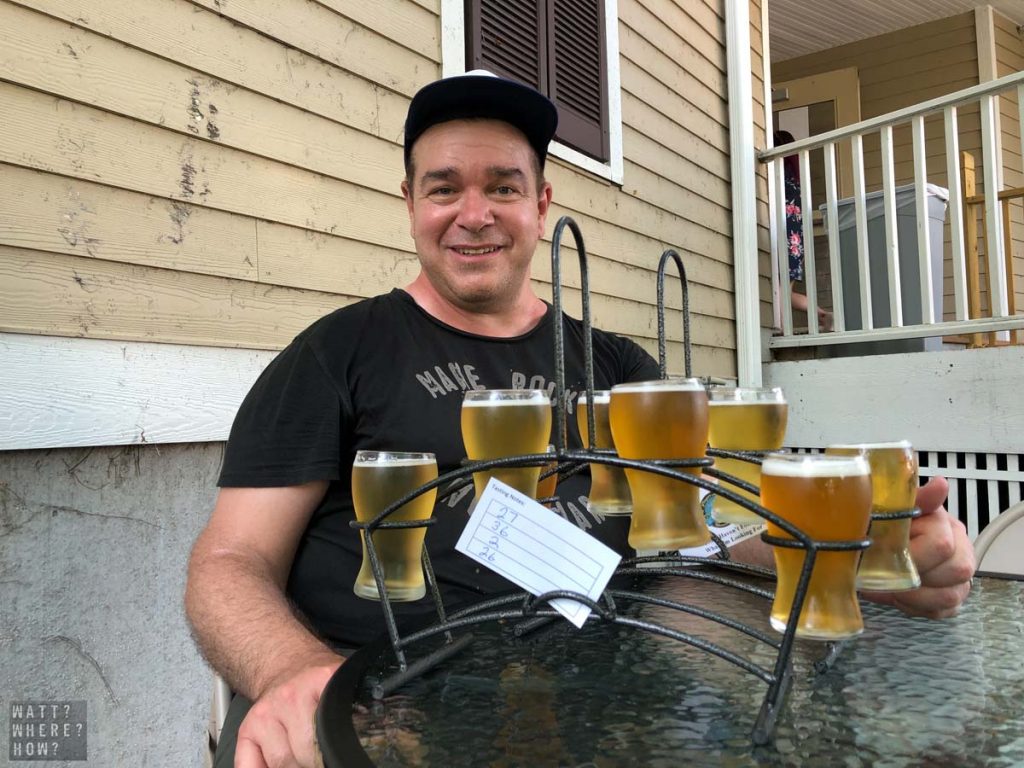 Lakehouse Pub
Situated on West Genesee Street, right in the centre of Skaneateles, the Lakehouse Pub is your standard local bar, with live music and trivia nights and a simple menu of hearty favorites. We're pleasantly surprised to see a hot beef roll on the menu – something we haven't found in all our years living in the USA. It features slow roasted beef on a kummelweck roll with a jus and spicy horseradish sauce. It's just what we're in the mood for and is able washed down with a cold beer.
WHERE TO STAY IN SKANEATELES
You'll be spoiled for choice when looking for accommodation in Skaneateles, New York. Many of the well-preserved historical homes have been converted into luxury bed and breakfasts, with the properties closest to the lake asking the most premium rates. The Sherwood Inn and Packwood House are popular choices if money is no obstacle.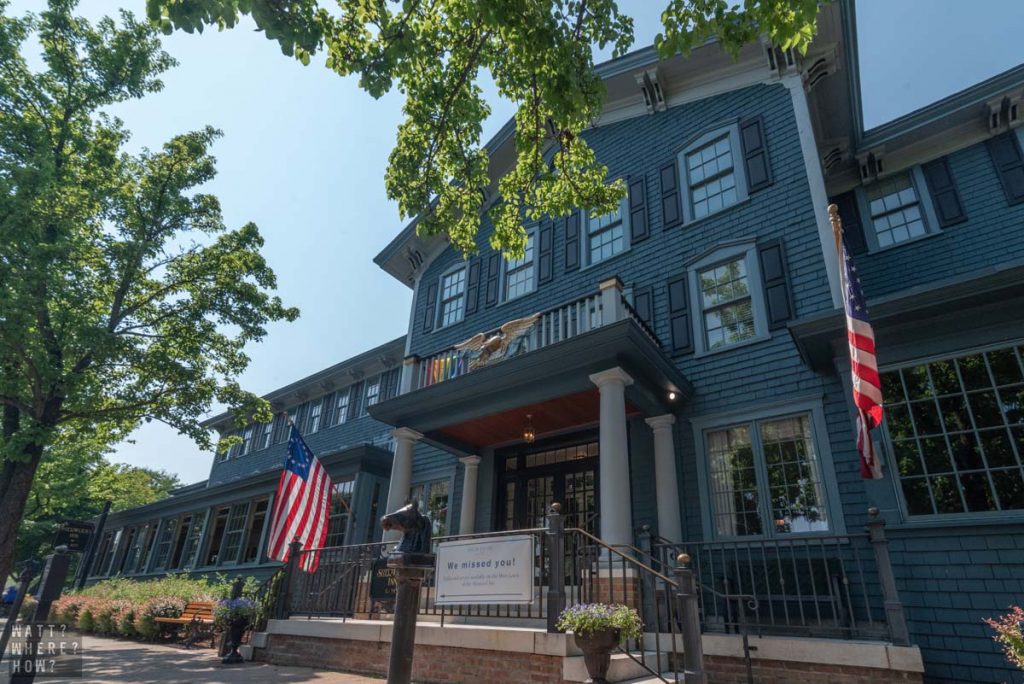 We didn't stay at the Whispering Winds, but if you're looking for a place with a difference, it is a perfectly restored 1950s motel with plenty of character. Instead, we selected The Bond 1835 for its secluded location overlooking the lake, about two miles out of town in a converted farmhouse dating back to 1835. Spacious luxe rooms, a grand old fireplace, and outdoor dining with a view made it our first choice and top recommendation for couples looking for a relaxed change of scenery.
Follow & Connect with us