Experience the Best Things to do in Providence, RI.
With summer almost over, we've sought an escape north, so with a full tank of gas, here are the best things to do in Providence, RI.
When you think of Rhode Island, your mind probably wanders to images of lighthouses and beaches, but a visit to the capital is a worthy stop along the way. Our Providence vacation ideas during the pandemic have had to be curtailed due to some attractions being closed for the year. That being said, this is one of America's founding cities, steeped in history, and a very happening bar scene!
Start planning your Providence vacation with it penciled in as your first stop on a greater RI road trip to Newport or further afield to Cape Cod. Rhode Island sits between Connecticut and Massachusetts, closer to Boston, but still only 4.5 hours from New York City.
---
Things to do in Providence, RI #1 – get to know its past
Situated on the Providence River at the edge of Narragansett Bay, Providence is one of America's oldest cities, dating back to 1636, when its first settler, Roger Williams, fled the Massachusetts Bay Colony to find "God's merciful Providence" further south. Settling the Providence Plantations with other religious refugees, they lived peacefully until 1676, when traditional landowners, the Narragansett Indians, burned the grounds in retaliation for attacks by colonists from the north as part of King Philip's War. With the close proximity to the other 12 foundation states, Rhode Island also played a major part in the American Revolutionary War.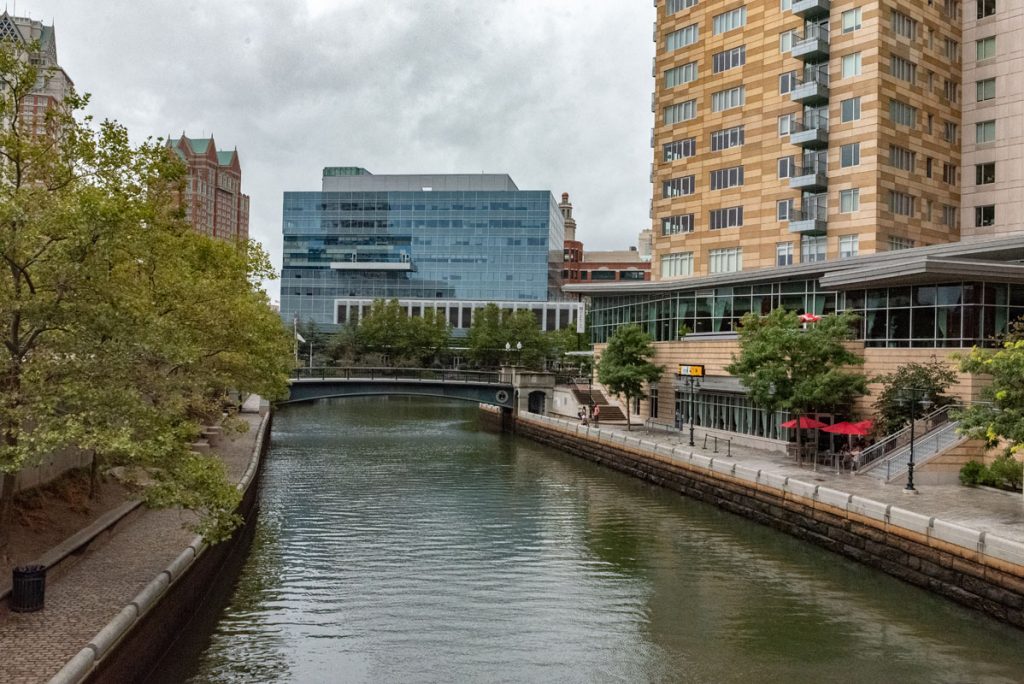 Over the next three hundred years, the city has grown to be a wealthy manufacturing town, but with the shift in production to Asia in the 1960s to 80s, the Rhode Island capital's main revenue streams come from major corporate headquarters (it's home to Hasbro), hospitals, and academia – Providence is one of America's leading college cities.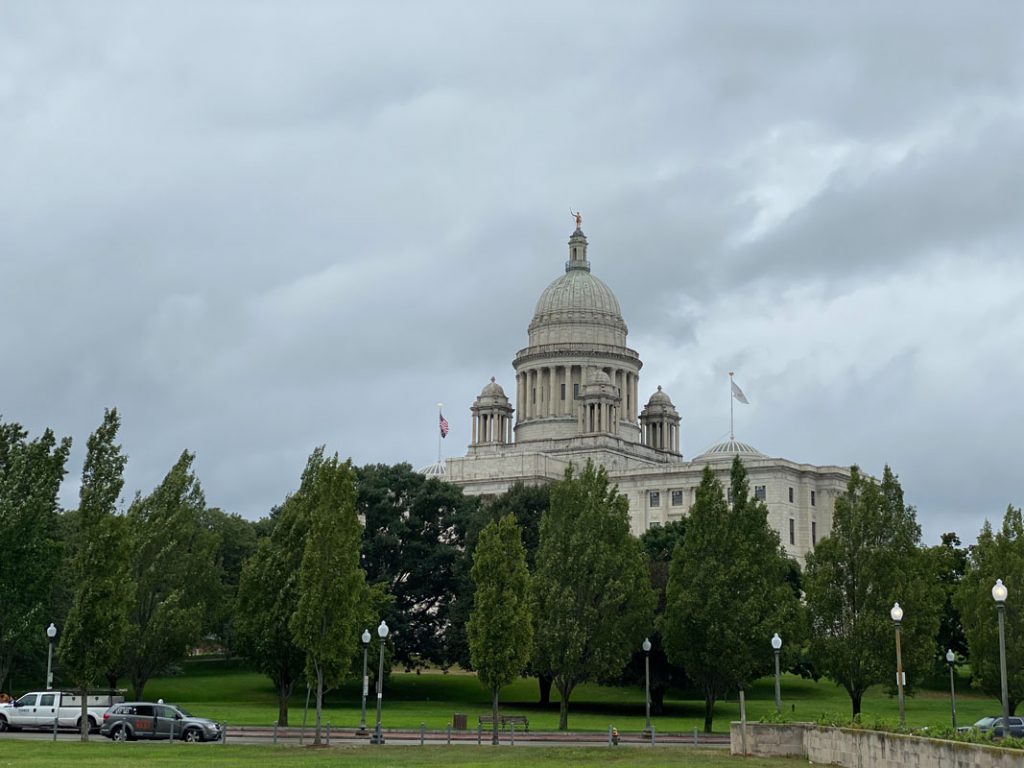 The Providence State House
Dominating the skyline may be overselling it, but the Providence State House, Rhode Island's capital still makes an impression with its soaring dome, structured like Washington's Capitol. It's closed on weekends, so we miss the chance to see one of its prized artifacts, the original King Charles' 1663 charter. Directly adjacent to the State House is the Providence Amtrak station, serviced by the Acela Express and Northeast Regional trains.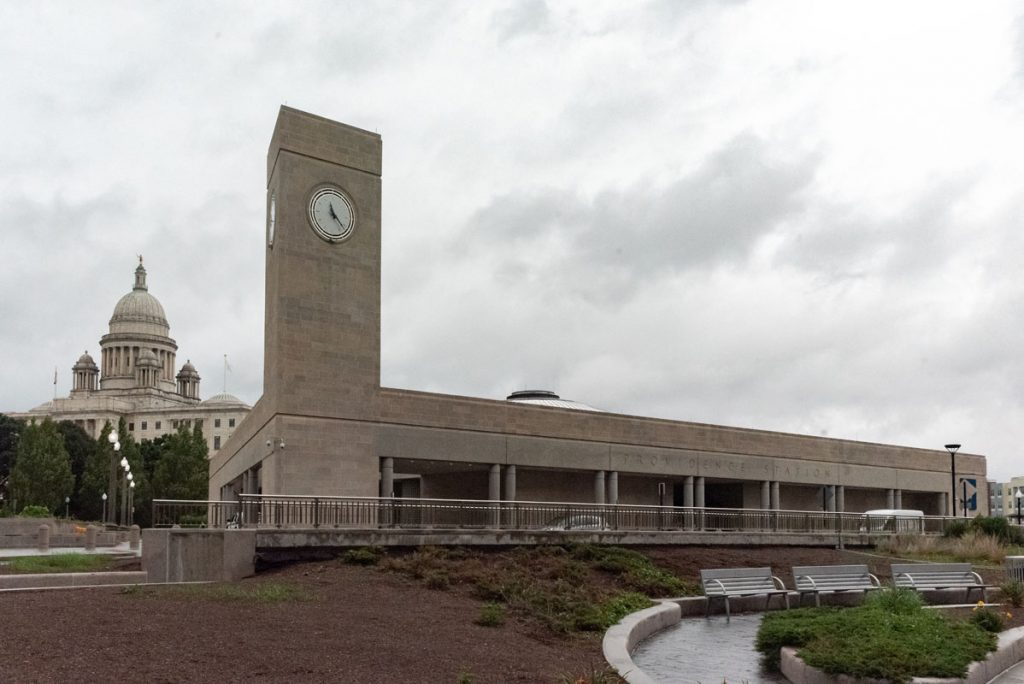 ---
Things to do in Providence, RI #2: Visit Brown
Founded in 1764 as the College in the English Colony of Rhode Island and Providence Plantations, Brown University is the seventh oldest educational institution in North America. As one of the original Ivy League schools, an elite athletic program (rather than a denoted level of scholarship), Brown attracts high caliber students from around the world. Its alumni includes actress Emma Watson, John D. Rockefeller Jnr, Ted Turner, and John Krasinski.
Stroll the grounds and discover quaint historic buildings, then head up College Hill along Thayer Street to see some grand examples of north-eastern architecture.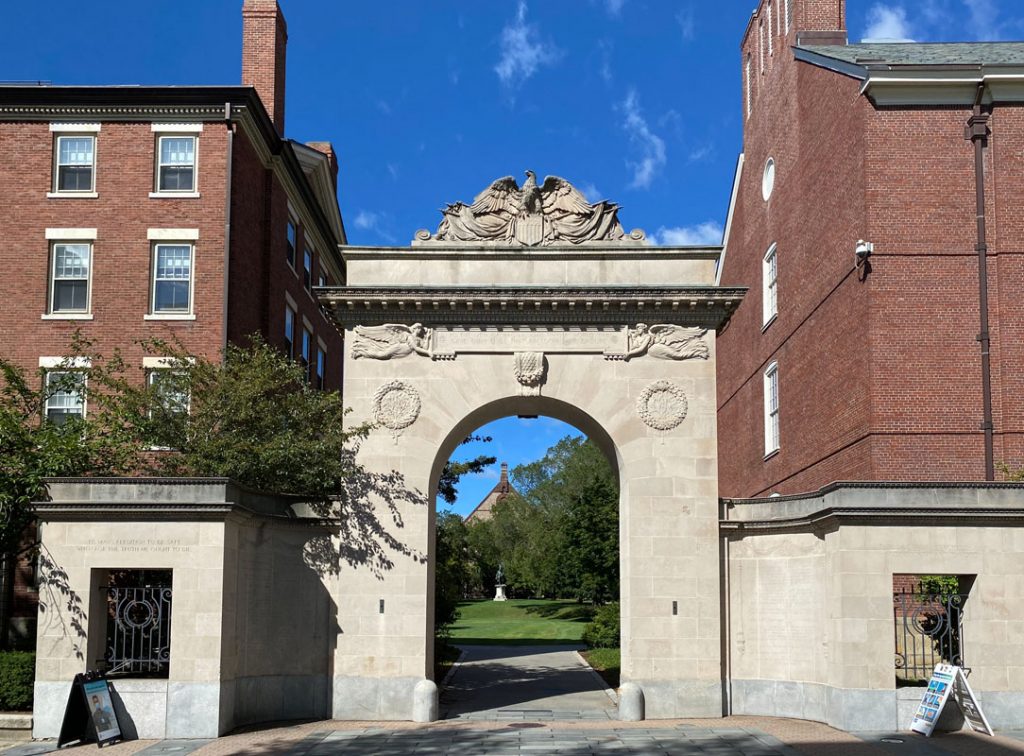 ---
Thayer Street
Remember what life was like in college? You had the bookshop café to swat up on classes and exams while overstaying your welcome, the arthouse cinema where you'd learn the ways of the world through subtitles, and there'd always be a hippy shop of scented candles, incense, prayer flags, and djembe drums. In Providence, it can all be found on Thayer Street.
Stretching from the fringes of downtown up College Hill, Thayer Street intersects Brown University, providing a central hang out for the Ivy League school's students. Like any modern US main street, there's the requisite CVS Pharmacy, Starbucks, Shake Shack, and Chipotle. It's a fine balance between hipster chains like Urban Outfitters and indie stores like Sneaker Junkies and Pleasant Surprise. For its architecture, history, and cheap tickets, Avon Cinema, an art deco movie house dates back to 1938 and is still delivering screenings of the latest underground films.
Visiting during summer vacation and in 2020, there are few people around, so it's not the bustling hub you'd experience in normal school years. Our tips would have to be Blue State Coffee for a decent coffee and gluten-free grilled cheese and Andrea's for Greek.
---
Things to do in Providence, RI #3 See its Rust and Revival
Like many American cities, the old factories have lay rusting and derelict in once-sketchy, wrong-side-of-the-track neighborhoods. These are now awakening from their dormant state and are being renovated and the areas gentrified. It's still a work in progress and many of the old redbrick facades are still bordered up, but the areas that have been early adopters are havens of hip cafes and bars – like Troop.
Troop
Heavily graffitied old warehouses set the scene as we drive the back streets of an old industrial part of town. If it was late at night, we'd be a little stressed. Set below a now dormant smoke stake, the colorful beer garden and mismatched furniture hints at the potential within. Providence, after a period of COVID-related closures now allows some indoor dining, but we're more than happy to sit out in the sun.

Inside Troop, one of the city's hottest and hippest casual dining joints, you'll find a treasure trove of 80s and 90s décor. The interior design is on-point: busted skateboard decks serve as the backrests on the bar stools, hanging basket chairs meet dayglo paint, there are sneakers hanging like mobiles, faux VHS covers have been photoshopped with fun Troop-related titles and puns, and in the restrooms, you'll find more tags and stickers than a New York dive bar.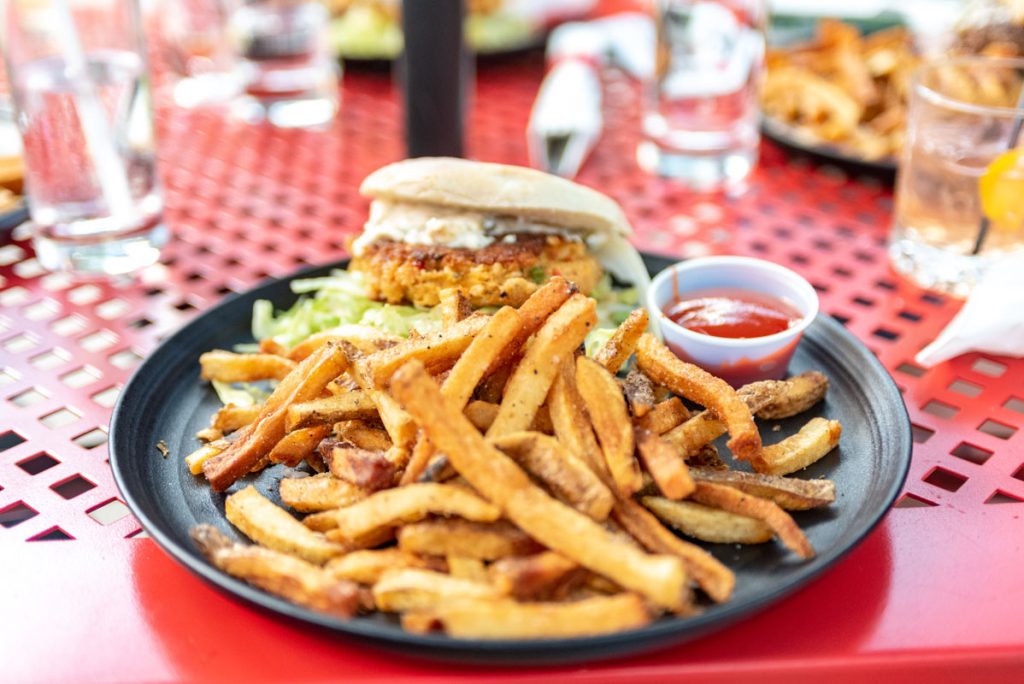 To celebrate our arrival in Providence, known locally as PVD, we sample the frozen Painkiller cocktail from the Troop menu. It's the kind of place where you'll be torn between multiple drink and food choices – all equally enticing. In the end, we settle for the crab cakes with some of the best, hand cut fries we've tasted in the last few years. It's a colorful, eclectic start that wasn't even on our list of Providence vacation ideas – but add it to yours!
Things to do in Providence, RI #4: Don't Miss Federal Hill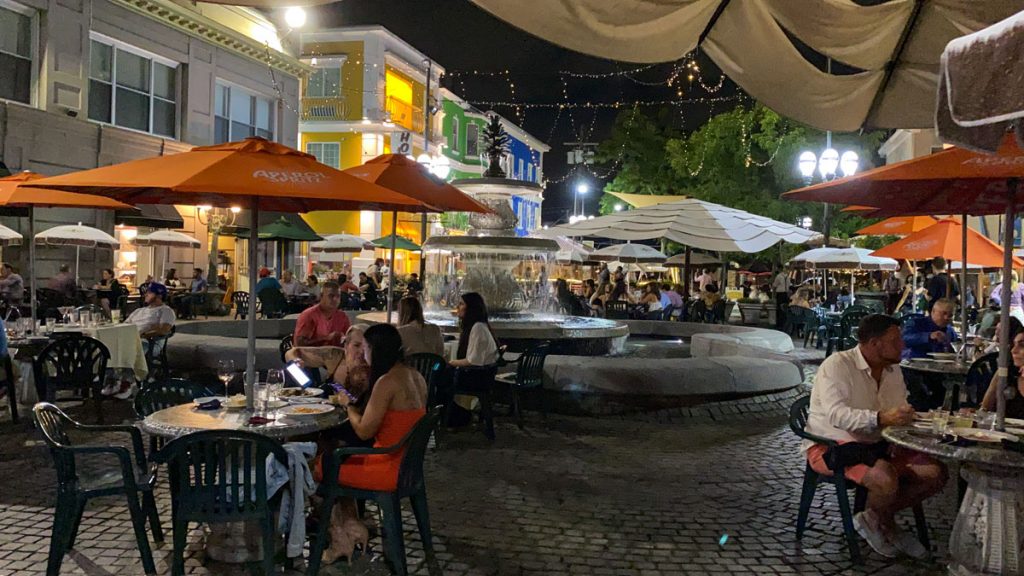 Centrally located Federal Hill is a historical district most commonly known as Providence's Little Italy. Once the dividing line between the lands of the Narragansett and Wampanoag Indian tribes, its iconic gate with brass pine cone greets visitors to Atwells Avenue. Unlike many former Italian enclaves (Little Italy in New York City and in Syracuse), which are little more than distant memories, there is still a proud Italian heritage on show and while restaurants are heavily impacted by the virus (it is 2020), outdoor dining is hugely popular.
We visit on a Saturday night and for blocks, the back streets are closed to traffic. Atwells Avenue and the heart of Federal Hill, DePasquale Plaza (and its iconic Italianate fountain) are a hive of activity. A DJ and karaoke singer perform behind a wall of plastic to prevent the spread of germs, while locals are keeping their distance and their face masks on. Some restaurants still offer indoor dining, but with the end of summer weather still perfect, it's nicer outside anyway.
---
Things to do in Providence, RI #5 – Get a Coffee Fix
Visiting Providence, Rhode Island in the middle of 2020 means that many of the attractions are closed. Instead, we've focused on championing the local bar scene and taken one for the team in the interest of supporting these worthy hot spots.
Sydney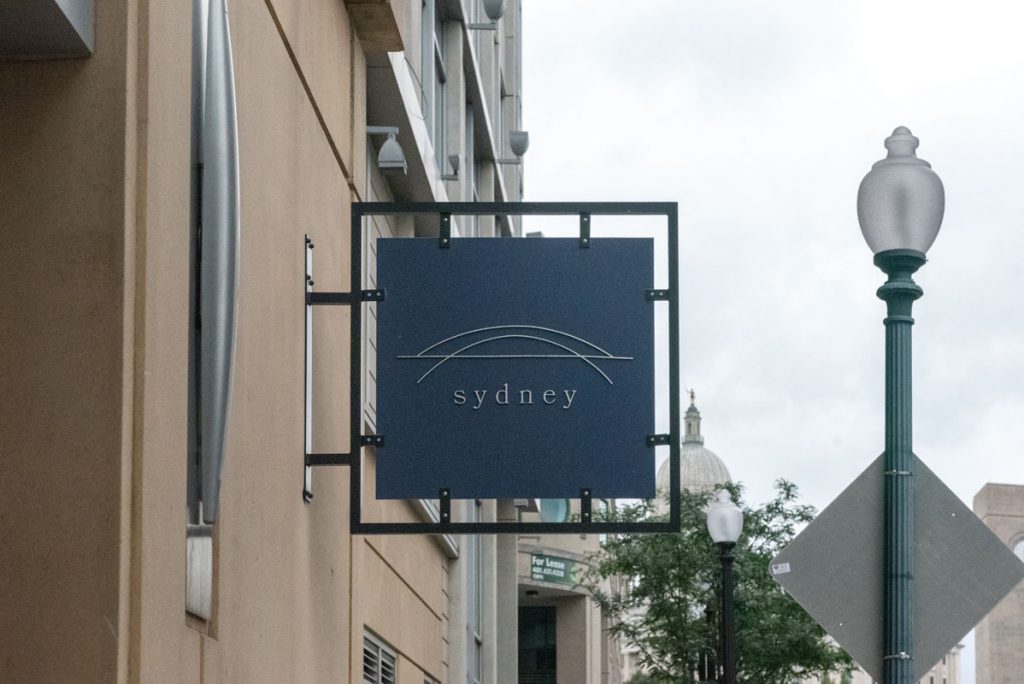 Australians can sniff out a decent coffee in any town, but when it's named Sydney, it makes the search a lot easier. Sydney is a centrally located café just steps from the main station and the Capitol. Fusing Aussie breakfast fare with local tastes, we pick up a perfectly executed smashed avocado on gluten-free and breakfast scones, which are a little closer to a biscuit than the scones you'd get back down under. As we could only have hoped, the espressos are on point – flat whites made just right, and your choice of milk including oat, almond, soy, and coconut.
Rebelle Artisan Bagels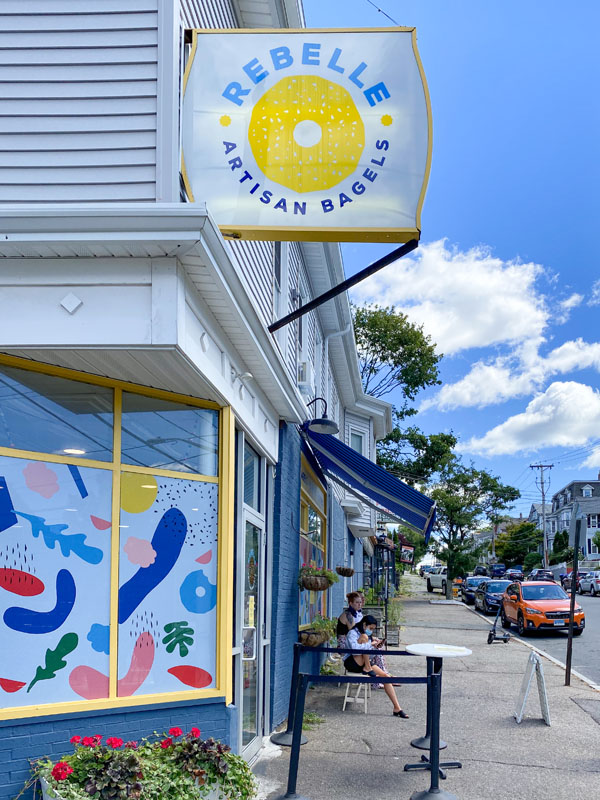 With more than our fair share of NY bagels adding inches to the waistline already, we come with high standards when seeking a good bagel joint. Rebelle Artisan Bagels would have to be best in Providence. Situated on College Hill, home to Brown students and young professionals, the team here has mastered the craft of handmade, boiled bagels. The Everything bagels have a salty, crunchy exterior and a dense, warm, yet soft interior, slathered in cream cheese and loaded with lox (smoked salmon). Jess opted for charred scallion cream cheese with jalapenos for a spicy savory wakeup call to start the day.
---
Things to do in Providence, RI #6 – Discover Quirky Bars
Ogie's Trailer Park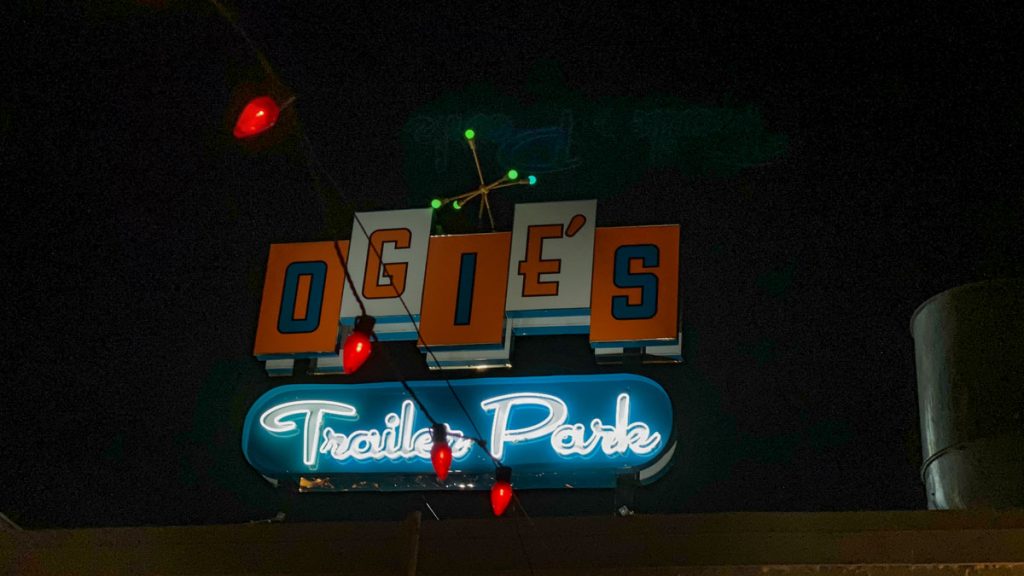 Coming from a rock n roll background, the kitsch of white trash Americana holds a weird appeal to us and few places nail it as well as Ogie's Trailer Park in Providence. This popular PVD bar has been made for the era of outdoor dining, with tables and an outdoor caravan bar adorned with hulu/tiki décor greeting guests upon arrival. Sneaking a look inside, it's captured the quirks of 1950s culture, with some excellent décor and light fittings.
Unfortunately, due to current circumstances, we have to sit outside, but as a pleasant surprise, we're taken around to the back of the building. Here, the place has been set up as a trailer park backyard, with caravan facades and mismatched tables and chairs making it feel oh-so-comfy. Granny Boo's kitchen menu is equally welcoming, dripping with comfort food and grease. The mac and cheese croquettes with bloody mary-nara lines the tummy, along with ranch dusted tater tots, and super sticky barbecue wings. If you want to go out like Elvis, order a serve of grilled peanut butter and jelly with a topping of New England's faux marshmallow – Fluff.
---
Free Play Bar Arcade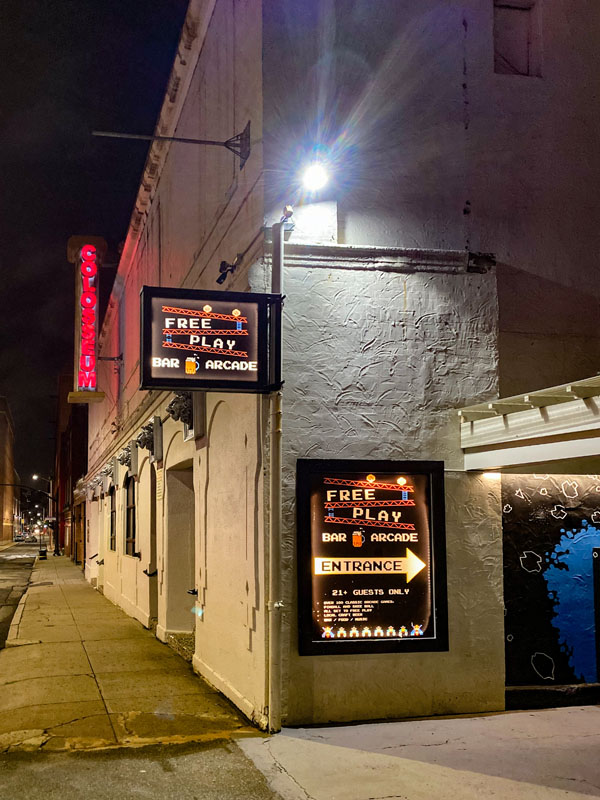 As a child of the 80s, pinball arcades were where it was at. Now the nostalgia trend has brought it all back, but with alcoholic drinks instead of milkshakes. In fact, we have a habit of finding great arcade bars in most cities we visit. Traveling in a time of COVID and actually being in a state that allows people inside bars and restaurants, we're still dubious. The security staff and management are extremely vigilant that all rules are strictly adhered to before entry. There's a two minute briefing about our rights (wear a mask at all times, hand sanitize constantly, wipe down machines like you're at the gym), before we get temperature checked and have to leave our details in the case of contact tracing.
Once inside, it's amazing. Free Play Bar Arcade is more nightclub, than pinball parlor. It's packed to the wall with vintage machines from the pre-digital age to newer experiences like a multiplayer MarioKart. All the classics are there, from QBert and Donkey Kong to The Simpsons. Current arcade machines aren't part of the playlist, instead cutting off in the early 00s. There are a bar and an outside area for smoking and drinking, with open drinking without masks a big no-no.
Rock and Rye
With a name like Rock and Rye, we feel like we've found our people. On paper and in-person, it certainly looks the part. There's a wall of portraits of rock heroes, old gig posters, peak 90s skateboard decks, flight cases as tables, even an old ghetto blaster. One thing's wrong. The playlist. It's Babyface, Backstreet Boys, Neo. The antithesis of rock. Gladly the drinks are cold and strong.
---
Things to do in Providence, RI #7 – Savor the Brewery Scene
Bayberry Beer Hall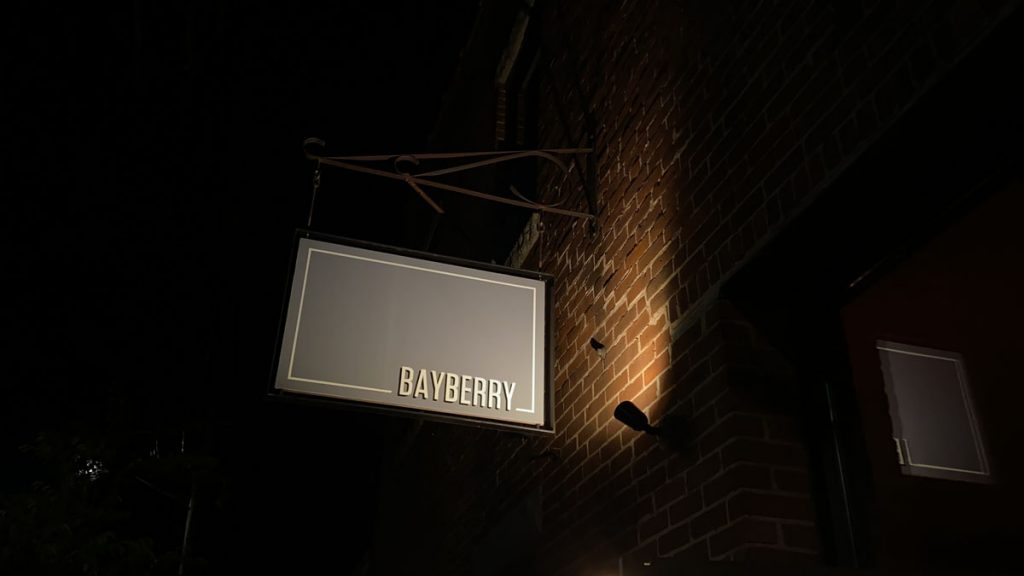 Delicious craft beers and an impeccable eye for interior design and aesthetics make Bayberry Beer Hall the first choice for breweries in Providence. We were particularly drawn to the selection of tasty brews for all – even the thoughtful inclusion of a cheap and dirty American classic, the Hamms in a 16OZ can, and the local icon, Narragansett. Our recommended draft is the $7
The Drowned Lands | Slow River from Foeder Brett Farmhouse. An in-house kitchen also offers upscale pub fare, including vegan and gluten free options.
---
Union Station Brewery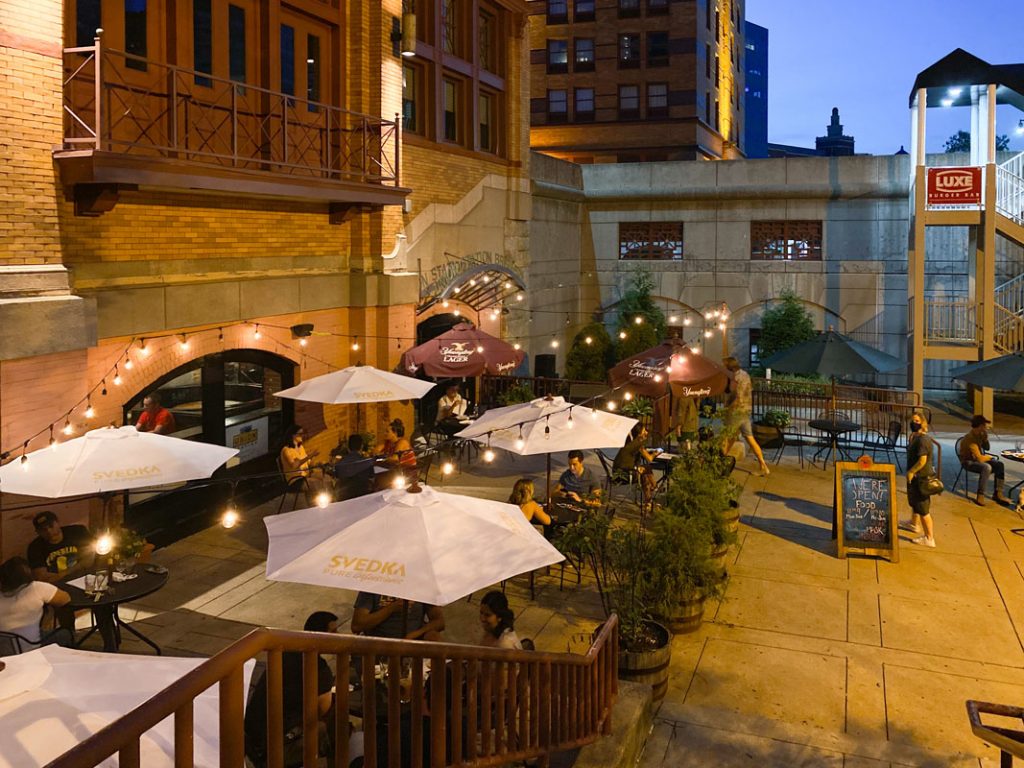 In another era, the Union Station Brewery would have been an Irish bar, but microbreweries are the current trend. Still, the décor harks back to somewhere between a kitsch Irish bar or an American sports bar. The drinks menu is diverse, and we found a few choice pilseners between the selections of stouts, IPAs, sours, and ciders. You'll find Union Station Brewery right in the heart of downtown, so it's an easy stroll from most of the major chain hotels.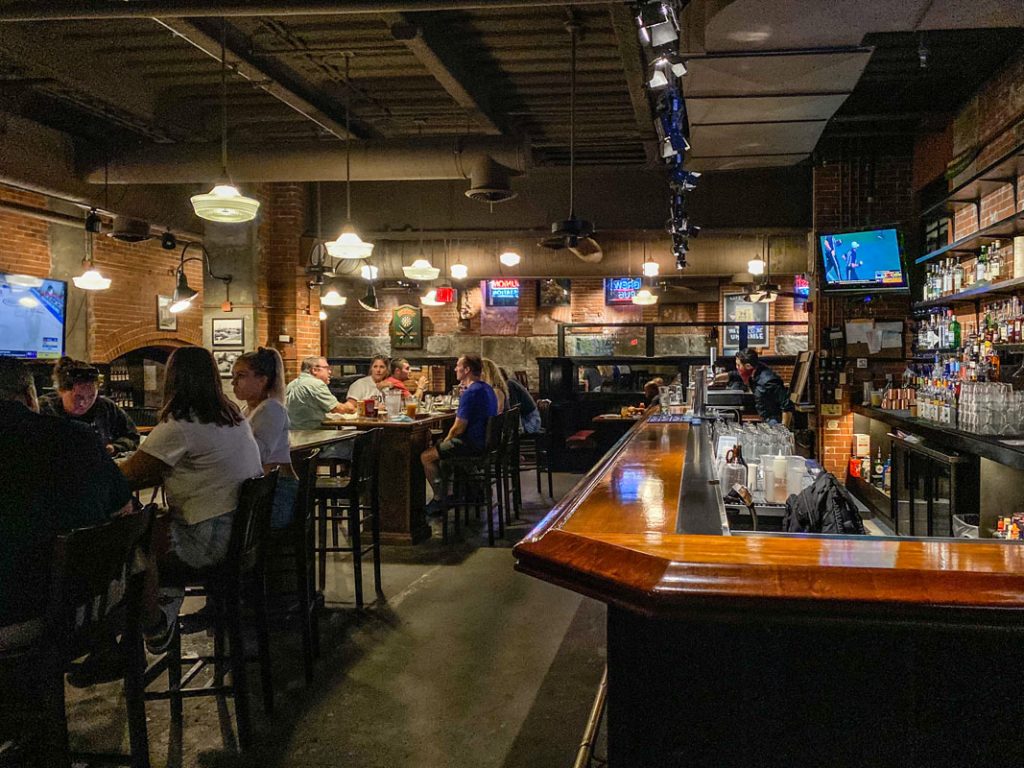 ---
Trinity Brewhouse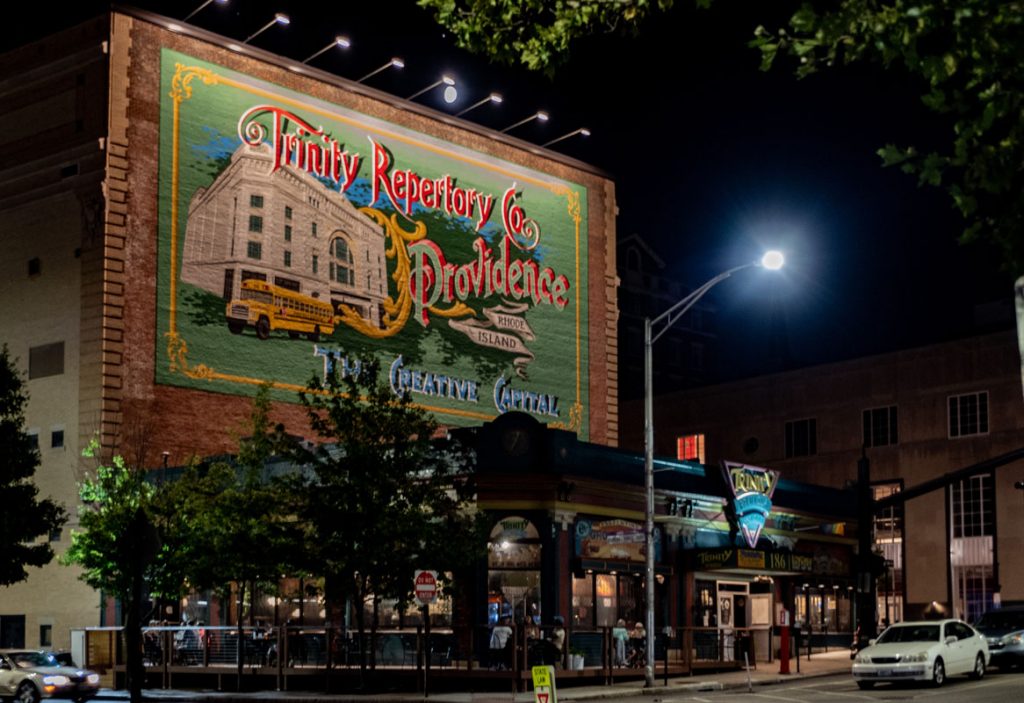 One of New England's first brewpubs (before there was one on every corner), the Trinity Brewhouse is hard to miss, with a fantastic vintage mural dominating the brickwork behind and above it. Situated right in the heart of downtown, the Trinity Repertory Theatre is just around the corner. Inside, the artwork is eclectic, and one can imagine it being buzzing most nights, but with PVD's student population reduced by over half due to the pandemic, it's only offering limited table service inside and out.
Trinity Brewhouse still offers plenty for the beer connoisseur, though the menu is more pub grub that gastro pub. The cooks still serve up a cracking rendition of bangers and mash, while a seafood starter with a difference is the Trinity Seafood Stuffed Quahogs – which are actually little shellfish and not just the name of the town in Family Guy. Who knew that going to bars could teach you something!
---
WHAT?
Providence, RI is the capital of Rhode Island on America's north east coastline. It sits on the Providence River and like Boston, is a blend of modern glass skyscrapers and early colonial churches. Whilst not offering the variety and density of tourist attractions you'd find in some of the other east coast capitals, Providence's charms are to be discovered through its communities, events, and thriving restaurant and bar scene.
WHERE?
Providence is situated on Narragansett Bay in Rhode Island. Its proximity to the beaches of Cape Cod, Martha's Vineyard, and Newport makes it an ideal gateway to summer escapes.
HOW?
By Train: You can catch the Acela Express between Washington DC, New York, and Boston or other Amtrak north eastern trains from Connecticut or Boston. Providence Station is centrally located by the Providence State House.
By Bus: Limited bus services are running due to the pandemic. A local bus service is running for transit around Providence.
By Plane: Flights are still landing at TF Green Airport.
By Car: It's approximately 4.5 hours from NYC or an hour from Boston. Visitors entering Rhode Island from most states are required to quarantine in place for 14 days before going out and exploring the city.
Follow & Connect with us