Summer in New Orleans is the off-season, so when the opportunity for sub $200 flights from New York came up, we didn't think twice.
Little did we know we were walking (or flying) into the worst storms of the season.
What New Orleans is like in summer
We'd been to New Orleans before, and it couldn't be more different this time. Last time, it was early November, and a cold snap meant we were freezing and wearing thick coats. This time, it's steaming hot and prone to storms. In the space of eight hours, Accuweather has gone from predicting 36-40c daily while we're here to a major storm by the time we fly in from New York and a strong likelihood of a hurricane or cyclone. They nailed that one!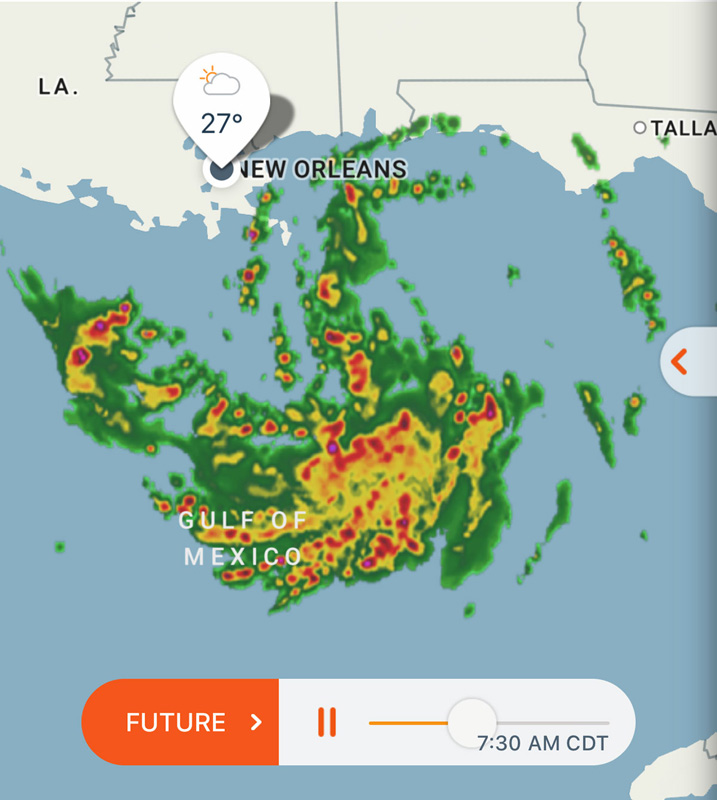 Flying into a storm
Flying into Louis Armstrong International Airport, we discover that there's a major storm over New Orleans that could delay our landing. The next moment there's another follow-up announcement. There's the narrowest window to land if we immediately flip flight plans and head straight in. We've never seen a plane accelerate so fast into a landing procedure and the pilot hits the pedal to the metal thrusting us forward in our seats. As a way to even things up, our hasty landing is offset by the next announcement–that we can't approach the gate to deplane as there's a major electrical storm lighting up the sky with powerful strikes. For over an hour, we sit out the storm in a giant metal tube, sitting targets in the name of occupational health and safety procedures at the airport. Regularly the buzzing and droning of amber alerts are set off on phones across the plane announcing impending flash floods. Things are looking ominous.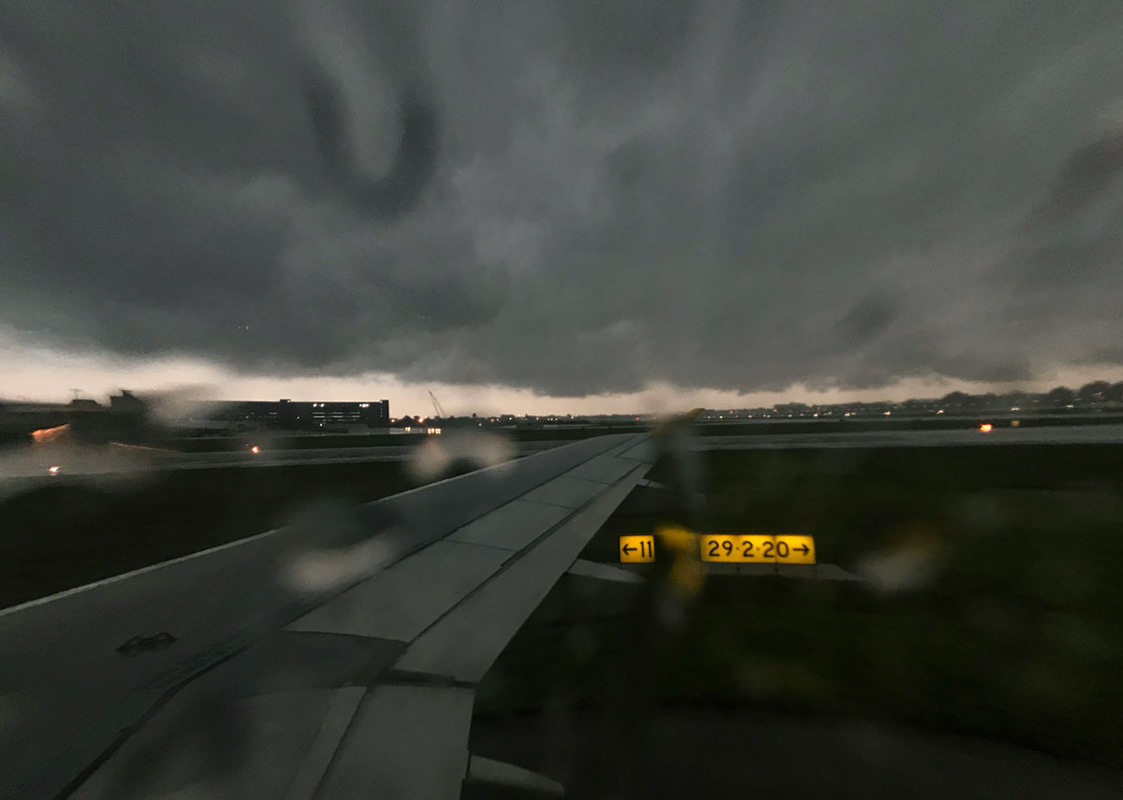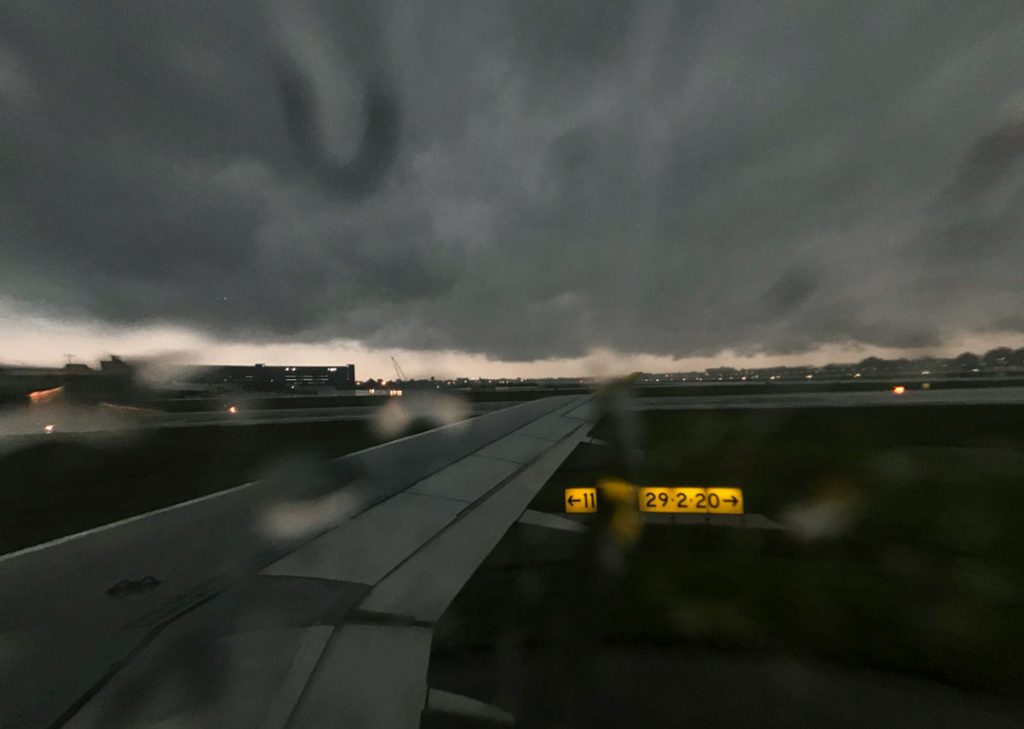 As a captive audience, the plane is surprisingly jovial since two-thirds of the passengers are part of a group of sorority sisters meeting in New Orleans for a conference. They hoot, they holler, they take over the public address system to teach the plane their cheers. To most, it's a bit of lighthearted fun, but you can also see a few parties who object to the undue noise.
All that tension subsides when the pilot is finally given clearance to swing the plane into the arrival gate. The boots and hollers turn into claps and cheers as we all collectively breathe a sigh of relief. Positive vibes remain as we meet at the baggage claim carousel where a brass band serenades the sorority crowd with Dixieland classics.
With the storm still threatening, Lyft is offline meaning the only option is the horrible monopoly that is the cab service. They charge a flat $15 per person for 3 to 5 people, guaranteeing a well-paid driver and passengers paying double the rate they'd get with Lyft or Uber – and they wonder why people avoid taxis these days. Gripes on the mafia-like cab system aside, we make it fairly quickly into the city – possibly due to the fact the speed limit is considered more of a baseline than something to adhere to.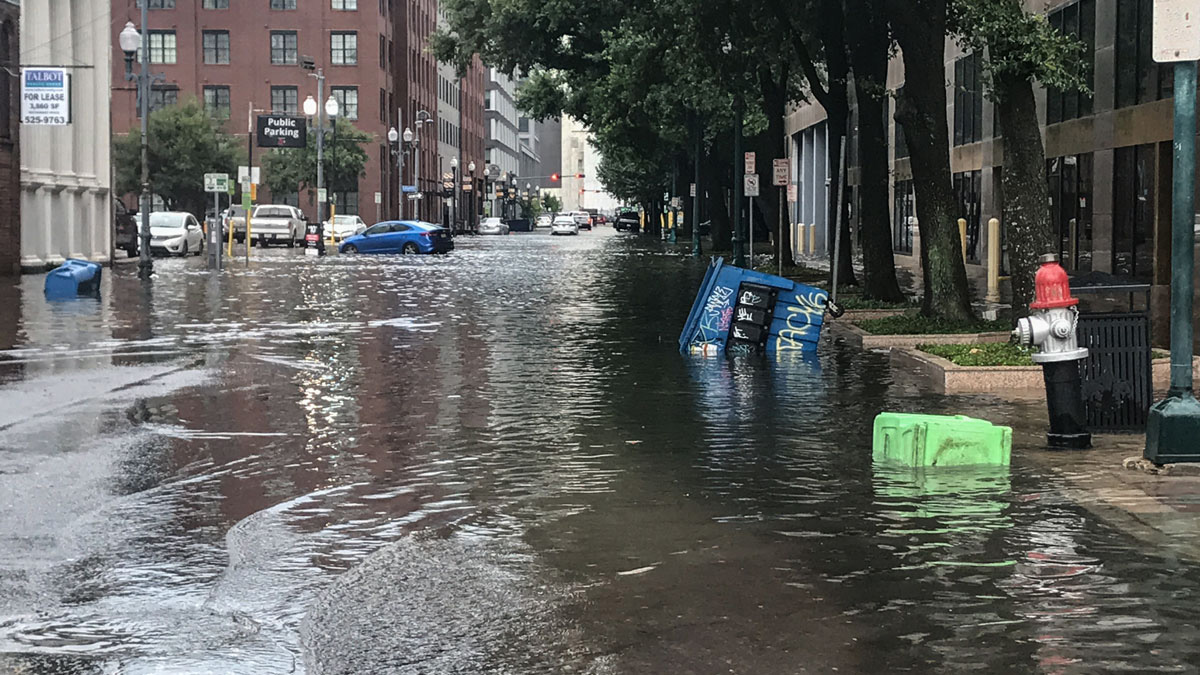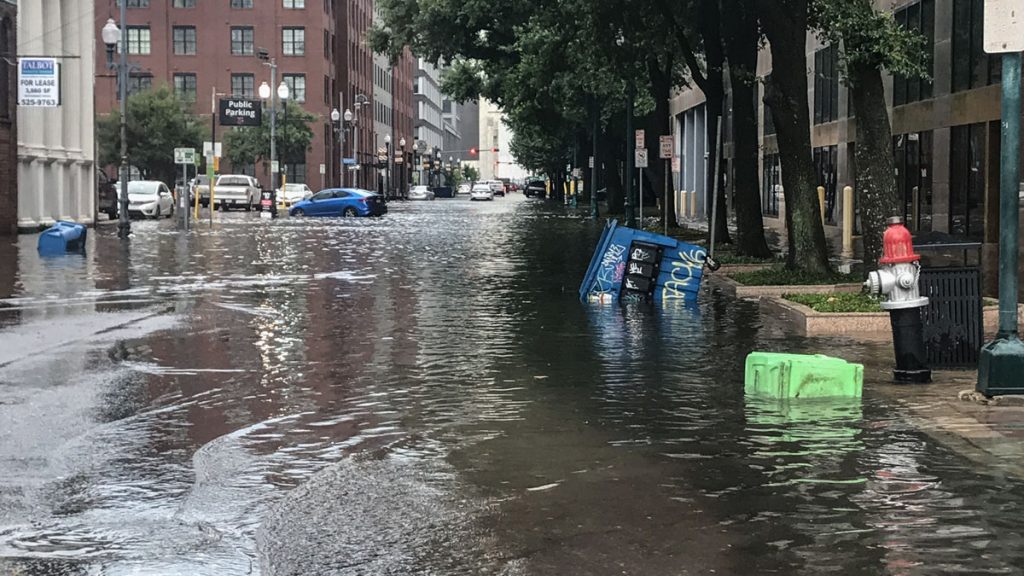 Downtown is not looking like we remember. It's underwater in many places. The official word is that the city has copped ten inches of rain in less than three hours. New Orleans is a city that is built below sea level, with the mighty Mississippi the source of commerce, water, and potential disasters.
Ever since Hurricane Katrina heavily flooded the city, causing the deaths of thousands of innocent people, the government has been working with geologists and hydrologists to plan strategies and systems for flood mitigation. Today's the first real test, and we'd hate to say, but it looks like it's scored a big, fat F. Water cascades across side streets, washing up against hastily sourced sandbags, while in places cars and businesses have fallen victim to Mother Nature. As such, many shops have closed for the day, and the French Quarter isn't even a quarter full.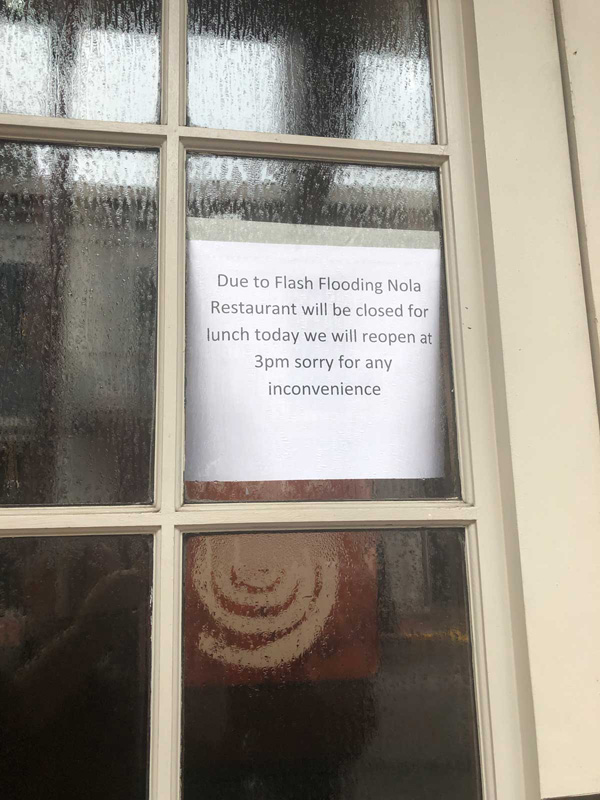 With the closures of many businesses, the city is our oyster. We're able to walk straight in and get seated at Cafe Du Monde, Bourbon Street is bearable minus hundreds of drunken bros, and getting a table at local celebrity chef, Emeril Lagasse's restaurant is a piece of cake.
But then there's the flip side.
We're in a flood-prone city, and the Mississippi is at an all-time high of 16 feet. A hurricane warning has been issued, and a cyclone predicted. It's due to make landfall before we're booked to depart.
On high alert.
Each day, we get out and experience everything we can, just waiting for some confirmation that we can change flights to escape before the storm without penalty. Thursday is sunny, and the skies are a brilliant blue.
The storm is on its way.
There are no real signs to indicate impending trouble apart from the constant fear-mongering from cable news which has dedicated their 24-hour news cycle to discussing just how bad things will be. Well, there are some signs; the kinds that are displayed in shop windows saying, "sorry we're closed"; the sandbags wedged up against doors, and the humorous bar sandwich boards offering liquid stress relief, and the kind of hydration Mississippi water just can't give.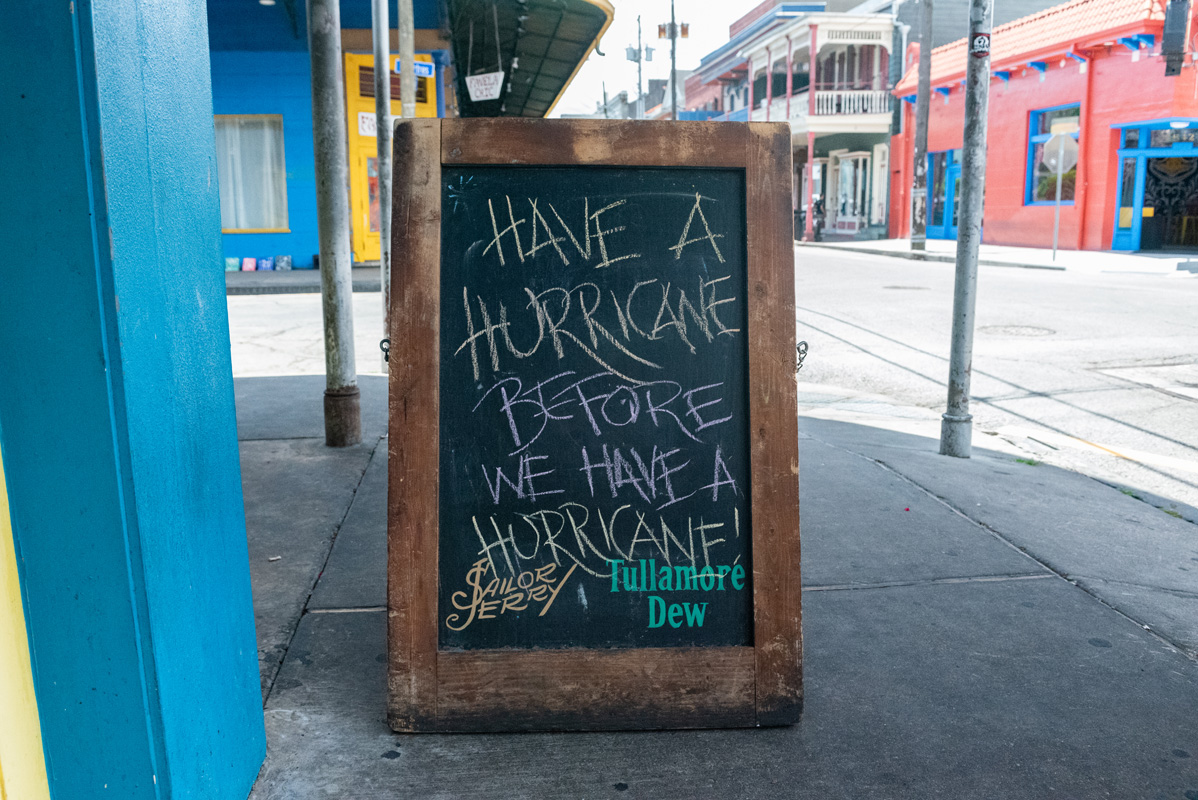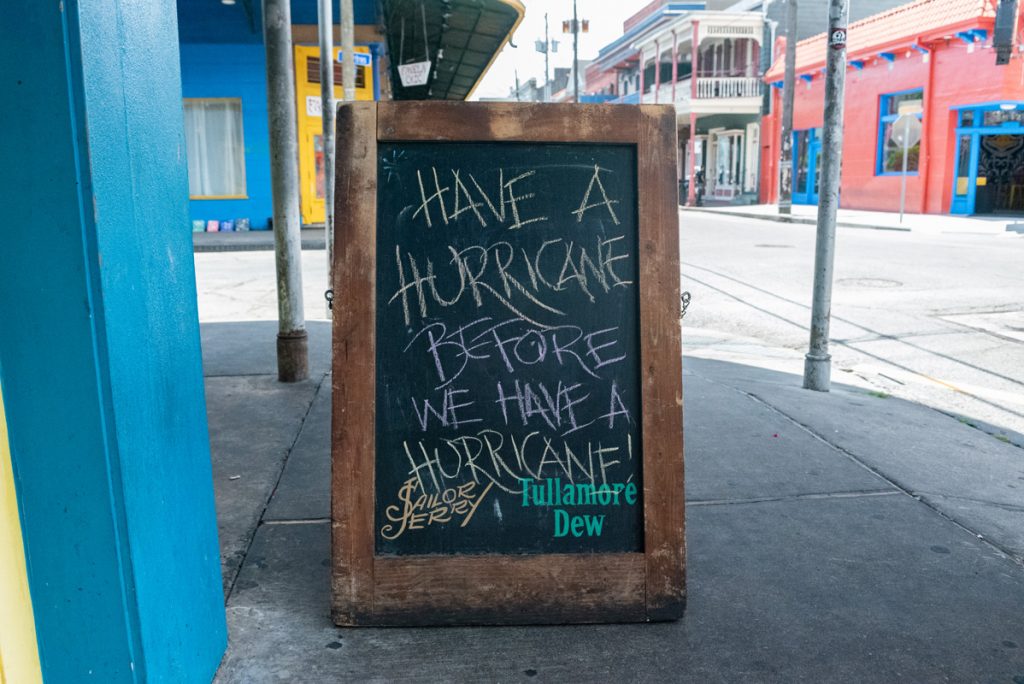 Before falling victim to a hurricane (the sweet frozen cocktail, not the weather system), we're one of the first to see an official notification from United. All flights between Thursday and Sunday evenings have been waived – meaning we can re-book without penalty. After 25 minutes on hold, we're able to lock in Friday afternoon flights, before the effects of the main storm are expected to impact the city.


Come Friday morning, we walk along Algiers Point to survey the rising river. There's a light shower that is more like a mist as we climb the grassy walls of the levee. The river has long breached its banks and the only people on the jogging path are news camera teams. Situated directly opposite the French Quarter and Canal Street, Algiers Point is a pleasant pocket of colorful bungalows and tree-lined streets.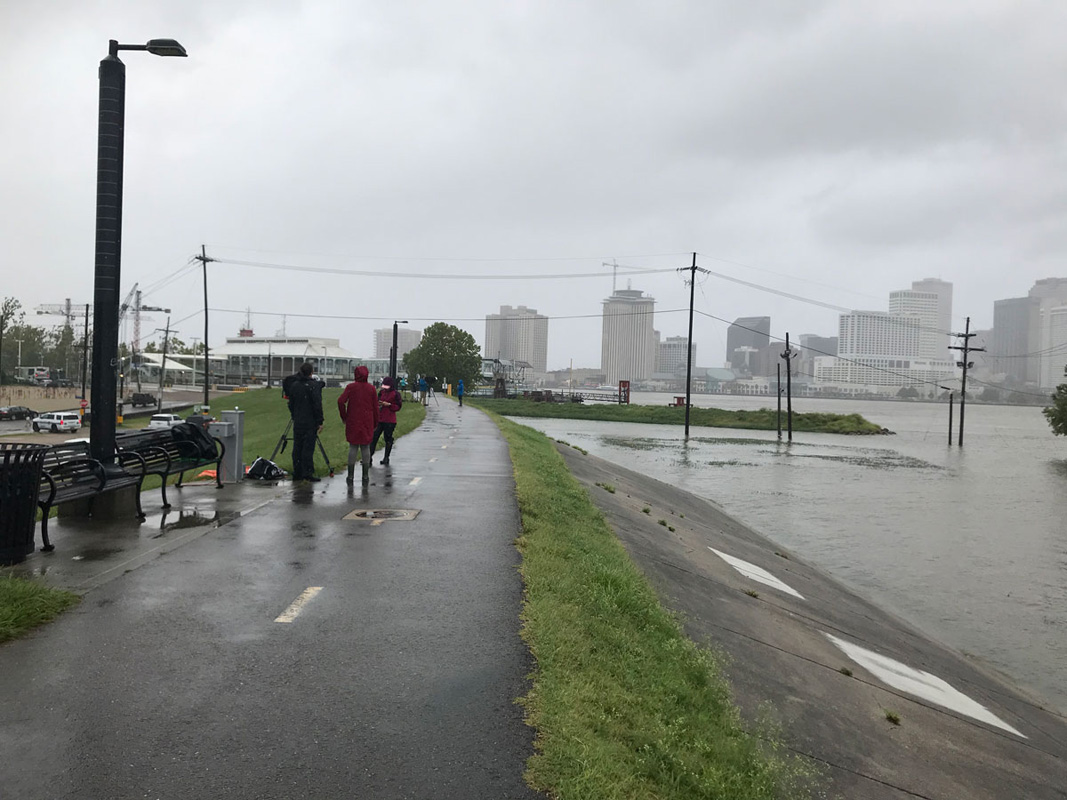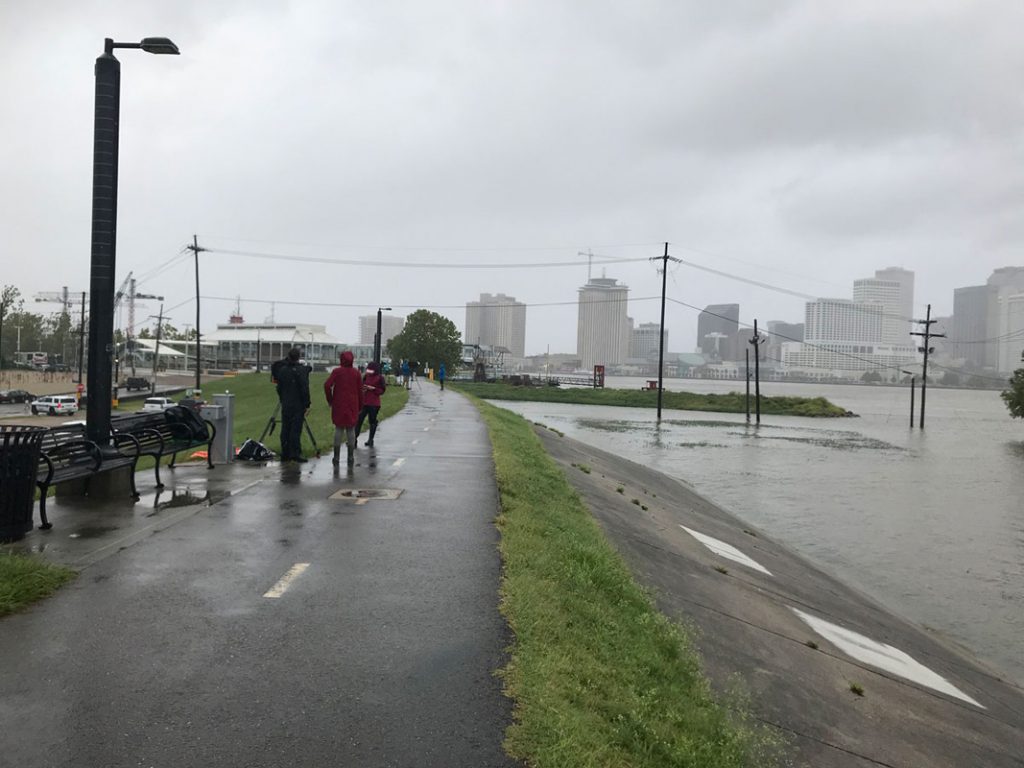 During Katrina, it avoided flood damage, mainly being hit by the strong winds. Locals are out clearing the drains in anticipation of the storm, but most have been in good spirits. One lady sees us walking in our tourist shop-issue blue French Quarter ponchos and pulls over for a chat. She's super positive and laughing at the fact we've chosen the best week of the year for storms, and if we're stuck in the area we should join one of many Hurricane parties that will be going down.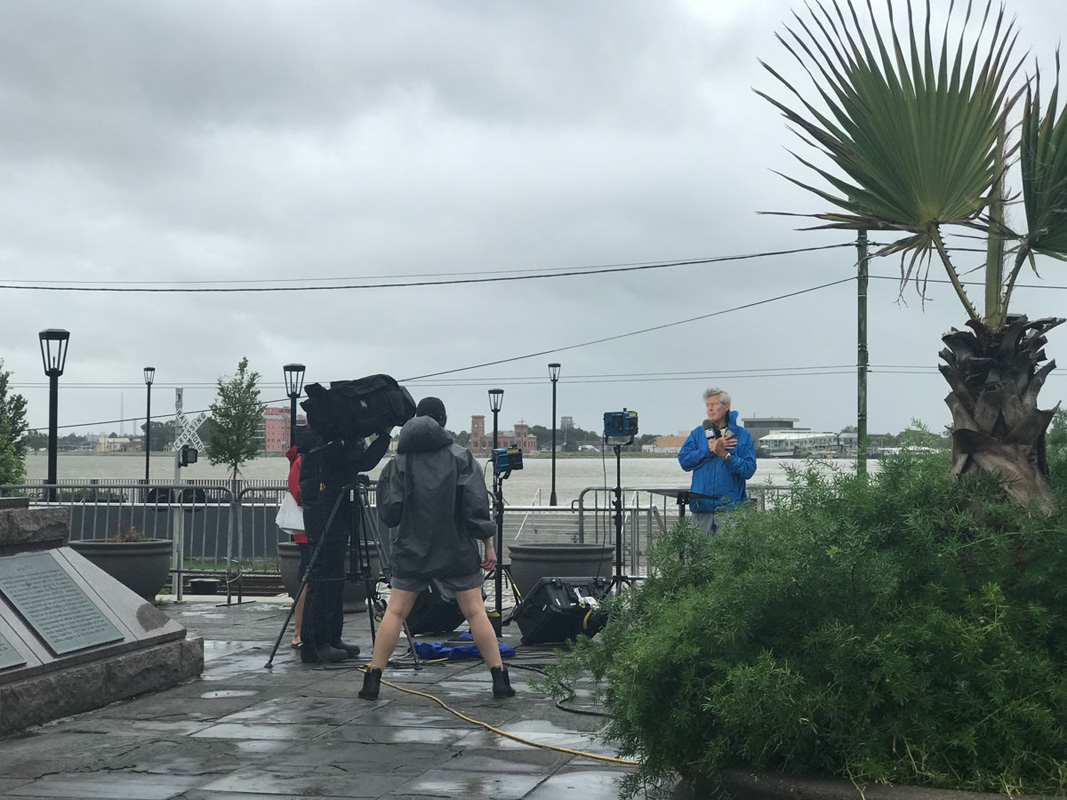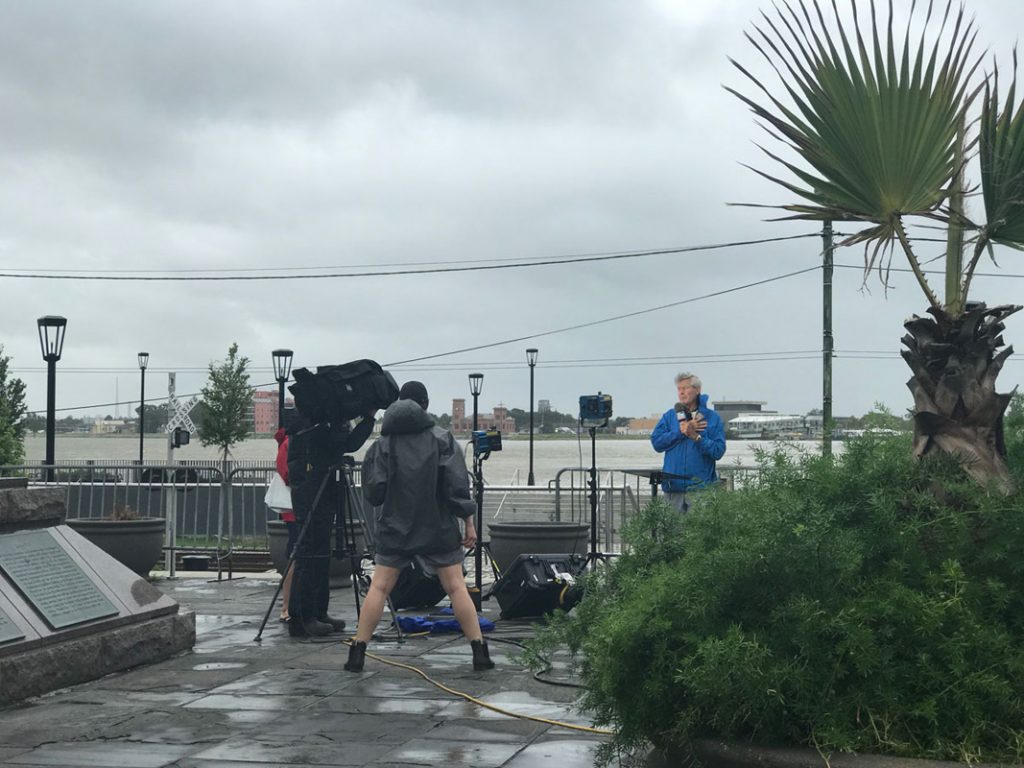 The media storm before the calm
Back in the French Quarter, Fox News have portioned off the best viewing point to the river and paddle wheelers as they prepare to broadcast more disaster porn. It's the calm before the storm, and light waves of rain make way for bands of blue. Surprisingly most souvenir joints and bars are open (or should we say, not surprisingly.) There is not a single person queuing for a beignet at Cafe du Monde and horses and carts are lined up in hope for a little business. If anything, the main traffic is the city's homeless. After passing the third guy who comments, "nice shoes," we're beginning to think it's code for, "I'd hate to see something happen to them."
Getting out of here
Thankfully, Lyft is running, and we're able to get to the airport without having to lose half a week's wages to a cabbie. Outside the terminal are queues of sorority sisters from the major convention, which has been prematurely canceled. They're hard to miss as they all are dressed in bright red. Some haven't been lucky enough to secure flights but are here in person to plead their case with the check-in staff. Through security and seated in a bar, the Fox reporters are live on TV, now broadcasting outside our terminal, where a red queue of sorority sisters now winds for miles (not quite but we're strictly metric.)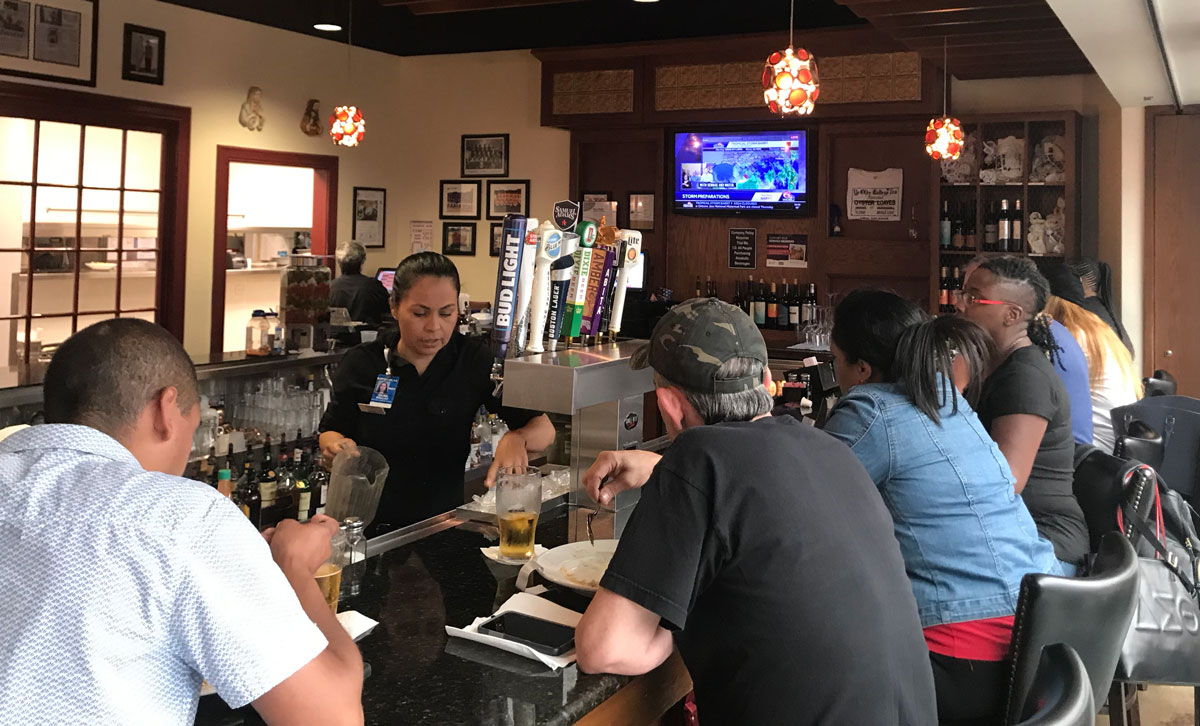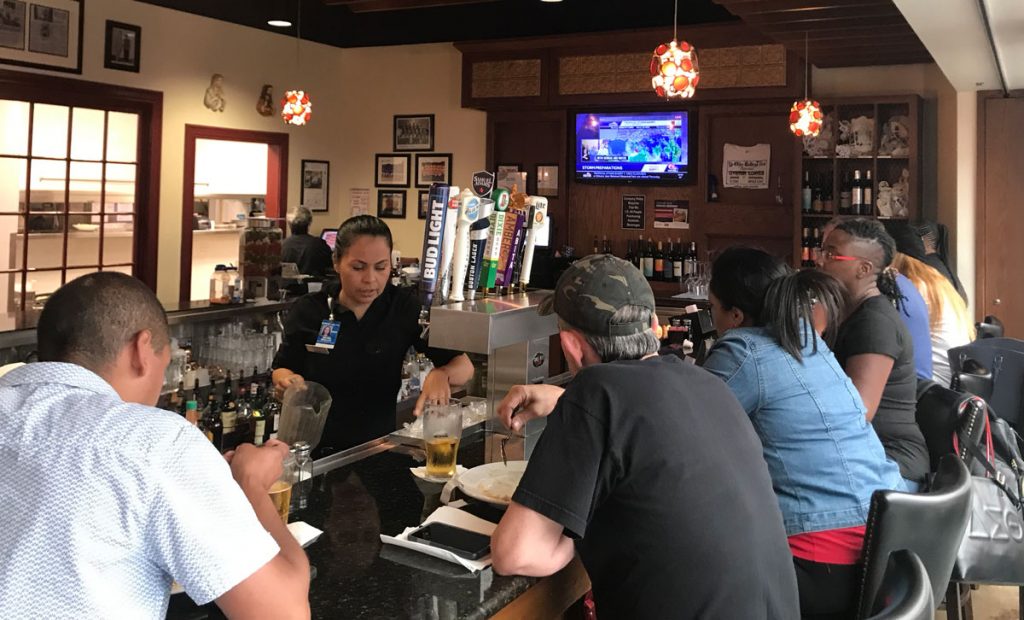 Last flight out
With the departure boards showing that our flight is still likely to depart, we are momentarily startled to see the screens at the gate that have it delayed until the next day – right when the cyclone is due to hit. Thankfully it's an aberration. High winds whip the airport and the sky frequently transforms from blue to gray to blue again, and it's not until our trusty metal tube of joy pulls into the gate that we know for sure we're getting out.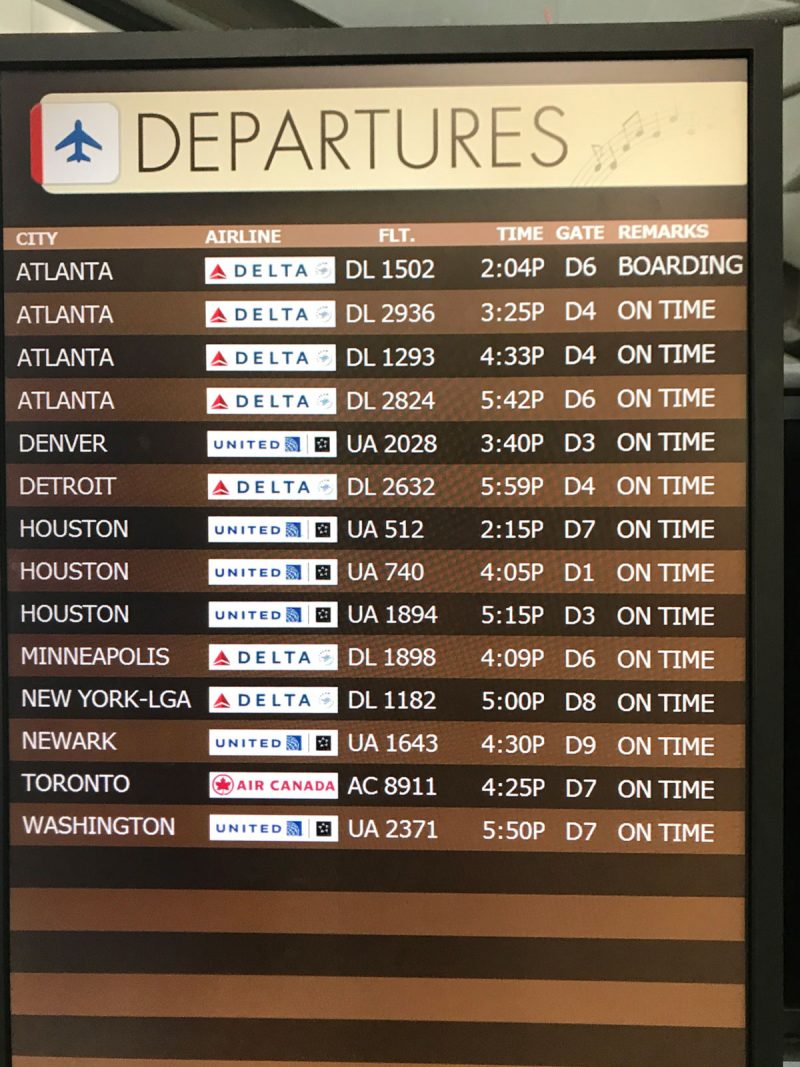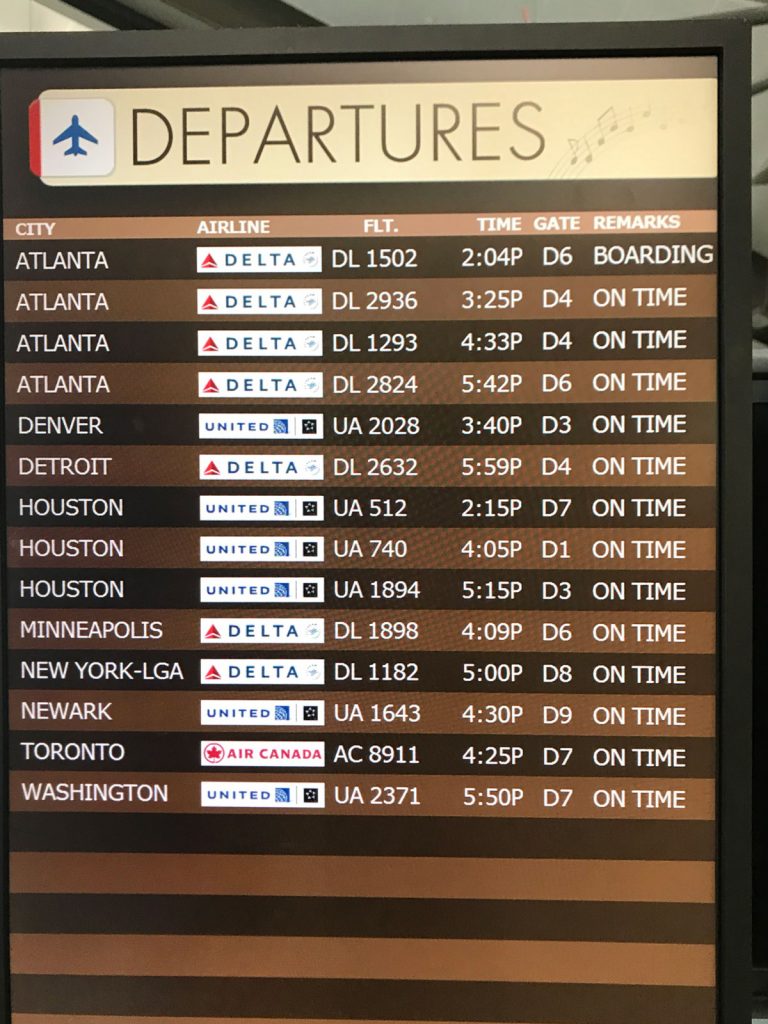 Loaded up and all sorority sisters seated, it's a celebratory flight back. We've had a great time, albeit shortened by a day, but we'll think twice about ever heading to America's south during July and August.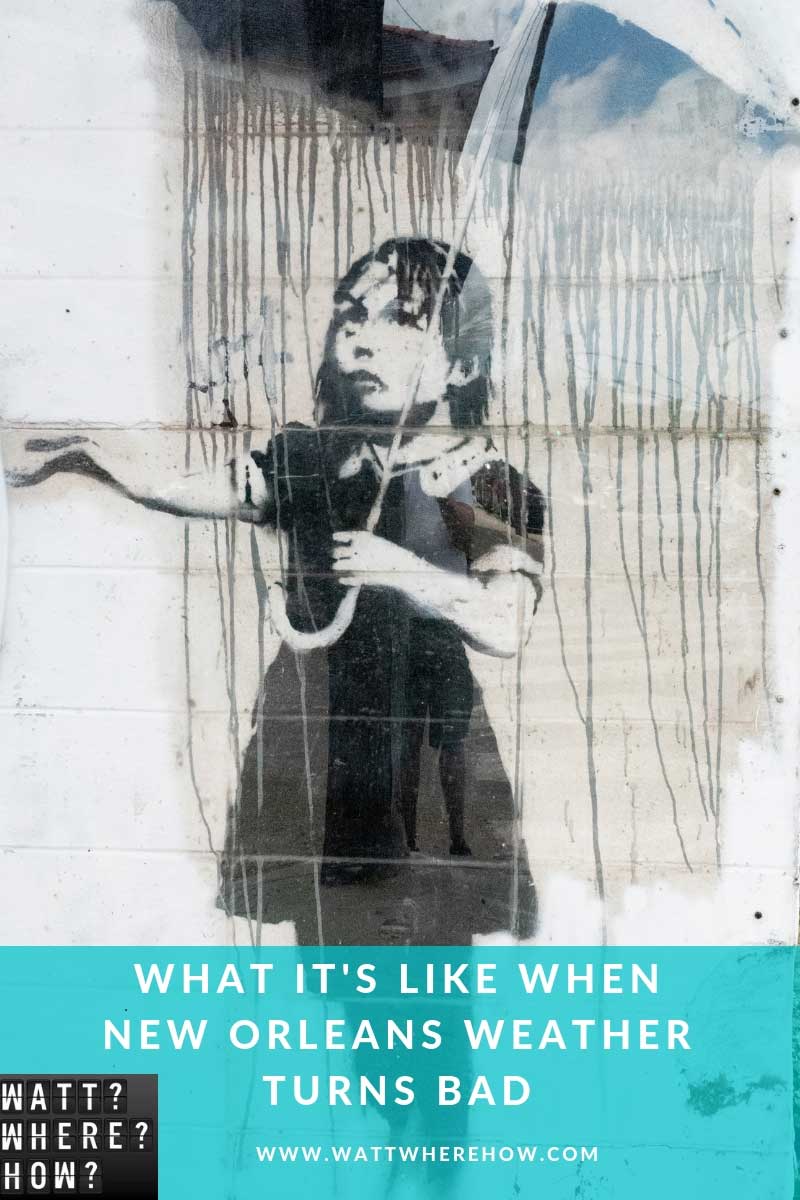 Epilogue
Despite the predictions, tropical storm Barry veers west of New Orleans towards Baton Rouge. Without the cataclysmic downpour that should have come before making landfall and a weaker-than-expected output, New Orleans emerges unscathed. It could have been as bad as Katrina, but thankfully, it wasn't. We're happy for the residents, and it was amazing to be there to see what it's like just before a big storm comes through.

Follow & Connect with us