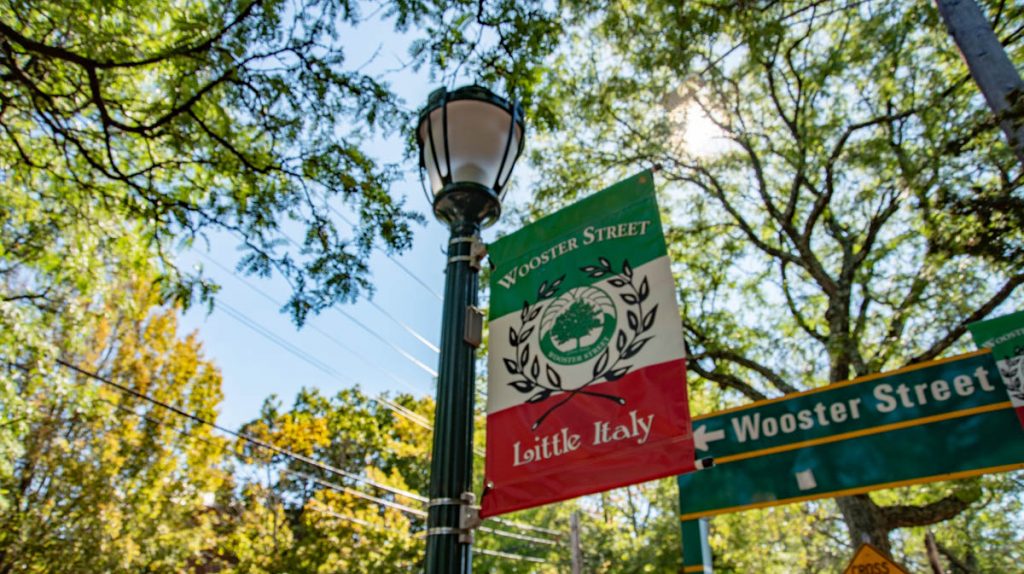 Everyone's tried New York pizza, but just a short train ride away in New Haven is a whole new experience – apizza.
Wooster Square is home to New Haven's version of Little Italy, a neighborhood that welcomed early 20th century migrants to the area. With its own town green bearing a statue of Christopher Columbus and Wooster Street providing a central meeting place for locals, it's New Haven's pizza that draws outsiders to the area.

When a pizza's apizza
New Haven's pizza is like no other. In fact, it's not even known as pizza. Apizza, a name embraced from early immigrants' pronunciation of pizza is a unique take on the Italian classic. The thin crust is cooked in a brick, coal fuelled oven, giving the base a charred, smoke-imbued flavor.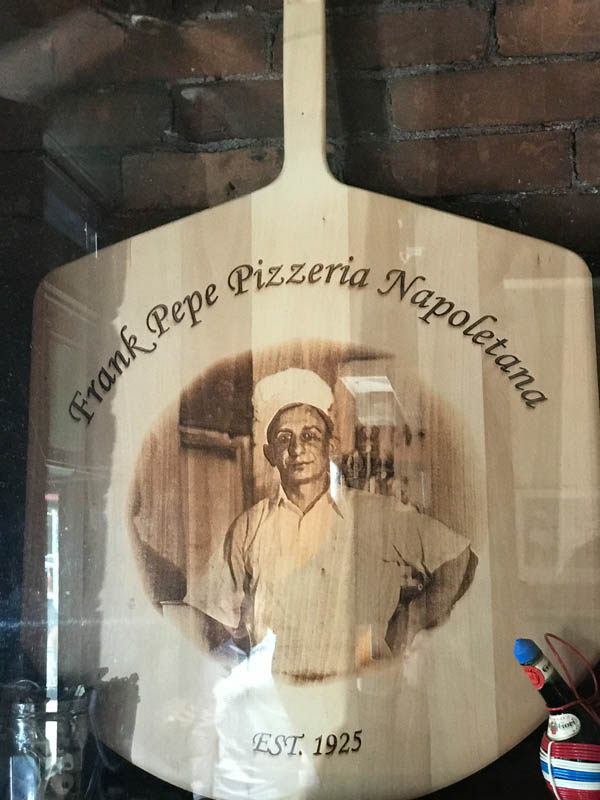 Frank Pepe Napolitano Pizzeria
Topping the list of each state's best restaurants, the clear winner for Connecticut is Little Italy fixture, Frank Pepe Napolitano Pizzeria on Wooster Street. Frank Pepe and Sally's Apizza are two family owned pizza restaurants that have fueled passionate debates on their way up the best pizza lists across the country. The natural rivalry is based purely on flavor as the original owners were actually related by blood.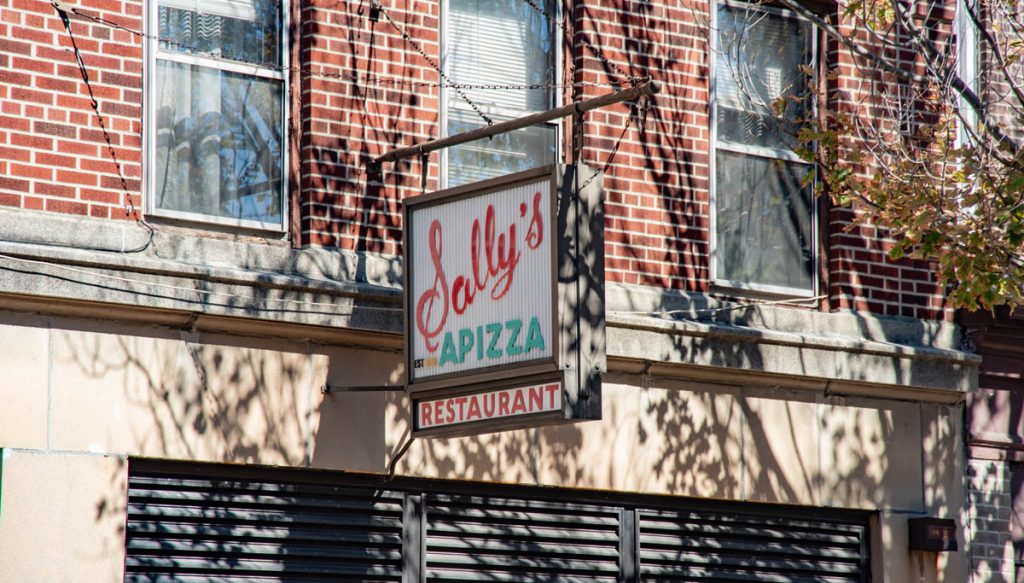 On our first visit to the area, we have intended to compare both, but arriving at midday, we're disappointed to see that Sally's doesn't open until 4pm. Frank Pepe's it is!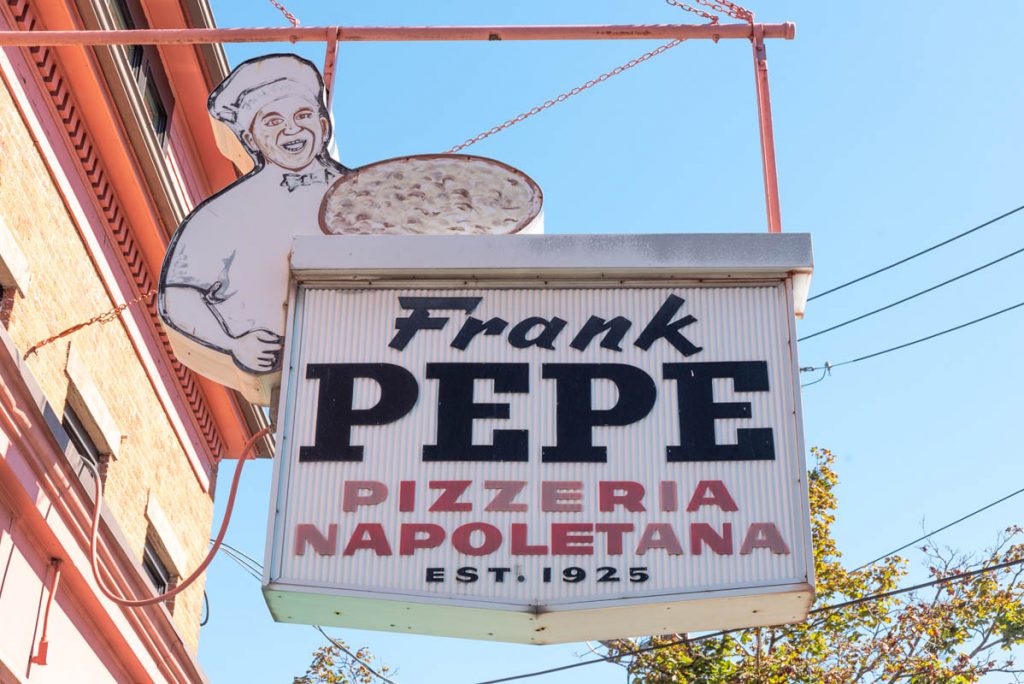 Frank Pepe's, affectionately known as Pepe's, is New Haven's first pizzeria, originally opening in 1925. The site is still part of the grounds, now serving as a point to quickly pick up take out pizzas. The newer version has been purpose-built to accommodate more people across two dining areas. Lunch service is in full swing and an orderly queue forms from the front door (sorry, no bookings thanks!).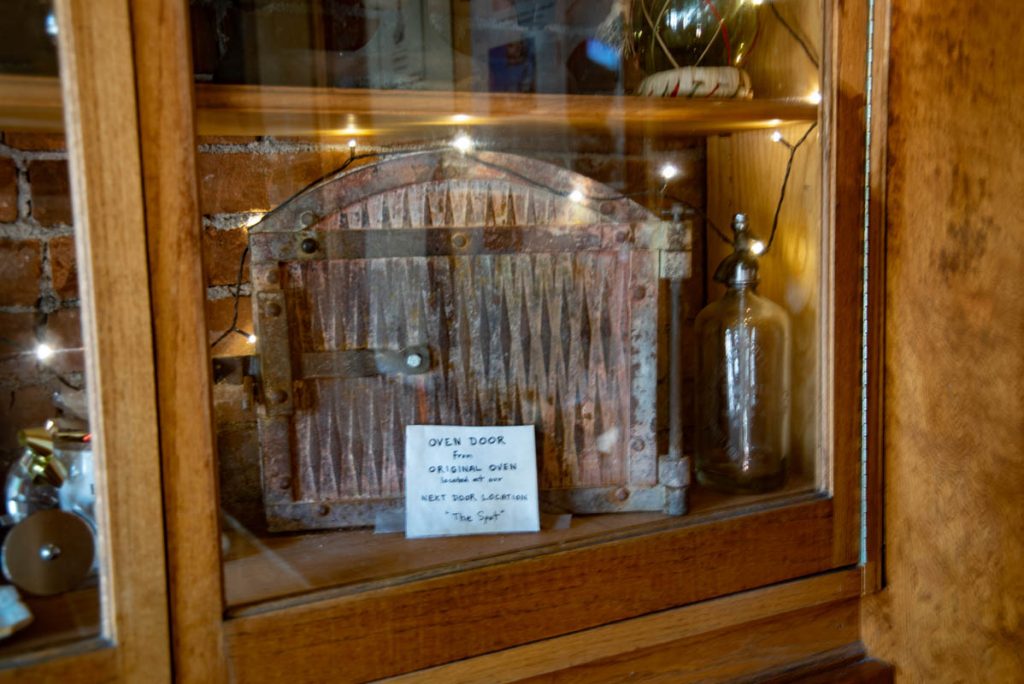 Once inside the entry vestibule, there is time to be immersed in a brief history lesson on the roots of Pepe's. Behind glass, a rusted cast iron door is a treasured artifact that once belonged to the original pizza oven. As is customary in American restaurants, visiting dignitaries are photographed with staff members (Ronald Reagan, Bill Clinton, Henry Winkler, Meryl Streep and Vince Vaughan among others). Early monochrome photos from the early forties introduces diners to the family.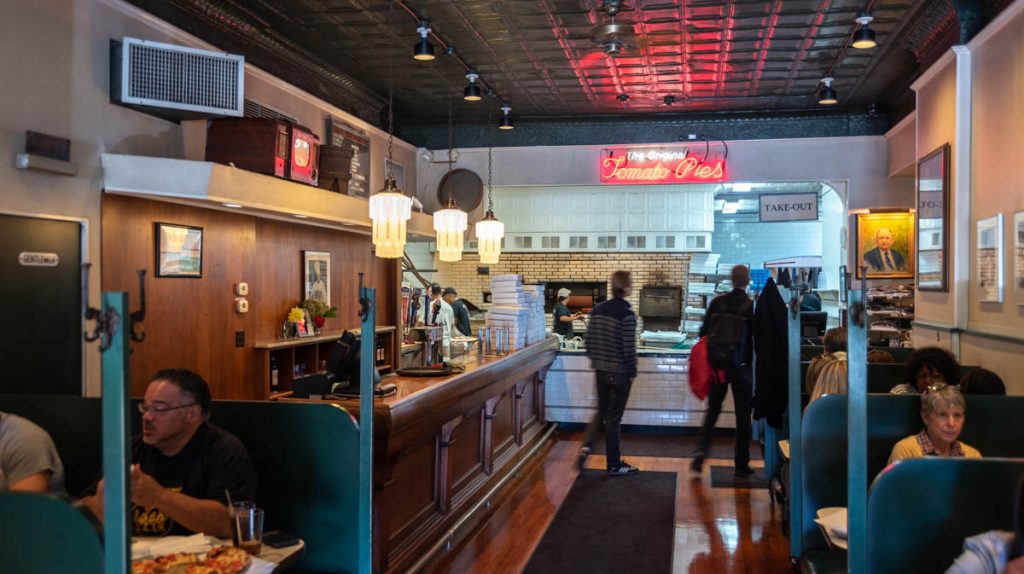 An overly exuberant Italian server welcomes us and leads us to our seats. Looking around, we watch what others are ordering, trying to determine how much we'll be able to squeeze in.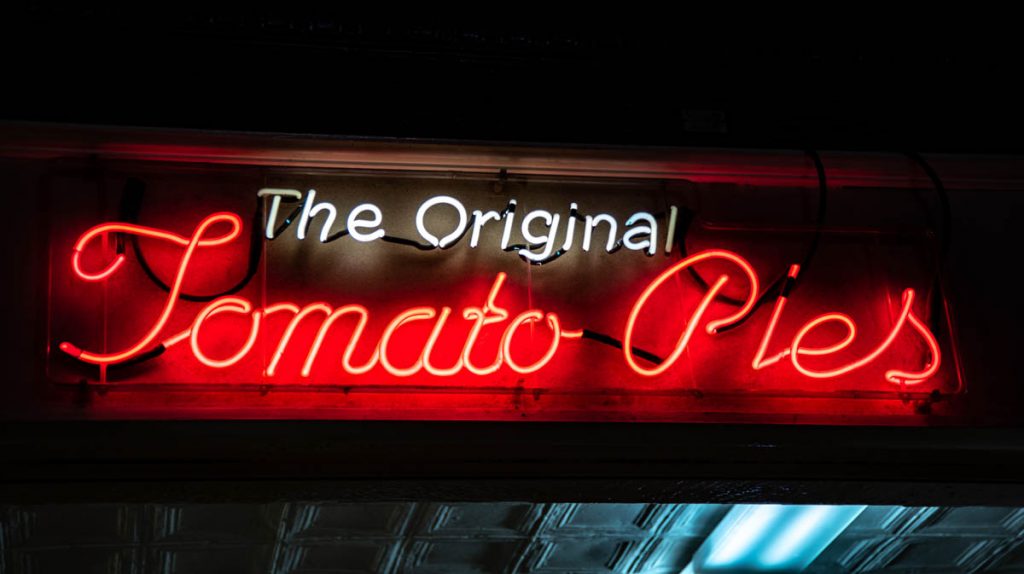 A red neon advertises the pie that immortalized Pepe's – the original tomato pizza pie (fresh tomatoes with grated pecorino Romano cheese, garlic, oregano, and olive oil). Mootz is the local vernacular for mozzarella and is a topping option, not always added. We're encouraged to try it on our tomato pie. The other hot tip we've read is to try the white clam pie but to add bacon to it. Noted!
White clam apizza
White Clam Apizza is New Haven's signature dish. With clams readily available from the Long Island Sound that laps upon the New Haven shores, the pie combines enough garlic to kill off the region's vampire community, tangy grated aged cheese and a bunch of shell fish. The bacon tip is a killer. The type used here is the perfect flavor to offset the garlic and the charred crust. We were always skeptical of white clam apizza, but within a slice we were ardent converts.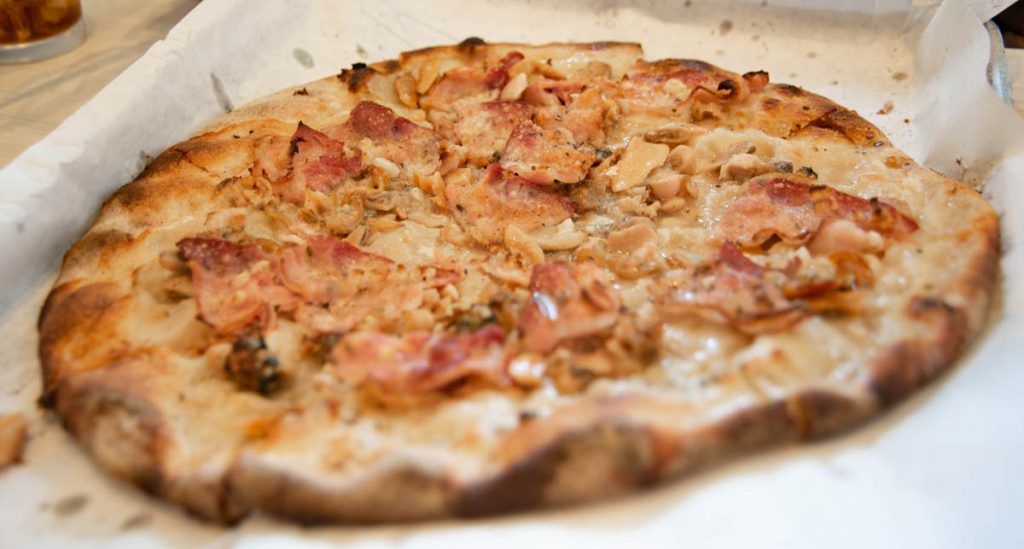 Tomato Pie
As we're at Pepe's for the last official weekend of summer, we get the option to try their famous tomato pie two ways. The first is very similar to a New York pizza, but the original uses fresh tomato. The difference is worlds apart and we're lucky to experience and compare the two.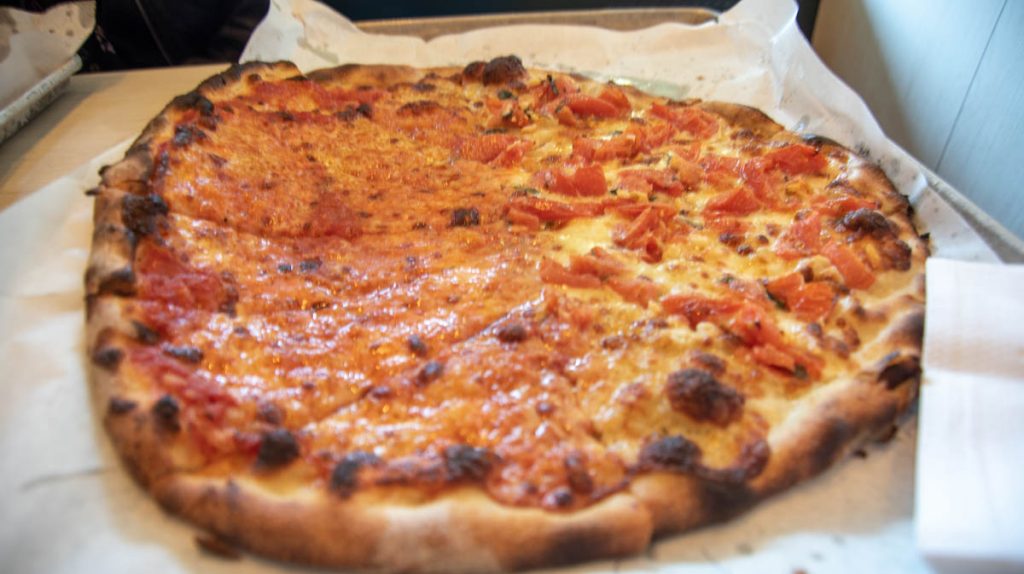 Colorful Doors
With our eyes evidently much larger than our bellies, we depart Pepe's to explore the rest of Little Italy. In the adjacent streets, a local out walking her dog has suggested we check out the Court Street Historic District of Wooster Square. Adjoining New Haven Green, this narrow street of row houses is quaintly refurbished, with each house's front door painted colorfully. It makes it look and feel like you've walked onto a movie set.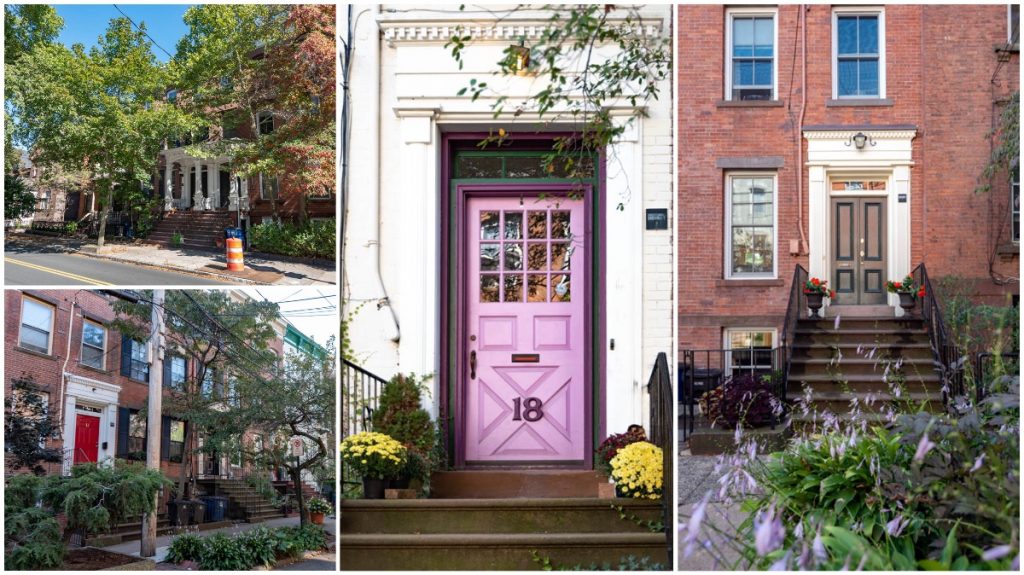 WHAT?
New Haven's Little Italy is home to the famed apizza.
WHERE?
Wooster Street, New Haven
HOW?
Catch the Metro North New Haven Line. It's about a 15 minute walk to Little Italy.
SAL'S – 237 Wooster St, New Haven, CT 06511
Saturday
3–10PM
Sunday
3–10PM
Monday
Closed
Tuesday
Closed
Wednesday

(4th of July)

3–10PM
Thursday
3–10PM
Friday
3–10PM
FRANK'S – 157 Wooster St, New Haven, CT 06511
Saturday
10:30AM–11PM
Sunday
10:30AM–10PM
Monday
10:30AM–10PM
Tuesday
10:30AM–10PM
Wednesday

(4th of July)

10:30AM–10PM
Thursday
10:30AM–10PM
Friday
10:30AM–11PM
Follow & Connect with us