Start your time in Tokyo at the top, on the 52nd floor of the Lost in Translation hotel, better known as the Park Hyatt Tokyo.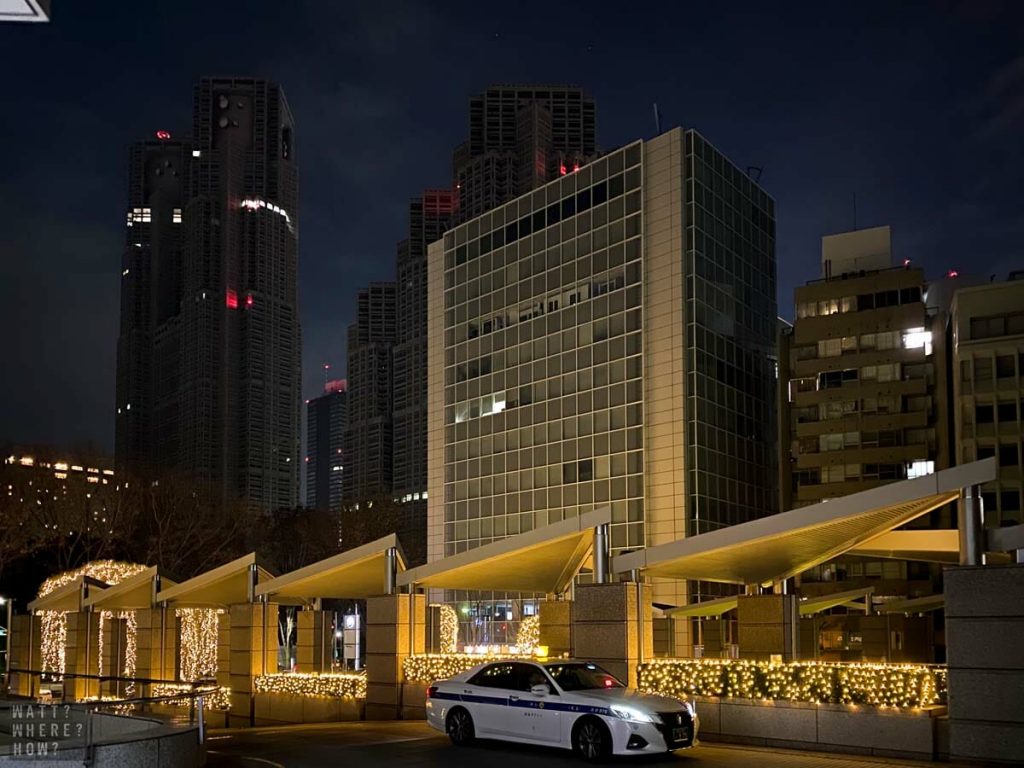 The stylish modern hotel commanding the top 14 floors of the Shinjuku Park Tower looks out over the city and Mount Fuji, though after dark, it's not anywhere to be seen. We call it the Lost in Translation hotel as it became a key location in Sofia Coppola's 2003 Academy Award-winner, Lost in Translation, making it a must-see stop on a movie lover's Tokyo adventures.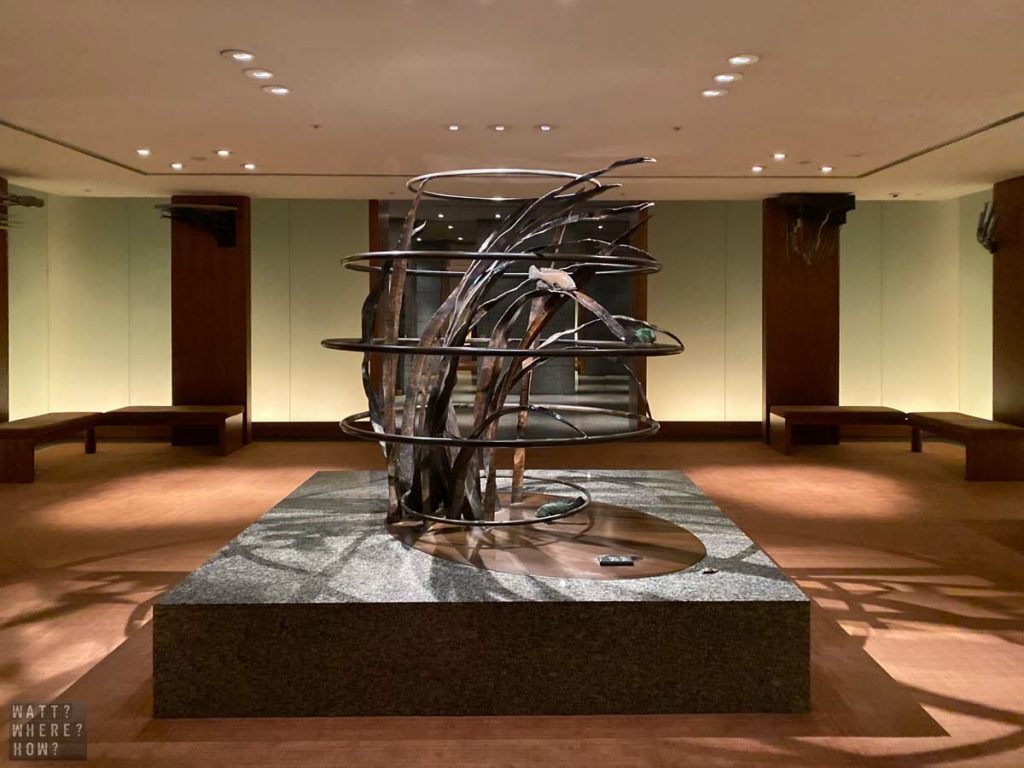 Exiting our taxi, we head inside the Lost in Translation hotel location in fashionable and ultra-modern neighborhood, Shinjuku. We are almost expecting to run into Bob Harris (Bill Murray) or Charlotte (Scarlett Johansson) after their wanderings across this vivacious and colorful Asian capital. There's almost nobody in sight, bar the bellhops and reception desk staff. It's a modern hotel with 177 rooms and just a hint of Japanese design smarts that remind us where we are. With one destination in mind, we head to the elevators up to the famous bar and restaurant, the New York Grill.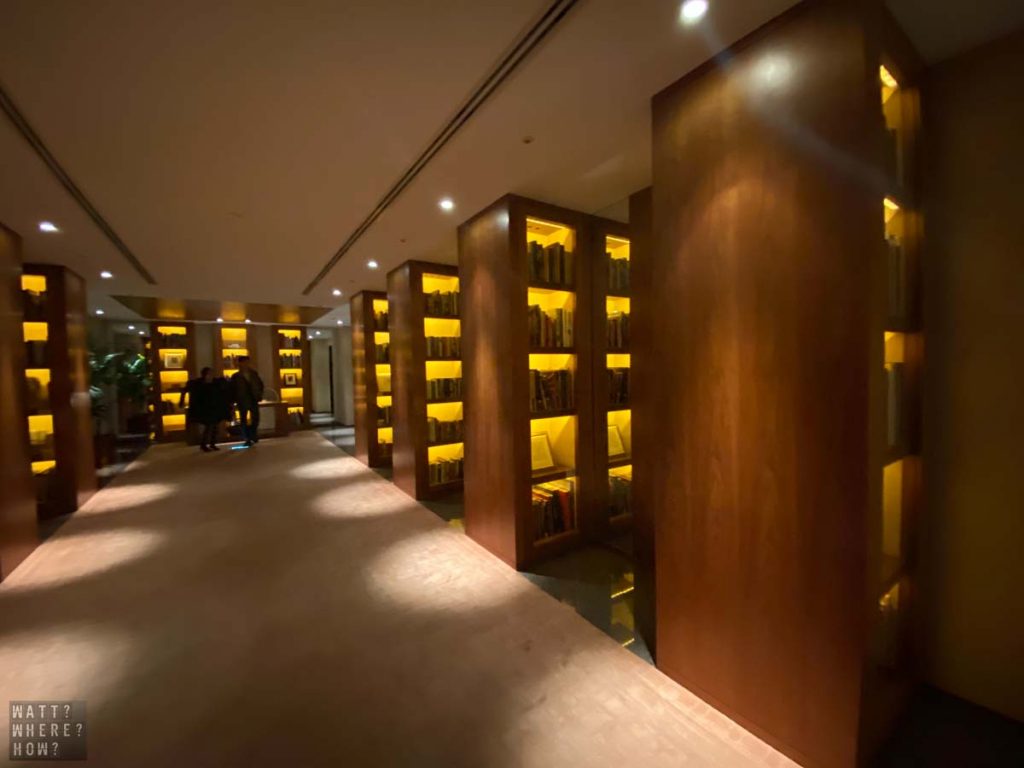 En route to the Grill, we pass the Grand Library Entrance Hall, through rows of books, then into the elevator, emerging at the Peak Lounge, a detour to get across to the final ascent to the bar.
Coming from New York, the city is a constant source of inspiration and cultural appropriation in many countries. But here, there's a reason for its name, The New York Grill. The bar looks out over a miniature version of the Empire State Building, bedecked in soft purple hues.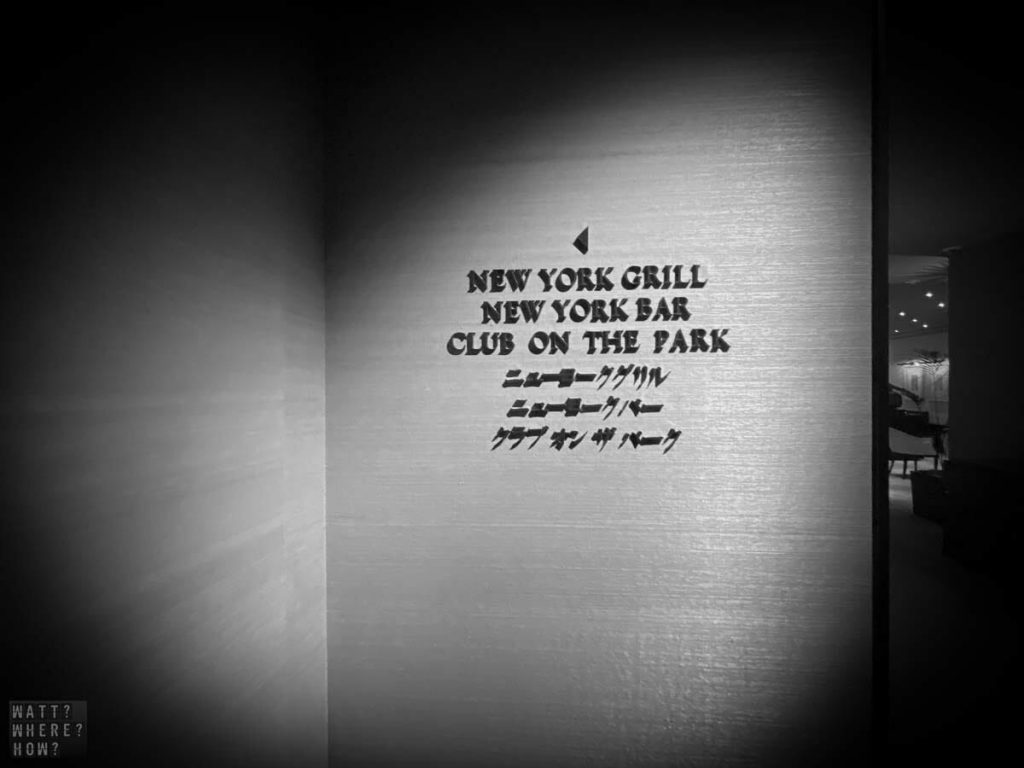 Entering the bar, we are politely warned about the 2,500¥ cover which pays for the live entertainment. Floor to ceiling windows that stretch four floors high, look out towards this faux homage to the city that never sleeps and beyond to the Meiji Jingu Stadium, the city's main baseball park which has been open since 1926. We're so high up, that the city lights are spread below like a blanket of fibreoptic decorations, sparkling through the haze.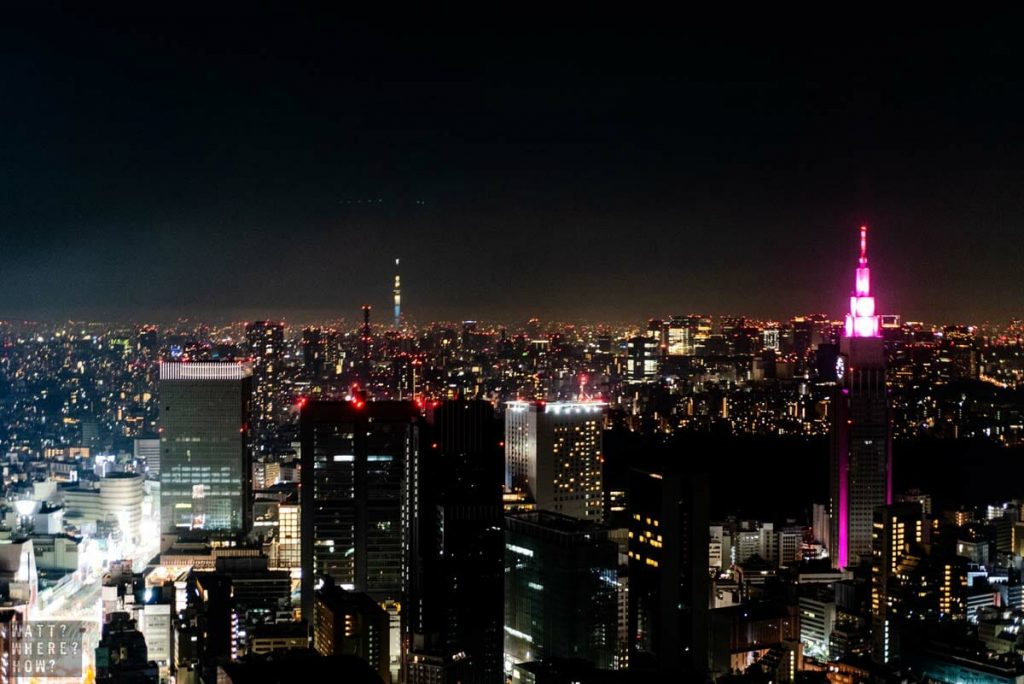 We are generously seated by the band and window in a prime position to watch the ensemble of experienced American performers make their way through a set of jazz standards while we study our fellow diners/drinkers. This is the kind of place you come to for a date, or to pretend you're Bill Murray and for either of these privileges, you will pay top price for libations – $25 for a cocktail, which is steep even by New York standards. Though, to be fair, the Lost in Translation hotel bar has been the place to be seen in Tokyo since the mid-1990s.
Jess opts for her go-to, a Dark n Stormy, while Bernie tries the New York Punch. A five-piece ensemble of American ex-pats led competently by a vivacious woman with a blistering dynamic range takes the eyes off the panoramic views and keeps them glued to the stage for their whole set, reducing most attempts of socializing to a polite whisper.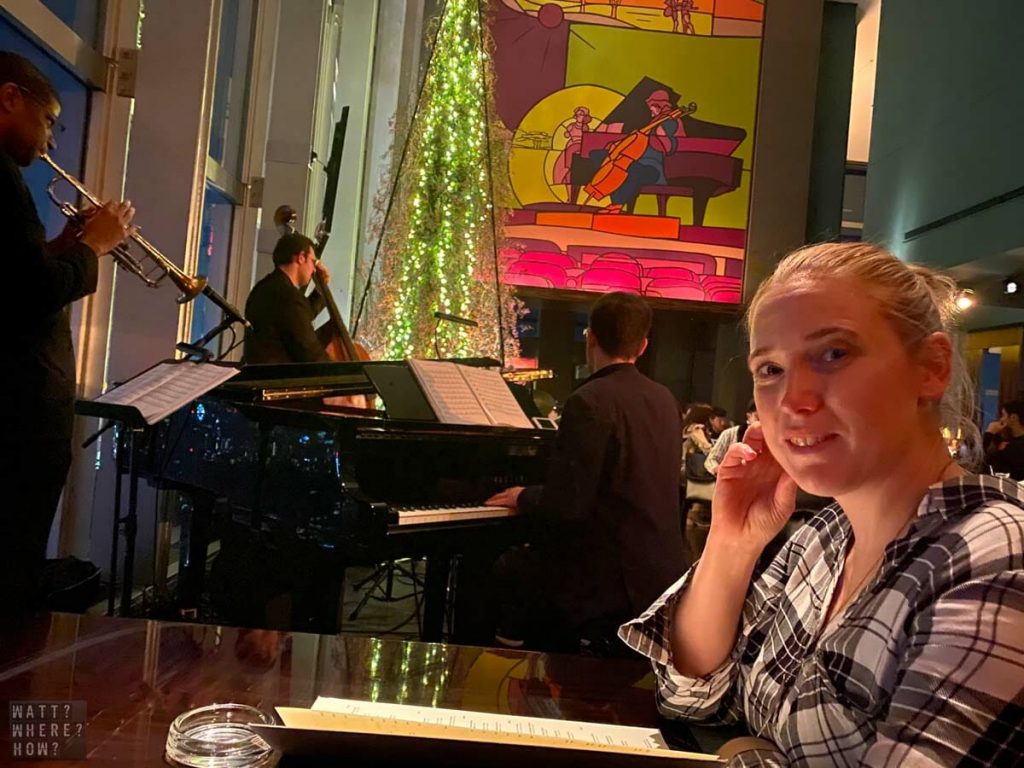 The combination of the views, ambiance, and soundtrack make it feel like we're inside our very own movie and that's why we stopped at the Lost in Translation hotel and its New York Grill at the Park Hyatt. It's not to be missed.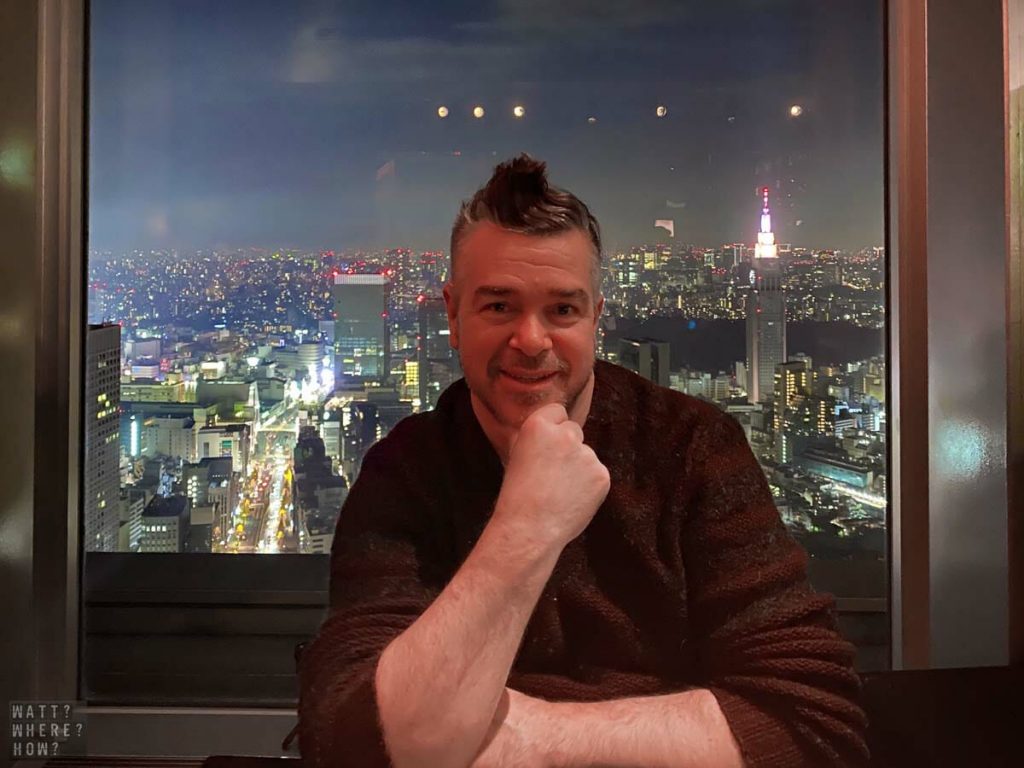 WHAT?
The Lost in Translation Hotel is actually the Park Hyatt Tokyo, a 14-story hotel in a popular part of Tokyo.
WHERE?
PARK HYATT TOKYO 3-7-1-2 Nishi-Shinjuku, Shinjuku-Ku, Tokyo, Japan, 163-1055 Tel: +81 3 5322 1234 Fax: +81 3 5322 1288 E-mail: tokyo.park@hyatt.com
HOW?
PARK HYATT TOKYOhttps://restaurants.tokyo.park.hyatt.co.jp/en/nyg.html 52nd floor Hours Lunch 12:00 – 14:30(L.O.)
Dinner 17:00 – 20:00 (close)
*Last order 19:00 Tel. +81 3 5323 3458
*Reservations taken from 11:00 to 20:00RESERVE NOW
*Information on Our Dress Code
We kindly request that all guests refrain from wearing the following garments at New York Grill:
Dress shorts (restricted after 5:00 pm); Beach sandals; Male sportswear such as training jerseys, tank tops or other sleeveless garments.
For inquiries, please call at +81 3 5322 1234 or email us at tokyo.park@hyatt.com.
There is a 2,500¥ cover charge to secure a table at the New York Grill when the band is performing.
Follow & Connect with us