Once a year, New York's nerds and history buffs descend on Fort Tryon Park for the annual medieval fair.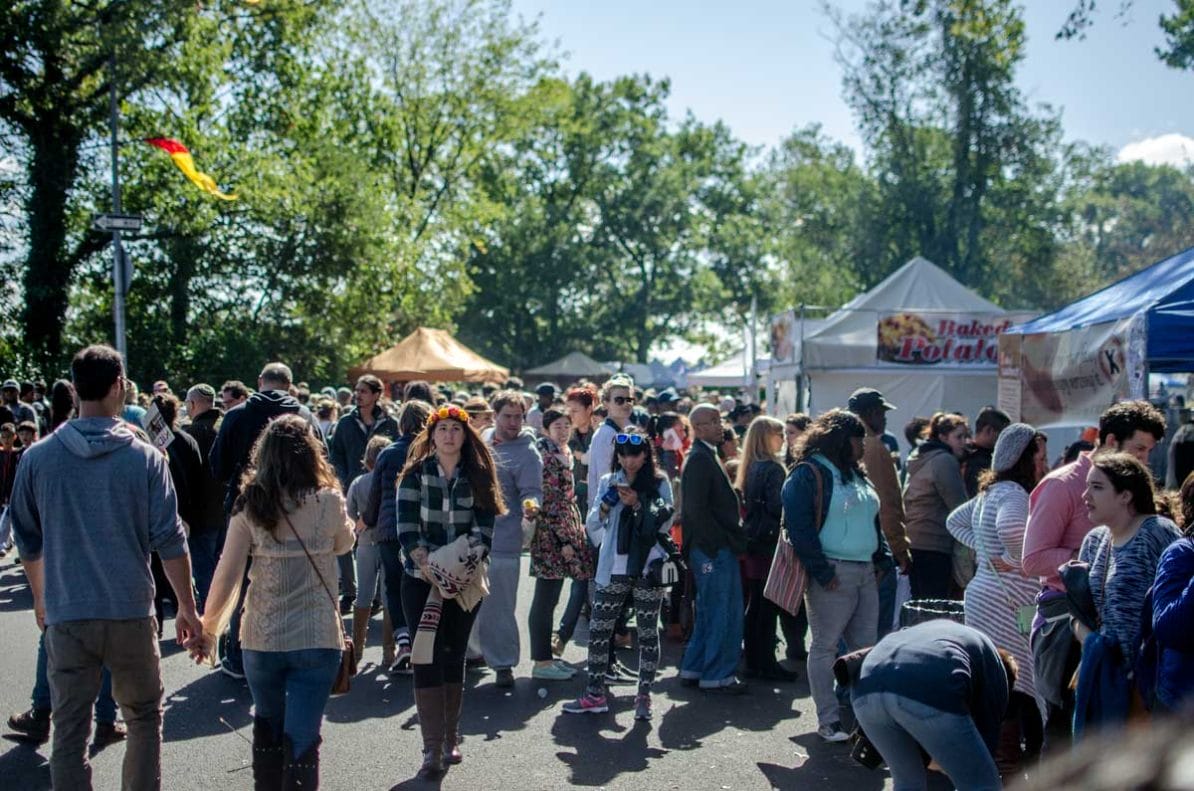 After a dreary, wet week and the promise of a clearer, warmer escape to the outdoors, we approached the Fort Tryon Medieval Festival with high hopes. Not having been to a good medieval festival since attending the abbey museum version near Bribie Island, back home in Queensland, Australia, I was thinking everything would be bigger and better in America. To start with, it was being held in the grounds of the Cloisters, home to the Met's extensive medieval collection. Strangely, it was somehow lacking.
What was immediately clear is that no matter where you live, these events attract a similar psycho graphic: creative types, nerds, cosplayers dressed as medieval knights, maidens, monks and minstrels and then another group completely inappropriately attired (hello Mr. Ghostbuster and freaky Halloween masked guy). There were Goths, university professors, metal heads and a bunch of good-humored oafs, not disagreeable to hitting each other over the head with pieces of wood or swords.
In terms of organization, the fair was poorly laid out. From getting off at the recommended station, 190th, there were over 300 people queued just to get out of the station, where the route up to the venue was accessible by elevator. We opted to exit another way and had to walk eight blocks and then across, up three steep flights of steps (131 in total) and then backtrack the full eight blocks. I have no doubts that we would have still been waiting for the elevator back at the station by the time we were grabbing lunch.
The fair was spread from the Fort Tryon Park entrance up to the Cloisters. Strangely, all major food outlets clogged the main thoroughfare, with a combination of kids, prams and costumed folk queuing or stopping constantly, creating unnecessary tension. The food options were varied, from the standard meat on a skewer and burgers to soup in a cob loaf and turkey legs (which have an overpowering taste of bacon). Folk artisans manned stalls, selling their wares whilst commercial sponsors like health insurers and utilities were getting into the spirit, in full period dress.
The central tournament area provided an arena for genuine jousting tourneys. Again though, the stands were inadequate and oversubscribed, with it hard to get a view of the battles. Gladly, I was able to watch briefly among the kids on shoulders and inevitable sea of selfie sticks.
For a dollar donation, the fair was a cheap day out, but if they had a set ticket price, there's no doubt the whole experience could be improved and made to be more comfortable for all.
WHAT?
New York's annual medieval fair.
WHERE?
Fort Tryon Park, Riverside Dr To Broadway, New York, NY 10040
HOW?
Sunday October 1st, 2017 from 11:30AM to 6 PM. For full details, visit the site.
Follow & Connect with us