Sesame Place is the closest you can get to Sesame Street
It's every little kid's dream to meet their beloved tv characters, from Mickey and Minnie to Bluey. At Sesame Place, they can meet Big Bird, Elmo, Abby, and all their Sesame Street friends. Sesame Place is an amusement park focused on kids under six, but with enough fun rides to appeal to most families.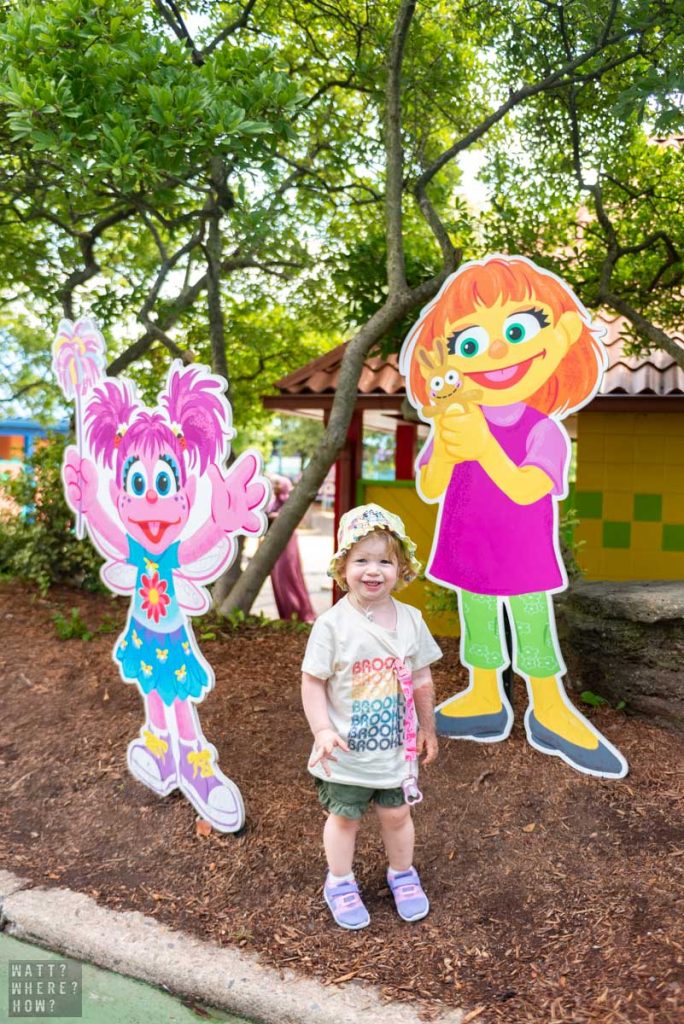 Unfortunately, we can't tell you how to get to Sesame Street itself, as it is locked away in the back lots of Kaufman-Astoria Studios in Astoria, Queens, New York City. The only way to see the set is to know someone on the production. Instead, you can walk the faux Sesame Street set at Sesame Place.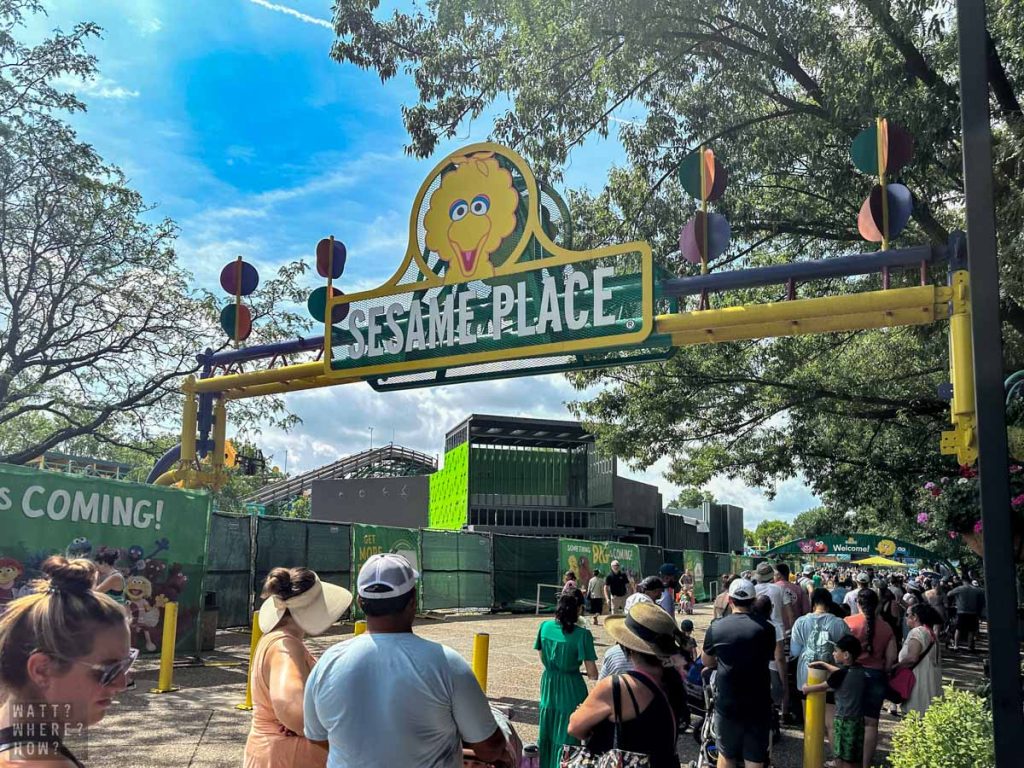 Unlike Sesame Street's New York City setting, Sesame Place is in Pennsylvania
If you're planning a day at Sesame Place, it's much closer to Trenton and Philadelphia than NYC. We did the math and, not owning a car, gambled on the great adventure of getting to Sesame Place on public transport, an epic journey involving a train and a bus, but right to the front gate. More on that later.
Sunny Days
Arriving at the front gate of Sesame Place, we're surprised by the pure volume of humanity descending on the entry arch. It's a hot Saturday morning, and it seems like all of Pennsylvania, New Jersey, and New York state have the same idea.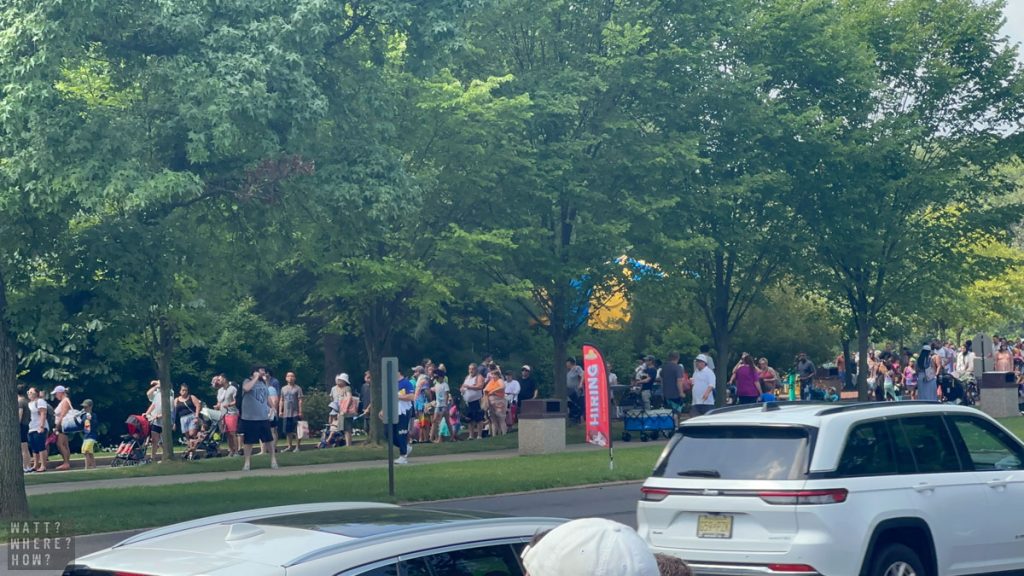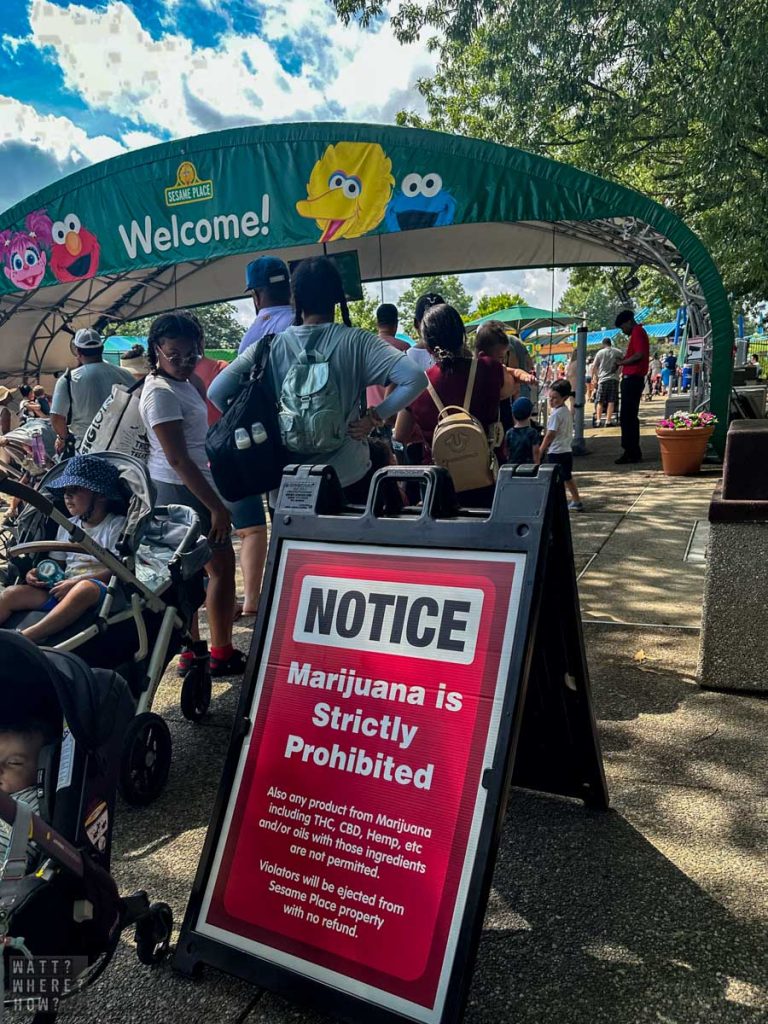 Security is directing those with strollers (about 95% of the crowd) to one side – a huge queue of thousands; while those unencumbered by toddlers get the express entry. Thankfully, the line is fast-moving. There are metal detectors to go through and a basic bag inspection to make sure you haven't brought along a full picnic, weapons, or drugs. Strangely, there are signs calling out that marijuana is not allowed. Guess the Cookie Monster isn't the only one there who gets the munchies.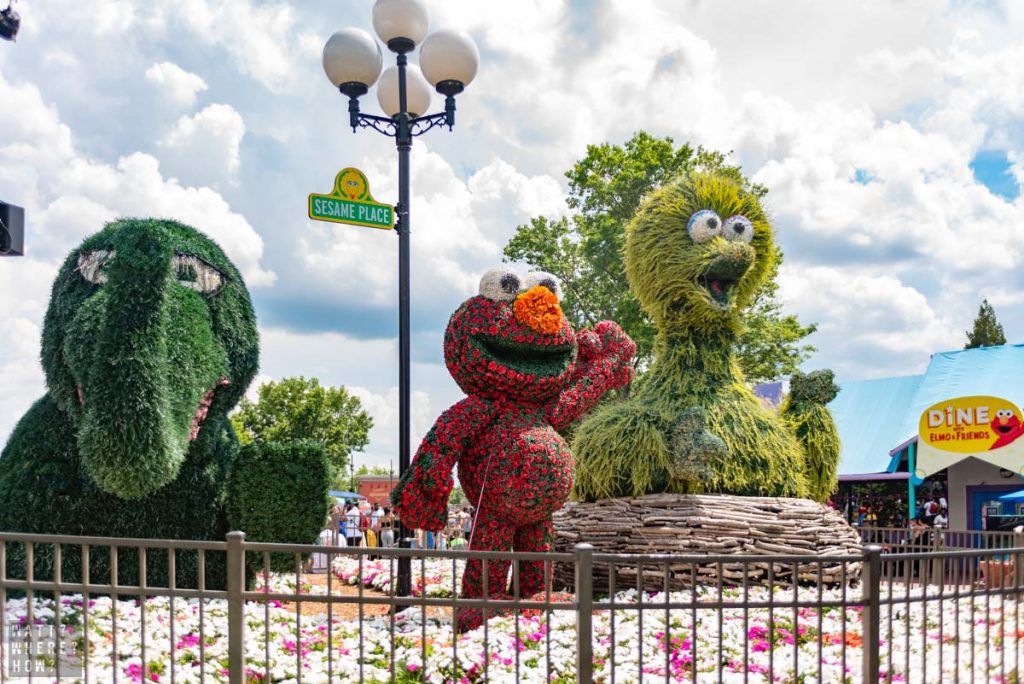 First Impressions
The main gateway brings you into the main street, with restrooms, guest services, and souvenirs immediately to your left. To the right stands a roller coaster (the Vapor Trail), and straight ahead, a topiary of your favorite Sesame Street characters. Like Disney parks, the main street, Sesame Plaza, is also the staging ground for the Sesame Place parades that run at key moments of the day.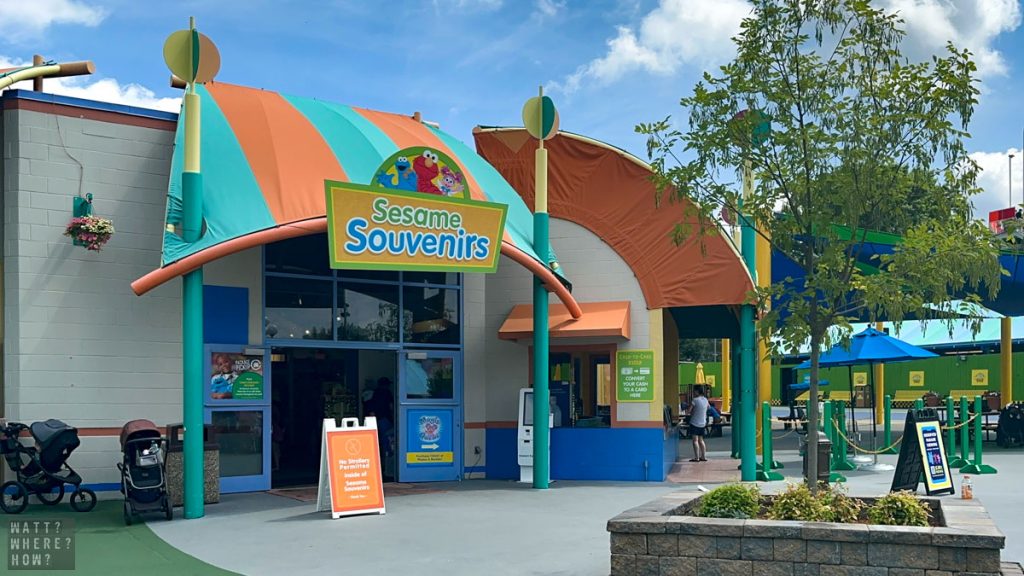 What is most interesting is the balance of water rides to traditional thrill and fun rides. It's probably a 60:40 split between water-based activities and dry rides. That suits us, as we're here on the hottest day of the year. The park is deceptively small, at probably a quarter of the size of the Magic Kingdom. Branching off Sesame Plaza is a series of mini-worlds.
Sesame City
Sesame City is the smallest of the areas, housing Big Bird's Tour Bus, a sedate ride that lifts a red London bus up and around gently, and Oscar's Wacky Taxi, the park's most thrilling coaster, but limited to kids over 40" tall. It's the addition of the park's coasters and bigger water slides that make it appealing for all ages.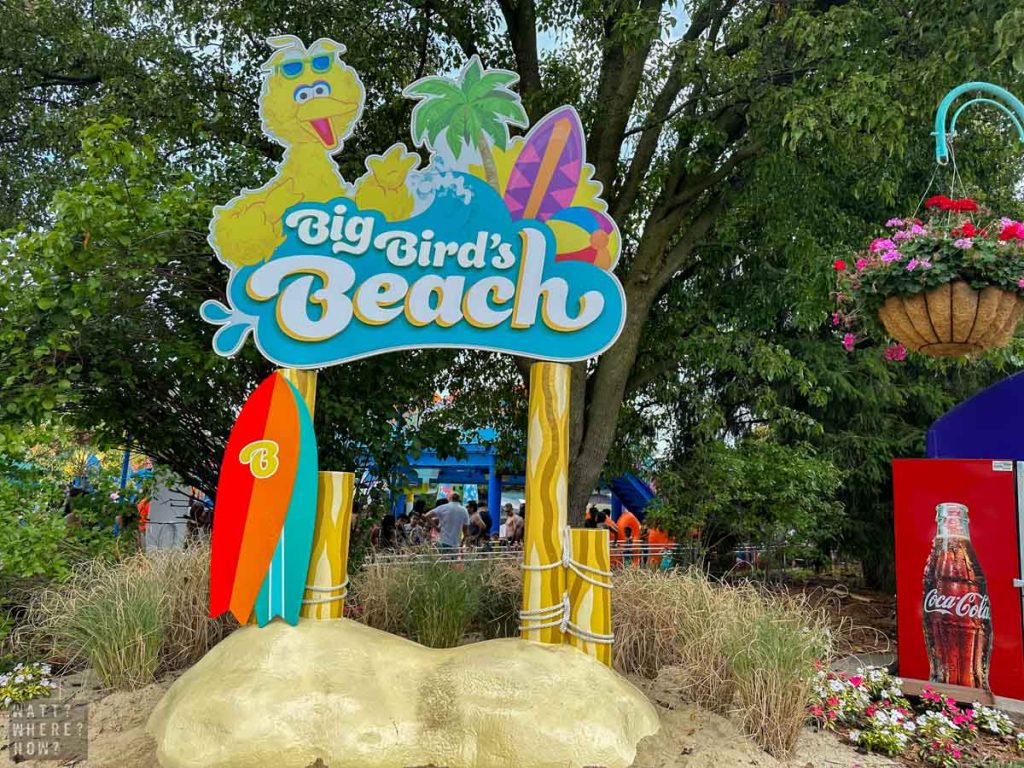 Big Bird's Beach
When we first saw the photos of Big Bird's Beach, we'd thought it was a wave pool. It's actually just a large paddling pool that is little more than ankle-deep. It's perfect for toddlers, and there are lifeguards on duty in case of any mishaps. To the left of the beach is a splash pool, Little Bird's Bay, with fun water jets to keep play cool. Another popular place for little ones to cool off is Abby's Splash and Spray Garden, where a large watering can and oversized flowers spray water over those beneath.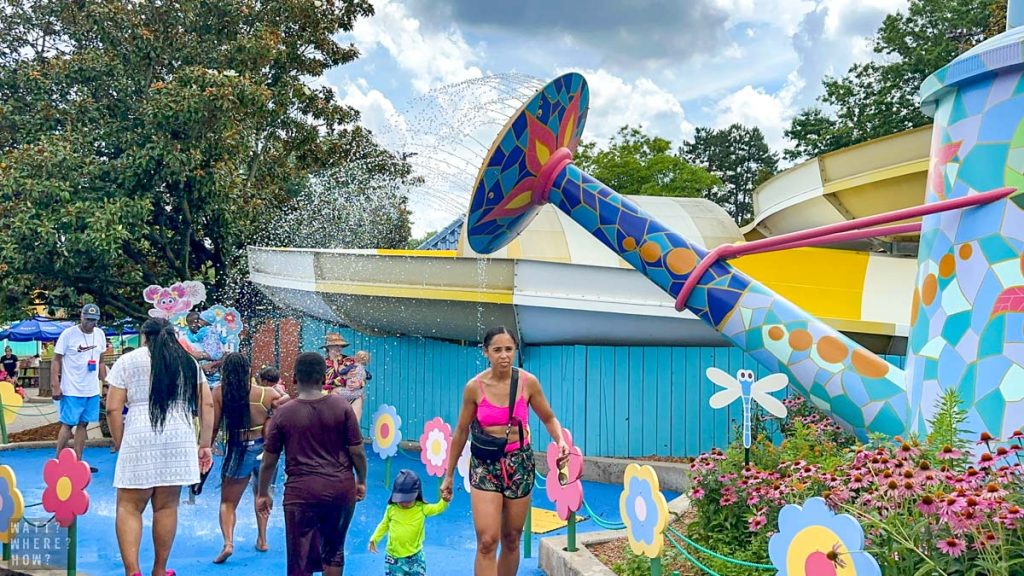 For the bigger kids, Elmo's Surf 'n' Slide is a larger-scale water coaster where riders sit four in a tube and are propelled through cascades and down a funnel flume (it attracts a long line). Rosita's Seaside Slides is a traditional water slide for competent swimmers with double tubes for parents and kids (or siblings) to ride together.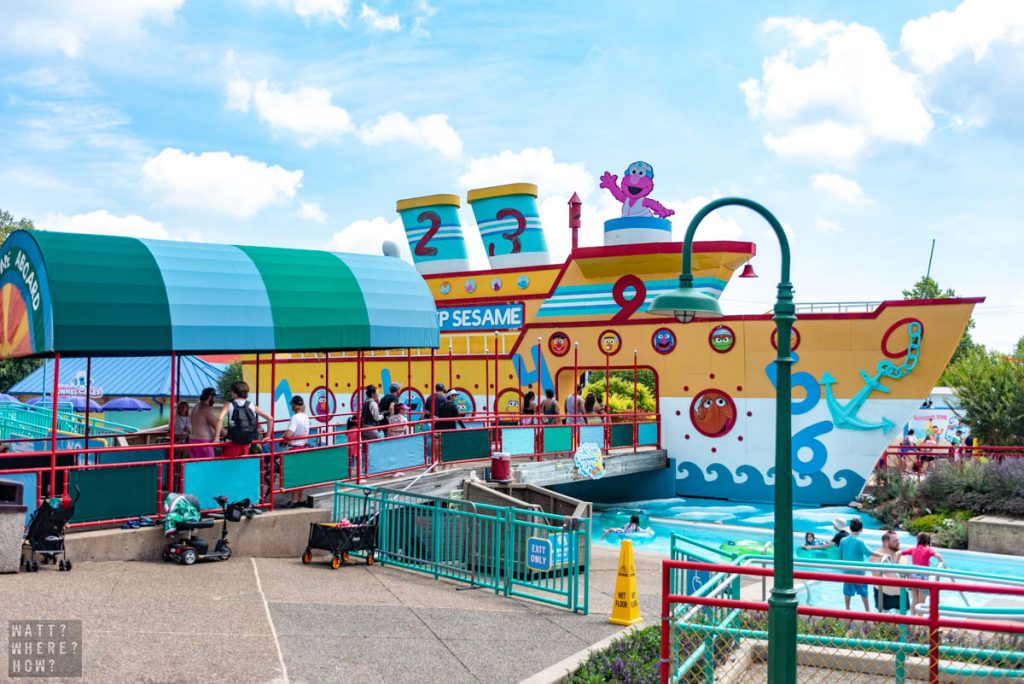 Sesame Island
Entering through a bright boat facade, cross the bridge to Sesame Island. The main part of Sesame Island is a sand play area and Abby's Paradise Theater. Pretty much the rest of the land serves as the queue zone for the lazy river, the park's most family-friendly water zone.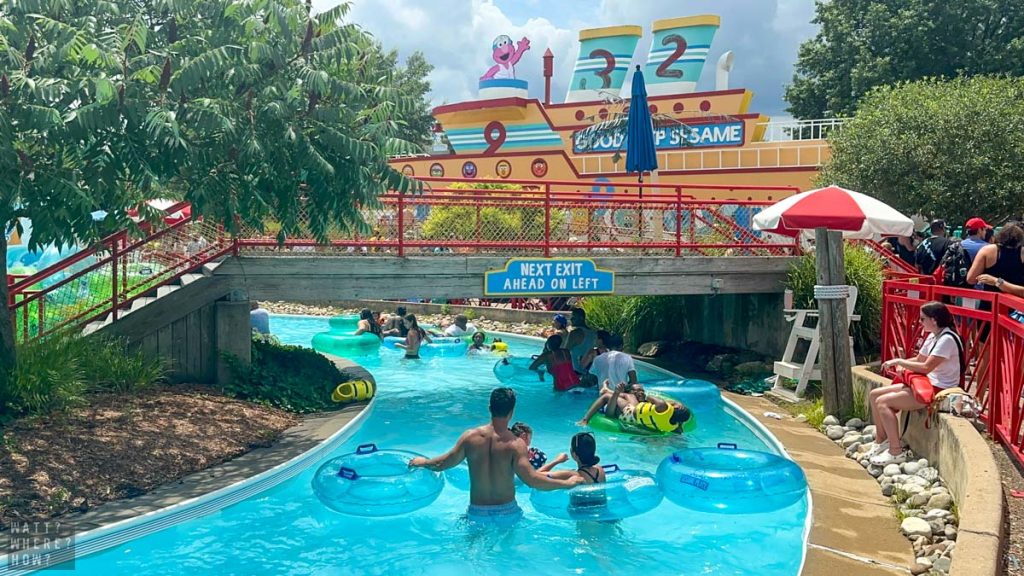 Weaving around Sesame Island is Big Bird's Rambling River, a lazy river with a series of splash zones and water jets to keep riders cool. Life jackets are available for young riders, and there are toddler-friendly tubes that most parents seem to prefer, walking or floating by their loved ones.
Through the day, don't miss out on a performance of Welcome to the Party at Abby's Paradise Theater. The sheltered amphitheater is a welcome change of pace from the crowds and a cost-free way to guarantee your kids will see their favorite characters in the fur. While the plot is dubious, the performances will win over any kid. There are appearances from Grover, Abby, the Cookie Monster, Rosita, and Elmo. Seeing Elmo, she almost wet herself. Thank goodness for diapers.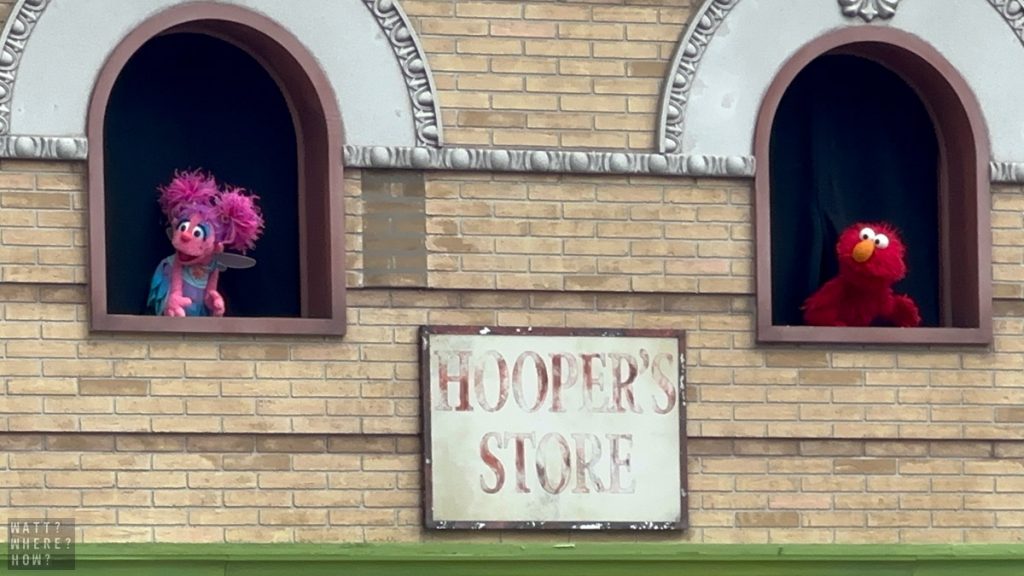 Sesame Neighborhood
Heading back to the main street, you'll come face to face with the famous Sesame Street facade. It's all there: Big Bird's nest, Mr Hooper's, Oscar's trash can. If you can make it early in the day, it's the best time to grab photos before the crowds gather. While you can't enter any of the buildings, there is a souvenir shop in the Sesame Neighborhood called Mr Hooper's Gift Shop.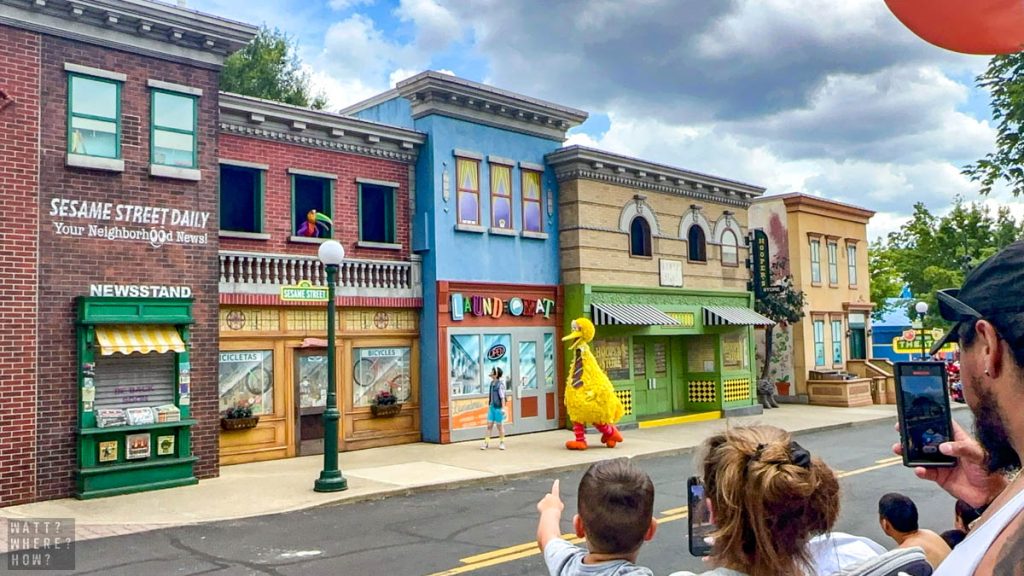 If you're visiting Sesame Place on a Friday, Saturday, or Sunday, don't miss the Our Street is Sesame Street show, with real-to-life puppet versions of Elmo and Abby, and a human-sized Big Bird. It's a heap of fun for anyone who grew up with Sesame Street. And we don't know many who don't fit this description.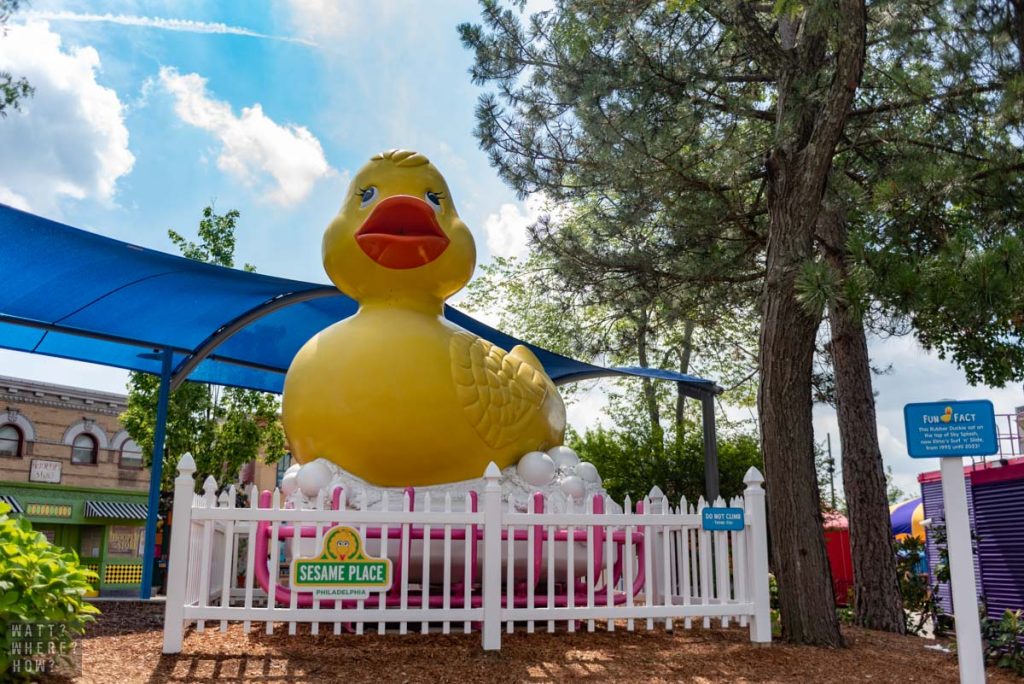 Other highlights of the Sesame Neighborhood include a giant rubber duckie, the Sunny Day Carousel, and assorted eateries. If you're still in your swimsuit, head to the end of the Sesame Neighborhood to another water zone, Count's Court, with its giant water bucket, mild slides, and splash pads. Kids under 5 must be accompanied by a supervising companion.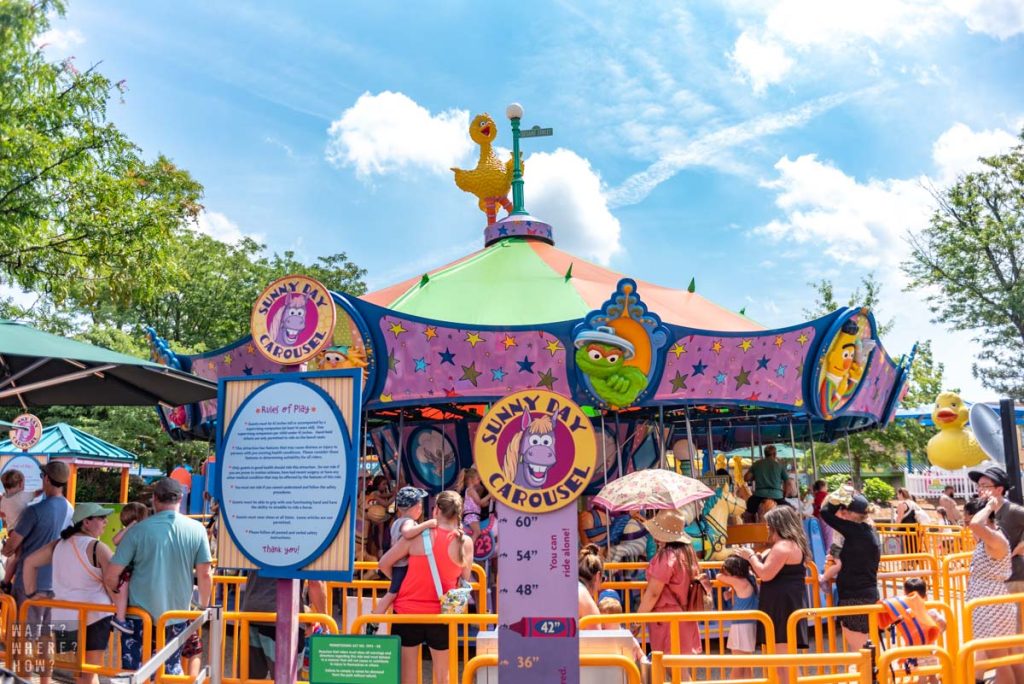 Adjacent to Sesame Neighborhood are the two final areas of the park, Elmo's World and Cookie's Monster Land.
Elmo's World
If you've watched Sesame Street in the last 10 years, you'd know the annoying theme song of Elmo's World. Thankfully Elmo's World, Sesame Place is a little less grating. The centerpiece, the Flying Fish, is a rotating lift ride, like Dumbo's Flight.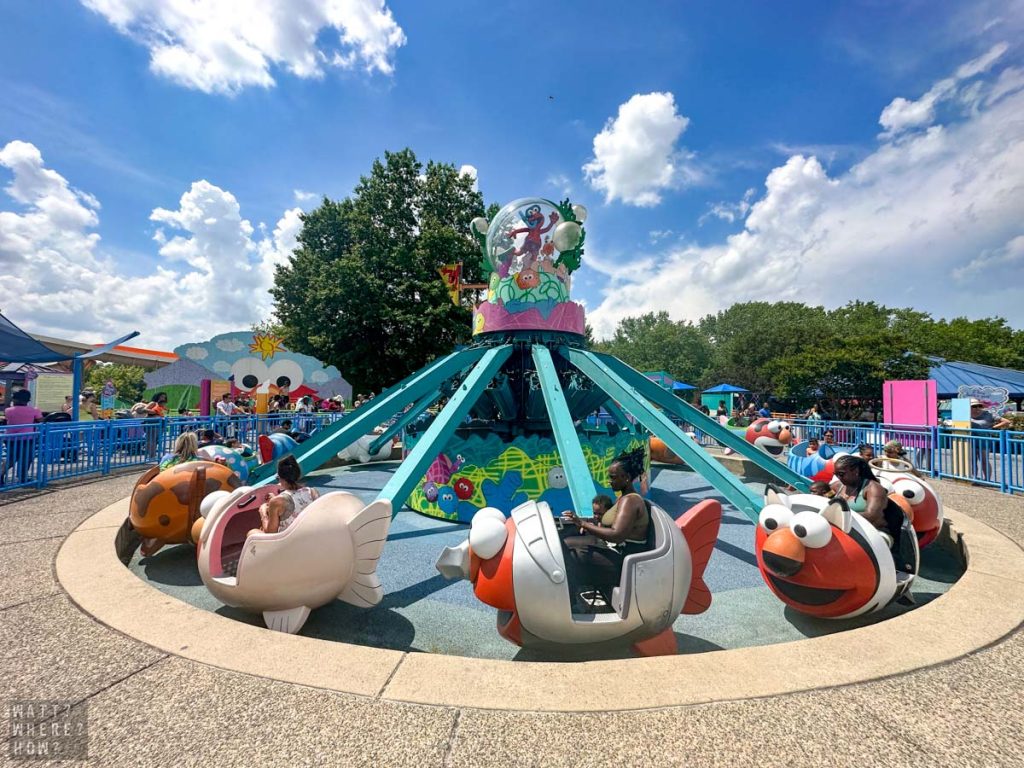 Elmo's Cloud Chaser is a more advanced carousel with chairs on chains, meaning it's more thrilling but for older kids. A more sedate experience is the ridiculous-looking Peek-a-Bug ride, which slides back and forth along a gentle incline, slowly turning.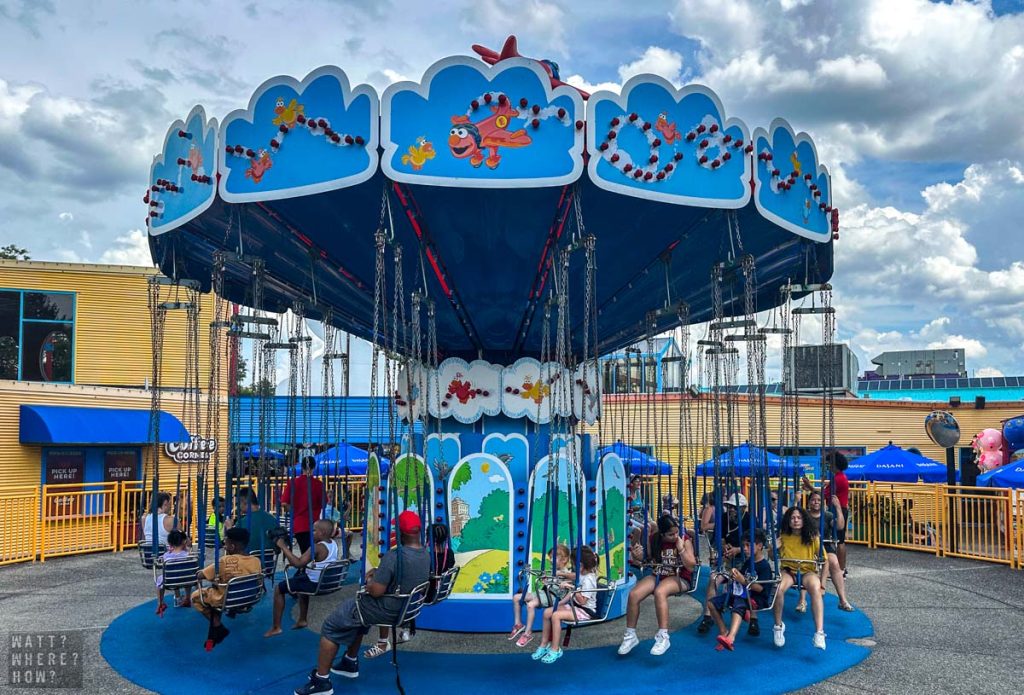 As mentioned earlier, the park also boasts plenty of water rides and slides, and Elmo's World is home to another few with Elmo's Silly Splashy Slides, a tubular ride for kids over 42" and the steep, fast fun of Abby's Fairy Falls. If you're sharp-eyed, you may even find Elmo's goldfish, Dorothy, hiding out in the park. And to get you sharp-eyed, don't miss Coffee Corner, the park's only Starbucks and cafe.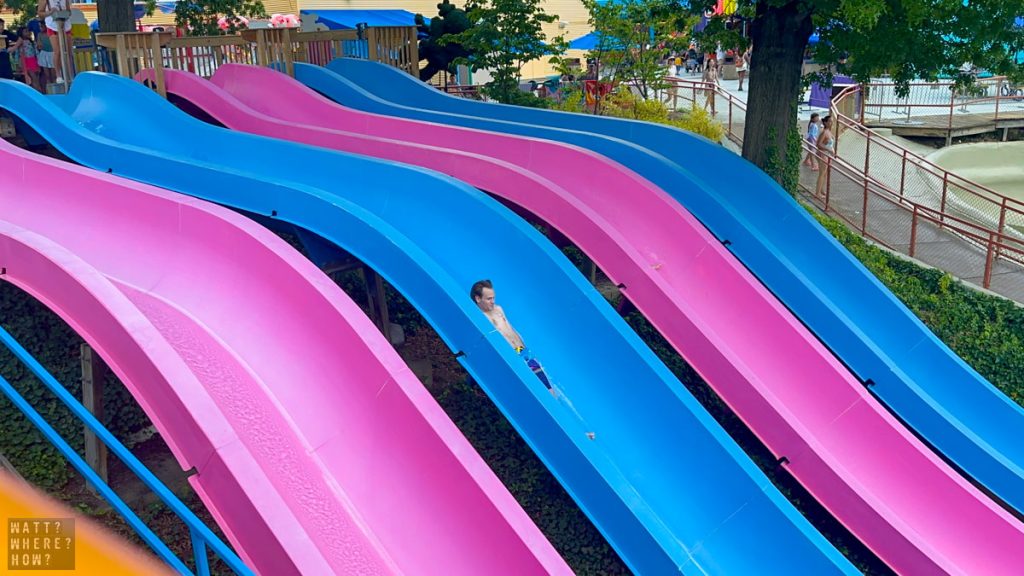 Hot tip: for a little side quest for your kids, pick up a scavenger hunt page and search the park for clues. Return it to Mr Hooper's for a little prize.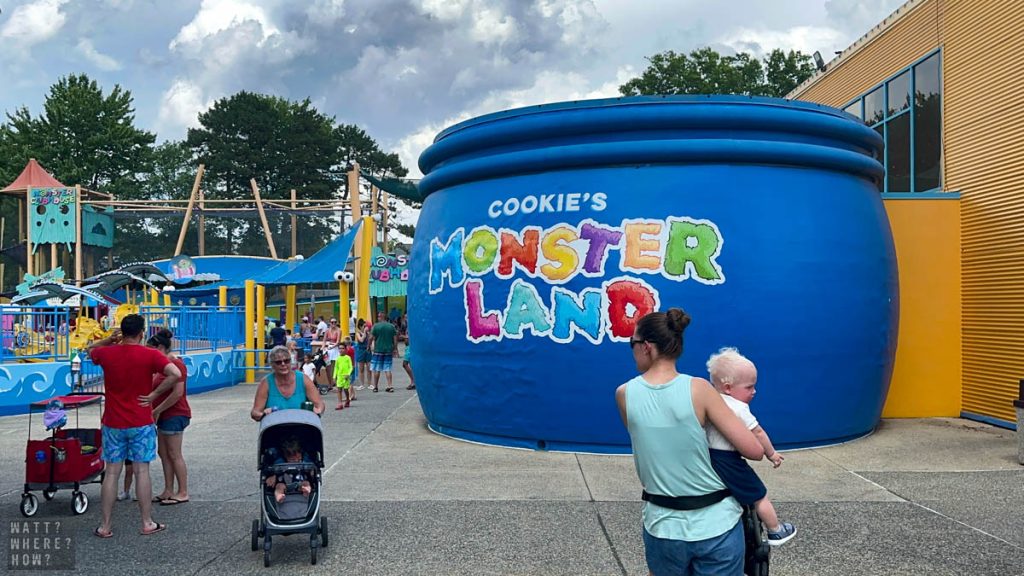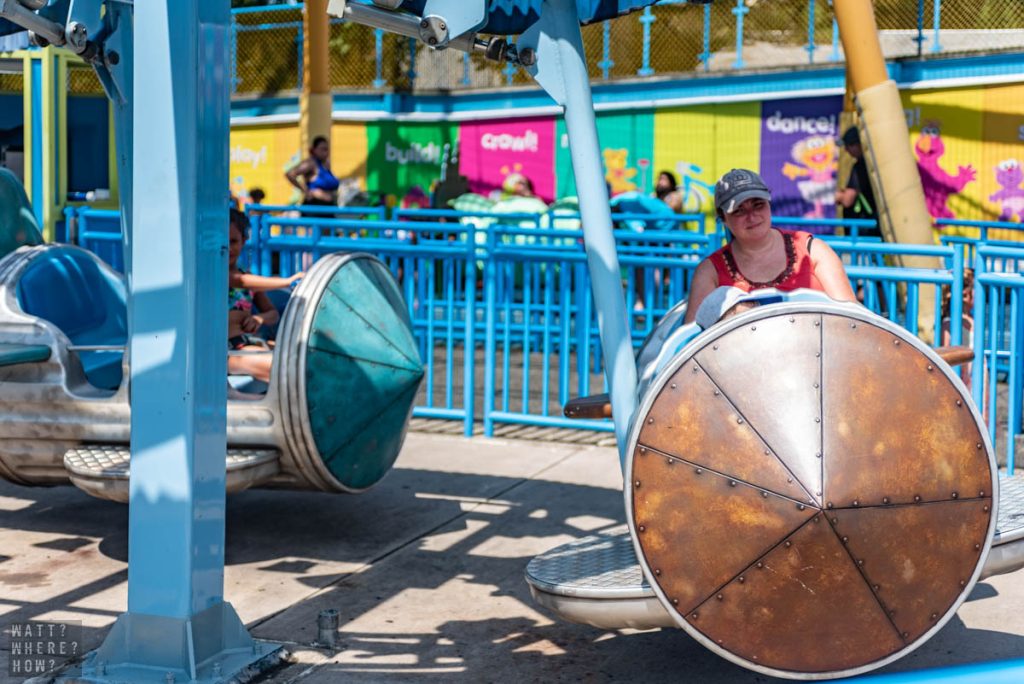 Cookie's Monster Land is a favorite for all ages
It's hard not to love the Cookie Monster and his obsession with snacking. And it's hard not to like the simple but fun rides in this zone. It has it all: Flying Cookie Jars that give you a (big) bird's eye view of Sesame Place; a giant adventure playground; rockets made from trash cans (Oscar's Rotten, Rusty Rockets); and a nautical-themed ride as its centerpiece, Captain Cookie's Hi C's Adventure.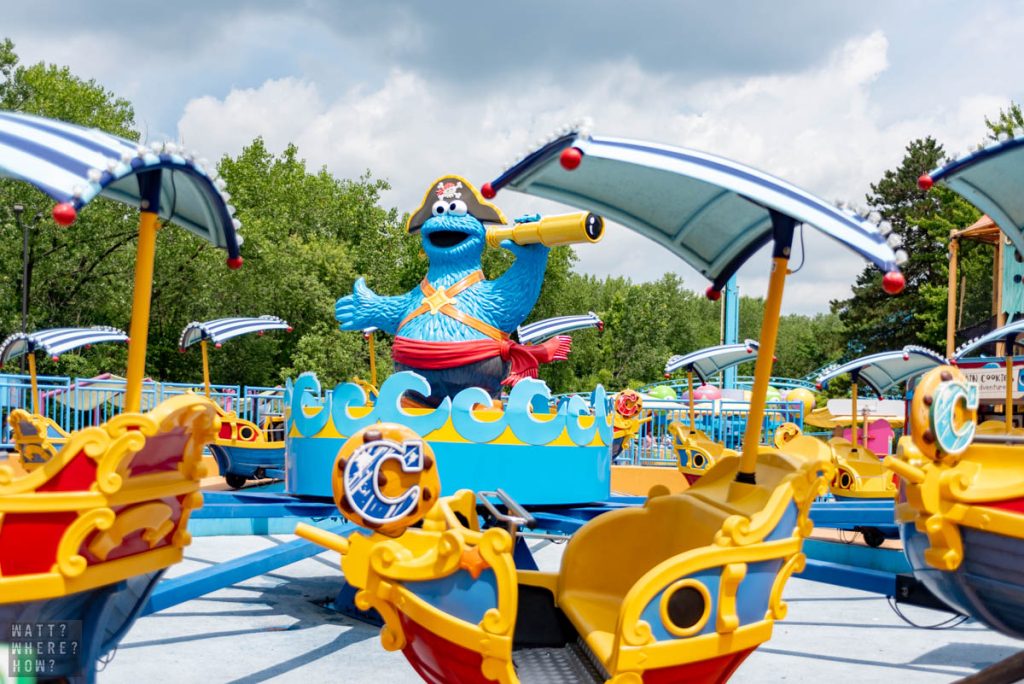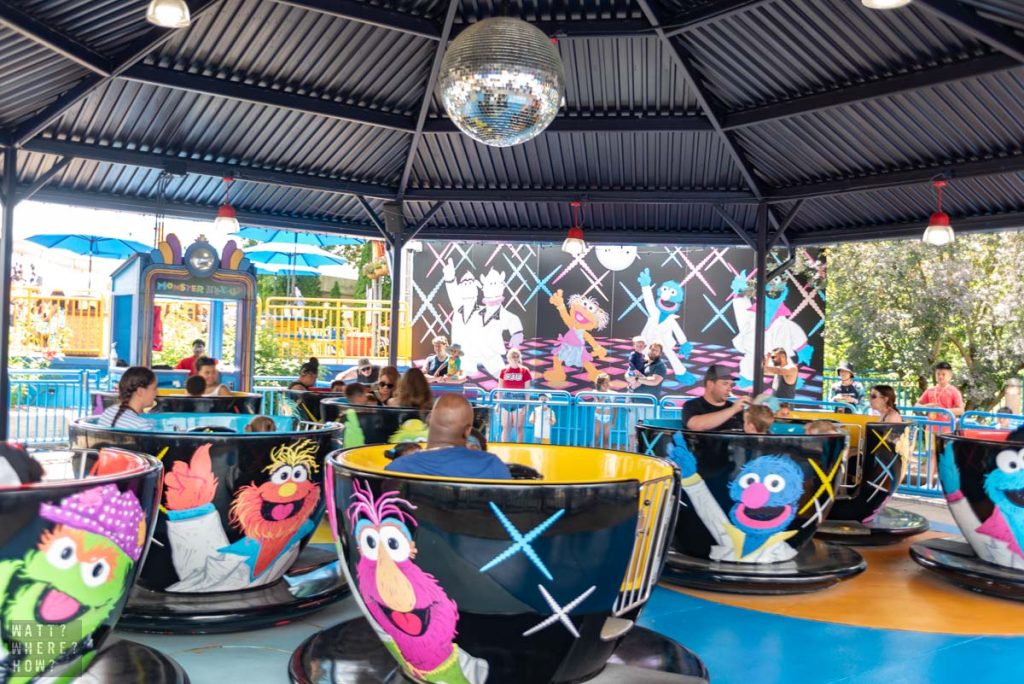 We particularly liked the disco cheesiness of the Monster Mix-Up, Sesame's take on the Tea Cups. Your kids will love taking control of the wheel and spinning you around to classic disco hits. If they still have energy left, set them loose on the climbing nets of the Monster Clubhouse adventure playground.
What?
Sesame Place Philadelphia is a Sesame Street amusement park that brings kids' favorite muppet characters to life. It blends live entertainment, rides, and water slides for a unique family-friendly experience.
What to bring to Sesame Place?
Stroller
It's a big day out, so bring a stroller for your little ones (they do have them for hire, too if you're traveling light).
Swim gear
Swimsuits and swim diapers are a must. If you didn't bring them on your travels, they do have some for sale at the kiosk near the lazy river. If you want to keep your phone close and avoid the $40 locker fees, consider a waterproof phone case.
Hats and Sunscreen
If you're visiting Sesame Place in summer, it gets very hot. Keep reapplying the sunscreen, and everyone should wear a hat or a cap.
Sensible shoes
While Sesame Place is much smaller than a Disney Park, there is still plenty of walking to do. Inevitably, you'll also spend much of the day in and out of the water, so bring water shoes or flip-flops for everyone.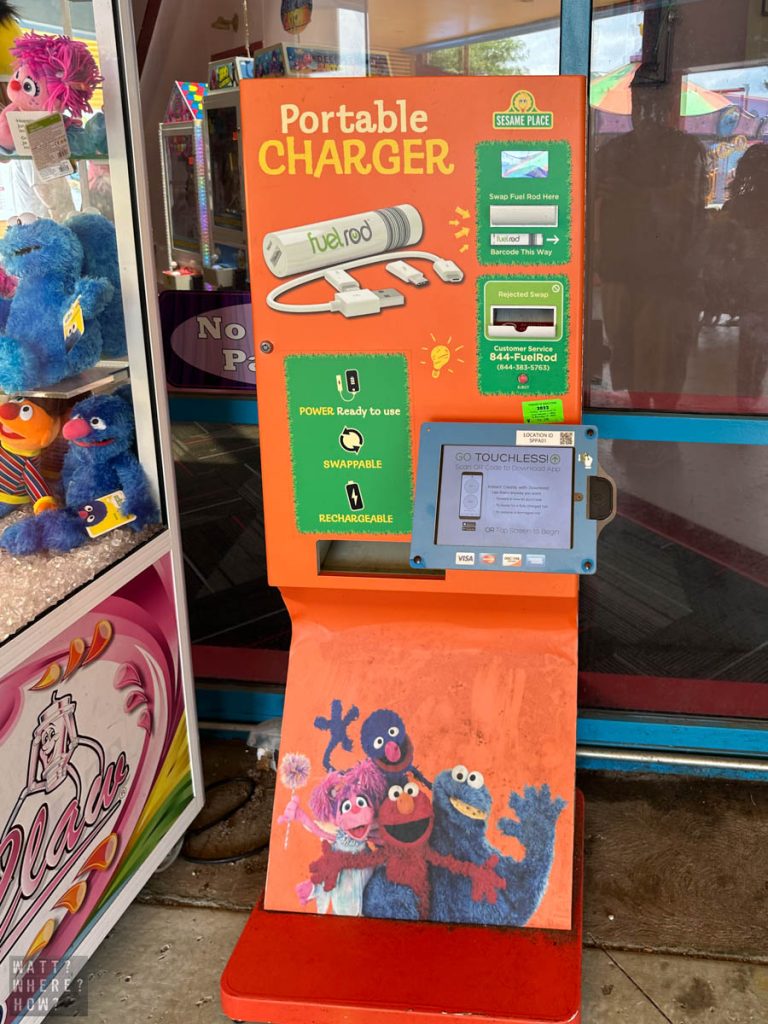 Phone Charger
With the cuteness overload of your kids having the time of their lives, you'll want to keep that phone charged. Bring a battery charger. There are some for sale by the restrooms in Cookie Monster's area, but they cost a premium.
Outside Food?
Unfortunately, Sesame Place doesn't allow outside food and drinks inside. They have some allowances for a 12 x 12 cooler, but the website says you need to give three days' notice and apply for the accommodation via email. Lines are long on weekends, and there are few nutritious food options. Mr Hooper's has some pre-packed wraps and salads, and Big Bird's Burgers and Bites have two salad options, but the rest of the park's fare is burgers, pizzas, fries, and tenders. We did see people with outside food, so I'd say it's at your discretion.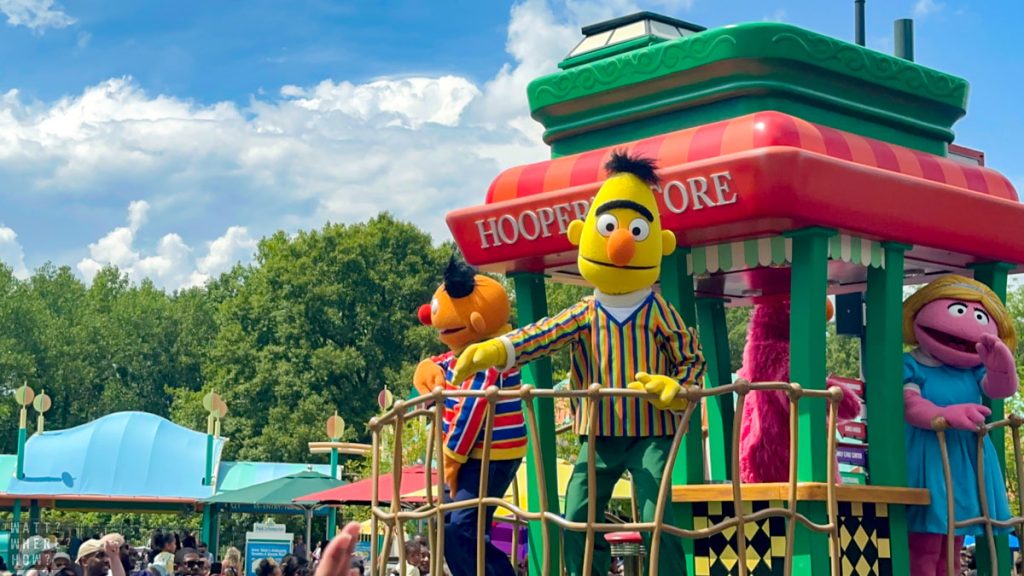 Where?
Sesame Place is located between Philadelphia (about 30 minutes from Philly) and Trento at 100 Sesame Rd, Langhorne, PA 19047.
How?
How to get to Sesame Place via public transit.
Like many New Yorkers, we don't own a car, so doing the numbers of hiring a car, paying all the tolls, the gas, and the insane parking fees, opted for the adventure of taking the train and bus to Sesame Place. It's not for everyone, as we had to negotiate the subway, a train, and a local bus.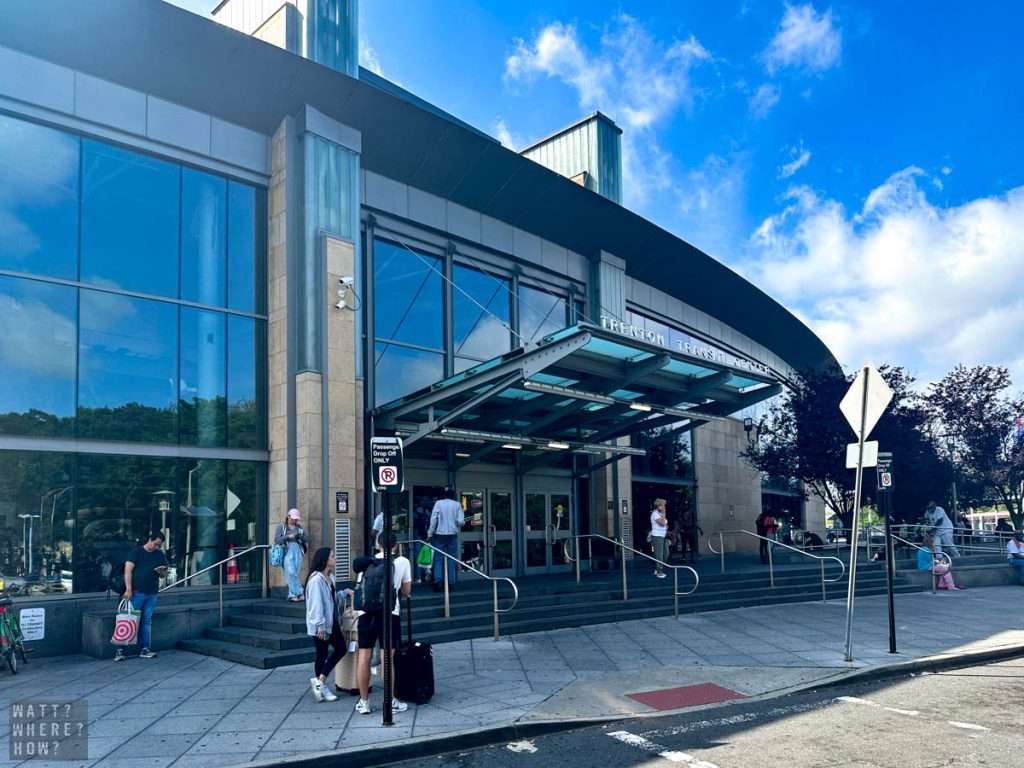 Catch the train from Penn Station New York City, to the Trenton Transit Center for around $15. They run every 30 minutes and take about an hour and a half. Head straight out the front of the Trenton station and across the street to the 127 bus stop. They run infrequently, so make sure you do a Google journey planner to avoid tears. The bus to Sesame Place takes around 30 minutes and pulls up right outside the front gates.
Was it worth it? Financially, yes, but not so much in terms of the time taken. The drive is about an hour and a half versus closer to two and a half hours on the bus and train. We did save about $150 compared with hiring a car, tolls, and parking.
How to get to Sesame Place by car
From New York City
Take NJ Turnpike South to Exit 7A. Proceed West on I-195 to 295 N, which turns into 295 W Philadelphia, take exit 5A Langhorne Rt. 1 North (formerly exit 46A) to the Oxford Valley Road exit. Turn right onto Oxford Valley Road. Turn right at the third traffic light onto N. Bucks Town Dr. (1.5 hours)
From Philadelphia
Take I-95 North to 295 E, exit onto the Morrisville exit 5A/Rt. 1 North (formerly exit 46A). Proceed to the Oxford Valley exit and turn right onto Oxford Valley Road. Turn right at the third traffic light. OR take Roosevelt Boulevard/Rt. 1 North to the Oxford Valley exit and turn right onto Oxford Valley Road. Turn right at the third traffic light onto N. Bucks Town Dr. SEPTA City Buses also service Sesame Place. (30 minutes)
Finally, an honest review of Sesame Place
We've read many positive blog posts about Sesame Place, and several are based on complimentary tickets, so they are normally glowing. We got tickets in a pre-season sale, and for what we paid, we had a fairly good time. Our kid loved it. Just know that this isn't comparable to a Disney park, yet when at full peak summer prices, the cost is comparable. Here's our honest, warts 'n' all take. We still recommend Sesame Place, but it wasn't without its issues.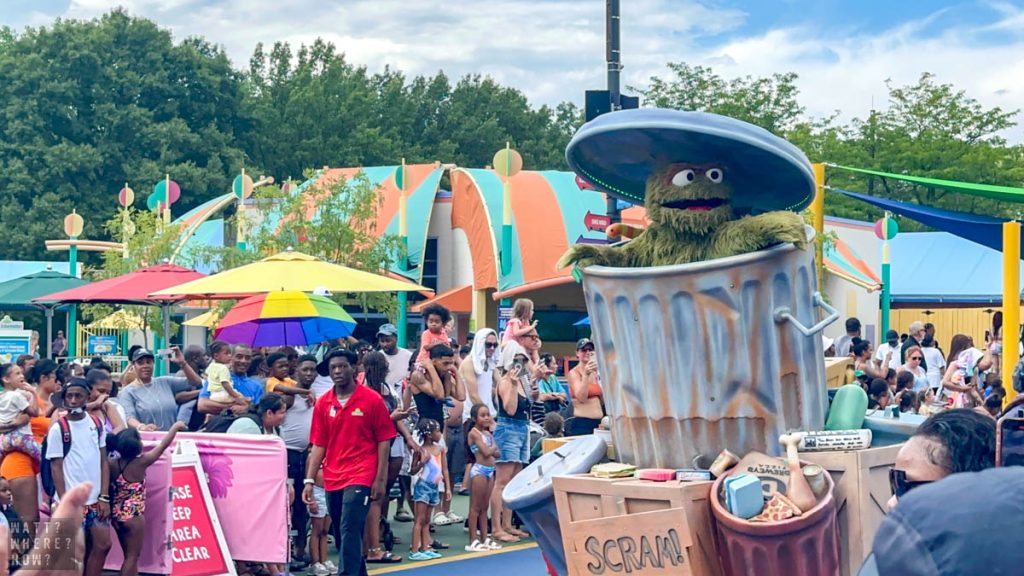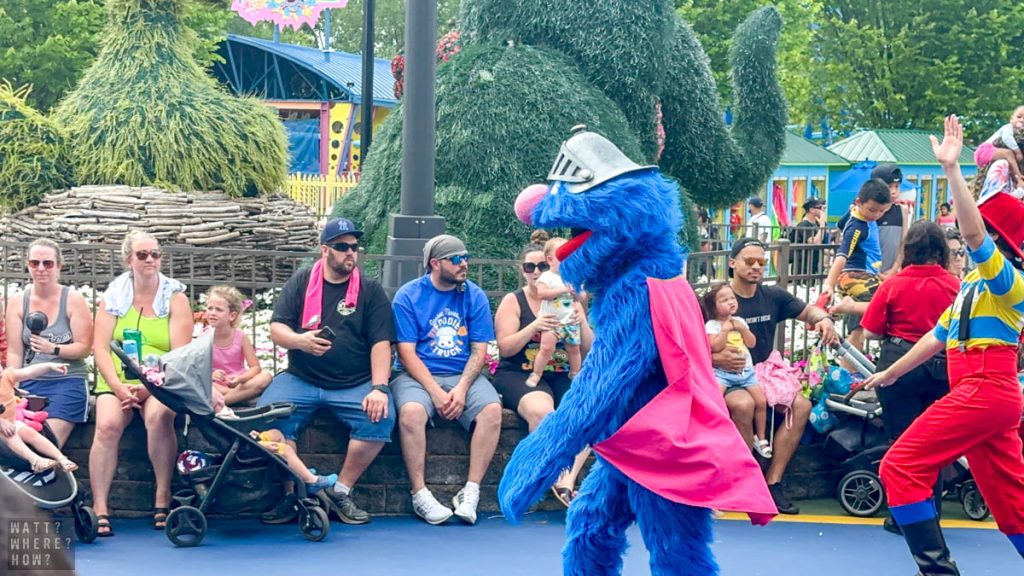 The Good
It's hard to describe the pure joy of seeing your child recognize their favorite characters right in front of them. For our daughter, she lost her mind at the live performance, as if she was in the front row of The Beatles at Shea Stadium.
The parade is also fun, with entertainers riding, jumping, and dancing between the floats carrying the main cast of Sesame Street furries.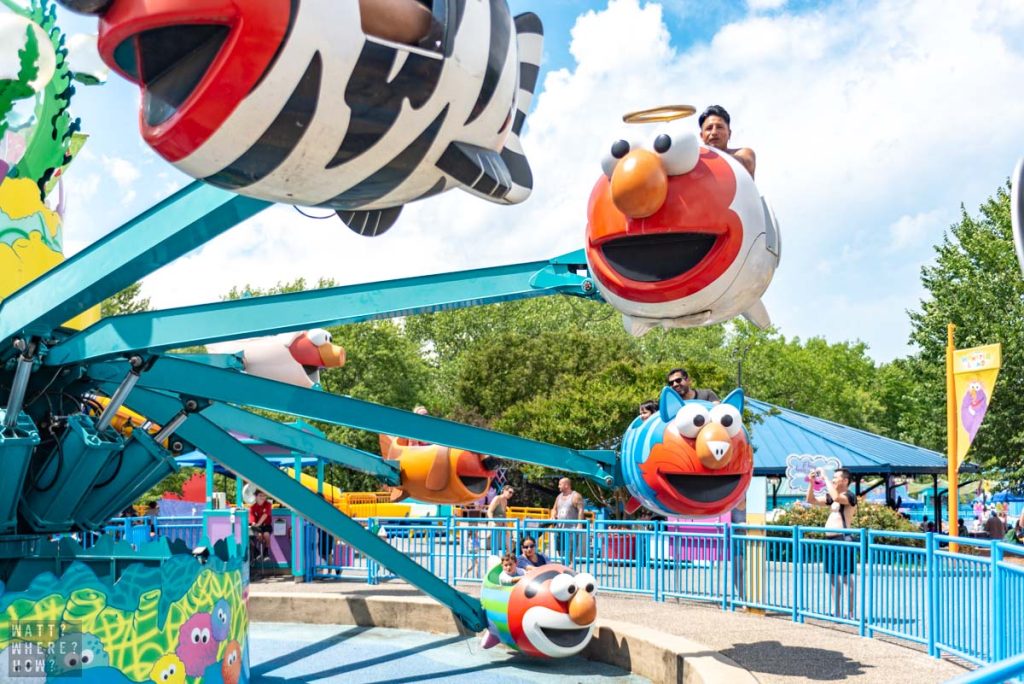 The Bad
Our time at Sesame Place was mixed. For one thing, the Sunny Day was over 100F, and many of the vendors weren't open (more about that later) and sweeping the clouds away – it was the opposite as an epic summer storm bore down on the park, leading to a 4 pm closure and much less than a full day of family-friendly fun as promised.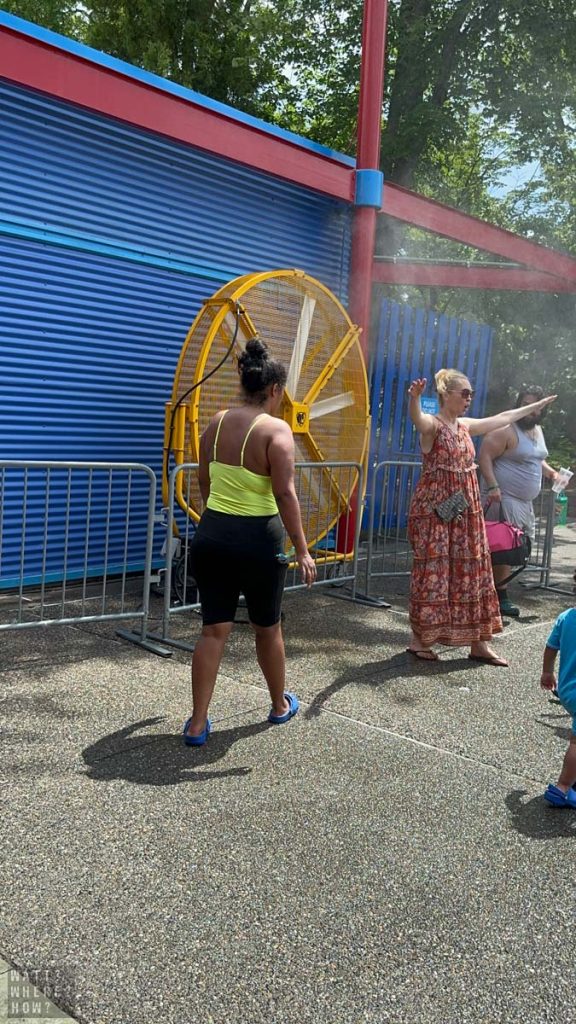 Food options at the park are limited and far from appetizing. To make matters worse, the day we went, several outlets were closed, and the online pre-order system was down, meaning queues of up to an hour to get in at any of the restaurants (we use that term loosely). ABC Eats, a Mac and cheese stand, had run out of product by 1 pm and was closing, Abby's Backyard was closed, as was Rosita's Cucina, and the lines for Big Bird's Burgers and Bites extended back into Elmo's World. It's also the only place in the park that offers milk for sale – an essential for babies and toddlers.
It gets busy with heavy queuing, yet it's such a small park it's hard to justify paying up to $120 per person for Abby's Unlimited Magic Queue in peak season – more than the price of entry.
The Ugly
People are vocal about Disney parks and their prices, but Sesame Place was particularly disappointing with its hidden prices and questionable value for money. The parking is super expensive based on its captive audience, starting at $45 for the day. Ouch.
Another nasty surprise is the cost of the lockers. If you drive, it's worth running anything important back to your car, but if you have come via bus, there are not a lot of options for storing your valuables, and that's when they really get your hard-earned money. Lockers are between $35 and $50.
If you have the money and inclination (this is NOT a cheap experience), you can go to the Photo with Elmo & Friends stand. Here, a set of shots will set you back well over $50. After the free and easy experience of getting photos with characters at Disney parks, this feels excessive and unnecessary. The same can be said about the character dining experiences, where the food is truly subpar.
Finally, staff training is poor. We asked the family help center staffer where to get milk for our toddler. The person couldn't answer. Additionally, there's only one vendor that has milk on the menu, and as stated, the lines were insane – especially in 100-degree heat and no cover. For a place that is targeted at under 5s, not offering milk for sale around the park is not cool.
Follow & Connect with us