New York's epicenter of hipster cool, Bushwick rolls out the welcome mat to the local population at the Bushwick Collective Block Party – New York's biggest annual block party.
The corner of Jefferson and Wykoff reeks of effortless, edgy coolness. Gig posters are wheat-pasted on corrugated iron fences, advertisers use full wall murals instead of billboards, bars serve brunch, craft beers, and southern style barbecue and it's where you'll find the best of the city's street art, care of a community of illustrators, designers and muralists – The Bushwick Collective. But it wasn't always like this.
Bushwick has earned its "cool" by reinventing a former industrial wasteland of 1930s factories, warehouses, and highly polluted canals. Mixed between this heavy industrial land use are pockets of suburbia, where lower-class families lived through the days when these streets weren't just mean – they were a tinderbox of gang violence and mobsters. Like any city, the low rent that comes with these issues attracts low-income creative minds – the artists, musicians – the bohemians.
As neighboring hot spot Williamsburg became the place to live, rising rents drove more artists and students out to Bushwick, Bed Stuy and Ridgewood, slowly gentrifying it with cozy cafes and craft beer-serving dive bars. But it's these streets and warehouse that have long been home to the Collective who have transformed barren garages and lofts into studios. The Bushwick Collective block party is their annual showcase, a celebration of their growth and work where for one day the rest of New York gets to see a glimpse of their habitat.
The Wyckoff Beer Garden
A former junkyard, the Wyckoff Beer Garden is the newest addition to the local nightlife. It's high brick walls are the perfect canvas for the street artists. It's a large space with a beach meets dive vibe – especially with the addition of a sandpit, which is a welcome addition for the local kids. Everything is open to artistic interpretation and even an old bump in the pavement makes a rather darkly humored severed thumb. A set of draft taps delivers icy cold local craft beers.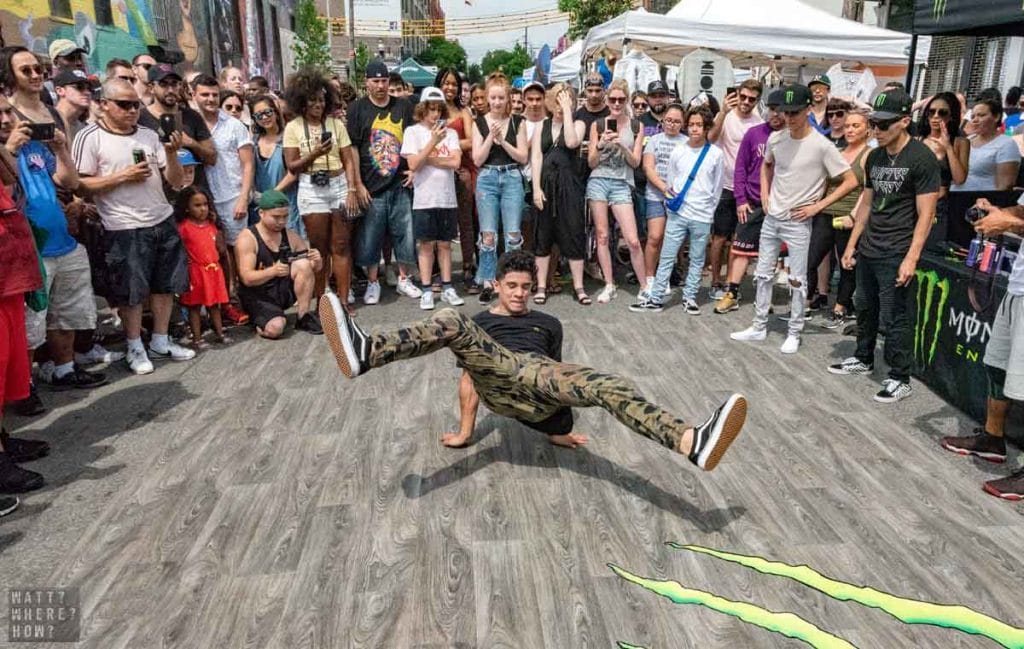 Breakdancing in the Streets
Today Jefferson has been transformed. A large crowd is congregating around a Monster Energy Drinks marquee. Yes, the event has sold out and street brands relish the chance to associate themselves with street art and Brooklyn.
At least they bring something to the party – you could say they bring the party, with a huge sound system, DJs and an ongoing breakdance battle that creates amazing 80s flashbacks.
Further down at the intersection of St Nicholas Street, a full stage has been set up. Over the course of the day, it will play host to producers, djs, rappers and Jah Rule. For us, it makes for the perfect soundtrack, punctuated by the percussive beats of a spray can being shaken and the hiss of paint leaving the nozzle, turning damaged red brick into the perfect canvas.
That's what we've come to see and that's what the block party delivers – live performance art in the form of members of the Bushwick Collective creating intricate stencil work and even incorporating decoupage into their towering masterworks. This is what has brought everyone to Bushwick today and it's what will keep it attracting new residents and artists.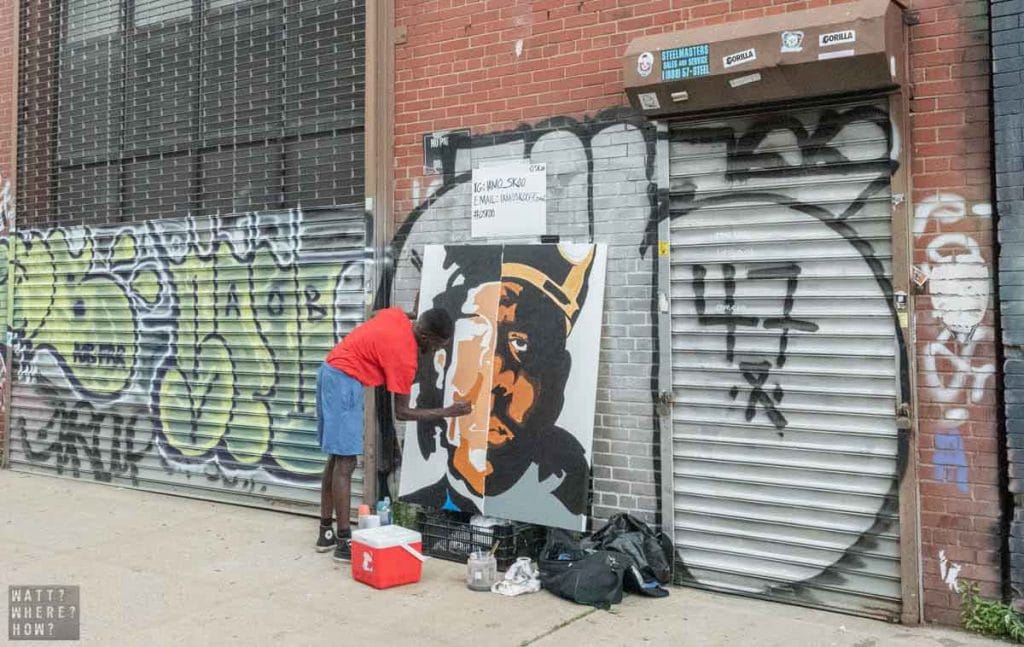 As New York residents, Bernie and Jess have a range of incredible local places to try or to add to your New York travel itinerary ideas here.
WHAT?
The Bushwick Collective is a community of artists living in former warehouses in Bushwick, New York City.
WHERE?
St Nicholas Ave, Brooklyn, NY 11237
HOW?
The Block Party is once a year, but catch a local street art walking tour all year round.
Follow & Connect with us