As Aussies, we think we're the barbecue kings and queens of the world. Americans, on the other hand believe (and are blissfully oblivious of most other cultures anyway) that their barbecue cuisine reigns supreme. So when we hit Austin, the Barbie capital of the south, it was top of our things to do list.
A good Aussie barbecue is about the quality of the steak, lamb chops, and sausages and for the more well to do, reef fish. Despite pop culture references, prawns or shrimp are enjoyed cold and not thrown onto a grill. Real American barbecue is a different beast. Ribs, brisket, hickory smoke and bourbon-based sauces are the flavors locals crave. So selecting the two best rated options within walking distance, we set out to try our luck.
First stop was the one place that tops every hot list – Franklin Barbecue. It's the barbecue mecca and the one that is featured on all the food and travel Texas specials. And you can smell the smokiness from a mile away.
Half an hour before opening time and there's a queue. Not just any queue. A camp out. Literally! People have been in position since 7am. The line weaves down the hill, around the corner and up the street. As for camping, everyone has camping chairs and card tables and are well and truly comfortable. There are epic games of Card Against Humanity taking place and most waiting have opened cases of beer and hip flasks.
Realizing that we won't even make it in before its 1pm closing time, we sally forth to number two on our list, Micklethwait Craft Meats. Walking up hill, we're rewarded with a taste of Austin life. There are all manner of backyard parties, demountable cafes and venues that take advantage of the great weather and relaxed vibe. We pass original soul venue, Victory Grill that served returning African American soldiers after WW2, the Hillside Farmacy and brunch hot spot, Paperboy en route to our next stop.
As we walk up the driveway, you can smell the smoke drifting from the barbecue and this is exactly what we have come for.
Unlike Franklin, there are only a handful of people in front of us. We can't believe our luck. We take our place behind a few diehard meat eaters, queuing in line for a very humble caravan and its smokehouse trailer. Wooden picnic tables make for a quaint backyard vibe and there are already people sipping ice-cold beers.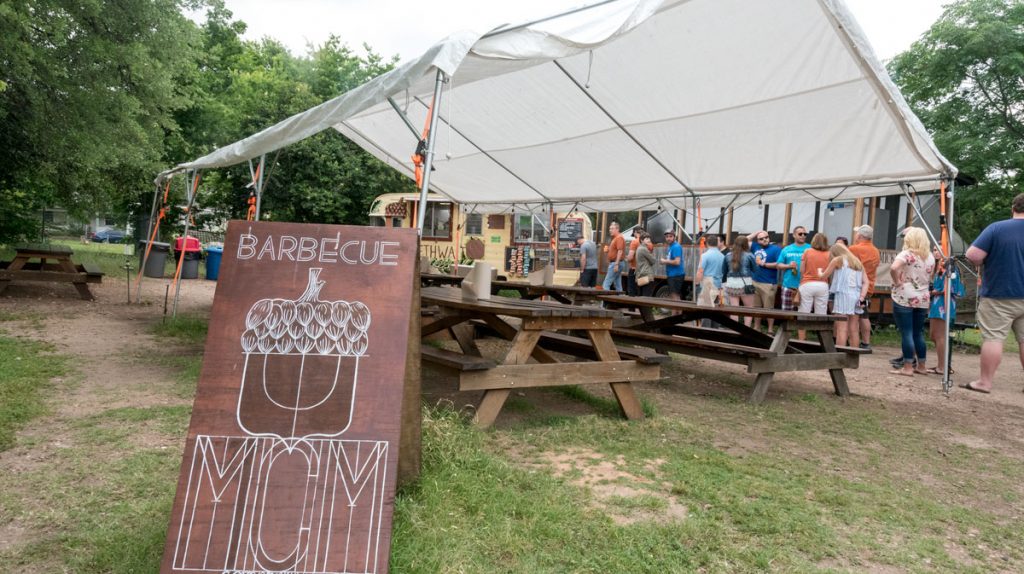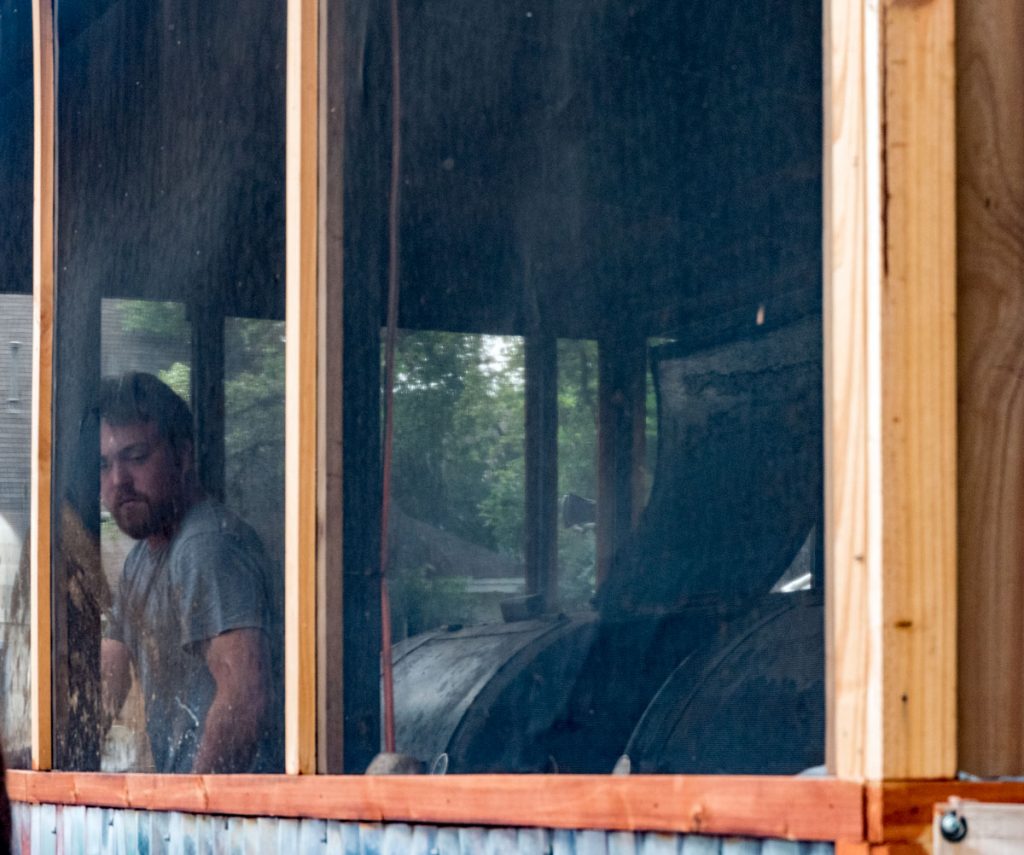 This is where the magic happens
After only a few minutes in line, the doors, or windows, open up, right on the stroke of 11.  It's not too hot, but having walked five miles already, the excitement of seeing a cooler with the sign, "free beer" above it is giving us minor heart palpitations. We approach with caution, half expecting a fake snake to jump out as we reach in – a favorite family prank back home. There isn't one. Just legit, ice cold, free Austin-made beers. Screw the ice-cold soda we'd be daydreaming of having to wash down our meat binge – hit us with a pilsner. All right, maybe three.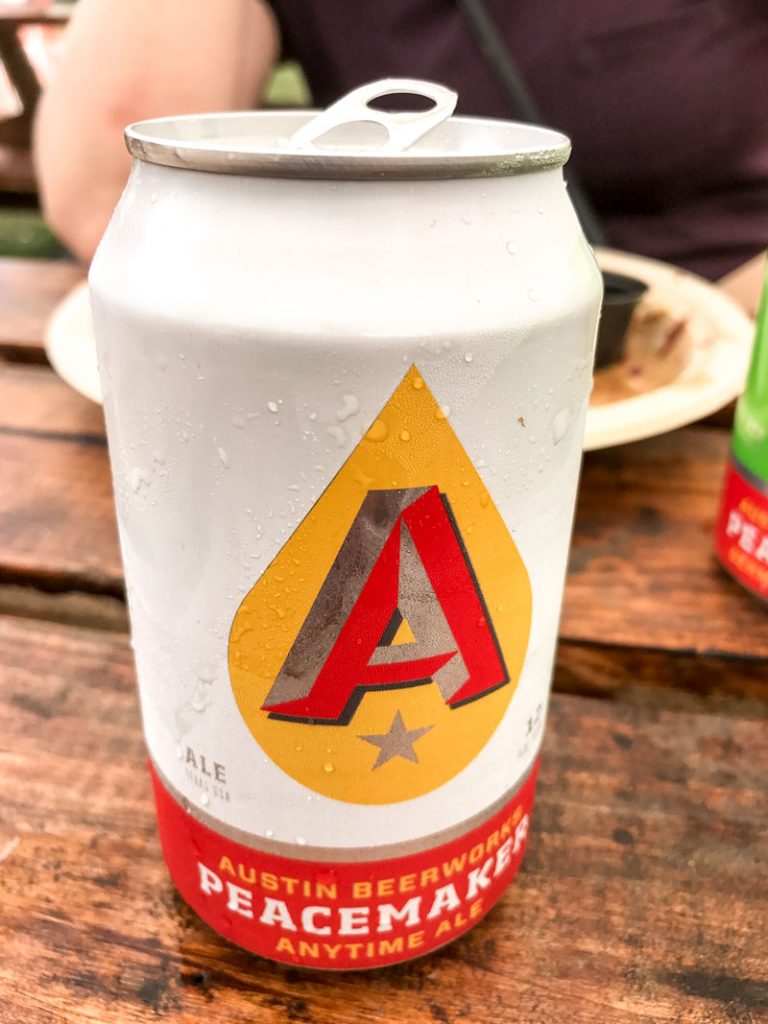 Still trying to work out what the trap is with the offer of free beer, we approach the order window with anticipation. Instead, we're greeted by a cheery hipster and the chance to get a budget friendly meal with two types of meat and two sides. Within what seems like only minutes, we're drowning in moist and tender brisket, deliciously juicy pork ribs, Texan bean chili, potato salad and country slaw.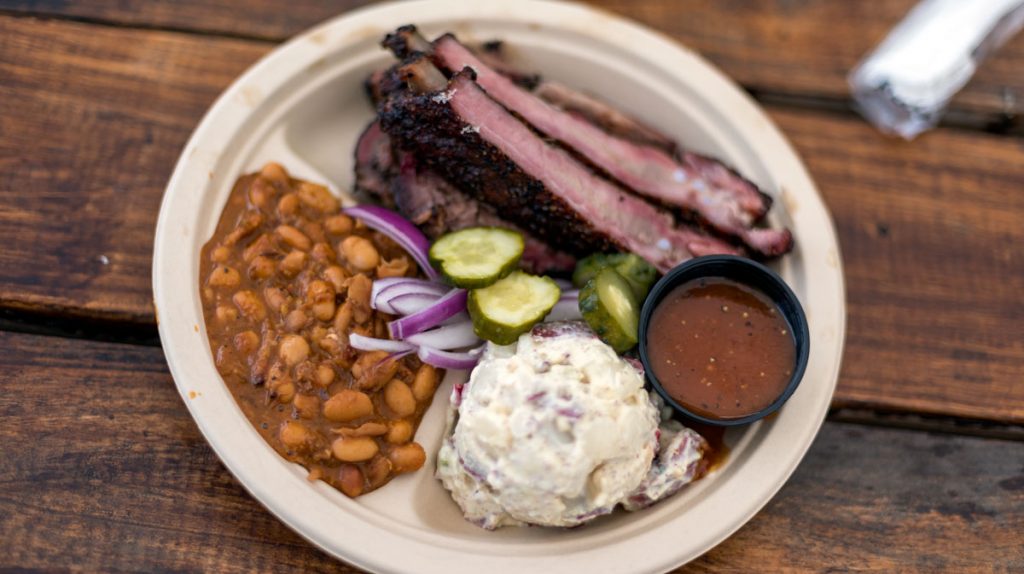 His: Pork ribs, brisket, potato salad and smoky beans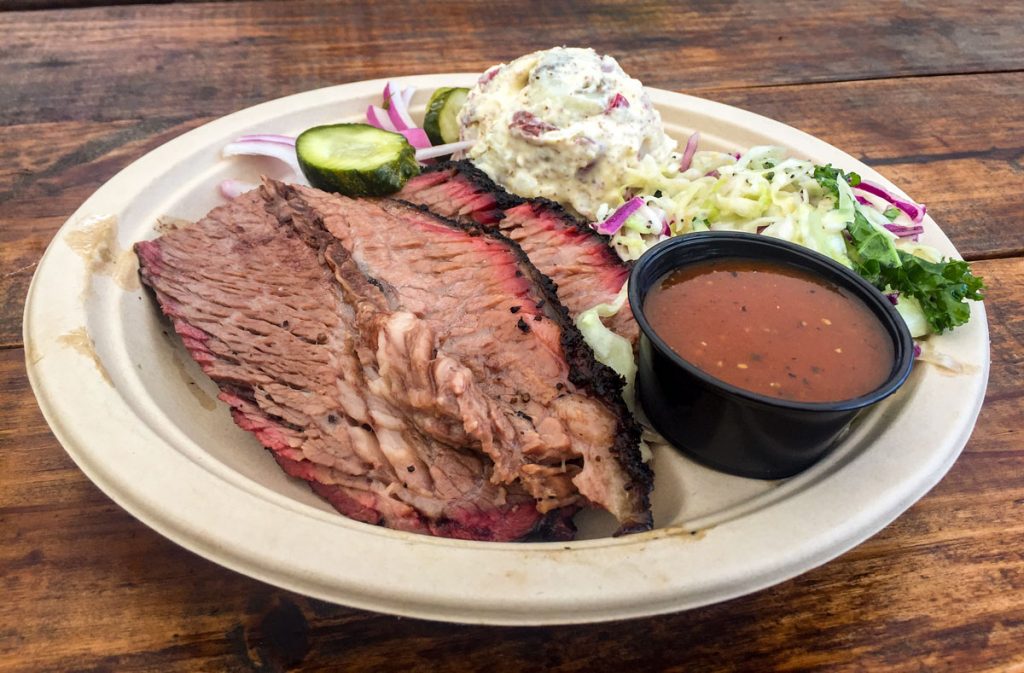 Hers: Beef brisket, slaw and potato salad
Sure Franklin must be damn good if it can beat the meal we just ate, (and the free beer we just consumed), but this place wins on vibe. Two days later and we're still suffering from the meat sweats but Micklethwait Craft Meats was all worth it!
WHAT?
Franklin Barbecue and Micklethwait Craft Meats
WHERE?
Franklin Barbecue: 900 E. 11th Street, Austin, TX 78702
Micklethwait Craft Meats: 1309 Rosewood Ave, Austin, TX 78702
HOW?
The places are walk able from downtown, but you will work up quite appetite on the way.
Follow & Connect with us