The Disney Art of Animation Resort is a family-friendly vacation destination, inspired by the modern era of Disney and Pixar animated movies. If you want to get your kids excited about visiting Walt Disney World in Orlando, this is THE place to stay.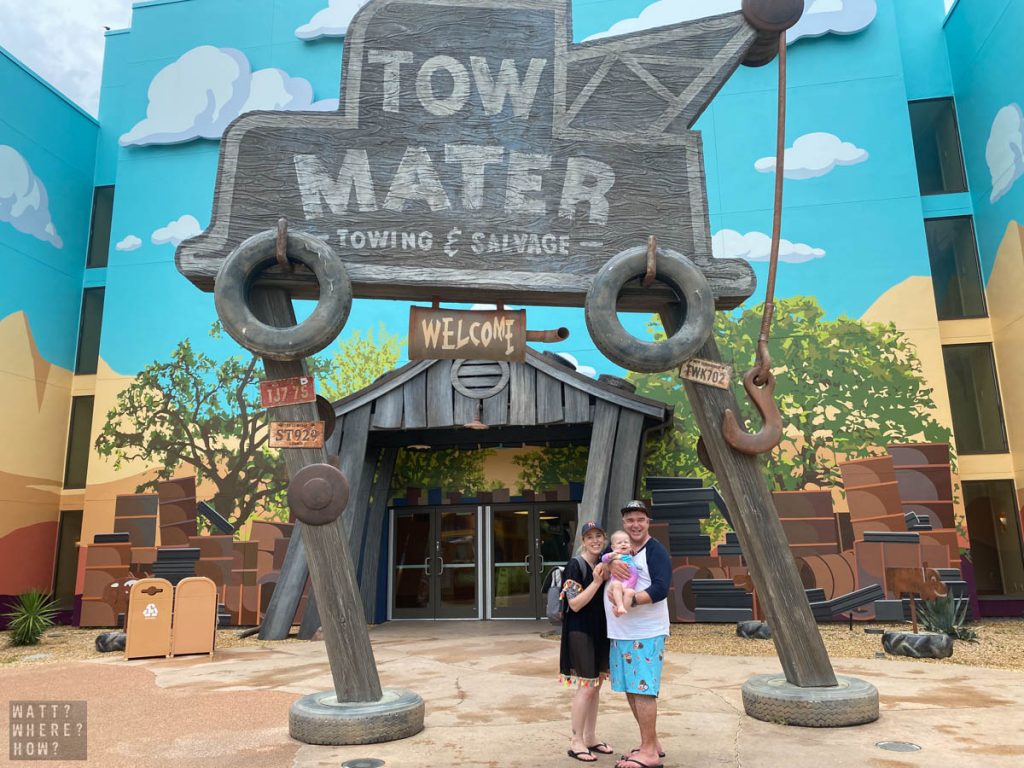 Staying at the Art of Animation Resort Orlando
The Disney Art of Animation Resort is one of the Disney budget accommodation options, sitting on the same tier as the neighboring Disney Pop Century resort. Disney World resorts have different budget rates for relative price points and Disney Art of Animation Resort sits on the upper end of our comfort zone at around $250 a night ('it including taxes and resort fees).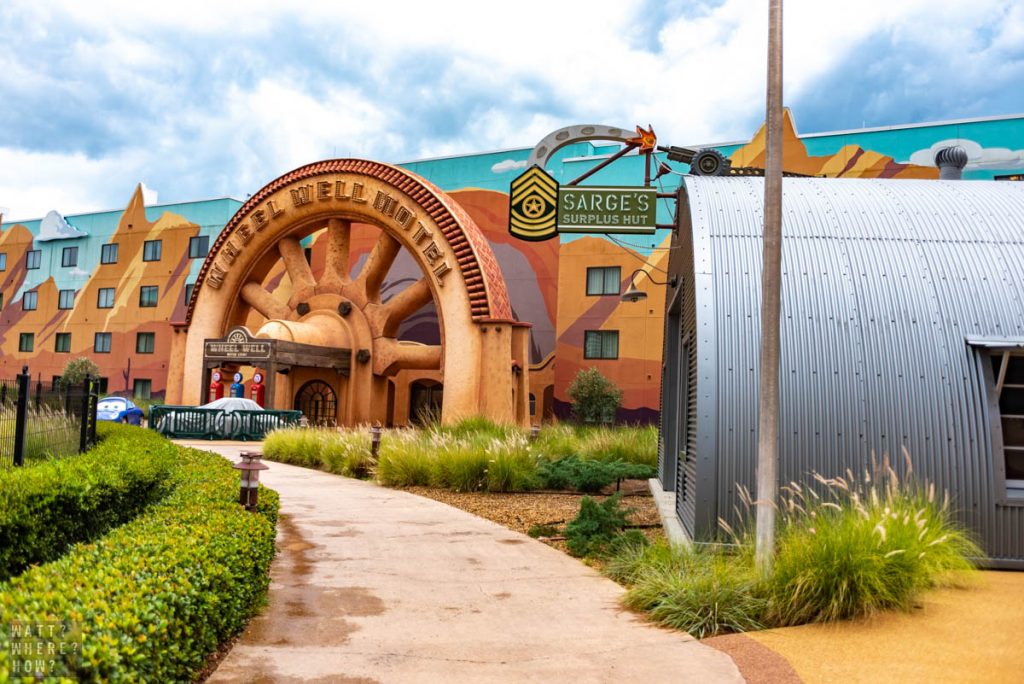 While we'd love to one day stay at the Star Wars Galactic Starcruiser with its immersive role playing and fantasy level price tag of $4,809 for two in off peak seasons, the Disney Art of Animation is perfect for our new family. And if you are a Star Wars fan, check out some of our Disney Hollywood Studios posts.
We've decided to make it a tradition to take our little girl to a Disney park each birthday and for her first birthday, we're starting with Epcot as it has the most adult-oriented experiences and baby friendly mild rides. The Disney Art of Animation Resort is also appealing for this reason as it is directly connected by the Disney skyline, a modern ski carriage way.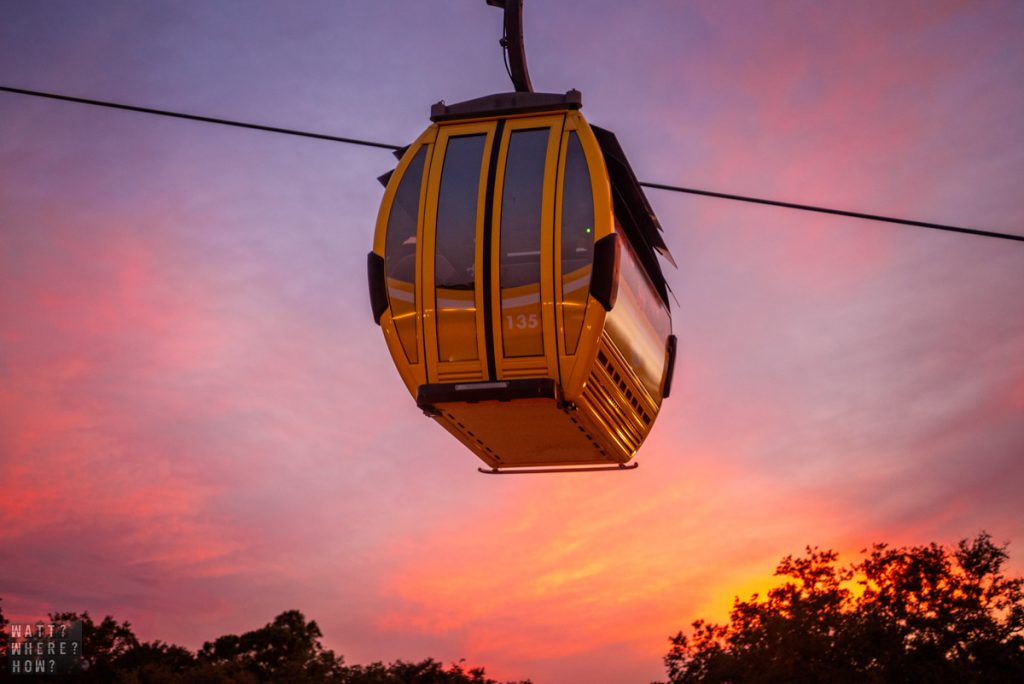 Both Disney and Pixar have been part of an animated renaissance in movie making, after the genre became stale in the 1980s. Since Toy Story broke box office records and introduced a sophisticated 3D style previously unseen and Disney set to refocus on exceptional storytelling in movies like Aladdin and The Lion King, it has created a multi-generational following that justifies this fun resort experience. While Pixar dominates the attractions at the Disney Hollywood Studios theme park, the Disney Art of Animation is balanced in its themes between Cars, The Lion King, Finding Nemo, and The Little Mermaid.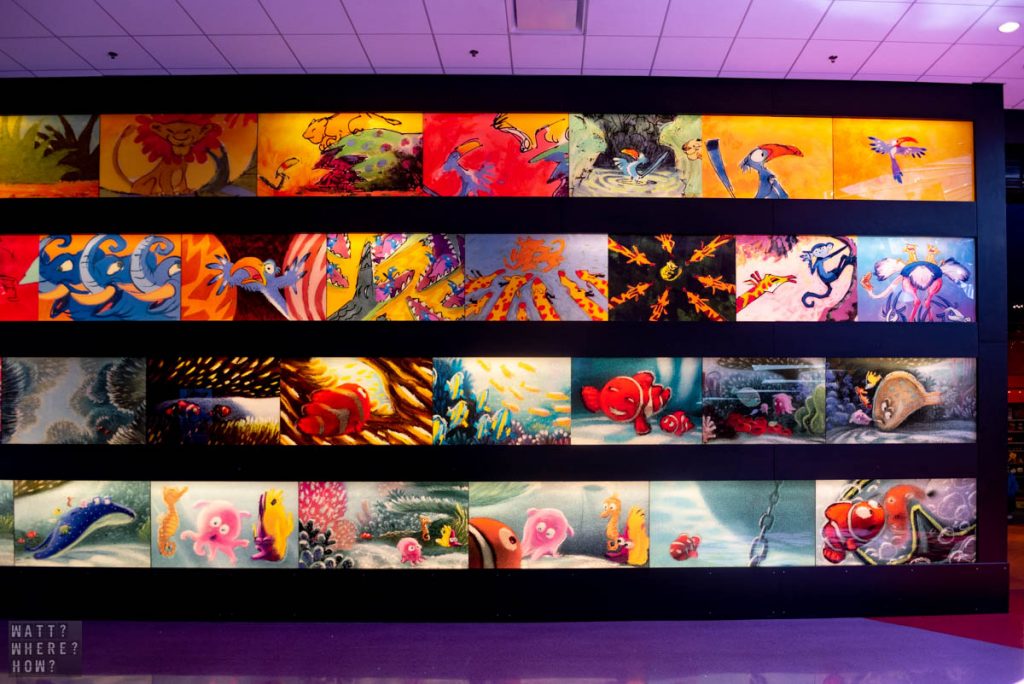 Disney's Art of Animation Resort was built in 2010 on the site of a former ultralight airstrip. Every aspect of its design reflects the creativity, processes, and inspiration that goes into the magic of animated cartoons. You'll see early thumbnail strips, storyboards, artboards, and cello sheets whether rendered as art on the walls, emblazoned seven stories high, or floating above the central foyer of the Animation Hall.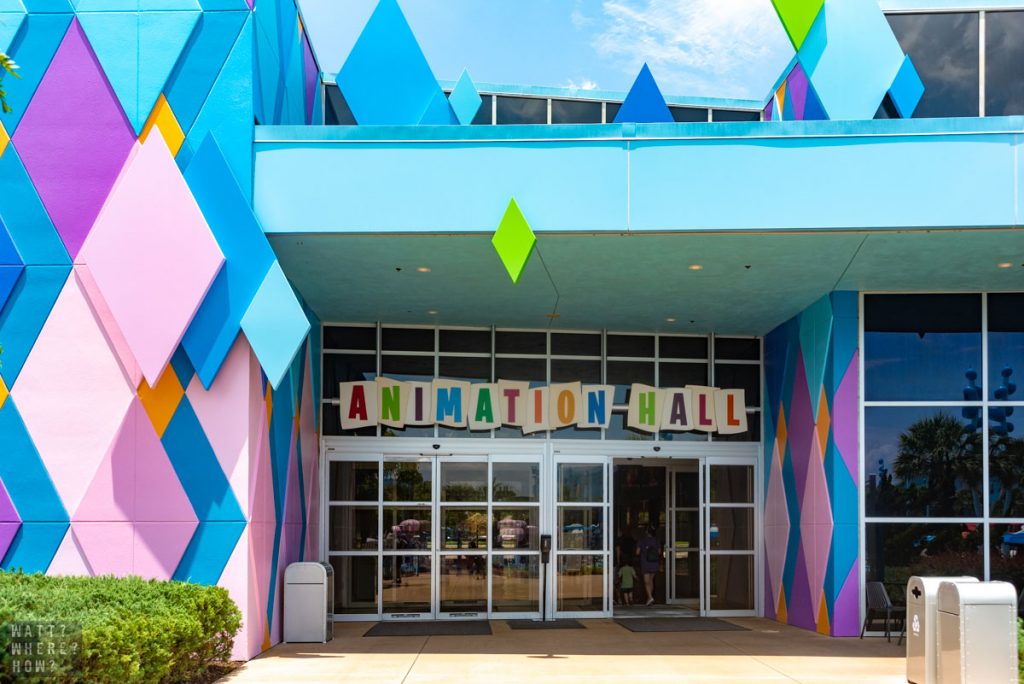 Set on Animation Drive, just off the main Buena Vista Boulevard, the resort sits on the shore of Hourglass Lake. An impressive marquee welcomes guests and introduces a visual theme that carries through the whole resort. An entry vestibule offers shelter for drop offs and cabs, Ubers, shuttles and coaches service the resort from Orlando International Airport.
Check in at Disney's Art of Animation Resort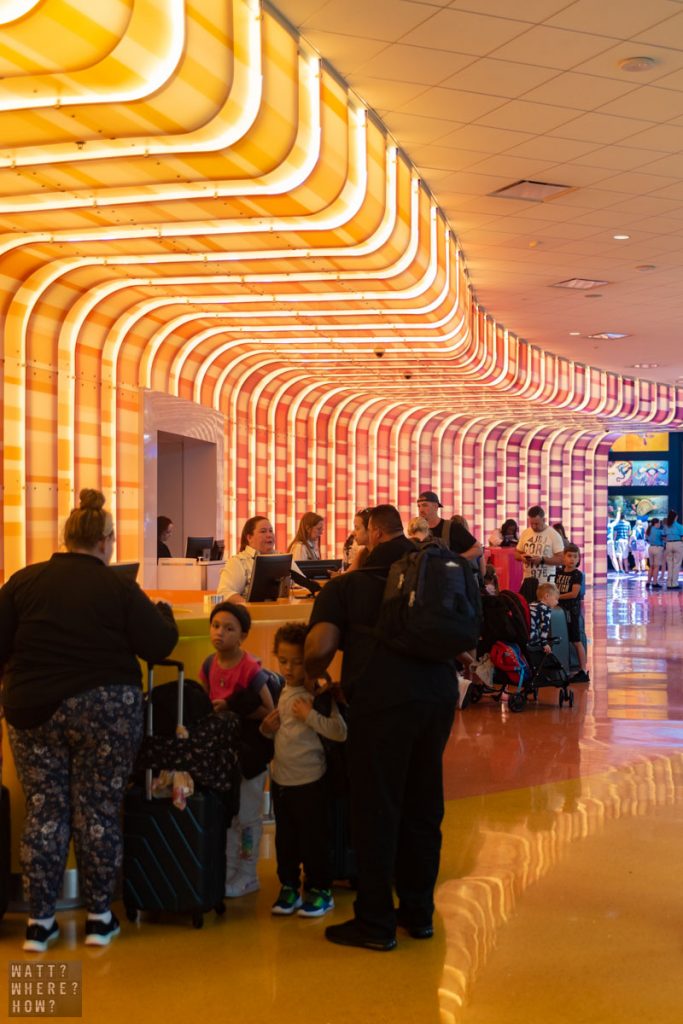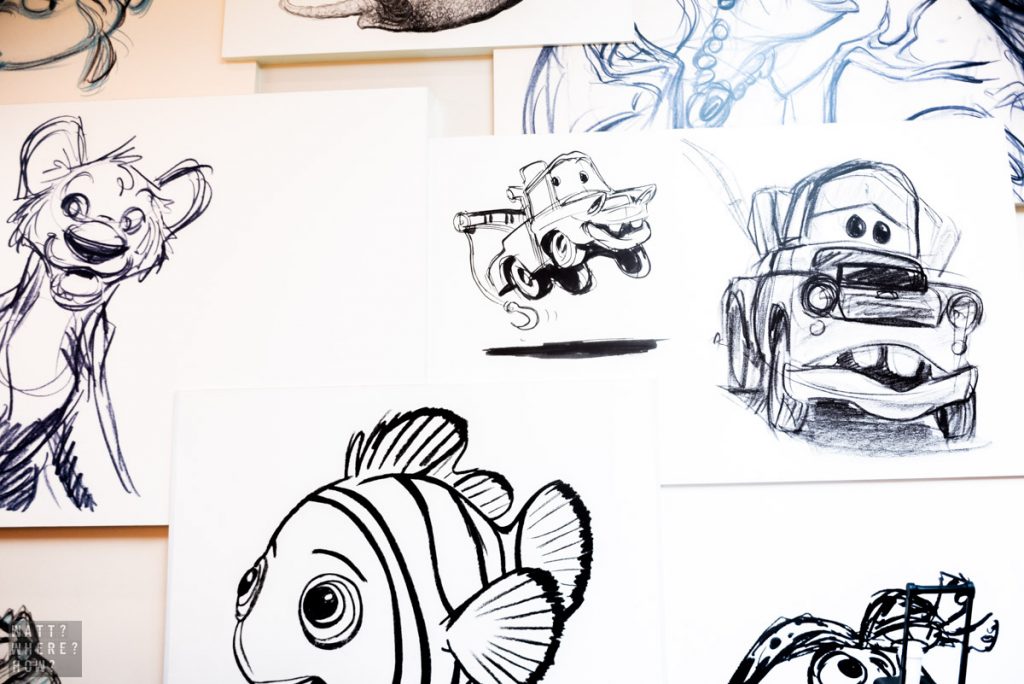 Entering the main lobby of the building known as Animation Hall, the theming is immediately apparent. It's floor to ceiling cell animation sketches from Cars, the Little Mermaid, and the like. It's a little chaotic as we've arrived at the crossover of those checking in and checking out, but when your welcome party is Balloo the bear and some random 80s character that looks like it has imbibed on too much moonshine you know you're not in Kansas anymore, Toto.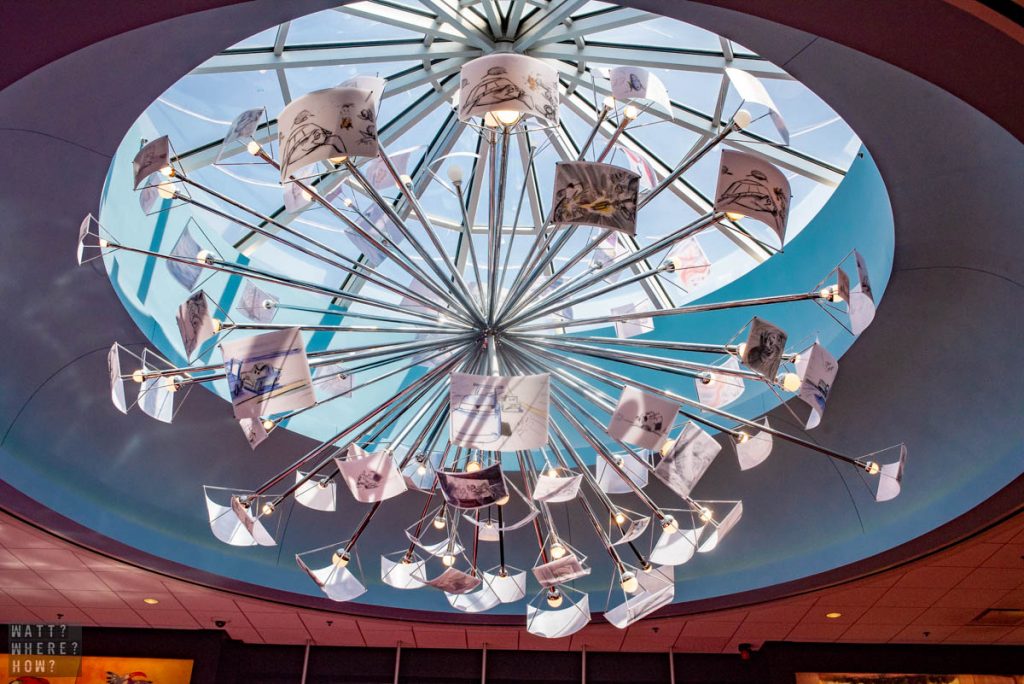 The Disney Art of Animation Resort Features
Three pools and a playground
Pools at the Disney Art of Animation are popular hubs of activity, with the central pool, the 11,859 sqft. Big Blue set in an area inspired by Finding Nemo. Pumped through the sound systems (and even through the water) are soundbites and songs from Finding Nemo – with Down Under by Men at Work a pleasant surprise for us Aussies.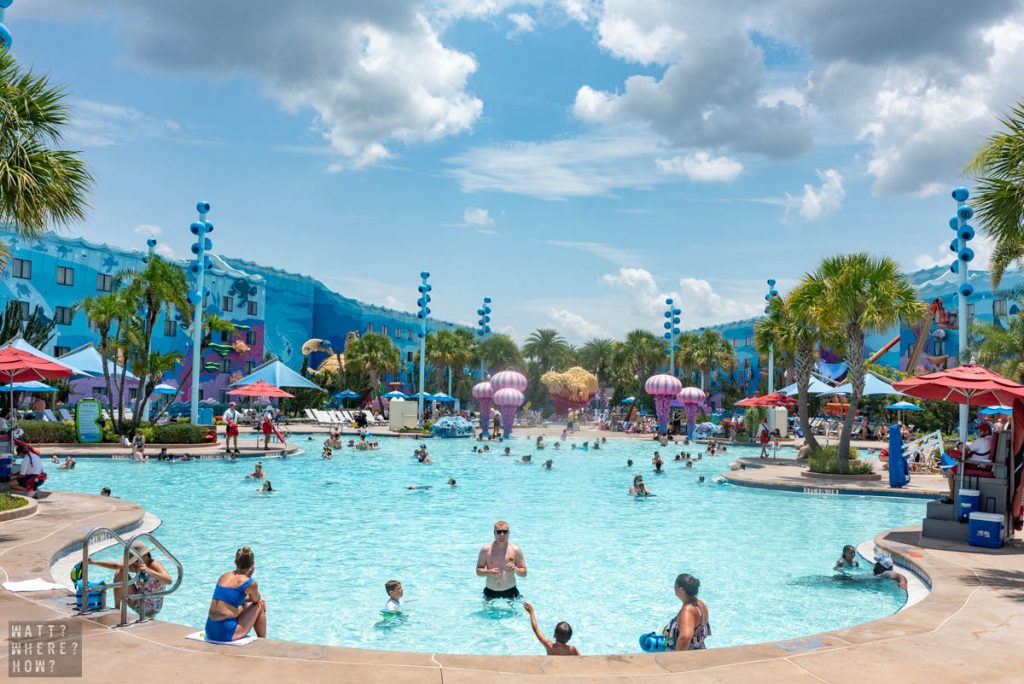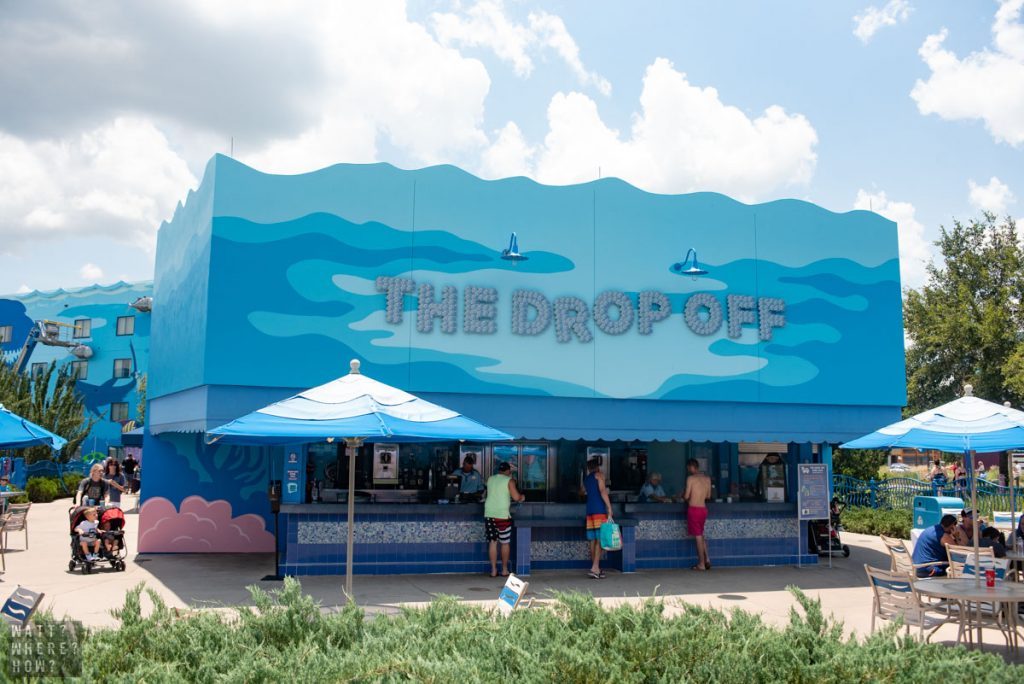 Directly adjacent to the Big Blue pool is a block where you'll find the Drop Off bar, a handy laundromat (great for longer family stays), public restrooms, and outdoor ping pong tables. For the little kids, there's the Schoolyard Spray Ground playground of water spouts and mist sprays and for the older ones, the Righteous Reef Playground has plenty to climb on, crawl around, and slide down.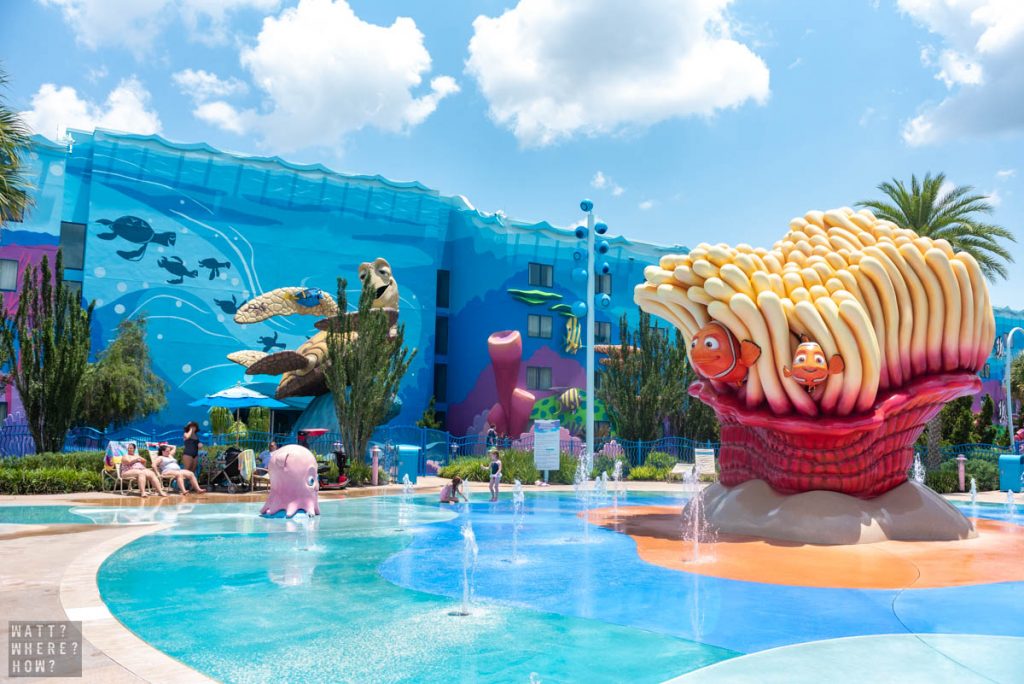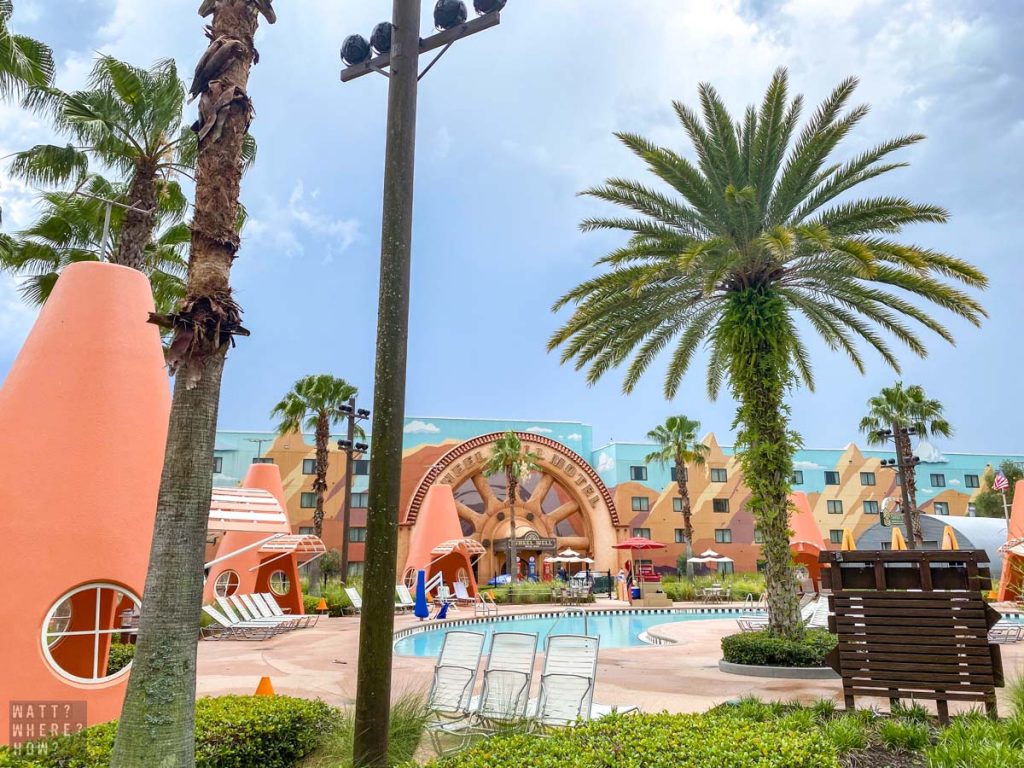 The pool in the Cars area is known as the Cozy Cone Pool and has a desert oasis vibe. Unlike the Big Blue pool, this one is smaller and has limited facilities – but it does have a laundromat in the area. Watched over by two lifeguards, swim and bask in the Florida sun or recline on a sun lounge while the fam frolicks.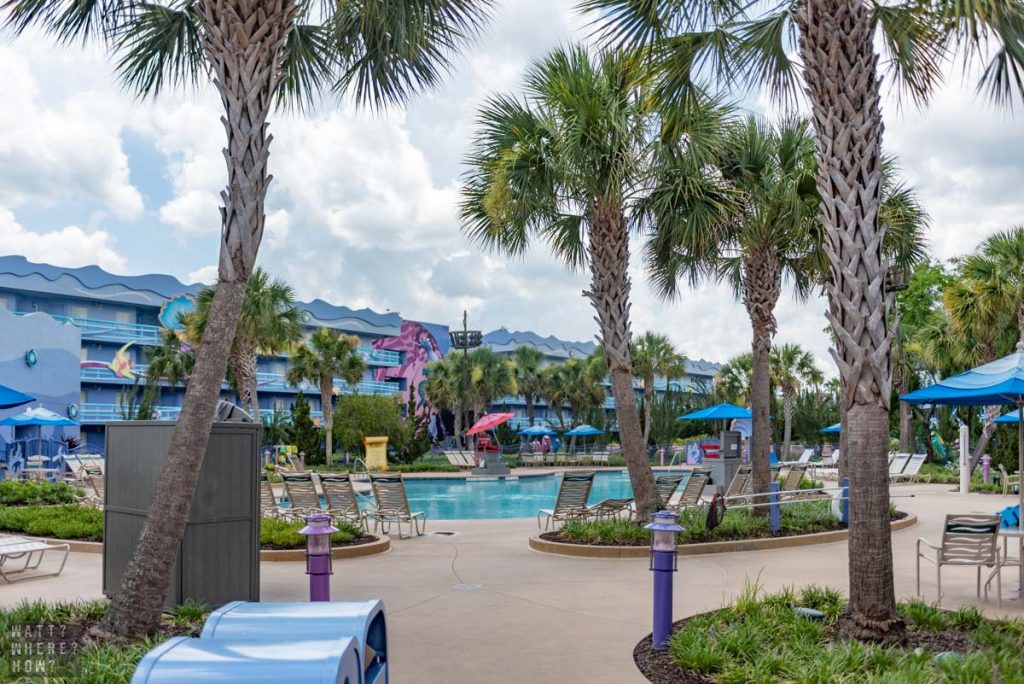 Representing the Little Mermaid and attracting families staying in the Little Mermaid themed rooms and family suites is the Flippin' Fins Pool. Watched over by two to three lifeguards, the pool is much smaller and lacks a bar, but there are change rooms, poolside showers, plenty of sun lounges, and free towels.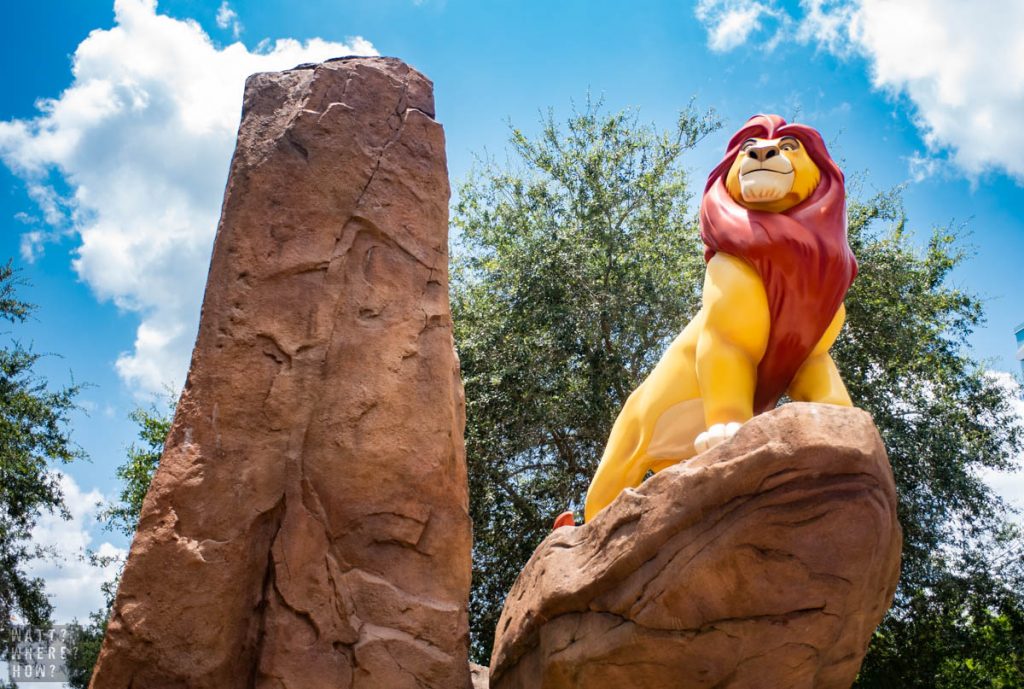 Lion King Accommodation
Of the three main room styles, The Lion King has one of the most fun representations of the movie, with a smaller scale version of Pride Rock, a playground, and a fire pit where you can join cast members is making 'smores at 7pm each night.
Cars Accommodation
The Cars accommodation places you in a western-looking world that blurs the line between 3D renders and reality. It has a smaller swimming pool, but a handy laundromat.
The Little Mermaid Rooms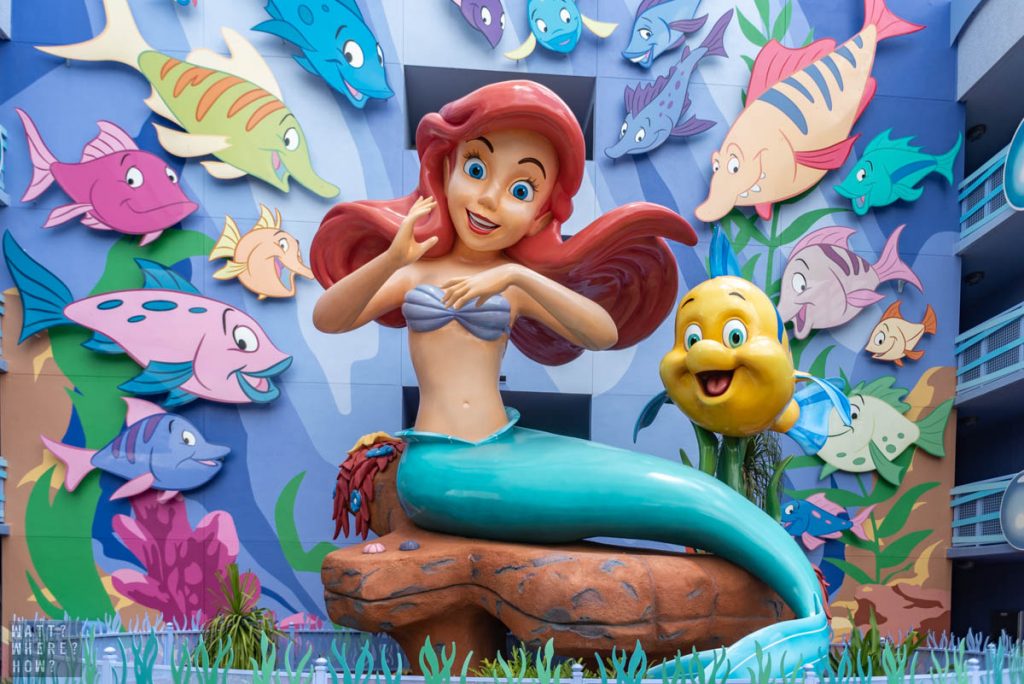 The Little Mermaid suites are some of the most popular and are usually first to sell out. Our little mermaid loved the area and the swimming pool, watched over by Ariel.
Guest Rooms and Family Suites
The resort is laid out across four little worlds of movie-inspired playgrounds, pools, and parks with blocks totaling 1,120 family suites and 864 standard rooms. The family suites have kitchenettes that give you the option to save money by making your own meals, rather than relying on the main dining options at the resort and surrounding areas.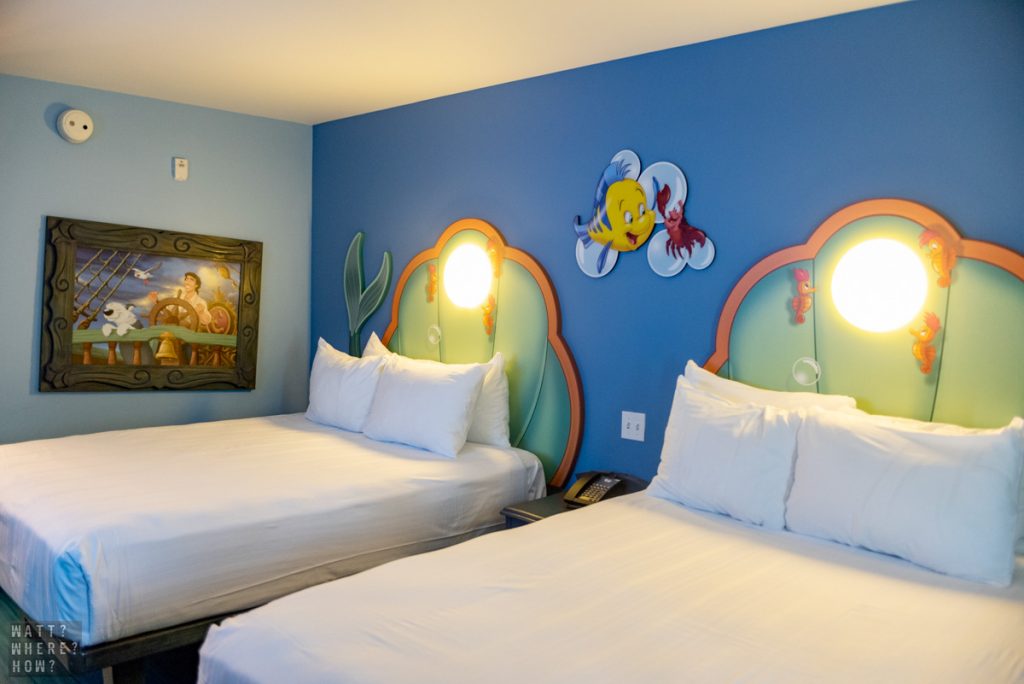 Each suite can sleep up to six, while the 277 square feet guest rooms have two double beds, with room for a crib. They have latest model 60 inch LCD TVs, a fridge, and a separate vanity, toilet, and bathroom with shower tub. The rooms are all themed in some way relevant to the movie zone you're staying in – for us, it was The Little Mermaid.
Dining and food at the Art of Animation Resort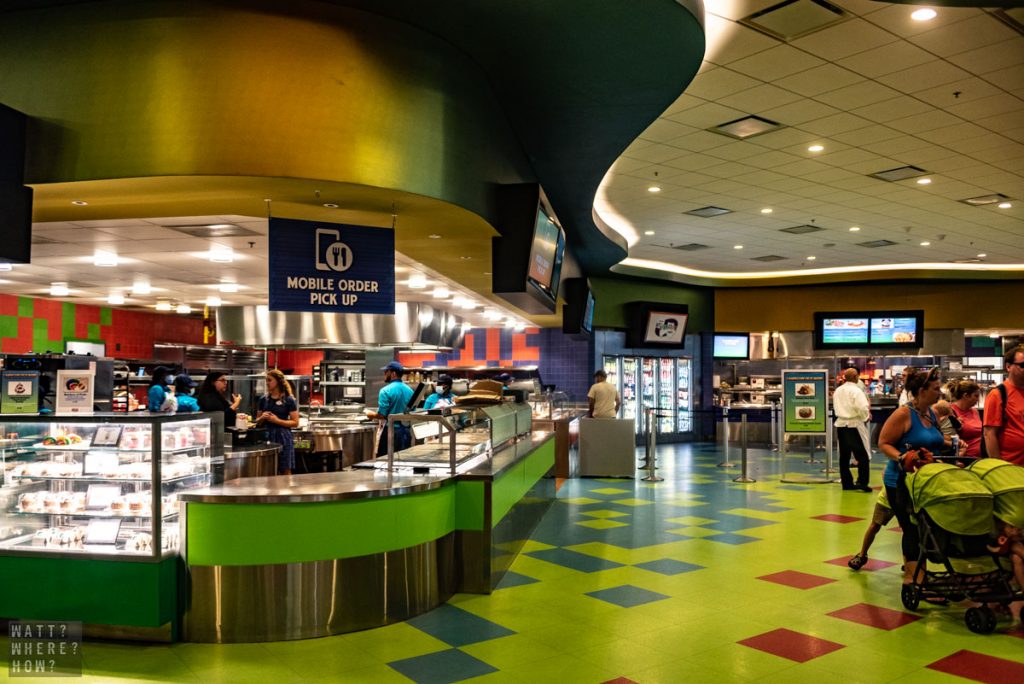 Dining options at the Art of Animation are surprisingly limited. The Landscape of Flavor Food Court is like a mini shopping mall food court with five key counters and plenty of seating inside and out. There's a soup and salad shop, a burger shop, a pizza shop, a grab'n'go market, and the World Flavors shop.
Of all these options, the World Flavors shop is your best bet for something diet or intolerance-friendly. When we were there, the choices were a Tandoori Chicken with Spinach Paneer, Naan, and Basmati Rice ($14.50), Seared Salmon with Roasted Potatoes, Garlic Green Beans, and Lemon Herbed Butter ($16.49), Braised Beef with Mashed Potato, Garlic Green Beans and a Red Wine Demi-Glaze ($14.49), Sesame Chicken Stir Fry with Basmati Rice ($11.49), Greek Salad with Plant-based Tuna ($10.99), and Greek Salad with Roasted Red Pepper Hummus ($10.99).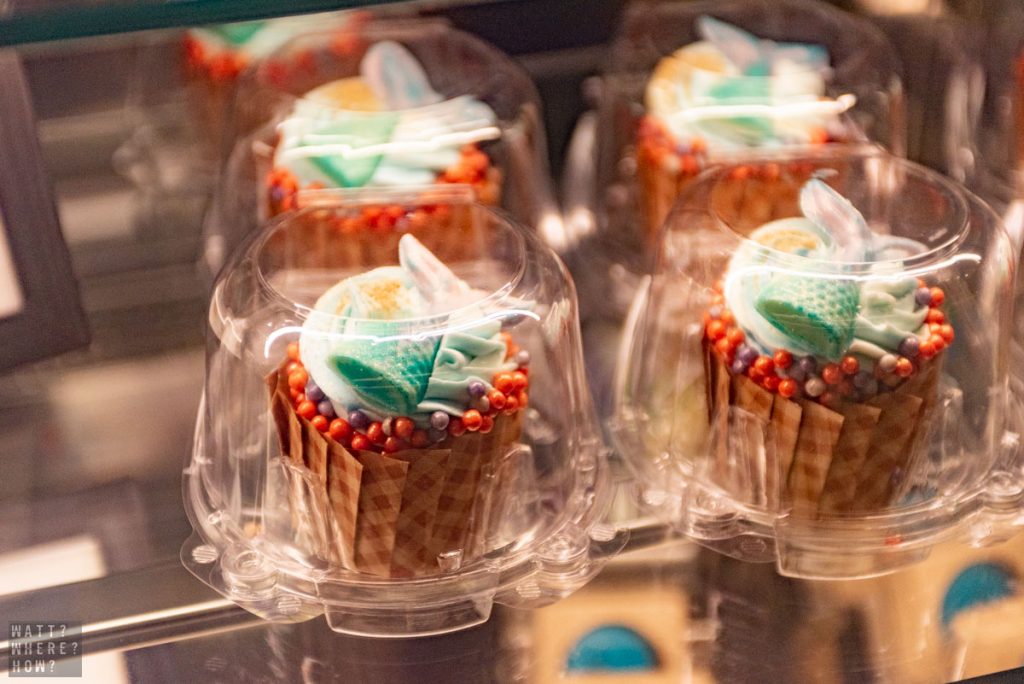 The Grab'n'Go Market leans heavily on pastry options and some yummy desserts and cakes. In the fridge, there's milk, yoghurts, fruit bags, and beers and in the dry section there is a selection of breakfast cereals. More importantly, the food court has urns of hot water and coffee and microwaves which can come in handy for longer stays.
Drinks at the Art of Animation Resort
One of the best value options for drinks at the resort is the $20 refillable coffee and soda/soft drink option. It will keep the kids happy and the sleepy grumpies away as a parent.
It's not just the kids who want a fun break. Disney's Art of Animation have limited bars, but they more than make up for it with the take out options. The main resort bar is The Drop Off, by the Big Blue pool. The pool area itself is not a drinking zone, but you're close enough to watch the kids. Available for purchase are the standard Miller/Bud/Stellar/Michelob options and a couple of Florida craft beers, along with wine, handmade cocktails, frozen rum and whisky and Coke cups, and frozen cocktails. The Drop Off is open until about 11.
In addition to the bar, you can buy a similar selection of beers at the food court – but if you are after wine or liquor, are you in for a treat! Behind the counter in a cabinet at the Ink and Paint Shop is a range or spirits and wines for purchase in your room. It is the happiest place!
The Ink & Paint Shop
With its usual impeccable merchandising and uncanny ability to make your money magically disappear, Disney has pester power nailed. But who needs pestering when there are so many Disney-related souvenirs, toys, collectables, and decor up for sale at the Ink & Paint Shop. Spread across two sides of the building, you will find handy must-haves like snacks, sunscreen, and batteries, along with booze!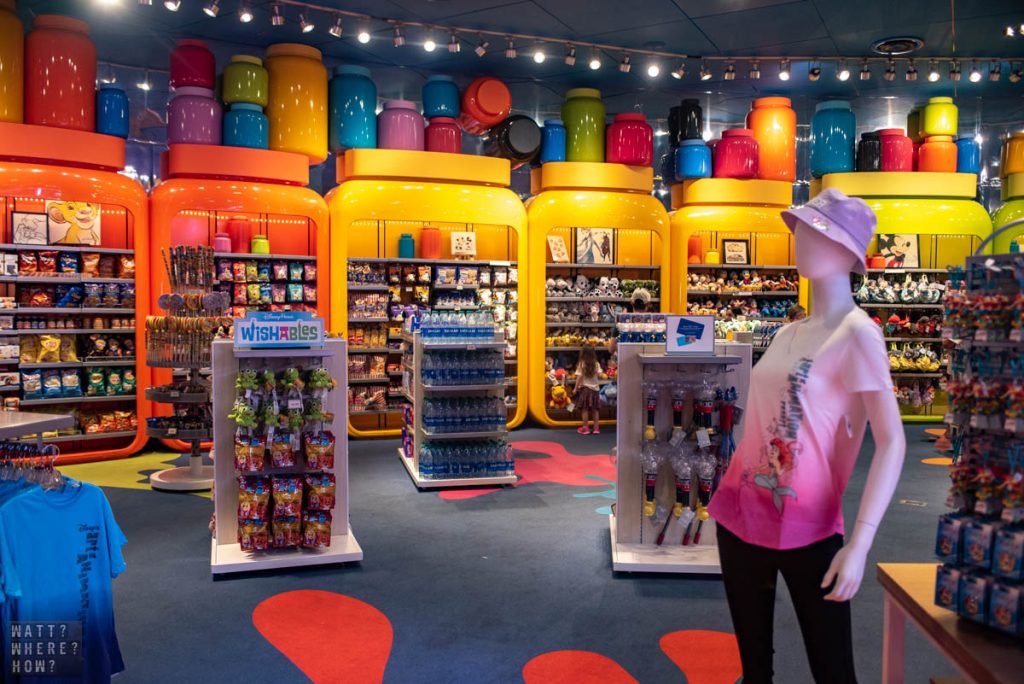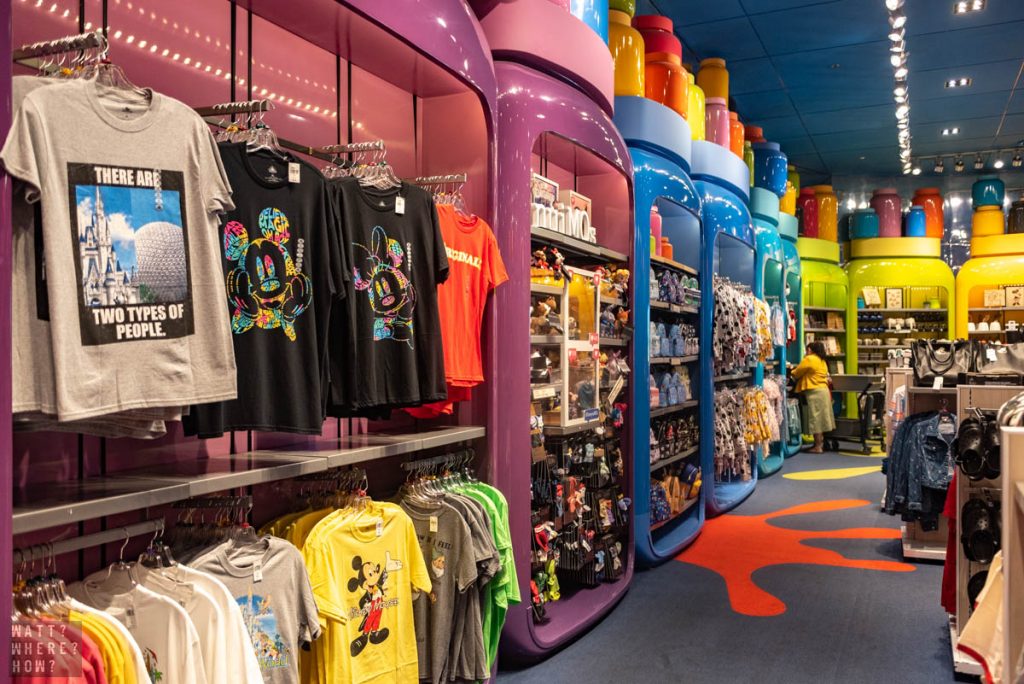 Pixel Play Arcade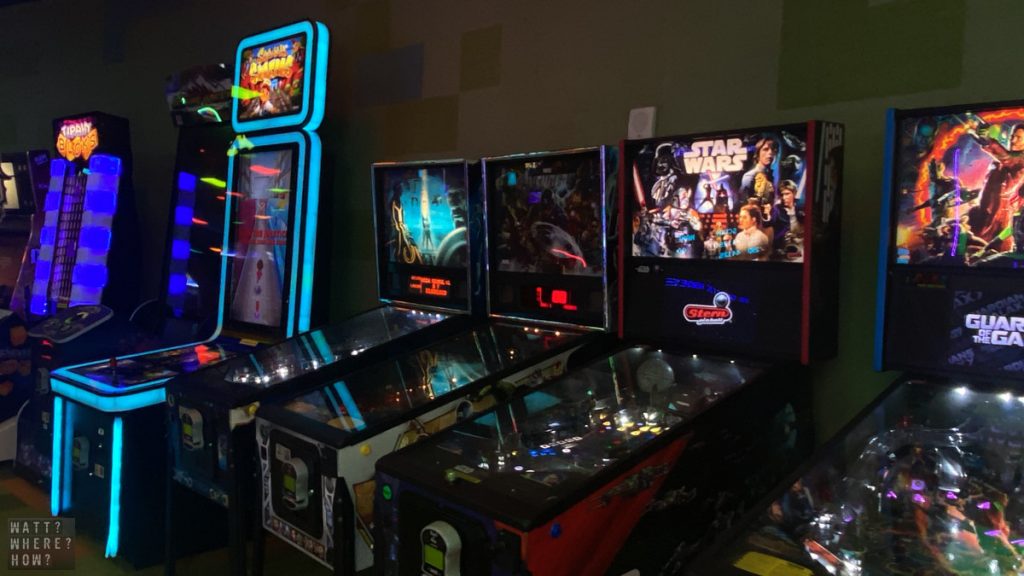 The Art of Animation amusements include the Pixel Play Arcade, a modern pinball and computer game arcade that will entertain all ages. Beyond the giant Pac Mac, latest pinball machines like Guardians of the Galaxy, dance games, and other machines heavy on the graphics and loud on the volume, there are three coin operated massage chairs to help ease the pains of walking around Disney World in the Florida heat.
Activities at the Disney Art of Animation Resort
With all the excitement of the Disney parks on your doorstep, you would think resort fun would be an afterthought. Thankfully, Disney Resorts ensure there's fun touches and things to do for kids on days when you're not at one of the parks. While there during summer, you could toast s'mores each night at 7 pm at Pride Rock (cost involved) and watch movies at the main pool.
Standard room amenities
Hairdryer | Internet – Free WiFi Service | In-Room Safe | Phone with voicemail | Coffee maker | Ironing board | Mini fridge
Family suite amenities
Hairdryer | Internet – Free WiFi Service | Microwave | Telephone with voicemail | 2 Bathrooms | Refrigerator – small | Kitchenette | Iron & Ironing Board | Coffee maker | In-Room Safe
Dog-Friendly Rooms
Note: Limit 2 dogs per room. Restrictions and fees apply.
How to Book
To bring your dog along on your upcoming visit, please call (407) 939-7539. Guests under 18 years of age must have parent or guardian permission to call.
Services for Guests with Dogs
During your stay, Best Friends Pet Care can provide assistance with day care and other pet services (fees apply). For details, please call (877) 4-WDW-PETS or (877) 493-9738, or visit bestfriendspetcare.com. Guests under 18 years of age must have parent or guardian permission to call.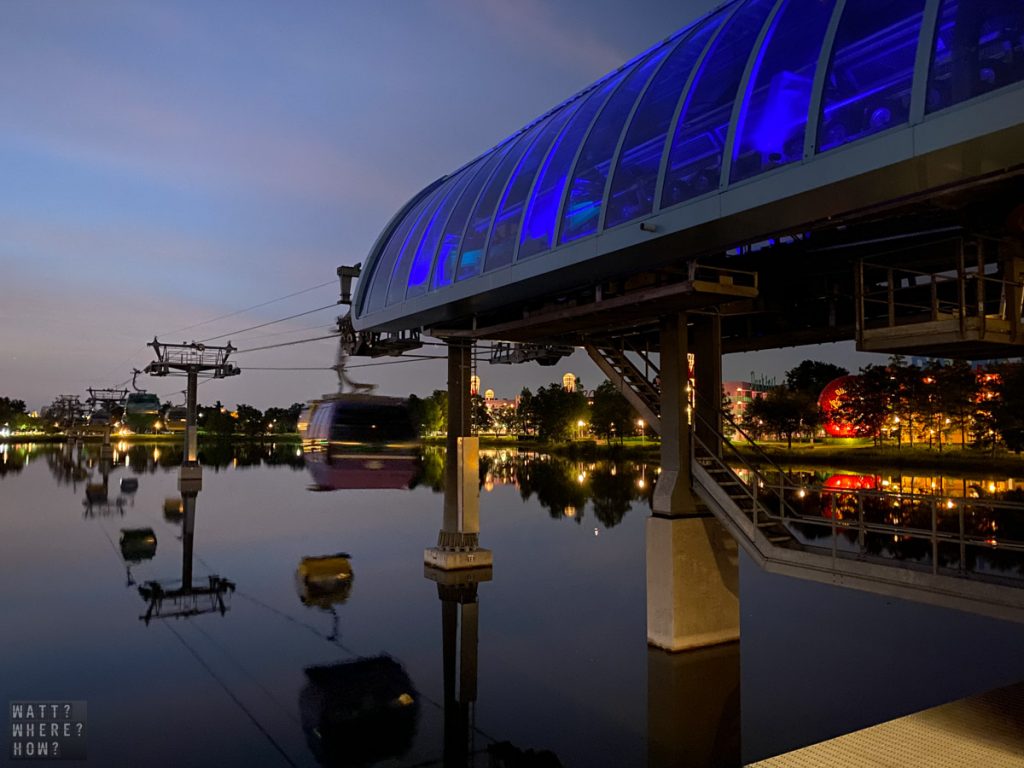 Getting to the Disney World Parks & Disney Springs
One of the most appealing features of Disney's Art of Animation is its transportation options. We wanted to stay here to be able to ride the Disney Skyliner, which is the scenic way to move between parks and resorts. The carriages transport you above the treetops, roads, and resorts to various hubs where you disembark and transit to the next route. In extreme weather, the Skyliner will stop and gets replaced with buses.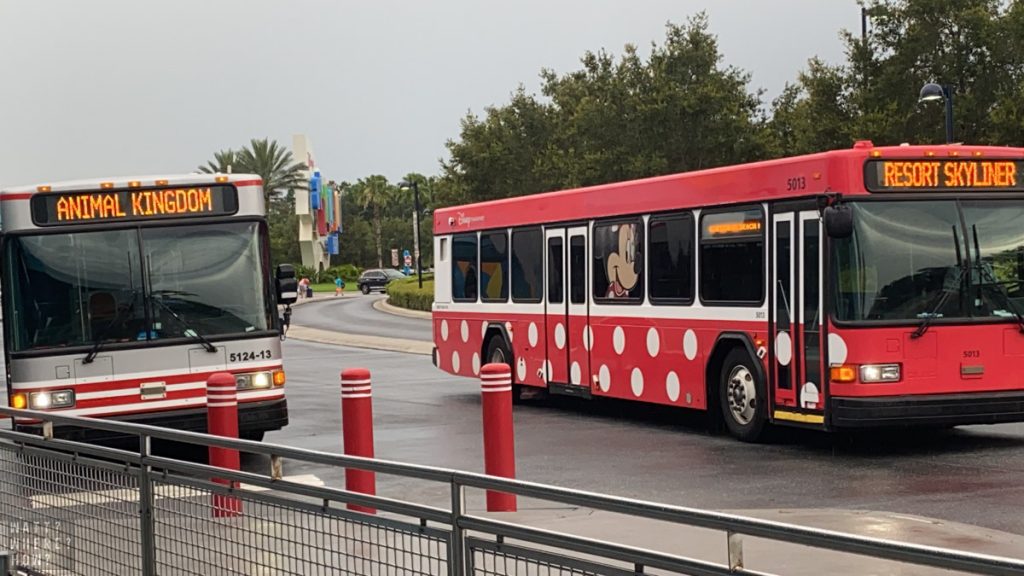 Each Disney park and Disney Springs is serviced by a shuttle bus from Art of Animation. The buses leave to the front left of the main entrance and each park has a dedicated stop with clear signage as to its destination and next bus time.
Parking at the Walt Disney Art of Animation Resort
While many people will fly into Orlando International and then take a shuttle or Uber to the resort, families on road trips will appreciate the 2,300 plus parking spaces. Like most American hotels and resorts, parking comes at a cost. There are no special privileges as a guest and you will pay $15 overnight self-parking fee (including tax).
IF you do come from the airport, know that the once excellent free shuttle to resorts has ended since COVID and you'll need to book a car service, get a cab or an Uber. One of the strange quirks at the airport is that it is somehow locked to phones trying to book an Uber until you are out the front of the airport arrivals – so if you see a message that Uber is not available in your area, it doesn't mean it has stopped running in Florida (it did cause the blood pressure to rise seeing this at 11:30 at night); it just means you won't be able to book until you've taken the air train to the main arrivals area.
Book a room at the Art of Animation Resort
Due to the sheer popularity of Disney's Art of Animation resort, you'll rarely find it discounted or on sites like booking.com. Instead, plan well ahead, watch for the cheaper off-season rates and try your luck. The more nights you stay, the more affordable it becomes and with the kitchenettes, you can at least save money by buying groceries off site. If you're a big Disney fan or have young kids, you'll value you the memories and moments when you book a stay at the Art of Animation.
Follow & Connect with us