Hotel Nyx is a hidden gem in Cancun's Hotel Zone.
There are times you book a hotel after hours of price comparisons and reviews and you still come out of it underwhelmed. Then there are those times when you book last minute and go in blindly. Throwing caution to the wind, we secured three nights at Hotel Nyx and were more than pleasantly surprised.
Driving along the Punta Nizuc-Cancun, through the Zona Hotelera, the hotels and resorts are grand and ostentatious. Some have waterslides, others golf courses and in some cases, malls of the world's top luxury fashion brands. The Hotel Nyx is quite the opposite. Quiet, unassuming and set back from the main thoroughfare on a service ramp, its three stories and Spanish colonial look is an inviting change.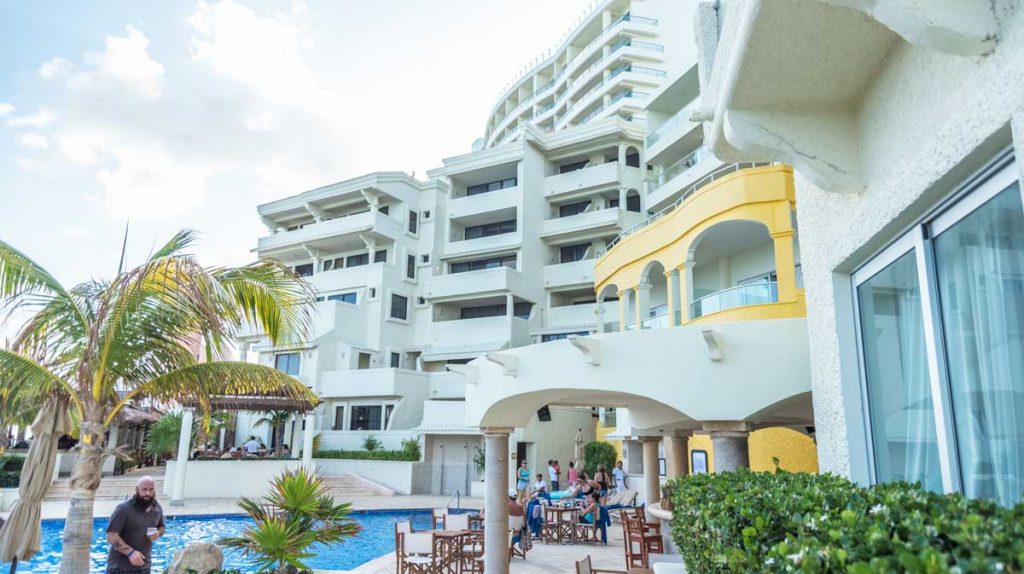 The 193-room hotel offers all-inclusive packages or you can experience it a la carte, though the concept of all you can eat and drink sounds like a way to kill ourselves. Either way, you're given an adhesive paper wristband upon check in that makes it look like you've been partying at a music festival. Our particular one represents that we have paid for breakfast too. The breakfast buffet is impressive and worth the extra money, with a blend of American and Mexican breakfast treats and condiments that will fill you for your day's adventures.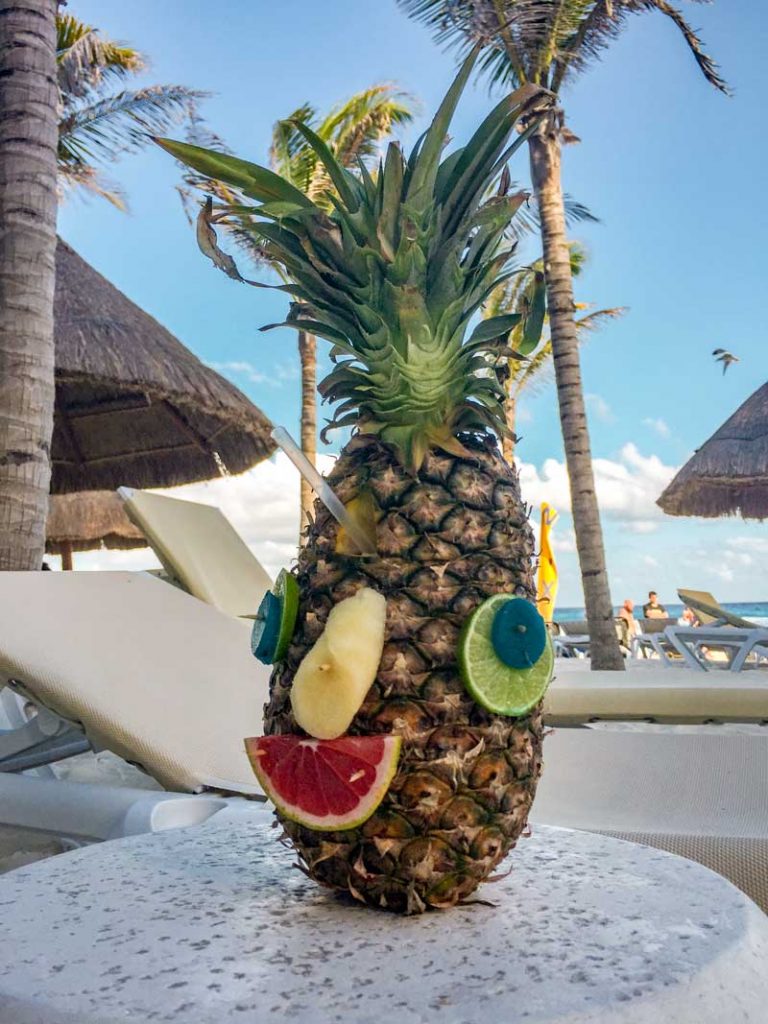 Meet our friend, Mr Colada.
The Rooms
The rooms are large and well appointed. Ours had a balcony that looked out over the lagoon, offering a relaxing view to wake up to. The main grumble is that the floors were tiled, which means that between cleaning agent residue and sand, there's a feeling of ickiness underfoot at all times.
The Facilities
Where the hotel really comes into its own is when you step outside the backdoor of the main building. Passing a small in ground pool and two hot tubs, a paved garden path weaves past a second wing and down towards the restaurant. Here you'll find a larger infinity pool, cocktail bar, gym and second hot tub. The cocktails are dirt-cheap. Around $US6. Deluxe ones come in at around $US10, but that's for a pina colada served in a pineapple or a coconut rum cocktail served in a green coconut. Beers are cheaper and available on draught or in bottles.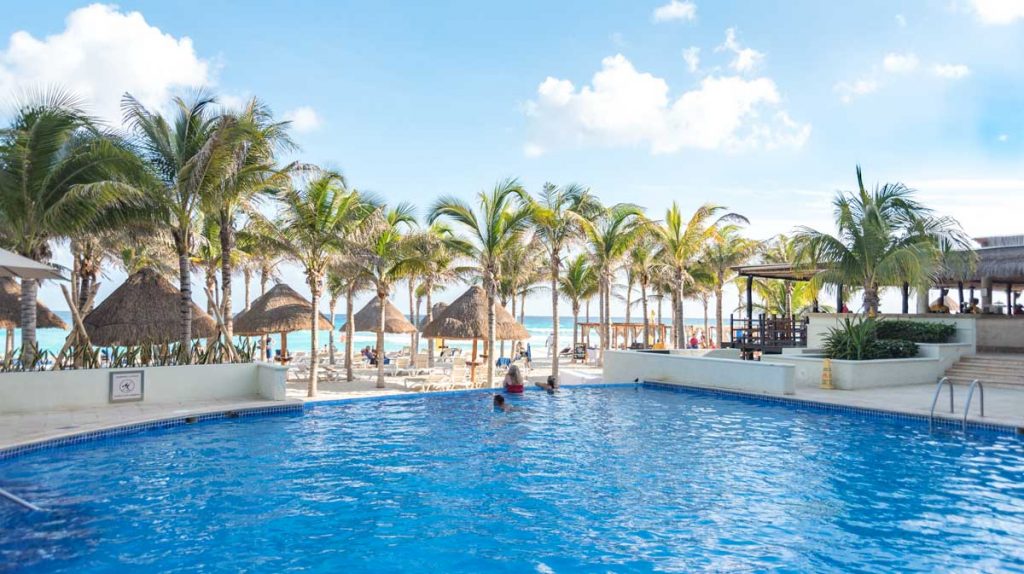 The Beach
The beach is paradise defined. It's just like what you see in the glossy catalogues or Corona ads. A hammock swings gently and invitingly, strung between two palm trees. Cabanas and straw umbrellas with beach lounges beckon and further afield, four-poster, white cotton-curtained beds are available for upgraded napping.  Hotel staff are on hand for massages, spa treatments and to take your drink order. This is going to be hard.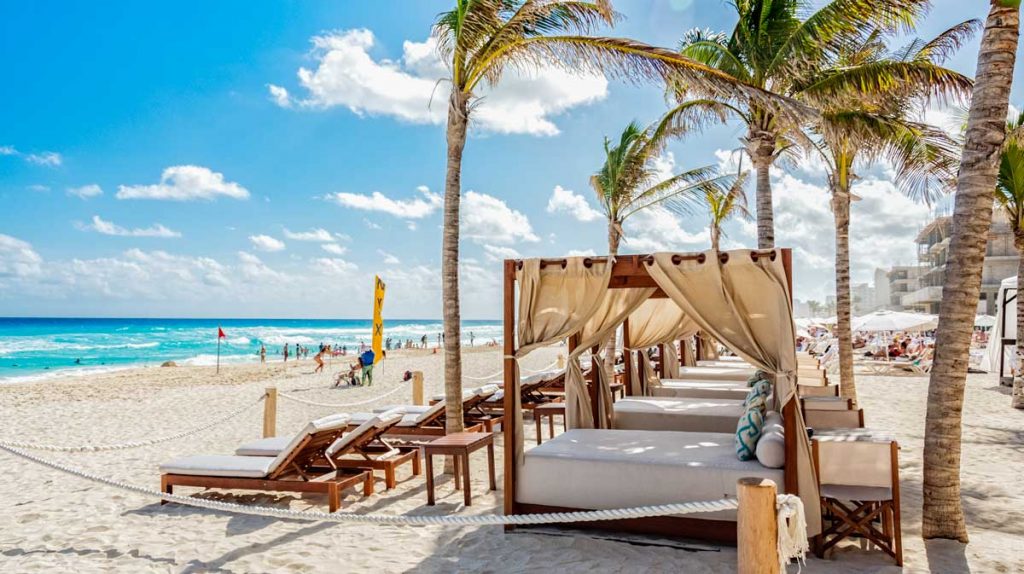 See this guy? He sells sea shells by the seashore.
Returning to the brilliant blue Caribbean waters for the first time in two years, it takes a moment to adjust to the brightness. Coming from Australia, where we were spoiled for choice of pristine beaches, this water is next level. The only drawback is that it is quite dangerous on the days we are here. Each beach is patrolled by lifeguards and with the heavy dumping action of the waves and a strong tide, it's reassuring to know they're present.


The Restaurant
Live Latin jazz, flaming torches, tables set on the beach, the ambience is first class. After long days of relaxing or day tripping, there's nothing like feasting in such an impeccable location. The food is decent, though wouldn't threaten any of the top Michelin-starred establishment. Most dishes are served with an option for the buffet, which pits a strange combination of cuisines like sushi with Caribbean and Italian. After eating and drinking our weight in food, we're presently surprised with the $50US bill.
Coming into this stay with low expectations, we were pleasantly surprised. The Hotel Nyx was the perfect place for couples to stay. It attracted an older crowd (no spring breakers) and provided the perfect base for our Cancun sojourn.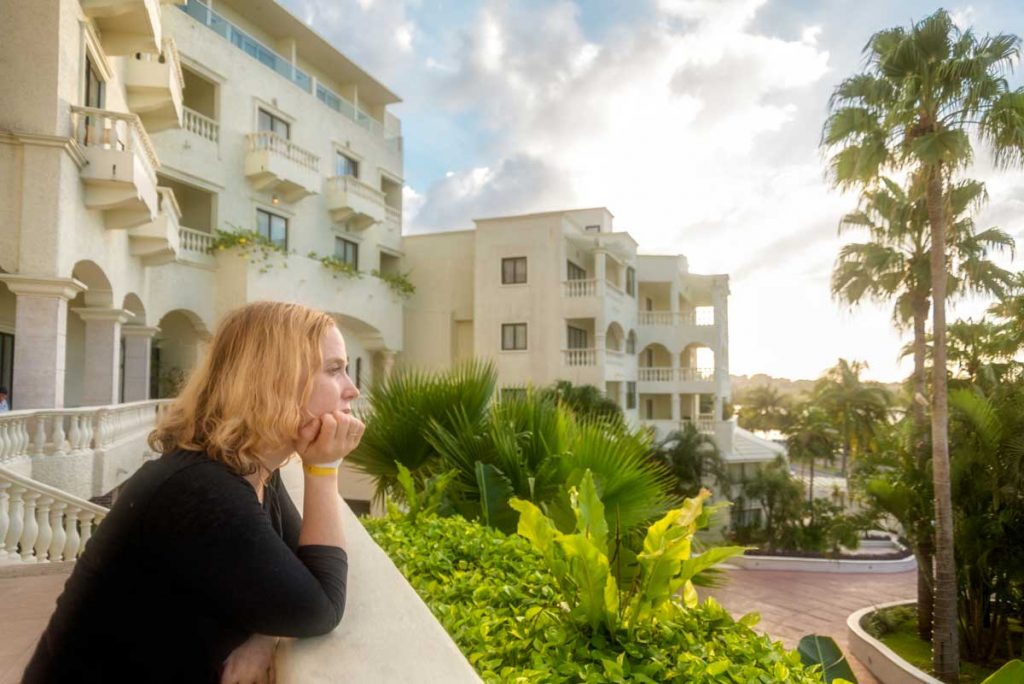 WHAT?
Hotel Nyx is a boutique hotel in Cancun that offers a relaxing getaway with access to a beach that's picture-postcard perfect.
WHERE?
Blvd. Kukulcan Mz52, El Rey, Zona Hotelera, 77500 Cancún, Q.R., Mexico
HOW?
Hotel Nyx is about 20 minutes from Cancun International Airport. Book here.
Save
Save
Follow & Connect with us