La Parilla is a restaurant in the heart of tourist hell – the hotel zone. To give you a point of reference, there's a Hooters just across the path. Thankfully the food isn't bad and the drinks are huge.
Situated by the water, with a killer sunset, the food isn't why we're here and with a menu the size of a phone book, we weren't expecting much. It seems like the type of place that Gordon Ramsay would shut down in a second. But we were surprised with the service and food at La Parilla.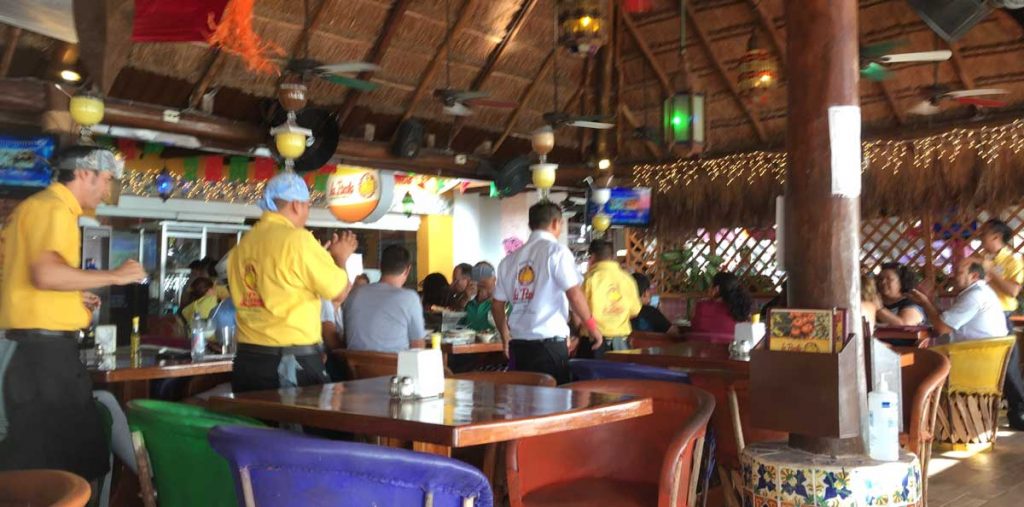 First things first: the drinks. There have been plenty of times when we've been off our heads on cocktails, but when we order some cocktails our waiter carries the enormous soup bowl size cocktail glasses out to us on his head. It's obviously party time at La Parilla tonight whether we like it or not. Of course we like it! The restaurant cheers and claps, kind of like those awkward moments on your birthday when strangers chime in to serenade you.
The food comes shortly after and it's delicious. Simple ingredients, simply made but delicious. The meat is gristly and heavy on spice, but surprisingly light. A prawn cocktail has so much sauce, the prawns drown a second time. It's tangy and a lot heavier than we're used to back home. Fish tacos are just OK, a little dry. Still, all said, when you're staying in the middle of the hotel zone, you're never going to find a quaint home style local restaurant, so this does its job – gets us full and refueled, albeit a little over fueled.
WHAT?
La Parilla is a Mexican eatery by the water in the La Isla mall/complex.
WHERE?
Blvrd Kukulkan, Benito Juárez, Zona Hotelera, 77500 Cancún, Q.R., Mexico
HOW?
| | |
| --- | --- |
| Saturday | |
| Sunday | |
| Monday | |
| Tuesday | |
| Wednesday | |
| Thursday | |
| Friday | |
Follow & Connect with us