Ik-Kil Cenote – an ancient waterhole, a sinkhole, a gateway to the underworld or just a choice venue for a Red Bull cliff diving championship? It's all this and more (religious leanings and interests in extreme sports permitting).
Cenotes are limestone sinkholes resulting from a collapse in the bedrock to reveal an underground water source. They also hold sacred significance for Mayans, who considered them gateways to the afterlife. And at 60m deep, it's no doubt the easiest point of entry for someone who's not a strong swimmer.
With very limited time, we chose to visit the Ik-Kil Cenote based on its accessible location and beauty. The photos showed a natural rock waterhole covered in vines and plant matter. In reality, it's somewhat different. The bus pulls into a landscaped gardens, complete with a major entry that makes the place feel more like a waterpark than a site of cultural significance. There's a bar at the entrance and turnstiles, before walking past a souvenir shop, another bar and a full buffet restaurant.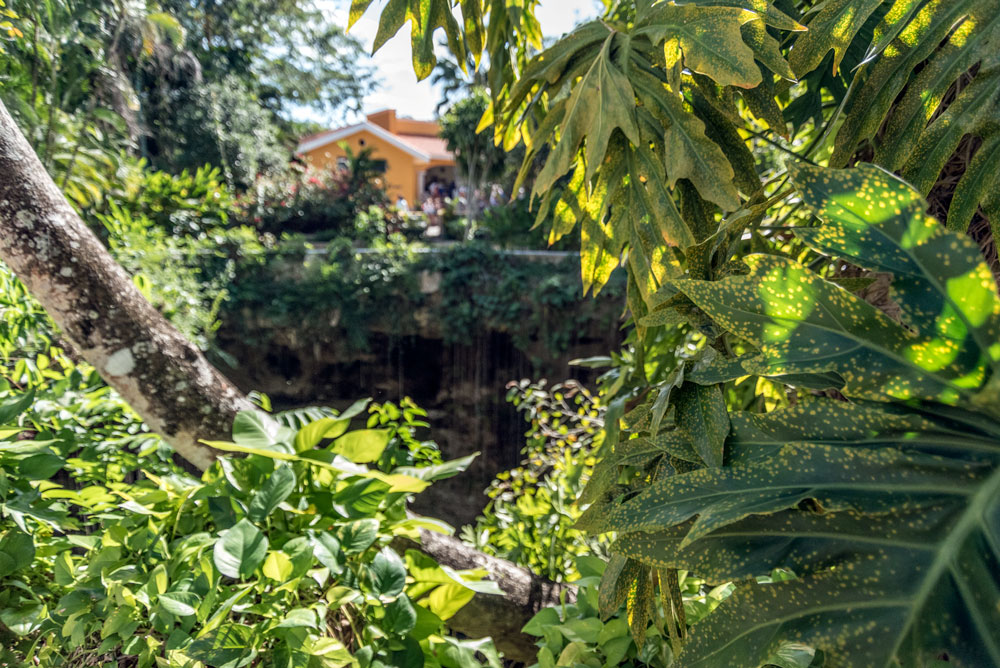 The cenote is the centerpiece. Stag horn ferns and creeper vines, Bird of Paradise flowers and other tropical flora ring the deep sinkhole. A chest high brick wall prevents any spontaneous acts of stupidity. Instead, it's the perfect vantage point to watch others splash into the dark waters below. Walking around this natural (well relatively natural) geological occurrence, there's a disconnect between what's down there and what's surrounding it – namely change rooms, lockers and showers. Due to the natural fresh water and large number of daily visitors, the park managers insist on anyone swimming in the cenote to shower first to wash off sunscreen, sweat, oils and impurities.
Before heading down for a swim, we take advantage of the modern facilities. For all their evils, they come in handy. We hire a life jacket too. After years of swimming like fish, three years away from water in NYC has damaged our confidence in our abilities and with a 60m deep pool, we're not going to risk it.
As alluded to earlier, the pool doesn't feel anywhere as near natural as it looked in the photos. There are cement steps down to the initial stone level and a lookout platform. 96 medieval-looking rough-hewn steps are cut into the limestone. Halfway down there is another lookout platform for parents of young children and those who hate water. The whole descent there's the pervasive stench of urine. It's like everyone walking down uses the climb to evacuate their bladders. For anyone walking bare foot, there's every risk of worms and germs. It's disgusting.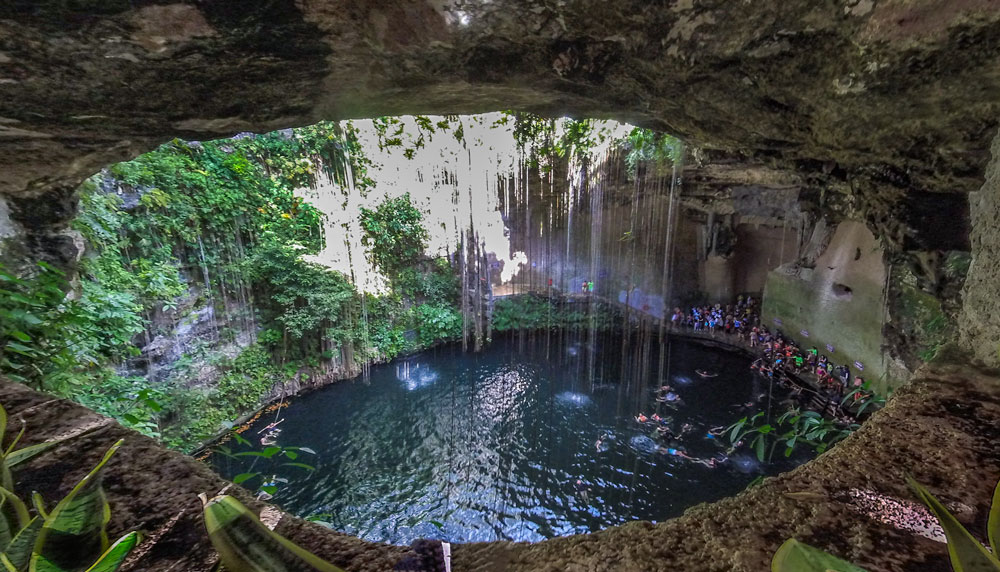 The tunnel opens out into the side of the sinkhole. A large crowd has gathered to pose for "selfies" or to test the water temperature with their toes. Natural log ladders provide a rather precarious and slippery point of entry into the deep water, raising my anxiety levels somewhat (though that is possibly a side effect of the steep, pee stairs.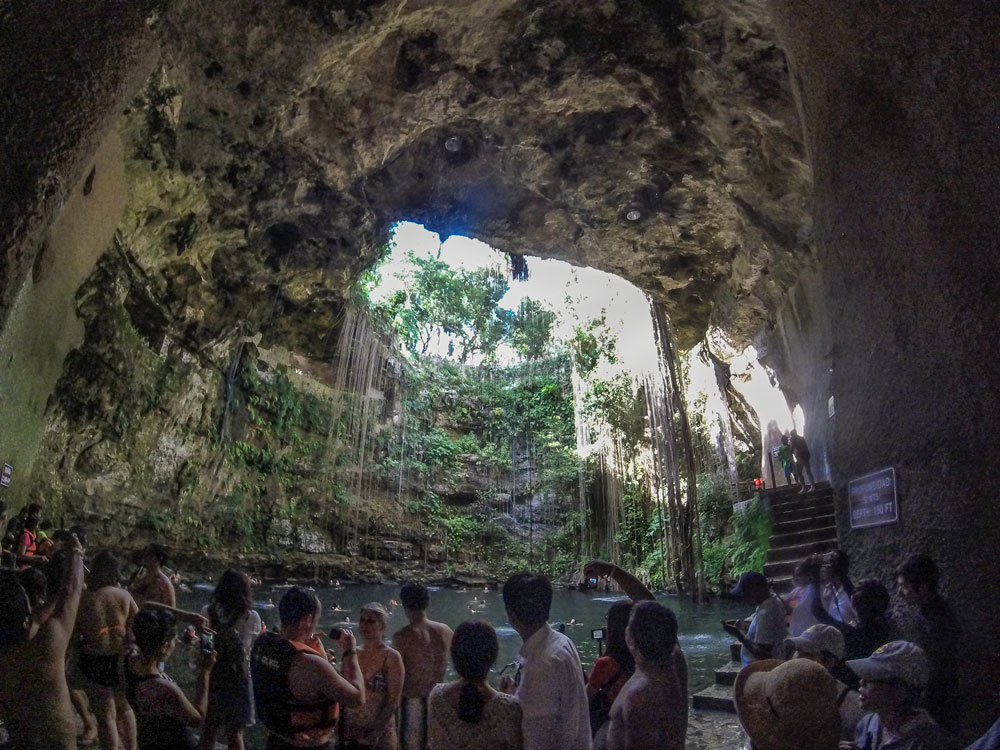 Once in the water, with the lifejacket immediately proving its worth, we relax. Looking up at the steep walls, it really is beautiful. Small black catfish dodge amongst swimmers, occasional disturbed by the less than graceful splash of an obese back flop into the murky depths from a diving platform at the highest point of the cenote edge. Japanese tourists float along holding onto a thick, mossy rope, exhibiting a little too much trust in sealed waterproof iPhone bags take selfies and videos.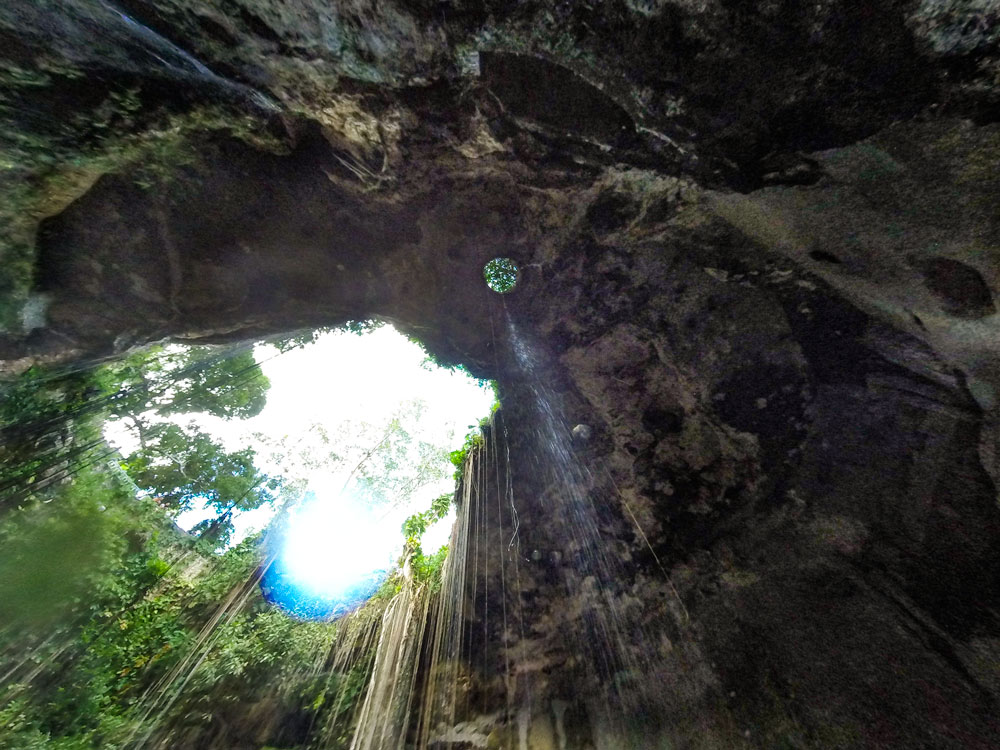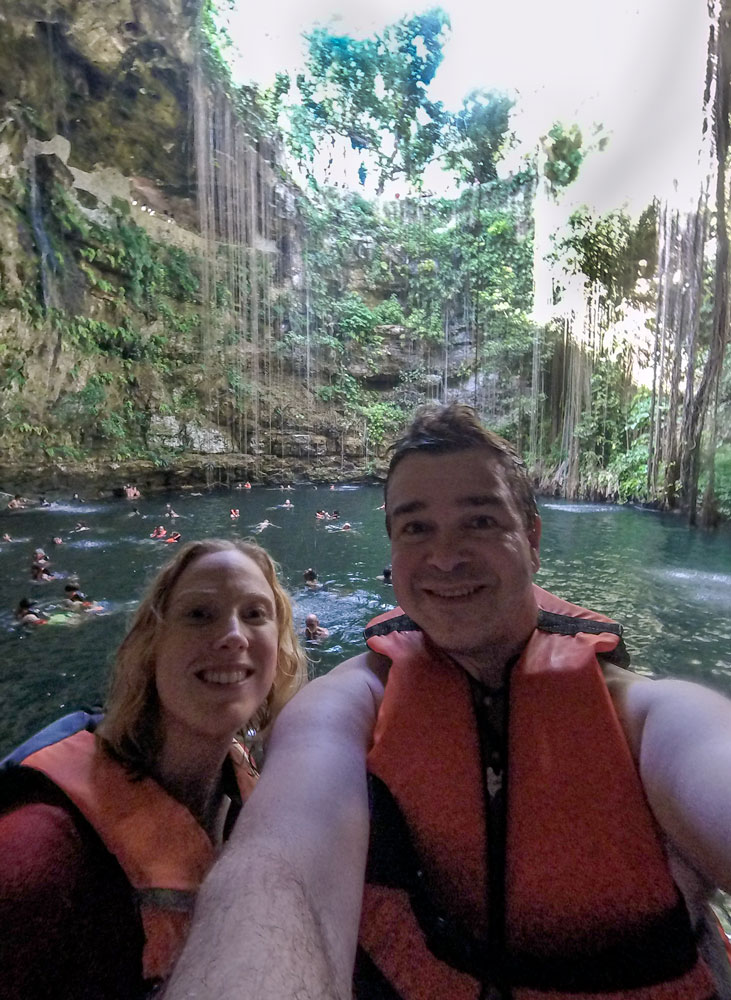 After twenty minutes of floating around, absorbing every moment, it's time to get out and climb back up the urine-covered stairs. Appreciating the showers more now than before, it's a chance to try and wash off the stench and germs. Then it's time for lunch. Buffet of course.
For all its natural beauty, the Ik-Kil Cenote has been developed and landscaped heavily, damaging the experience. But at the same time, it meant we weren't stressing about valuables being stolen or drowning. And by the time we head back for a second plate of Mexican delicacies and another frozen margarita, we're resigned to the fact that yes, tourism has damaged the experience, but it has also made it bearable in other ways. So we'll call it a draw. If anything, it makes us want to explore the less spoiled cenotes further south to float in relative peace and tranquility and to take a packed lunch instead.
WHAT?
It's a very touristy cenote. There are ones that are smaller and more naturally beautiful. This place has it all, but at the expense of the experience. Where else can you go and have a full buffet, washed down with a frozen margarita or beer before plunging in an ancient sinkhole.
WHERE?
HOW?
There is adequate parking for hire cars or take it easy and join a day tour from Cancun. This is part of the tour bus triple play, so it's on many itineraries. Read more.
Life jacket hire: $30 pesos
Locker hire: $30 pesos
Save
Save
Save
Save
Save
Save
Save
Save
Save
Save
Save
Follow & Connect with us