72 hours isn't much time to enjoy Cancun, but in just three days we managed to squeeze in sun, surf, sand along with a dash of history. 
As we plunge into the icy depths of the ancient sinkhole, I'm experiencing an overwhelming sensory overload. It could be the fact that we're treading water in a dark, murkiness that is over 130 FT deep or maybe just maybe it's because earlier in the day we were told that these cenote were the gateways to the underworld. Or it could just be that we're in the path of an errant selfie stick, with the phone in a protective sleeve (in itself a sign of stupidity). One thing is for sure, this place is off the charts.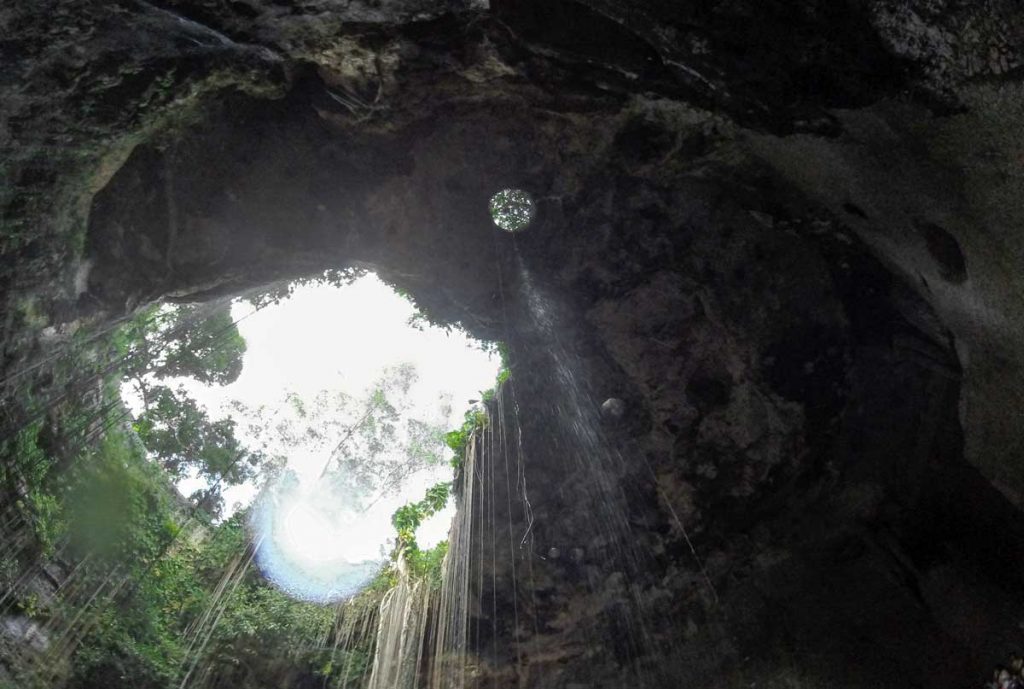 Our first flirtations with Mexico have come about from an opportunist search for last minute Thanksgiving vacation flights. As Australians, Thanksgiving means nothing. We have no family in the USA and we've already exhausted the top things to do in New York. Macy's Parade? Tick. Big turkey feast? Tick. Black Friday shopping? Doneski. Luckily most Americans are duty-bound to large family reunions with their awkward political debates, binge eating and an afternoon trying to digest it while watching the football – which makes for cheap flights and accommodation for the ex-pats.
Getting There
Cancun is an easy four-hour flight from New York and its airport is ultra modern. After changing currency to Peso (which confusingly uses the $ sign too), we soon discover that most of the region accepts US$ as payment. Rookie error. We meet the representative outside for our pre-booked transfer (we would recommend this). She warns us that we are now on Mexican time – which means when they're ready. It's an abrupt change of pace from the craziness of New York, but hey, we've come here to unwind.

Day One: Acclimatize
Arriving mid-afternoon, we check in to Hotel Nyx. Taking advantage of the free drink on arrival (we're still not quite sure what it was, but it was potent and fruity), we dump bags and kick off the shoes for an afternoon at the beach. The hotel's exclusive beachfront is picture perfect. Coconut palms abound. In the distance a local is trying to sell Conch shells, occasionally stopping to toot it disruptively.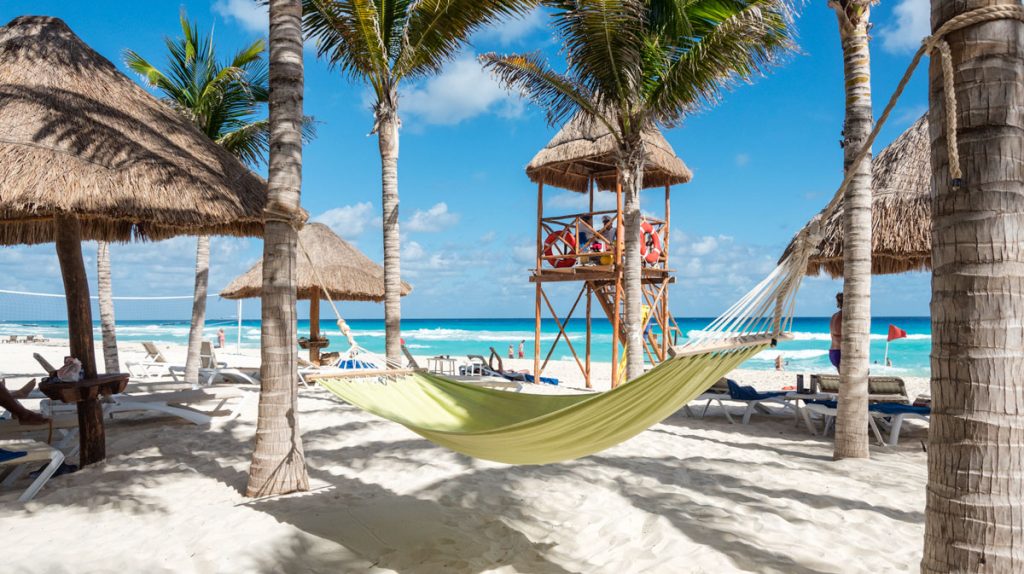 He sells sea shells by the seashore.
If you've never swum in the Caribbean, we can assure you, there's nothing like it. The cool temperatures momentarily offset the tropical heat, whilst the blue hues are a sight for sore eyes (the salt contributes a little to that too). It's truly stunning.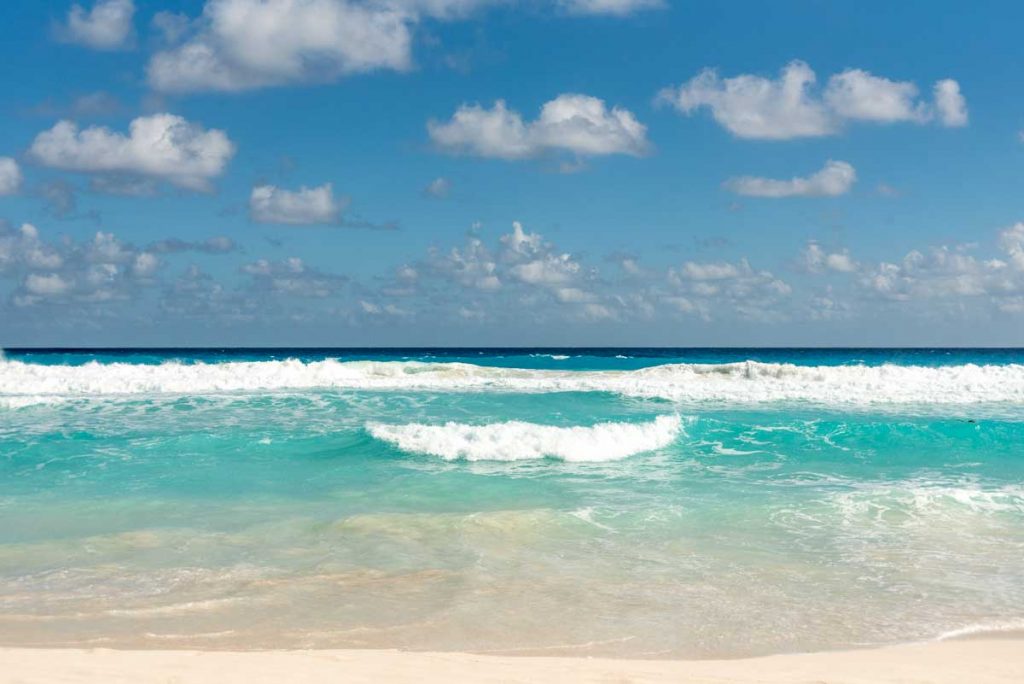 In the interest of getting to know the area a little, we decide to walk to the main shopping mall La Isla. At this thin stretch of the Zone Hotelera, the main thoroughfare and a strip of hotels are all that separate the mangroves of the lagoon and the crystalline blue waters of the beach. In the distance, more opulent hotels border the other shoreline of the lagoon. If it wasn't for the prevalence of VW Beetles (still made in Mexico up until 10 years ago) or the crazy speeds the local bus drivers insist on trying to top and you'd think you were still in North America.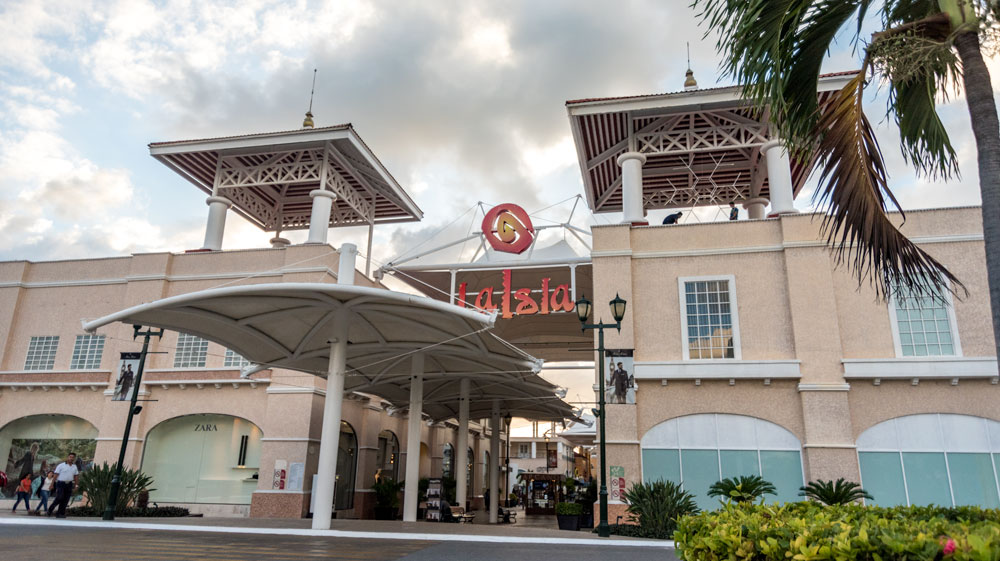 The La Isla mall does nothing to change this perception. It's like any mall, with the main difference being a small canal that divides it and its assorted footbridges. Shops include Armani, Boss, Brooks Brothers, Calvin Klein, Coach, Diesel, Guess, Haagen Daz, Nautica, Prada, Swarovski, Tommy Hilfiger and even Hooters! With the sun providing a dramatic goodbye, we settle for a lagoon-side restaurant. It's kitschy as hell, but heck, the waiters bring ridiculously oversized cocktails out to you on their heads. Anywhere else and we'd condemn this for being horrid, but at this point, we're hot, thirsty and up for anything.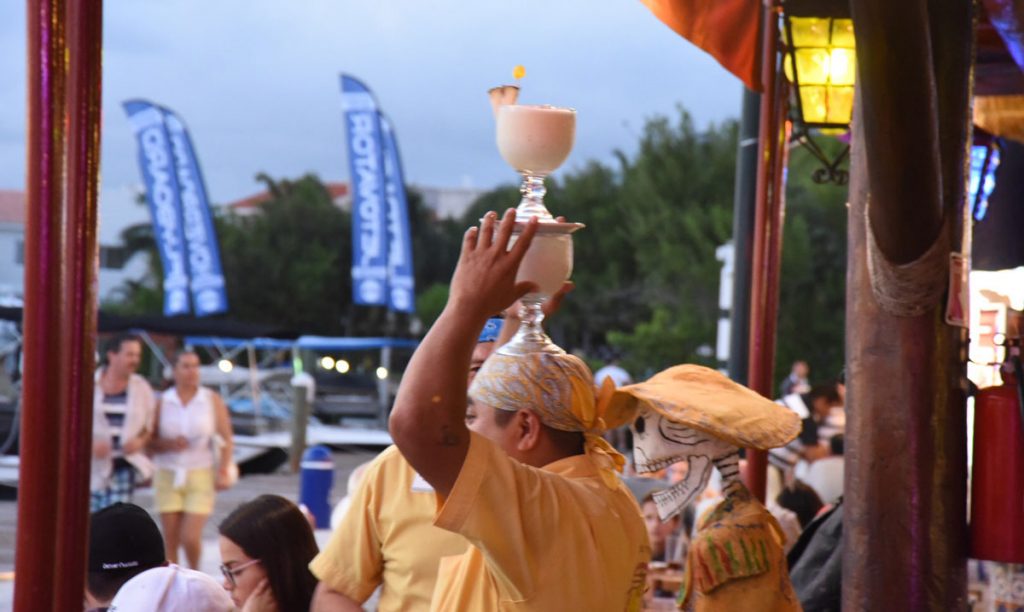 These drinks go straight to the head
Day Two: Explore
An early start for the excursion to Chichen Itza. It's with a tour group, which isn't our ideal way of experiencing the world and it isn't for one or two others either, with the sound of vomiting coming out from the cubicles at the first bathroom stop – obvious victims of the ridiculously cheap booze around here. Generally being herded anywhere is enough to make us puke too, so we totally get it.
An informative tour guide serves as a passive infomercial, with a thinly veiled sales pitch under the guise of warning us all to only buy from legitimate souvenir vendors at Chichen Itza. Surprise, surprise, the first major stop is at a souvenir shop.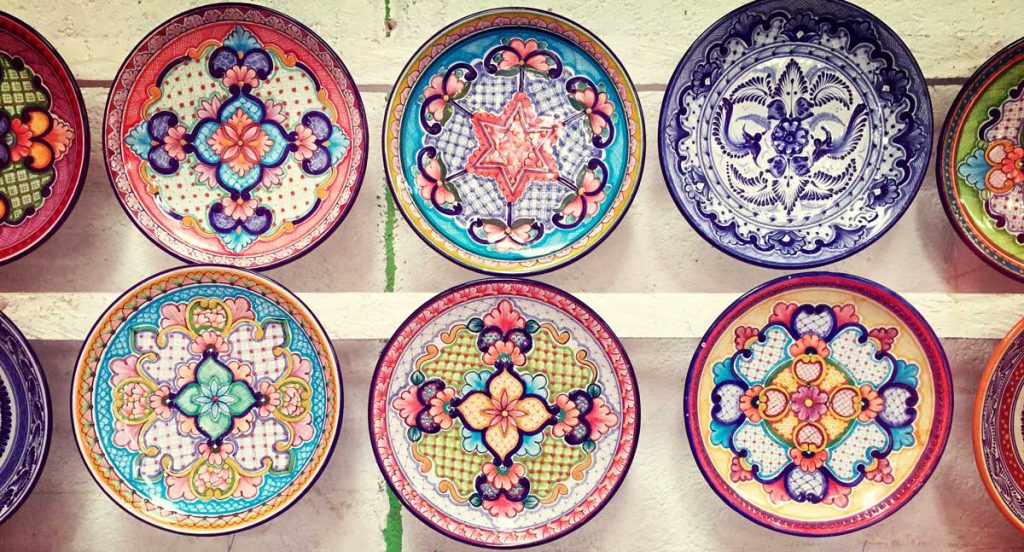 The trade in kitschy souvenirs is up there with the best/worst
Driving the 200km+ to Chichen Itza, we pass seemingly impoverished communities, Spartan prisons and Mayan villages. Yes, Mayan. The ancient people are still very much alive and well, in spite of what most history books say. From an outsider's perspective, they appear to be living in slum like conditions but apparently (we are told later) they have all the mod cons and make good money from farming.
Chichen Itza is the obvious highlight of the day. At its best, it doesn't disappoint. At its worst, it look likes a bazaar. For the full story, read here.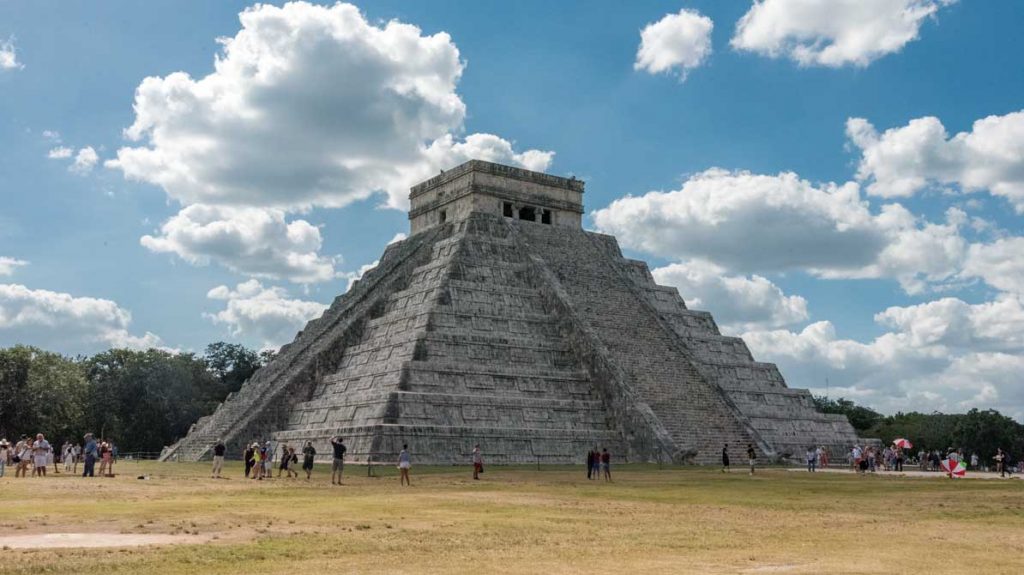 Next stop is the Ik-Kil Cenote, an ancient sinkhole that has in recent years played host to cliff diving championships and two very pasty-white Australians. Where else can you swim in a gateway to the underworld and celebrate it with an all-you-can-eat buffet?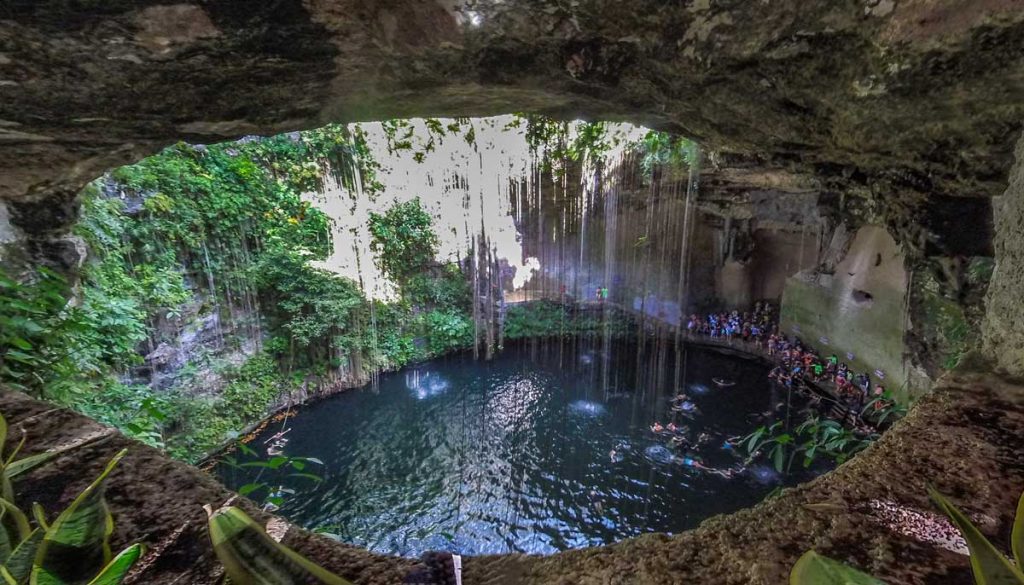 The final stop on the tour is a rather truncated visit to regional center, Valladolid, just in time to observe the town in 5pm on a Friday mode. The place is abuzz with that carefree, throw-caution-to-the-wind bonhomie you can only feel at the end of the week. It's contagious. With the sun bathing the main street in gold and the scent of fresh fried churros in the air, we leave reluctantly.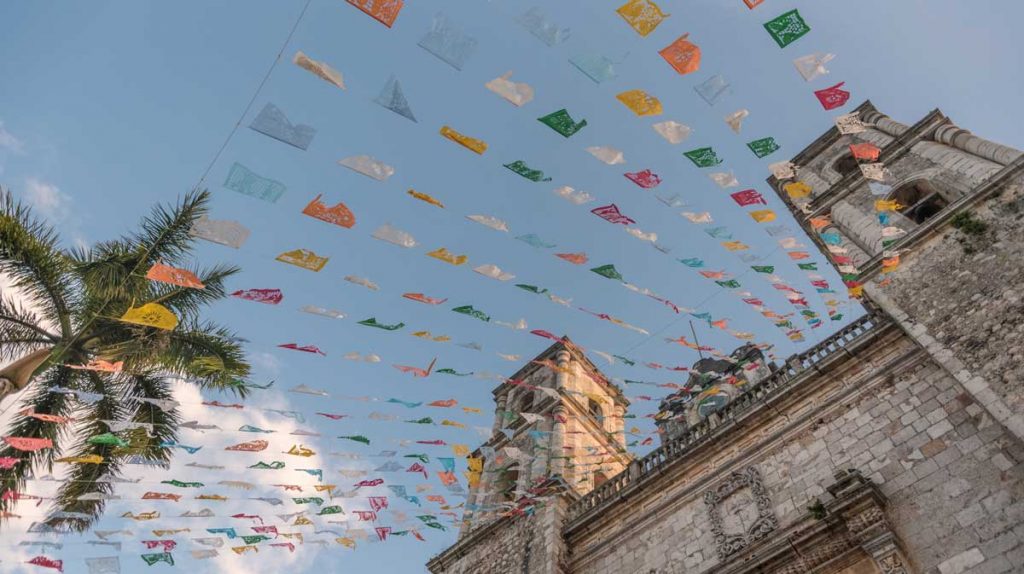 The day is topped off with a candlelit dinner on the beach. I think we're beginning to really like Cancun.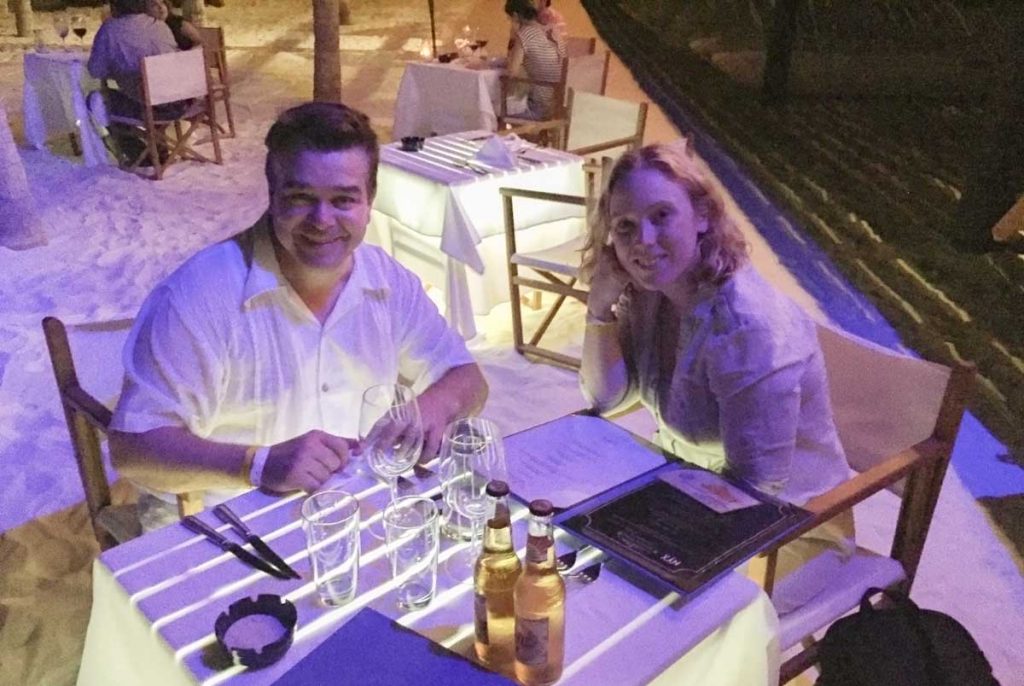 Day Three: Deny it is Day Three
With less than twelve hours left, it's a day of living every moment like it's our last. An early morning swim and a chance to soak up our last rays of decent sun until April is the order of the morning. Is 11am too early for a drink?
Knowing we're on borrowed time, we brave the local bus to get down to Playa Delfines. Fares are ridiculously cheap and in saying that, so are the tickets, which have the consistency of the thinnest ply toilet paper you've ever seen (and hopefully not used). This stunning beachfront gives an idyllic view of the area. It is also home to the giant CANCUN sign, which is apparently interesting enough to queue for the right to get a photo in front of it.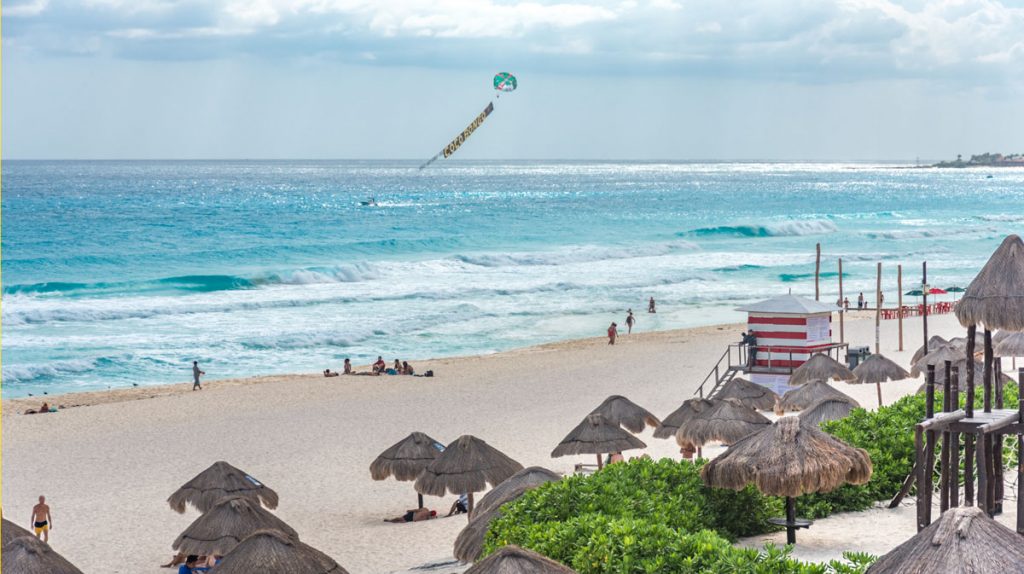 A mile or so up the road is the Museo Maya de Cancún, a dedicated cultural center and home to Mayan ruins. If you don't have the time to get out to Tulum or Chichen Itza, clear your conscience and get at least a little cultural education to offset all the eating/drinking/clubbing.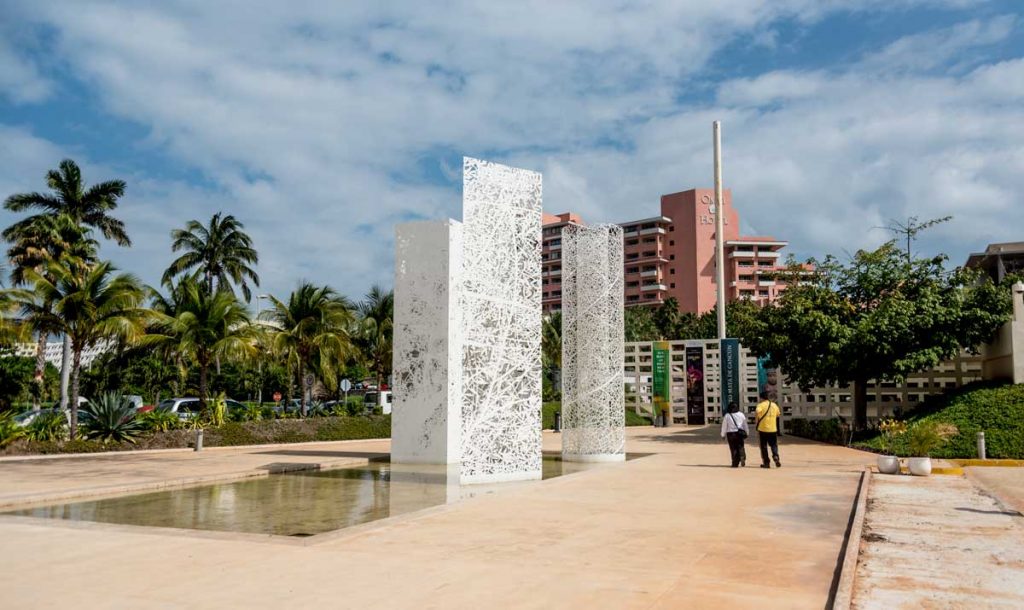 Making one last visit to the beach to soak up the rays and dip our toes in the shallows, it's apparent that 72 hours is just not enough to even scratch the surface of the Yucatan Peninsula. There's just too much to see, do and experience. Some of the places we'd add to the "to-see" list next time include the ruins of Tulum and Coba, a day at Xcaret or Xel-ha (massive natural waterparks), swimming with whale sharks and the flamingos at Holbox, snorkeling at the Cancun Underwater Museum and exploring the more unspoiled underwater caves and cenotes as the one we visited lacked the natural beauty we had hoped for.
Cancun is more than a place to party. It's a gateway to paradise and it's well worth a visit (or another look).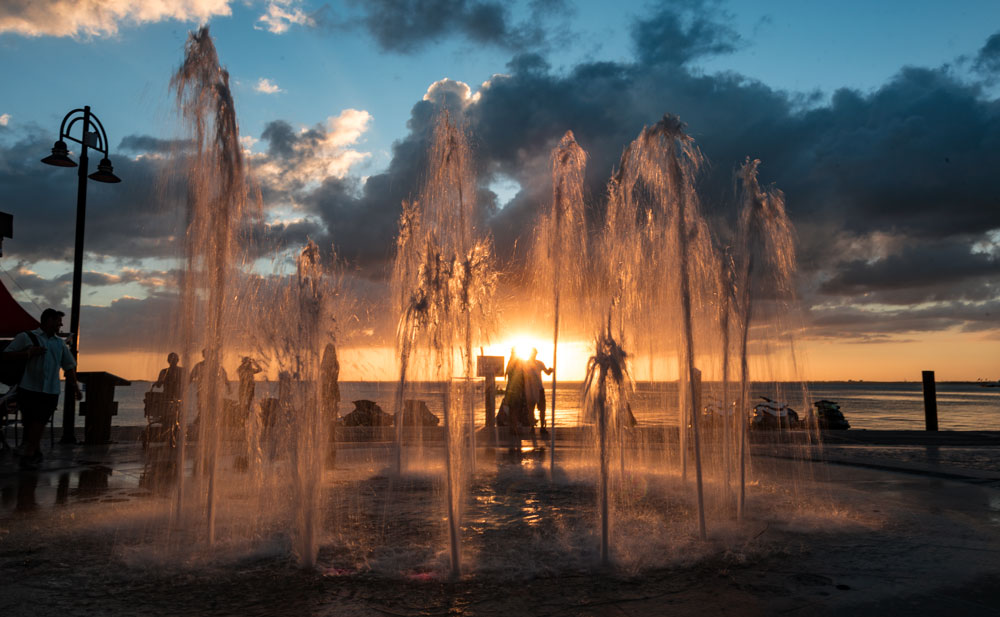 Top Tips
1.    Cancun is relatively safe. Tourism is their lifeblood (that, and avocados apparently) so they protect it by keeping the crime in check. That said, don't be stupid/naïve/wasted beyond the point of coherence if you want to avoid trouble.
2.    You have to drink bottled water. Everywhere.
3.    The US$ is accepted everywhere in the Zone Hotelera (Hotel Zone)
4.    Take sunscreen and mosquito repellent everywhere.
5.    Book your transfers before landing (and make sure they are/aren't included in any "all-inclusive" hotel package.
6.    Whilst most hospitality workers speak at least some English, it isn't anywhere near as prevalent as we had expected.
7.    The Yucatan Peninsula is much bigger than it looks on maps. Cancun to Tulum is at least an hour and a half drive; Cancun to Chichen Itza is at least two hours by car.
8.    If you plan on swimming in a cenote, you will need biodegradable sunscreen.
9.    Avoid the region in March unless you want to party with a bunch of college kids.
10.    Haggling is perfectly acceptable for souvenirs.
11.    Avoid boozing at the airport. We were ripped off, paying almost $20 for a margarita.
12.    Avoid untreated wooden souvenirs, as they won't make it past most customs officers, regardless of where you live.
 WHAT?
Cancun is a welcome introduction to Mexico and an easy getaway from North America.
WHERE?
It's on the eastern tip of the Yucatan Peninsula.
HOW?
We flew Spirit for a budget-friendly flight, but they are a budget carrier, so expect to pay for all extras like checked baggage, food, seat allocation and entertainment.
Save
Save
Save
Save
Save
Save
Save
Save
Save
Save
Save
Save
Save
Save
Save
Follow & Connect with us